I should warn you. This is the best beef stroganoff with sour cream you will ever eat. Tender chunks of beef, creamy seasoned sour cream sauce and egg noodles. And if you make this stroganoff, you will want it for dinner every night!
Cozy bowls of food in the fall are undoubtably one of the best things about the season changing. Like this zuppa toscana soup, lasagna tortellini soup and creamy gnocchi chicken soup.
This recipe was first published 09/04/2018.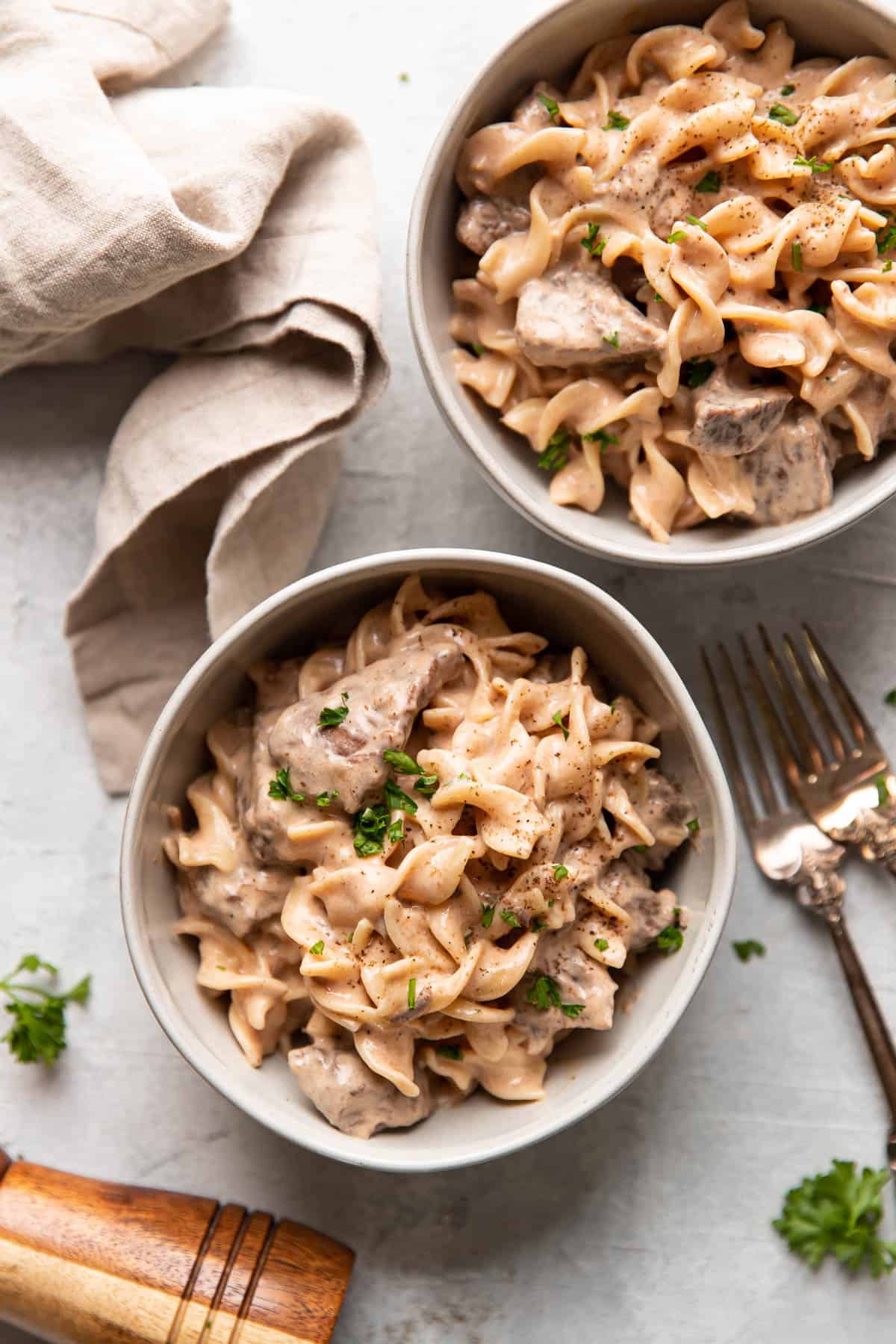 I'm totally guilty of making this stroganoff all the time. It's become one of those instinctual recipes that I've made so many times I just know the measurements by heart.
Big hearty egg noodles, tender seasoned stew meat, and super creamy flavorful sour cream sauce.
As soon as fall comes around, it's beef stroganoff time!
Beef stroganoff is just one of those fall dinners that you can't go wrong with. It's so hearty and comforting. Like this spaghetti bolognese.
Making beef stroganoff without mushrooms is how I like to prepare it, because mushroom have a lot of moisture I don't like messing around with all the extra water they produce in the pan.
Jump to: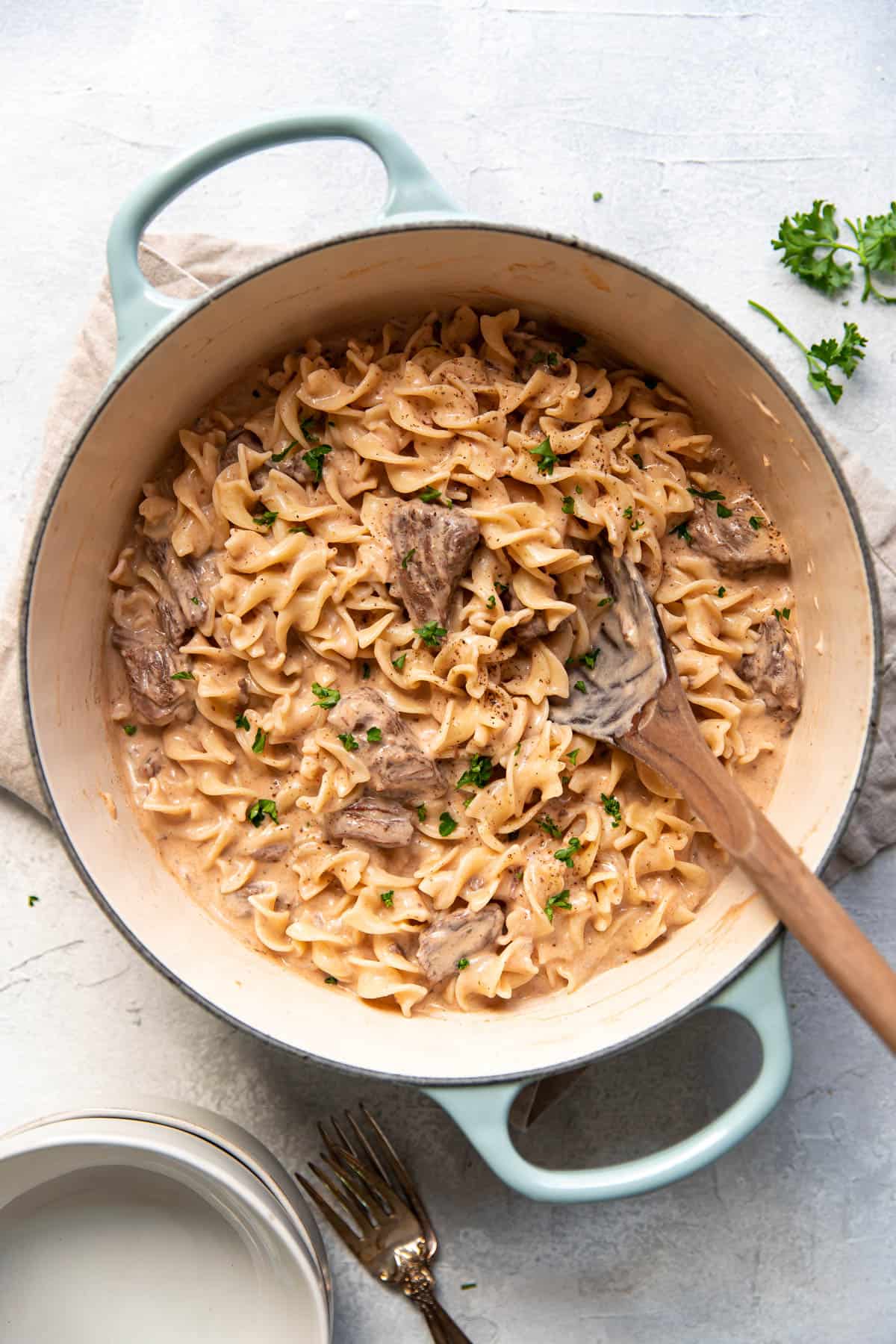 You want all your browned bits from searing the meat to go toward the beef broth base for your sauce. You don't want those bits of flavor to get lost in mushroom water.
My kids love this one and can you blame them? Look at all that creamy sour cream sauce, it so just so luscious.
I feel myself getting happier with each bite of this stroganoff. It's the same with this lasagna tortellini soup, the coziest, ever. And this chicken gnocchi soup.
My mom used to make stroganoff for us when my brother and I were kids and we still lived in Alaska.
And while some of her food was kind of out there (buckwheat pancakes) her beef stroganoff recipe was always really good.
When I asked her about it, she didn't remember how she made it back in the day, so we bounced ideas back and forth and came up with this recipe.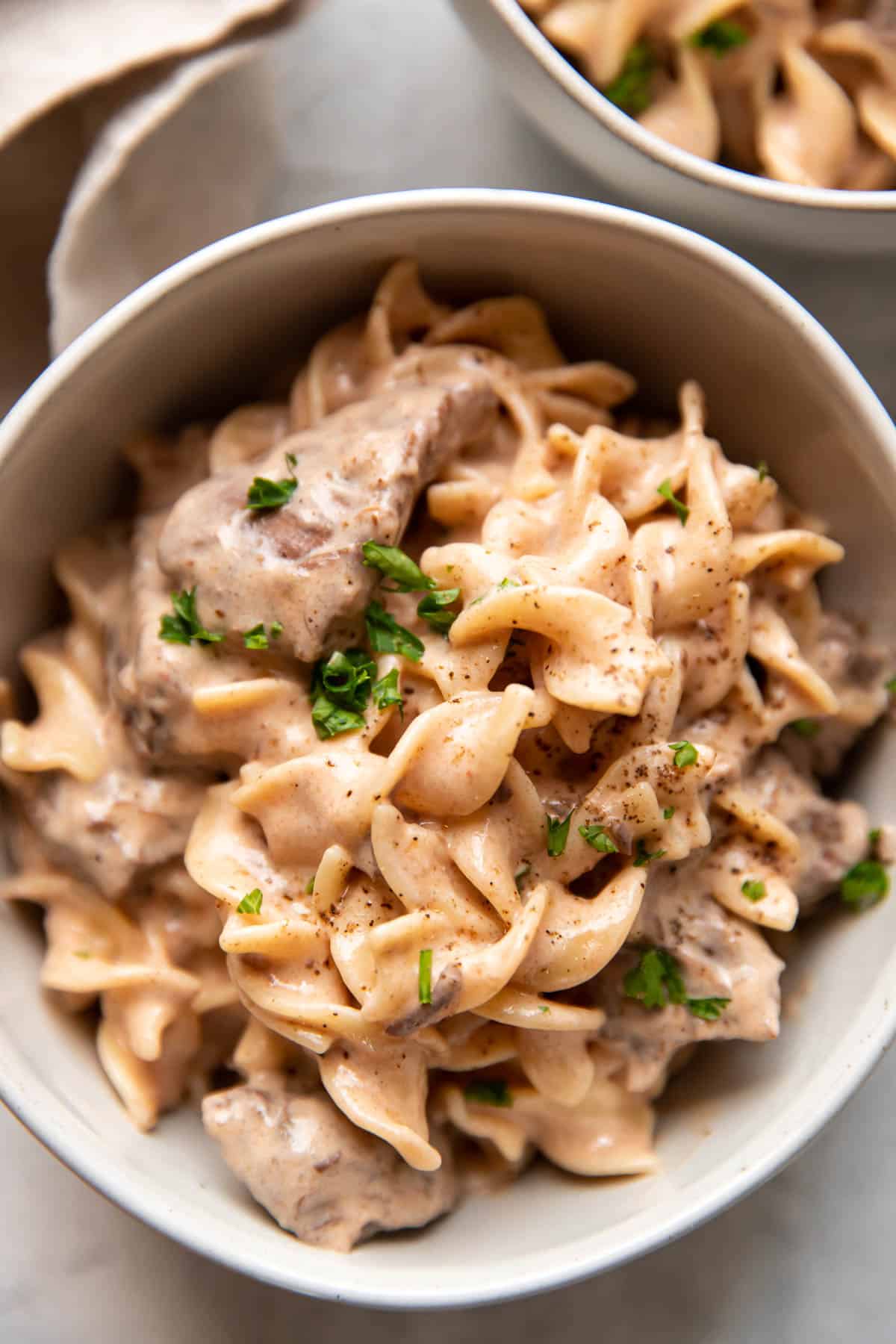 What Makes this The Best Beef Stroganoff recipe?
I truly think this is the best beef stroganoff, foremost because it is easy. It has simple ingredients and easy to follow instructions.
What makes this the best in flavor? The extra creamy sour cream sauce. You really want to make sure that you season the meat really well with salt and pepper and sear it to so you get crispy bits on the pan.
All those bits of stuck on stuff makes it so flavorful. If it's not super flavorful, something went wrong.
The better than bouillon beef base that I use for this recipe has way more flavor than beef broth or beef cubes, it's much more concentrated, has more flavor and just makes everything better!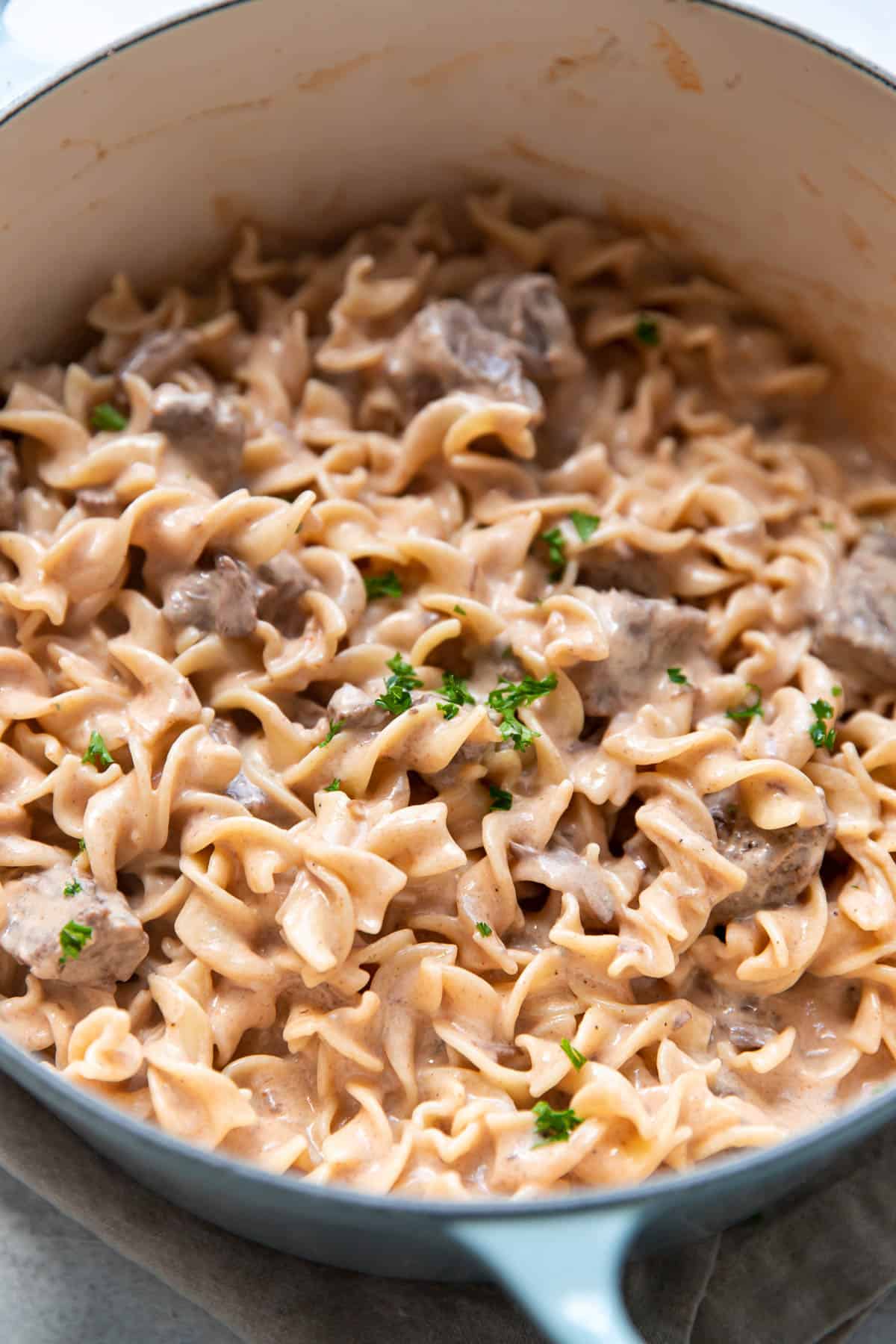 Since this recipe has started to pick up interest I thought I should mention just how important that step is.
If we had it in Palmer Alaska I'm sure anyone can find it! I've even had luck at Costco getting it.
This easy stroganoff is about 100x more amazing than I could have hoped for. It challenges that childhood memory of the best beef stroganoff.
I dare say it, it wins. I like to think of it as a new and improved version. My mom actually said this is the best beef stroganoff she has ever tasted.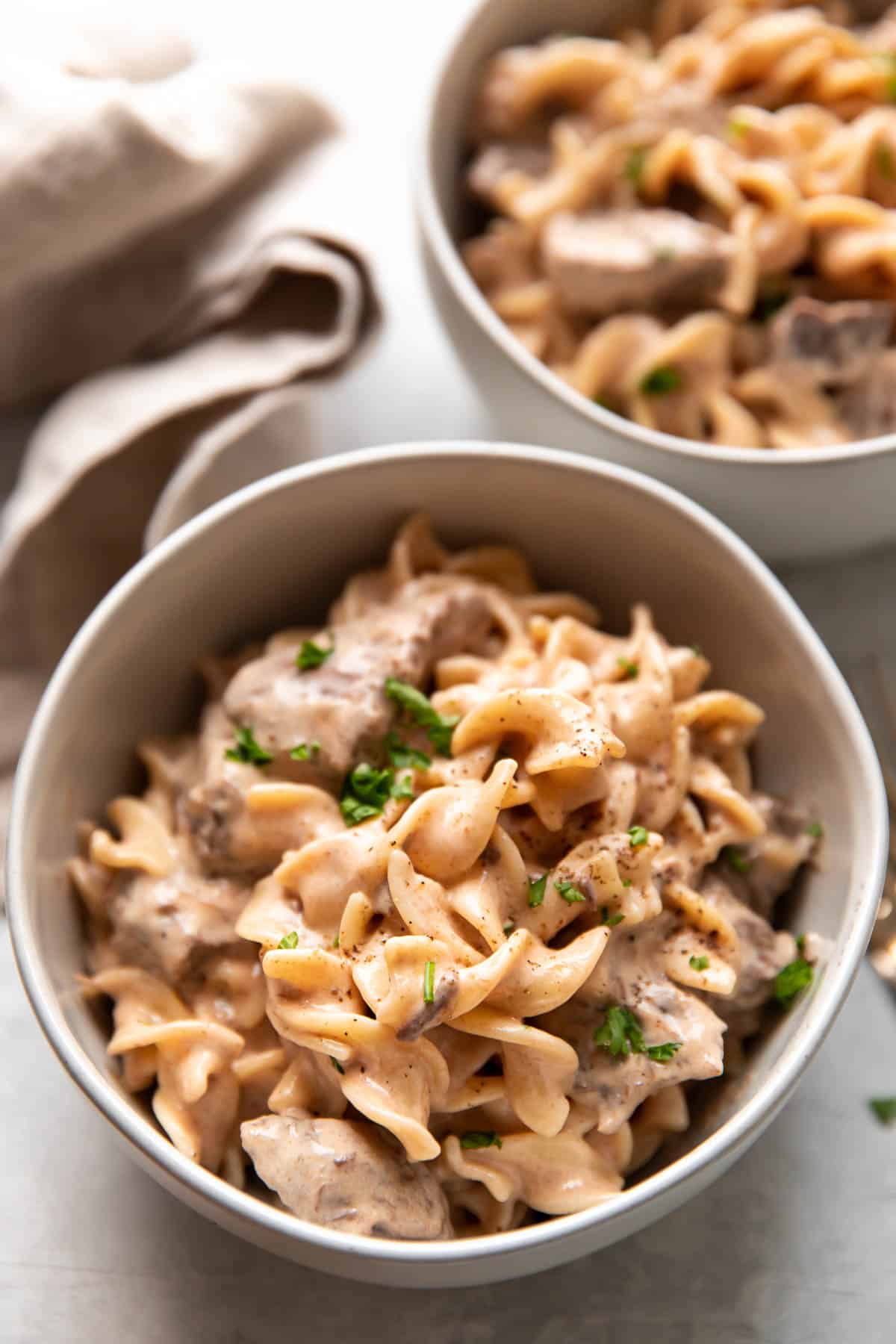 What Is The Best Beef For Stroganoff?
This homemade recipe calls for beef stew meat.
Here's a fun fact and honestly I didn't put two and two together for years until I read it somewhere and when you hear it, you'll think "oh of course".
You can buy a chuck roast and cut it up into cubes and there's your beef stew meat. That's all beef stew meat is, just precut for you.
So if you find a smoking deal on chuck roast but you're not in the mood for a roast, this is just your ticket. But if you want to keep it at the easiest possible option, then just grab a package of beef stew meat.
And buying a chuck roast is not always the cheapeast, because there can be big pieces of fat attached to the roast, it makes it heavier, costing more.
So if the price per pound is way less than a package of stew meat, definitely try that, but if not, stick to a package of stew meat where you don't have to discard any fat aka weight.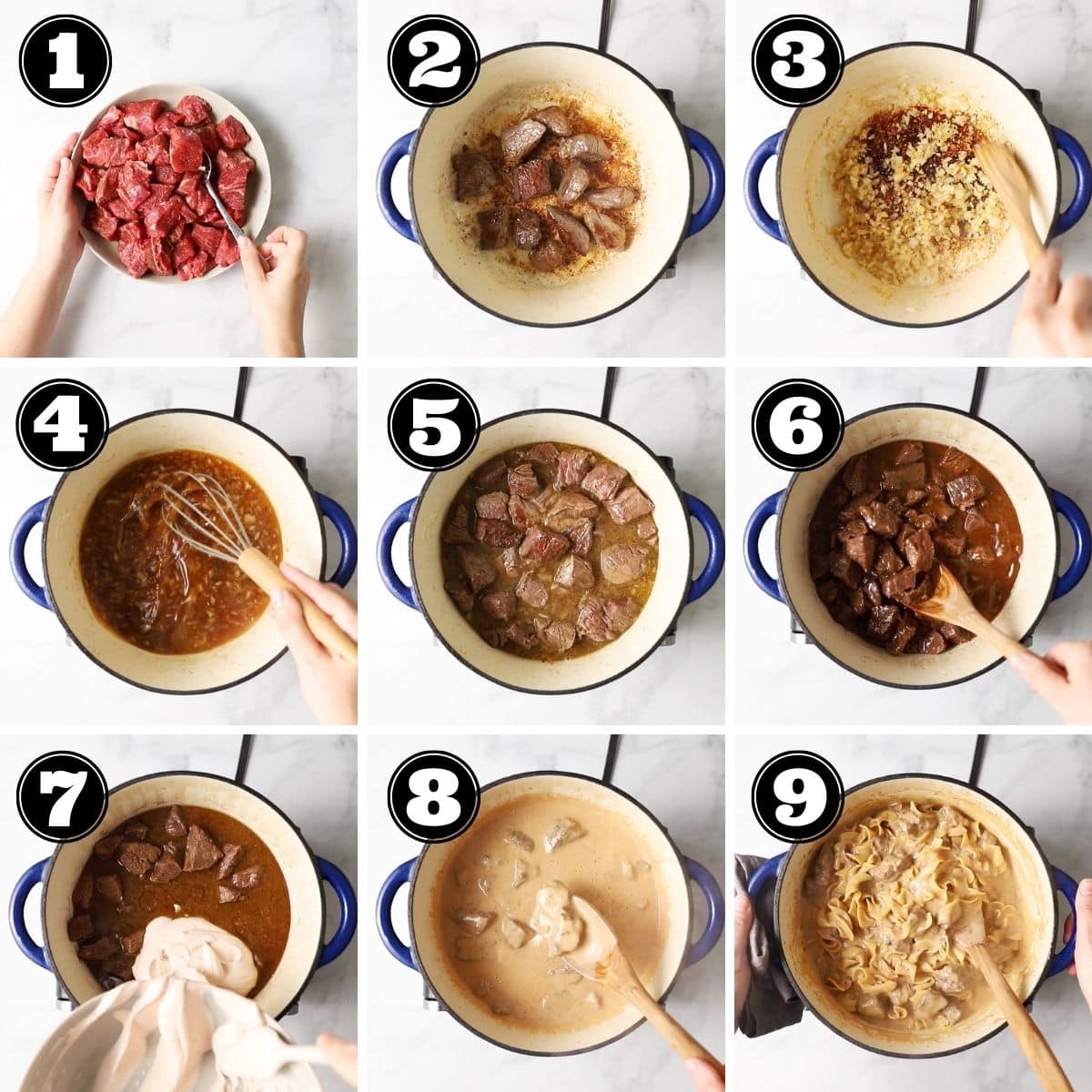 How To Get Tender Meat for Beef Stroganoff
If you've ever made beef stew or anything with stew meat and wondered why it was really tough and chewy, here's what you do. The trick to getting stew meat tender is to cook it low and slow.
All that fat spiraled throughout the meat needs time to, in layman's terms, melt.
If you don't have that kind of time then don't worry, it will still taste fantastic but you run the risk of tough meat.
You also need to sear the meat.
When you sear all sides of a piece of meat you'll be rewarded with extra flavor and tenderness because you are locking in the juices.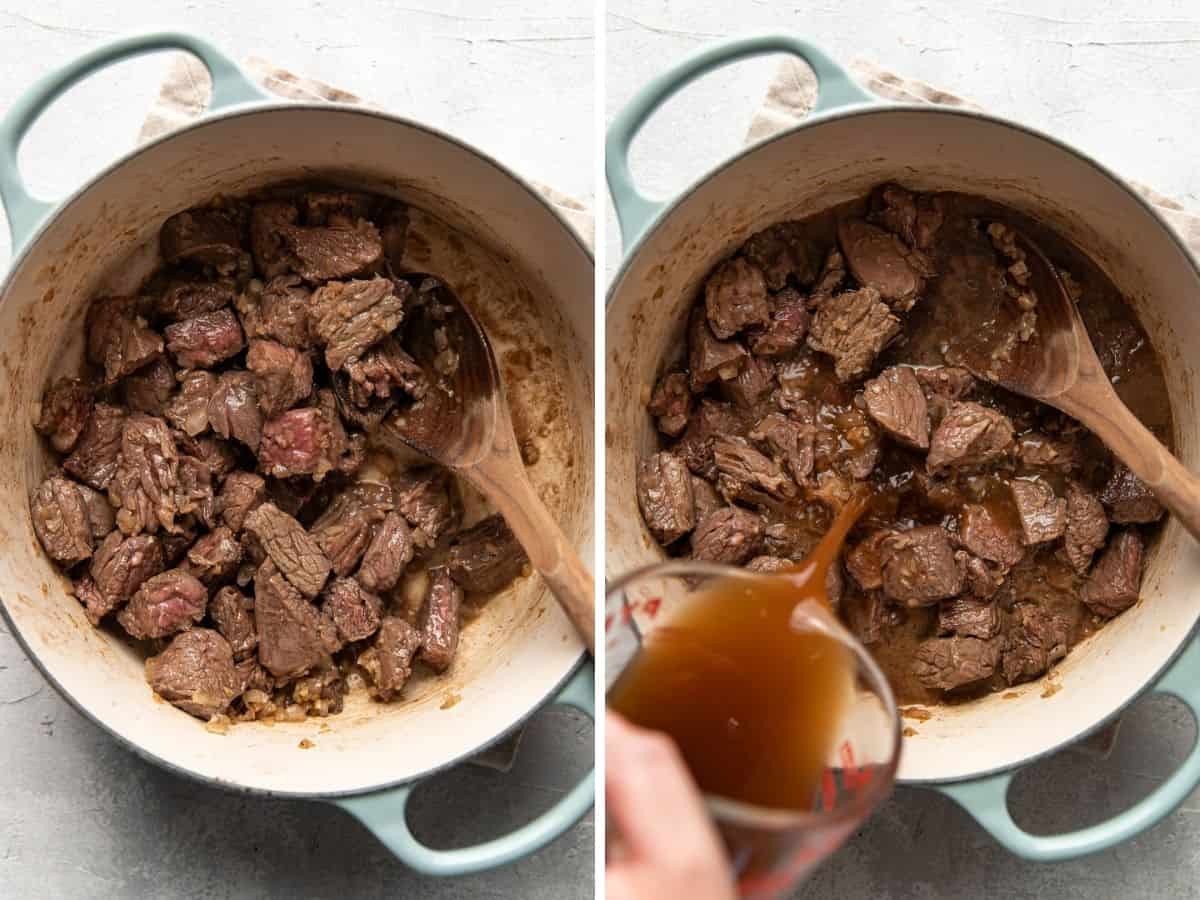 The longer you simmer, the more tender it will be. If it starts to get low on broth, you can add some extra.
The 2 hours in the recipe is important, even at 1 ½ hours the meat is still not tender enough, it's been tested that many times.
I think what makes this the best beef stroganoff ever is the sour cream sauce.
It's mixed together with tomato paste and the savory beef broth. Decadent. After you add your sauce in, you'll want to let it come to a low boil bubble for 5 minutes to take cook out and take away flour tastes. During this time the sauce get's nice and thick! This is the ultimate fall dinner and I can't wait to make this on repeat as the weather continues to get cooler.
Check out all that creamy beef stroganoff sauce.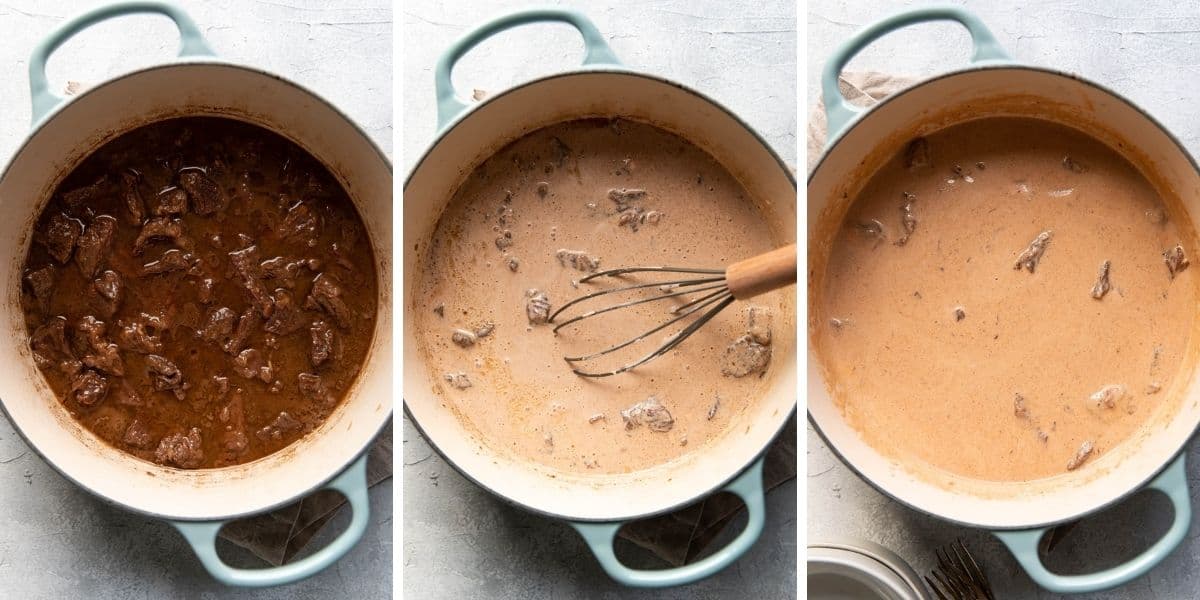 Ingredients For Beef Stroganoff
Here's a quick rundown of what ingredients you will need to make this beef stroganoff and any explanations you may need for each ingredient. As always, the full list of ingredients, amounts and directions are located in the recipe card near the bottom of this post.
stew meat - you can buy pre cut up stew meat, or if there is a great sale on chuck roast, buy one of those and cut it up (make sure to cut off all the fat)
season-all - this is a seasoning salt, its made of salt and a savory blend of spices, the brand Morton makes a popular one
kosher salt - I always use kosher salt in my recipes
pepper - for flavor
olive oil - you'll need this to sear the meat in the pan
yellow onion - yellow onions are much more mild than a white onion, a bit more sweet too, they'll give you the best flavor
garlic - for flavor
water - used to make the broth
beef better than bouillon - a bouillon paste, you combine it with water to make a richer broth with more flavor than regular beef broth
egg noodles - grab the traditional wide egg noodles if you can get them
sour cream - the main ingredient for the sauce
flour - for thickening the sauce
tomato paste - for some richness in the sauce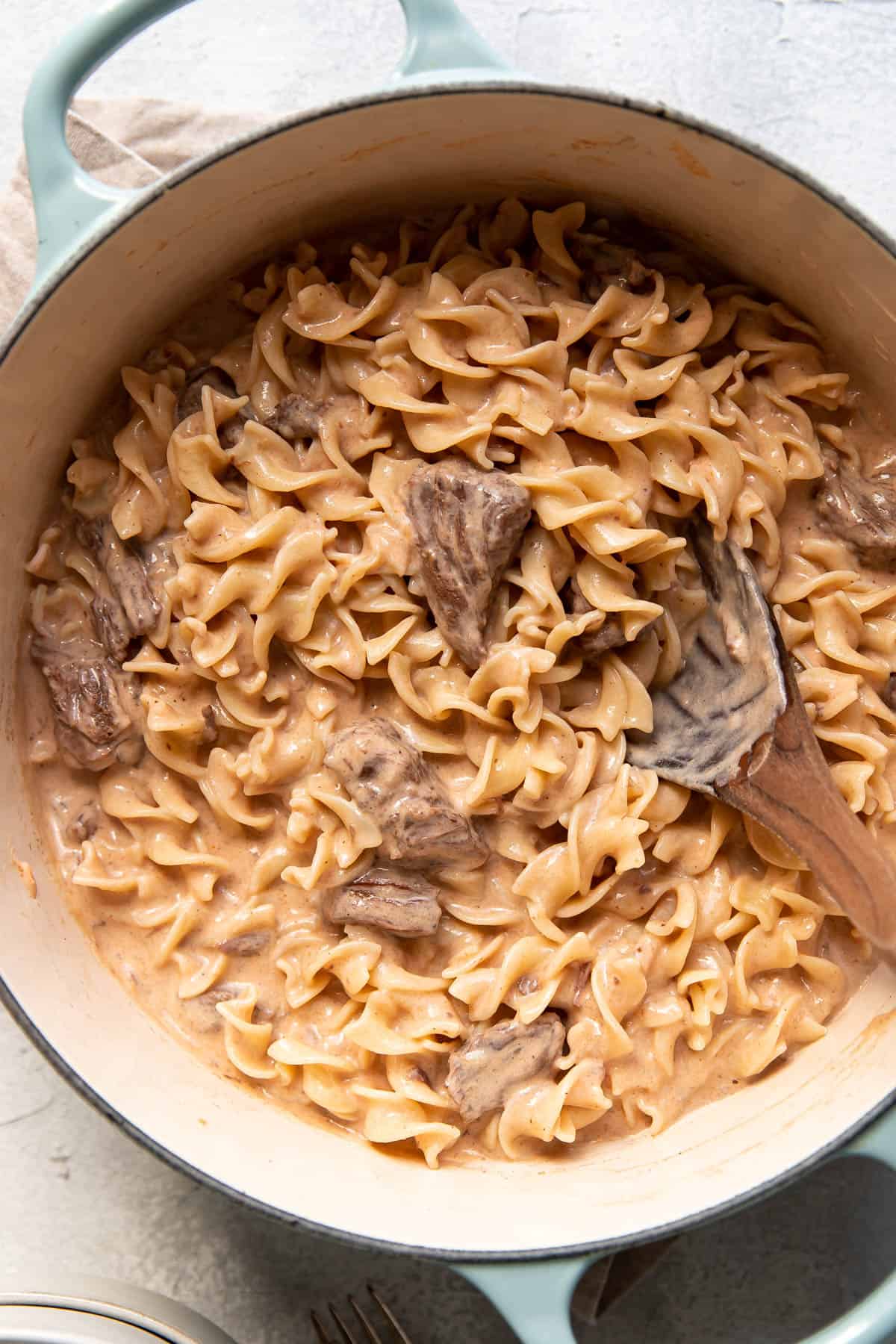 Beef Stroganoff FAQ
Here are some of your most frequently asked questions!
Can I make beef stroganoff in the crock pot/slow cooker?
I haven't tested it in the slow cooker so I wouldn't be able to advise how that will turn out or give you modifications.
Can I make beef stroganoff in my instant pot?
I did try this in the instant pot and it turned out really good, see the section below for how I did that.
What is season-all?
Season all is a seasoning made up of salt and savory spices. You can find it next to all of the other seasonings.
What is beef better than bouillon?
It is a concentrated paste and gives a richer flavor than a traditional bouillon cube. I like the organic versions.
What if I don't have better than bouillon, can I use regular beef broth?
No, you need to use the beef better than bouillon for this to turn out correctly.
Can you freeze beef stroganoff?
I haven't tried freezing it before, but in my experience egg noodles don't reheat very well. The only thing I would try freezing would be the sauce and separately cooking noodles later on.
Can beef stroganoff be made with ground beef?
Many reviews have had success using ground beef instead of the stew meat, however I have not tried this out so I don't have detailed instructions on using ground beef.
Can beef stroganoff be made gluten free?
Of course, use gluten free noodles and substitute corn starch as the thickener, instead of flour.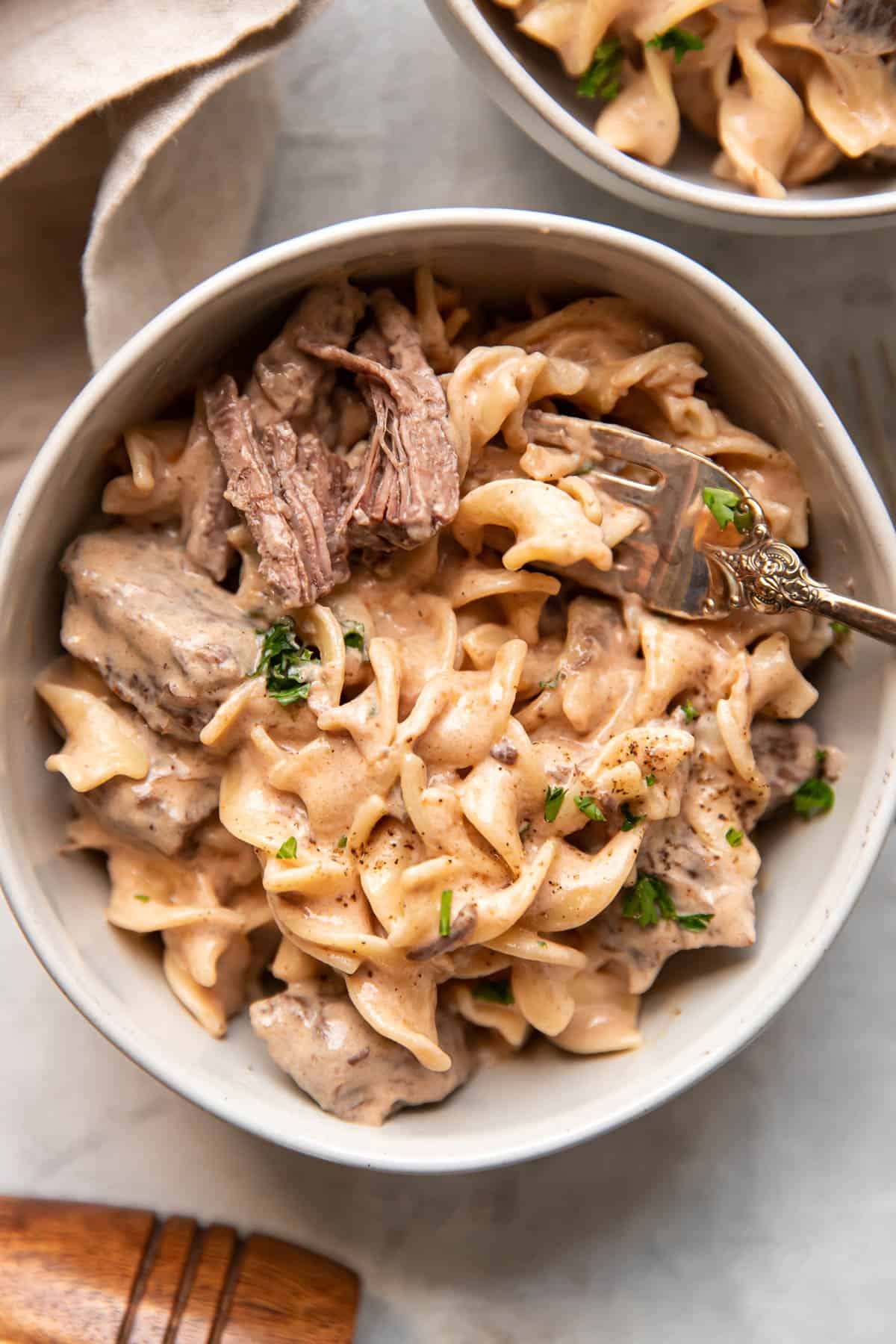 Beef Stroganoff Instant Pot Alternative
I have made this in my instant pot and it turned out awesome! It has a bit less flavor to it then making it the traditional way but a good easy shortcut.
Here's what I did. And all I did was treat the instant pot like my stovetop pan. Nothing else changed.
I seasoned the meat, per usual. But used the "saute" setting. Then I added the onion and garlic, like usual. Then the broth and put the stew meat back in.
The lid went on and cooked it for 25 minutes. No slow release, just hit cancel and let it vent.
Below you can see a collage of photos where I make it in my instant pot. They aren't the prettiest photos - I took them with my phone but it's just suppose to get the idea across.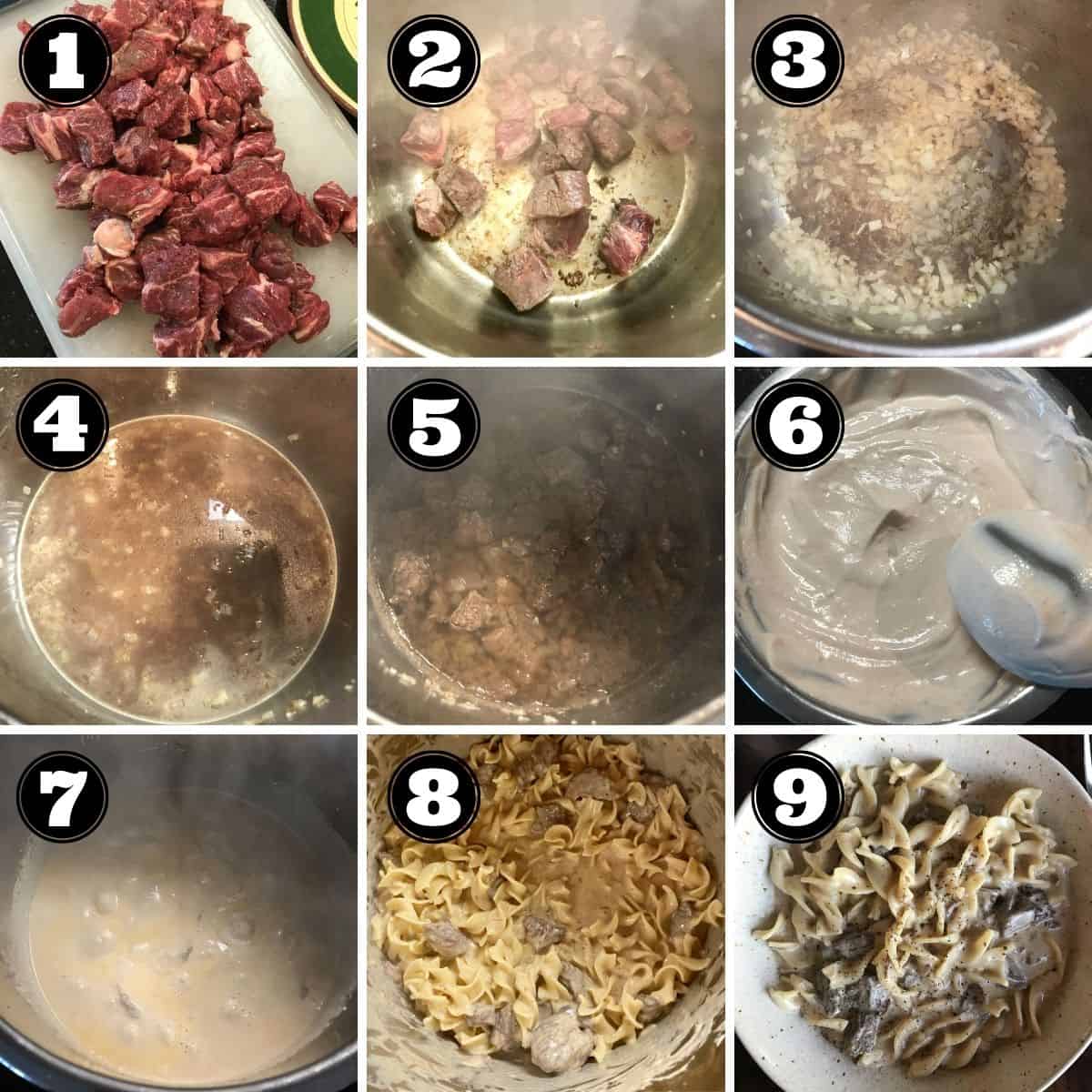 Next I prepared the sour cream sauce, same way as the instructions say to and added it to the instant pot. Let this boil and thicken for 5 minutes by turning the setting to saute. Then take the pot off the heat.
I separately boiled the noodles, again, like the instructions say to do and added it to the beef stroganoff creamy mixture.
We loved it this way! And will definitely do it again if I need to save some time.
Some reviews have shared their success with using their slow cooker, however I have not tested this recipe with this method so I wouldn't be able to give guidance on how long to cook it for.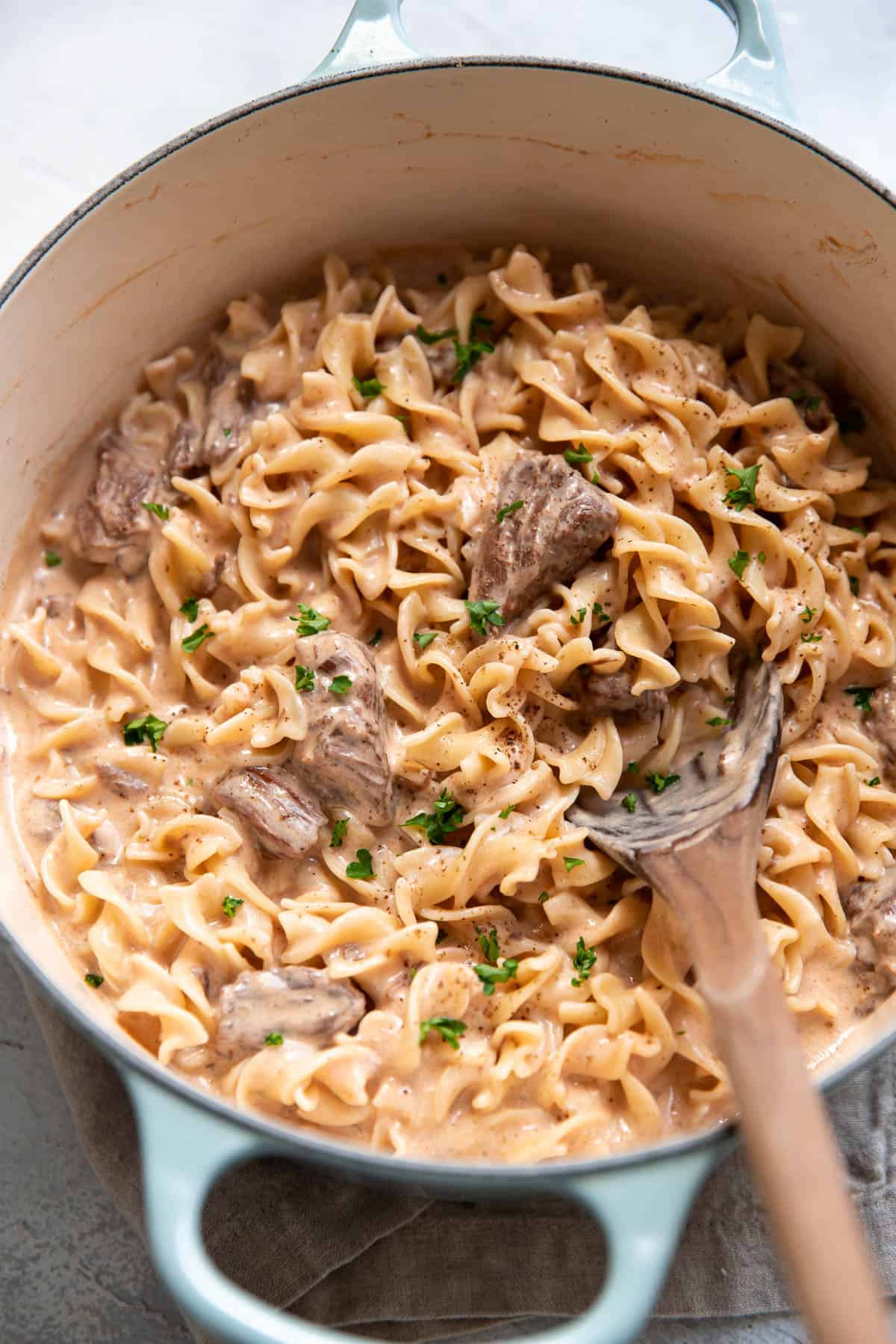 More Delicious Family Friendly Dinners
If you want to serve something special for dessert I suggest this apple crisp with oats topping, maple cream cheese cinnamon rolls or s'mores cookie bars!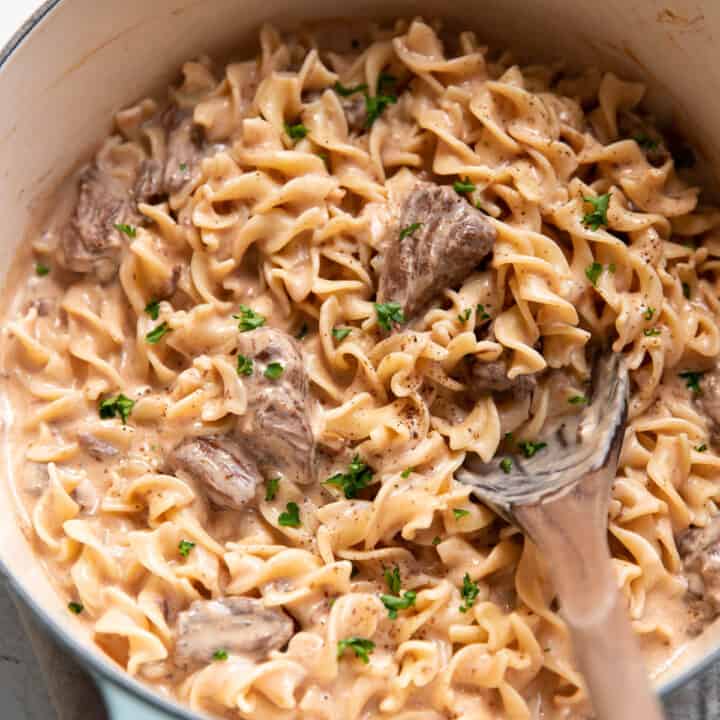 World's Best Beef Stroganoff
Total Time:
2 hours
30 minutes
I should warn you. This is the best beef stroganoff with sour cream you will ever eat. Tender chunks of beef, creamy seasoned sour cream sauce and egg noodles. And if you make this stroganoff you will want it for dinner every night!
Ingredients
2 lb stew meat, or a chuck roast cut into cubes
1 tsp season-all, (seasoned salt)
1 tsp kosher salt
¼ tsp pepper
1 tbsp olive oil
½ yellow onion, diced
2 garlic cloves, minced
2 c water
2 tsp better than bouillon beef base, see note below
10 oz egg noodles
sauce
2 c sour cream
3 tbsp flour
1-2 tbsp tomato paste
pepper
Instructions
Pat the meat with a paper towel to remove excess moisture. If you bought a whole chuck roast cut it up into pieces, trimming off big pieces of fat. But it's okay to leave some fat on.
Season all sides of the meat with salt, pepper and season-all. Tossing it around to coat.
Heat a dutch oven pot over medium heat. Add the olive oil. In batches, add the meat (do not crowd the meat) and sear all sides. About a minute on each side. Set the seared meat aside on a plate, until it's all done.
Turn the heat down to medium/low. Add more olive oil into the pot. Add the onion, garlic and a pinch of salt. Sauté for 3-5 minutes.
Add in the water and beef bouillon base, scraping the bottom with a whisk. This releases all of the the bits that stuck to the bottom of the pot during the searing process.
Place the meat and plate drippings back into the pot, bring to a boil then reduce the heat to low. Cover with a tight fitting lid and simmer for 2 hours (no less).
When the meat is done, cook the egg noodles in boiling water until al dente.
In a bowl, whisk together the sour cream, flour, tomato paste and pepper. Whisk until smooth. Add a few spoonfuls of the hot broth from the pot to the sour cream mixture, whisking vigorously. Add all of the sour cream mixture to the pot. Whisk until combined. It's okay if it looks lumpy, it will smooth out. Bring the sauce to a low rolling boil for 5 minutes to cook out the raw flour and thicken.
Turn the heat off and stir in the egg noodles. The sauce will continue to thicken as it cools.
Notes
Heat: Always prepare the meat by cooking it low and slow. Meaning, low heat and slowly. It takes a minimum of 2 hours. If your meat still isn't tender at the 2 hour mark, keep going. Frustrating, I know, but it happens when the cut of meat is too tough starting out. I've made this stroganoff a hundred times and sometimes it's perfect at 2 hours and other times it just takes longer.
Sour Cream: This recipe is written to be heavy on the sour cream. Use your best judgement, if you'd like a milder sour cream flavor cut back on the amount. On that note if it tastes like straight sour cream, it was made incorrectly - look back over what step was missed, or ingredient got subbed, or if the recipe was not followed as instructed.
Mushrooms: If you'd like to add sliced mushrooms the best time is when you are sauteeing the onions.
Searing The Meat: This meal turns out so much better when you take the time to properly sear the meat in batches, you really want those bits of stuck on pieces to collect at the bottom of the pan because it gives the beef stroganoff so much flavor.
Better than Bouillon: This is not the same as beef bouillon cubes, this is a concentrated beef paste made by the brand better than bouillon that is full of flavor unlike regular beef bouillon and I highly recommend not leaving this out to achieve the same results I get 🙂
Season-all: A blend of salt and savory seasonings, it's sold in the seasonings aisle.
Dairy Free Variation: Try using a plant based dairy free sour cream; Simple Truth and Kite Hill both make one.
Gluten Free Variation: Jovial brand makes a gluten free egg pasta. For the flour, try using Bob's Red Mill gluten free 1:1 baking flour.
Instant Pot Variation: Please see near the end of the post.
Recommended Products
As an Amazon Associate and member of other affiliate programs, I earn from qualifying purchases.
Nutrition Information:
Yield:

8
Serving Size:

1
Amount Per Serving:
Calories:

431
Total Fat:

22g
Saturated Fat:

10g
Trans Fat:

1g
Unsaturated Fat:

10g
Cholesterol:

163mg
Sodium:

758mg
Carbohydrates:

16g
Fiber:

1g
Sugar:

3g
Protein:

43g
This information comes from online calculators. Although moderncrumb.com attempts to provide accurate nutritional information, these figures are only estimates.