These oven baked chicken drumsticks are super easy to throw together! They are juicy, buttery and you need to make them right away.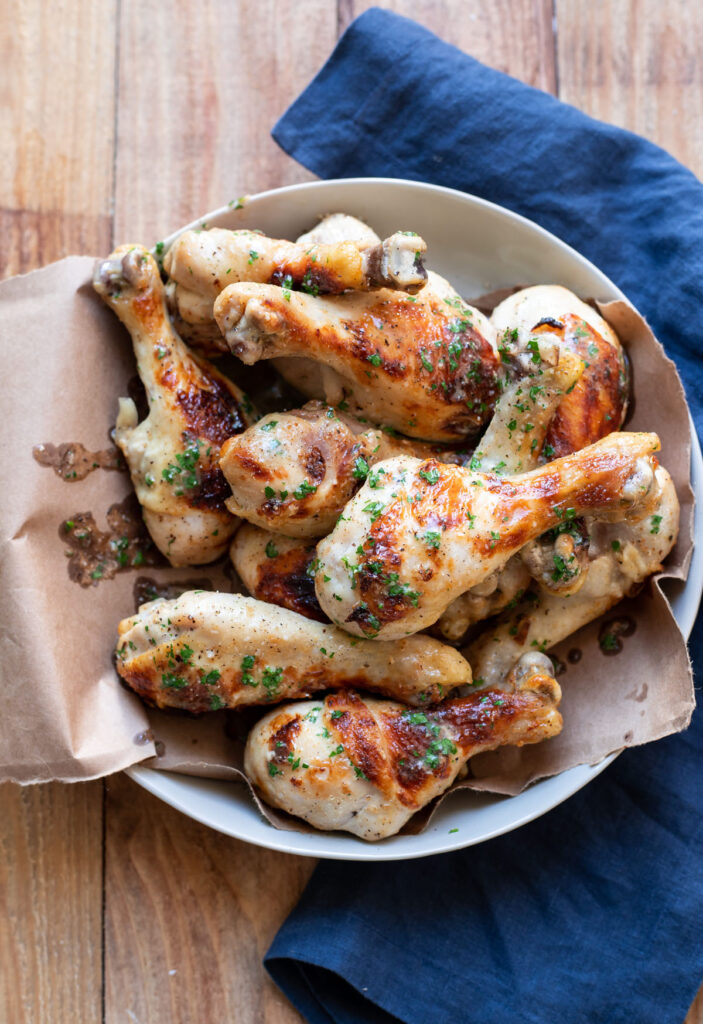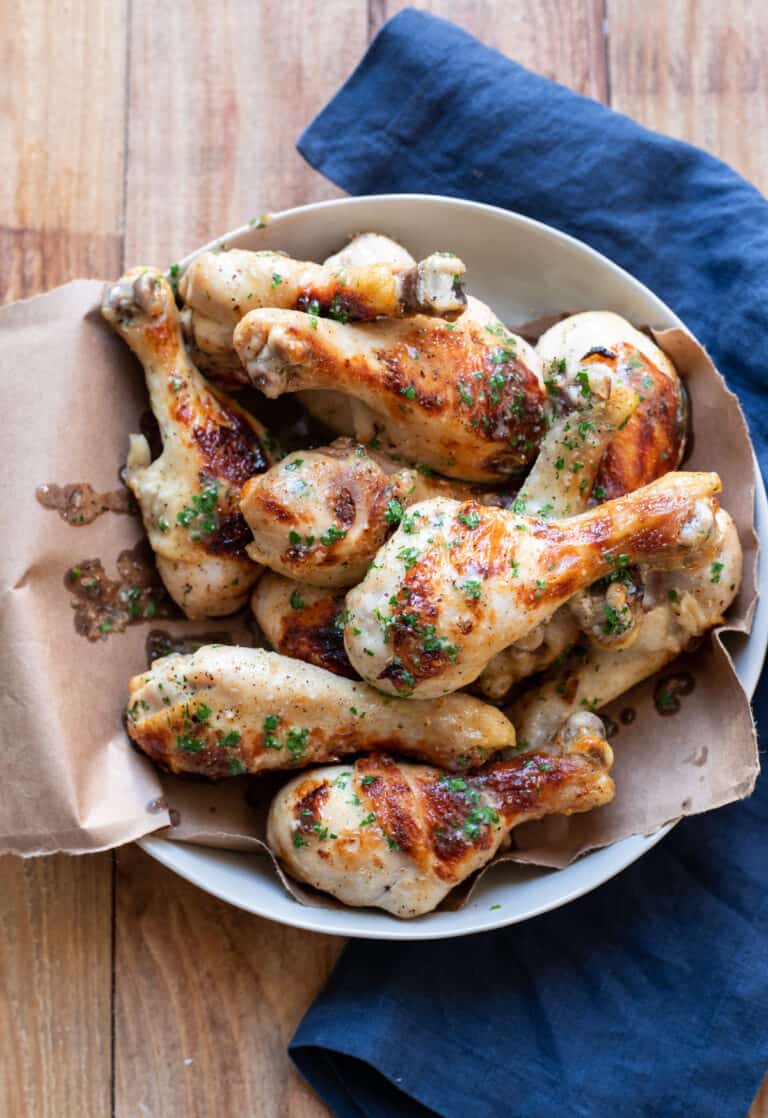 Chicken drumsticks are seriously one of the easiest meals to make.  For me, this is the bees knees. 
When cooked right chicken is so enjoyable, seriously though, what is worse than dry as the desert chicken? 
Well, there's probably a lot of things, but that's beside the point! 
This basic buttermilk and seasoned chicken will blow your mind, it's so juicy and flavorful, you can pair it with a whole laundry list of side dishes, like crispy sweet potato fries.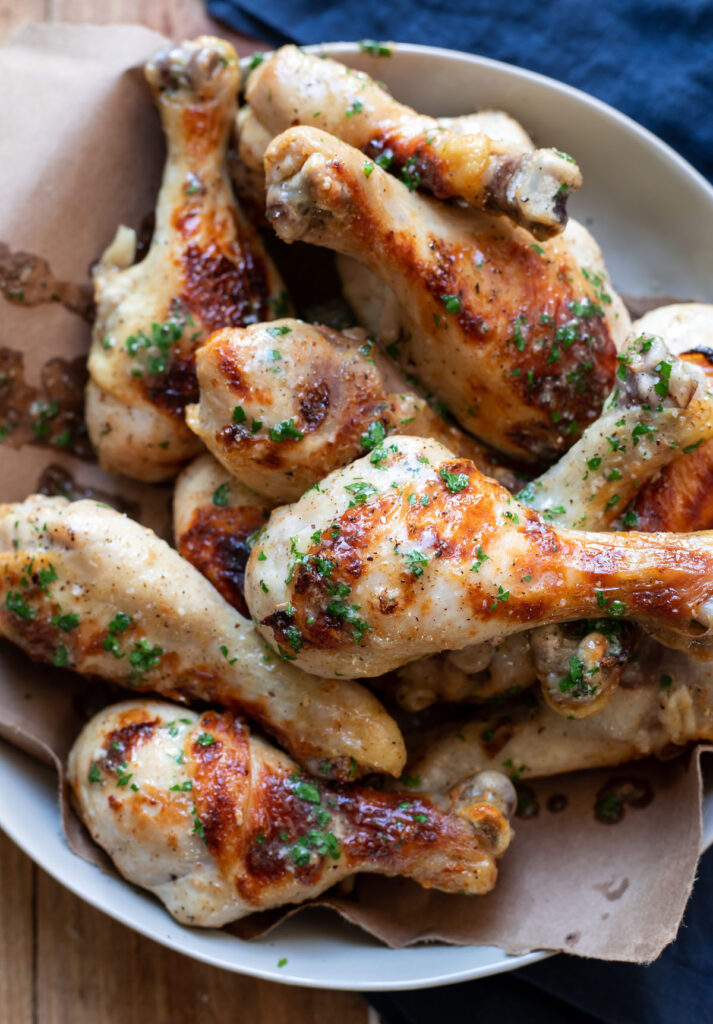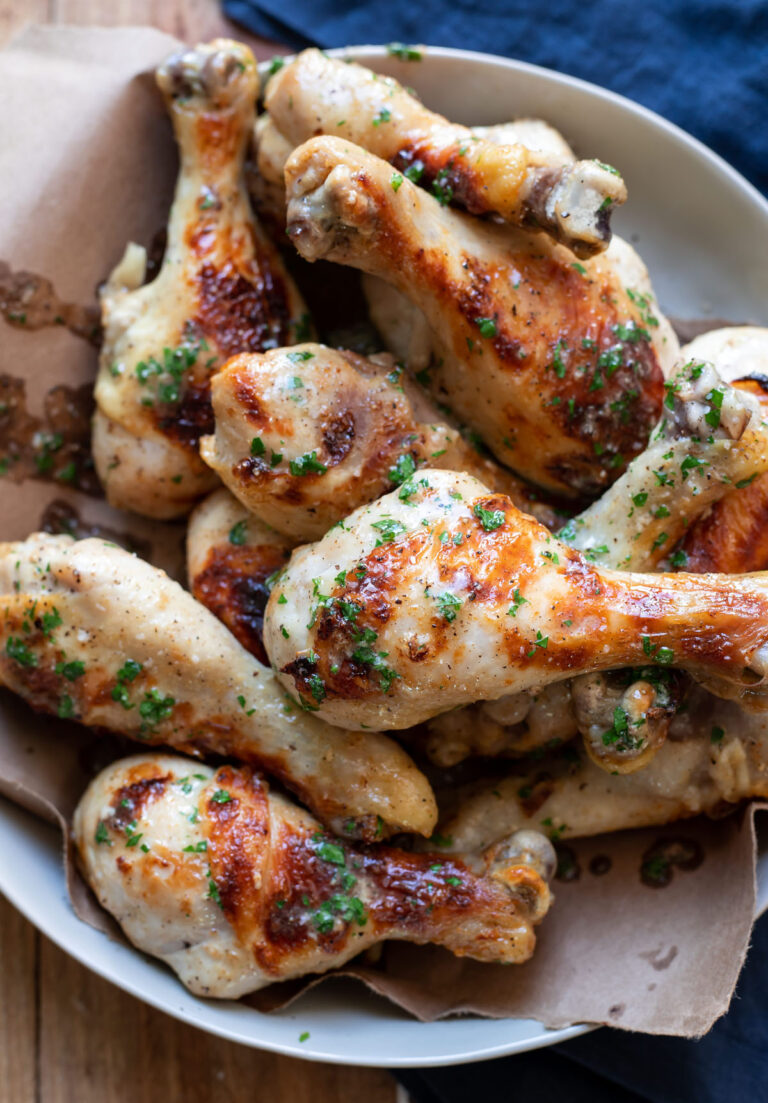 If I asked you wants the best part about chicken drums my guess is first you would say that the chicken is nice and juicy but second (and obviously) it would be crispy skin.
You'll want to bake the chicken at 400 degrees and this ensures a nice browned outside and a juicy inside. 
It's pretty disappointing when you bake a chicken that has skin and it comes out of the oven soft, so make sure to leave it in the oven until it's got some nice darkness to it.
You've only burnt the chicken if its black, so don't be afraid of getting some color!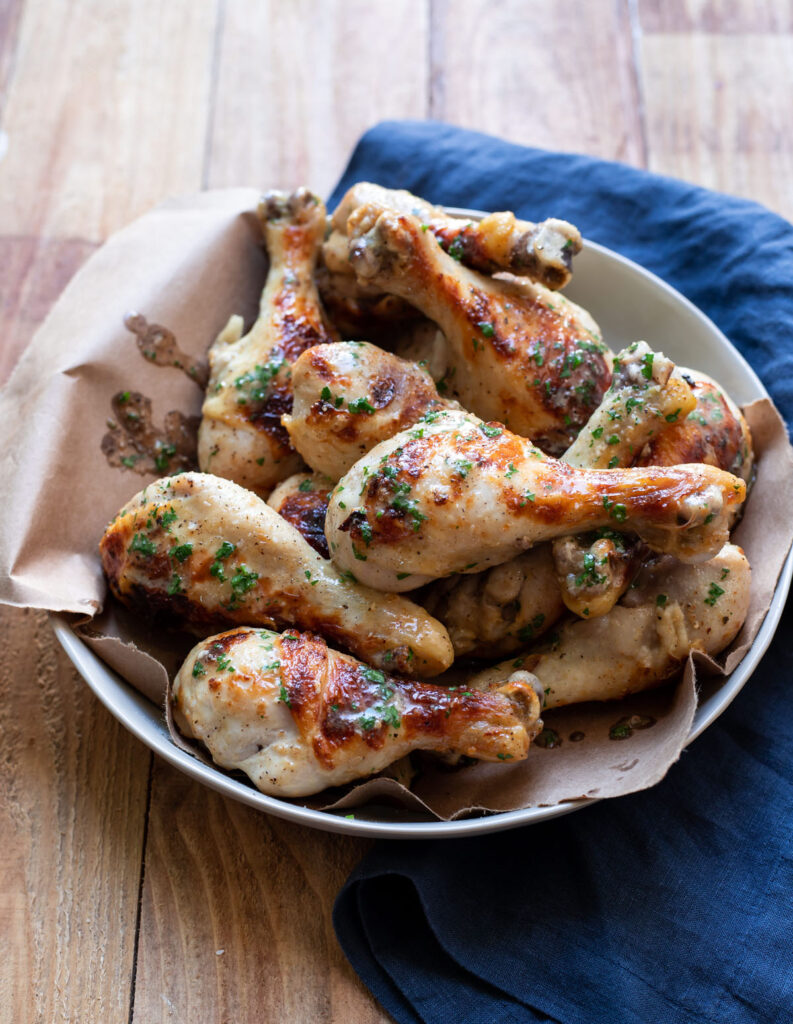 All this goodness starts with a buttermilk marinade. 
The chicken soaks in a buttermilk bath for at least an hour in a plastic bag with some basic spices.  The flavors meld and the buttermilk works it's magic on the chicken, giving you that super tender bite.
My super special secret for extra mouth watering chicken drums is…
A little toss in some melted butter, salt and chopped parsley as soon as they come out of the oven.  So amazing.
What To Serve With Oven Baked Chicken Drumsticks
Make sure to follow the Modern Crumb Board on Pinterest for lots of yummy meal inspiration!  And subscribe to the newsletter, below, to get updates when new recipes post.
Juicy Oven Baked Chicken Drumsticks
Buttermilk marinated chicken drums baked in the oven. They are juicy, buttery and you need to make them right away!
Ingredients
10

chicken drumsticks

2 packages

1/2

c

buttermilk

1/4

olive oil

1/2

tsp

salt

1/4

tsp

pepper

1/2

tsp

onion powder

1/2

tsp

garlic powder

1/2

tsp

paprika

2

tbsp

butter

melted

handful of chopped parsley

pinch

of salt and pepper
Instructions
Measure out the buttermilk and olive oil in a measuring cup

Add in the salt, pepper, onion powder, garlic powder and paprika, swirl it around

Put the chicken drums in a resealable plastic bag along with the liquid

Shake it all around

Refrigerate for at least an hour

Preheat oven to 400

Arrange the chicken drums on a baking sheet lined with parchment paper, shaking off any excess liquid

Bake for 30-40 minutes

In a large bowl add the melted butter, chopped parsley and a pinch of salt and pepper

Take the hot chicken and add it directly to the butter mixture, tossing

Serve!