Chicken tortilla soup loaded with shredded chicken, bell peppers, black beans and corn. This big batch recipe makes so much you'll be able to freeze it and eat it later!
Cozy soups are unbeatable, like this homemade chicken noodle soup, loaded baked potato chowder and lasagna tortellini soup.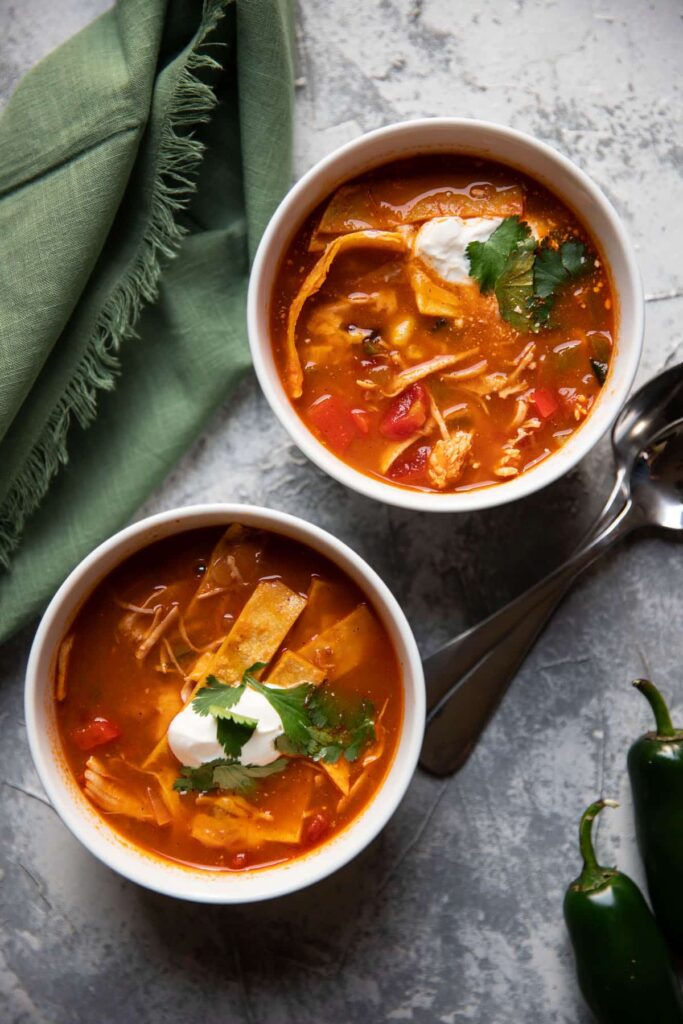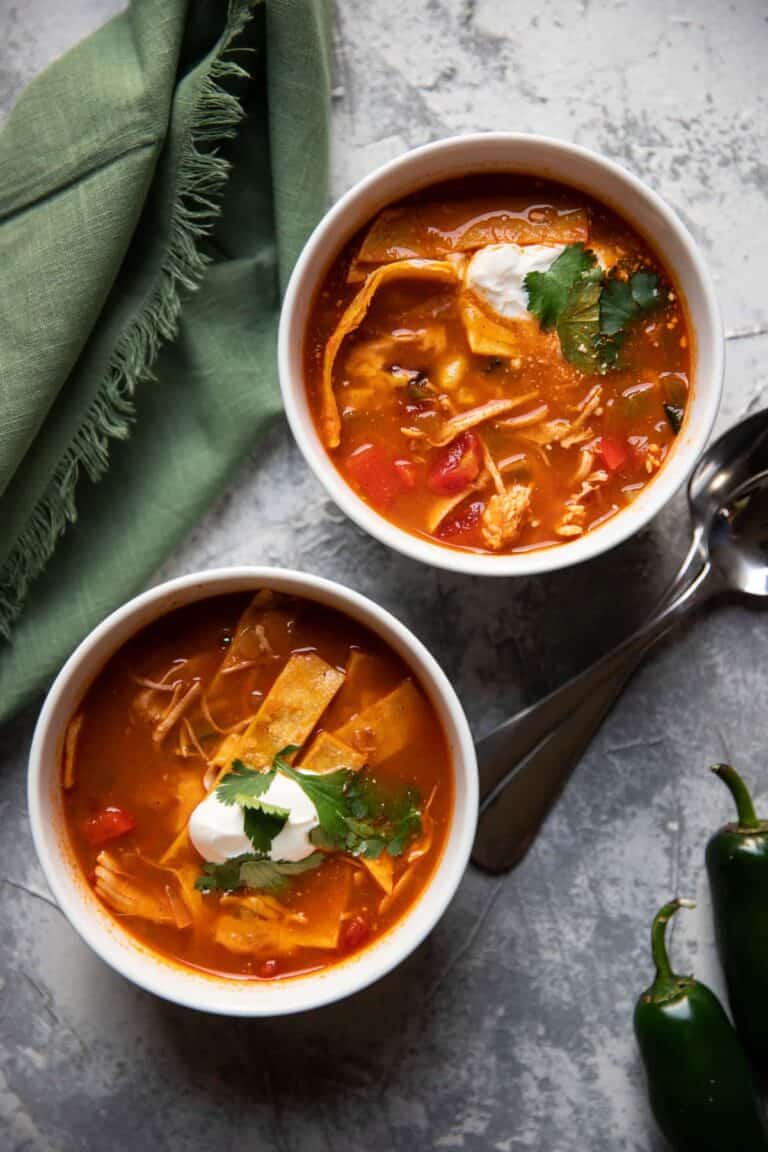 I love chicken tortilla soup, everyone in my family actually does! I always make this bag batch version and then freeze it for later days. It taste just as good, maybe even better when reheated later.
That may be a soup thing though, it always tastes 10 x better the next day. Throughout trips, home moves and life milestones this soup has been our go-to, our tried and true.
When we're in a pinch, just take it out of the freezer, heat, and dinner is served. I have a love/love relationship with this soup.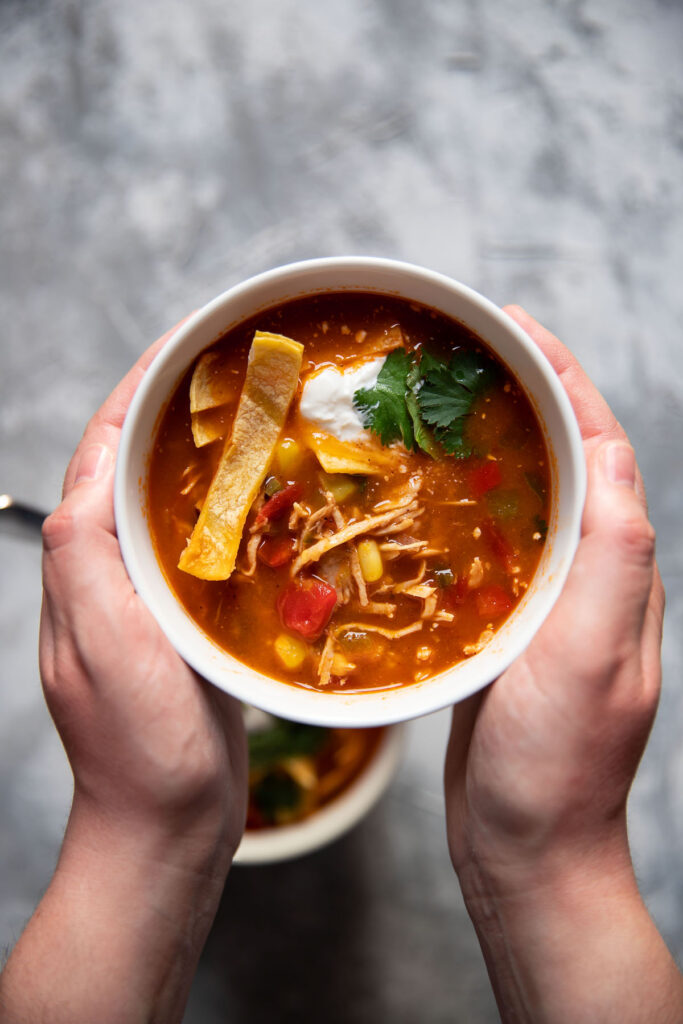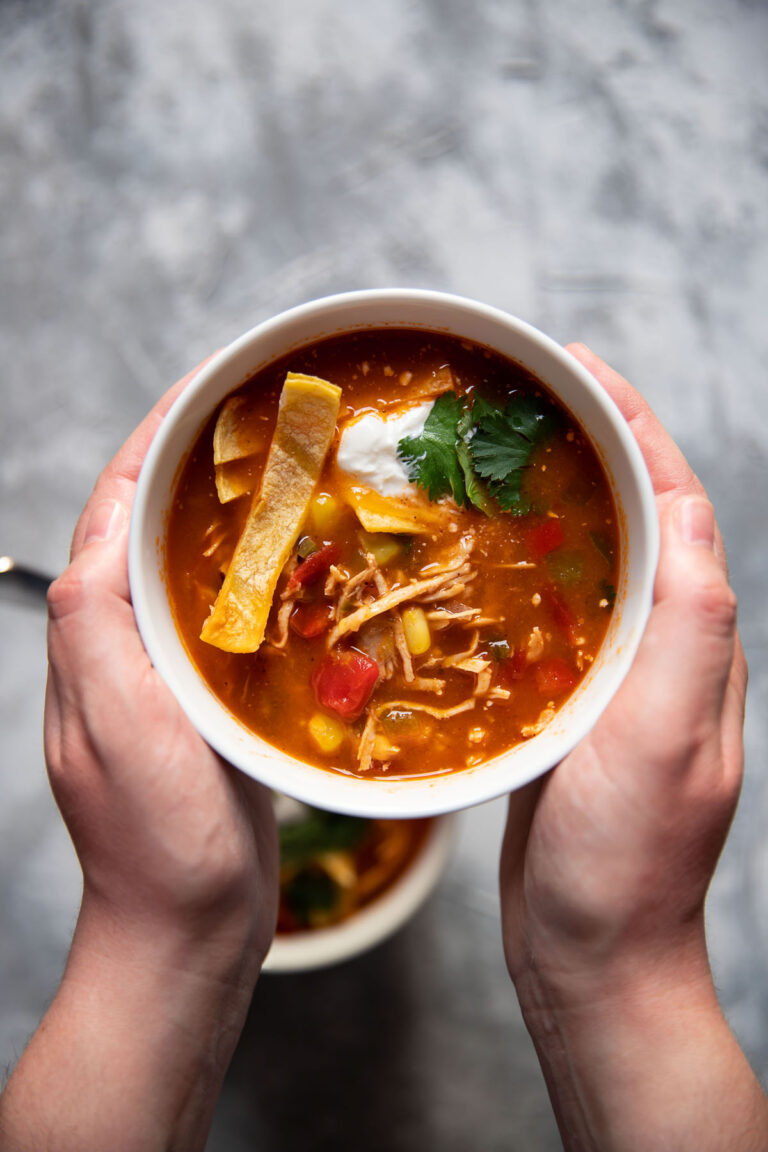 This is so filling and hearty, it makes for the perfect little bowl of soup for dinner, or even lunch.
But I love that there's a lot of yummy stuff packed in, like black beans, corn, bell peppers and of course chicken.
You can go wild with toppings too. My top picks are tortilla strips, or crumbled up tortilla chips if you don't have corn tortillas, sour cream, extra cheese and cilantro.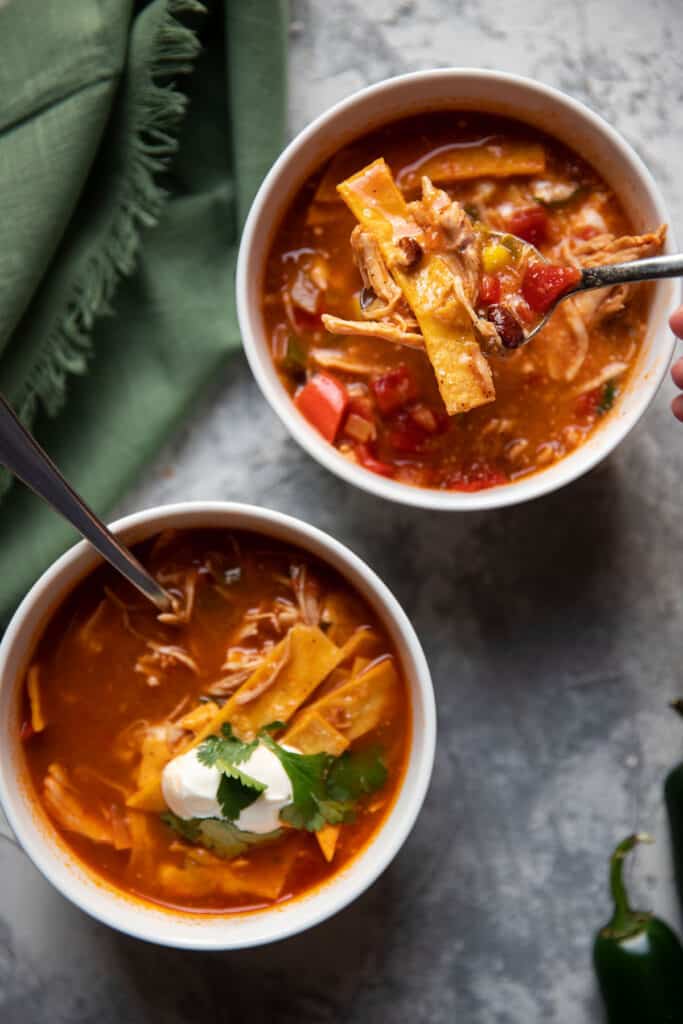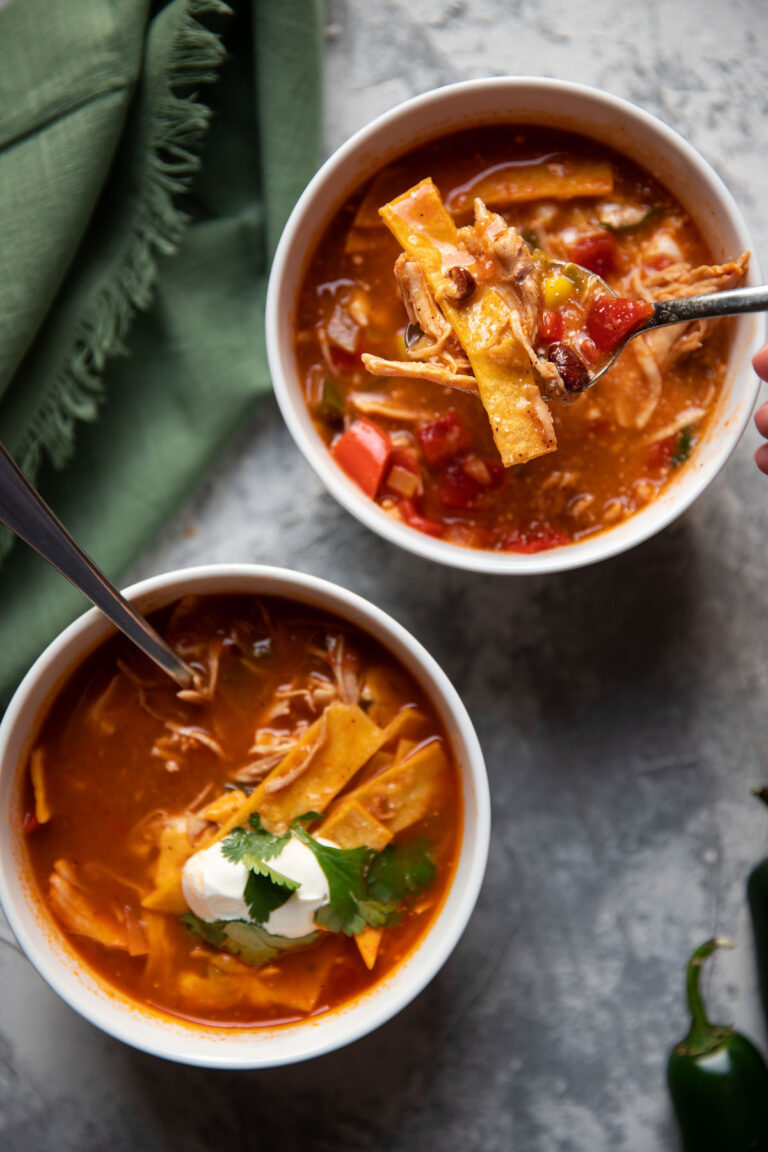 How many people does this chicken tortilla soup feed?
It will feed a family of 4, six times. In my family there is myself, my husband and we have two little kids.
This feeds us a total of six dinners. I make it, then freeze 5 portions.
You'll want to use a really big pot. Bigger than you think you'll need. Every time I think I can get away with my 10 quart but doing that math, what am I thinking, haha?
So opt for a stock pot if you have it, if not, just use two large pots, hey why not.
Can you Freeze Soup?
Wait to portion out the soup until it has come to room temperature.
My container of choice is a ziploc freezer bag (although you can use whatever you are accustom to). I use these because they are easy to store and stack nicely, they don't take up a lot of space in the freezer.
You can actually roll the top of the bag over (outward) so you don't make a sloppy mess, so when you go to zip it closed you wont have soup all over your hands.
Add the broth last. And when you go to reheat, you can add extra chicken broth if it has absorbed.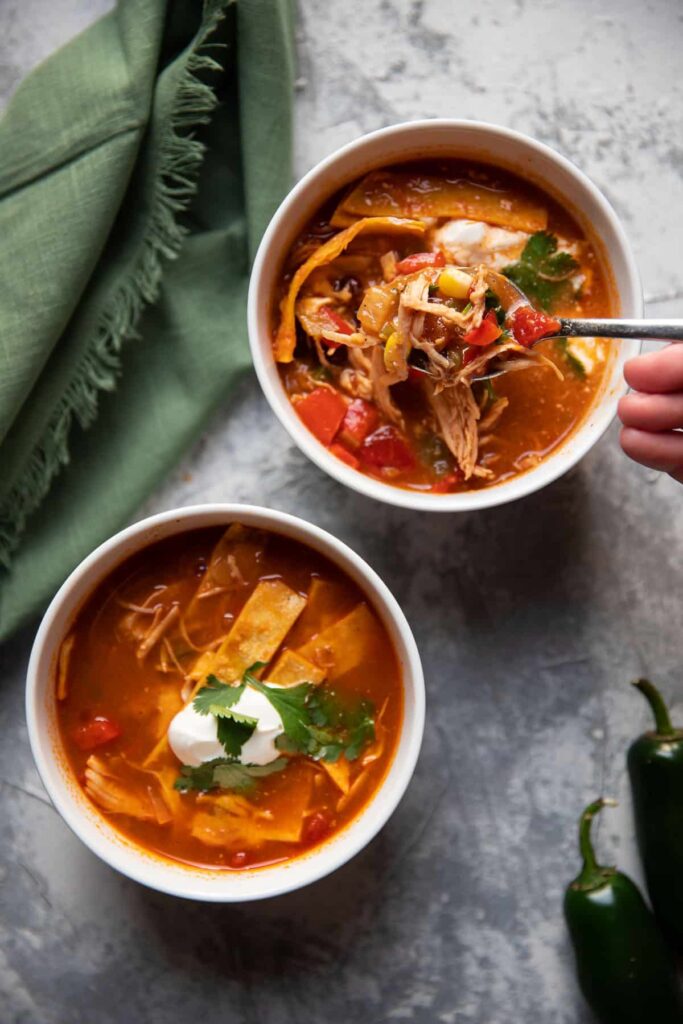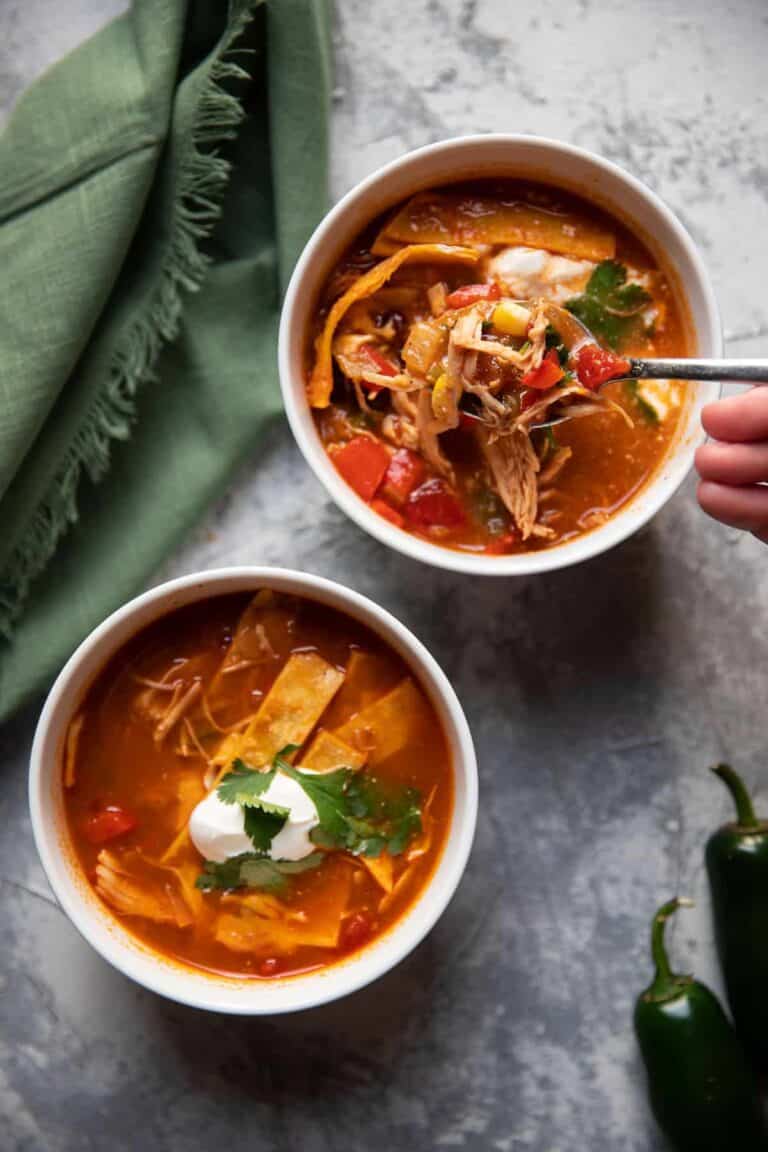 More Freezer Friendly Recipes
Watch How To Make Chicken Tortilla Soup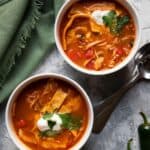 Print Recipe
Chicken Tortilla Soup Big Batch and Freezer Friendly
Chicken tortilla soup loaded with shredded chicken, bell peppers, black beans and corn. This big batch recipe makes so much you'll be able to freeze it and eat it later!
Ingredients
2

tbsp

olive oil

2

green bell peppers

diced

2

red bell peppers

diced

2

jalapeños

seeds removed and diced

1

onion

chopped

4

garlic cloves

minced

4

tsp

cumin

1

tbsp

chili powder

1 1/2

tsp

garlic powder

2

tsp

salt

10

c

chicken broth

or water and chicken better than bouillon is my preferred method

6

oz

tomato paste

4

chicken breasts

2-3 lbs total

2

cans black beans

drained and rinsed

2

cans tomatoes and diced green chilies

2

c

frozen corn

1

package corn tortillas

cut into thin strips
Instructions
Heat 2 tbsp olive oil in a very large pot over medium heat

Add the bell peppers, onion, jalapeño, minced garlic

To this add your spices; cumin, chili powder, garlic powder and salt

Stir

Cover and let simmer on med/low for 10 minutes

Add in the cans of tomatoes and diced green chilies, chicken broth, tomato paste, black beans and frozen corn

To this add the whole chicken breasts (no need to pre-cook)

Cover and cook on med/low for 45 minutes (a low boil/simmer)

Remove the chicken and shred it (if you have a kitchen aid, this is so much faster otherwise use two forks to shred the chicken)

Return the chicken to the pot

Serve and top with tortilla strips!
Notes
*Garnish with anything you like! Sour cream, cheese and cilantro are my personal choice
*Freeze the extra corn tortillas you don't use
*You don't need to precook the chicken because it will cook completely during the 45 minutes the soup simmers at a low boil
*Add extra chicken broth if it starts to get low, I usually freeze my batches and add extra once I go to heat it back up to save on freezer space
This recipe is from the Modern Crumb soup collection. Check out some of the other ones!