This chicken tortilla soup is loaded with shredded chicken, bell peppers, black beans and corn. Because it's a big batch recipe and makes so much you will love being able to freeze portions of it for a quick and effortless dinner another time. Such an easy freezer meal the whole family will love.
Cozy soups are unbeatable, like this homemade chicken noodle soup, loaded baked potato chowder and lasagna tortellini soup.
This recipe was originally published on March 17, 2020.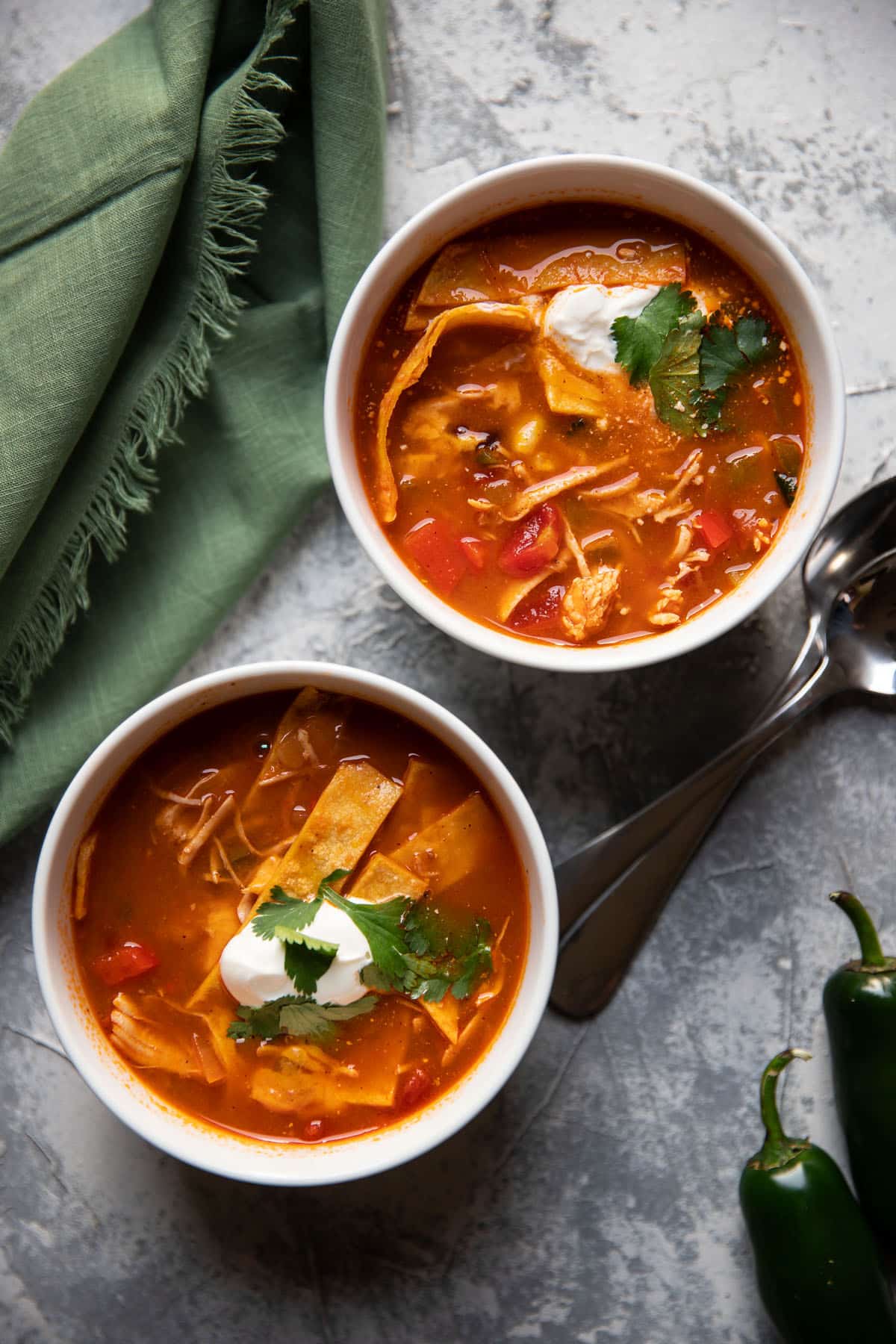 I love chicken tortilla soup, everyone in my family actually does! I always make this bag batch version and then freeze it for later days.
It taste just as good, maybe even better when reheated later.
That may be a soup thing though, it always tastes 10 x better the next day. I know it's definitely true for this creamy chicken gnocchi soup.
Throughout trips, home moves and life milestones this tortilla soup has been our go-to, our tried and true.
When we're in a pinch, just take it out of the freezer, heat, and dinner is served. I have a love/love relationship with this soup.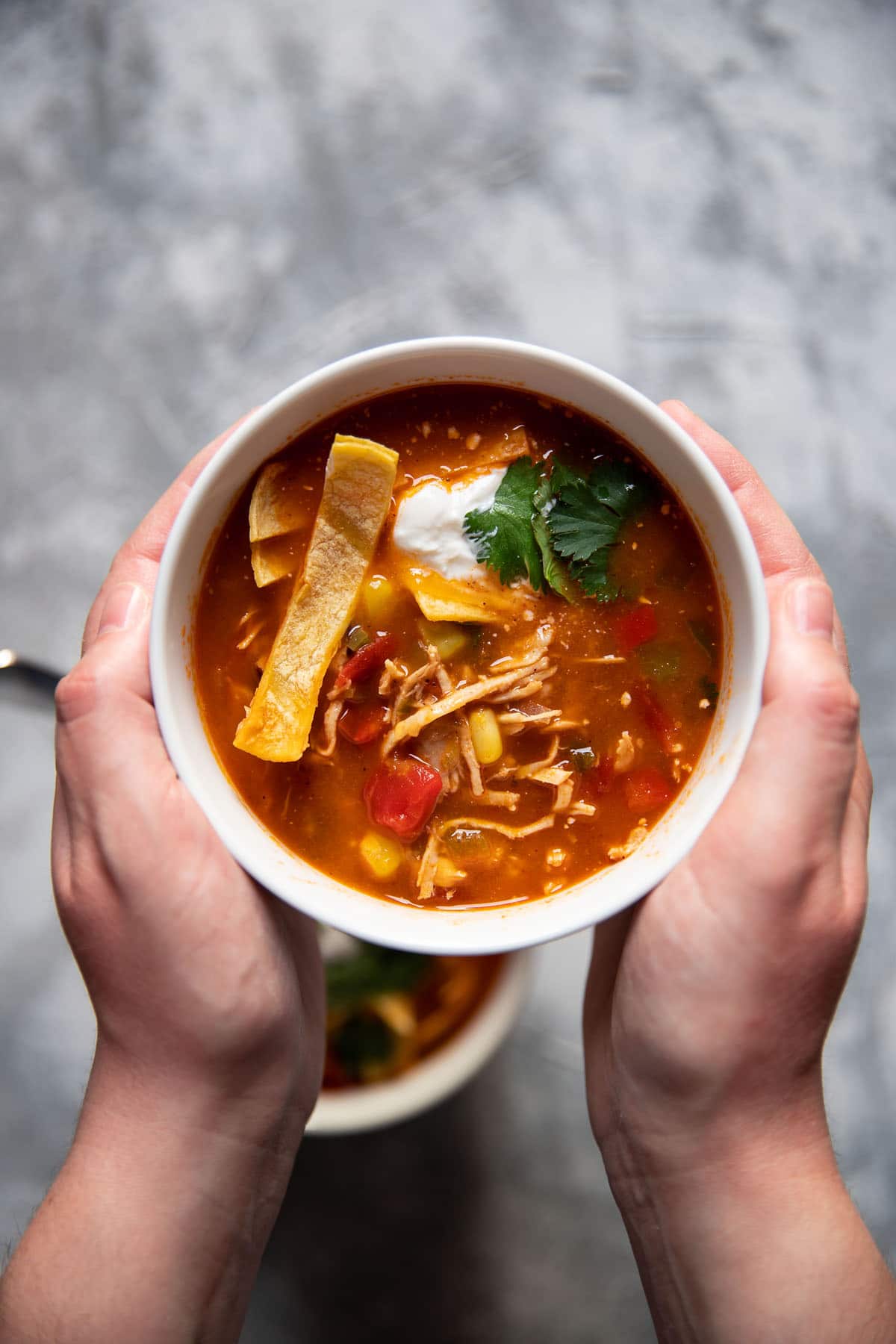 What's In Chicken Tortilla Soup?
This is so filling and hearty, it makes for the perfect little bowl of soup for dinner, or even lunch.
But I love that there's a lot of yummy stuff packed in, like black beans, corn, bell peppers and of course chicken.
You can go wild with toppings too. My top picks are tortilla strips, or crumbled up tortilla chips if you don't have corn tortillas, sour cream, extra cheese and cilantro.
Here's the full list of what's inside this chicken tortilla soup and everything freezes really well!
olive oil
bell peppers - both red and green, red bell peppers are a bit sweeter than green bell peppers, fun fact - green bell peppers would eventually turn in to red bell peppers but they are picked before they get that ripe
jalapeños - gives the soup a little bit of spice, but there isn't a lot of jalapeño to soup ratio, so it's not too bad
onion - I prefer a yellow onion
garlic - adds to all the flavor when cooked in the soup
cumin - has a warm earthy flavor
chili powder - a bit spicy, with a deeper flavor
garlic powder - for extra garlic flavoring
salt - to enhance the flavor of the soup, I always use kosher salt in all of my recipes instead of table salt
chicken broth - I like to use a mixture of water and chicken better than bouillon, it's like making your own broth, but if you don't have this you can sub it out for just 10 cups of chicken broth
tomato paste - tomato paste enhances the tomato flavor of the soup
chicken breast - any type of chicken would really work for this, but chicken breast is the leanest and easiest to work with, it also shreds really nicely
black beans - rinse them well, you can add as much black beans or as little as you prefer
frozen corn - same with the corn, you could add as much or as little but for a balanced ratio stick with the recipe amount
corn tortillas - slice these up and garnish on top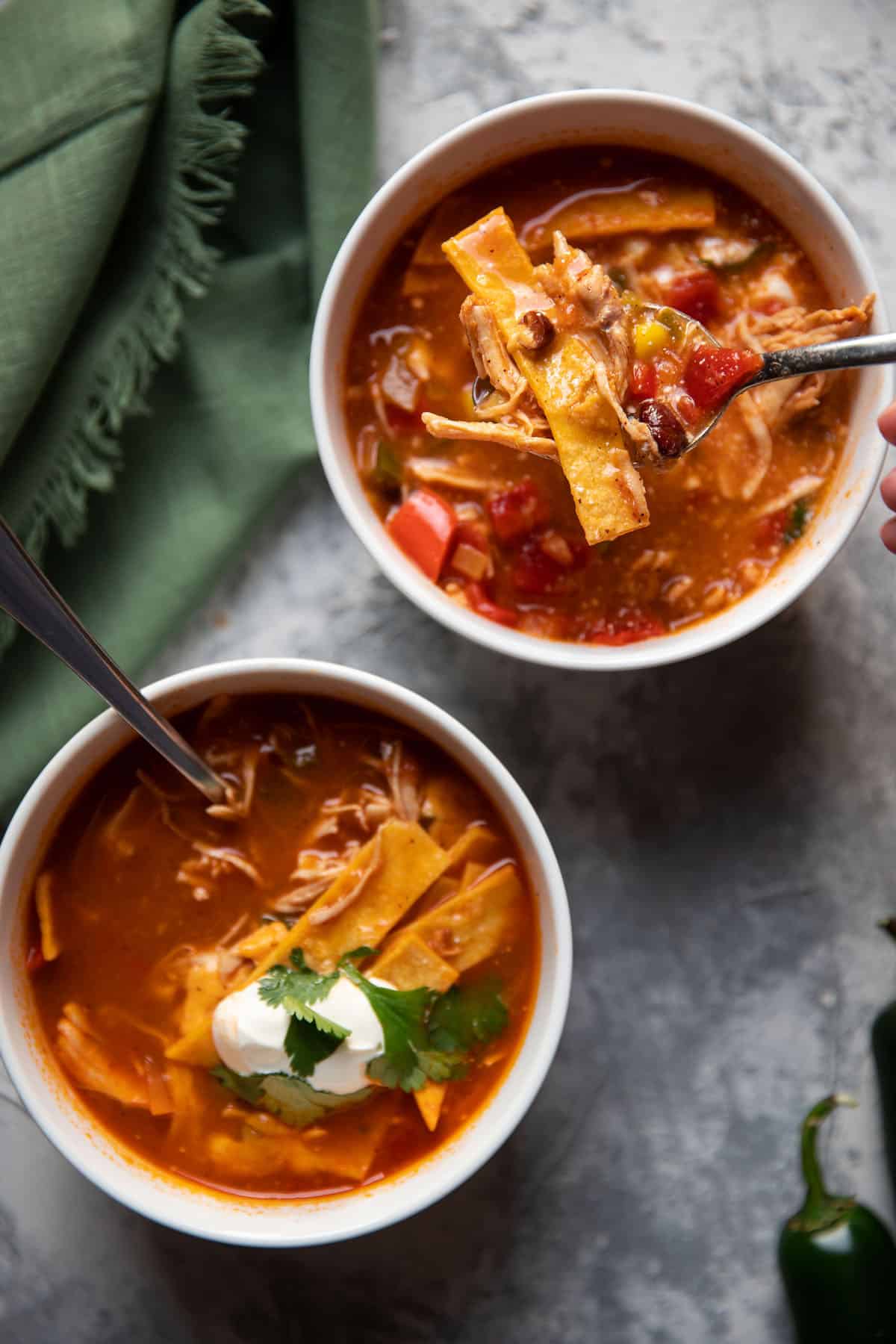 How Many People Does This Chicken Tortilla Soup Feed?
It will feed a family of 4, six times. In my family there is myself, my husband and we have two little kids.
This feeds us a total of six dinners. I make it, then freeze 5 portions. It's the best batch cooking recipe!
You'll want to use a really big pot. Bigger than you think you'll need. Every time I think I can get away with my 10 quart but that just doesn't work.
So opt for a stock pot if you have it, if not, just use two large pots.
Can You Freeze Chicken Tortilla Soup?
Yes!
This chicken tortilla soup makes the perfect freezer meal. It has the exact same consistency as when you first made it, when you reheat it.
For me, that's the test of a real winner when I think of a freezer meal.
Wait to portion out the soup until it has come to room temperature.
My container of choice is a ziploc freezer bag (although you can use whatever you are accustom to).
I use these because they are easy to store and stack nicely when you lay them full of soup in the freezer. They don't take up a lot of space in the freezer.
Here's a helpful tip when transffering ladles of soup to a freezer bag.
You can actually roll the top of the bag over (outward) so you don't make a sloppy mess, so when you go to zip it closed you wont have soup all over your hands.
Add the broth last. And when you go to reheat, you can add extra chicken broth if it has absorbed.
If you need to add extra chicken broth you may just need a tiny pinch of salt to re-vamp that flavor since it got diluted with more broth.
You can also freeze corn tortillas, so that way you have them on hand when you want to reheat a bag of the soup.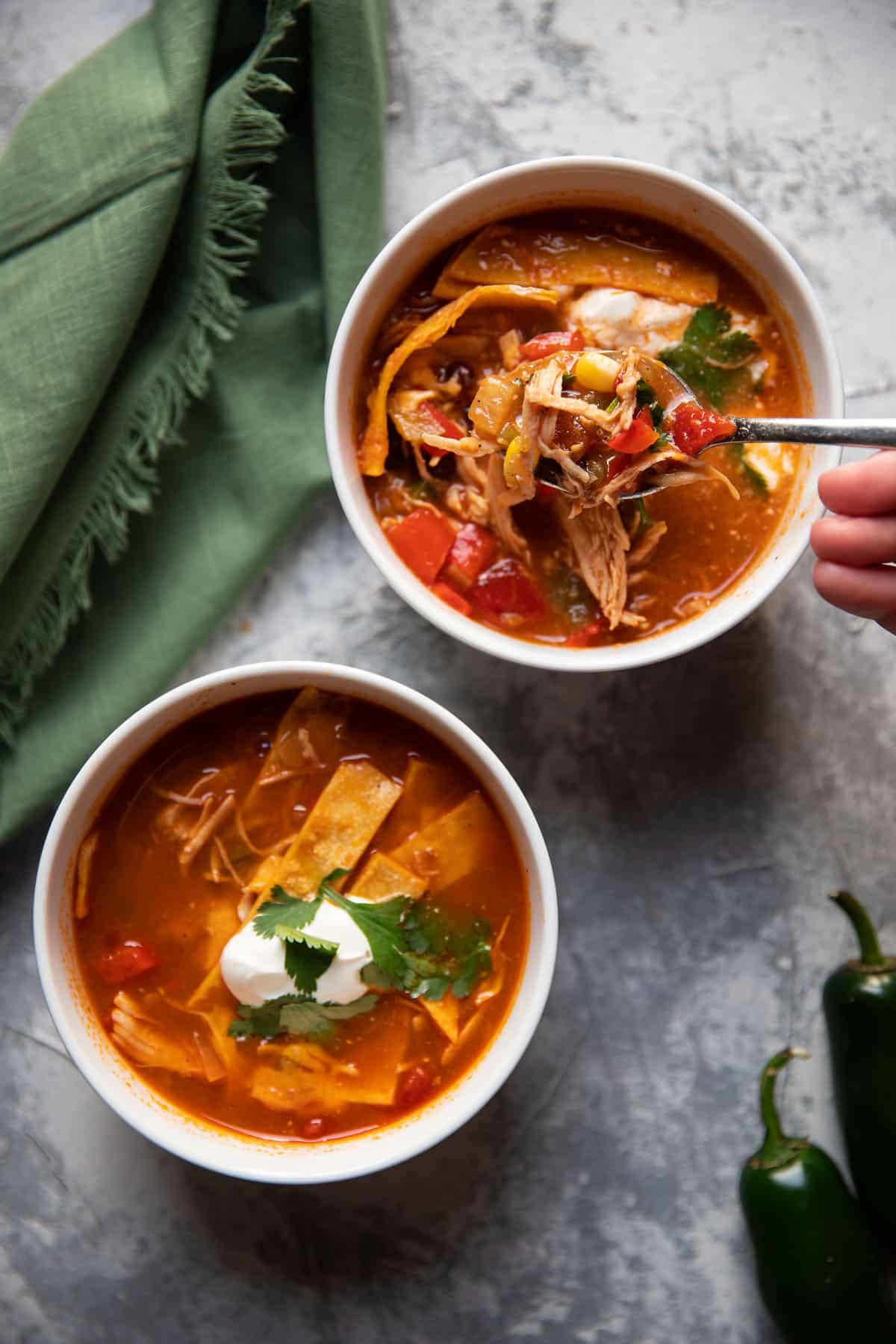 More Family Friendly Soup Recipes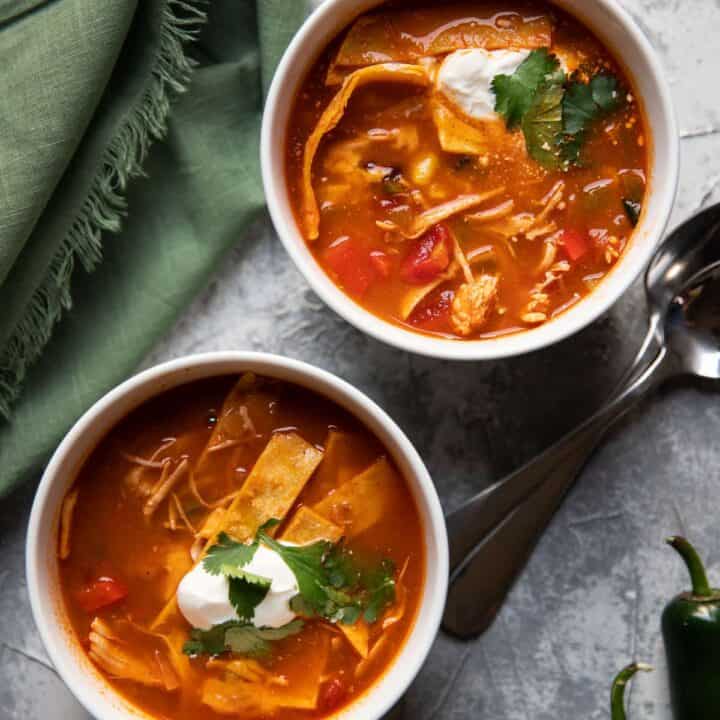 Chicken Tortilla Soup Big Batch and Freezer Friendly
Total Time:
1 hour
30 minutes
This chicken tortilla soup is loaded with shredded chicken, bell peppers, black beans and corn. Because it's a big batch recipe and makes so much you will love being able to freeze portions of it for a quick and effortless dinner another time. Such an easy freezer meal the whole family will love.
Ingredients
2 tbsp olive oil
2 green bell peppers, diced
2 red bell peppers, diced
2 jalapeños, seeds removed and diced
1 onion, chopped
4 garlic cloves, minced
4 tsp cumin
1 tbsp chili powder
1 ½ tsp garlic powder
2 tsp salt
10 c chicken broth (or water and chicken better than bouillon)
6 oz tomato paste
4 chicken breasts, 2-3 lbs total
2 cans black beans, drained and rinsed
2 cans tomatoes and diced green chilies
2 c frozen corn
1 package corn tortillas, cut into thin strips
Instructions
Heat 2 tbsp olive oil in a very large pot over medium heat
Add the bell peppers, onion, jalapeño, minced garlic
To this add your spices; cumin, chili powder, garlic powder and salt
Stir
Cover and let simmer on med/low for 10 minutes
Add in the cans of tomatoes and diced green chilies, chicken broth, tomato paste, black beans and frozen corn
To this add the whole chicken breasts (no need to pre-cook)
Cover and cook on med/low for 45 minutes (a low boil/simmer)
Remove the chicken and shred it (if you have a kitchen aid, this is so much faster otherwise use two forks to shred the chicken)
Return the chicken to the pot
Serve and top with tortilla strips!
Notes
Garnish with anything you like! Sour cream, cheese and cilantro are my personal choice.
Freeze the extra corn tortillas you don't use.
You don't need to precook the chicken because it will cook completely during the 45 minutes the soup simmers at a low boil.
Add extra chicken broth if it starts to get low, I usually freeze my batches and add extra once I go to heat it back up to save on freezer space.
Nutrition Information:
Yield:

20
Serving Size:

1
Amount Per Serving:
Calories:

575
Total Fat:

6g
Saturated Fat:

1g
Trans Fat:

0g
Unsaturated Fat:

4g
Cholesterol:

23mg
Sodium:

1535mg
Carbohydrates:

119g
Fiber:

17g
Sugar:

26g
Protein:

24g
This information comes from online calculators. Although moderncrumb.com attempts to provide accurate nutritional information, these figures are only estimates.