Creamy, luscious tomato soup with tortellinis.  Made with carrots, celery and onion. This isn't anything like the canned stuff you knew as a kid, it's chunky, a bit spicy and warms you down to your bones.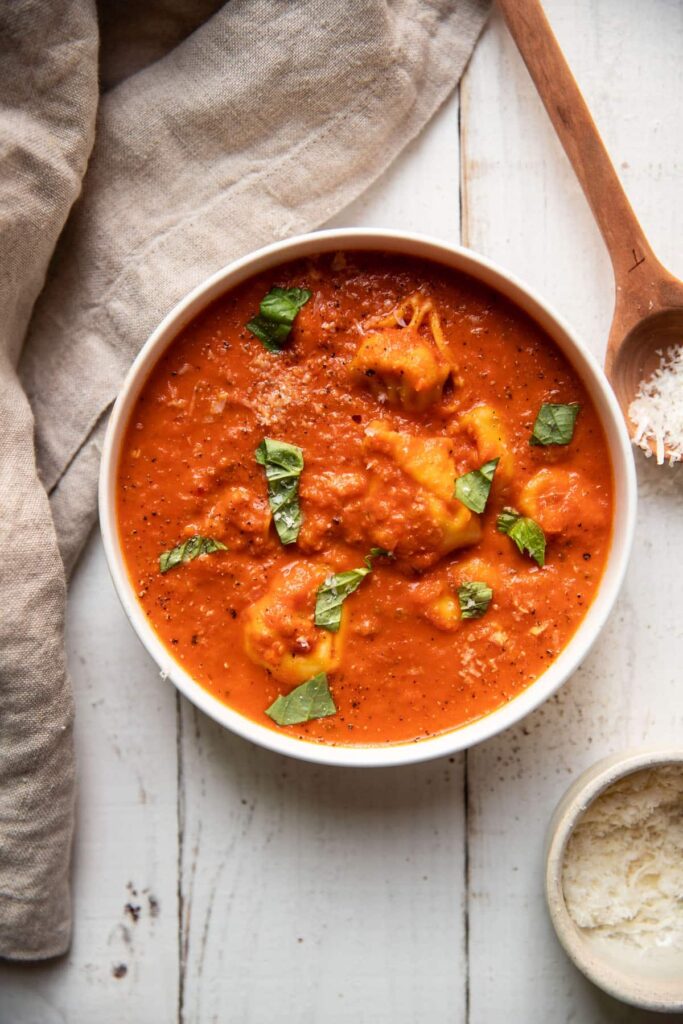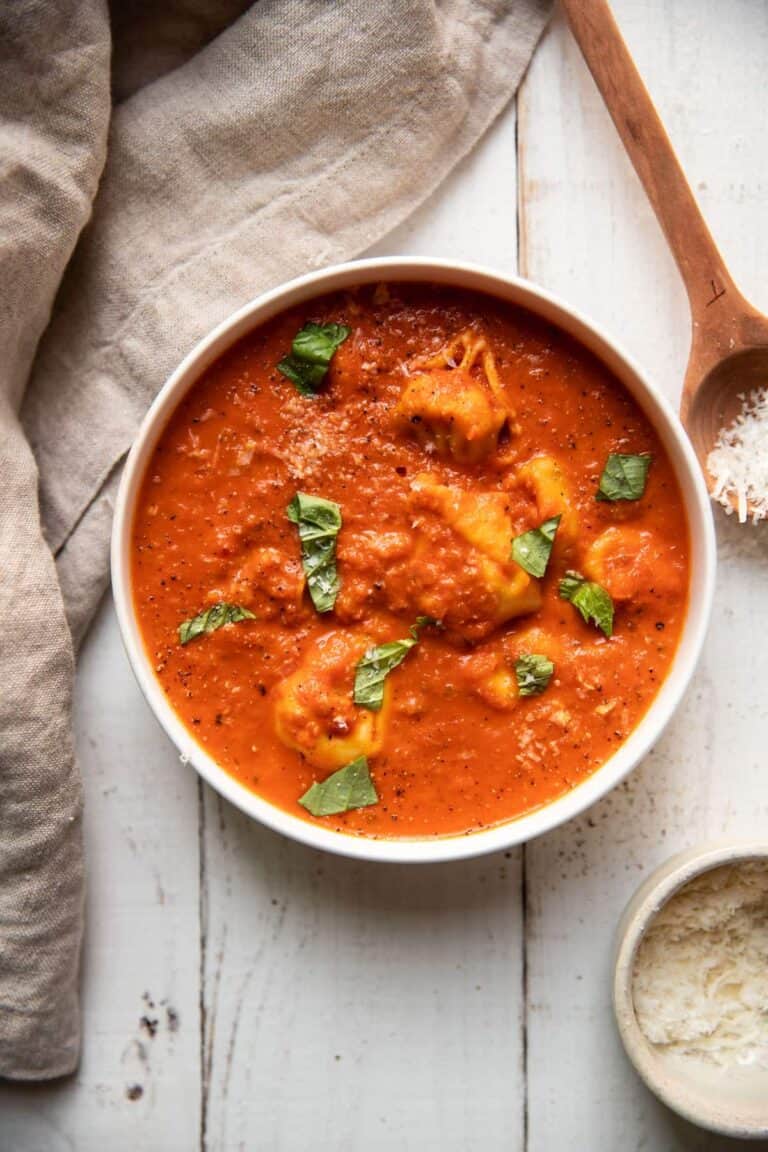 Creamy Tomato Red Pepper Tortellini Soup
Got those winter chills? Then this is the tomato soup for you.
My favorite tomato soups are the kinds that you can taste the texture on each bite.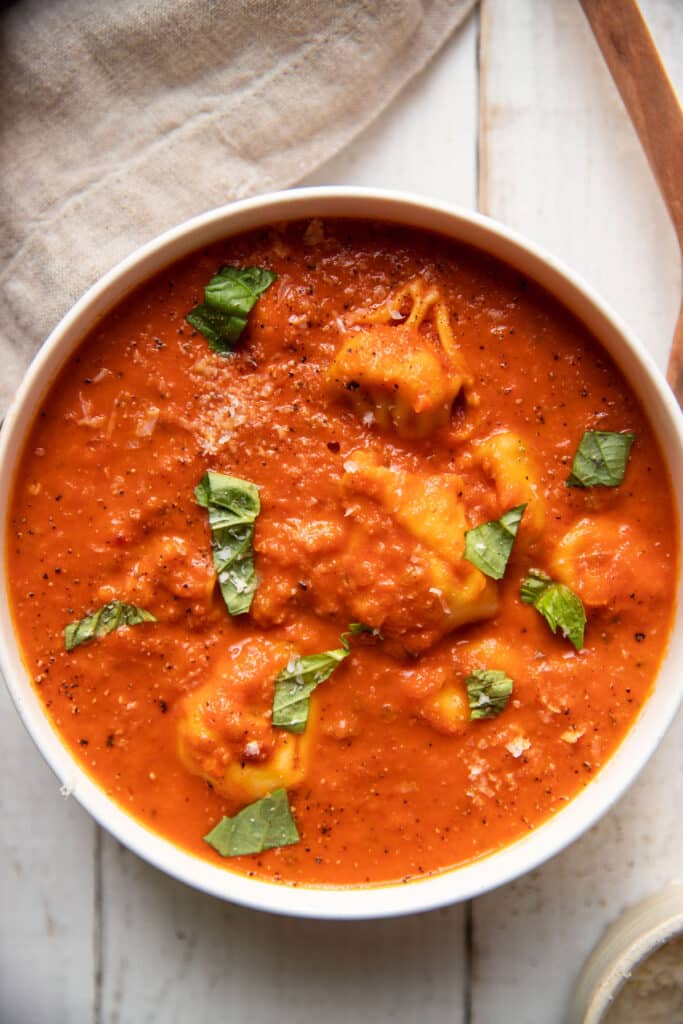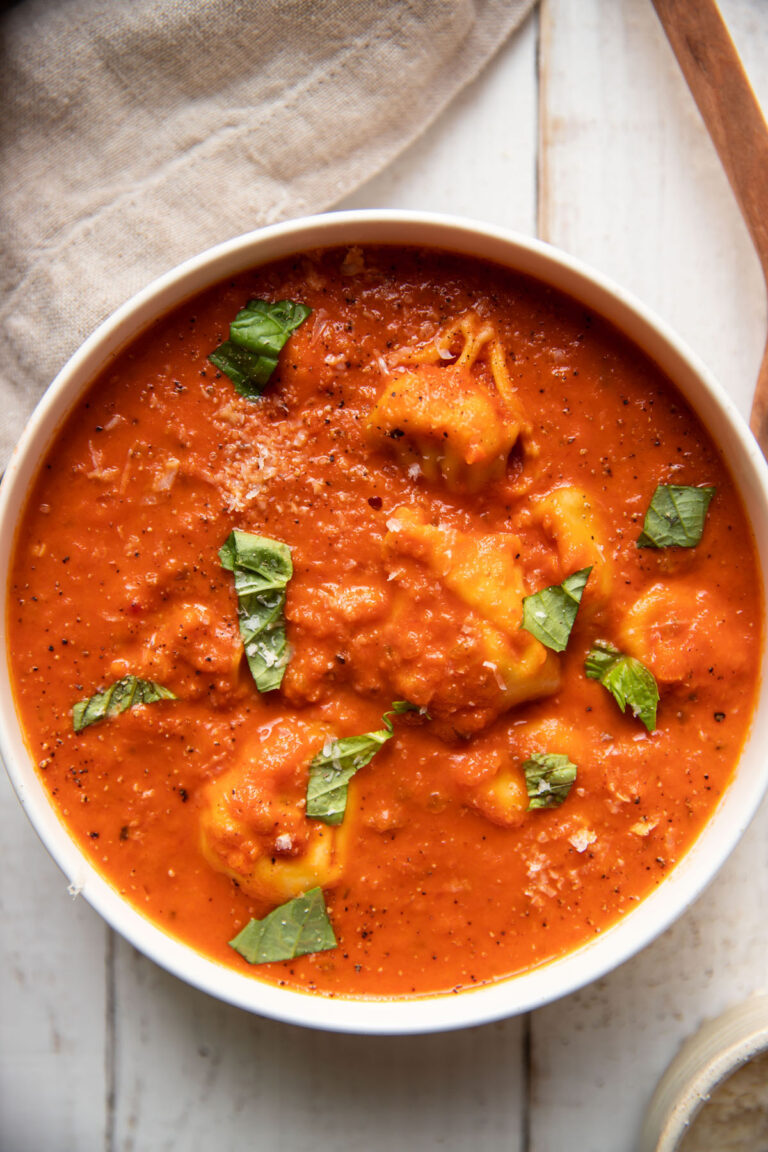 And this is exactly what this soup has to offer.
Celery, carrot and onion only half pureed so you can enjoy the true heartiness of this creamy tomato soup.
And don't let the pictures fool you. It's got a little kick to it.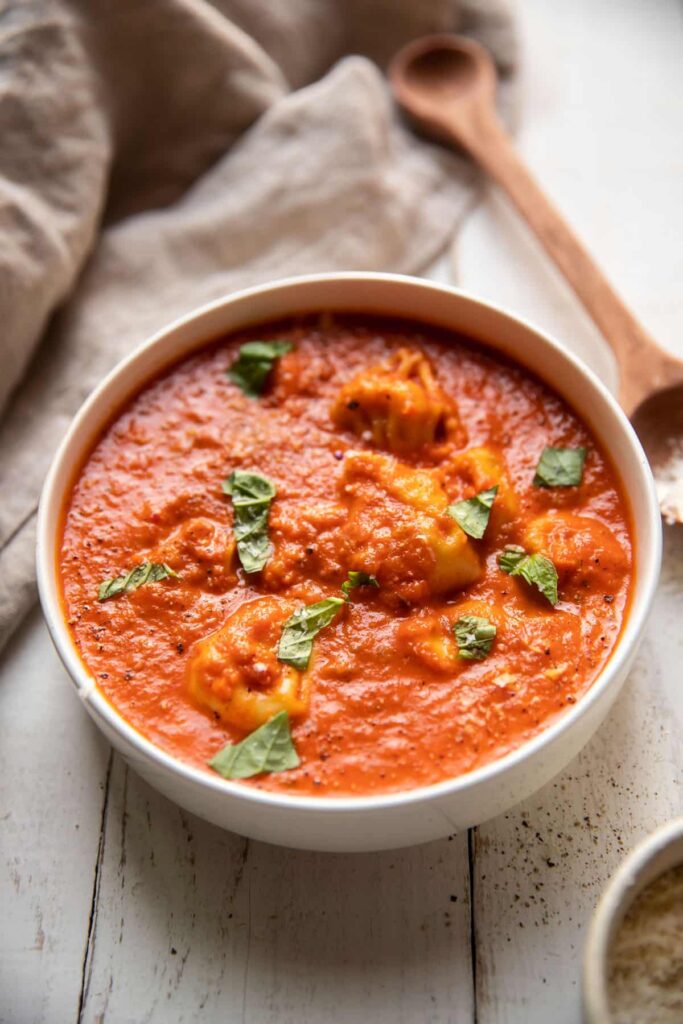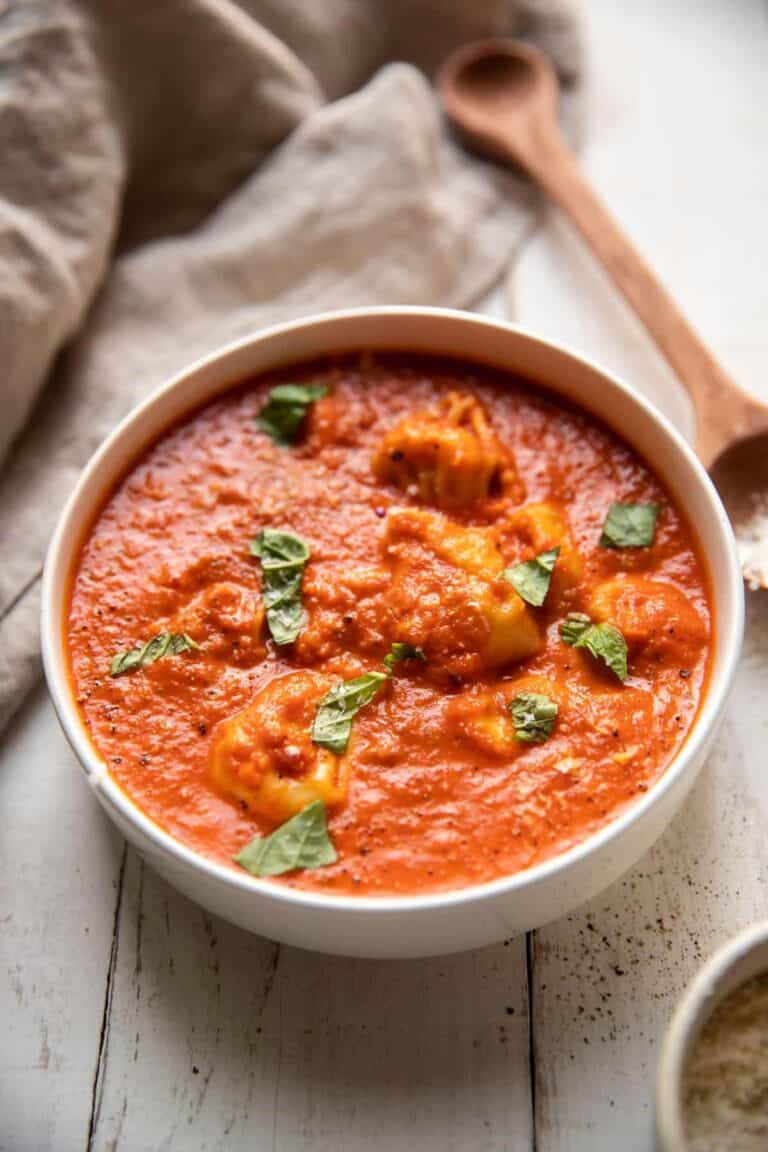 So if that's not your thang, you can leave it out or if it's totally your thing you can add extra and be a daredevil. Go on with your bad self.
I choose the latter.
Tortellinis are super forgiving. You don't have to pre-boil them you just dump them right in the soup and that's about it, let them cook and they're done.
It doesn't get any easier than this.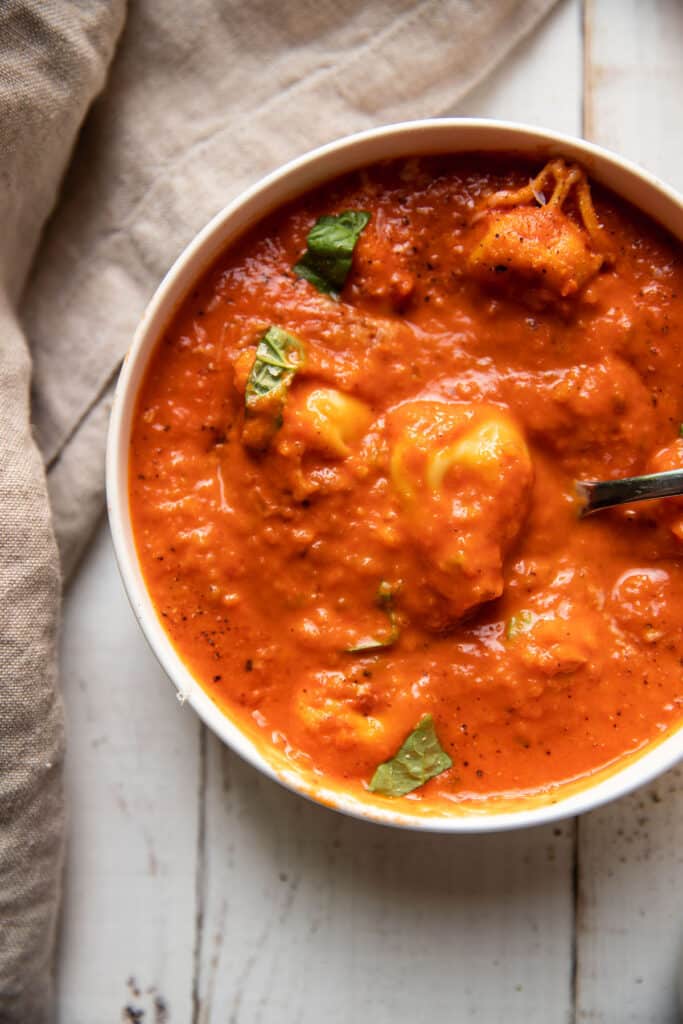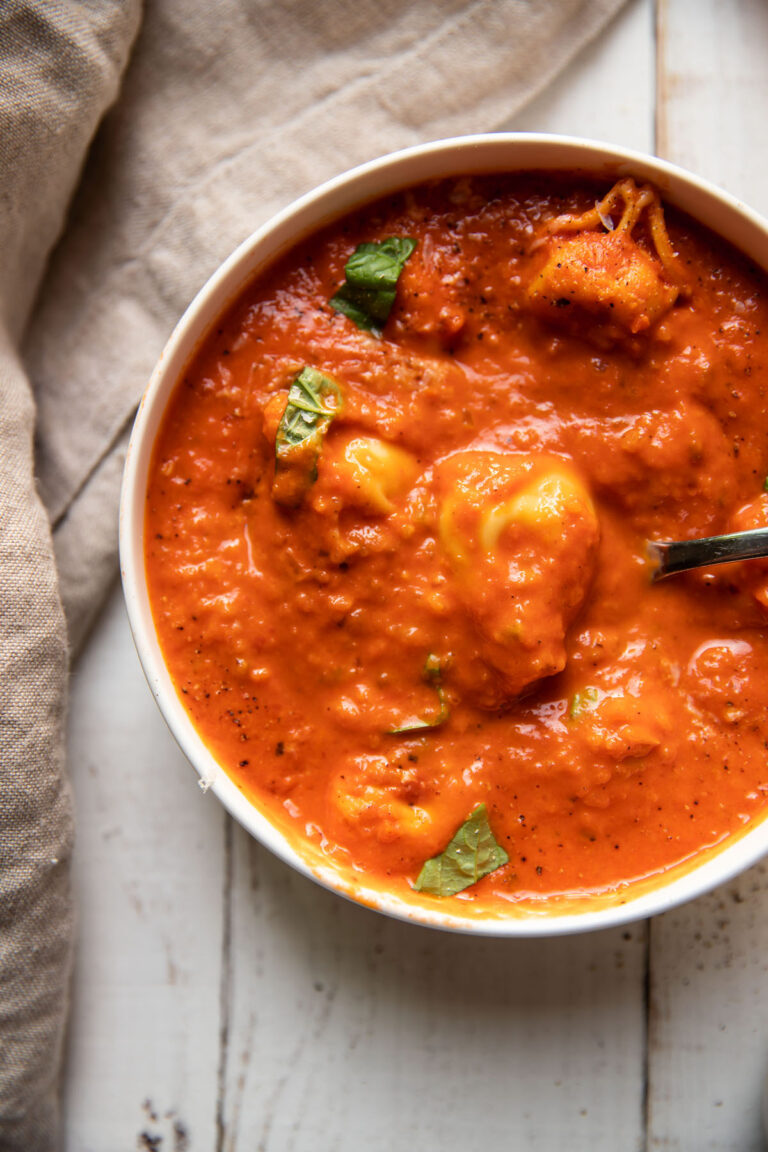 I think one trick to perfect tomato soup is getting the salt and vegetable base right. If you don't then your soup will be really acidic. So adding in the celery and tomatoes helps with this and also just the right amount of salt.
You need a whole teaspoon, no more, no less.
And one other secret, I throw a parmigiano reggiano rind into this when it cooks. It's just a bit something extra and if you have one toss it in. If not then stir some in.
Grab your sweater, make this soup and have a good week!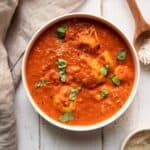 Print Recipe
Creamy Tomato Red Pepper Tortellini Soup
Ingredients
2

carrots

chopped

3

celery stalks

chopped

3

garlic cloves

minced

1

tbsp

olive oil

2

tbsp

butter

1

tsp

salt

pepper

1/4

tsp

red pepper flakes

1

tsp

dried oregano

1

tbsp

flour

2

c

chicken broth

28

oz

crush tomatoes

1/2

c

heavy cream

10

oz

cheese tortellini

parmigiano reggiano

optional: basil
Instructions
Heat a soup pot over medium/low heat

Add the olive oil, butter, carrots, onion and celery

Saute the vegetables for 5-7 minutes until the onion starts looking translucent

Add in the salt, a bit of pepper, red pepper flakes, oregano and flour

Stir this for 1 minute

Add in the crushed tomatoes, chicken broth and heavy cream

Turn the heat down to low, cover and simmer for 30 minutes

Use a blender or immersion blender and pulse the soup until its just barely chunky, but not smooth

Add in the tortellinis and serve when they are cooked

Stir in some fresh parmigiana reggiano and top with basil (basil optional)