An easy and creamy tomato tortellini soup. Made with carrots, celery and onion to give it texture and depth of flavor. This isn't anything like the canned stuff you knew as a kid, this homemade soup will be an instant family favorite.
With all this cool weather, it's the perfect time to warm up with some soup recipes. Homemade chicken noodle soup is always a house favorite!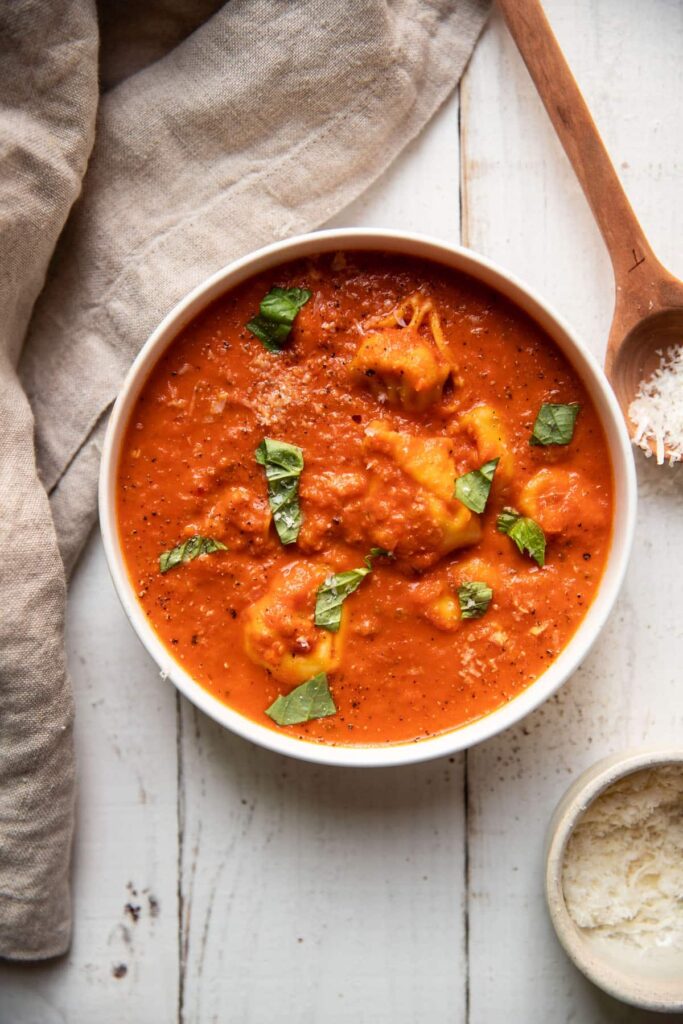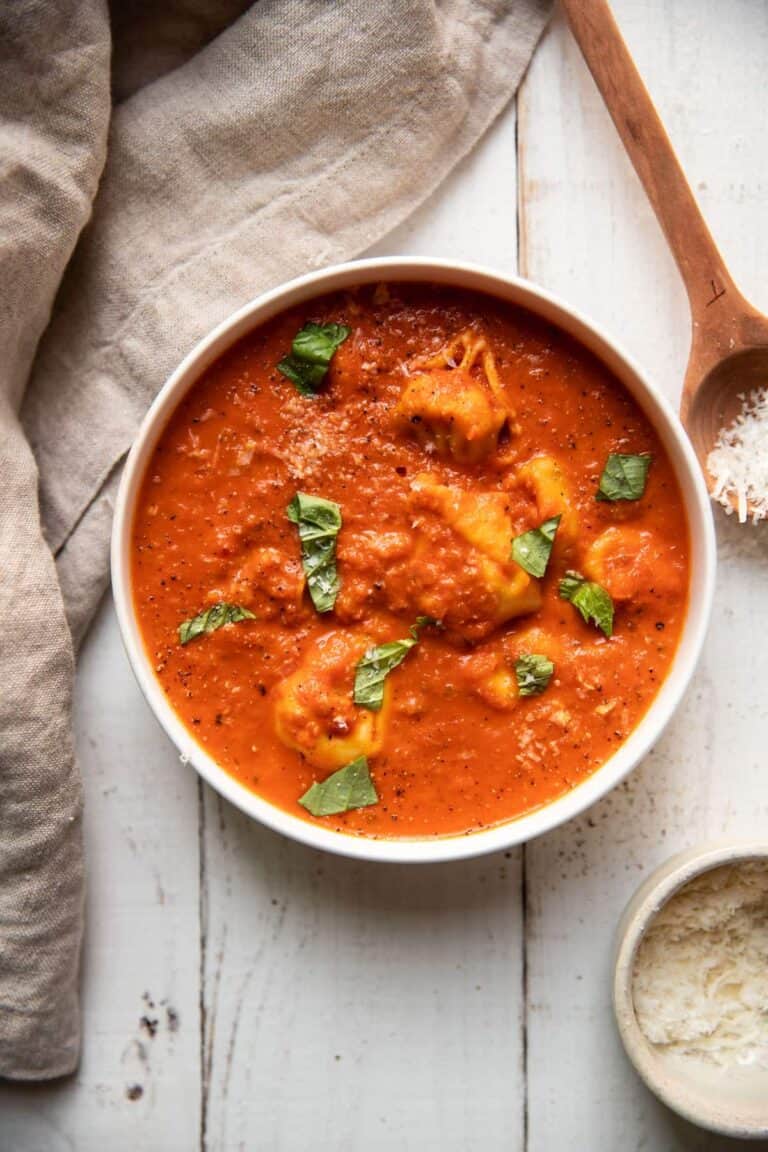 Got those winter chills? Then this quick and easy, creamy tomato tortellini soup is for you.
And an added bonus, you can make it in under an hour.
My favorite tomato soups are the kinds that you can taste the texture on each bite.
This tomato soup has onions, carrots, celery and garlic in it. Each vegetable plays a part in the overall flavor and feel of the soup.
And if you look at the pictures you can just see how much it's got going on.
It reminds me of a cross between this tomato basil soup and this lasagna tortellini soup.
Tortellinis are super forgiving. You don't have to pre-boil them you just toss them right in the soup and let them cook.
It doesn't get any easier than this.
Grab your sweater, make this soup and have a good week!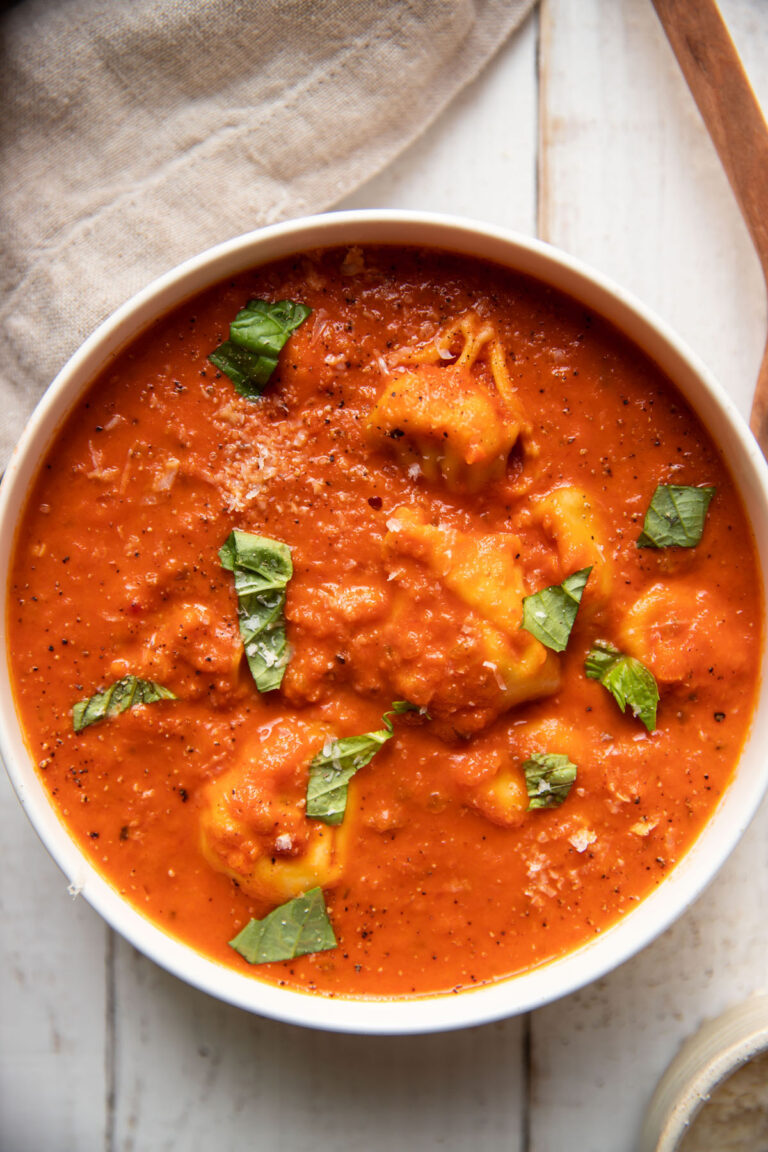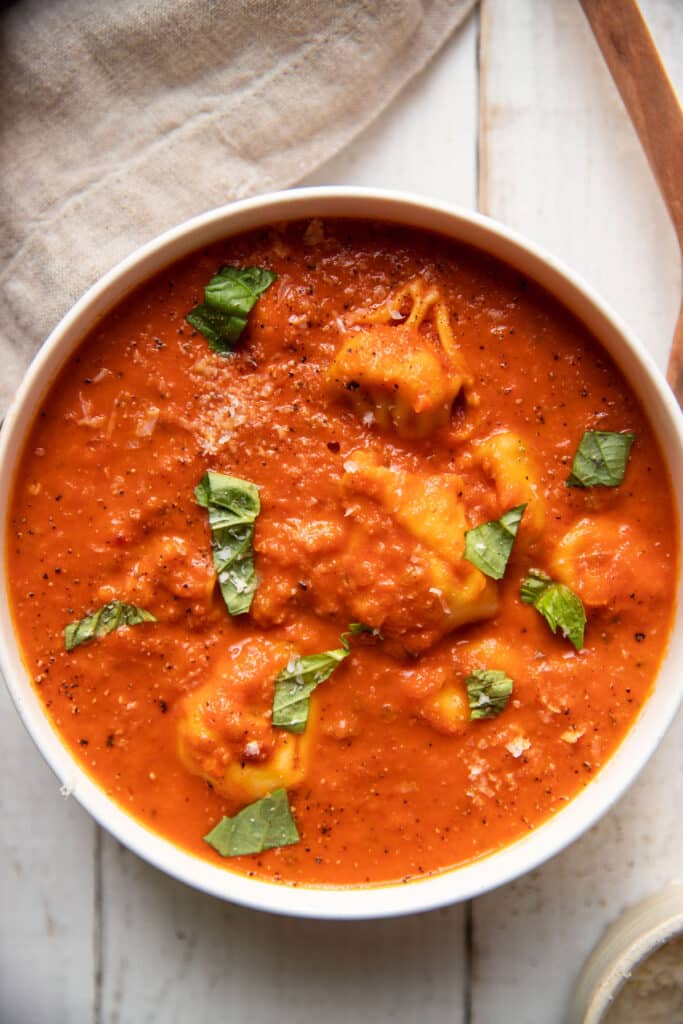 Tomato Soup Tips and Tricks
There is nothing like a bowl of homemade tomato soup.
Growing up my brother was always team tomato soup and I was team chicken noodle. It wasn't until I was older that I started to really enjoy tomato soup, just not from a can.
But making your own tomato soup can be daunting, so let's hope I can share some of the things I've learned making tomato soup.
Acidicty. This is is a big one because you have to be able to balance out all of that acidity from the tomatoes. You'll find things that will tell you to use salt and sugar but that has never worked well for me.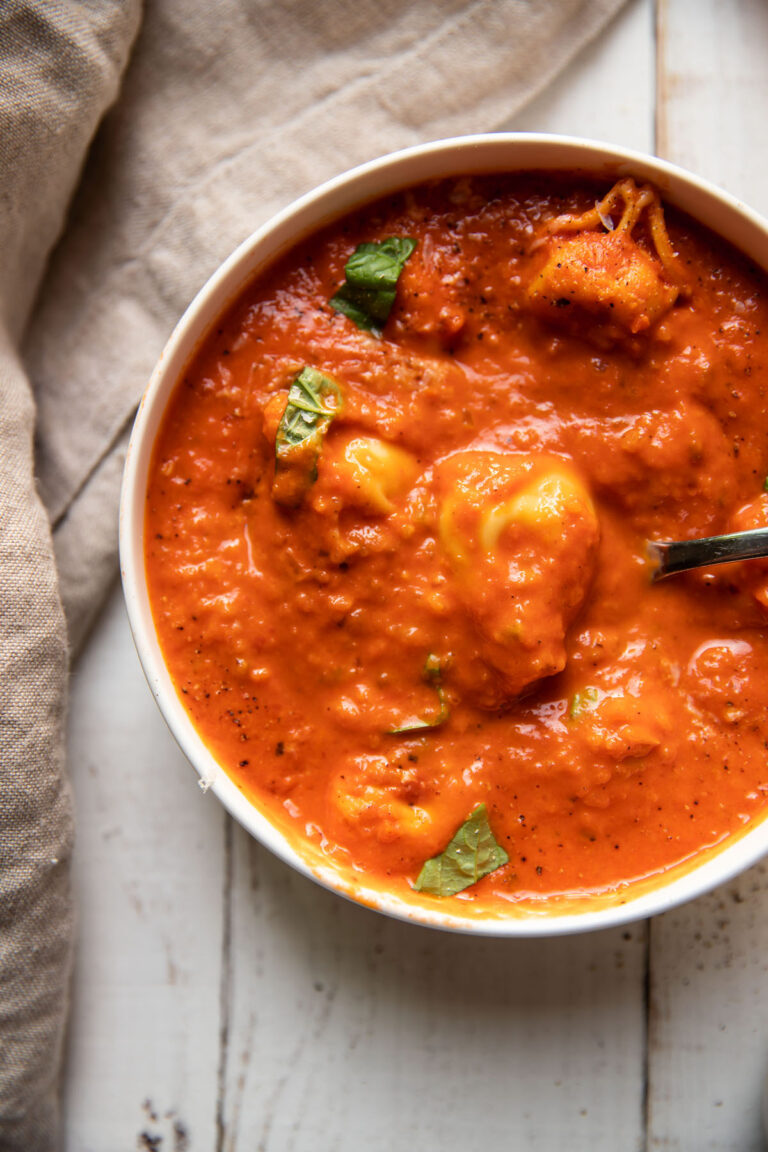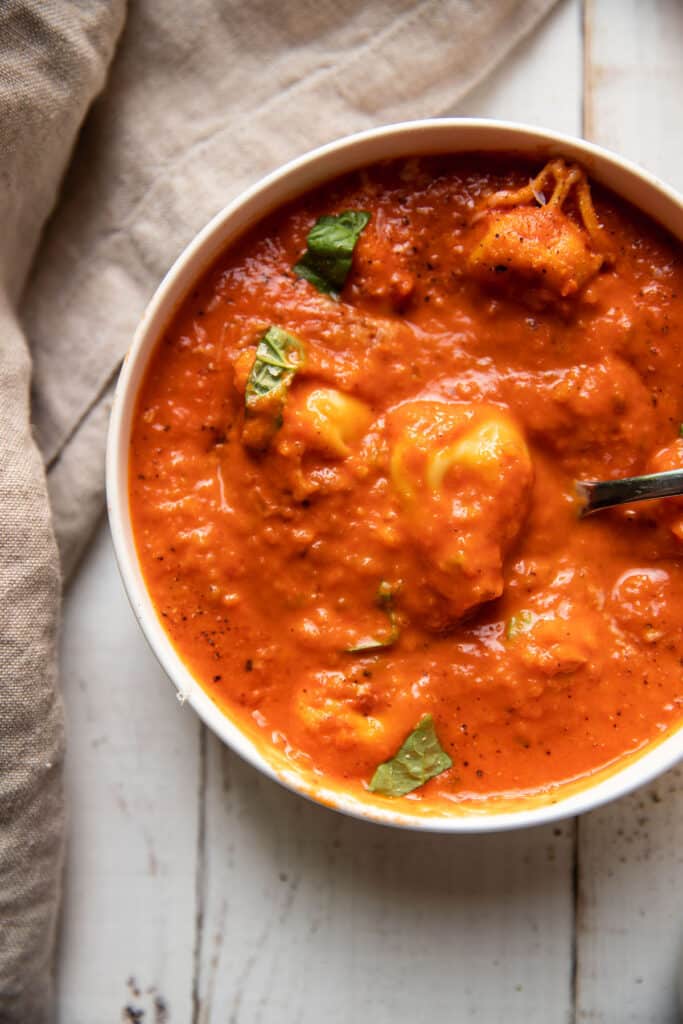 The thing that really helps to cut the acid, again this is my personal experience, is using vegetables. The vegetables helps to tone it down. Especially celery and carrots.
Another great addition to any tomato soup is some cream. Just a little bit adds some decadence and richness to it.
I also like to use some fresh herbs when I have them on hand, fresh basil is wonderful in this.
And one other secret, I throw a parmigiano reggiano cheese rind (the very end of the cheese that's hard and usually gets thrown away) into this when it cooks.
It's just a bit something extra and if you have one toss it in. If not then stir some in.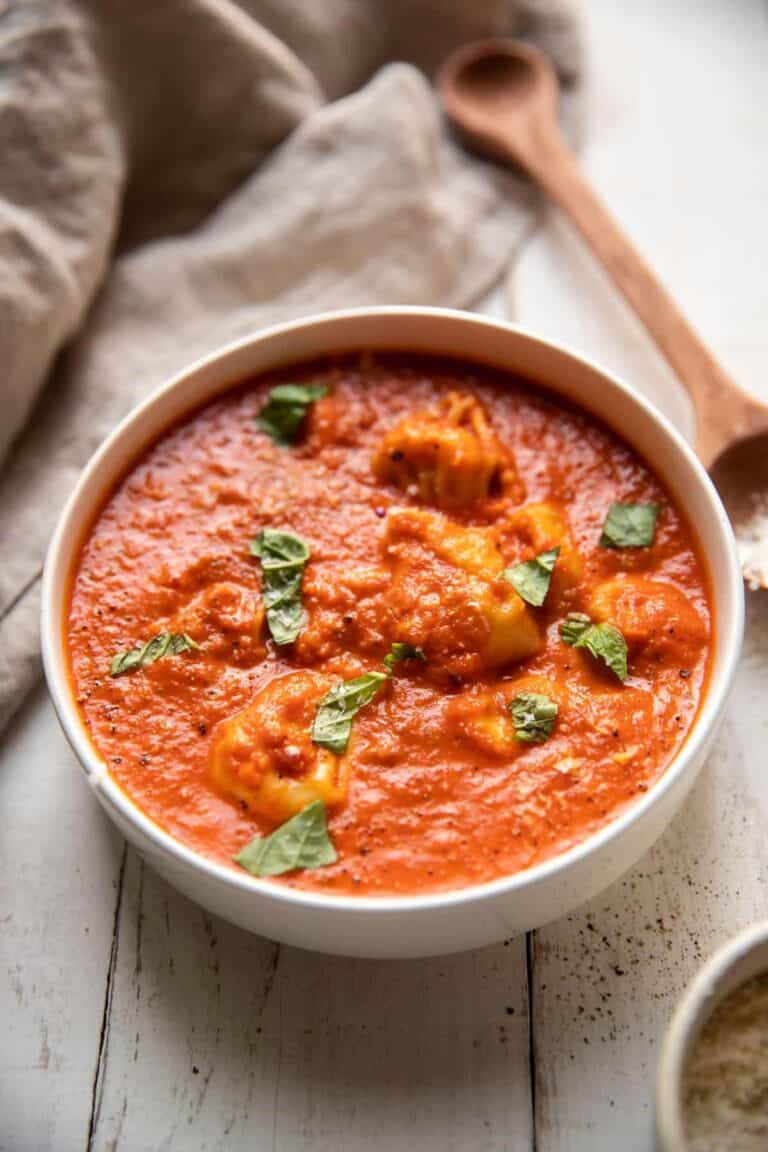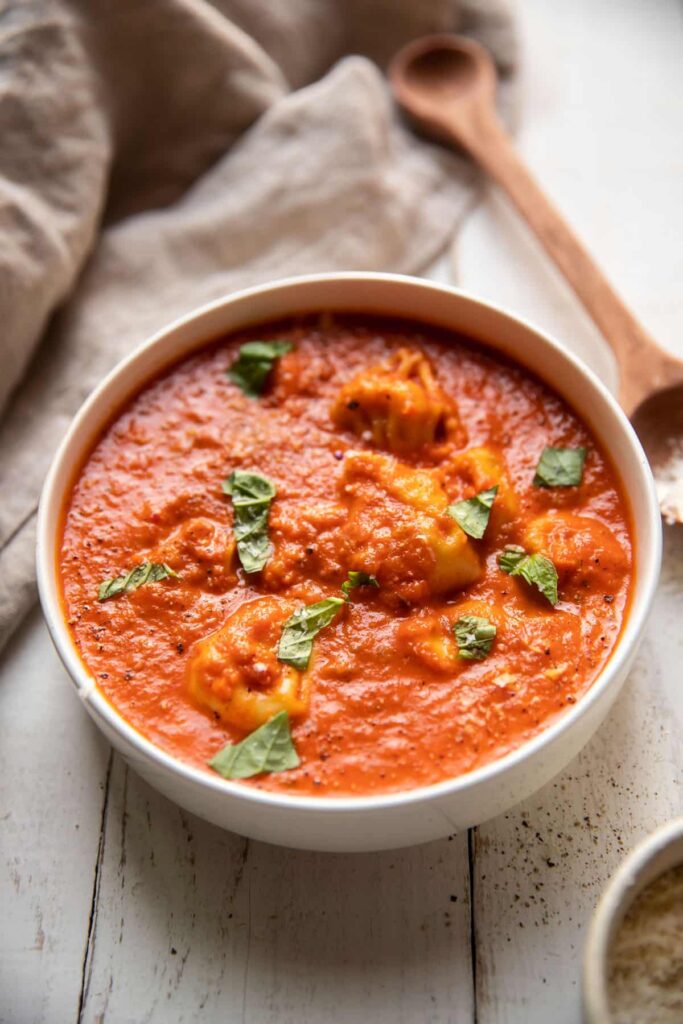 FAQ
Can I used diced tomatoes instead of crushed? If you prefer a chunkier soup you can, however I haven't tested it this way so I wouldn't be able to advise on the outcome.
My soup tastes too acidic, what did I do wrong? Making sure to use the instructed amount of vegetables, salt and cream is important for a balanced flavor.
What is parmigiano reggiano? It's a hard Italian cheese made from cows milk. Parmigiano reggiano usually comes in a triangular block and has a nutty smell to it. This is different than kraft grated parmesan.
Soup Recipes To Try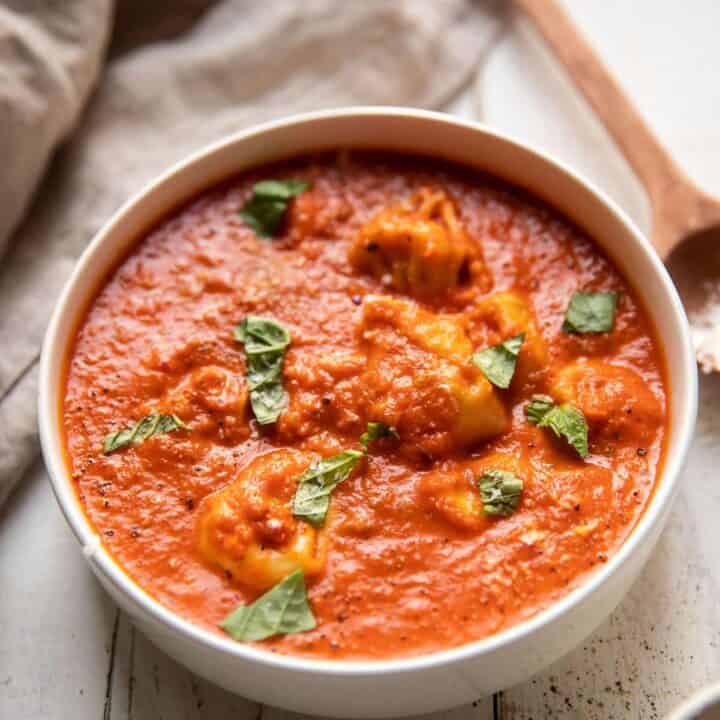 Creamy Tomato Tortellini Soup
An easy and creamy tomato tortellini soup. Made with carrots, celery and onion to give it texture and depth of flavor. This isn't anything like the canned stuff you knew as a kid, this homemade soup will be an instant family favorite.
Ingredients
1 tbsp olive oil
2 tbsp butter
½ onion, diced
2 carrots, chopped
3 celery stalks, chopped
3 garlic cloves, minced
1 tsp salt
pepper
1 tsp dried oregano
1 tbsp flour
2 c chicken broth
28 oz crushed tomatoes
½ c heavy cream
10 oz cheese tortellini
parmigiano reggiano
optional: basil
Instructions
Heat a soup pot over medium/low heat
Add the olive oil, butter, carrots, onion, garlic and celery
Saute the vegetables for 5-7 minutes until the onions start looking translucent (adjusting heat if necessary)
Add in the salt, a bit of pepper, oregano and flour
Stir this for 1 minute
Add in the crushed tomatoes, chicken broth and heavy cream
Turn the heat down to low, cover and simmer for 30 minutes
Use a blender or immersion blender and pulse the soup until it is just barely chunky, but not smooth
Add in the tortellinis, these cook quickly about 3 minutes
Stir in some fresh parmigiana reggiano and top with basil (basil optional)
Serve
Notes
If you have fresh basil you can chop some up and add it to the soup while it simmers, this adds nice flavor
Tortellinis cook very fast, refer to your package instruction on how long they will take to cook - this could vary by brand
If you have the rind of a parmigiano reggiano, add it while the soup simmers, it's delicious
Nutrition Information:
Yield:

6
Serving Size:

1
Amount Per Serving:
Calories:

335
Total Fat:

18g
Saturated Fat:

9g
Trans Fat:

0g
Unsaturated Fat:

7g
Cholesterol:

55mg
Sodium:

1210mg
Carbohydrates:

37g
Fiber:

4g
Sugar:

8g
Protein:

10g
This information comes from online calculators. Although moderncrumb.com attempts to provide accurate nutritional information, these figures are only estimates.
Make sure to follow Modern Crumb on Pinterest and Facebook for lots of yummy meal inspiration! And subscribe to the newsletter, below, to get updates when new recipes post.
This recipe was originally published on November 5, 2019.