This homemade chicken noodle soup is made with fresh vegetables and egg noodles. I've been making this recipe the exact same way for my family, for the last 15 years and it warms you to the soul. The magic happens from making your own chicken broth and includes classic chicken noodle soup ingredients like carrots, celery and onion.
Another great winter soup recipe is this creamy chicken gnocchi soup or this classic minestrone soup.
This recipe was first published on November 18, 2019.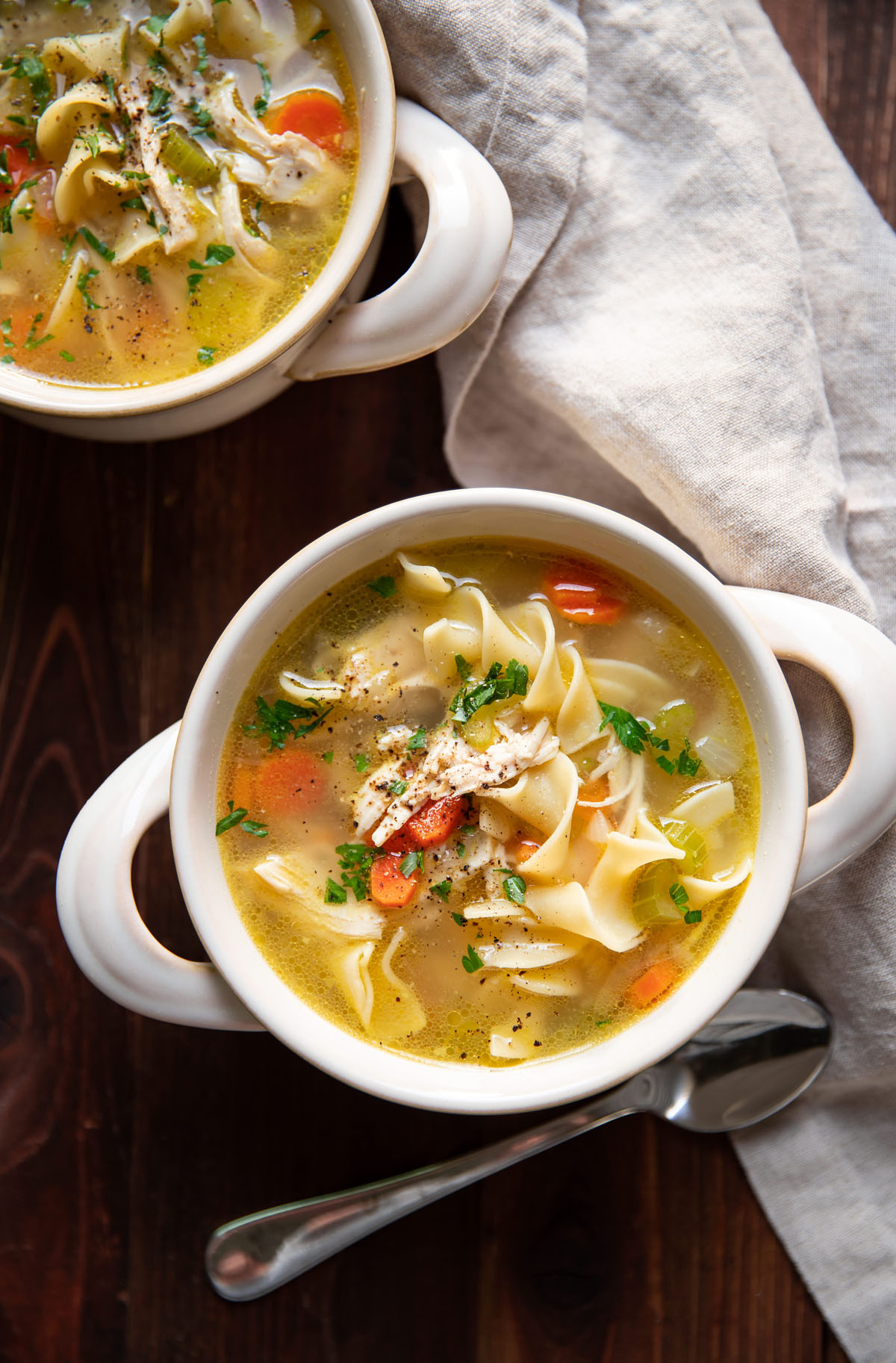 Chicken noodle soup with egg noodles is a winter staple. It's such a classic that my family always asks for as soon as the temperature drops. I've been making it the same was for the last 15 years and it always turns out perfect, with the same results.
This hearty soup all starts with chicken broth made from a whole chicken and fresh vegetables. Making your own broth is so easy, delicious and healthy!
And I promise, when I say it's easy, it is!
All you will need for the vegetables is carrots, onion, celery and some fresh thyeme and parsley (if you can get it).
Whenever anyone has a cold in our house, I always make this soup. Chicken noodle soup is something I think we all had as kids when we were feeling under the weather. It's good for the soul.
It's so much more healthy than the can version.
Jump to: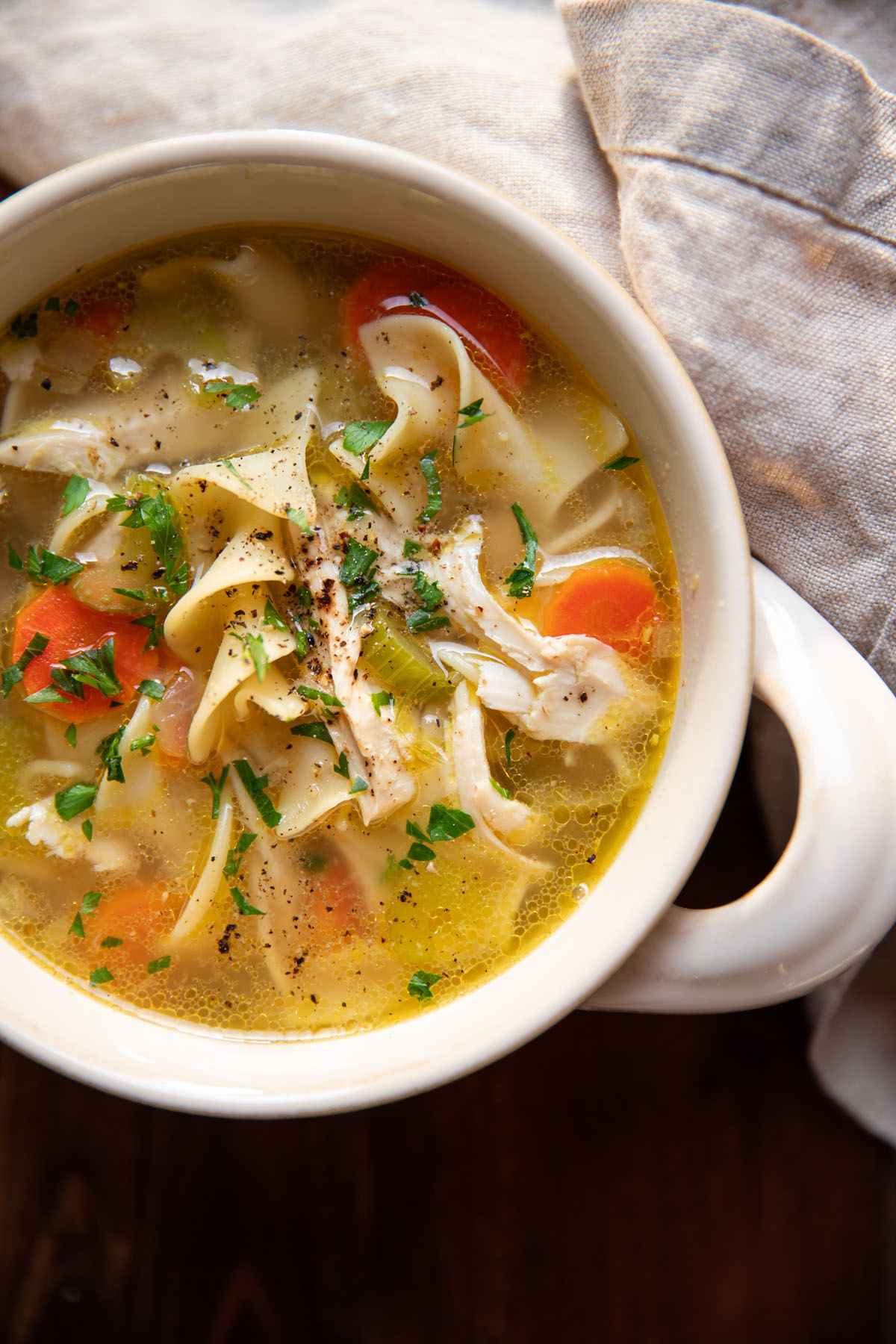 Making The Broth
Homemade broth makes this soup extra delicious.
When you make the broth (and you should do this) it's just water, a whole uncooked chicken and vegetables.
You'll need a larger soup pot for this.
The entire uncooked whole chicken will go in, then cover it with 8-10 cups of water, along with carrots, celery, onion, and a sprig of thyme.
Chopping up these vegetables doesn't have to be pretty. There are basically two rounds of vegetables. The first round is only to make the broth, so all of those vegetables will get discarded once the broth is done simmering.
They will get mushy by the time the broth is done so you don't want to use them again.
Once it's done everything in this pot will get strained out, and you'll transfer it to another soup pot.
And that's it for the broth, see how easy?
Making your own broth is a great way to know your family is getting the healthiest chicken noodle soup possible.
There are definitely some great brands that make really good broth and stock but nothing beats the simplicity and pure ingredients of homemade broth.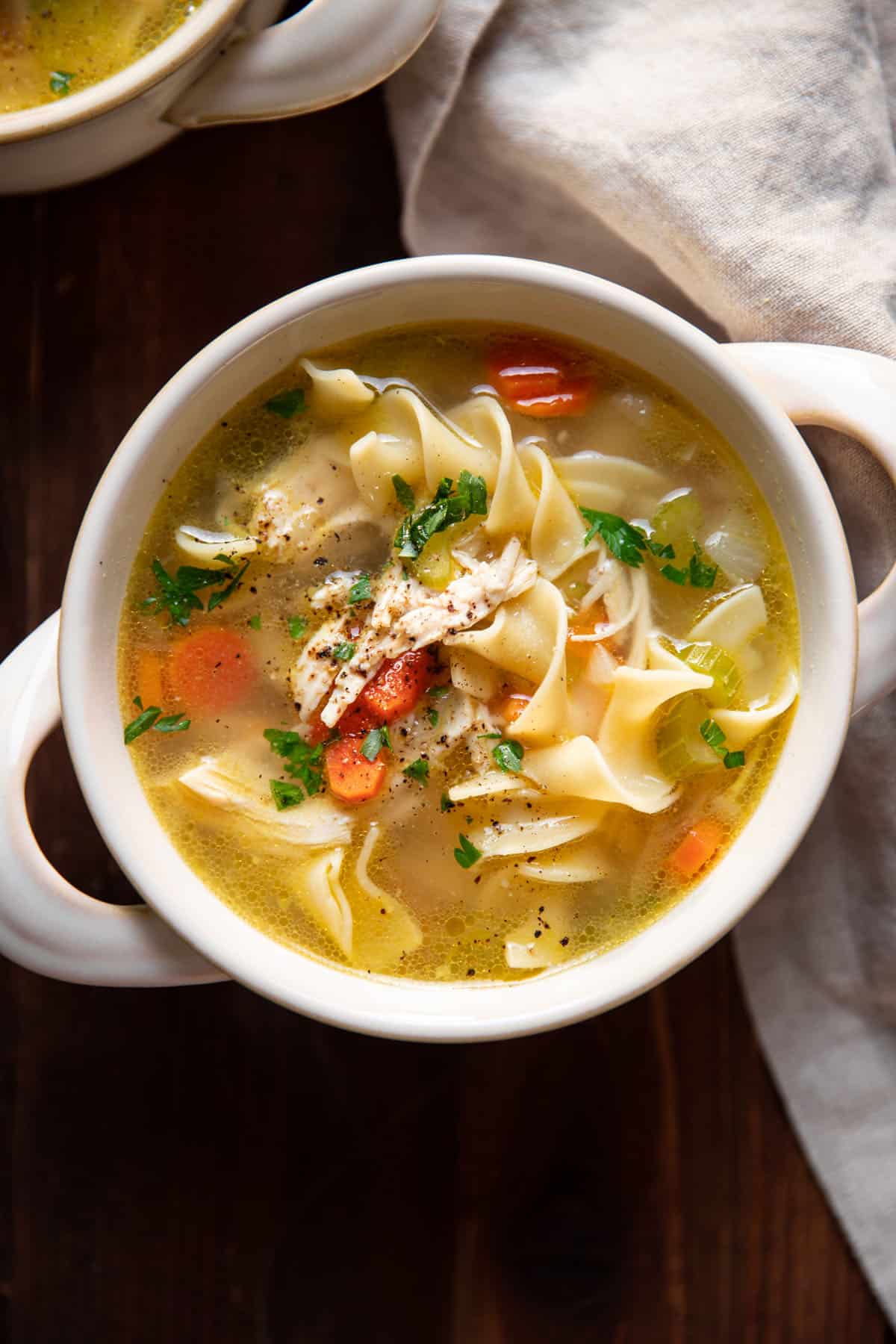 Ingredients
The ingredients are pretty simple for this recipe. Any time you are making a recipe from scratch it's important to use quality ingredients.
whole chicken - these are a pretty standard size, make sure to clean out all the insides in the cavity prior to cooking
water - this is your base for making the chicken broth
carrots - you'll need a whole package of carrots, because some will be used for the broth and some for the actual soup
celery - same for the celery, but one celery bunch should suffice
onion - you'll need two onions total, a yellow onion is my go to
fresh thyme - if you don't have fresh thyme you can use dried, but you'll need much less since dried herbs are stronger than fresh, so just a tiny tiny pinch of a dried thyme
chicken better than bouillon - this chicken base is more flavorful than other bouillon cubes, it's quite different because this is a paste and crucial for the soup tasting how it should
egg noodles - egg noodles really complete this chicken noodle soup, it gives it such a homemade made from scratch taste
salt and pepper - for flavor
parsley - this is optional, because it's only for garnish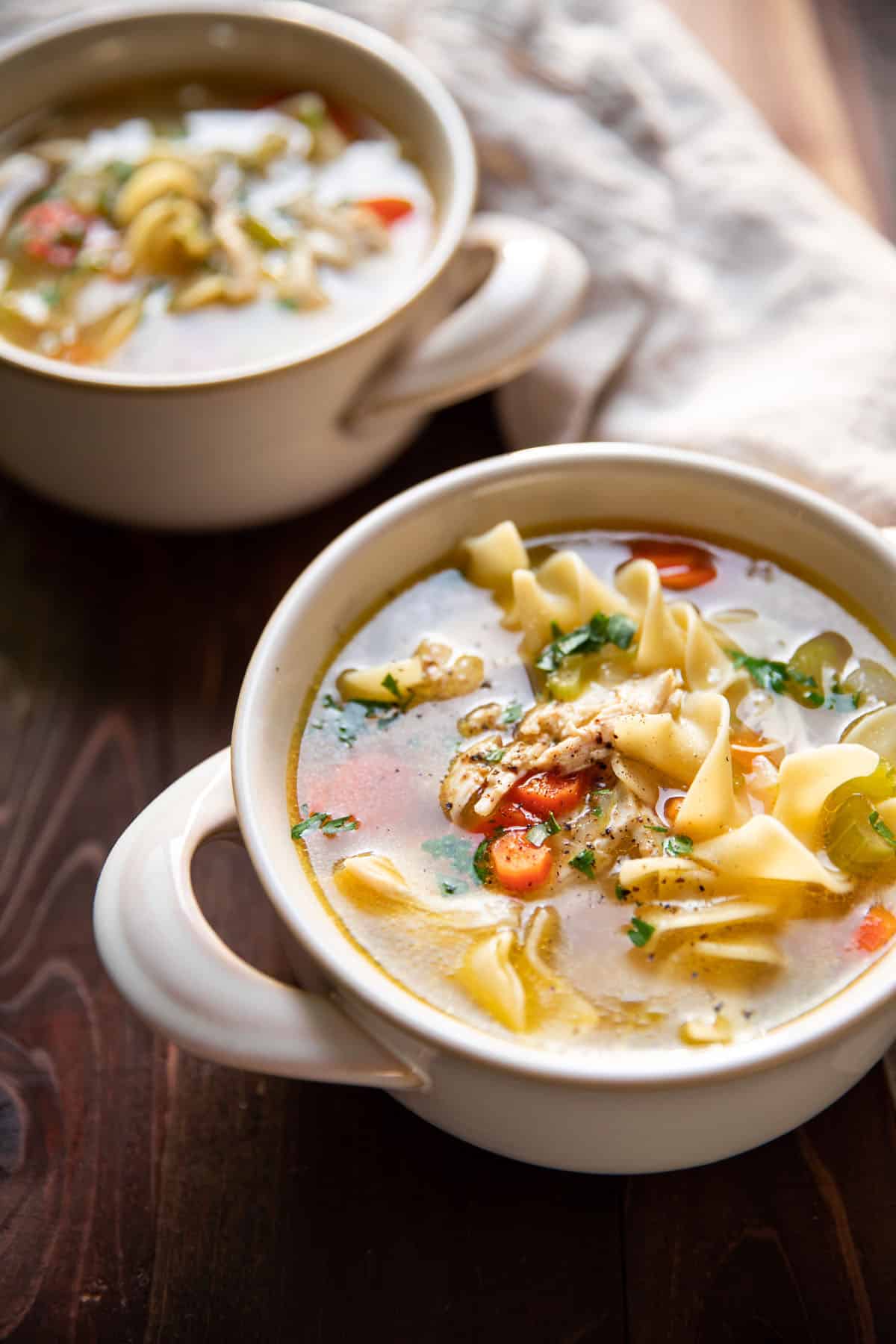 Chicken Noodle Soup Tips
When taking out the chicken from the water (if it stayed whole and didn't fall apart) be careful transferring to a cutting board. Make sure you dump all the water out of the cavity, into your pot before moving it.
I've actually gotten water all over my floor, you only do that once!
Use fresh vegetables for the actual soup, don't re-use the ones you used to make the broth. This means one package of carrots and one stalk of celery is perfect for this recipe.
I use half for each part of the recipe.
Chicken better than bouillon, if you don't have this stuff you need it and I stress this in my most popular recipe on here, world's best beef stroganoff.
It's not like a bouillon cube but a condensed base and is so perfect for soups.
Soup Recipes To Try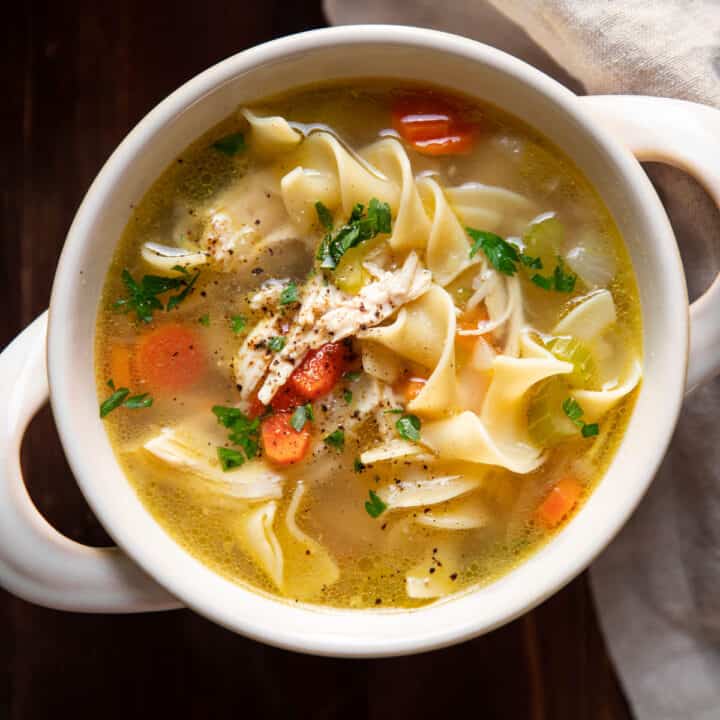 Homemade Chicken Noodle Soup
Cook Time:
2 hours
30 minutes
This homemade chicken noodle soup is made with fresh vegetables and egg noodles. I've been making this recipe the exact same way for my family, for the last 15 years and it warms you to the soul. The magic happens from making your own chicken broth and includes classic chicken noodle soup ingredients like carrots, celery and onion.
Ingredients
broth
8-10 c water
1 whole chicken
4 carrots, peeled and chopped
4 celery sticks, chopped
1 yellow onion, chopped
soup
3 carrots, peeled and sliced
3 celery sticks, diced
½ yellow onion, diced
4 tsp chicken better than bouillon base
10 oz egg noodles
½ tsp salt
¼ tsp pepper
½ tsp dried parlsey
Instructions
Add all of the "broth" ingredients to a large soup pot, bring everything to a boil and then reduce heat to low, cover and simmer for 2 hours
Carefully remove the chicken and set it aside on a cutting board
Strain everything from the soup pot by pouring it into a colander fitted over a large bowl
Discard the used vegetables you strained
Add the chicken broth back into your soup pot (give it a rinse first to get any residuals off the sides) and turn the heat to high to reach boiling
To the new pot add the fresh new set of carrots, celery, onion, better than bouillon chicken base, salt and pepper
Bring the heat down to low, cover and cook until the vegetables are almost fork tender
Sprinkle in the dried parsley
Shred the chicken and add it to the pot (depending on the size of your chicken you may not need all of it and can save some for another meal)
Add the egg noodles, these usually need no more than 5 minutes to cook but follow the package instructions on your bag
Serve and enjoy
Notes
You do not need to remove the chicken insides, this adds even more flavor to the broth, but remove it and discard once you drain out the liquid and cut up your chicken for the actual soup.
Once you've made the soup you can add additional liquid if you want a soup with more broth (my personal favorite). I usually add an additional 4 cups of water and 1 tsp more chicken bouillon. Not everyone likes tons of broth, so it's optional. Make the soup work for your preference.
Recommended Products
As an Amazon Associate and member of other affiliate programs, I earn from qualifying purchases.
Nutrition Information:
Yield:

10
Serving Size:

1
Amount Per Serving:
Calories:

207
Total Fat:

9g
Saturated Fat:

2g
Trans Fat:

0g
Unsaturated Fat:

5g
Cholesterol:

62mg
Sodium:

334mg
Carbohydrates:

12g
Fiber:

2g
Sugar:

3g
Protein:

19g
This information comes from online calculators. Although moderncrumb.com attempts to provide accurate nutritional information, these figures are only estimates.