There's something about a bowl of homemade chicken noodle soup that warms your soul. A family recipe that is tried and true and loved by all.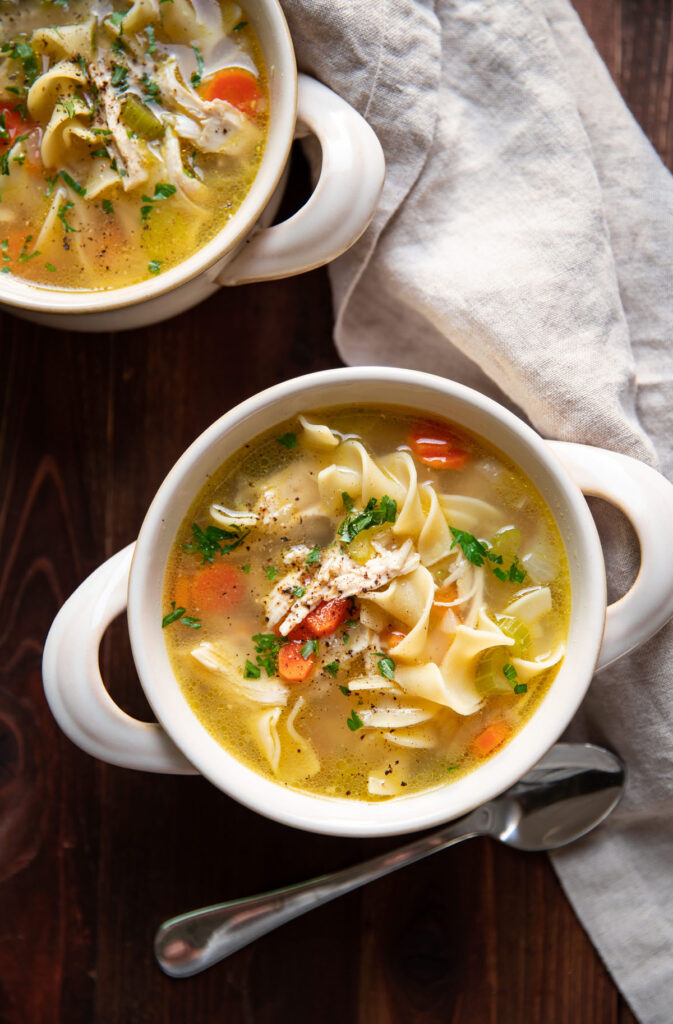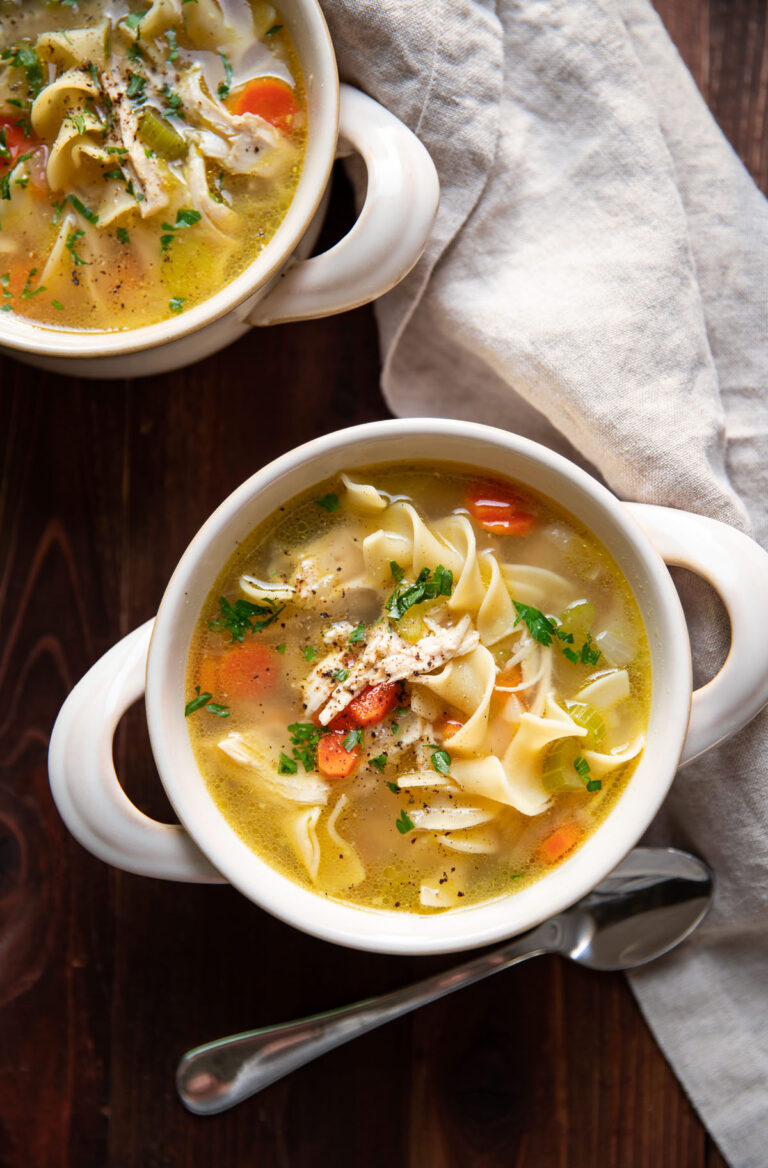 Hearty homemade chicken noodle soup made with chicken broth from a whole chicken. Carrots, onion, celery, chicken, egg noodles and the fresh broth make this soup the best chicken noodle soup I've ever had.
Honestly, I get that were all busy, all doing that grind. But nothing beats homemade chicken noodle soup. Especially when your kids are sick.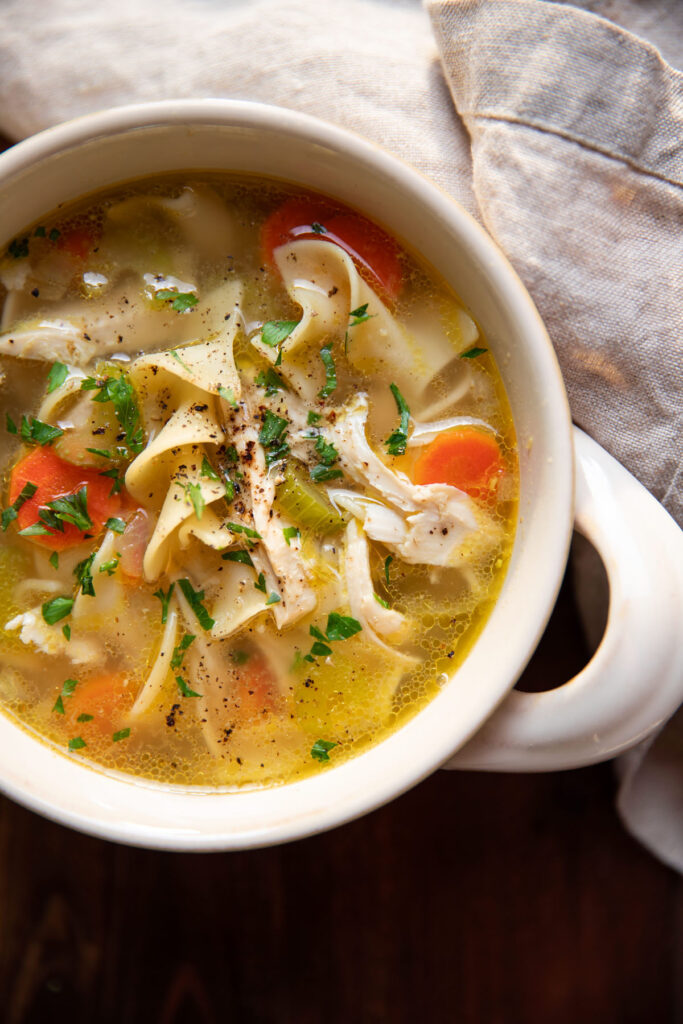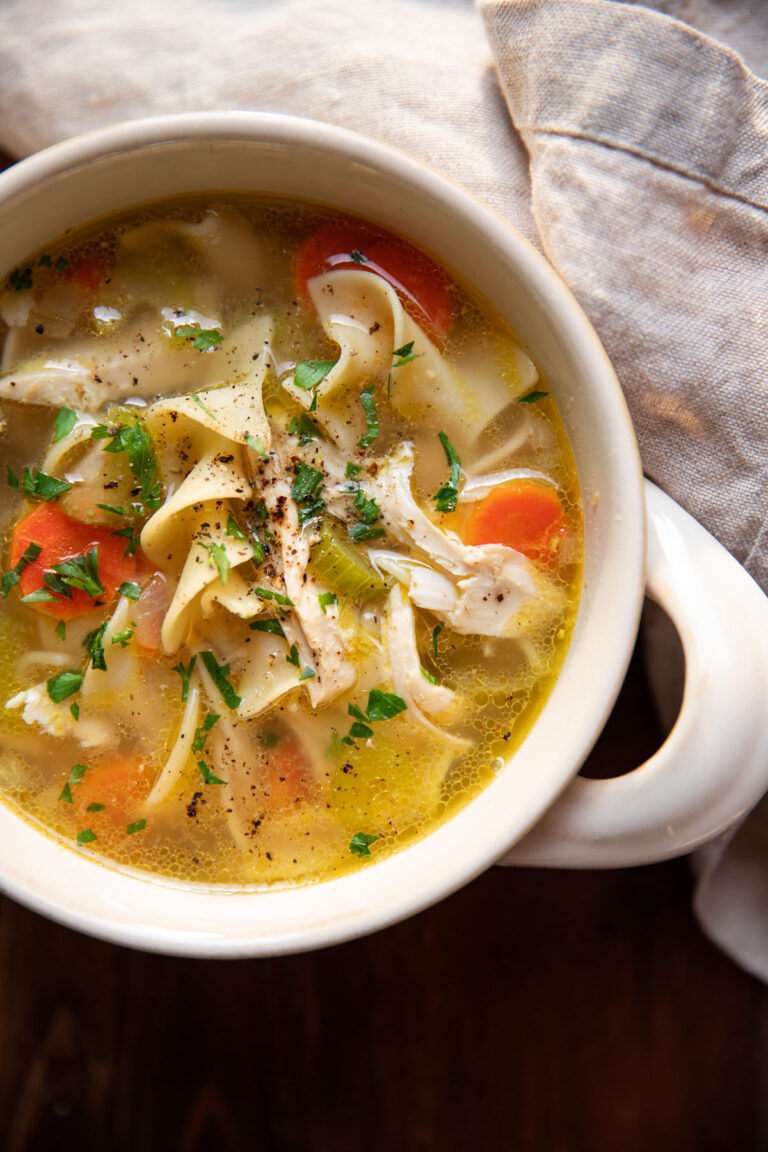 The first time I ever made homemade chicken noodle soup was over 10 years ago, I was a few years in to dating my husband and he got sick and of course I wanted to impress him so I made chicken noodle soup. I thought I nailed it and I really did.
Back then I made it a bit differently, just like any recipe, it evolves after the years. But 13 years later this one is still pretty true to the original. It's one of my oldest recipes I've been making and holds so much meaning because of all the love that is behind it.
Here's what I think makes this soup extra delicious. When you make the broth (and you should totally do this step) I make it with water, a whole uncooked chicken and vegetables.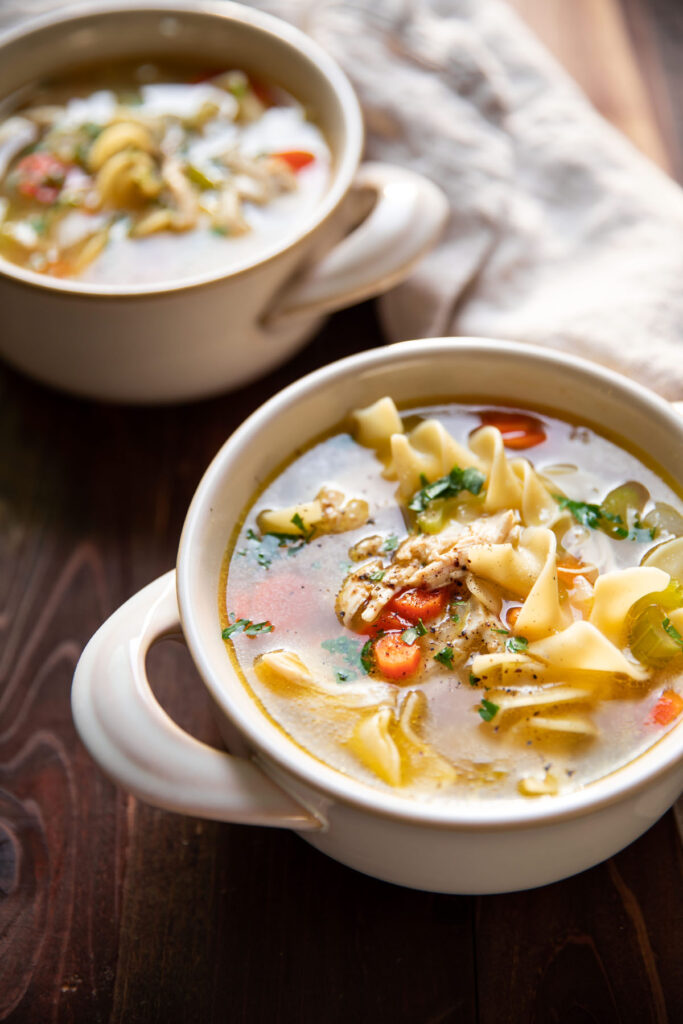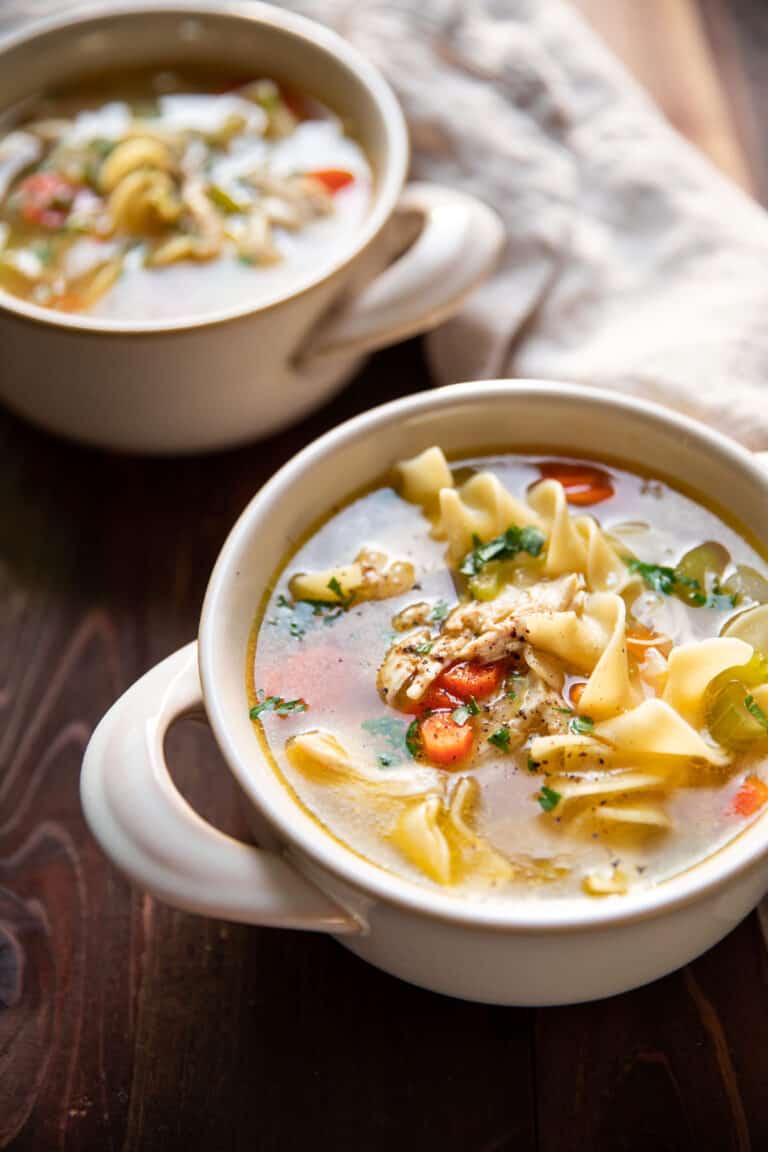 Making your own broth is a great way to know your family is getting the healthiest chicken noodle soup possible. There are definitely some great brands that make really good broth and stock but nothing beats the simplicity and pure ingredients of homemade broth.
Some tips when making homemade chicken noodle soup:
When taking out the chicken from the water, if it stays together and doesn't fall apart, be careful transferring to a cutting board – making sure all the water is out of the cavity. I've actually gotten water all over my floor, you only do that once 🙂
Use fresh vegetables for the actual soup, don't re-use the ones you used to make the broth – one package of carrots/one stalk of celery is perfect for this, I use half for each part of the recipe (btw, did you know one stick of celery is called a rib? The entire thing is a stalk though)
Chicken better than bouillon, if you don't have this stuff you NEED it and I stress this in my most popular recipe on here, beef stroganoff. It's not like a bouillon cube but a condensed base and is so perfect for soups.
Most of all, just put all that love in it.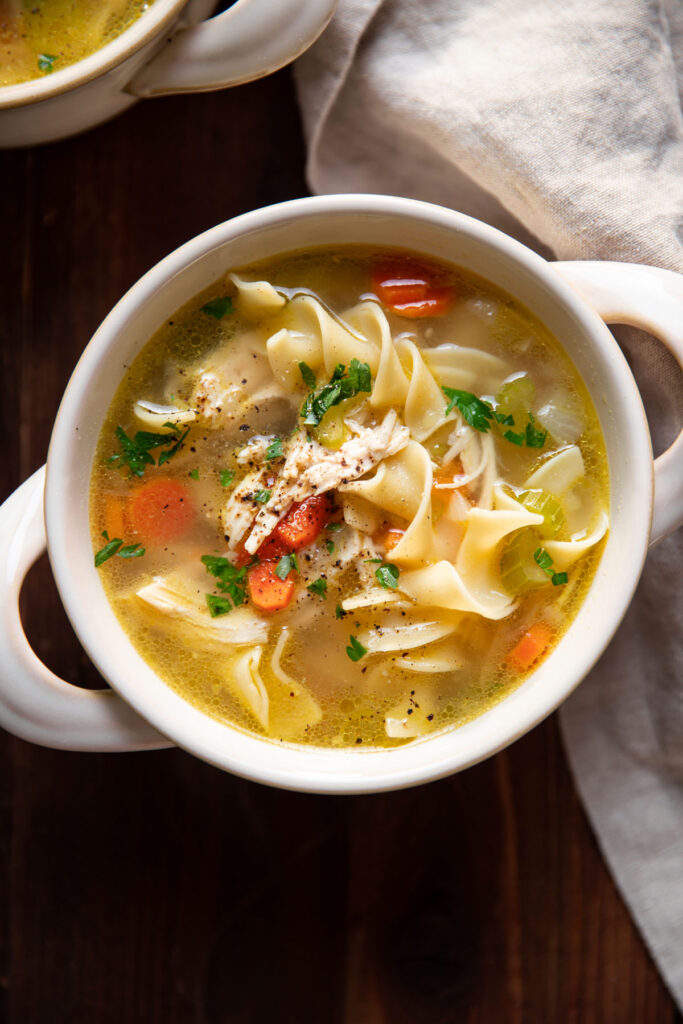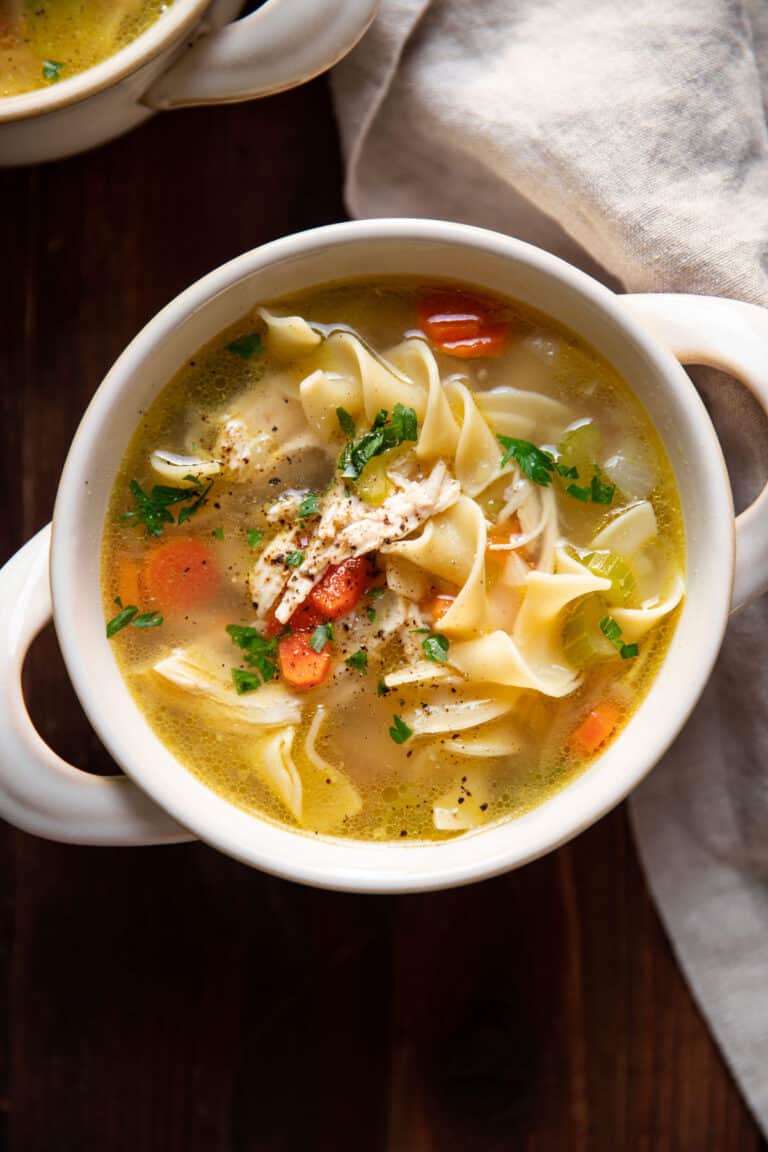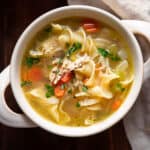 Print Recipe
Homemade Chicken Noodle Soup
There's something about a bowl of homemade chicken noodle soup that warms your soul. A family recipe that is tried and true and loved by all.
Ingredients
broth
8-10

c

water

1

whole chicken

4

carrots

peeled and chopped

4

celery sticks

chopped

1

yellow onion

chopped

1

large sprig fresh thyme

1

large garlic clove

smashed
soup
3

carrots

peeled and sliced

3

celery sticks

diced

1/2

yellow onion

diced

4

tsp

chicken base better than bouillon brand

10

oz

egg noodles

shredded chicken

or 2 cooked chicken breasts if not using a whole chicken from above

1/2

tsp

salt

pepper

Fresh parsley

chopped
Instructions
Add all of the "broth" ingredients to a large stock pot, bring everything to a boil and then reduce heat to low, cover and simmer 2 hours

Strain everything from the stock pot, into a smaller pot

Discard the used vegetables

To the new pot add the carrots, celery, onion, better than bouillon chicken base, salt and pepper

Shred the chicken and add to the pot

Simmer this on low until the vegetables are almost fork tender

Add the egg noodles cooking per package instruction

Serve with some fresh chopped parsley and enjoy!