This creamy lasagna cheese tortellini soup recipe has a savory tomato and chicken broth base. It's loaded with seasoned ground beef and cheesy tortellini pasta. A super quick and easy one pot family dinner everyone will love.
Looking for more soup recipes? Try my creamy chicken and rice soup, alphabet soup, chicken pot pie soup with biscuits or zuppa toscana soup.
Recipe first published on 10/18/2018.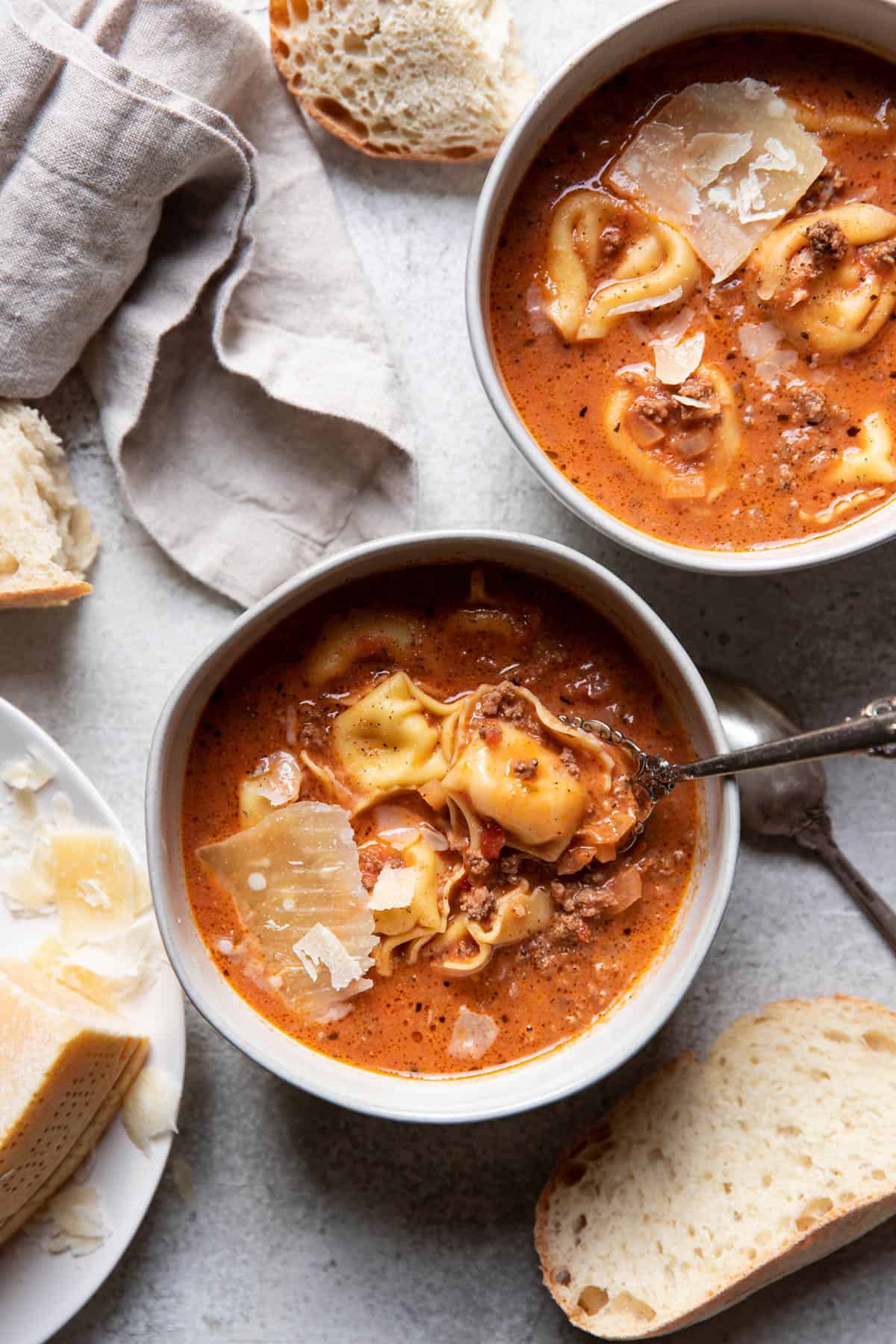 Cloudy days and cool weather can only mean one thing.  A hearty, cozy bowl of creamy lasagna cheese tortellini soup! This easy and creamy tomato tortellini soup recipe takes less than an hour to make.
It's the perfect busy weekday dinner. It makes for a great Monday night dinner when your week is just starting or days when it's back to back kid's sports and activities. A quick and easy recipe is a must have.
If you love lasagna this a simple recipe that has similar flavors as lasagna. But if you definitely need the classic I suggest trying my family's lasagna recipe. I also have a one pot lasagna soup for those who just like to dump everything in.
This tortellini soup recipe is my husbands absolute favorite thing I make. (Aside from this spaghetti bolognese.)
Jump to: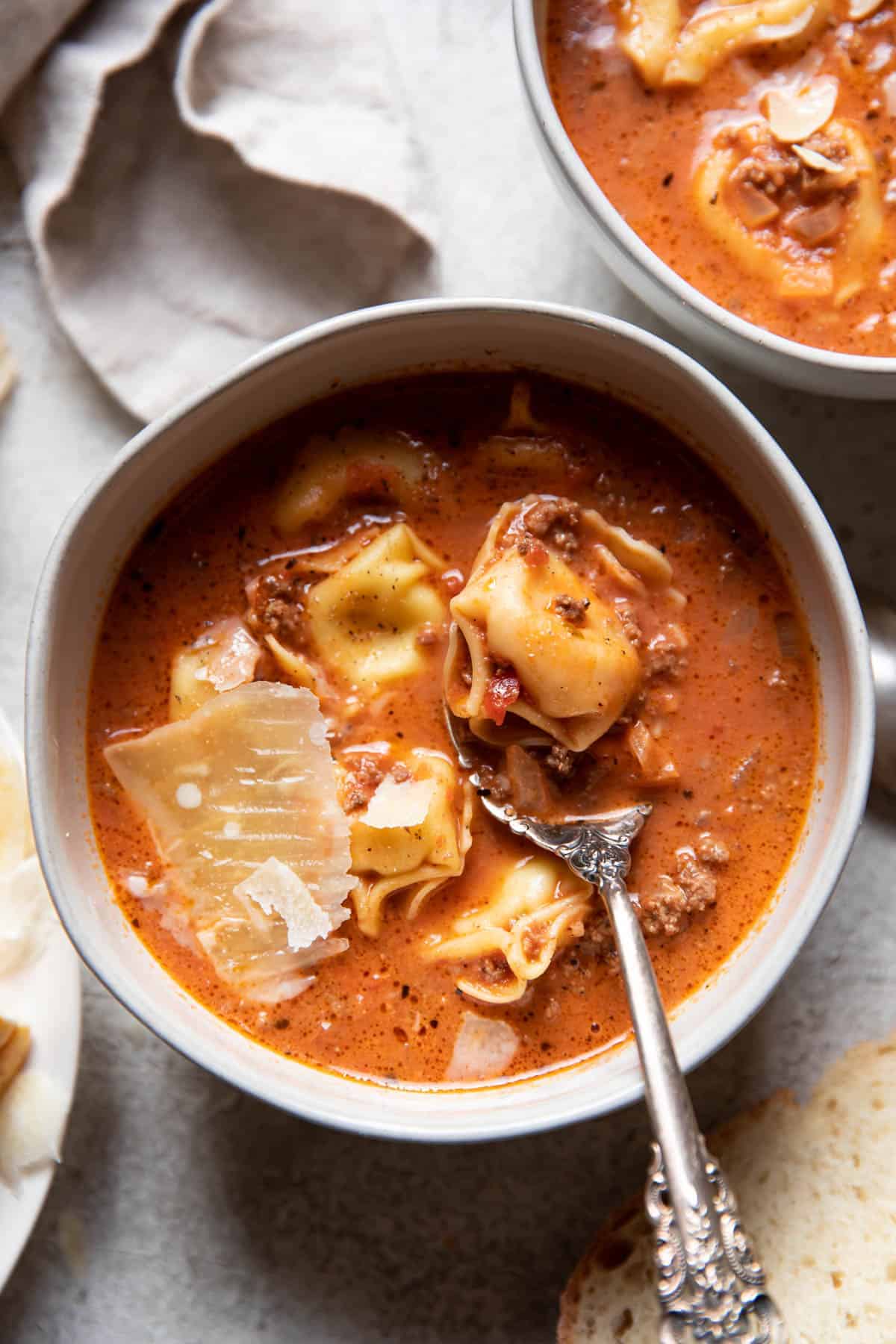 What You'll Love About This Soup
Easy. This tortellini soup is like having all the comfort of lasagna with 90% less work.  I think we can all agree, that's a dinner win.
Lasagna Flavors. For the ingredients, you'll find this has a lot of the same traditional lasagna ingredients in it. And for the ricotta cheese, the cheese tortellinis have got that covered since it's a traditional tortellini ingredient.
Yummy Leftovers. This tortellini soup is so good leftover.
Pro Tips
Tortellinis. The Rana brand tortellinis are my favorite ones to use, they are the tastiest. The five cheese tortellini's from Costco are also really good (it comes in a big double container for like 10 dollars), you can freeze them and use them as you need.
Cook time. Don't skimp on the simmer time, it needs the full 25 minutes.
Spice. If you like a bit of spice add some dried red chilis when you add the onions and garlic and seasonings.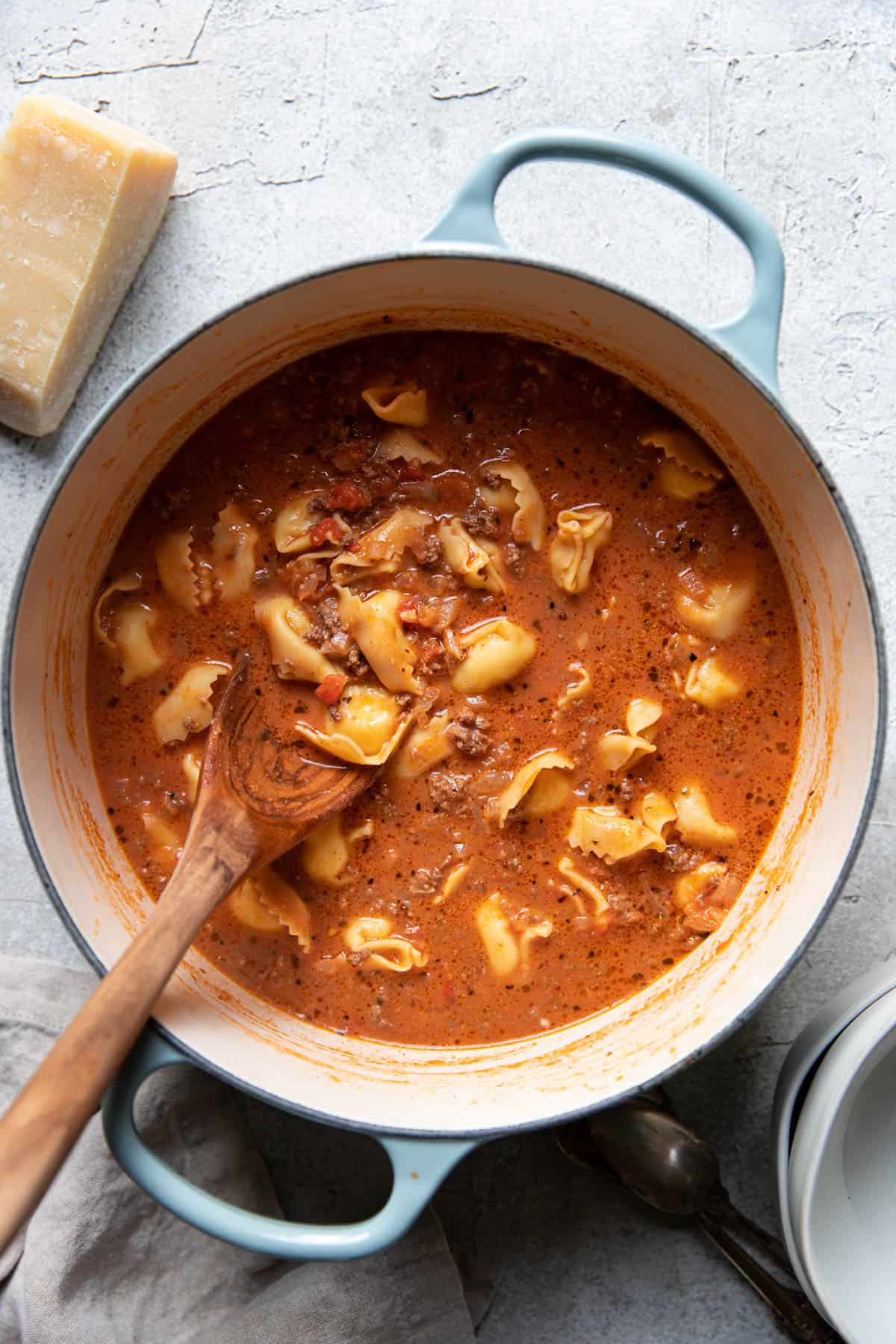 What's In Creamy Lasagna Tortellini Soup
Ground Beef: Whatever type of ground beef is fine, I like to use the 90/10 so there is less grease to remove. A lot of recipes use sausage for tortellini soup but this one is a ground beef tortellini soup and I think it tastes better.
Garlic Cloves: Minced, in a pinch you can use more garlic powder.
Onion: Half an onion, preferably a yellow onion, they are sweeter and taste better in this soup.
Garlic Powder, Onion Powder, Dried Basil and Dried Oregano: All the dried herbs you will be adding, this gives the soup that delicious Italian taste.
Salt and Pepper: For enhancing all the flavors, I like to use kosher salt.
Crushed Tomatoes: A 14 ounce can of crushed tomatoes.
Chicken Broth: You can use a carton of chicken broth, can of chicken broth, whatever method you like best but for this recipe I use a carton of low sodium organic chicken broth.
Heavy Cream: To make the tortellini soup creamy and take away a bit of the bitter taste from the tomato.
Cheese Tortellinis: You can use fresh or frozen tortellinis and can also swap out the cheese tortellinis. For more recipes that use tortellinis try my creamy chicken tortellini soup, tuscan tortellini soup or creamy tomato tortellini soup.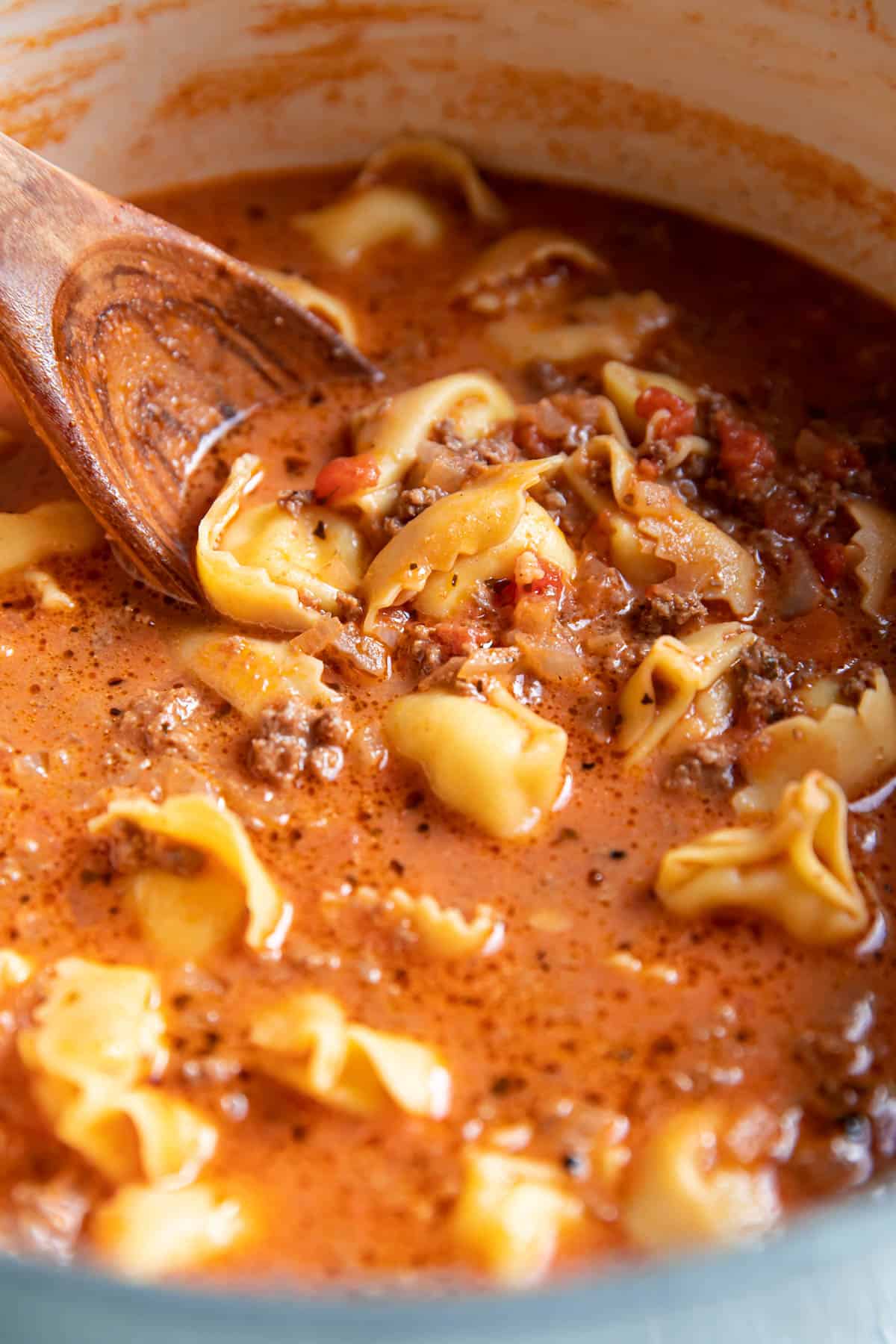 How To Make Creamy Lasagna Tortellini Soup
Make sure to pick a pot large enough that will hold all of your soup because you only need the one pot for this entire tortellini soup recipe.
Start by browning the ground beef and getting rid of any excess grease.
You could do this by using paper towels to soak up the grease or a spoon to scoop it out. Just hold your pot on a slant and all the grease will fall to the other side.
Mix in the diced onions, minced garlic and dried herbs.
Saute everything on a low heat for 5 minutes, until the onions have softened.
Next add in the can of crushed tomatoes and chicken broth.

Bring this to a boil, then reduce your heat to low for simmering, cover for 30 minutes. This is where it will build some flavor.
The last step is to add the cream and tortellinis. Once the tortellinis have cooked, it's done! Tortellinis only take a couple minutes to cook. Once they are puffy and float to the surface, they are done.
You can sprinkle on some fresh parmesan cheese.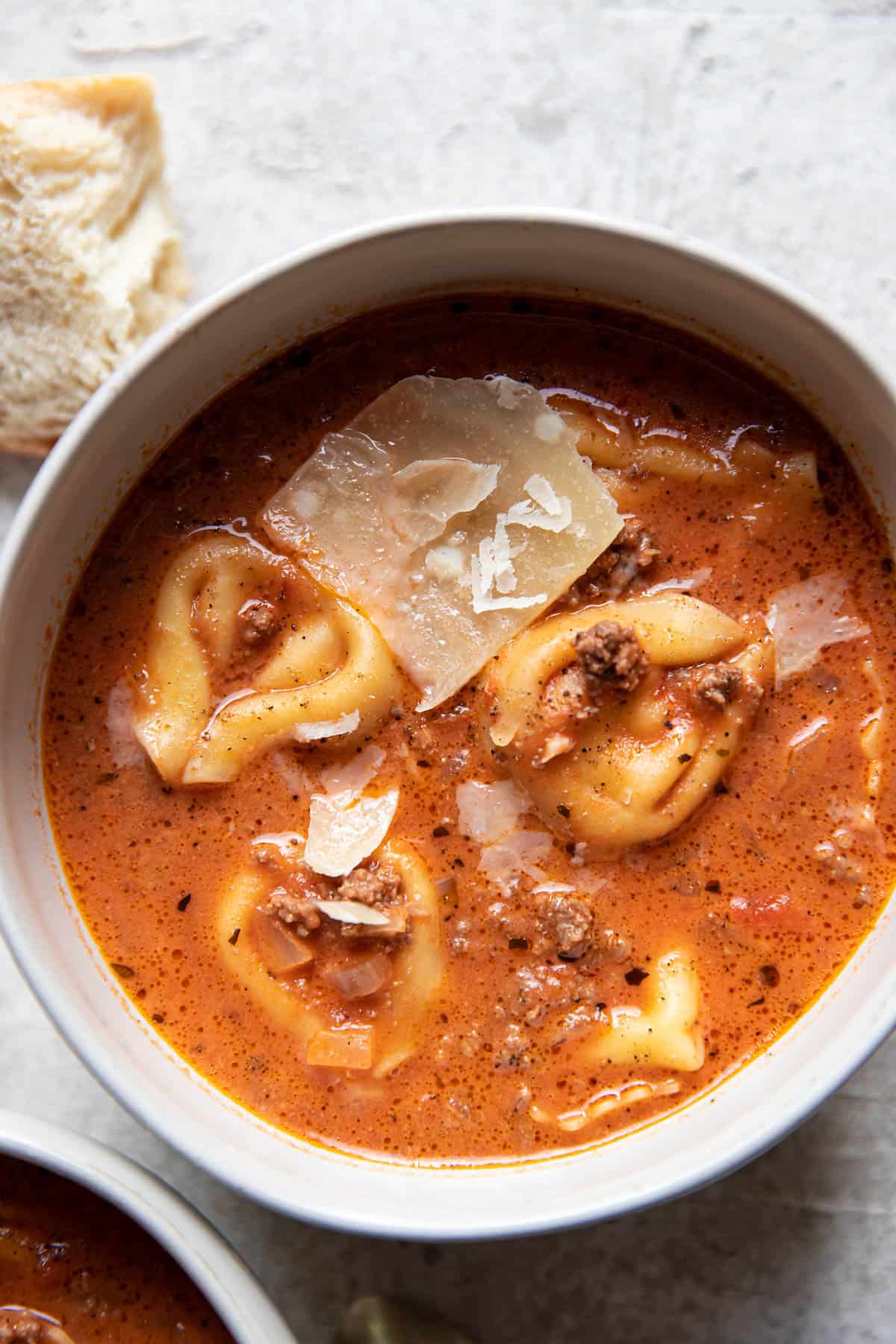 How To Get The Most Flavor
Since this is such an easy, under 1 hour recipe, it's important to not skip any steps or ingredients.
The broth for the tortellini soup is both chicken broth and crushed tomatoes from a can.
To help build flavor you need to simmer the tomato and chicken broth with the vegetables and ground beef for 30 minutes. Don't go stingy on the time and knock it down to 10 minutes.
And instead of a boxed chicken broth, I'll sometimes use water mixed with some chicken better than bouillon which is my favorite go to for broth.
It's a thick paste, sold in jar, lasts forever and is really flavorful. You do need to cut back on salt when you use it though, so keep that in mind. I use it in this minestrone soup and beef stroganoff.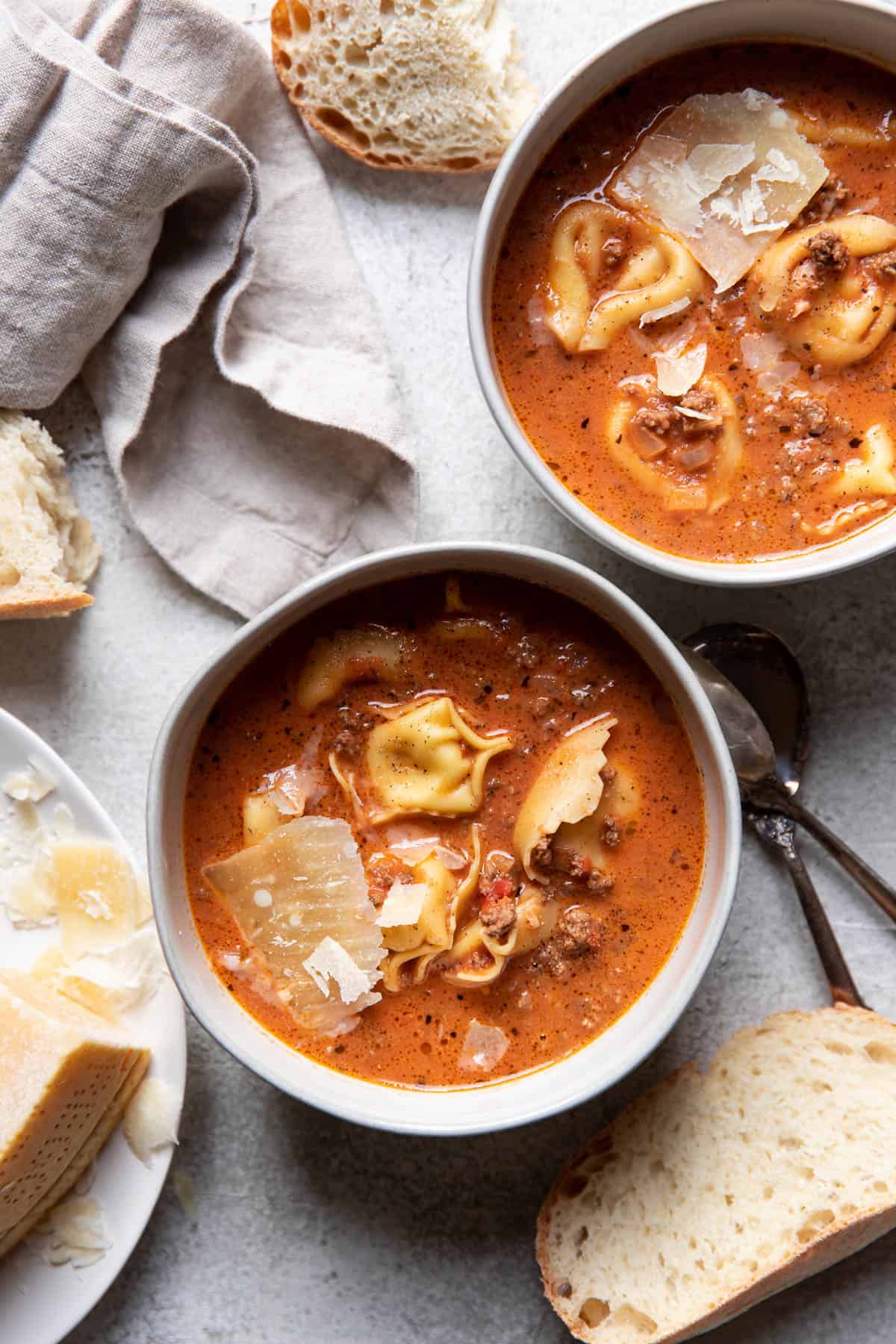 FAQ
What to serve with tortellini soup?
Bread! Any kind of bread goes fabulously with this soup. You can get a loaf of store bought french bread or you could make some easy cloverleaf rolls (hint: this quick recipe uses frozen dough balls).
Can you freeze tortellini soup?
If you are planning to freeze this soup, you could freeze everything but the tortellinis. Those won't reheat well after freezing. You can actually freeze tortellinis. So you could freeze the soup base then package the uncooked tortellinis and freeze those separately. Add them when you reheat the soup.
How long is tortellini soup good for?
You can keep any leftover soup in the fridge for about 5 days.
Can you make this tortellini soup for two?
Just half the recipe to make this for two, or make a whole recipe and eat the leftovers for lunch.
Variations and Substitutions
Tortellini. You can swap out the cheese tortellini's for a spinach and cheese tortellini, tricolor tortellinis or even a meat tortellini.
Meat. Instead of ground beef you could use italian sausage.
Dairy. You can substitute the heavy cream for half and half, it won't be as creamy though.
Tomato. Diced tomatoes could be used if you prefer a chunkier soup.
Spinach. Try adding some fresh or frozen spinach to the recipe.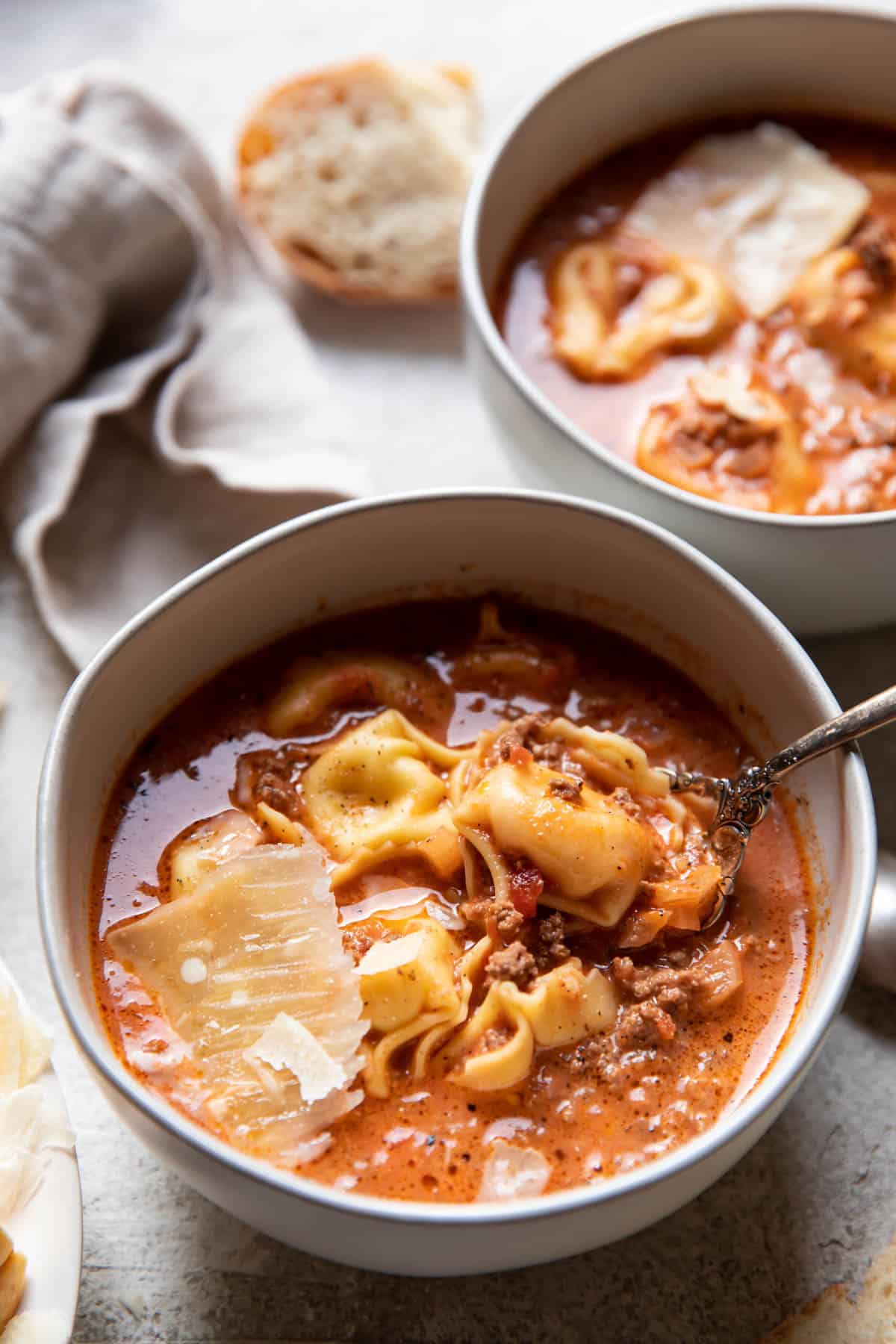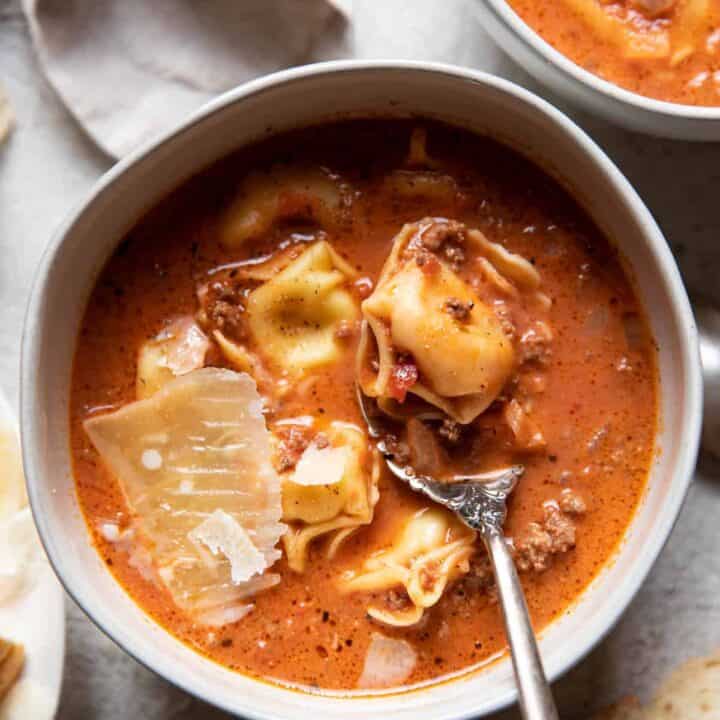 Creamy Lasagna Cheese Tortellini Soup
This creamy lasagna tortellini soup recipe has a savory tomato and chicken broth base. It's loaded with seasoned ground beef and cheesy tortellini pasta. A super quick and easy one pot family dinner everyone will love.
Ingredients
1 lb ground beef
3 garlic cloves, minced
½ yellow onion, chopped
¼ tsp garlic powder
¼ tsp onion powder
¼ tsp dried basil
½ tsp dried oregano
1 tsp salt
fresh ground pepper
14 oz can crushed tomatoes
28 oz chicken broth
¼ c heavy cream
9 oz three cheese tortellini's, more if you like lot's of pasta
Instructions
Brown the ground beef
Drain off the excess fat
Add in the garlic, onion, garlic powder, onion powder, dried basil, oregano, salt and pepper
Cook for 2-3 minutes on medium/low heat
Add in the crushed tomatoes and chicken broth
Cover and simmer on low for 25 minutes
Add the cream and tortellini's to the soup mixture
Cover and simmer on low until the tortellini's are cooked
Top your bowl with fresh parmigiano cheese
Notes
My favorite brand for the tortellini's is Rana.
Recommended Products
As an Amazon Associate and member of other affiliate programs, I earn from qualifying purchases.
Nutrition Information:
Yield:

4
Serving Size:

1
Amount Per Serving:
Calories:

651
Total Fat:

31g
Saturated Fat:

13g
Trans Fat:

1g
Unsaturated Fat:

13g
Cholesterol:

148mg
Sodium:

1929mg
Carbohydrates:

49g
Fiber:

4g
Sugar:

7g
Protein:

45g
This information comes from online calculators. Although moderncrumb.com attempts to provide accurate nutritional information, these figures are only estimates.