This lasagna tortellini soup has a savory tomato and chicken broth base. It's loaded with seasoned ground beef and cheesy tortellini pasta. A quick and easy one pot family dinner everyone will love.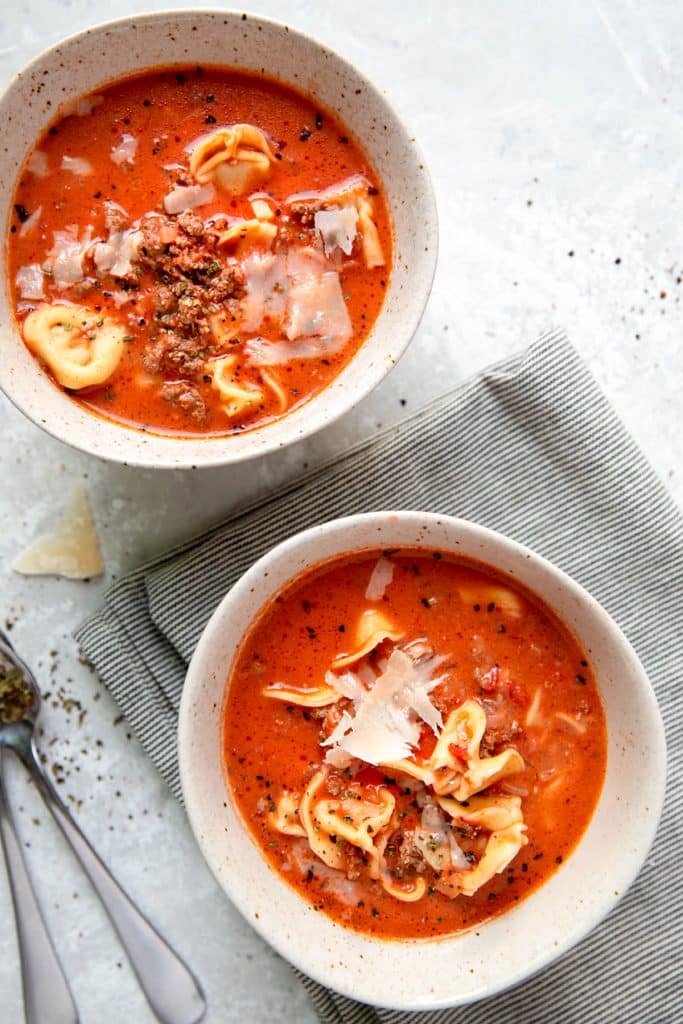 Cloudy days and cool weather can only mean one thing. A hearty, cozy big bowl of hot soup. This super easy to make lasagna tortellini soup is a family friendly!
To be specific it's my husbands absolutely favorite thing I make. He requests this every single week, even in the blistering summer heat.
This one pot recipe is like having all the comfort of lasagna with 90% less work. I think we can all agree, that's a dinner win.
For the ingredients, you'll find this has a lot of the same traditional lasagna ingredients in it. And for the ricotta cheese, the tortellinis cover that because that's a standard tortellini ingredient.
I like the five cheese tortellini's from Costco (it comes in a big double container for like 10 dollars), you can freeze them and use them as you need. Really easy!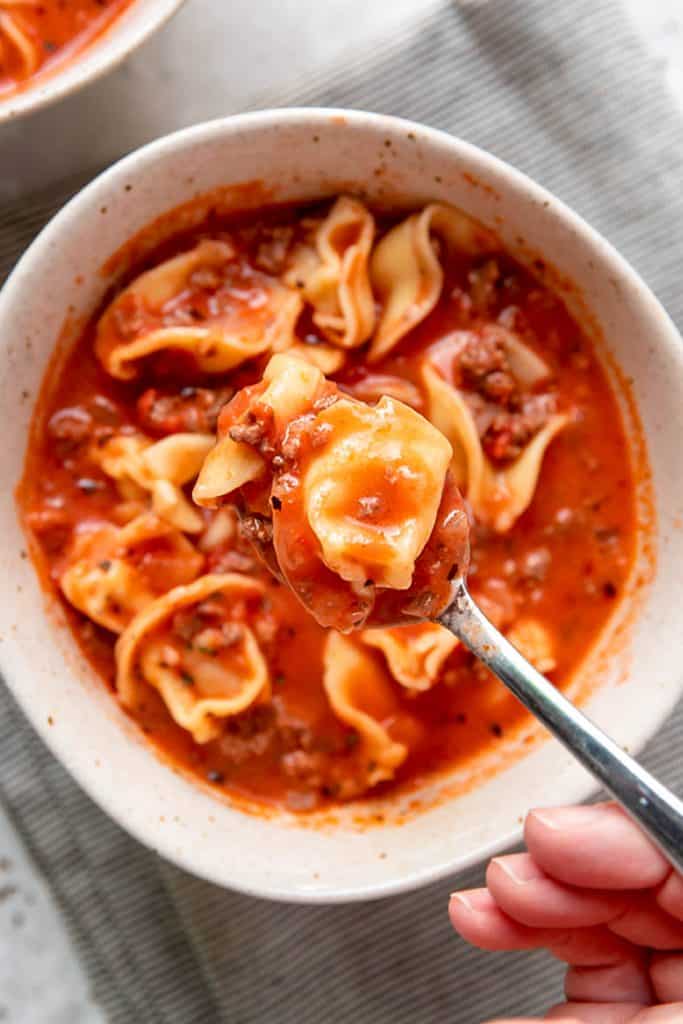 How To Make Lasagna Tortellini Soup
Make sure to pick a pot that will hold all your soup, because you only need the one soup pot.
Start by browning the ground beef and getting rid of any excess grease. Toss in your vegetables and dried herbs.
Saute everything for 5 minutes, until the onions have softened.
Next your crushed tomatoes and chicken broth. Bring this to a boil, then reduce your heat to simmer it, covered for 30 minutes. This is where it will build some flavor.
The last step is to add the cream and tortellinis. Once the tortellinis have cooked, it's done! Tortellinis only take a couple minutes to cook. Once they are puffy and float to the surface, they are done.
You can sprinkle on some fresh parmesan cheese.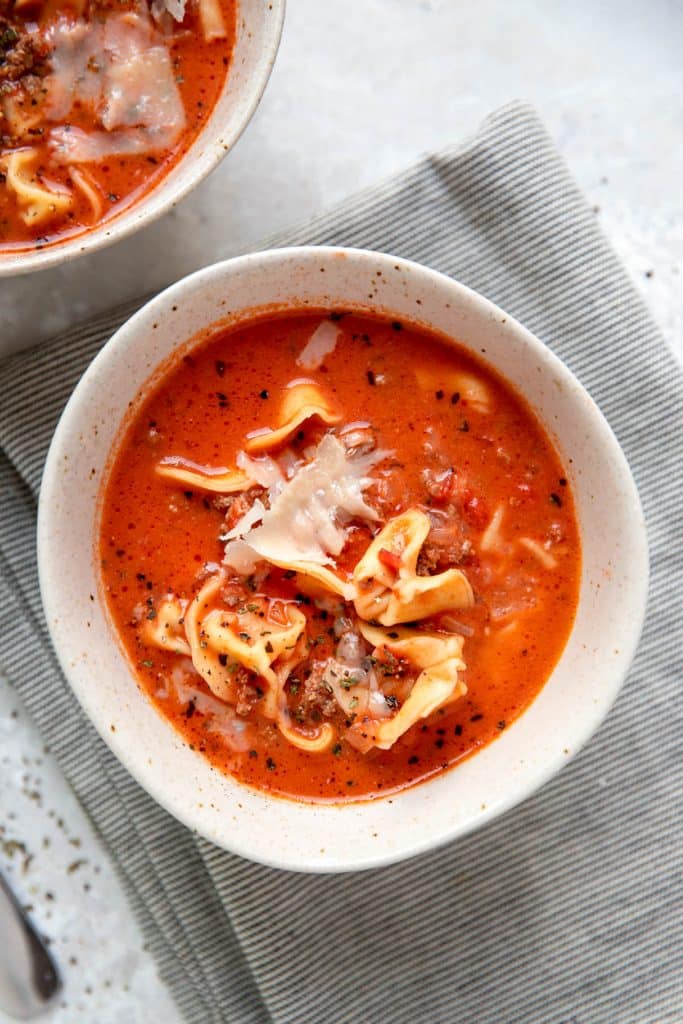 How To Get The Most Flavor
Since this is such an easy, under 1 hour recipe, it's important to not skip any steps or ingredients.
To help build flavor you need to simmer the broth with the vegetables and ground beef for 30 minutes. Don't go stingy on the time and knock it down to 10 minutes.
And instead of a boxed chicken broth, I'll sometimes use water mixed with some chicken better than buillon which is my favorite go to for broth.
It's a thick paste, sold in jar, lasts forever and is really flavorful. You do need to cut back on salt when you use it though, so keep that in mind. I use it in this minestrone soup and beef stroganoff.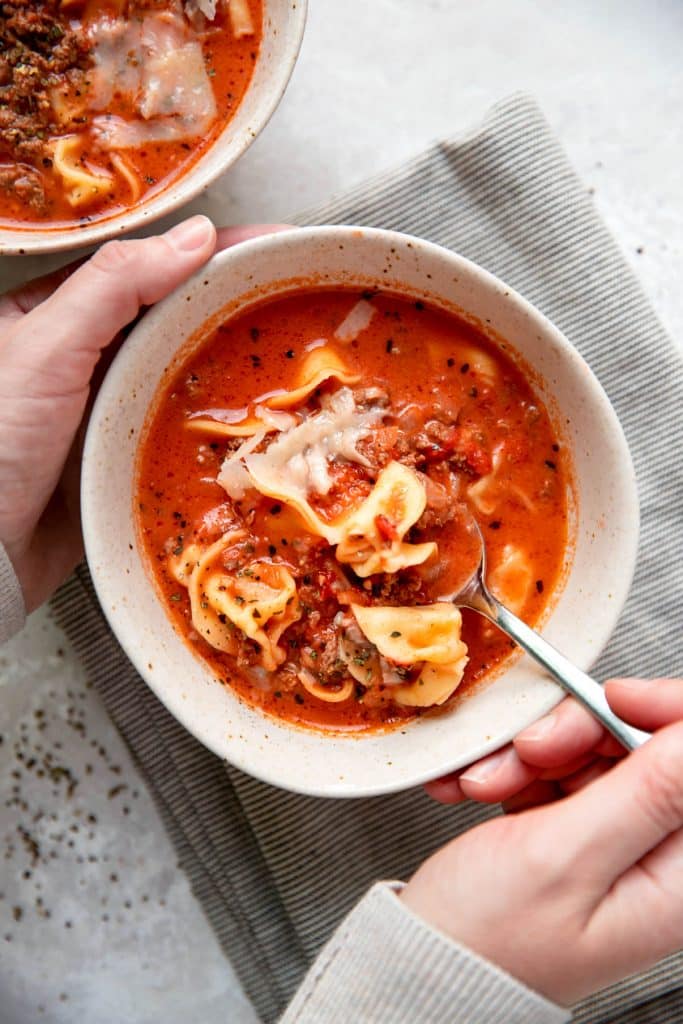 More Soup Recipes
Lasagna Tortellini Soup
This lasagna tortellini soup has a savory tomato base with seasoned ground beef, the same way I make my lasagna, and loaded with cheesy tortellini's and topped with parmesan cheese!
Ingredients
1

lb

ground beef

3

garlic cloves

minced

1/2

yellow onion

chopped

1/4

tsp

garlic powder

1/4

tsp

onion powder

1/4

tsp

dried basil

1/2

tsp

oregano

1

tsp

salt

fresh ground pepper

14

oz

can crushed tomatoes

28

oz

chicken broth

1/4

c

cream

9

oz

three cheese tortellini's

more if you like lot's of pasta
Instructions
Brown the ground beef

Drain off the excess fat

Add in the garlic, onion, garlic powder, onion powder, dried basil, oregano, salt and pepper

Cook for 5 minutes on medium/low heat

Add in the crushed tomatoes and chicken broth

Simmer for 30 minutes

Add the cream and tortellini's to the soup mixture

Cover and simmer on low until the tortellini's are cooked

Top your bowl with fresh parmigiano cheese
Did you make this recipe? Please leave a review!