This blueberry coffee cake is so tall and impressive! The cake is soft and moist, filled with fresh blueberries. The buttery cinnamon sugar crumb topping is about an inch thick, just the way it should be, reminiscent of what you'd get at an east coast bakery.
This blueberry coffee cake is best served 24 hours after it's been made - it's the perfect thing to make ahead for a brunch or dessert.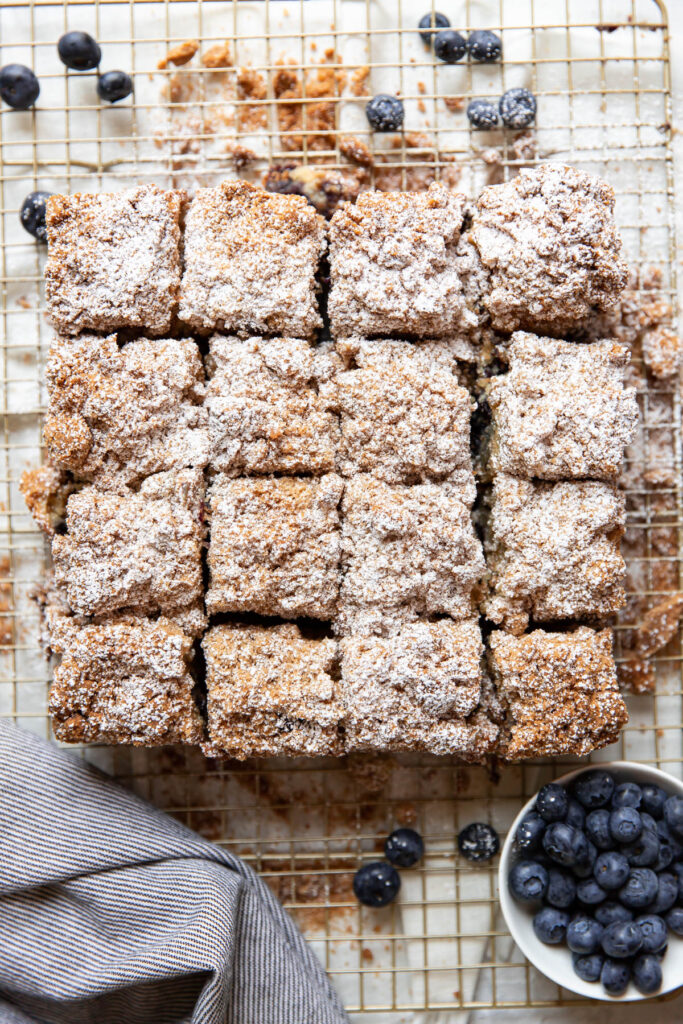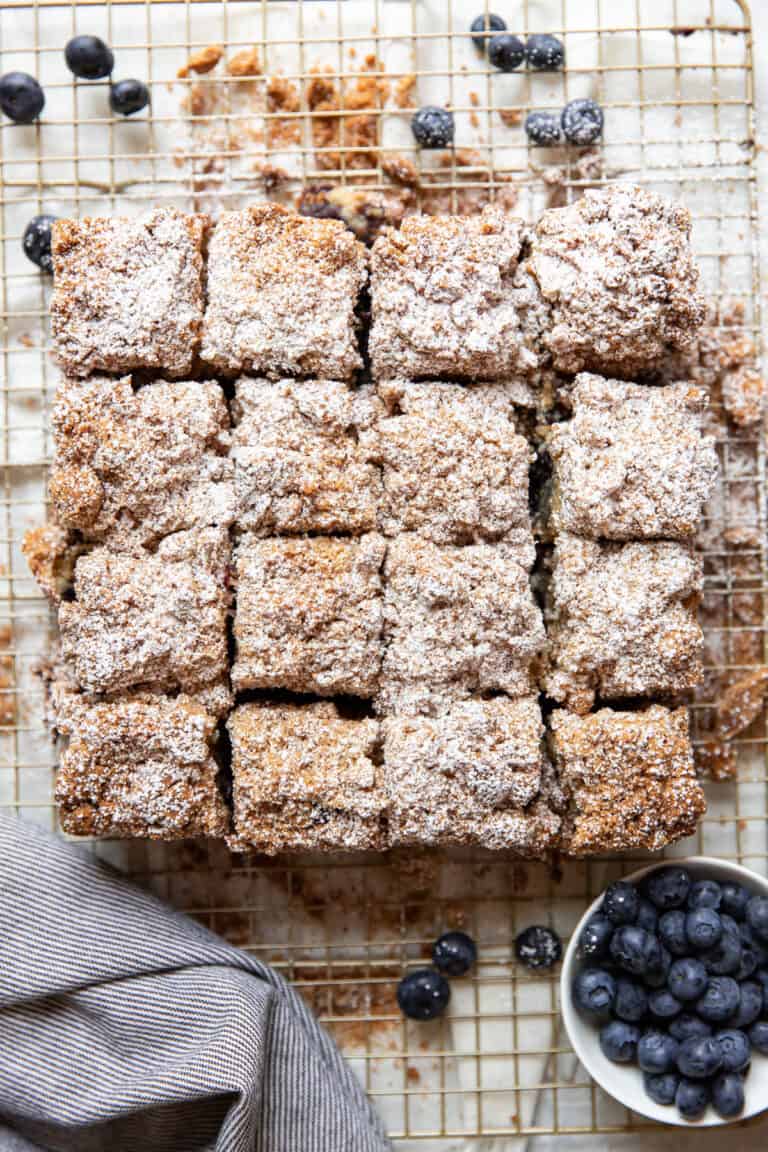 I'm so excited about this recipe because it's amazing! Coffee cake is one of my favorite, if not my #1 favorite, desserts. But is it a dessert? A breakfast, a brunch? It's good with coffee but also good as a treat after dinner.
And I can't think about coffee cake without thinking of my Grandma, who I'd spend my summers with in New Jersey, she would get us coffee cake and it was always a treat! Coffee cake in New Jersey had the thickest crumb topping, always dusted with powdered sugar. The best.
When I think of the perfect coffee cake, my ideal piece of coffee cake it has to have a few things going on to qualify. This blueberry coffee cake checks all the boxes!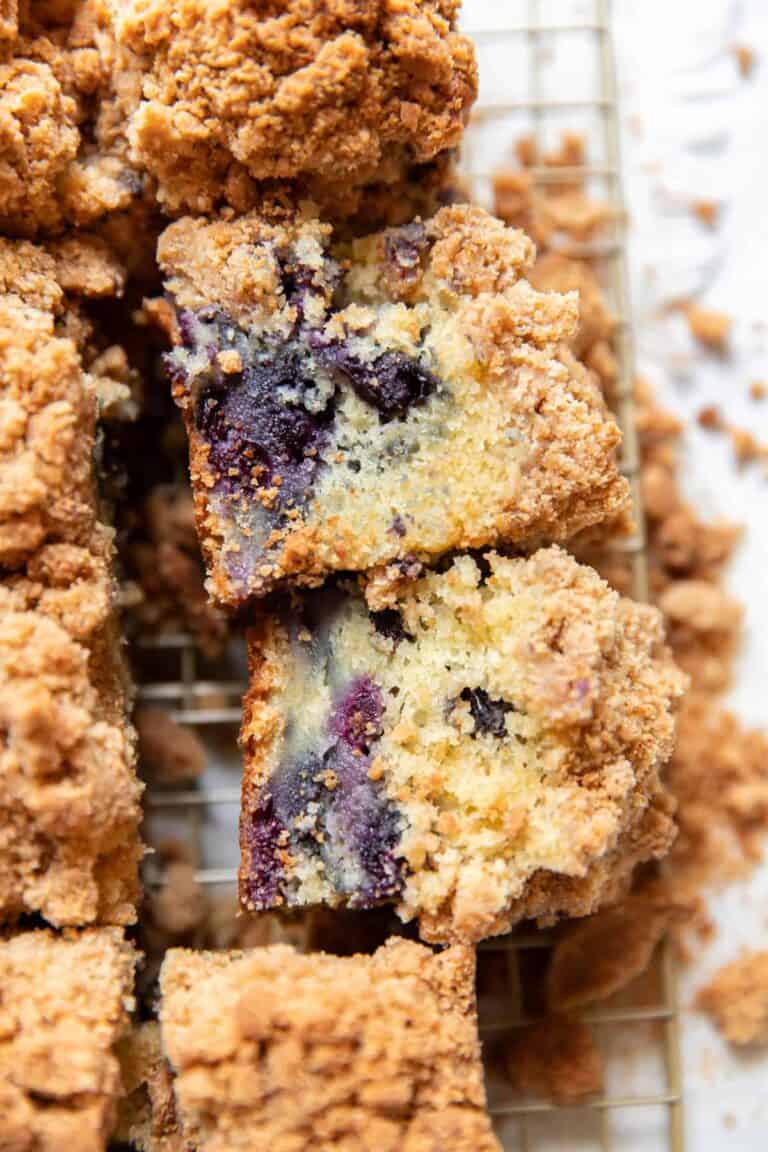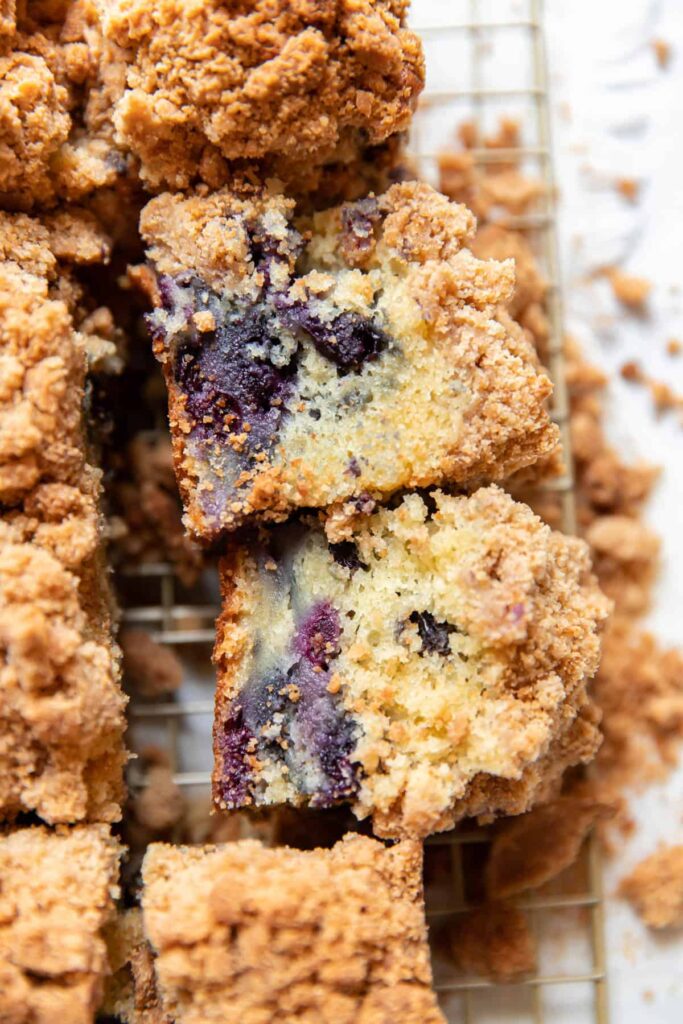 Big and tall. I love a really tall piece of coffee cake, tall enough that you have to push it on it's side when you go to eat it.
Thick crumb topping. It needs to have a substantial amount of crumb topping, just like you'd get at a bakery.
Moist cake and crumb. I like for the cake and the crumb to be soft. Nothing is worse than a dry coffee cake. And on that note I should mention this coffee cake is best served 24 hours after it's been made, as I first noted at the top of this post.
It absolutely tastes better after 24 hours stored in a tupperware or wrapped up. The cake flavors have time to sit and combine and the crumb is way better after 24 hours. The crumb topping has more crunch to it when you first pull it out of the oven but after 24 hours its soft and luscious.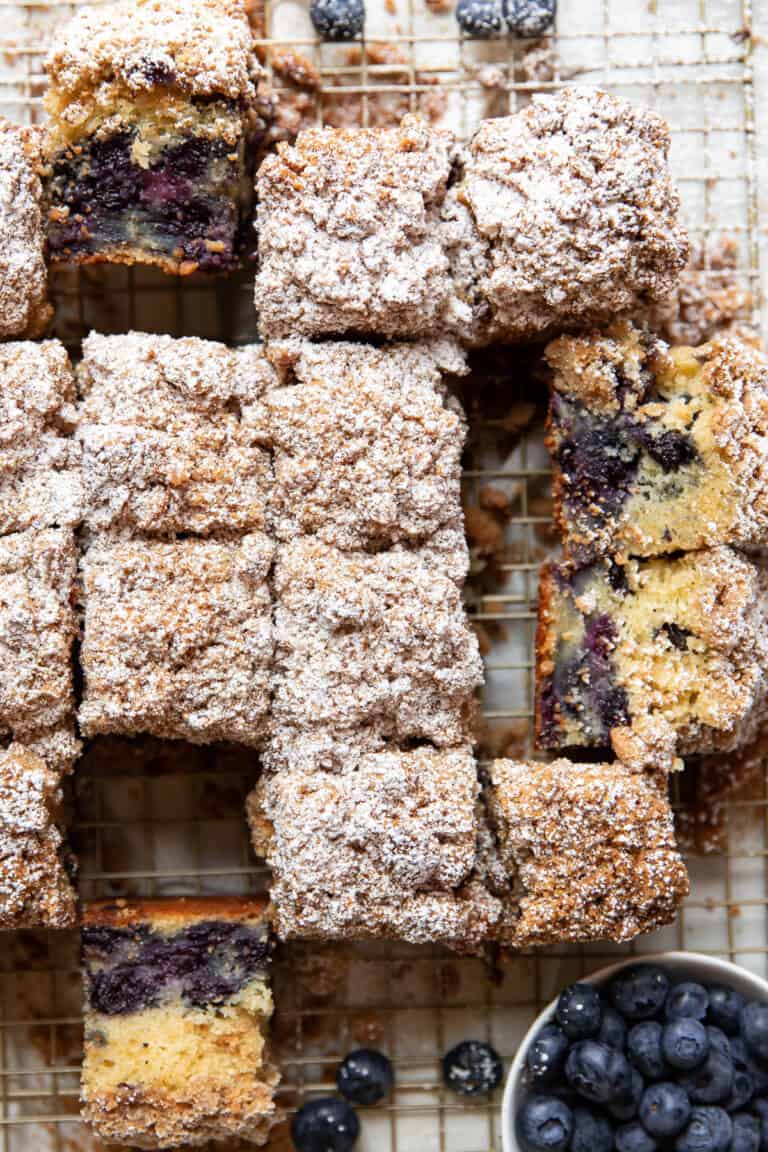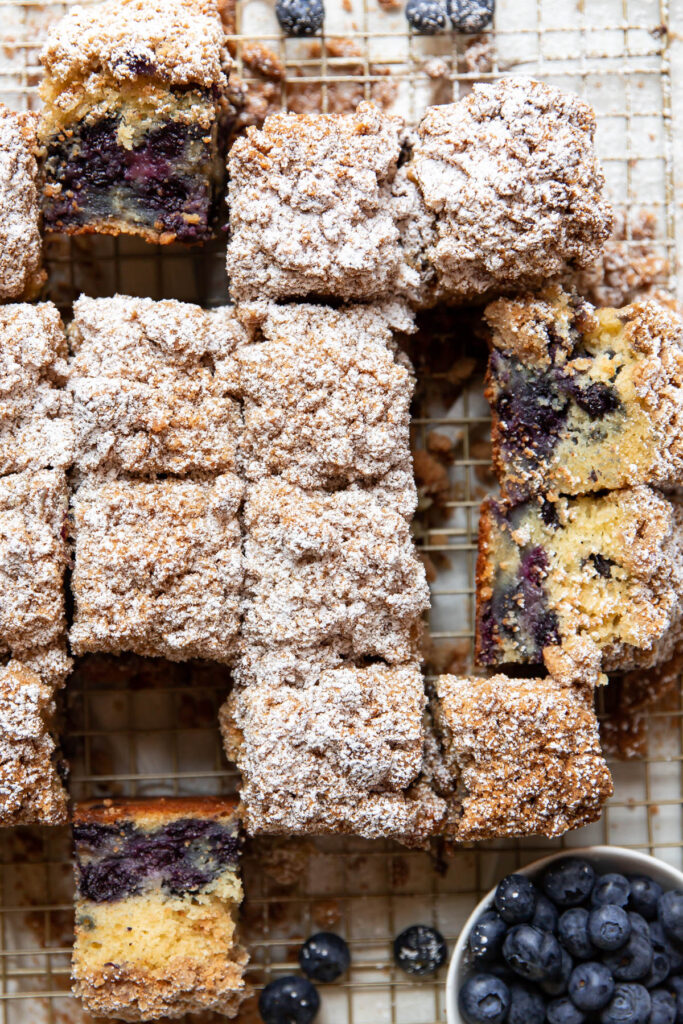 Ingredients In This Blueberry Coffee Cake
Okay, so I'm not going to list every single ingredient but I want to talk about some of the main ingredients in this recipe.
Blueberries - It's best to use fresh blueberries, especially right now in the summer when blueberries are in season and you get can them on sale! I've never made any baked good with frozen blueberries but I imagine it would be too wet.
Sour Cream - This recipe calls for 1 cup of sour cream. The best coffee cakes are made with sour cream, it makes them tender and light with a really good flavor.
Buttermilk - You only need ¼ cup of buttermilk, I know it doesn't seem like a lot and you may want to skip it but I suggest not, it gives it just a bit more moisture in the cake.
Butter - Opt for salted butter and no substituting it for margarine, you need the real deal butter. In all, the recipe calls for two sticks of butter - one stick for the cake and one stick for the crumb topping.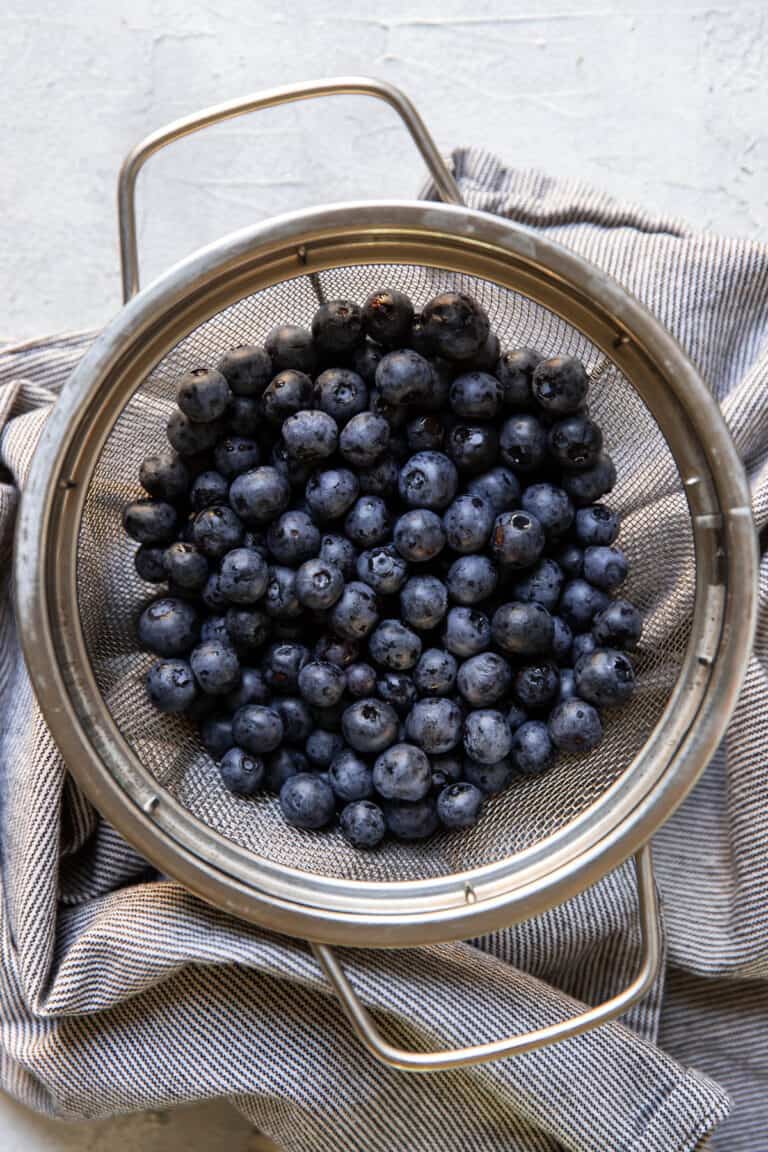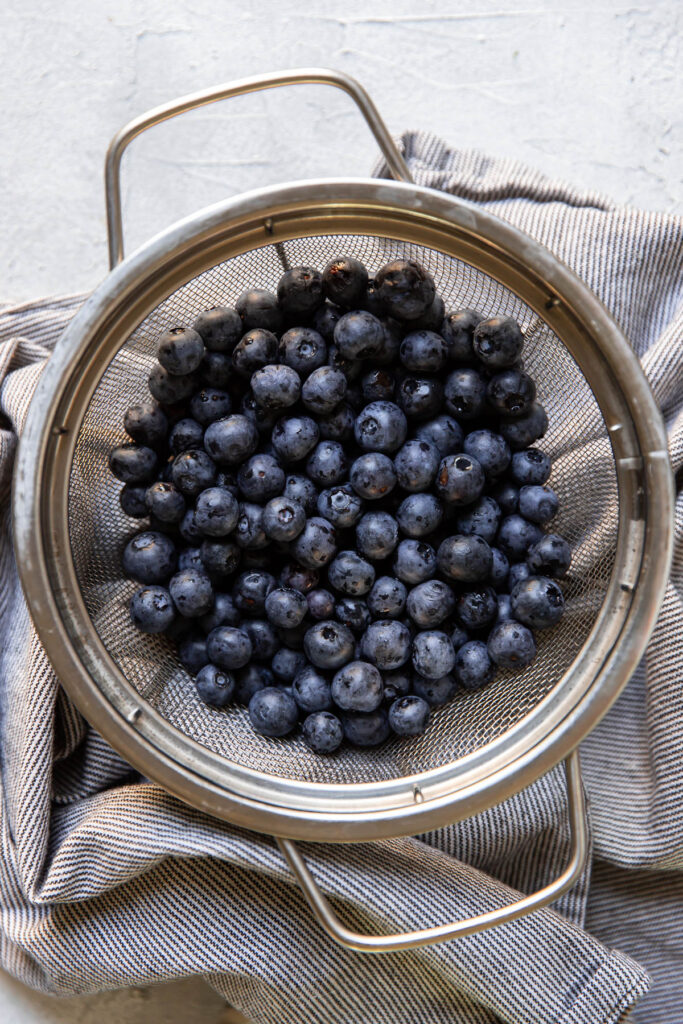 How To Make The Blueberry Coffee Cake (Cake)
To make the cake you'll start by creaming together one stick of butter and white sugar (or I like to use cane sugar) in a stand mixer. You don't need to cream this together as fluffy as you would for cookies but just so it's pale in color and creamed together.
Then add in the vanilla, followed by mixing in an egg at a time. After all the eggs are added I like to scrape down my bowl and give it one final whiz together. Add the sour cream and buttermilk.
Sour cream should be measured as a solid, not as a liquid so make sure to use a measuring cup like you would for flour.
Don't fret if it looks curdled at this stage.
Sift together all the dry ingredients and then mix them in to the batter just until it's mixed. Switch to a spatula and stir the blueberries in.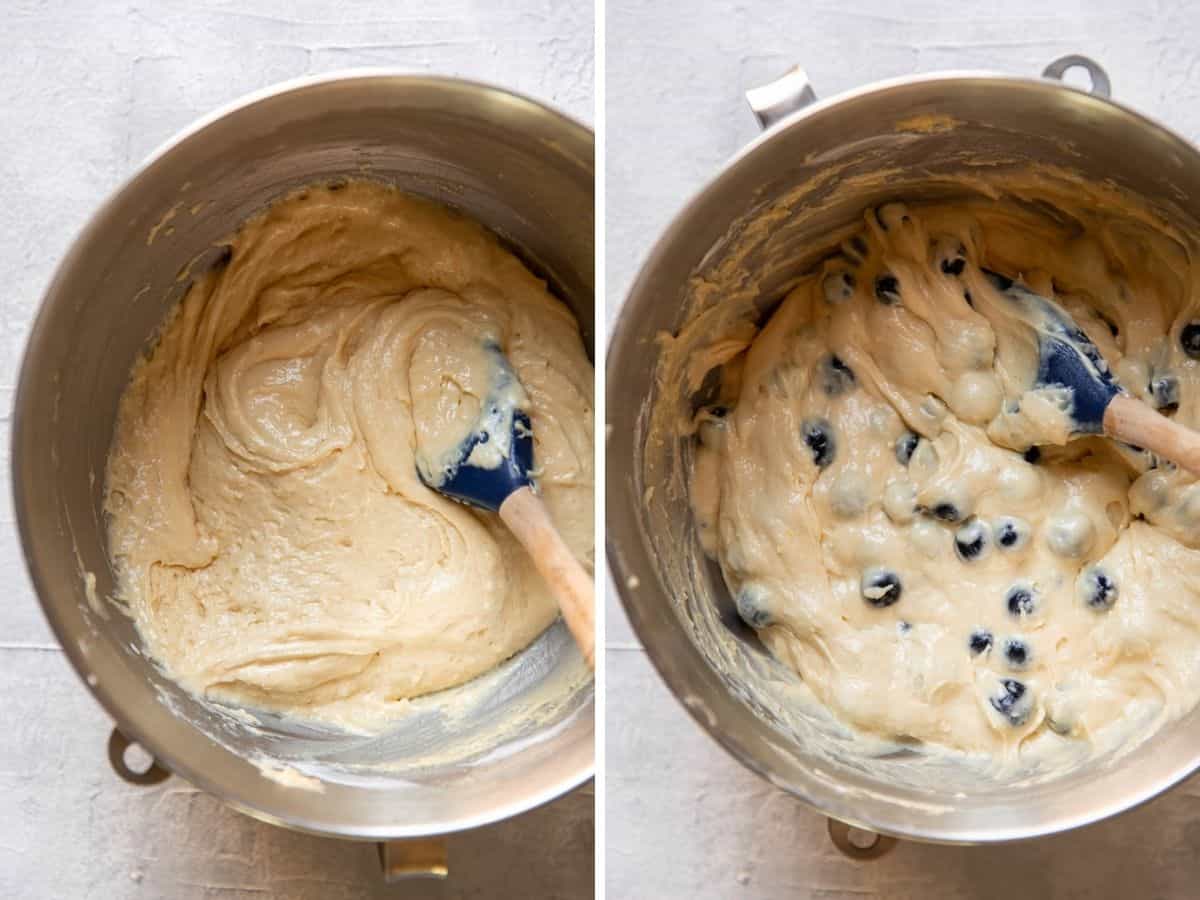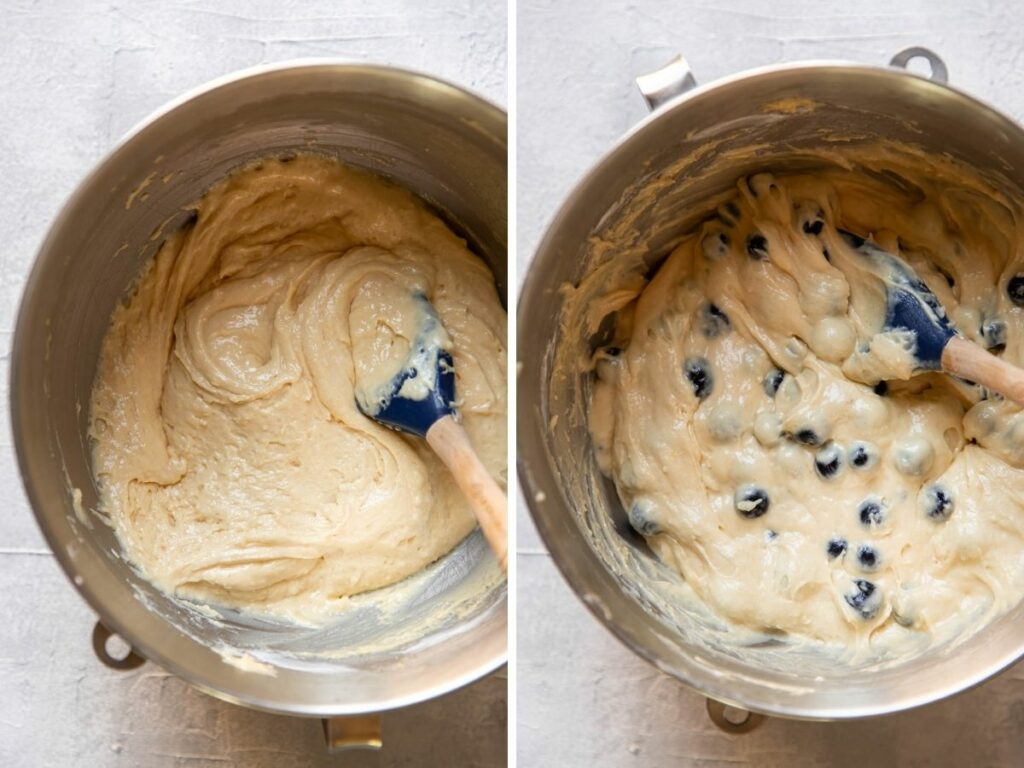 How To Make The Blueberry Coffee Cake (Crumb Topping)
For the crumb topping it couldn't be any easier!
Melt one stick of butter and stir in the cinnamon, brown sugar, cane sugar and salt. Then add in the flour and use a spatula to start mixing it together. Use your hands to blend it together more.
Try to get the crumb topping into big hunks. That way you can break off chunks when you sprinkle it on the cake.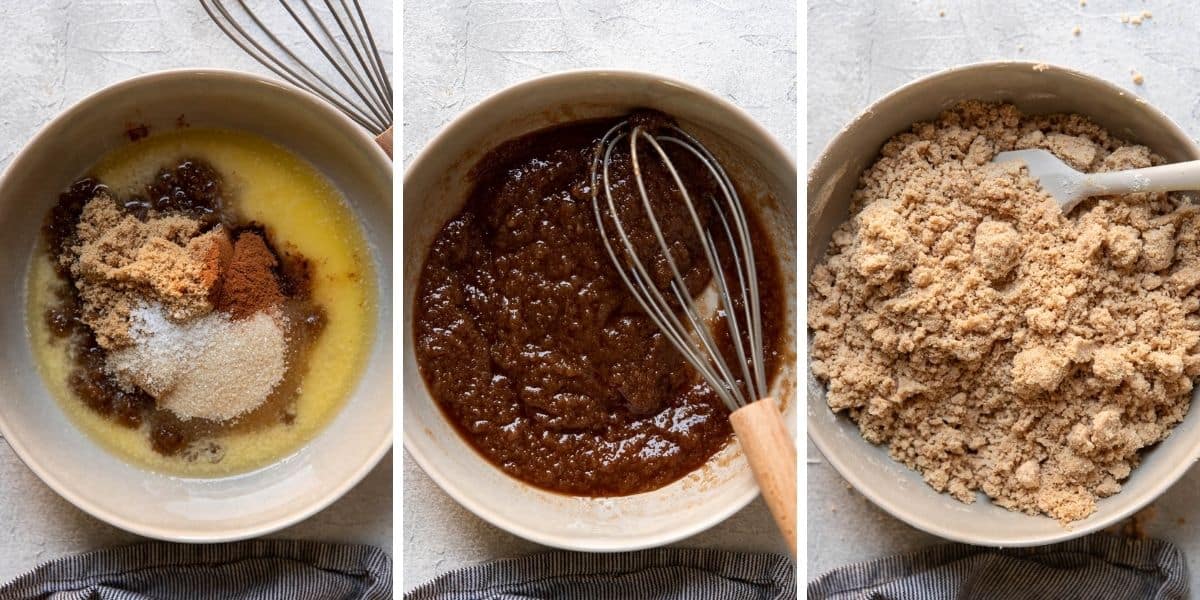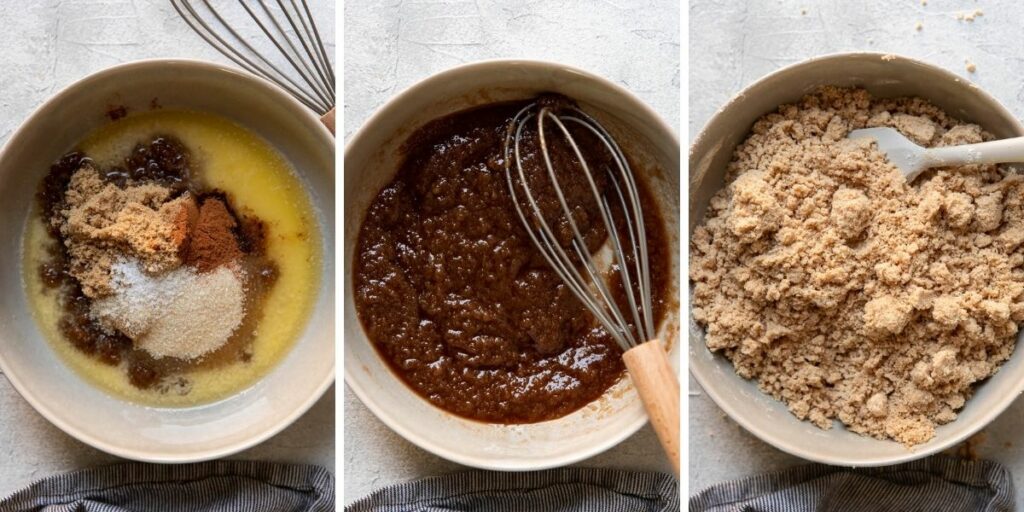 Assembling and Baking
Assembling.
You'll need an 8x8 square baking pan. Line this with parchment paper so you can easily take out your blueberry coffee cake without it sticking to the edges.
Pour the batter into the parchment lined pan and use a spatula to smooth it out. Sprinkle the crumb topping over top, starting around the edges and working your way to the middle.
Go heavier on the edges, since cakes rise more in the middle - you don't want to weigh it down in the middle as much as the sides.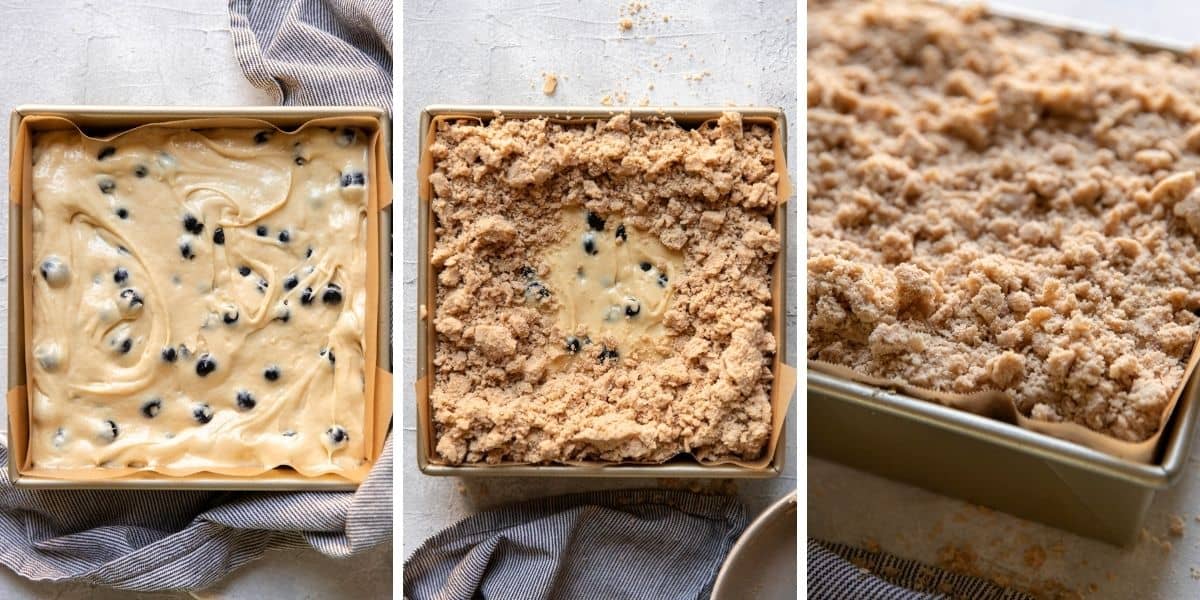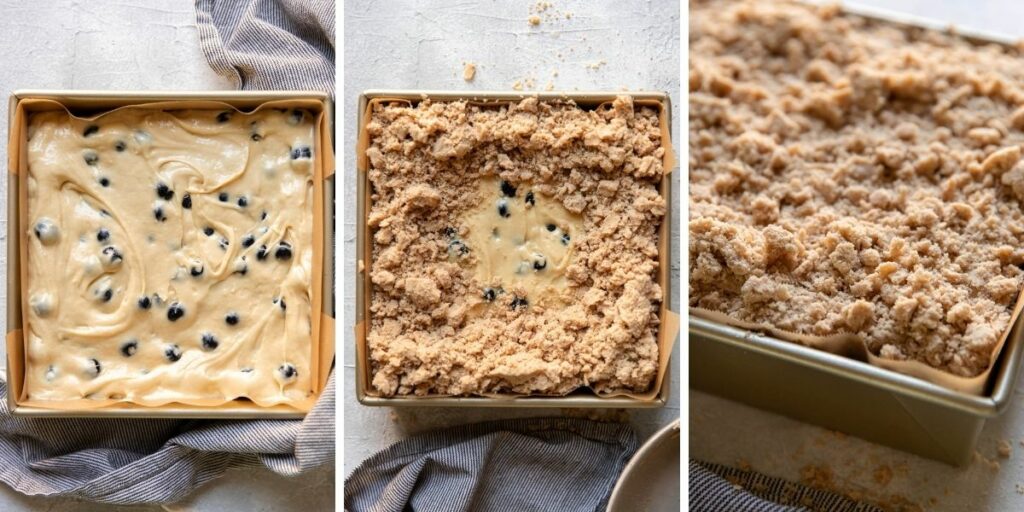 Baking.
The target temperature is 350 degrees Fahrenheit. Since the pan will be packed full of cake and crumb topping, up to the brim, it will take longer to bake.
If the crumb topping is the color you want and it's still not done baking then loosely cover the top of the coffee cake with a piece of tin foil. This will stop the browning process and keep it the color you like.
It's also a good idea to turn the cake halfway through baking - for even baking.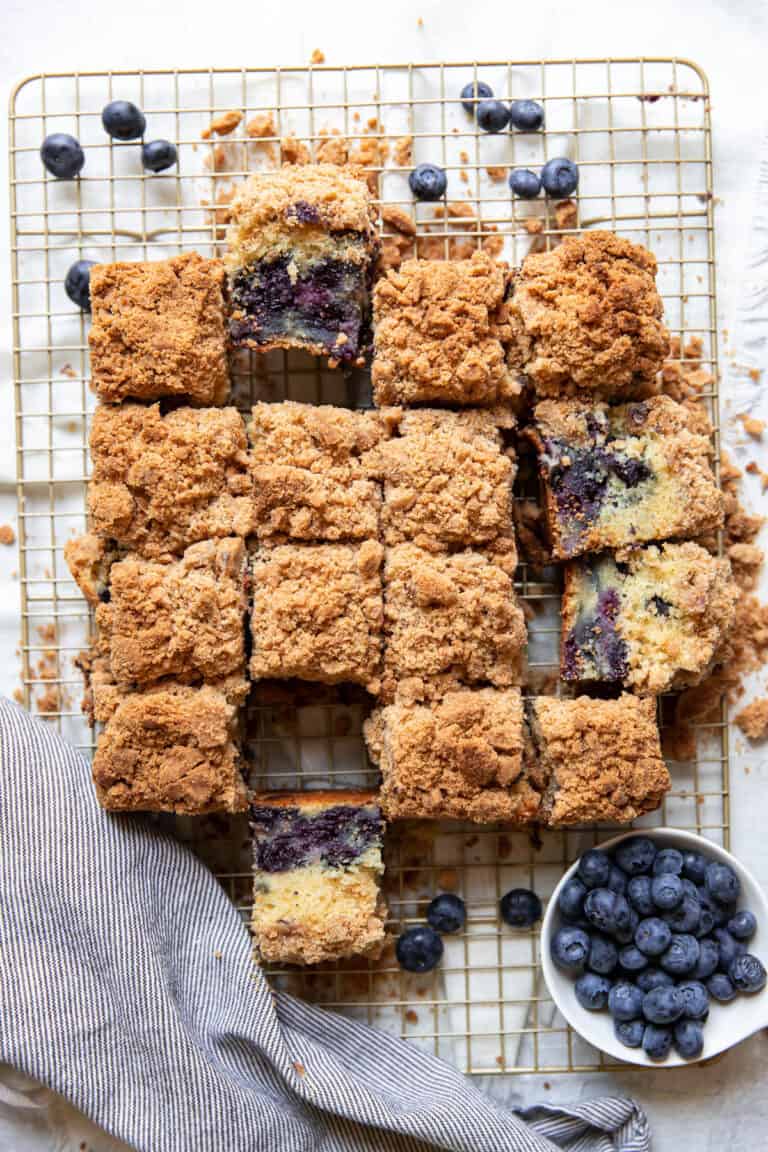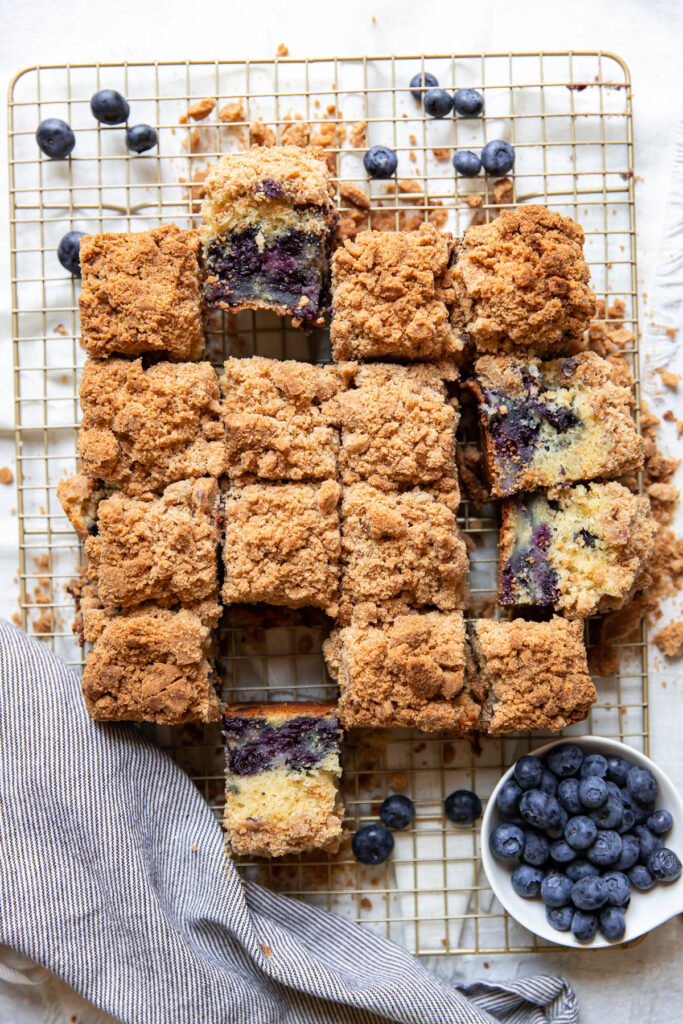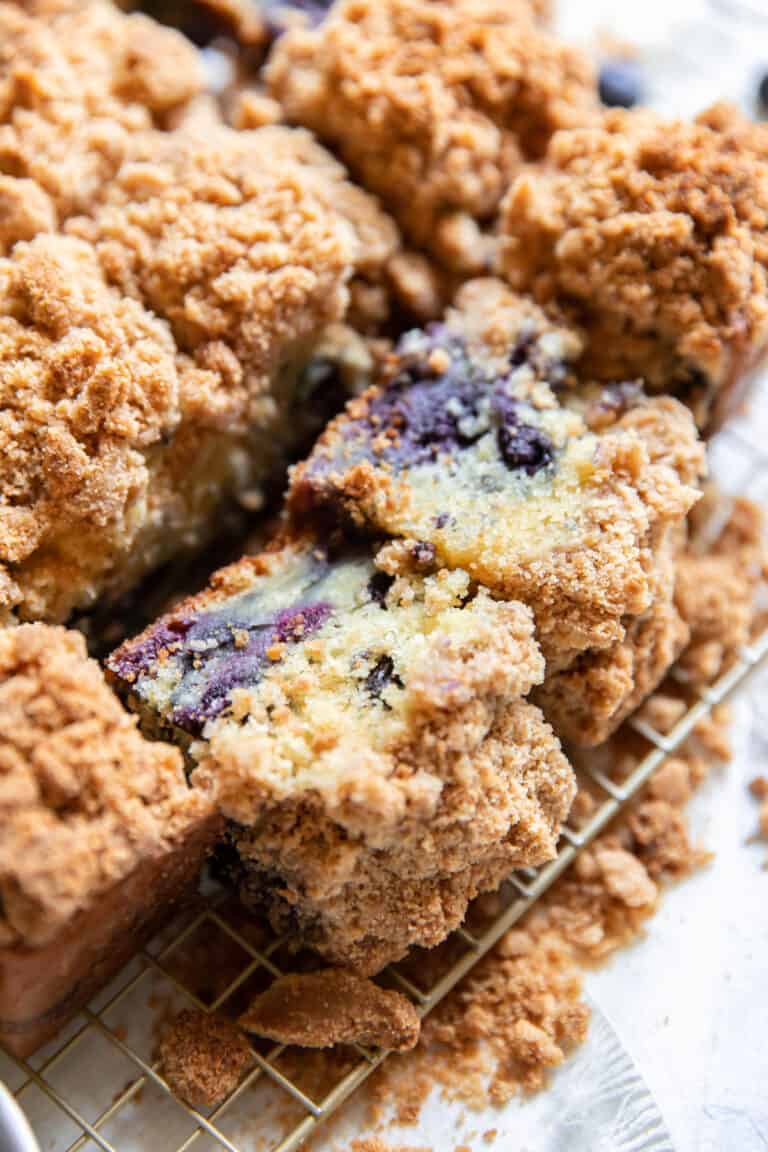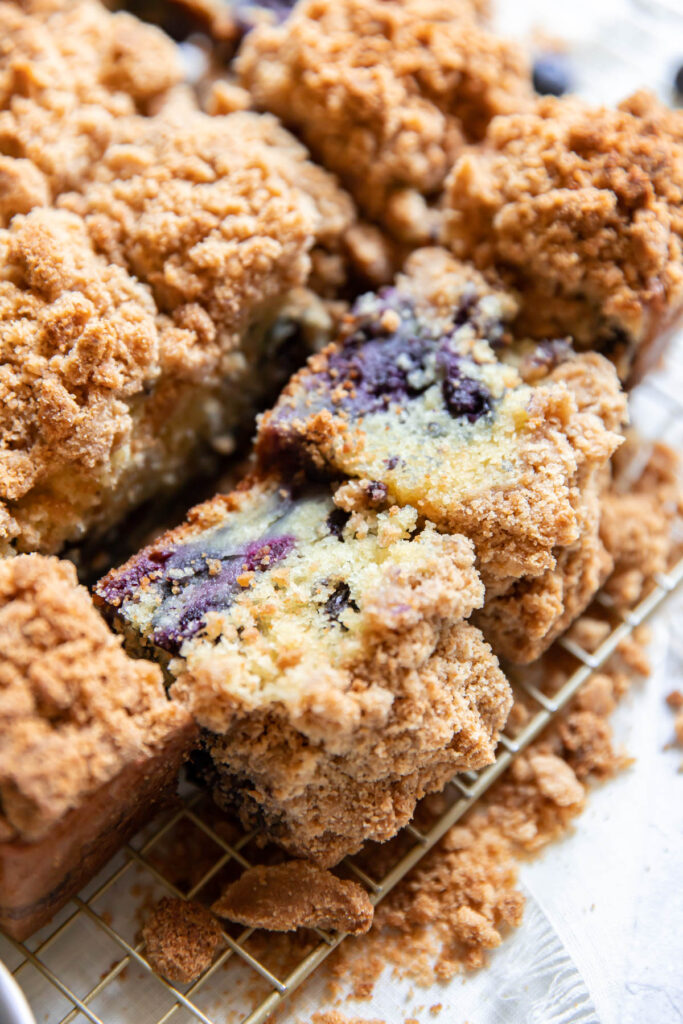 FAQ
My crumb topping is really crunchy?
If you want a soft crumb topping you'll need to let the blueberry coffee cake rest 24 hours, in a covered container. This gives it time for the moisture to release. But if you want it to be more crisp and crumbly then you can eat it the day of - personally I think it's the best after 24 hours.
Can I use all sour cream instead of some buttermilk?
I highly suggest making the recipe as it is written.
Can I use a glass baking dish to make coffee cake?
Use a metal pan. Metal will bake more evenly compared to glass. An 8x8 that is 2" high is preferable. It must be tall enough to hold all the batter and topping.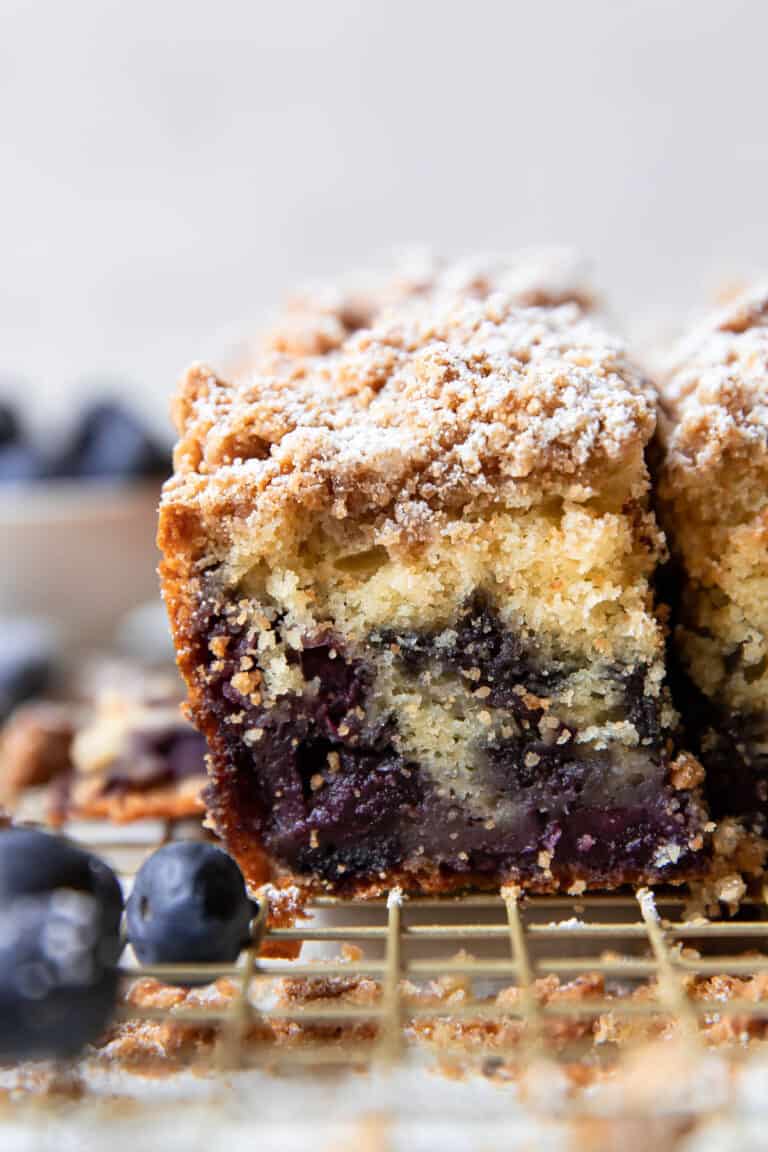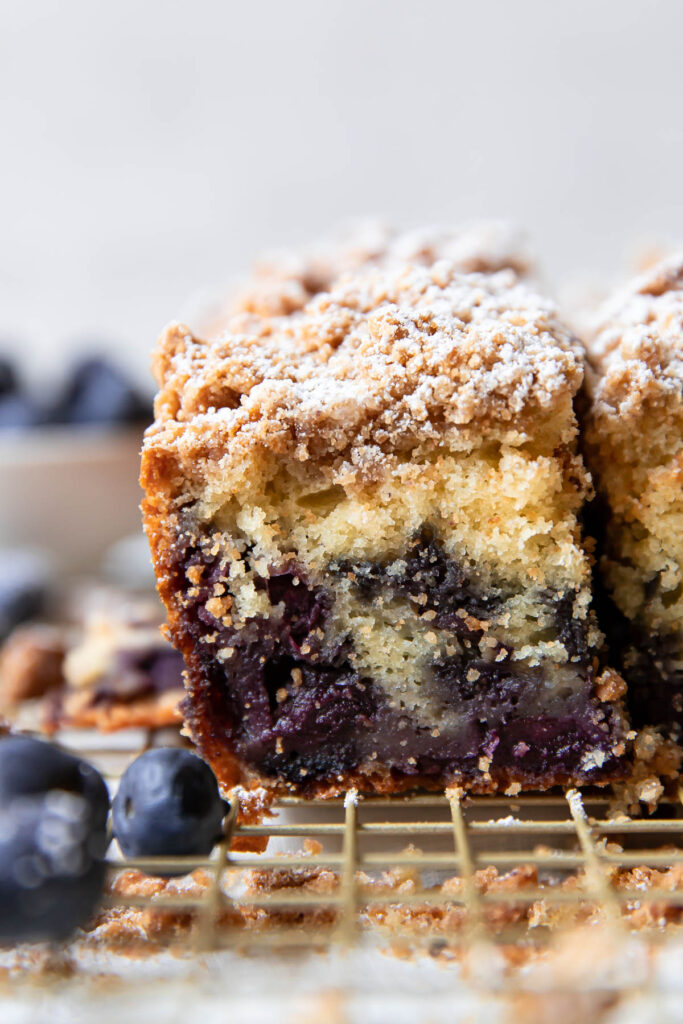 Other Noteworthy Recipes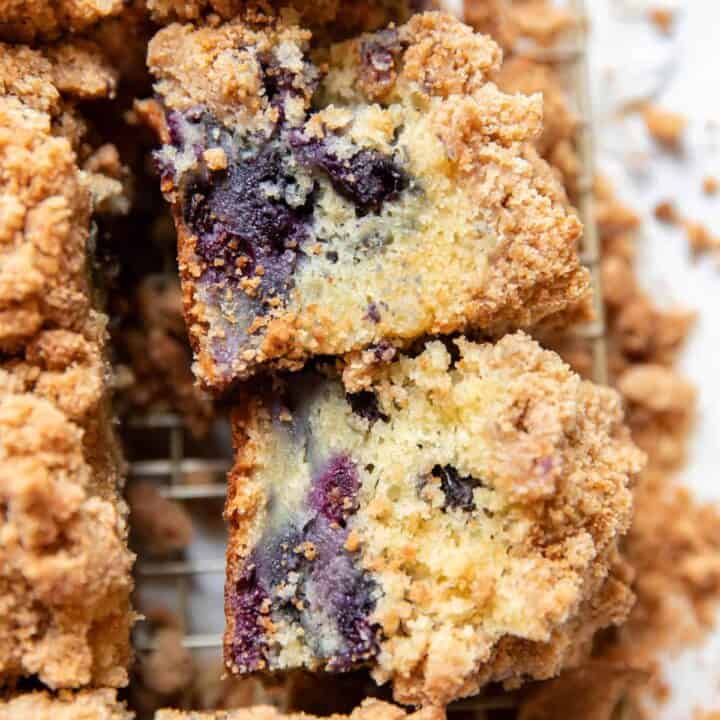 Sky High Blueberry Coffee Cake
Cook Time:
1 hour
25 minutes
Total Time:
1 hour
45 minutes
This blueberry coffee cake is so tall and impressive! The cake is soft and moist, filled with fresh blueberries. The buttery cinnamon sugar crumb topping is about an inch thick, just the way it should be, reminiscent of what you'd get at an east coast bakery.
Ingredients
Cake
18 oz blueberries
½ c butter, room temp
1 c cane sugar
1 tsp vanilla
1 c sour cream
¼ c buttermilk
3 eggs
2 c flour
½ tsp baking soda
1 ½ tsp baking powder
¾ tsp salt
Powdered sugar, for dusting
Crumb Topping
8 tbsp butter (1 stick), melted
1 tsp cinnamon
¾ c brown sugar
¼ c cane sugar
¼ tsp salt
2 c flour
Instructions
Preheat oven to 350
Cream together the butter and sugar until light, airy and fluffy looking
Keep the mixer on low speed
Add in the eggs (one at a time) and vanilla, mix until combined
Add the sour cream and buttermilk
In a separate bowl sift together; flour, baking soda, baking powder and salt
Add this to the mixer
Mix until just combined then add in the blueberries (make sure the blueberries are dry)
For the topping; melt the butter and stir in the brown sugar, white sugar, cinnamon and salt, now mix in the flour (see photos above for a visual)
Line an 8x8 square baking pan with parchment paper
Fill the pan with the batter
Add the crumb topping to the top, starting around the edges first then working your way to the center
Bake for 80-90 minutes (rotate the pan halfway through baking for the most even bake) or until a toothpick comes out clean*
The crumb topping will be golden faster than the cake bakes, lightly cover the top with a piece of foil to stop the browning process once it's the color you want (for me this is around the 30 minute mark)
Let it cool in the pan for 1 hour
Pull up on the parchment paper and let it finish cooling on a wire rack, you can store back in the pan, a Tupperware or with plastic wrap
Dust the top with powdered sugar and serve**
Notes
*It can be tempting to turn the heat up, but you'll end up with a thick hard crust on the outside of the cake, so for a nice even bake it needs to be 350 degrees
**Best served 24 hours later - the flavor is even better and the crumb topping is the perfect soft tender consistency, if you cut it the same day it's best to put it back in the pan then cut, so you don't lose a lot of the crumb topping, after 24 hours the crumb topping has had a chance to set up and can be cut easier without crumbling
Recommended Products
As an Amazon Associate and member of other affiliate programs, I earn from qualifying purchases.
Nutrition Information:
Yield:

16
Serving Size:

1
Amount Per Serving:
Calories:

398
Total Fat:

15g
Saturated Fat:

9g
Trans Fat:

1g
Unsaturated Fat:

5g
Cholesterol:

73mg
Sodium:

350mg
Carbohydrates:

61g
Fiber:

2g
Sugar:

35g
Protein:

5g
This information comes from online calculators. Although moderncrumb.com attempts to provide accurate nutritional information, these figures are only estimates.