Peanut butter blossoms cookies are such a classic and timeless Christmas cookie! These cookies have the iconic Hershey kiss in the center. Roll them in green, white and red sugar for a really fun and festive look.
Today is day 1 of the '12 days of Christmas cookies' here on Modern Crumb!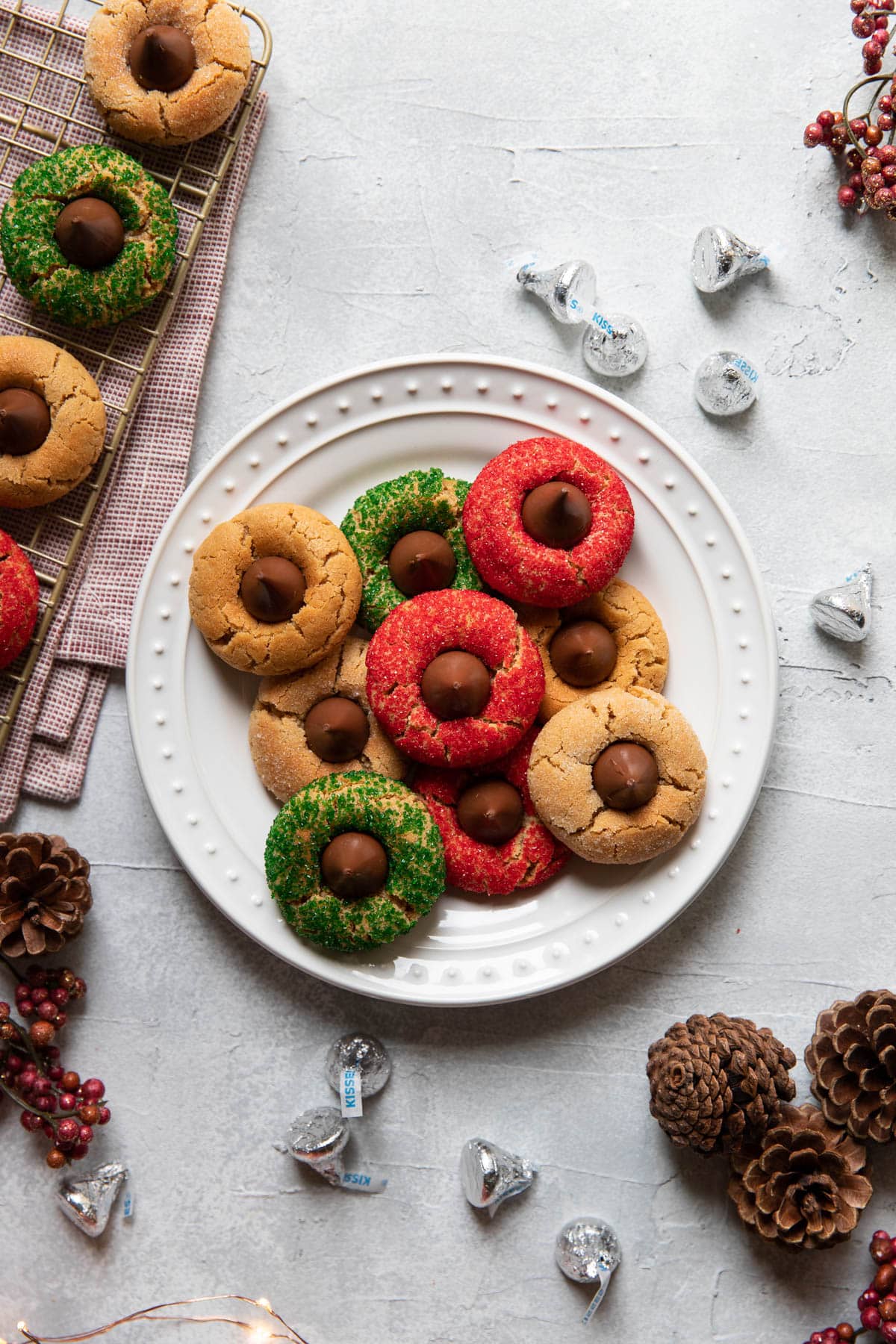 Christmas is not complete without peanut butter blossoms. We make dozens and dozens of these cookies, every year. Hands down, a family favorite recipe.
If this is your first time making them, here's what to expect! They are a peanut butter cookie with a milk chocolate Hershey kiss pressed in to the center after they bake.
Jump to:
This is day 1 of our 12 days of Christmas cookies.
Between December 1st and December 23rd, I'll be sharing a new christmas cookie recipe every other day! Even on the weekends. I'm sure you'll see some of your favorites and hopefully gain a few new favorite recipes!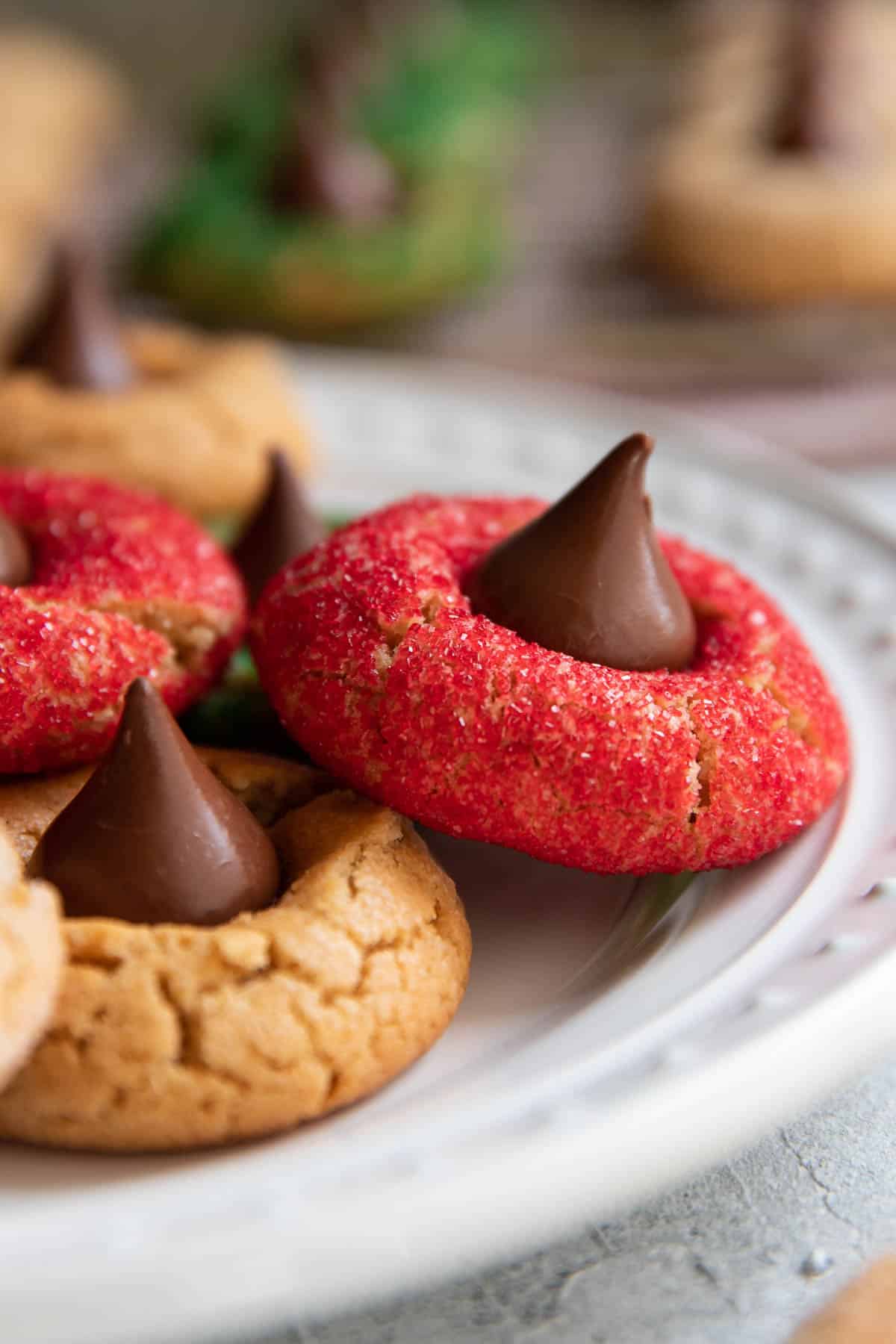 Try rolling them in different color sugar sprinkles. For these, I went with red, green, white and a few without any sugar. Without the sugar is my husbands favorite.
You can guess who loves the sprinkle ones. The kids, of course!
This type of cookie dough does need to be chilled, so plan on a 30 minute chilling time on top of prep and bake times. The good news is these take less than 10 minutes to bake!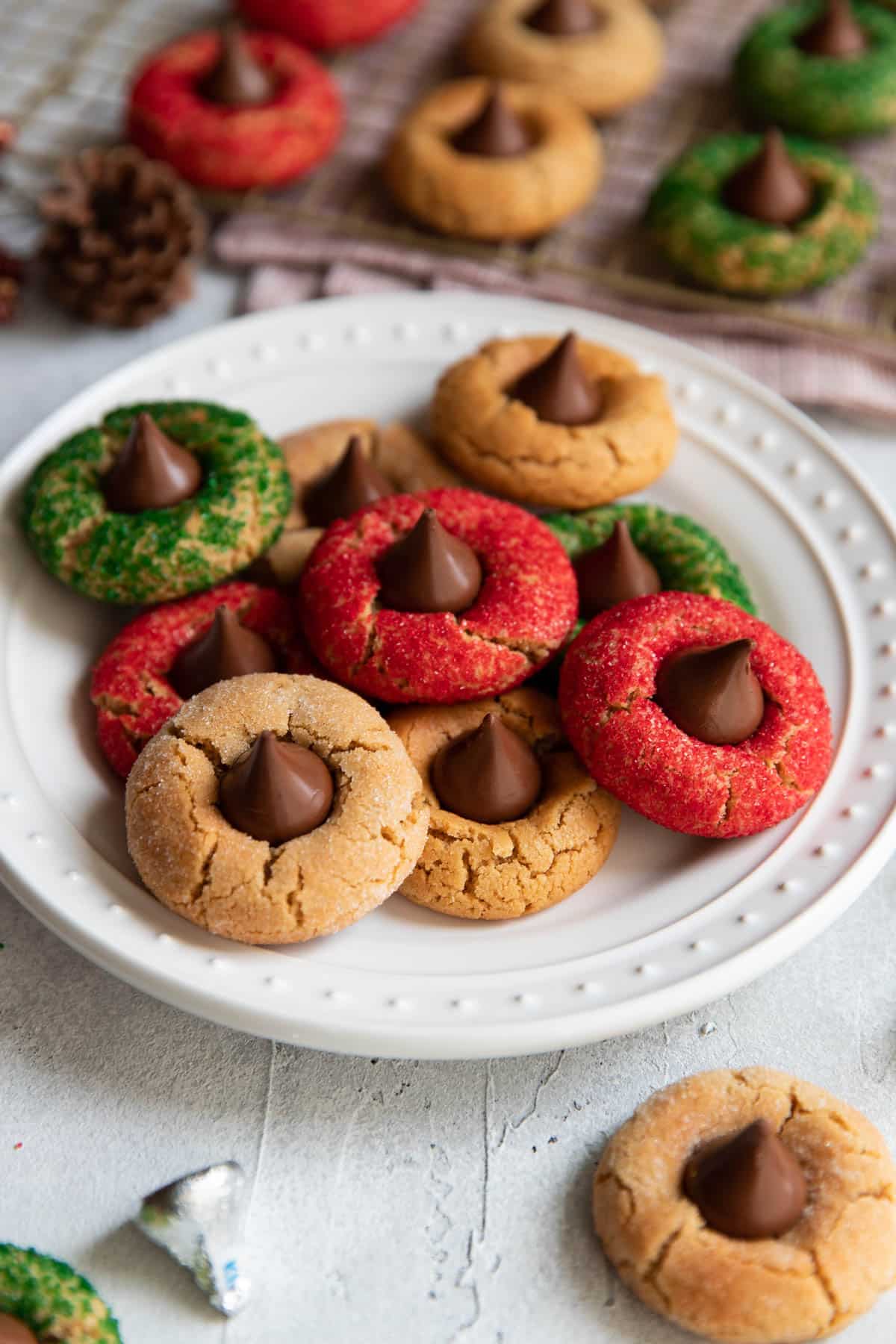 How To Make Peanut Butter Blossoms
These are a fairly easy cookie to make! As long as you follow the recipe and instructions, you shouldn't have any issues.
In my opinion, this is the perfect Christmas cookie recipe to make with kids. They can easily scoop and roll the cookies in balls.
I like to use a cookie scoop to get all the dough scooped and then go back and form them in to balls.
After they've been rolled in to balls you can roll them in the sugar sprinkles. Take the lid off and pour some sprinkles in to a shallow bowl.
Place them up on a parchment lined cookie sheet, leaving enough space in between for them to spread slightly.
They bake really fast!
Depending on your oven, 6-8 minutes is my typical bake time. Six minutes will lend a more chewy peanut butter blossom and eight minutes a firmer one.
But again, this can vary depending on your oven.
Let them cool on your pan for just a minute, press in your Hershey kiss then transfer to a wire rack to cool.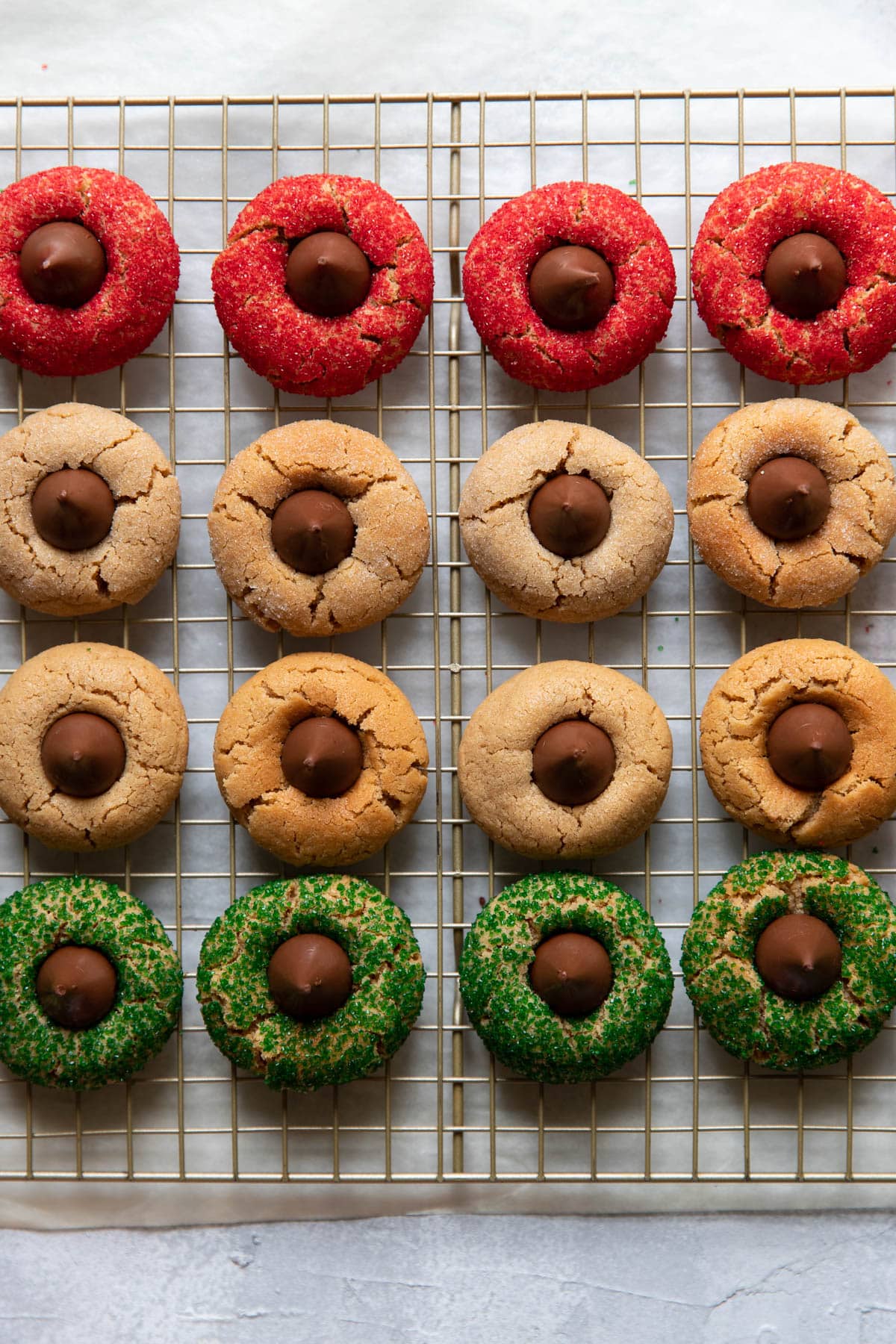 Cookie Making Tips
I have a few tips and tricks up my sleeve to help make the cooking baking process go as smoothly as possible.
Make sure to add the peanut butter to your creamed butter and sugar mixture prior to adding the eggs. That way you mix the eggs less.
While we are talking peanut butter, grab a jar of peanut butter that doesn't need to be mixed.
Those types of peanut butter can make your cookies very crumbly when you try to form them in to balls (been there, done that). My go to is Jiffy brand for these.
Chill the dough for 30 minutes in your refrigerator prior to shaping the peanut butter cookie balls, this helps to prevent over spreading while baking.
As soon as the peanut butter blossoms come out of the oven add the Hershey kiss, pressing down just enough to create a dimple in the cookie.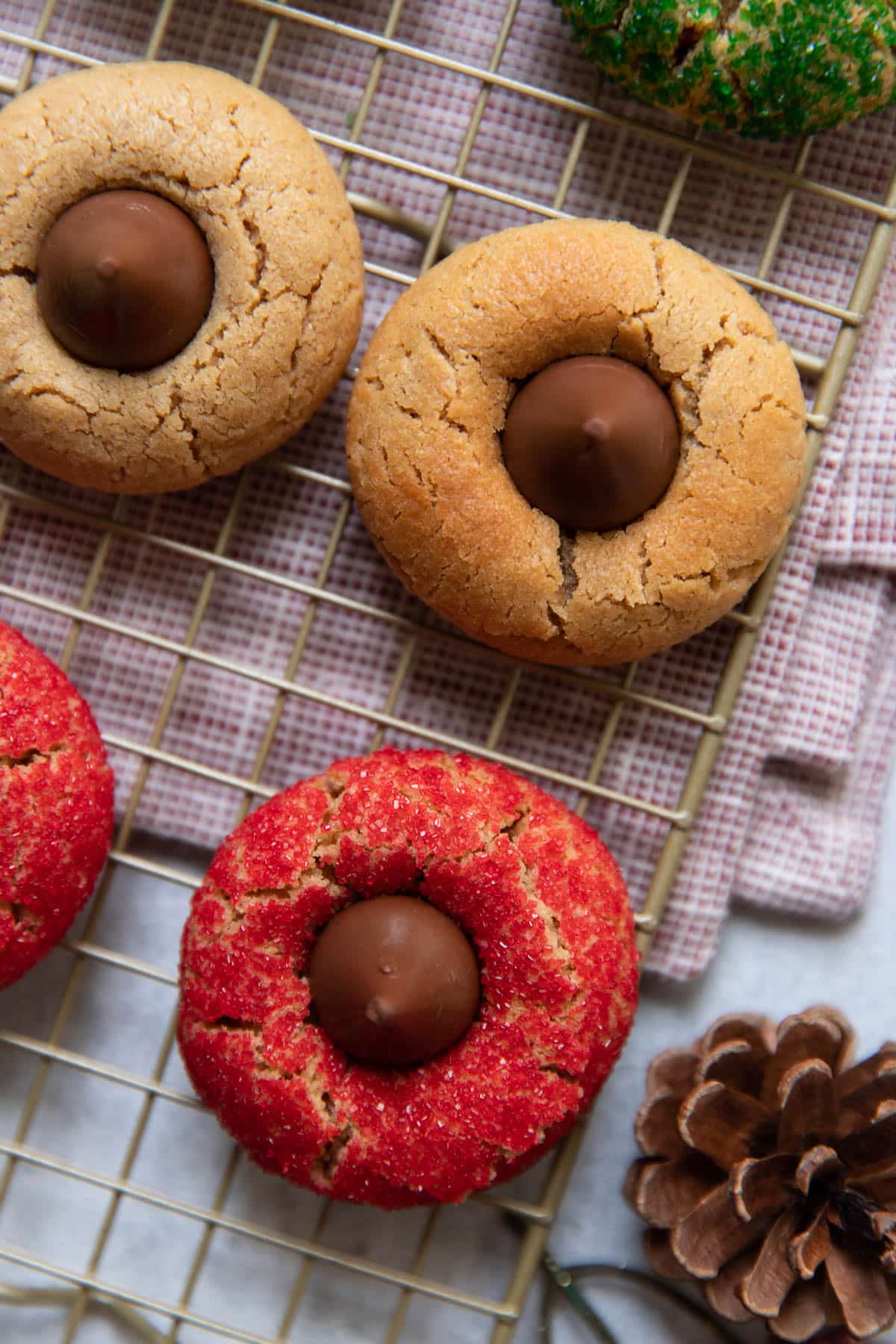 FAQ
Just a few frequently asked questions when it comes to baking peanut butter blossoms.
What type of peanut butter should I use?
I've found that Jiffy or Skippy brand works best. And a peanut butter that is a no mix, meaning the oil isn't separated on top.
Can I make these gluten free?
Yes! I've had lots of success making these gluten free, using Bobs Red Mill 1:1 baking flour. Just substitute the flour for the gluten free 1:1, using the same amount written, and that's it. No other adjustments need to be made.
I don't have any colored sugar sprinkles, will they still turn out okay?
The sugar sprinkles are purely decorative, not rolling in them won't have any effect on the taste.
My peanut butter blossoms are crumbling when rolling in to a ball, why is this happening?
Sometimes the organic peanut butter can cause this to happen, the type where you have to mix the peanut butter and oil together when opening a new jar. It's best to use a brand like Jiffy or Skippy for these. If you must use an organic brand thats fine, but just know that texture will be normal.
Why are my peanut butter blossoms falling apart?
This could be due to the question above. It could also be from using too much flour and the cookies are too dry.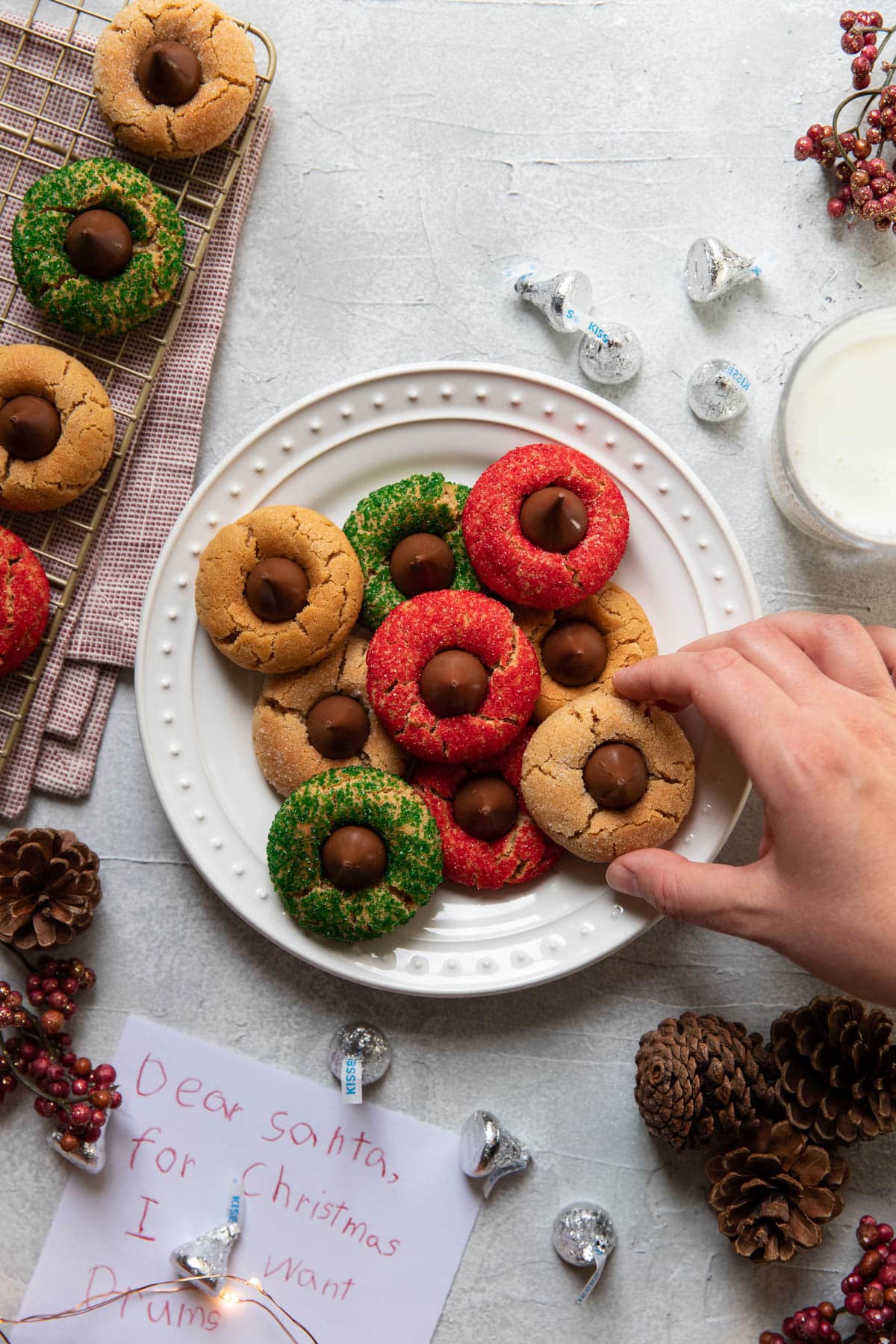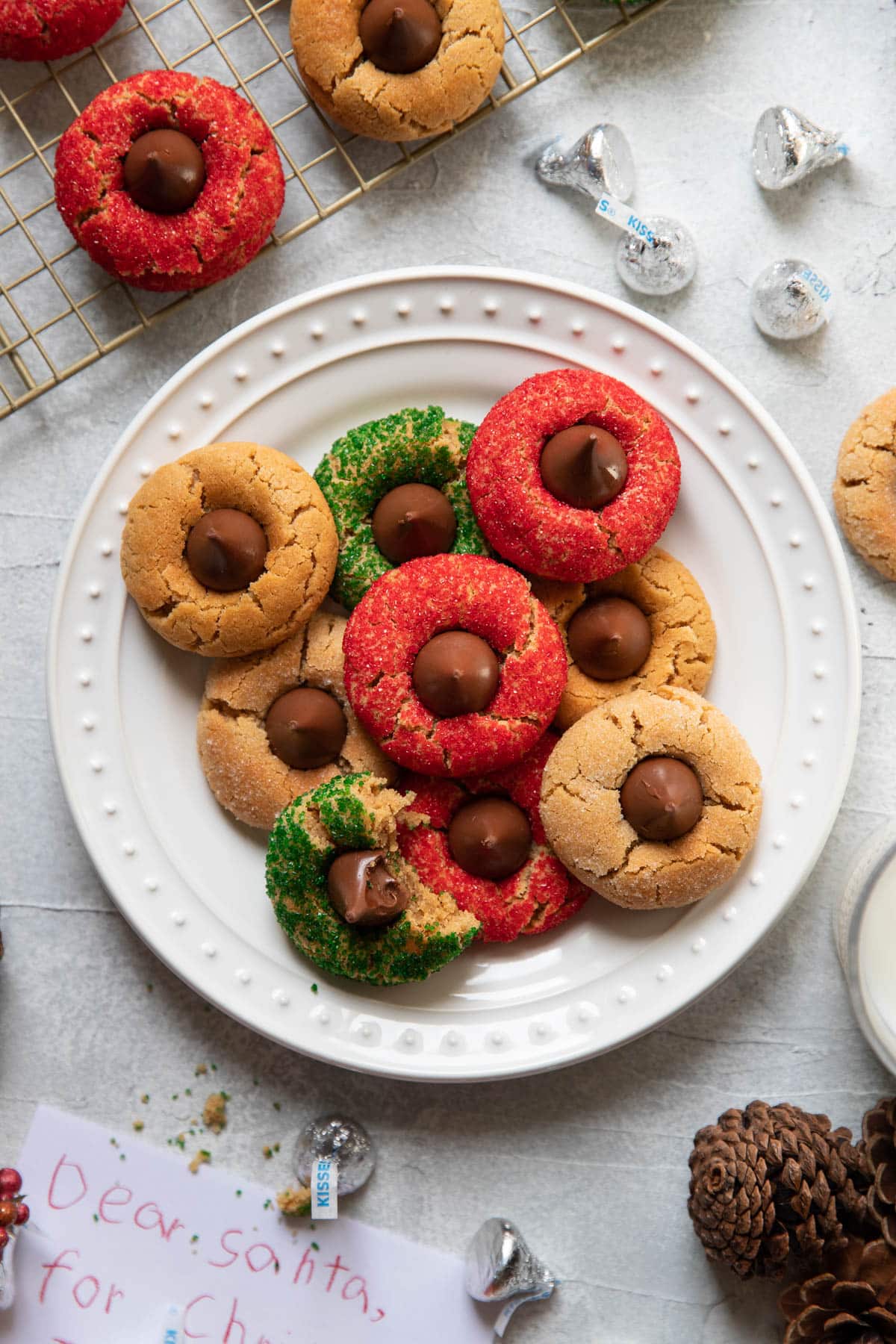 Dinners To Serve
Every good dessert needs a family friendly dinner to have before. I suggest this lasagna tortellini soup, easy ground beef shepherd's pie and broccoli cheddar soup.
12 Days of Christmas Cookies Recipes
As these cookies get published I'll update this list with each link to the recipes!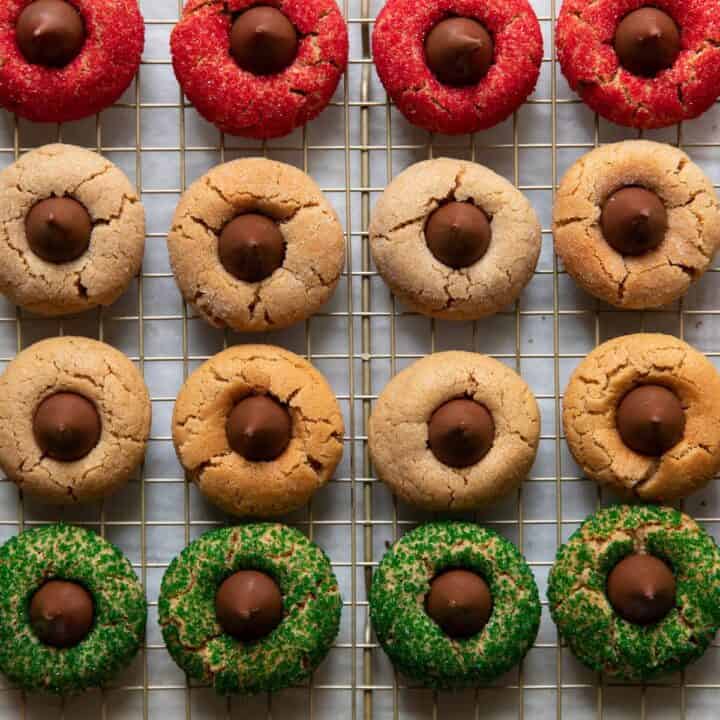 Christmas Peanut Butter Blossoms
Peanut butter blossom cookies are such a classic and timeless Christmas cookie! These cookies have the iconic Hershey kiss in the center. Roll them in green, white and red sugar for a really fun and festive look.
Ingredients
1/2 c butter, softened
1/2 c white sugar
1/2 c brown sugar
1/2 c creamy peanut butter
1/2 tsp vanilla extract
1 egg
1 1/4 c flour
1/2 tsp salt
1/2 tsp baking soda
24 Hershey milk chocolate kisses, foil wrapper removed
Optional: red, green and white sugar sprinkles
Instructions
Preheat oven to 375
Cream together the butter, white sugar and brown sugar until light and fluffy
Mix in the vanilla extract and peanut butter
Stir in the egg until just combined
In a separate bowl sift together the flour, salt and baking soda
Add this to the wet ingredients, mix until just combined
Chill in the refrigerator for 30 minutes
Line a baking sheet with parchment paper
Use a mounded tablespoon full or cookie scoop, to scoop out the cookie dough
Form these into a ball
Roll in sugar sprinkles if you want (optional)
Place on the baking sheet
Bake 6-8 minutes
Pull from the oven and press a milk chocolate kiss in the center of each one
Transfer to a wire rack
Serve