These Christmas Danish butter cookies taste just like the tin can of cookies Grandma used to bring over. They have a crisp buttery texture and sparkling sugar sprinkles on top. This homemade recipe will be a must make, every holiday season.
Today is day 5 of the '12 days of Christmas Cookies' here on Modern Crumb!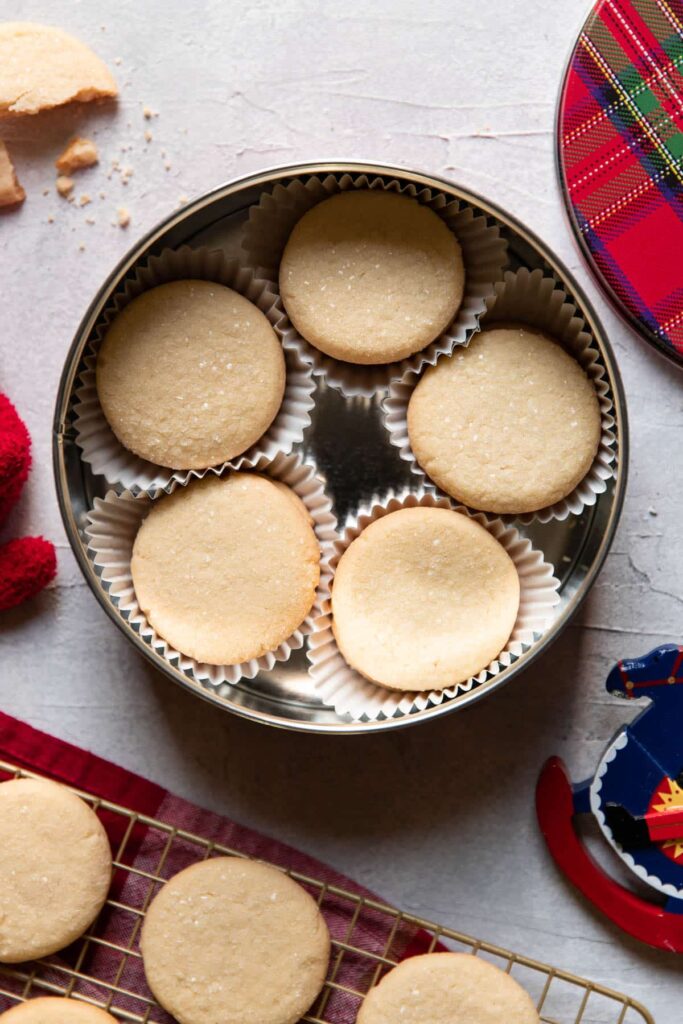 If you can imagine the taste of butter cookies by reading the title, then this recipe is for you friend!
Every year our family gets the blue tin can of danish butter cookies with sugar sprinkles from Costco, it lasts us all December because the container is huge!
It's just the four of us, so we can never eat them all.
There's something very old fashioned and charming about these.
Maybe it's the simplicity of them or that there is just something so special about them being in a tin can.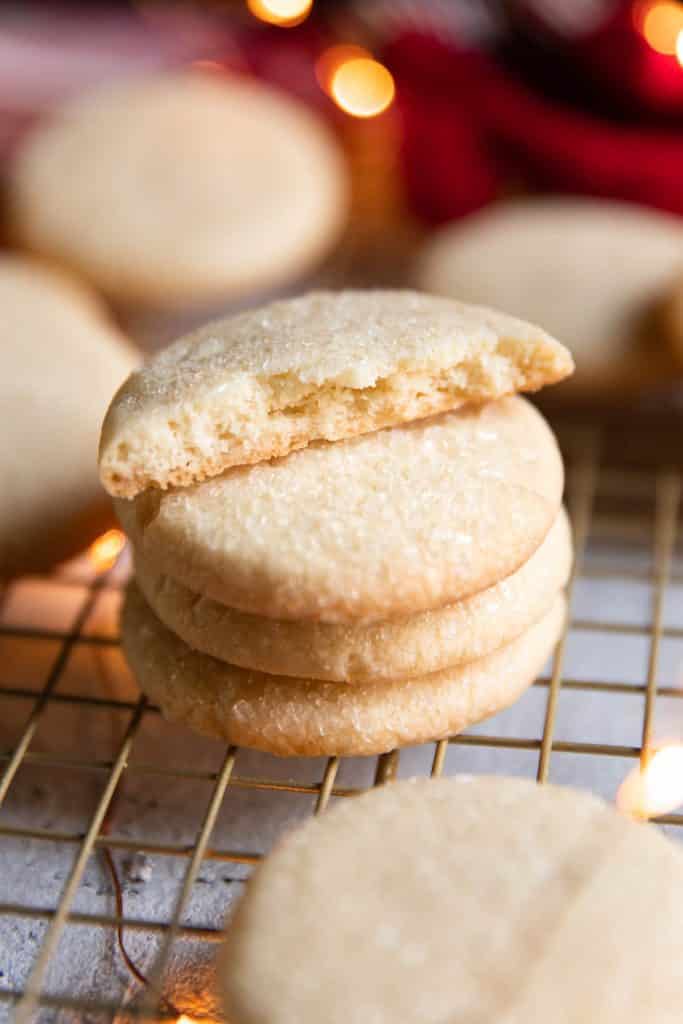 Grandparents always had these around the holidays. I think the secret reason was to store sewing supplies and trinkets in the tin can after the cookies were gone.
I am totally guilty of doing the same.
This recipe is perfect for a small batch of butter cookies when it's just for your household or as a special Christmas Eve treat. Maybe you want to leave Santa one?
My kids usually leaves Santa these peanut butter blossoms. He never leaves a crumb behind!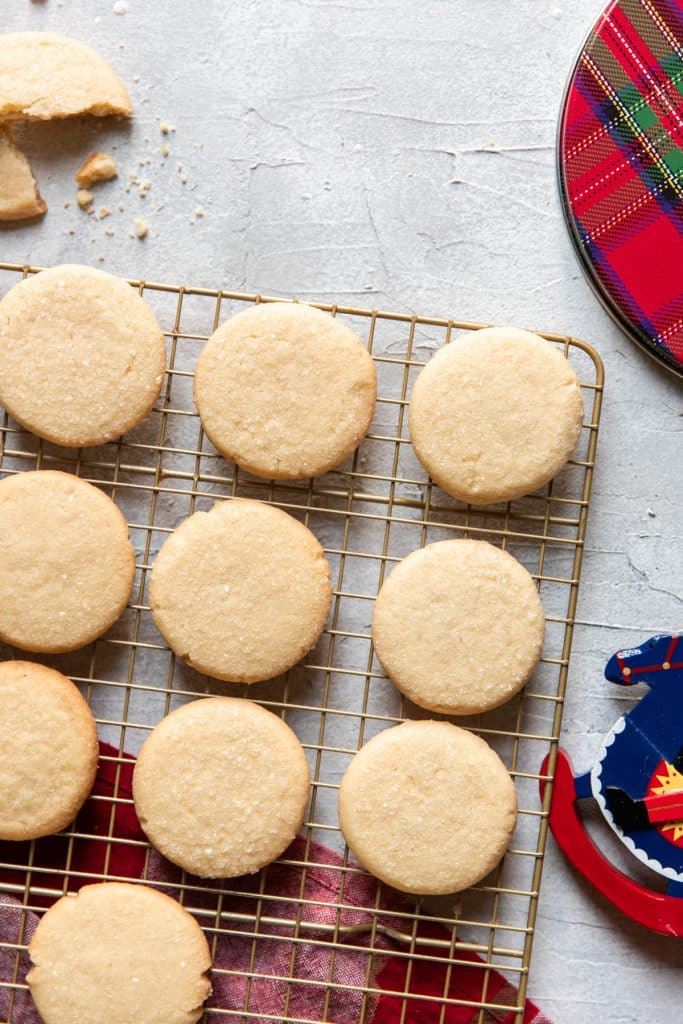 Butter Cookie Ingredients
You only need 6 ingredients to make these cookies!!
butter
powdered sugar
salt
flour
vanilla extract
sugar sprinkles
You probably have everything you need, unless you need to get a jar of white sparkling sugar. Wilton makes the sprinkles and you can get those at most crafts stores.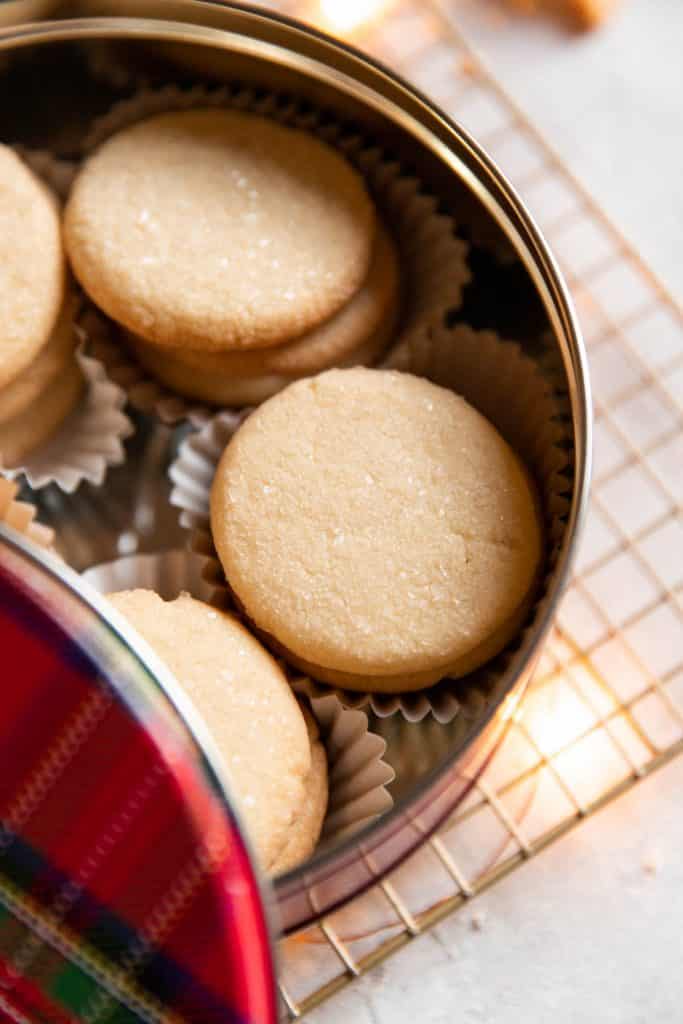 How To Make Christmas Butter Cookies
A how-to is really fitting for these cookies. Because I spent what felt like eons trying to get this recipe just right. I knew that taste and texturally, it needed to be spot on.
I feel like I'm an undeclared expert on the tin can classic because of just how many I've bought and eaten. Well there you go, now I've declared it, expert here.
It starts with getting your cookie dough perfect.
Start with slightly softened butter, not melting, but not fridge cold. Cream this together with sifted powdered sugar and the salt. In goes the vanilla and flour.
The texture should be smooth, not lumpy. And use your best judgement, if the dough got too soft and warm, chill in the fridge for 10 minutes just to take that warmth out.
Roll a 2 tbsp amount in to a ball. Place it between two squares of parchment paper. Use a 1 cup measuring cup to press down, until the dough is 1 1/2″ wide.
Dip one side into sparkling sugar. Place them on a baking sheet lined with parchment paper (to avoid sticking).
You'll want to bake them until the bottom starts turning golden. The top will not get golden. These are a lighter color cookie.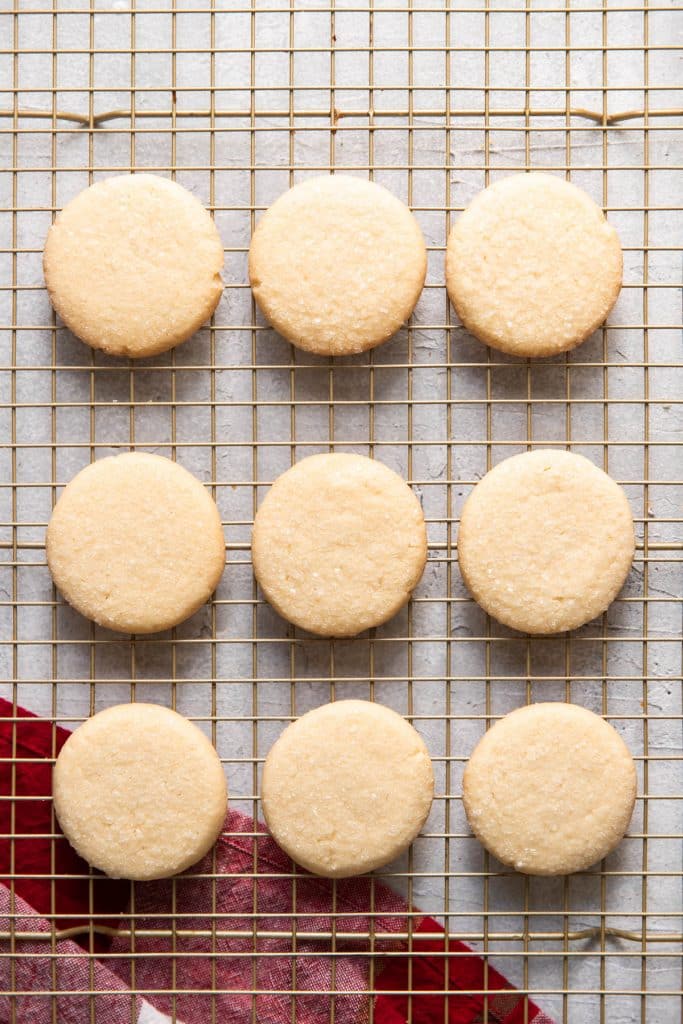 Christmas Butter Cookies Tips and Tricks
If your oven is too hot, these have the tendency to melt and not hold shape. So be cautious how hot your oven is.
I've found that baking multiple batches of cookies then making these can cause issues with oven temperature.
To ensure the correct temperature, one of those extra thermometers that stays in your oven and gets a reading is ideal. They are fairly cheap and can be a cookie lifesaver.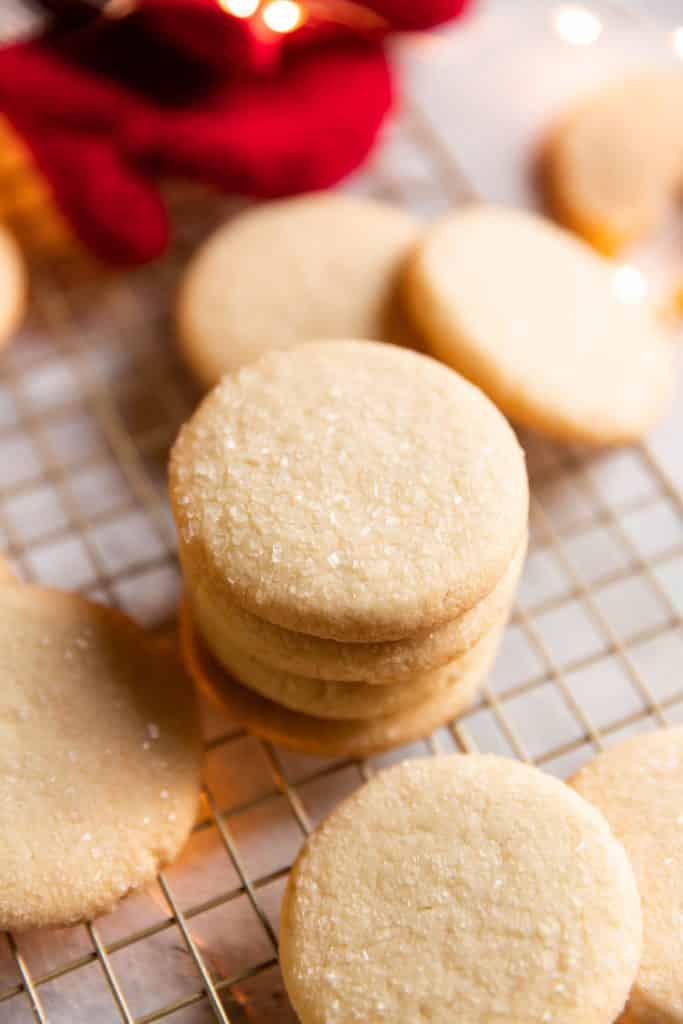 Always sift your dry ingredients. This helps to keep the cookie light.
For a flat surface, using a measuring cup is the best to press the cookie. Unless you have a glass with a totally flat bottom.
You'll need two pieces of parchment paper, don't skip that part or the dough will just stick.
When it comes to parchment paper, Reynolds brand has worked the best for me, my cookies tend to spread more with the Wilton brand parchment paper.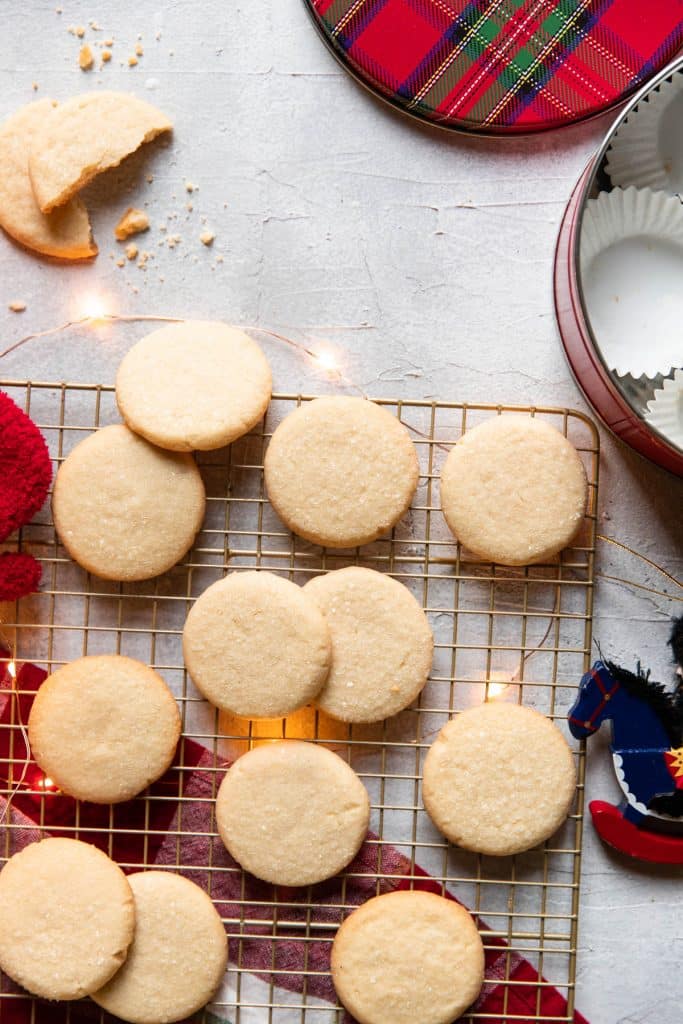 FAQ
If I don't have sparkling sugar, what can I use? For that classic tin can cookie look and taste I highly suggest picking up a jar. Otherwise, you may just leave the sugar off the top altogether.
My cookies flattened, what happened? Here are the top culprits for flat cookies. Your oven was too hot, the cookie dough was too warm, or there was not enough flour in the dough. It could be a combination of all of these or just one of these. Try adding a tablespoon more flour and then chilling for 10-20 minutes before the next batch.
Salted or unsalted butter? I always use salted butter, for everything.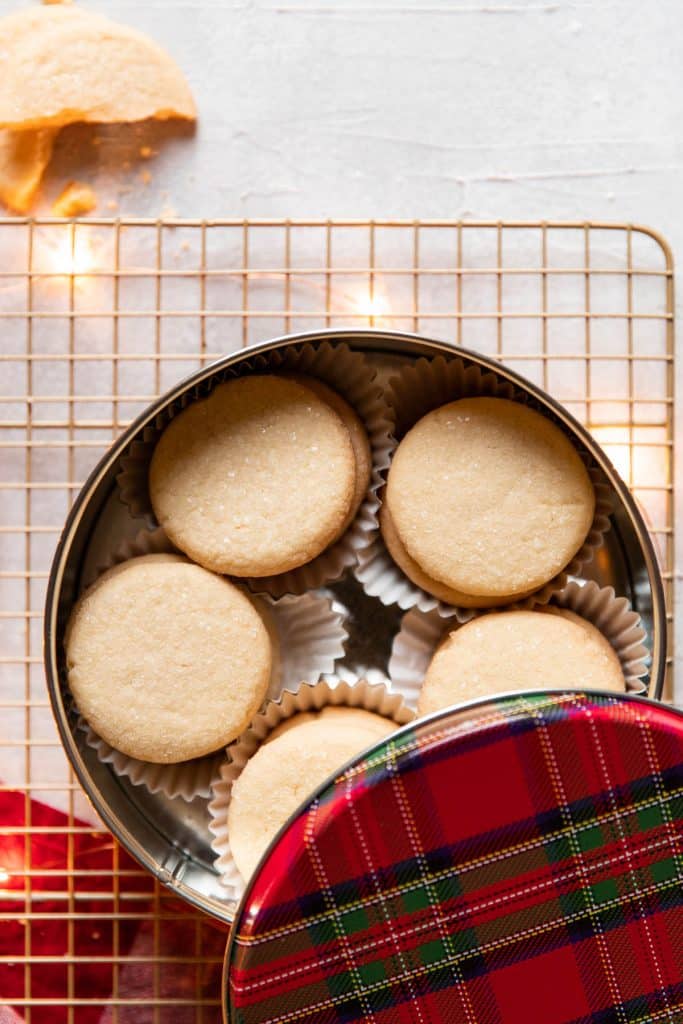 12 Days of Christmas Cookies Recipes
Christmas Peanut Butter Cookie Bars
Raspberry Jam Thumbprints
Christmas Monster Cookies
Triple Chocolate Hot Cocoa Cookie Bars
Cream Cheese Jam Pinwheel Cookies
Christmas Snickerdoodles Cookies
Cranberry Cheesecake White Chocolate Cookies
Christmas Butter Cookies
These Christmas Danish butter cookies taste just like the tin can of cookies Grandma used to bring over. They have a crisp buttery texture and sparkling sugar sprinkles on top. This homemade recipe will be a must make, every holiday season.
Ingredients
1

c

butter

softened

1

c

powdered sugar

sifted

1

tsp

vanilla extract

1/2

tsp

kosher salt

1 3/4

c

flour

sifted

Sparkling sugar sprinkles
Instructions
Preheat the oven to 325

Cream together the butter and powdered sugar for 2 minutes

Scrape down the bowl and mix in the vanilla extract

Stir in the salt

Add the flour, all at once, mix until combined

Line a baking sheet with parchment paper

Fill a shallow bowl with sparkling sugar sprinkles

Using a 2 tbsp cookie scoop, scoop out the cookie dough and roll into a ball

Put the cookie dough ball between two pieces of parchment paper, use the bottom of a measuring cup to press down so the dough is 1 1/2" wide

Dip one side of this in the sparkling sugar

Place the cookies sugar side up on the parchment paper

Bake for 15-20 minutes or until the bottom of the cookie starts to turn golden (the top will not be golden)

Transfer to a wire cooling rack

You can serve them once they have cooled but they are best served 24 hours after baking, for best taste and texture
Notes
Reynolds parchment paper seems to work the best with these cookies, Wilton brand parchment paper had lots of spreading
If your oven is starting to get too warm, let a bit of heat out, a too hot oven will flatten these cookies and make the edges dark – for best results use an oven thermometer to get accurate oven temperature readings, turning your oven down to 300 may work better if it feels too warm
See the sections above titled FAQ and Tips and Tricks
Best served 24 hours after they bake, for the best taste
Did you make this recipe? Please leave a review!
Make sure to follow Modern Crumb on Pinterest and Facebook for lots of yummy meal inspiration! And subscribe to the newsletter, below, to get updates when new recipes post.