Pecan sandies are the most melt in your mouth, buttery shortbread style cookie. This recipe is so easy to make, you only need six ingredients. These are the first cookie to go at cookie exchanges because they are the best!
Today is day 2 of the '12 days of Christmas Cookies' here on Modern Crumb!
This recipe was first published 12/03/20.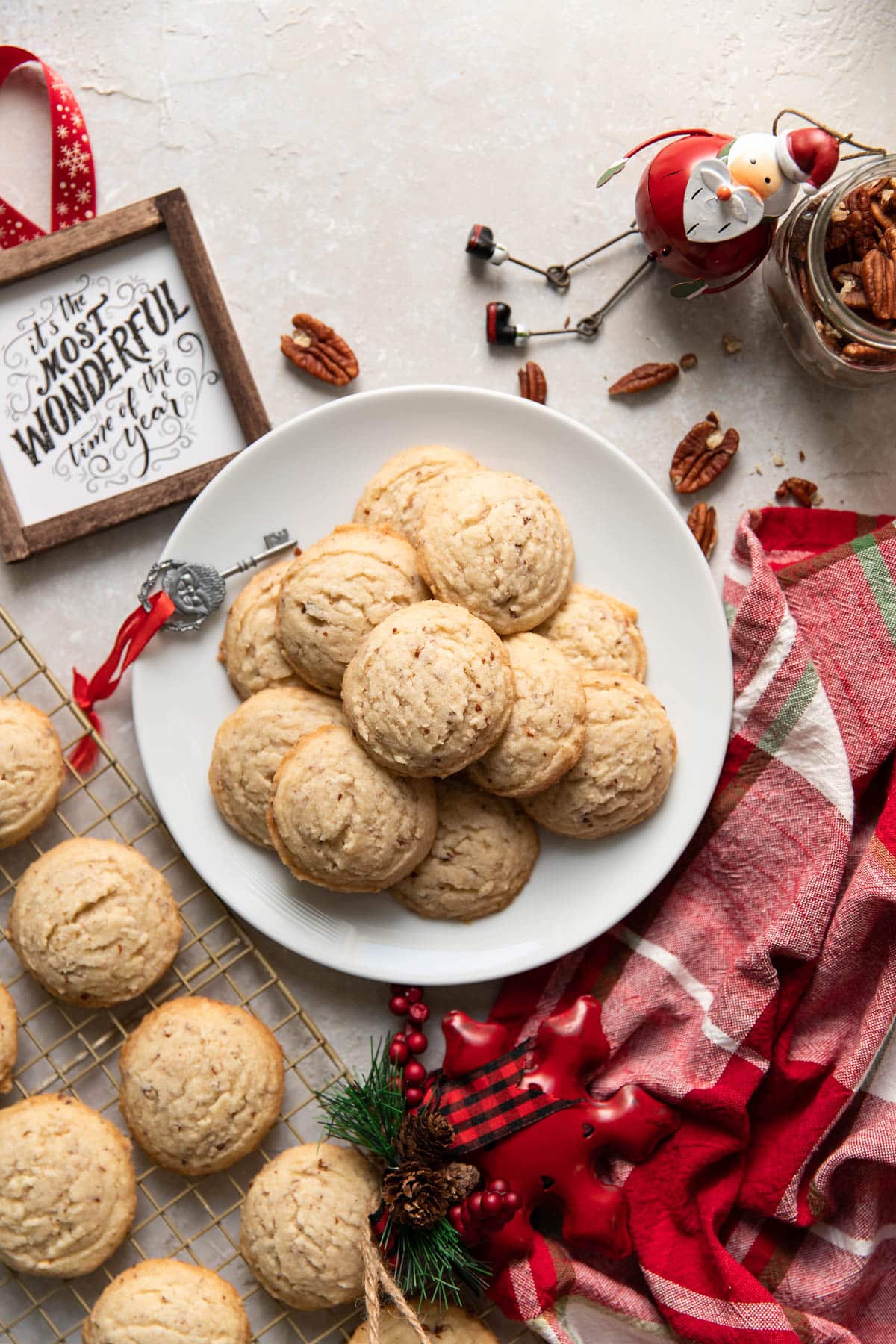 These are, hands down, the absolute best pecan sandies!! It's impossible to keep them in the house, everyone gobbles them up as soon as I make a batch.
For years, it's been our tradition to make these cookies for Christmas. I don't even want to admit how many I can eat.
Jump to:
Pecans sandies have a very distinct buttery, light flavor to them. They are crumbly, but in a melt in your mouth kind of way.
You may have bought a package of Keebler pecan sandies in the past or have seen them in the store around the holidays, but just forget that right now. Once you've made these you'll never be able to look back after a homemade batch.
That's a promise.
These will be a staple in your Christmas cookie collection, they are such a crowd pleaser and everyone always wants to know "what are these cookies!?".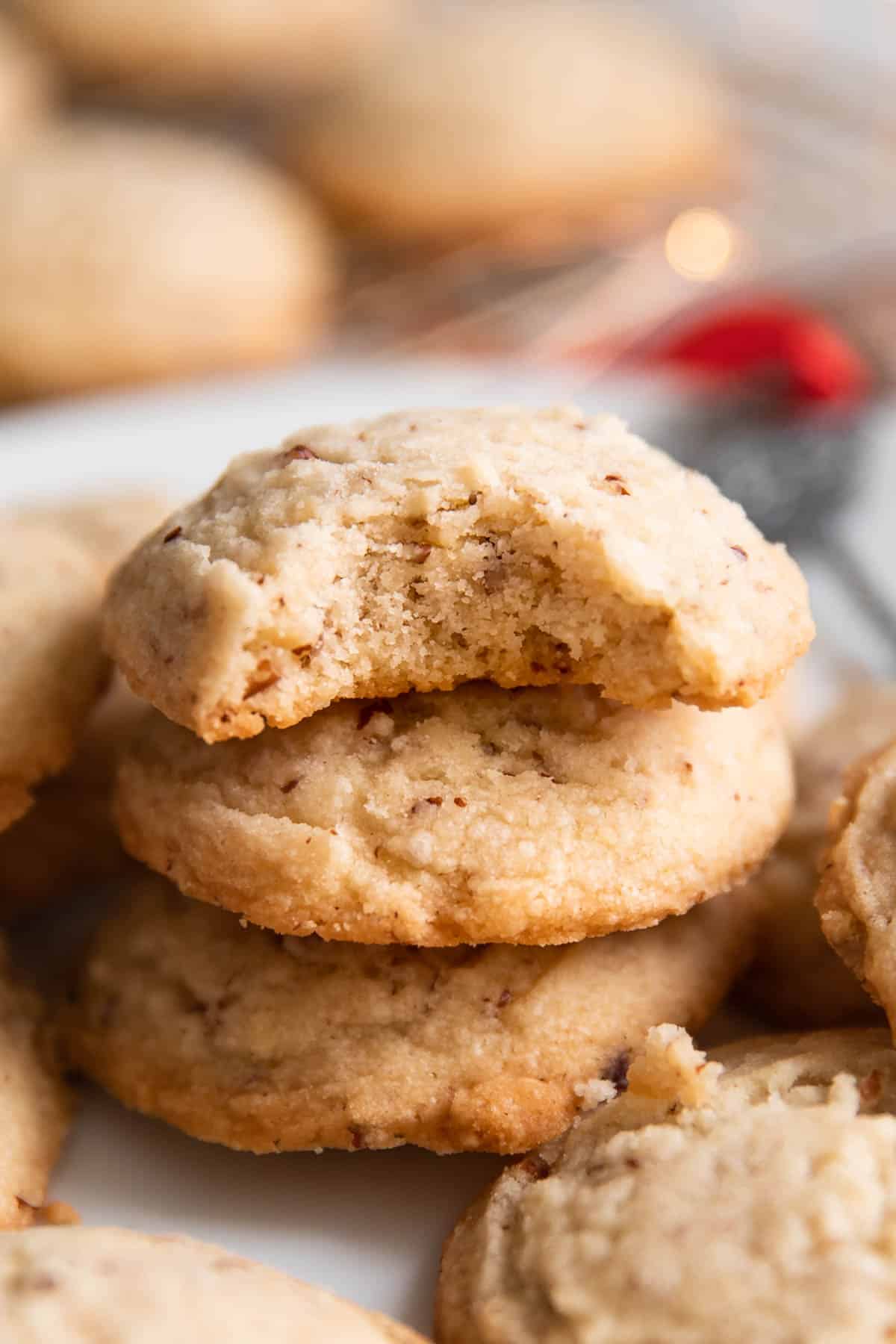 What Are Pecan Sandies?
Pecan sandies get their name because they have a sand like, fine texture and they have chopped pecans in them. They are a shortbread style cookie.
They are also known as Mexican wedding cookies.
And while these are similar, in ways, they are actually a little different from Mexican wedding cookies.
These pecan sandies are not rolled in powdered sugar the way a Mexican wedding cookie is.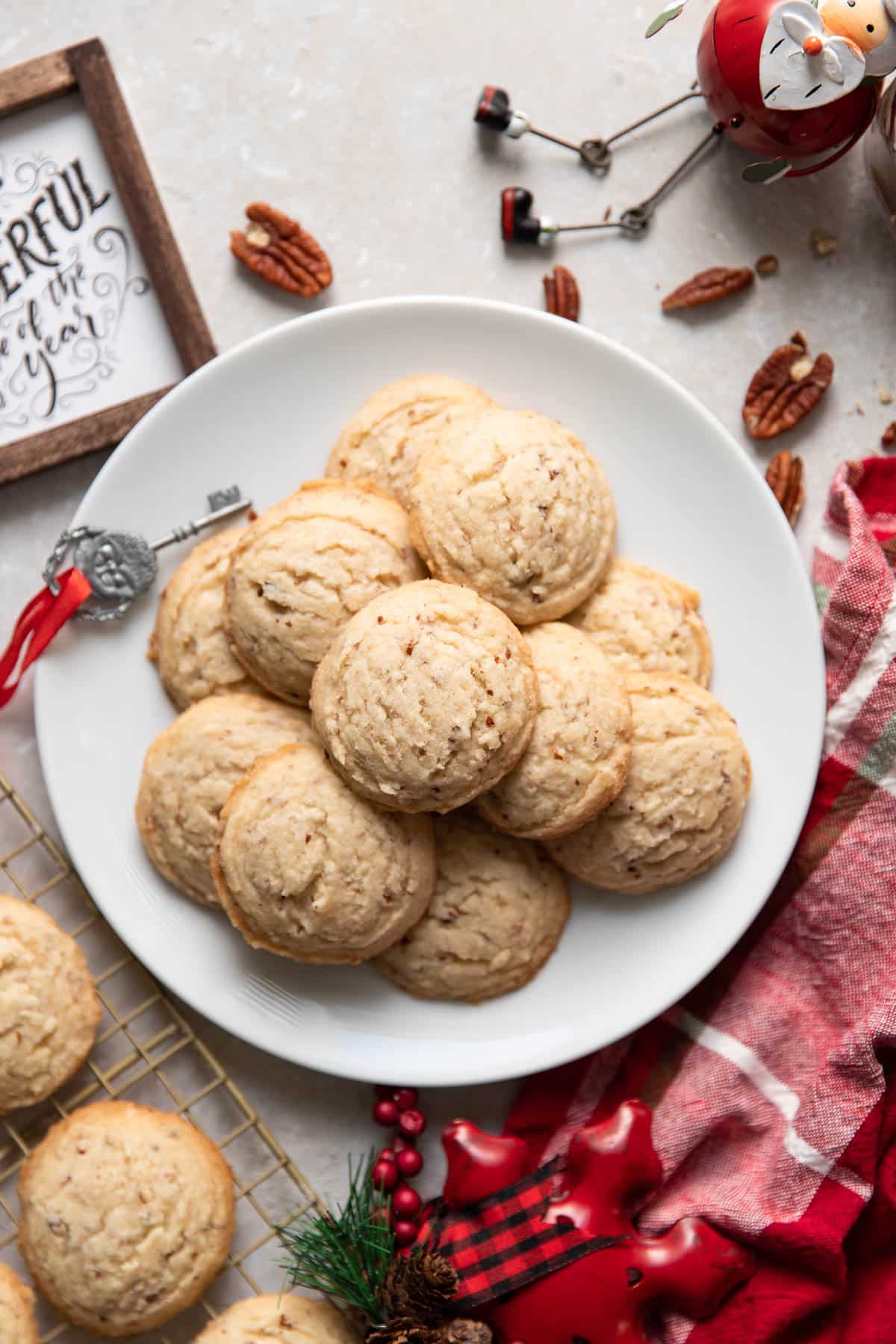 They are made with powdered sugar but instead of it being on the outside, you just get to see the beautiful bits of pecans.
I like to use a cookie scoop when I make these, so that you get a really cool ripple look on the top.
They hold there form really well, so what it looks like when you put it on your cookie sheet is just about how it will turn out after baking.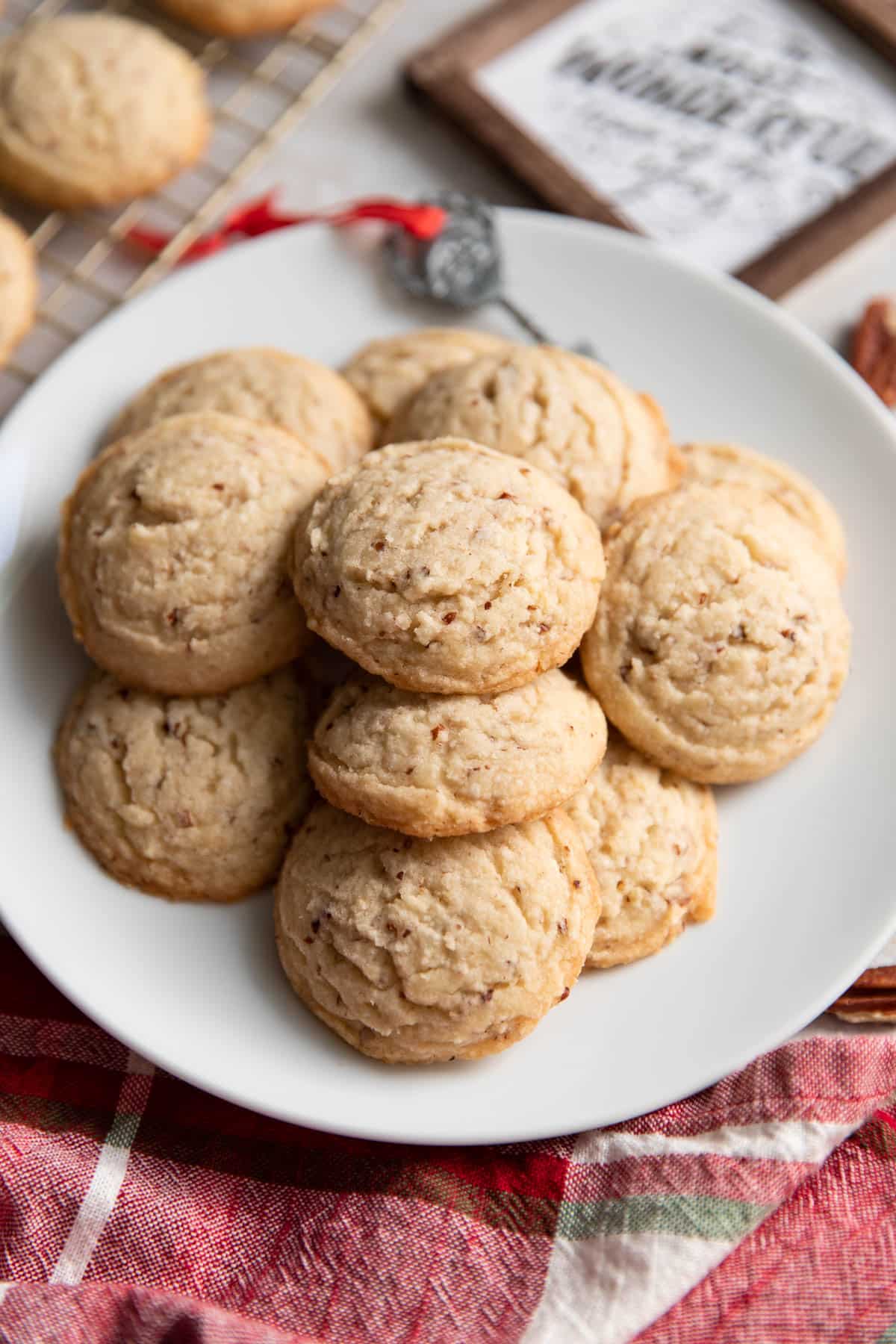 How To Make Pecan Sandies
Like I mentioned, these are so easy to make.
Cream butter and powdered sugar together. It helps if you scrape down the sides of your bowl with a spatula every minute. Then you can add in your vanilla.
I like to sift my dry ingredients. You can either sift the flour and salt in a separate bowl and add it to the wet ingredients or you can sift straight over the wet ingredients.
For the pecans you want to make sure that you chop these really well. You could use a mini food processor or just a lot of chopping with a knife.
I like to chop them pretty small but if you want some larger pieces of pecans you could do that as well.
Always line your cookie sheet with parchment paper. This ensures that your cookies (any cookie) won't stick to the pan.
These bake for about 18-20 minutes. Depending on your oven. I know they are done once the bottom of the cookie starts to turn a golden color.
Ingredients
Here's the best thing about these cookies and why they are so easy to make! They only have six ingredients. Six easy ingredients you probably have in your pantry.
butter - salted butter
powdered sugar - this help give the cookies there signature flavor and texture
salt - I always use kosher salt
vanilla extract - go for the good stuff, not the artificial vanilla extract
pecans - you'll want to chop these up really well unless big chunks of pecans is what you desire then go for it
flour - all purpose flour
As you can tell, this recipe is made without eggs.
Storing
Counter. If you plan on devouring these within a few days, you can store them on the counter in an airtight container.
Refrigerator. Store them in an airtight container or a ziploc bag. They will stay fresher longer if you store in the in the refrigerator.
Freezer. Fill up a ziploc bag of pecan sandies to store them for another time. Best eaten within 3-4 months, cookies can develop frost on them and that doesn't taste good.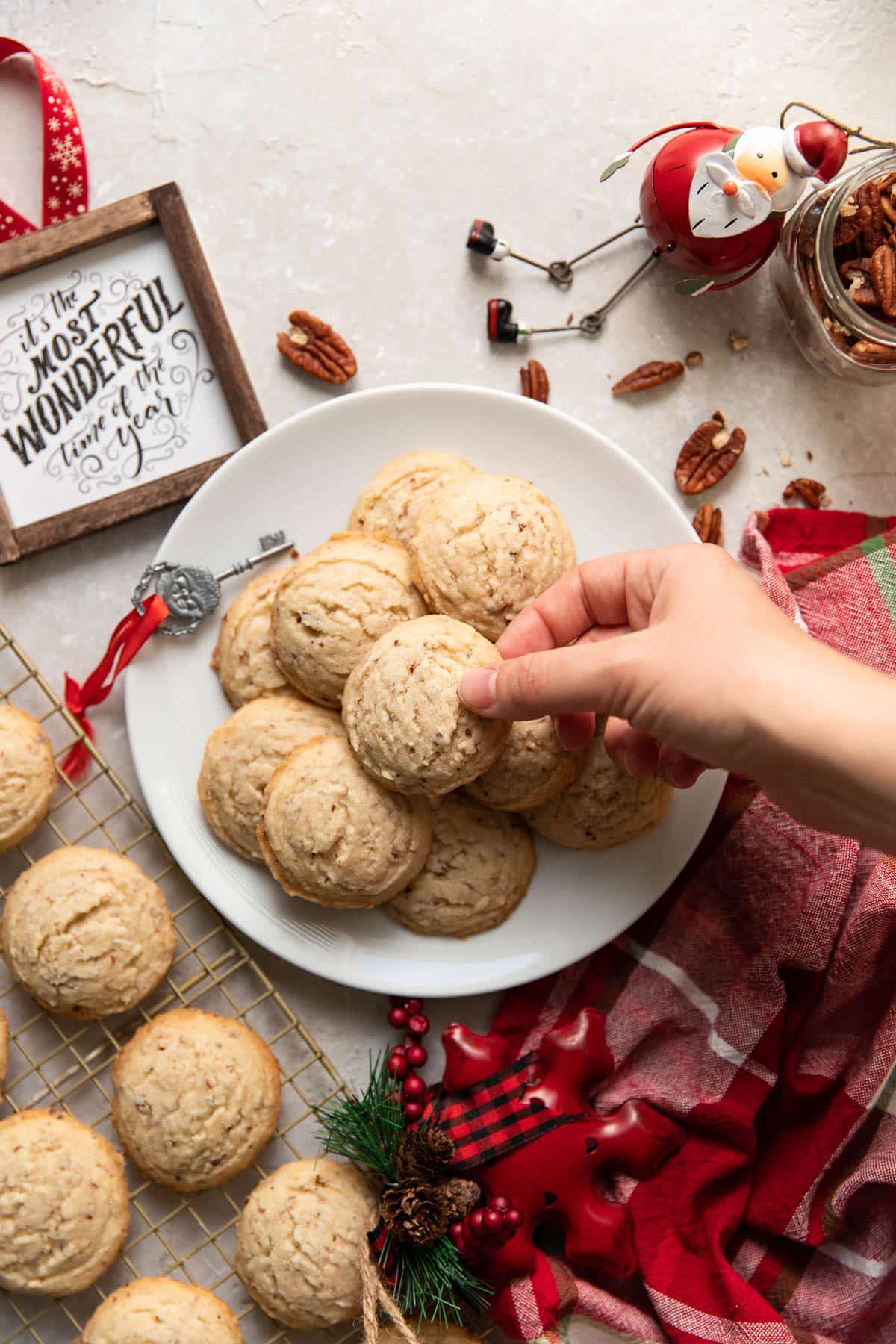 FAQ
Why are they called pecan sandies?
Pecan sandies have a sand like texture to them when you eat them, they are crisp but soft, they melt in your mouth. They have a very fine texture - like sand! They have pecans in them, so that one is more obvious.
How long do pecan sandies stay good for?
On the counter, stored in an airtight container, pecan sandies will stay good for a week.
Can pecan sandies be frozen?
They can! In an airtight container or ziploc bag, or even double on the storage to keep them really fresh. I like to eat baked cookies that have been frozen within 3 months.
Are pecan sandies shortbread cookies?
Yes, they would be considered a shortbread cookie. Shortbread cookies do not containing any leavening agents (baking soda, baking powder).
12 Days of Christmas Cookies Recipes
A compilation of all 12 days of Christmas cookies! This list will be updated as each recipe is released this month.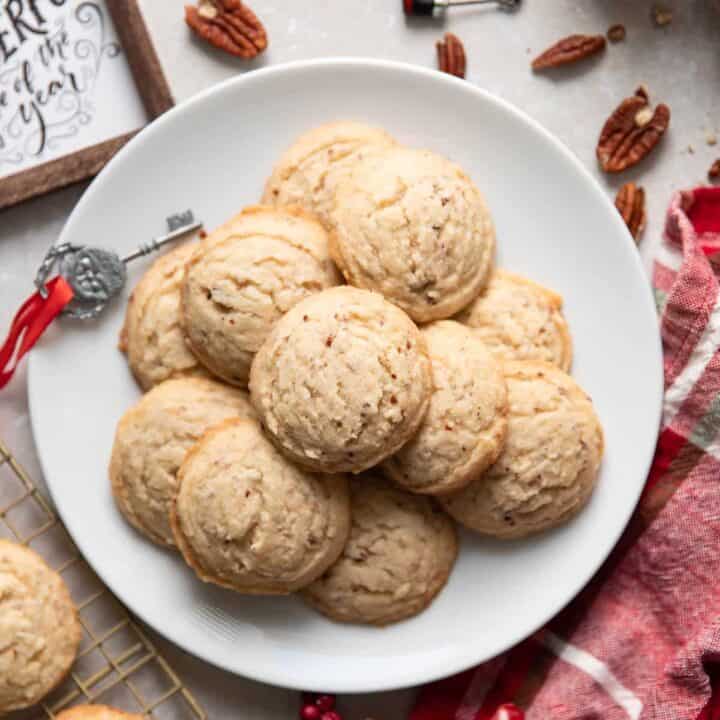 The Best Pecan Sandies Cookies
Pecan sandies are the most melt in your mouth, buttery shortbread style cookie. This recipe is so easy to make, you only need six ingredients. These are the first cookie to go at cookie exchanges because they are the best!
Ingredients
1 c butter, room temp
1 c powdered sugar
1 tsp vanilla extract
1 ⅔ c all purpose flour
½ scant tsp kosher salt
½ c pecans, chopped
Instructions
Preheat oven to 325
Cream the butter and powdered sugar until light and fluffy (about 4 minutes)
Mix in the vanilla extract
Stir together the flour and salt in a separate bowl
Add this to the wet ingredients, along with the chopped pecans, all at once
Stir until just combined
Chill in the fridge for 30 minutes
Use a cookie scoop (I use a 1 ½ tablespoon scoop) and scoop onto a parchment paper lined cookie sheet
Bake for 18-20 minutes
Transfer baked cookies to a wire rack to cool
Serve
Notes
The butter should be just around room temp, 1 hour on the counter is long enough you don't want to use overly soft or melted butter
These will be done once the bottom starts to turn golden, they should not need any longer than 20 minutes.
See recipe images in post for size of chopped pecans, measure out the pecans first to ½ cup then chop.