Pecan sandies are the most melt in your mouth, buttery shortbread style cookie. This recipe is so easy to make, you only need six ingredients. These are the first cookie to go at cookie exchanges because they are the best!
Today is day 2 of the '12 days of Christmas Cookies' here on Modern Crumb!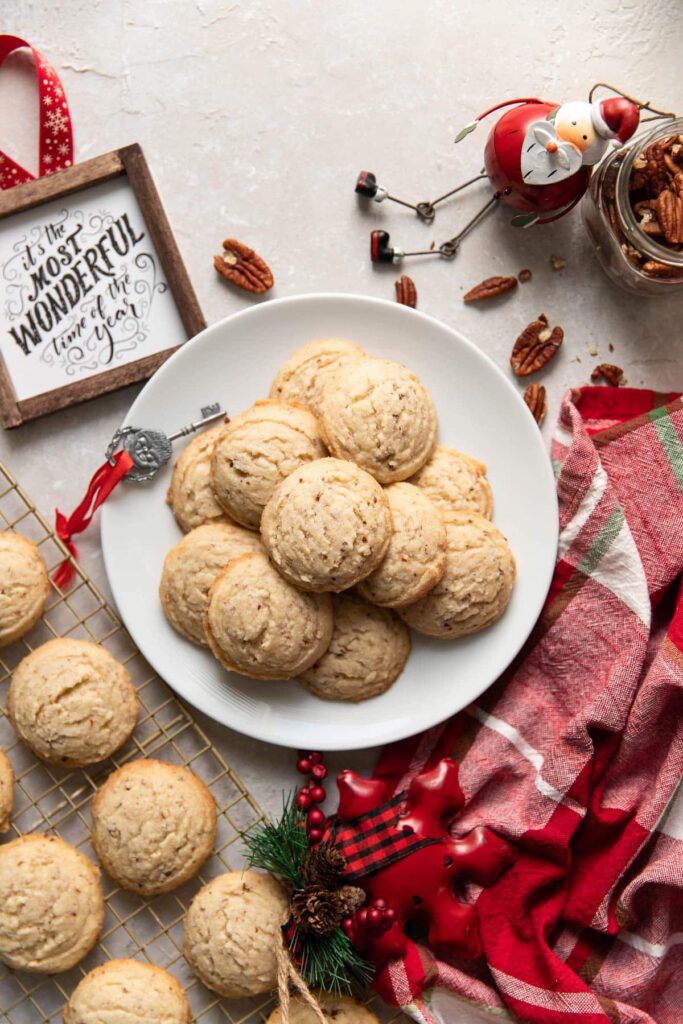 These are, hands down, the absolute best pecan sandies!! It's impossible to keep them in the house, everyone gobbles them up as soon as I make a batch.
For years, it's been our tradition to make these cookies for Christmas. I don't even want to admit how many I can eat.
Pecans sandies have a very distinct buttery, light flavor to them. They are crumbly, but in a melt in your mouth kind of way.
You may have bought a package of Keebler pecan sandies in the past or have seen them in the store around the holidays, but just forget that right now. Once you've made these you'll never be able to look back after a homemade batch.
That's a promise.
These will be a staple in your Christmas cookie collection, they are such a crowd pleaser and everyone always wants to know "what are these cookies!?".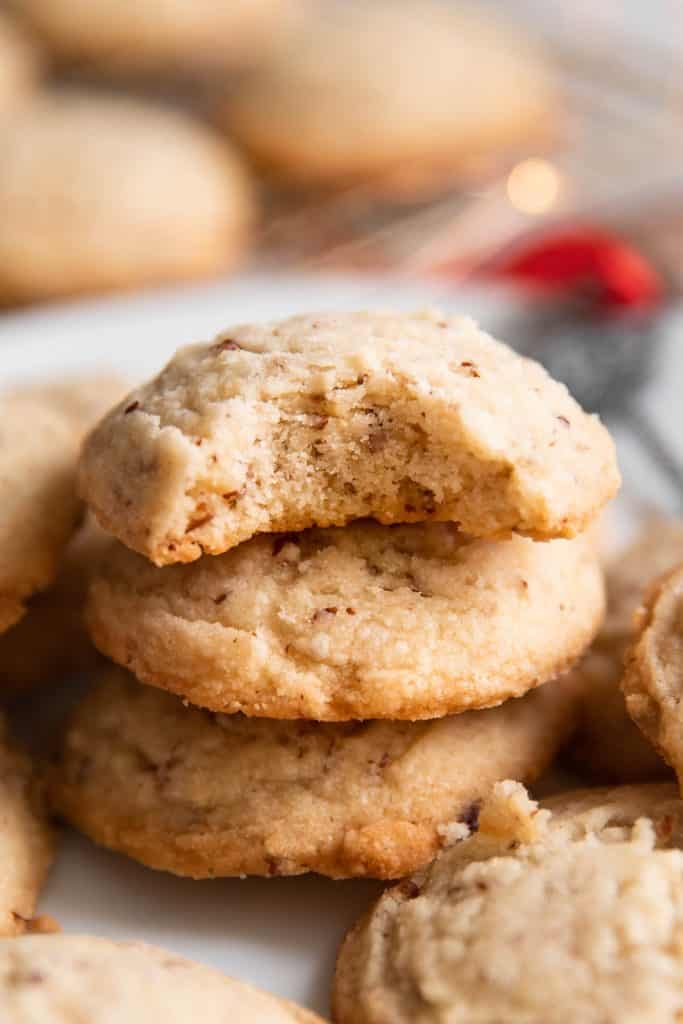 What Are Pecan Sandies?
Pecan sandies get their name because they have a sand like, fine texture and they have chopped pecans in them. They are a shortbread style cookie.
They are also known as Mexican wedding cookies.
And while these are similar, in ways, they are actually a little different from Mexican wedding cookies.
These pecan sandies are not rolled in powdered sugar the way a Mexican wedding cookie is.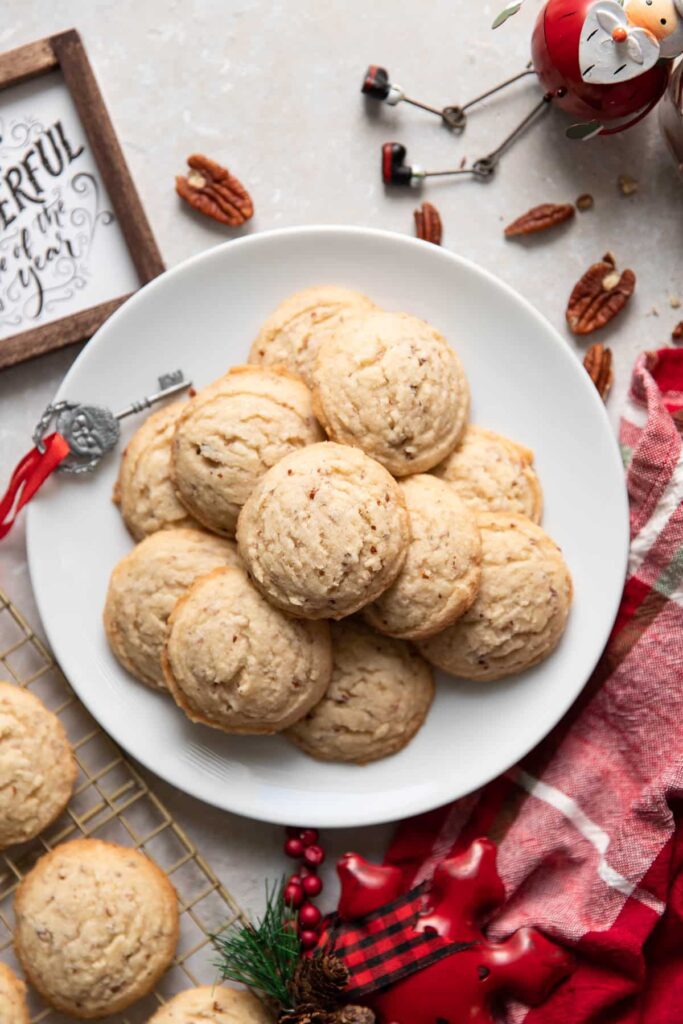 They are made with powdered sugar but instead of it being on the outside, you just get to see the beautiful bits of pecans.
I like to use a cookie scoop when I make these, so that you get a really cool ripple look on the top.
They hold there form really well, so what it looks like when you put it on your cookie sheet is just about how it will turn out after baking.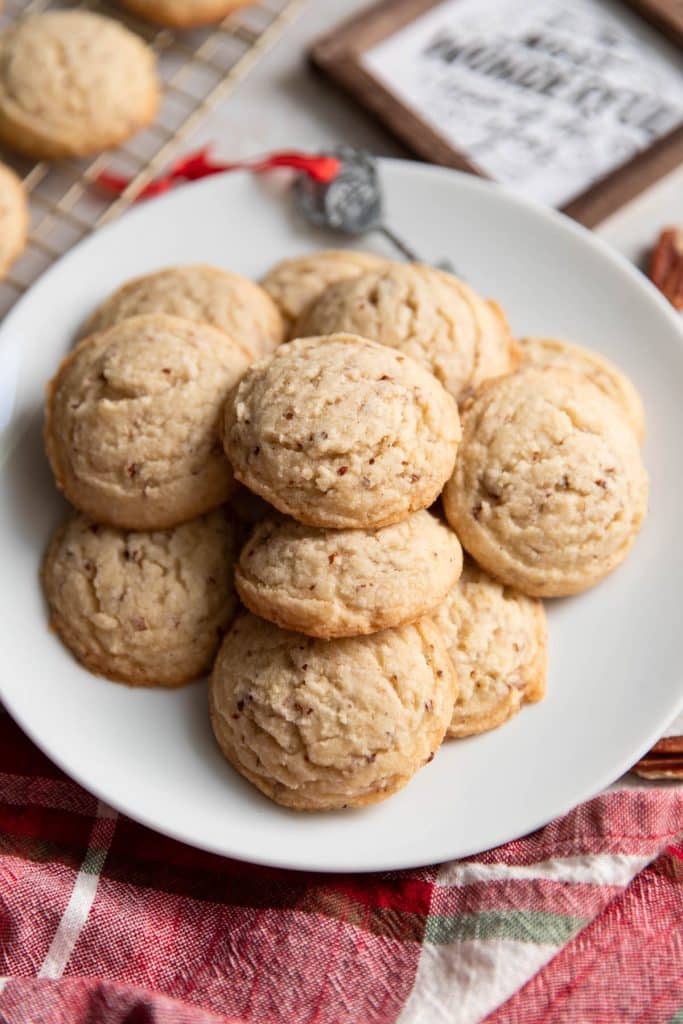 How To Make Pecan Sandies
Like I mentioned, these are so easy to make.
Cream butter and powdered sugar together. It helps if you scrape down the sides of your bowl with a spatula every minute. Then you can add in your vanilla.
I like to sift my dry ingredients. You can either sift the flour and salt in a separate bowl and add it to the wet ingredients or you can sift straight over the wet ingredients.
For the pecans you want to make sure that you chop these really well. You could use a mini food processor or just a lot of chopping with a knife.
I like to chop them pretty small but if you want some larger pieces of pecans you could do that as well.
Always line your cookie sheet with parchment paper. This ensures that your cookies (any cookie) won't stick to the pan.
These bake for about 18-20 minutes. Depending on your oven. I know they are done once the bottom of the cookie starts to turn a golden color.
What's In Pecan Sandies?
Here's the best thing about these cookies and why they are so easy to make! They only have six ingredients. Six easy ingredients you probably have in your pantry.
butter – salted butter
powdered sugar – this help give the cookies there signature flavor and texture
salt – I always use kosher salt
vanilla extract – go for the good stuff, not the artificial vanilla extract
pecans – you'll want to chop these up really well unless big chunks of pecans is what you desire then go for it
flour – all purpose flour
As you can tell, this recipe is made without eggs.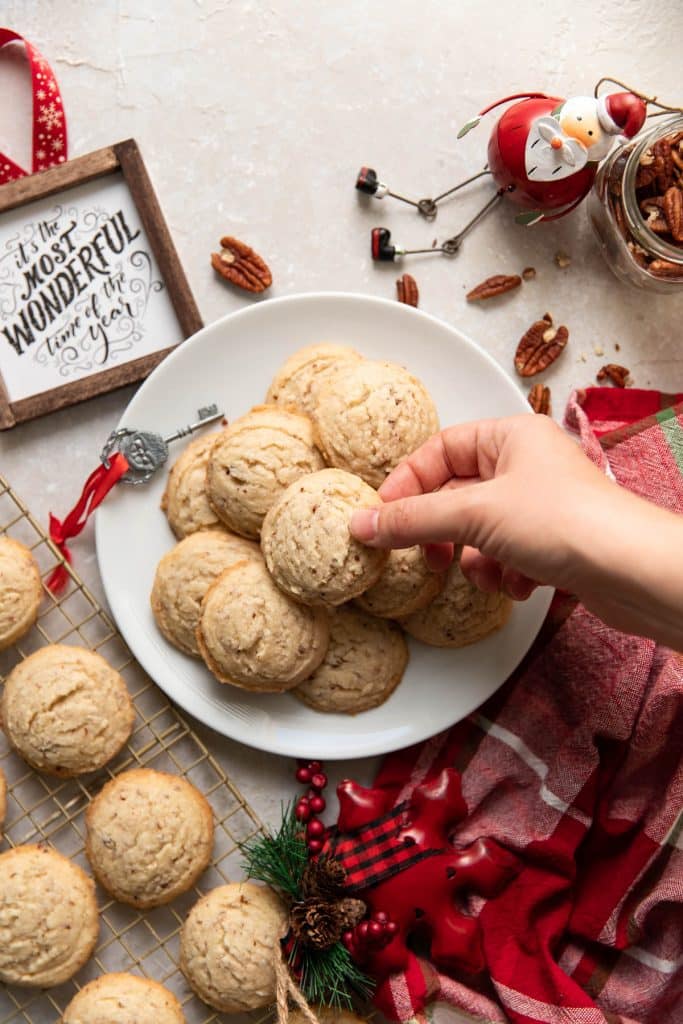 12 Days of Christmas Cookies Recipes
A compilation of all 12 days of Christmas cookies! This list will be updated as each recipe is released this month.
Christmas Snickerdoodles Cookies
Cranberry Cheesecake White Chocolate Cookies
The Best Pecan Sandies Cookies
Pecan sandies are the most melt in your mouth, buttery shortbread style cookie. This recipe is so easy to make, you only need six ingredients. These are the first cookie to go at cookie exchanges because they are the best!
Ingredients
1

c

butter

softened

1

c

powdered sugar

1

tsp

vanilla extract

1 1/2

c

flour

1/2

tsp

salt

1/2

pecans

chopped fine
Instructions
Preheat oven to 325

Cream the butter and powdered sugar until light and fluffy

Mix in the vanilla extract

Sift together the flour and salt in a separate bowl

Add this to the wet ingredients, along with the chopped pecans

Stir until combined

Use a cookie scoop and scoop onto a parchment paper lined cookie sheet

Bake for 18-20 minutes

Transfer baked cookies to a wire rack to cool

Serve
Notes
These will be done once the bottom starts to turn golden, they should not need any longer than 20 minutes.
See recipe images in post for size of chopped pecans.
Did you make this recipe? Please leave a review!
Make sure to follow Modern Crumb on Pinterest and Facebook for lots of yummy meal inspiration! And subscribe to the newsletter, below, to get updates when new recipes post.