These raspberry jam thumbprints are so buttery and delicious. They have a mild almond and vanilla flavor. Add a special icing design on top for a classic Christmas look!
Today is day 7 of the '12 days of Christmas cookies' here on Modern Crumb!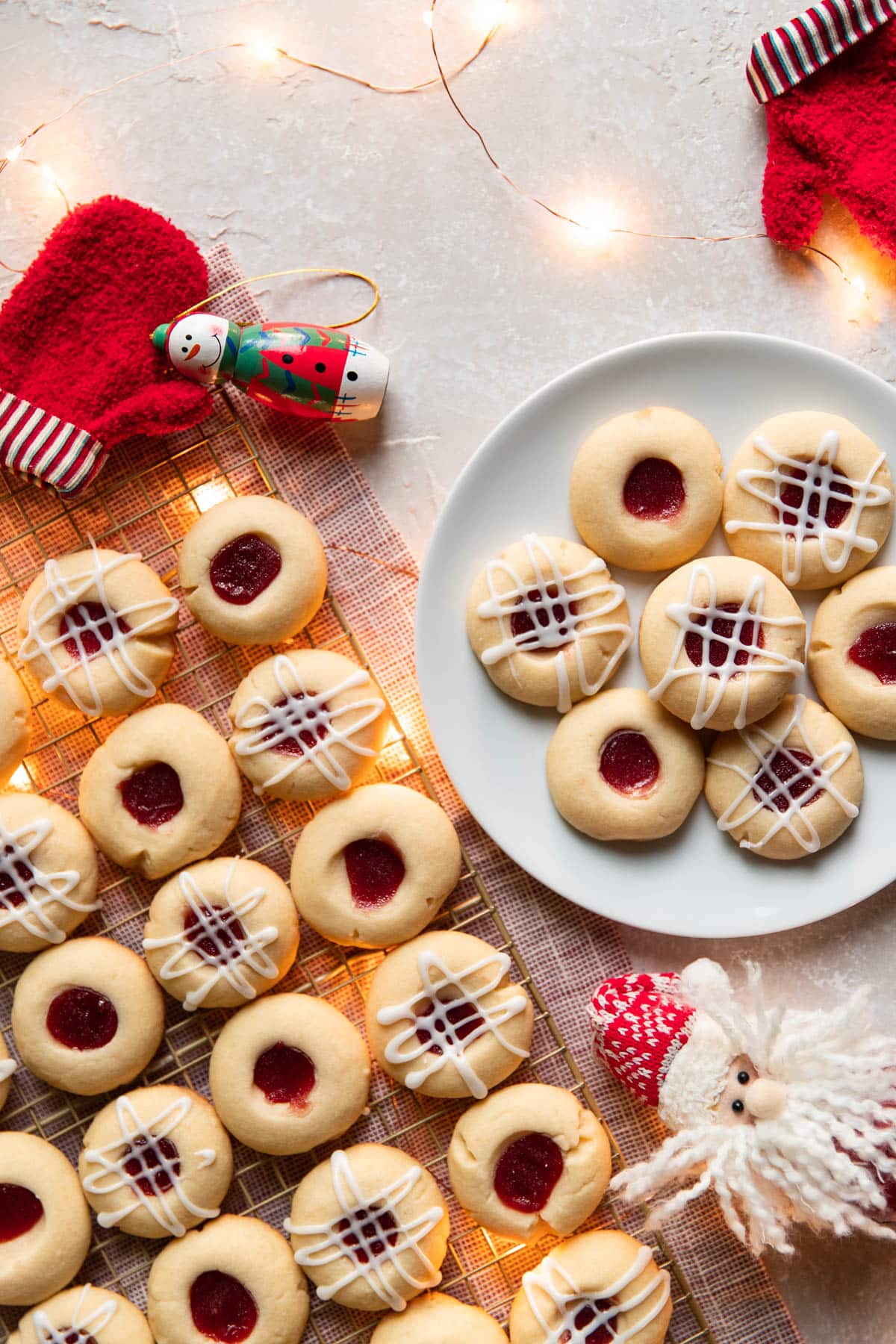 Raspberry jam thumbprint cookies are a Christmas classic! They are always a hit at cookie exchanges and one of my personal favorites.
I love the buttery crisp texture of the cookie, the sweet jam center and the drizzle of icing on top makes it look so fancy.
Jump to:
This is an easy recipe to follow with a list of tips and tricks to help you make the most perfect thumbprints! No flat cookies here. No spreading. No stress.
I made so many batches of these to get them just right. Making sure you have the right amount of flour is important, but not too much or else they crack a lot.
Honestly, I'll take a couple little cracks here and there if it means my cookie isn't flat as a pancake.
You'll want to read the section where I show you a comparison of a thumbprint made with not enough flour vs the right amount of flour.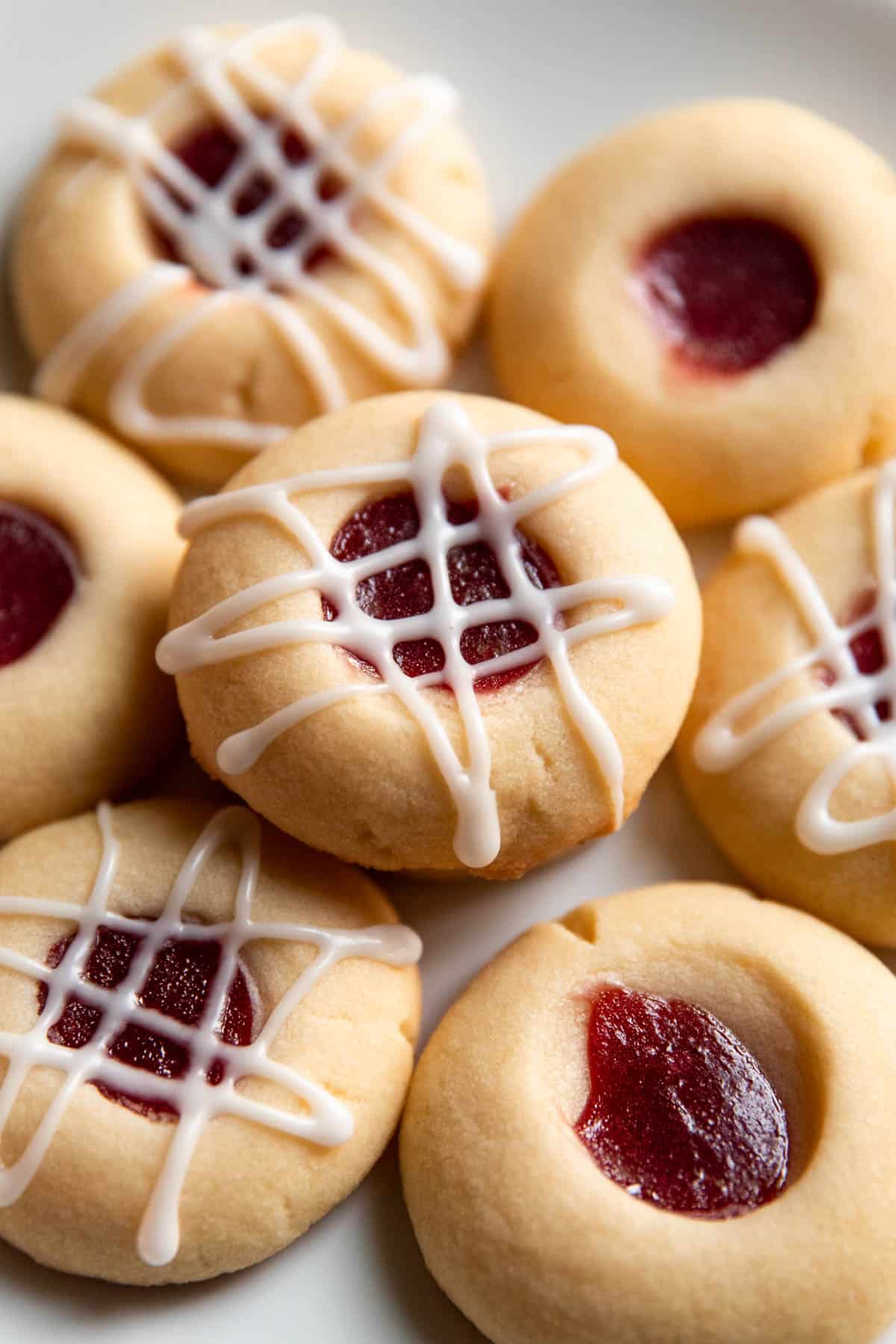 How To Make Jam Thumbprints
To make a thumbprint cookie you need more butter than you would a traditional cookie. These are a butter cookie.
It starts with creaming together butter and powdered sugar. The powdered sugar gives the thumbprints a really nice fine texture.
This recipe has both vanilla extract and almond extract. Almond extract is stronger than vanilla so you'll be using less almond than vanilla. Mix this in to the batter.
Next the egg yolk. Using just the egg yolk will give you rich cookie.
You always want to sift together the dry ingredients, they mix in to the wet ingredients better. Add them to the cookie dough and you want to mix until it's totally come together.
At this point you will add 2 teaspoons of milk.
The cookie dough must chill for at least an hour. Then you can roll them in to balls.
Use your thumb to make an indentation, going almost all the way to the bottom of the cookie. Then, add a bit of jam.
They bake for 10-12 minutes, you don't need to get them very golden, they are a paler looking cookie.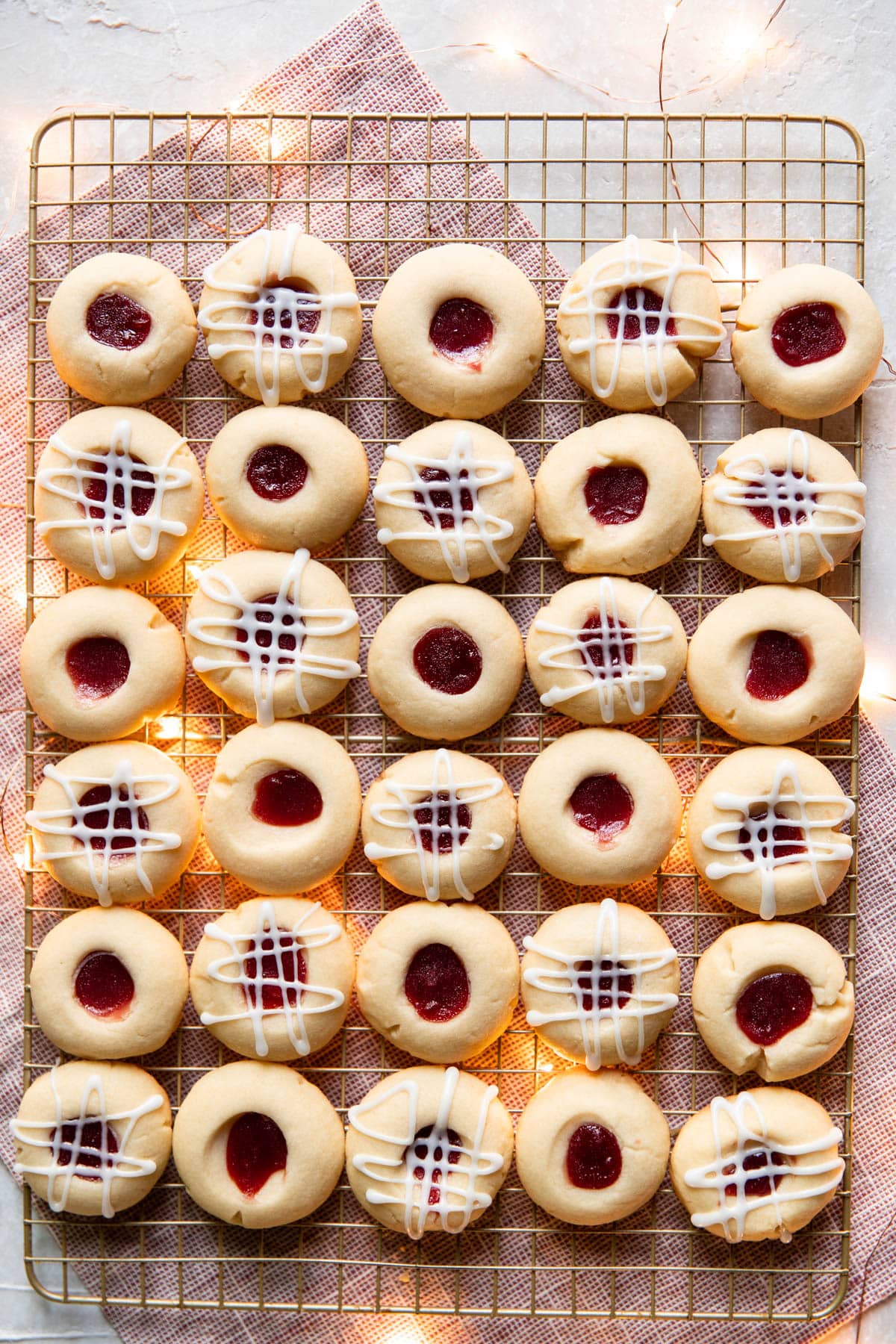 Jam Thumbprints Tips and Tricks
Let's avoid all those cookie fails by going through a compilation of tips and tricks. Thumbprint cookies can be a lot of work, they definitely require a bit of love.
Chilling the dough is important. Don't skip this step. But you only need to chill it once, right after you make the dough.
After many trial and error, I found that it did not matter if you chilled the thumbprint cookie balls after forming them, prior to baking them.
They turned out the same no matter which method.
If your jam is too thick you can add a little bit of water and warm it in the microwave to thin it up and make it easier to scoop into the cookies.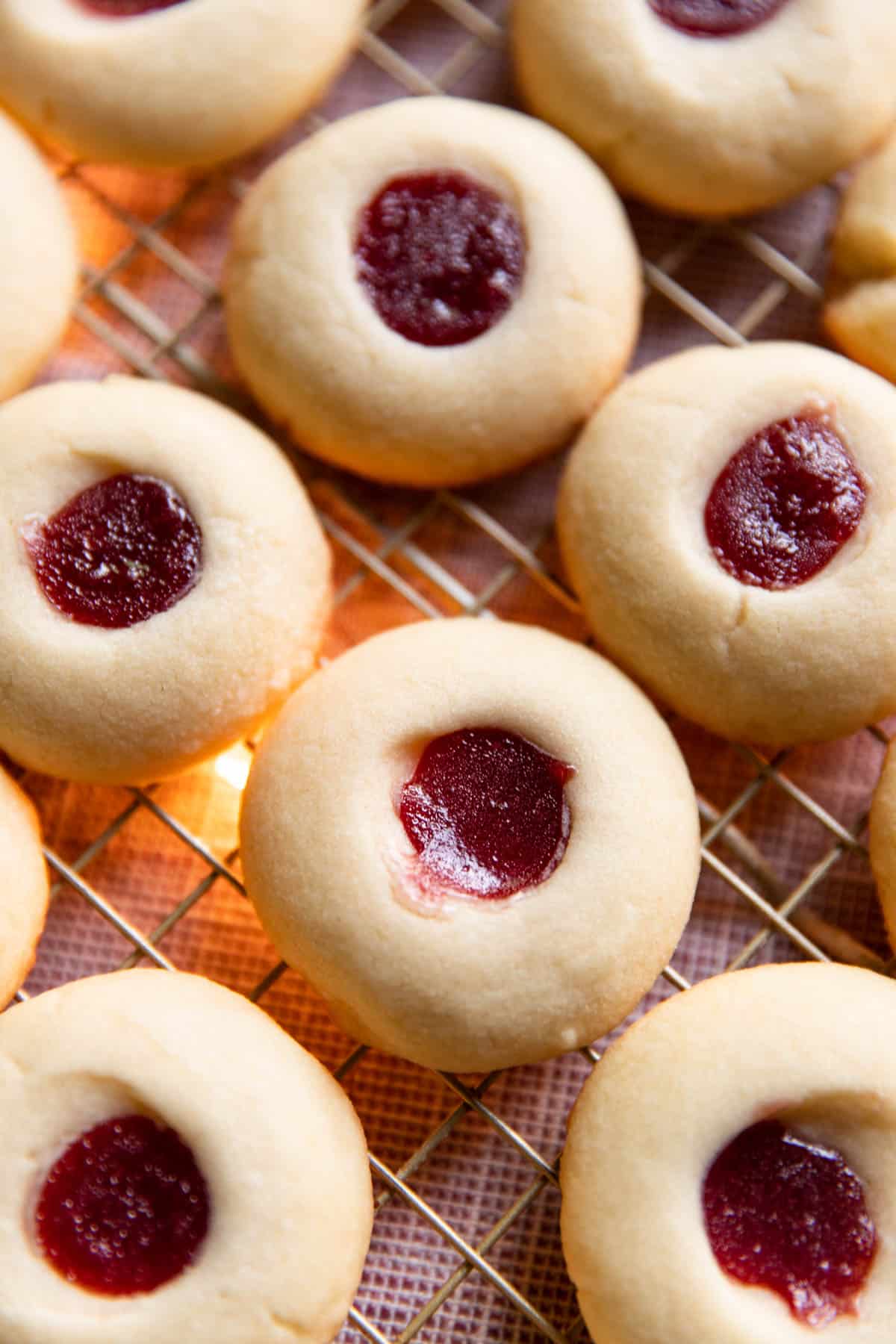 Flat Cookies vs. Perfect Cookies
Flat cookies. If you don't have enough flour in them they go flat.
Cracked cookies. If you have too much flour they start to crack.
Here's my take on this. And my visual, just to show you how much of a difference a little bit of flour makes. In the picture you can see the difference of 3 cookies baked with different amounts of flour.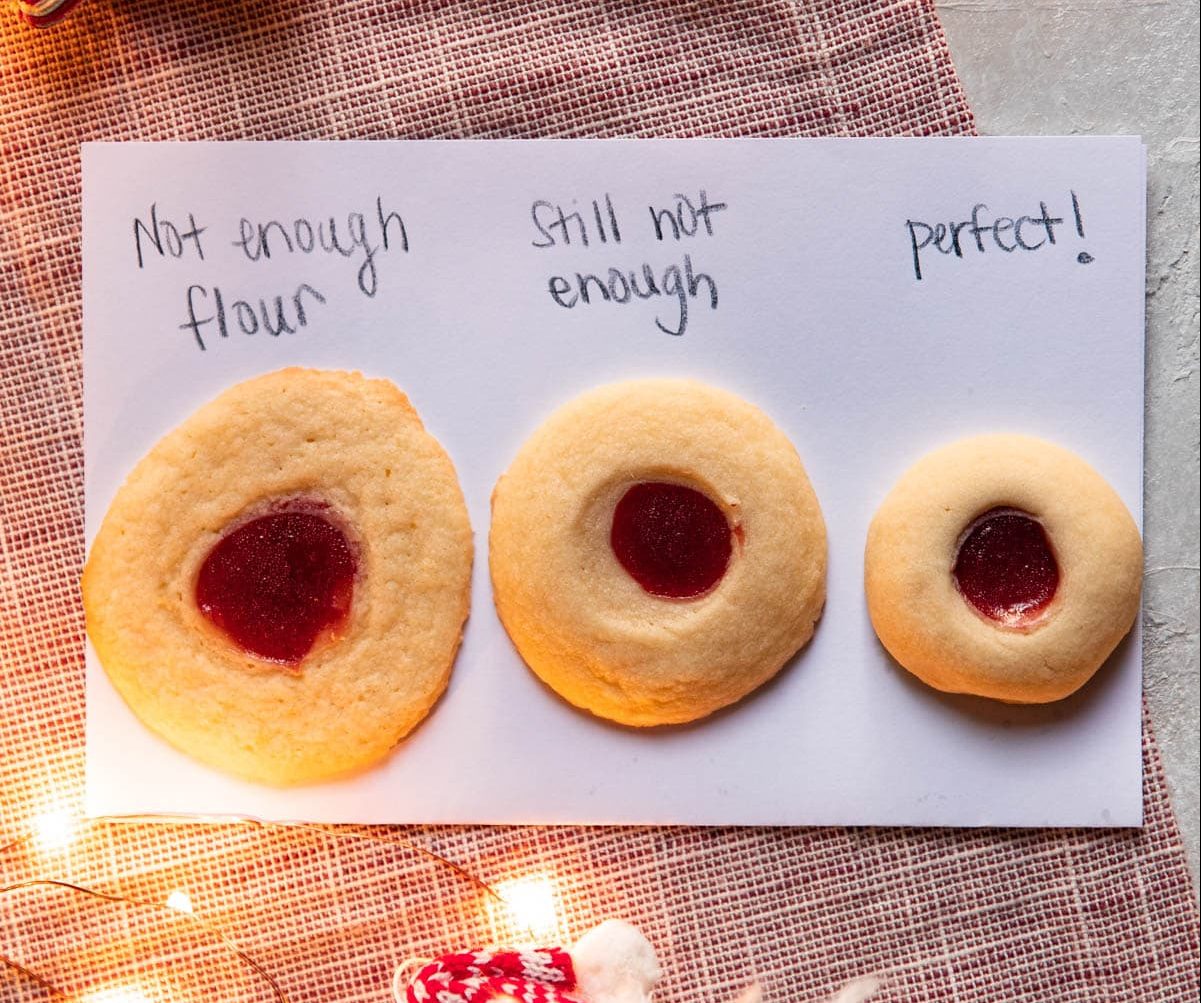 The far left cookie didn't have enough flour, it was so flat (1 1/2 cups of flour)
The middle cookie wasn't flat, but it spread while baking (2 cups of flour)
The far right cookie was perfect (2 1/4 cups of flour)
Interesting that just 1/4 cup of flour made the cookie in the middle transform to the cookie on the right.
Because we added a bit more flour, a few of the cookie balls cracked a little when pushing in the thumbprint. I would take that slightly cracked cookie any day compared to the flat ones.
Discovering flat cookies in your oven is frustrating. Let's just say no to stress.
The beautiful thing is that with a bit of icing on top, no one would even see a slight crack here or there. So I want you to keep this in mind while baking them.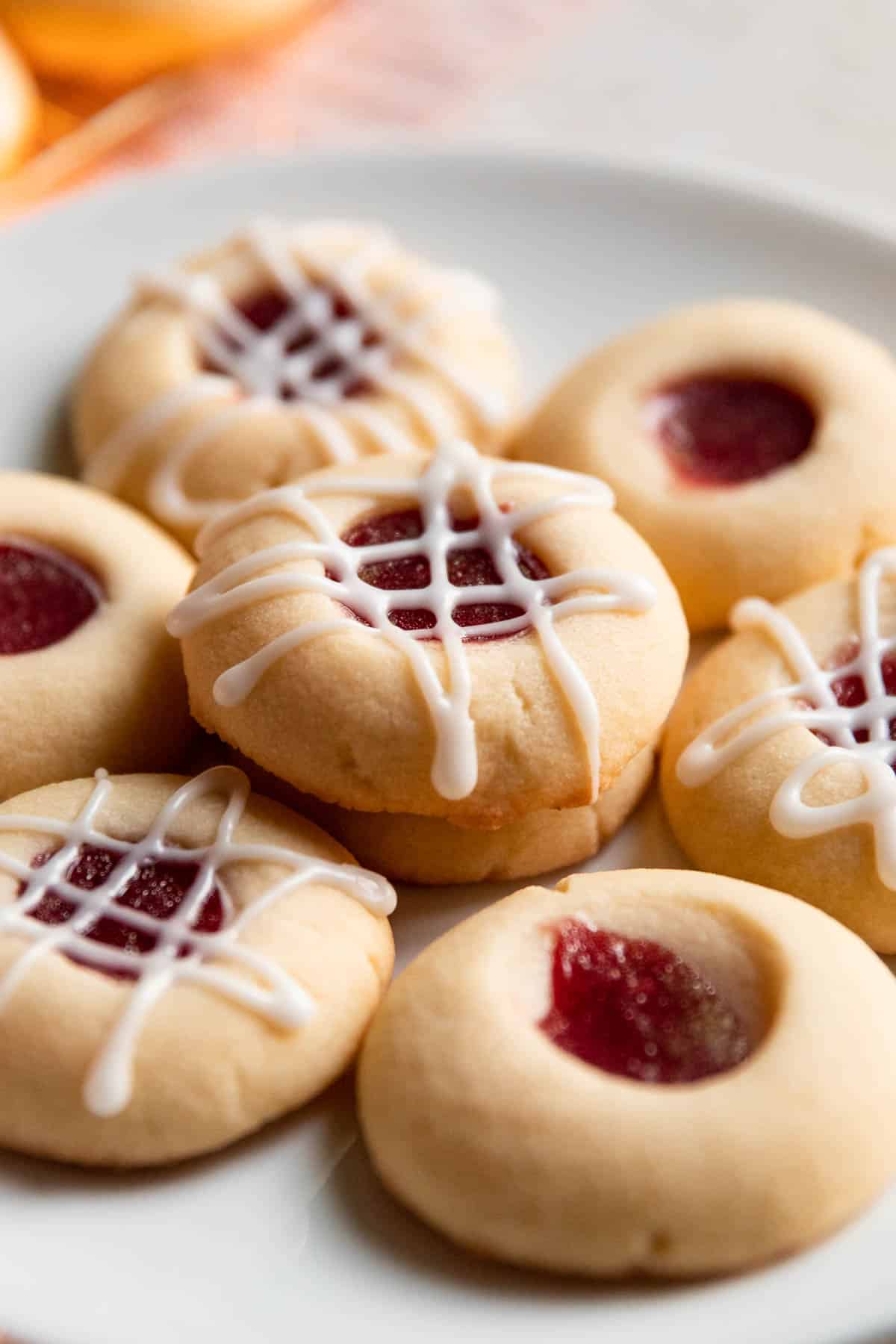 FAQ
How much jam do you I use for each cookie?
I've found 1/4 tsp is a good amount. You don't want it oozing all over so making sure it's level or below the cookie edge is a good guide to follow.
My dough is cracking?
You could add 1 more teaspoon of milk. But here's the deal, if the dough is too soft they will spread. So you have to decide if you want flat cookies or if you don't mind a crack or two. Keep in mind as they bake some of the cracks will disappear.
My dough is spreading?
Make sure to use the correct amount of flour in the recipe and you must chill the dough prior to baking. If your dough is spreading it needs more flour.
I don't like almond extract, can I use only vanilla extract?
Yes you can, if you don't want to use any almond extra replace the half teaspoon of almond with 3/4 teaspoon vanilla. In total you will add 1 1/2 teaspoons of vanilla (because almond is more intense than vanilla - you'll need to up the vanilla a bit so you don't lose flavor).
Why just the egg yolk and not a whole egg?
Using just the egg yolks adds richness to the cookies.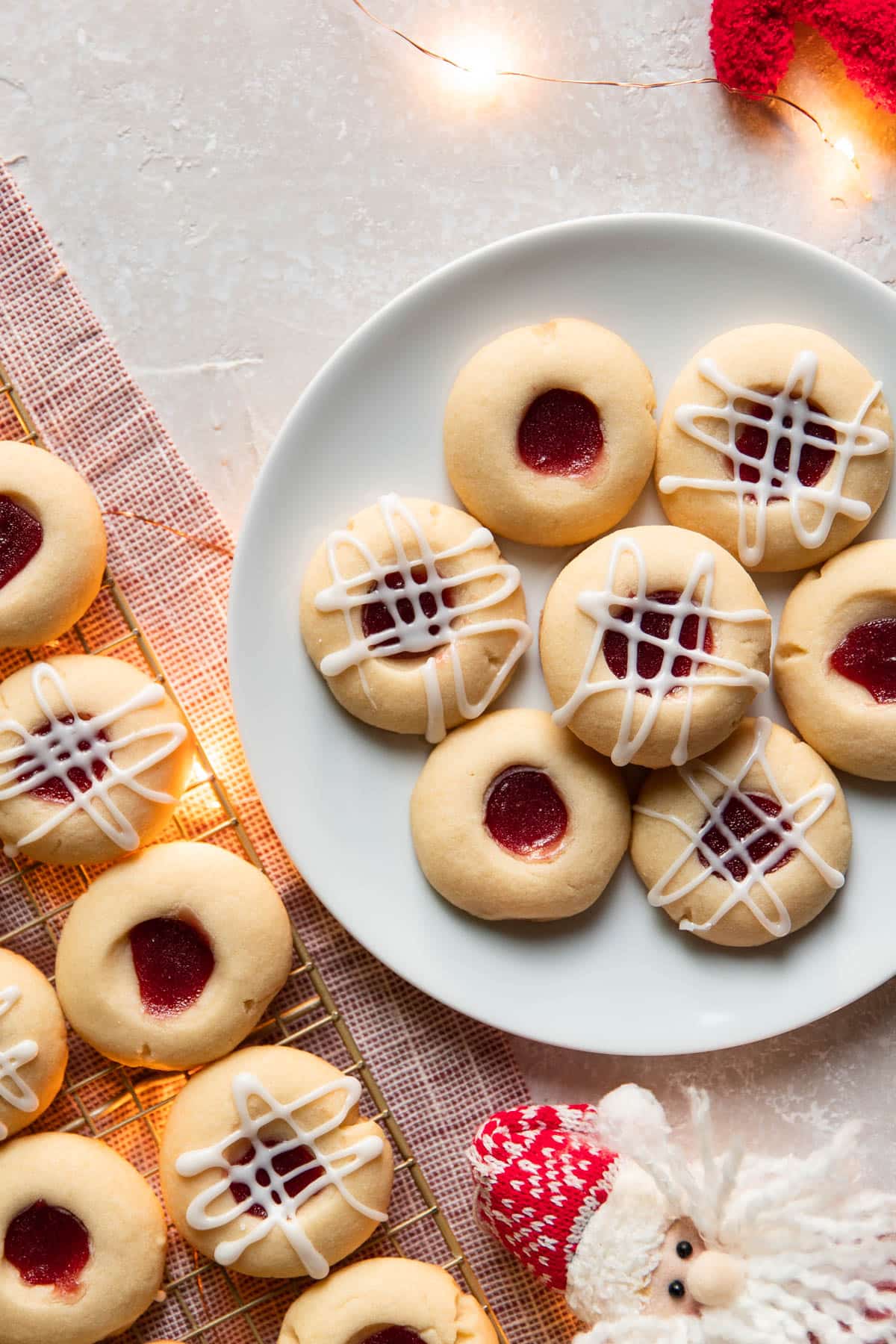 12 Days of Christmas Cookies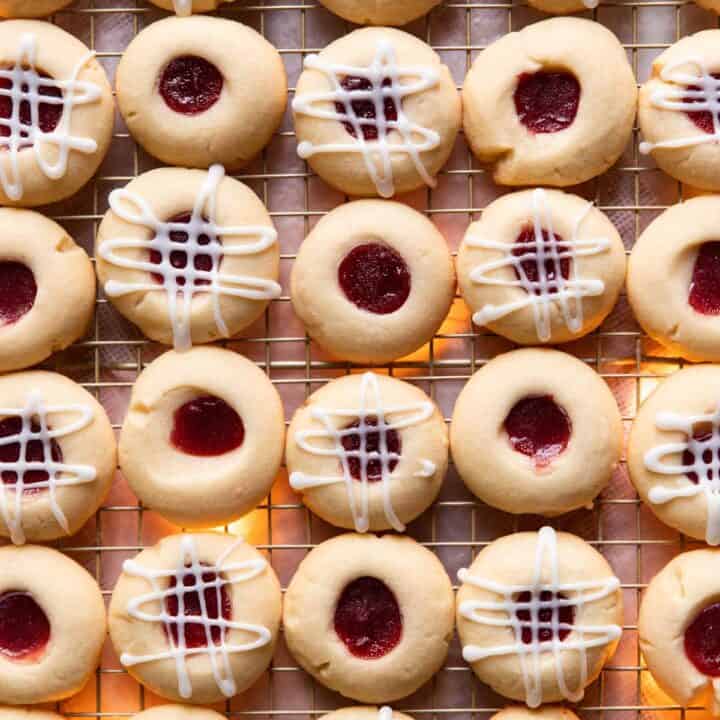 Raspberry Jam Thumbprints
These raspberry jam thumbprints are so buttery and delicious. They have a mild almond and vanilla flavor. Add a special icing design on top for a classic Christmas look!
Ingredients
Cookies
1 c butter
1 1/4 c powdered sugar, sifted
3/4 tsp vanilla extract
1/2 tsp almond extract
1 egg yolk
1/2 tsp salt
2 1/4 c flour, sifted
2 tsp milk
seedless jam
Icing Glaze
1/2 c powdered sugar
Water, to thin (amount will vary)
Instructions
Cream together the butter and powdered sugar
Mix in the vanilla extract and almond extra
Mix in the egg until combined
Add in the salt and flour, stir until almost combined
Now add in the 2 tsp of milk, mix until all combined
Chill the dough for 1 hour
Preheat oven to 350
Line a baking sheet with parchment paper
Roll in a ball spoonfuls of cookie dough and place on the parchment paper
Use your thumb to press an indent into the top, not to press all the way through to the bottom though
Fill each indent with some jam
Bake 10-12 minutes
Remove from the oven, transfer to a wire cooling rack
Once they are cool mix together powdered sugar and just enough water to make an icing
Add this to a little plastic bag, cut the end off one side
Drizzle over your cookies
Notes
If your jam is too thick you can add a bit of water to it and heat in the microwave 10 seconds at a time to thin and warm it up