These cream cheese jam pinwheel cookies are airy, light and buttery with a sweet raspberry jam. Cream cheese dough and jam are swirled together to make a beautiful Christmas design. Sprinkle them with a little powdered sugar to look like snow.
Today is day 10 of the '12 days of Christmas cookies' here on Modern Crumb!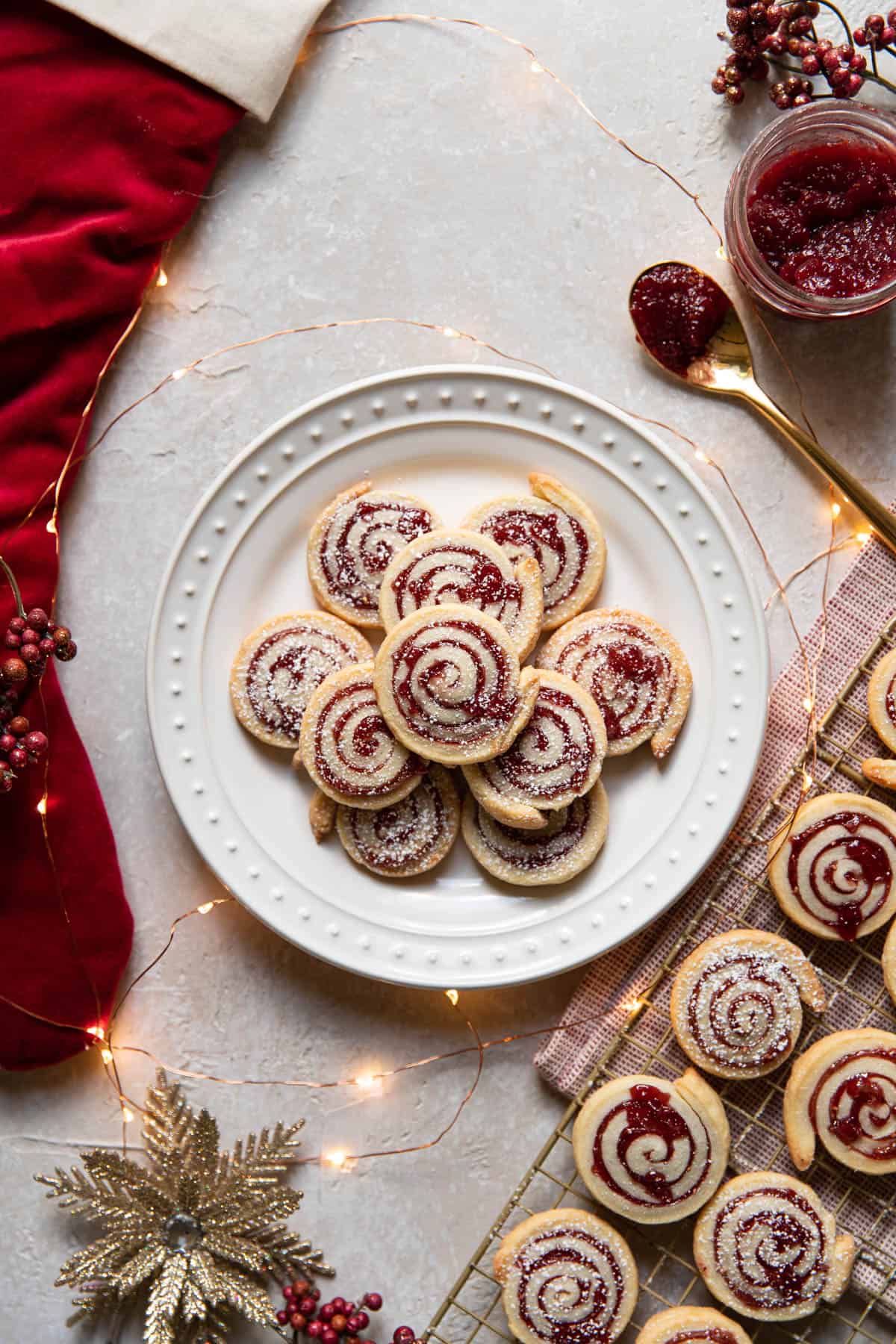 I love baking festive looking Christmas cookies.
The ones that, visually, really get you excited for the holidays. And these cream cheese jam pinwheels are just that!
The cookie base for these pinwheels are cream cheese, butter and sugar. Much like a traditional cream cheese crescent cookie.
Jump to:
They are filled with raspberry jam. But you can fill them with any kind of jam you like. You could probably do chocolate or nuts, as well!
Don't feel intimidated by the swirly whirly shape. These are so quick and easy to make.
My daughter is so impressed with the looks of these cookies, I'm sure you'll have some happy family members if you make these.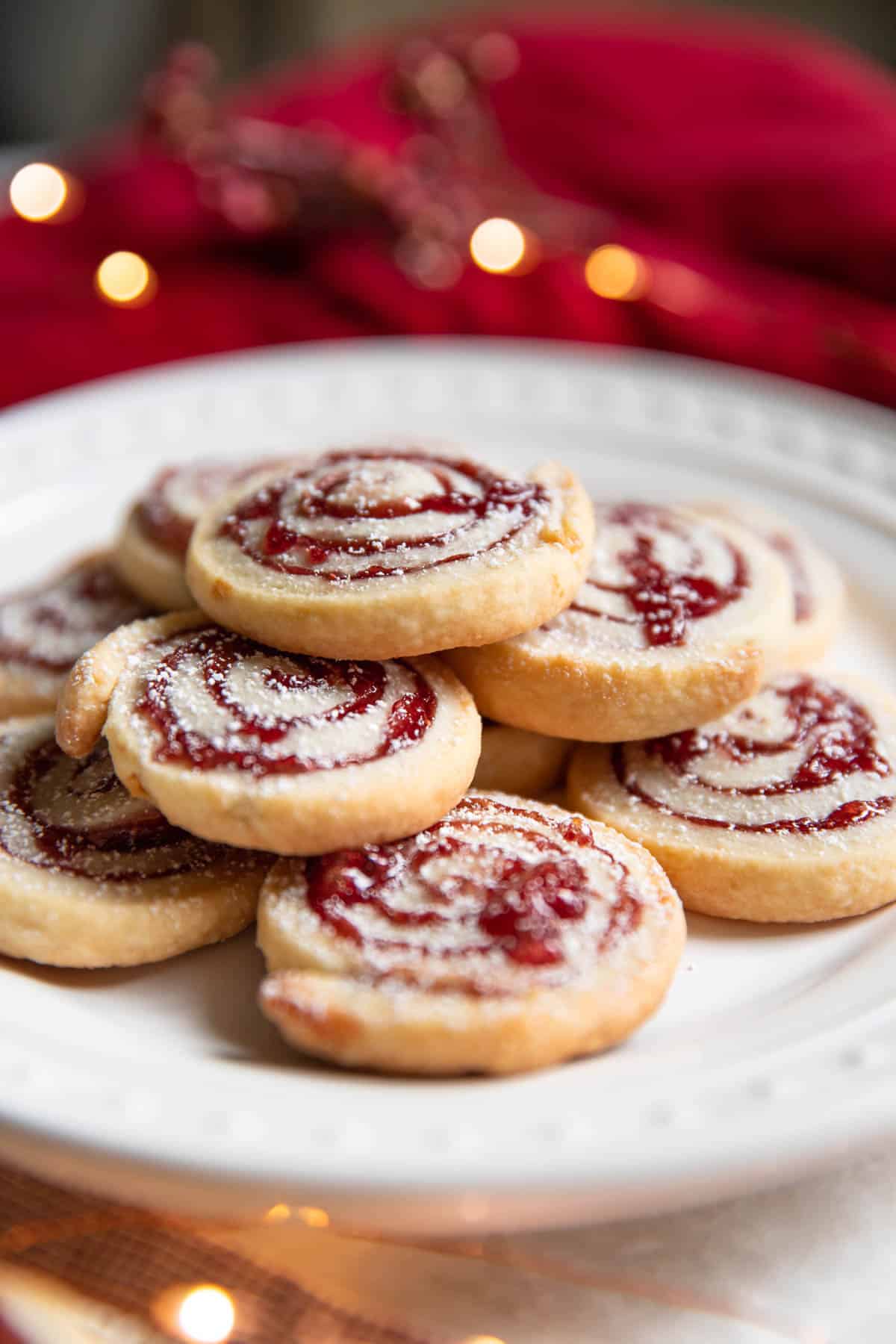 These really are such an easy cookie to make. I know they may seem complicated because of the design, but I assure you they aren't.
When it comes to recipes that I share, if I find it a challenge to get to the end result, then it doesn't get published on my blog. Originally these were a completely different cookie.
The recipe is one from my mom, something that we used to make as kids at Christmas time. Except they weren't pinwheels, they were a more delicate cookie that was folded. I adjusted it to work for what I thought would be an easy recipe for my friends on here.
So the pinwheel cookies came to life.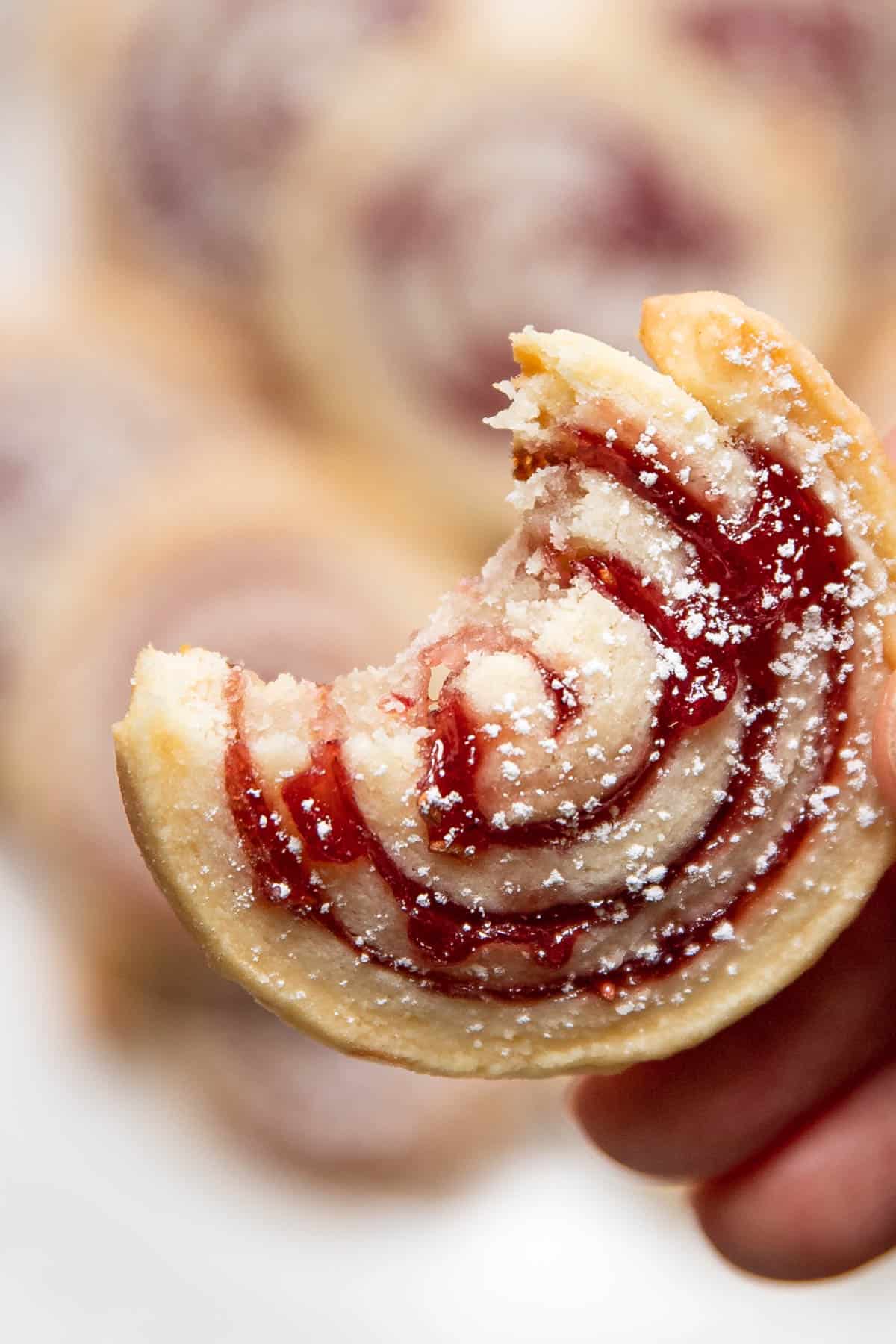 How to Make Cream Cheese Jam Pinwheel Cookies
Here is everything you'll need for these cookies. Are you ready?
Cream cheese, butter, flour, salt and jam. Easy!
The first step is to cream together the cream cheese and butter, this usually take a couple of minutes.
You want the sugar to and butter to beat together long enough for the sugar to create tiny air pockets in the butter. This helps to give them that light airy cookie texture while baking.
Then, the salt and flour are added. I always sift my flour, so go ahead in sift it first. You can do this in a separate bowl or right over top of your bowl you are already using. No need to add the flour slowly, it all goes in. Mix it together.
Chills for 30 minutes - 1 hour.
Rolling out the dough will be easy as long as you utilize dusting with flour as you go. You'll end up with a big recangle, like you would when making cinnamon rolls.
The jam gets spread on all over then you roll it up. Again like a cinnamon roll.
You'll need to chill this, so it sets. It's also easier to make your pinwheel cuts if the dough has chilled a bit before slicing. I use sewing thread to make 1/2" cuts. Bake and they are done!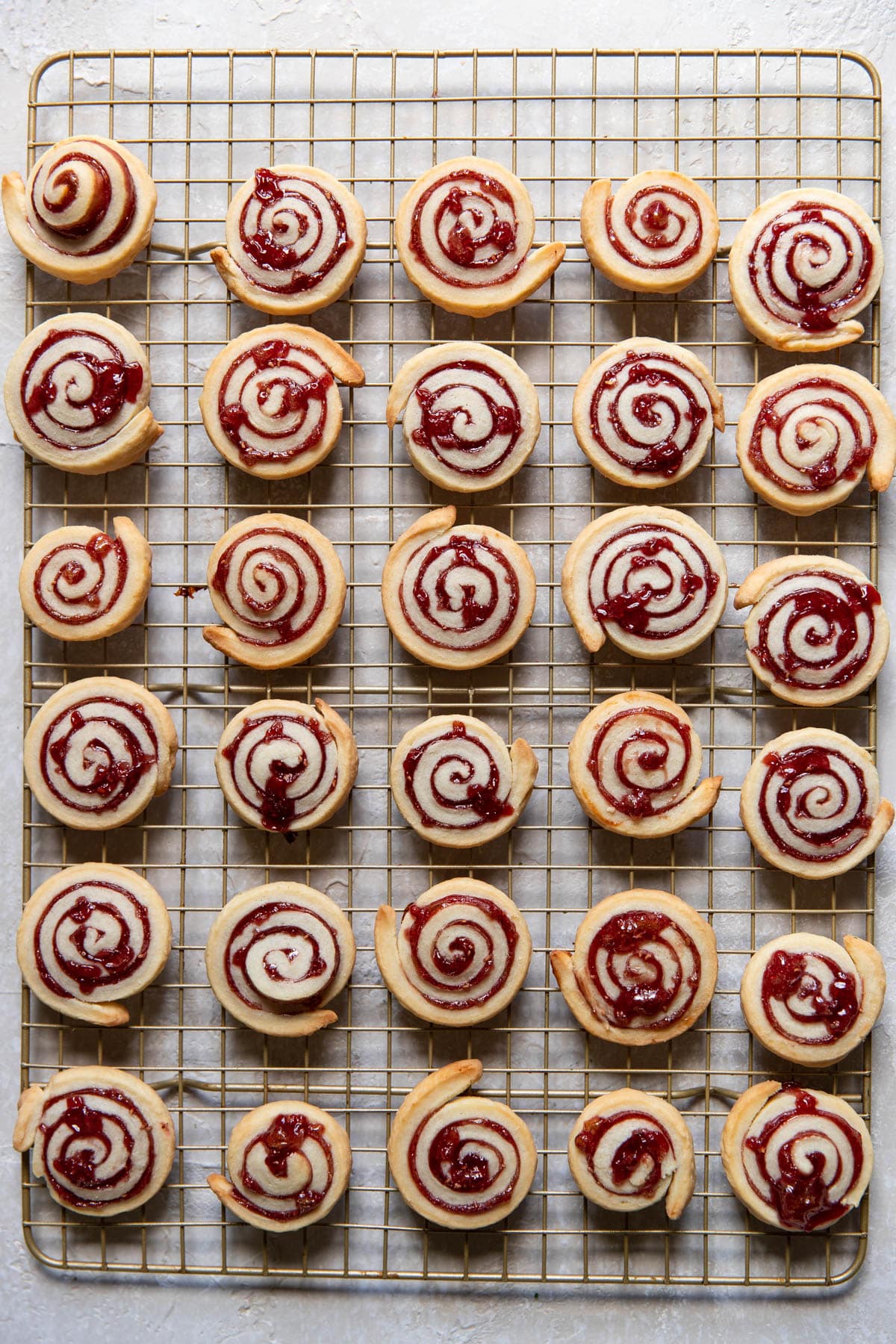 Tips and Tricks
Start the dough off by letting the cream cheese and butter soften. Not melted, but softer than they were in the fridge.
While rolling out the dough, halfway through lift the cookie dough up, sprinkle more flour down on the counter and then turn the cookie dough upside down. So that what was facing up, now faces down.
This helps to prevent sticking once you get to the rolling up part.
If your jam is too thick you can put it in a microwave safe bowl and heat it up slowly, this will help to melt it just a bit.
Using sewing thread will help you get perfect cuts, showing off the beautiful spiral. All you do is wiggle the thread under the dough, lift the two sides up, and pull the string with the opposite hand originally holding.
Wait until the cookies fully cool before dusting with powdered sugar.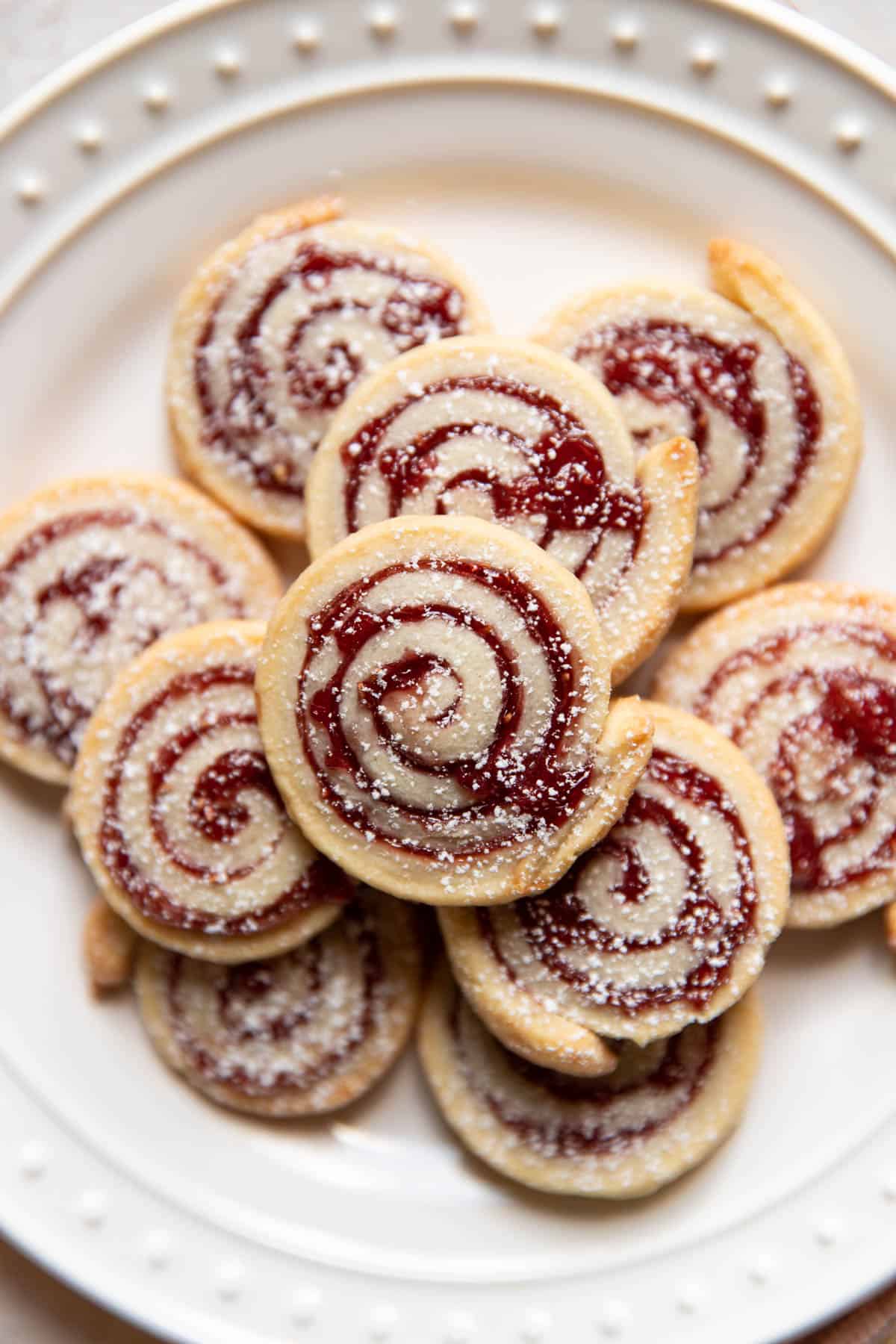 FAQ
I don't have sewing thread, how else can I get nice cuts?
Dental floss will also work.
Why is my dough too sticky when rolling it out?
The dough may need a bit more flour or longer in the fridge to chill. It's quite soft before chilling.
Can I use anything else besides jam in the pinwheels?
I haven't tried anything but jam, but chocolate or nuts would be delicious.
I'm slicing the cookies but it's making a mess?
They really need to be chilled, after you've rolled it up like a jelly roll. All that rolling out and time spent on the counter the dough has warmed up. Also, using thread to make your cuts with give you the cleanest lines.
Can I make these gluten free?
I've had success using Bobs Red Mill 1:1 flour in baking, however I haven't tested it with this recipe so I wouldn't be able to say yes or no.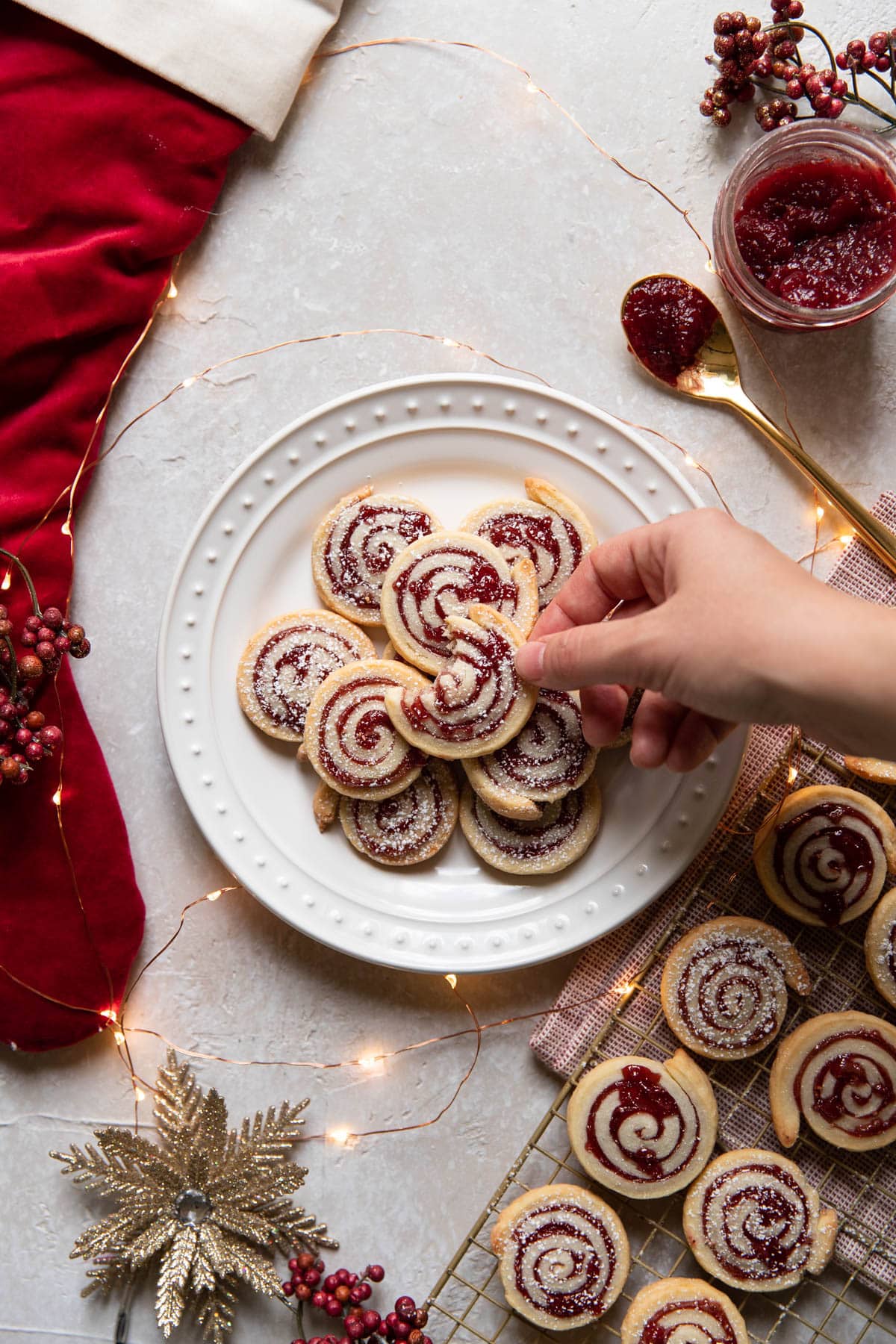 Storing
Counter. If you plan on eating your cookies within a few days, you can store them on the counter in an airtight container.
Refrigerator. Store them in an airtight container or a ziploc bag. They will stay fresher longer if you store in the in the refrigerator.
Freezer. Fill up a ziploc bag of pecan sandies to store them for another time. Best eaten within 3-4 months, cookies can develop frost on them and that doesn't taste good.
To thaw from frozen, set cookies on the counter until they come to room temperature, super easy!
12 Days of Christmas Cookies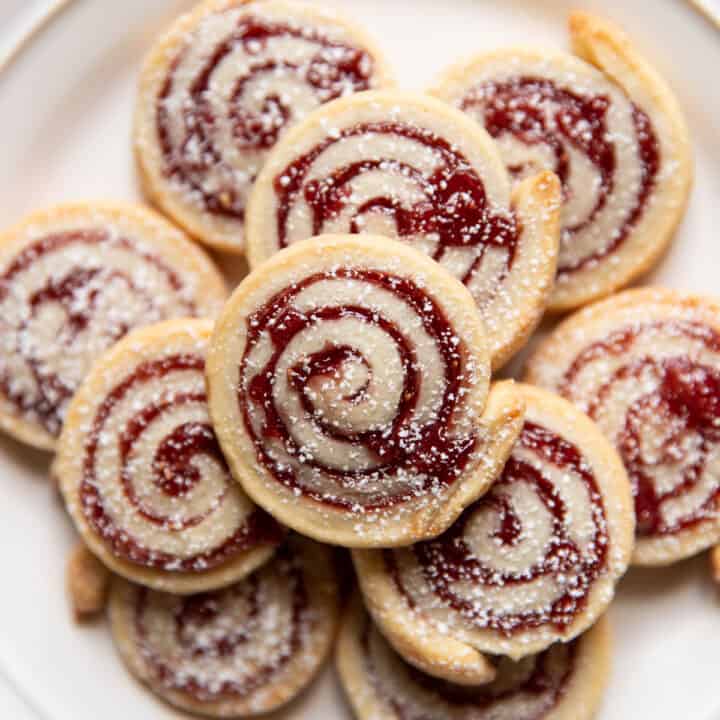 Cream Cheese Jam Pinwheel Cookies
Total Time:
1 hour
35 minutes
These cream cheese jam pinwheel cookies are airy, light and buttery with a sweet raspberry jam. Cream cheese dough and jam are swirled together to make a beautiful Christmas design. Sprinkle them with a little powdered sugar to look like snow.
Ingredients
8 oz cream cheese
1/2 c butter
1 1/2 c flour, sifted
1/2 tsp salt
1/3 c jam, more or less
Powdered sugar
Instructions
Cream together the butter and cream cheese
Mix in the salt and flour, until combined and a ball starts to form
Use your hands to roll it into a ball, pressing down on the top so its flat and will be easier to roll out
Wrap in plastic wrap
Chill 30 minutes
Generously flour your counter
Put the dough on your counter, sprinkle some flour over top
Use a rolling pin to roll the dough out to a 10" x 12" rectangle
Sprinkle the top with more flour, and roll up the dough in your rolling pin (at this point the dough is still thick enough that it won't break)
Sprinkle more flour on your counter top
Flip the dough over, so the top is now facing the counter
Sprinkle more flour on top of the dough and roll it out to a 10" x 30" rectangle
Spread the jam all over, leaving half an inch bare on one of the longer sides
Roll the dough up, like you would cinnamon rolls, ending at the side that half the half inch with no jam
Cut this in half and place both pieces in the fridge to chill for 15 minutes
Preheat the oven to 375
Use sewing thread to make 1/2" slices
Line these up flat, on a parchment lined baking sheet
Bake for 17-20 minutes
Remove from the oven, transfer to a wire cooling rack
Once they have cooled, sprinkle powdered sugar on top
Serve