Rugelach cookies are both savory and sweet. They have a tender flaky pastry dough exterior and a sweet filling made of brown sugar, walnuts, cinnamon and a drizzle of honey.
Today is day 4 of the '12 days of Christmas Cookies' here on Modern Crumb!
This recipe was first published 12/07/2020.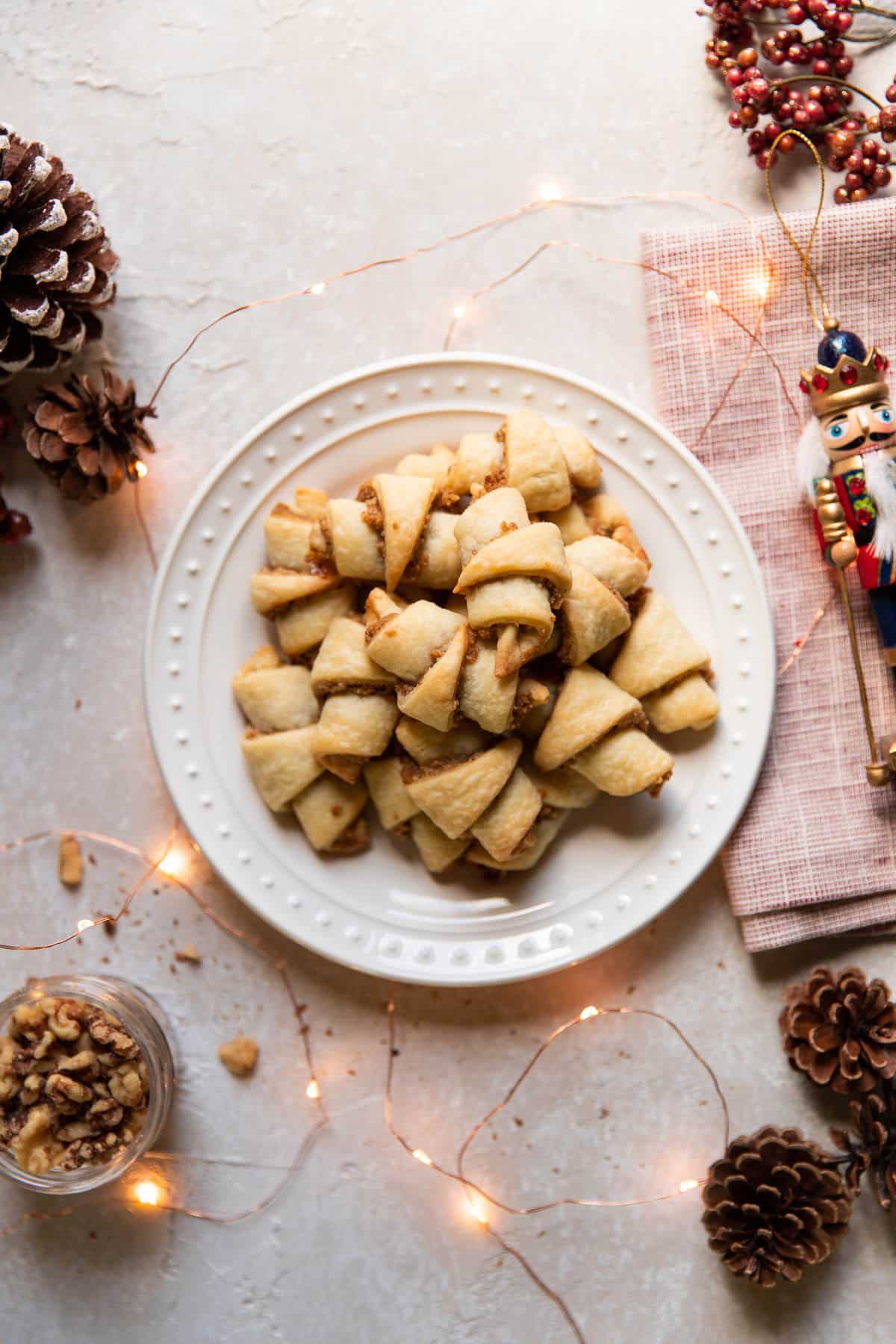 I am so excited to finally be sharing this recipe for rugelach with brown sugar and walnuts!
It is in my top 5 favorite cookies to make at Christmas, I am so in love with them.
I've been making rugelach for a few years now. What I love about my version of it, is that the recipe is really easy to follow and doesn't take any special baking skills to make.
One of my favorite parts when making these is rolling them up like a crescent roll. You get to see all the filling peeking out around the edges.
Jump to:
And then of course the brown sugar walnut filling and honey mixture always sticks to your fingers, just a little bit, so it would be a waste of ingredients to not taste test :).
This recipe makes 24 rugelach cookies, so there is plenty to share with your friends and family.
What Is Rugelach
Rugelach is a Jewish originating pastry that is commonly eaten for Hanukkah.
It has s a cream cheese based dough (just like these jam pinwheel cookies), with a filling and is rolled up like a crescent.
There are so many varieties of fillings you can put inside, like dried fruit, nuts or even chocolate!
My favorite, obviously, is brown sugar, walnuts, cinnamon and honey.
Run this through a mini food processor and it makes the most amazing mixture.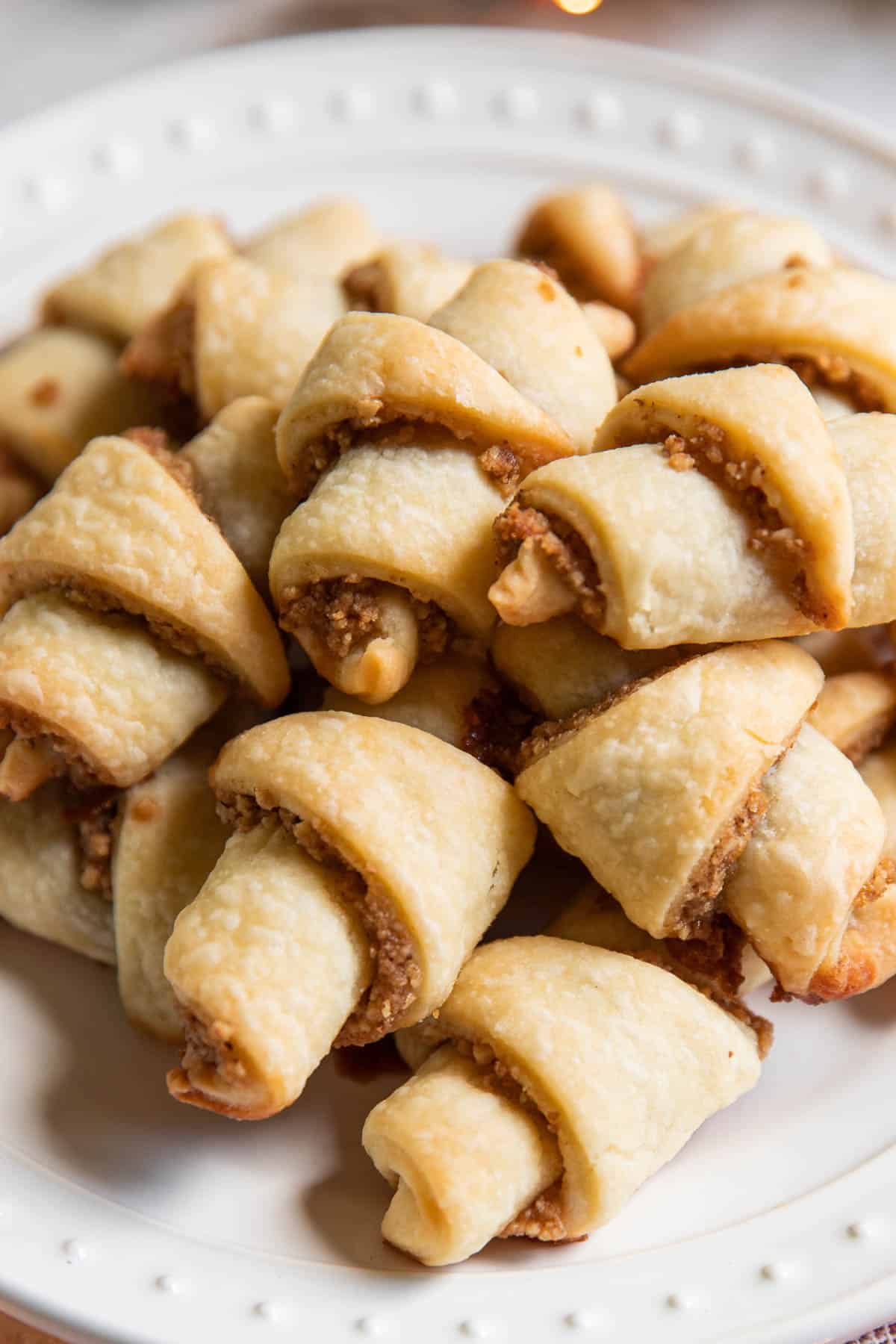 How To Make Brown Sugar Walnut Rugelach Cookies
Rugleach are soft and tender on the inside and very lightly crisp and flaky on the outside. It truly is a treat.
It starts off with a butter and cream cheese based dough. There is no sugar in the dough.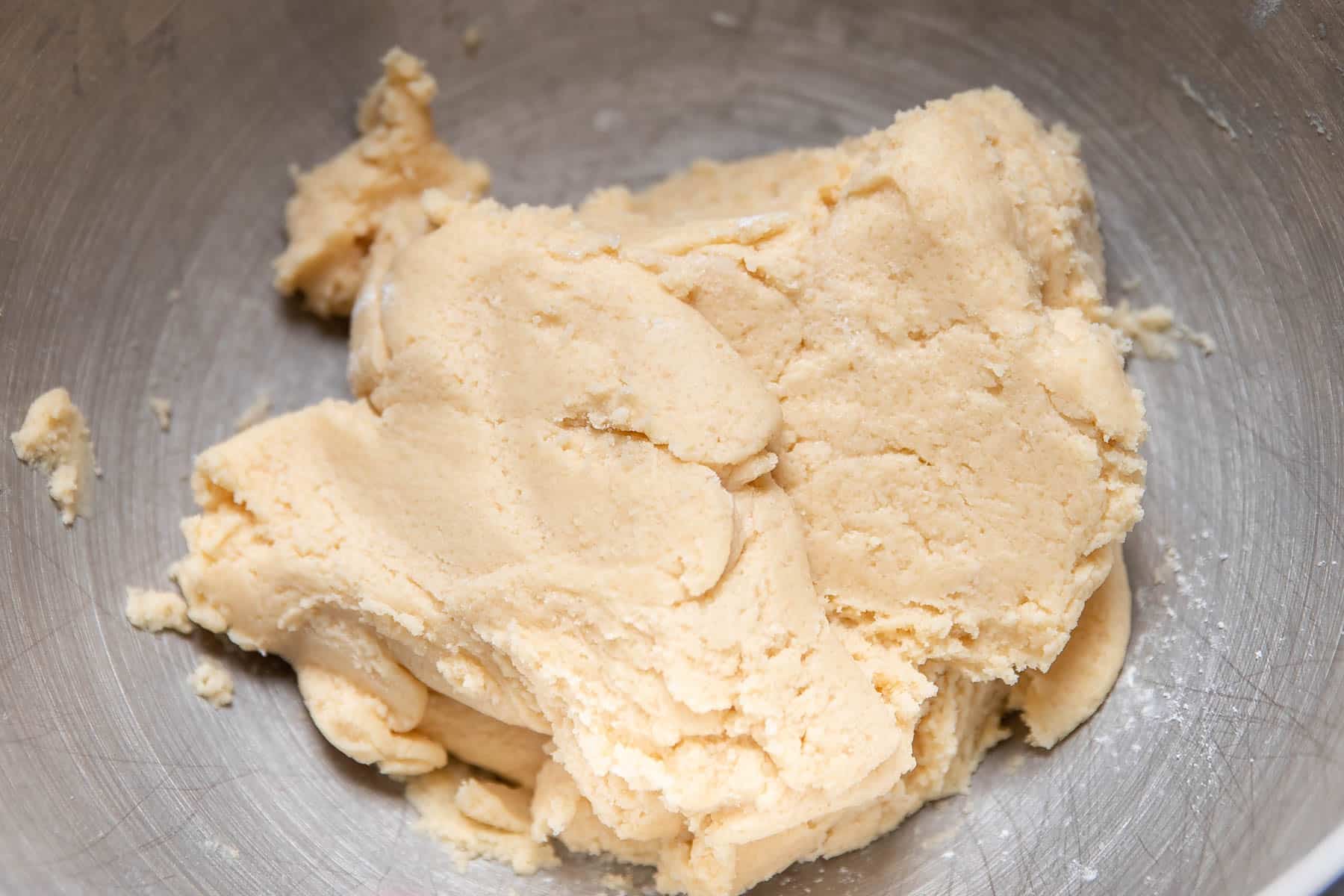 You'll then separate that dough into two round pieces and form them into disc shapes, chill for 30 minutes.
While that chills you can make the filling by pulsing all the filling ingredients into a mini food processor.
Or you can chop up the nuts finely and mix it all together in a bowl.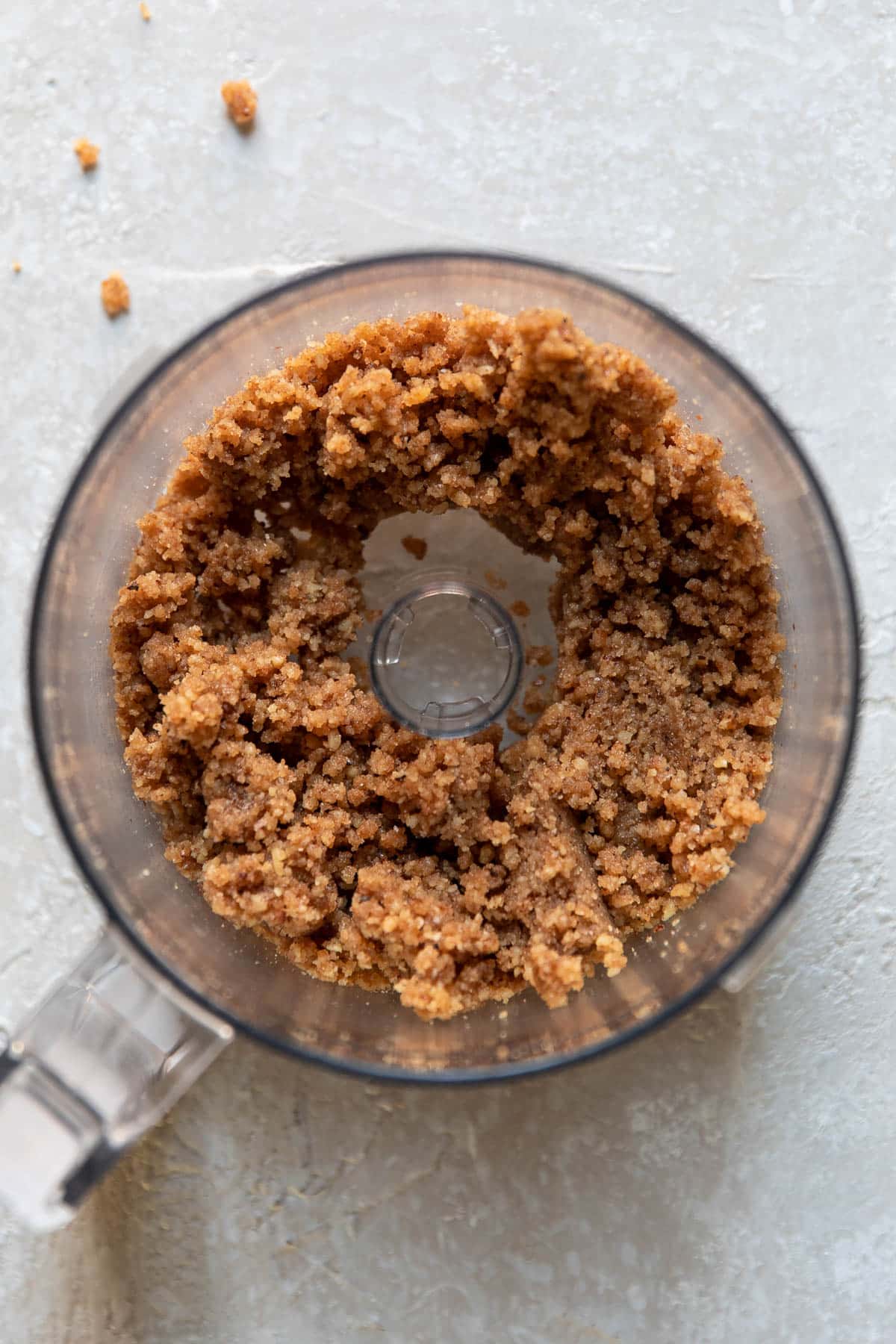 Using a rolling pin, roll out the dough onto a very generously floured surface. Spread half of the filling onto one pieced of rolled out dough and the other half on the other piece of dough.
Leave a little space at the outer edge without filling.
Take some honey and drizzle it all over. Don't get too heavy handed with the honey, too much honey makes a mess when you are rolling it out. But a drizzle is the perfect amount.
Using a knife, or a pizza cutter, you'll cut a total of 12 triangles. If you use a pizza cutter you can make your cuts just like a pizza, starting at one side and running it through to the other side.
Each piece of rugelach gets rolled up just like a crescent.
Start with the widest edge (no filling on the edge) and start rolling toward the center. It helps if you take each triangle piece and pull it away from the rest just a bit.
That way when you roll them up you aren't rolling the edges along the filling of the other pieces, this gets really sticky!
Line them up on a parchment paper lined cookie sheet. You don't need to leave a ton of space between them, they only expand slightly.
Bake and enjoy right away!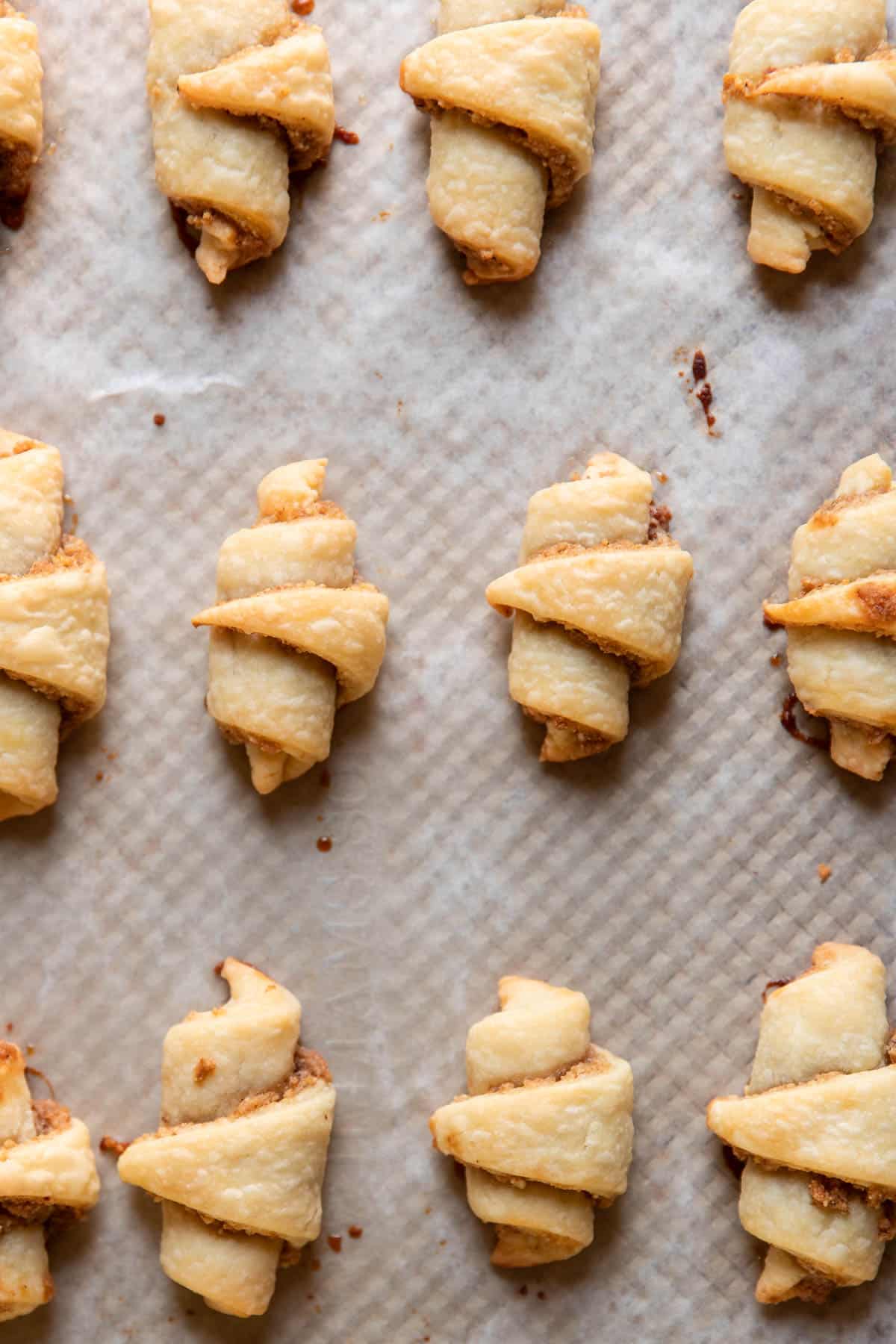 FAQ
Check here for some frequently asked questions. These can be helpful prior to baking your first batch.
Why is my dough too sticky?
You may not have added the right amount of flour. Also, the dough needs be chilled for 30 minutes prior to rolling it out.
What should I use to cut the triangles?
A pizza cutter works perfectly to cut the triangle shapes. You can actually start at one end and just go all the way through to the other side. You only need to make 6 cuts for the 12 triangles.
What if I don't have a food processor?
No problem. Chop up the walnuts, finely, and mix it together with the softened butter, cinnamon and brown sugar. Use the back of the spoon to, sort of, scrape it against a small bowl to really incorporate it.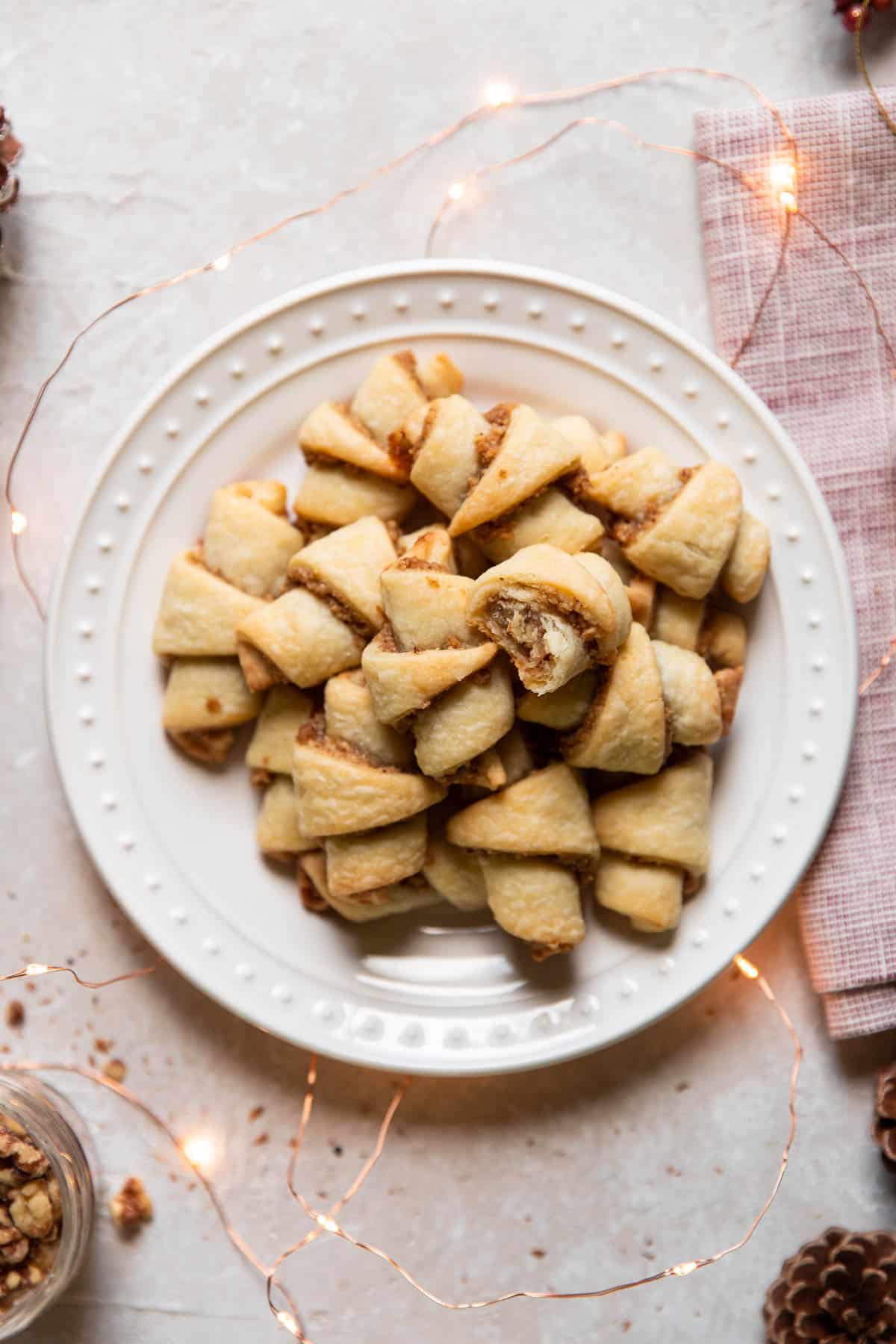 12 Days of Christmas Cookies Recipes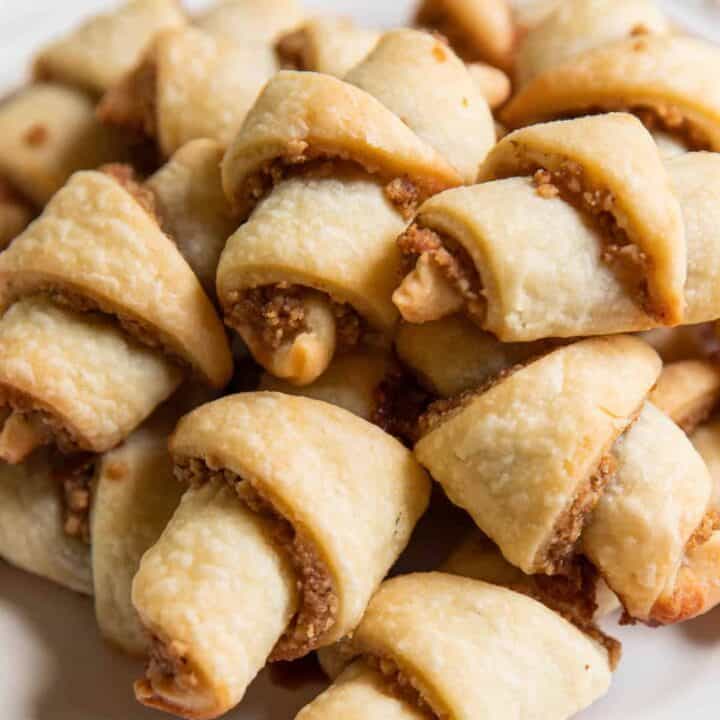 Brown Sugar Walnut Rugelach Cookies
Total Time:
1 hour
10 minutes
Rugelach cookies are both savory and sweet. They have a tender flaky pastry dough exterior and a sweet filling made of brown sugar, walnuts, cinnamon and a drizzle of honey.
Ingredients
½ c butter, softened
4 oz cream cheese, softened
1 c flour
1 egg yolk
¼ tsp salt
honey
filling
½ c brown sugar
1 c walnuts (mounded)
½ tsp cinnamon
3 tbsp butter
Instructions
Preheat oven to 350
Cream together the butter and cream cheese
Mix in the egg yolk
Sift the flour and salt into your mixing bowl, stir until combined and a dough forms
Roll the dough out on to a floured surface, cut in half
Form each half in to a ball, flattening the top a bit
Wrap each one in plastic wrap and chill for 30 minutes in the fridge
In a mini food processor combine the brown sugar, walnuts, cinnamon and butter
Generously flour a flat surface, unwrap one of the chilled dough and sprinkle the top with flour
Use a rolling pin to roll it out to a circle (half way through lift up the circle, dust the surface with more flour and turn the circle over, sprinkle a bit more flour on top - this will prevent any sticking)
Spread half of the brown sugar walnut filling on to the circle
Drizzle lightly with honey
Use a pizza cutter to make 6 cuts, so you have 12 triangles
Gently pull one of the triangles away from the others, starting at the bottom roll upward so you end at the tip of the triangle
Place each rugelach cookie onto a cookie sheet lined with parchment paper
Bake 20-25
Remove from oven, transfer to a wire rack
Serve
Notes
optional: egg wash 1 egg + 1 tbsp milk whisked together then brushed on top before baking, totally preference.
Recommended Products
As an Amazon Associate and member of other affiliate programs, I earn from qualifying purchases.
Nutrition Information:
Yield:

24
Serving Size:

1
Amount Per Serving:
Calories:

115
Total Fat:

9g
Saturated Fat:

5g
Trans Fat:

0g
Unsaturated Fat:

3g
Cholesterol:

26mg
Sodium:

82mg
Carbohydrates:

9g
Fiber:

0g
Sugar:

5g
Protein:

1g
This information comes from online calculators. Although moderncrumb.com attempts to provide accurate nutritional information, these figures are only estimates.