This four layer homemade carrot cake is the best carrot cake you will ever try. Full of shredded carrots, walnuts and spices! It always receives rave reviews for how moist the cake is and the perfect ratio of carrot cake to cream cheese frosting.
The perfect spring time dessert to make and if you love this recipe then you'll also love this carrot cake roll.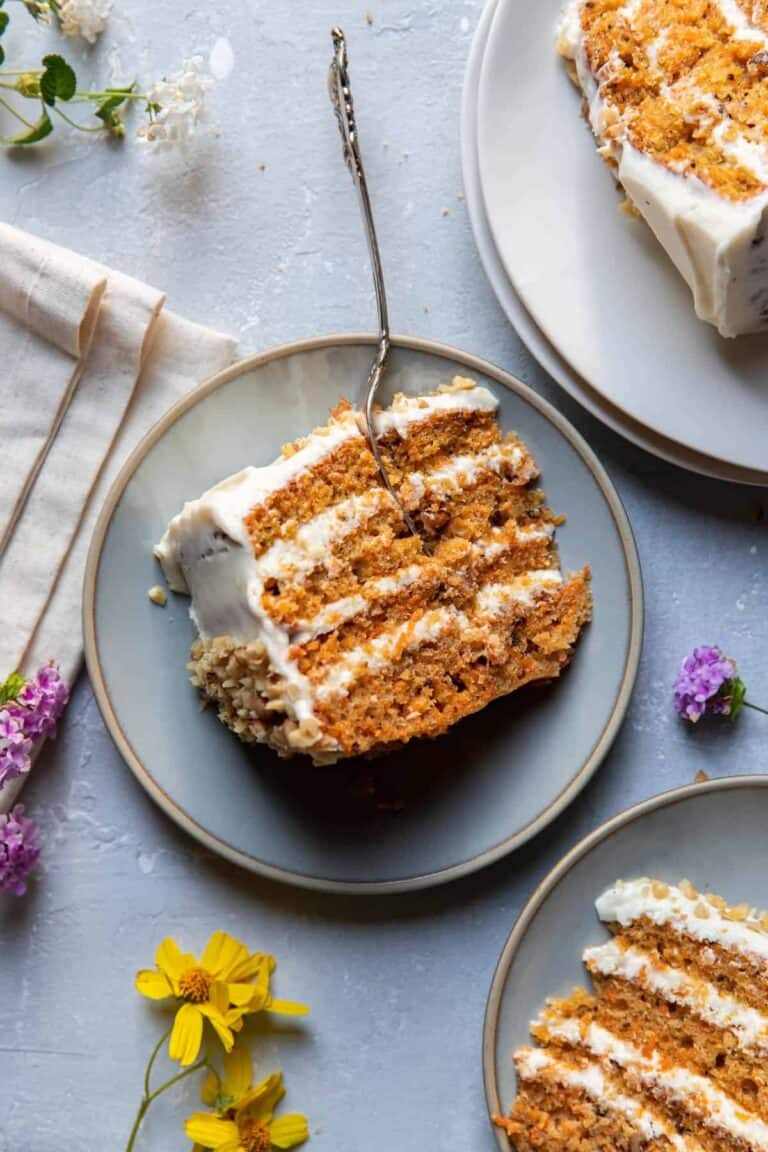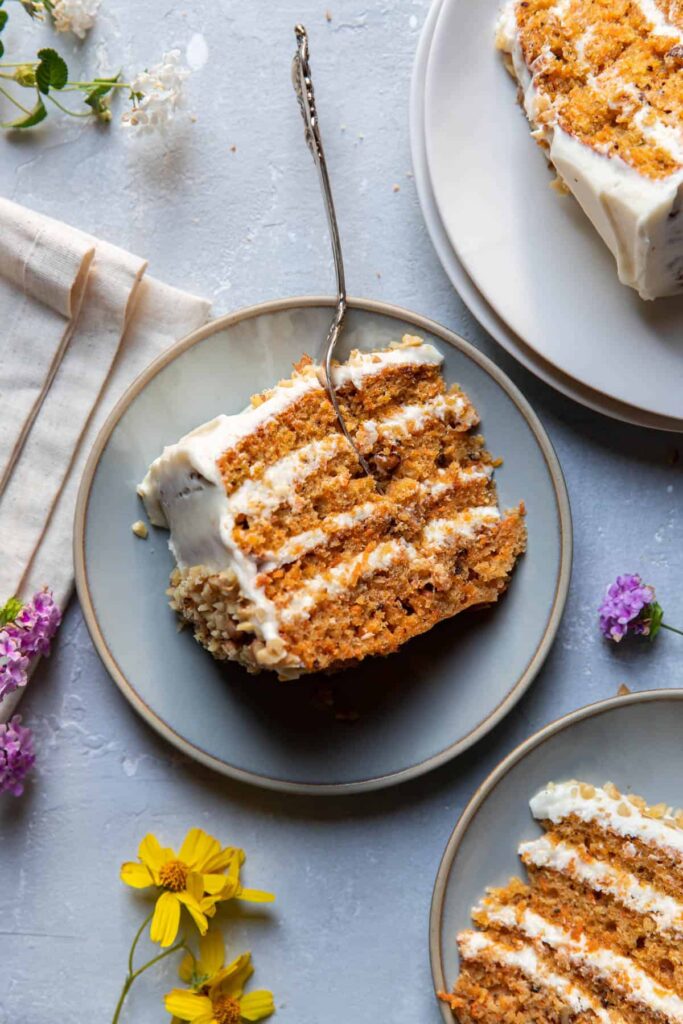 Carrot cake with cream cheese frosting is my favorite cake, ever. And it's not just for Easter or to eat during the spring months, I request it for my birthday every year!
This particular recipe is beyond perfect because of just how soft and flavorful the cake is. This is definitely not a dry cake and it keeps beautifully in the fridge, so you can keep enjoying it all week long.
Carrot cake is a spice cake, with the addition of shredded carrots to it. Spice cakes are full of (of course) delicious spices.
There are so many ingredients going in that you have to make sure each ingredient compliments the next. The cinnamon to nutmeg to ginger ratio needs to be just right.
This carrot cake recipe is made without pineapple. Instead we'll be using vegetable oil and buttermilk to make sure it's tender.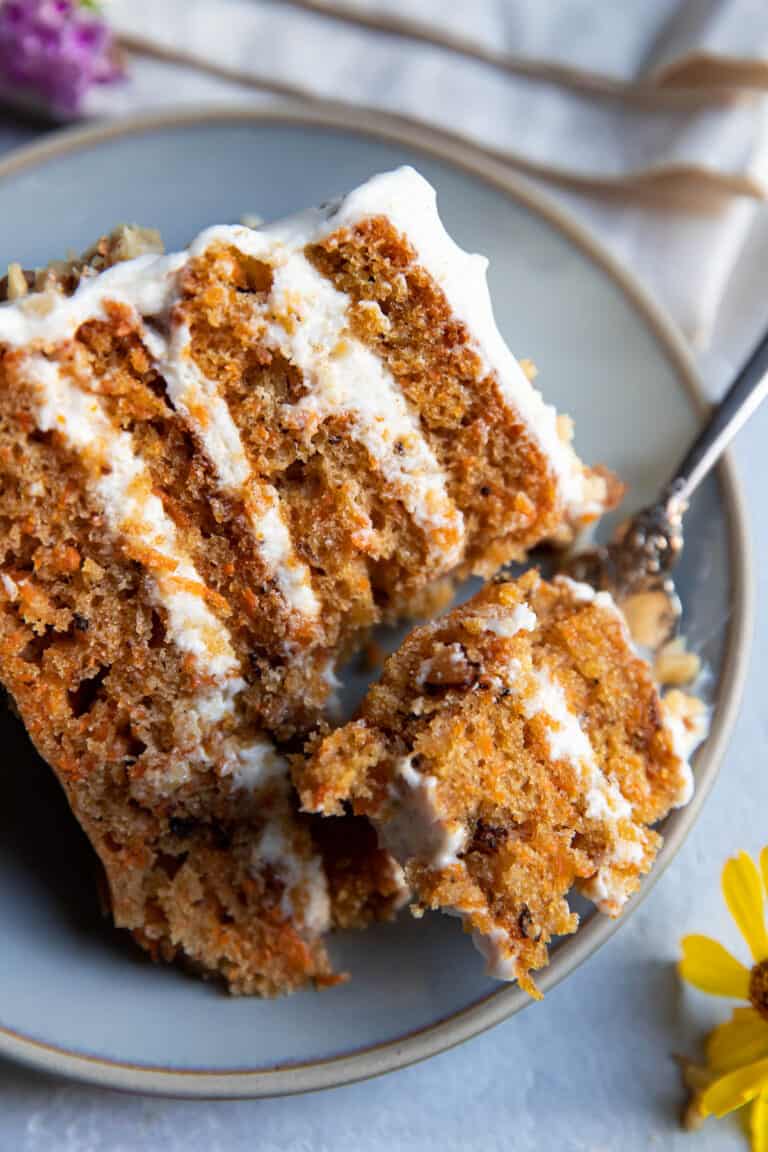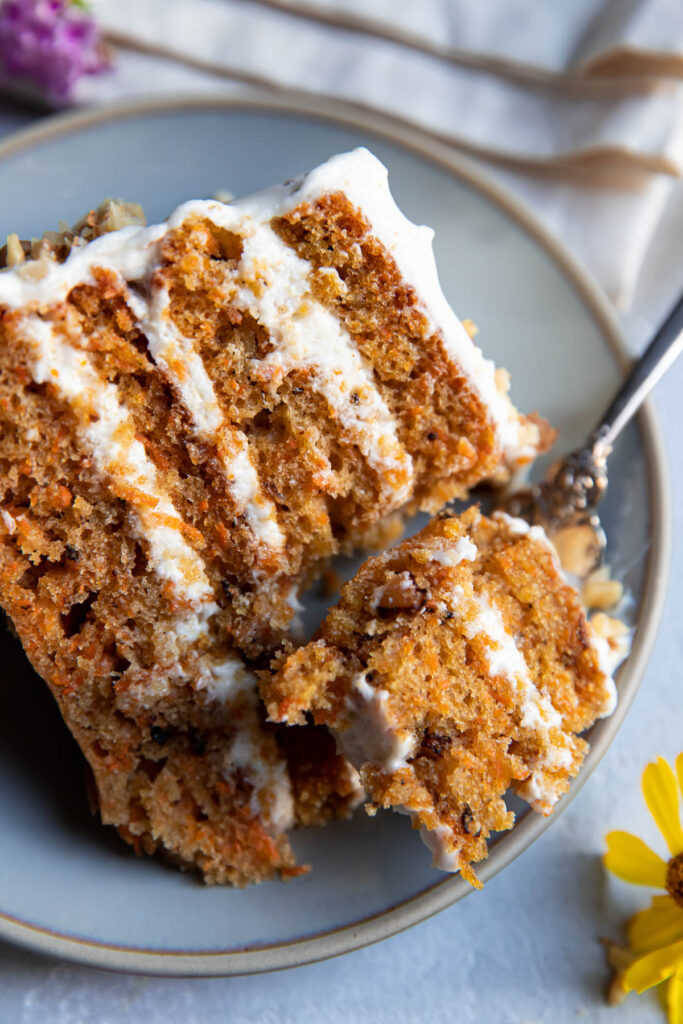 Ingredients For Carrot Cake
The ingredients you'll need for carrot are fairly similar to the ingredients for any other cake. You won't find any pineapple in this carrot cake, that's right, no pineapple.
sugar - sugar is needed to sweeten the cake, since the bulk of the cake is shredded carrots, I like to use cane sugar since it's just a bit healthier than refined white sugar
vegetable oil - vegetable oil is what makes the carrot cake so moist, vegetable oil is flavorless so be careful if you try subbing it out for another oil
buttermilk - another liquid needed in making the cake extra moist
eggs - a total of 4 large eggs, eggs act as a binder in cake recipes to hold the cake together
vanilla extract - if you can use pure vanilla extra, not the imitation extract
all purpose flour - this recipe calls for all purpose flower which doesn't have any leavening agents in it, just plain flour
salt - used to enhance the flavors of the cake
baking powder - for lifting
baking soda - also for lifting
cinnamon, ginger and nutmeg - each of these spices gives the cake it's signature flavor
walnuts - these can always be left out if you don't like walnuts
carrots - fresh shredded carrots, shred your carrots using the smaller grate on your grater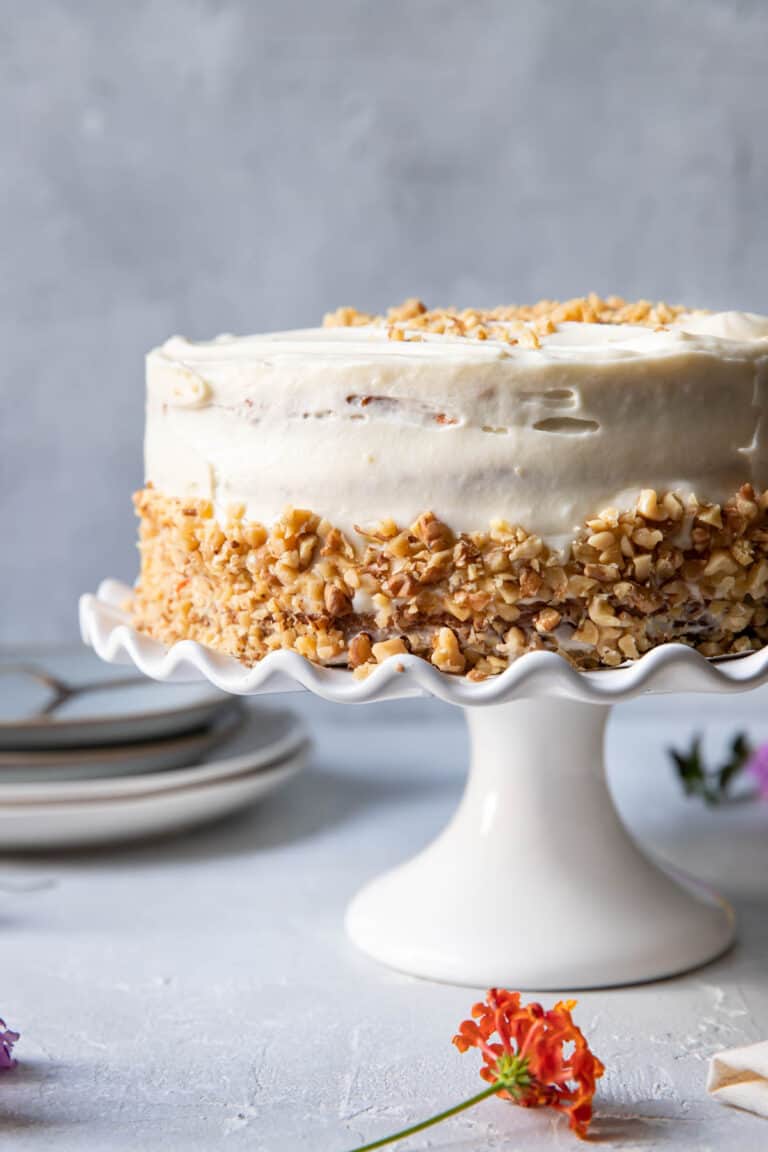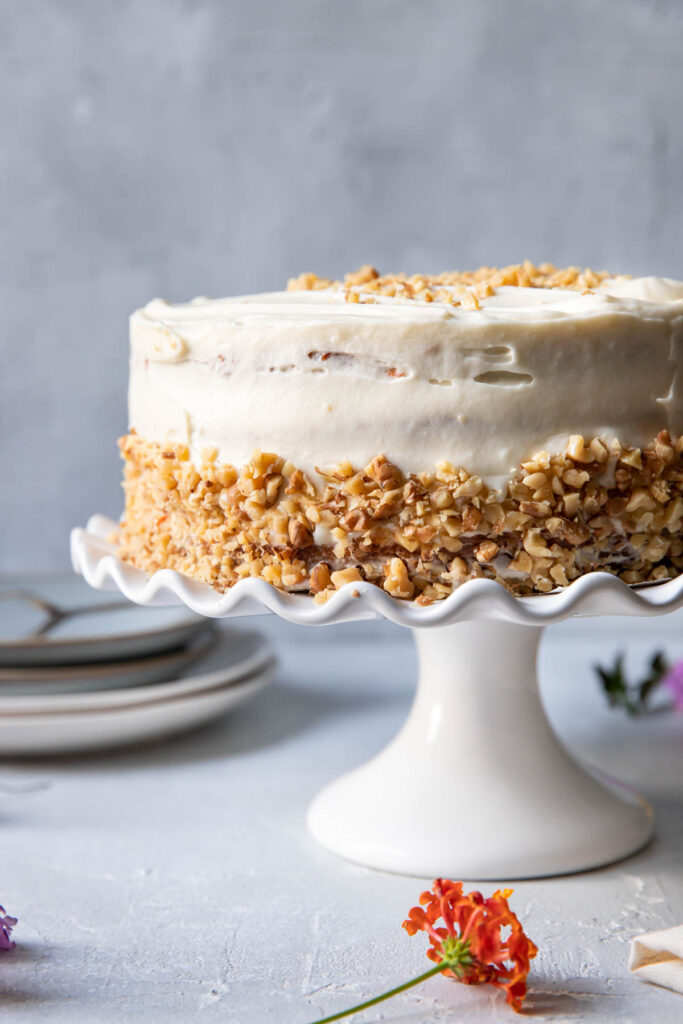 Carrot Cake Questions
Carrot cake seems to have a lot of questions about baking it though. I know when I first started making it I had way too many questions.
Let's talk about a few carrot cake questions. And hopefully make your carrot cake making less stressful and ultimately figure out if this carrot cake recipe is even the right fit for you.
Why was it dry? Not enough moisture in the cake. Fixing this common issue by using vegetable oil and buttermilk.
Do I add pineapples and walnuts? This is preference but this cake is written for people who do not care for pineapple in their carrot cake. Walnuts add a nice earthy spice cake flavor and offer a bit of texture to the cake. They can be omitted.
How much spice should go in? Getting the spices right is so imporant! Too much spice can be overpowering. You want just the right amount so you can still taste carrots. I've found that 2 teaspoons of cinnamon and ¼ teaspoon each of ginger and nutmeg is the perfect combination.
Should I use butter in my batter? Butter is not great for a moist carrot cake, in my experience using butter makes the cake dense.
Oil? Milk? Why one over the other? Through many years of trial and error, oil is the clear winner. Vegetable oil is the best one to use because it doesn't have a flavor to it, like olive oil or avocado oil do. You can definitely use another oil (I haven't test with anything but vegetable oil) but know that the flavor of the cake may change.
How do you get all that moisture without pineapple?
Oil and buttermilk.
This recipe has no butter in it, solely oil and buttermilk.
Because it's a spice cake you can't taste the oil and it gives you a super moist cake. Just regular vegetable oil.
What temperature do you bake your carrot cake at?
I find that carrot cake bakes best at 325 degrees Fahrenheit.
It takes 30-35 minutes and since every oven is a little different you definitely want to use the toothpick method to check for doneness, starting at 30 minutes.
If the toothpick comes out clean (when inserted in the middle), the cake is done baking.
Adding cold ingredients brings down the temperature of your batter. Try using room temperature ingredients to keep it your cake baking evenly.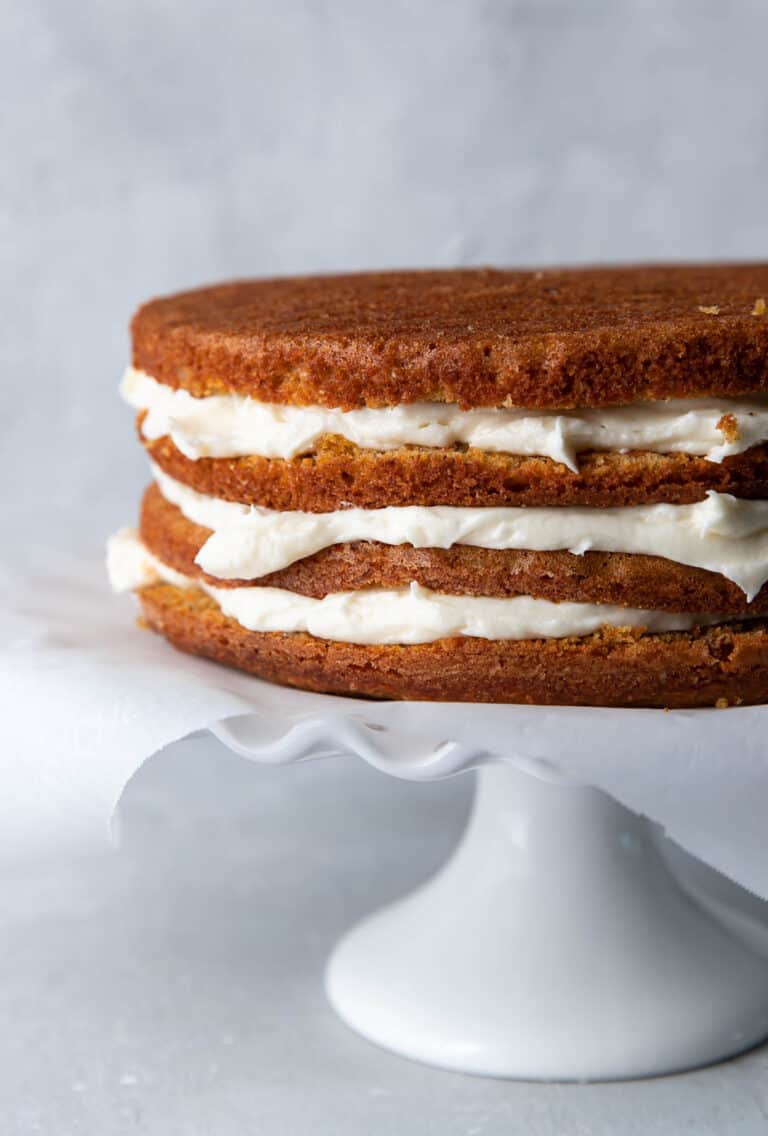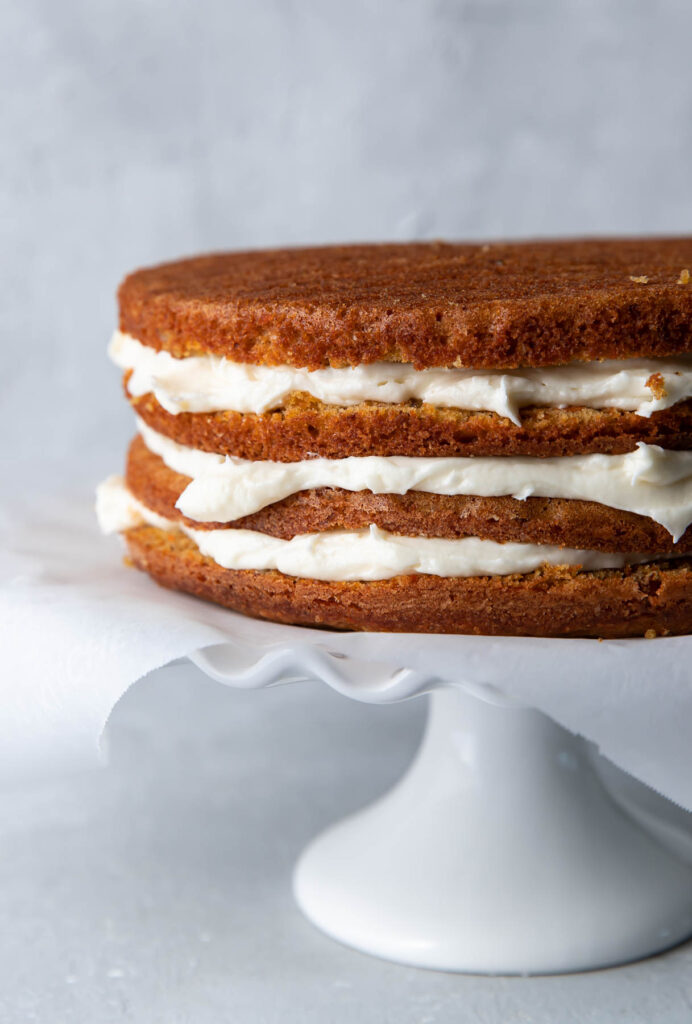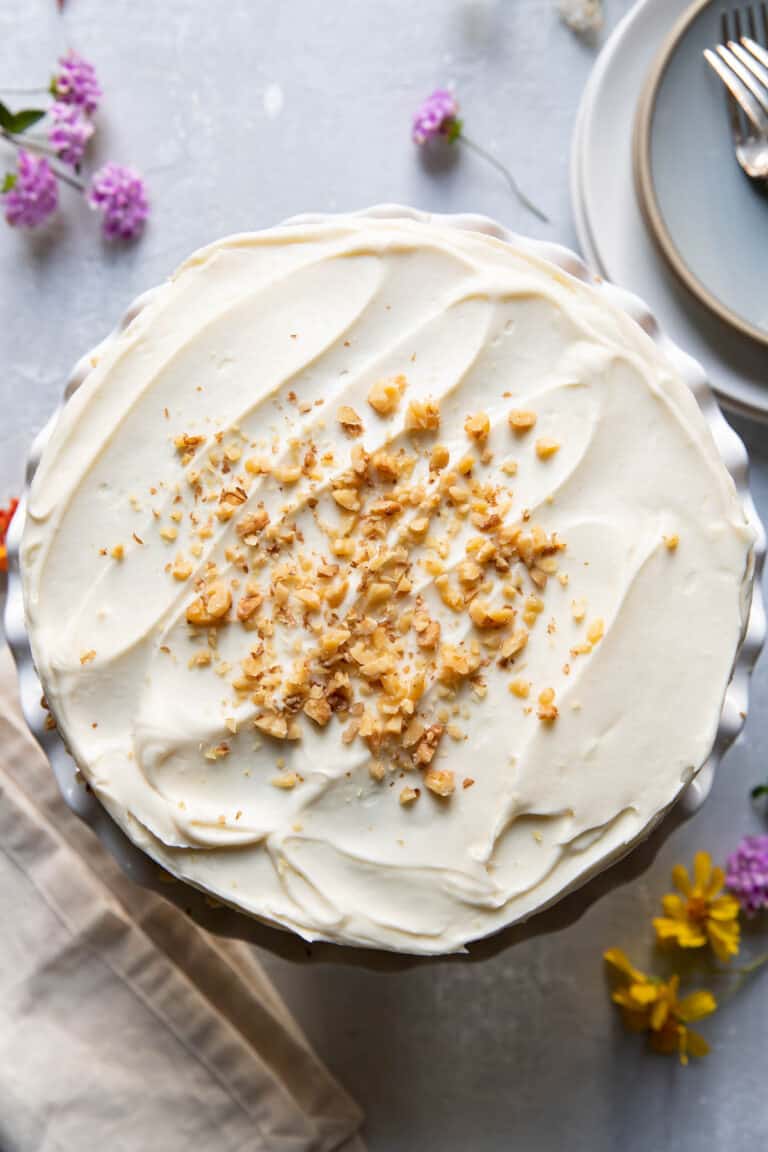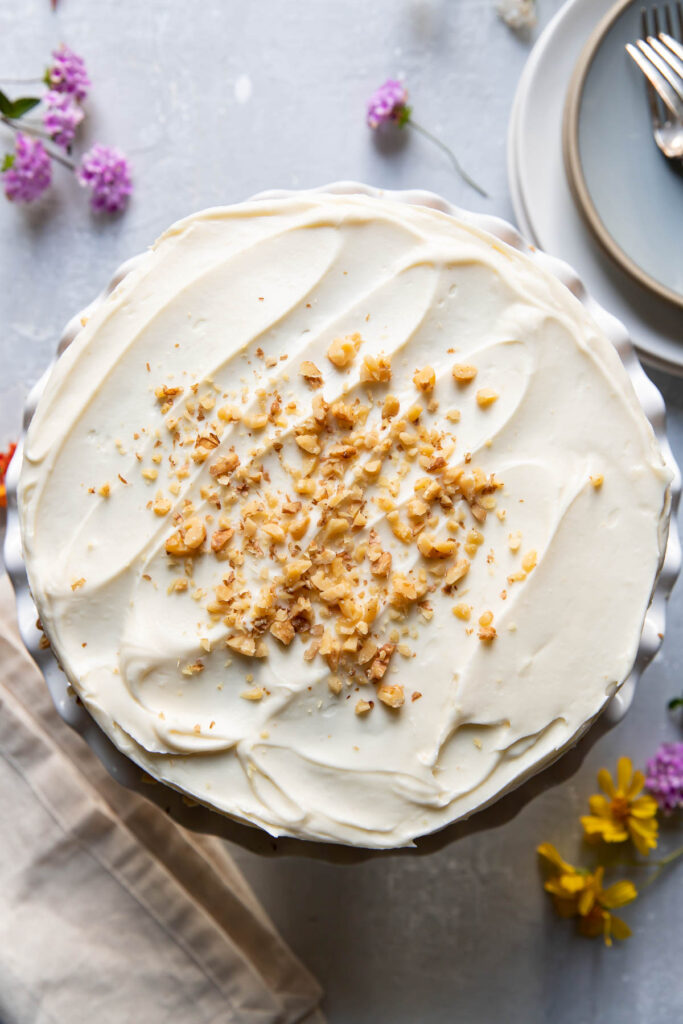 How do you get a flat cake without the rounded top?
Baking the cake at 325 degrees will help you get flat cake tops. This lower temperature allows the cake to rise slowly.
If you really want them to be super flat on top you can buy cake pan strips that go around the pans.
If it's a little rounded on top you could cut a little off or just leave it and even it out when you frost the carrot cake.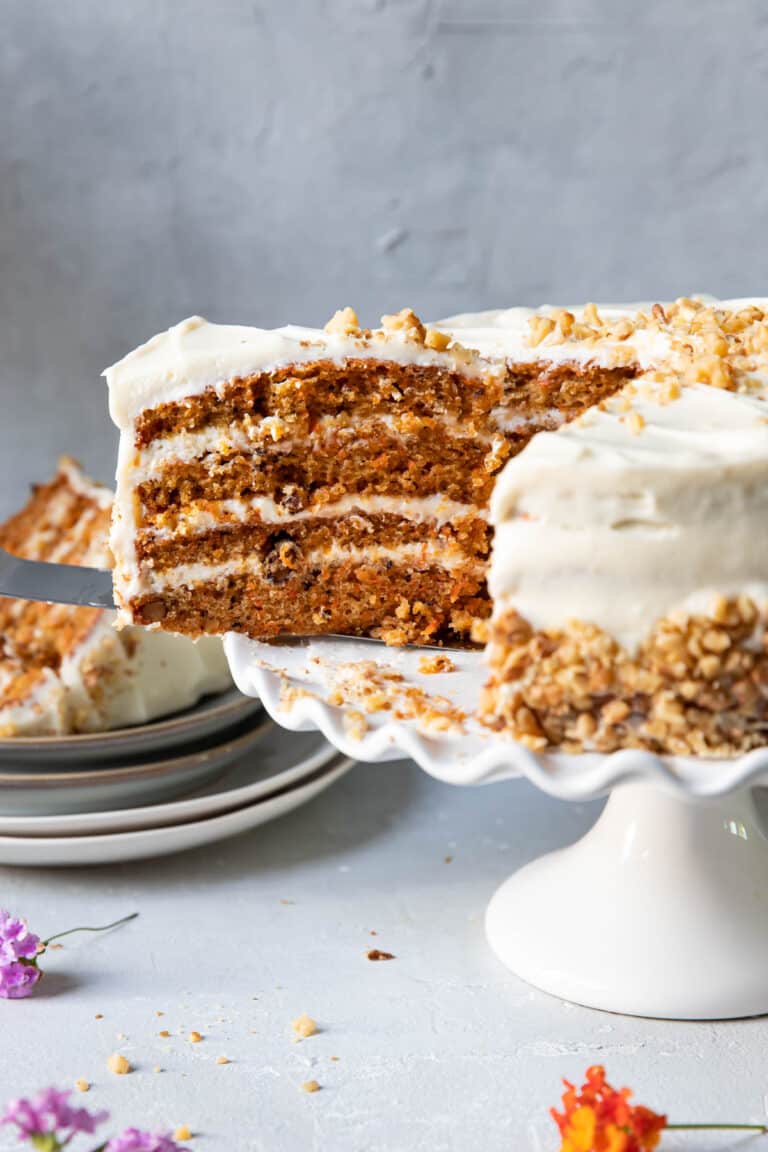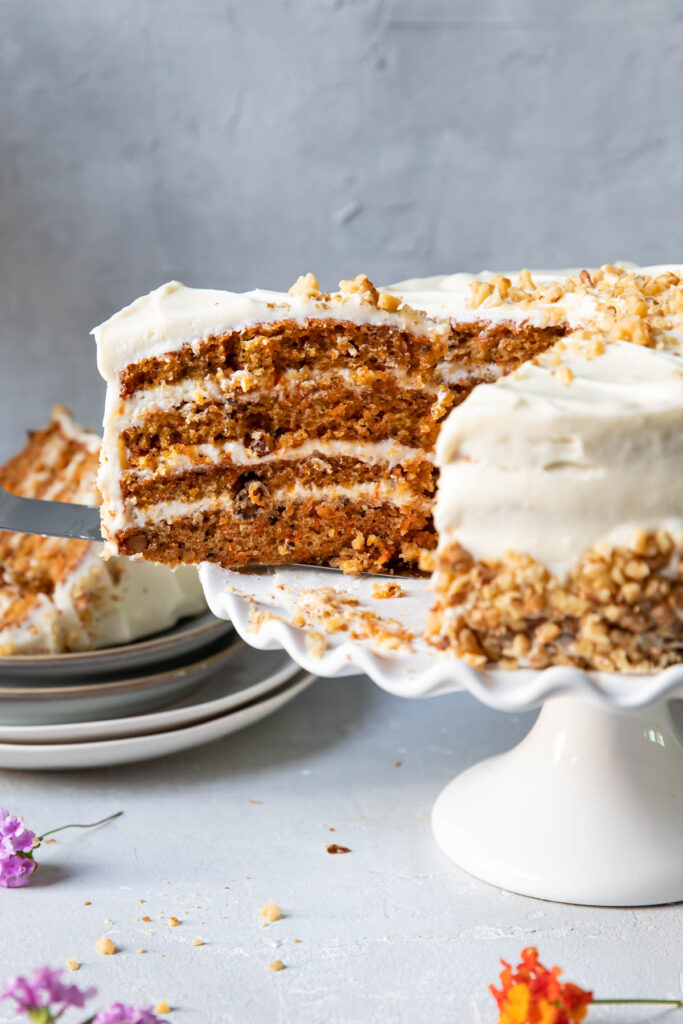 Secrets to amazing cream cheese frosting
This is by far the best cream cheese frosting. You can taste all that cream cheese (vs the powdered sugar).
Room temperature butter and cream cheese.
Vanilla, salt, heavy cream - you need these, don't leave them out, they add extra flavor to the cream cheese frosting.
Whip the butter on high speed (scraping the sides every minute) for 5 minutes to get it light and fluffy. It should be a pale color. This is a super important step, if it's not pale and fluffy looking, keep going.
Sift the powdered sugar! No lumps.
Only frost a cool cake, if it's too warm it will melt.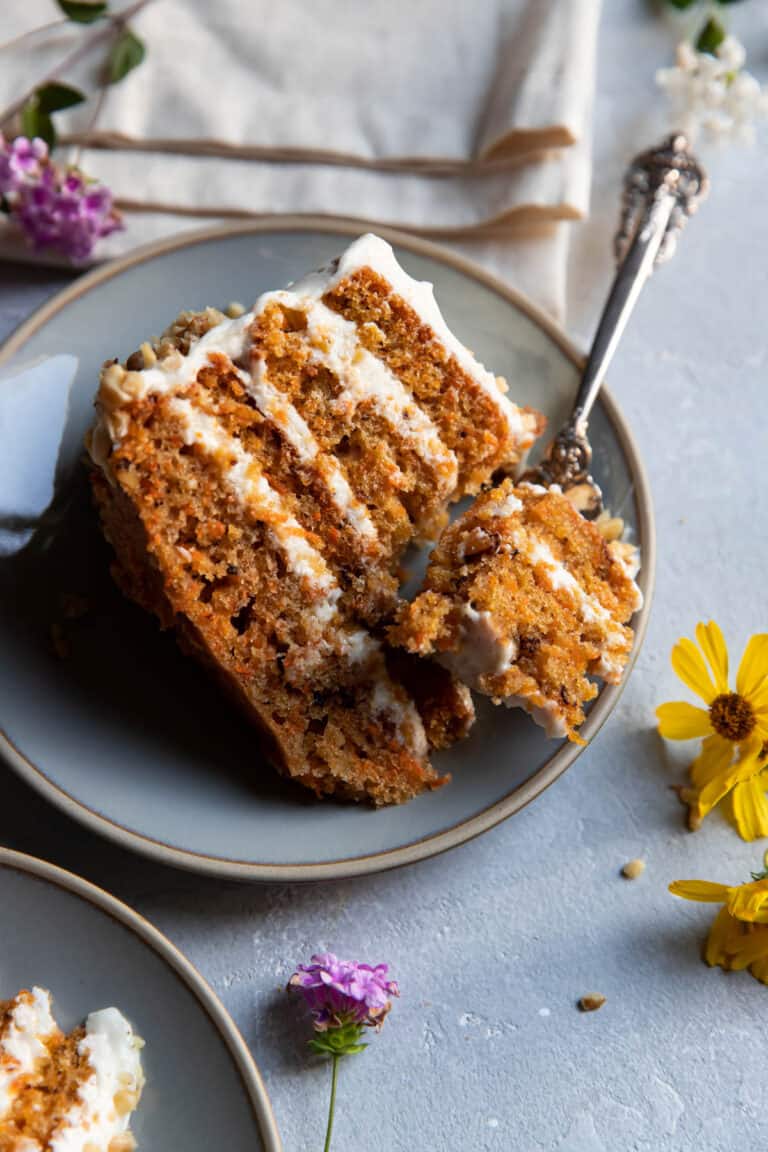 FAQ
What size cake pans?
Standard 9" cake pans. Alternatively you can use 6" cake pans for a very, very tall cake.
Why is my carrot cake dry?
If you follow the recipe this cake should not turn out dry. By subbing out the oil you risk the chance of a dry cake. It may seem like a lot of oil but it's necessary.
Can I make this cake gluten free?
It hasn't been tested with gluten free flour so I would not be able to advise whether or not that method would work.
Can this be made into carrot cake cupcakes?
Yes! Line a muffin tin with cupcake liners and bake until a toothpick comes out clean.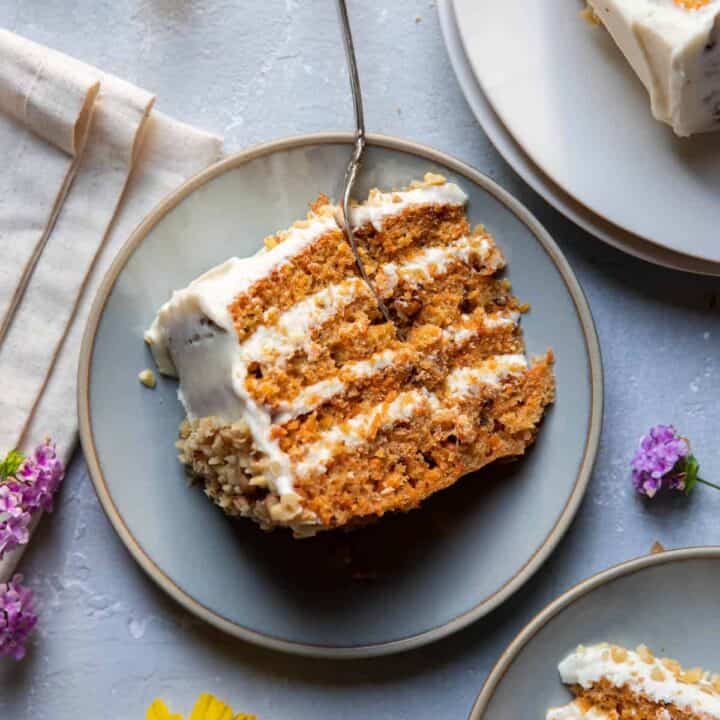 Best Carrot Cake With Cream Cheese Frosting
This four layer homemade carrot cake is the best carrot cake you will ever try. Full of shredded carrots, walnuts and spices! It always receives rave reviews for how moist the cake is and the perfect ratio of carrot cake to cream cheese frosting.
Ingredients
1 ½ c cane sugar
1 ½ c vegetable oil
½ c buttermilk
4 large eggs
1 tsp vanilla extract
2 c all purpose flour
1 tsp kosher salt
2 tsp cinnamon
¼ tsp nutmeg
¼ tsp ginger
1 tsp baking soda
1 tsp baking powder
½ c walnuts, chopped
3 c carrots, finely grated (this is about 5 medium sized carrots and about 9-10 oz total)
cream cheese frosting
1 c butter
2 sticks of cream cheese, (16 ounces total)
4 c powdered sugar, sifted
pinch of kosher salt
1 tsp vanilla
splash of heavy cream
Instructions
Preheat oven to 325
In a stand mixer combine the sugar, oil and buttermilk. Mix on low/med speed for 1 minute until combined
Add in the eggs one by one, followed by the vanilla extract
In a separate bowl sift together the flour, salt, cinnamon, nutmeg, ginger, baking soda and baking powder
Add the dry ingredients to the wet, all at once and mix on low speed (this helps me from overmixing)
Stir in the walnuts and carrots
Prepare two 9" cake pans by greasing the inner rim with butter and dusting flour on it, and inserting a round piece of parchment paper on the bottom*
Fill each pan with an even amount of carrot cake batter
Bake for 30-35 minutes, insert a toothpick into the center - when it comes out clean, the cake is done
Transfer to a wire rack to cool, when the pan is no longer hot remove the cake and continue cooling on the wire rack for 2 hours (or until the cake is thoroughly cooled*)
In a bowl beat the butter for 5 minutes until light and fluffy, stir in the cream cheese and vanilla extract. Sift in the powdered sugar and splash of heavy cream (about 1 tbsp), beat this together for 1-2 minutes
Use a piece of sewing thread (or floss) to cut each cake in half, leaving you with 4 layers total
Place your first cake layer on a cake plate, frost the top of it, stack another layer on and repeat until all four layers are stacked. Frost the rest of the cake. Sprinkle with chopped walnuts.
Notes
To make a round piece of parchment paper, set the cake pan on a piece of parchment paper, trace around it and cut it out.
It's important to wait for the carrot cake to be totally cool (not warm at all) before adding the cream cheese frosting, otherwise it will melt
Nutrition Information:
Yield:

12
Serving Size:

1 slice
Amount Per Serving:
Calories:

799
Total Fat:

50g
Saturated Fat:

14g
Trans Fat:

1g
Unsaturated Fat:

33g
Cholesterol:

109mg
Sodium:

555mg
Carbohydrates:

85g
Fiber:

2g
Sugar:

66g
Protein:

6g
This information comes from online calculators. Although moderncrumb.com attempts to provide accurate nutritional information, these figures are only estimates.
This recipe was originally published on 04/01/2019.