This carrot cake is loaded with carrots, yummy spices, a bit of walnuts and the most delicious cream cheese frosting layered in. Plus all my tried and true tricks for the best tasting cake!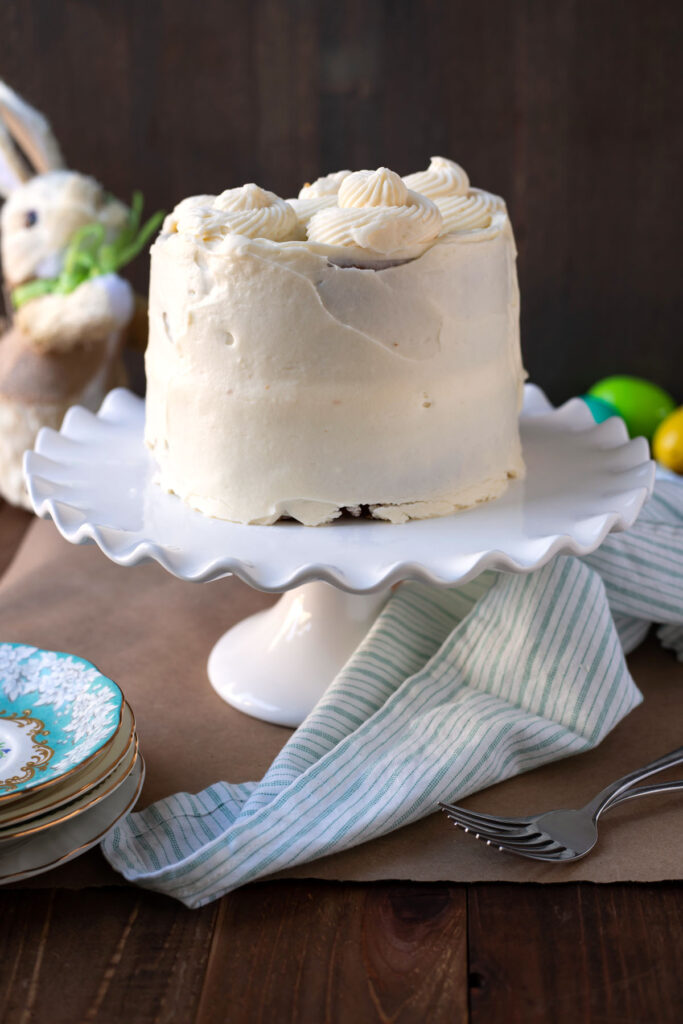 Carrot cake is my favorite cake, ever.  Hands down. 
When it comes to a carrot cake there are so many ingredients going in that you have to make sure everything balances out. You don't want to overwhelm one thing.
As per tradition I make this for Easter every year and have for (counting and thinking) so so many years.  
Actually the first year I started making it for Easter was the same year we showed up to Easter dinner at a friend's, with the cake, long story short they thought we were bringing an Easter ham, we thought they were cooking the Easter ham.  
There was no ham.
But there was the best carrot cake in the world, it saved the day and it's a show stopper.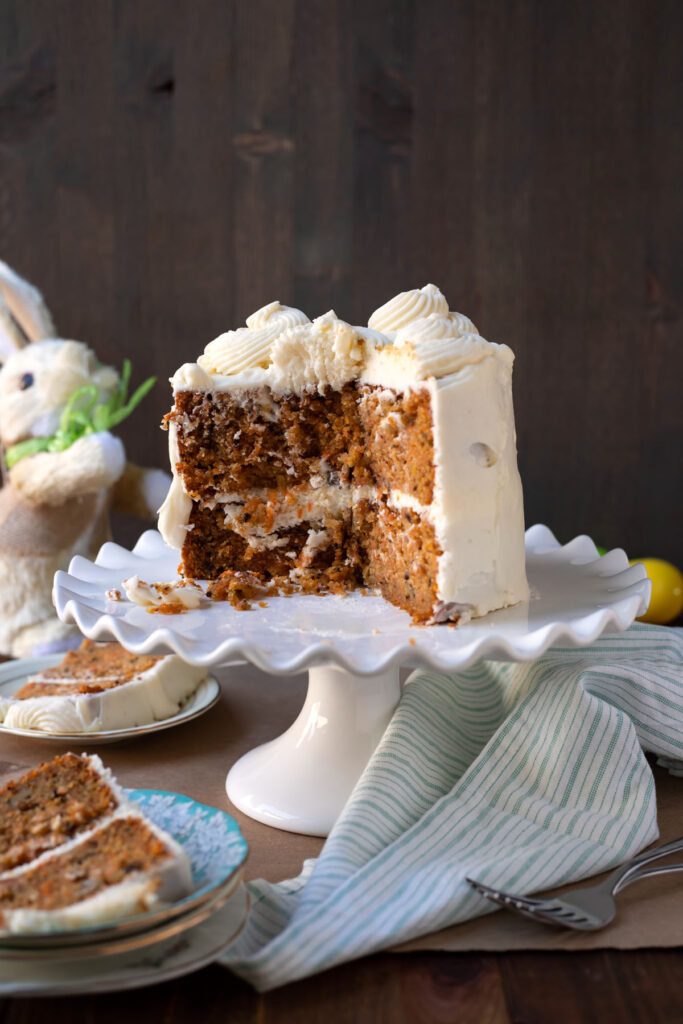 It's loaded with grated carrots, spices and just a bit of walnuts. 
You won't find any pineapple in this carrot cake, that's right, no pineapple.
Listen, I'm not here to say "you cannot have xyz in your cake" by preference I make it without pineapple but my mother loves it with pineapple.  
I will say, she tells me this is the very best carrot cake she's ever had and she's from a town that supposedly has the world's best carrot cake. 
Just saying.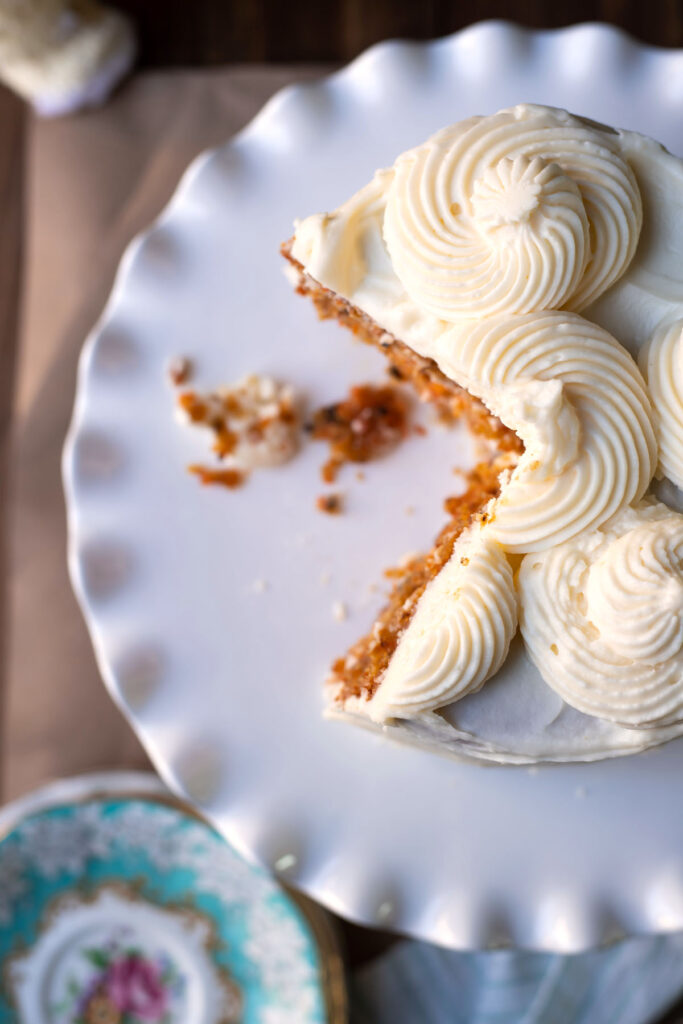 Carrot cake seems to have a lot of questions about baking it though. 
I know when I first started making it I had way too many questions. 
Why was it dry? 
Do I add pineapples and walnuts? 
How much spice should go in?
Should I use butter in my batter? 
Oil?  Milk?  Why one over the other?
I'm here to help tackle a few carrot cake questions.  And hopefully make your carrot cake making less stressful.
How do you get all that moisture without pineapple?
Oil and buttermilk. 
This recipe has no butter in it, solely oil and buttermilk. 
Because it's a spice cake you can't taste the oil and it gives you a super moist cake.  Just regular vegetable oil.
What temperature do you bake your carrot cake at?
I also find carrot cake bakes best at 325. 
To be honest, it takes a bit longer. 
If you don't have the patience, feel free to crank up the oven to 350, however I'm not sure what the time on that would be, I usually go off of the saying 'when you can smell it, it's done' and then a toothpick in the center. 
If it comes out clean, it's done.  But I think cooking it at a lower temperature lends to a more moist cake. So just wait it out at 325.
Another note on baking, it's best to have your refrigerated ingredients at room temperature when you are baking. 
Adding cold ingredients brings down the temperature of your batter.  So have room temperature ingredients to keep it cooking uniformly.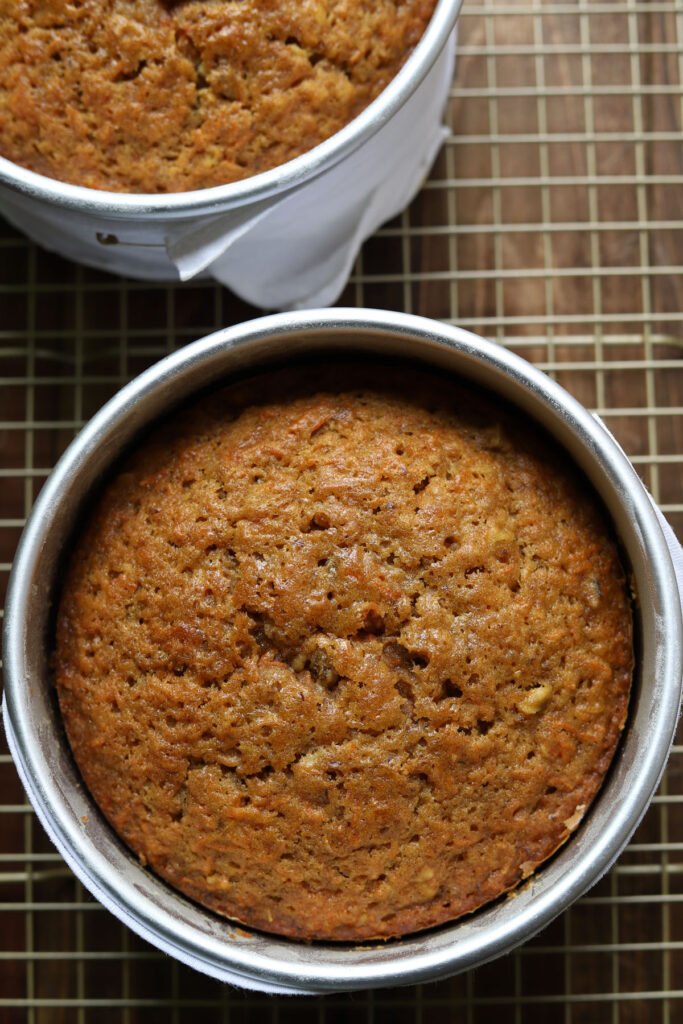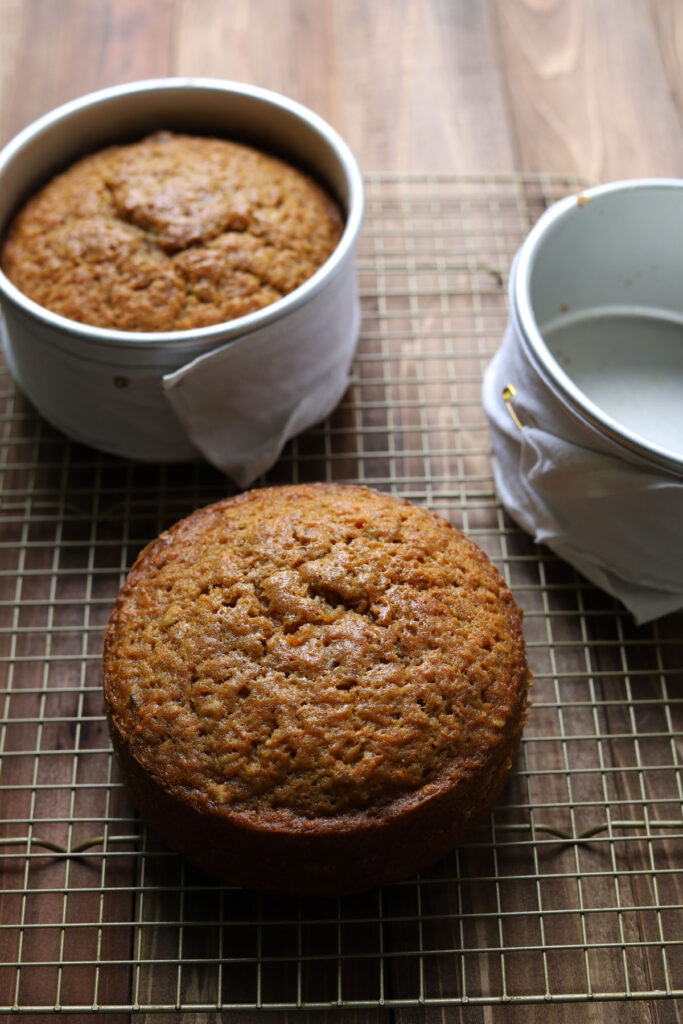 What size cake pans to use?
I use a 6″x3″ cake pan.  I just love the way it looks, all tall and regal.  Like, "hello the carrot cake has arrived". 
But if you use a standard 9″x2″ round you'll need to adjust the cooking time.
How do you get such a flat cake on top without the round dome?
I bake my cakes with strips of wet towel or old shirts.
You can cut them up to be the width of the pan, then secure them with a safety pin.  (see photo above)
It sounds tedious but it's not too bad and then you can re-use them later. 
If you don't want to fuss with that you can actually buy cake strips.  This helps to ensure a relatively flat cake.
If it's a little rounded on top i cut it off and let my kids taste test.  No sense in throwing away perfectly good cake!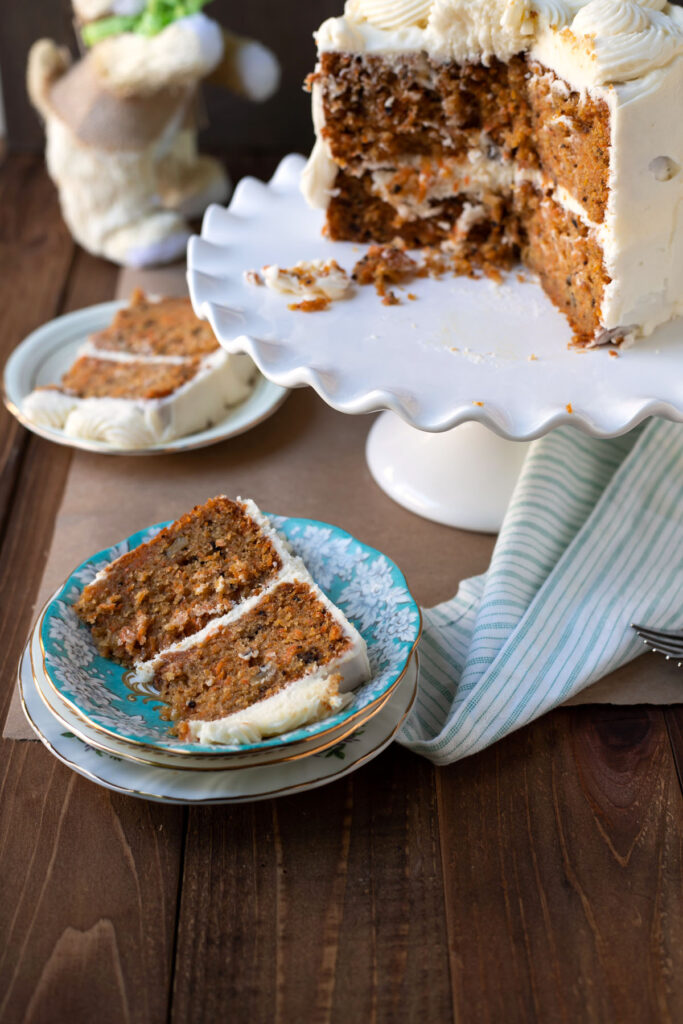 So there you have it, some common carrot cake questions.  Are you ready to talk cream cheese frosting? I know you are!
This is by far the best cream cheese frosting.  You can taste all that cream cheese (vs the powdered sugar). 
Secrets to amazing cream cheese frosting
room temperature butter and cream cheese  
vanilla, salt, heavy cream – you need these, don't leave them out  
whip the butter on high speed (scraping the sides every minute) for 5 minutes to get it light and fluffy.  It should be a pale color.  This is a super important step, if it's not pale and fluffy looking, keep going  
sift the powdered sugar!  No lumps.  
only frost a cool cake, if it's too warm it will melt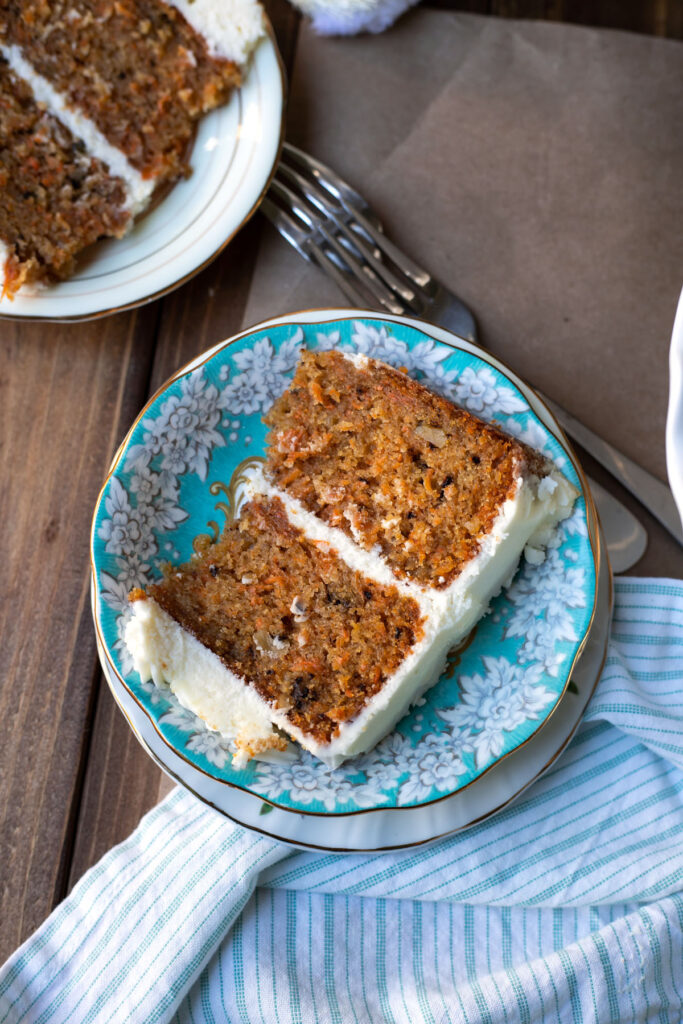 Since a carrot cake is a spice cake, that's exactly how I treat it. 
My carrot cake has cinnamon, ginger and nutmeg in it. 
It's so full of flavor, paired with the walnuts then the dreamy silky cream cheese frosting. 
I hope you'll enjoy this cake as much as my family does!
Make sure to follow the Modern Crumb Board on Pinterest for lots of yummy meal inspiration!  
And subscribe to the newsletter, below, to get updates when new recipes post.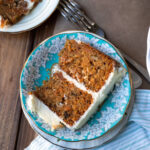 Print Recipe
Best Carrot Cake With Cream Cheese Frosting
moist carrot cake with cream cheese frosting
Ingredients
1 1/2

c

sugar

1 1/2

c

vegetable oil

1/2

c

buttermilk

4

eggs

1

tsp

vanilla

2

c

flour

1

tsp

kosher salt

2

tsp

cinnamon

1/4

tsp

nutmeg

1/4

tsp

ginger

1

tsp

baking soda

1

tsp

baking powder

1/2

c

walnuts

chopped

3

c

carrots

finely grated (this is about 5 regular sized carrots and about 8-10oz)
cream cheese frosting
1

c

butter

1

stick of cream cheese

8 oz

4

c

powdered sugar

sifted

pinch

of kosher salt

1

tsp

vanilla

splash of heavy cream
Instructions
Preheat oven to 325

In a stand mixer combine the sugar, oil and buttermilk. Mix on low/med speed for 3 minutes

Add in the eggs one by one

Add in the vanilla

In a separate bowl combine the flour, cinnamon, nutmeg, ginger, baking soda and baking powder

Add the dry ingredients to the wet, all at once and mix on low speed (this helps me from overmixing)

Add in the walnuts and carrots

Mix until just combined, still on low speed

Rub butter all over the inside of your *cake pans, drop in some flour and shake it all around to cover the butter

Turn the pan upside down and give it a bang to get all the excess flour out

Take your wet cloths or cake strips and wrap them around the pans

Fill each pan an even amount

While holding each pan, turn it about in a swirling motion, to get any collected batter from the center to the outside a bit (also helps from getting the big dome in the middle)

Bake for 1 hour up to an extra 20 minutes. Depending on your oven. This can vary greatly. Starting using the toothpick test after 45 minutes. Again, i used 6″x3″ round pans, these take longer to bake than a standard 9×2 round

Remove from the oven when a toothpick comes out clean from the middle, cool on a wire rack. After the pan is cool to the touch flip it over and gently catch the cake. Continue cooling until no longer warm

To frost the cake put a big dollop of cream cheese on one half, spread it around, place the other half of the cake on top of this. Add another big dollop of cream cheese on top of that one. Using an offset spatula add the rest of the frosting to the sides.

If you want to get even fancier you can pipe on some rosettes, stars or flowers on top!