Everything you know and love about a cinnamon roll except packed with a burst of orange flavor! This orange rolls recipe has a buttery, cinnamon and sugar filling and cream cheese frosting smothered over top.
They are so soft and fluffy, with hints of orange within the dough. A wonderful spring time recipe. You'll have to decide if they are better than the maple cream cheese cinnamon rolls.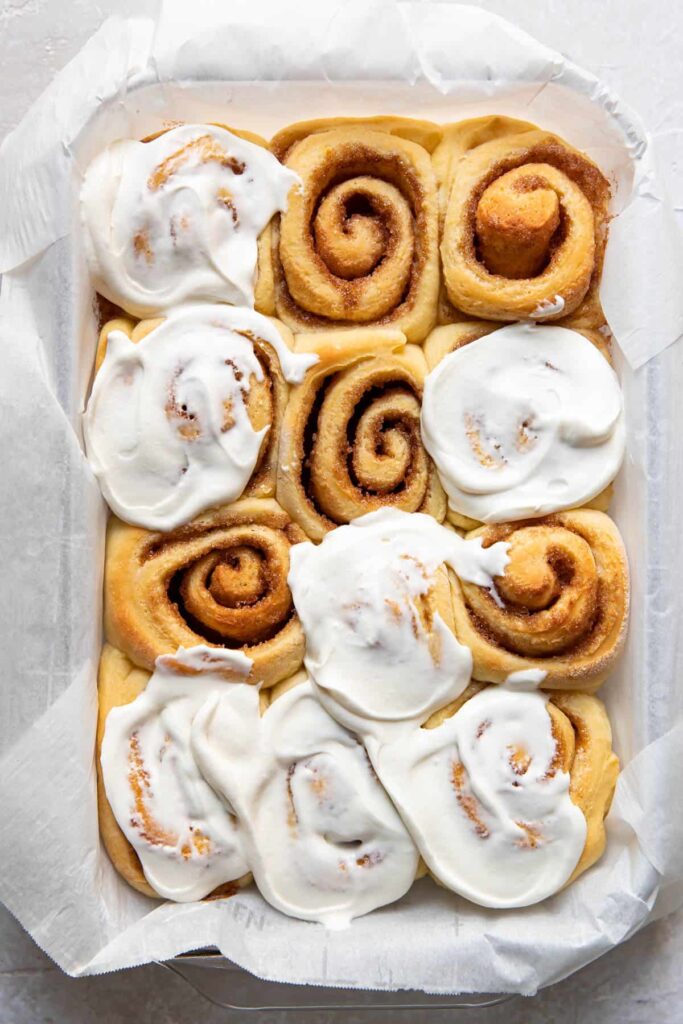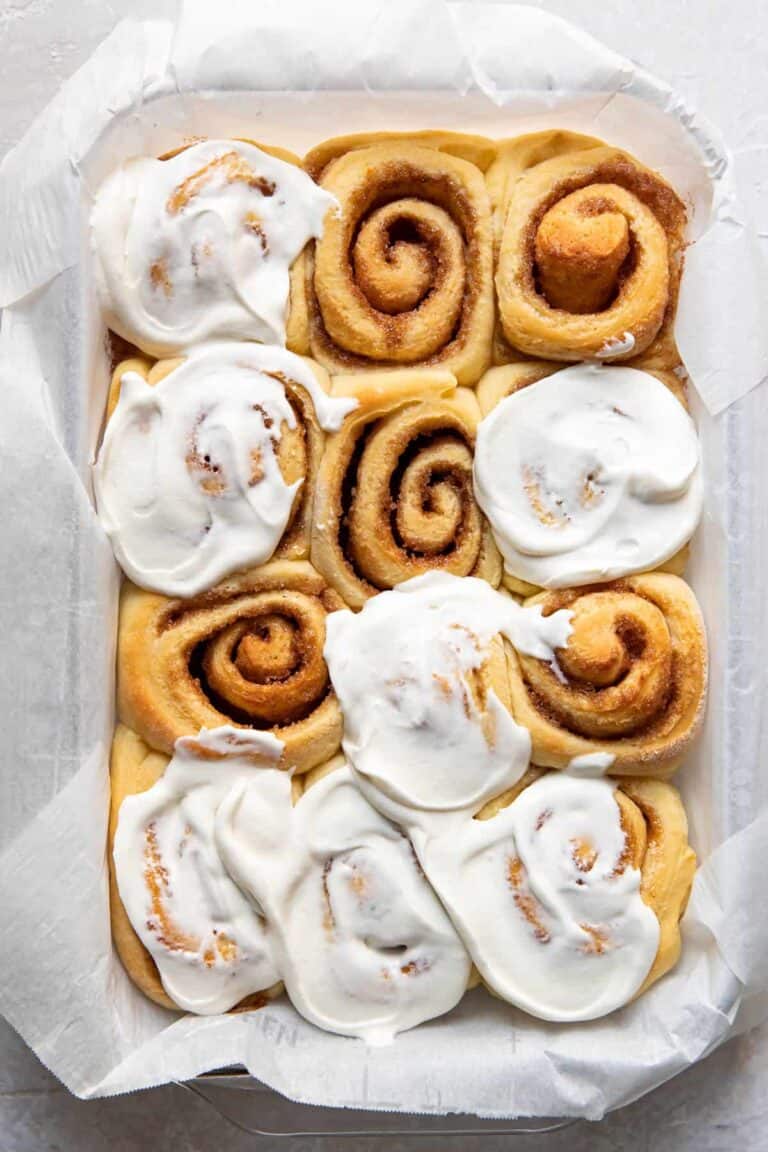 You might be a 90's kid if you remember the can of orange sweet rolls. The kind that startles you when you pull the paper tab to open it and --- pop!
My friend and I used to make those Pillsbury orange rolls in the can basically every weekend. You couldn't tell me that any other cinnamon roll could beat it's orangy sweet goodness.
I was obsessed with them. And always ate way too many.
So we're bringing back the orange rolls but making them homemade. They are going to be bigger, fluffier and have more cream cheese frosting. Yummy!
These would be perfect to make in the spring time for breakfast or bunch. Maybe for an Easter brunch? Or Mother's Day breakfast? You could also make these orange rolls for Christmas! Really, any time of year.
Orange rolls and some tender english scones would be delightful.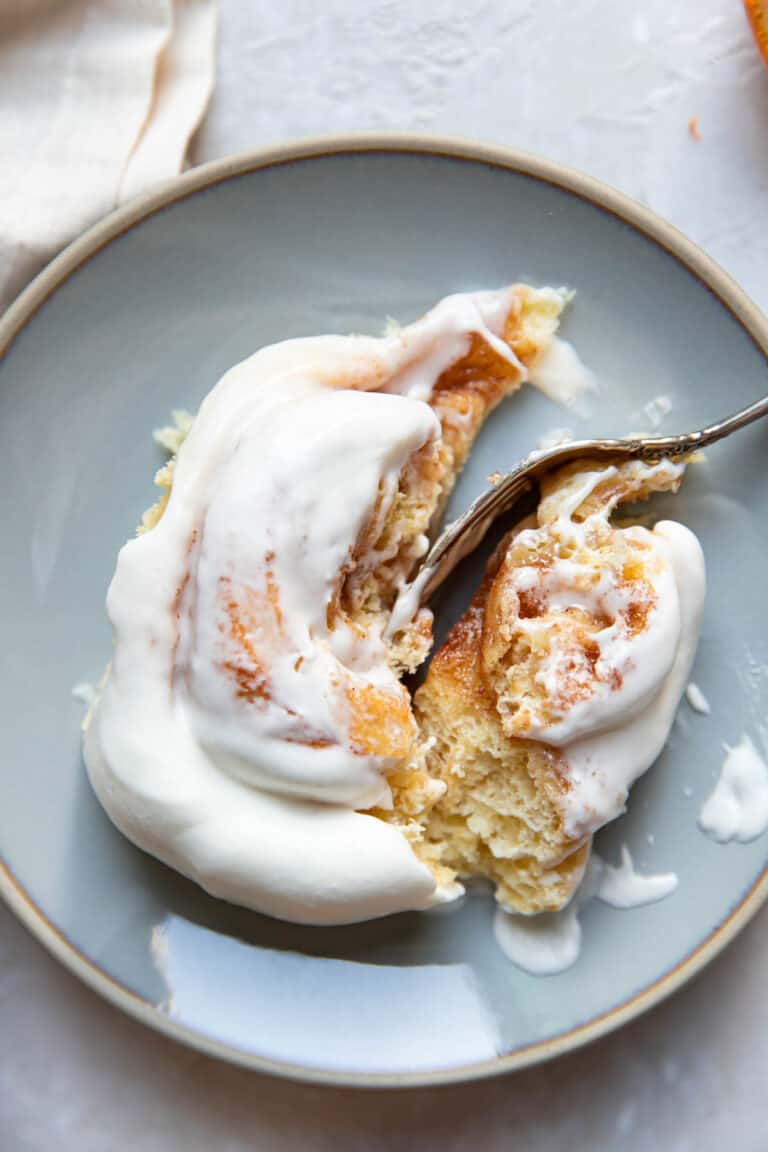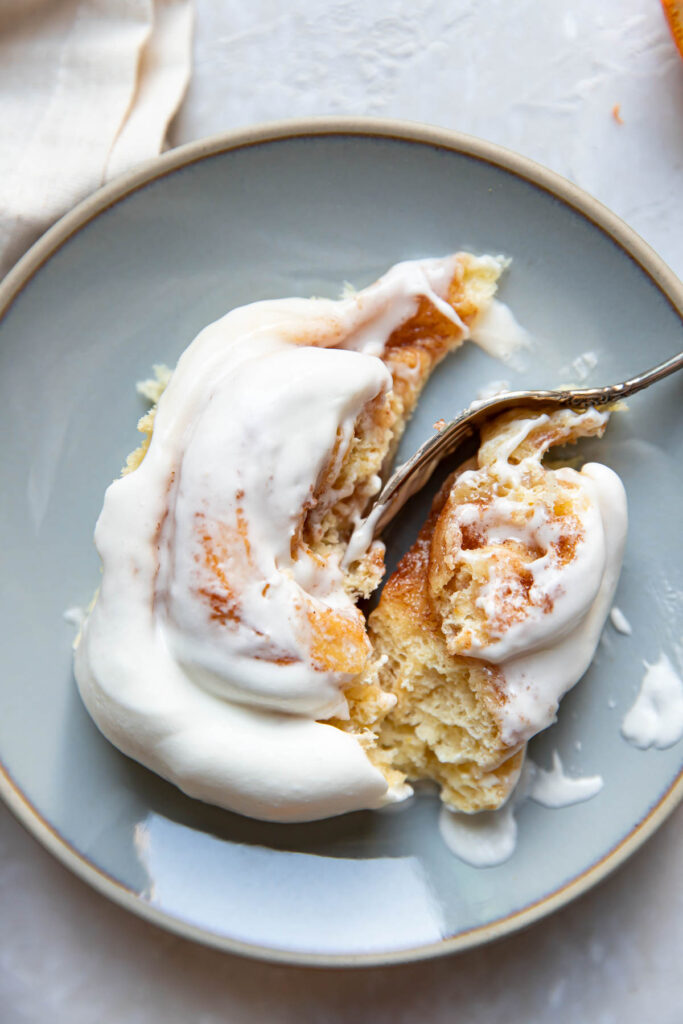 Ingredients You'll Need to Make Orange Rolls
The ingredients for this orange roll recipe is similar to my other cinnamon roll recipes. There are three sections to the ingredients, the dough, the filling and the frosting.
To make the dough here's what you need.
milk - used for activating the yeast
active dry yeast - helps the dough to rise
orange juice - giving our orange rolls all the orange flavor, I opted for orange juice from the container
melted butter - let it cool just slightly before adding to your dough
egg + egg yolk - so you'll need two eggs total, just discard the white from one
flour - all purpose flour
sugar - I like to use cane sugar, technically this would be a white sugar it's just not refined
salt - for flavor
To make the filling here's what you need.
softened butter - usually I do melted butter for cinnamon rolls but softened gives us more of that Pillsbury orange rolls look
sugar - again, cane sugar or white sugar
cinnamon
orange zest - optionally if you have some, but not necessary
To make the cream cheese frosting here's what you need.
powdered sugar
cream cheese
salt
vanilla extract
So there you have it, all the ingredients necessary to make this recipe.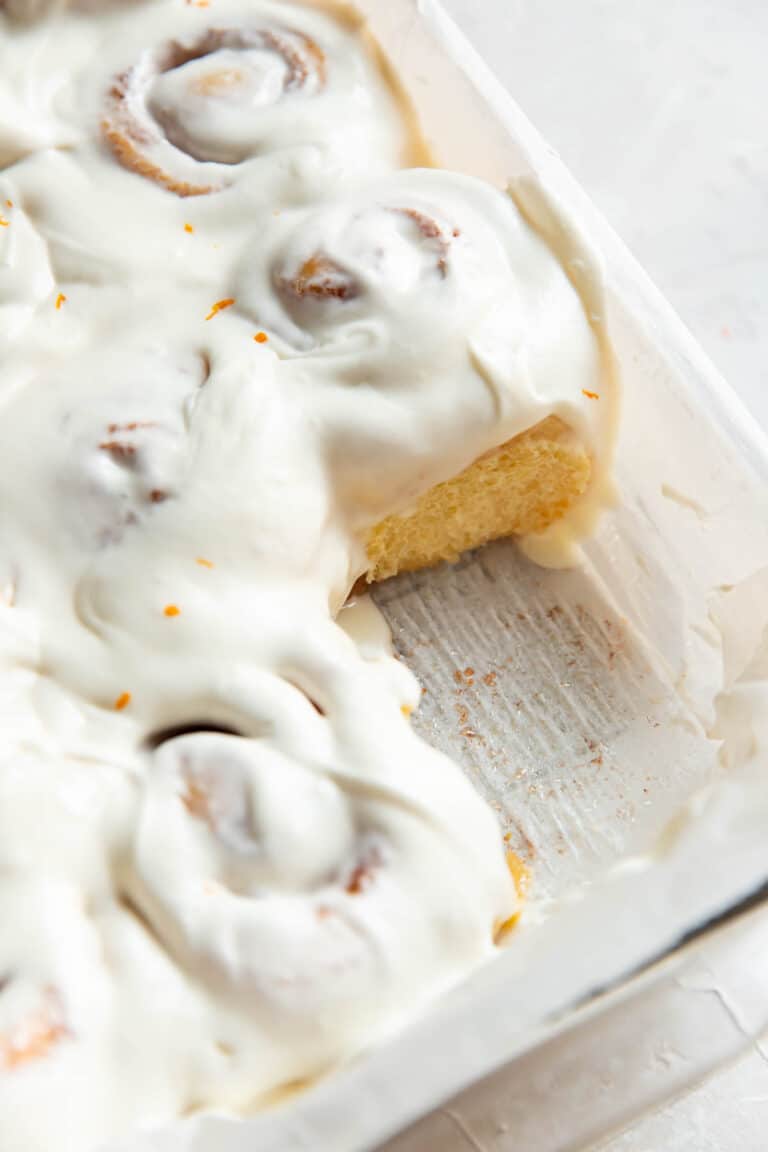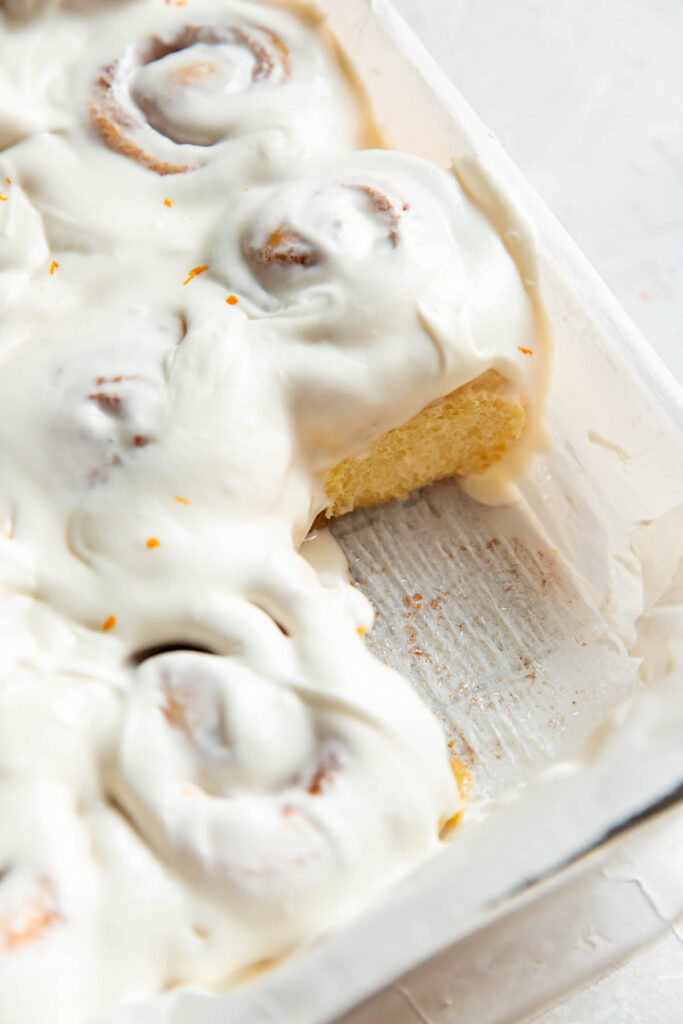 Orange Roll Dough
To end up with really soft orange rolls you have to make the dough correctly.
Making sure the yeast proofs is the most important part. If the milk is too cold it won't activate the yeast and if it's too hot it will just destroy it and then also not activating it.
Your milk should be just a bit warmer than lukewarm but not hot in the least. Between 105 and 115 degrees is what Bobs's Red Mill recommends. I used to get out my thermometer but once you've done it so many times you just know from feel.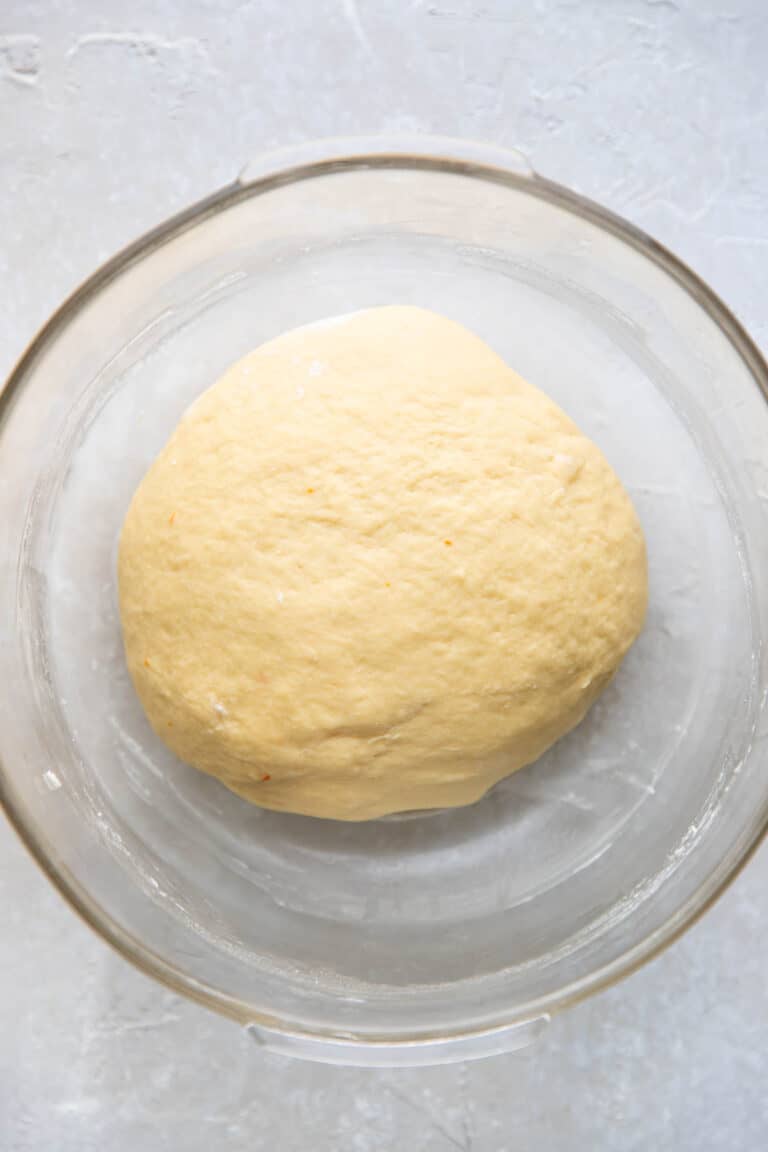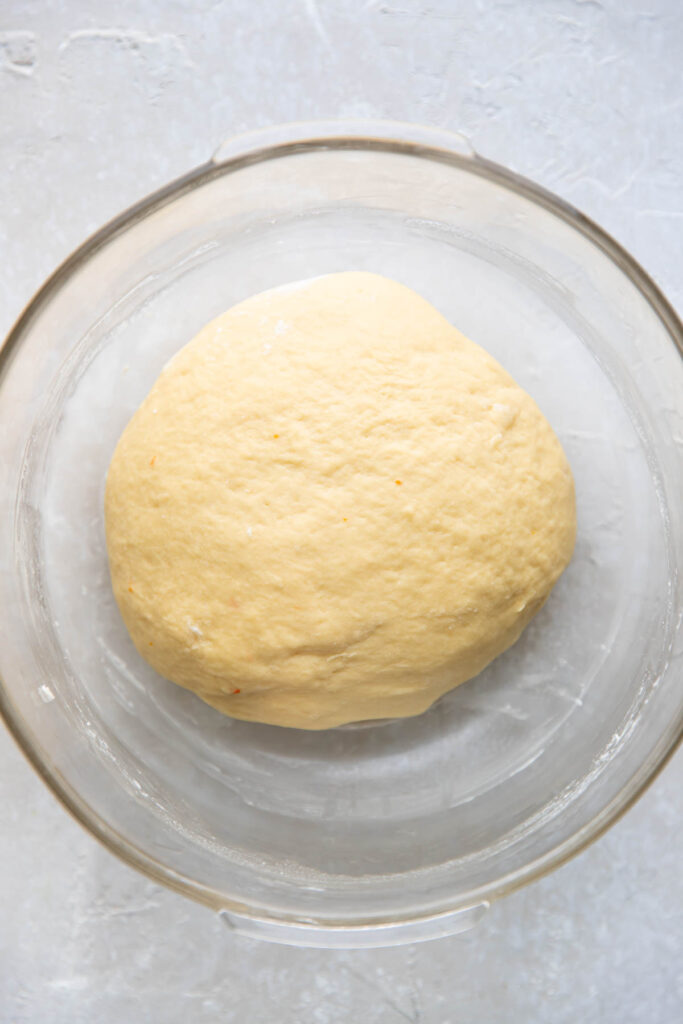 So if you aren't 100% sure, you can use a thermometer.
Then you mix everything together and knead it with a dough hook until the dough is smooth.
For dough rising, I turn my oven on for a few minutes, then turn it off. Keep the dough in a bowl, covered and let it rise in the oven because it's just warmer than room temperature and helps it really puff up.
Let it rise until it's to the top of your bowl if you can -- then you'll have super fluffy orange rolls.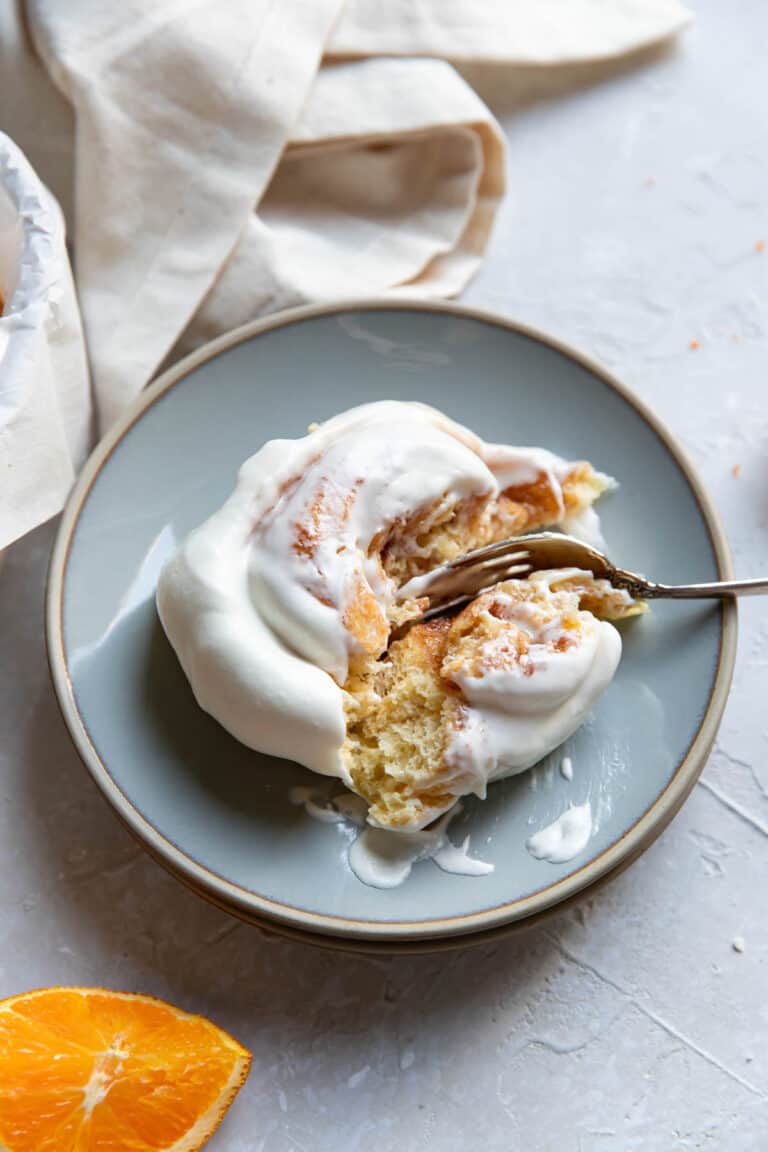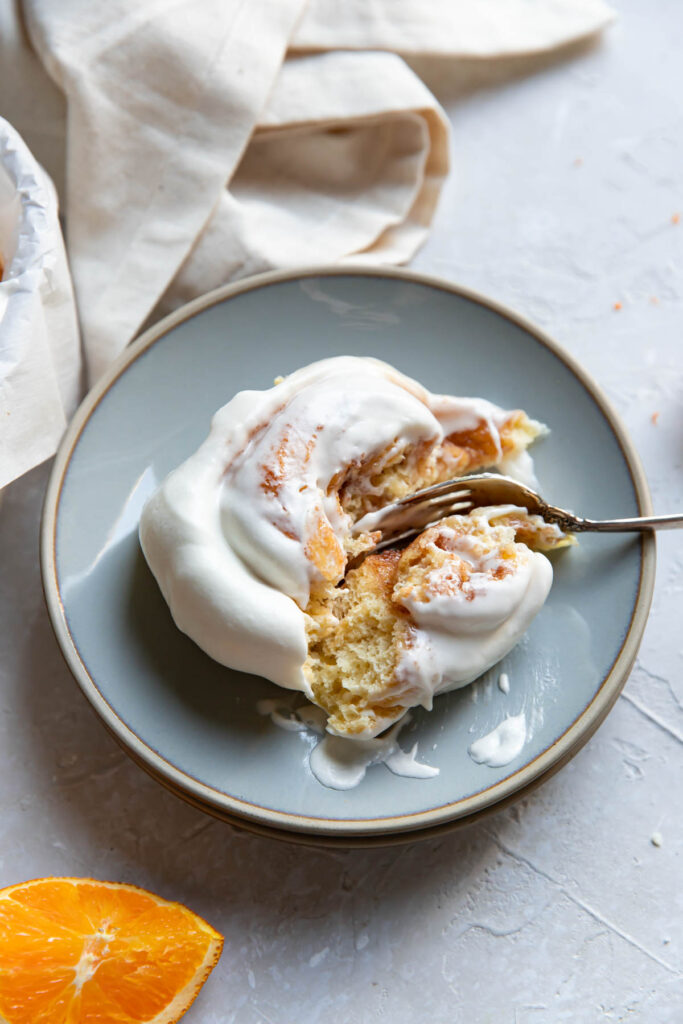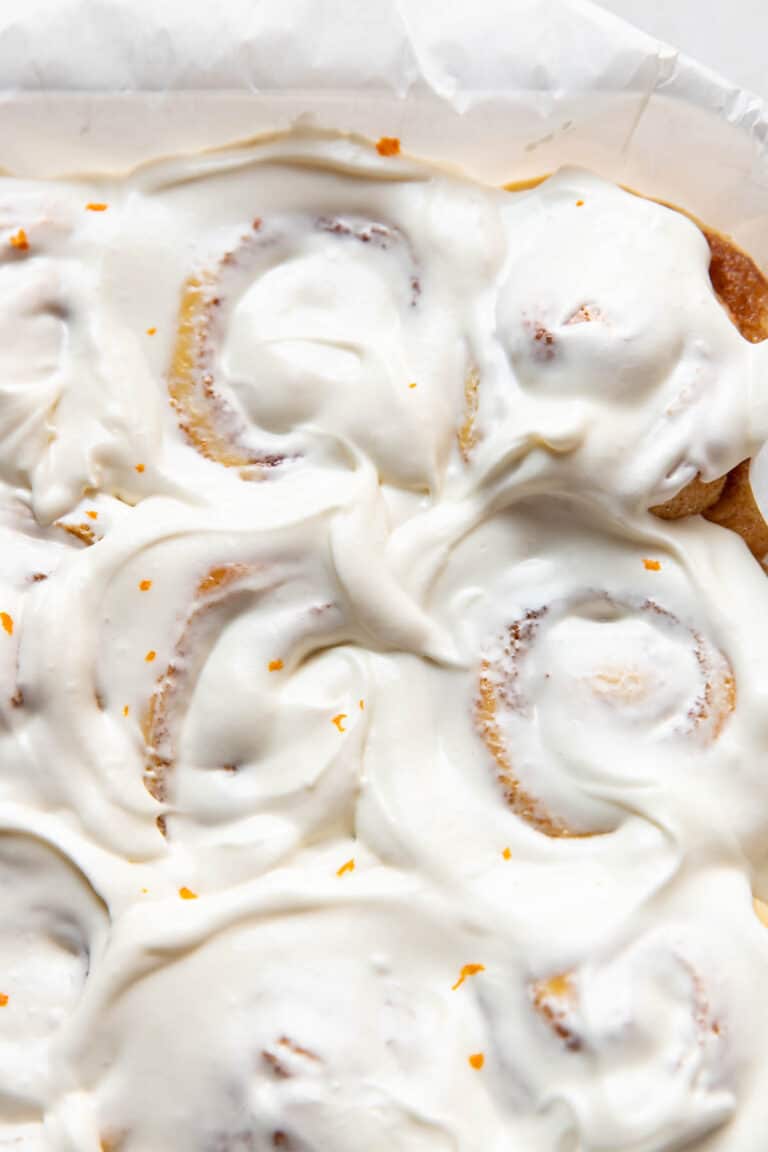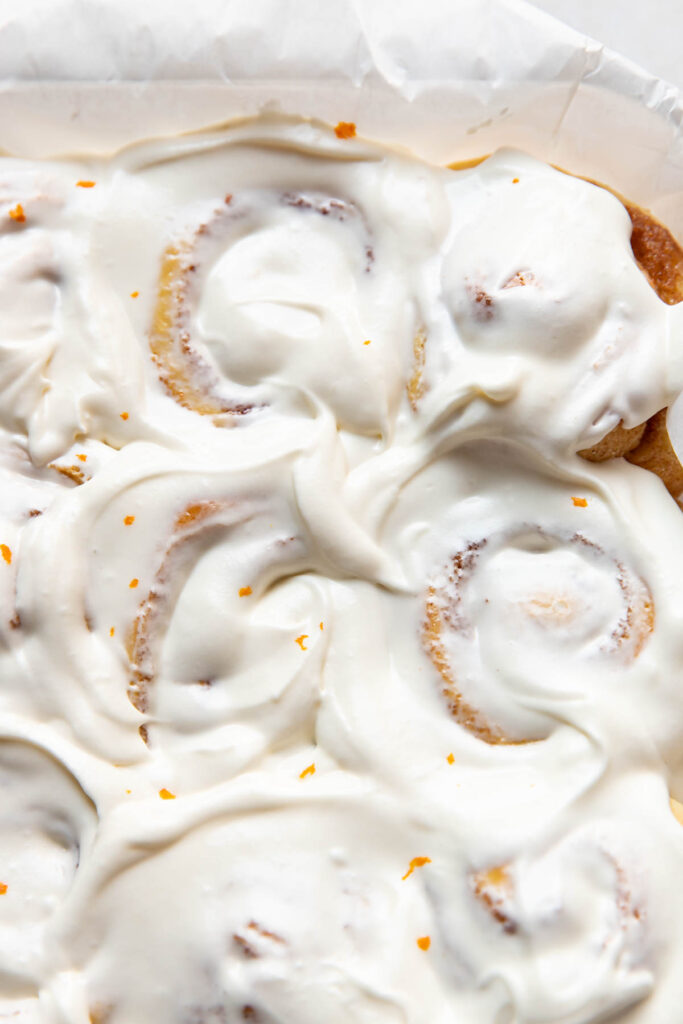 Rolling Up The Orange Rolls
To roll up the orange rolls you'll need to press the dough out (or roll it out) to a rectangular shape.
It's important to put flour down on your counter before you roll them. This prevent the dough from sticking to the counter.
The thinner you roll the dough, the more swirls you will have. The thicker you leave the dough when rolling, the less swirls you will have but they will be fluffier.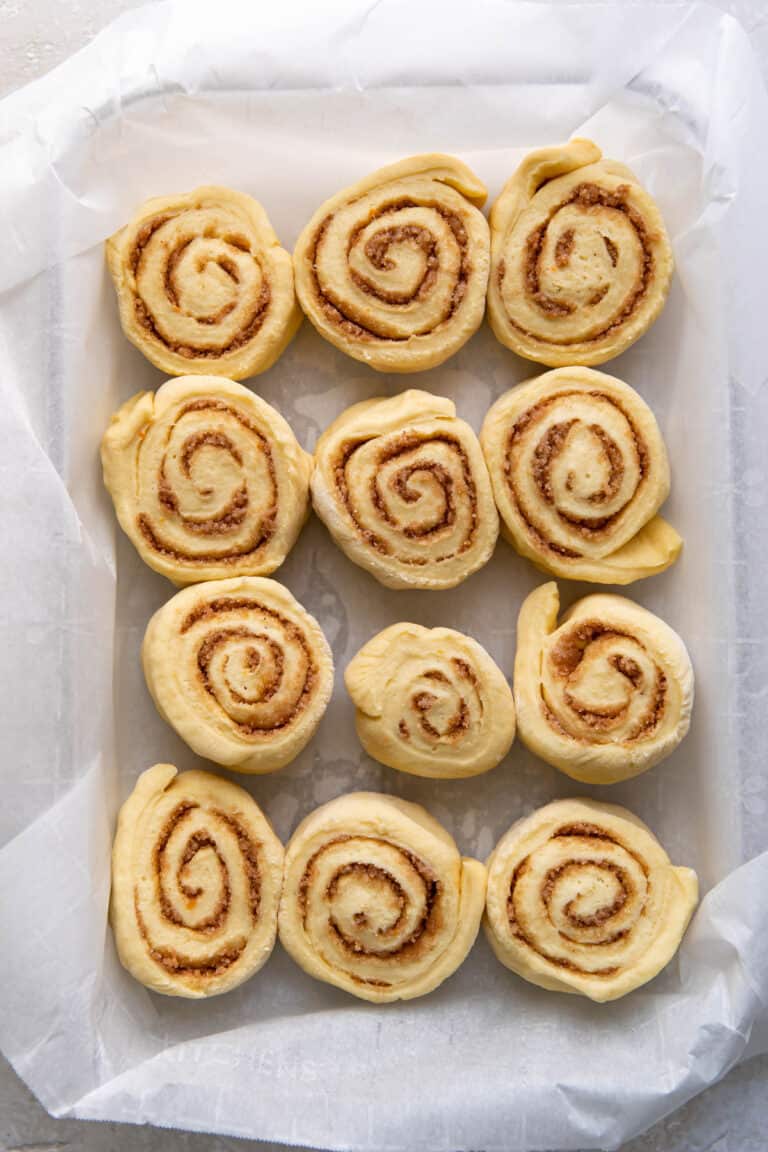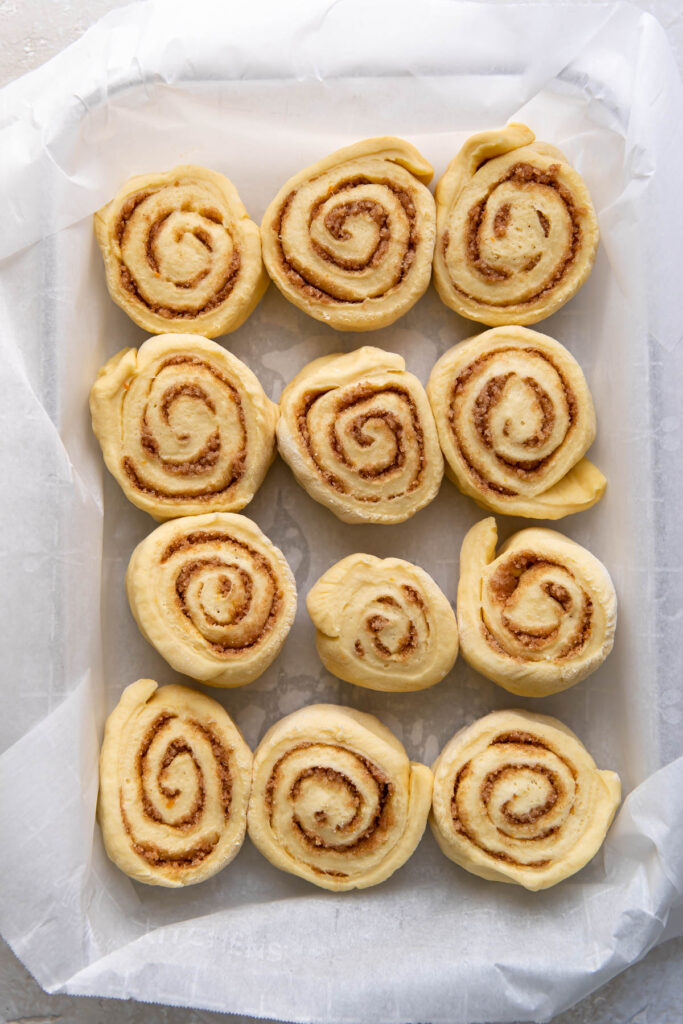 I like to roll it out somewhere in the middle of that. A decent amount of swirls and still be fluffy. 15" by 18", around there.
And if you want nice sharp swirl, where you can see the filling, try using some sewing thread to cut the pieces.
For an easy cleanup, line your baking pan with parchment paper prior to baking.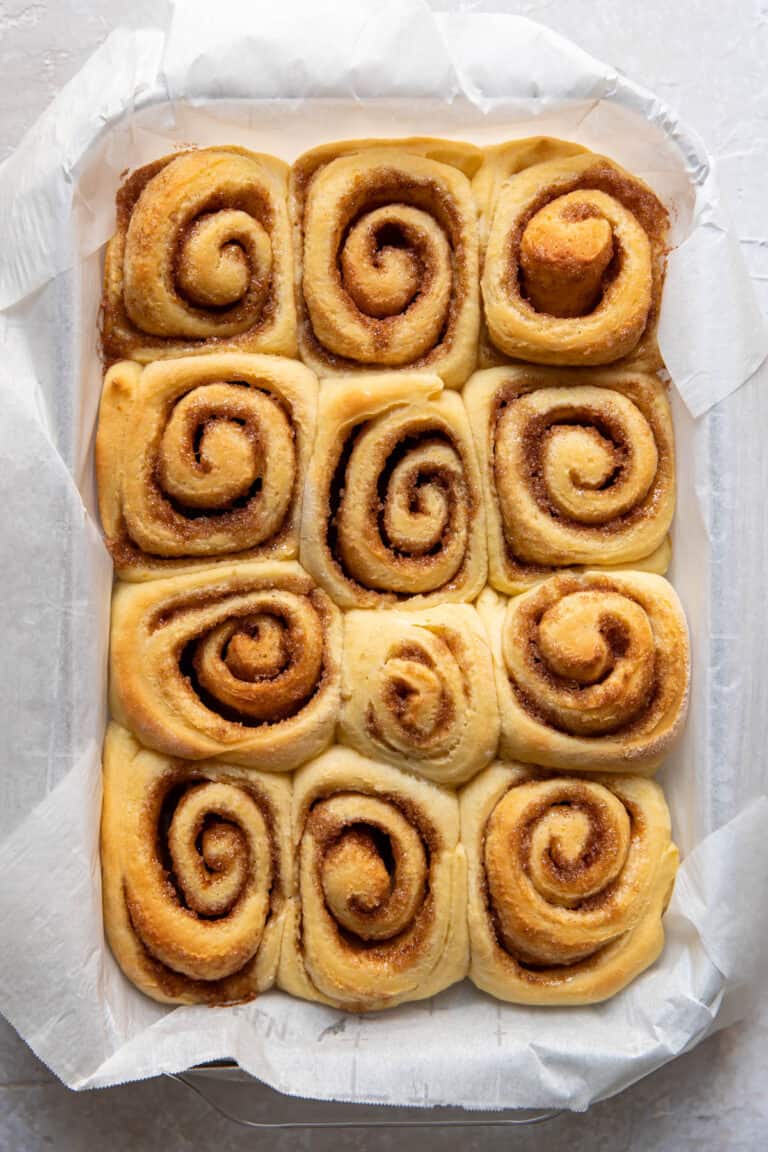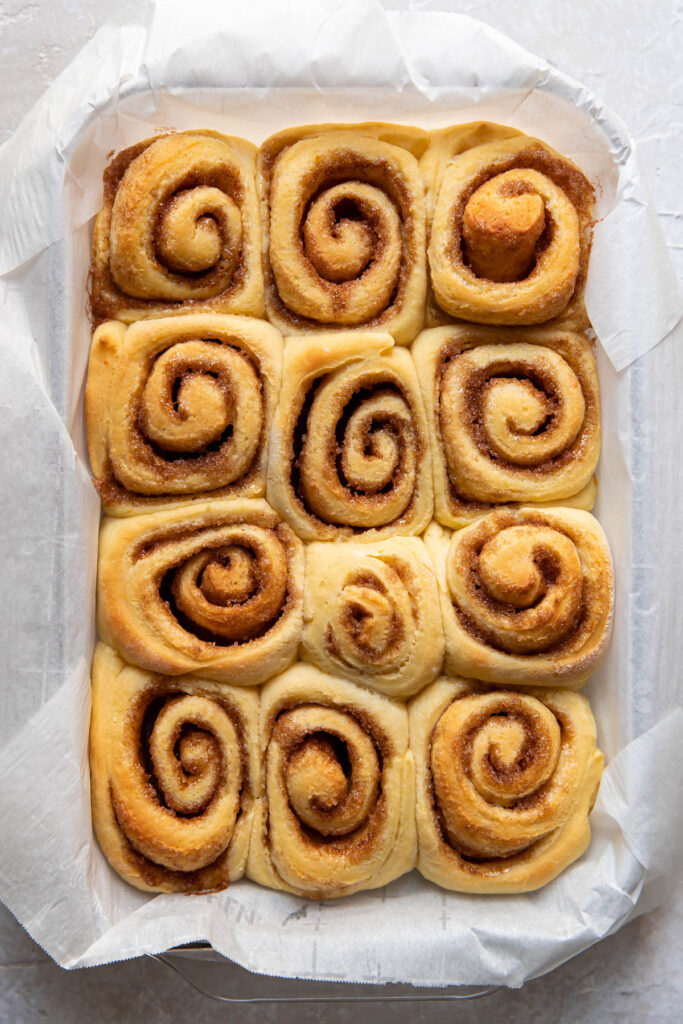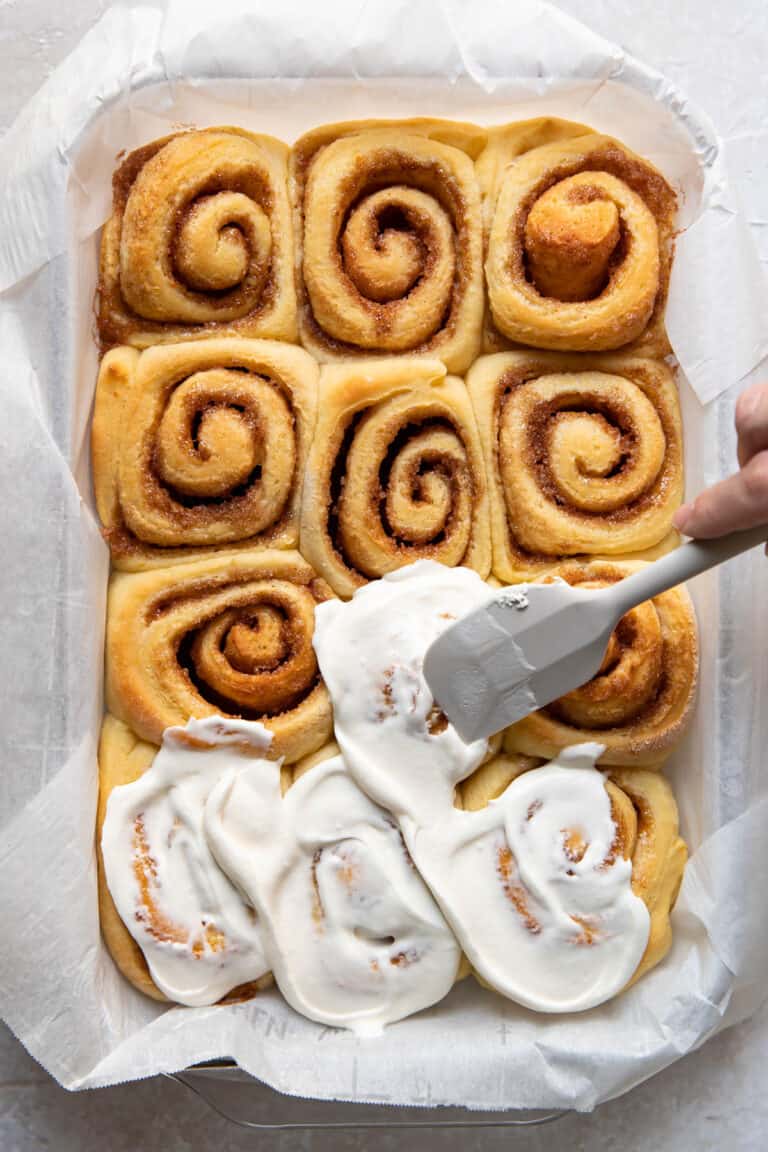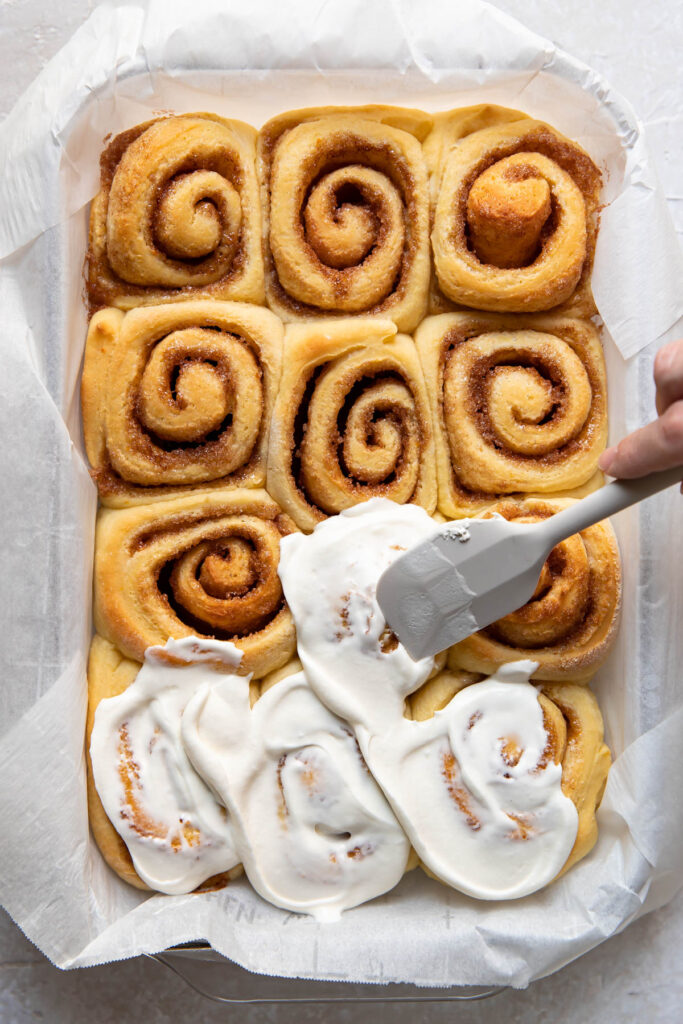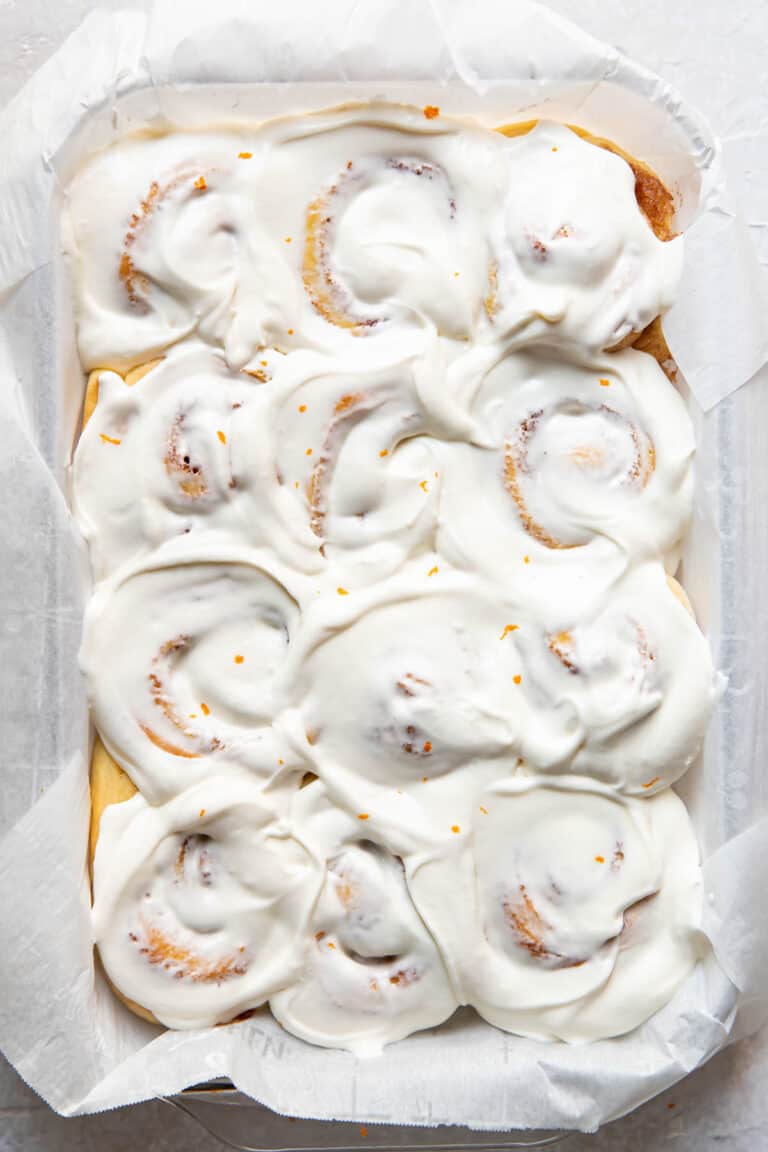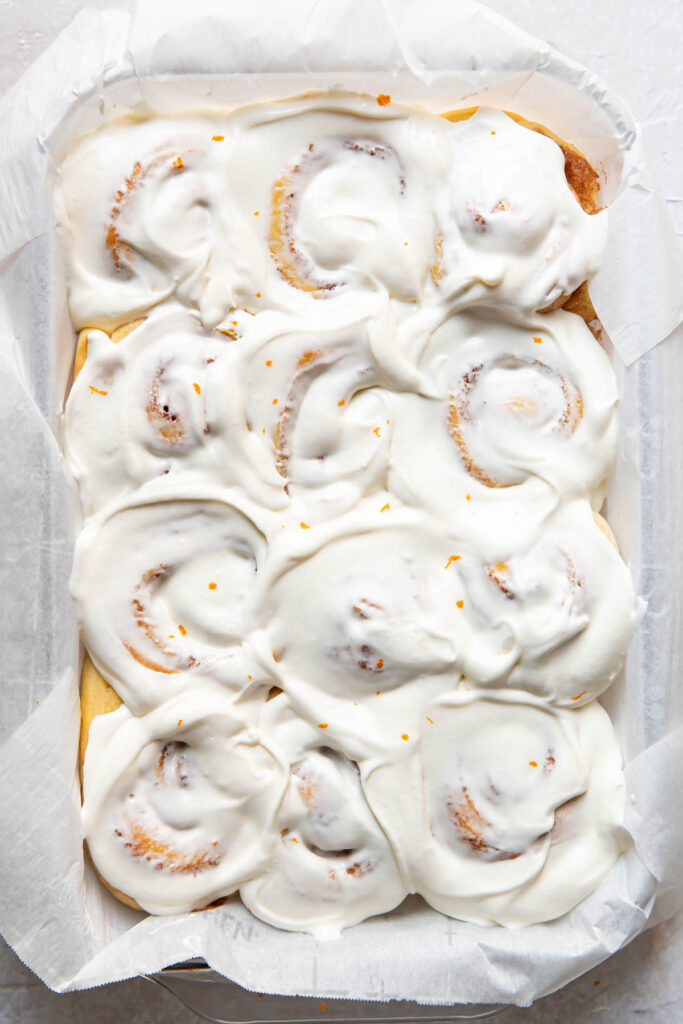 FAQ
Can you freeze orange rolls?
Yes! To freeze a batch of orange rolls, get to the part in the instructions where they rise for the second time (in the baking pan). Cover with plastic wrap and freeze. Then you can take them out of the freezer, leave them on the counter to thaw and then bake like normal.
What are orange rolls?
Orange rolls are a sweet roll, basically a cinnamon roll made with a bit of orange juice to give them the orange flavor.
What do orange rolls taste like?
They taste just like a cinnamon roll but with a burst of orange. These are made with white sugar in the filling, instead of brown sugar.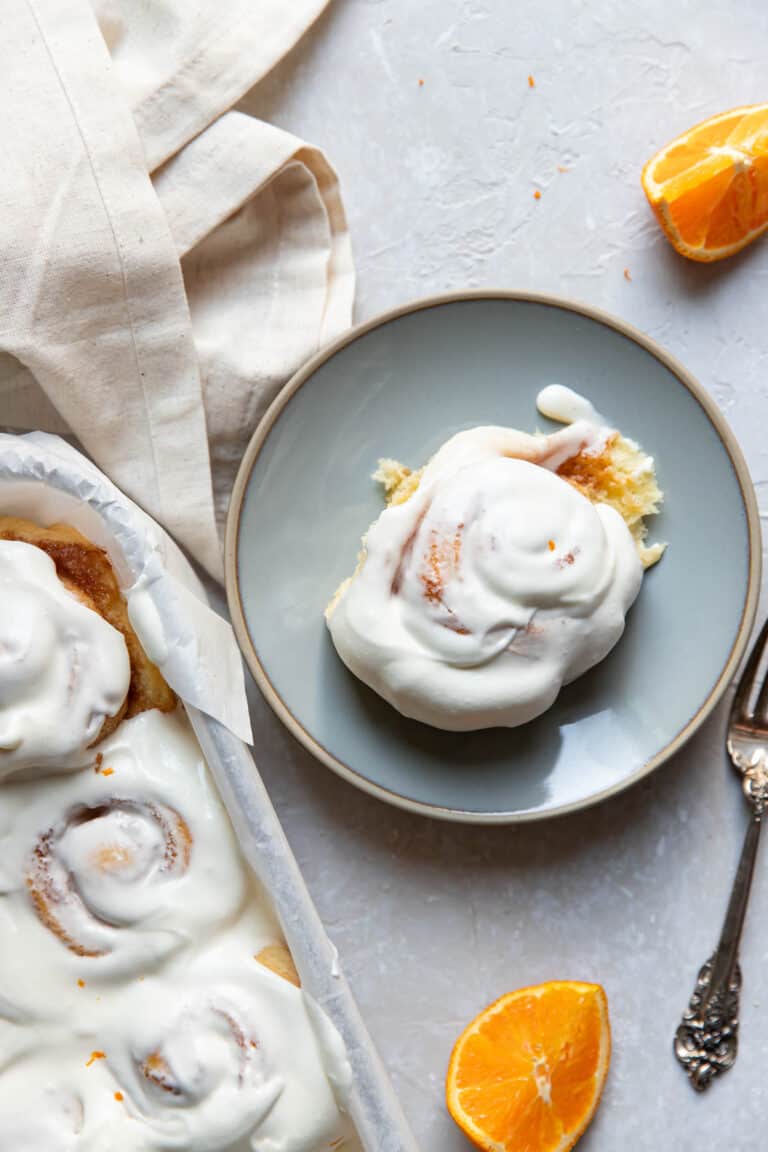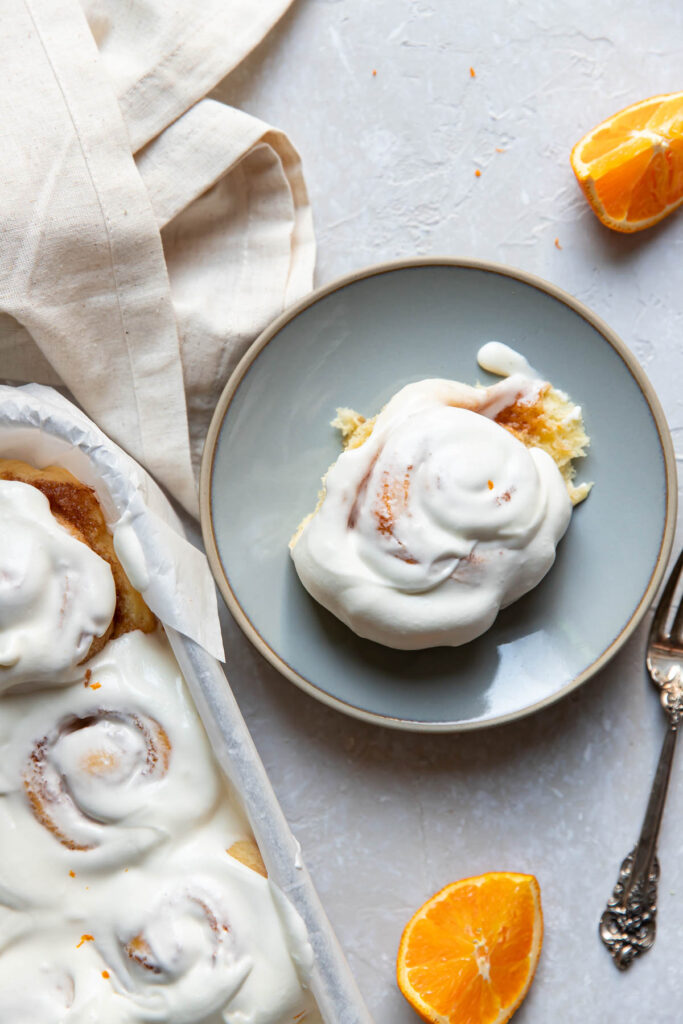 More Spring Time Recipes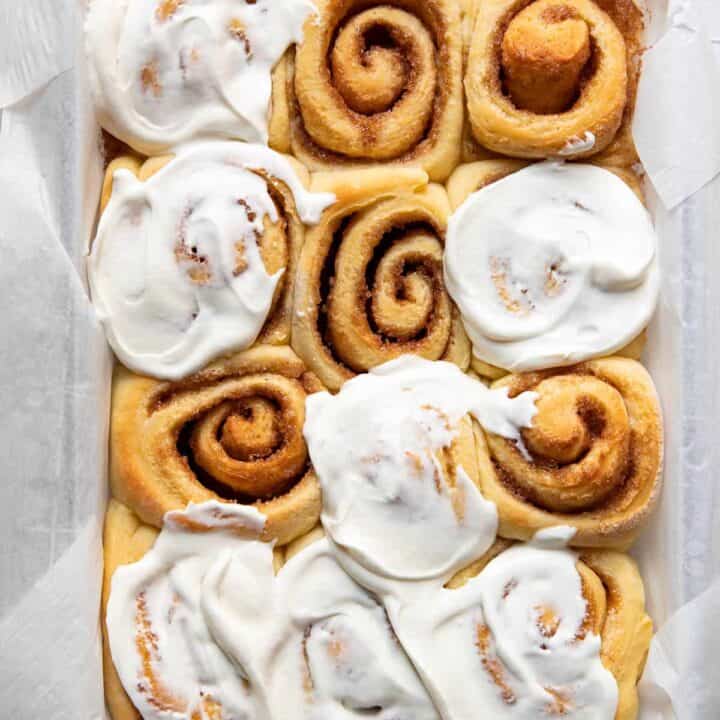 Orange Sweet Rolls With Cream Cheese Frosting
Resting Time:
1 hour
30 minutes
Total Time:
2 hours
50 minutes
Everything you know and love about a cinnamon roll except packed with a burst of orange flavor! This orange rolls recipe has a buttery, cinnamon and sugar filling and cream cheese frosting smothered over top.
Ingredients
Orange Roll Dough
¾ c milk, warm
2 ¼ tsp active dry yeast
½ c orange juice, optionally add a little orange zest if you have it
4 tbsp melted butter
1 whole egg
1 egg yolk
3 ¾ c flour
¼ c cane sugar
1 tsp kosher salt
Orange Roll Filling
4 tbsp butter, softened
¾ c cane sugar
2 tsp cinnamon
Orange zest - just a little
Cream Cheese Frosting
2 c powdered sugar
2 tbsp butter, softened
4 oz cream cheese, softened
Pinch of salt
Splash of vanilla
Instructions
Heat the milk in the microwave for 1 minute, or until warm (105-115 degrees)
Add the yeast, stir and sprinkle with a pinch of sugar (the sugar helps to activate the yeast even more)
Let this sit for 5-10 minutes, until foamy
To the yeast mixture and the melted butter (make sure it has cooled down), whole egg, egg yolk and orange juice, mix together
In a stand mixer add the flour, sugar and salt
Add the wet ingredients in to the dry, stirring
Turn your mixer on (use the bread hook attachment)
Knead for 3 minutes on med/low speed until the dough is smooth
Dump the dough out on to a floured surface, shape into a ball and place back in the bowl, cover with plastic wrap and let it rise for 60 minutes or until doubled in size *see notes
On a floured surface press out the dough into an 18" x 15" rectangle, you can also use a rolling pin
Use a bowl to mix together the filling; softened butter, sugar, cinnamon and orange zest
Spread this all over the dough
Roll up the dough like a jelly roll and end with the seam side down toward the counter to hold it in place
Grab a piece of sewing thread, or a knife, and cut 12 equal pieces
Place the rolls in a greased 9×13 baking dish (alternatively you can line with parchment paper)
Preheat the oven to 350
Place the baking dish near the oven, covered, let them rise a bit while the oven preheats
When the oven has come to temperature, bake the rolls for 20 minutes
Meanwhile you can make the frosting
Beat together the "frosting" ingredients, cream cheese, powdered sugar, butter, vanilla extract and a pinch of salt
Remove the orange rolls from the oven
Immediately spread a little of the frosting over the rolls, since they will be very hot the frosting will melt and coat the inner swirls of the cinnamon rolls
Wait 20 minutes until they have cooled, spread on the rest of the frosting
Serve
Notes
If your kitchen is on the cooler side, you can turn your oven on for 5 minutes then turn it off. Put your bowl inside and let the dough rise in there.
Nutrition Information:
Yield:

12
Serving Size:

1 roll
Amount Per Serving:
Calories:

431
Total Fat:

14g
Saturated Fat:

9g
Trans Fat:

0g
Unsaturated Fat:

5g
Cholesterol:

67mg
Sodium:

327mg
Carbohydrates:

69g
Fiber:

2g
Sugar:

37g
Protein:

6g
This information comes from online calculators. Although moderncrumb.com attempts to provide accurate nutritional information, these figures are only estimates.