Best apple crisp ever!  Granny Smith apples swirled together with an ooey gooey sweet cinnamon filling and topped with a brown sugar and oats crumb topping.
For me, apple crisp marks that autumn is here!  I love all the soups and fall themed desserts.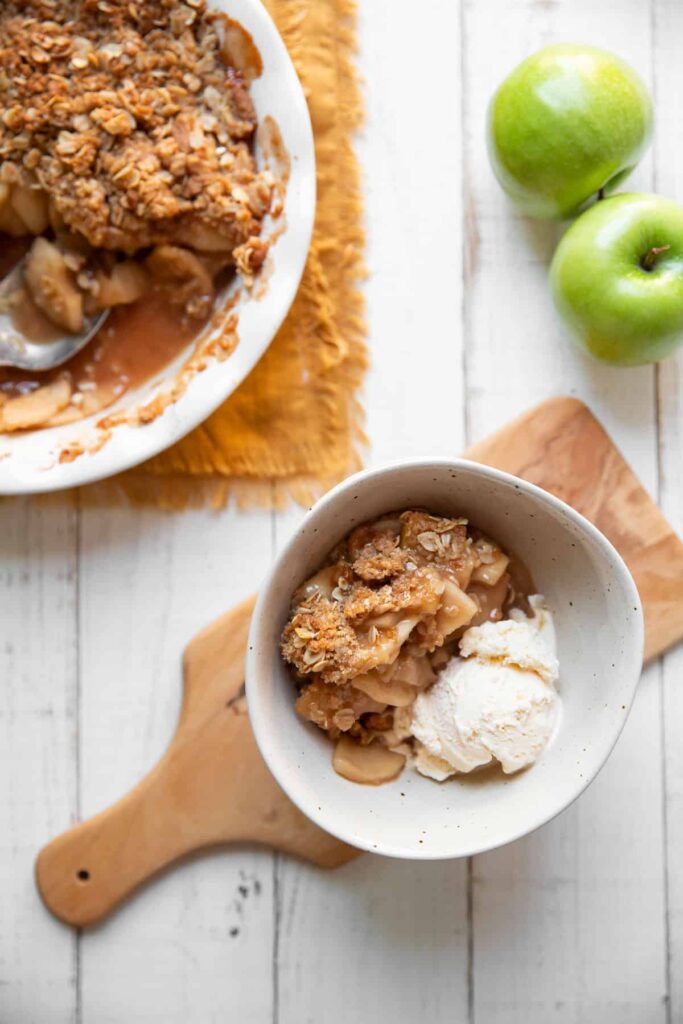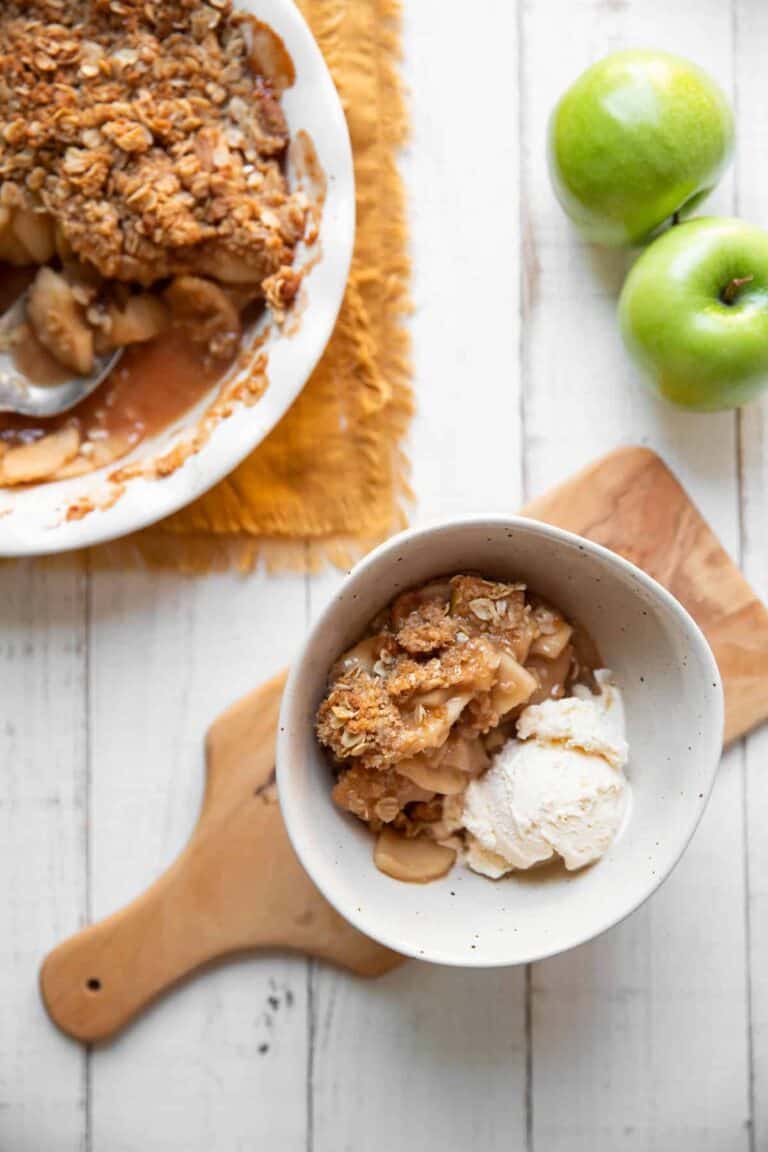 Today we're talking apple crisp.
What's the difference between apple pie, apple crumble and apple crisp, anyway? 
Who reigns supreme?
Plus all my tricks for the perfect consistency when you make your filling (aka no runny fillings).
The perfect apple crisp. Do I think this is the perfect apple? Yes. 100%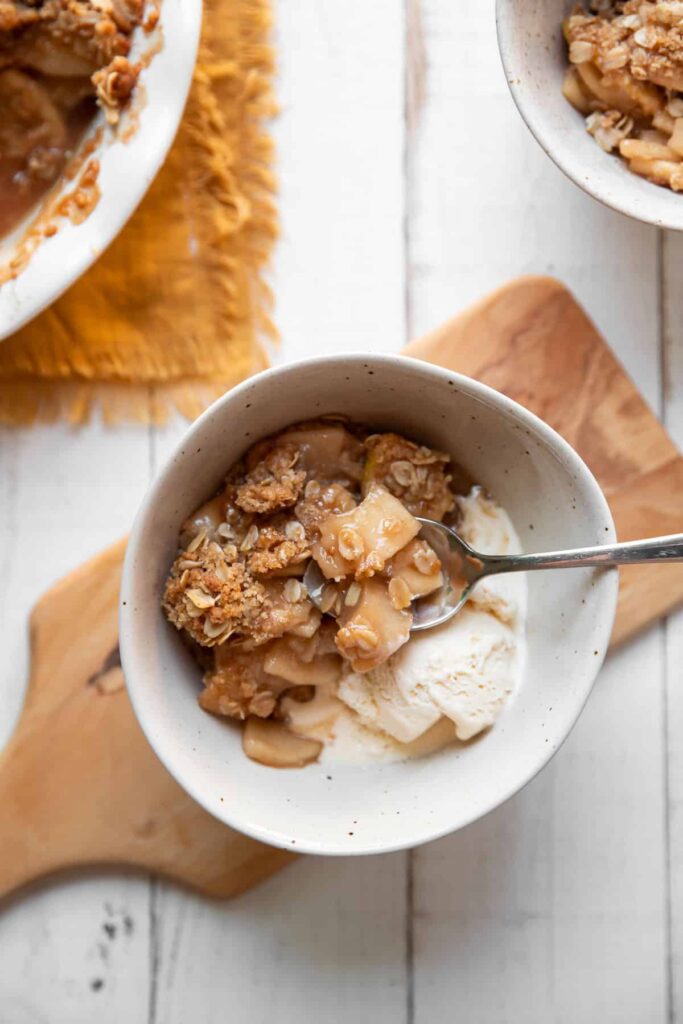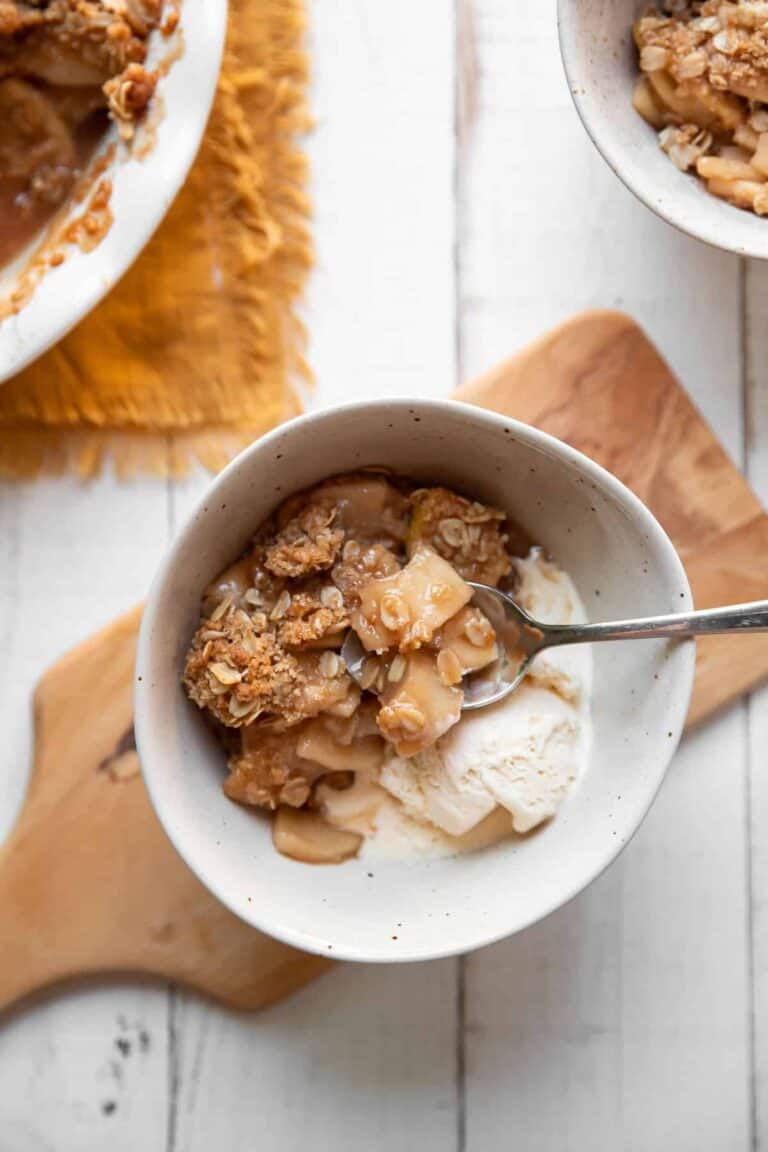 Here's what, in my book, makes an apple crisp, extra.
For starters the consistency should be gooey, not runny. I want to get a big scoop of apple crisp without losing all of my yummy filling.
Next it has to do with the sweetness to tartness ratio. 
Not too sweet, just barely sweet enough that it balances the tart, I hate it when you can't still taste the actual apple.  
Last, the texture. 
This goes for the apples and the crumb topping.  The apples should have just a slight bite to them still, not total mush. 
And the crumb top should also have a little bite to it, take a hike gooey oatmeal you don't belong here.
Combined this makes an apple crisp reign supreme.  Especially when you want something quick. 
Apple pie is amazing but if you want to skip the crust situation then go with a crisp. 
Crisp or crumble?  Traditionally a crisp has oats.
For this apple crisp mix all your filling ingredient in a soup pot, bring it to a boil so it can get gooey and thick. 
That's where the corn starch comes in.  You most definitely need the corn starch to help thicken up your apple crisp filling.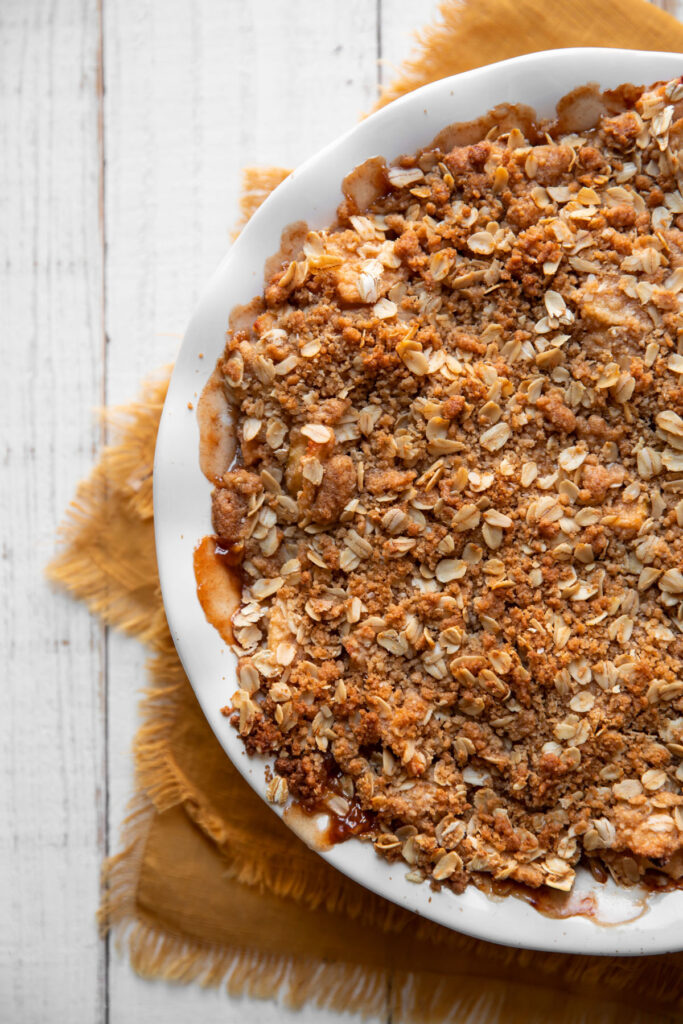 How To Get The Perfect Filling
Have you ever cut into your apple crisp or apple pie and all of the filling just gushed out, without holding its form? 
So frustrating, right?  Here's my tip. 
Let it cool hours before cutting in to it. 
The filling should come to room temperature before you attempt to scoop some out, because as your apple crisps cools it will continue to firm up and set.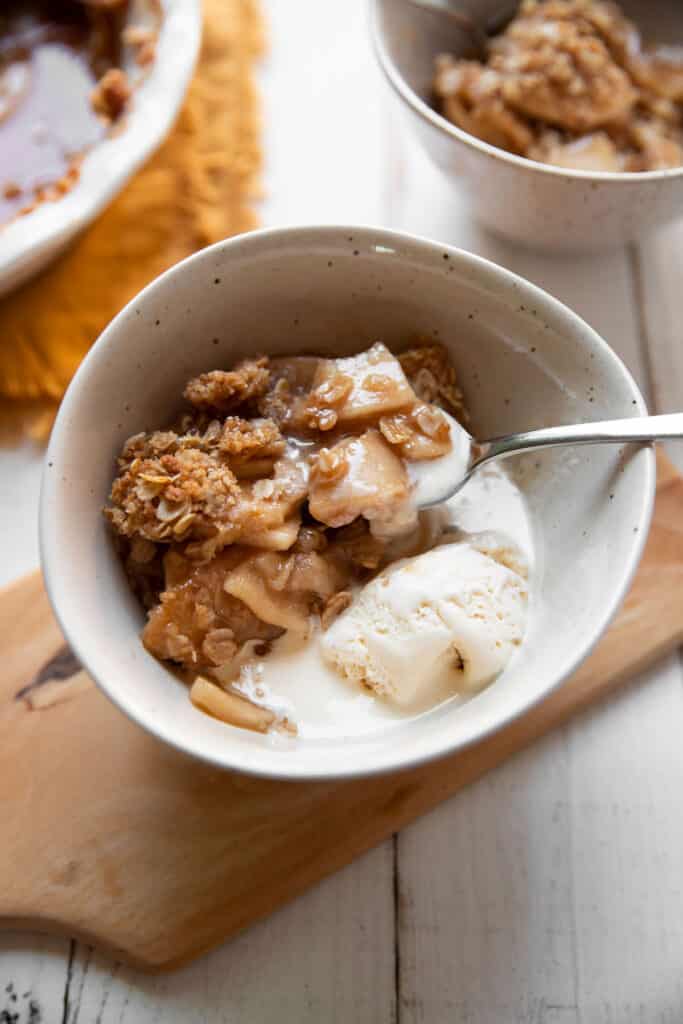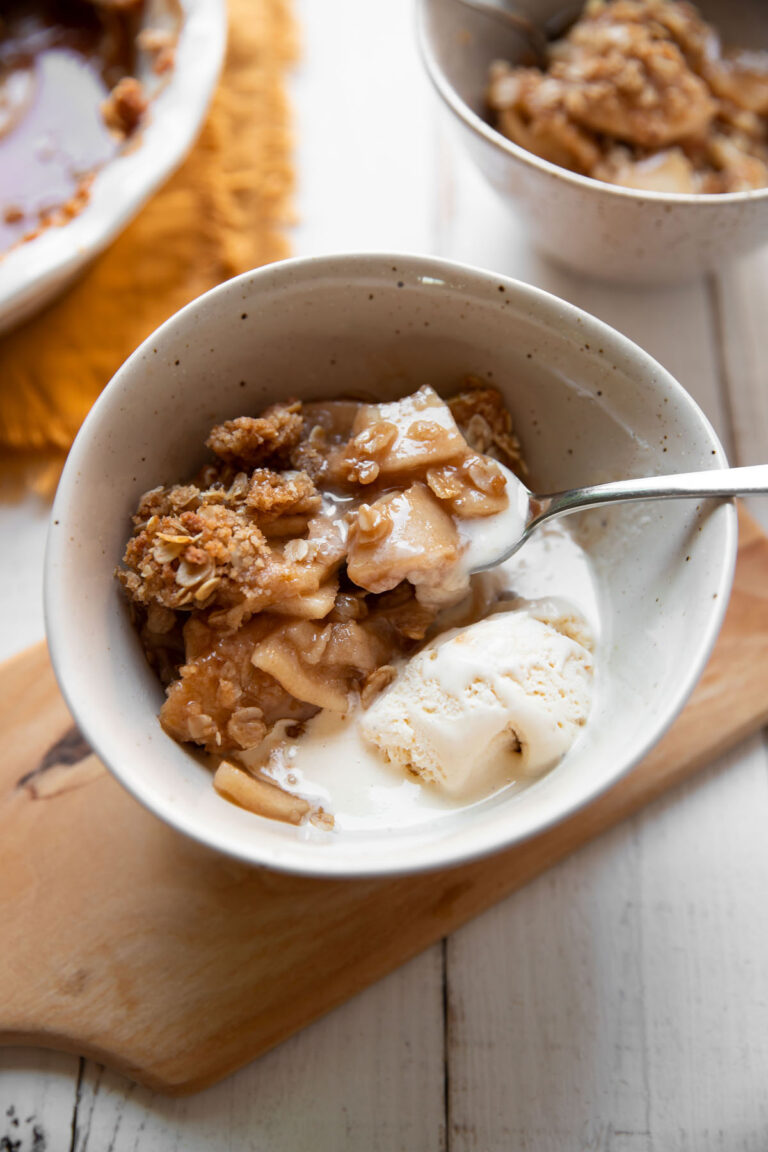 Best Apples For An Apple Crisp
Apple of choice? 
The classic Granny Smith apple. 
I like the tartness of it, personally.  And it holds up nicely while baking.  To make it even easier to prep, I use an an apple spiralizer.
Make sure to follow the Modern Crumb Board on Pinterest for lots of yummy meal inspiration!
And subscribe to the newsletter, below, to get updates when new recipes post.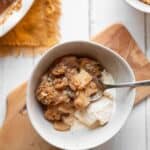 Print Recipe
Apple Crisp With Oats Topping
Granny Smith apples swirled together with an ooey gooey sweet cinnamon filling and topped with a brown sugar and oats crumb topping.
Ingredients
8

apples

cored, peeled and chopped

1/3

c

white sugar

1

small lemon

juiced

1/4

c

water

2

tbsp

corn starch

1 1/2

tsp

cinnamon

1/4

tsp

salt

2

tbsp

butter
crumb topping
1/3

c

flour

3/4

c

oats

not instant

1/2

c

brown sugar

1/4

c

butter

1/4

tsp

cinnamon

1/2

tsp

baking powder

1/4

tsp

salt
Instructions
Preheat oven to 375

Heat a large sauce pan over medium heat

Add the apple, lemon juice, water, corn starch, cinnamon, salt and butter

Stir

Let it come to a boil and then cook 3-5 minutes (don't turn the heat up) until the liquid has started to thicken

Turn the heat off

In a separate bowl combine the flour, butter, brown sugar, butter, cinnamon, baking powder and salt

Use a fork or pastry cutter to combine it all

Add in the oats and stir

Pour the apples and filling into a pie pan and top with the crumb topping

Bake for 35 minutes, it should be golden on top and bubbling around the edges when done

Remove the apple crisp from the oven, let it cool on a wire rack for a few hours, until the filling has come to room temperature and completely set up

Serve with vanilla ice cream!