This is the best, most addicting apple crisp ever!  Granny smith apples are all swirled together with an ooey gooey, sweet, cinnamon filling. Then finished with a buttery, brown sugar and oats crisp topping. Don't forget a big scoop of french vanilla ice cream.
This recipe was originally posted on 09/30/2019.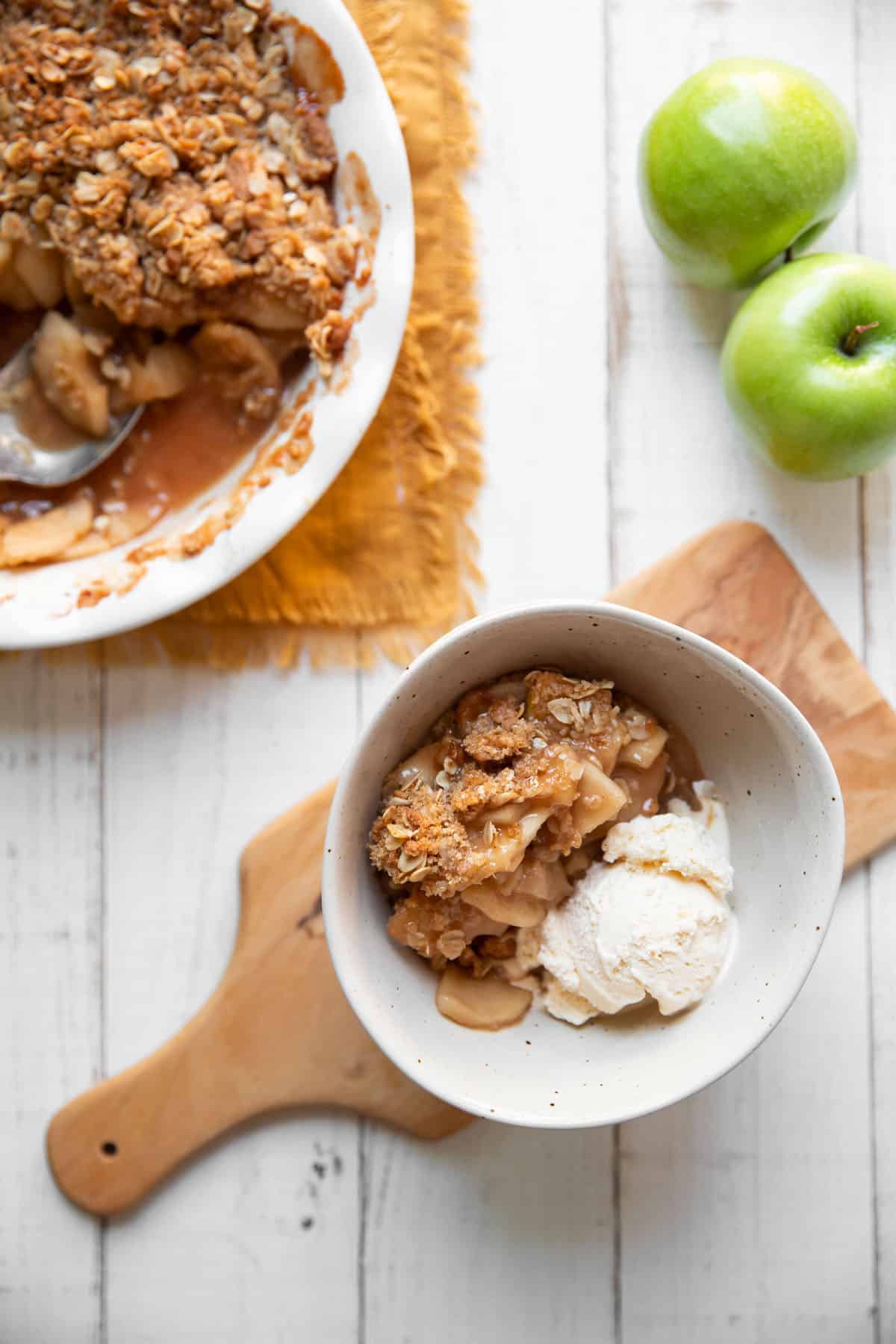 For me, apple crisp marks that autumn is here! I love all the soups and fall themed desserts.
Today we're talking about apple crisp. Oats mandatory (really it's optional).
The consistency of an apple crisp should be gooey, not runny. I want to get a big scoop of apple crisp without losing all of my yummy filling.
Jump to:
You don't want it to be too sweet, just barely sweet enough that it balances the tart flavor. Being able to still taste the granny smith apples is extra important. Plus a bit of spice from the cinnamon.
The apples should not be total mush after baking. Soft but not falling apart.
And the crisp topping should have a little bite to it, another thing we don't want to be mushy.
Very last, the recipe needs to be quick and easy! You'll find this is a very basic, easy to follow recipe.
In my book, these are the things that make an apple crisp, the best ever!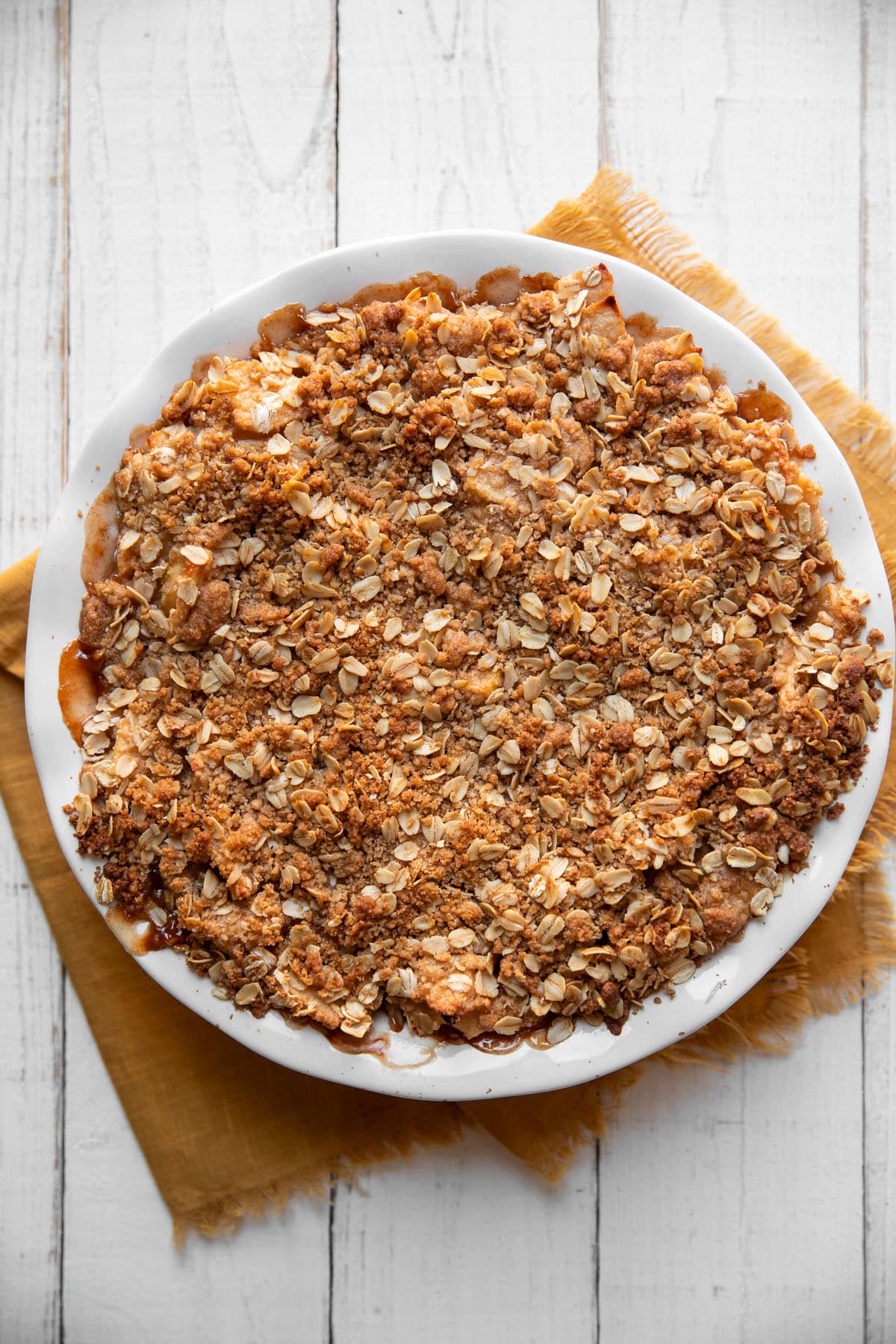 Apple Crisp Vs. Apple Pie
Apple pie is amazing but if you want to skip the crust situation then go with a crisp.
And if you want something fun, a finger food type of dessert, try these apple chai hand pies. The dough is super easy to make and they are so fun to eat.
Is it a crisp or crumble? What's the difference?
Traditionally a crisp has oats and a crumble does not. I always remember this by thinking that oatmeal is kind of tough in texture, and when I think of crisp vs. crumble, crisp is more textured.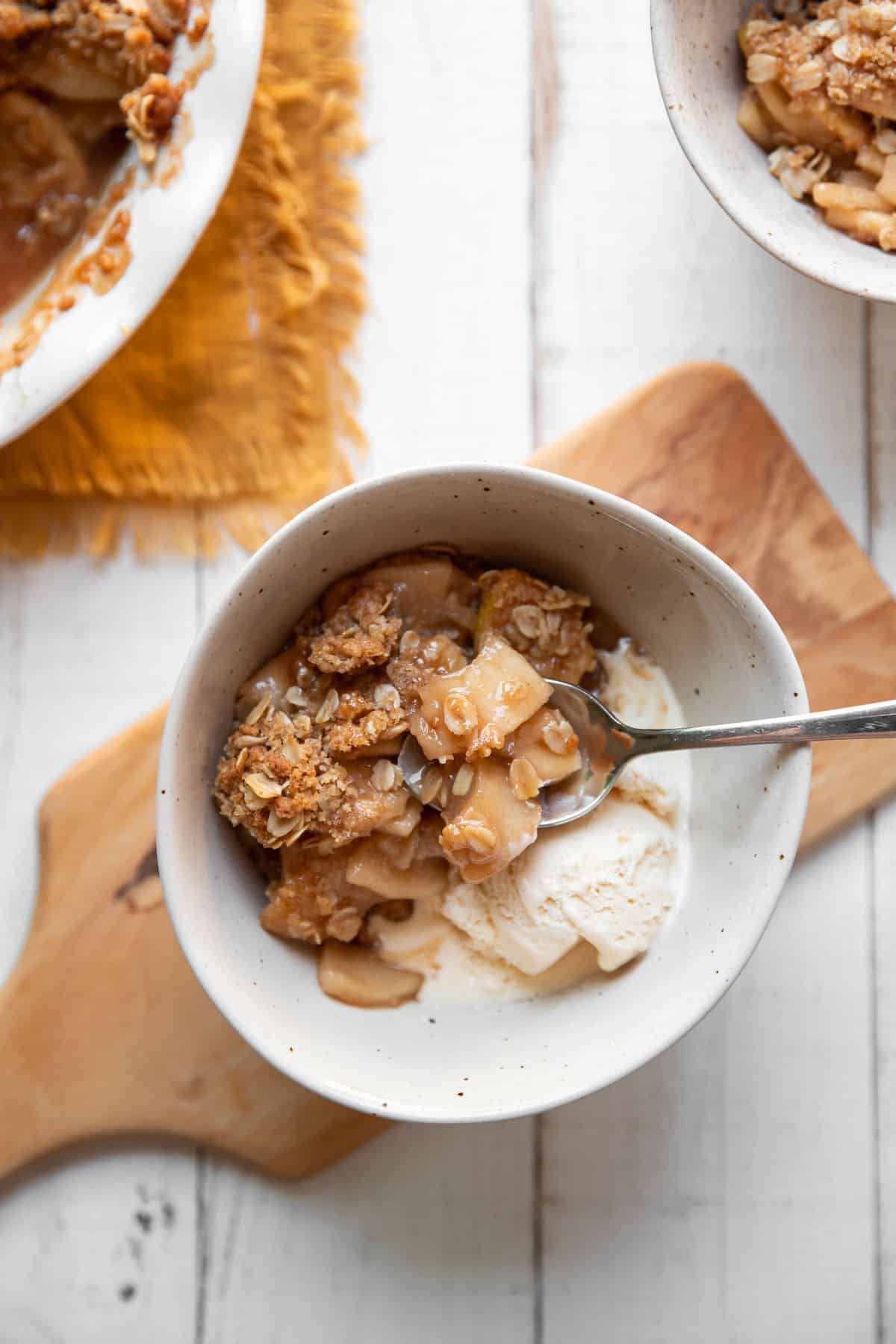 How To Get Perfect Apple Crisp Filling
Have you ever scooped up some apple crisp or apple pie and all of the filling just gushed out?
So frustrating, right? Here's my tip.
Let it cool after removing it from the oven.
The filling should have chance to come down in temperature before you attempt to scoop some out. As your apple crisps cools it will continue to firm up and set.
Another thing you can do is to add a bit of flour to your apples prior to baking. I've found that all you need is 1 tablespoon.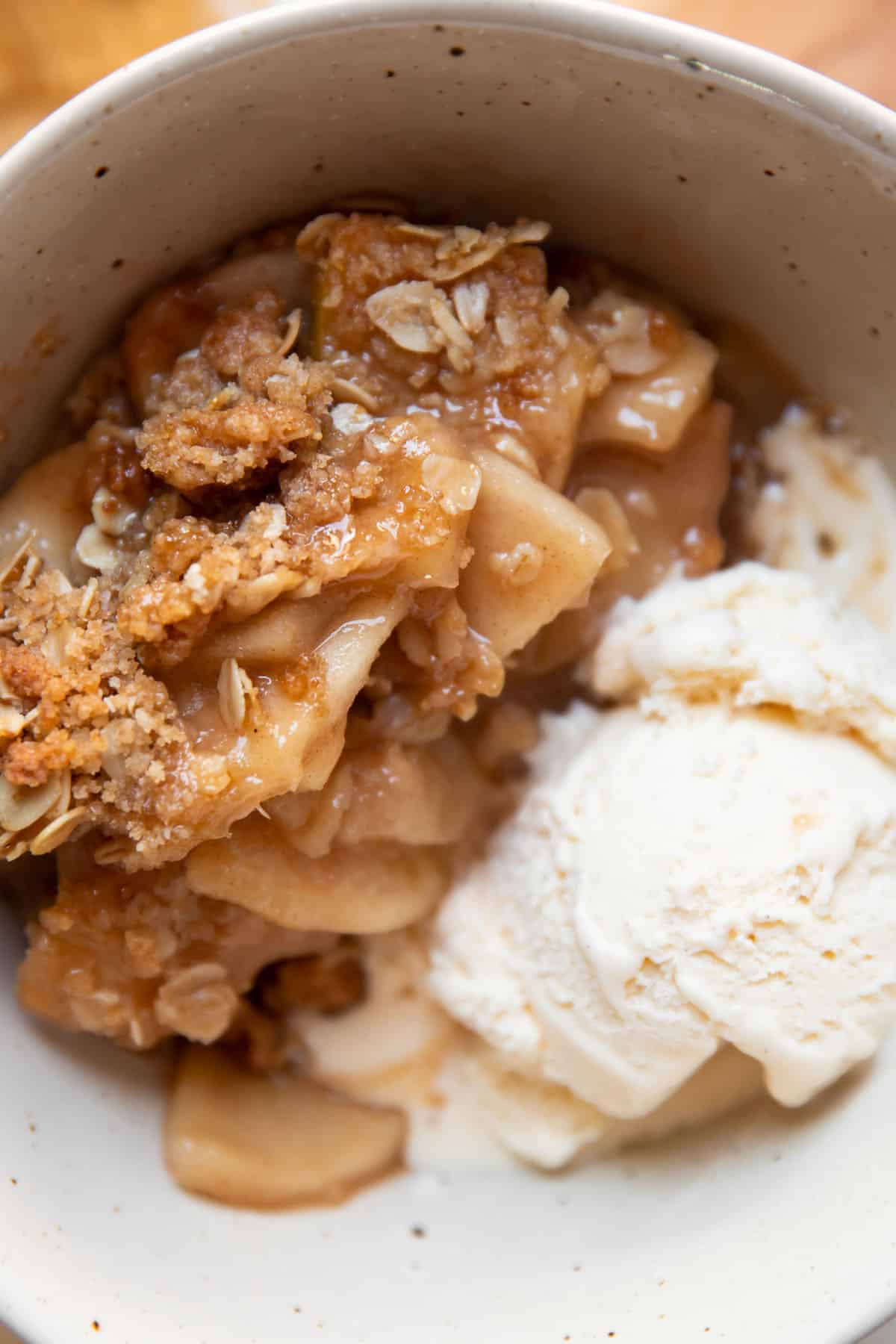 What Apples To Use For An Apple Crisp With Oats Topping
Apple of choice for an apple crisp?
The classic Granny Smith apple.
Granny smith apples have a tartness to them and personally my all time favorite. They also hold up nicely while baking. Like in these caramel apple white chocolate bars.
For a sweeter flavor you could try using honey crisp apples when they are in season. For me, it's a bit too sweet.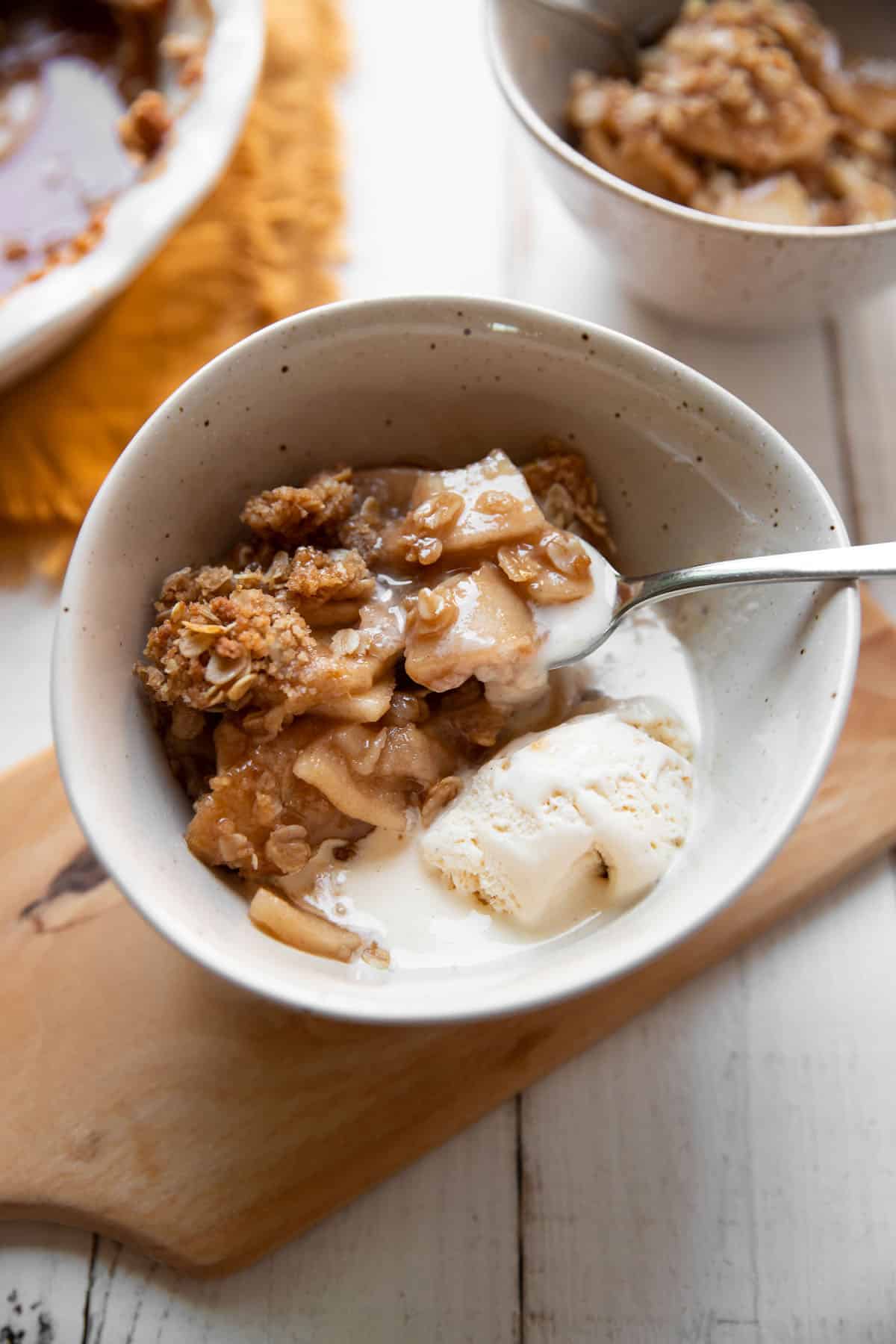 Apple Crisp FAQ
Can I make this gluten free?
You could substitute a gluten free baking flour for the all purpose flour the recipe calls for.
Why is my filling runny?
Adding extra liquid could cause this, this recipe doesn't call for any extra liquid - you'll find the apples give it just enough juiciness. Another reason is that you didn't let the crisp cool long enough after baking. It's important to let it set, to thicken.
Can I use instant oatmeal?
I haven't tried this recipe with instant oats so I am not sure.
Do you need to refrigerate apple crisp?
I always cover mine with plastic wrap, and chill it in the fridge if there is going to be leftovers.
Can this recipe be doubled?
Definitely! Use a large baker, like a 9x13 with tall edges, or two 9" pans or two 8x8" pans.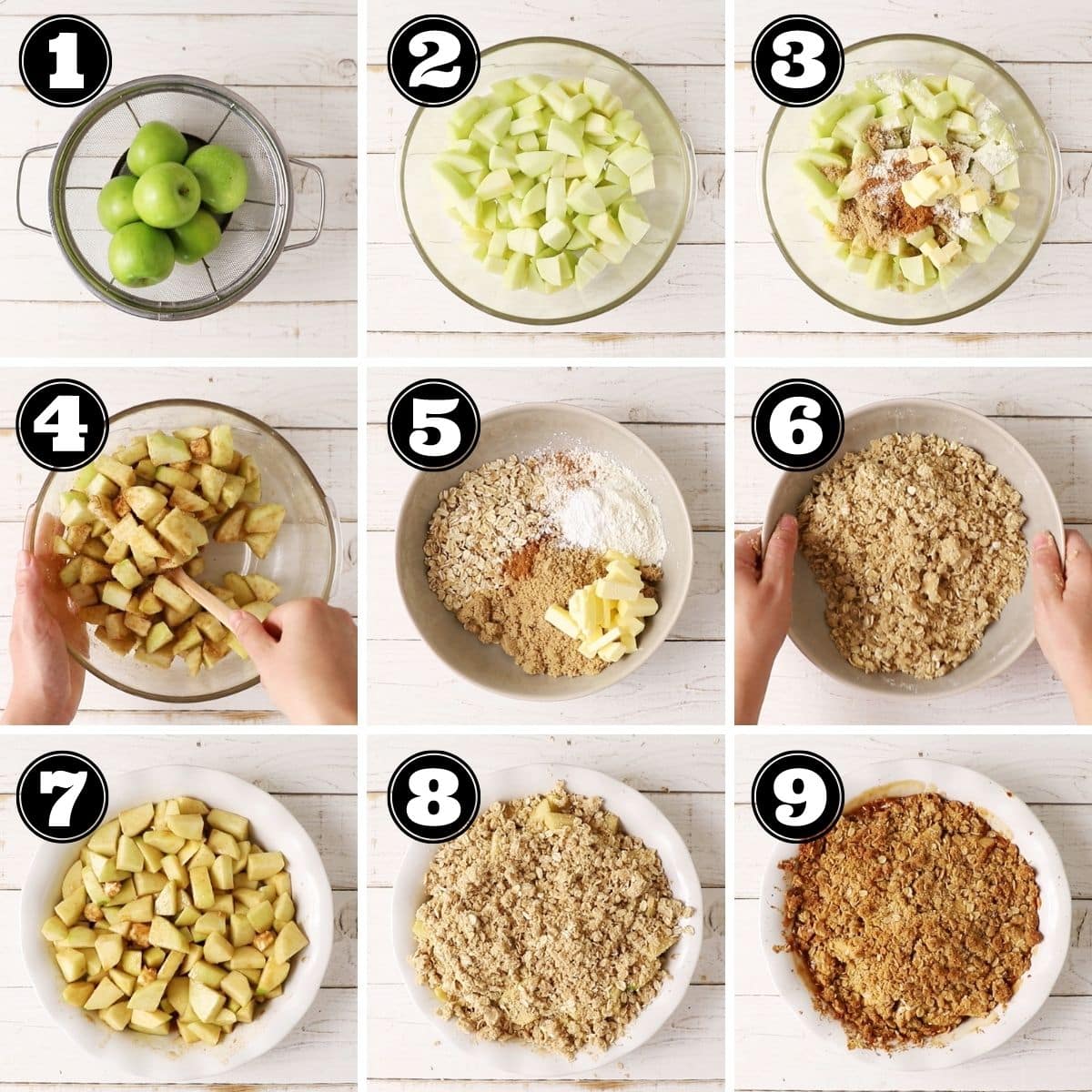 Fall Dessert Recipes To Try
If you are in a total apple mood I'd suggest these apple chai hand pies or caramel apple white chocolate blondie bars. Both are a fun twist on a more traditional apple dessert.
If pumpkin is your craving then pumpkin cream cheese cinnamon rolls or a pumpkin roll with cream cheese frosting is sure to leave you happy! Those are fan favorites. However, if you want something without frosting then this pumpkin loaf with pie crust crumble is a nice alternative (it tastes exactly like a piece of pumpkin pie!).
But for more of a 'fall' traditionalist flavor, I would go with the maple cream cheese cinnamon rolls, pecan sticky buns and coffee cake bars. You can't go wrong with any of those classic desserts.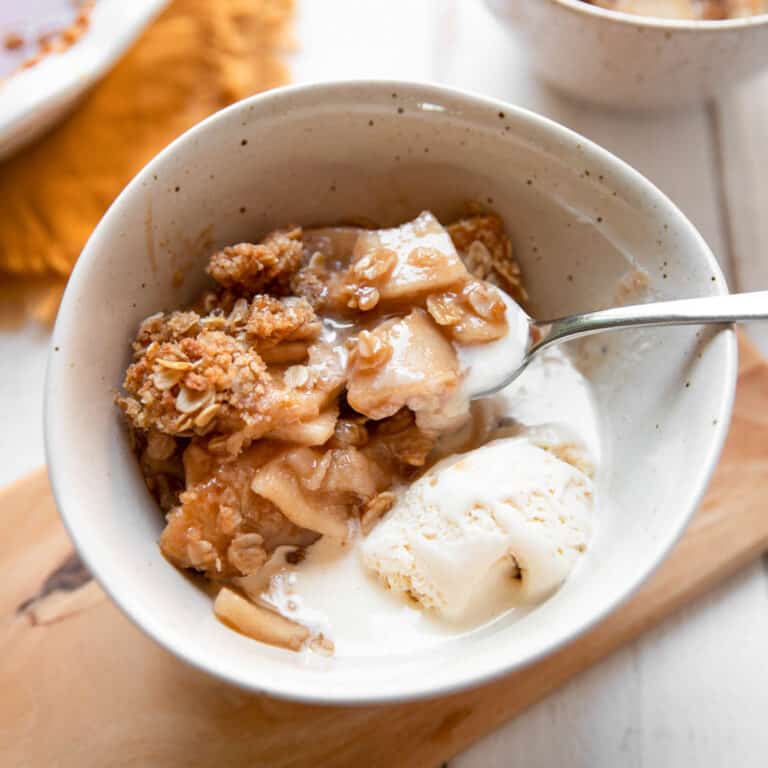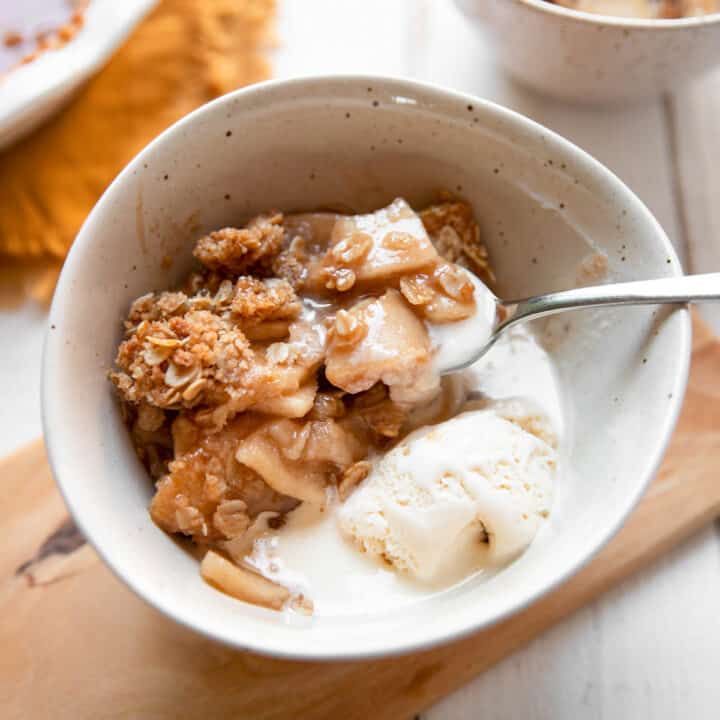 Apple Crisp With Oats Topping
This is the best, most addicting apple crisp ever!  Granny smith apples are all swirled together with an ooey gooey, sweet, cinnamon filling. Then finished with a buttery, brown sugar and oats crisp topping. Don't forget a big scoop of french vanilla ice cream.
Ingredients
filling
6 apples, peeled and chopped
¼ c white sugar
¼ c brown sugar
1 tbsp lemon juice
1 tbsp flour
1 tsp cinnamon
¼ tsp salt
2 tbsp cold butter, diced
oats crisp topping
½ c flour
½ c oats
½ c brown sugar
¼ c butter, diced
⅛ tsp cinnamon
½ tsp baking powder
Instructions
Preheat oven to 350
Put the chopped apples in a large bowl
Add the white sugar, brown sugar, lemon juice, flour, cinnamon, salt and butter
Mix this together
Pour the filling into a 9" pie dish or an 8x8" baking dish
In a separate bowl prepare the crumb topping
Use your hands to mix together the flour, oats, brown sugar, butter, cinnamon and baking powder
Completely incorporate the butter
Sprinkle on pieces over the apple filling
Bake for 45 minutes, apples should be soft
Let the apple crisp cool slightly before serving
Serve with vanilla ice cream
Notes
Letting the apple crisp cool allows the filling to set
Recommended Products
As an Amazon Associate and member of other affiliate programs, I earn from qualifying purchases.
Nutrition Information:
Yield:

8
Serving Size:

1
Amount Per Serving:
Calories:

287
Total Fat:

9g
Saturated Fat:

6g
Trans Fat:

0g
Unsaturated Fat:

3g
Cholesterol:

23mg
Sodium:

179mg
Carbohydrates:

52g
Fiber:

4g
Sugar:

37g
Protein:

2g
This information comes from online calculators. Although moderncrumb.com attempts to provide accurate nutritional information, these figures are only estimates.