These maple cream cheese cinnamon rolls are so ooey, so gooey, so amazingly cinnamon-errific. Cinnamon swirls of fluffy dough mixed with a luscious cream cheese maple frosting.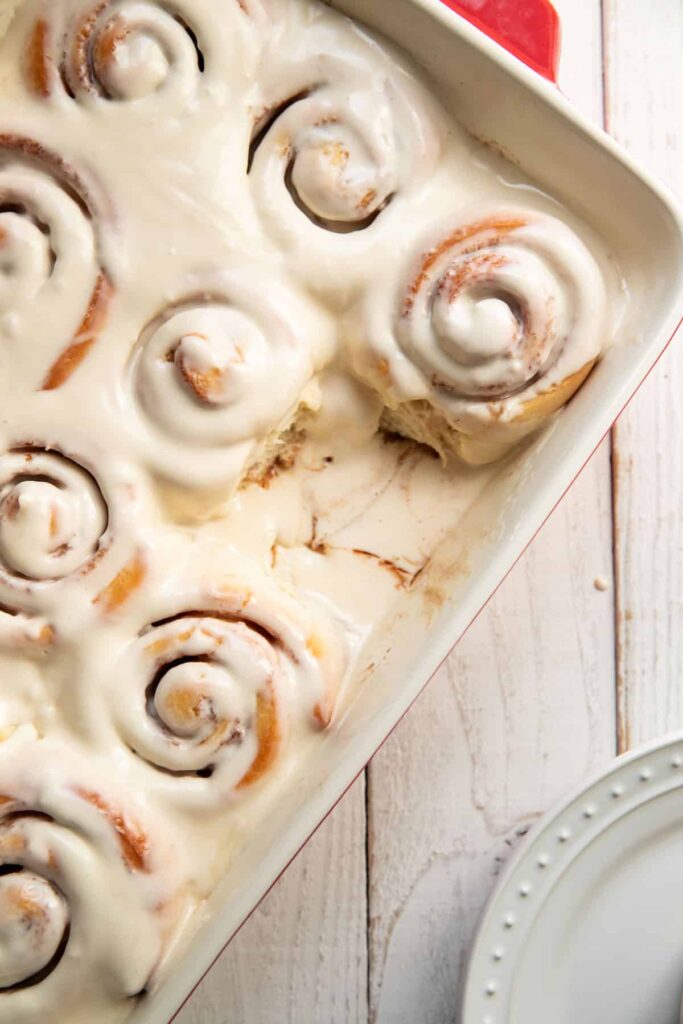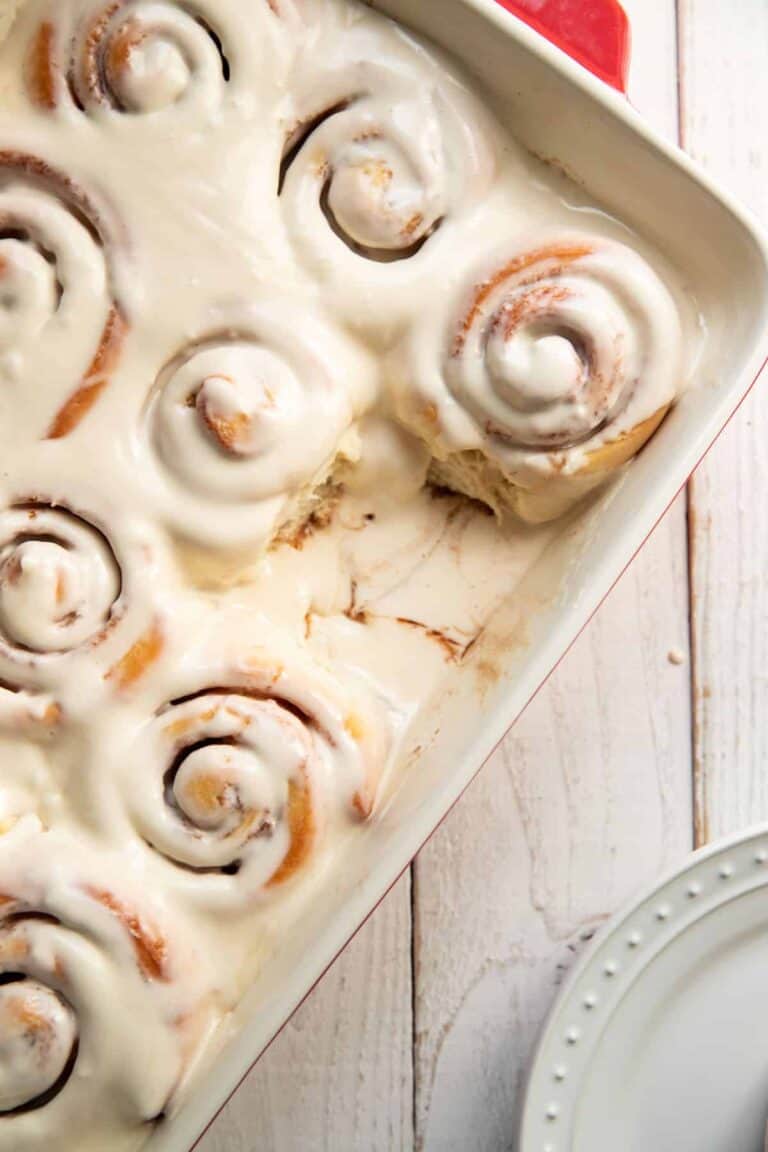 If you are a cinnamon roll connoisseur than these maple cream cheese cinnamon rolls are for you! You need them, you have to have them, go make them right away!
It's quite exciting, obviously (insert snarky smile). We can't take ourselves too seriously, now can we?
The dough is soft and fluffy and slathered with butter, brown sugar and extra cinnamon. The cream cheese frosting is silky smooth and the maple syrup gives them an extra yummy flavor. Just like in these maple pecan scones. Maple is one of my favorite fall and winter flavors!
The other thing that makes a great cinnamon rolls is, drum roll, cinnamon. Don't get skimpy on the cinnamon. This recipe calls for 1 whole tablespoon of cinnamon. And it's perfect and spicy.
The more you make these the quicker you'll be able to get them in the oven and on the table. Really that's any cinnamon roll recipe. Practice makes perfect.
Make sure to read the section about tips and frequently asked questions. I like to add in some pointers to help you get the most out of a recipe.
These are the perfect fall/winter cinnamon rolls to make, along with these pumpkin cinnamon rolls.
Cinnamon Roll Dough
It all starts with the dough.
Cinnamon roll dough should be very soft and still a bit tacky when it goes to rise. If it's too dry then you'll have dry cinnamon rolls. That makes sense, right?
If you want extra ooey gooey cinnamon rolls then these big fat pecan sticky buns are just what you need.
I know it's tempting to keep adding flour when your dough is still sticky. I've made that mistake too many times and all that happens is dough that doesn't make it through the second rise and dry when they are baked.
Sticky dough is good dough. That's our mantra.
So the best thing to do is add your dry ingredients, look at it, if it still looks really wet don't just dump a bunch more flour in, sprinkle it in 1 tablespoon at a time.
Sometimes it take a minute to really tell how much of a difference that 1 tablespoon made in the texture. You can always add more flour - but you can't take it away.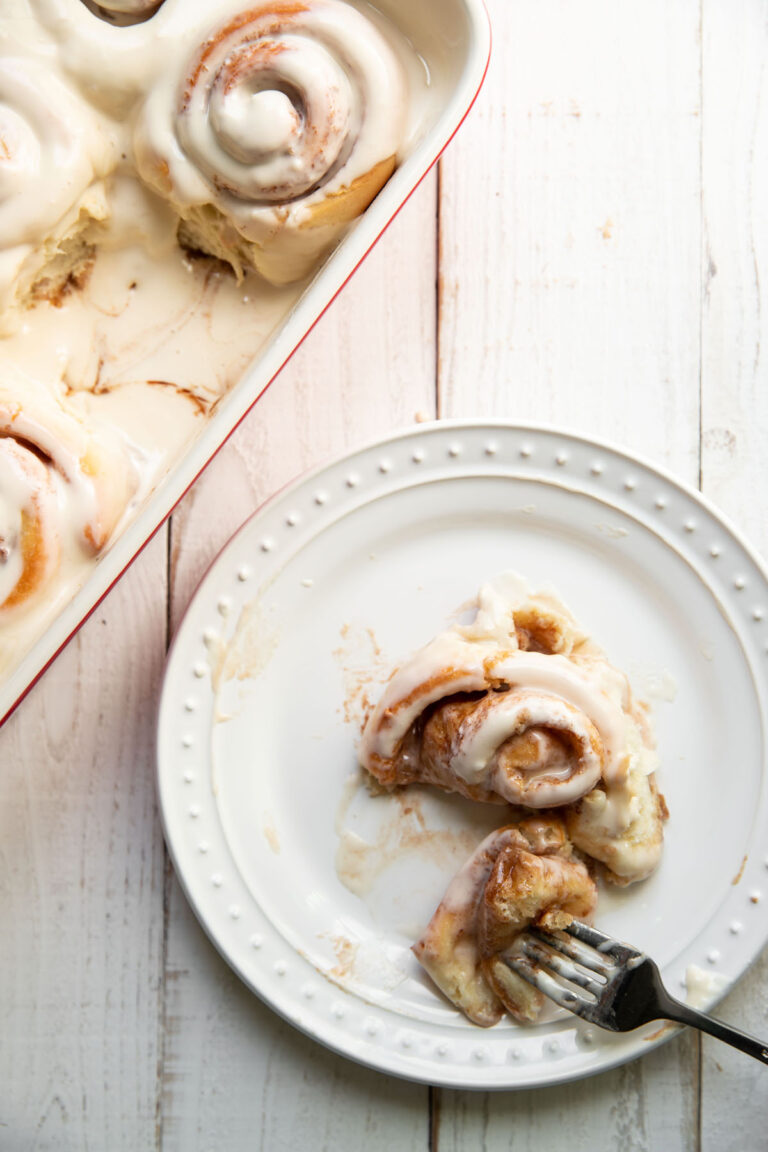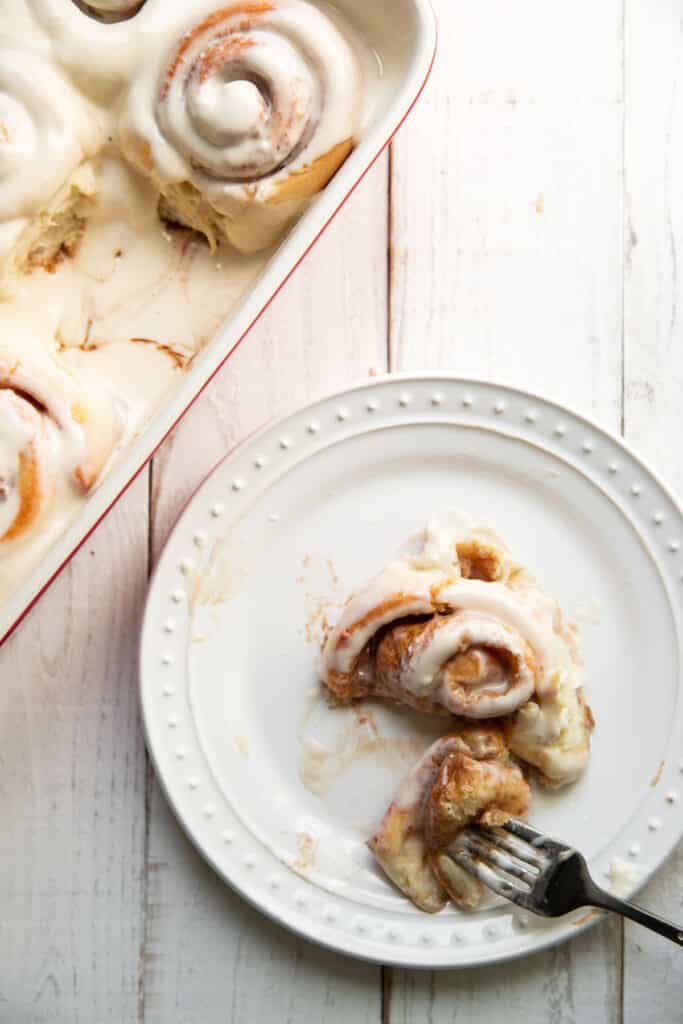 How To Roll The Cinnamon Roll Dough For Perfect Swirls
To get perfect fluffy swirls, you'll want to pat or roll the dough out so it's not too thin but not too thick. That's not helpful is it...let me further explain.
Dough rolled out too thin runs the risk of a few problems.
First is it's more likely to stick to your counter top, that's just harder to roll at that point. Second, the layers tend to dry out faster. And third, really thin layers don't poof up as much during the second rise before they get baked.
Dough rolled out too thick could end up just like a big cinnamon roll blob. That may actually be what you want, you'll have really big puffy pieces of dough. But try to aim for at least 3 swirls to the center from an edge.
Dough rolled out just right won't be too thin or too thick. There are prominent swirls for the frosting to catch in and it will be thick enough that they layers are puffy and soft. Just like in these pumpkin cream cheese cinnamon rolls.
I like to do the traditional 12 rolls in a 9x12 dish. It's the perfect size and always fills it up.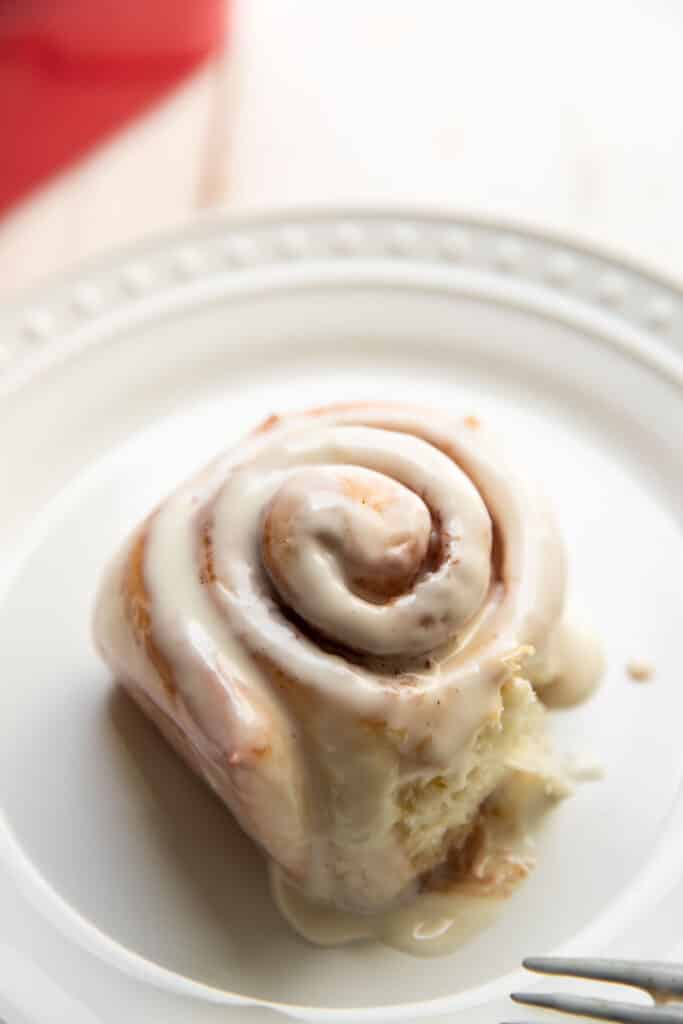 Maple Cream Cheese Cinnamon Roll Tips
Make sure the milk is the perfect temperature to activate the yeast. This is the part that can go most wrong for people. It should feel warm but not hot. To know if you activated the yeast correctly, after 5-10 minutes it will be frothy and bubbly.
Don't add too much flour. The dough should be tacky to the touch.
Let your dough double in size before rolling it out and adding your filling mixture. Also, let it rise again after your rolls are assembled and in your pan. Each rise takes about 30 minutes to an hour, depending on the temperature in your house.
You can turn your oven on, then off, just to pump in some warm air and let them rise in there. Just make sure not to leave your oven on and accidentally bake your dough!
For easy cleanup, try lining your baking dish with parchment paper. If there are any left and you refrigerate them, it's a lot easier to get them out of the pan if it was lined with parchment paper.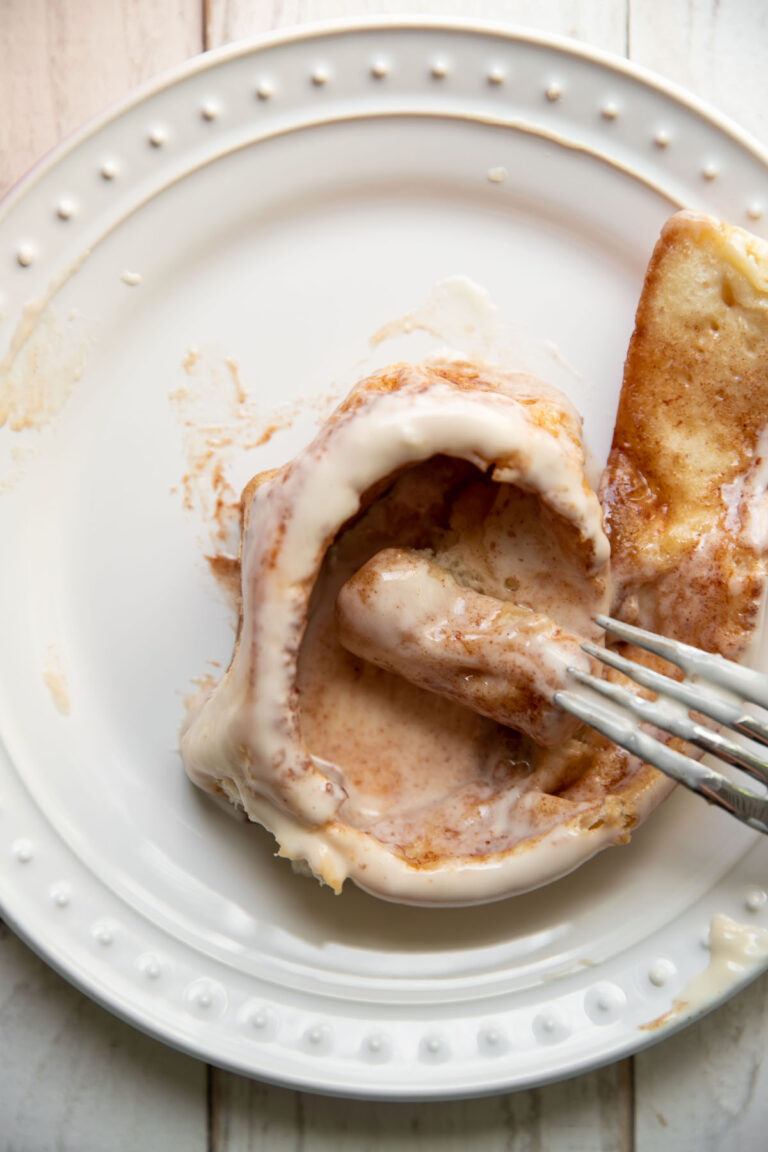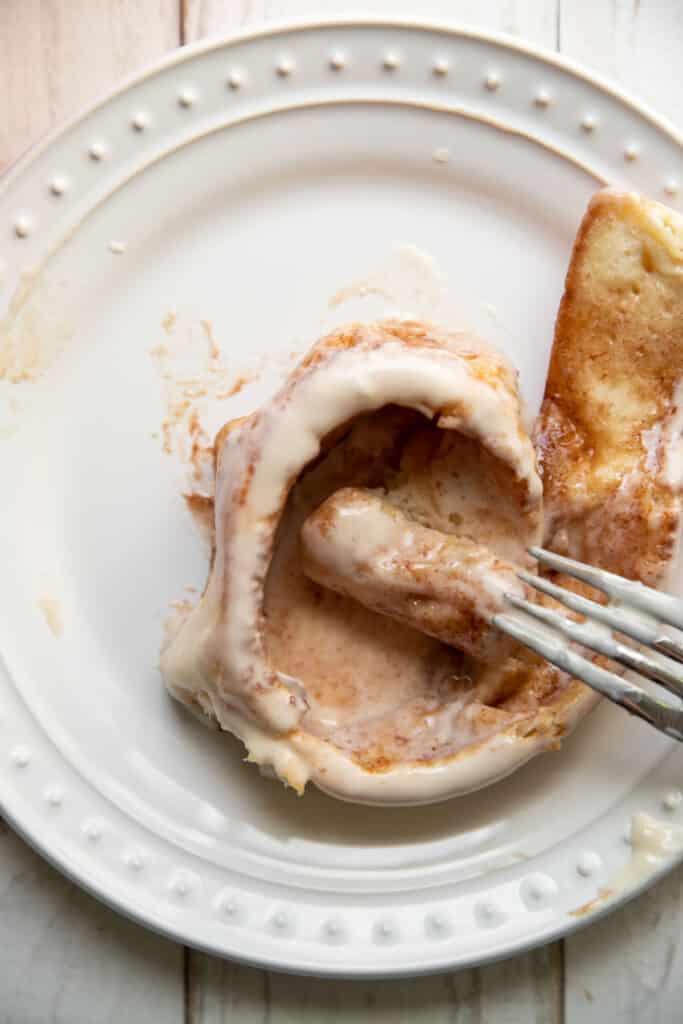 Dinner To Serve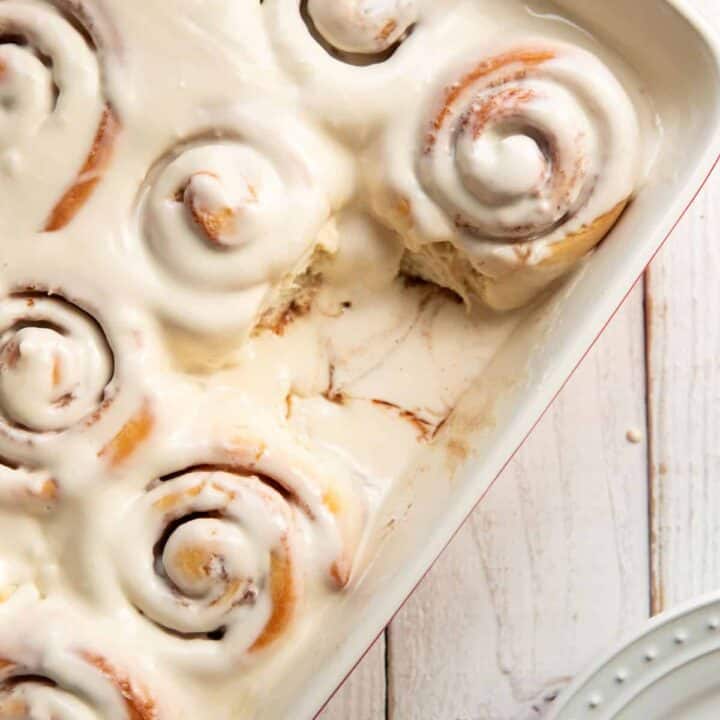 Maple Cream Cheese Cinnamon Rolls
Total Time:
2 hours
20 minutes
These maple cream cheese cinnamon rolls are so ooey, so gooey, so amazingly cinnamon-errific. Cinnamon swirls of fluffy dough mixed with a luscious cream cheese maple frosting.
Ingredients
1 ¼ c milk, heated for 1 minute
2 ¼ tsp yeast
4 tbsp butter, melted
3 ¼ c flour
¼ c sugar
1 tsp kosher salt
Cinnamon Filling
4 tbsp butter, melted
½ c white sugar
½ c brown sugar
1 tbsp cinnamon
Cream Cheese Frosting
½ stick cream cheese, softened
1 ½ c powdered sugar
¼ c maple syrup
2 tbsp butter, softened
splash of vanilla extract
pinch of salt
splash of heavy cream or milk, if needed
Instructions
Heat milk in the microwave for 1 minute, so it's warm but not hot
Add the yeast, stir and sprinkle with a pinch of sugar
Let this sit for 5-10 minutes, until frothy
In a stand mixer mix together the flour, sugar and salt
To this add the yeast mixture and the melted butter
Knead for 3 minutes on med/low speed until the dough is smooth
Dump the dough out on to a floured surface, shape into a ball and place in a bowl, covered, for 30 minutes or until doubled in size
On a floured surface press out the dough into a 12"x20" rectangle, you can use a rolling pin as well
Pour on the melted butter, spreading to all the edges
In a small bowl stir together the white sugar, brown sugar and cinnamon
Sprinkle this over the melted butter, evenly
Roll up the cinnamon roll dough like a jelly roll and end with the seam side down toward the counter to hold it in place
Grab a piece of sewing thread, or a knife, and cut 12 pieces
Place the rolls in a 9x13 baking dish (I like to use the butter wrapper to grease the bottom and edges or a piece of parchment paper)
Preheat the oven to 350
Place the rolls in the baking dish near the oven, covered, let them rise a bit while the oven preheats
When the oven has come to temperature, bake the rolls for 20 minutes
Meanwhile you can make the frosting
Beat together the "frosting" ingredients, cream cheese, powdered sugar, butter, maple syrup, a splash or two of milk, vanilla and salt until smooth and silky
Remove the cinnamon rolls from the oven
Immediately spread some of the frosting over the rolls, since they will be very hot the frosting will melt and coat the inner swirls of the cinnamon rolls (YUM!)
Wait 20 minutes until they have cooled a bit, spread over the rest of the frosting
Serve!
Nutrition Information:
Serving Size:

1 grams
Amount Per Serving:
Unsaturated Fat:

0g