Maple cream cheese cinnamon rolls. So ooey, so gooey, so amazingly cinnamon-errific. Cinnamon swirls of fluffy dough mixed with a luscious cream cheese maple frosting.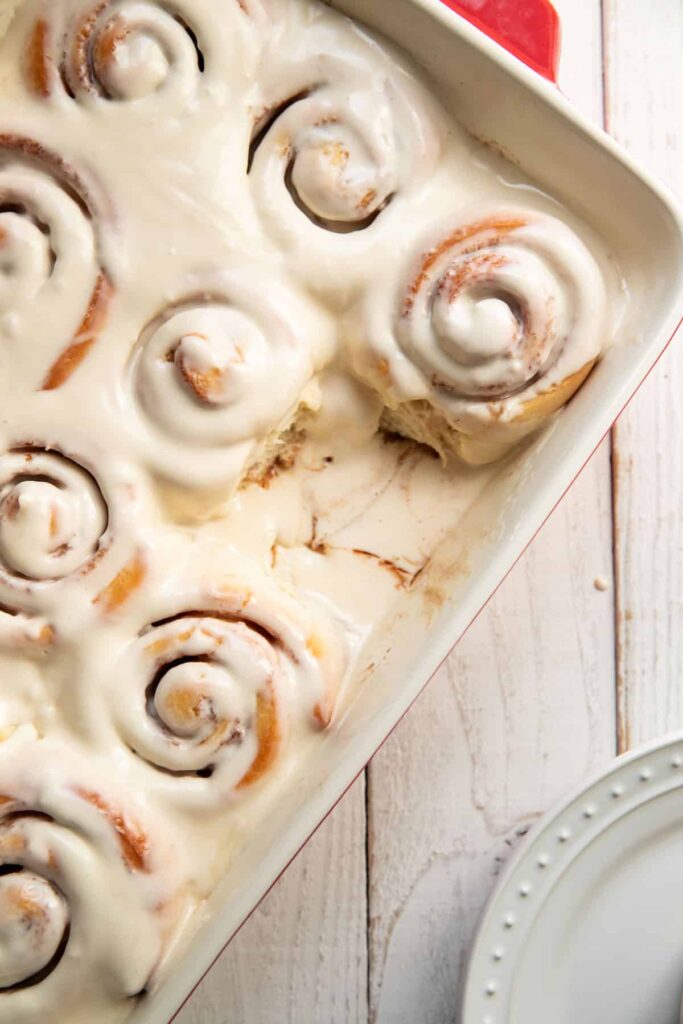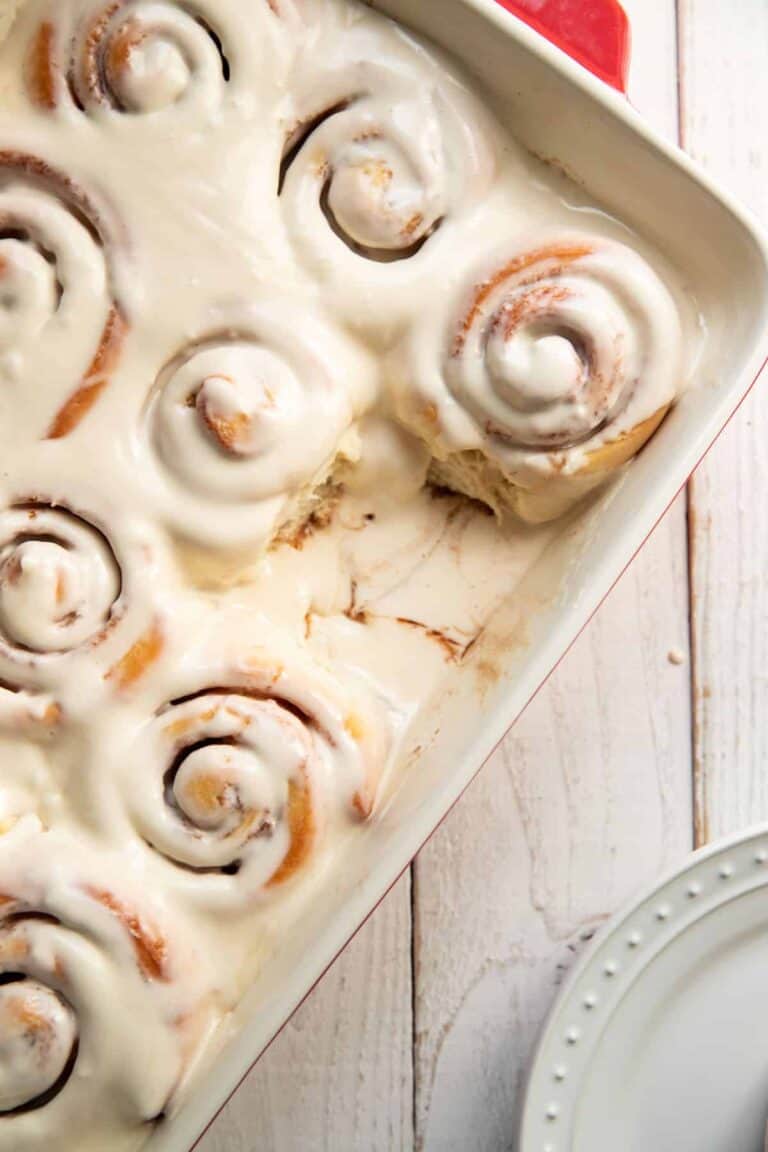 If you are a cinnamon roll connoisseur than these maple cream cheese cinnamon rolls are for you! You need them, you have to have them, go make them right away!
It's quite exciting, obviously (insert snarky smile). We can't take ourselves too seriously, now can we?
It all starts with the dough.
Cinnamon roll dough should be very soft and still a bit tacky when it goes to rise.  If it's too dry then you'll have dry cinnamon rolls.  That makes sense, right?
So the best thing to do is add your dry ingredients, look at it, if it still looks really wet don't just dump a bunch more flour in, sprinkle it in 1 tablespoon at a time. Sometimes it take a minute to really tell how much that 1 tablespoon made a difference in the texture. You can always add more flour – but you can't take it away.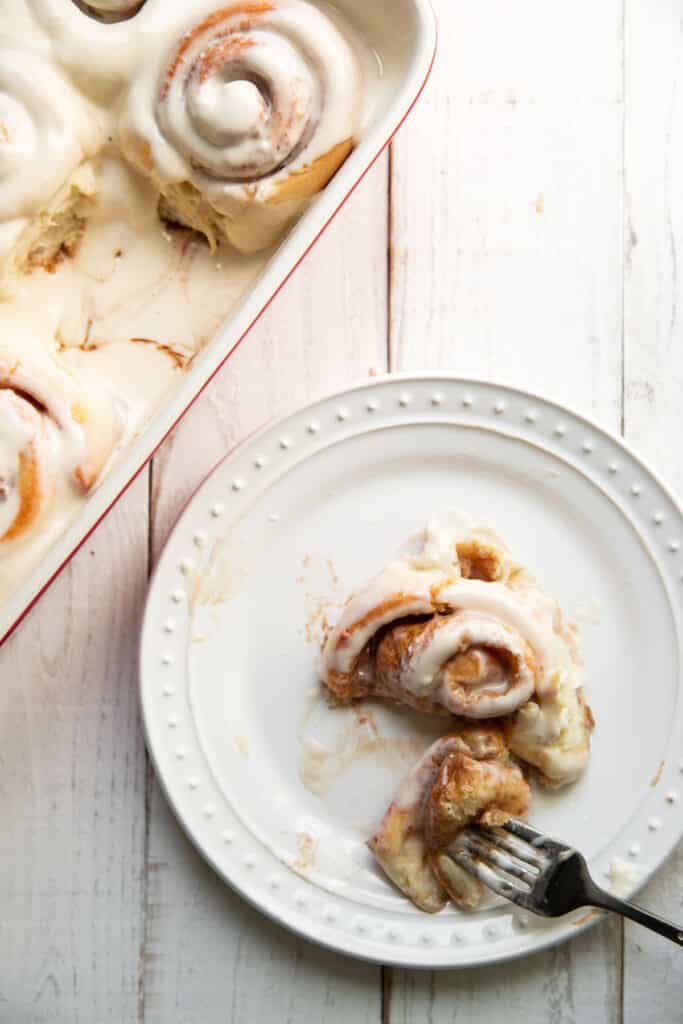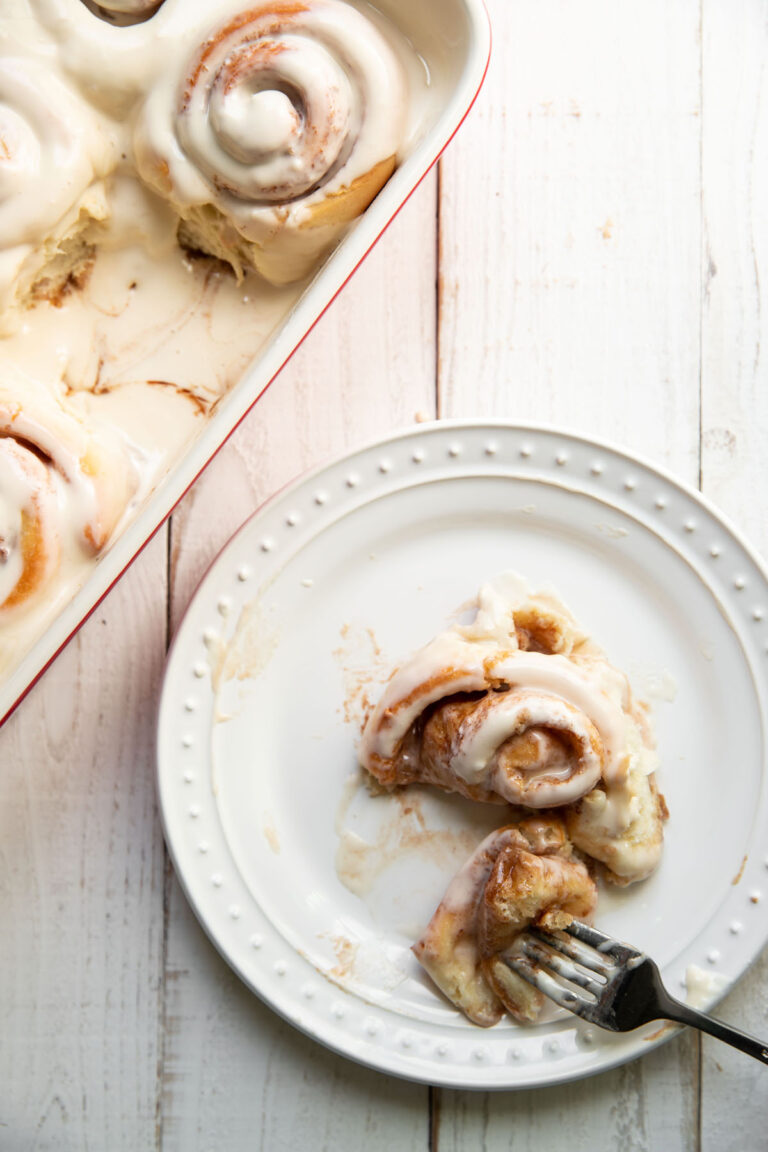 To get perfect fluffy swirls, you'll want to pat or roll the dough out so it's not too thin. The thinner you roll the dough, the faster it will dry out. Plus you will lose out on that squishy desired cinnamon roll texture. Dry rolls just aren't good for any of us!
I like to do the traditional 12 rolls in a 9×12 dish.  It's the perfect size and always fills it up.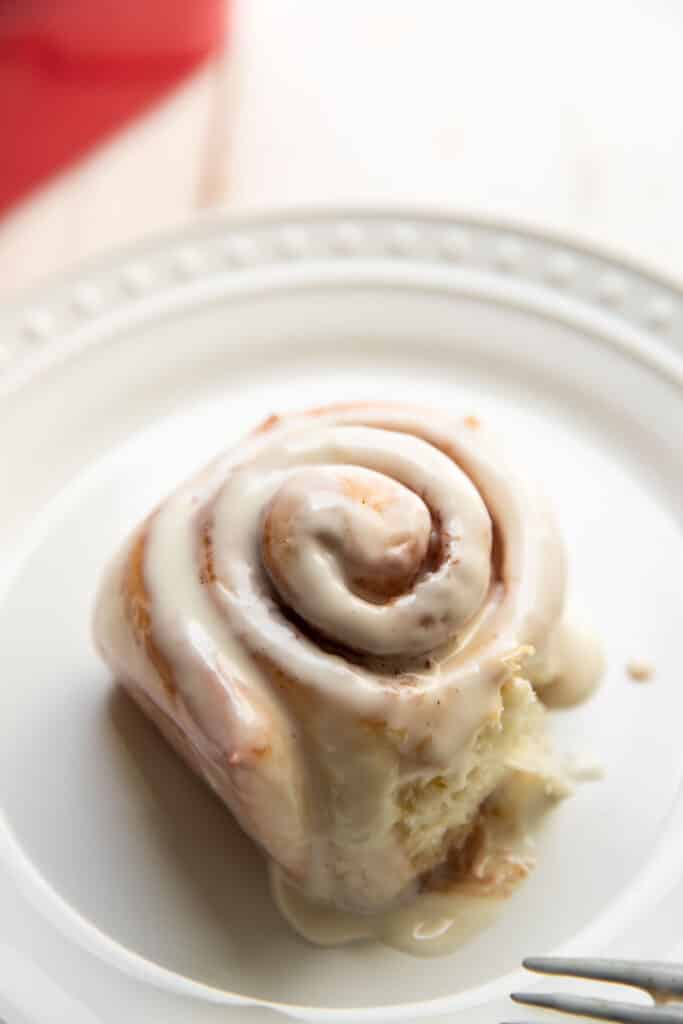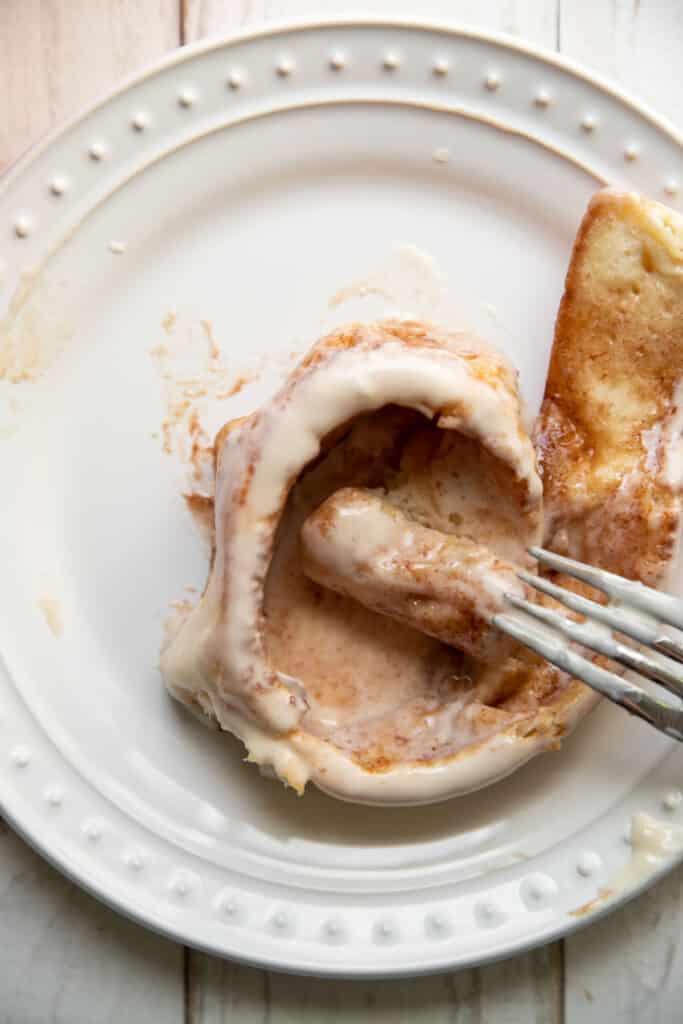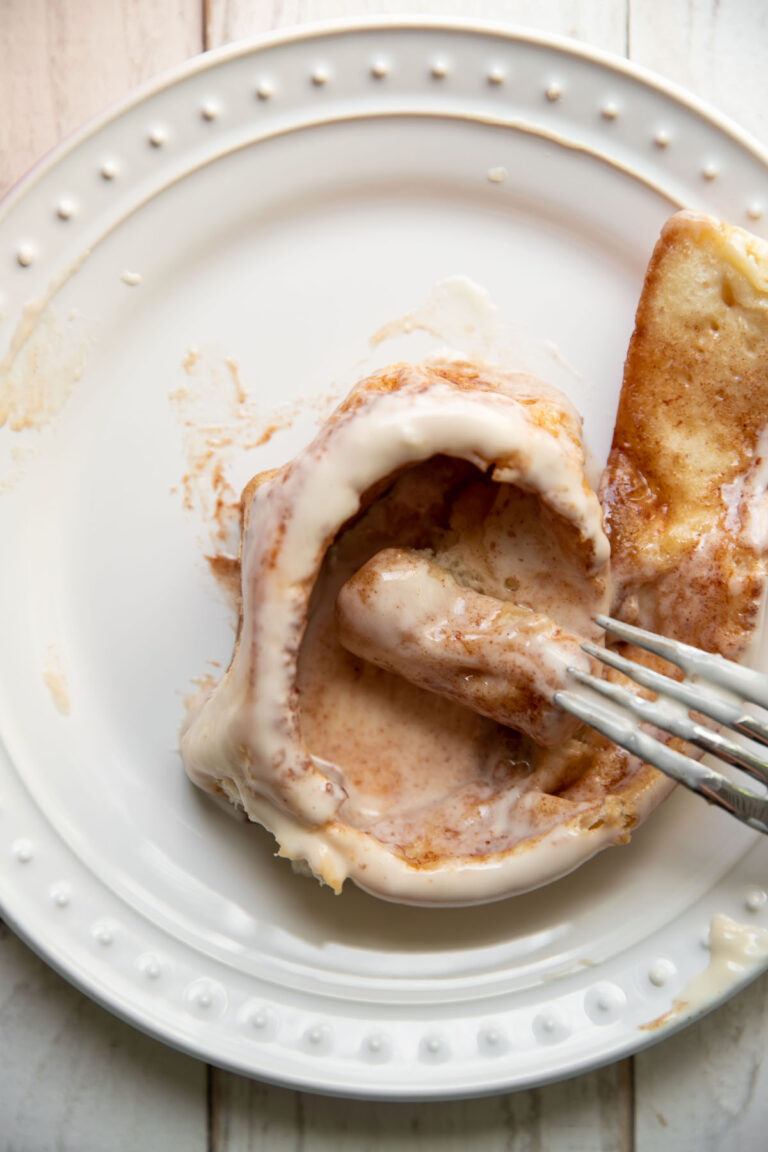 The other thing that makes a great cinnamon rolls is, drum roll, cinnamon. Don't get skimpy on the cinnamon. This recipe calls for 1 whole tablespoon of cinnamon. And it's perfect and spicy.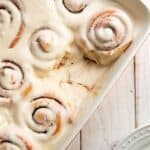 Print Recipe
Maple Cream Cheese Cinnamon Rolls
Cinnamon swirls of fluffy dough mixed with a luscious cream cheese maple frosting.  
Ingredients
1 1/4

c

milk

heated for 1 minute

2 1/4

tsp

yeast

4

tbsp

butter

melted

3 1/2

c

flour + more if needed

1/4

c

sugar

1

tsp

salt
filling
4

tbsp

butter

melted

1/2

c

white sugar

1/2

c

brown sugar

1

tbsp

cinnamon

pinch

of salt
frosting
1/2

stick cream cheese

softened

1 1/2

c

powdered sugar

1/4

c

maple syrup

2

tbsp

butter

softened

milk

splash of vanilla

pinch

of salt
Instructions
Heat milk in the microwave for 1 minute, so its pretty warm but not hot

Add the yeast, stir and sprinkle with a pinch of sugar

Let this sit for 5-10 minutes, until frothy

In a stand mixer add 3 1/2 c of flour, 1/4 c sugar and 1 tsp salt, stir

To this add the water/yeast mixture and the melted butter

Mix for a 2-3 minutes, until combined on a low speed

If it's still extremely sticky, add a bit more flour, it should be soft and sticky but not excessively sticky (maybe only 1/3 c flour more max, no more, if needed or rolls will be dry)

Dump the dough out on to a floured surface, shape into a ball and place in a bowl, covered, for 30 minutes

On a floured surface press out the dough into a 12×20″ rectangle, you can use a rolling pin as well

Pour on the melted butter, spreading to all the edges

In a small bowl stir together the white sugar, brown sugar, cinnamon and a pinch of salt

Sprinkle this over the melted butter, evenly

Roll up the cinnamon roll dough like a jelly roll and end with the seam side down toward the counter to hold it in place

Grab a piece of sewing thread, or a knife, and cut 12 rolls

Place the rolls in a 9×13 baking dish (I like to use the butter wrapper to grease the bottom and edges)

Preheat the oven to 350

Place the rolls in the baking dish near the oven, covered, let them rise a bit while the oven preheats

When the oven has come to temperature, bake the rolls for 25 minutes

Meanwhile you can make the frosting

Beat together the "frosting" ingredients; cream cheese, powdered sugar, butter, maple syrup, a splash or two of milk, vanilla and salt until smooth and silky

Remove the cinnamon rolls from the oven

Immediately spread some of the frosting over the rolls, since they will be very hot the frosting will melt and coat the inner swirls of the cinnamon rolls (YUM!)

Wait some minutes until they have cooled a bit, spread over the rest of the frosting

Serve!