Tender red wine braised short ribs cooked with fresh thyme and garlic in Rioja red wine, with large chunks of carrots and gouda mashed potatoes. Then everything get's topped with the most amazing red wine sauce made from what's in the pan!
These short ribs is one of those extra special dinner recipes to make for a birthday or anniversary. If you want to make it really special you could serve this salted caramel cheesecake chocolate cake for dessert!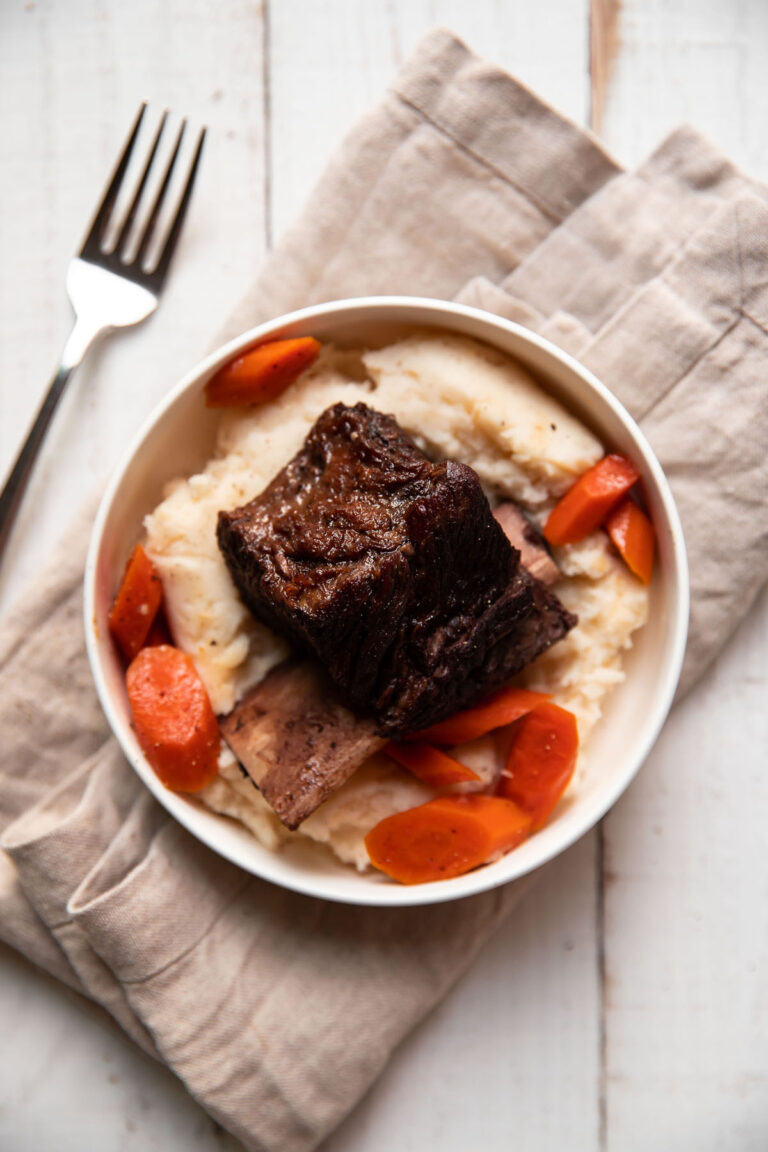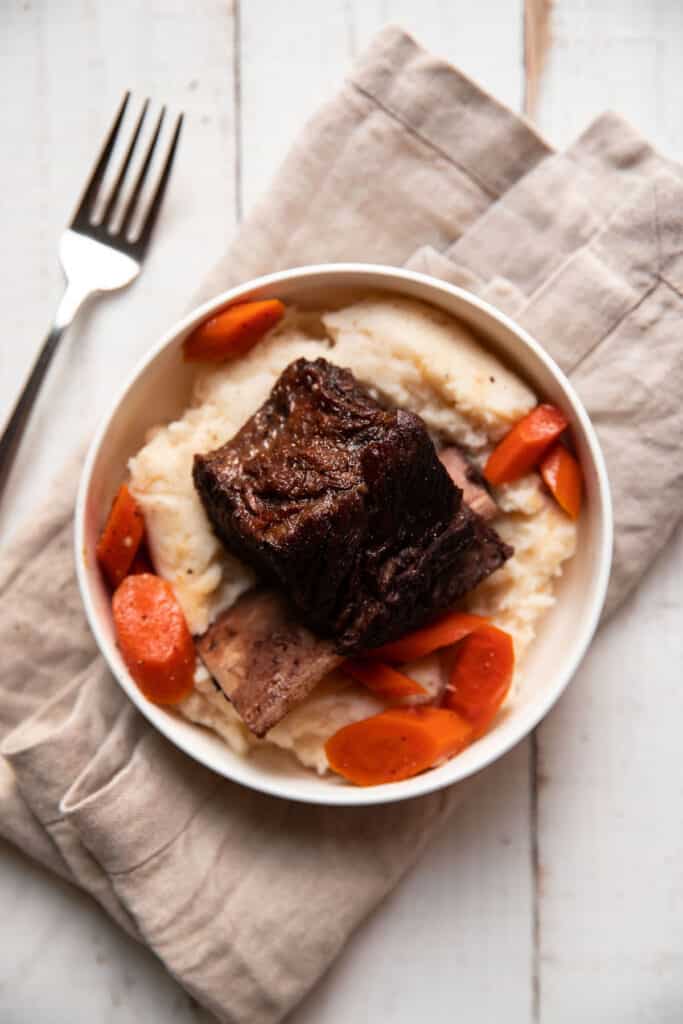 There's something so impressive about serving short ribs. But I promise you, this recipe is beyond easy to prepare.
You'll have the entire family thinking you are a master world class chef in the kitchen.
You may be asking, what's the difference between this and pot roast? I'd say this is a sexy pot roast. Which makes me think of these pot roast sliders and this tender pot roast french onion soup. Short ribs come from the chuck roast section.
They do have a similar tenderness when cooked just right, but these are way better and ever more tender. As long as you cook them correctly and don't speed up the process.
This is an easy recipe, but not quick. There's a waiting period while it cooks in the oven, a process called braising.
You'll probably lick your plate clean after this one.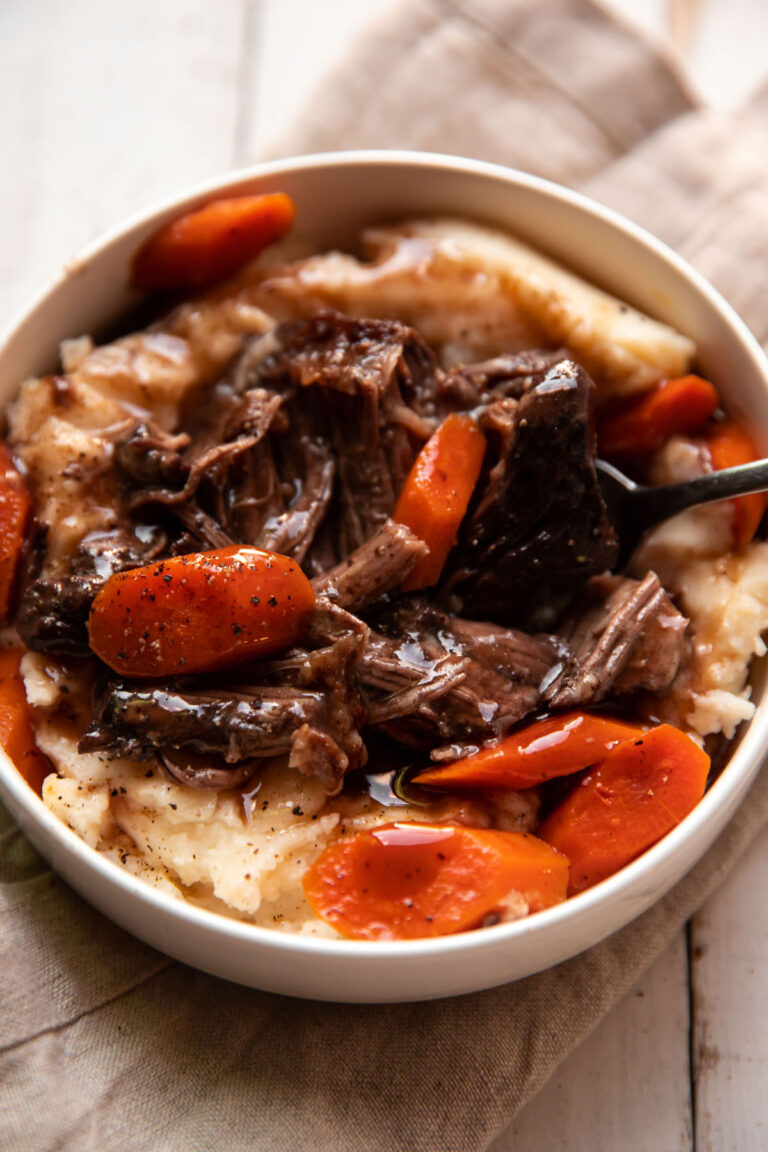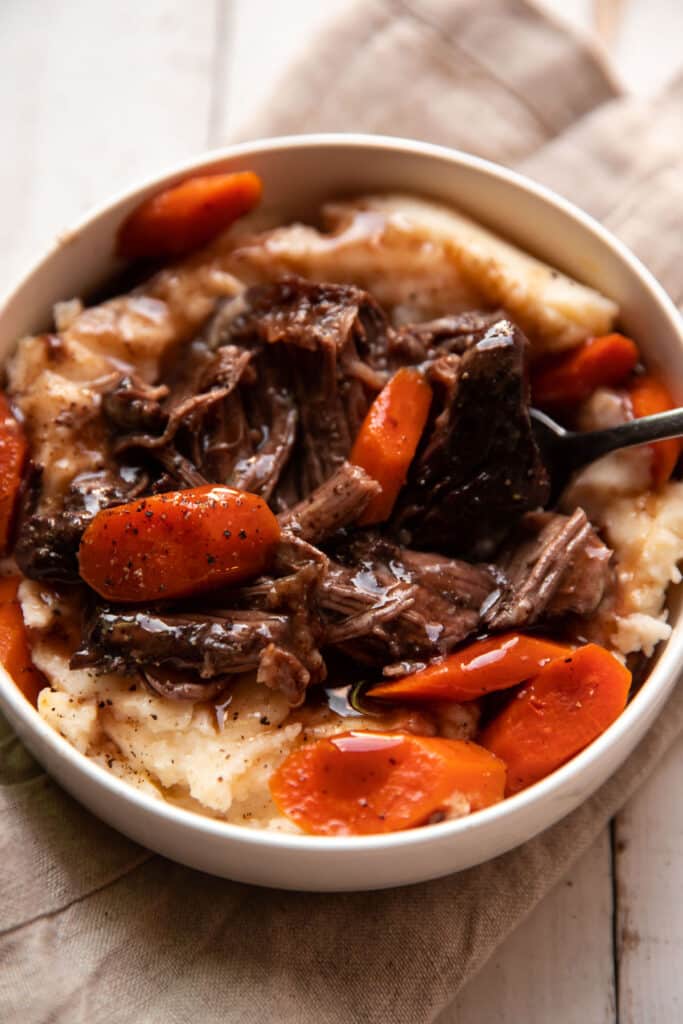 What Are Short Ribs?
Short ribs are beef, they are a cut of meat take from the chuck area. So see, very similar to making a pot roast, since you use the chuck.
You can get short ribs with the bone in or boneless. Always opt for bone in, because in my experience, they turn out way more tender.
And the appearance when you serve them just looks even fancier.
Short ribs have fat marbling throughout them, which makes for the perfect cut of meat to braise, the fat melts throughout and everything just becomes so tender.
The best way to prepare short ribs is by braising them.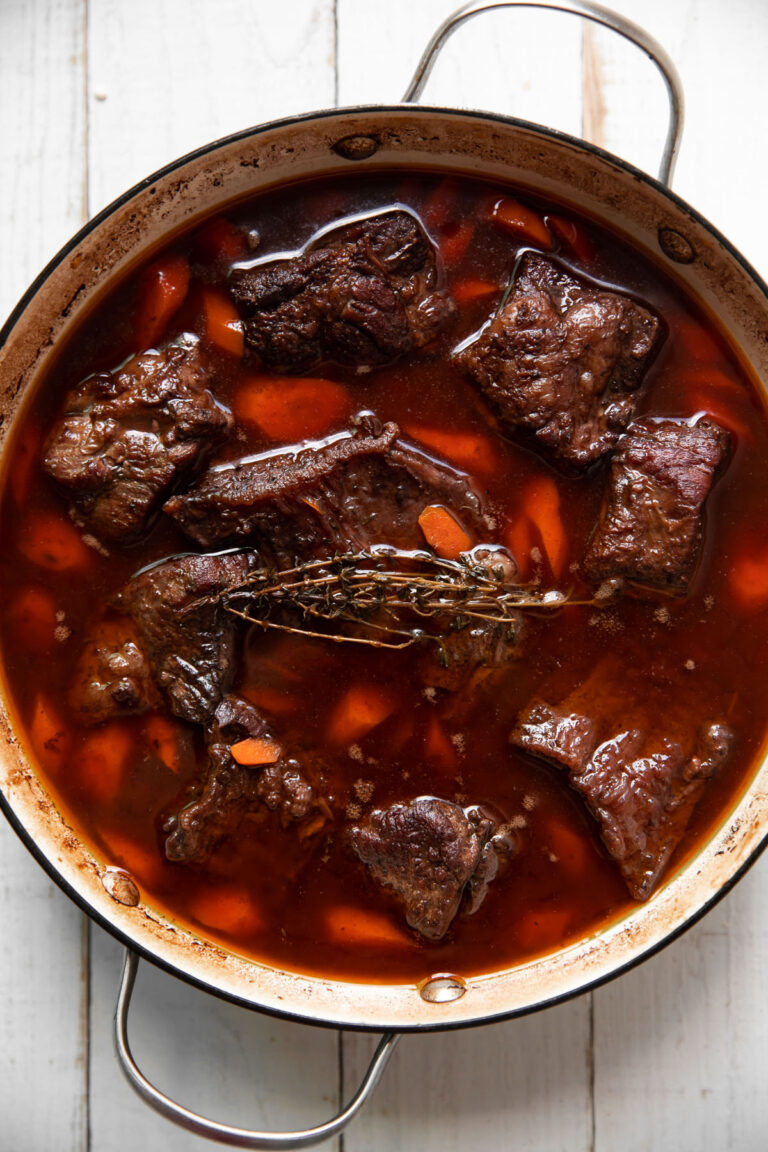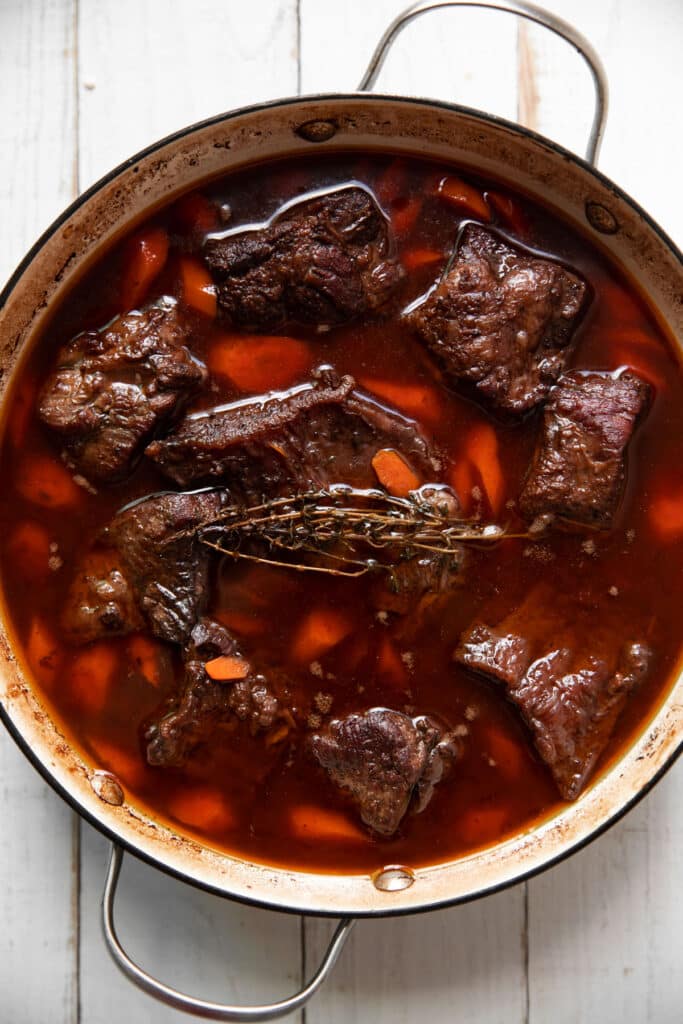 How Do you Braise Short Ribs?
If you aren't familiar with what braising is, here's a little explanation. Braising is a style of cooking.
The first step in a successful braise, is to sear your meat stovetop, in the pan you'll be braising in. You'll want a pan that has a lid.
After you've seared it, you add liquid to the pan.
It's very important when you make braised short ribs that you sear all the edges of the short ribs in your pan prior to braising. It locks in the flavors and gives it that beautiful appearance.
This method requires a low and slow approach. You'll usually find recipes for braising with a 300 degree oven temperature. Braising takes hours. If you try to speed up the process, you'll end up with tough meat.
The process of braising allows the meat to get super tender, fall apart, melt in your mouth delicious.
Throw in some smashed garlic cloves and a sprig of thyme to give you a nice aroma and taste. Make sure, like always, to season your meat with salt and pepper.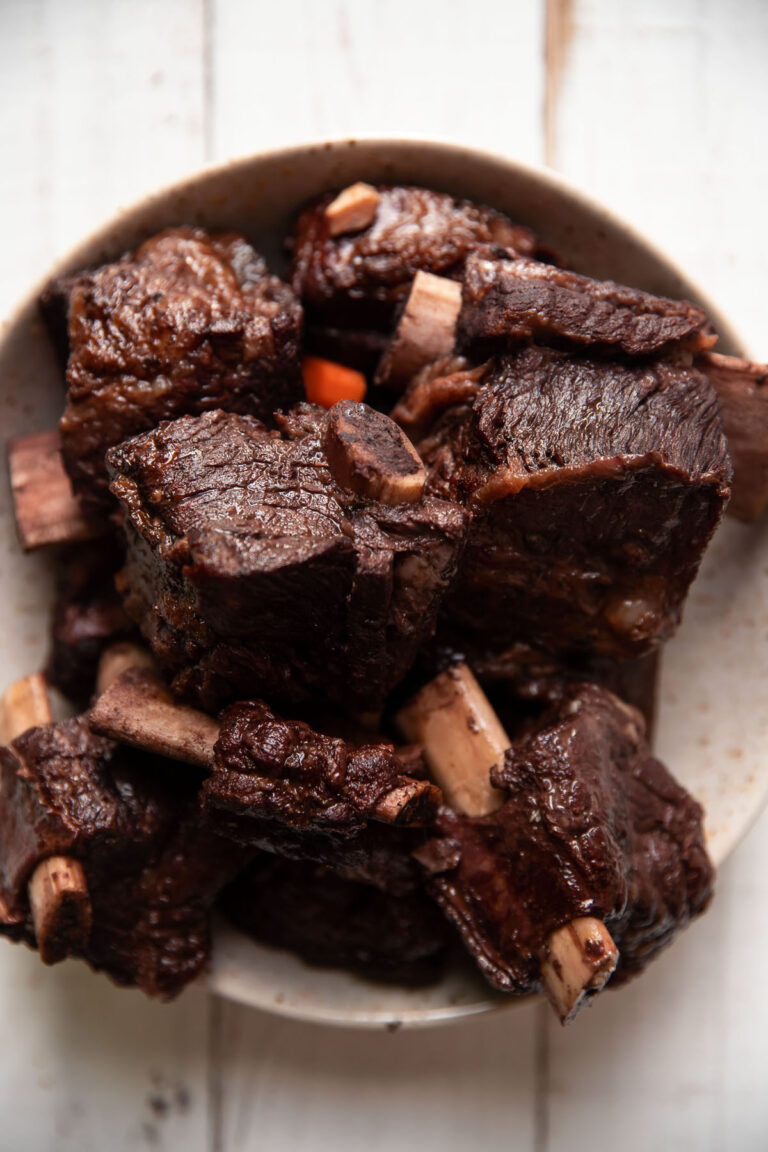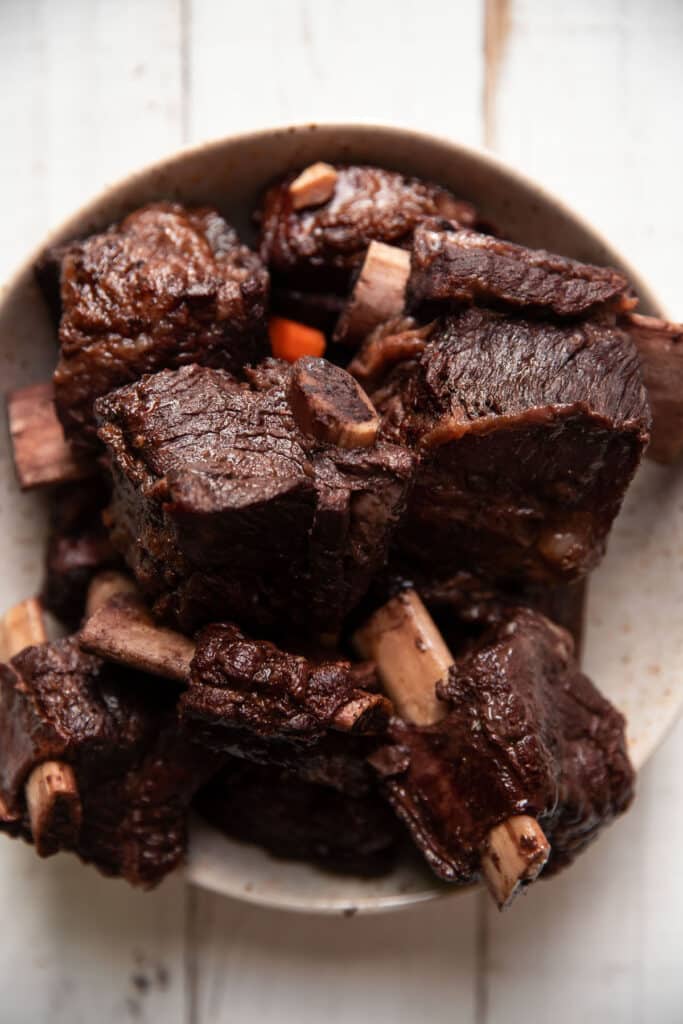 Braised Short Ribs Red Wine Sauce
I use a bold Spanish Rioja wine. It doesn't need to be a fancy wine, the one I use runs about $10. Rioja is known to be a great red wine pairing for beef.
A lot of the flavor comes from this wine. Especially when you are making the sauce.
The red wine sauce is the creme de la creme, the cherry on top, the ultimate fancy meal finisher.
Do not skip making the sauce.
It's quite simple.
After the short ribs are done cooking, strain out the liquid into a gravy fat separator. Then pour that liquid back into the pot or into a gravy boat for serving.
It's a thin sauce. It's not meant to have a thick gravy consistency. The sauce is meant to be poured over the meat and then pool in the bottom of the plate or bowl, all around the gouda mashed potatoes and carrots.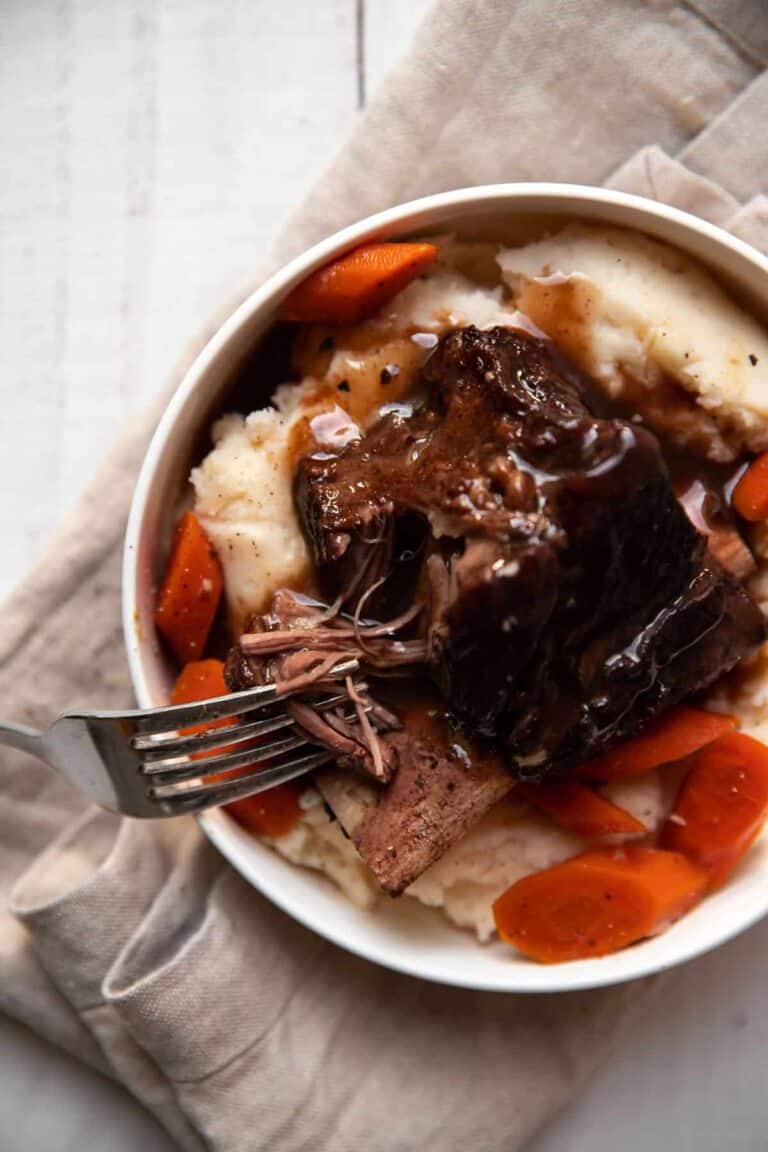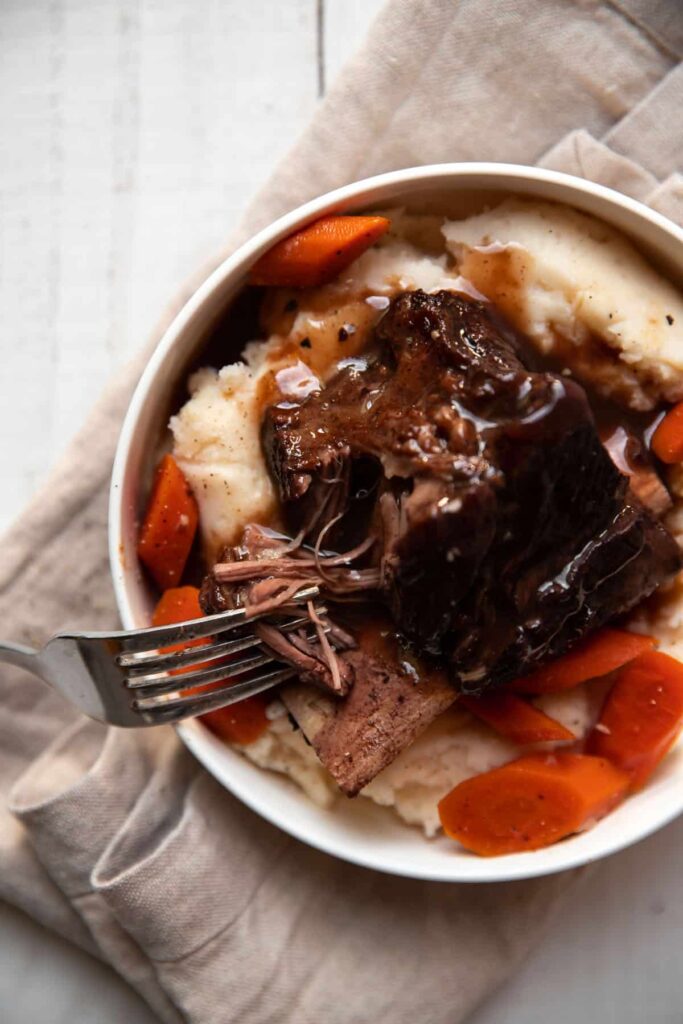 What do you Serve Red Wine Braised Short Ribs With?
Let's talk potatoes and carrots.
Being served with the red wine braised short ribs is gouda mashed potatoes and chunky carrots.
For the gouda mashed potatoes, you'll prepare these like a traditional mashed potato, stove top.
My secret for the best mashed potatoes ever, is once you drain out the water from boiling potatoes, return them to the pan with the stovetop heat on, let them steam like this for a minute or so.
It helps to release any extra water moisture that could make your potatoes gummy. Instead you get super creamy and fluffy mashed potatoes.
The hint of gouda cheese in the potatoes is the perfect accompaniment to the red wine sauce, tender meat and carrots.
About 30 minutes before braising the short ribs is done, you'll add some large chopped chunks of carrots to the pan to cook them. Couldn't be any easier.
We love this dinner recipe so much because it's just that easy to make! All the fancy frills, but no fuss.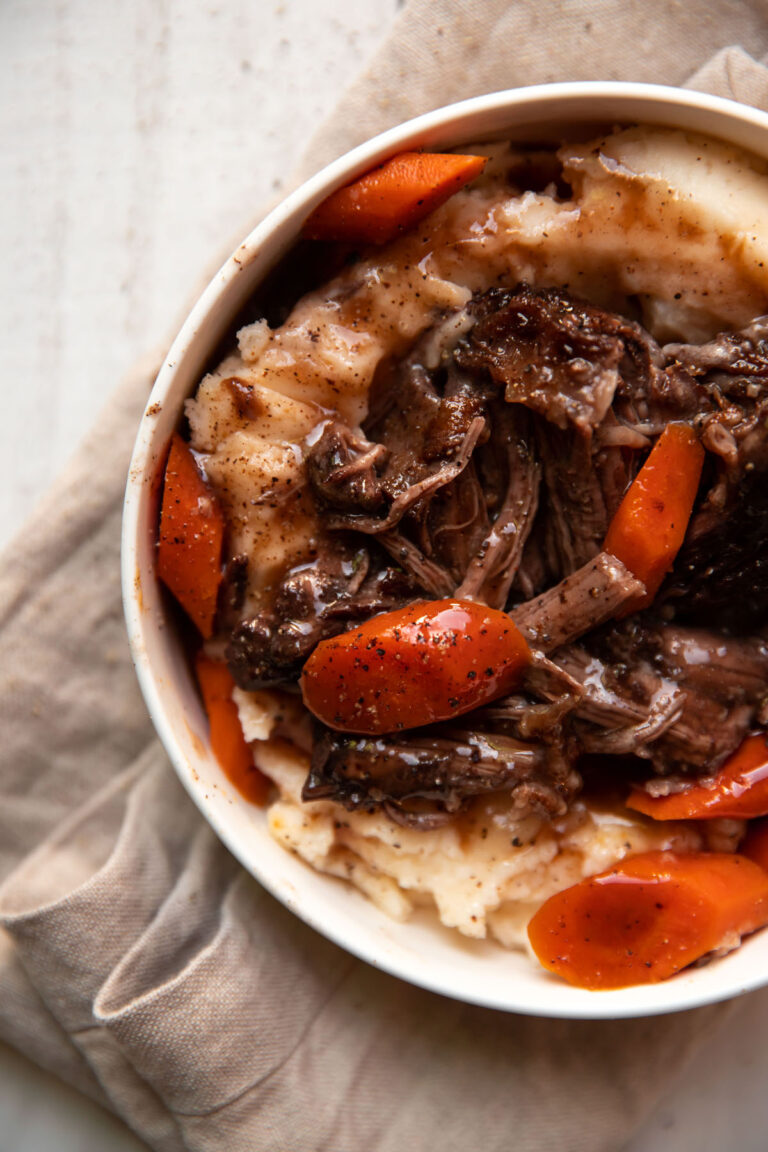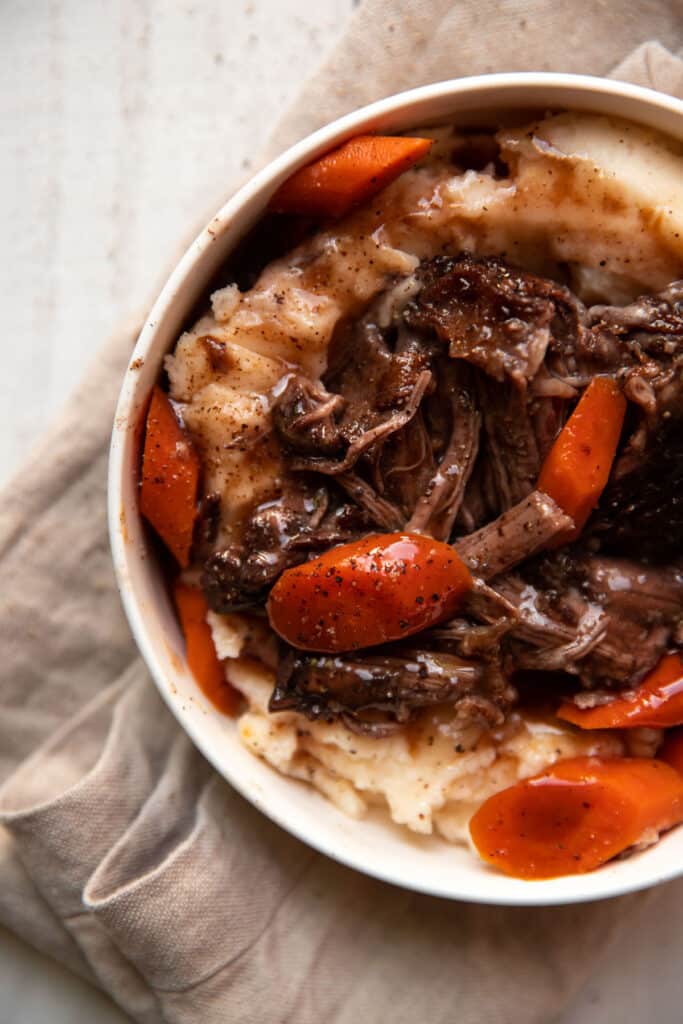 Family Recipe Favorites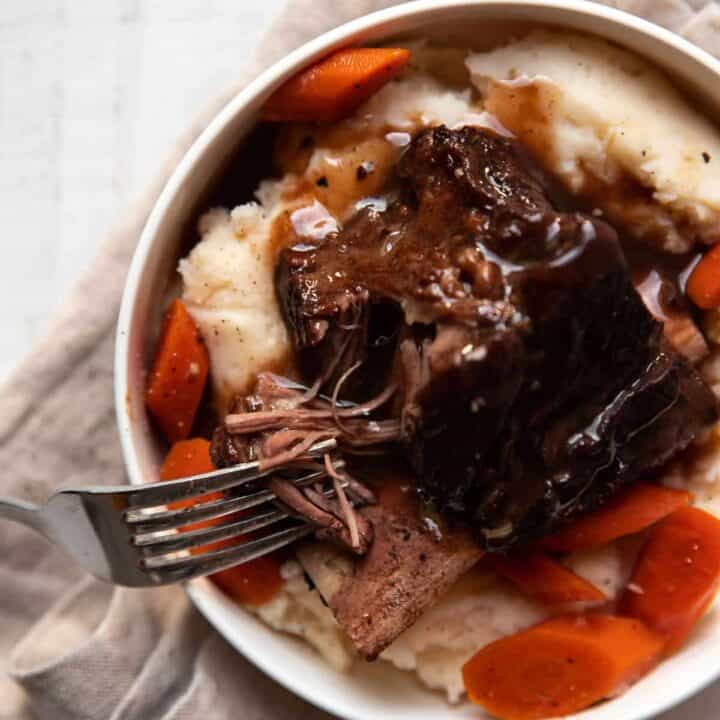 Red Wine Braised Short Ribs With Gouda Mashed Potatoes
Total Time:
3 hours
25 minutes
Tender red wine braised short ribs cooked with fresh thyme and garlic in Rioja red wine, with large chunks of carrots and gouda mashed potatoes. Then everything get's topped with the most amazing red wine sauce made from what's in the pan!
Ingredients
3 lbs bone-in short ribs
1 tbsp olive oil
7 garlic cloves, peeled and smashed
16 oz Campo Viejo Rioja Wine, must be Rioja wine
2 c beef broth
1 tbsp tomato paste
1 large sprig of fresh thyme
4 large carrots, peeled and chopped into large chunks
2 russet potatoes
1 c gouda cheese, shredded
splash of milk
salt
pepper
Instructions
Preheat oven to 325
Pat ribs dry with a paper towel and season generously with salt and pepper
Heat olive oil in a large pot (the same pot they will braise in) over medium/high heat
Place short ribs bone side up, alternating sides that you sear following the first side, making sure to get a good crust on that first side you sear
Remove to a plate
Turn heat down to low
Add tomato paste and garlic, whisking constantly for 2 minutes
Add in the red wine and bring to a boil
Return the short ribs to your pot, bone side down this time, boil for 3 minutes
Add in the beef broth and the sprig of thyme
Cover the pot with a lid and transfer to the oven
They will braise for 3 hours in the oven (they will not be super tender if you cook them less time)
30 minutes before braising gets done, add the chopped up carrots
Meanwhile, make the gouda mashed potatoes
Peel and chop the potatoes into chunks
Add the potatoes to a pot, cover with water and a few pinches of salt
Boil the potatoes until a fork can pierce them, strain and transfer back to the pot
Turn the heat of the stove back on, and steam the drained potatoes for 1-2 minutes, steam will release
Transfer the potatoes to a bowl
Add a few splashes of milk, a few pinches of salt and the shredded gouda cheese
Mix together until it's smooth, these are a thicker mashed potato
Remove the short ribs from the oven
Transfer the short ribs and carrots to a plate while you strain the red wine liquid out into a gravy fat separator
Add this red wine sauce to a serving boat
Put the short ribs and carrots back in the pan, cover, to keep warm
To serve, spoon mashed potatoes on to a plate or bowl, top with short ribs and carrots and pour on some of the red wine sauce
Recommended Products
As an Amazon Associate and member of other affiliate programs, I earn from qualifying purchases.
Nutrition Information:
Yield:

8
Serving Size:

1
Amount Per Serving:
Calories:

716
Total Fat:

45g
Saturated Fat:

20g
Trans Fat:

3g
Unsaturated Fat:

24g
Cholesterol:

184mg
Sodium:

529mg
Carbohydrates:

15g
Fiber:

2g
Sugar:

2g
Protein:

49g
This information comes from online calculators. Although moderncrumb.com attempts to provide accurate nutritional information, these figures are only estimates.
Did you make this recipe? Please leave your review in the comments below!
Make sure to follow Modern Crumb on Pinterest, Facebook and Instagram for lots of yummy meal inspiration! And subscribe to the newsletter, below, to get updates when new recipes post.
This recipe was originally published on 01/09/2018.