This avocado pomegranate chicken salad is a hearty, healthy summer salad recipe. Loaded with big pieces of avocado, fresh pomegranate arils, jalapeños, radishes, corn, black beans, cilantro and cotija cheese. Plus an easy homemade creamy and cool, avocado lime dressing.
This recipe was first published April 19, 2021.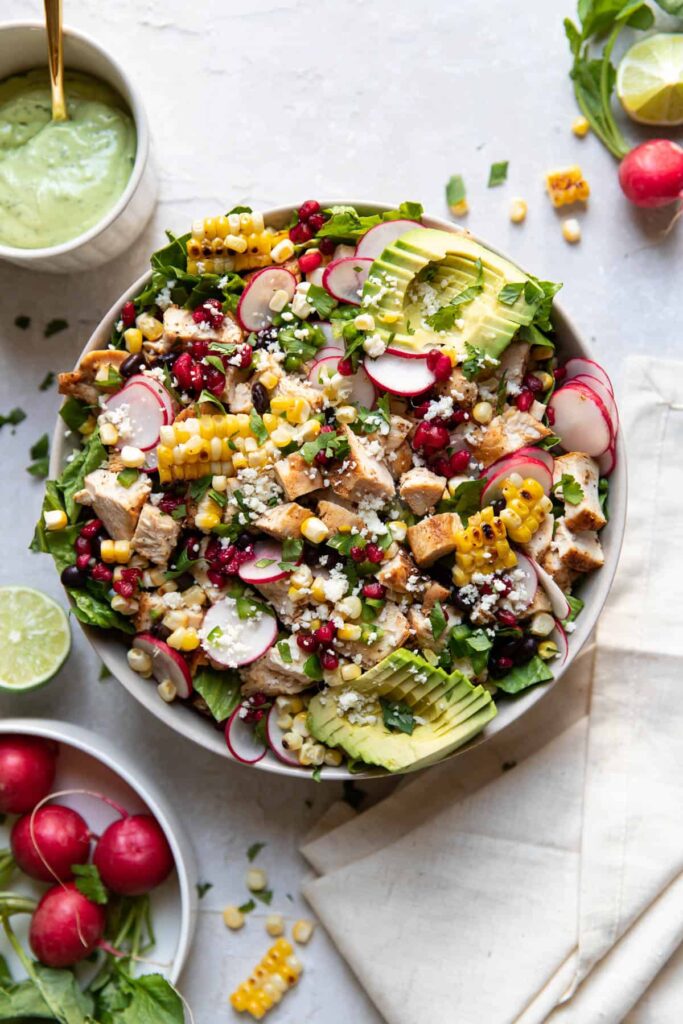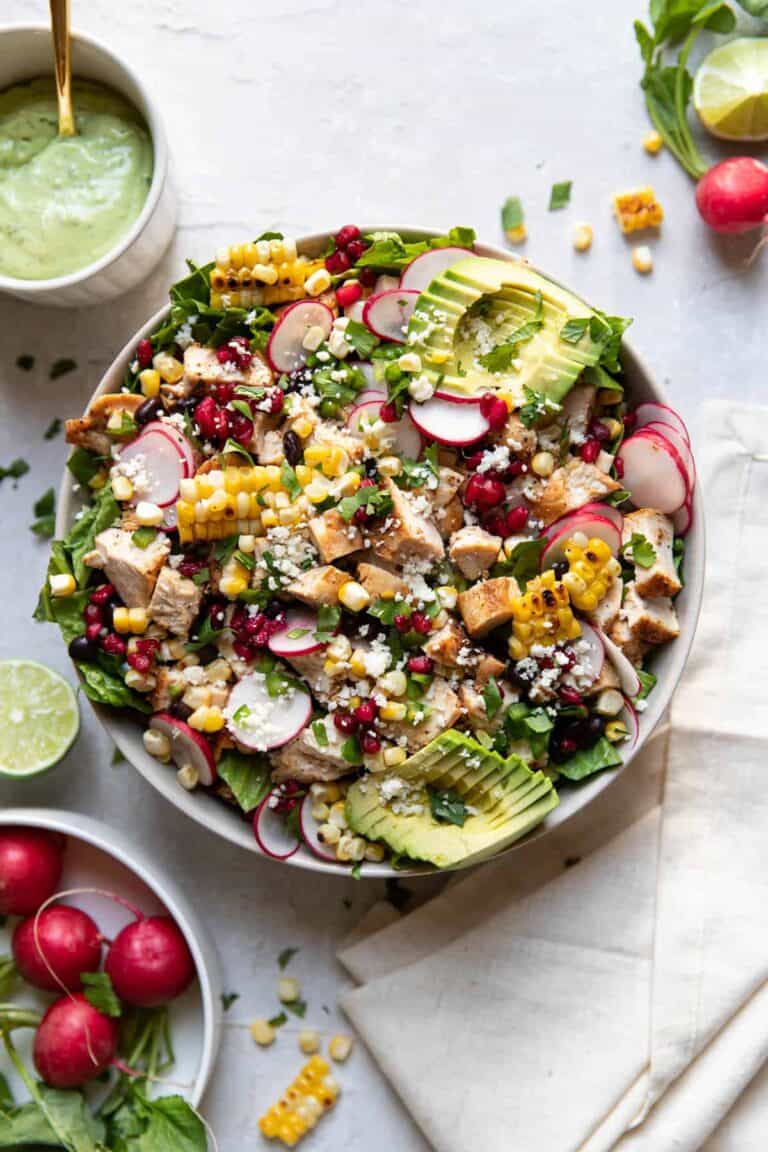 This salad is the perfect dinner when you want a fancy restaurant salad at home. It has all the toppings of a fine southwest restaurant. And tastes like it, too!
The toppings are piled high on top of crispy romaine lettuce. You want a crispy, sturdy lettuce when you have this many toppings. And when you have a thicker dressing.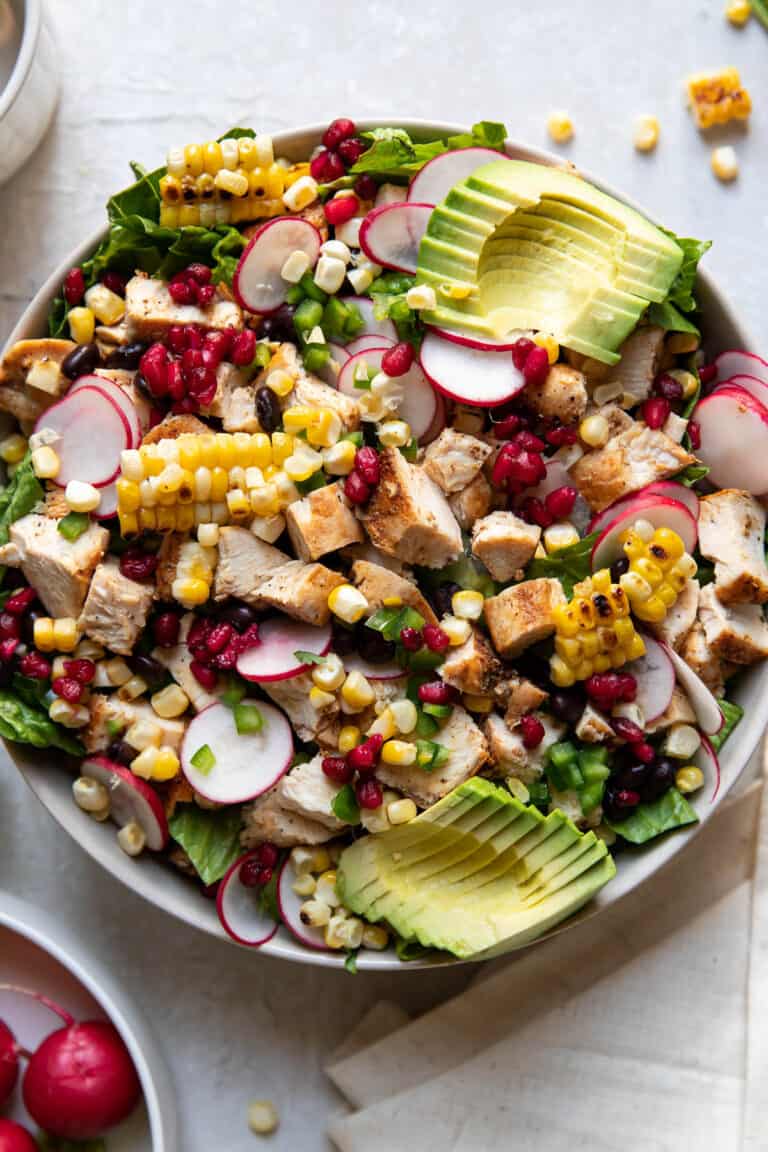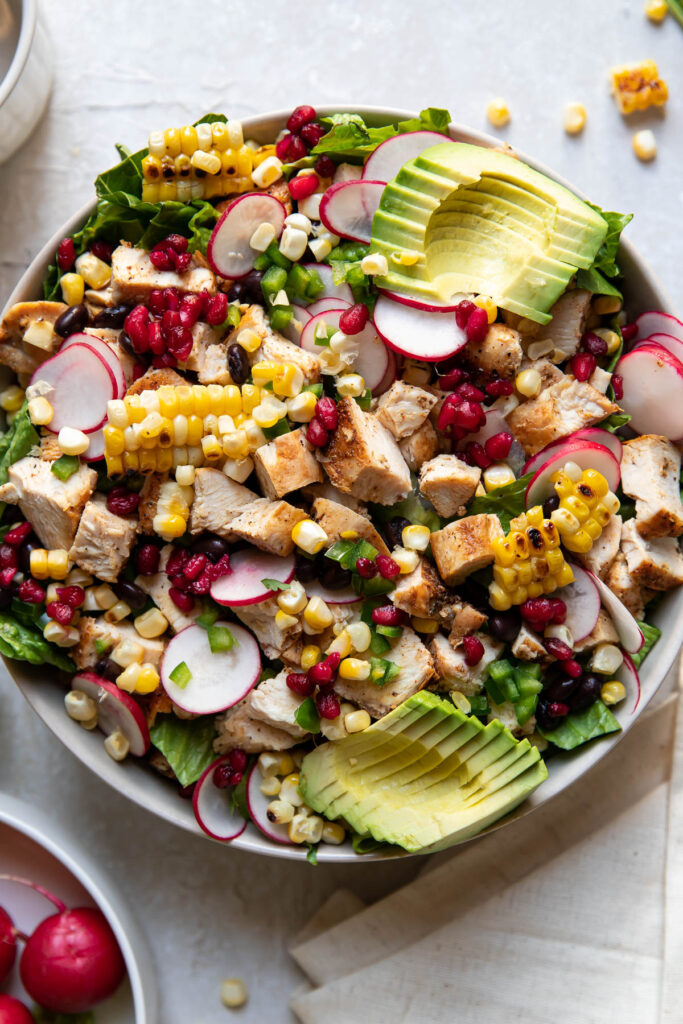 The avocado lime dressing is a mix of avocado, greek yogurt, sunflower oil, cilantro, lime juice and salt. You could always thin it out with a bit of water but I like the thicker consistency to it because it sticks to all the salad toppings.
You'll really love this one! And it's so beautiful to look at. It's a hearty salad that will fill you up. Just like this steak and vegetable salad, or this summer chicken taco salad.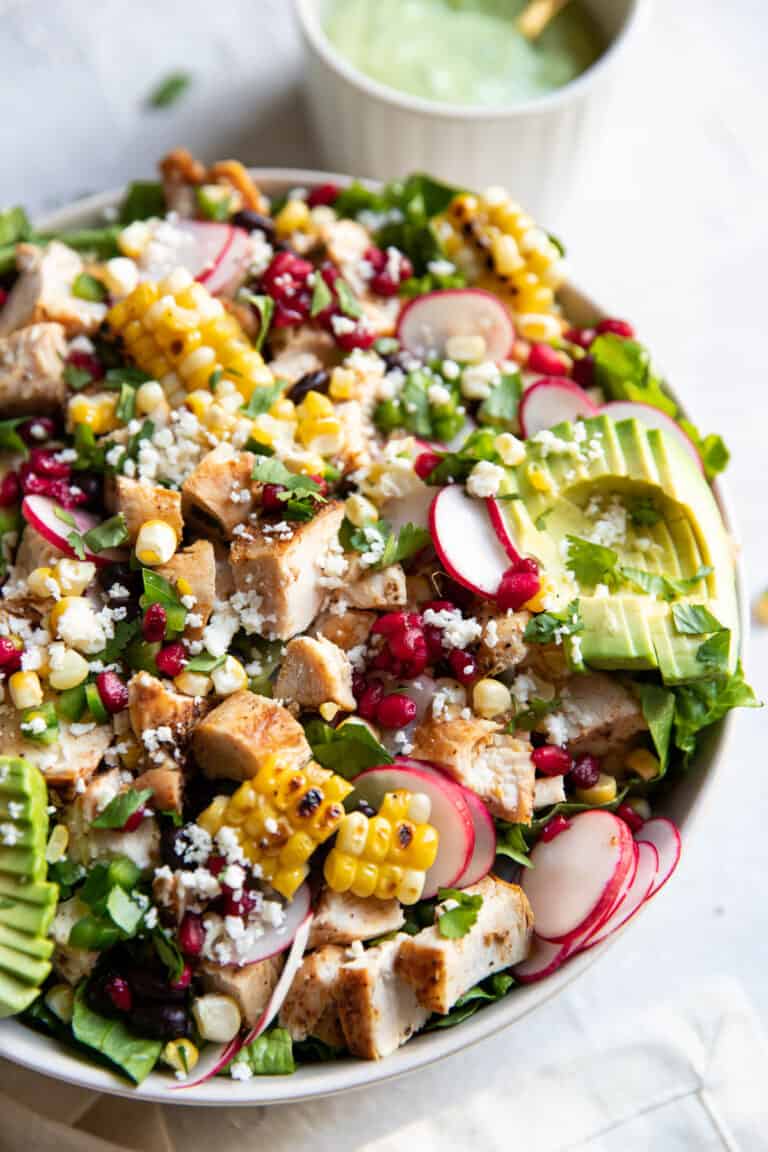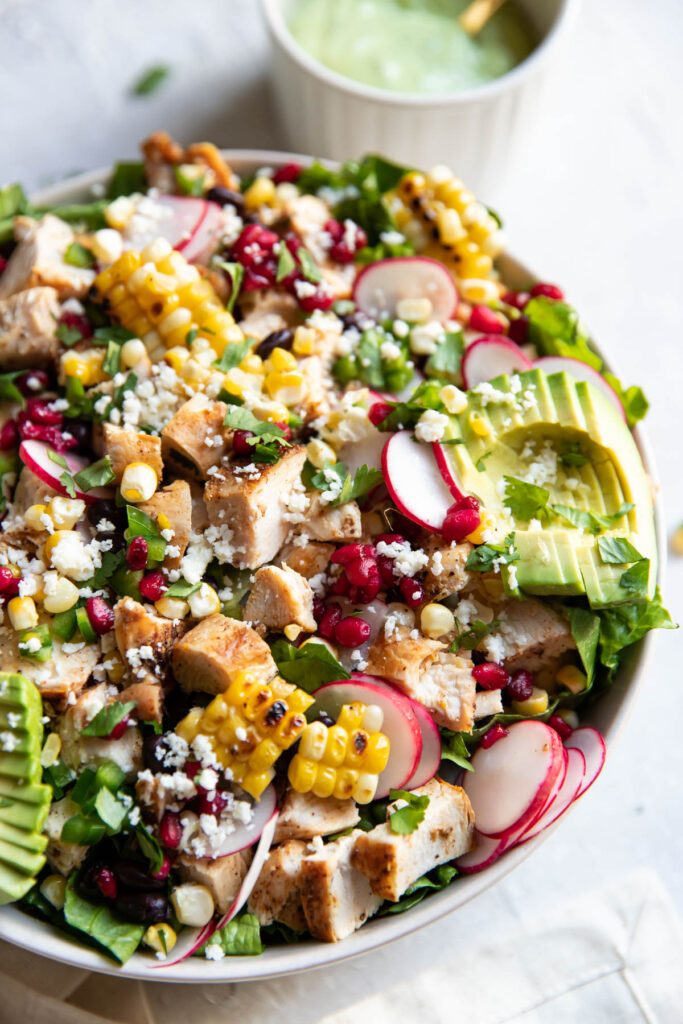 How To Get Pomegranate Arils Out of A Pomegranate
You got the pomegranate, now you're wondering, "how do I get the seeds out?". It's actually so easy but can be a little messy!
Cut the pomegranate in half.
Grab a large bowl and a wooden spoon. Hold half of the pomegranate in one hand with the seeds (arils) face toward the palm of your hand. Hold this over the bowl.
Take the wooden spoon and hit the back of the pomegranate, hard. The arils will start to pop out! Just let them all fall into the bowl and repeat with the other pomegranate.
Now you can rinse them and pick out any of the pomegranate white membrane that got stuck to the seeds. Drain out the water and they are ready to use!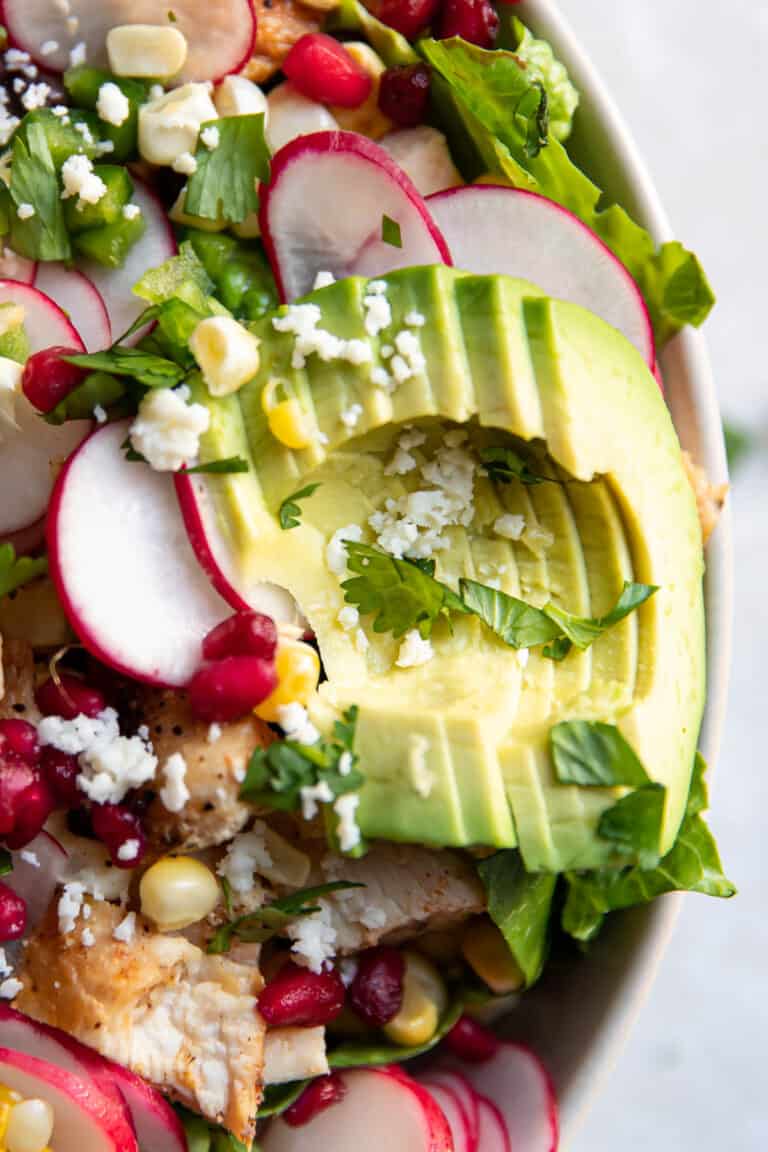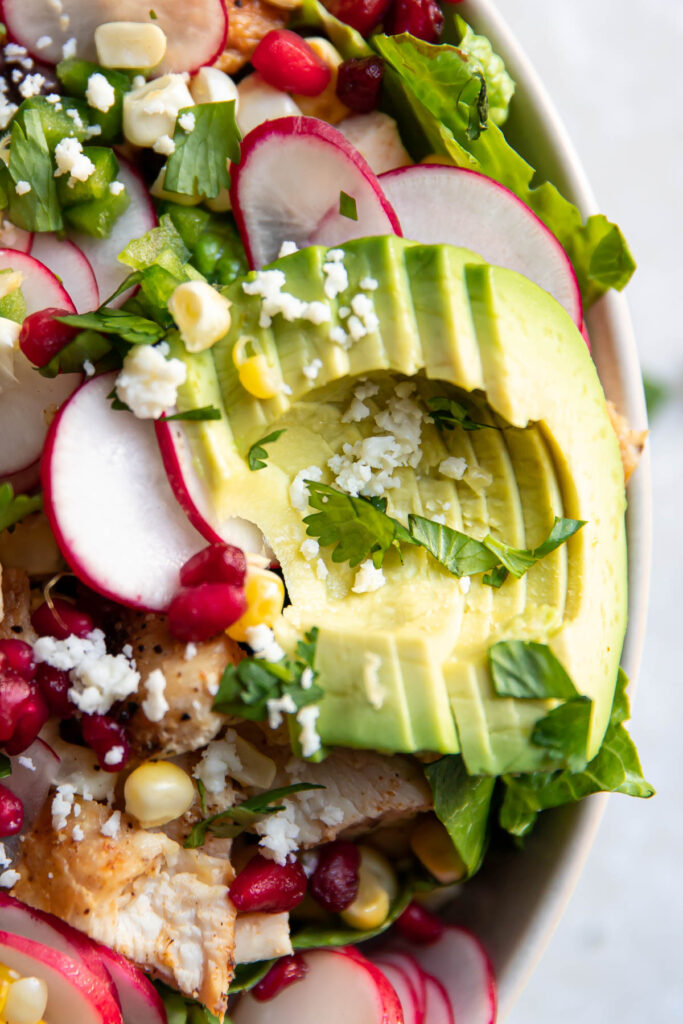 How To Make The Avocado Lime Dressing
The easiest way to make the avocado lime dressing is by putting everything in to a mini food processor.
It whirls up and will give you a really smooth creamy consistency.
If you don't have a food processor you can use a fork to mash up the avocados, add all the ingredients and then switch to a whisk to try and get the dressing smooth.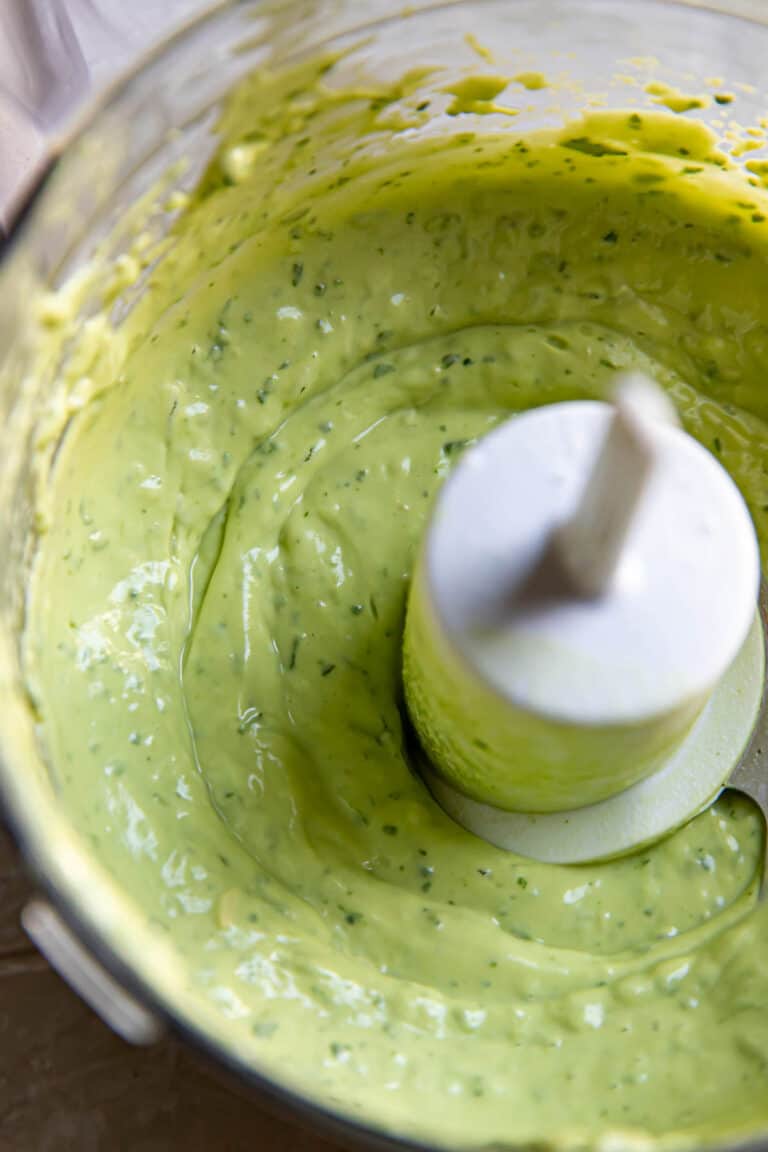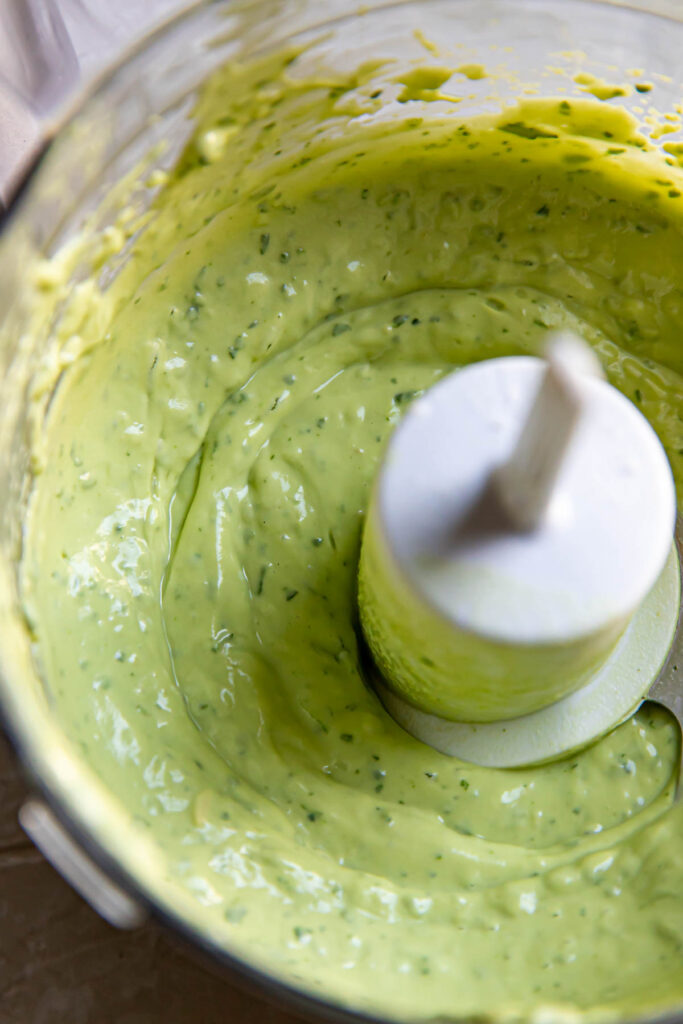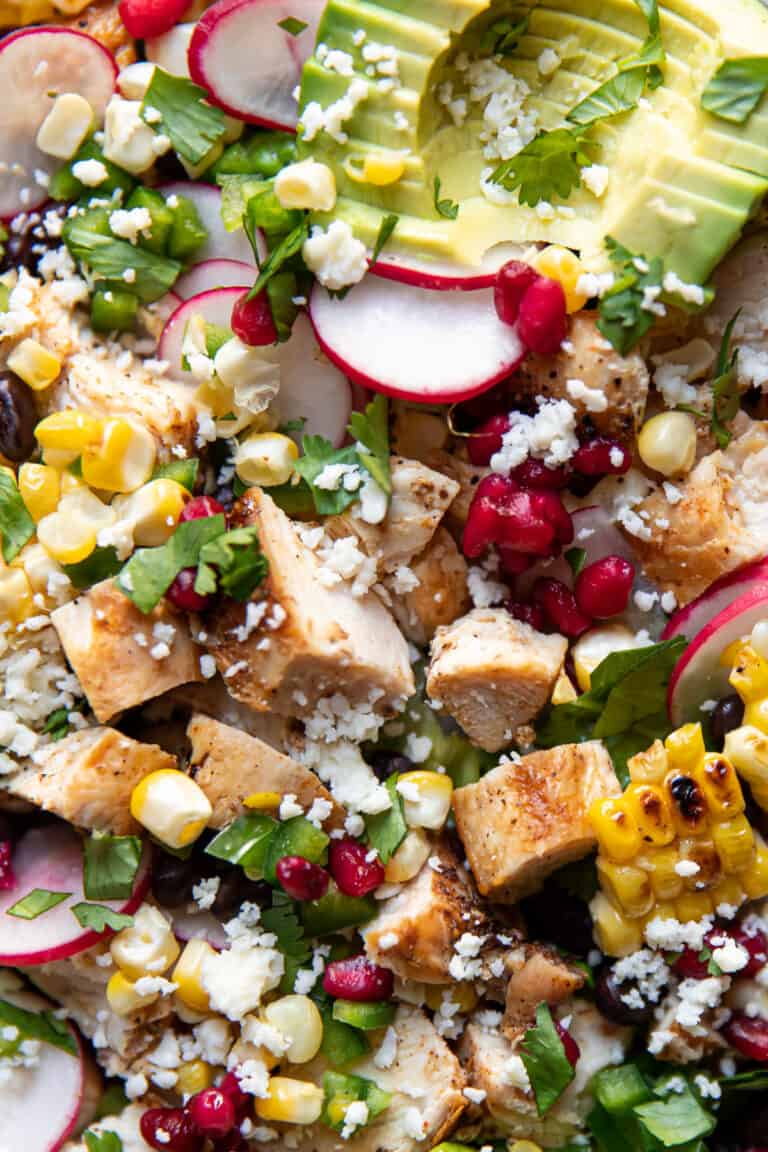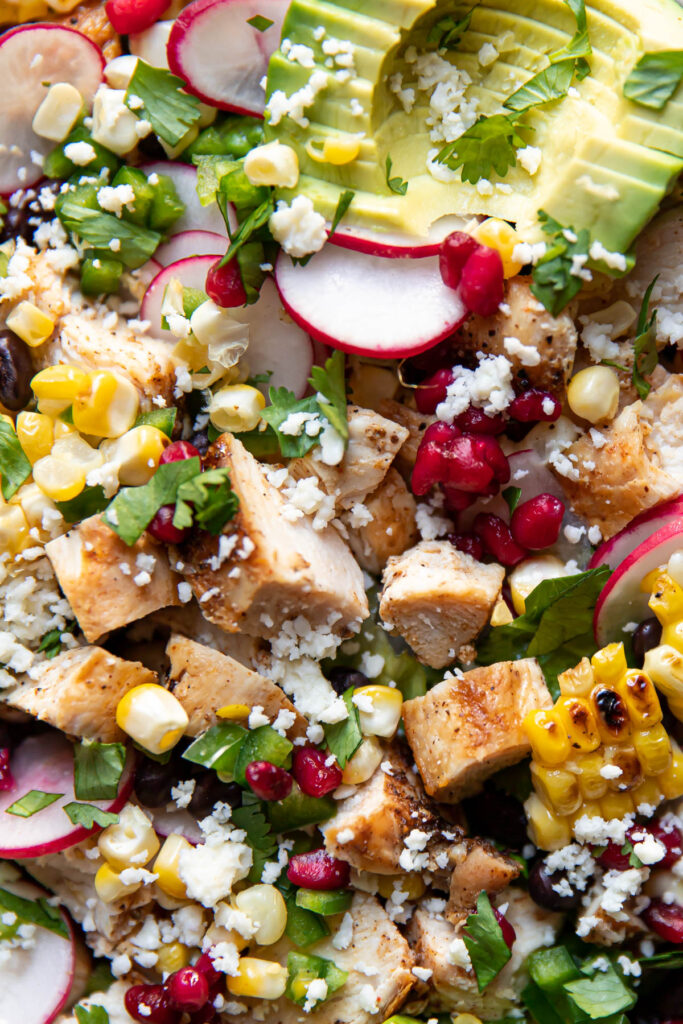 What's In This Avocado Pomegranate Chicken Salad
Here's everything that's in this salad plus some substitutions if you don't have any of these ingredients.
chicken breast - you could use chicken thighs too but you'll want either to be boneless and skinless
salt, pepper, ancho chili powder - this will be your seasonings for the chicken, ancho chili powder is a bit more mild than regular chili powder with more chili flavor
romaine - if you can't get romaine you'll want to opt for another crispy crunchy lettuce that can hold up to so many toppings
radishes - best if you have a mandoline so you can slice them thinly
ears of corn - frozen corn would work too if you can't get ears of corn
jalapeño - for a little heat
black beans - the recipe calls for half a can, only 8 oz, but you can use the other half to make this chicken taco salad or just freeze the extra
avocados - you'll need a total of 3 avocados, two for the salad and one for the dressing
pomegranate - one whole pomegranate, make sure to read above on how to get the seeds out, if you can't find a pomegranate then most stores will sell the prepackaged seeds near the salad section
cilantro - for topping the salad and in the dressing
cotija cheese - this is a mexican cheese, it's kind of like a parmesan, it has a salty taste to it
limes - for both the salad and the dressing
sunflower oil - you'll need a flavorless oil for the dress so whether you want to use sunflower oil or another is up to you, you just don't want something strong (like olive oil) changing the flavors
greek yogurt - another base of the dressing, greek yogurt gives it a nice tang but you could sub this out for sour cream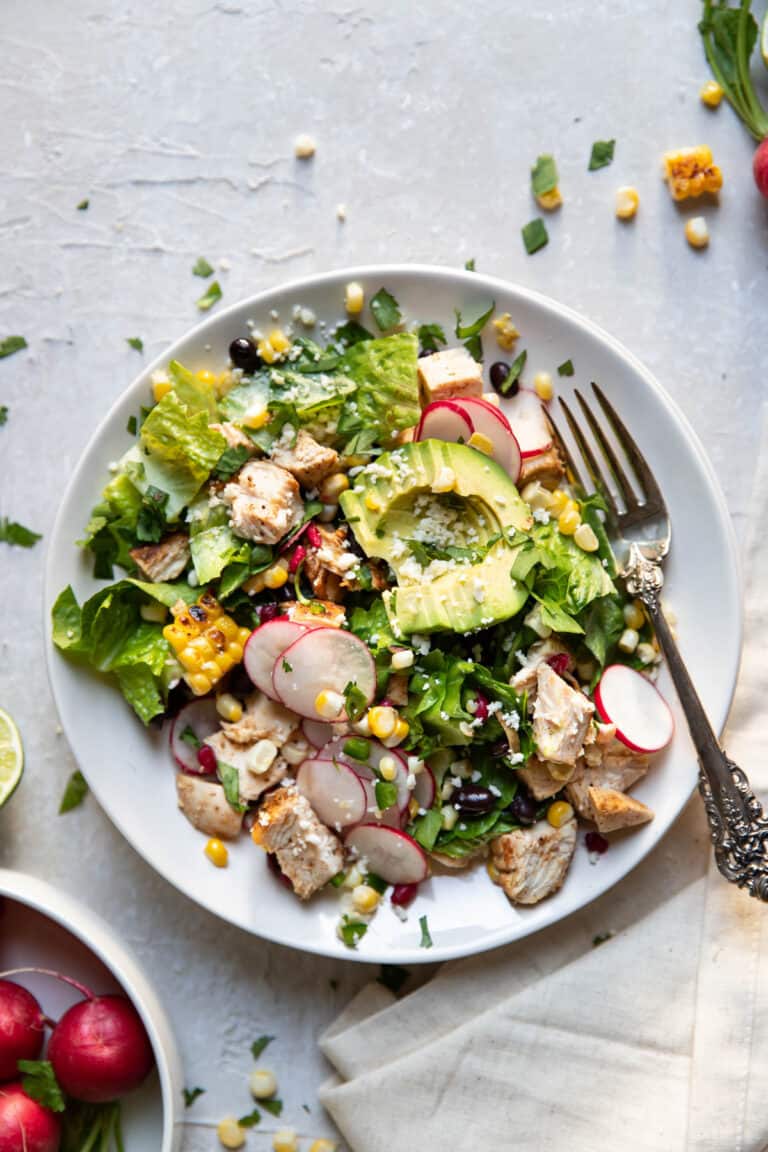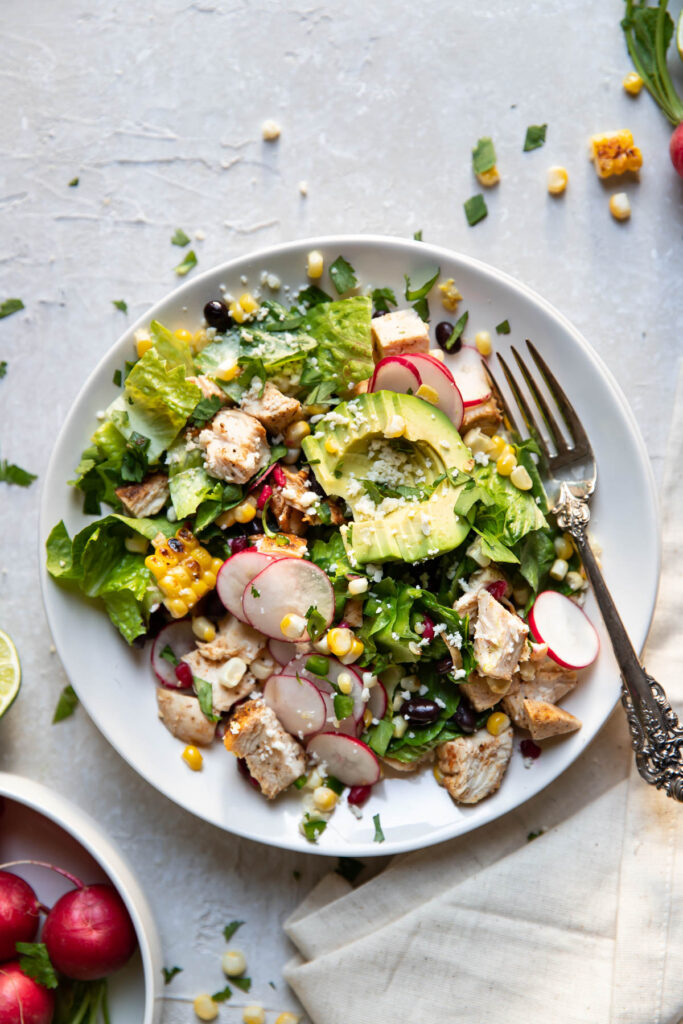 More Salad Recipes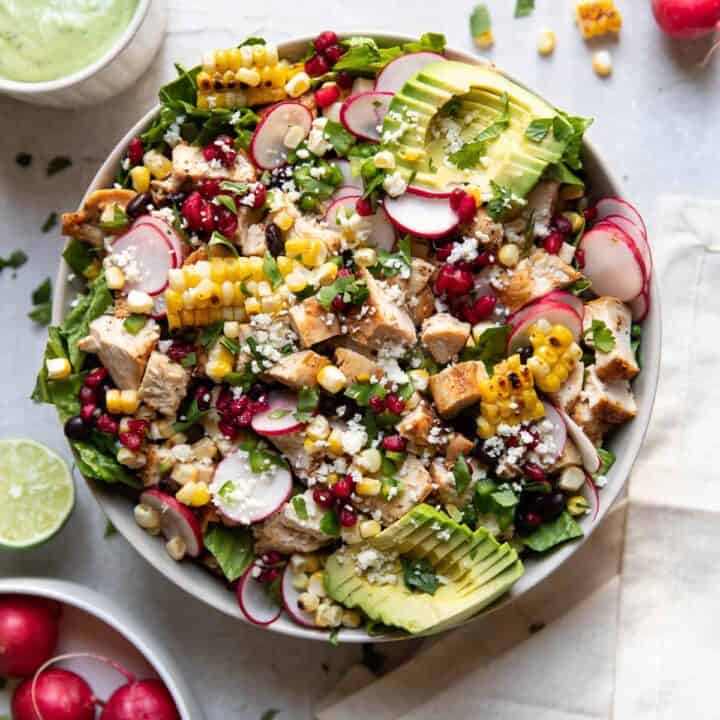 Pomegranate Avocado Chicken Salad
This avocado pomegranate chicken salad is a hearty, healthy summer salad. Loaded with big pieces of avocado, fresh pomegranate arils, jalapeños, radishes, corn, black beans, cilantro and cotija cheese. Plus an easy homemade creamy and cool, avocado lime dressing.
Ingredients
1 lb chicken
½ tsp kosher salt
¼ tsp pepper
½ tsp ancho chili powder
2 romaine heads, chopped
1 bunch radishes, sliced thin
2 ears of corn
1 jalapeno, diced
8 oz black beans, drained
2 avocados, cut up
1 pomegranate, seeds removed
¼ c cilantro, chopped
3 tbsp cotija cheese
1 lime
Avocado Lime Dressing
1 avocado
1 tbsp sunflower oil (or another flavorless oil)
3 oz greek yogurt
3 tbsp cilantro, stems removed
1 lime, juiced
¼ tsp salt
Instructions
Season the chicken with the salt, pepper and ancho chili powder
Cook the chicken on a grill pan (or regular saute pan) until no longer pink in the middle
Remove the chicken to a plate, let it sit for 10 minutes and then squeeze a half of a lime over top
Put the corn on the cob on your pan, over medium heat, and occasionally turn to get some char marks on it, then cut the kernels off
To make the dressing you'll add the avocado, sunflower oil, greek yogurt, cilantro, lime juice and salt to a food processor and blend until smooth
Prep the vegetables
Add to a large bowl the romaine lettuce, chicken, radishes, corn, jalapeño, black beans, avocado, pomegranate seeds, cilantro and cotija cheese
Squeeze the other half of the lime over top of the salad
You can stir in the avocado lime dressing or serve it on the side for people to individually add
Notes
If you can't find whole pomegranates you can use the packages of just pomegranate arils (usually near the pre-packaged salads at the store)
You can sub out the sunflower oil for any flavorless oil you prefer, you just don't want a strong tasting oil that will change the tastes of the dressing (like olive oil would)
Recommended Products
As an Amazon Associate and member of other affiliate programs, I earn from qualifying purchases.
Nutrition Information:
Yield:

6
Serving Size:

1
Amount Per Serving:
Calories:

526
Total Fat:

30g
Saturated Fat:

6g
Trans Fat:

0g
Unsaturated Fat:

21g
Cholesterol:

76mg
Sodium:

435mg
Carbohydrates:

41g
Fiber:

17g
Sugar:

12g
Protein:

30g
This information comes from online calculators. Although moderncrumb.com attempts to provide accurate nutritional information, these figures are only estimates.