This caesar salad pizza is quick and easy to make. Salad on pizza. It's a thing! A fresh mozzarella pizza topped with crispy romaine, roma tomatoes, parmigiano cheese and caesar dressing. It's light, delicious and such a fun summer dinner!
All pizzas start out with this easy homemade pizza dough. And if you want to grill your pizza then read the section below, titled "grilling caesar salad pizza".
This post was first published on 07/9/2018.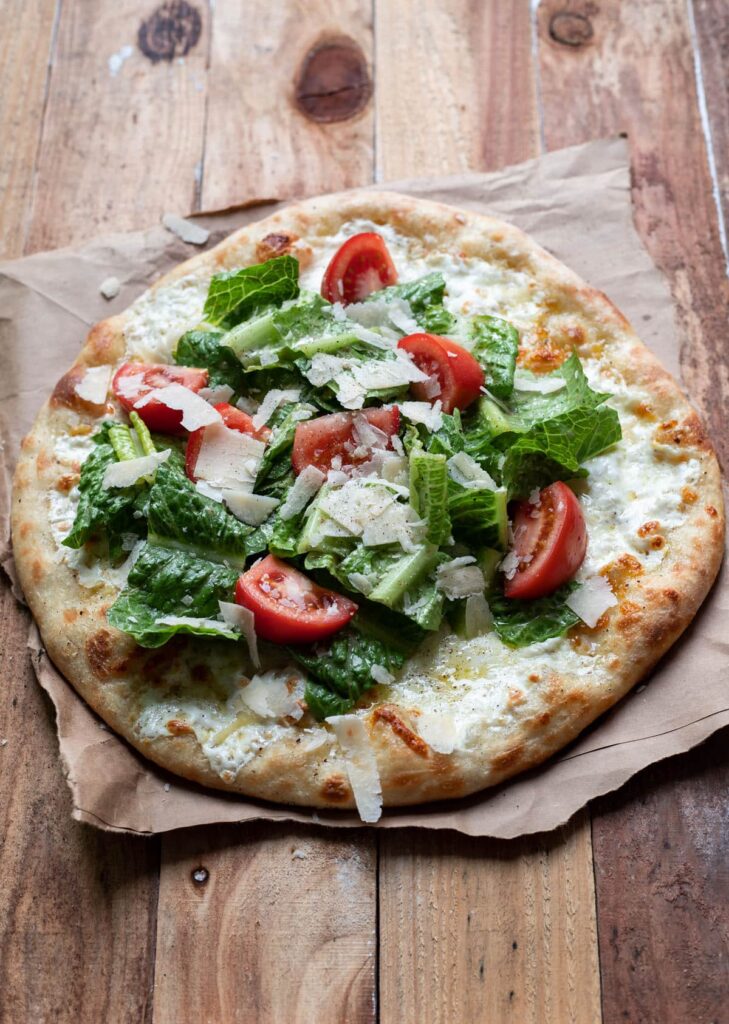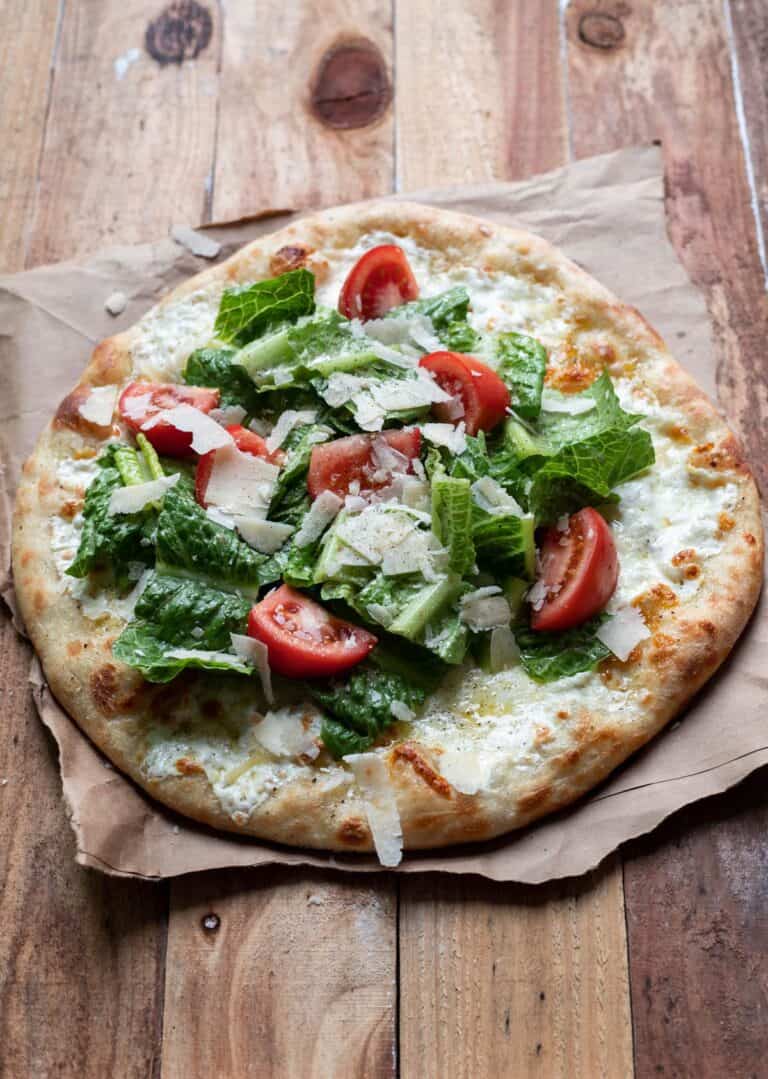 Caesar salad. Pizza. Caesar salad and pizza!
Homemade pizza dough topped with olive oil, garlic and mozzarella piled high with a crisp and refreshing romaine caesar salad. And don't forget the fresh parmigiano reggiano and vine ripened tomatoes.
I have to confess, I've been making this Caesar salad pizza once every 2 weeks or so, I can't get enough of it and neither can my family!
Salad on pizza was probably invented by the Gods because it's perfect in every way.
It's basically negative calories thanks to the lettuce (just kidding, it's not, but let's live a little). But it is the perfect summer pizza because of how refreshing it is.
If you are looking for a vegetarian pizza, this is a great option! But if you want to have some protein then I would suggest shredding up some chicken.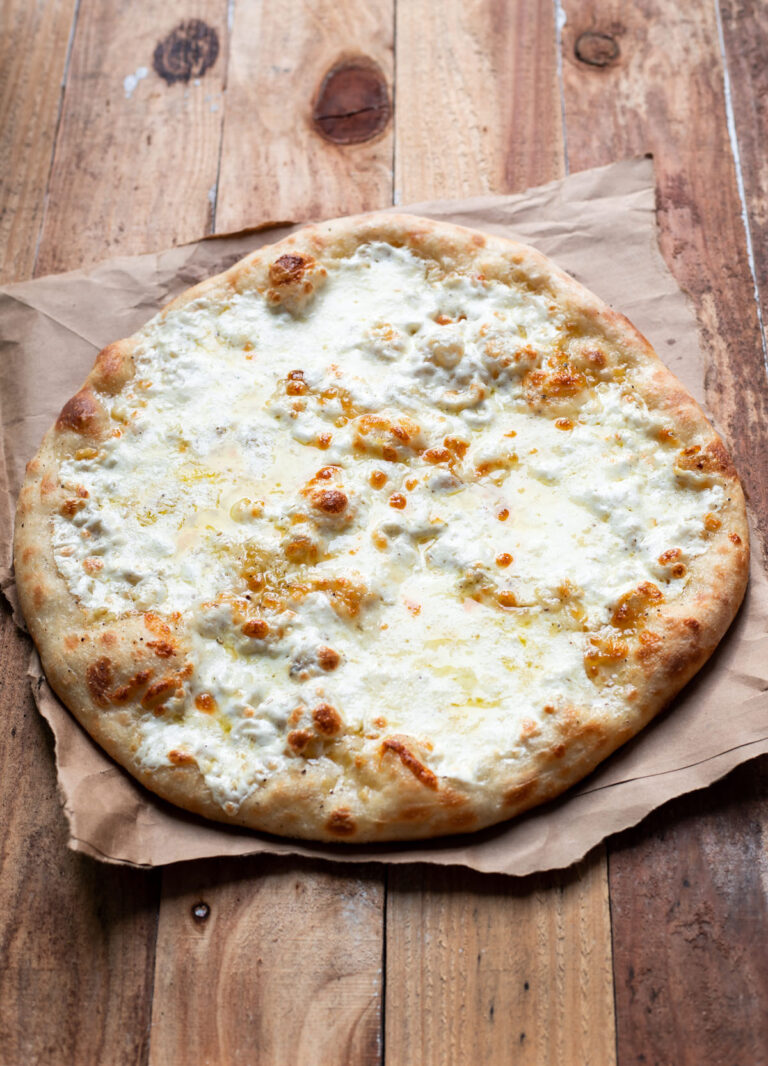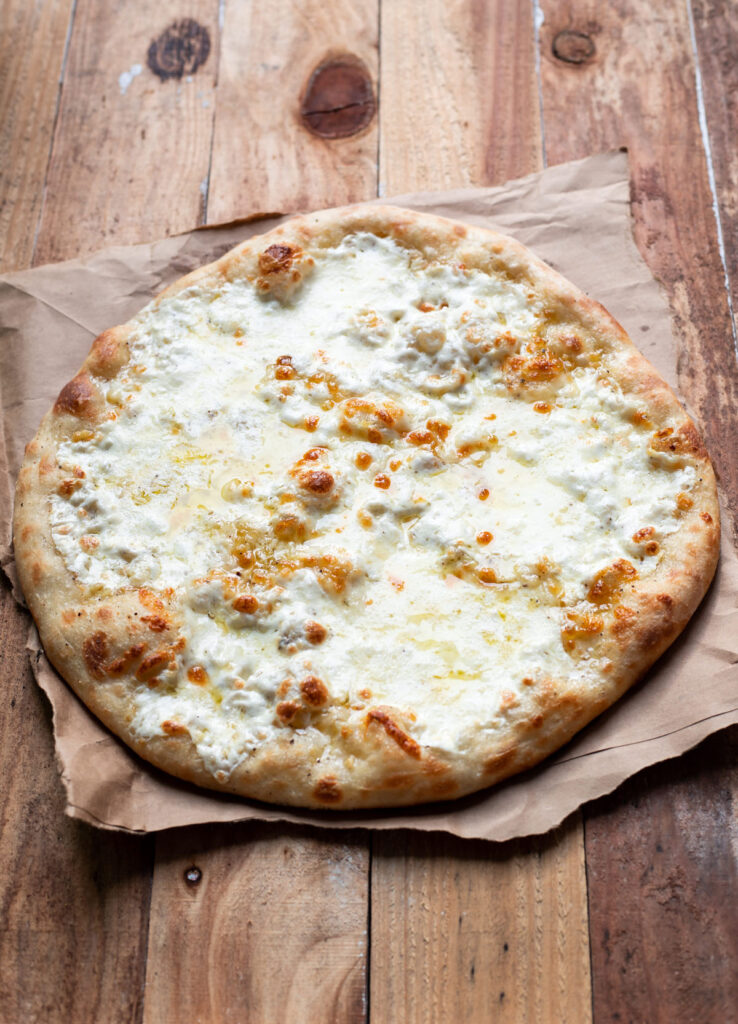 Grilling Caesar Salad Pizza
If you want to have a truly outdoor summer dinner than grilling your pizza is the way to go!
Divide the pizza dough ball into two pieces. And using a rolling pin to roll them out - make sure to use extra flour so it doesn't get sticky and break.
The fun part is, it doesn't matter what shape it is. It can be totally freeform when you grill the dough and I think that's part of the charm of grilled pizza.
Tip: rub the cut side of an onion on your grill grates to create a nonstick surface.
Place the pizza dough on your grill and cook until that side is done, depending on how hot your grill is you may have little char marks. As soon as you flip it over get ready with the olive oil/garlic and completely cover the top, adding the mozzarella immediately.
After it's off the grill, top it with the salad and serve. It works best if you cut the pizza then put the salad on top.
Tip: throw on to the grill some chicken breast seasoned with olive oil, salt and pepper prior to cooking the pizzas. Then you can shred it and add it to the caesar salad.
How To Make Caesar Salad Pizza In The Oven
First you'll need to stretch out your pizza dough.
Mix together some olive oil and crushed garlic, then use a spoon to swirl it around the pizza. Keeping away from the edges.
Then layer on some mozzarella cheese. For this pizza I really like the fresh mozzarella, the one that comes in liquid.
Add a sprinkle or two of salt and pepper on top and bake it on a pizza stone.
While your pizza is baking you can prepare the caesar salad. It's just torn up pieces of romaine, tomato wedges, and fresh shaved parmigiano regianno cheese.
Take the pizza out of the oven, place it on a cutting board and cut your pieces. Then pour on the salad.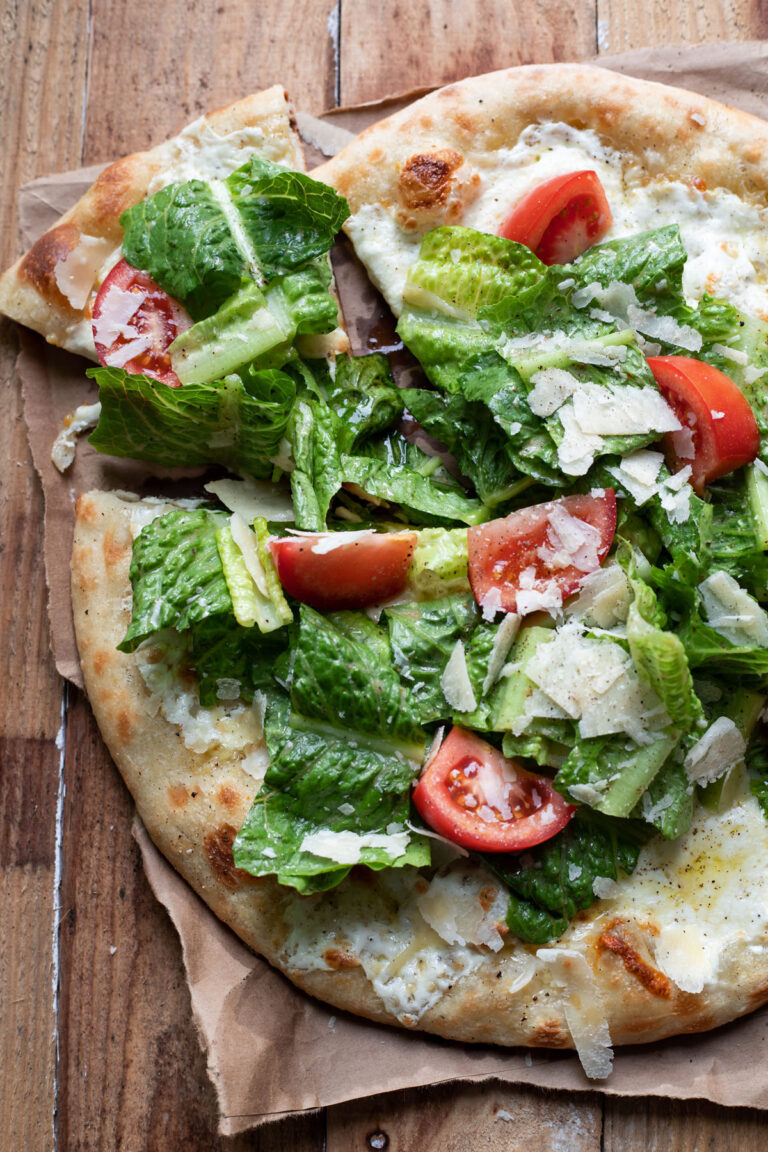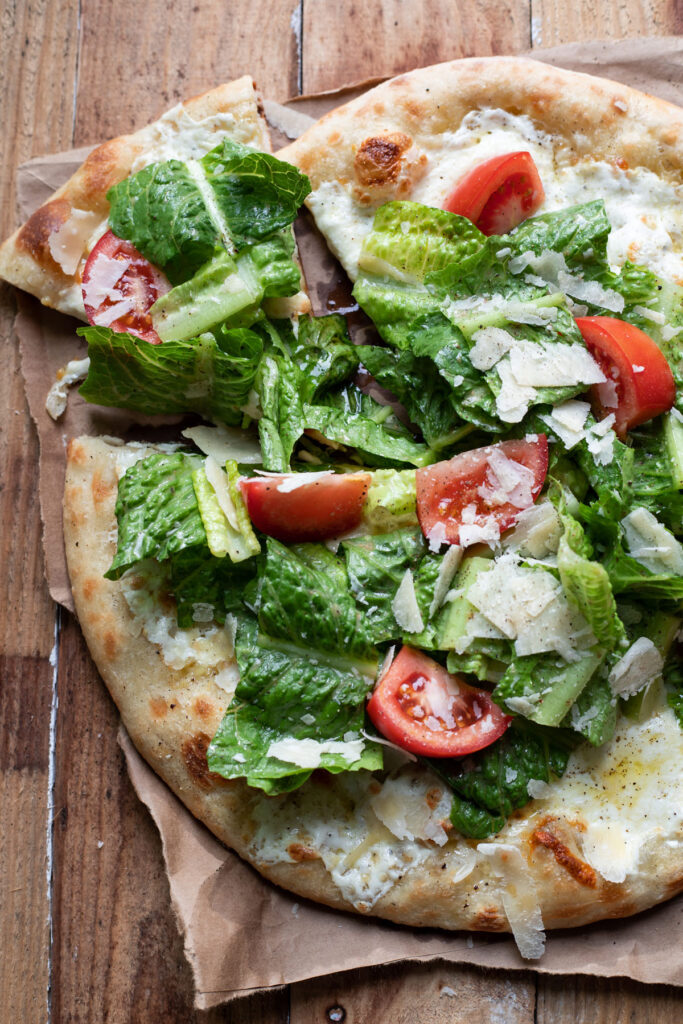 Just because it's summer doesn't mean we have to forgo pizza.
Pizza is life. Life is pizza.
The two go hand and hand in my opinion. I may be rambling because I'm thinking about that delicious Caesar salad pizza now and my thoughts have gone to mush.
When I want to make the worlds easiest and most insanely delicious dinner I make this caesar salad pizza.  You could serve it with this 10 minute avocado corn salad or juicy chicken drumsticks.
Clean up is a breeze and you don't have to worry about leftovers (because it will get devoured). 
FAQ
Can you add a protein to caesar salad pizza?
Chicken is the best addition! You can use rotisserie chicken or leftover chicken, really whatever you want. Shred it up and toss it with the caesar salad.
Will store bought pizza dough work or do I have to make homemade?
Store bought works just fine. Make sure to take it out of the package, roll it back into a ball and cover it with a lightly greased piece of plastic wrap until it reaches room temperature. Stretching cold pizza dough is difficult.
Can I make this caesar salad pizza healthier?
Try using flat breads to cut back on a few calories.
Homemade Pizza Recipes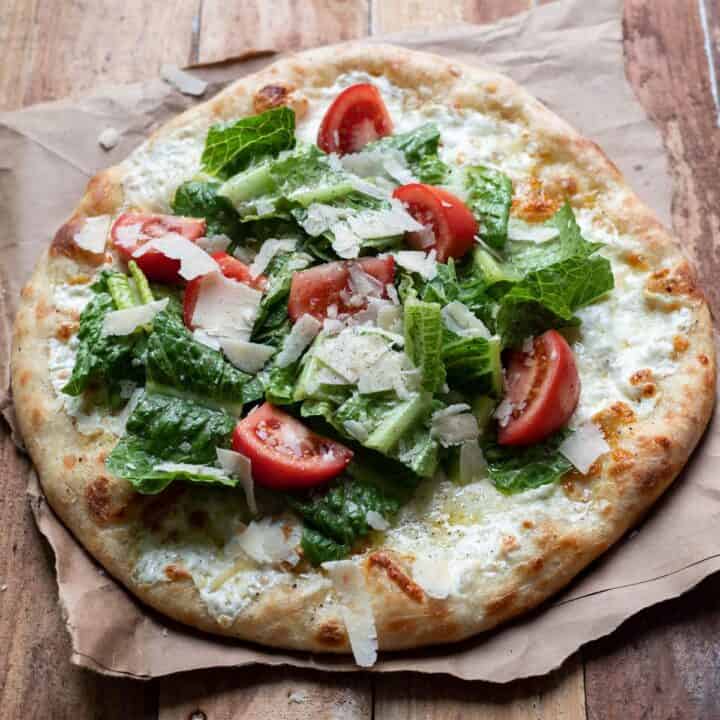 Caesar Salad Pizza
This caesar salad pizza is a summer dinner must make! Fluffy pizza dough topped with olive oil, garlic and mozzarella cheese followed by a crisp and cool caesar salad on top. Make it in the oven or on the grill.
Ingredients
1 pizza dough ball (recipe link in notes for homemade)
3 tbsp olive oil
4 garlic cloves, smashed and minced
salt and pepper
2 c mozzarella cheese
1 head of romaine lettuce, chopped
2 vine ripened tomatoes, cut up
¼ c freshly sliced parmigiano cheese
Caesar salad dressing
salt and pepper
Instructions
Preheat oven to 475
Stretch out the pizza dough and top with the olive oil and garlic and a pinch of salt and pepper and the mozzarella cheese
Place it in the oven and cook for 5-7 minutes OR until the edges have started to turn golden
Mix the romaine, tomatoes, half of the parmigiano and the caesar dressing in a bowl
Remove the pizza from the oven and let it sit for 5 minutes
Cut it into slices and pour the salad on top
Sprinkle the remaining parmigiano over it
Notes
For grilling instructions see section above titled "grilling caesar salad pizza"
Recommended Products
As an Amazon Associate and member of other affiliate programs, I earn from qualifying purchases.
Nutrition Information:
Yield:

8
Serving Size:

1 slice
Amount Per Serving:
Calories:

191
Total Fat:

15g
Saturated Fat:

5g
Trans Fat:

0g
Unsaturated Fat:

9g
Cholesterol:

26mg
Sodium:

366mg
Carbohydrates:

7g
Fiber:

2g
Sugar:

2g
Protein:

9g
This information comes from online calculators. Although moderncrumb.com attempts to provide accurate nutritional information, these figures are only estimates.