Green pizza has stolen my heart.  It's everything.  Pesto and broccoli and zucchini and basil.  Topped with ricotta cheese for just the perfect balance.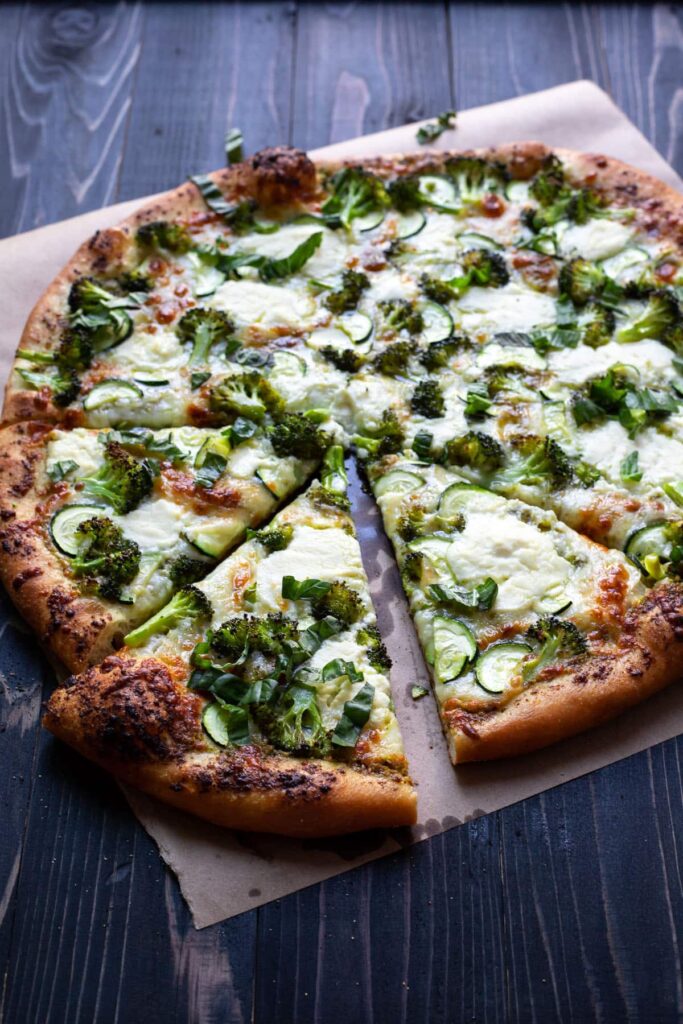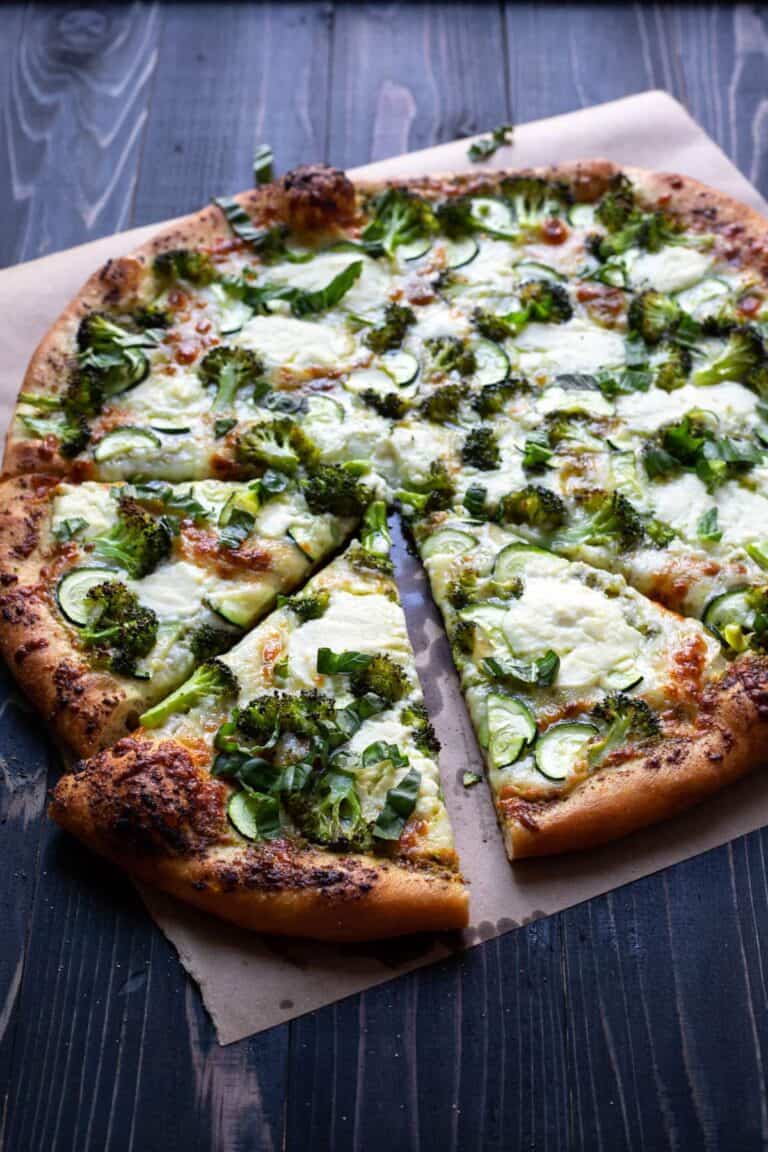 You never feel cheated when you eat this pizza that's chock full of healthy vegetables.  It's so savory and delicious, even vegetable nay-sayers can't help but fall in love with a green vegetable garden party pizza!
I'm happy to report that my kids were actually really excited about this pizza. They both love broccoli and almost all vegetables (hallelujah). And to be completely honest I'm not the biggest fan of zucchini but this rocked and I didn't even notice it.
I got the idea for this for pizza when I was at a friend's baby shower.  It was love at first bite.  Everything just worked so well but I'd wished it had more of everything on it.  That's probably my favorite part about making my own dough and pizza, is that I get to add ALL the toppings and make a mountain of it. Okay, not a mountain, you know what I'm saying.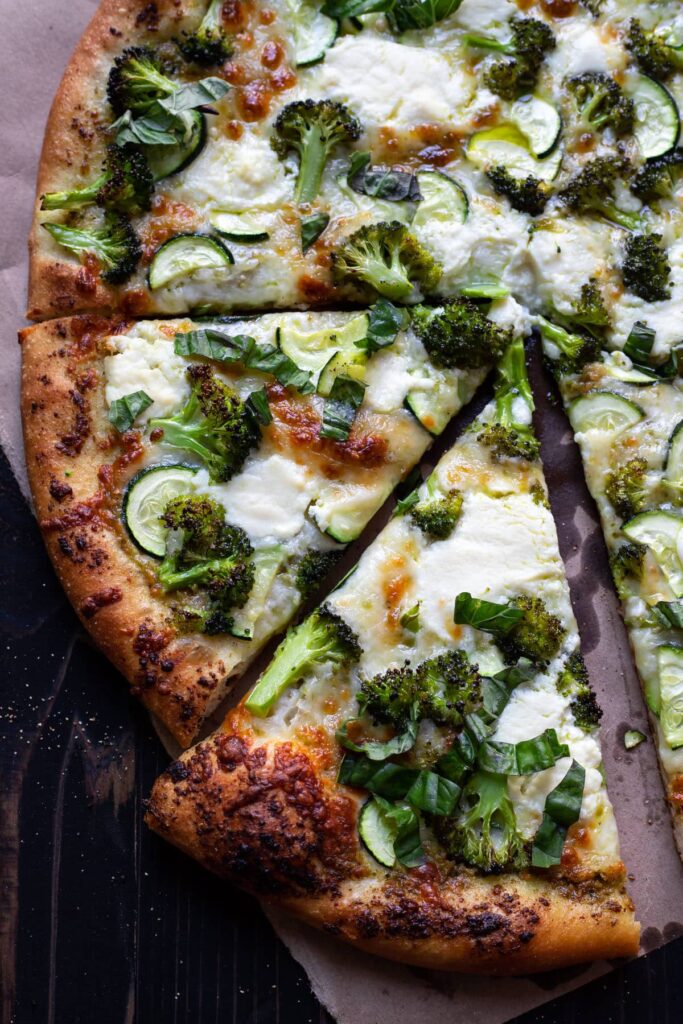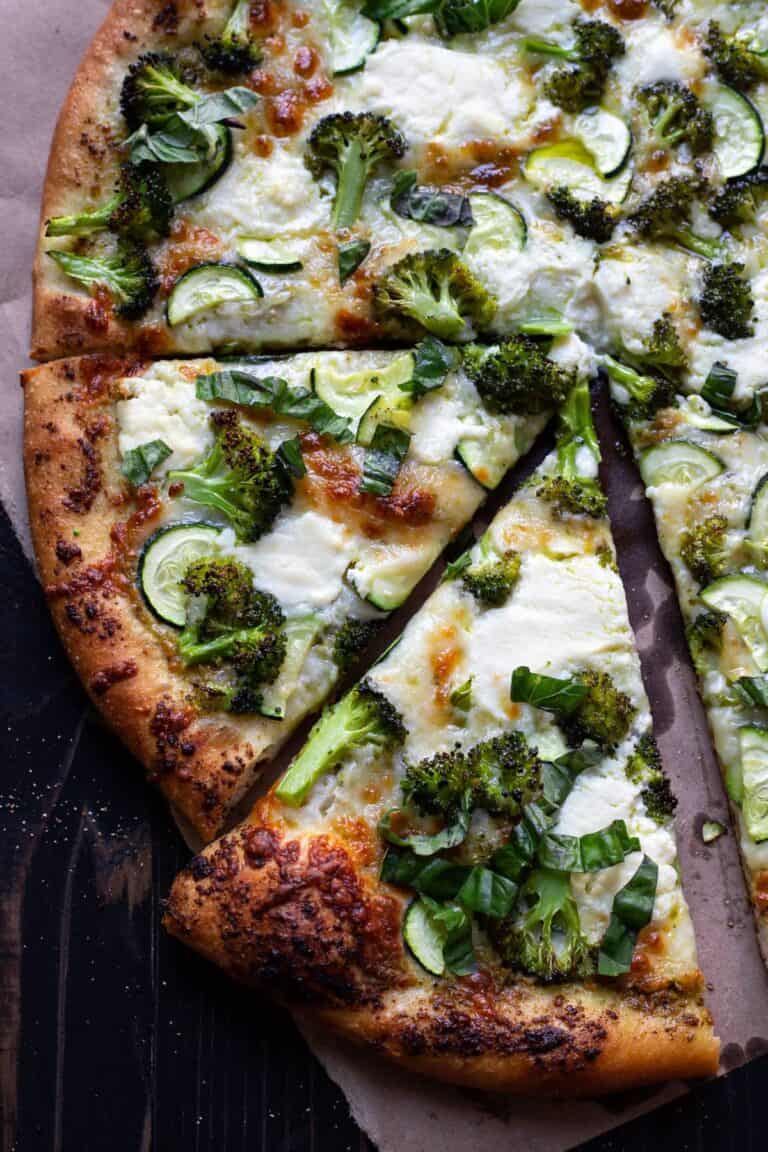 Your pizza dough, which should always be room temperature when you stretch it. If not you'll have a mess on your hands, trying to stretch cold dough is near impossible. And if you are feeling extra fancy, and I highly suggest this, trying tossing the pizza dough in the air, channeling your inner Italian. My son get's a kick out of this, even more so when I accidentally dropped it a few weeks back trying to see how high we could throw it.
On top of that dough gets a really nice olive oil, garlic and pesto base.  You know what I do?  I freeze a big thing of pesto in an ice cube tray.  That way you can grab a cube and use it for dinner, without spending all that time prepping.  It's just ready to go.  I do the same with lemon juice too.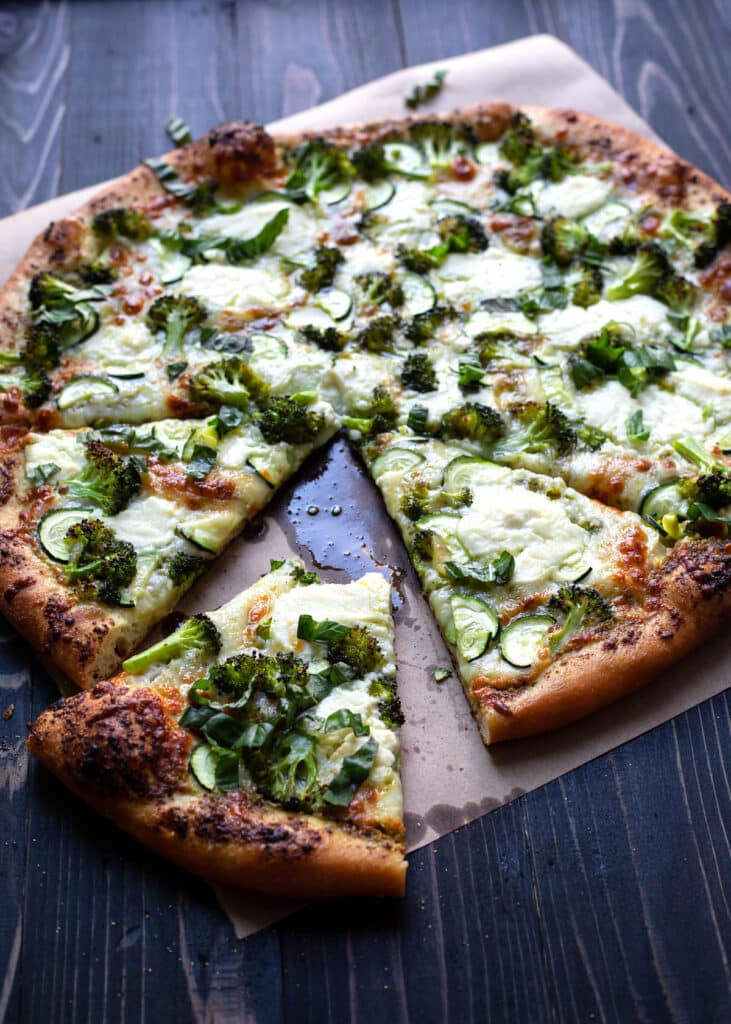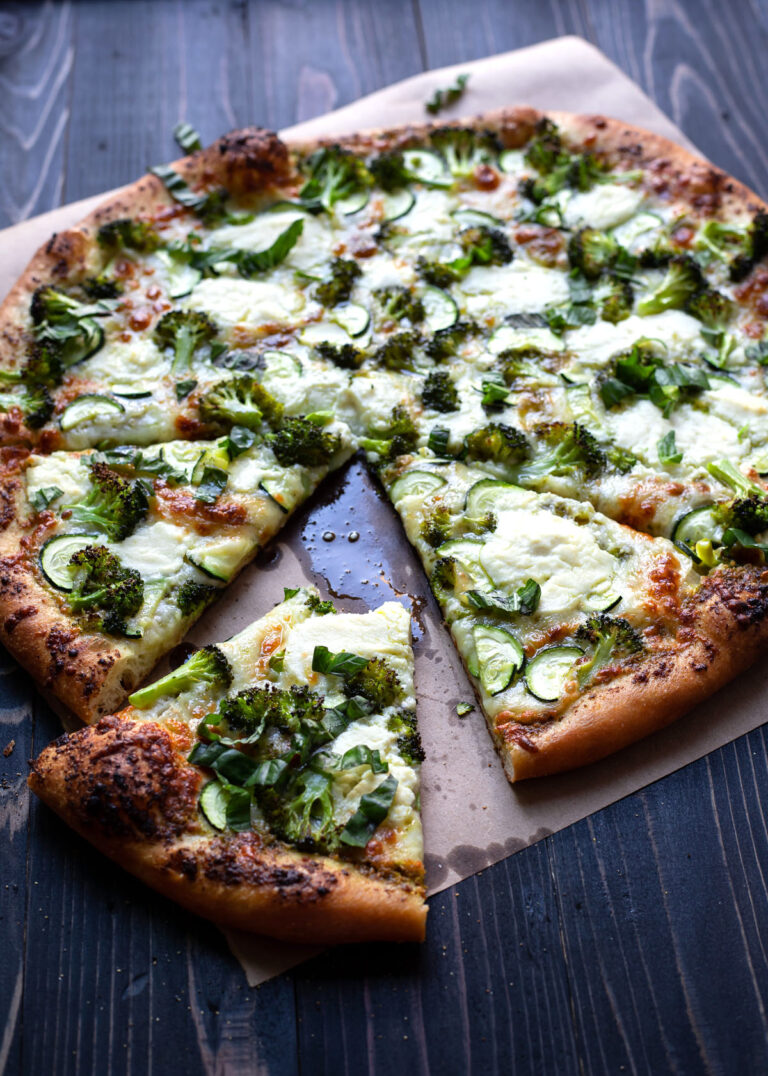 Something really helpful when I make the toppings for my pizza is to use a mandoline slicer.  It's just so impossible to get thinly sliced vegetables that will cook through if you don't use one.  I didn't have it for ages and finally got one and I love it!!  Especially when I make this fresh mozzarella pizza or any others that I put tomato on.  I used it for the zucchini in this recipe and worked like a charm.  Plus I didn't have to spend a lifetime trying to get itty bitty thin slices with my knife.  More time to have a kitchen dance party with my daughter.  Win.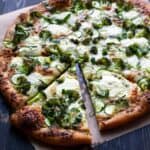 Print Recipe
Green Vegetable Pesto Garden Party Pizza
Pesto, broccoli, zucchini and basil all on one pizza.  Topped with ricotta cheese for just the perfect balance.
Ingredients
1

ball of pizza dough

Olive oil

3

garlic cloves

minced

salt and pepper

4

oz

pesto

1

small zucchini

sliced thin

2

c

broccoli heads

sliced

5

basil leaves

chiffonade style (roll all the leaves into a log shape, and slice the ends to make ribbons)

7

oz

ricotta

10

oz

mozarella
Instructions
Preheat oven to 475

Ensure your pizza stone is free of debris

Prep all the vegetables, try to get the broccoli pieces so they lay flat vs completely rounded

Stretch out the pizza dough and place it on your pizza peel

Drizzle with olive oil, so there is a thin layer

Sprinkle on the garlic and a big pinch of salt and some pepper

Use a spoon to smear the pesto all around the pizza, over the olive oil

Add half the zucchini in single layer

Top with the mozzarella, the rest of the zucchini, broccoli and spoon on the ricotta as shown in the pictures

Cook until the dough start tuning a bit golden (10 minutes or so depending on your oven)

Pull from the oven and top with with fresh basil and another big pinch of salt and some pepper