This pacific rim pizza is a Mellow Mushroom restaurant copycat recipe! Here's what's on it. Red sauce base, mozzarella, bacon, Canadian bacon, onion, jalapeno, pineapple, and pieces of bacon!
If you are craving the real deal, this recipe is for you.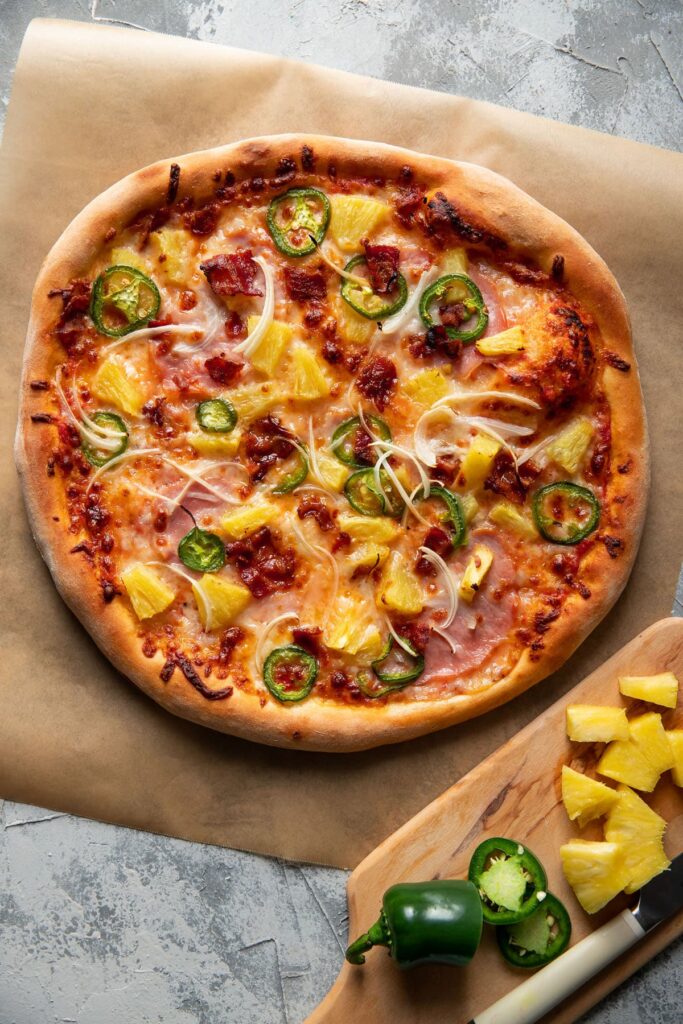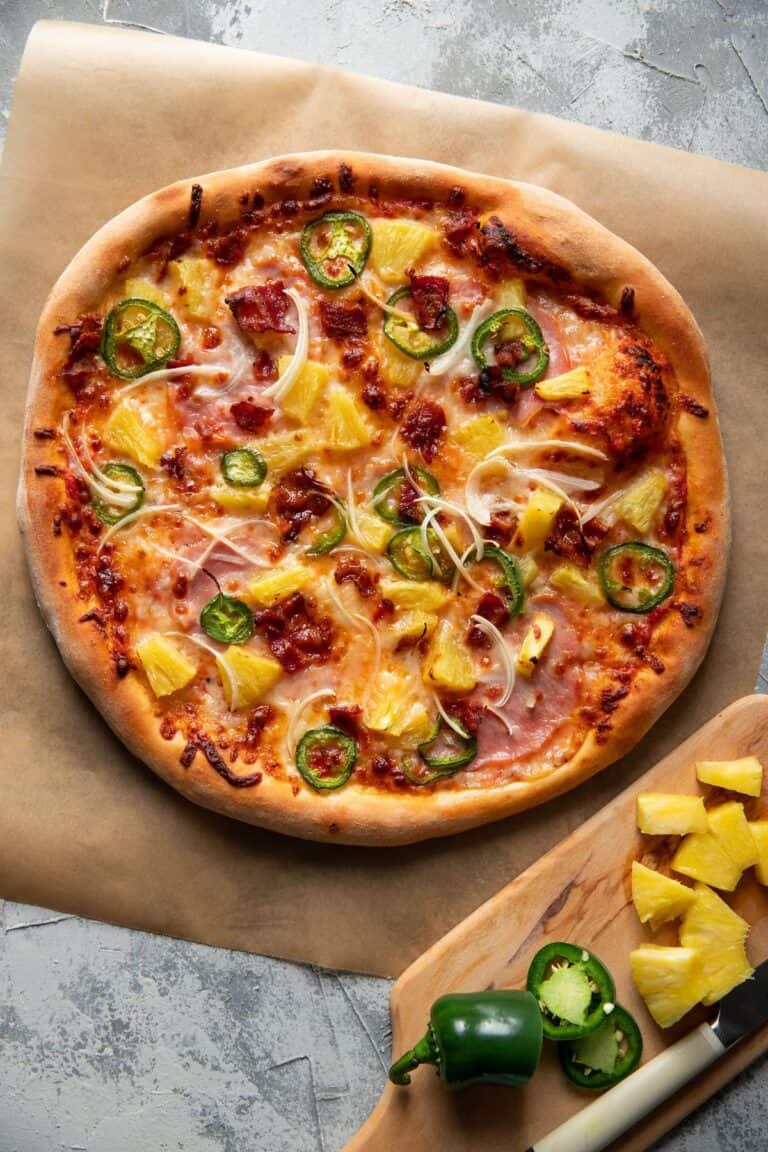 *Photos up this recipe were update on July 27, 2020
I am obsessed with Mellow Mushroom's pacific rim pizza!! I'm gonna shout it on the rooftops and I don't care who knows it. Pineapple and jalapeno are a serious revelation.
Don't know what Mellow Mushroom is?
Mellow Mushroom is a pretty well known restaurant in Phoenix but they actually have them all over the USA! There's a few locations in our town and we fully enjoy going there.
It's a laid back vibe where everything has a 'groovy' theme. As much as I like going there I always feel like their pizza is lacking in flavor, despite the amazing combinations of toppings!
Recreating recipes from your favorite restaurant is a definite must.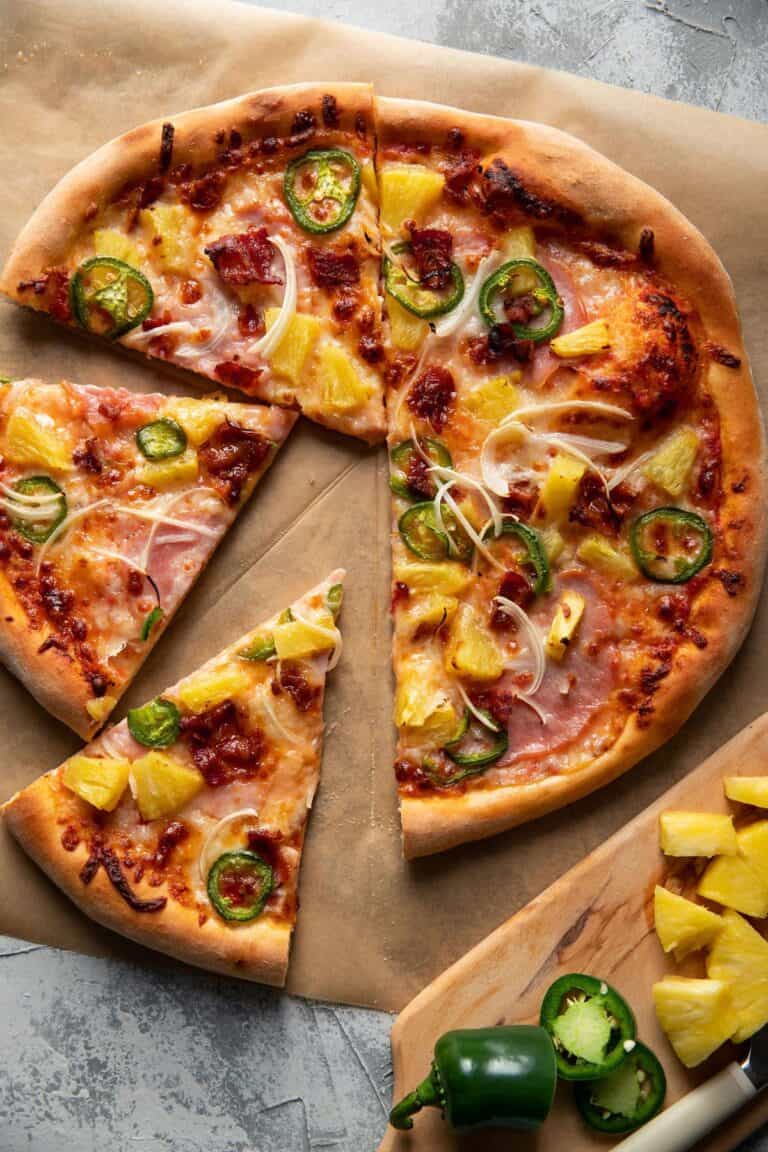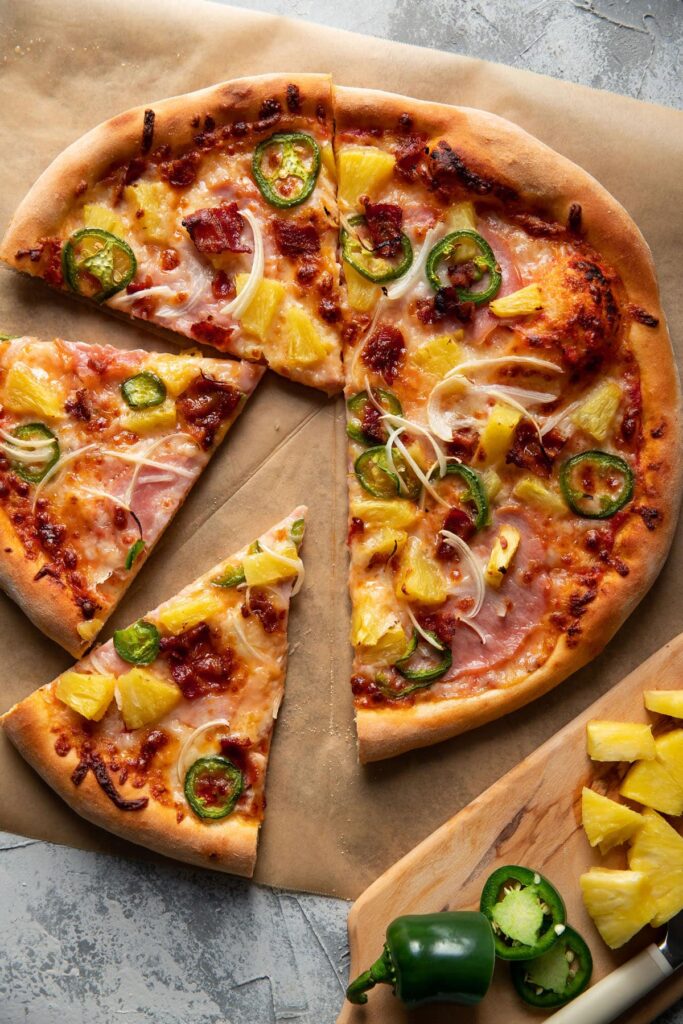 The first one I copycatted (is that a word?) was their new pizza, the Pacific Rim.
Making it reminded me of our longstanding favorite ham and pineapple.
We used to make this one ALL THE TIME. But it was a ham and pineapple 2.0.
This pizza showcases sliced canadian bacon, bacon, onion, pineapple and jalapeños. I'll let that set in for a minute. Drooling yet?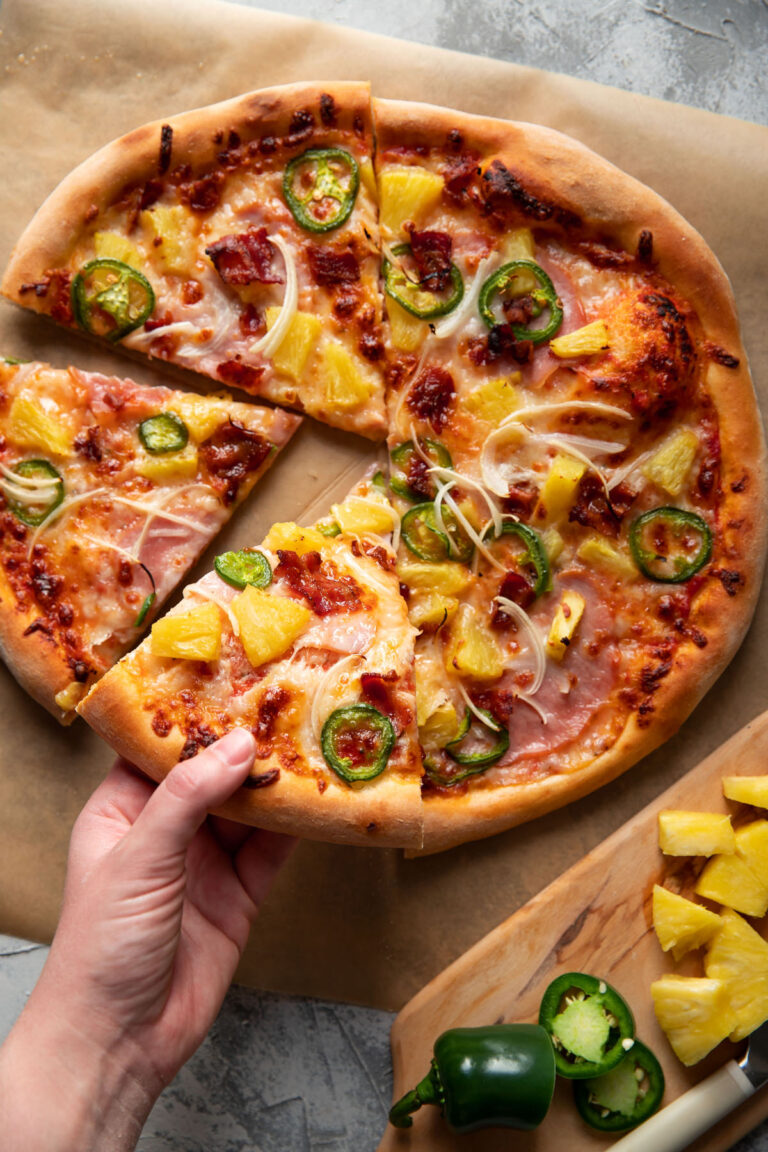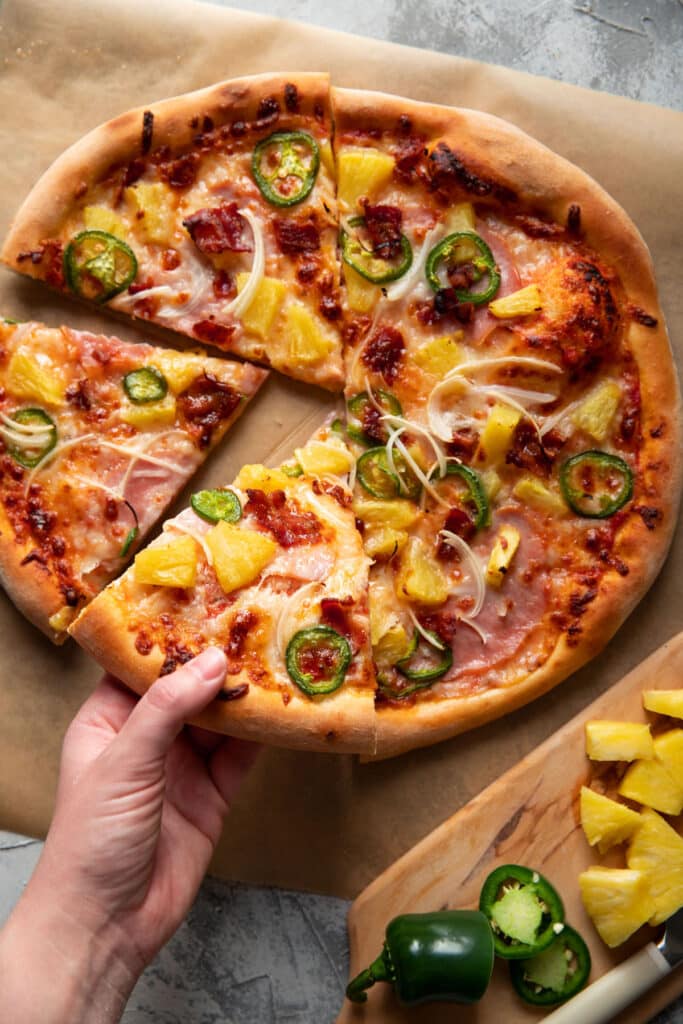 It's salty, sweet and spicy!
Say that five times fast. Salty sweet spicy.
I don't know about you but I love when food has different dimensions like that.
The bacon(s) give you all that salty deliciousness while the pineapple comes in all sweet and tangy but then you get a bit of jalapeño and you've been hit with some heat.
It just works friends.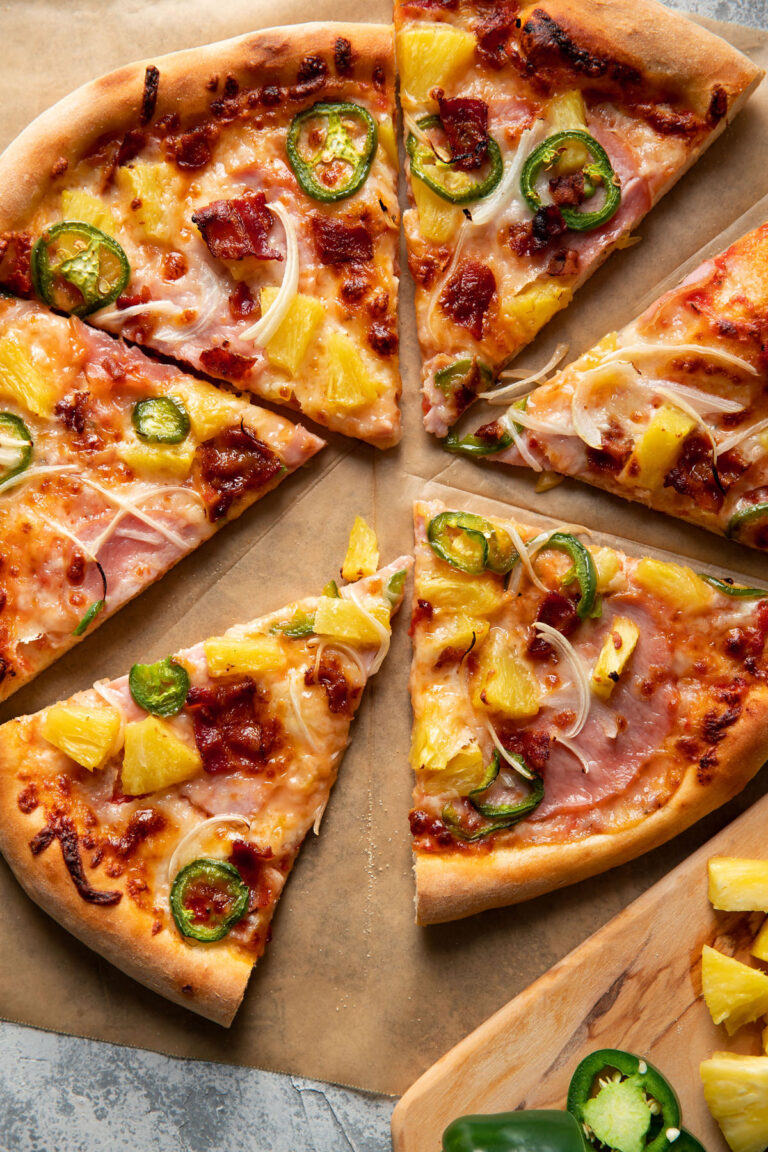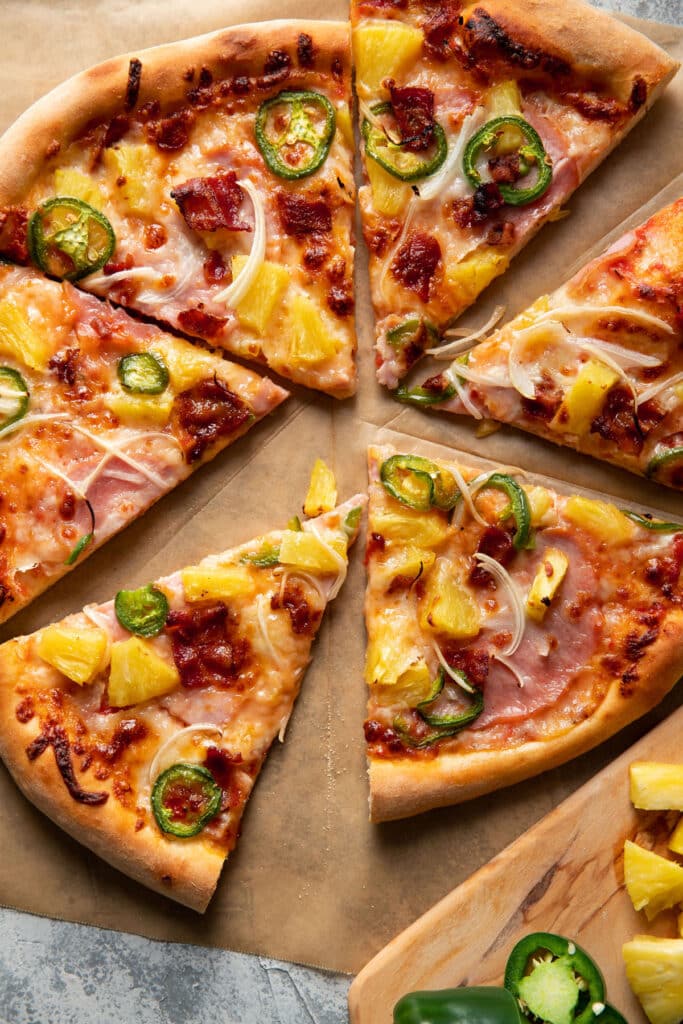 When I make pizza I always add a pinch or two of salt to the top of my sauce or olive oil and then another once all the toppings are on.
Salt brings out the flavors and pizza is no exception. Don't forget to salt yo' pizza, just don't make it look like an Alaskan blizzard landed on the darn thing.
If you love mellow mushroom try my other copycat pizza - the Kosmic Karma.
Seriously addicting!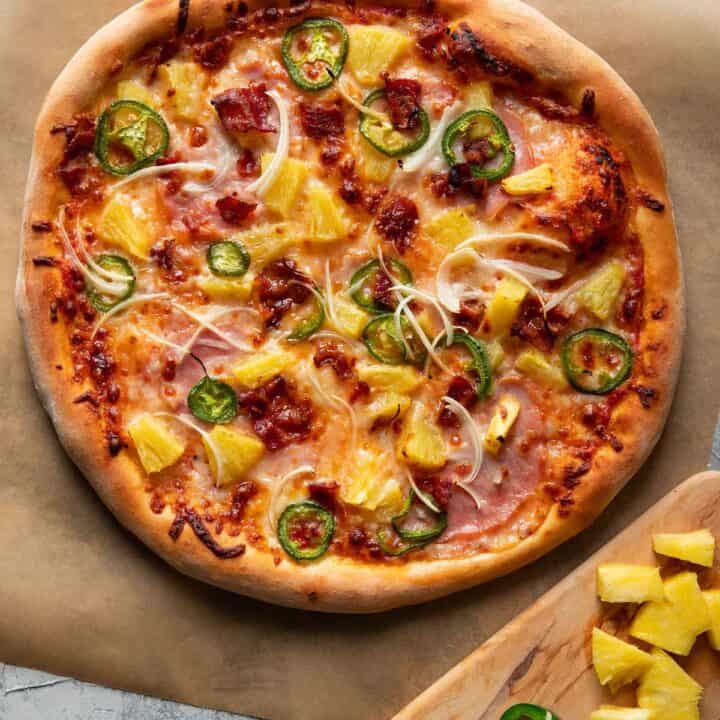 Pacific Rim Pizza Mellow Mushroom Copycat
Pizza with a red sauce base, bacon, canadian bacon, onion, jalapeno, pineapple chunks and of course cheese!
Ingredients
1 dough ball
1 c red pizza sauce
1 c mozzarella cheese
3 pieces of cooked bacon, crumbled
¼ lb canadian bacon, I get mine from the deli and have him slice it thin
½ small onion, sliced
1 jalapeno
½ c fresh pineapple chunks
salt
Instructions
Preheat the oven to 500
Prep all the ingredients so that they are ready to throw on the pizza
Stretch out the pizza dough and lay it on a pizza peel that has been dusted with cornmeal
If you don't have a pizza stone that stays in your oven (highly suggest) you can use a traditional metal round pizza pan or a baking stone
Top the dough with the red sauce and a pinch of salt
Next add the mozzarella cheese, canadian bacon, bacon, onion, jalapeño and pineapple
Go ahead and sprinkle on another pinch of salt to boost those flavors
Pop it in the oven and cook for roughly 7 minutes
This depends on your oven and which method you cook the pizza on
Just check it every couple minutes and once the edges of the crust are turning golden and the cheese is bubbling, that's when you know its ready
Pull the pizza out of the oven, set it on a cutting board, rest for a few minutes then cut and enjoy!
Nutrition Information:
Serving Size:

1 grams
Amount Per Serving:
Unsaturated Fat:

0g