The iconic zuppa toscana soup from Olive Garden remade to taste exactly like the restaurant favorite. Most reviews would say this is even better! Tender bites of russet potatoes, sausage and kale all swirled together in a creamy and savory broth.
Close your eyes, you won't taste a difference! And you definitely need to try this creamy chicken gnocchi soup.
This recipe was first published on July 26, 2017.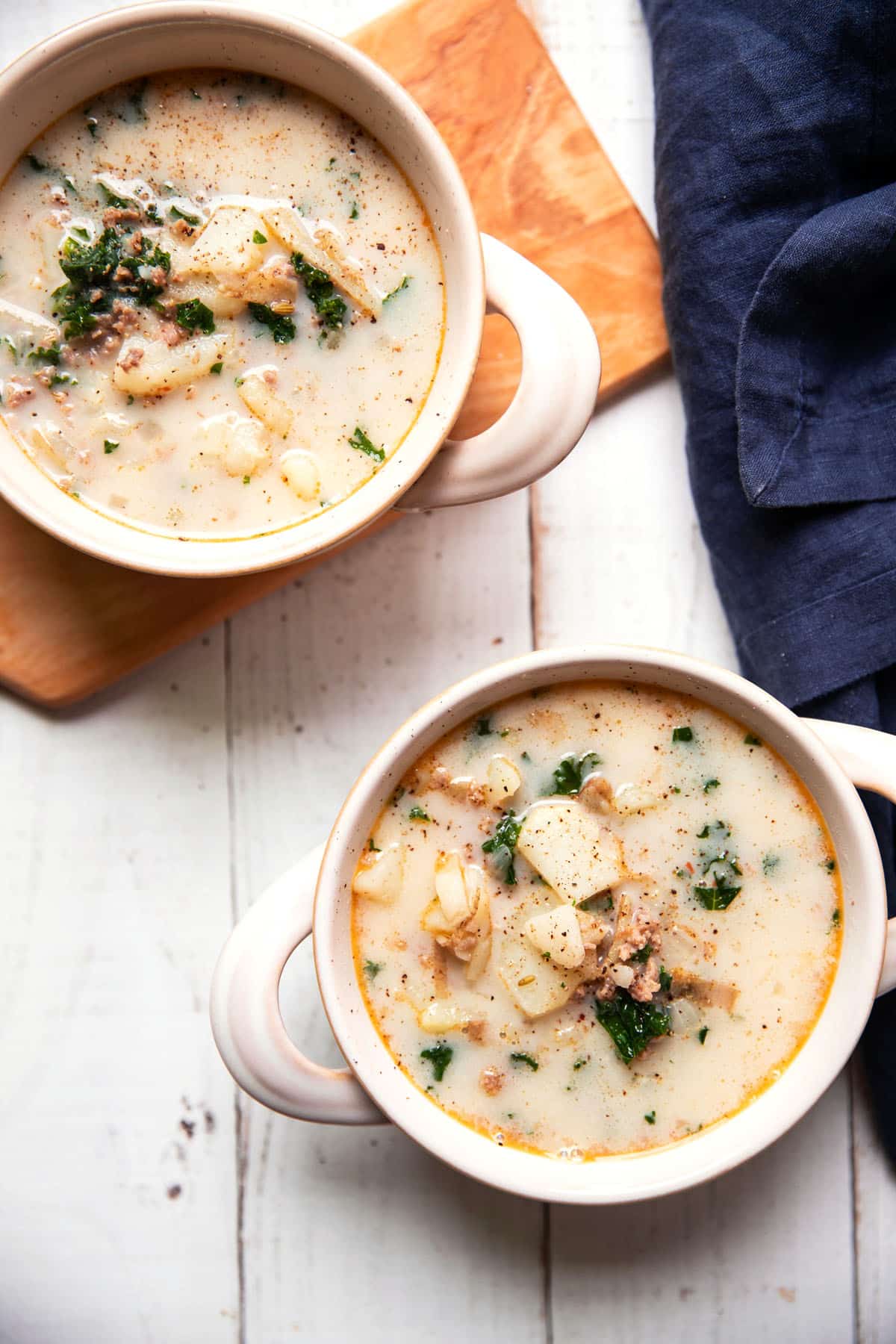 This olive garden zuppa toscana soup copycat recipe is the best, ever, in the entire world. I know, I really set high standards for this one. But it's the truth! The reviews speak for themselves, everyone loves this recipe.
If you've never had zuppa toscana soup then you are in for a real treat. It's a potato soup made with ground italian sausage and kale in a savory and creamy broth.
It doesn't seem that special until you taste it, then you'll understand. It's so good!
The original does have bacon in it, which I don't put in this recipe, it's a preference so if you do like bacon you can definitely add it in.
Jump to: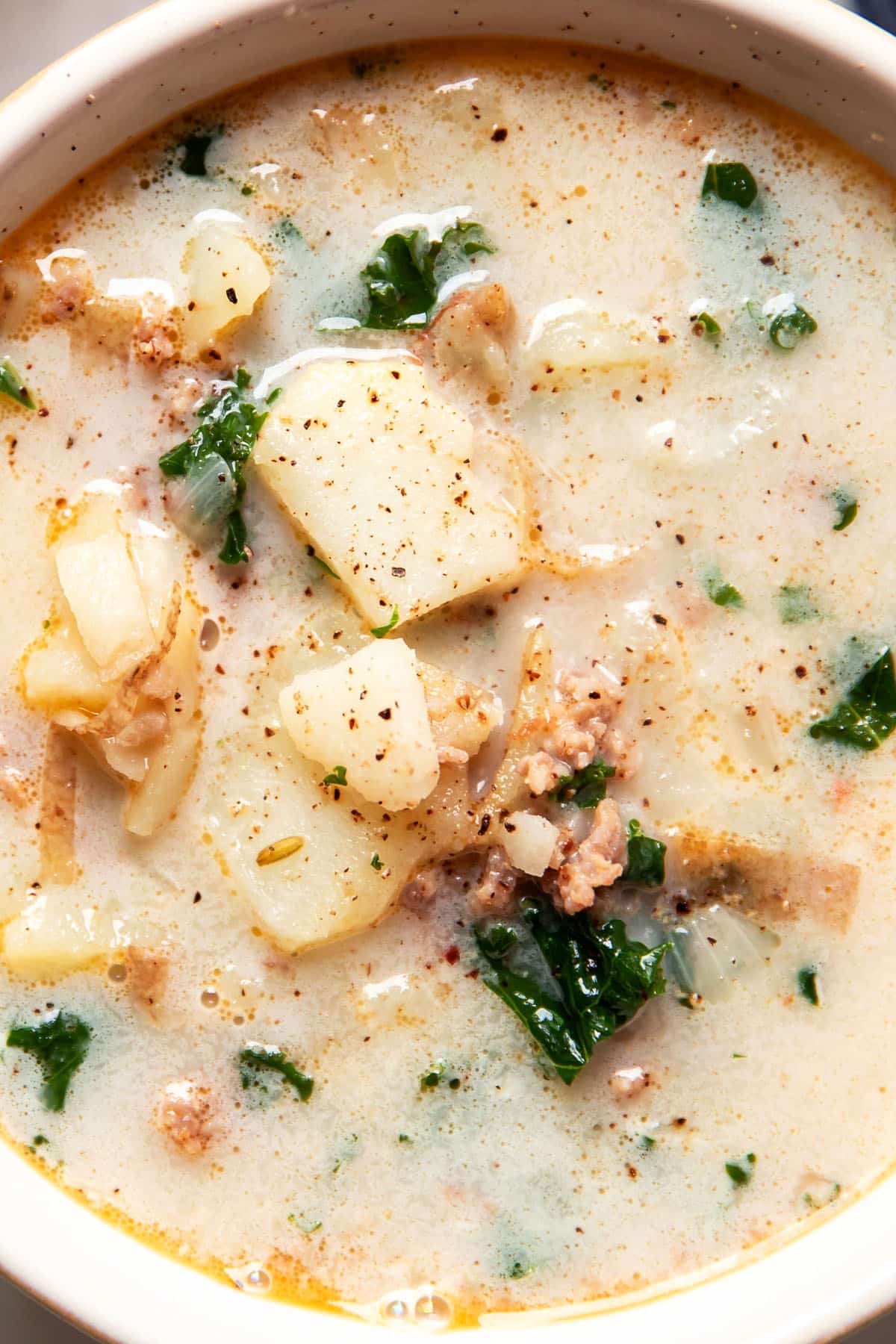 What Is Zuppa Toscana Soup?
Zuppa toscana is a soup that Olive Garden made popular.
It's a potato based soup, with crumbled italian sausage, kale, chicken broth and cream base with fresh parmigiano reggiano cheese on top.
It's the perfect soup on a cold day because it's hearty and comforting. The sausage gives it a little punch of heat which is a nice surprise in the slightly creamy broth.
When I was pregnant with my daughter I would always want this from Olive Garden, all the time! I started making my own homemade version so I could have it whenever I wanted.
I love that this version is packed with three times as much potato, kale and sausage. The beauty of a homemade recipe, you make it your own!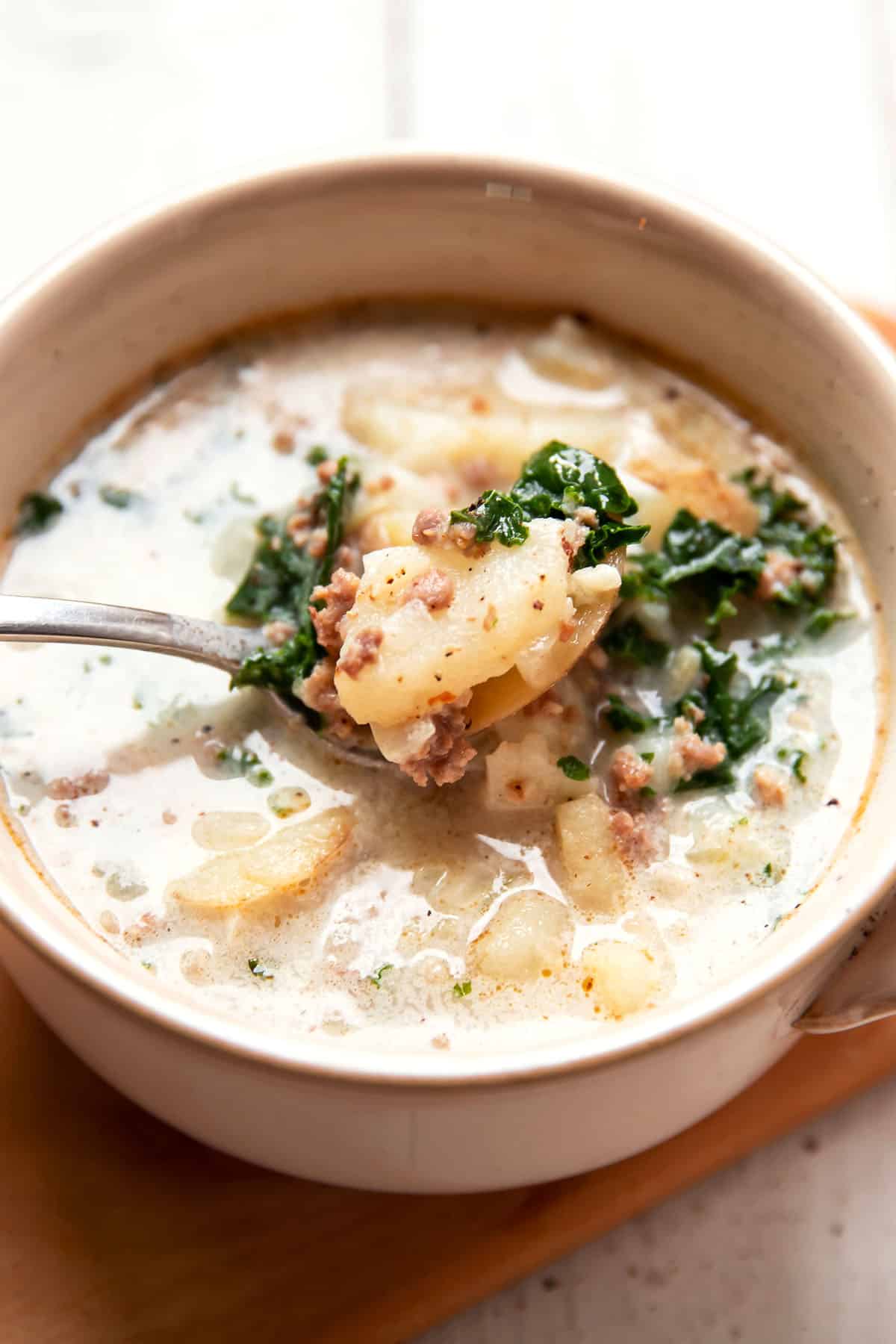 What's In Olive Garden Zuppa Toscana Soup Copycat?
The ingredient list is pretty basic for this soup. But it all comes together to be magically, bowl licking, amazing. Please refer to the recipe card for the full list of ingredient amounts and instructions.
mild Italian sausage - a little bit spicy, this gives the soup tons of flavor
russet potatoes - a basic and hearty potato, it holds up well to boiling, leave the potato skins on to help keep them from falling apart
kale - because kale is so sturdy it's the perfect vegetable for this soup, it gives it the perfect earthy flavor and you don't need a ton of kale, but if you want it to be more healthy than go to town
onion - fresh chopped onions gives so much flavor to this soup
garlic - for flavor, you can hand mince the garlic but I prefer to use a garlic press
chicken broth - the base for the broth
heavy cream - it doesn't call for a lot of cream, but it's necessary for that creamy broth texture and flavor
parmigiano reggiano - you will not regret grabbing a block of this at the grocery store, it's a little pricy but it goes a long way and the flavor is way better than anything from a plastic container, plus a tip is to save the rind and at it to your favorite red sauce while it simmers for even more flavor
salt - for flavor
pepper - for flavor
olive oil - for sautéing the onion and garlic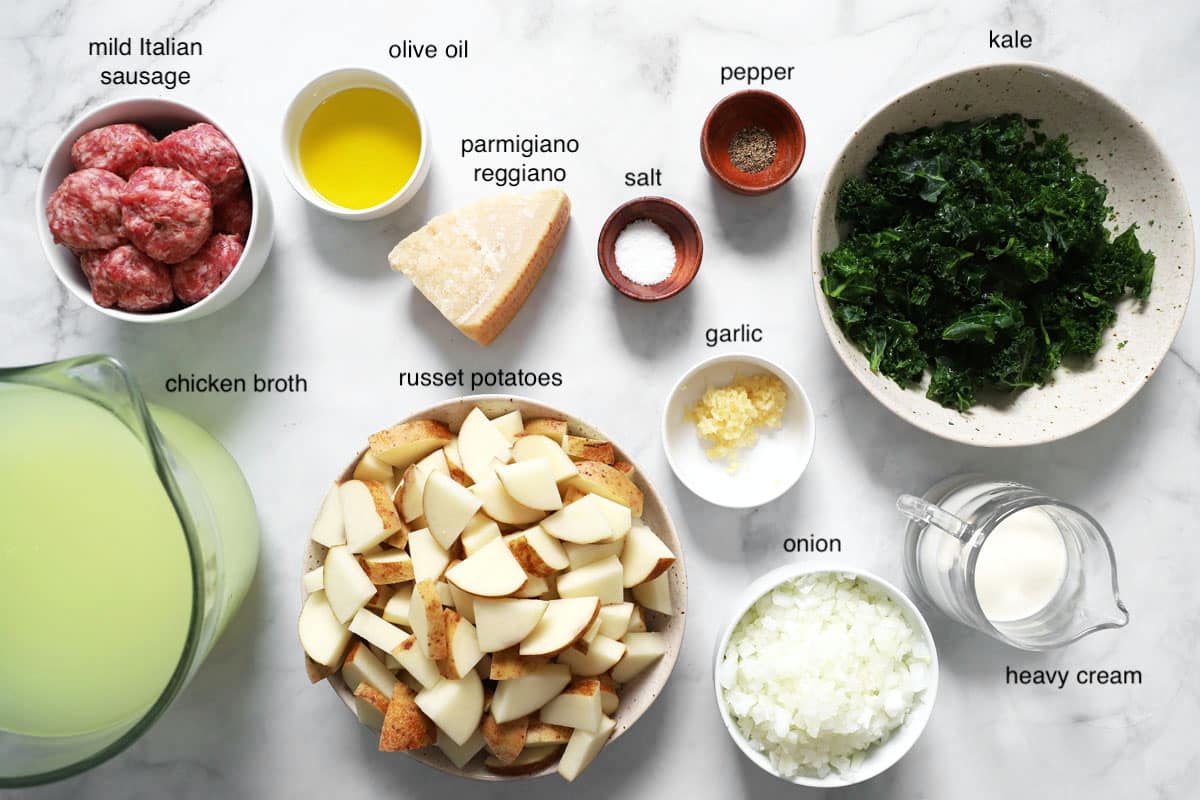 Zuppa Toscana FAQ's
Here is a compilation of the most frequently asked questions I get about zuppa toscana.
Is there a substitute for the Italian sausage?
You can try substituting ground turkey and adding some extra seasonings to it that you would typically find in Italian sausage. Like fennel, oregano and paprika. Keep in mind ground turkey is very lean though.
Why isn't there any bacon in this recipe?
When I first started making this copycat recipe for my family, I omitted the bacon because my husband doesn't like bacon. This was so many years ago, before I even had a blog. So I kept the recipe as is, how I make it for my family. You can totally add bacon if you want.
Is zuppa toscana soup gluten free?
There is no flour in this recipe.
Can I freeze zuppa toscana soup?
You could but I would caution against it. As a pre-warning, reheating after freezing won't have the same texture as the first time you made it. The potatoes tend to break apart more and the soup has a gritty texture because of it.
How do you massage kale?
Rub it between your fingers, it takes away the chewiness.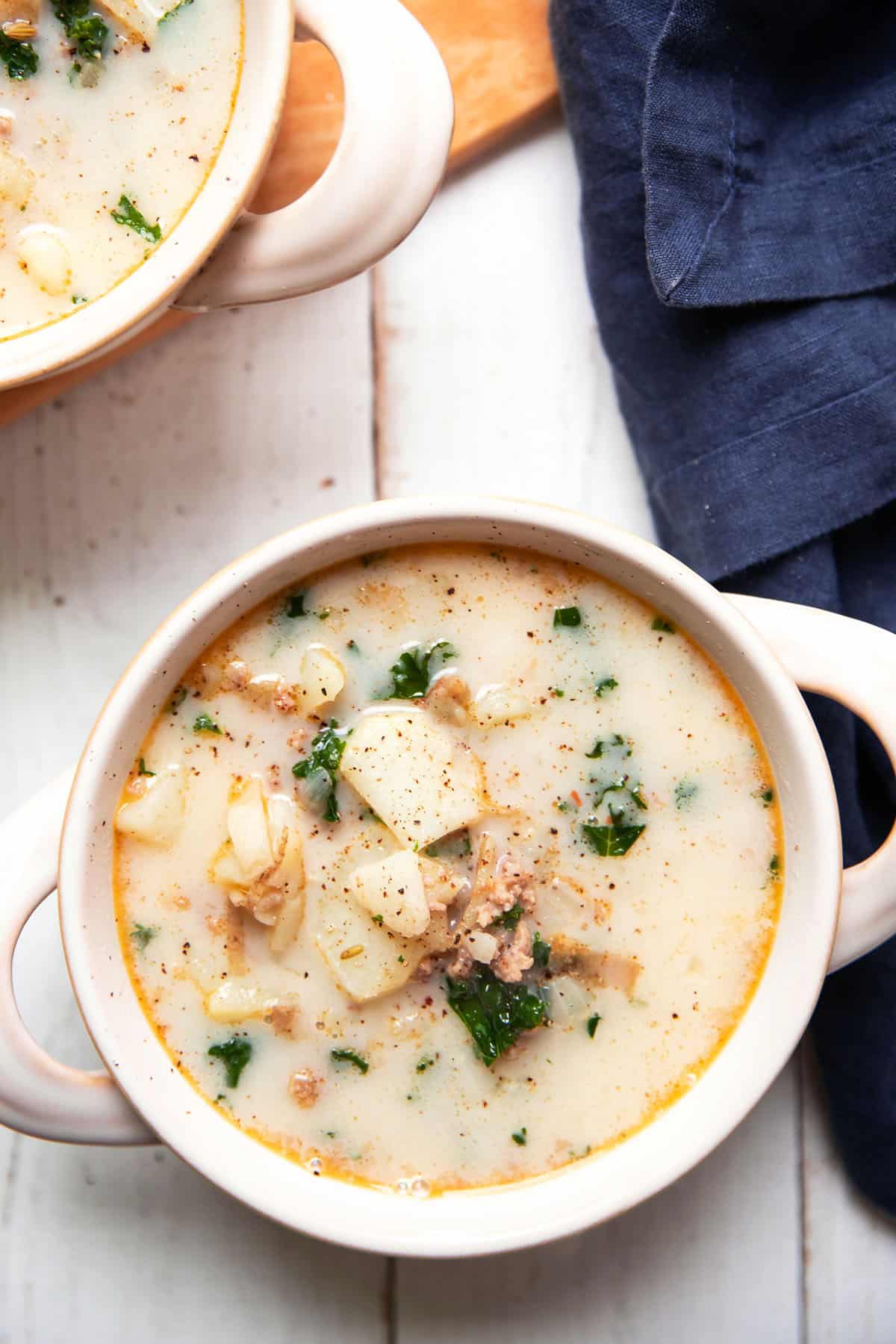 How To Make Zuppa Toscana Soup
A helpful visual on just how easy it is to make zuppa toscana soup. Make sure to watch the video too!
Start by browning the italian sausage and drain off any grease. Wipe out the pan then add the olive oil, onion and garlic. Saute this until transluscent. Add in your cut potatoes, sausage, chicken broth, salt and pepper.
Turn the heat up so it starts boiling then cover with a lid and reduce heat to low. Simmer for 10-15 minutes. Add in the kale and simmer an additional 5 minutes.
Turn the heat all the way off and add in the cream. Taste it and see if it needs any more salt.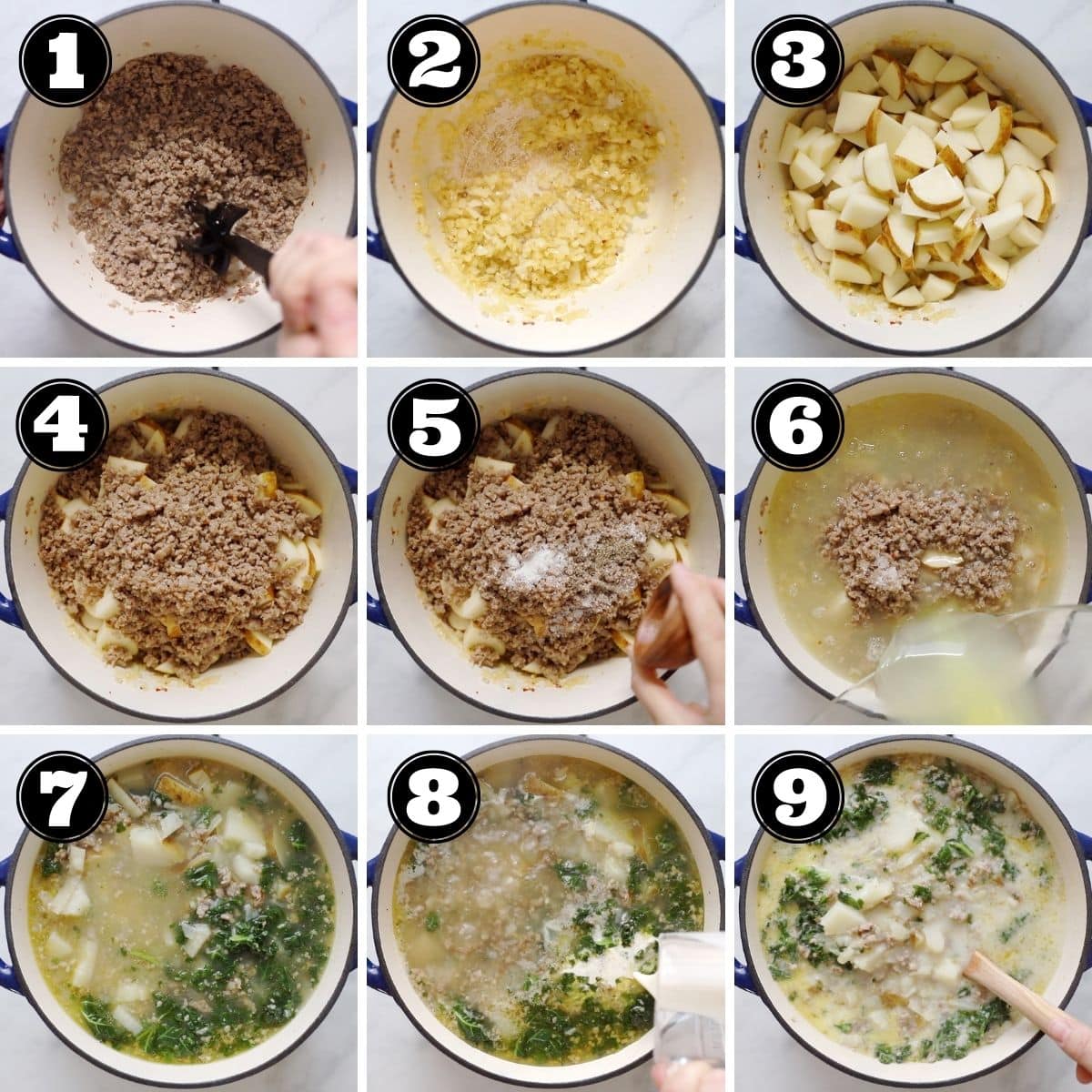 More Easy Soup Recipes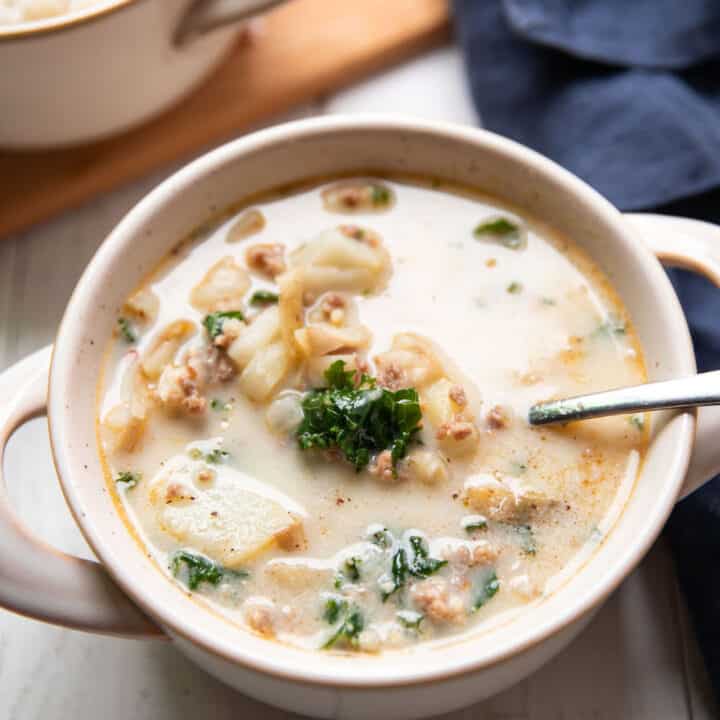 Olive Garden Zuppa Toscana Soup Copycat
Tender bites of russet potatoes, sausage and kale all together in a creamy and savory broth.
Ingredients
1 pkg mild Italian sausage
1 tbsp olive oil
3 large stalks of kale, about 3 cups, stalk removed, rough chopped and massaged (see note * below)
1 yellow onion, diced
5 cloves garlic, minced
3-4 russet potatoes, washed and scrubbed clean
64 oz of chicken broth
1 tsp salt + more to taste
¼ tsp pepper
½ C. heavy cream
parmigiano reggiano (for topping after serving)
Instructions
Heat a large pot over medium heat, add the sausage and cook until no longer pink. Drain the sausage on a plate lined with paper towels and wipe out any remaining grease in the pan.
Turn the heat down to med/low. Add the olive oil, onion and garlic and saute 3-4 minutes.
Slice the potatoes ¼ inch thick, cut these rounds into quarters. Rinse the potatoes with water. To the pot add the potatoes, sausage, chicken broth, kale, salt and pepper and bring to a boil.
Cover the pot with a tight fitting lid and turn the heat down to low. Simmer for 8-10 minutes. The potatoes should be al dente not mushy. Once the soup is done, stir in the heavy cream.
Serve into bowls with parmigiano reggiano cheese on top (just like at Olive Garden!) .
Notes
Massage your kale to help take away the chewiness and bitterness. (Thanks Ruth!) My mother-in-law once told me I should massage my kale, I think for better flavor or texture reasons, I can't remember but by golly I massage it every time now. (Update: I have a direct quote from my MIL "It takes away that tough chewiness and makes it a little sweeter, less bitter").
Nutrition Information:
Yield:

8
Serving Size:

1
Amount Per Serving:
Calories:

219
Total Fat:

10g
Saturated Fat:

5g
Trans Fat:

0g
Unsaturated Fat:

5g
Cholesterol:

27mg
Sodium:

1312mg
Carbohydrates:

25g
Fiber:

3g
Sugar:

4g
Protein:

7g
This information comes from online calculators. Although moderncrumb.com attempts to provide accurate nutritional information, these figures are only estimates.