This homemade creamy tomato basil soup is so quick and easy to make! It uses vegetables like sweet onion, celery, carrots and garlic to balance the flavor and make it hearty. A bit of cream makes it so smooth and delicious. It will warm you down to your bones.
And if you want another tomato soup option you have to try this creamy red pepper tortellini tomato soup!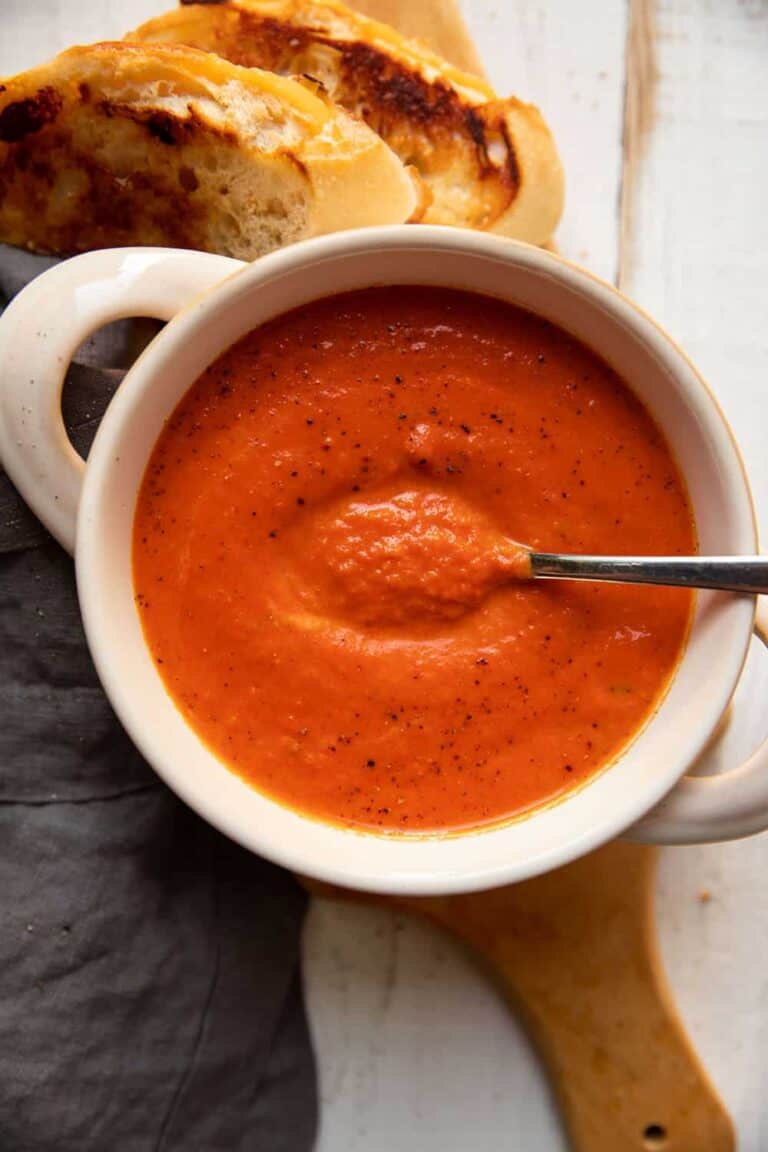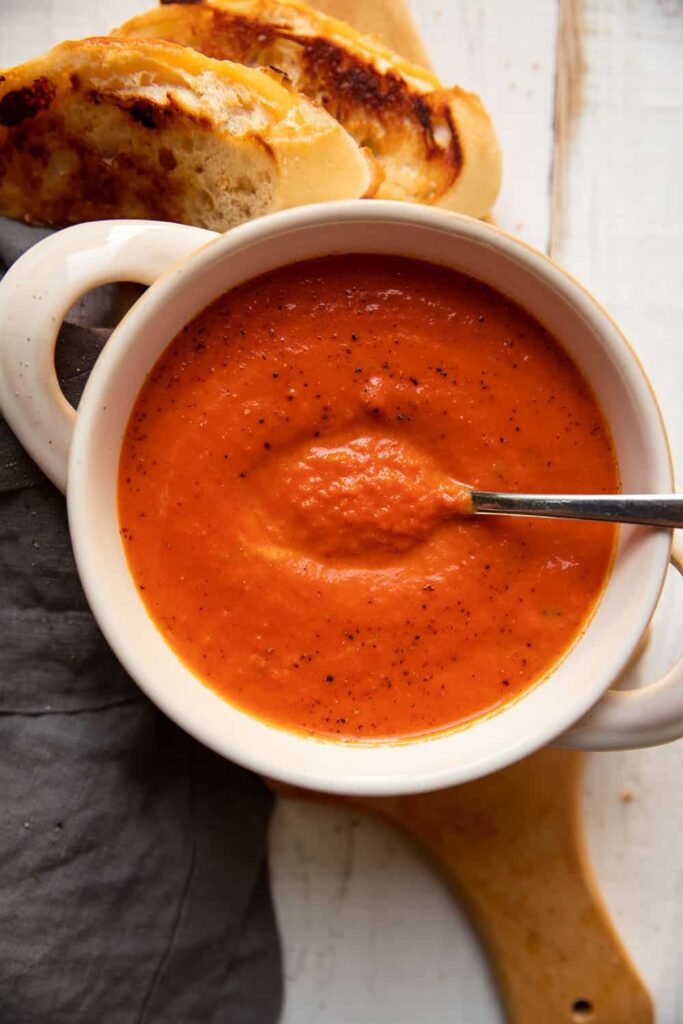 Tomato soup is a household staple. My husband's favorite as a child. And now my son's favorite, and he calls it orange soup.
Out of all the homemade soup recipes I make, it's still his favorite. Actually it's a tie for this broccoli cheddar soup!
This easy and creamy tomato basil soup recipe is seriously the best! That classic, iconic, childhood favorite that you always paired with a grilled cheese.
I could have licked the bowl clean and for all I know I may have, since I was in a delicious soup coma and all.
If you've ever tried Nordstrom tomato basil soup, which is my favorite, I really tried to get this recipe to taste similar to theres. That's why there's so many vegetables, because theirs has some texture to it.
My secret ingredient for this tomato basil soup, is that I use a bit of celery salt in the recipe. It does something magical to it. It's made from ground celery seed and salt and works nicely in tomato based soups.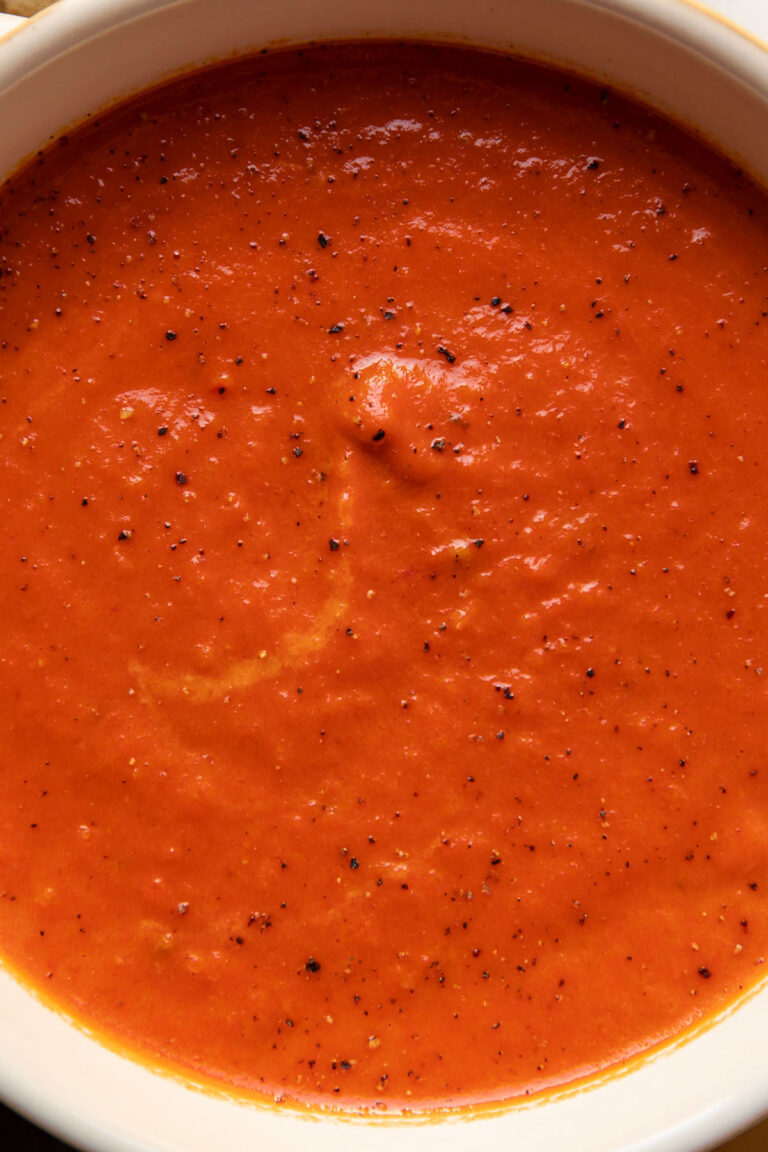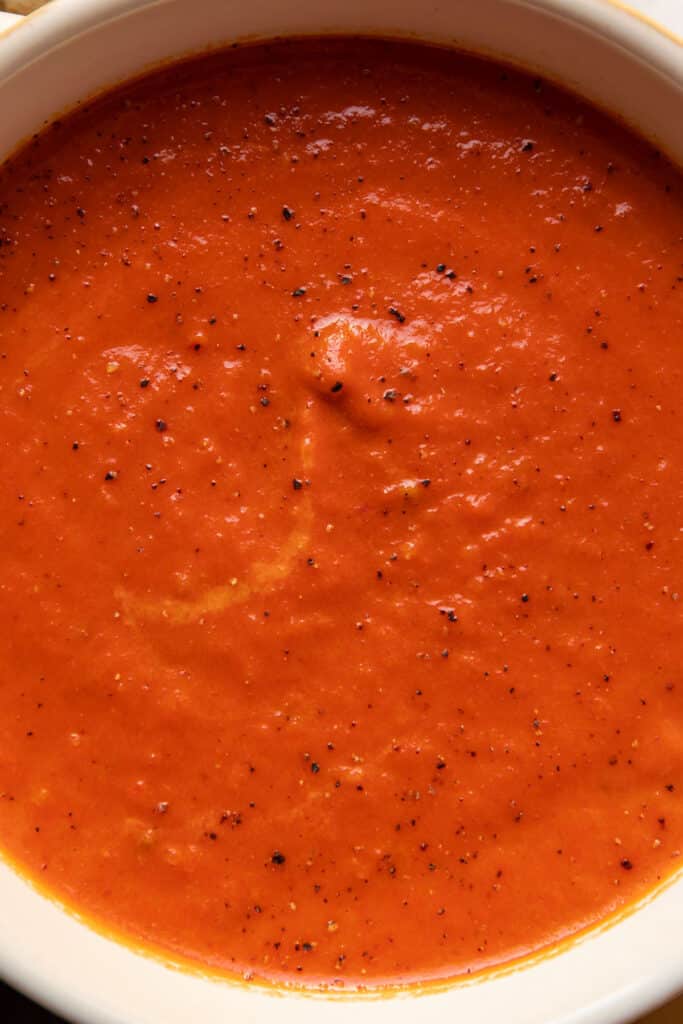 How To Make Tomato Soup Less Acidic
If you've ever made tomato soup at home you know it can be tricky to get the acid from the tomatoes balanced. Vegetables and the right amount of salt really help to get you that perfect flavor.
Have you ever had tomato soup at a restaurant and then made it at home and wondered how they got it so perfect, there are a few tricks you can do.
Celery and carrots add some earthiness that the tomatoes really need to help keep the soup mild. These vegetables neutralize the acidity in the tomatoes when you simmer them together.
It balances everything out.
Another way we will be neutralizing the acidity in the soup is adding salt. The recipe calls for two teaspoons and keep in mind this is a pretty large batch of soup.
And the last way is adding cream. Cream really tames all that acidic tang to make it luscious.
This creamy tomato basil soup delivers all the good taste, it's so good.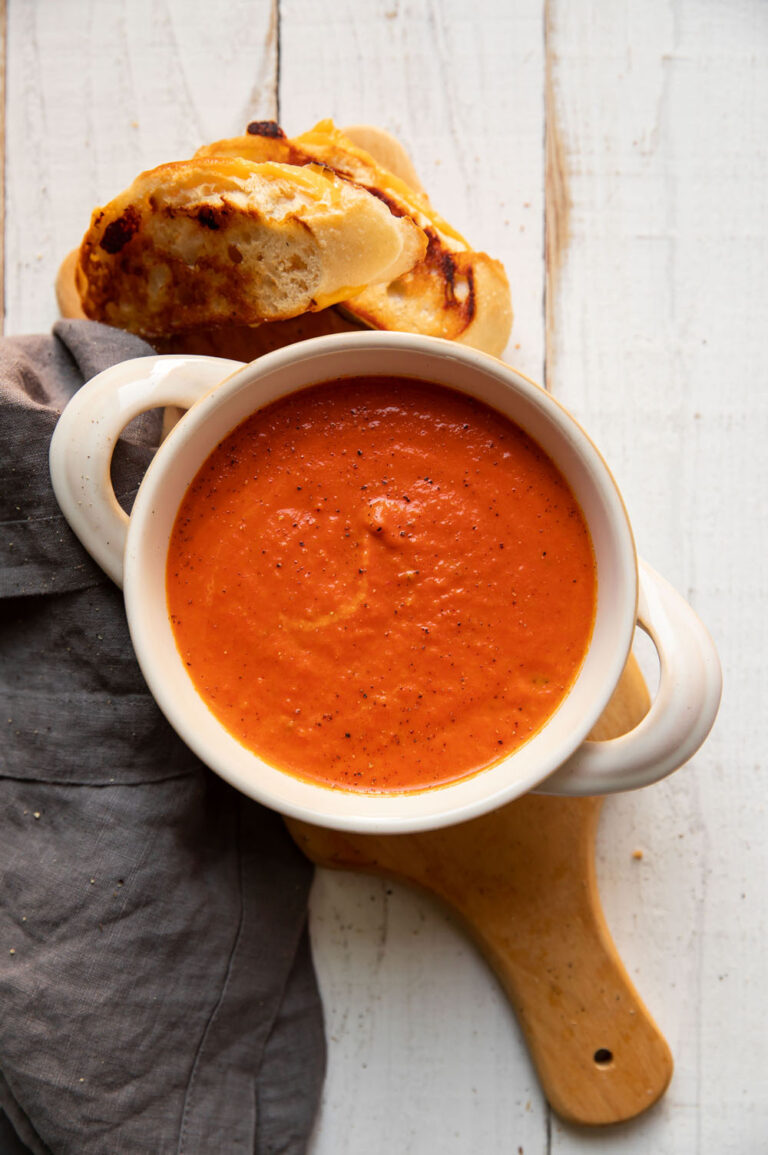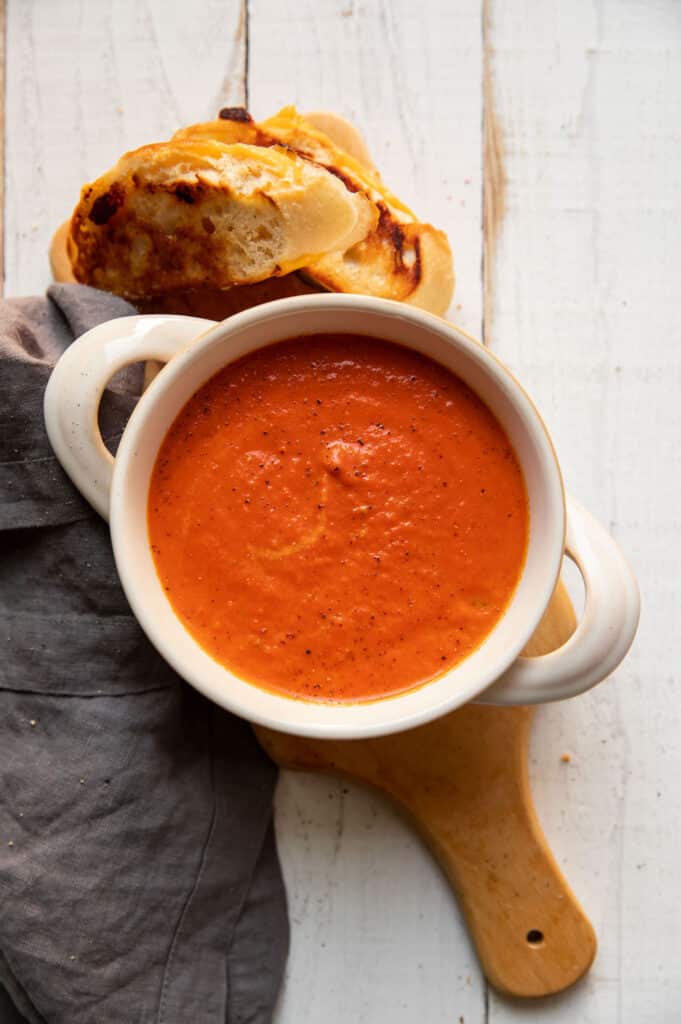 Can you Freeze Tomato Basil Soup?
Yes!
On the nights where you may have forgotten to get dinner, or buy something for dinner, it's the perfect solution when you remember you froze a bunch of tomato soup!
I've found, from personal experience, that soups without noodles freeze the best. Reheating a soup with noodles just makes them overcooked and mushy.
I once tried to freeze this homemade chicken noodle soup, and I regretted it. The next time, I boiled my noodles separately for dinner then I only froze the broth/vegetables. When I reheated it I boiled up some new noodles to serve it with and that worked perfect!
I use the ziploc freezer gallon bags to freeze my soup. Because they are quick, easy and readily available. But I do like being able to stay them up in the freezer.
Fill them up and then lay them flat in your freezer, you can stack a few bags on top of each other.
When you are ready to use them just run it under a bit of warm water for a minute then empty the contents into a soup pot and heat up! So easy.
Just like this freezer friendly chicken tortilla soup, it reheats like a dream!
It would be really nice, after reheating the soup, if you added a bit more fresh basil and cracked black pepper.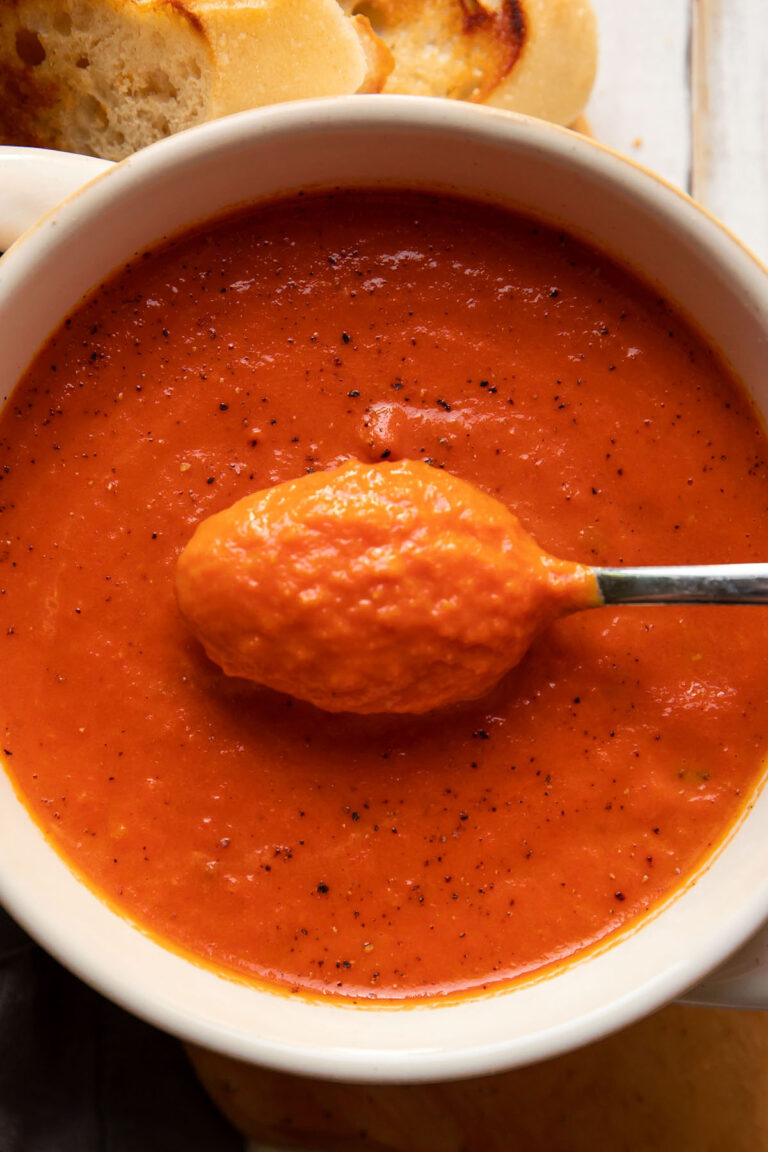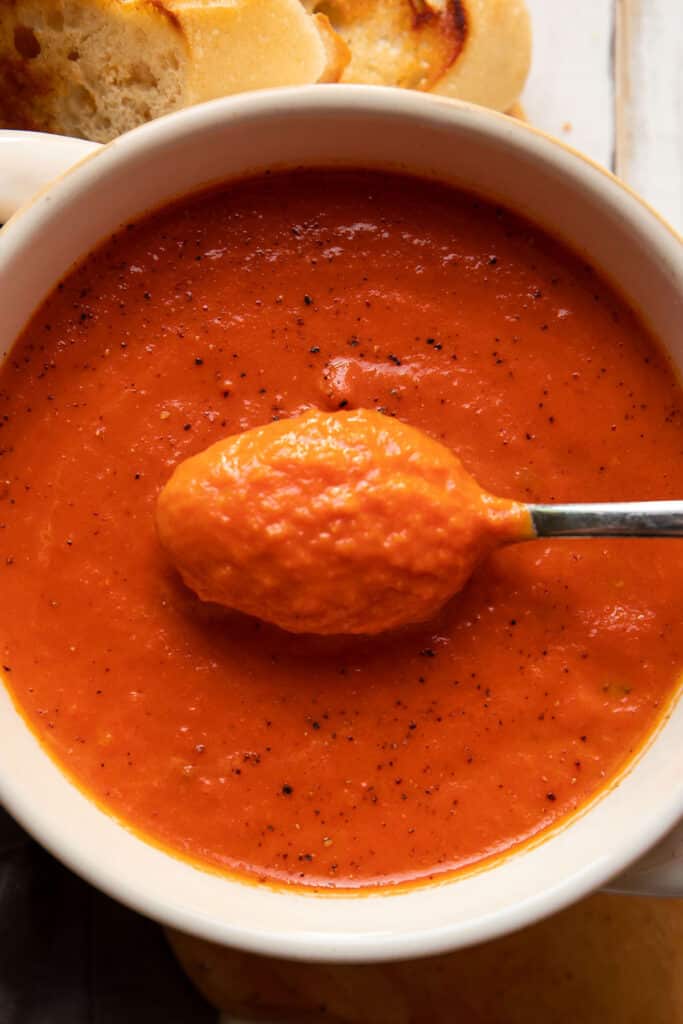 Soup Recipes To Try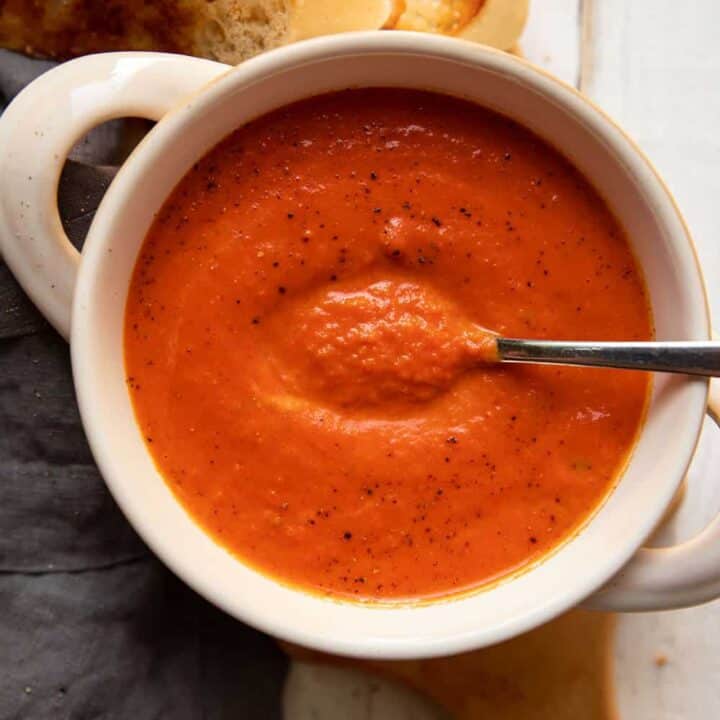 Easy and Creamy Tomato Basil Soup
Total Time:
1 hour
15 minutes
This homemade creamy tomato basil soup is so quick and easy to make! It uses vegetables like sweet onion, celery, carrots and garlic to balance the flavor and make it hearty. A bit of cream makes it so smooth and delicious.
Ingredients
1 tbsp olive oil
2 tbsp butter
1 large sweet yellow onion, chopped
4 large carrots, peeled and chopped
2 celery stalks, chopped
5 cloves garlic, minced
½ tsp celery salt
2 tsp salt
½ tsp pepper
16 oz chicken broth
2 28 oz cans organic crushed tomatoes
1 c cream
5 large fresh basil leaves, chopped
Instructions
Heat a large pot over medium/low heat
Add the olive oil, butter, onions, garlic, carrots, celery and celery salt
Saute for 5 minutes
To this add the crushed tomatoes, broth, fresh basil, salt and pepper
Simmer on low, covered, for 1 hour
Use an immersion blender pulse a few times to get out the big chunks, it shouldn't be completely smooth but have a rough consistency
Add the cream
Serve with a grilled cheese!
Notes
Blending hot liquids can be dangerous, it needs to be able to properly vent letting steam escape if you use a blender.
Nutrition Information:
Yield:

10
Serving Size:

1
Amount Per Serving:
Calories:

183
Total Fat:

13g
Saturated Fat:

7g
Trans Fat:

0g
Unsaturated Fat:

5g
Cholesterol:

34mg
Sodium:

1049mg
Carbohydrates:

16g
Fiber:

4g
Sugar:

9g
Protein:

4g
This information comes from online calculators. Although moderncrumb.com attempts to provide accurate nutritional information, these figures are only estimates.
Make sure to follow Modern Crumb on Pinterest, Facebook and Instagram for lots of yummy meal inspiration! And subscribe to the newsletter, below, to get updates when new recipes post.
This recipe was originally posted on August 16, 2017.