Put all those delicious Thanksgiving leftovers to good use in this turkey and wild rice soup. A family recipe handed down from Grammy, this soup is a bowl full of cozy and comfy. You'll love just how easy it is to make and how many family members it feeds.
Serve this soup with a basket full of warm and easy to make cloverleaf dinner rolls!
This recipe was first published on 11/25/2021.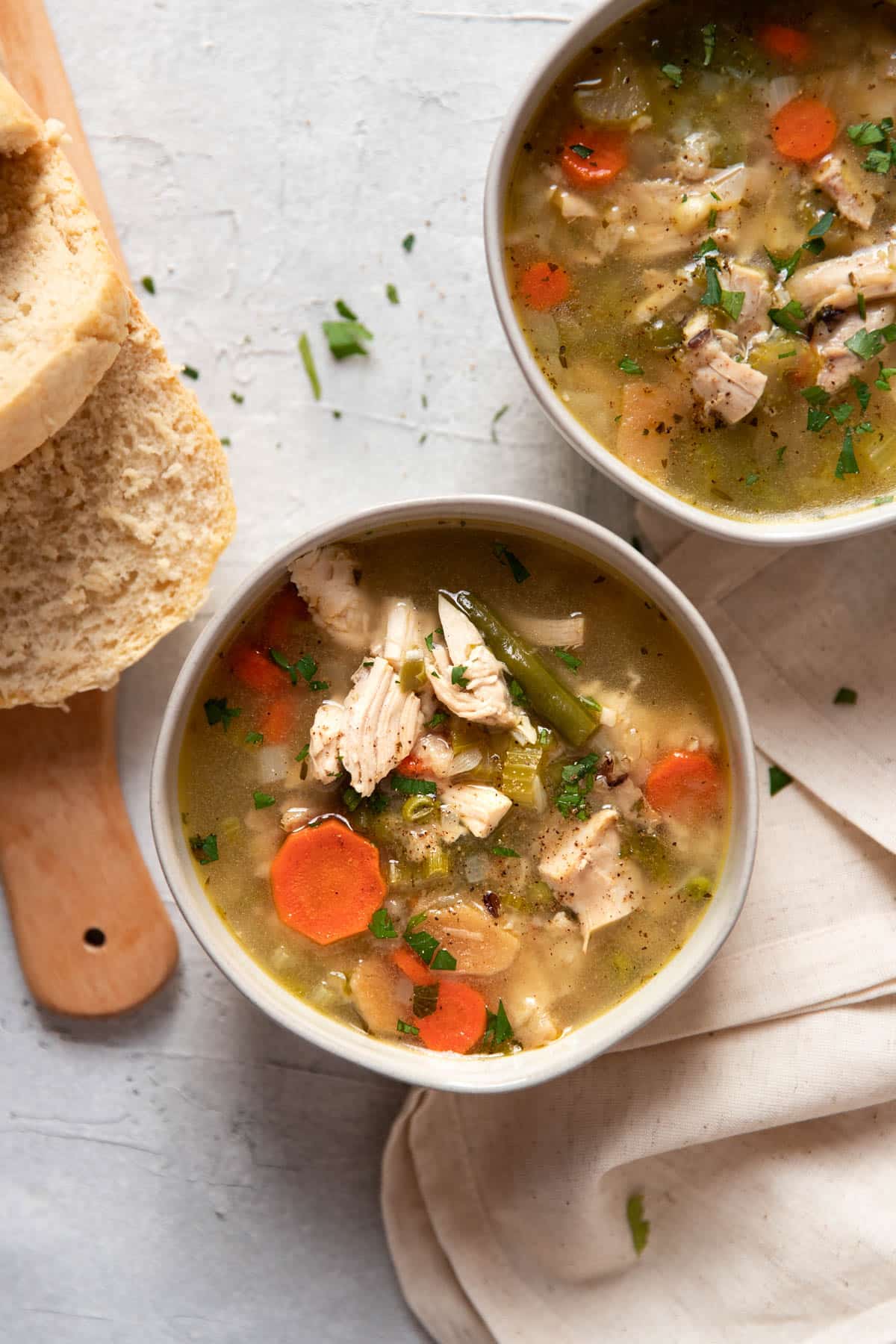 Out of all the recipes I've shared this year, this Thanksgiving leftovers turkey soup is the most special one of all.
A family recipe passed down to me, from my mother-in-law, who received it passed down as well. Generations have been making this turkey soup. And for good reason, it's fantastic.
It's everything a soup should be. Hearty, filling and delicious. If it fills my house with smells of wonder then it's a winning recipe in my book.
My guess is that you will have everything you need on hand if you make this right after Thanksgiving. Instead of throwing away the unwanted turkey carcass you'll be using it to make a turkey stock as the base for the soup.
Believe it or not you'll also be using leftover stuffing and mashed potatoes too.
Jump to: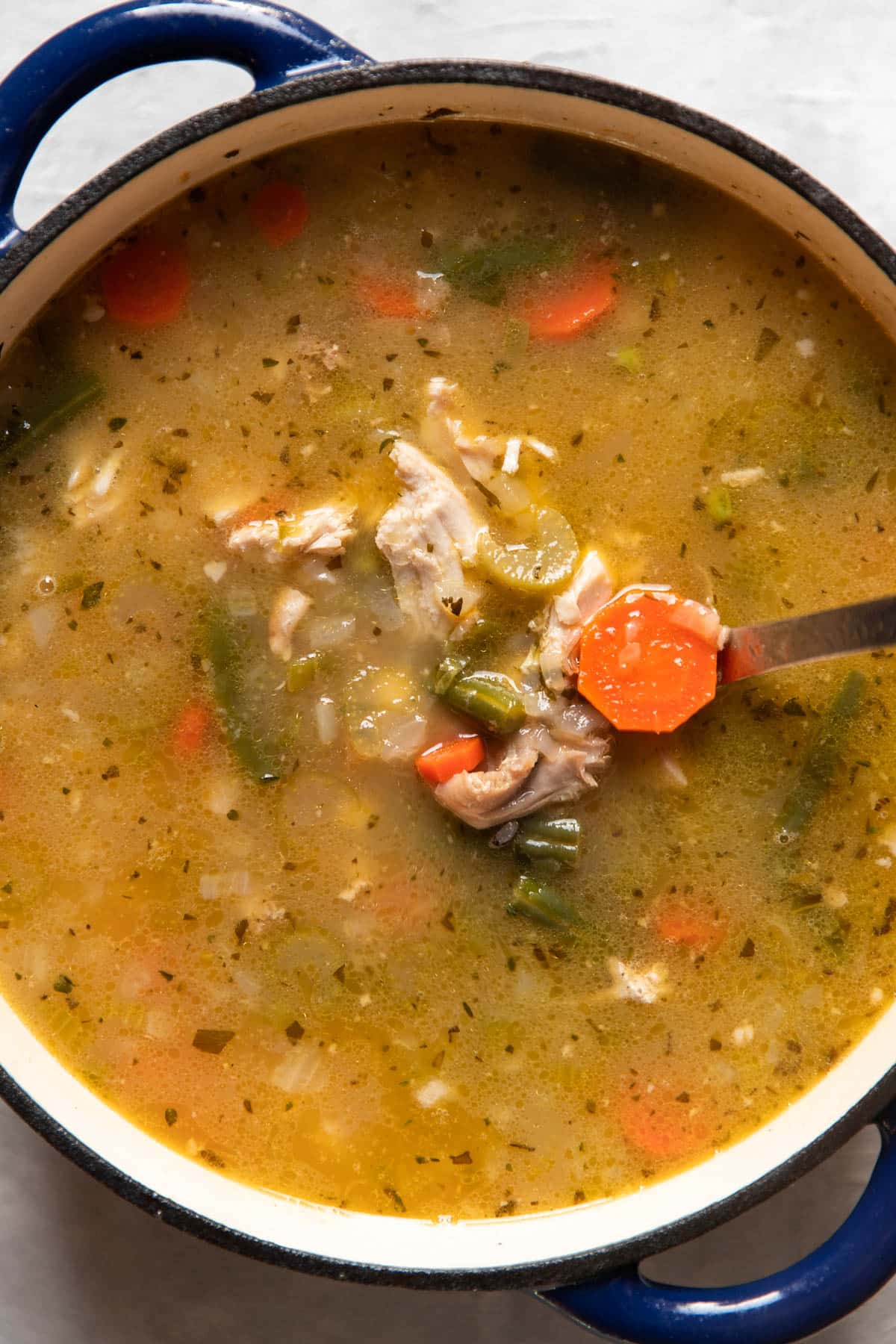 This soup has all the familiar soup components like onion, celery and carrots. But it also has some wild cards like leftover stuffing, mashed potatoes and gravy.
You heard right, we're going to put some of our leftover side dishes right into the soup. And it's ah-mazing.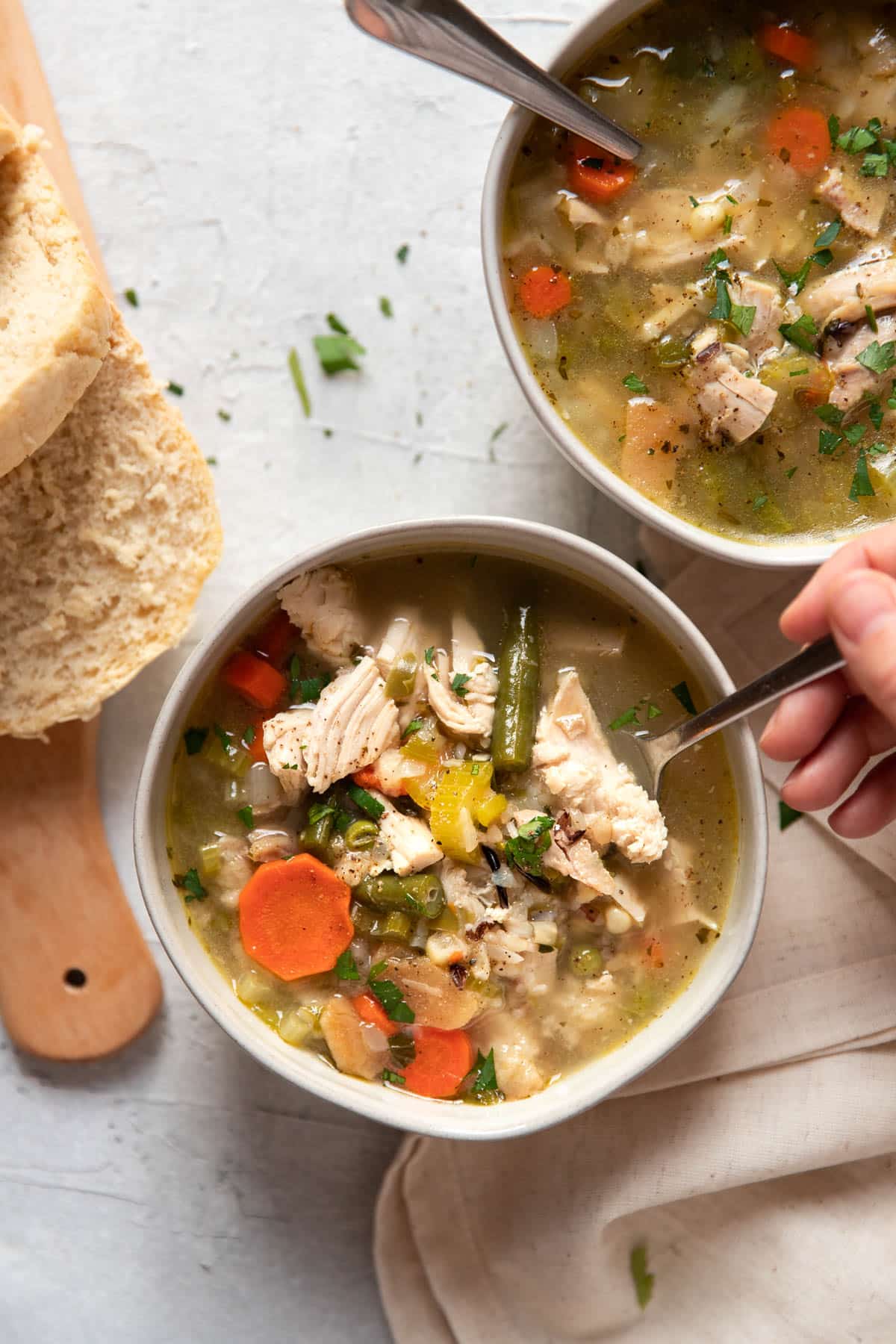 What's In Thanksgiving Leftovers Turkey Soup
Were you surprised to see we'd be adding in actual side dishes? As strange as it sounds, it tastes really good.
If you think about it, gravy is thickened turkey juice, so adding it in to your soup will add flavor and thickening. Same for the mashed potatoes and stuffing.
Just be careful not to go overboard, a few spoonfuls of each is perfect but too much can be overpowering.
Grammy mentions that after 40 years of making this soup Grampy only just realized she was adding side dishes into it!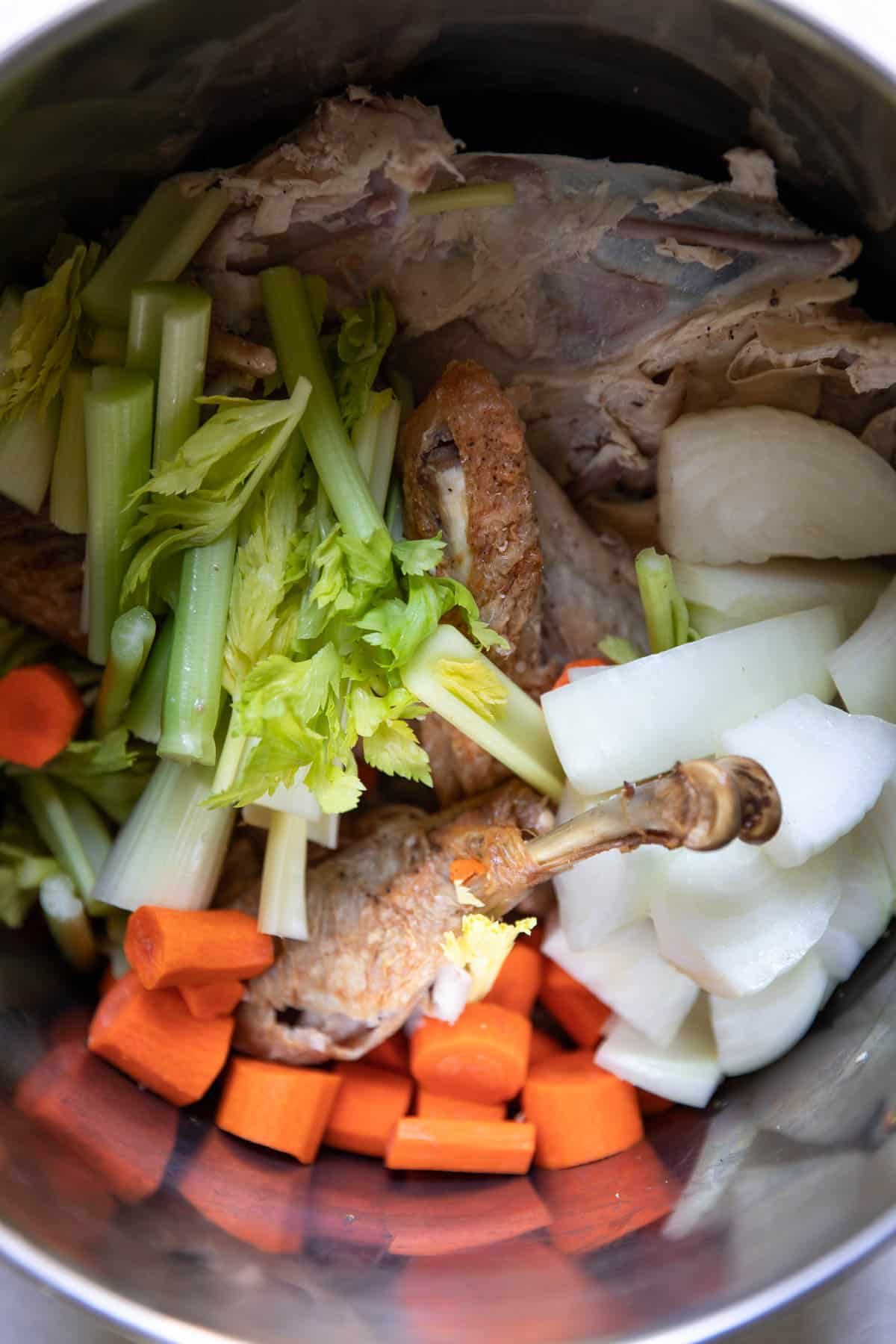 A few other things you'll need that you may or may not already have is a green bell pepper, fresh parsley and fresh thyme.
The beauty of this turkey soup is you can add as much or as little of something as you want. Adding extra vegetables is optional but frozen corn, frozen peas and green beans are my families favorites.
Instead of noodles, this recipe calls for wild rice. So if you don't already have it make sure to grab some.
Grammy notes to just add whatever your family loves and leave out whatever they don't love. Really easy.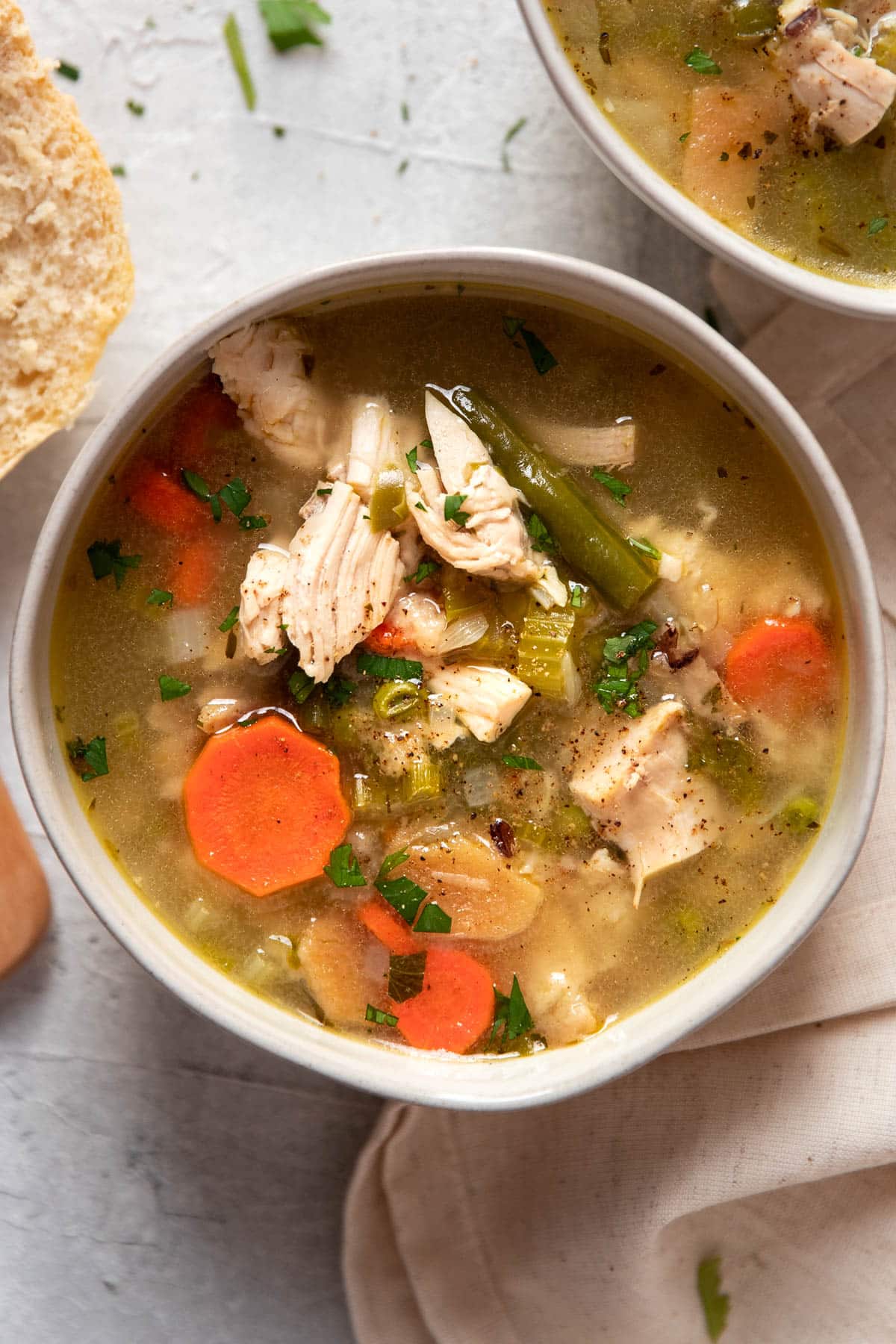 How To Make Turkey and Wild Rice Soup
There are two main stages to making this soup.
The first stage is making the turkey stock (the broth).
You'll need your turkey carcass, water and some vegetables for this part. Before you do that you want to pick your turkey clean of any good pieces of turkey!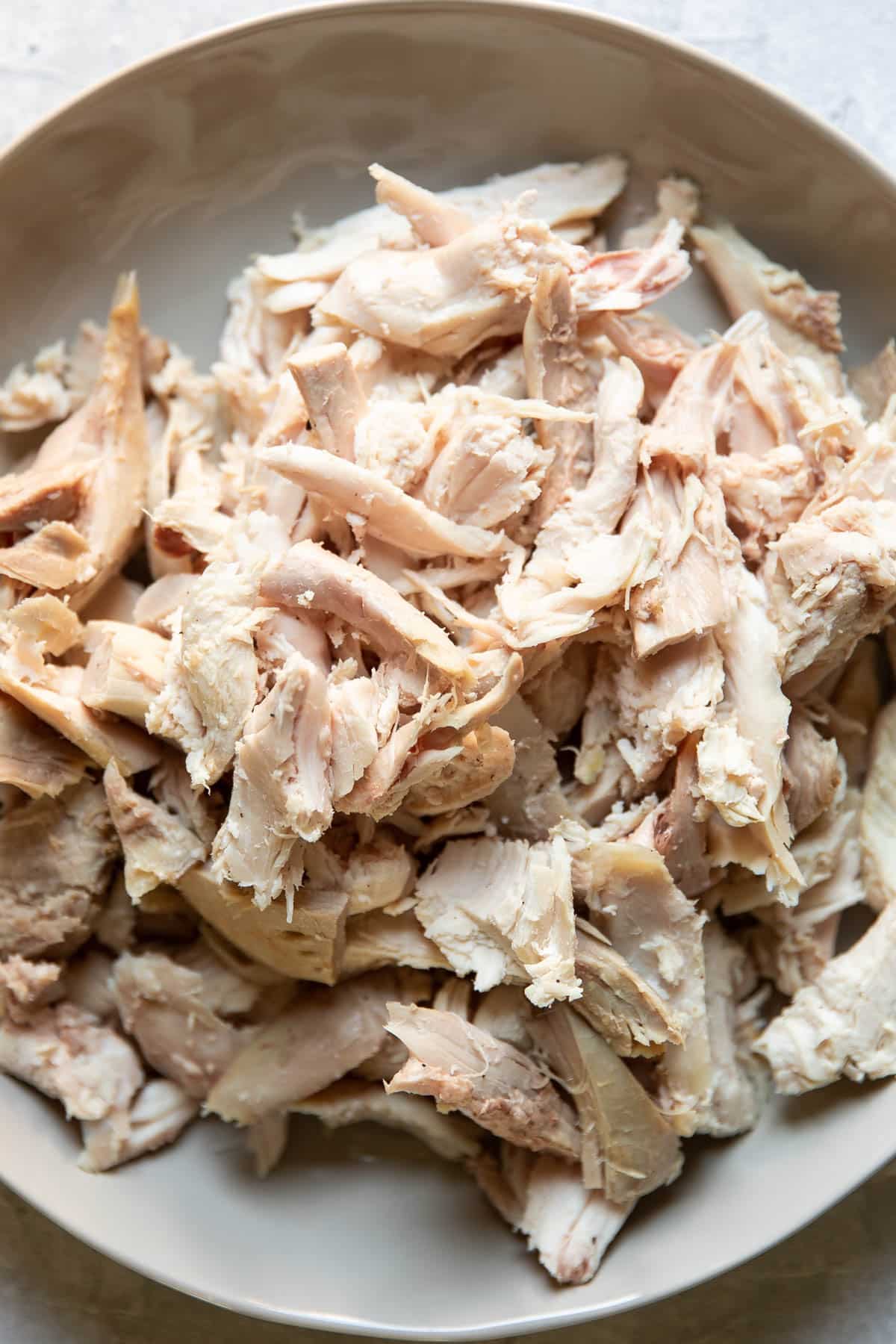 Pick off the white and dark meat. If you have to remove a leg or a wing to get the meat off, you can then put those scrap pieces of bones into your pot.
The turkey meat you get from the carcass will stay in the fridge until later on, you don't need it yet.
Simmer everything together until the turkey meat falls off the bones.
This takes at the very least 4-5 hours.
Figure the longer it simmers, the more flavor your broth will have. You could start this early in the morning and let it simmer until early evening and finish making it.
Keep in mind that any vegetables used while making the stock do not get reused. Those get tossed and you'll start fresh once you make the soup.
The second stage is making the actual soup.
To your new turkey stock you'll add a fresh batch of chopped vegetables, any leftover side dishes you want to add in, your herbs, the wild rice and your families favorite vegetables.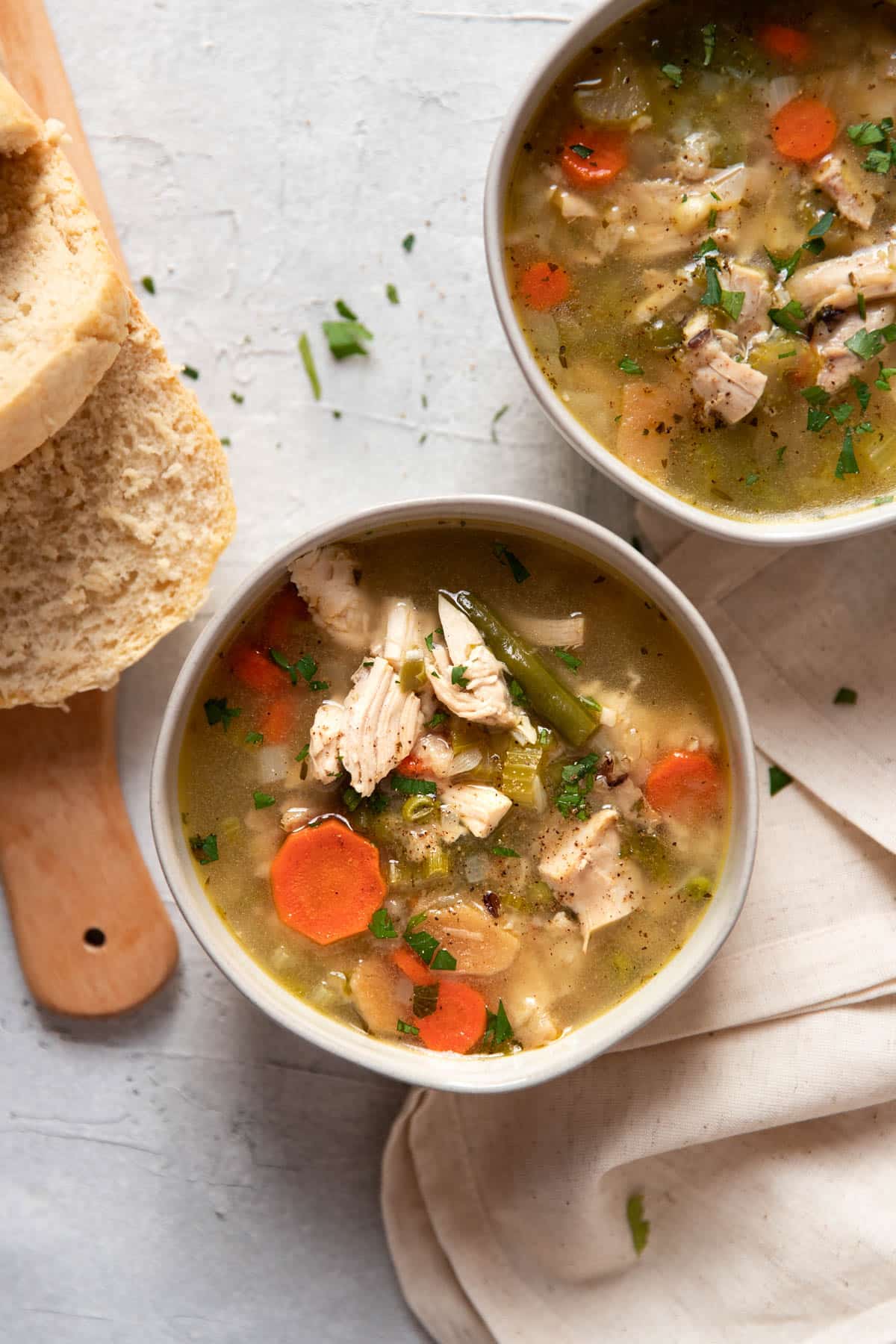 Again, for our family we add frozen corn, frozen peas and some fresh chopped green beans.
My favorite thing to add is this Thanksgiving herb stuffing because it has so much flavor. You can mash it around to let it dissipate into the soup or leave it untouched and that gives you little bites of fluffy stuffing, which I love!
Take note that you want to add your turkey meat at the very very end of making the soup. Otherwise it can get rubbery. So add it in shortly before you serve.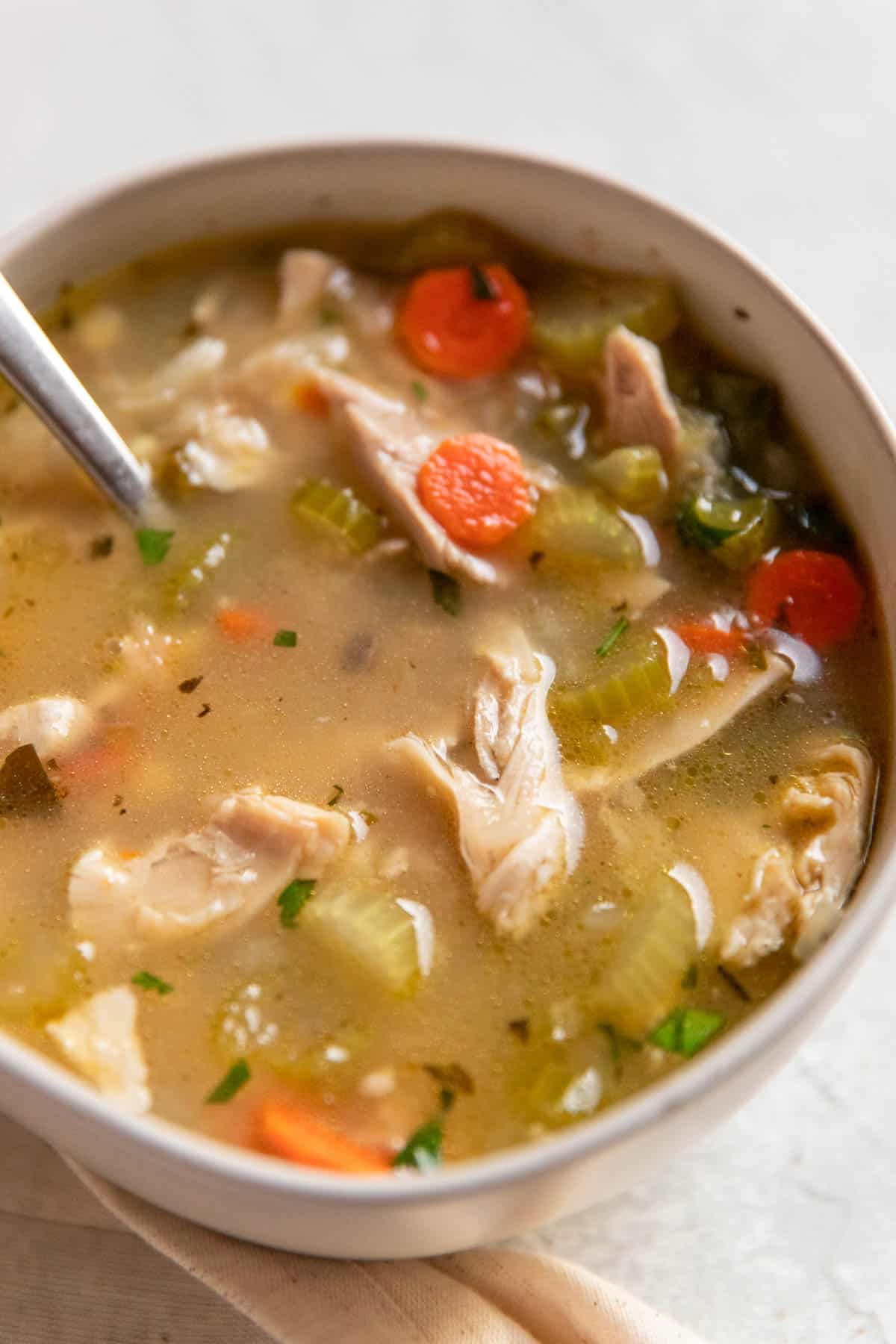 Thanksgiving Recipes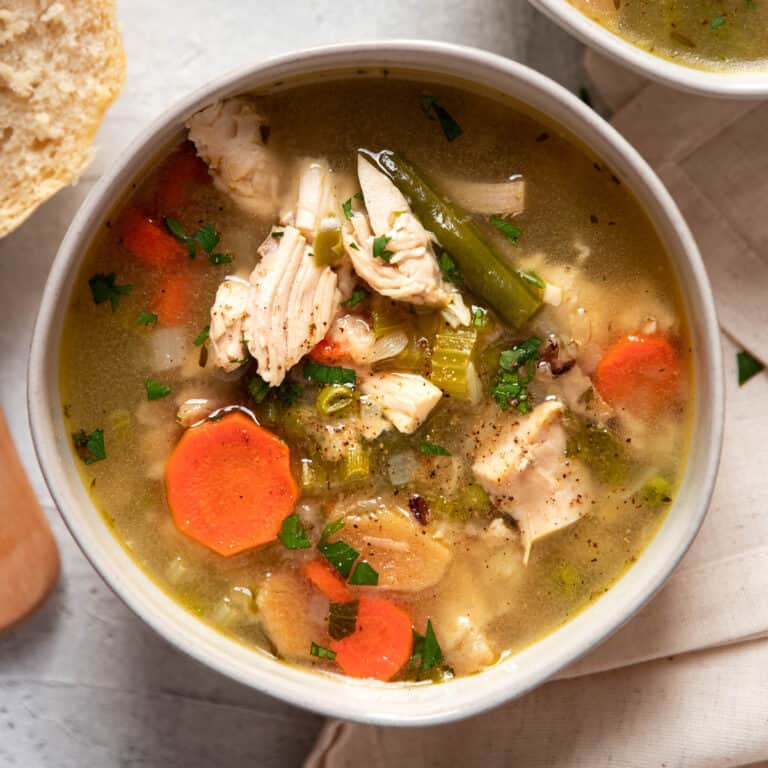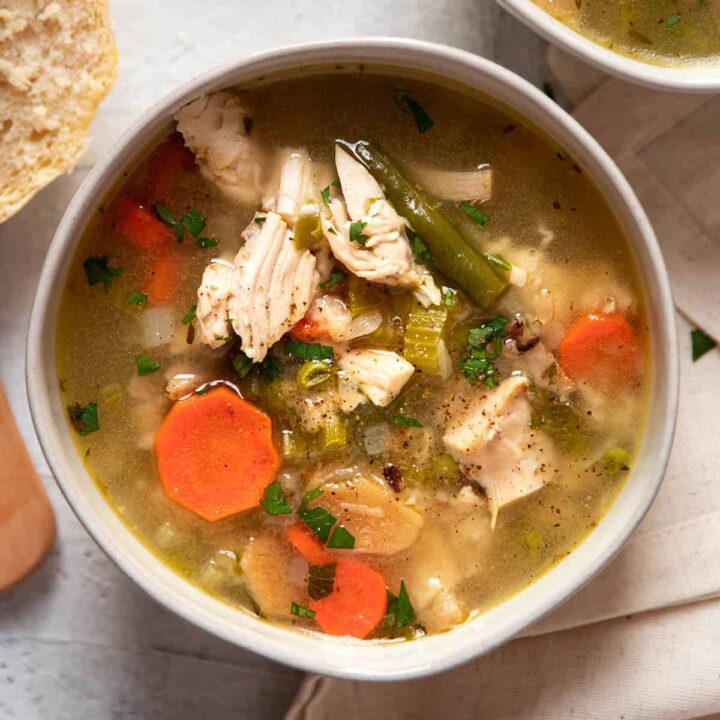 Grammy's Thanksgiving Leftovers Turkey and Wild Rice Soup
Total Time:
5 hours
30 minutes
Put all those delicious Thanksgiving leftovers to good use in this turkey and wild rice soup. A family recipe handed down from Grammy, this soup is a bowl full of cozy and comfy. You'll love just how easy it is to make and how many family members it feeds.
Ingredients
Turkey carcass and meat, useable meat picked off
Water
5 carrots
6 celery stalks
2 onions
½ green bell pepper, diced
½ c - 1 c wild rice, this will depend on how much broth you have, eyeball it
1 clove garlic, minced
1 sprig fresh thyme, finely minced
1 tbsp fresh parsley, chopped
Salt
Pepper
Optional ingredients
Extra vegetables, such as green beans, peas, corn (adding vegetables only that your family likes, use up leftovers in the fridge)
Leftover stuffing, any amount you want
Leftover mashed potatoes, any amount you want
Leftover gravy, a few splashes
Instructions
Pick all of the useable meat from the turkey, cut into bite size pieces and set aside in the fridge for now
Put the turkey carcass and any remnants in a stock pot
Chop up 3 celery stalks including any stems
Dice one of the onions
Chop 2 carrots
Add all of the chopped vegetables to the stock pot
Add water to the stock pot, just until the turkey and vegetables are covered
Cover with a lid, bring to a boil then reduce heat to low and simmer until the meat has fallen off the turkey bones and they no longer have any meat on them (about 4-5 hours)
Strain the broth and throw away the solids
Return the broth back to the stock pot, bring back to a boil
Chop the other onion and the remainder of your celery (3) and carrots (3), add these to the stock pot
Additionally add in the diced green bell pepper, wild rice, garlic, fresh thyme, fresh parsley and any additional vegetables you may like (corn, green beans, peas, etc)
If you have any leftover stuffing, mashed potatoes and gravy add a few spoonfuls of each for flavor and to thicken
Add salt and pepper, per your taste
Once the vegetables are soft add the turkey meat
Serve
Notes
Grammy sometimes adds lentils and barley to her soup
Do not add the turkey until the very end - the turkey can tend to become rubbery and tasteless if simmered with the veggies
Keep in mind this is a very, as you like it, soup recipe - Grammy mentions that you only need to add the vegetables your family likes, maybe it's something not even listed in here
If you didn't make enough broth you can always add a container of store bought to the soup
Adding some stuffing, mashed potatoes and gravy will help to thicken the soup, but do not add too much or it will overwhelm the flavors
Grammy says to serve with thick fluffy rolls, mmmm
This recipe is passed down from Grammy (my mother in-law), this is a family recipe
Recommended Products
As an Amazon Associate and member of other affiliate programs, I earn from qualifying purchases.