These are the creamiest, most decadent mashed potatoes. You'll think you are eating at a five star restaurant when you take a bite because they are amazing! Baking the mashed potatoes makes them so rich and flavorful.
These mashed potatoes pair perfectly with a basket of cloverleaf buttery herb rolls.
This recipe was first published on November 19, 2020.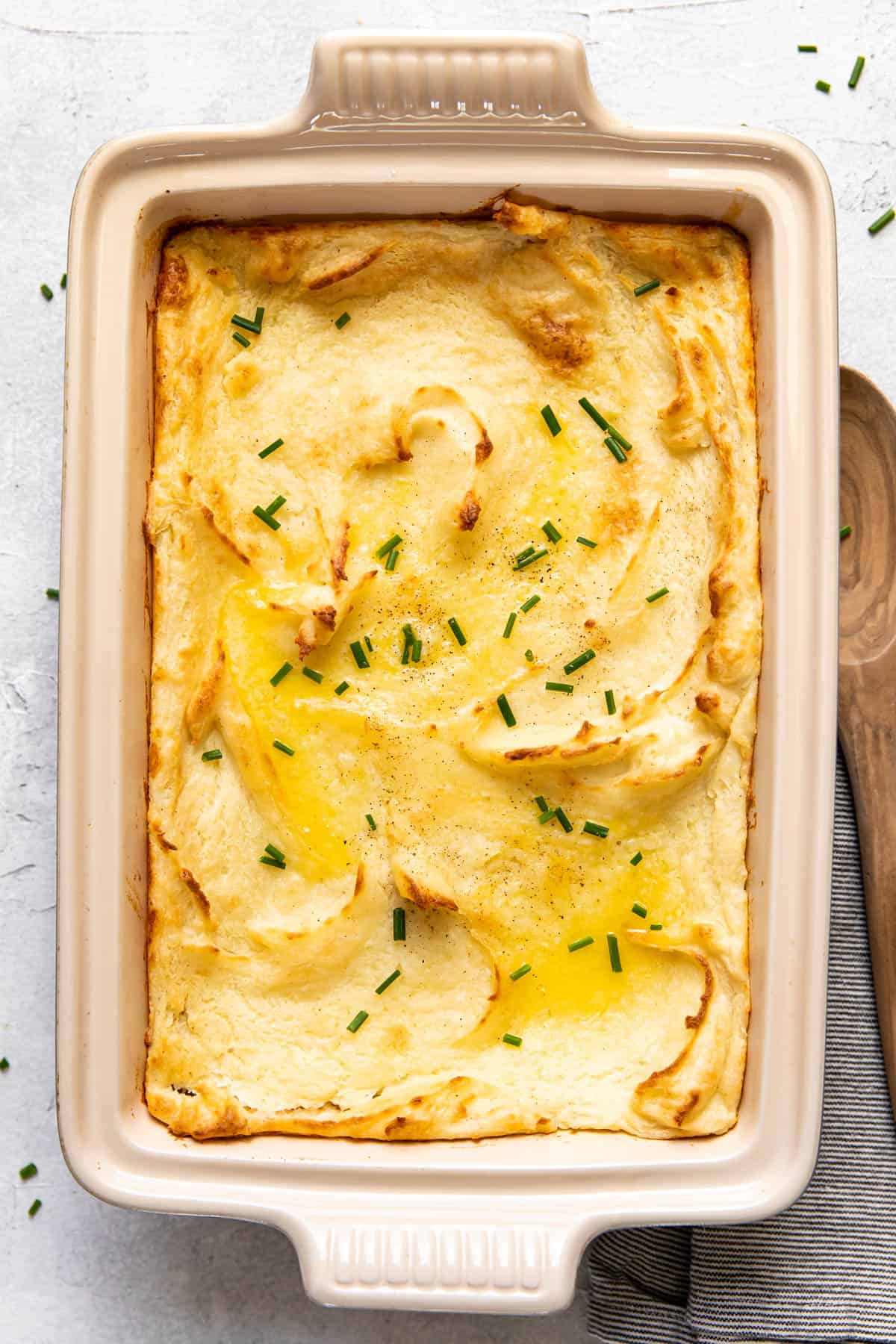 My family loves these creamy baked mashed potatoes!! My son actually rates all the meals I make and this get's a solid 11/10.
These mashed potatoes are thick and creamy. They actually get baked in the oven after you prepare them, which makes all the flavors come together. They have a bit of a crisp top, which is pure perfection.
Baked mashed potatoes are just about the most comforting side dish I can think of and so versatile in what you can serve them with.
Since Thanksgiving is coming up, obviously these are the ideal side dish for the Thanksgiving table. So serving them with a Thanksgiving turkey, honey baked carrots and homemade stuffing are encouraged! But if you are a traditionalist then regular mashed potatoes may be for you.
Jump to: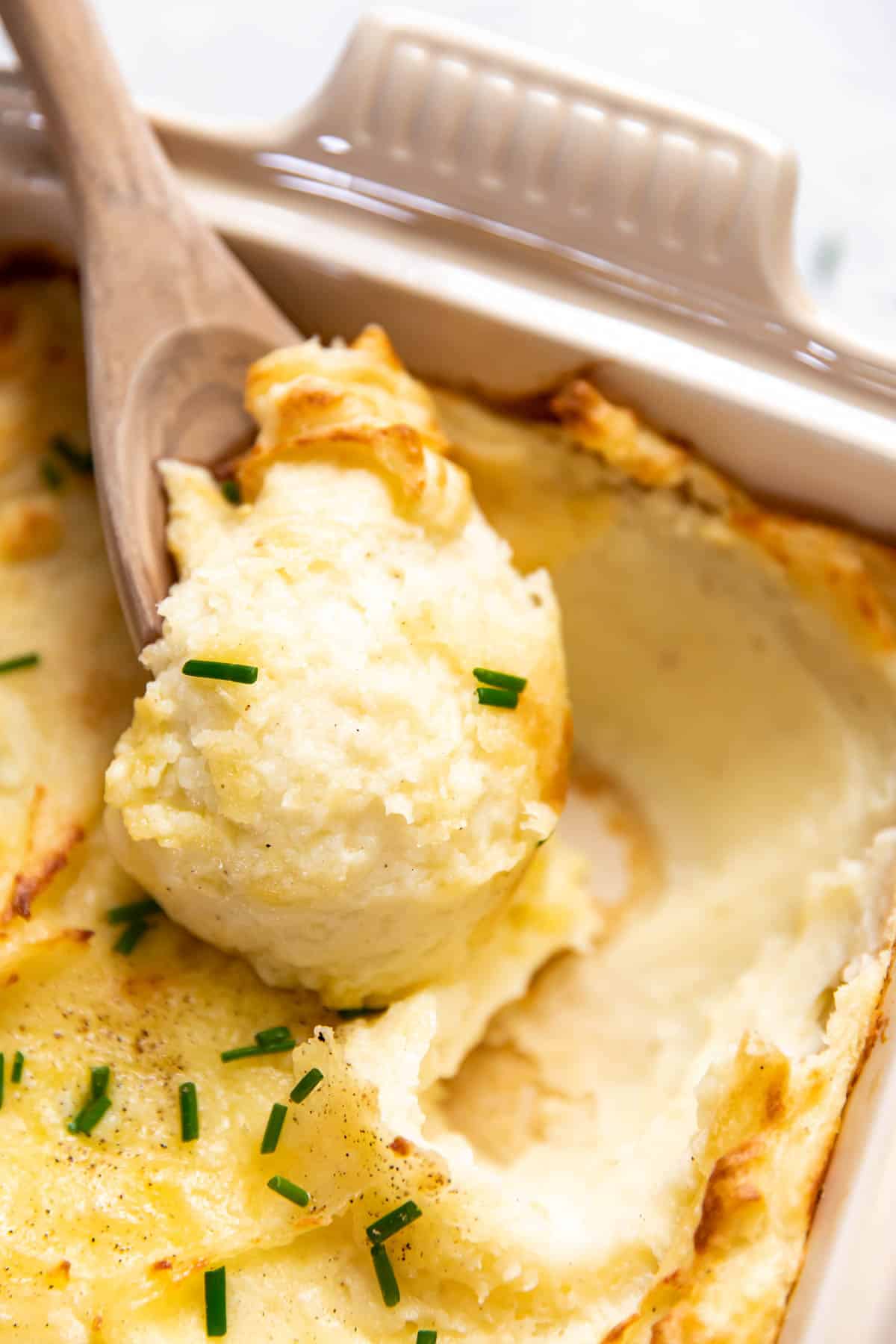 Ingredients
The thing that makes these mashed potatoes so special is all the ingredients that make them just so creamy! These are indulgent mashed potatoes. Hey, it's the holiday's and we can get crazy if we want!
I know it's a lot of dairy but you can't have total mashed potato decadence and not indulge.
It's worth it. I could sit down to a plate of these for my dinner. These are the best, ever.
russet potatoes - I highly suggest you use russet potatoes for the fluffiest texture, I love waxy potatoes (yukon golds) but when you beat them they get gummy so opt for russets
butter - a whole stick of salted butter
cream cheese - full fat cream cheese, at room temperature or you can heat in the microwave for a few seconds to soften it up
half and half - this helps to keep the potatoes soft and not so thick
salt and pepper - for flavor
chives - the chives are 100% optional, if you want something to make them look pretty chives or parsley are great for that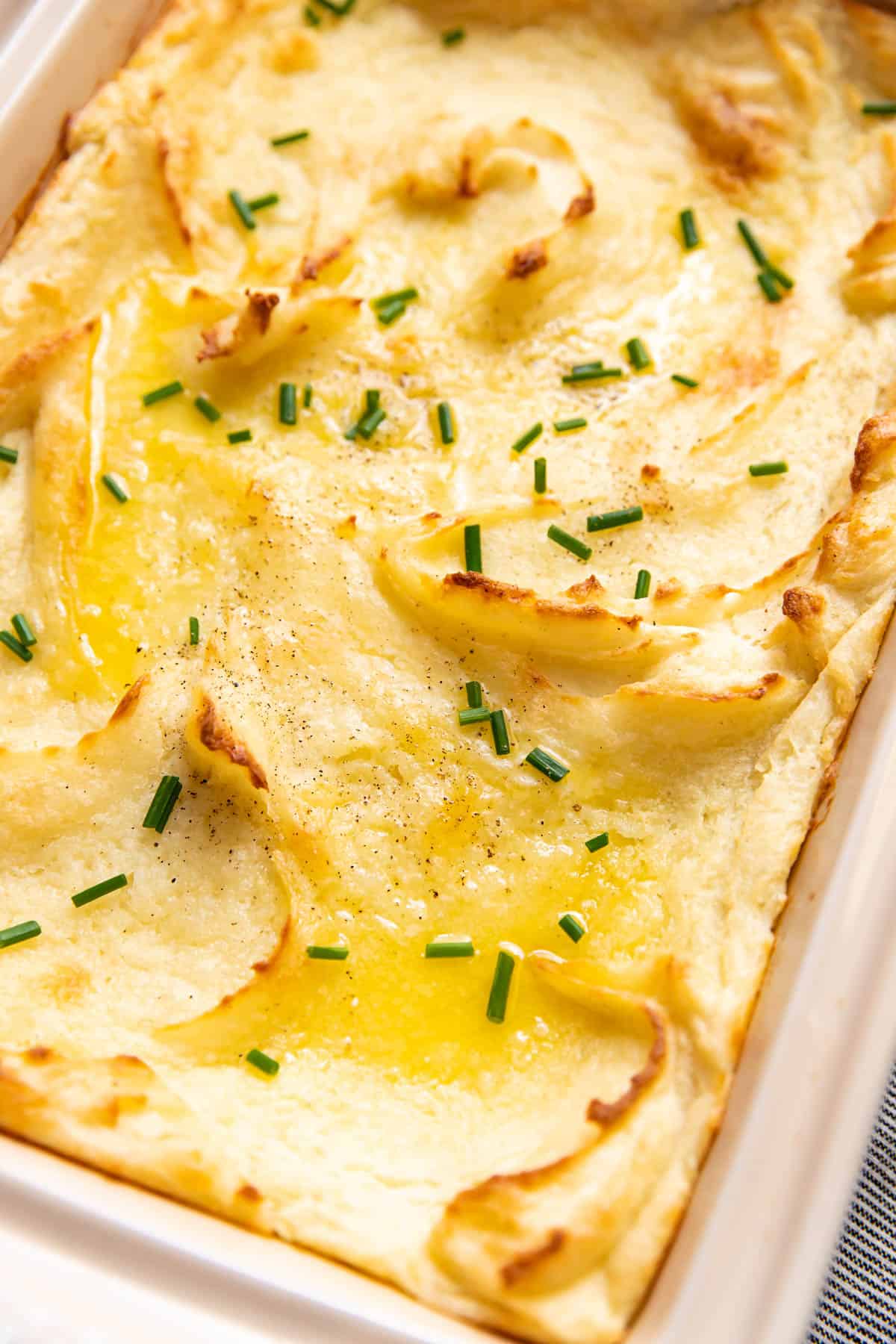 How To Make Baked Mashed Potatoes
If you've never baked mashed potatoes, today is your day! Baking these mashed potatoes makes them super fluffy, creamy, delicious, just all the things.
Boiling the potatoes. Start by peeling the russet potatoes and cutting them into medium sized cubes. Rinse with water and add to a large pot. Cover the pot with water and a few big pinches of salt.
Boil the potatoes until they are fork tender. This means when a fork can pierce through the potatoes without resistance.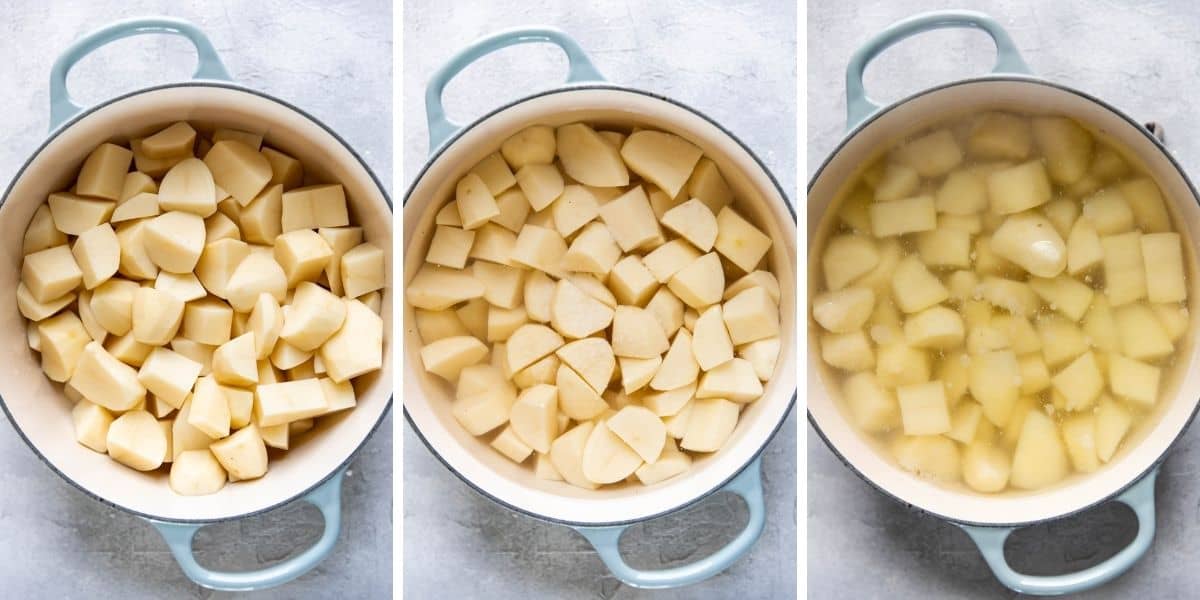 Steaming the potatoes. Drain the potatoes and return them to the pot. Set them on the stove, over low heat. Steam out the excess moisture in the potatoes, using a spoon to stir every minute.
Transfer the potatoes to a mixing bowl and beat on low speed until they are broken up. Switch over to high speed to mash them until they are fairly smooth, some lumps are fine. You do not want to over mix it will cause them to be gummy and gluey.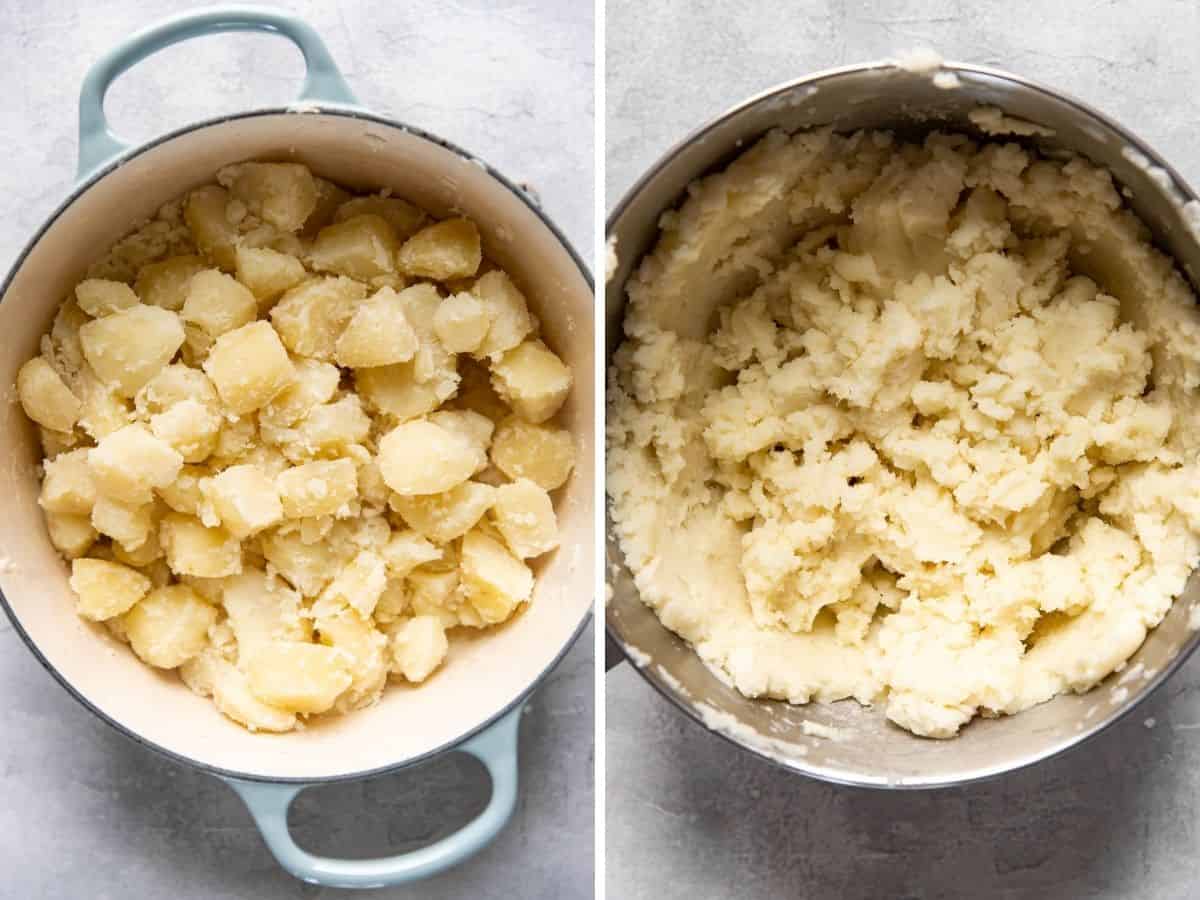 Adding the ingredients. In this order, add your warmed ingredients. The melted butter goes first, then the warmed cream cheese and last the half and half. Also add the salt and pepper.
You will need to taste them. They may need more salt. This can vary a lot depending on how much was added during the boiling step.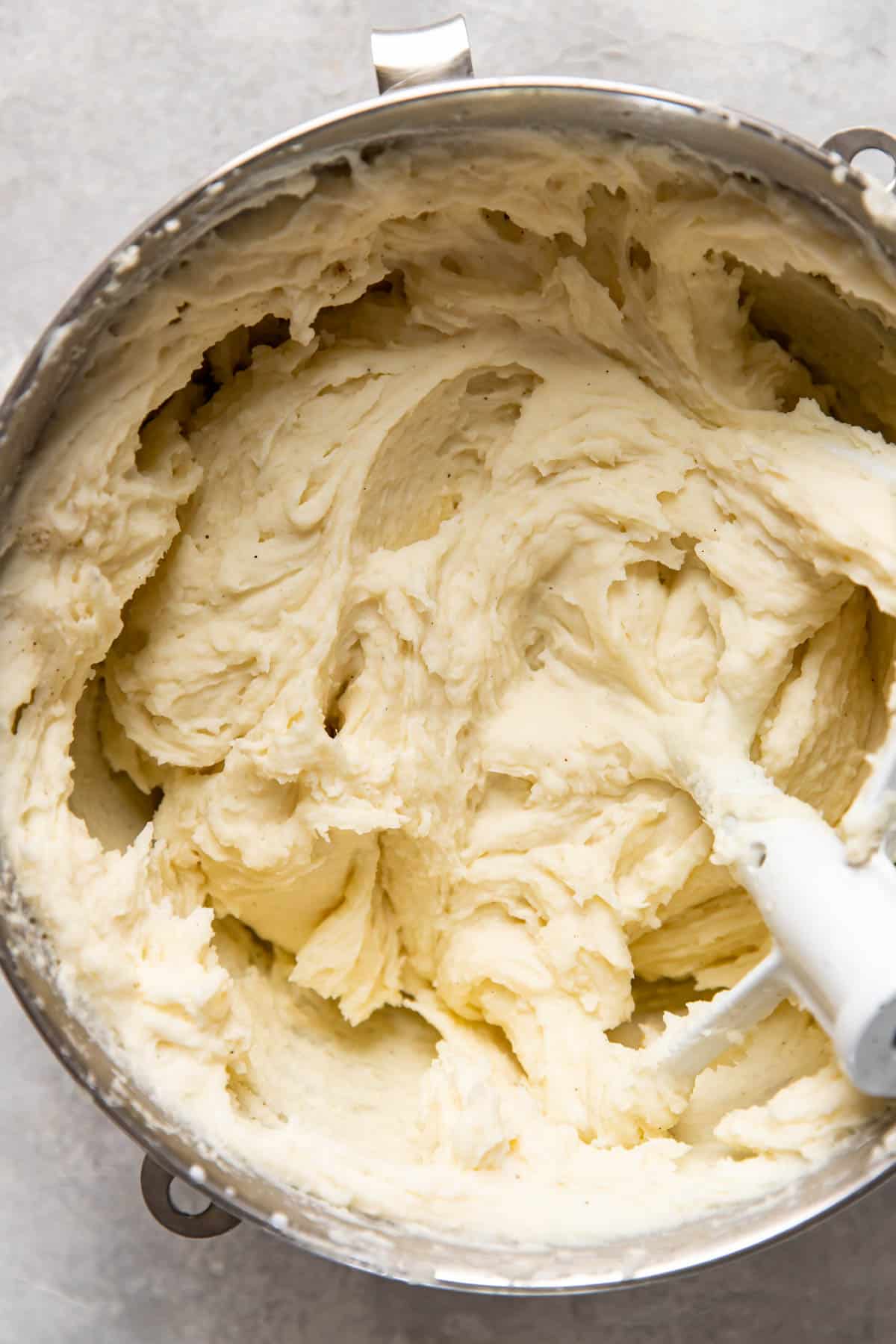 Baking. Scoop everything out of the mixing bowl and spread it into a baking dish. If you can create some swirl on the top with your spoon then they will get golden and crispy while baking. It's a nice presentation for Thanksgiving.
Bake in the oven at 350 degrees Fahrenheit for 45 minutes.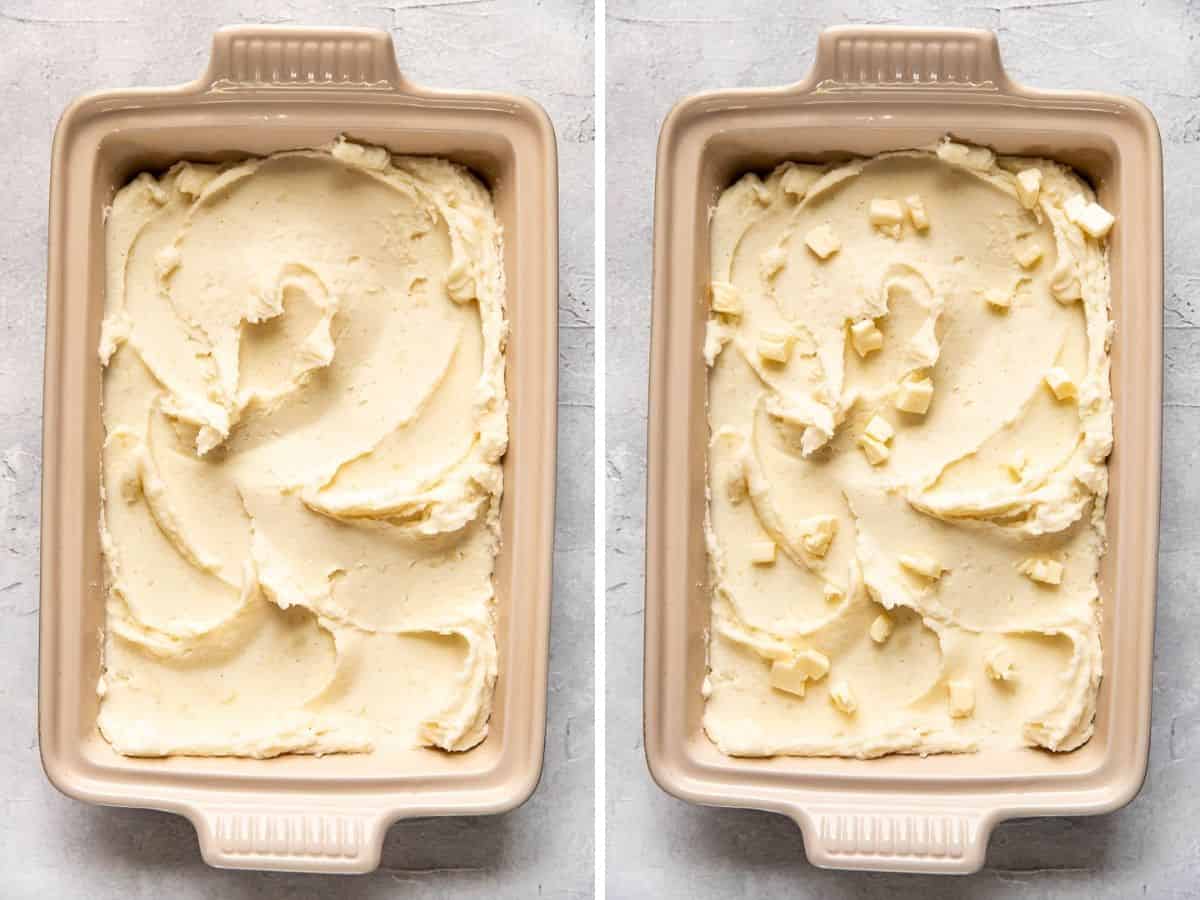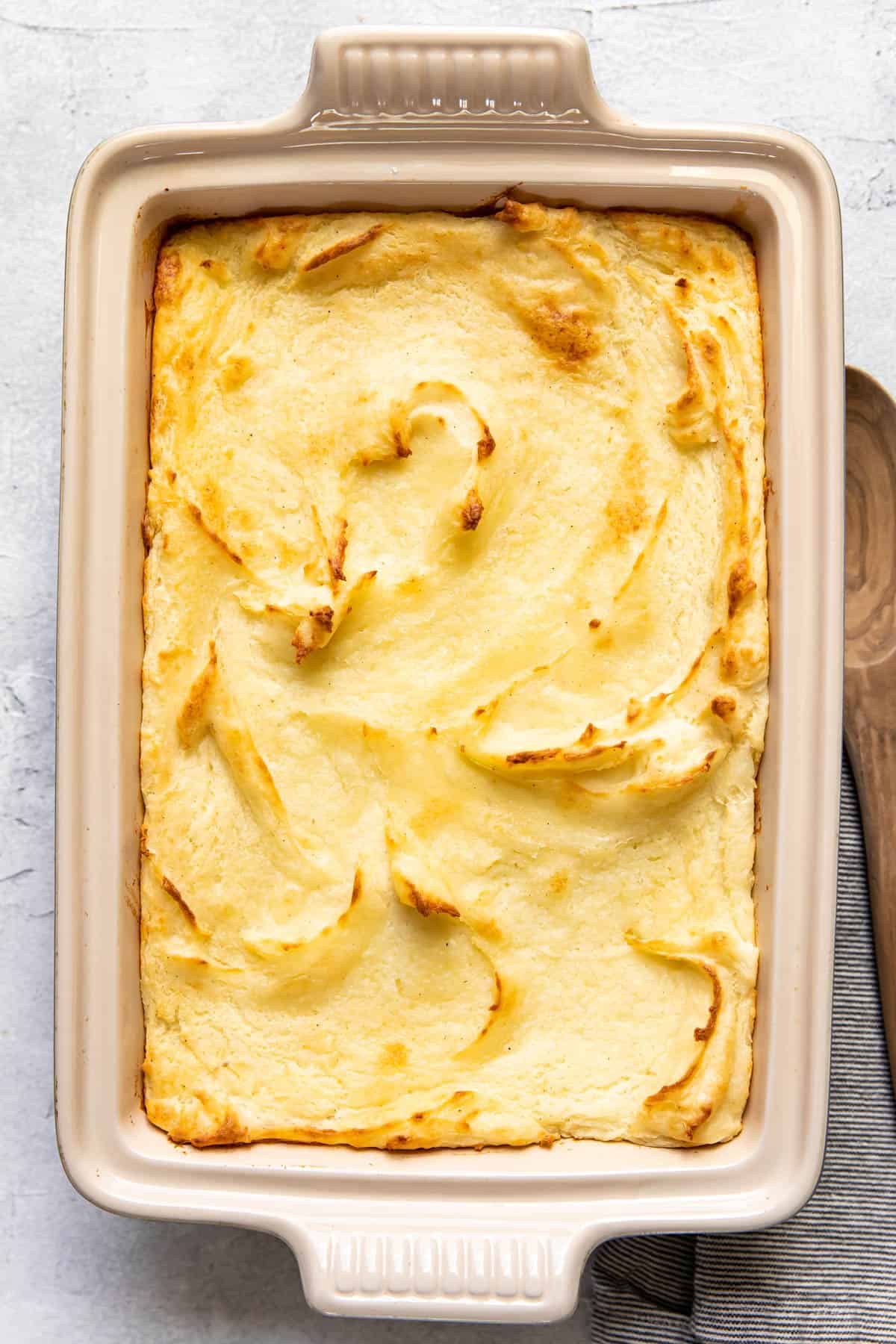 Tips and Tricks
Size counts. The size you cut your potatoes for mashed potatoes makes a difference! I once read that since potatoes absorb the water you boil them in, the smaller you cut the potatoes the more moisture your mashed potatoes will have.
And in turn, they could turn out gummy. But if you cut them a bit larger, they won't have absorbed as much water and they will be fluffier.
Steaming. One of my mashed potatoes tricks for really fluffy potatoes is to steam your potatoes after boiling.
After you've boiled the potatoes, drain the water and return the potatoes to the pot. Cook them for 3 minutes on low heat. It releases any excess moisture and makes them really fluffy, you will see steam coming out of the pot.
Excess water is what can make your mashed potatoes have that gummy texture. And old potatoes, using fresh potatoes is best.
Over mixing. It can be tempting to keep beating the mashed potatoes to get every little tiny lump out. But over mixing will increase your chances of having gummy or gluey textured mashed potatoes.
When to add the butter. Another of my mashed potato tricks is to add warm melted butter to the potatoes while they are still piping hot. The butter clings to the hot steamy potatoes.
You should also warm your cream cheese and your half and half.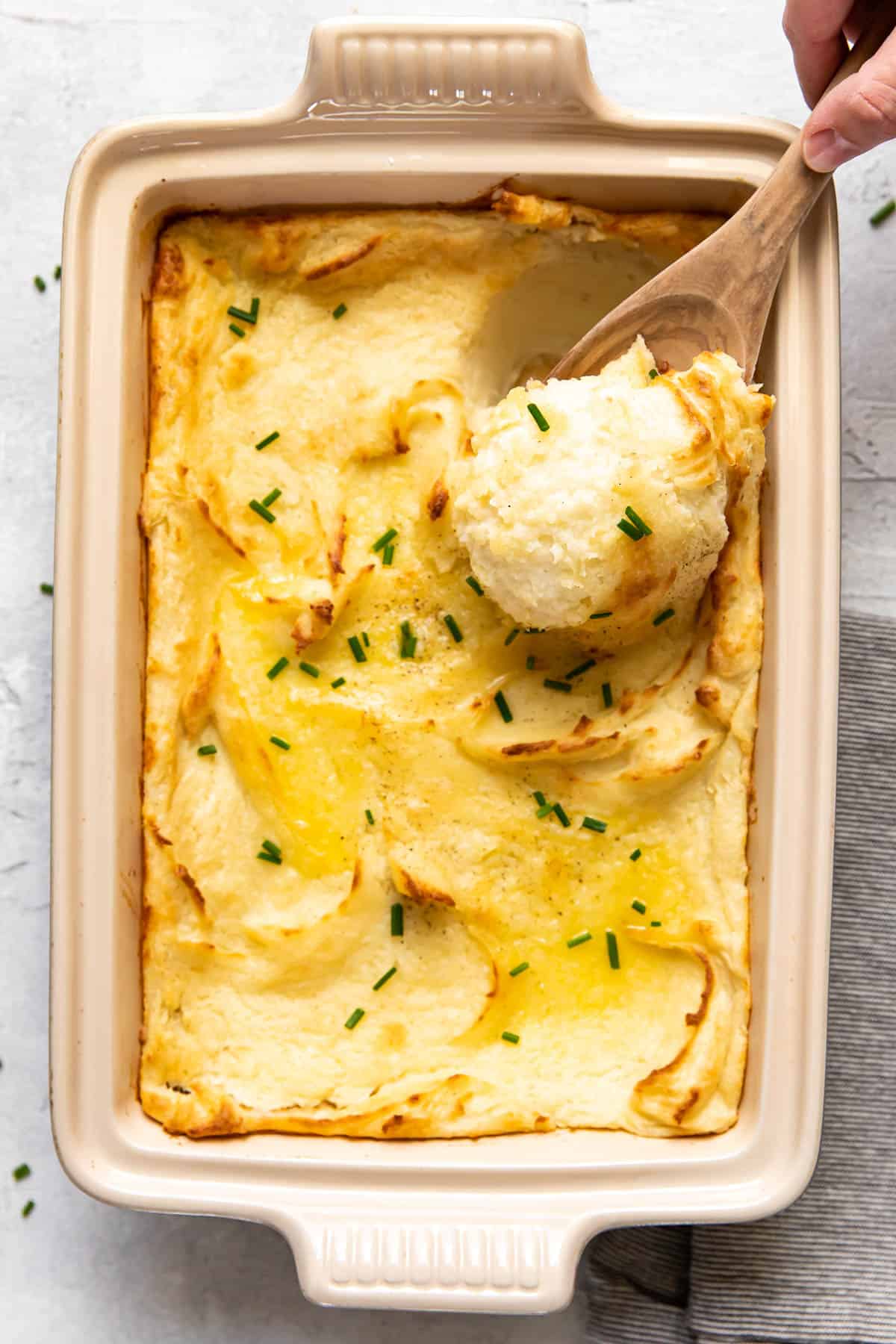 FAQ
Check out some frequently asked questions when it comes to baked mashed potatoes. You may find some helpful answers to your questions.
Can I substitute the half and half for milk?
Totally, they will still taste amazing but will be just a bit less and rich and decadent. You may also need to use less milk than you would half and half since it is thinner. Start with ¾ of a cup.
Can I make baked mashed potatoes in the crockpot?
I haven't tried this recipe in the crockpot but I would love to and if you do, please leave a comment letting me know!
How do you know when potatoes are fork tender?
This means that you can press the fork prongs into the potatoes and it will break through it. If you have a lot of resistance and it doesn't split the potato, then they need to cook longer.
Can these mashed potatoes be made for two?
Yes! Just quarter the recipe, you'll have some leftover but in my experience these mashed potatoes leftover get eaten....fast.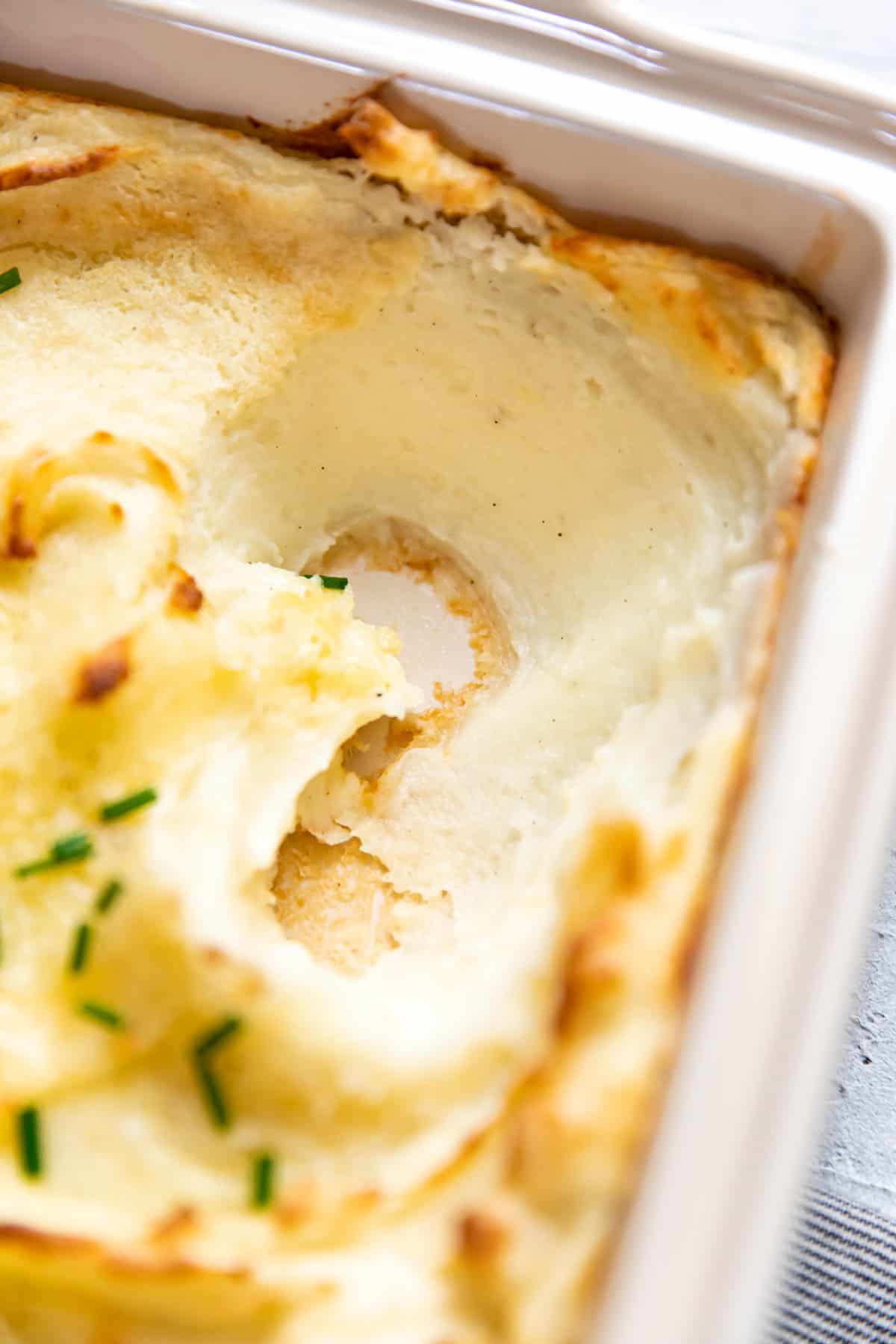 More Thanksgiving Recipes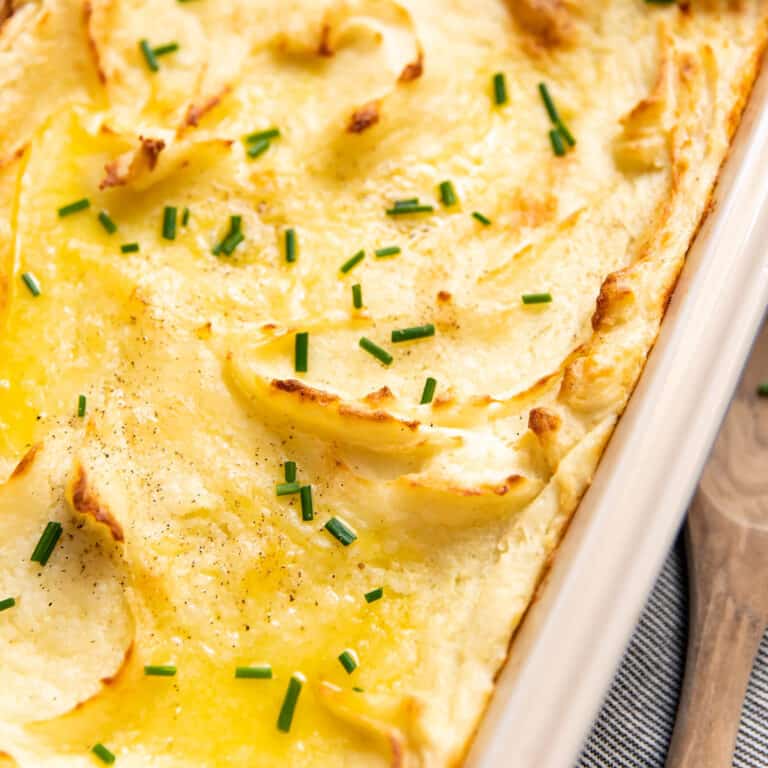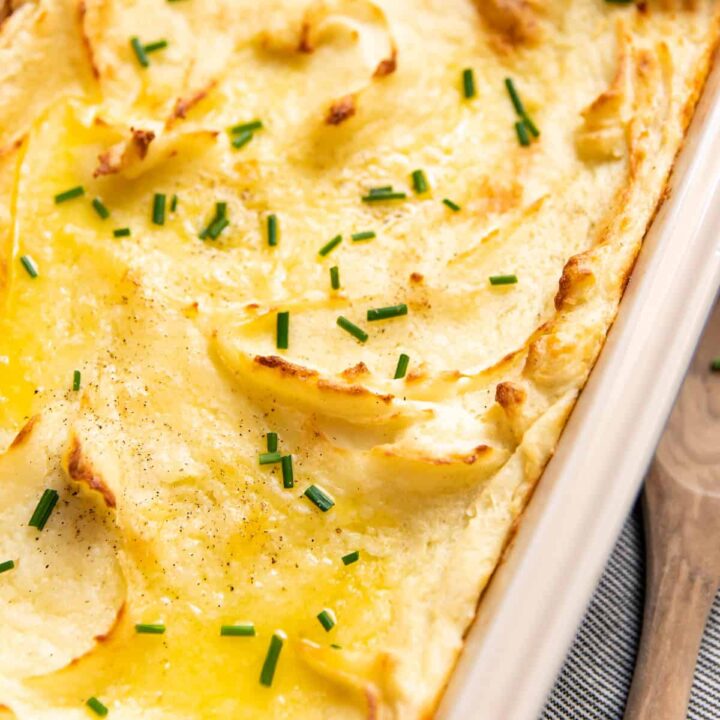 The Best Creamiest Baked Mashed Potatoes
Total Time:
1 hour
15 minutes
These are the creamiest, most decadent mashed potatoes. You'll think you are eating at a five star restaurant when you take a bite because they are amazing! Baking the mashed potatoes makes them so rich and flavorful.
Ingredients
5 lbs russet potatoes, peeled and cubed
8 tbsp salted butter, melted
8 oz cream cheese, softened and cubed
1 c half and half
½ tsp salt
Pepper
Optional: chives on top
Instructions
Preheat oven to 350.
Peel the potatoes and cut into medium sized cubes (see photos). Rinse the potatoes thoroughly with water and drain. Add the potatoes to a large pot, cover with water and a few big pinches of salt. Bring the water to a boil and boil until they are fork tender (about 10-15 minutes). Drain the potatoes then return them to the pot.
Turn the heat under the pot to low and steam out excess moisture for 3 minutes.
Add the potatoes to a large bowl or stand mixer. Beat on low until they are broken up. Add the warm melted butter, salt and pepper. Mix in the cream cheese and slowly add in the warm half and half until it reaches your preferred consistency (you may not need a full cup). Add more salt if needed, the amount of salt will vary depending on how much was used during the boiling process.
Spread into a greased 9x13 baking dish. Cut up the remaining 2 tbsp of butter into little cubes and sprinkle over the mashed potatoes.
Bake for 45 minutes. Remove from the oven and serve.
Notes
The smaller the potato cube you cut, the more moisture will get into the potato, try to keep them a medium size.
Add the liquid a bit at a time, you may not need all of it.
Recommended Products
As an Amazon Associate and member of other affiliate programs, I earn from qualifying purchases.
Nutrition Information:
Yield:

10
Serving Size:

1
Amount Per Serving:
Calories:

235
Total Fat:

11g
Saturated Fat:

7g
Trans Fat:

0g
Unsaturated Fat:

3g
Cholesterol:

30mg
Sodium:

219mg
Carbohydrates:

31g
Fiber:

3g
Sugar:

3g
Protein:

5g
This information comes from online calculators. Although moderncrumb.com attempts to provide accurate nutritional information, these figures are only estimates.