This Thanksgiving spatchcock turkey is all about the crispy golden skin. If you love juicy, perfectly cooked turkey meat, then this recipe is for you. An easy butterfly method, where the turkey lays flat and everything gets cooked evenly.
Serve it with this pumpkin swirl cheesecake for the ultimate Thanksgiving feast.
This recipe was first published on 11/22/2020.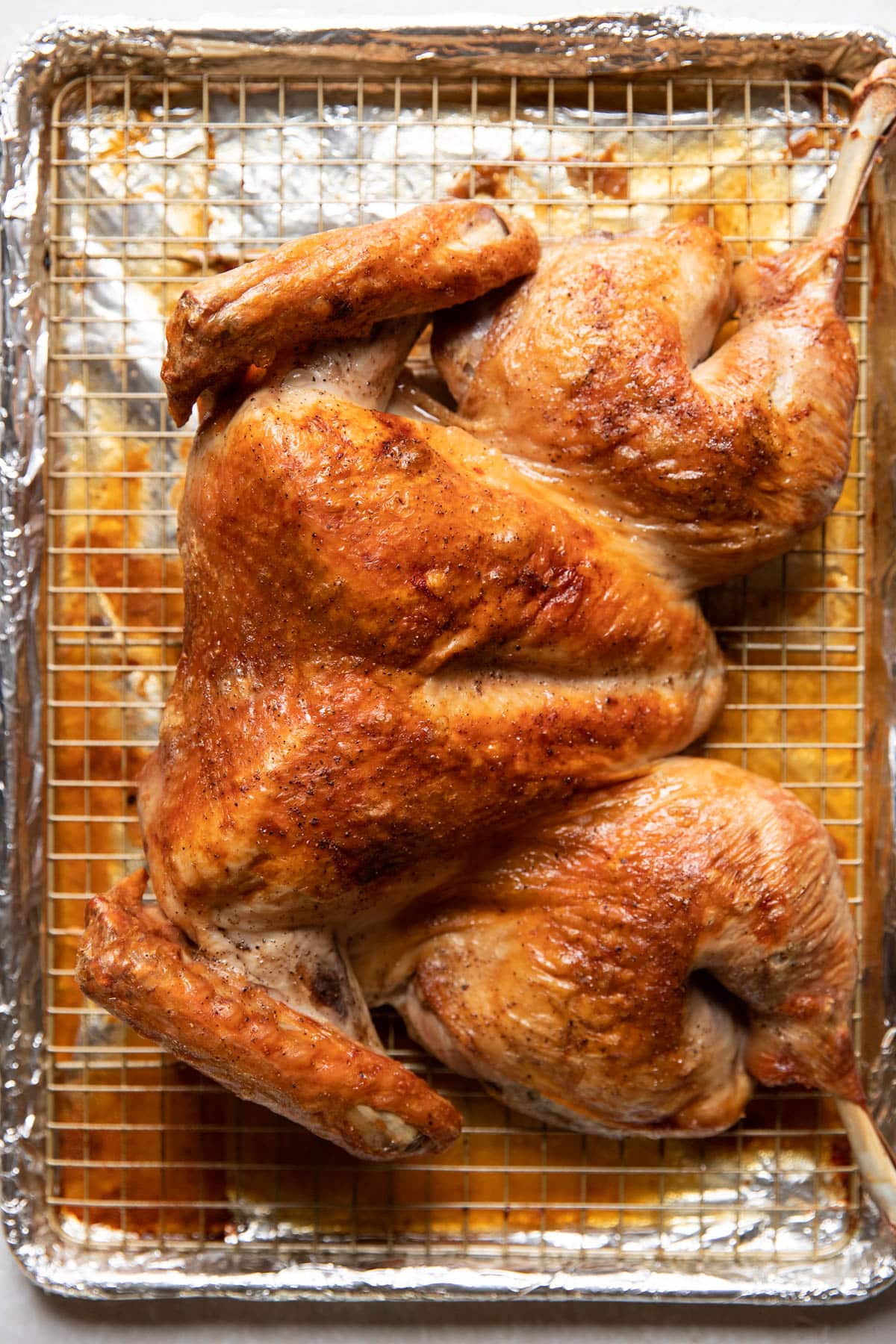 Preparing a spatchcock turkey is by far my most favorite method for cooking a turkey. Bottom line, it's quick and easy to make.
And during the holidays, extra time with family is always the most important thing.
Last year we hosted Thanksgiving dinner at our house, I prepared the turkey. But everyone was so surprised that it looked just a bit different than previous years.
I used the spatchcock method. The turkey laid flat.
Well, what is a spatchcock turkey? It's a turkey with the backbone cut out of it so that it can lay flat on a baking pan.
The Thanksgiving staples you have to have at thanksgiving it would be turkey (and gravy), mashed potatoes and stuffing.
Jump to: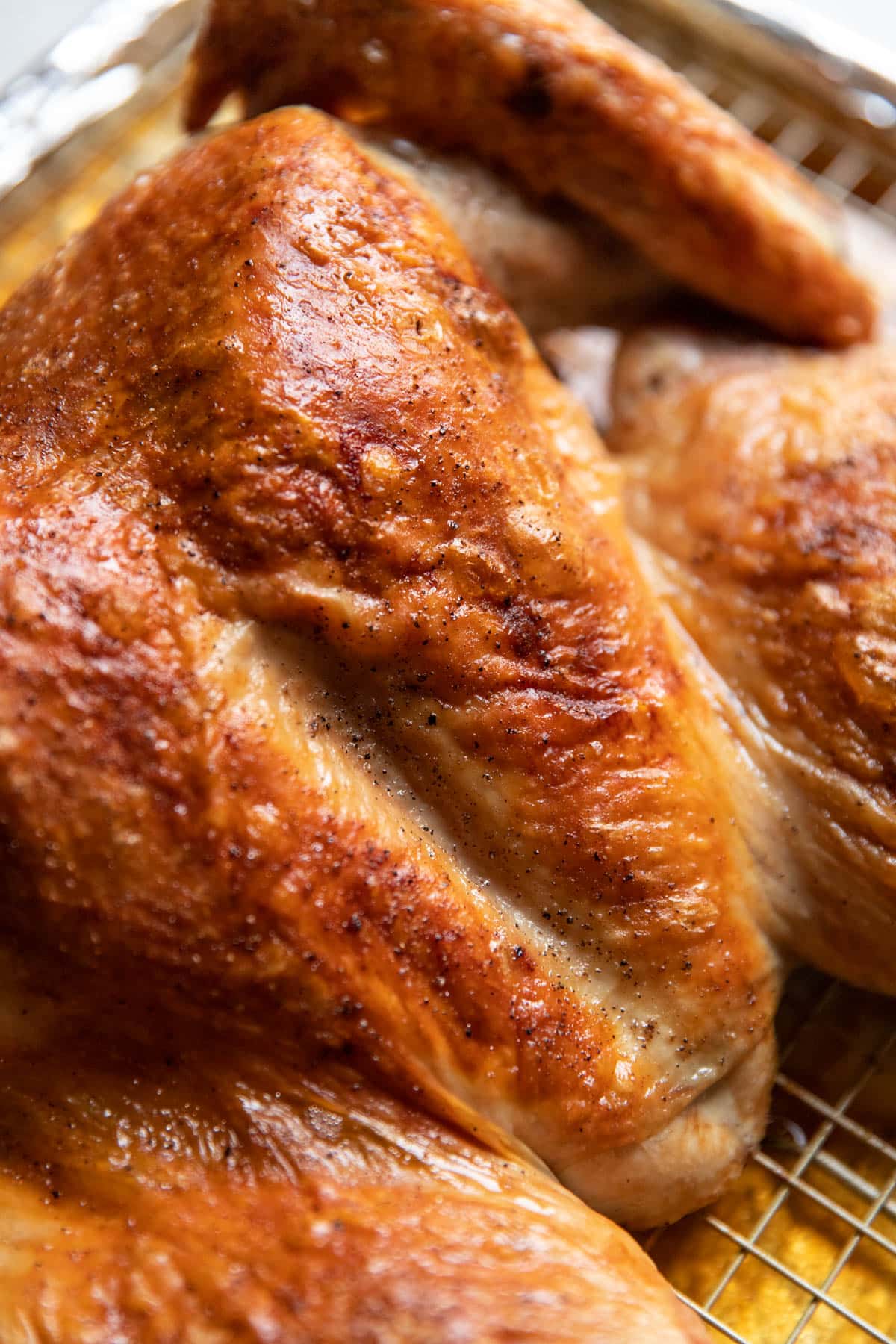 This technique is perfect if you love crispy skin, juicy meat and less oven time on Thanksgiving day. That's all of us, right?
For my 10 pound turkey it took just an hour to cook.
I have so much more time and oven space for all my side dishes.
Also, this is a great option if you are having a smaller Thanksgiving dinner this year, maybe it's just your household. You can apply this technique to Cornish hens or a whole chicken.
This turkey recipe can be made for both Thanksgiving and Christmas holidays.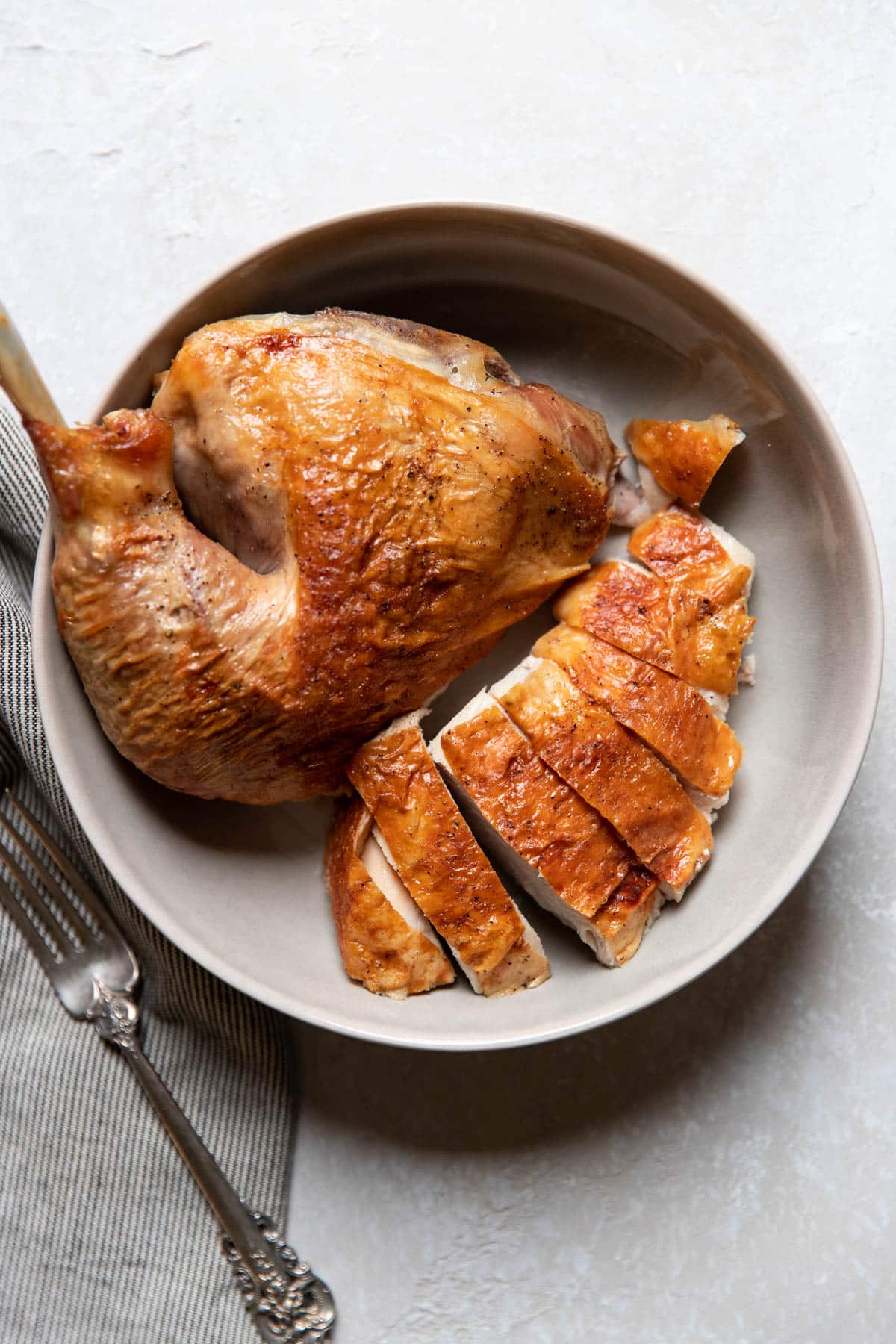 Preparing A Spatchcock Turkey
Like any other turkey, the first step is to clean out the goodies in the cavity.
Discard those.
Now you'll need to rinse your turkey. You want to make sure that water can flow freely if you fill up the cavity.
Since your turkey was probably frozen and you've been thawing it all week, let's get rid of any built up icebergs. Water running through is a sign that there are no blockages.
Wiping down the outside of your turkey with paper towels is next, dry that bird off.
To cut out the backbone you need really sharp kitchen shears or my preference is poultry shears. I bought a pair just for the Thanksgiving spatchcock turkey, once a year.
You make two cuts, along each side of the backbone.
Flip the turkey over and locate a notch in the middle of the breastbone, toward the very top of the turkey. You need to cut this.
This helps the turkey lay flat, if not it will be propped up still.
It also takes less force when cracking the breast bone to fully get it to lay flat if you've given it a jump start in doing this.
You will need to prepare a pan to bake it on. So make sure you have something large enough for the bird you bought. In my photos, it's a 10 pound turkey and this size fits on my large rimmed baking sheet.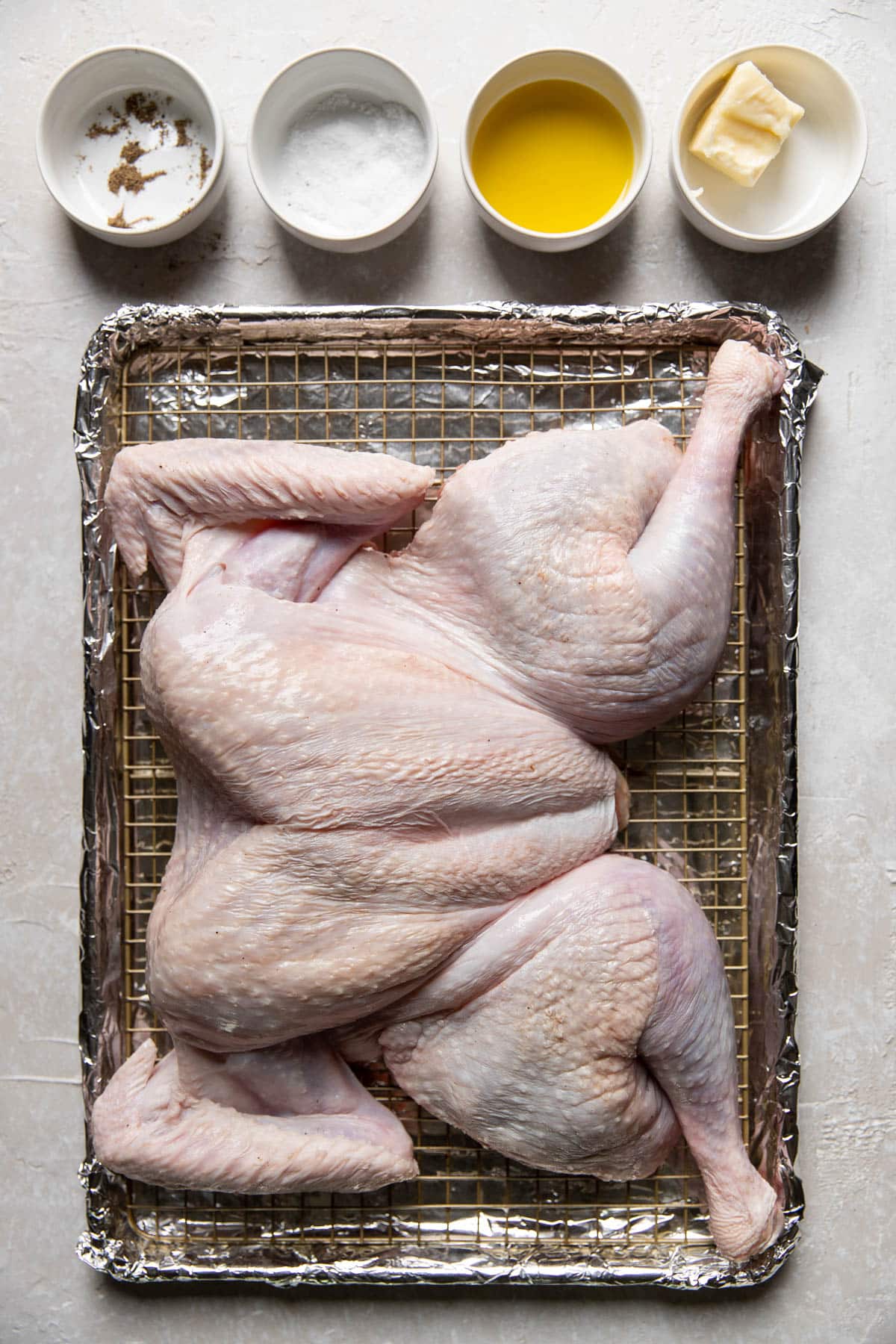 How To Cook A Spatchcock Turkey
Cover your pan in tin foil, to catch all the drippings and make clean up easier. Then, I like to put a wire cooling rack nested in the baking sheet. That way the air can flow all around the turkey and as the drippings fall, it's not resting in them.
After you've prepared the turkey you can put it on your pan.
Softened butter goes between the skin and the meat. You just need to find that opening. Rub the butter all around.
Olive oil goes on the outside of the turkey. All over the outside, cover every inch. Then sprinkle with salt and pepper.
You'll start the cooking process at 450 degrees, then drop the temperature down to 350.
Using an oven safe, internal meat thermometer is a life saver. You won't be constantly checking if your turkey is done, mine even has an alarm once it's reached the desired temperature, it sounds.
165-170 degrees is the temperature to cook to. It will continue cooking even after taking out of the oven, so if you want to take it out a few minutes prior, you can, but just make sure you do get to 165.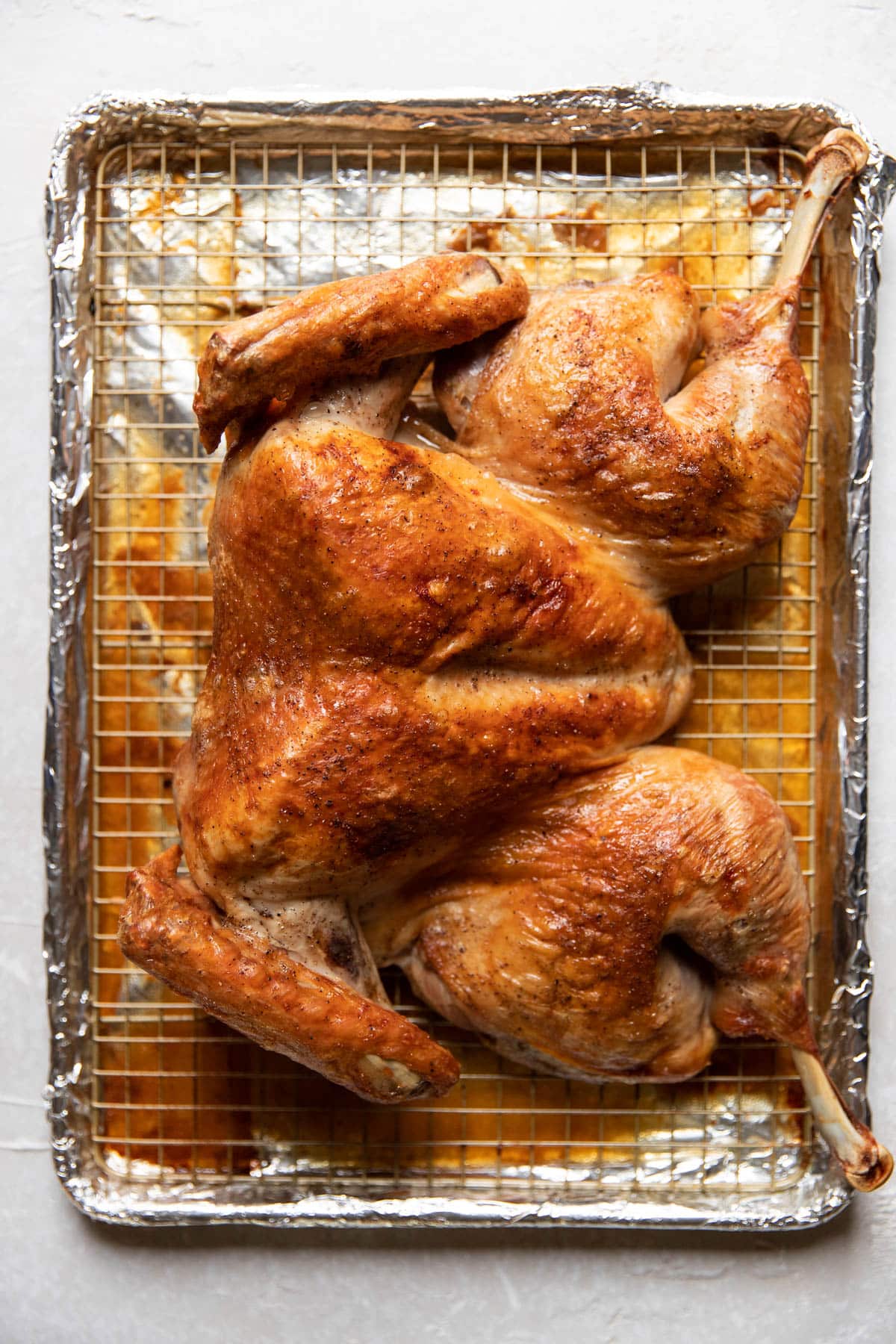 Recipe Tips
You can save the backbone for making turkey stock. I like to use it in Thanksgiving leftover turkey and wild rice soup.
The sharper your kitchen shears are, the easier time you'll have. Dull scissors can be rough on your hands. Keep that in mind.
Finding and cutting that little notch on the breastbone will help the turkey lay so much more flat, then if you don't.
Every 15 minutes open the oven and ladle on some chicken broth.
After the turkey is out of the oven you can brush it with some extra butter mixed with herbs.
To keep your turkey warm until you are ready to carve and serve, wrap tin foil over top.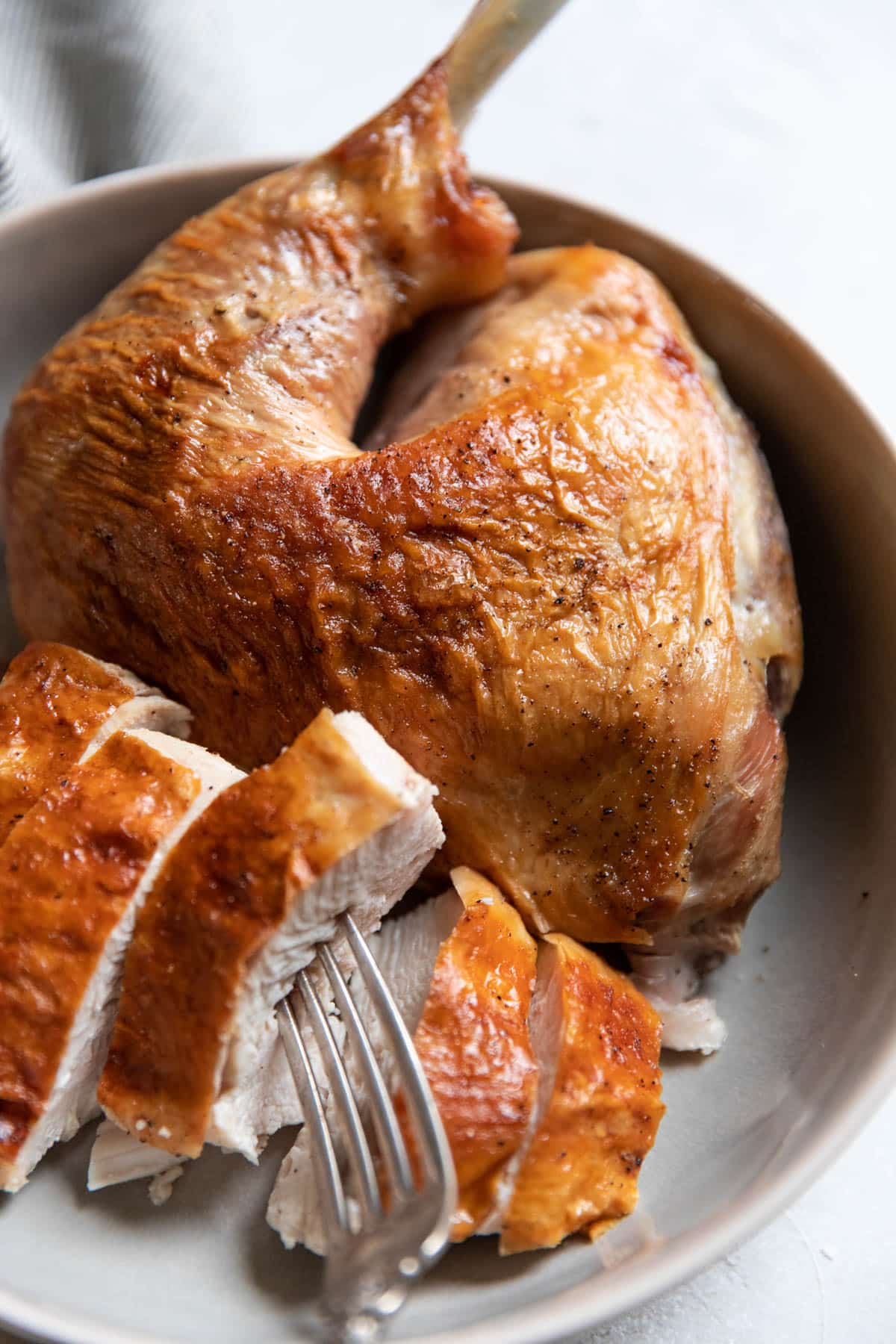 What To Serve With Turkey
A turkey is never complete without side dishes. These baked mashed potatoes are the creamiest and most delicious, they pair perfectly with a homemade herb stuffing.
For a vegetable, the house favorite are these buttery olive oil baked honey carrots. Both kids and adults love them!
For dessert this pumpkin swirl cheesecake, apple crisp with oats topping and cranberry cheesecake bars are all great options.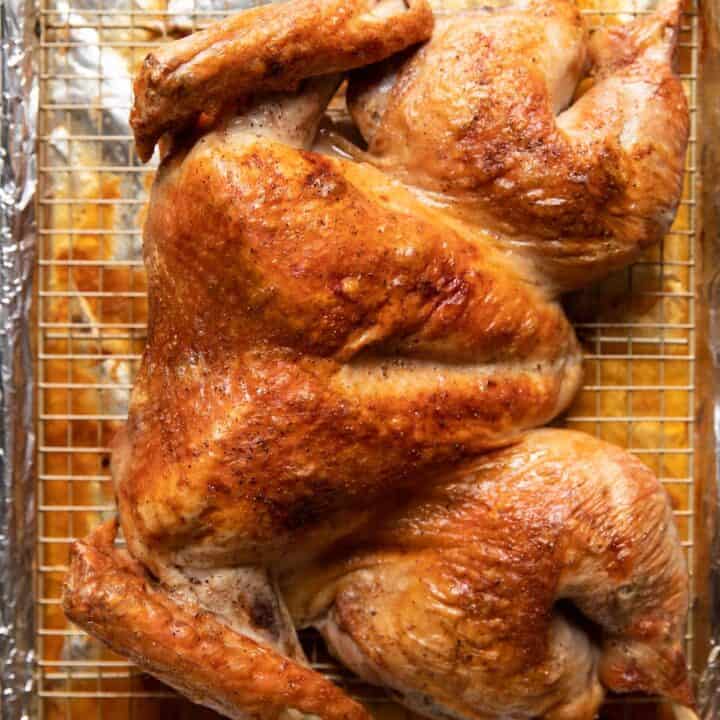 Thanksgiving Spatchcock Turkey (A Holiday Recipe)
Cook Time 10 lb Turkey:
1 hour
10 minutes
Total Time:
1 hour
30 minutes
This Thanksgiving spatchcock turkey is all about the crispy golden skin. If you love juicy, perfectly cooked turkey meat, then this recipe is for you. An easy butterfly method, where the turkey lays flat and everything gets cooked evenly.
Ingredients
Turkey, thawed - any size
3 tbsp butter
2 tbsp olive oil + more if needed
Salt
Pepper
chicken broth, for basting in the oven
Instructions
Preheat oven to 450
Remove all the insides
Rinse the turkey, making sure the water flows through one side to the other
Pat very dry with paper towels
Put the turkey on a big piece of butcher paper, with paper towels underneath
Using poultry shears cut the backbone out (save this for turkey broth later)
Locate the notch on the top part of the breast bone, cut it, this helps the turkey lay flat
Turn the turkey over, place both hands on the breast and press downward, if it's still not laying flat turn it back over and cut more of the top of the breast bone
Line a large rimmed baking sheet with tin foil
Place a wire cooling rack on this
Set the turkey on the rack, inside of the turkey facing up
Sprinkle the inside of the turkey thoroughly with salt and pepper
Turn it over
Liberally apply butter between the skin and meat
Brush olive oil all over the turkey, sprinkle with salt and pepper
Tuck the wings under
Bake for 30 minutes
Every 15 minutes pour a ladle or two full of chicken broth over the turkey
Decrease the oven temperature to 350 degrees and cook until the internal temperature of the turkey breast reads 165 degrees at the thickest part
Wait 15 minutes before carving (so the juices don't run out), cover with foil to keep warm
Serve
Notes
Cook time listed on recipe is based on a 10 pound turkey
For a 10 lb turkey it takes just over an hour of total baking time, this will differ depending on how large your turkey is - always use a thermometer to check that your turkey has reached a safe temperature