This shepherd's pie recipe is made with ground beef, a savory rosemary infused gravy and lots of vegetables. It's topped with fluffy russet mashed potatoes! This is the type of dinner where you have all the ingredients on hand in your fridge and pantry.
For winter dinner inspiration try this recipe for sheet pan roasted chicken thighs and root vegetables, creamy chicken gnocchi soup and homemade chicken and thyme dumplings.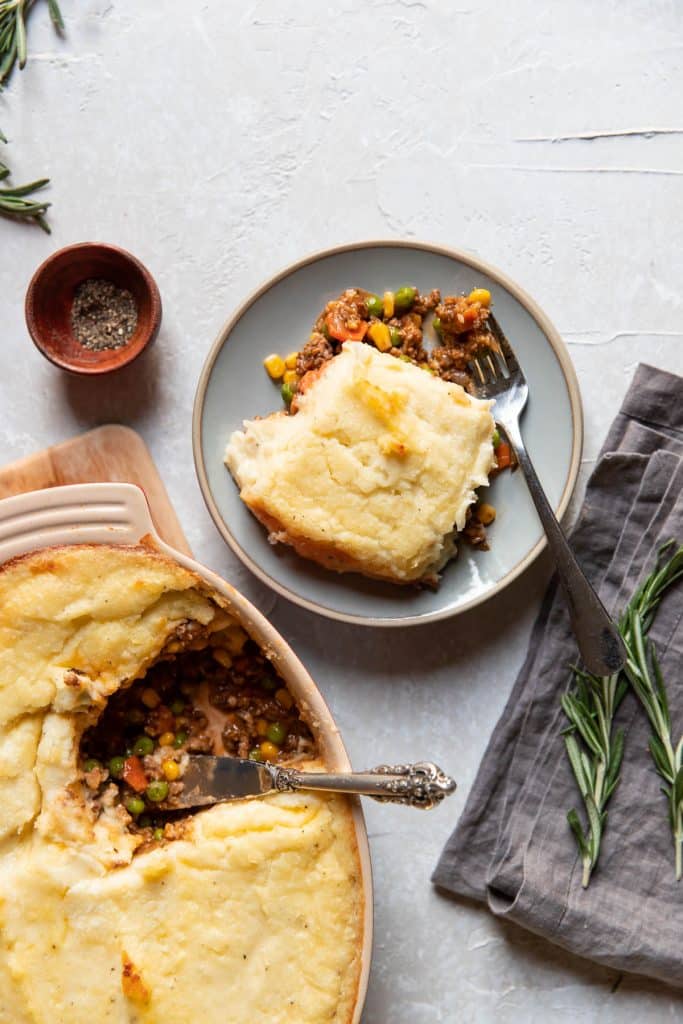 Shepherd's pie is such a classic cold weather dinner. And meals that you can throw together last minute are always on my list of dinner favorites. Like this 30 minute easy broccoli cheddar soup and homemade chicken pot pie.
If you stock basic items in your pantry and fridge you probably have everything on hand that you need to make this recipe.
If not, you'll want to add this one to next week's grocery list.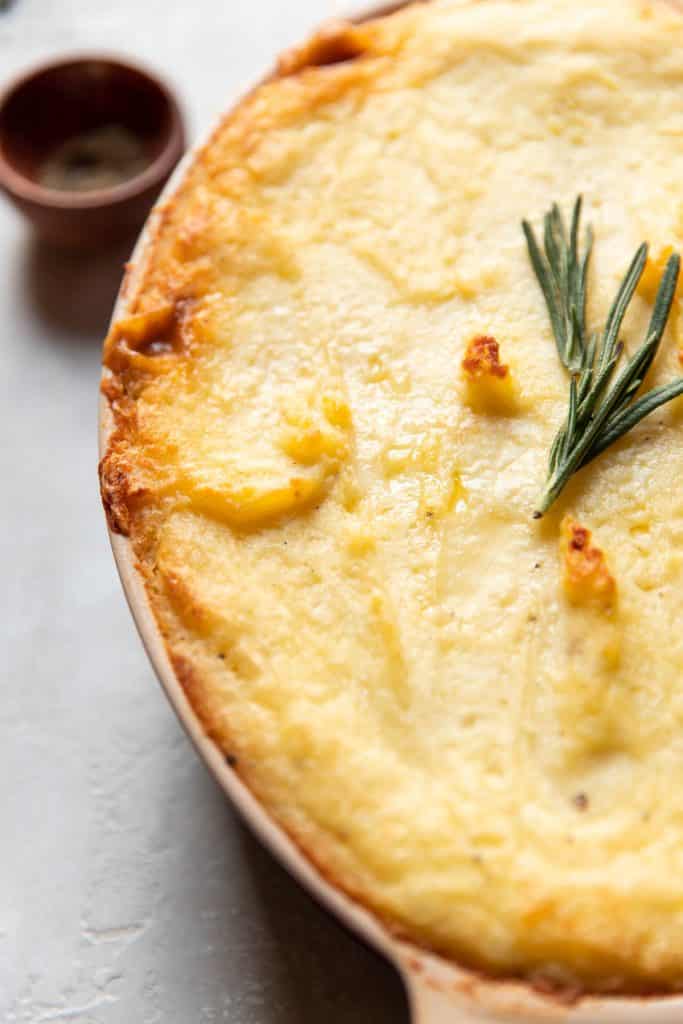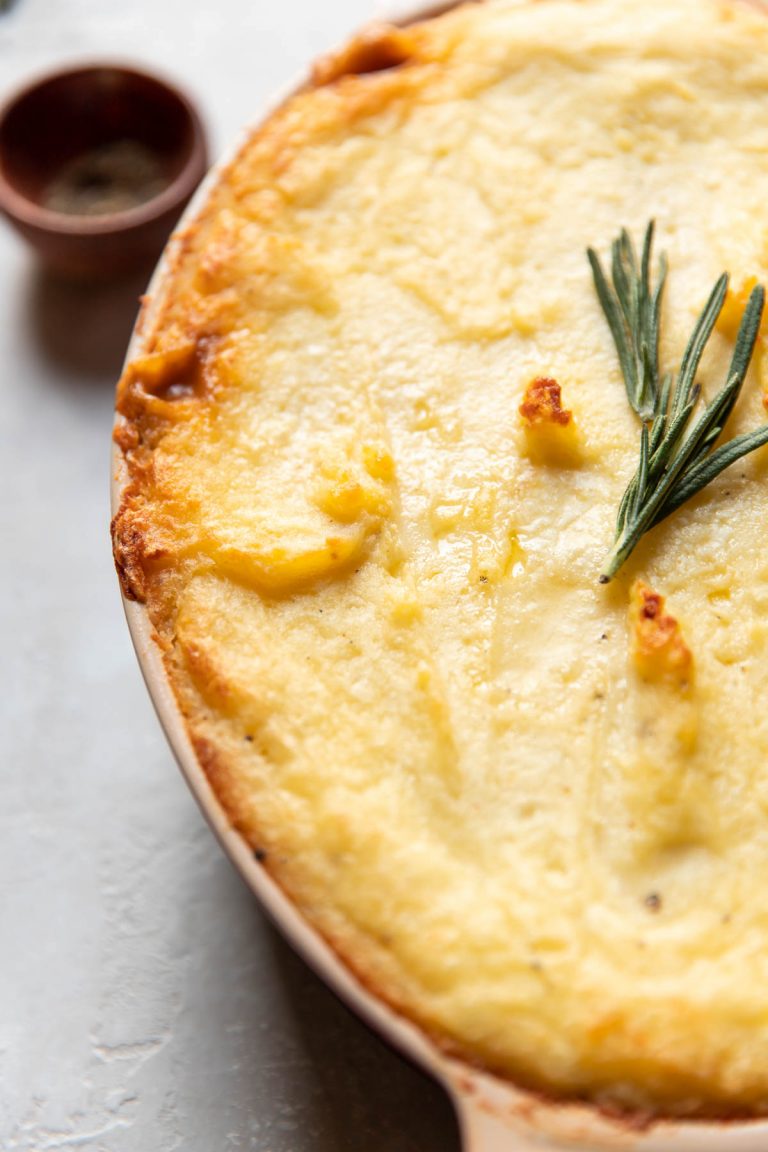 While baking, the aromas that fill the house are just amazing, it smells like warmth, love and happiness.
My kids love this shepherds pie, it's always a hit with the whole household and it's the perfect next day lunch.
If your kids have issues with vegetables, try adding some cheddar cheese to the potatoes, it may entice them just enough to give it a shot.
What Is Shepherd's Pie?
Shepherd's pie is a savory pie dish topped with mashed potatoes. It's also called cottage pie. This particular recipe is made with ground beef, vegetables, a savory gravy and cheesy russet mashed potatoes on top.
If you are wondering, where did shepherd's pie originate, it was England. Although many believe it has an Irish origin, the history hails from the English.
Hundreds of years ago it was originally called cottage pie and after that the name Shepherd's pie came about.
Despite shepherd's pie more commonly referring to lamb being used, it's more common in the US to associate shepherd's pie with the ground beef variation.
It's super savory. Like mouth watering, stuff your face, savory goodness. It's not the most attractive looking meal but the flavors are amazing.
A few favorite ground beef recipes is this lasagna tortellini soup and this easy stovetop gnocchi lasagna.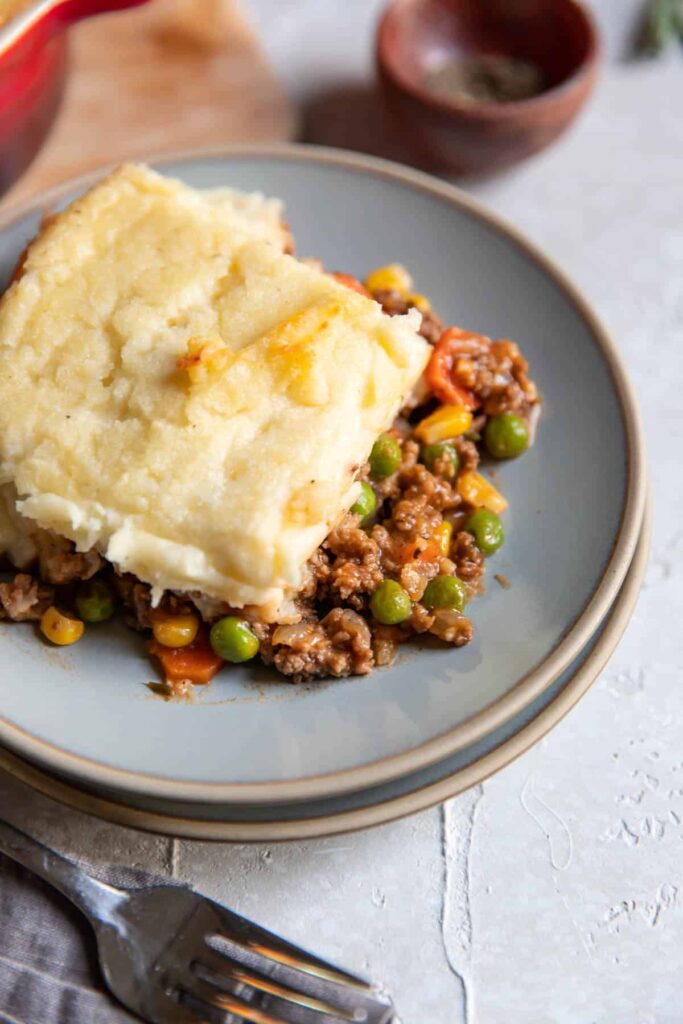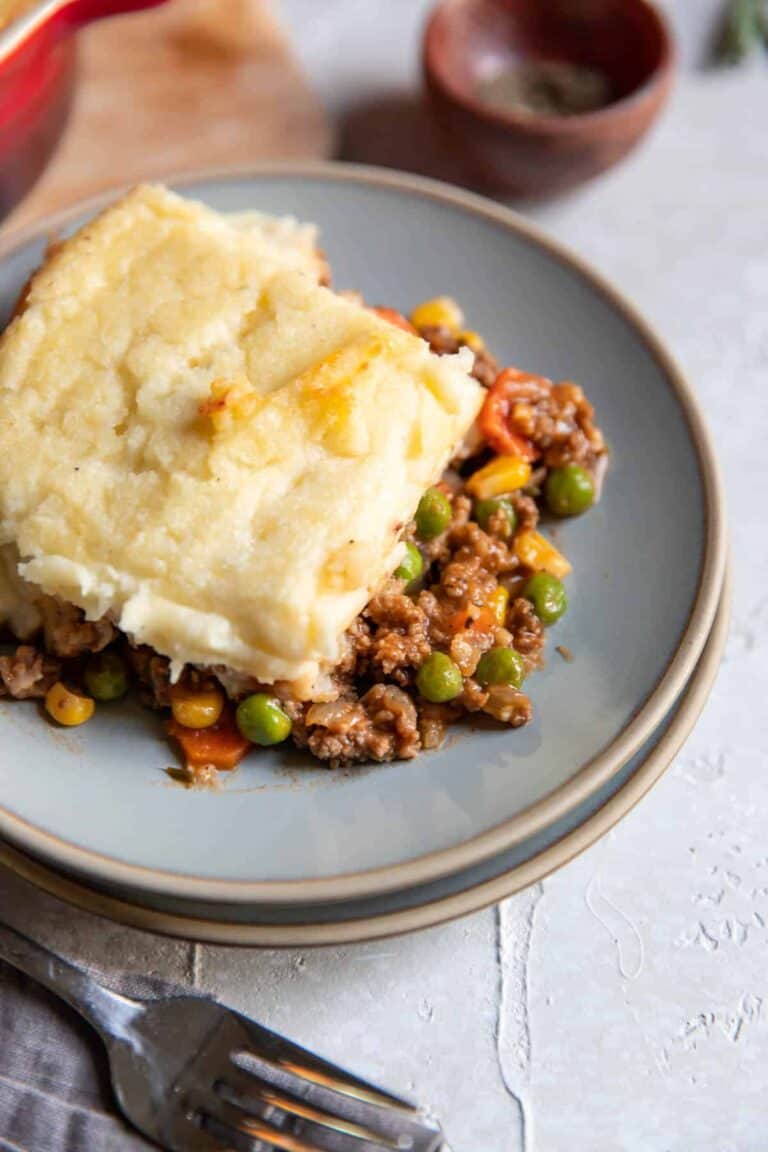 Shepherd's Pie Ingredients
The ingredients are pretty basic. There really isn't anything fancy in the recipe. It's all about using things you have to elevate the flavors and make a boring dish, fantastic.
The vegetables are onions, carrots, peas, corn and garlic. Go for a sweet yellow onion if you can.
The worcestershire and tomato paste are truly the magic secret ingredients. They give the meat mixture so much flavor, the gravy gets super savory. I swear that tomato paste is the secret ingredient in my world's best beef stroganoff recipe as well.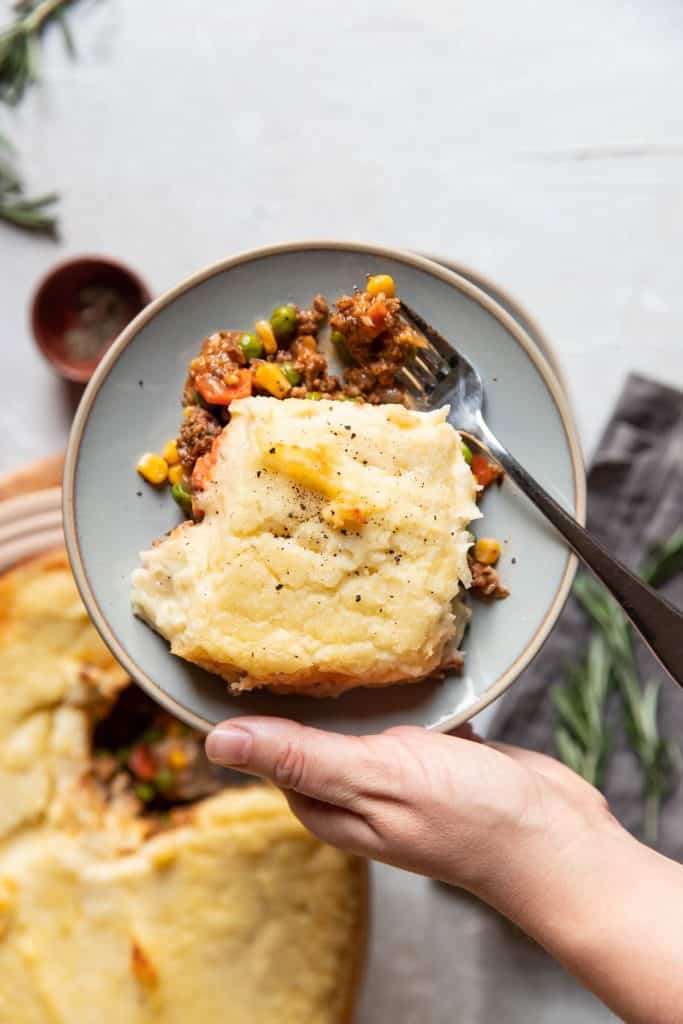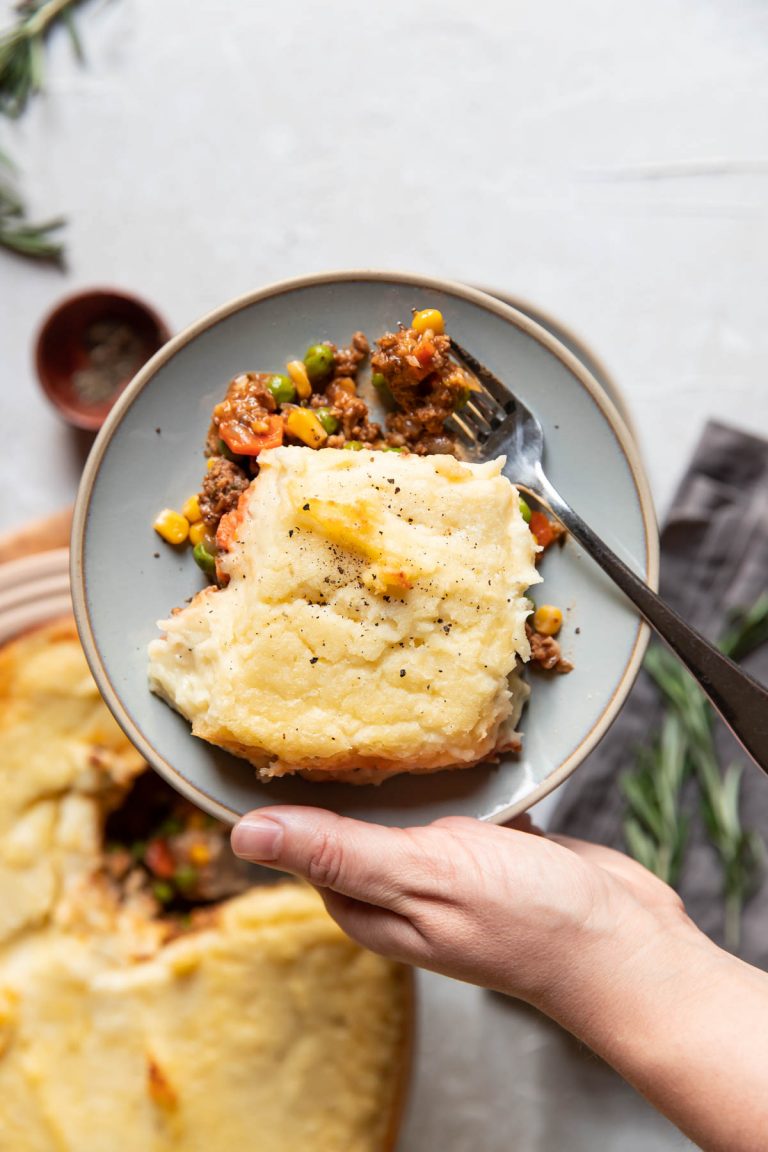 Rosemary is the only herb in this recipe and you don't want to be stingy with it. It's also the main seasoning ingredient, besides salt and pepper. Opt for fresh rosemary when you can and dry if you are in a pinch.
Now let's talk about those potatoes on top. The mashed potatoes are full of extra sharp white cheddar cheese and Irish butter which makes them so rich and creamy.
Or you can make them dairy free and instead of butter or milk, use some chicken broth, salt and pepper.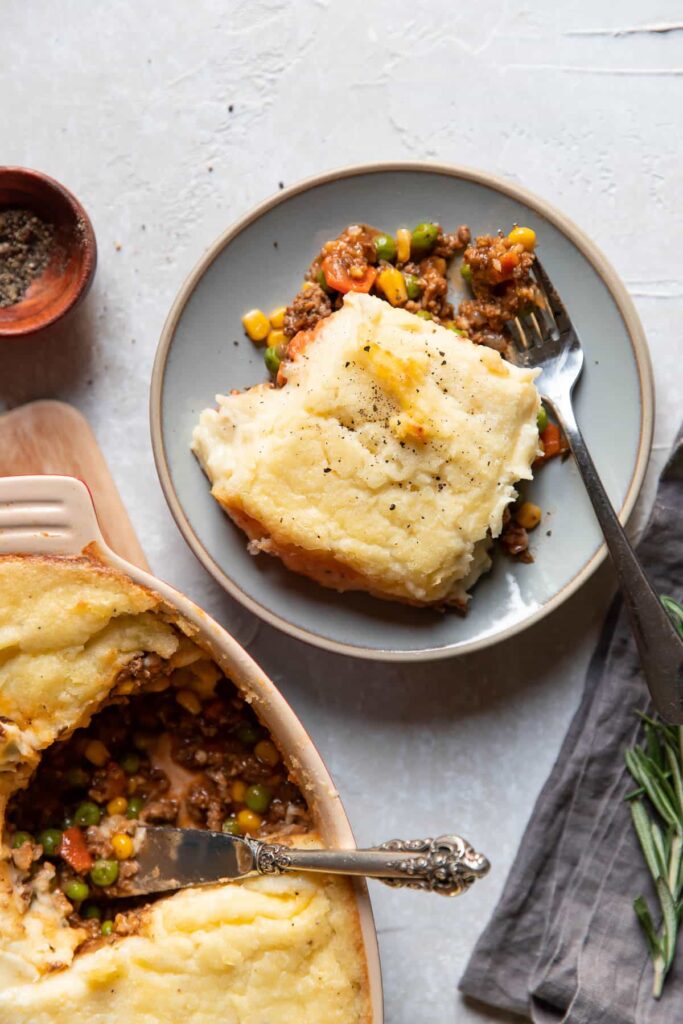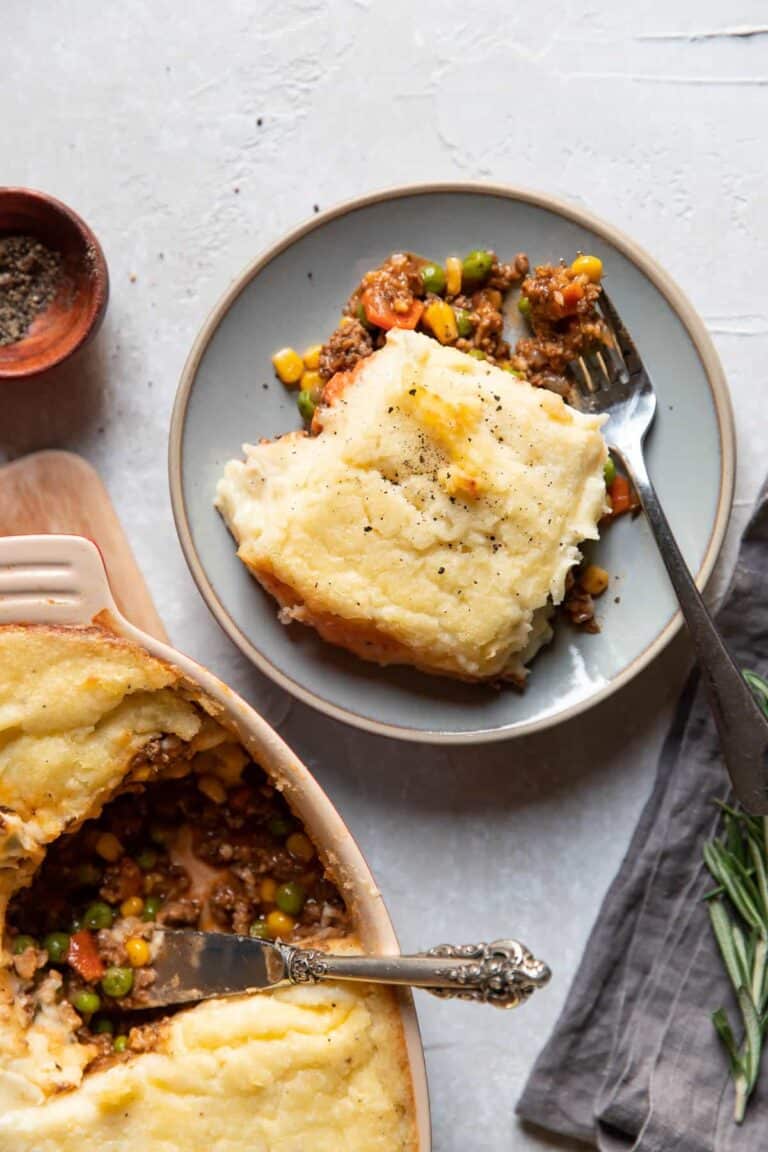 FAQ
Can I make this gluten free? Yes! I've made this for family, altering it to be gluten free for them, take out any flour from the recipe and replace it with half the amount using cornstarch.
Can I make this recipe dairy free? Yes you can! You can omit the butter when sautéing the vegetables and all the dairy in the mashed potatoes. Instead, use warm chicken broth to whip up the potatoes, I've made this recipe dairy free many times and it turns out great.
What type of potatoes do I need to use? Russet potatoes work the best, the mash well and have the best texture and traditional flavor.
Can I make this with pork, lamb or venison? So I've never tried using another meat in this shepherd's pie recipe so I wouldn't be able to advise on how it will turn out.
What is Irish butter? It is a European style butter that has a higher butterfat content, it also has a more vibrant yellow color. Kerrygold is a popular brand you can get at the grocery store, it has a gold wrapper. It has so much more flavor than regular butter.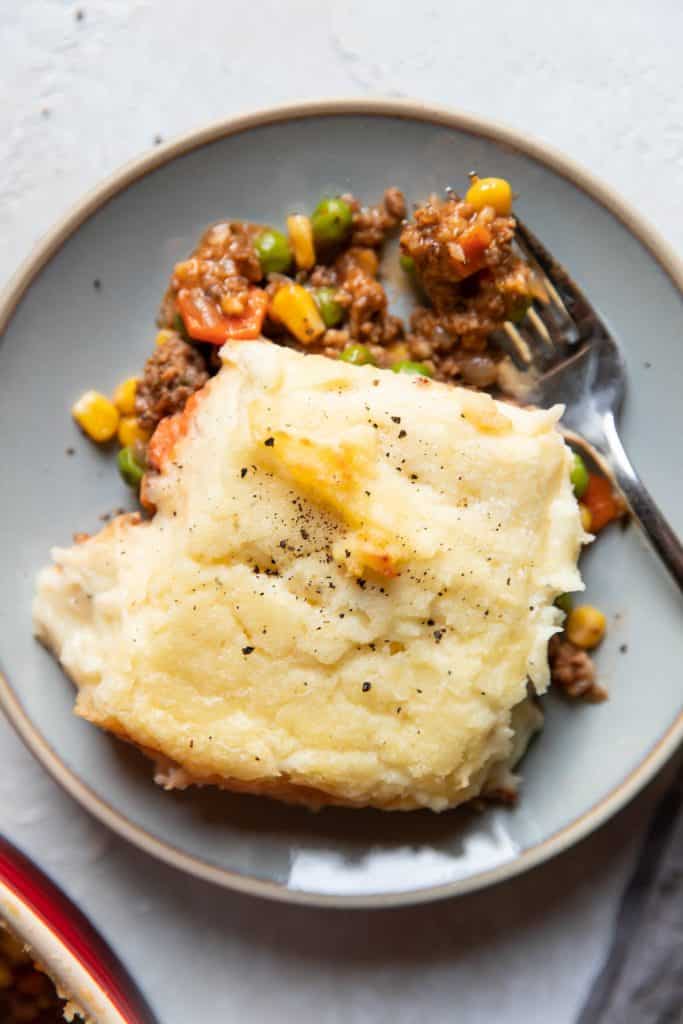 Fall Favorite Recipes
Easy Shepherd's Pie With Ground Beef
This shepherd's pie recipe is made with ground beef, a savory rosemary infused gravy and lots of vegetables. It's topped with fluffy russet mashed potatoes! This is the type of dinner where you have all the ingredients on hand in your fridge and pantry.
Ingredients
1

lb

ground beef

1

tbsp

olive oil

2

tbsp

Irish butter

1

small yellow onion

diced

5

garlic cloves

minced (about 1 tbsp)

3

carrots peeled and sliced

2

tbsp

flour

1

tbsp

fresh rosemary

chopped up

1 1/2

c

chicken broth

1

tsp

worcestershire

1

tbsp

tomato paste

1

c

frozen peas

1

c

frozen corn

salt

to taste
mashed potatoes
2 1/2

lb

russet potatoes

peeled and cut in even cubes (about 3 russets)

3

tbsp

Irish butter

melted

1/3

c

heavy cream

warmed

1/4

c

milk

warmed + more if needed

Salt

to taste

Pepper

a pinch

4

oz

extra sharp white cheddar

grated
Instructions
Preheat oven to 375

Brown the ground beef in a pan, over medium heat, drain the excess grease

Remove the ground beef to a separate plate

In the pan add the olive oil, 2 tbsp butter, onions, carrots and garlic (toss a pinch of salt on this)

Sauté for 2-3 minutes

Add back in the ground beef, along with 2 tbsp flour, stir for 2 minutes

Pour in the chicken broth, worcestershire, tomato pasta, fresh rosemary, 1/2 tsp salt and pepper

Simmer on low, stirring every few minutes, while preparing the mashed potatoes

Add the potatoes to a pot, cover with water (a few pinches of salt) and bring to a boil until potatoes are fork tender

Drain the potatoes, return to the pan, over low heat, and steam the remaining water from the potatoes for a few minutes

Transfer to a large bowl, mash

Add 3 tbsp melted butter, mashing

Next in this order (and stir completely before adding another), add the warm milk, white cheddar, warm cream a pinch of salt and pepper (add more warm milk if too thick)

Pour the meat mixture into a baking dish, top it with the mashed potatoes

Place a few pats of butter on top of the potatoes

Bake 30-40 minutes until golden and bubbly

Serve
Notes
Bringing the potatoes back to the pan, helps release extra moisture, which makes the mashed potatoes fluffier and less likely to get gummy
Adding melted butter to the potatoes is important, this locks the butter to the potatoes better giving it more flavor
If you don't have extra sharp white cheddar, any type of cheddar will work as a substitute
For even more flavor you can add a few cut up bits of cold irish butter to the potatoes right before spreading them on, they will melt when it bakes! (see my photos for a before baking photo)
Did you make this recipe? Please leave your review in the comments below!
Make sure to follow Modern Crumb on Pinterest, Facebook and Instagram for lots of yummy meal inspiration! And subscribe to the newsletter, below, to get updates when new recipes post.
This recipe was originally published on October 9th, 2017.