This shepherd's pie has a savory ground beef base, a variety of vegetables and fluffy mashed potatoes on top.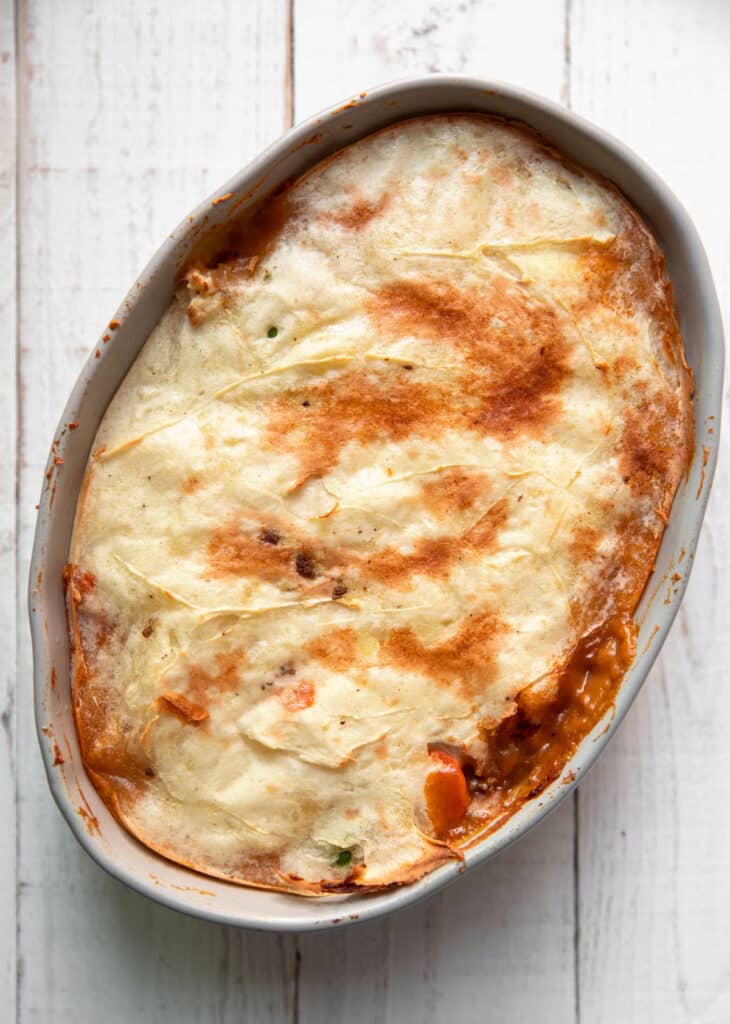 A classic fall and winter dish to feed your family this season. I love meals that you can throw together last minute.  One of my favorites is ground beef shepherd's pie.  
If you stock basic items in your pantry and fridge you probably have everything on hand that you need to make it.
This shepherds pie recipe uses ground beef as the meat base.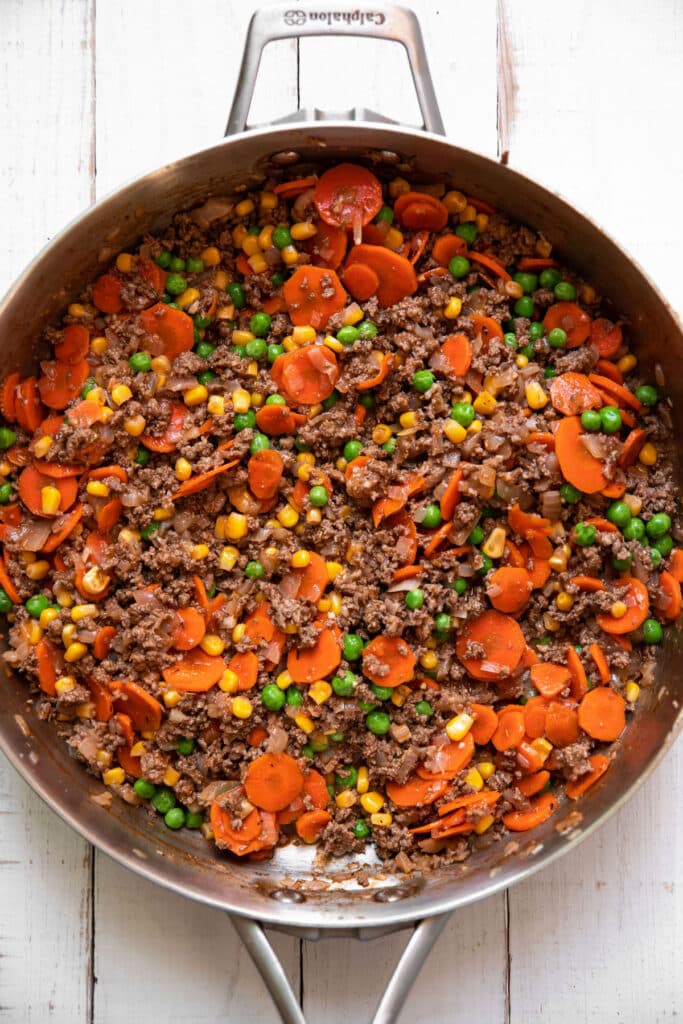 It's SUPER savory. Like mouth watering, stuff your face, savory goodness. Let's be honest, shepherds pie is not a pretty dish in the least, visually it's pretty ho-hum. But the flavors are going to knock you out.
Rosemary is the key herb and you don't want to by stingy with it. Most people under season their meals, and proper seasoning can make a dish go from good to great.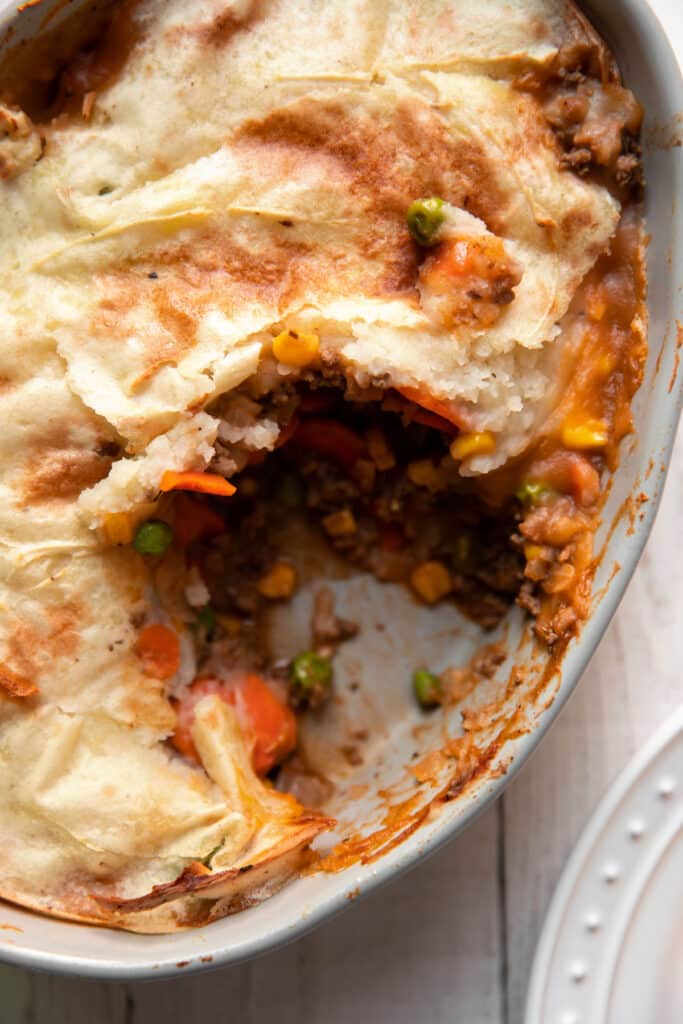 As far as the potatoes go, you can add as much or as little butter, cream, cheese, milk or anything else you'd like to add. OR you can make them dairy free and instead of butter or milk, use some chicken broth, salt and pepper.
I keep it lighter and do a splash of milk just to thin the potatoes and then I dab butter on the top when it goes to bake. One of the best things about this meal is the aromas that fill the house while it's baking, it just smells like warmth, love and happiness.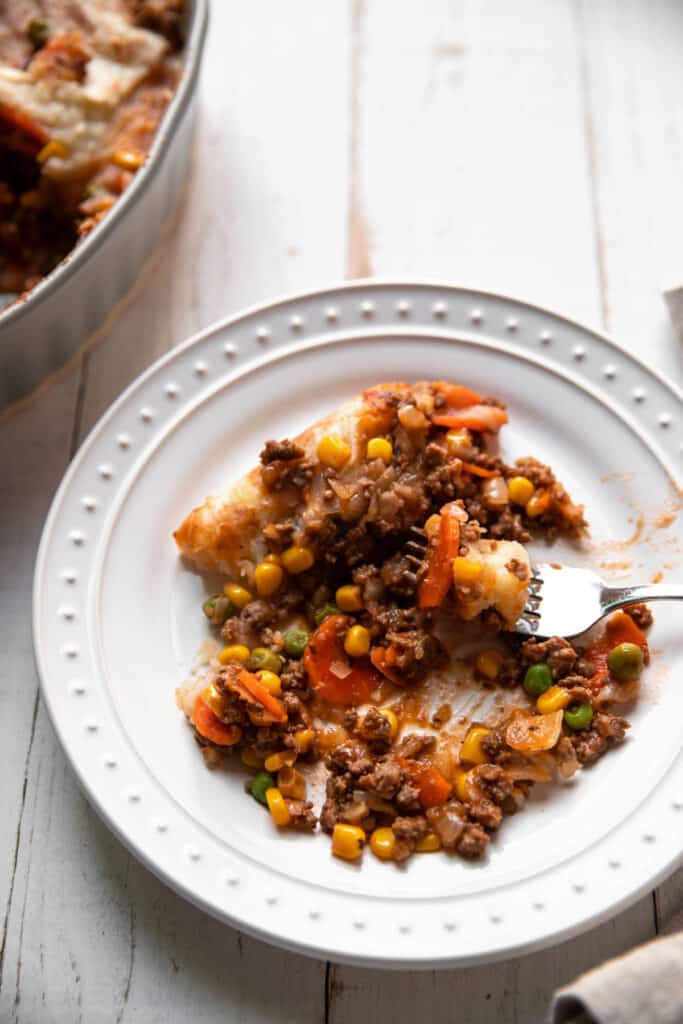 My kids love this shepherds pie, it's always a hit with the whole household and it makes for a yummy next day lunch.  Colin, almost 4, loves carrots and he'll eat just about anything with carrots but my daughter is less adventurous when it comes to vegetables, but since the vegetables are enveloped in that delicious meaty/gravy mixture she doesn't mind them.
If your kids have issues with veggies, try adding some cheddar cheese to the potatoes, it may entice them just enough to give it a shot.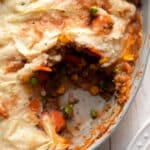 Print Recipe
Easy Shepherd's Pie With Ground Beef
This shepherd's pie has a savory ground beef base, a variety of vegetables and fluffy mashed potatoes on top. You can even add cheese on top of the mashed potatoes prior to baking if you want this to be a cheesy shepherd's pie!
Ingredients
1

lb

ground beef

93%/7% works best

1

tbsp

olive oil

1

yellow onion

diced

1

shallot

entire bulb, diced

5

garlic cloves

minced

3

carrots

peeled and sliced into circles

1 1/2

tsp

heaping dried rosemary

1/4

tsp

dried thyme

2

tbsp

flour

1 1/4

c

chicken broth

1

tsp

Worcestershire sauce

1

tbsp

tomato paste + 1 tsp

1

c

corn

1

c

peas

1/2

tsp

salt

pepper

3

tbsp

butter

for top prior to baking

3

russet potatoes

peeled and cubed
Instructions
Preheat oven to 375

Fill a small pot of water and add your cubed potatoes plus a couple pinches of salt, bring this to a boil on the stove

In a pan heat 1 tbsp olive oil on medium heat

Add the onion, shallot, garlic, carrots, rosemary and thyme

Saute until vegetables are fork tender

Use a slotted spoon and set them aside on a plate

Add the ground beef into the skillet and brown

No need to drain out any fat, since we used a 7%

Add the vegetables back into the skillet.

The potatoes should be done by now, strain them

Here's my tip: add them back to the pot, over medium heat, steam them a bit, it releases any excess liquid which will give you nice fluffy potatoes!

Transfer to your kitchenaid and beat until smooth, adding liquid/butter after

Make sure the potatoes aren't too thick, you'll need them to easily spread later

Let them sit there until you need em'.

Back to the pan!

Add 2 tbsp of flour, while your pan is on medium heat

Stir this really well, for 2 minutes

Add in your chicken broth (stirring while you pour), Worcestershire, salt, pepper and tomato paste

Turn heat up to med/high and bring it to a soft boil

Once your mixture has thickened add in the corn and peas

Turn heat to low. Simmer this for 5 minutes. Taste it, does it need more salt? Not sure? Then it probably does

Turn heat off.

Grab the mashed potatoes and add dollops to the top of the mixture, you want to cover it completely, if they seem pretty thick go back and add some of whatever liquid you used to thin (I use milk when I'm being good and 1/2 n 1/2 when I'm feeling indulgent)

Spread a nice even layer and top it with a pat or two or three of butter (totally optional!).

Bake in the oven for 35 minutes

It should be golden and bubbly when you take it out

Serve and enjoy!
Notes
(Prep all vegetables prior to starting, it will save you time and confusion and leave you feeling less frazzled)