These beef barbacoa tacos are an easy weeknight meal, made in the instant pot! The barbacoa sauce gets it's heat from chipotles in adobo, giving the tacos a smoky and slightly spicy flavor. Top your tacos with pico de gallo, cotija cheese and a sour cream lime sauce!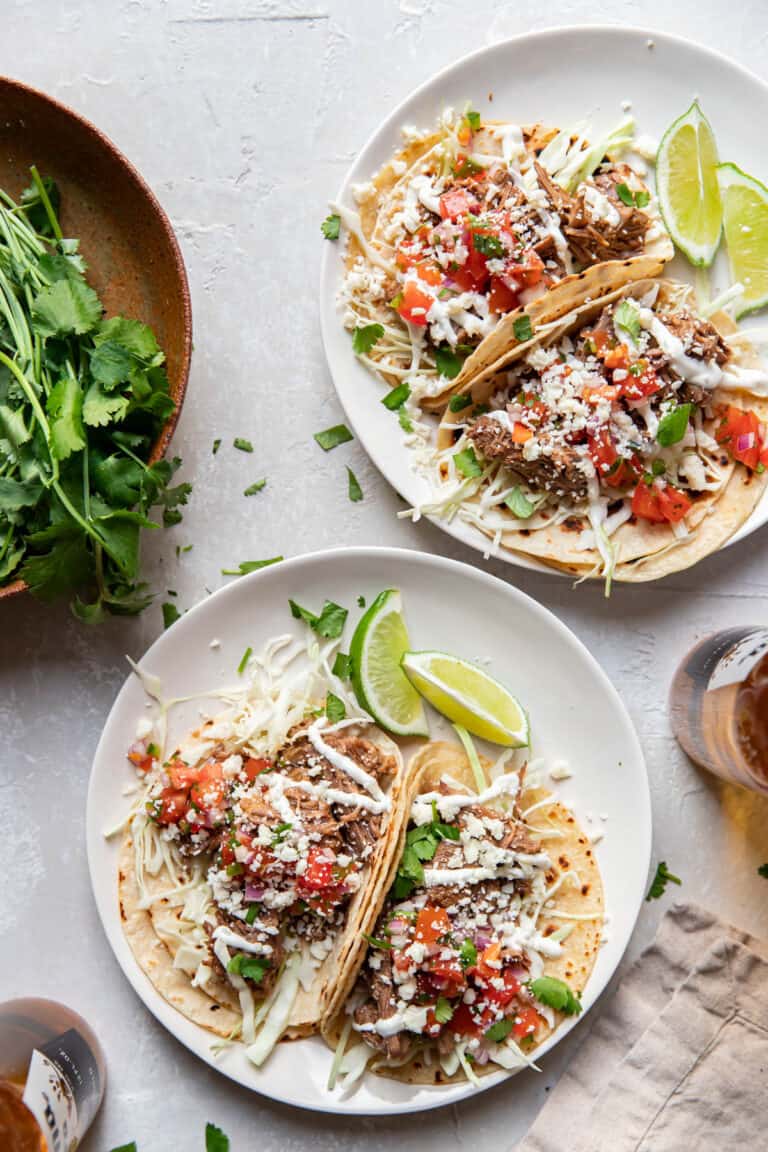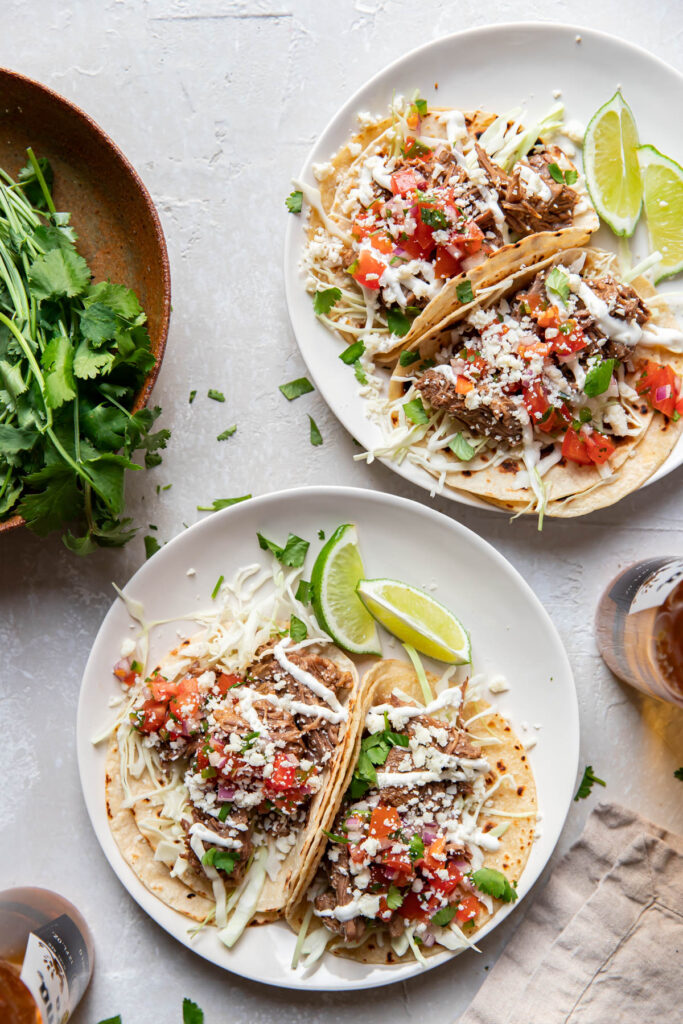 Everyone loves these barbacoa tacos! And since you cook them in the intstant pot they are beyond easy to make.
Chances are you've had barbacoa at chipotle, I think that's the most common place people have become familiar with what barbacoa is.
Living in Arizona, we're exposed to all the delicious southwest food everywhere we go! Barbacoa is my husband's favorite!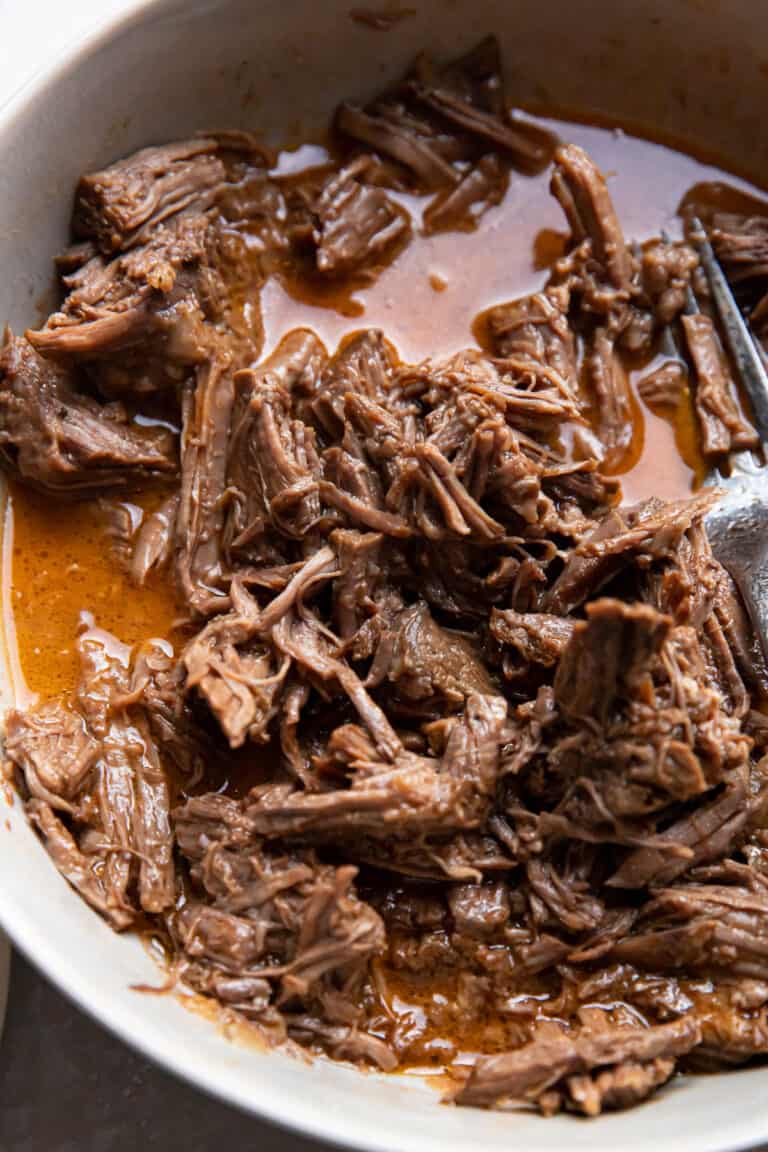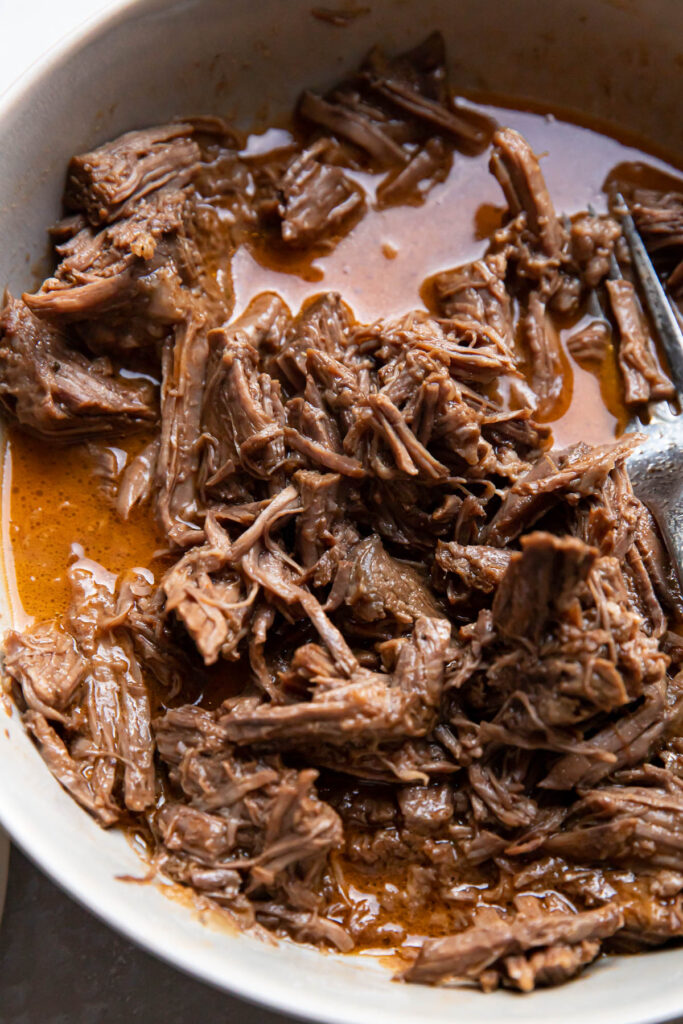 What are Barbacoa Tacos?
If this is your first time having barbacoa tacos here's what to expect.
The barbacoa tacos are made with beef. Chuck roast to be exact. And the chuck roast comes from the shoulder of the cow. The same cut of meat you use to make a pot roast.
Thanks to the instant pot, we get to fast forward the slow cooking process so it takes about an hour for tender barbacoa meat. It takes about 25 minutes per pound of chuck roast. Then slow release for 10 minutes.
So if your chuck roast is 3 pounds, it will cook for 1 hour 15 minutes and slow release for 10.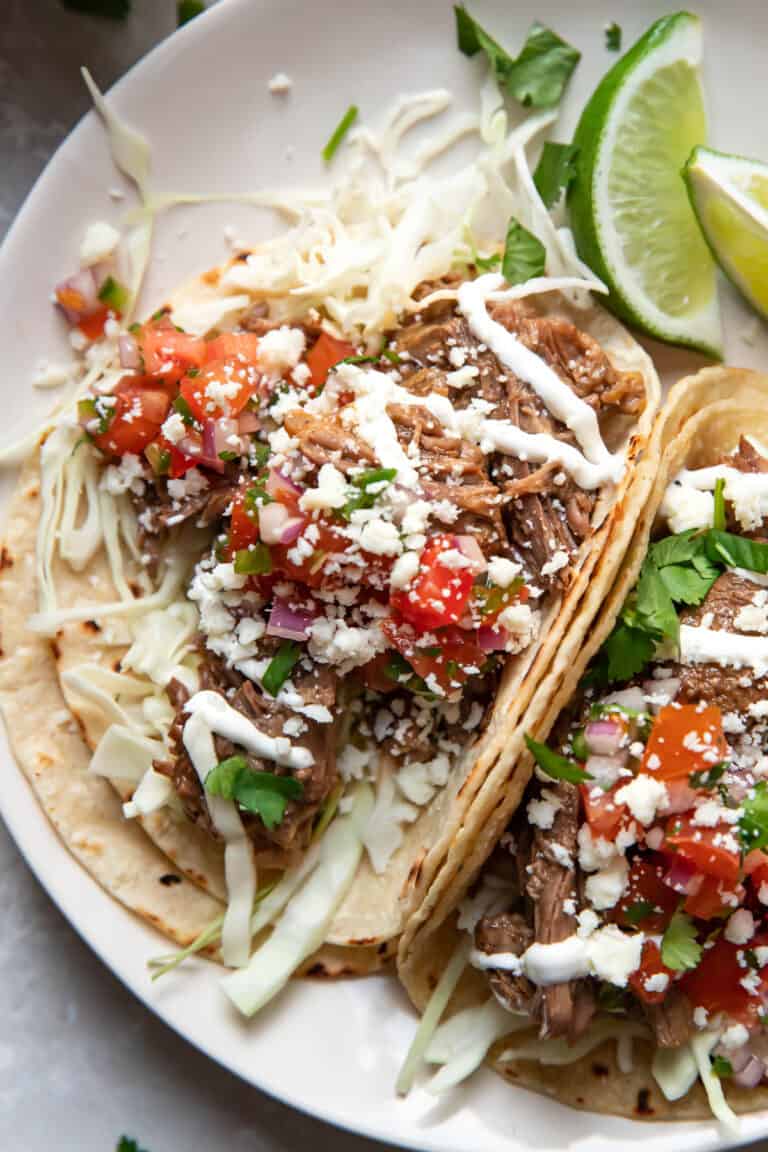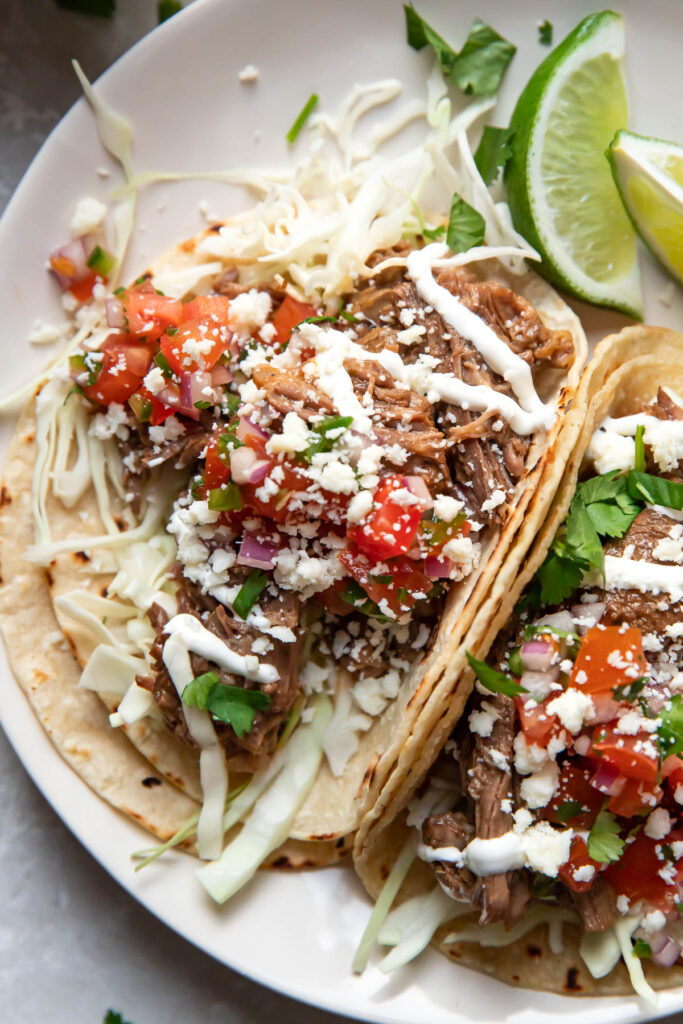 Taste wise, it's savory and a bit spicy. You can control just how spicy it is by adding extra chipotle peppers.
The chipotle peppers come in adobo sauce, in a can. These have a deep flavor, they are a bit smoky and very spicy. Since you'll have extras from the can you can use them to make some instant pot chicken tinga tacos later in the week!
To the instant pot you'll also add beef broth, ground cloves, lime juice, chopped onion, garlic cloves and bay leafs. This will make up your sauce.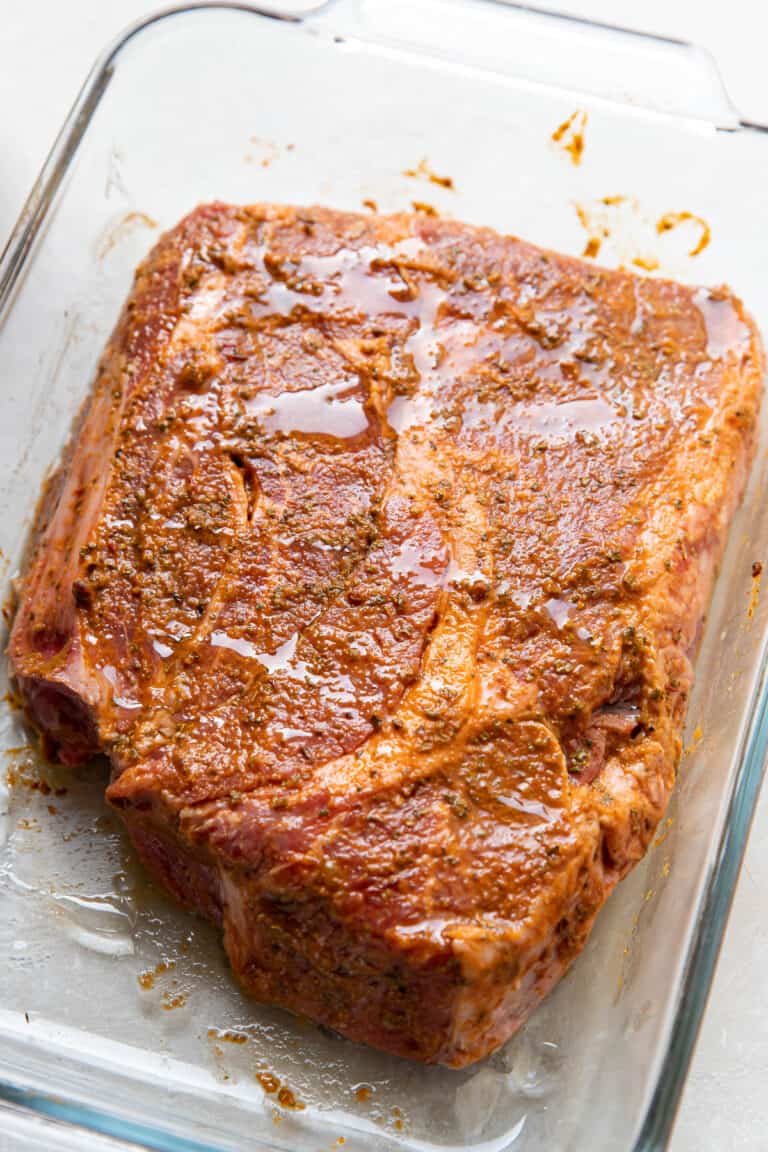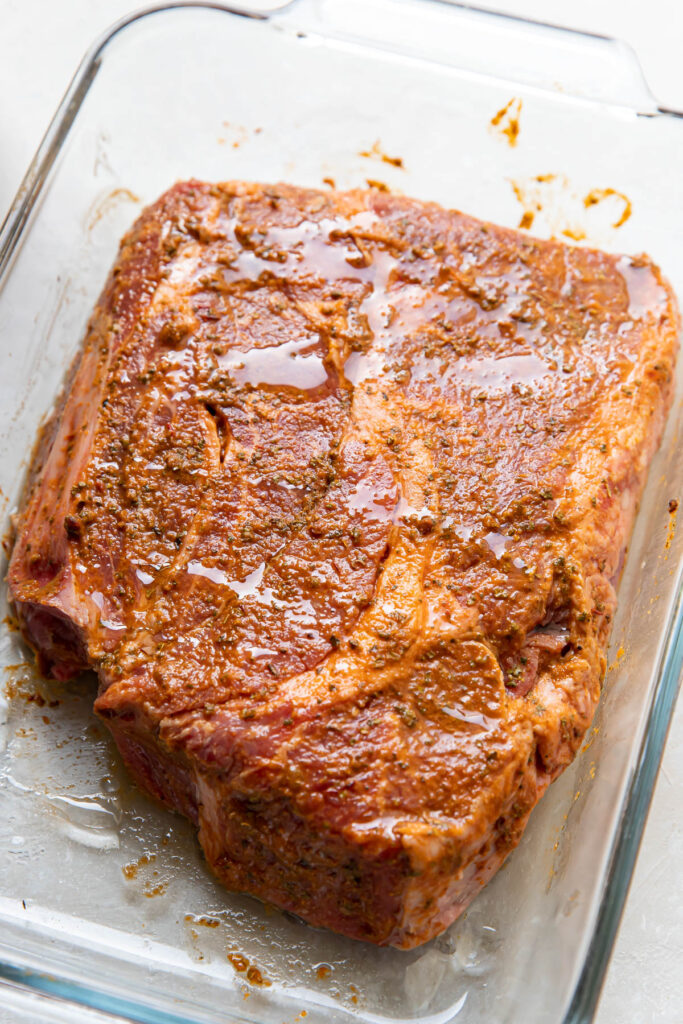 Barbacoa Marinade
The meat needs to marinate before it's cooked.
In a little bowl combine oregano, cumin, salt, onion powder, garlic powder, adobo sauce, lime juice and oil.
Slather this all over the chuck roast, cover it in a bowl and refrigerate for 2 hours. You can let it marinate all day if you need to but don't marinate this overnight, use it the same day.
When you marinate with an acid, like lime juice, it starts to break apart the meat if it sits too long and that can give it a weird texture.
After it's done marinating don't forget to sear the meat before cooking.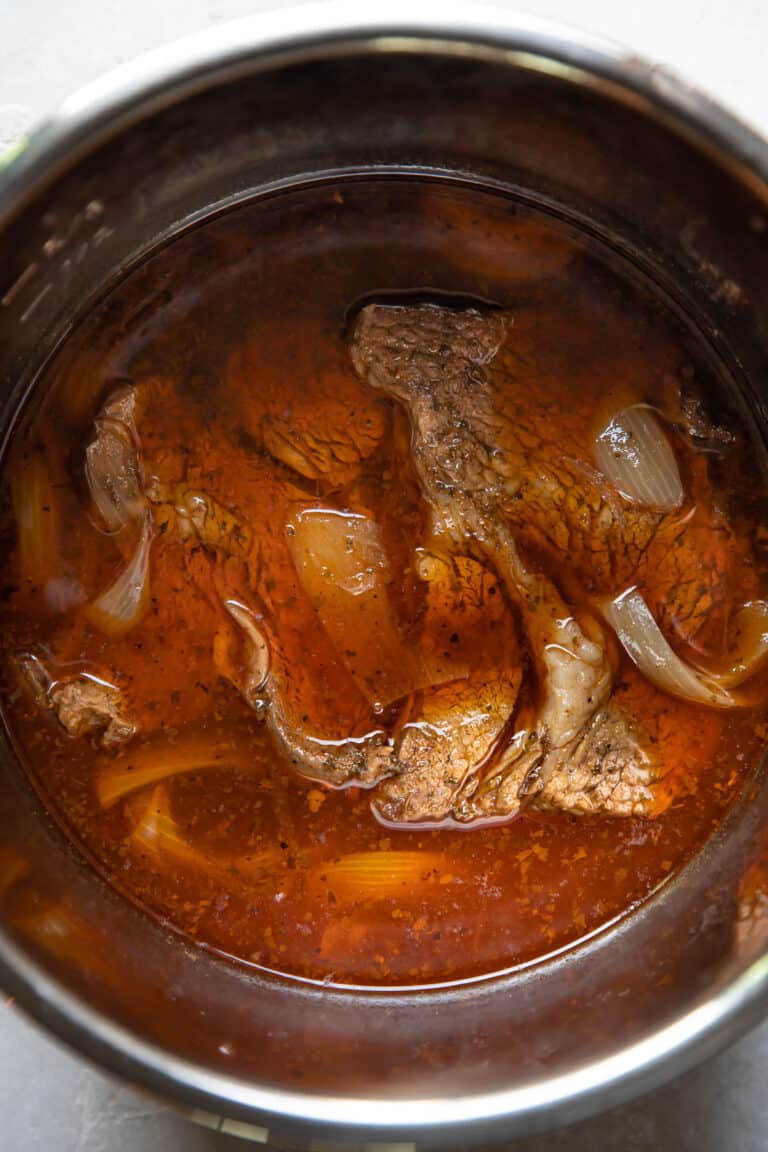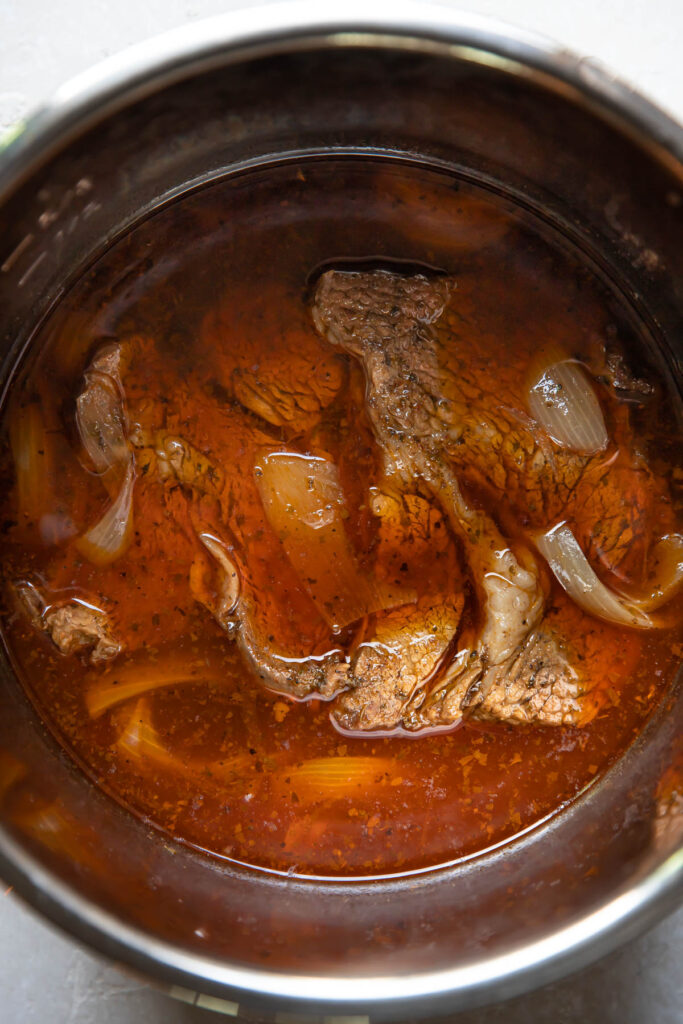 What Goes In The Instant Pot?
After your meat has marinated you'll sear it in the instant pot, leave it in there (turn sear off) and then add the rest of the ingredients to make the sauce.
Here's what you'll add in to the instant pot.
beef broth - you can use a box or can of beef broth (a total of two cups) but I like to use water mixed with beef better than bouillon, it has a richer flavor than traditional beef broth
chipotle pepper in adobo sauce
adobo sauce - this is just the sauce in the can
ground cloves
lime juice
garlic cloves
bay leafs
After it's done cooking, take out the barbacoa meat and pour the liquid into a blender. I like to run it through a fat separator first.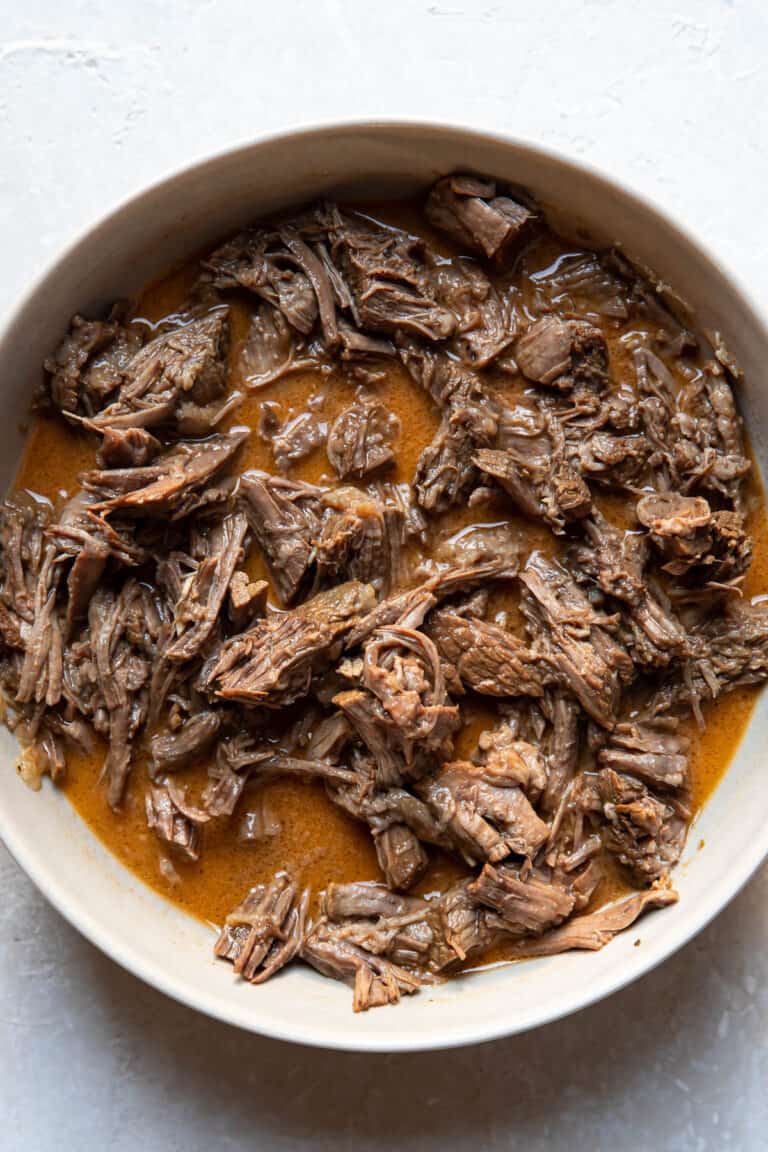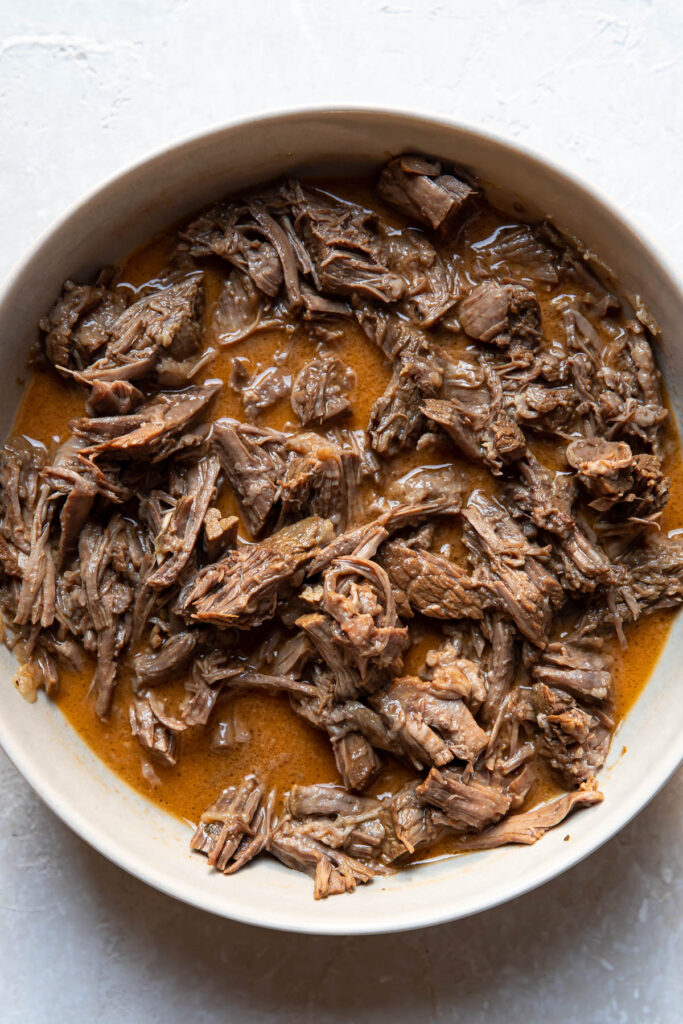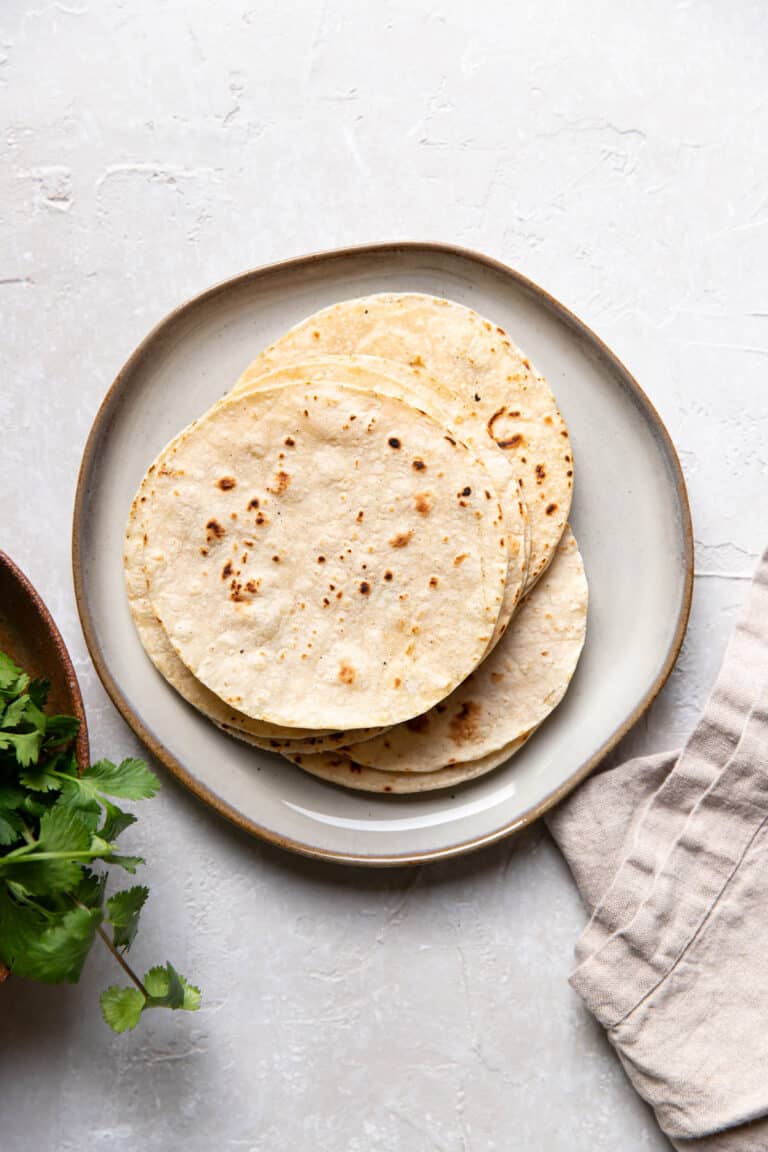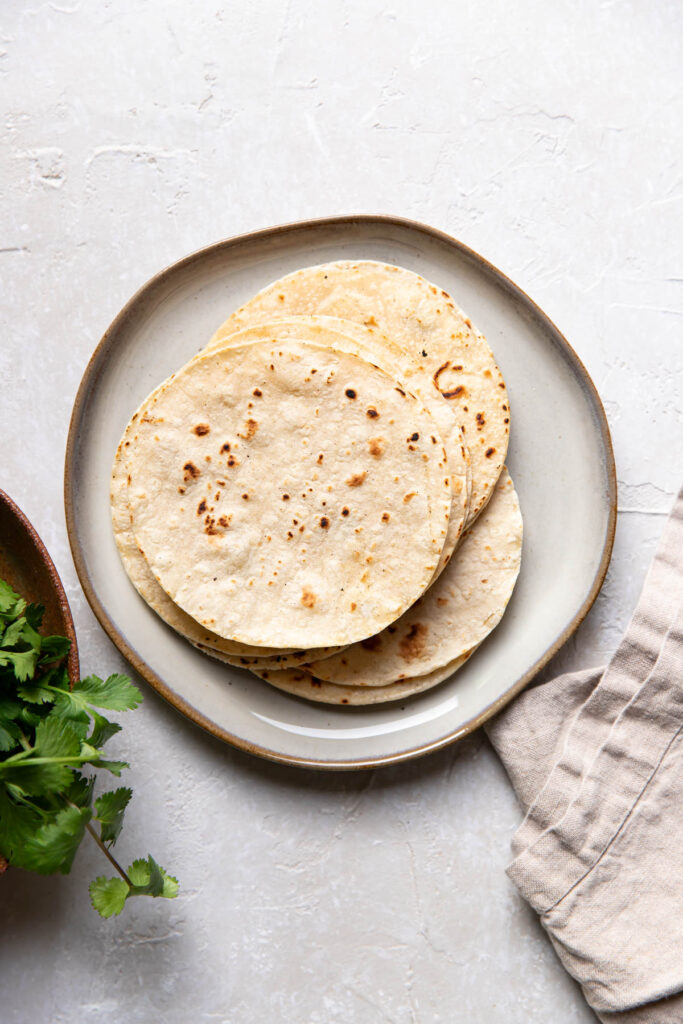 Barbacoa Taco Toppings
You can pick and choose your toppings but for this recipe I suggest some pico de gallo, shredded cabbage, cotija cheese, cilantro and sour cream lime sauce.
The sauce is seriously just combining sour cream and lime juice. If you have one of those squeeze bottles it's easy to shake everything up in a bottle and then squeeze it on your tacos.
Shredded cabbage makes a good base for any taco. This way your meat doesn't absorb so much into the tortilla and make it soggy - the cabbage gives you a little bit of a barrier.
Cotija cheese is the best cheese to sprinkle on top of tacos! Especially if you want that authentic taco flavor. Cotija cheese is like a Mexican parmesan cheese, it's crumbly and salty.
You can always lay a corn tortilla down under the taco you are eating, it will catch anything that falls and makes for an instant taco.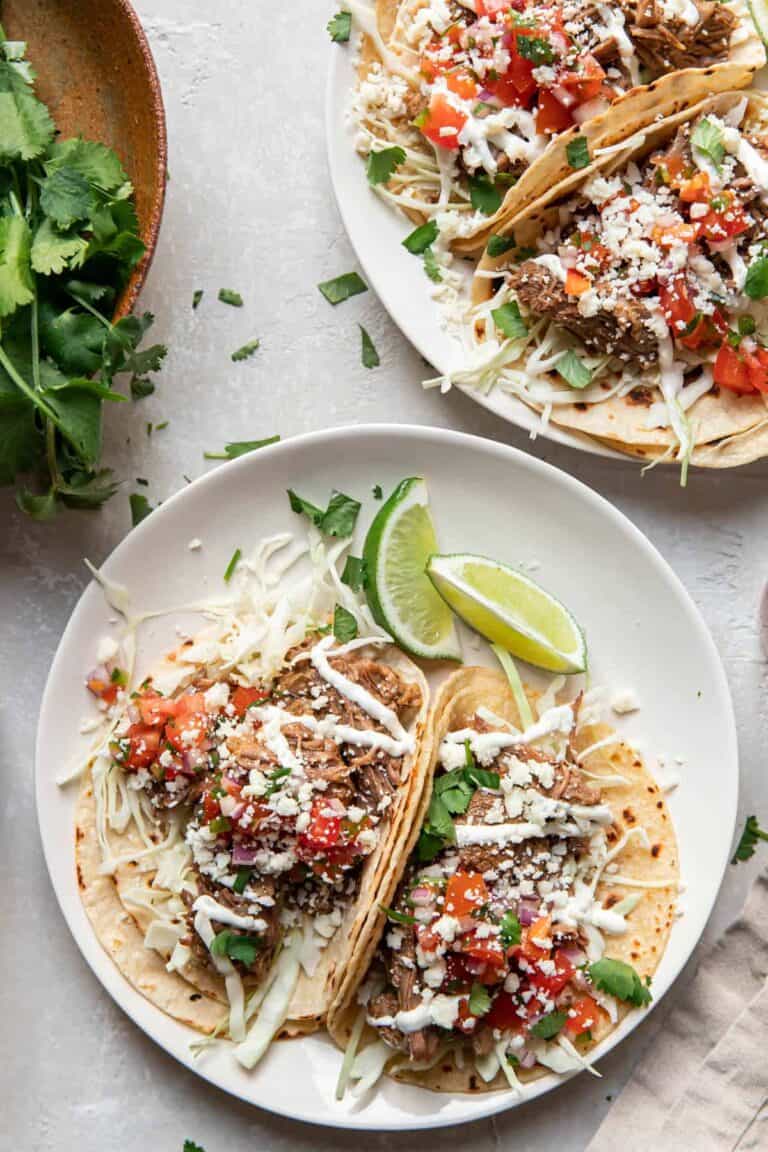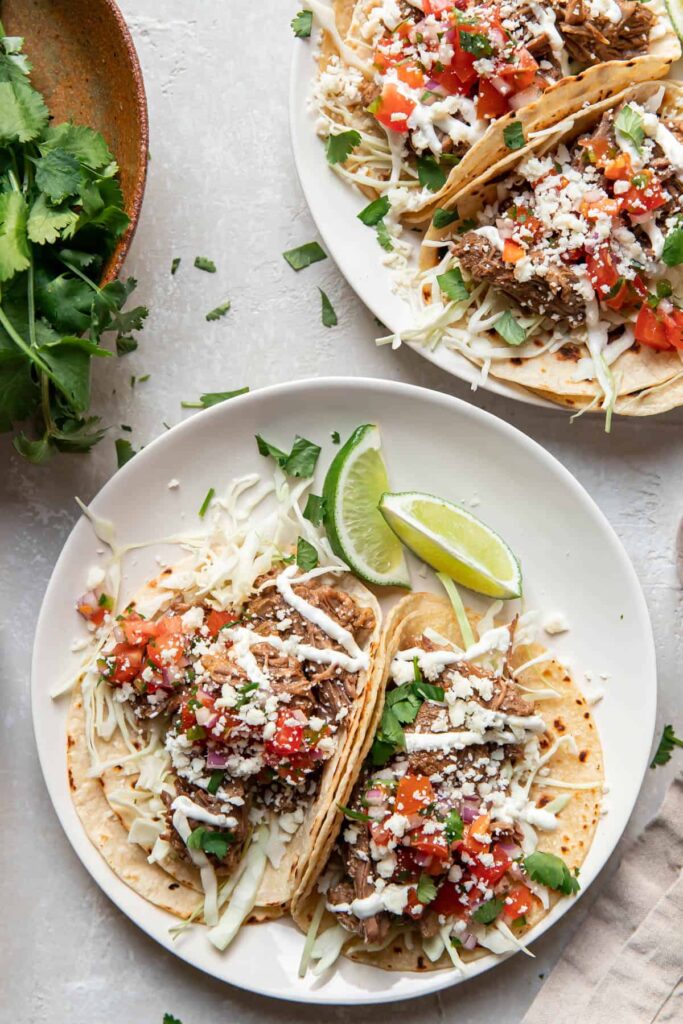 FAQ
Can I make barbacoa tacos in a slow cooker?
Yes! Follow the instructions exactly, replacing the instant pot with your slower cooker. Sear your meat in a stovetop pan then transfer to the slow cooker. 10 hours on low. All the steps stay the same, except for what you cook it in and the time.
My barbacoa meat isn't shredding?
You'll need to put it back in the instant pot and cook it longer. Sometimes you get a tough piece of meat that doesn't shred easily. Try putting it back in the instant pot for another 10 minutes.
How spicy is barbacoa?
These barbacoa tacos are mildly spicy. If you want them to be spicier than add extra chipotle peppers.
What To Serve With Barbacoa Tacos
This is a great standalone dish, in my opinion. But if you want to serve it with some extras I would make a big bowl of pico de gallo. You need pico de gallo for the tacos anyway and then you can serve it with tortilla chips.
You could also make some corn salsa. Or a batch of strawberry margaritas. Mexican rice would be another good option. This recipe for chipotle chicken bowls has a cilantro lime rice recipe attached with it.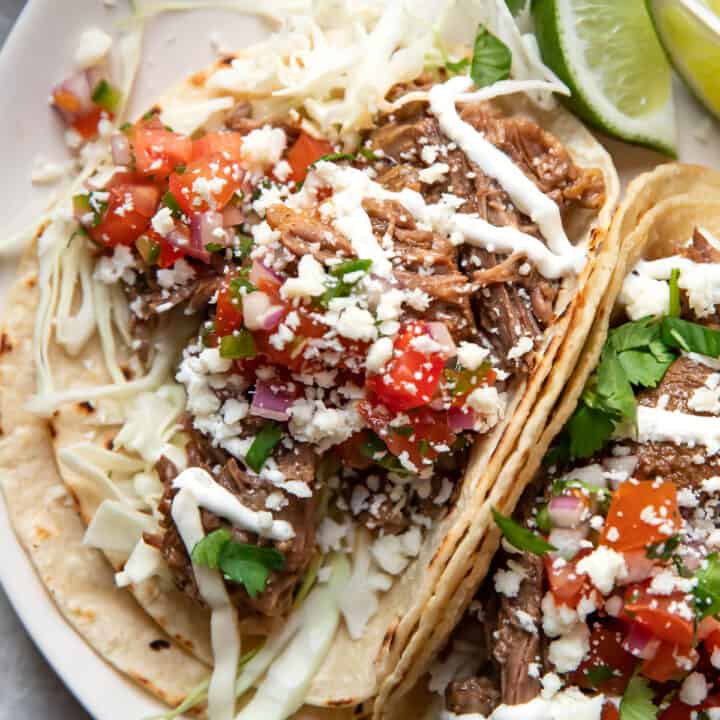 Barbacoa Tacos (Instant Pot)
Cook Time:
1 hour
30 minutes
These beef barbacoa tacos are an easy weeknight meal, made in the instant pot! The barbacoa sauce gets it's heat from chipotles in adobo, giving the tacos a smoky and slightly spicy flavor. Top your tacos with pico de gallo, cotija cheese and a sour cream lime sauce!
Ingredients
3 lb beef chuck roast
2 c beef broth
1 pepper from chipotle in adobo sauce
1 tbsp sauce from chipotle in adobo sauce
¼ tsp ground cloves
½ lime, juiced
½ onion, sliced
3 garlic cloves, peeled and smashed
2 bay leafs
Corn tortillas
Pico de Gallo
Cotija cheese
Cilantro
Barbacoa marinade
1 tsp oregano
1 tsp cumin
1 tsp salt
½ tsp onion powder
½ tsp garlic powder
1 tbsp sauce from chipotle peppers in adobo
½ lime, juice
Oil drizzled on top
Sour cream lime sauce
½ c sour cream
1 tbsp lime juice
Instructions
Mix all of the Barbacoa marinade ingredients together to make a thick paste, spread it over the chuck roast, place in a bowl, cover and sit for 2 hours in the fridge (up to 10 hours)
Turn the instant pot setting to sear and sear all edges of the chuck roast and then turn sear off
Add to the instant pot, beef broth, chipotle pepper, adobo sauce, ground cloves, lime juice and bay leafs
Pressure cook 25 min per pound of chuck roast, slow release 10 minutes
Take out the meat, pour all the liquid in a blender (you can strain out any grease/fat in a fat separator prior to blending)
Shred the meat in a bowl and add the sauce, the sauce thickens a little as it cools
Add salt to taste, only if needed
Mix together the sour cream and lime juice to make the sour cream lime sauce
Grab a corn tortilla, add the shredded cabbage, barbacoa meat, Pico de Gallo, sour cream lime sauce and top with Cotija cheese and cilantro
Notes
Cook time will depend on the size of the chuck roast - remember 25 minutes per pound. Depending on your cut of meat it may need longer, if it's a tougher piece of chuck.
Recommended Products
As an Amazon Associate and member of other affiliate programs, I earn from qualifying purchases.
Nutrition Information:
Yield:

15
Serving Size:

3
Amount Per Serving:
Calories:

252
Total Fat:

17g
Saturated Fat:

7g
Trans Fat:

1g
Unsaturated Fat:

9g
Cholesterol:

80mg
Sodium:

388mg
Carbohydrates:

3g
Fiber:

1g
Sugar:

1g
Protein:

23g
This information comes from online calculators. Although moderncrumb.com attempts to provide accurate nutritional information, these figures are only estimates.