This frozen strawberry margarita recipe is beyond easy to make and so refreshing. Just a few ingredients and a blender is all you need! Everyone will be begging you for the recipe.
Make sure to check out this roundup of 20 delicious recipes to make for Cinco de Mayo!!
And since these only take 5 minutes to whip up your biggest decision will be whether to make baked chicken taquitos, mexican street corn enchiladas or super creamy and cheesy jalapeño cream cheese enchiladas for dinner.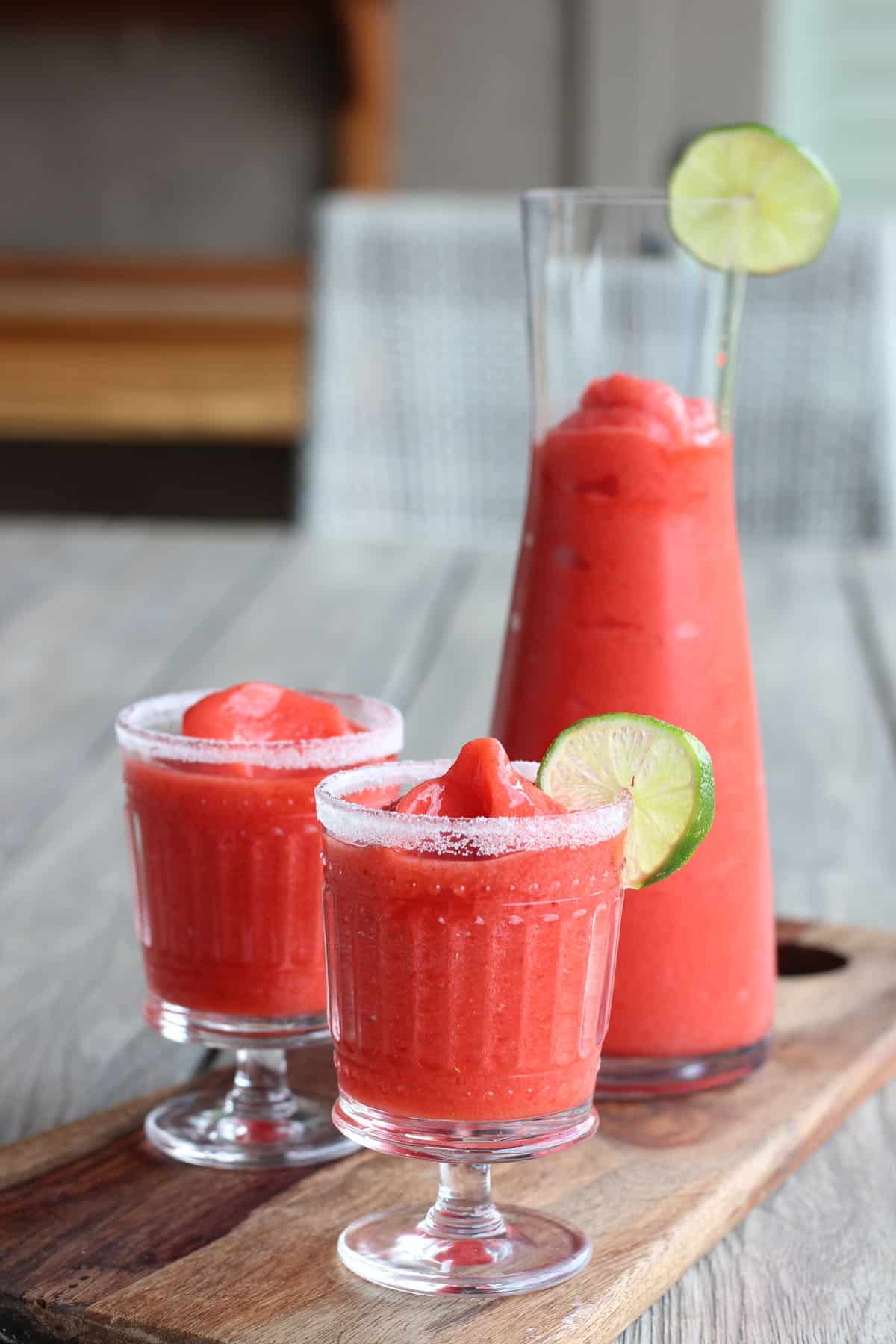 These margaritas are famous. I constantly have people ask me how I make my frozen strawberry margaritas! The truth is, it's super easy and takes only a handful of ingredients.
But there's just something about the combination that is so good. 
Jump to:
You know how in some recipes you just throw stuff together, well this is not one of those, it's important to follow the recipe for the amounts - for the perfect flavor.
This recipe is tangy and sweet but not overly sweet. Super cold, which is perfect when it's blistering hot out (all of us in Arizona).
I've been making these strawberry frozen margaritas the same way for the last 10 years and they turn out perfect, every single time.
And if you ask my Grandma, these are the absolute best - isn't that the ultimate test? When your family loves something. She had thirds, I love her.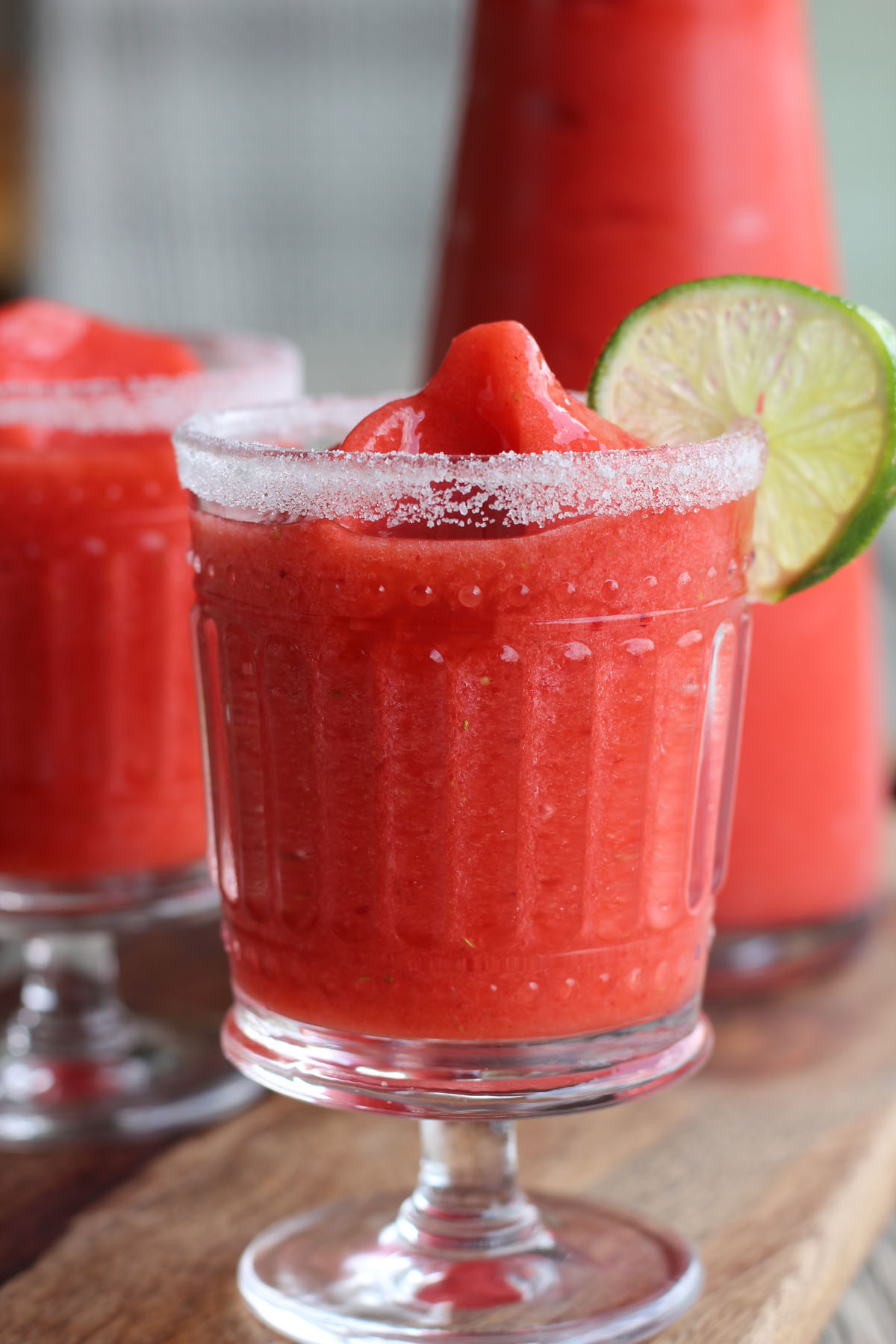 What Makes These Frozen Strawberry Margaritas So Special?
All margaritas are definitely not created equal.
Have you ever gone to a restaurant and your margarita tastes like pure sugar, or worse, a cheap mix or syrup, I'll pass on that, how about you!?
My strawberry margarita's are made with fresh and frozen strawberries. Absolutely no strawberry margarita mix here. And that's the secret to a perfect margarita, no mix.
They are also made without triple sec. Let's keep it quick and easy. But by all means, if you feel the need to add it, I know some readers have - then go for it.
My mouth is literally watering just thinking about these. Refreshing and chilly, perfect for a warm summer night.
Cinco de Mayo is coming up and these are always a hit when I bring them to parties! The only complaint is once the pitcher is empty. If you don't know what the meaning of cinco de mayo is - it's easy, it means "5th of May" in Spanish.
I have some great cindo de mayo recipe recommendations down toward the bottom of the post.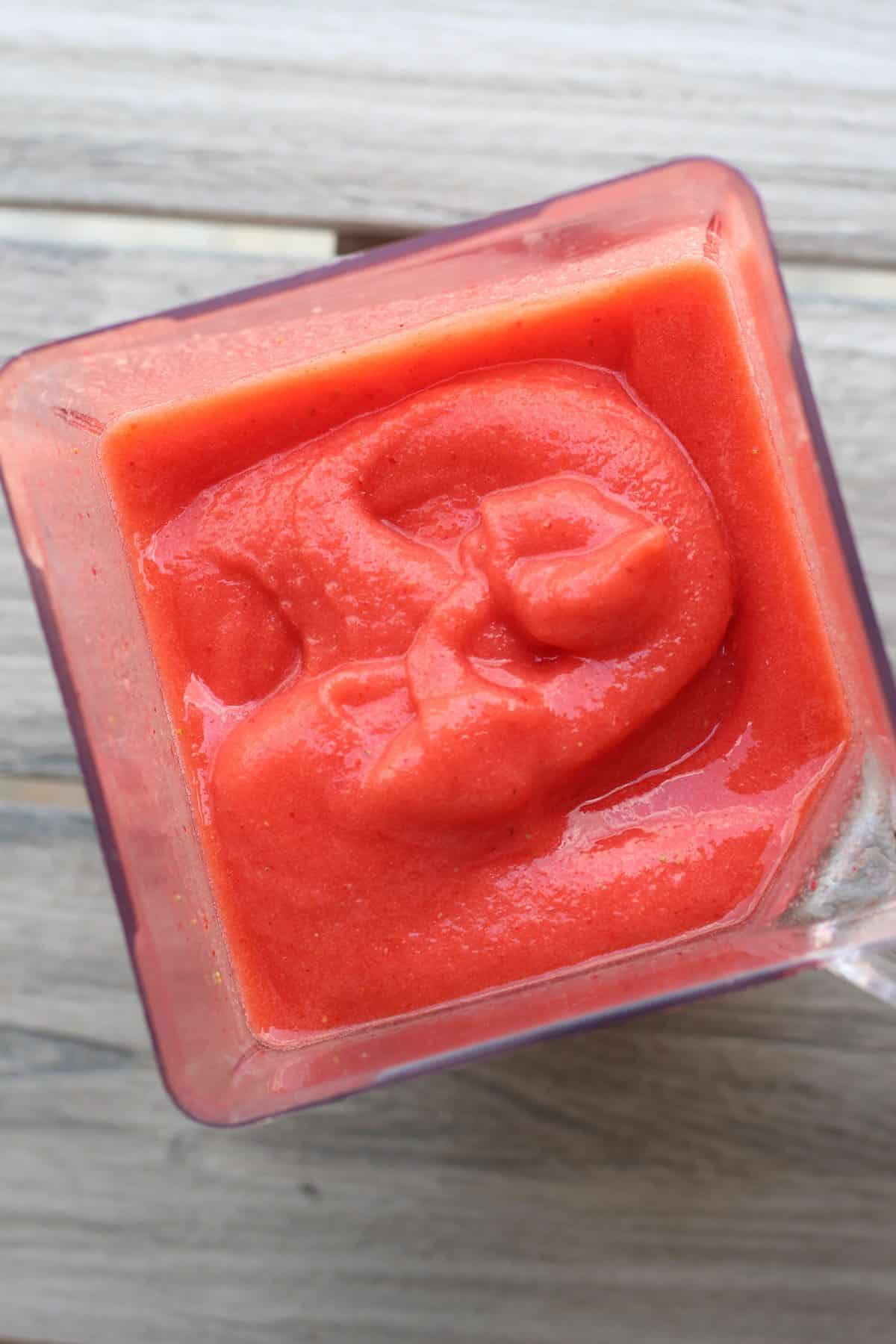 Strawberries,Why Fresh and Frozen?
I love the fresh taste of the strawberries, like someone just made my margarita and plucked the strawberries right off of a bush.
The reason why I use some frozen in this recipe for strawberry margaritas is so that you'll need to use less ice and you get a better concentrated punch of flavor!
So why not just all frozen? Listen, it just works. When you don't add the fresh margaritas you can taste the difference. Trust me.
Honestly, I think the first time I ever made these (over 10 years ago) I had a bit of fresh strawberries in the fridge so I just used them up!
There wasn't even a rhyme or reason but because they were so amazing, I made them the same every single time.
Why mess with a good thing?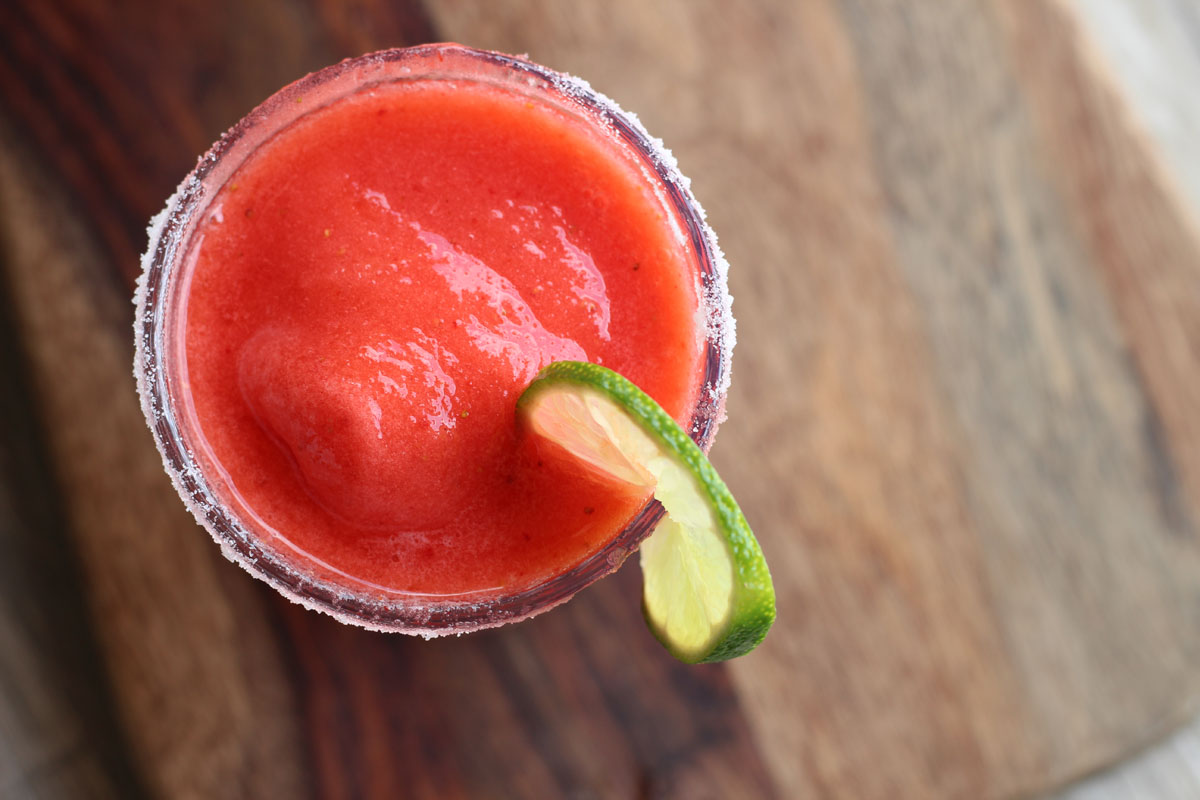 What's In A Frozen Strawberry Margarita
The easiest margarita recipe ever! There is just a few ingredients and you may even have everything on hand. I usually keep a few containers of the frozen limeade in my deep freezer during the summer.
Tequila - the jose cuervo blue agave tastes best with this recipe, you could upgrade and use patron or something like that but an affordable option would be the jose cuervo
frozen limeade - different than a container of limeade, although you could use it in a pinch
frozen strawberries - important to use majority frozen strawberries, that way you use less ice and that means less watered down margarita
fresh strawberries - some fresh, because the taste of fresh strawberries is very bright and vibrant
ice - to make it "frozen"
limes and sugar - these are optional garnishes
These margaritas are made without triple sec. And that doesn't mean you can't add it but there isn't any in these - and not everyone has triple sec or wants to use it. This is a really simple, basic ingredient strawberry margarita.
Secret Ingredients For Frozen Strawberry Margaritas
The secret ingredient you need to be using in your strawberry margaritas is frozen limeade.
It does the trick, it's that super special extra something that just makes these the best.
I also prefer the Jose Cuervo silver tequila, to me it tastes crisper and has a bit more bite.
The other secret ingredient is not really an ingredient but more so the correct measurements of each ingredient for that perfect frozen margarita texture.
Fruit to liquid to ice ratio has to be perfect. Simple as that.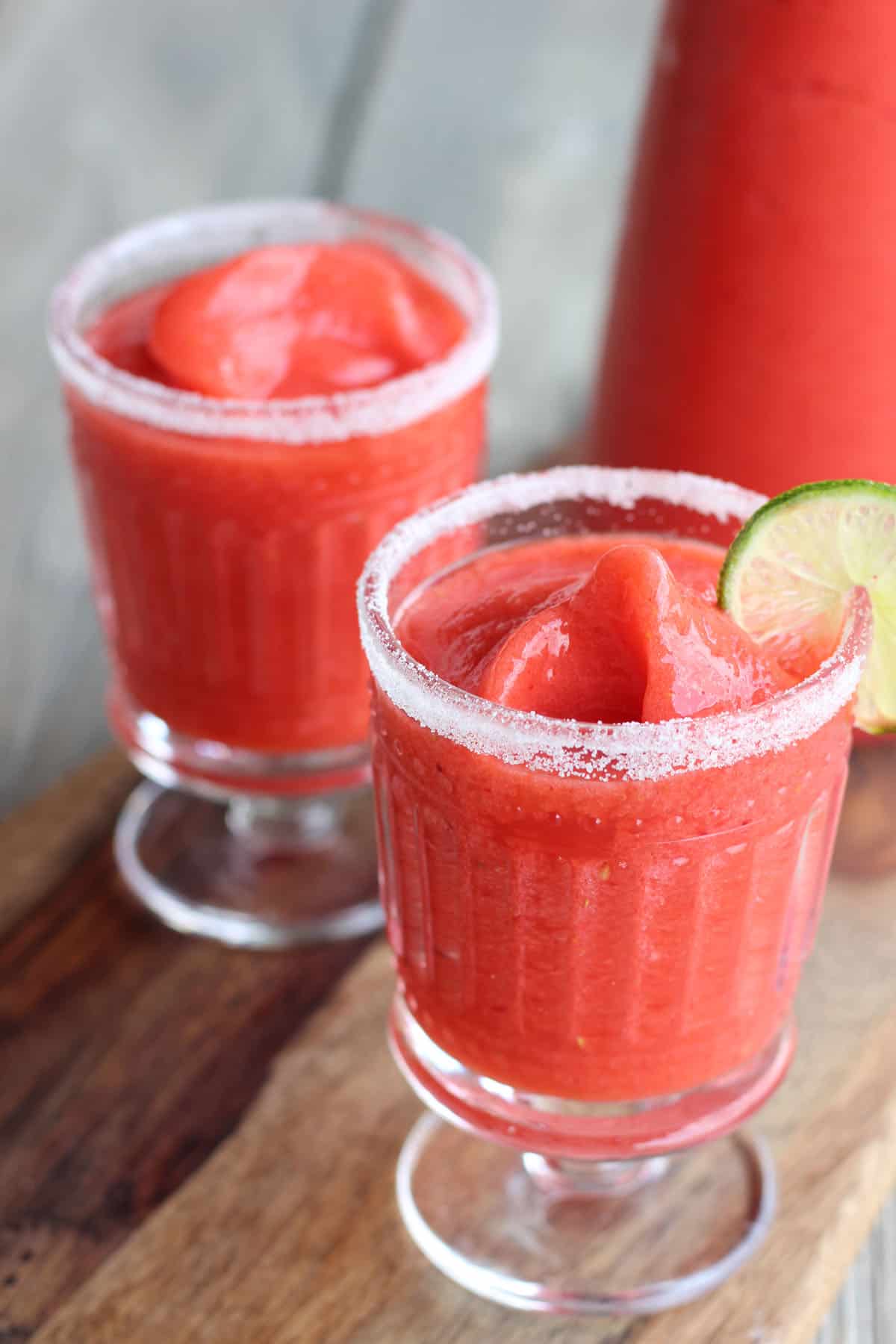 How To Make A Frozen Strawberry Margarita
If you are wondering how long does a frozen strawberry margarita take to make -- these take under 10 minutes to make. All you need is a blender.
Preferably a good one, I use a blendtec so it comes out with that perfect frozen margarita consistency. But if you don't have a blendtec blender, fear not - they will still taste awesome.
If your blender is of mediocre quality, just blend it twice, the more you blend the smoother it will be!
Add a sugar rim (or not) for an extra bit of fancy.
My easy way is to wet a paper towel, rub it on the edge of the glass rim and then set the glass on a plate of sugar.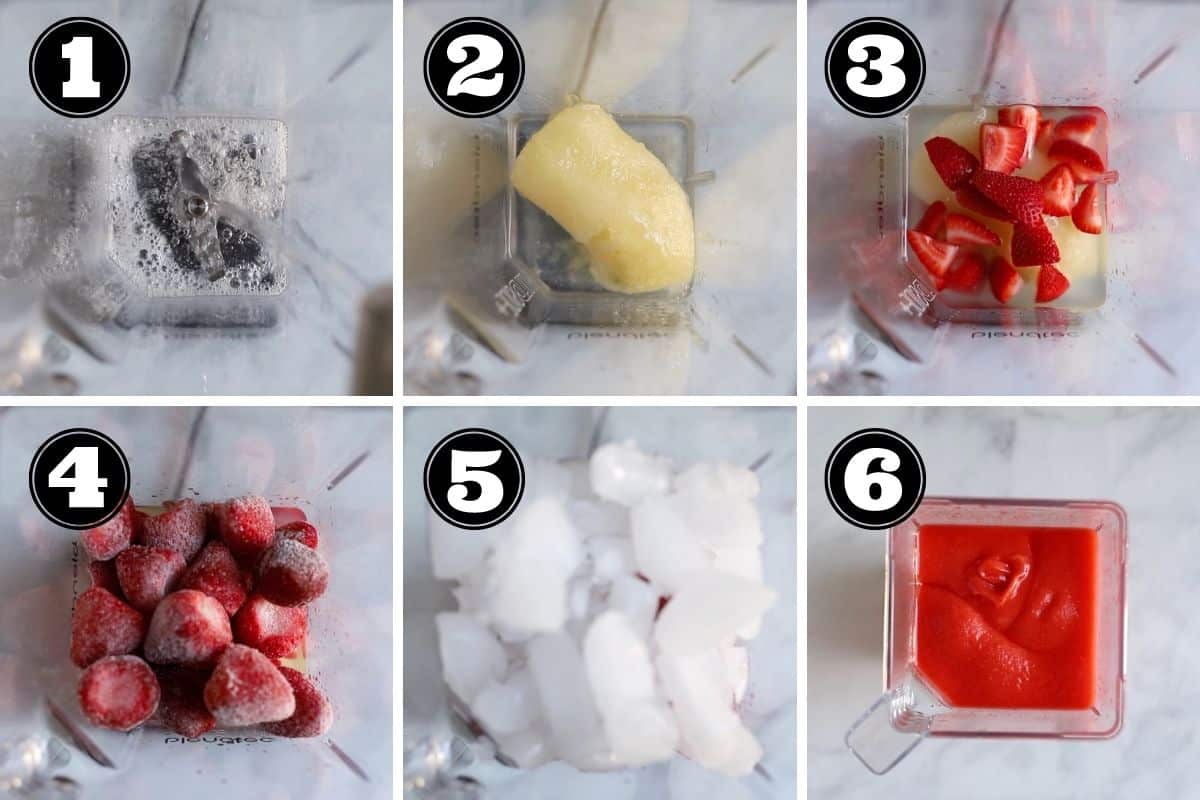 FAQ
Does the limeade get used frozen?
Yes! Add it straight out of the freezer.
Is there a substitute for frozen limeade?
You could use regular limeade (same type of container as lemonade comes in) and then freeze some if you can't get a can of frozen.
Can I make frozen strawberry margaritas for a crowd?
Yes! You'll just need to make a few batches. If you are making this for a crowd you can actually blend up the strawberry margaritas and then pour them in to a gallon ziploc bag. Repeat this for as much as you need for your party. They freeze really well this way and as you need to refill the pitcher, just open up a pouch from your freezer and pour it in!
How long will they stay frozen?
Without keeping them chilled in the fridge or freezer they will stay cold for about an hour, give or take how hot it is outside. See the question above for freezing batches.
How strong are these strawberry margaritas?
I would say mild to medium strength, so if you want them stronger you can add more tequila. Taste it first.
What to Serve With Margaritas
My favorite things to have with margaritas are tacos and salsa!
Here's some great pairings ideas you can make for your next fiesta or cinco de mayo party! Being in Arizona, I know a lot about southwest style food.
These blackened fish tacos are a new favorite, I love how easy it is to make them and I have a really great blog post detailing all the steps to get restaurant quality fish tacos.
The chipotle aioli fish taco sauce on top is seriously the best stuff ever, you'll want to eat it on everything. It's the same taco sauce used in this super popular recipe for chicken street tacos.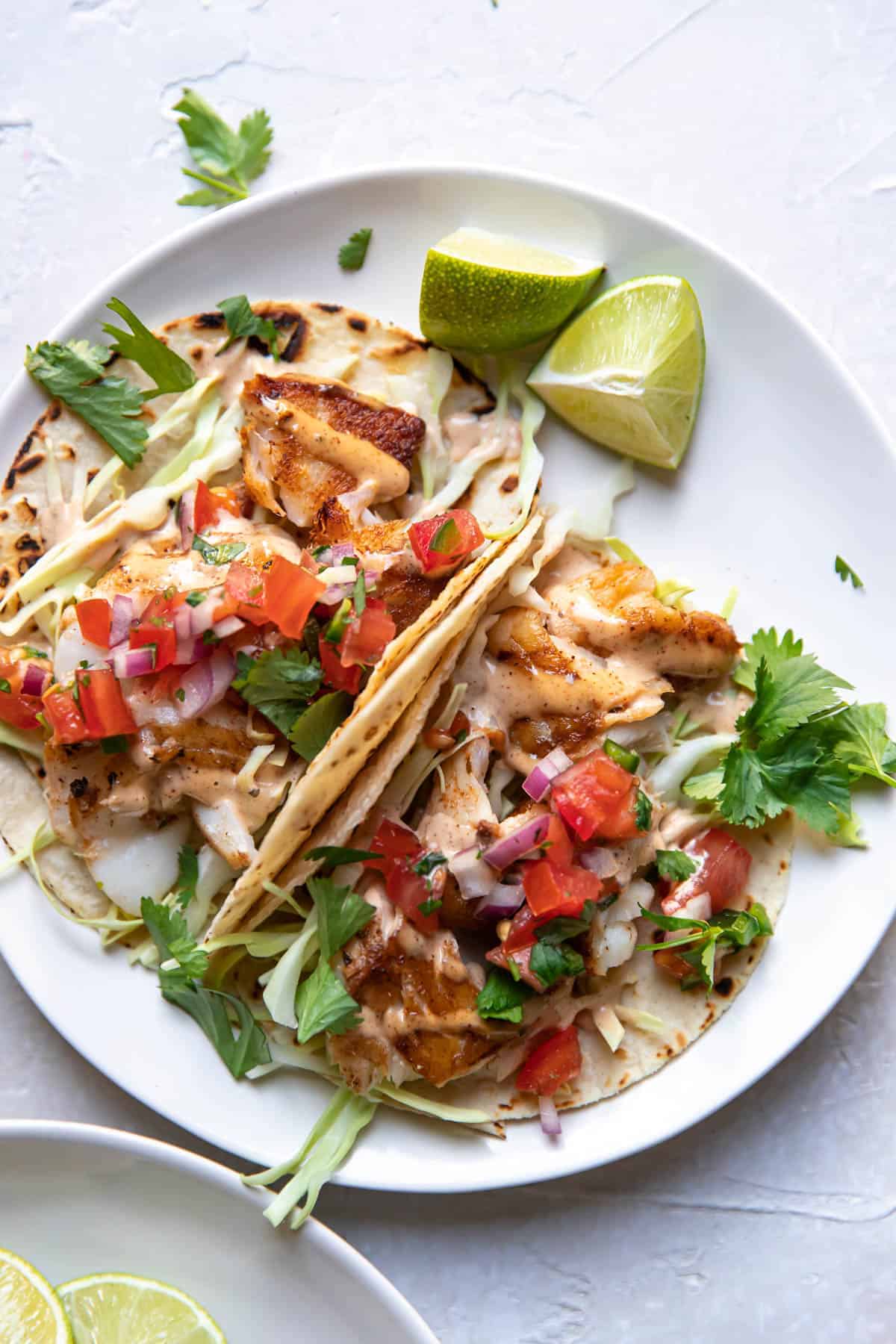 No party is complete without salsa. And this homemade pico de gallo recipe is so perfect and easy to make. You can double it, triple it, add extra stuff to it (like pineapple or mango).
It makes the perfect appetizer but also great for topping all those delicious skillet chicken enchiladas and tacos. I also like to serve it with a pan of easy to make sheet pan steak totchos.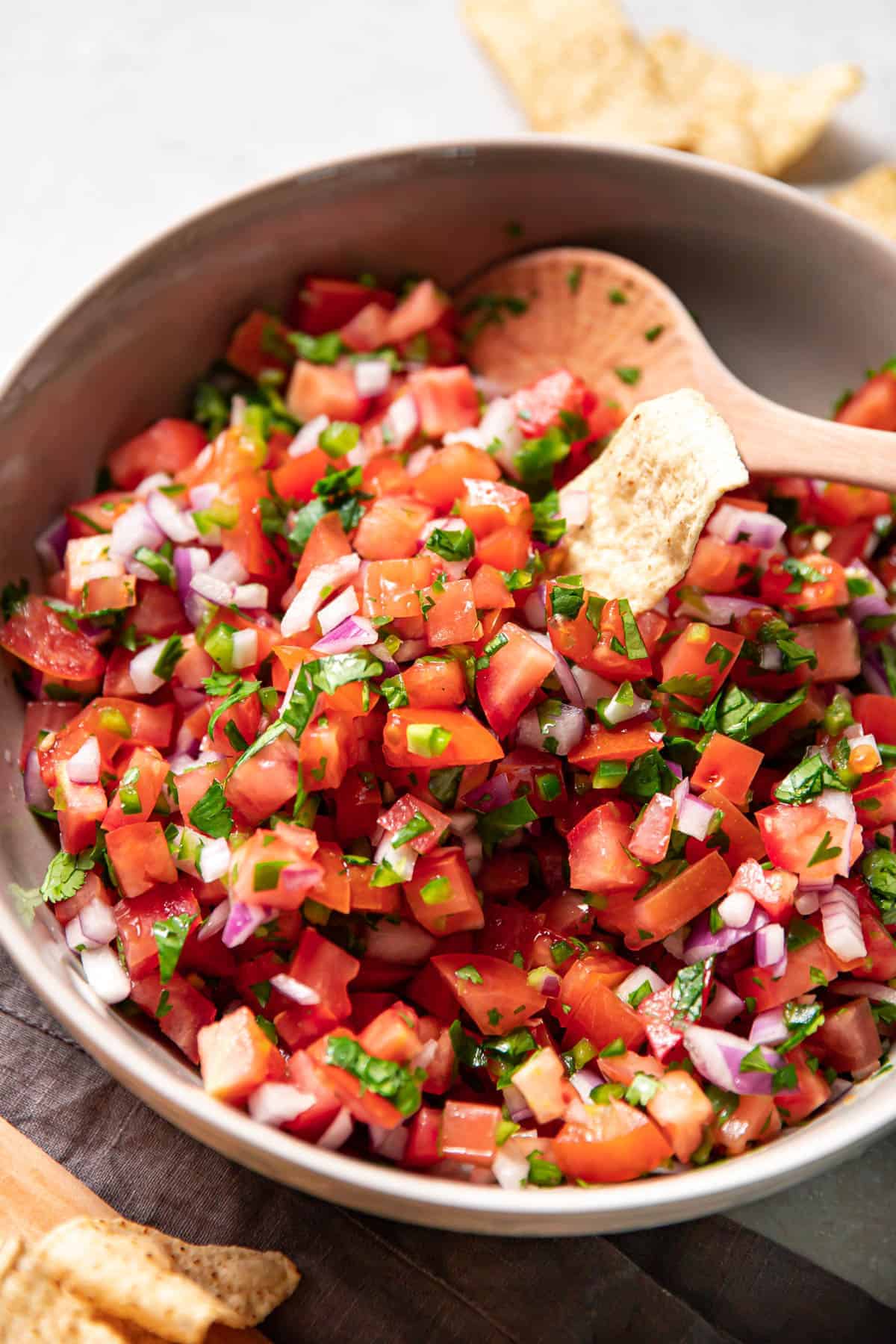 Cream Cheese White Chicken Enchiladas
These cream cheese white chicken enchiladas are like the creme de la creme of enchiladas! With roasted peppers (bell peppers and jalapeños), green chiles, and a really good cream cheese white enchilada sauce.
It's a versatile recipe so you can use store bought rotisserie chicken, instant pot chicken, crock pot chicken, leftover chicken.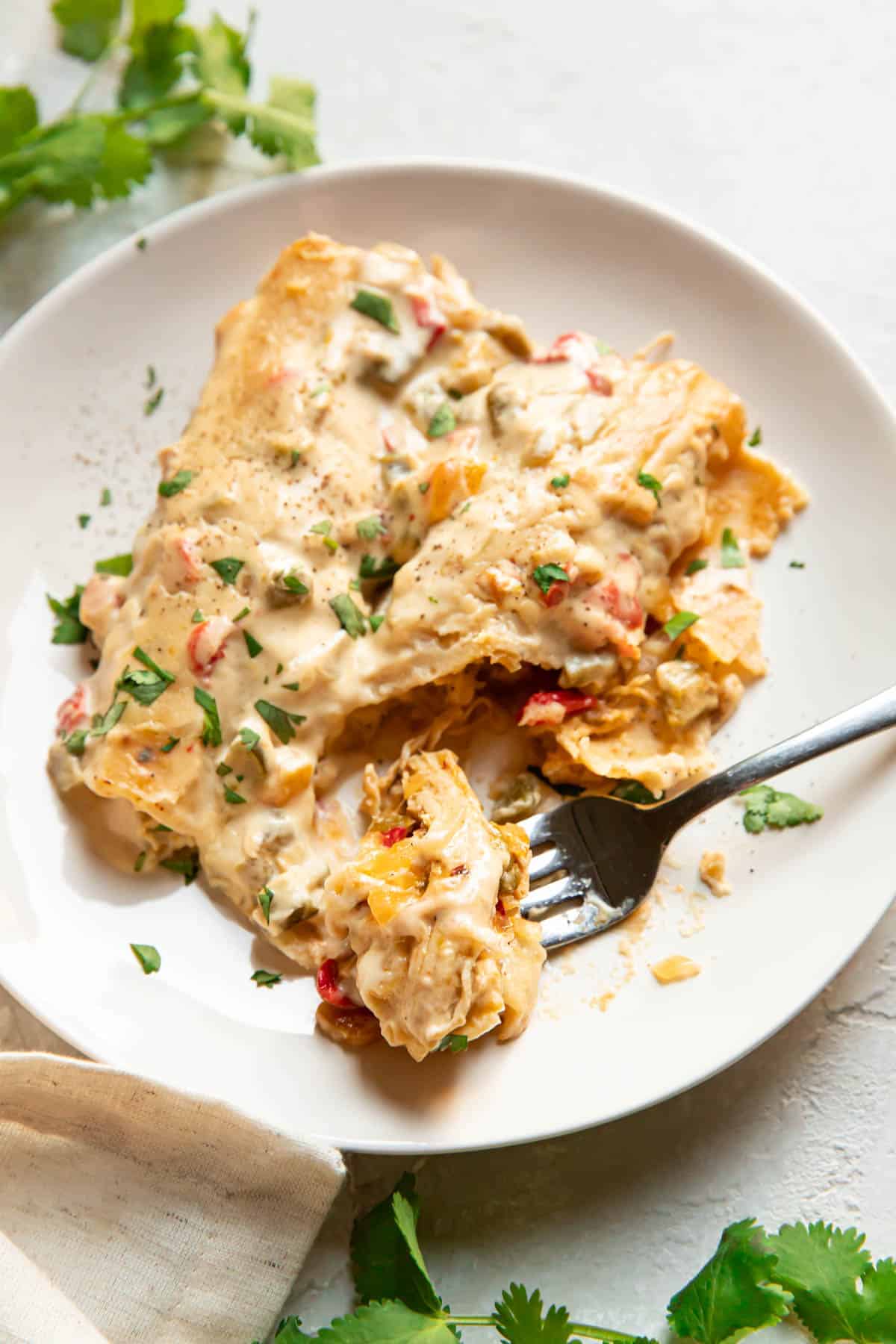 Baked Chicken Taquitos With Mexican Street Corn
These baked chicken taquitos with Mexican street corn are for real my absolute favorite! Filled with shredded chicken and a cheesy Mexican street corn. They are so much fun to eat. And everyone loves them! Especially the kids.
You can dunk them into sour cream or guacamole. You could make a big batch of them for a party or what the recipe calls for just for a family dinner.
And if you love Mexican street corn here's a recipe for crockpot chicken enchiladas. It's not a full on crockpot recipe, but you make the chicken and enchilada sauce in it then finish by baking in the oven.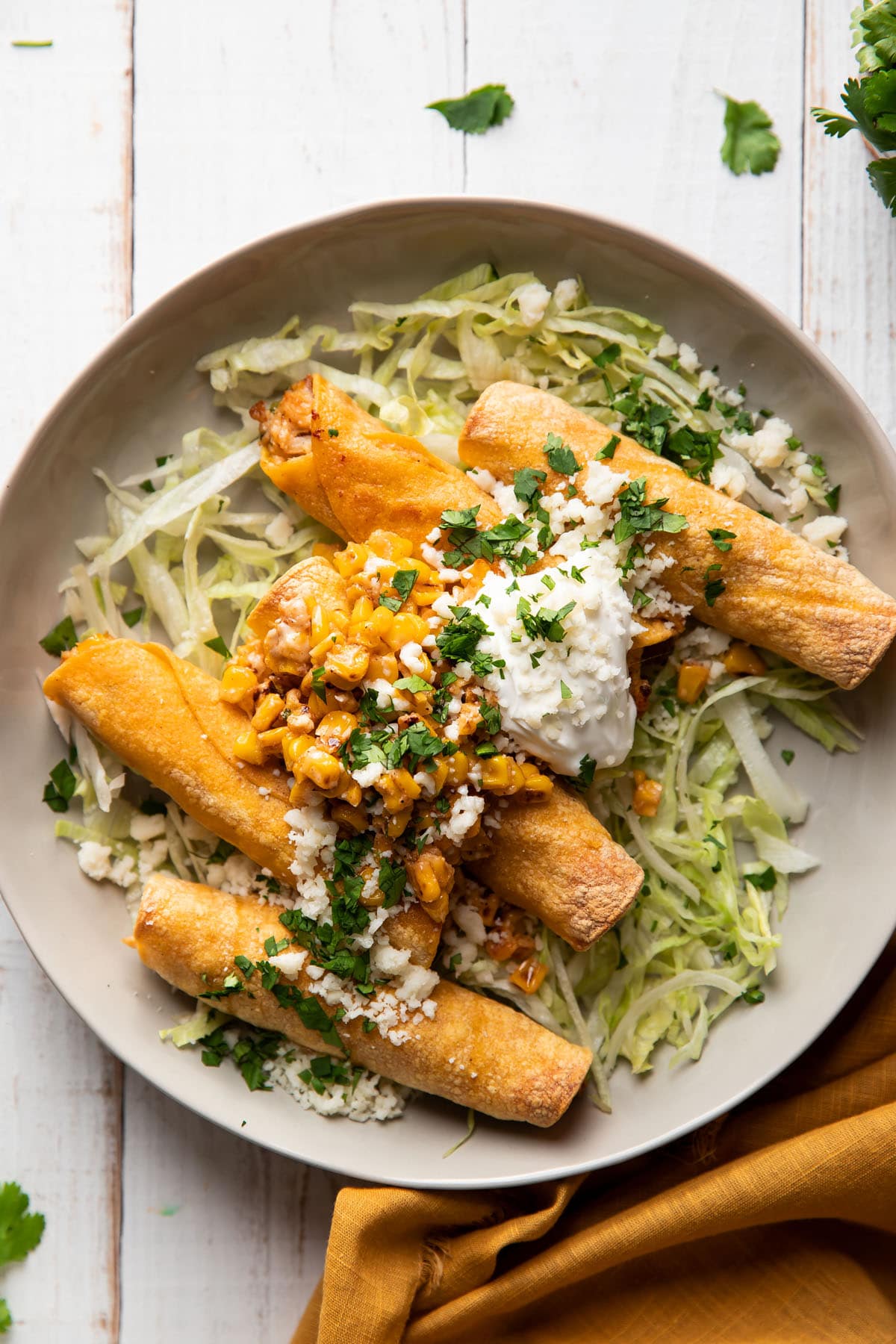 Chipotle Copycat Corn Salsa
Another fabulous appetizer to serve with frozen strawberry margaritas! This copycat version of Chipotle's corn salsa is spot on, it tastes just like the real deal.
If you love Chipotle then you'll also love these chicken bowls, there's a recipe for cilantro lime rice too!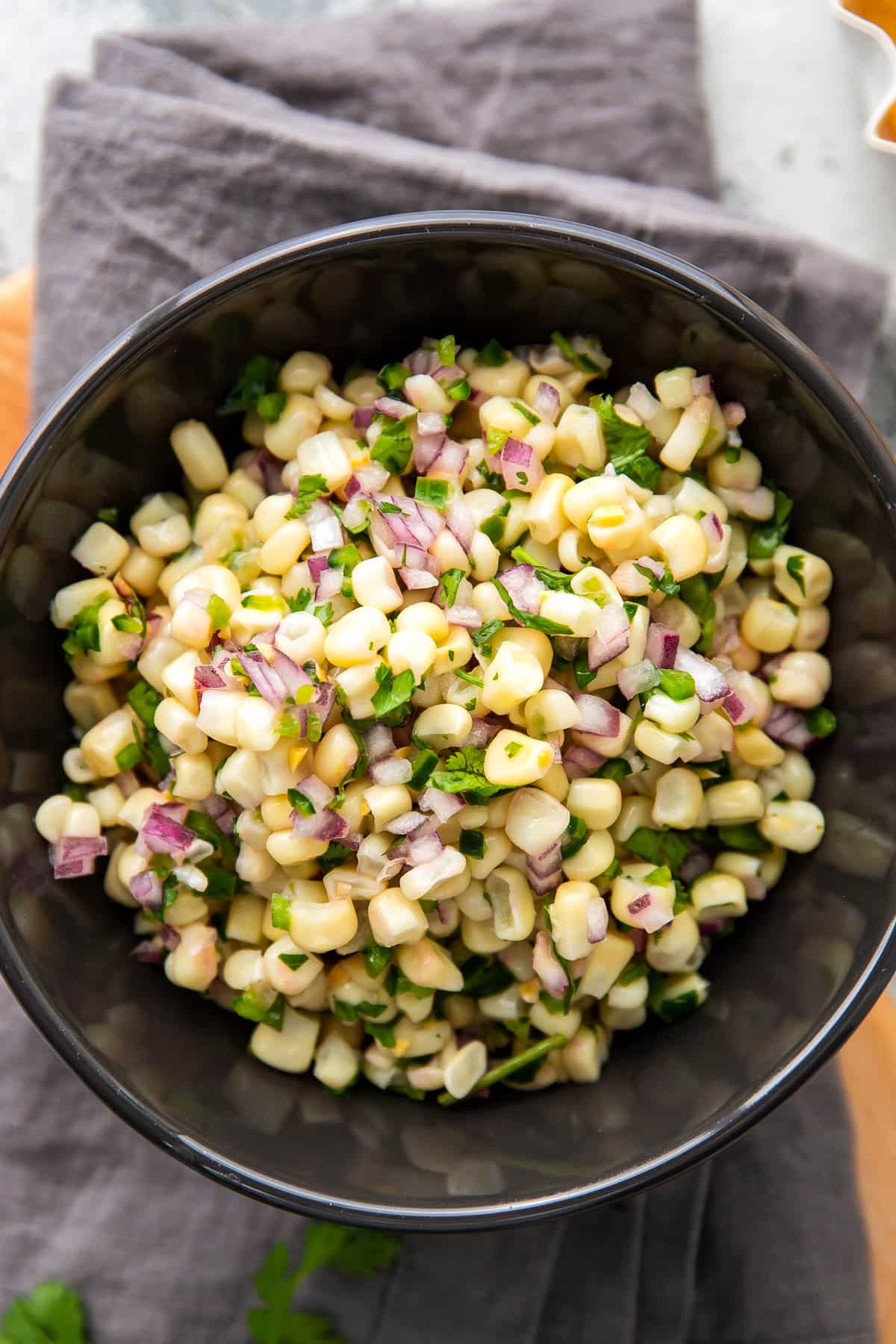 This pineapple avocado salsa is the perfect party appetizer! You can make it as mild or spicy as you want by adding extra jalapeños. It's great to make when both avocados and pineapples are in season.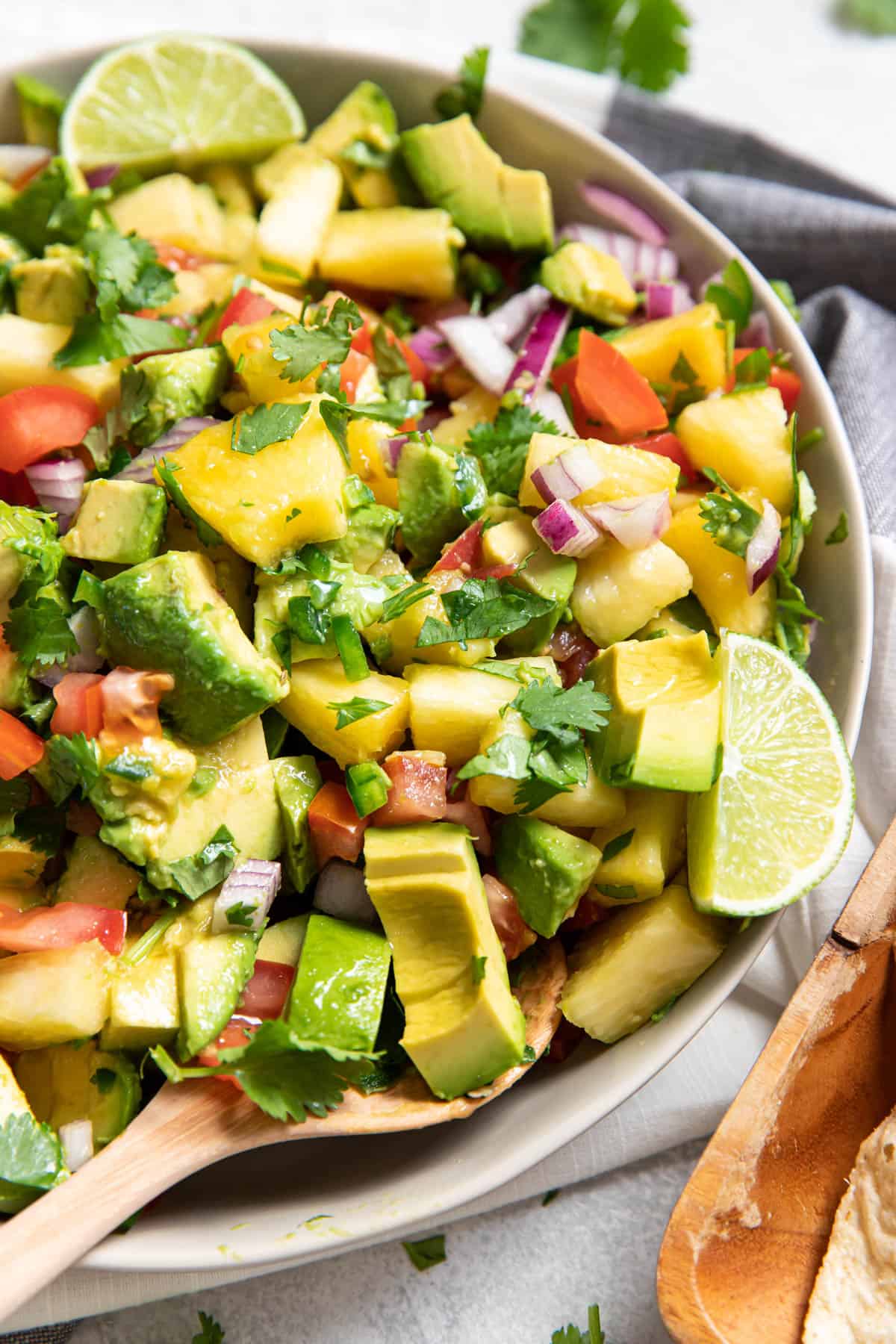 Southwest Recipes To Try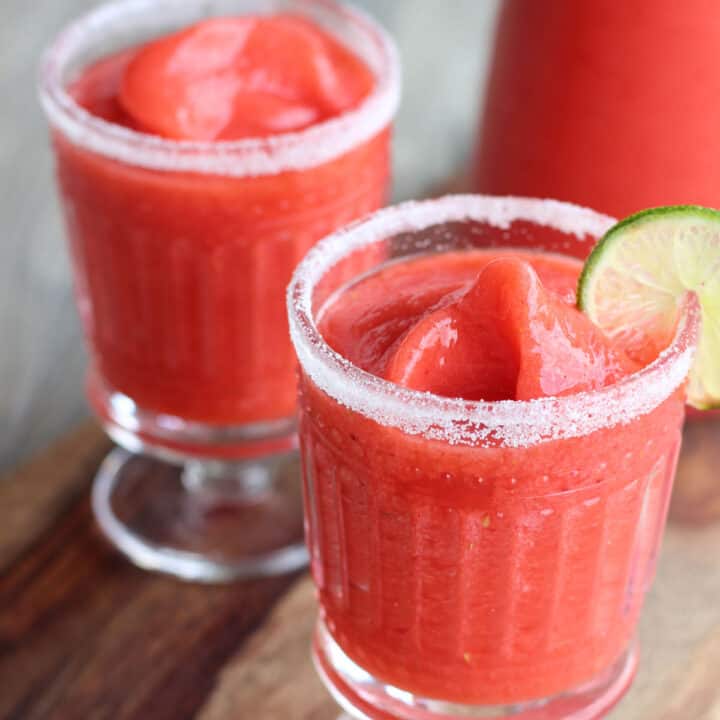 Famous Frozen Strawberry Margaritas
This frozen strawberry margarita recipe is beyond easy to make and so refreshing. Just a few ingredients and a blender is all you need! Everyone will be begging you for the recipe.
Ingredients
6 oz Jose Cuervo Blue Agave tequila
12 oz frozen limeade (1 can)
16 oz frozen strawberries
½ c fresh strawberries, stems removed
16 oz ice
Limes, optional
Sugar, optional
Instructions
Grab a blender
Add your ingredients starting with liquid first and ending with the ice
Blend until smooth
Pour white sugar onto a plate
Using a wet paper towel go around the rim of a glass
Dip the rim into the sugar
Fill your glasses with margarita and garnish with a lime!
Notes
20 Recipes to Make For Cinco de Mayo is packed full of delicious food to make this holiday! Make sure to check that out for some great margarita pairings.
Using both fresh and frozen strawberries are critical to this recipe being FAMOUS
Makes 50 oz
For really good southwest recipe to pair the margaritas with, read the blog post above!
Recommended Products
As an Amazon Associate and member of other affiliate programs, I earn from qualifying purchases.
Nutrition Information:
Yield:

5
Serving Size:

10 ounces
Amount Per Serving:
Calories:

180
Total Fat:

0g
Saturated Fat:

0g
Trans Fat:

0g
Unsaturated Fat:

0g
Cholesterol:

0mg
Sodium:

6mg
Carbohydrates:

22g
Fiber:

3g
Sugar:

16g
Protein:

1g
This information comes from online calculators. Although moderncrumb.com attempts to provide accurate nutritional information, these figures are only estimates.