These crock pot chicken enchiladas are amazing! Southwest spices and vegetables slow cook with chicken all day. Once it's done you turn all the liquid into a savory enchilada sauce. Plus the elote corn cooks up in minutes.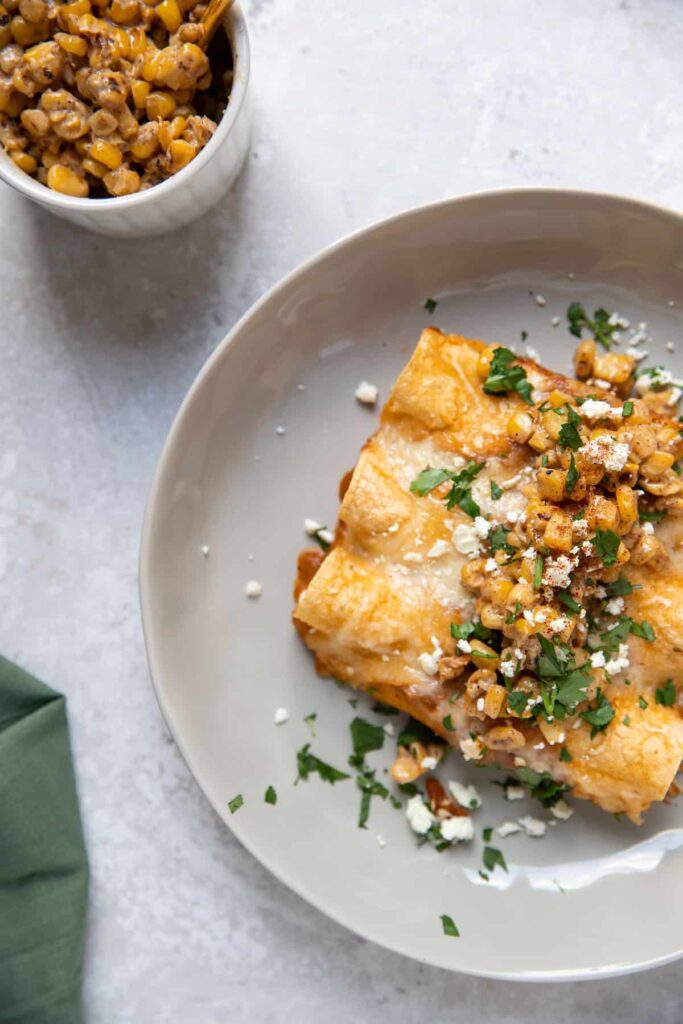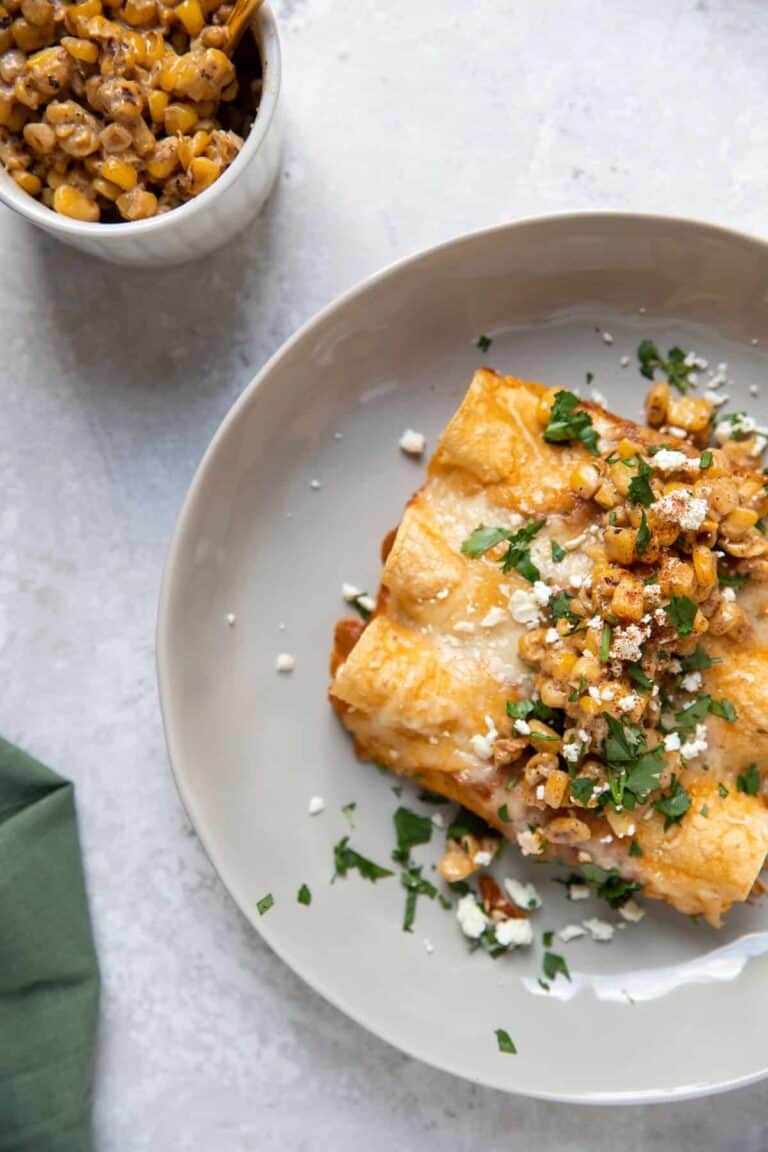 Crock Pot Chicken Enchiladas With Mexican Street Corn
Making enchiladas at home should be so easy! And making crockpot chicken enchiladas is going to be the easiest of all. Once you start messing with too many steps than it's just too tedious. The elote on top is such a special treat. Elote is a mexican street corn, it's creamy, savory and a bit zesty. You could eat it plain, that's how yummy it is! Don't be fooled by the fancy name either, it's way easy to make.
So we have easy crock pot chicken, easy elote corn the last thing is enchilada sauce! To get the chicken tasting amazing, it cooks with some southwest seasonings, onion, cilantro and a serrano pepper.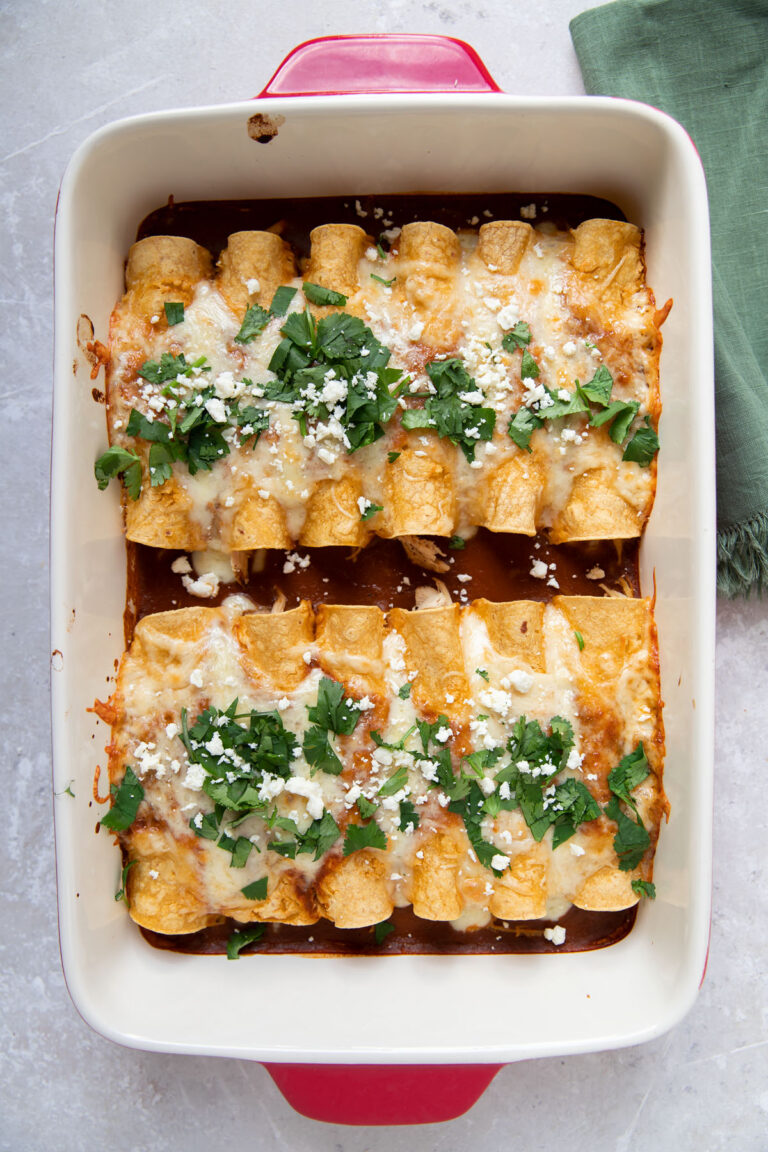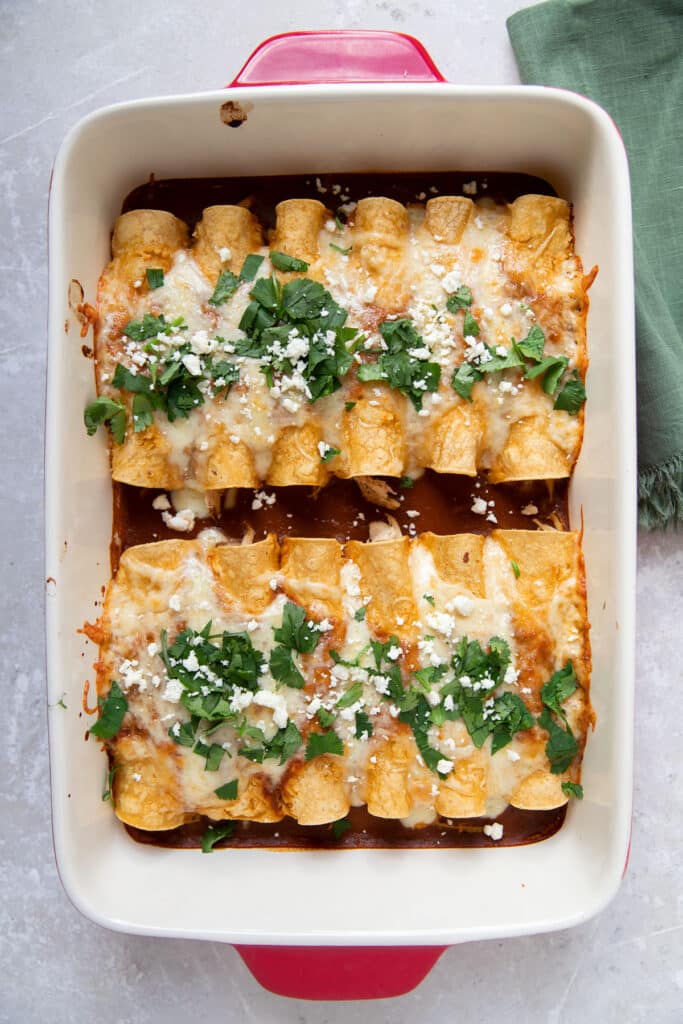 Instead of tossing all of that, you literally take the entire contents (minus the chicken), dump it in a blender and voila - your enchilada sauce!! And it's sooo good.
Roll the chicken up in corn tortillas with jack cheese, everything goes in a baking dish. Top it with the enchilada sauce, more jack cheese and bake. Once it's out of the oven you toss on your special elote corn!
How To Make Elote Corn
Elote is made with just a handful of ingredients. You can use frozen corn or fresh corn, but charring it on the stove is a crucial step. Everything cooks up together in a hot skillet to make for a yummy, savory Mexican street corn!
Frozen corn - if you have a fresh ear of corn go ahead and use it but frozen is usually on hand and easier
Lime juice - for all that zippy citrus flavor
Mayo - makes it nice and creamy
Sour Cream - additional creaminess
Cotija Cheese (or feta in a bind) - ooey gooey goodness
Chili Powder - for a bit of spice
Salt - to help enhance the flavor
Chicken Broth - this is optional, if it gets too thick or you make it ahead of time you can use chicken broth to thin it up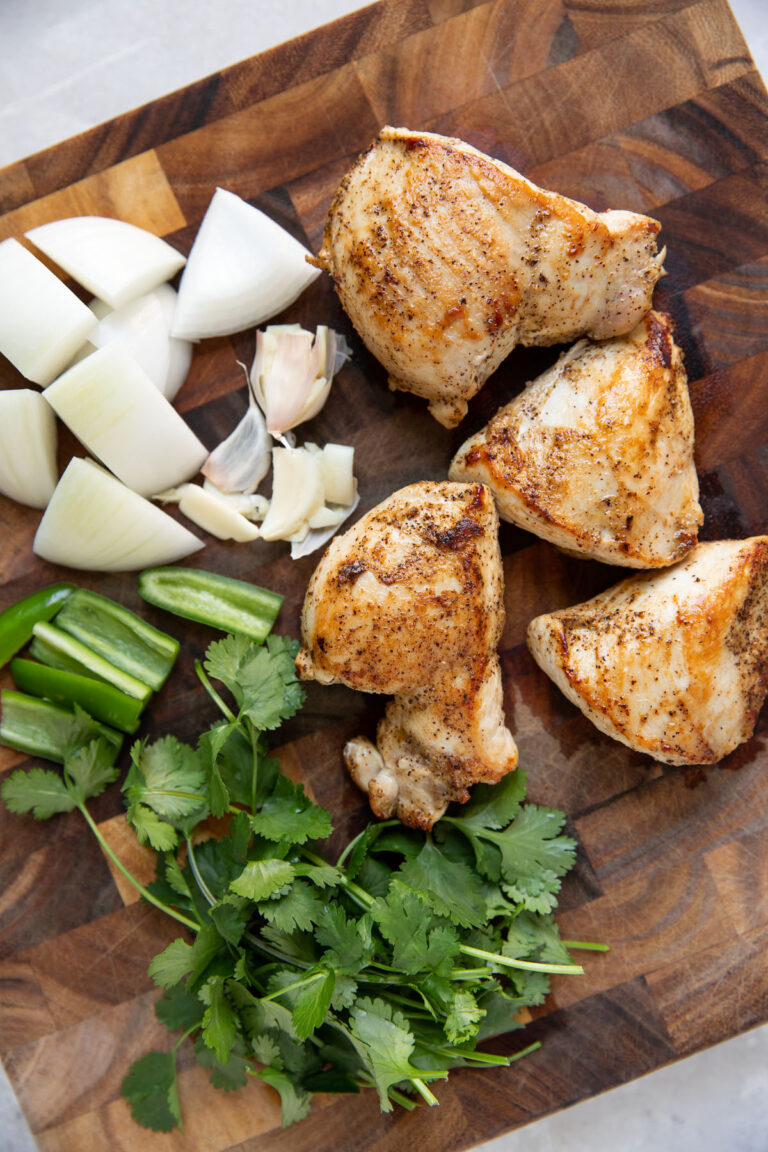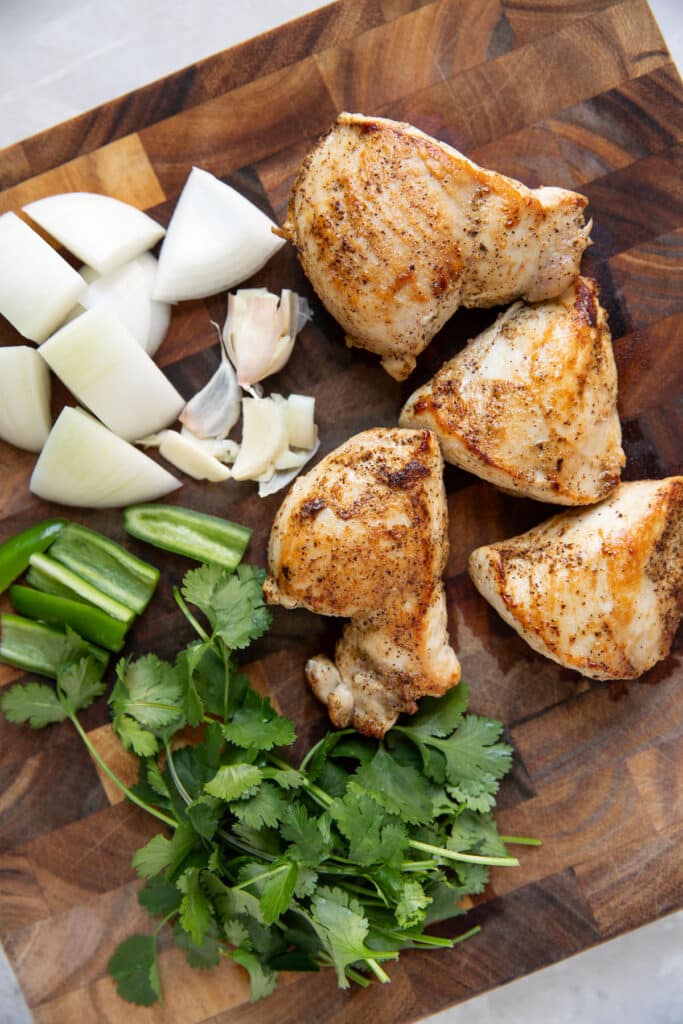 What Goes Inside The Crock Pot For The Enchiladas?
Here's what goes inside your crock pot. Remember, after the chicken cooks and you take it out, you'll dump all the ingredients in to a blender to make the scrumptious enchilada sauce!
Chicken breast
Cumin, chili powder, salt, pepper
Onion
Serrano pepper
Garlic cloves
Chicken broth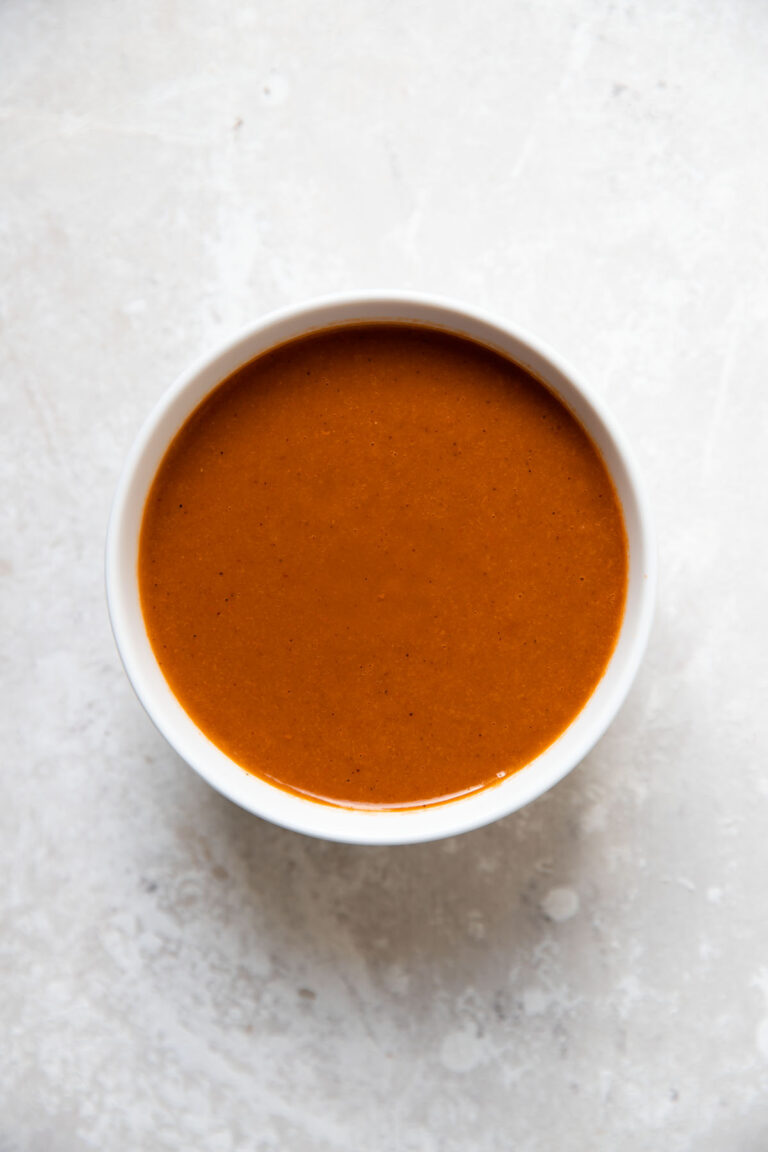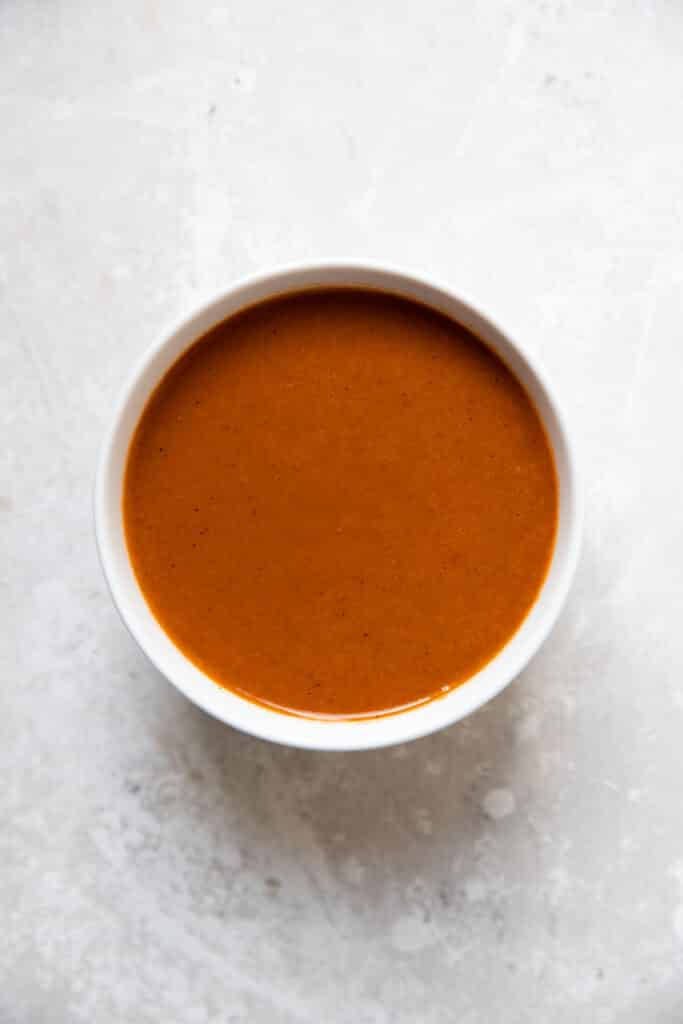 How to Roll up an Enchilada
If you've never made enchiladas before I could see how it could be a bit intimidating. But really it's not! I promise. Here are some quick steps and tips to making chicken enchiladas.
Lay a tortilla flat > fill it > roll it > place it in a baking pan with the seem side down
Always start with warmed corn tortillas (if not they will crack) - here are two of my favorite methods to heat them

stack some tortillas on a plate, cover with a damp paper towel and microwave until they are warm and steamy
heat a skillet to high heat, add a tortilla, flip when it start to char on the first side - transfer these tortillas to a clean kitchen towel, making sure to cover.

Don't overstuff the tortilla, it will break or ooze all over
Pour a bit of enchilada sauce into the baking pan before you start putting them in, this helps to get more flavor on to the enchiladas
See, it's pretty easy! Anyone can be an enchilada making master in their own home.
Not only are crock pot chicken enchiladas awesome for dinner but they are even better for lunch the next day!! Serve them up with my famous frozen strawberry margaritas.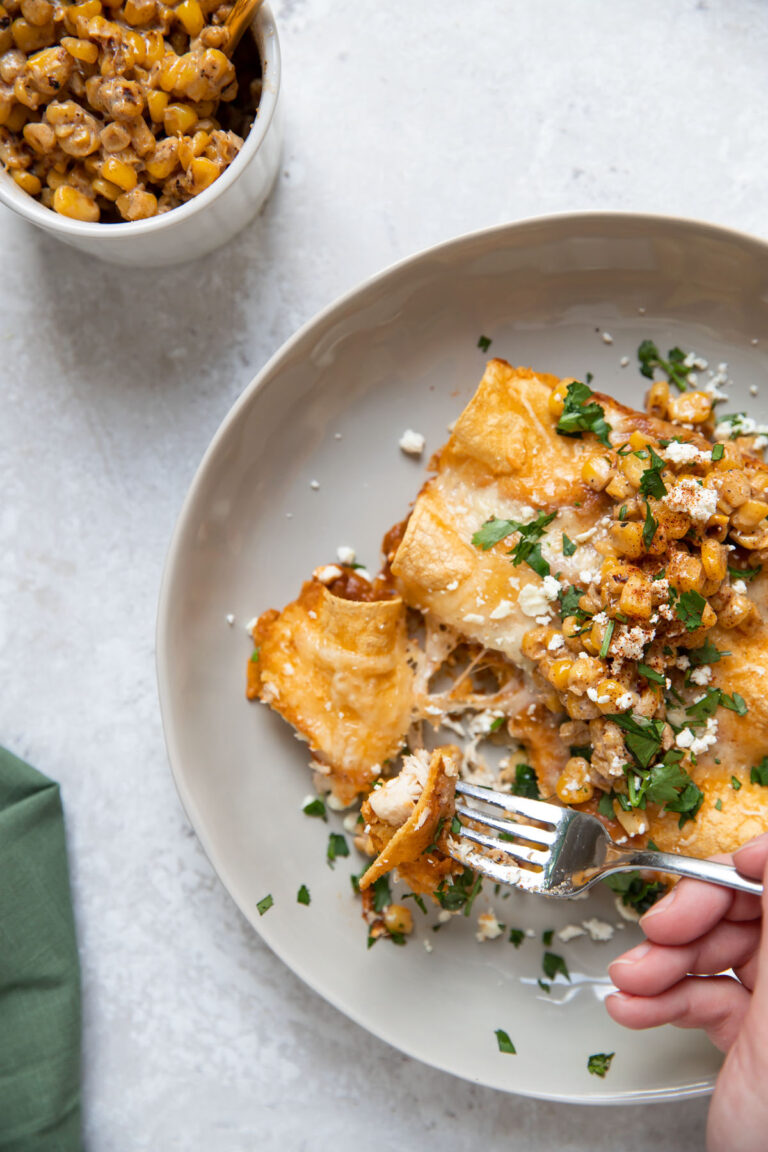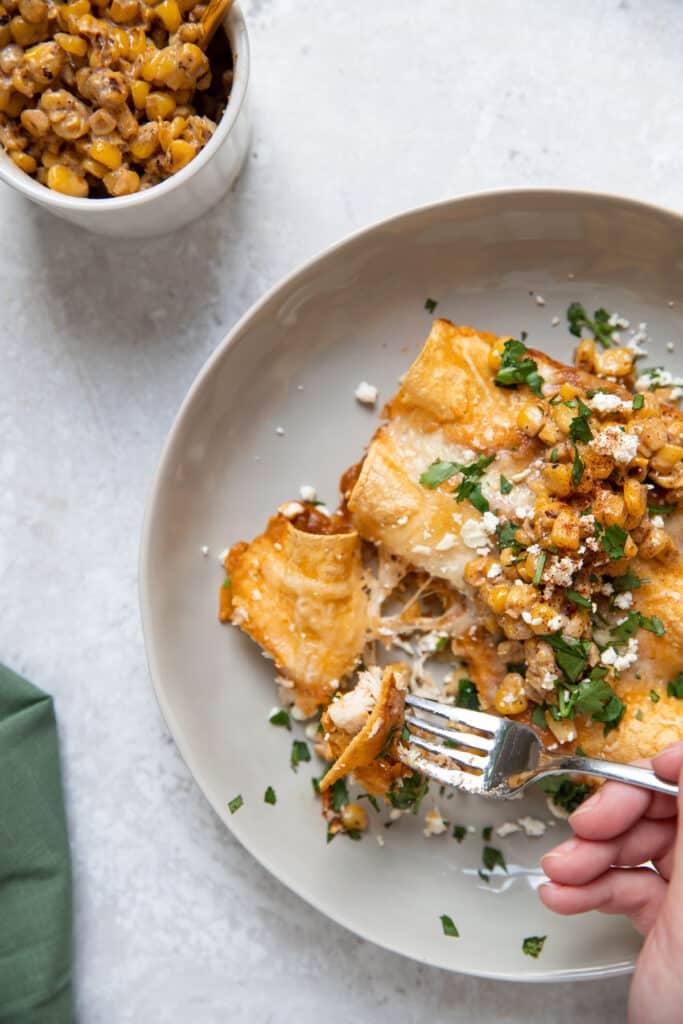 Check out these crock pot dinners
Make sure to follow the Modern Crumb Board on Pinterest for lots of yummy meal inspiration! And subscribe to the newsletter, below, to get updates when new recipes post.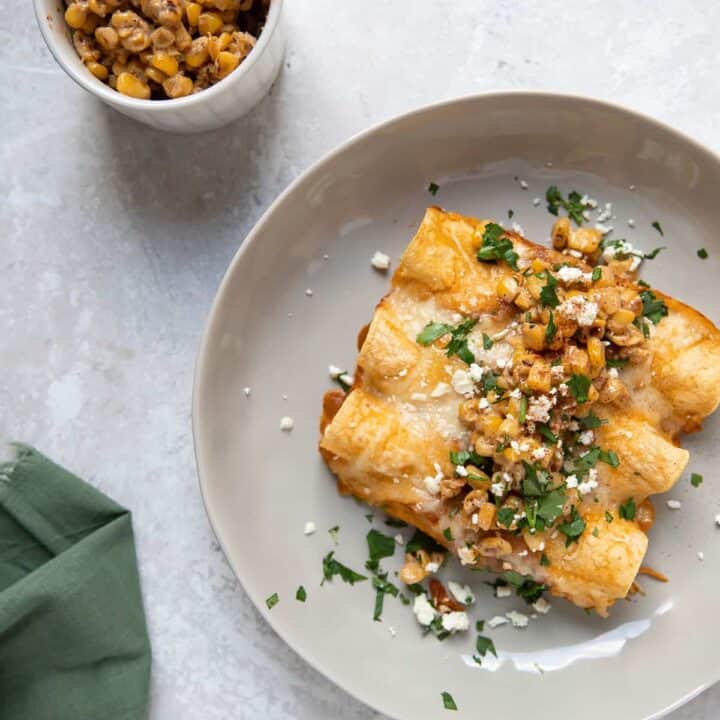 Crock Pot Chicken Enchiladas With Elote Corn
Cook Time:
8 hours
30 minutes
These crock pot chicken enchiladas are amazing! Southwest spices and vegetables slow cook with chicken all day. Once it's done you turn the liquid into a savory enchilada sauce. Plus the elote corn cooks up in minutes.
Ingredients
1 lb chicken breast, cut each breast in half so you have 4 pieces total
1 tsp salt
Pepper
1 tsp cumin
1 tsp chili powder
½ c onion, chopped
1 serrano pepper, insides removed
½ c chicken broth
Cilantro, a handful
2 garlic cloves
2 tbsp tomato paste
1 tbsp flour
corn tortillas, warmed in the microwave with a wet paper towel over top
8 oz jack cheese, grated
Elote Corn
1 package frozen corn, thawed
½ Lime juiced + more if you like
3 tbsp Mayo
2 tbsp Sour cream
¼ c cotija or feta cheese
¼ tsp chili powder
Pinch of salt
Instructions
Season the chicken with 1 tsp cumin, 1 tsp chili powder, 1 tsp salt and pepper
Sear the chicken in a pan with some olive oil
Transfer the chicken, onion, serrano pepper, cilantro, garlic and chicken broth to a small crockpot on low heat for 8 hours
Remove the chicken from the crockpot
Preheat oven to 350
Dump everything else from the crockpot in to a blender
To the blender also add 2 tbsp tomato paste and 1 tbsp flour
Blend until smooth, it may look a bit thin, don't panic it will thicken up in the oven
Pour half of the sauce on the bottom of the baking dish
Shred the chicken and add to warm tortillas with some jack cheese inside
Roll the tortillas up and line them up in the pan
Pour the rest of the enchilada sauce over top of the enchiladas
Sprinkle with remaining jack cheese
Bake for 20 min (finish at 400 if you want some crispness)
Cook the elote corn while the enchiladas bake
Heat a sauce pan to med/hot heat
Add the corn and char it
Turn the heat down to low and add the mayo, sour cream, lime juice, cotija cheese, chili powder and salt
Stir until combined and melty
Pull the enchiladas from the oven and top with the elote corn
Top with some fresh cilantro and serve!
Notes
You can use chicken broth to thin the elote corn if it gets too thick
Nutrition Information:
Yield:

8
Serving Size:

1 grams
Amount Per Serving:
Unsaturated Fat:

0g
Southwest Dinner Inspiration