Easy slow cooker chicken pho soup that is full of spices and vegetables. It's a fun twist on chicken noodle soup that you don't want to miss.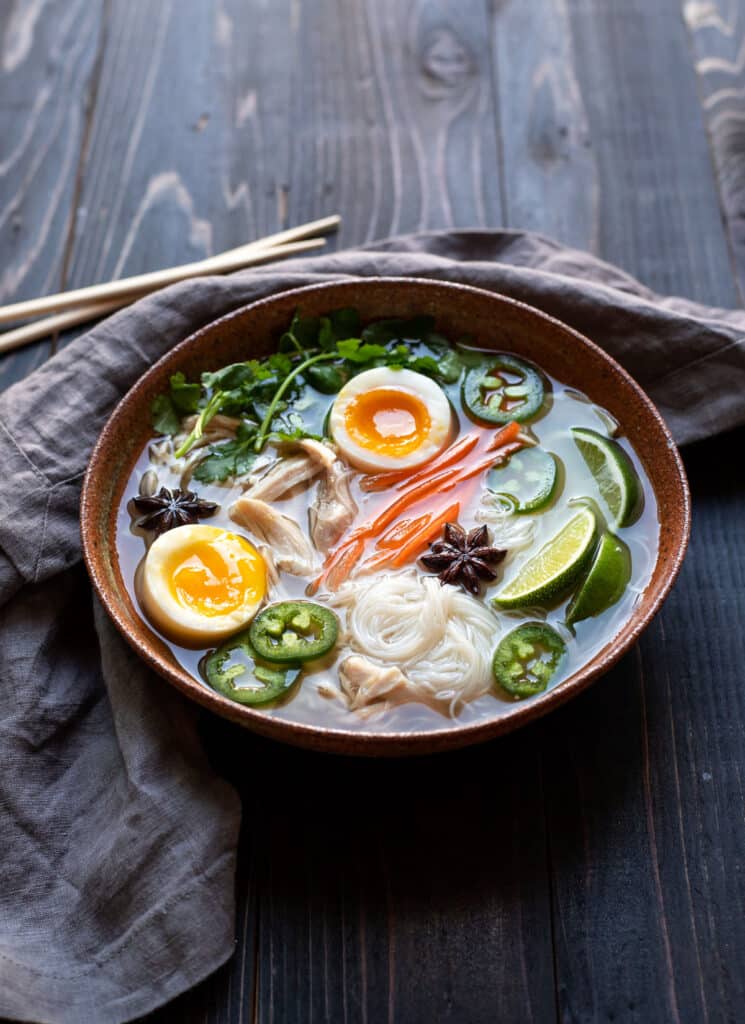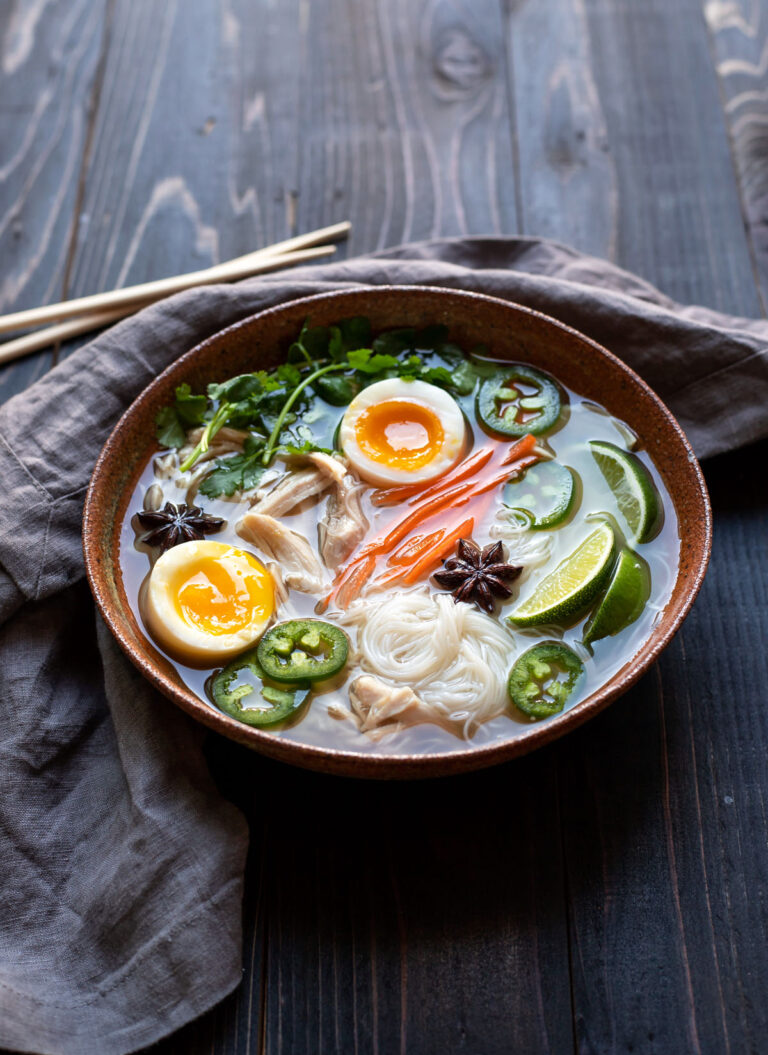 I hope you're having a wonderful week! 
I have a fun new recipe for you today.  Have you ever had Pho?
Pho is a Vietnamese soup consisting of broth, meat, herbs and rice noodles.  Think of it like chicken noodle soup for adults. 
My version is chock full of vegetables and a hearty broth that I slow cooked in my  slow cooker. 
Here's the best part, you can do a high heat 5 hour cook or a low heat 10 hour cook.
And it may not be the extreme traditional from a restaurant, it's the perfect at home recipe for us home cooks experimenting and having fun!
The best part about Pho is that there are no rules, you can add whatever you like and as little or as much.  I used cilantro for my herb and I really liked the fresh taste it offered to the soup. 
I also used vermicelli rice noodles, these are super skinny and take just minutes to cook.  All of the vegetables are added at the end, so you're left with a great crunchy texture.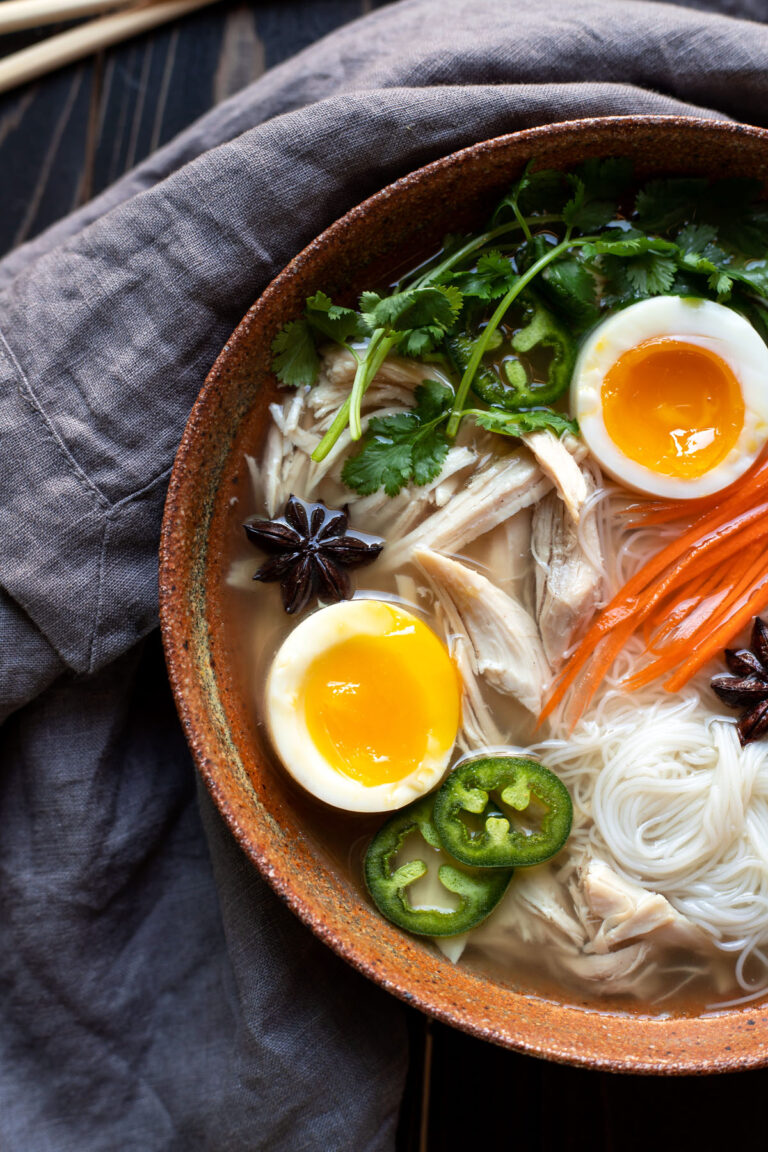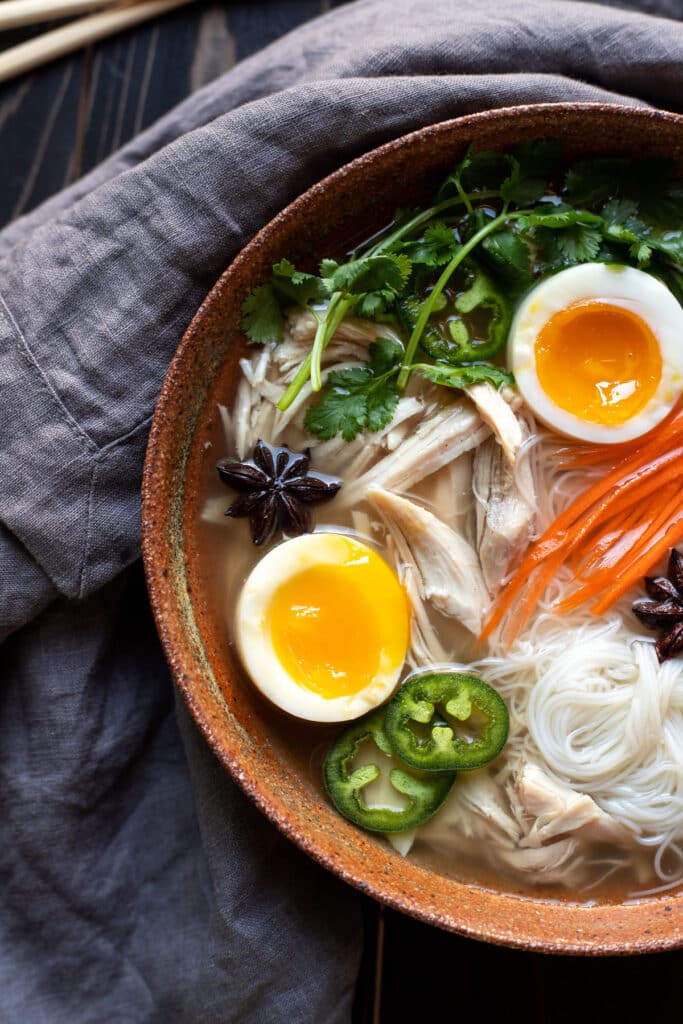 The addition of the star anise is crucial, in my opinion.  There's certain things you just don't want to leave out and that's one. 
Star anise is a spice, with a sort of licorice-type aroma, it's really pleasant and transforms this slow cooker chicken pho!  I just drop a few in. 
It's also neat to see how they grow in size in the liquid while it cooks.  
Whether jalapeño is your jam or not you'll want to drop a few in your bowl.  It's just a touch of spiciness. 
And please please please don't be daunted by the soft boiled egg. 
The best method I've found for soft boiled eggs 
bring water to a boil
turn heat down so it's simmering
gently put the eggs in using a slotted spoon
set time for 7 minutes
pull the eggs out and directly into cold water with ice cubes
after they are cool to the touch peel them
perfect soft boiled eggs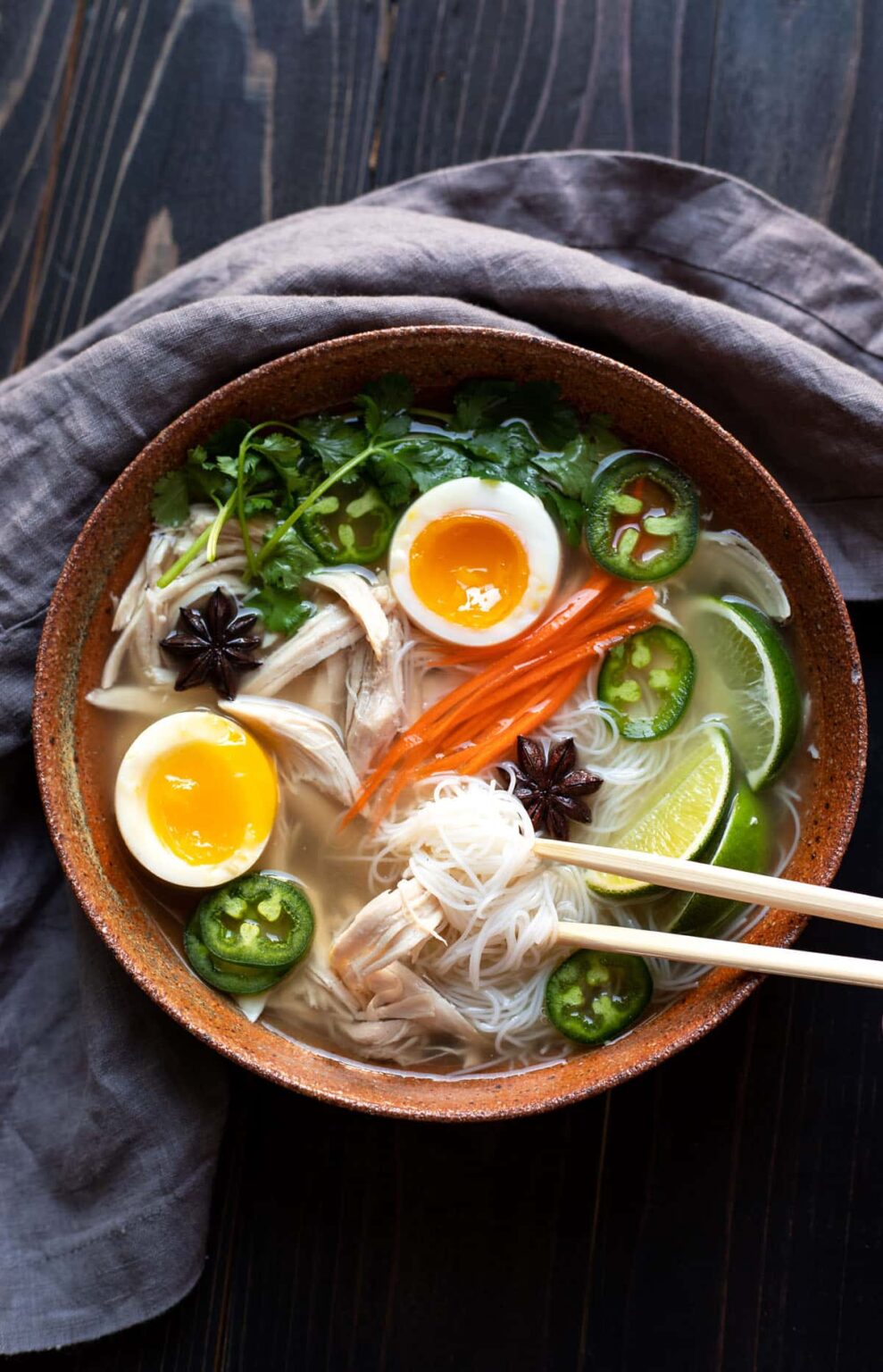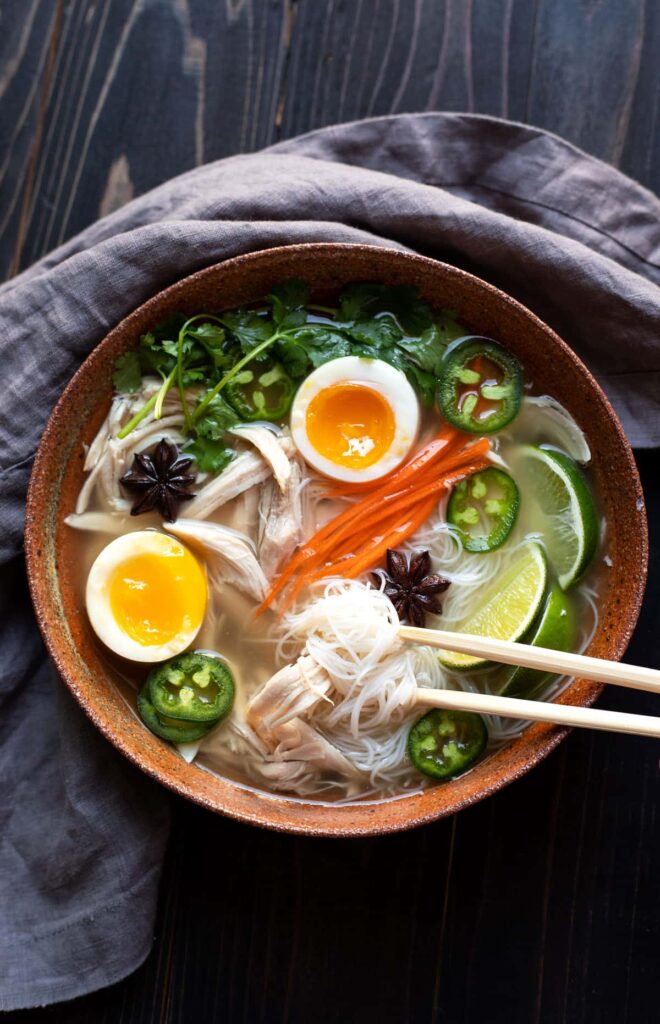 As long as your whites are fully cooked you'll be in good shape, if you cut an egg open and it ever looks like the white is not fully cooked then discard and try again. 
These ones the whites are completely cooked and part of the yellow is firm as well just the very middle is runny (think like when you have a sunny side up or fried egg) Or just leave it off all together. 
I kept everything simple for you and I know this is a recipe you will be able to easily make your family.
We had my entire family over for bowls of this slower cooker chicken Pho and it got rave reviews, even the kids enjoyed slurping down the noodles. 
It's so close to a chicken noodle soup that it's a friendly recipe for kids.  
If you are looking for something to serve with this you could pair it with Crispy Baked Cream Cheese Wontons or some nice spring or summer rolls.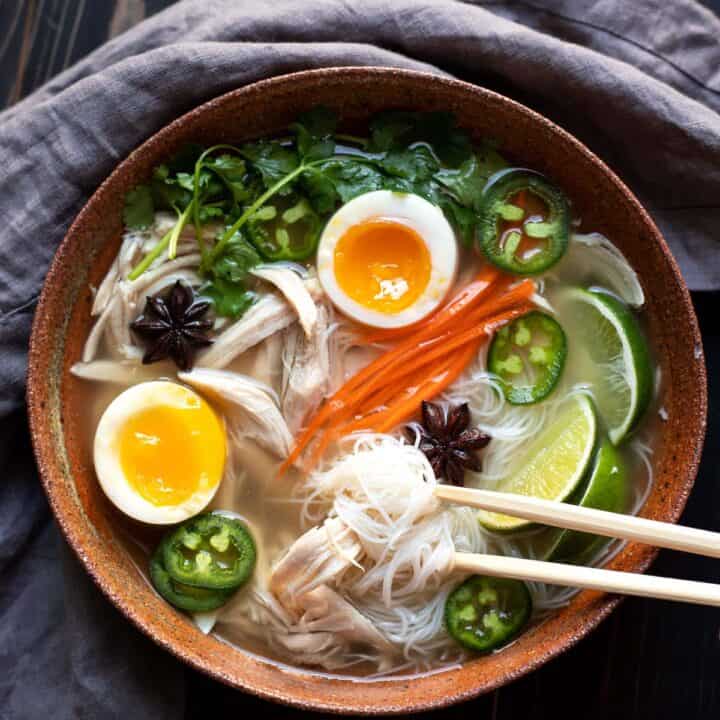 Slow Cooker Chicken Pho Soup
Easy slow cooker chicken pho soup that is full of spices and vegetables. It's a fun twist on chicken noodle soup that you don't want to miss.
Ingredients
1 whole chicken
4 c water
1 piece of ginger, ¼ cup
1 sweet yellow onion
1 shallot, entire bulb
2 star anise
½ tsp corriander
½ tsp salt
1 tbsp + 1tsp fish sauce
vermicelli noodles
2 carrots, peeled and julienned
1 jalapeno, sliced
eggs, soft boiled (see post for soft boiled egg tips)
cilantro, chopped
lime wedges
salt to taste
Instructions
Set the slow cooker on high for 5 hours OR low for 8-10 hours (decide which you'll use)
Add a cleaned, whole chicken, to the crockpot
Char the onion, shallot and ginger either under a broiler or carefully over the flame of a gas stovetop, cool and peel the charred skins off
Chop these up and toss them in to the slower cooker along with the water, star anise, coriander, salt and fish sauce
Turn the slow cooker off once the time is up and using tongs transfer the chicken to a cutting board (make sure there isn't any liquid in the chicken cavity prior to transferring)
Pull off all the good meat and shred with two forks, add to a soup pot
Use a gravy separator for the broth, discard any fatty liquid and pour the good broth into the pot with the chicken (to remove any extra debris you can restrain through a fine mesh sieve)
Keep warm on low heat
Cook the vermicelli noodles per package instruction
Grab a bowl and add the chicken and broth, noodles, carrots, cilantro, jalapeño and soft boiled eggs
Garnish with limes
Nutrition Information:
Serving Size:

1 grams
Amount Per Serving:
Unsaturated Fat:

0g