Crispy baked cream cheese wontons, you won't even miss the fried version of this! The cream cheese is creamy, sweet, slightly spicy and delicious!
These yummy little wontons pair perfectly with beef and broccoli noodles, orange chicken, mongolian beef and this asian chicken salad.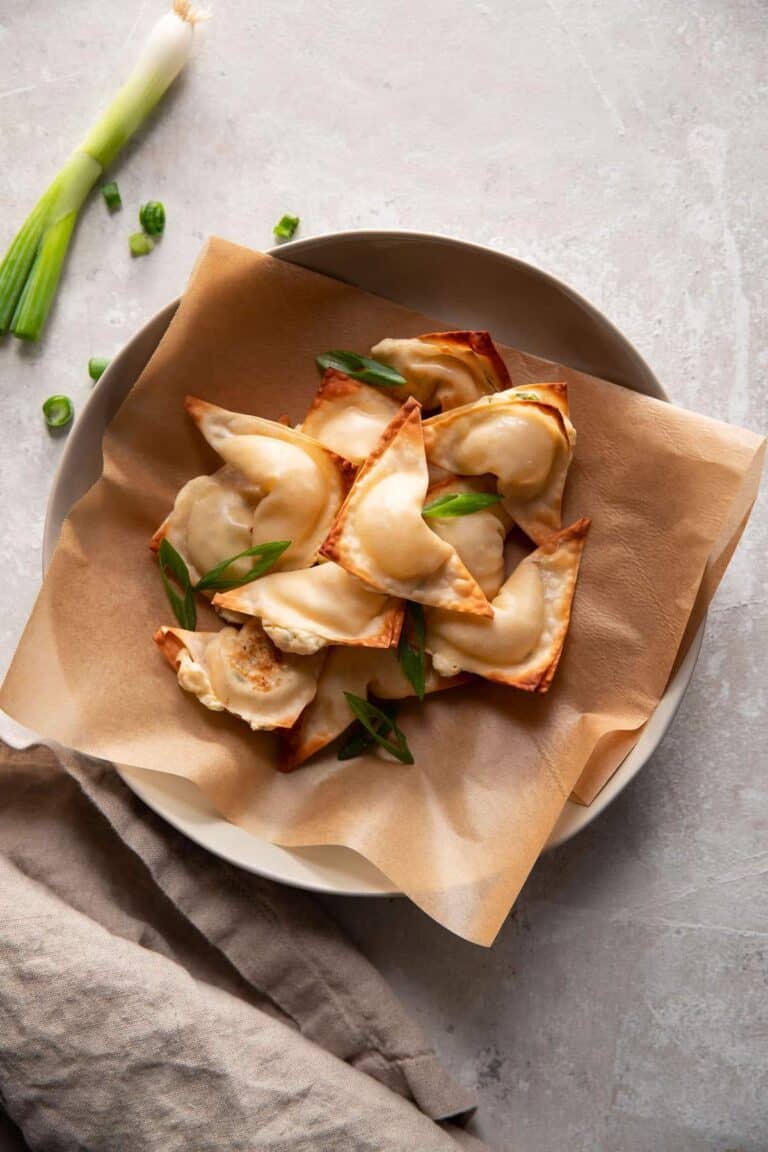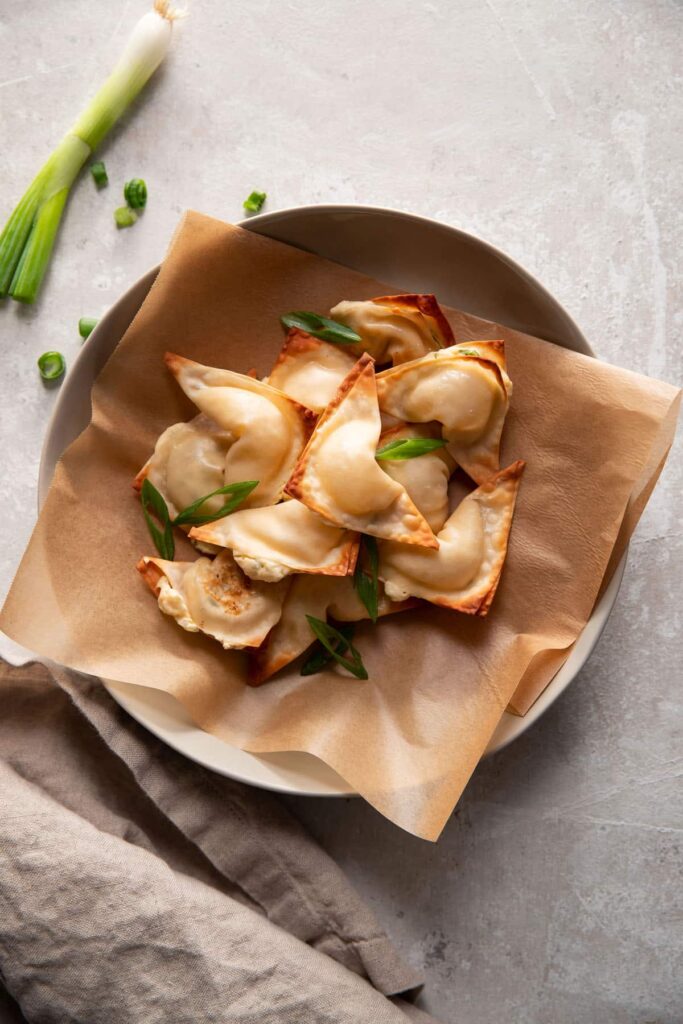 This post was originally published on 09/1/2017.
I have yet to meet a person who isn't a fan of the ever so popular baked cream cheese wontons. Also known as the crab rangoon, but spoiler alert, there is no crab in these.
Every time we would order Chinese food we always get them but I'm never crazy about the way the fried cream cheese wontons would leave me feeling bad after.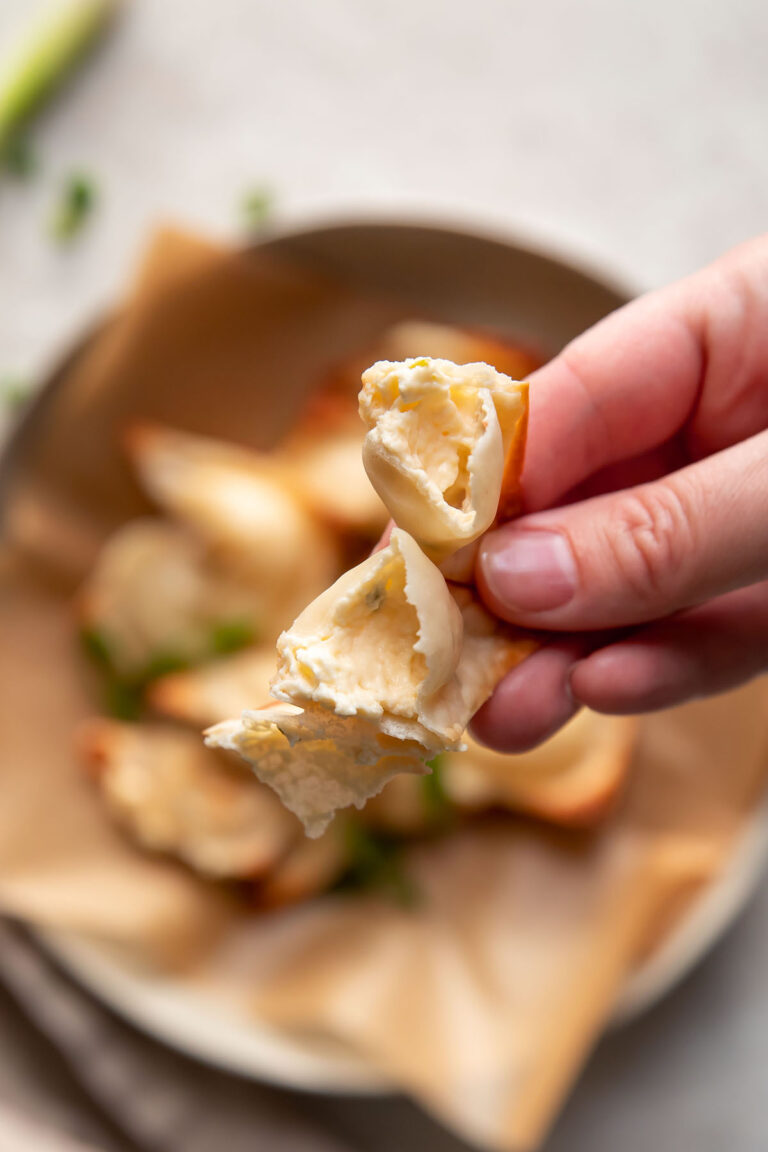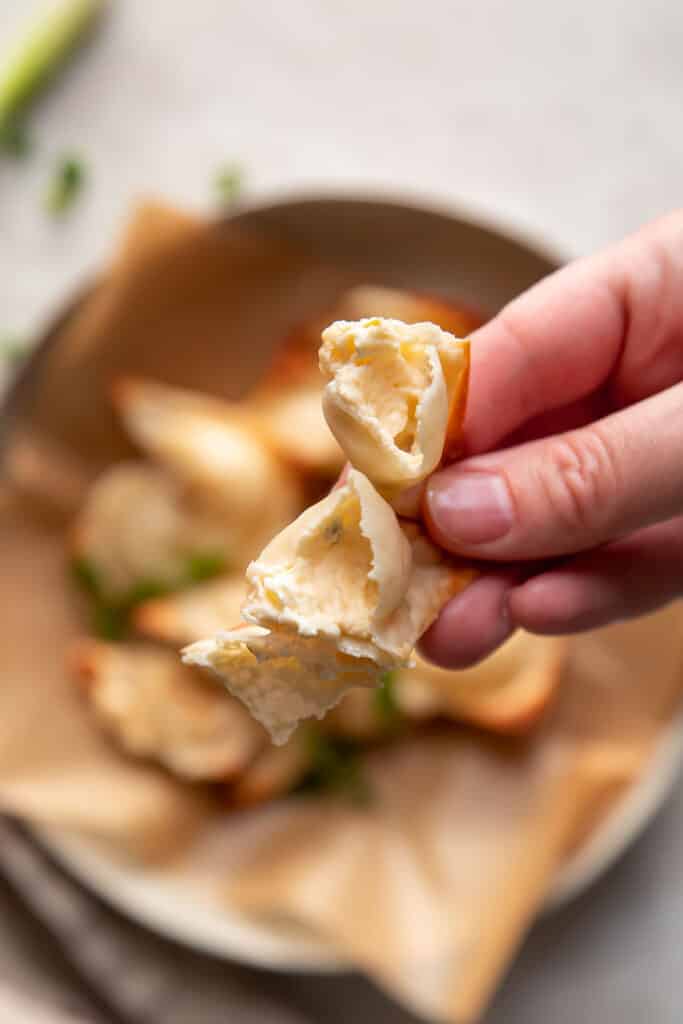 The oil can be so heavy. So making them at home, with ingredients I know and trust wound up being the route I took.
I set out on a mission to remake the flavors I love so much! The idea had been brewing in my head for years, the time was now.
A little experimenting and my family would agree, I nailed it. I had them at cream cheese, honestly.
Cheese is to Moore's like pollen to a bee. Needless to say, we devoured them, even the kids enjoyed them.
The cheese mixture is creamy, sweet, slightly spicy and oh so good.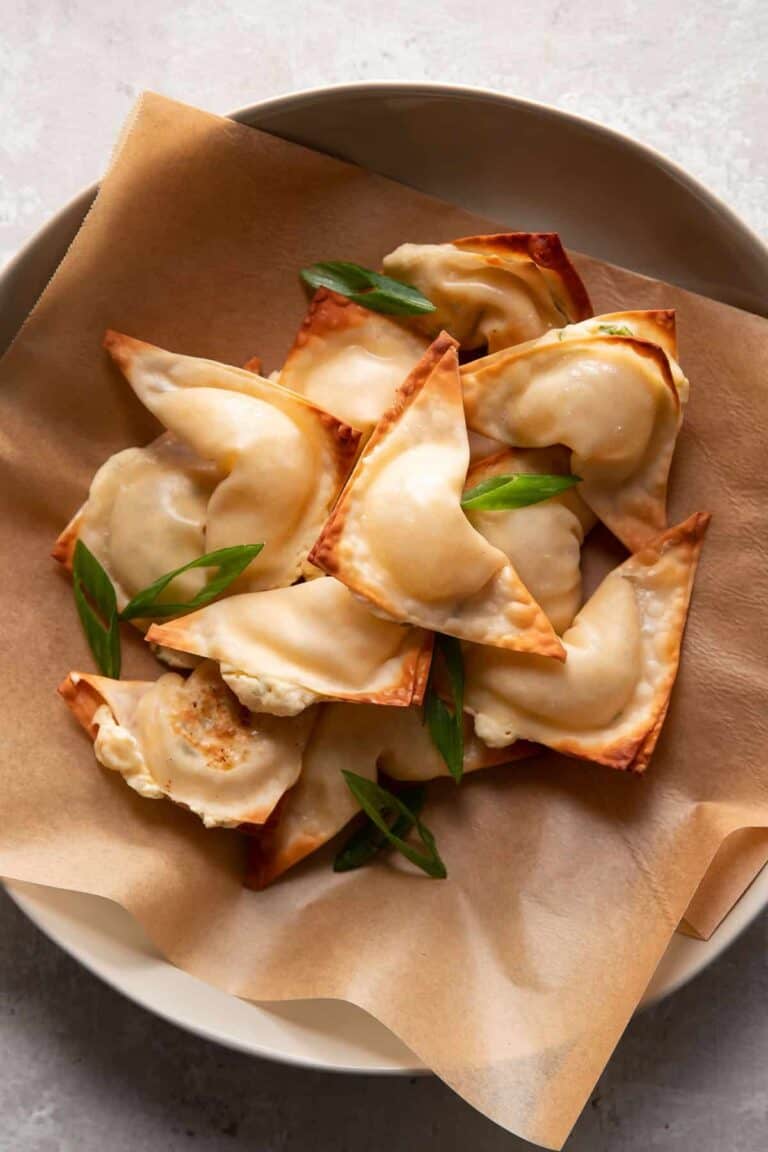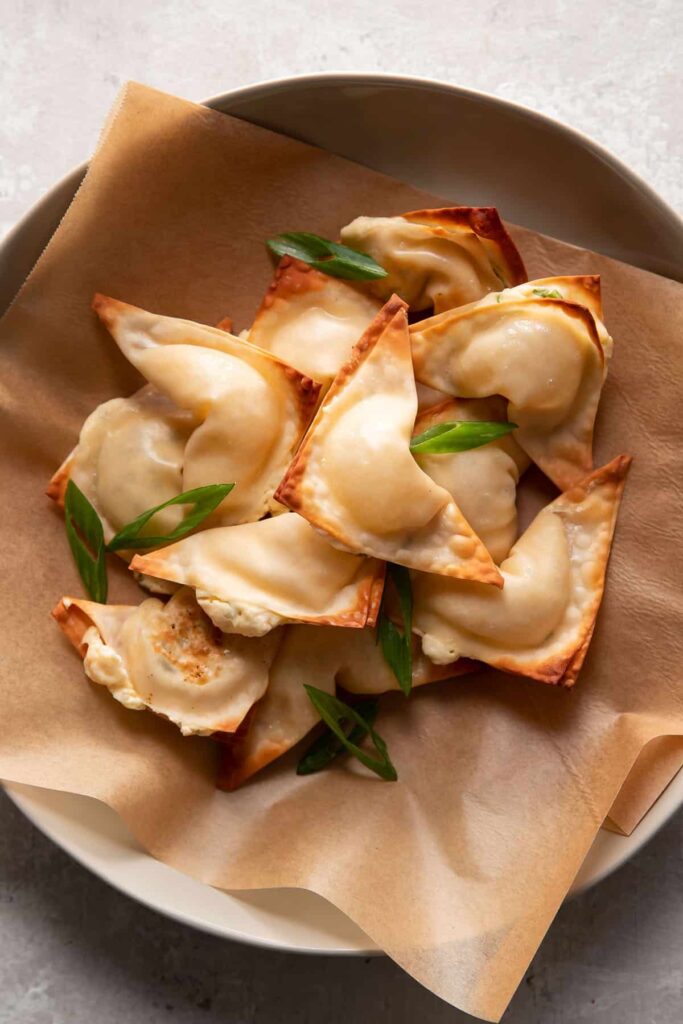 How To Get Cream Cheese Wontons Crispy When Baked
The thing I really dig about these is that I bake them, no frying necessary. The texture is great, slightly crispy on the edges.
All you need to get them nice and crispy is some cooking spray. I prefer a good quality organic cooking spray, one that doesn't have a strong smell or taste to it.
Lay all the wontons out, and do a quick motion of your wrist to spray them. They don't need a ton of spray, just a mist.
My husband actually made the batch in the photos, if he can do it, anyone can!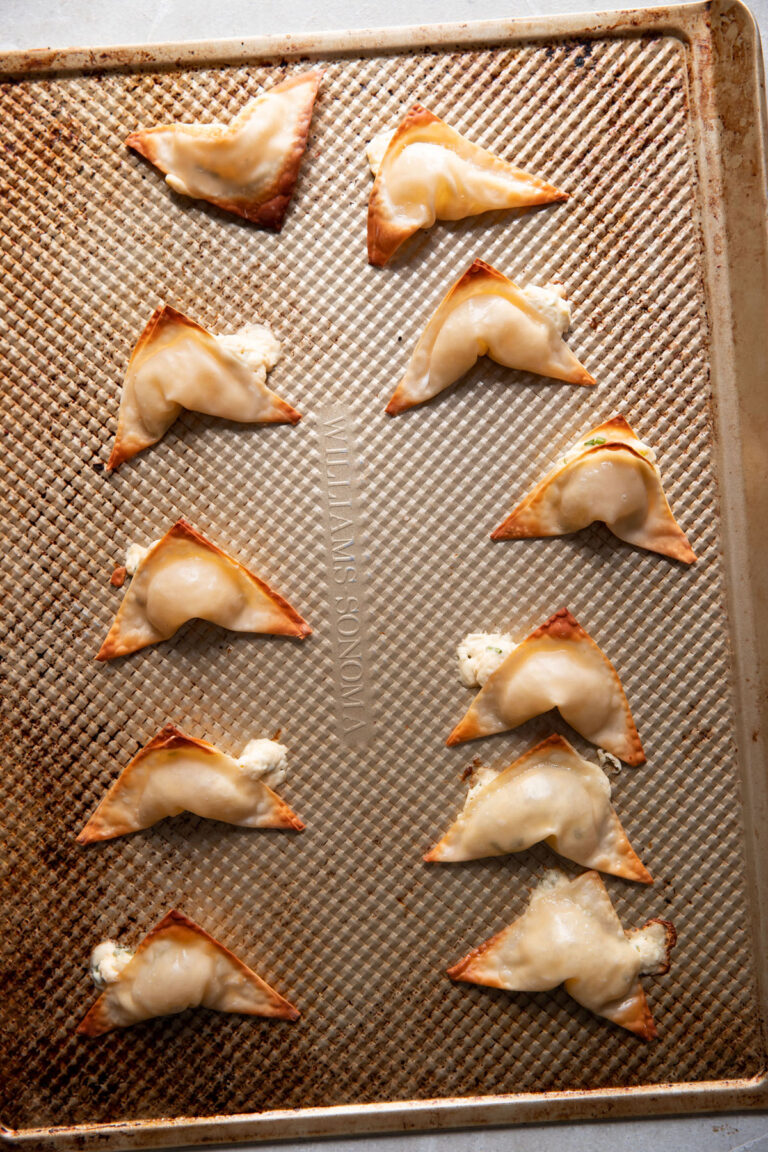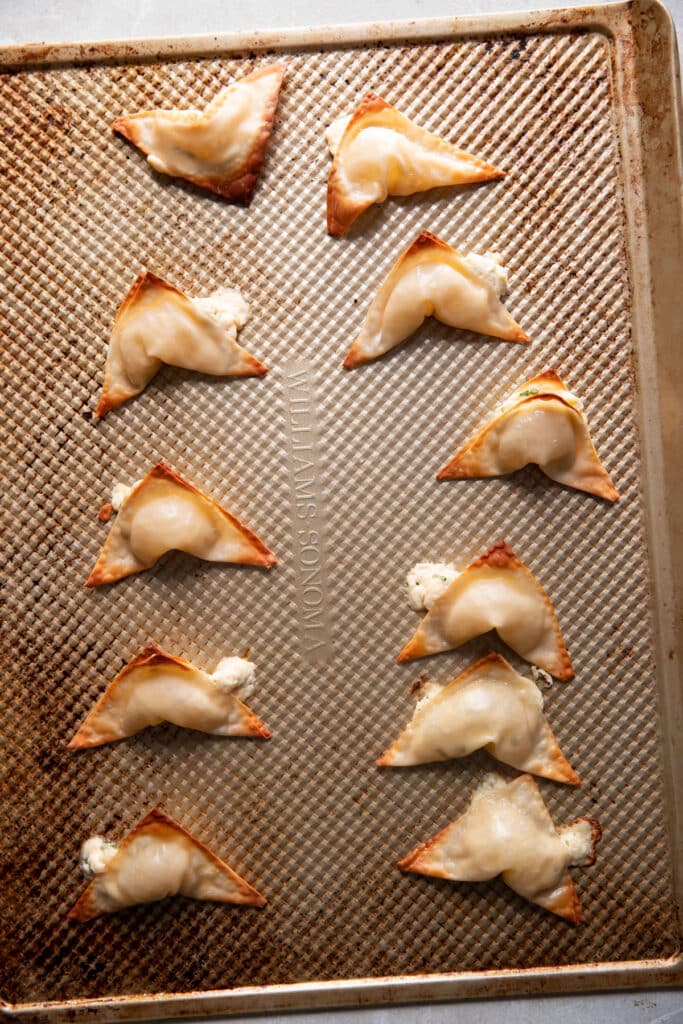 What To Use To Wrap Cream Cheese Wontons
You can get wonton wrappers in your local grocery store, they can be hard to find so it's best to ask someone.
But they will be in a refrigerated section and they have to keep refrigerated after you buy them. I think the ones I get are usually near the tofu.
Once you use them they tend to dry out quickly, so it's best to just make a ton of them within the week!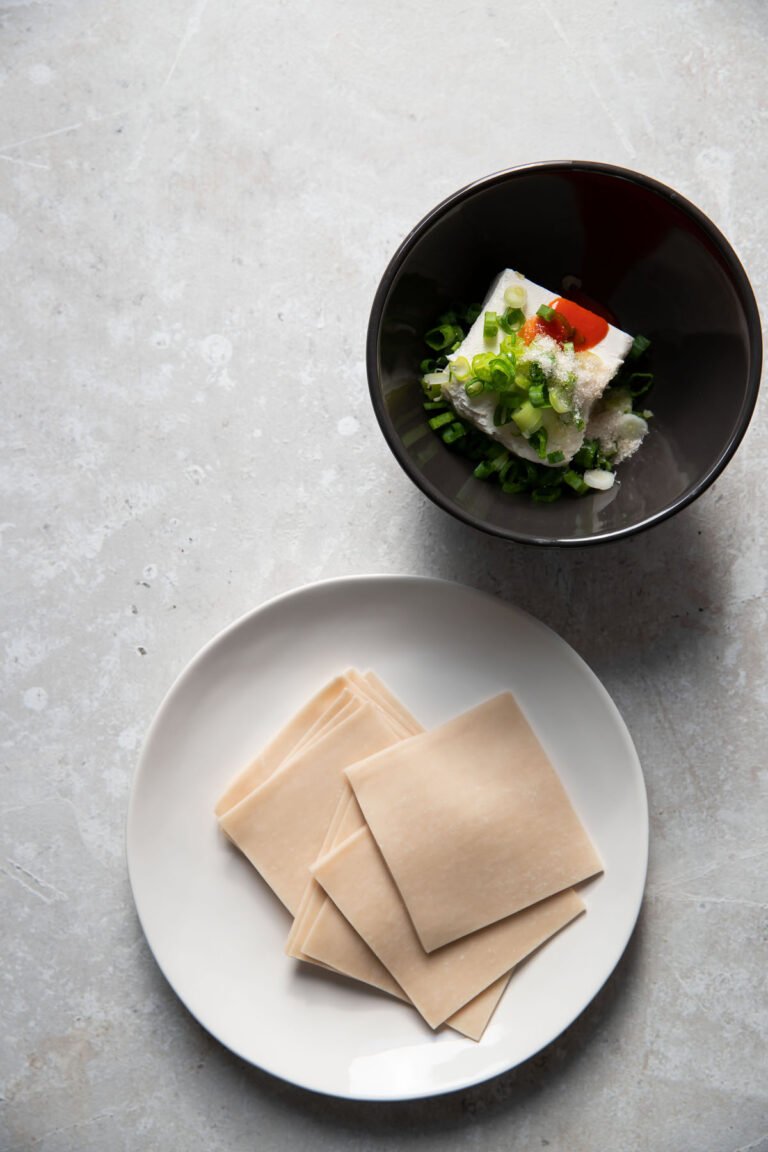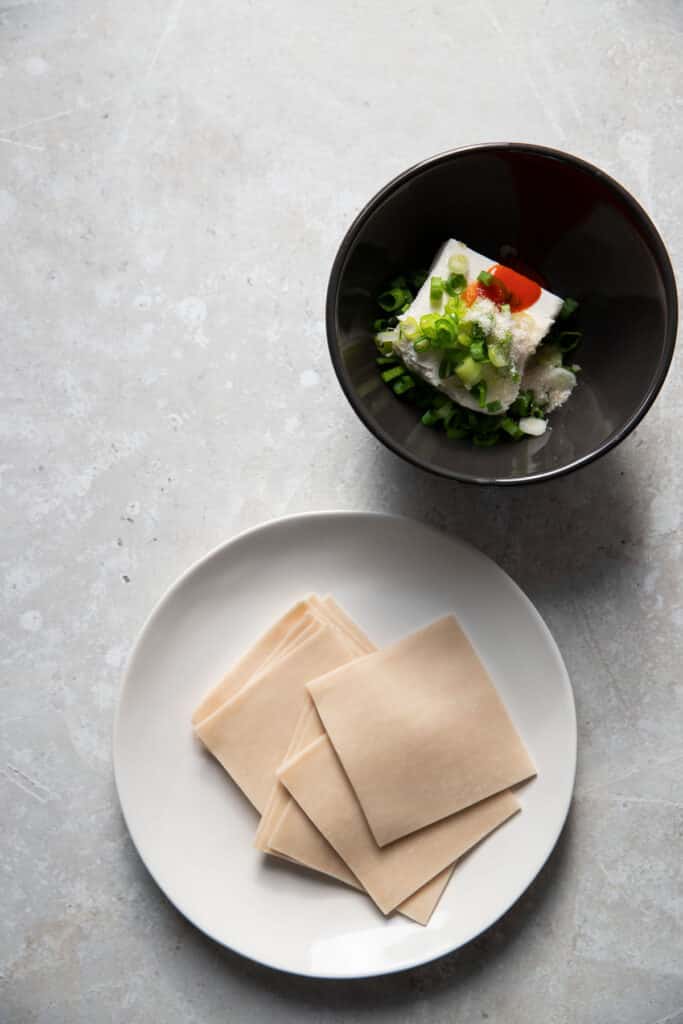 How To Fold Cream Cheese Wontons
Folding couldn't be easier.
All you need is a little bowl of water.
Lay a wonton out flat, spoon a little bit of cream cheese mixture on to the middle, if you put too much it will ooze out the sides. So 1-2 teaspoons is the perfect amount.
Dip your finger in the water and trace around the edge of the wrapper.
Take one end and fold it to the other, so it makes a triangle shape.
Dip your finger in the water again and then go over the edges once more.
Now you can stop here, or you can pick up the wonton, take the two edges and sort of bend them toward the center to give them a little crescent shape.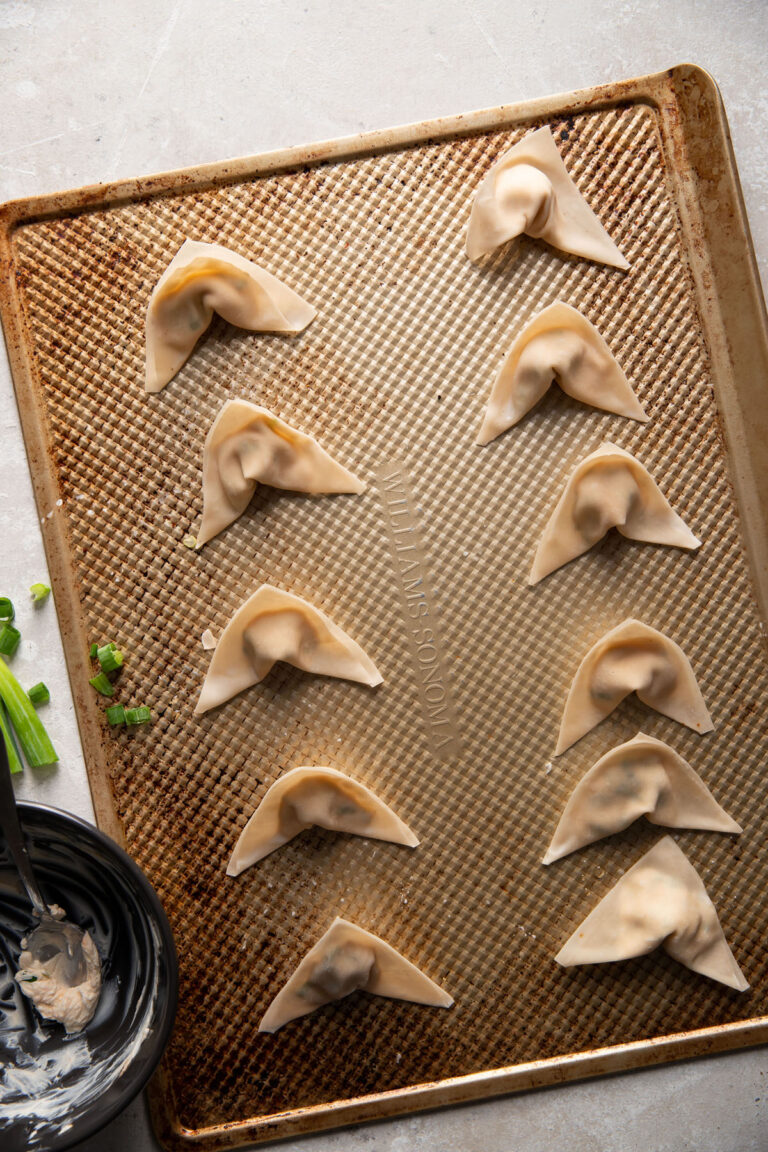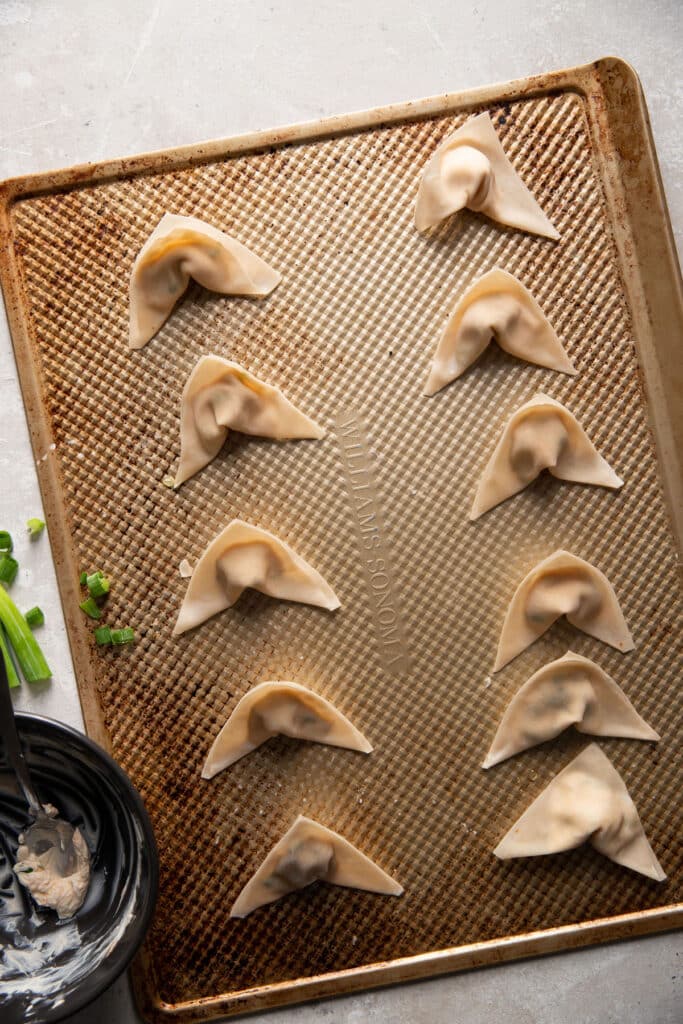 Can You Freeze Cream Cheese Wontons
I mean. You can freeze anything. But would they still be good? Probably not.
Honestly, I've never tried freezing these - we always eat every single one.
I can say that we had a couple left one night, recently, and put them in the fridge and they were not awesome the next day.
This is a super simple recipe and I hope you enjoy them as much as my crew does.
You can make double a recipe and be eating baked cream cheese wontons until the cows come home.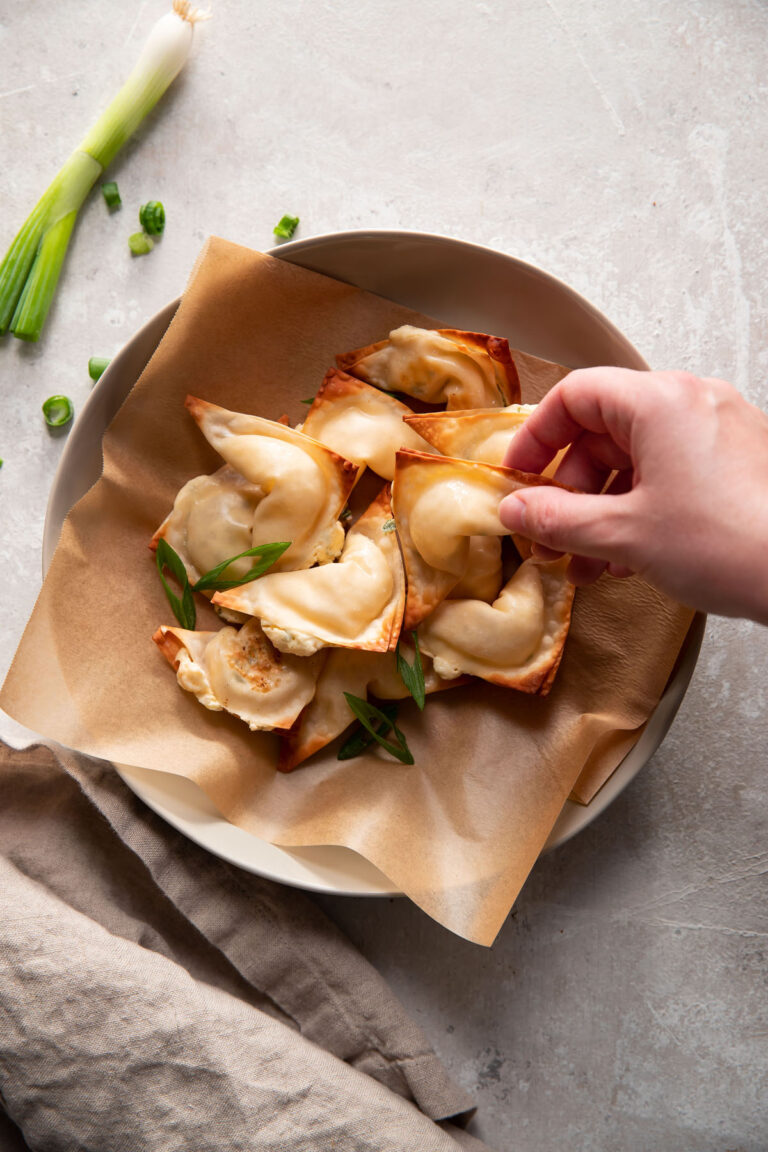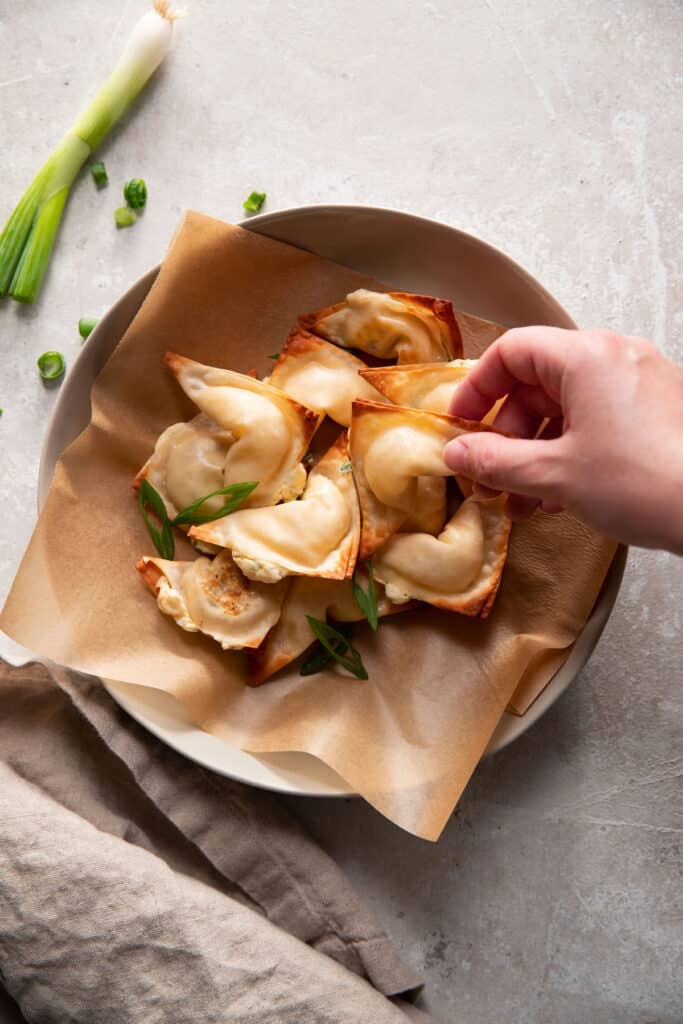 What To Serve With Cream Cheese Wontons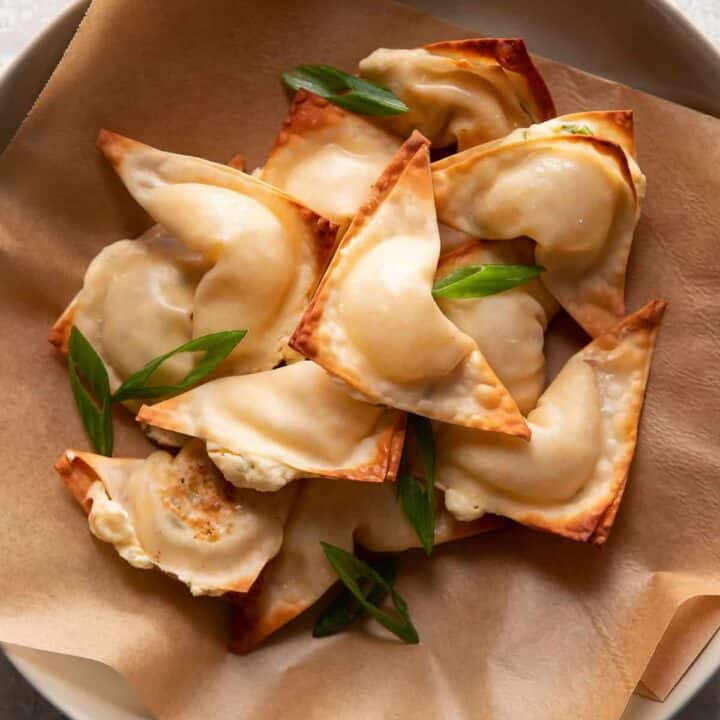 Baked Cream Cheese Wontons
Crispy baked cream cheese wontons, you won't even miss the fried version of this. The cream cheese is creamy, sweet, slightly spicy and delicious!
Ingredients
12 wonton wrappers
4 oz cream cheese
1 green onion
½ tsp Sriracha
1 tsp sugar
cooking spray
Instructions
Preheat oven to 400 degrees.
Line a baking sheet with parchment paper
Dice your green onion thinly (white and the green) and then give it a rough chop to get it into even smaller bits
Grab a bowl and add your cream cheese, green onion, Sriracha, sugar and mix together
Lay out the wonton wrappers and dollop roughly 2 tsp of mixture onto each one
Use water, dip your finger in it and go along the outer edge of a wonton (do this one by one not all at the same time or it dries out)
Fold them in half, but so they end up like a triangle, laying them on the baking sheet after being folded
Repeat
Quickly give them a spritz with some baking spray (this gets them crispy)
Bake for 8 minutes or until golden
Remove and serve immediately
Recommended Products
As an Amazon Associate and member of other affiliate programs, I earn from qualifying purchases.
Nutrition Information:
Yield:

12
Serving Size:

4
Amount Per Serving:
Calories:

59
Total Fat:

3g
Saturated Fat:

2g
Trans Fat:

0g
Unsaturated Fat:

1g
Cholesterol:

10mg
Sodium:

81mg
Carbohydrates:

6g
Fiber:

0g
Sugar:

1g
Protein:

1g
This information comes from online calculators. Although moderncrumb.com attempts to provide accurate nutritional information, these figures are only estimates.
Make sure to follow the Modern Crumb Board on Pinterest for lots of yummy meal inspiration! And subscribe to the newsletter, below, to get updates when new recipes post.