This spicy Korean chicken is so insanely good plus its mixed with a big variety of vegetables and even fruit!  Green beans, sweet onions, pears, red bell peppers and green onions.
It pairs perfectly with a batch of homemade baked cream cheese wontons!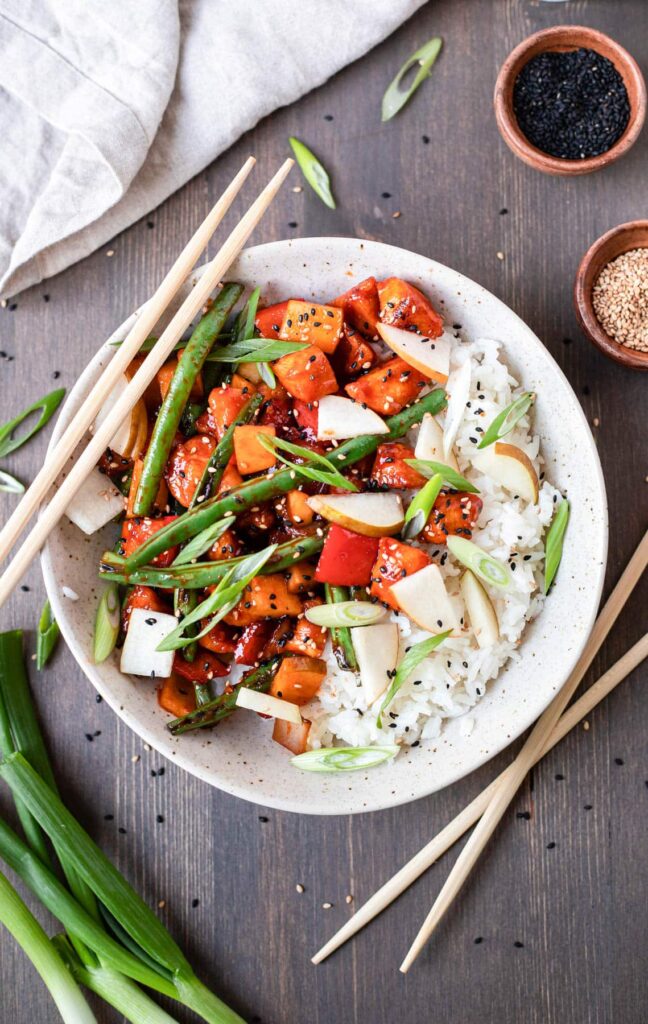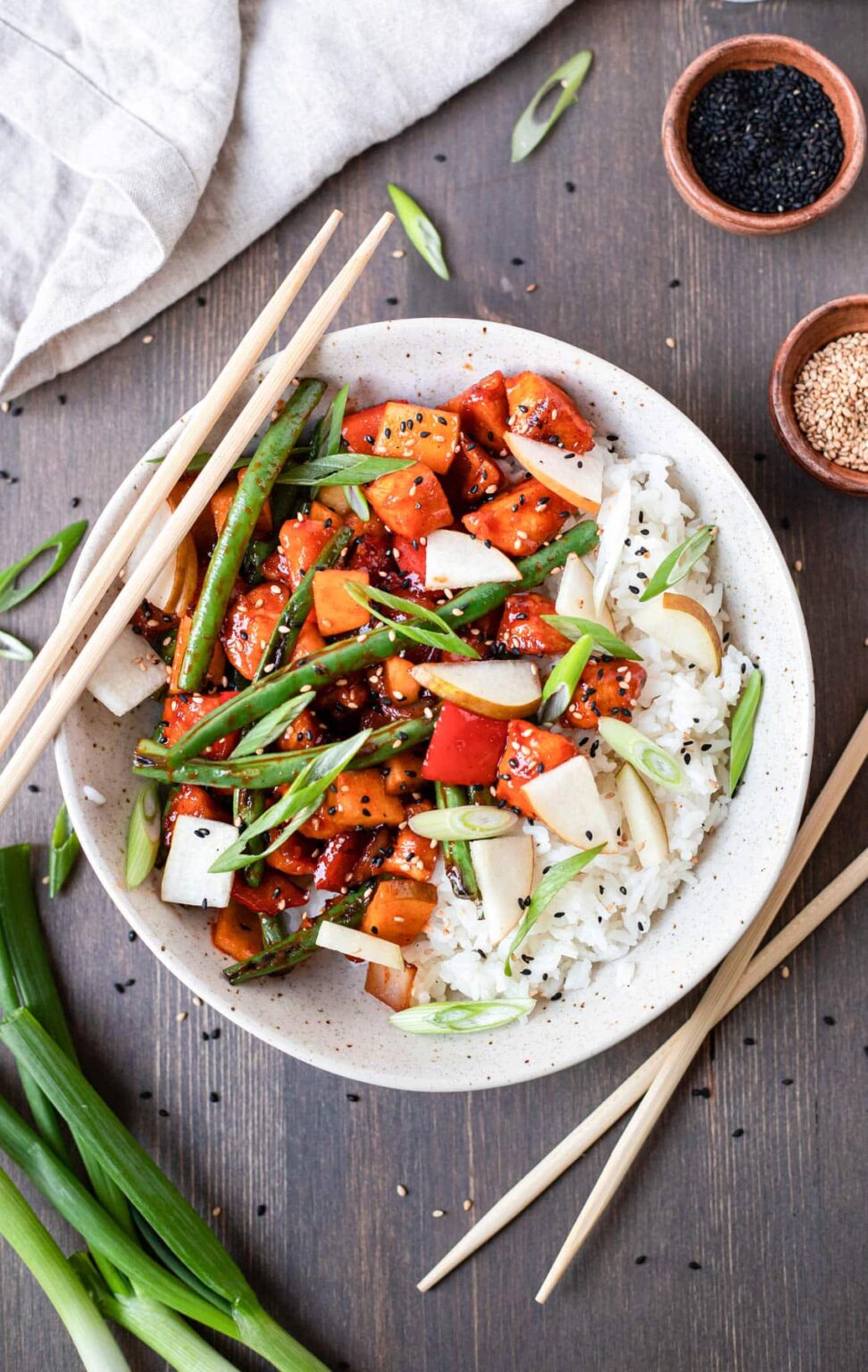 You have to trust me when I say making your own Asian food at home is way better than takeout. 
Unless you are absolutely craving hole in the wall Chinese food but when did that ever leave us feeling good an hour later?  Maybe never.  
This little spicy Korean chicken bowl is SO amazing. And SO easy to make.
I said easy to make, so I know you are interested. I love love love this dinner!
Mike and I used to go to get a similar dish at our favorite asian restaurant but a year ago they took it off the menu (tears of sadness) so in true fashion I knew I had to recreate it at home. 
He loves it so much, mission accomplished.
I mean check out that gorgeous color on the chicken! 
What Is Gochujang?
It gets that deep red color thanks to a paste called Gochujang which is a spicy chili paste and the secret ingredient to all amazing spicy asian dishes! 
So gochujang, garlic, brown sugar, rice wine vinegar, sesame oil and ginger are what makes up the sauce for the chicken.
It's sweet and spicy, oh my goodness.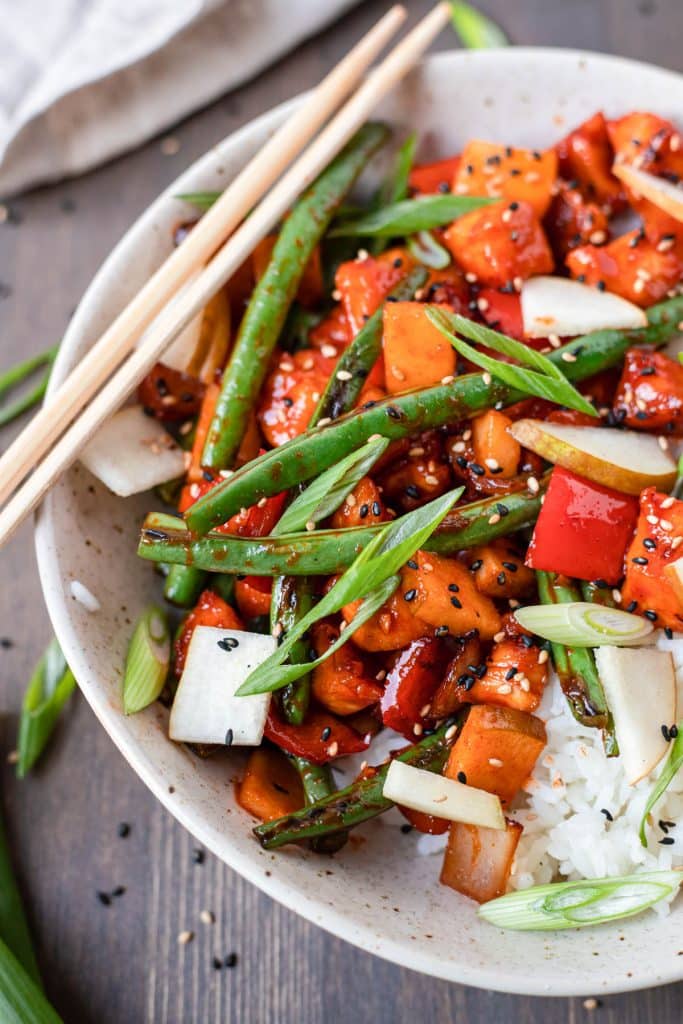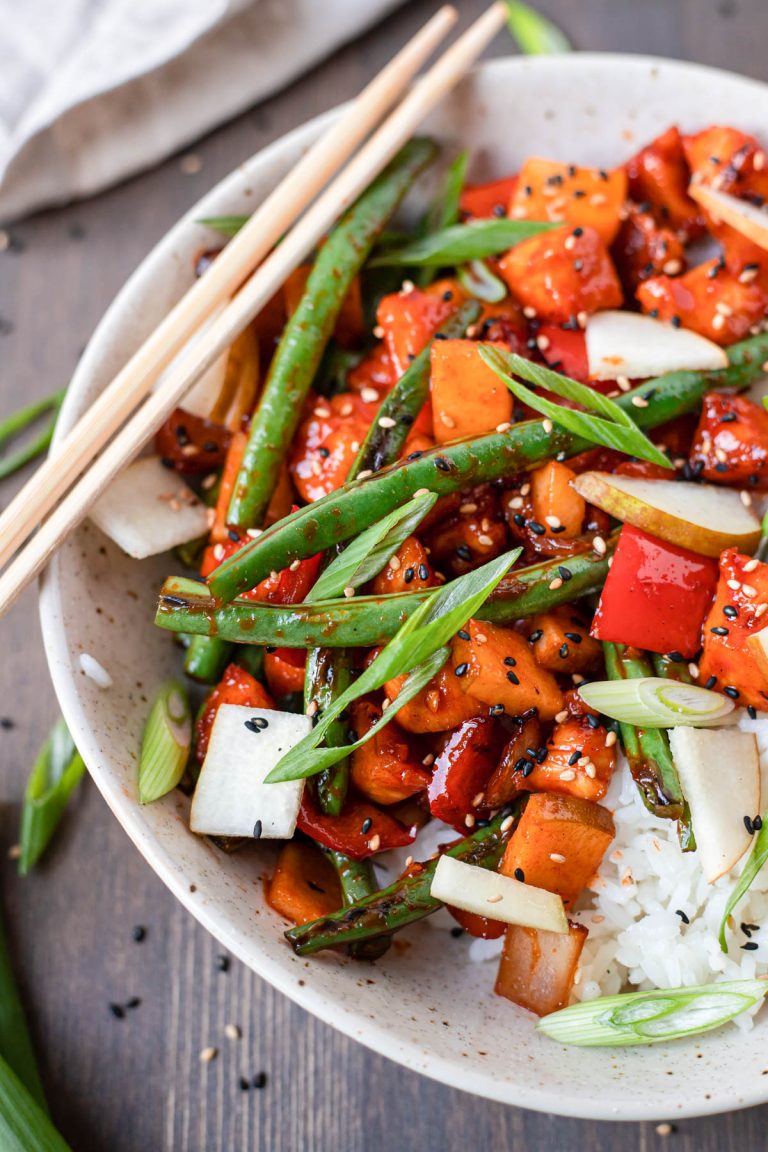 The Green Beans
For the green beans you want to blanch them (steam them for a short period) and transfer to ice water.
It keeps them bright green, a bit crispy and then stops them from cooking longer. Sad soggy green beans do not belong here friends.
The red bell peppers and onions get stir fried in a splash of oil on high heat, no shame in getting some dark marks on them either!
While the vegetables are in for a stir fry cut up the pear. So I know this sounds totally out there but trust me you want the pears, don't skip them!
With all the heat from the spicy Korean sauce on the chicken the pears give you that nice cool slightly sweet bite.  So perfect.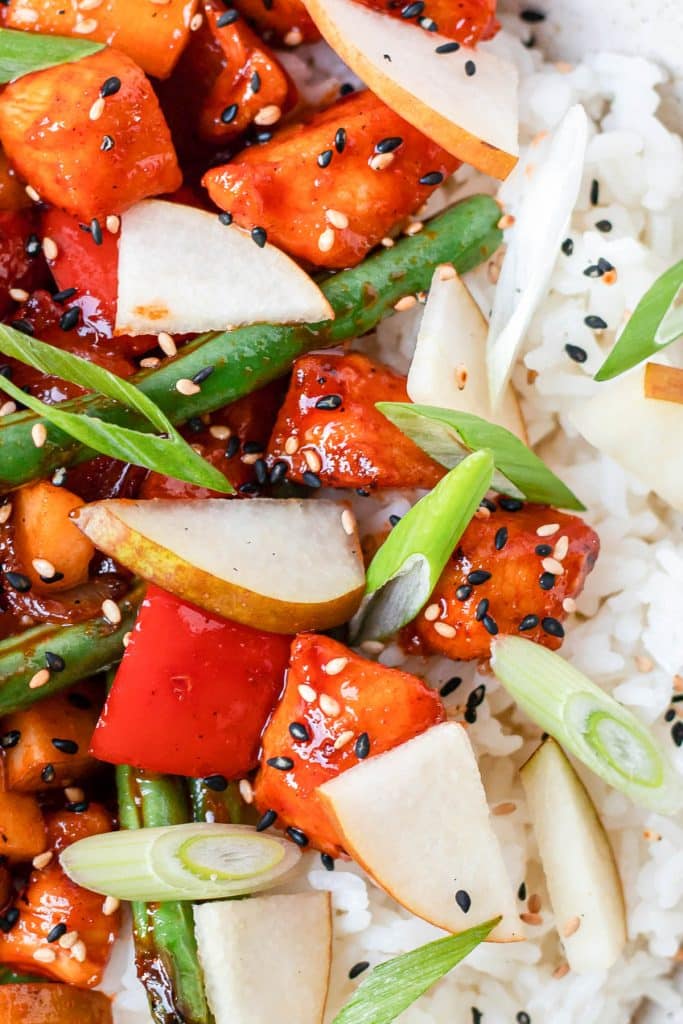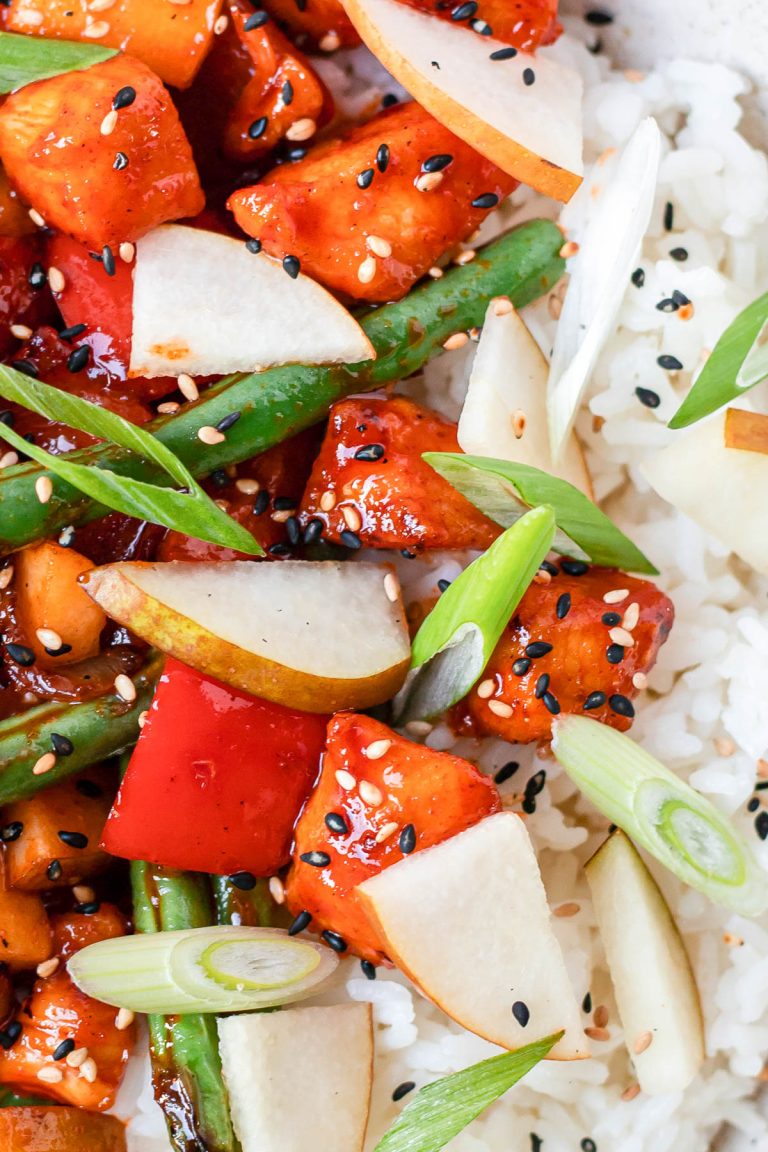 What type of Pear should I use?
Bartlett – best for baking and eating, but will fall apart when cooking (avoid these)
Bosc – firmer, good for cooking, not very sweet. These will keep their shape best.
Anjou – firm, also good for cooking
So really grab a Bosc or Anjou.  I like both.  I will say the Bosc pear is definitely a very firm pear, but not as firm as an apple…close.  Maybe grab one of each and decide which you prefer?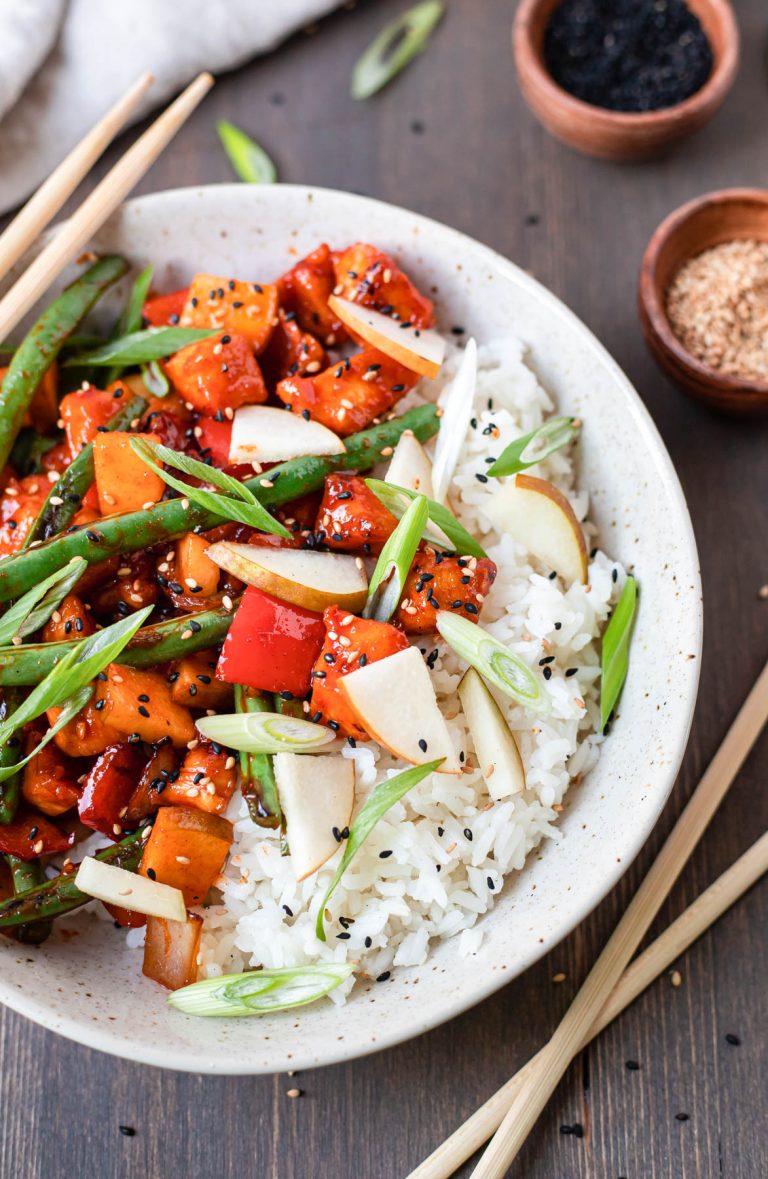 Korean Chicken Tips
Try to go easy on the oil, my best suggestion is to add more if it starts looking dry and sticking. But too much oil will make your vegetables soggy and gloopy.
Instead of cooking the chicken as a whole, cut it up into bite size pieces and season with salt, pepper and just a little bit of corn starch. 
When you cook the chicken the corn starch with leave the outside with a nice texture and the sauce will grab on to it, coating evenly.
Spicy Korean Chicken and Rice Bowls
This spicy Korean chicken is so good! It's mixed in with a big variety of vegetables and even fruit!  Green beans, sweet yellow onion, pear, red bell pepper and green onions.
Ingredients
2

chicken breasts

seasoned with salt and pepper

1

tbsp

sunflower oil

or another oil of equal heat point

1

tsp

corn starch

1

red bell pepper

sliced in cubes

1/2

sweet yellow onion

sliced in cubes

1/2

lb

green beans

trimmed

1

pear

cut in bite size pieces (leave the skin on)

optional garnish: green onion and sesame seeds
Korean Sauce
1/4

c

water

1/4

tsp

ginger powder

2

tbsp

brown sugar

2

garlic cloves

2 1/2

tbsp

Gochujang paste

1

tbsp

rice wine vinegar

1

drop sesame oil
Instructions
Prep the red bell pepper, onion, green beans, pear and green onions

Heat a frying pan to med/high heat with 1 tbsp sunflower oil

Cut the chicken into bite size pieces and season with a few pinches of salt and pepper

Toss the chicken in 1 tsp of corn starch

Put the chicken in the pan, turn once each side is golden and slightly crisp

While the chicken cooks blanch the green beans

In another pan drizzle a bit of oil over high heat, add the onion and bell pepper, after a few minutes add the green beans and cook until everything has a bit of black on the edges

Alternatively you can cook these vegetables in batches also, but if you are short on time do everything at once

Transfer the vegetables to a paper towel to get off any excess oil

Wipe out the pan and add all of the Korean sauce ingredients, bring to a simmer until the sauce is thin and everything has melted

Transfer the chicken directly to the sauce, coating the chicken

Add in the vegetables

Top with the pears

Additionally you can serve this with jasmine rice, green onions and sesame seeds