A super easy and healthy asian chicken salad recipe to fill you up this summer.  Filled with carrots, cabbage, pineapple, cucumber, green onion, romaine, edamame, peanuts and tender chicken. 
Totally satisfying.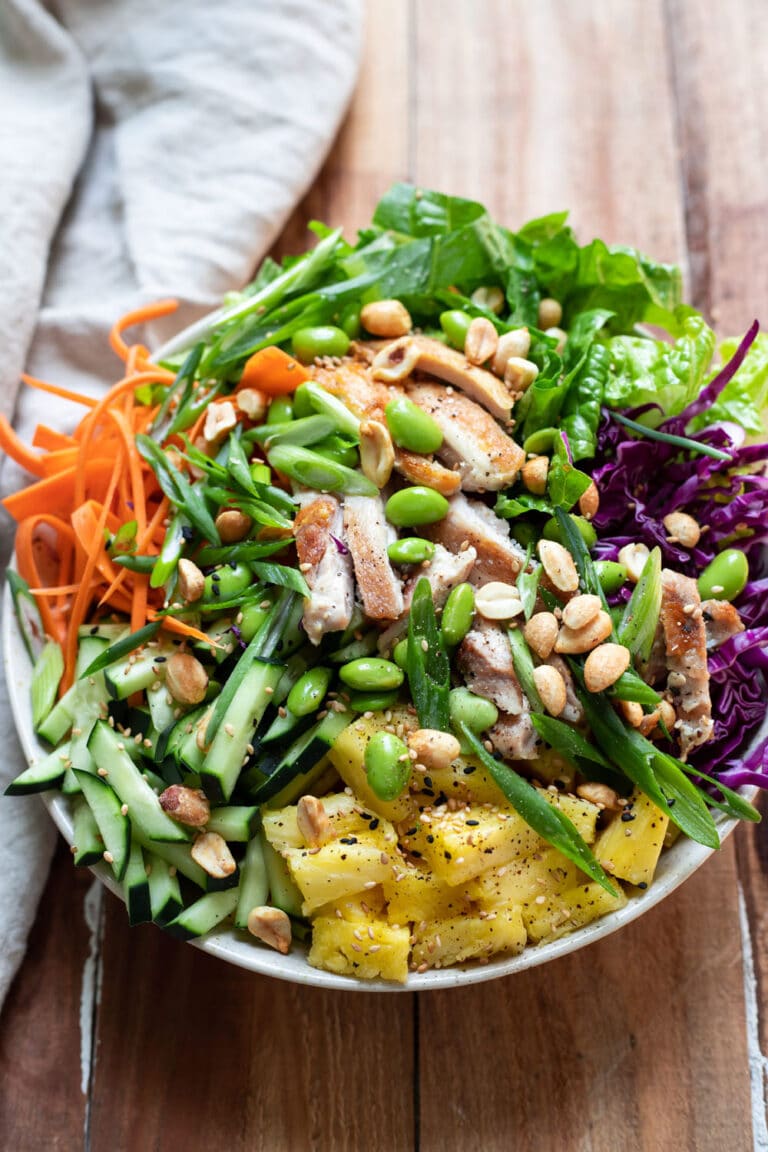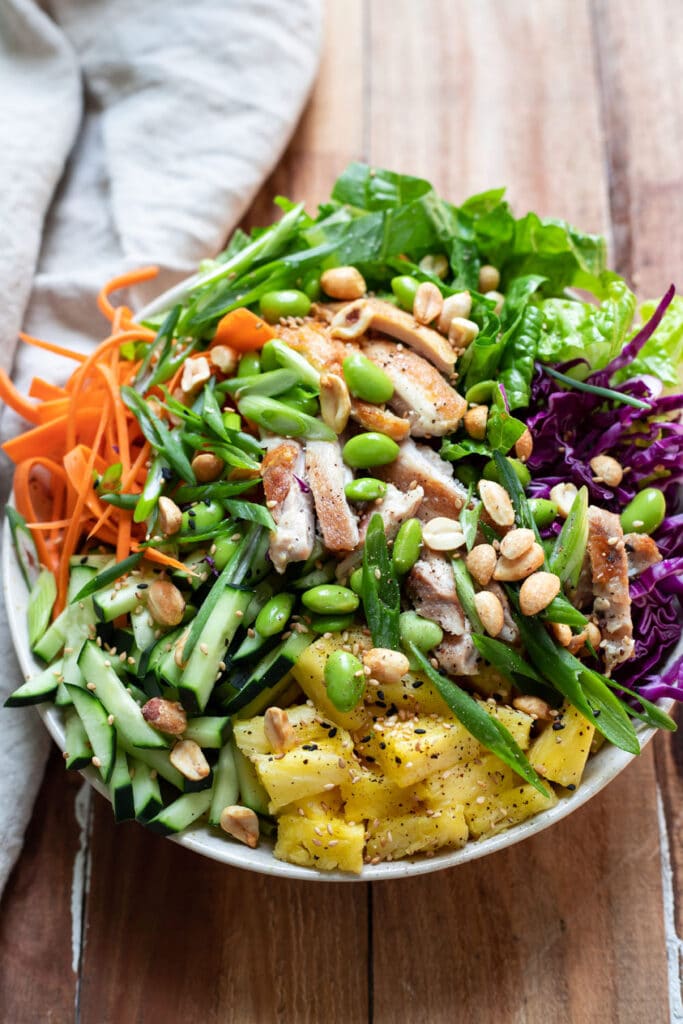 Asian Chicken Salad Recipe
I created this asian chicken salad recipe last year and every time I make it I always forget how much it makes! Like a family of 100, just kidding, but easily 6-8 adults. 
It's booming with gorgeous color, it's such a vibrant salad! 
I used to make homemade dressing for this but to save time I buy Panera's asian salad dressing now. Good heavens, I'm already drooling at the thought of this salad.
This asian chicken salad recipe is a healthy salad and a great option for a hot summer day or a cold summer day, really any day it's a good idea to make this! 
I love all the different textures and how much crunch it has!  Who wants a soggy salad?  Not me!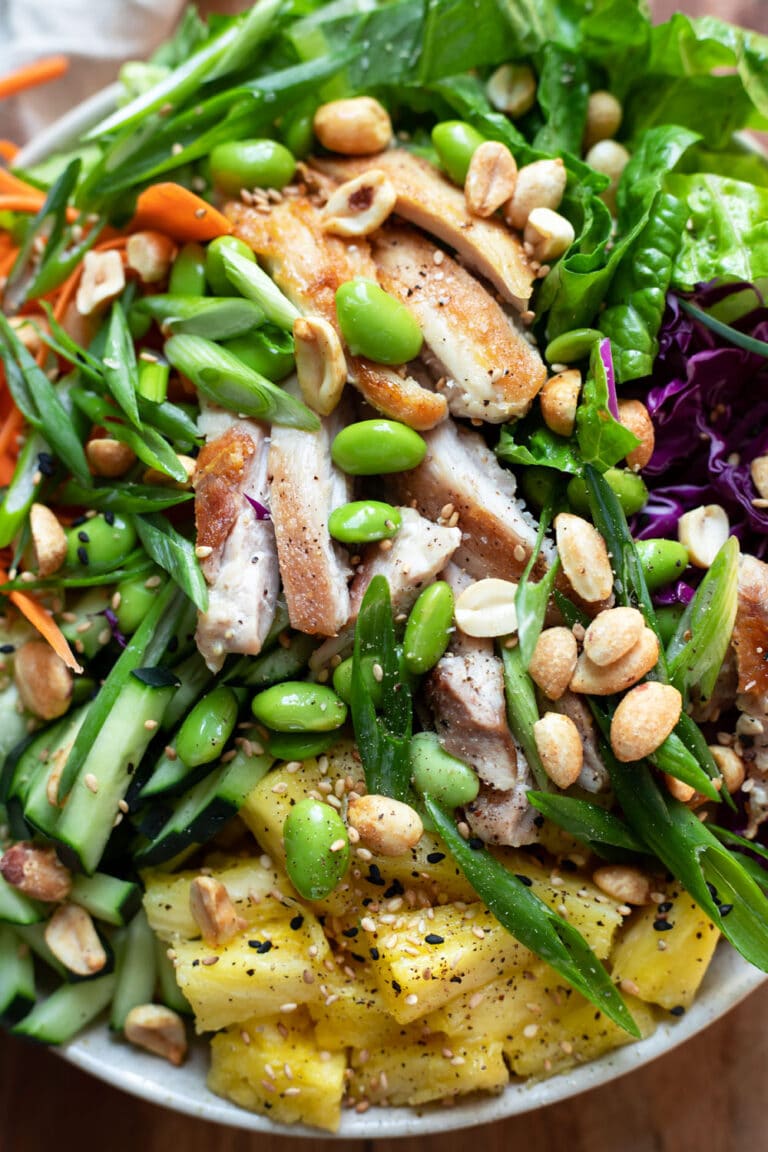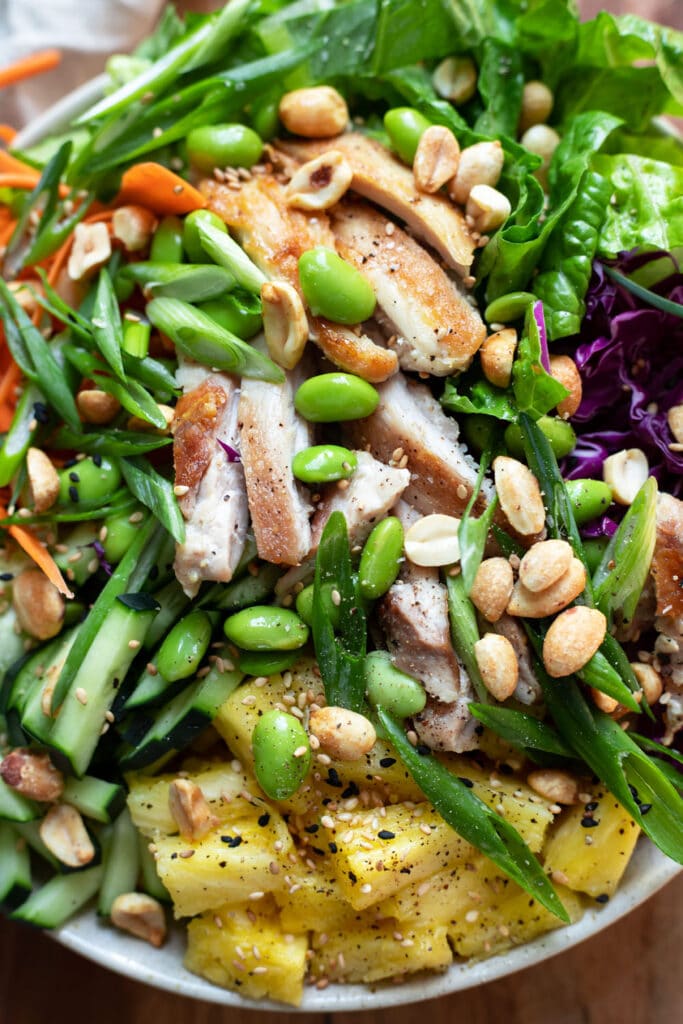 An easy trick to speed up the recipe is to use some leftover chicken from a whole chicken or even grab a rotisserie chicken from the store. 
To kick it up a notch try adding pineapple, it's tangy bite makes this salad a real game changer.
As a kid, I lived in a really small town in Alaska — there really wasn't much as far as restaurants go. But in Phoenix, everyone is spoiled with more than a lifetime of restaurant choices.
My parents used to take my brother and I to a place in town called The Peking Garden.  The sweetest family owned it and I went to school with their kids. 
I can still remember the smell of the restaurant, like won ton soup and fortune cookies, the memory is still so fresh even though its been almost 20 years since I've been there. 
And I always got the chicken chow mein.  It was my favorite place to eat and I've never found another restaurant that came close. 
Sadly, The Peking Garden closed a few years ago, but I'm forever thankful to the Tzou family for creating delicious food and making a fan out of me.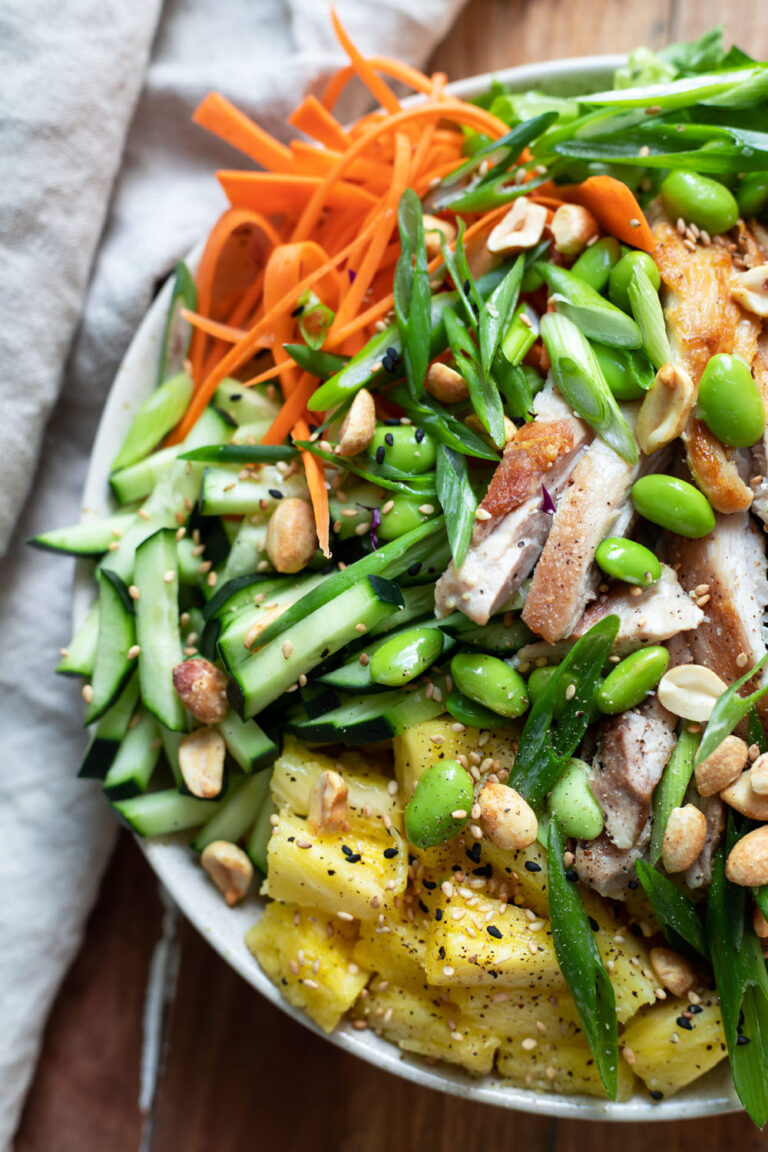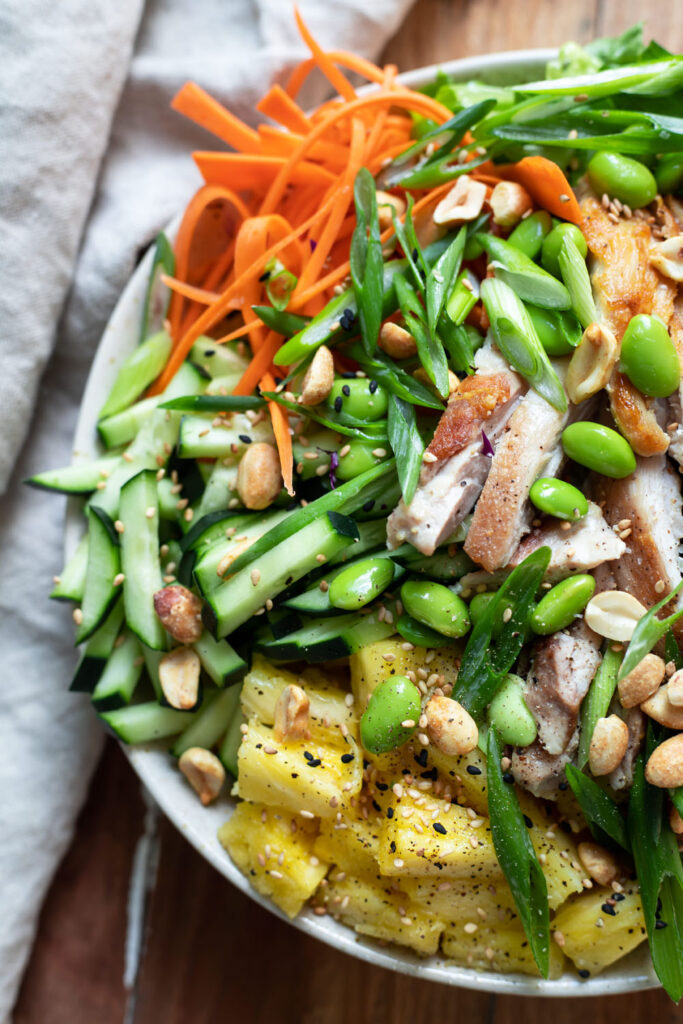 Want to try a few more asian inspired recipes?
Make sure to follow the Modern Crumb Board on Pinterest for lots of yummy meal inspiration! And subscribe to the newsletter, below, to get updates when new recipes post.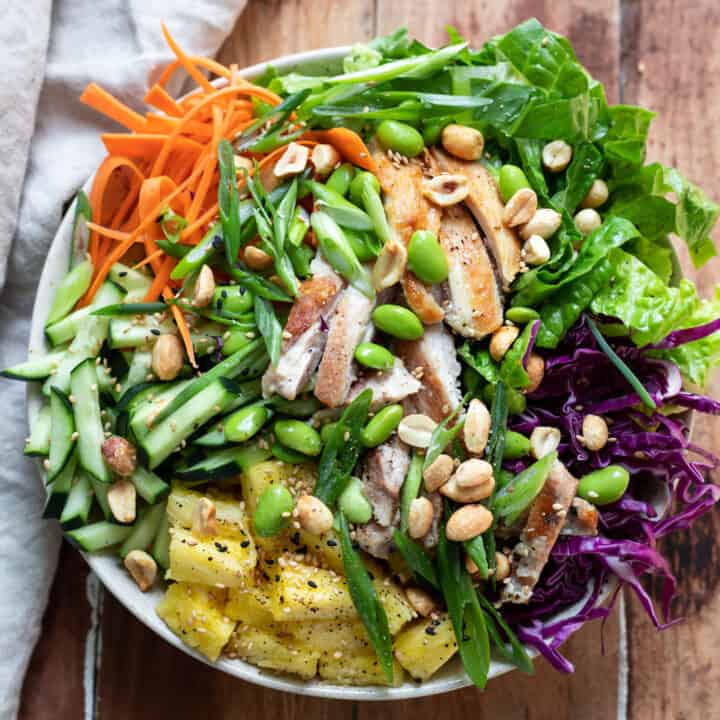 Easy and Healthy Asian Chicken Salad
A super simple and healthy asian chicken salad to fill you up this summer. Filled with carrots, cabbage, pineapple, cucumber, green onion, romaine, edamame, peanuts and tender chicken.
Ingredients
1 lb chicken thighs, seasoned with salt and pepper
1 romaine bunch
1 cucumber
2 carrots
purple cabbage, small
2 green onions
Frozen edamame, half a bag
1/2 C. peanuts
1 C. pineapple chunks
Instructions
Preheat oven to 400
Season the chicken thighs with salt and pepper
Bake for 20 minutes
After you've cut up each ingredient, throw it in your bowl!
Remove romaine from the stem and slice it thin across the wider side.
Slice up the cucumber
Slice up the cabbage
Cut the cabbage in half, and then in half again, cut out the core, lay the cabbage on its side on your cutting board and cut with the grain in thin strips.
Shred the carrots
Slice the green onions thinly, the whole thing
Cut up your pineapple into small chunks
Add the peanuts
By now your chicken thighs should be cooled off a bit
Chop up the chicken and throw it in the bowl
Season with a pinch of salt and some ground pepper.
Give everything a good toss.
Add your dressing once everyone has served themselves, this way you can use the extras for lunch without it getting soggy.
Nutrition Information:
Serving Size:

1 grams
Amount Per Serving:
Unsaturated Fat:

0g