This recipe for mongolian beef is going to hit all those takeout cravings. The mongolian sauce is both spicy and sweet. You can serve it with white rice and green onions, it's sure to be a hit with your family!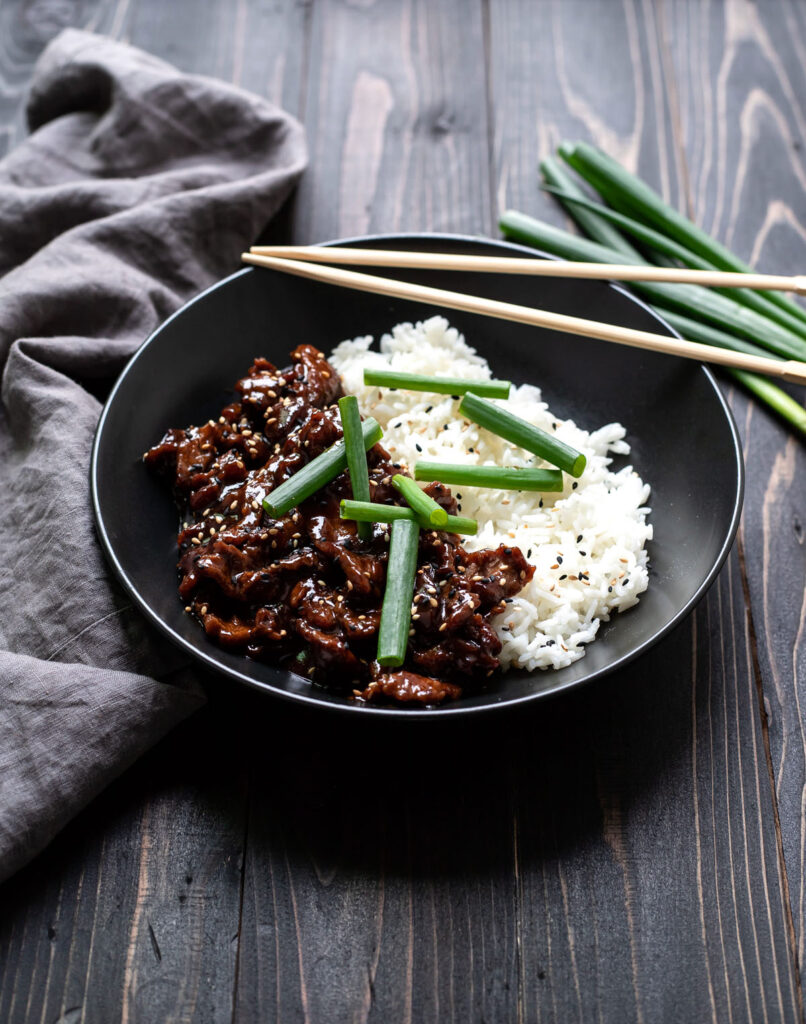 Do you like making takeout style dinner at home? Mongolian Beef is a serious favorite at our house. My husband asks for this dinner at least once a week.
Mongolian beef is an asian cuisine meal, made with thin cuts of beef (from flank steak) and a sweet but spicy, dark sauce. You can serve it with steamed white rice (or brown rice), noodles, vegetables, really whatever you want.
The Mongolian Beef sauce is sweet from the brown sugar and spicy from the sriracha and red pepper flakes.
My favorite way to serve it is with steamed rice, broccoli and green onions. The sauce for mongolian beef is much thicker than beef and broccoli, which has a thinner sauce.
If we eat out, PF Changs mongolian beef is one that we typically get. So this recipe is loosely based off of that. Another one we get is the spicy korean chicken.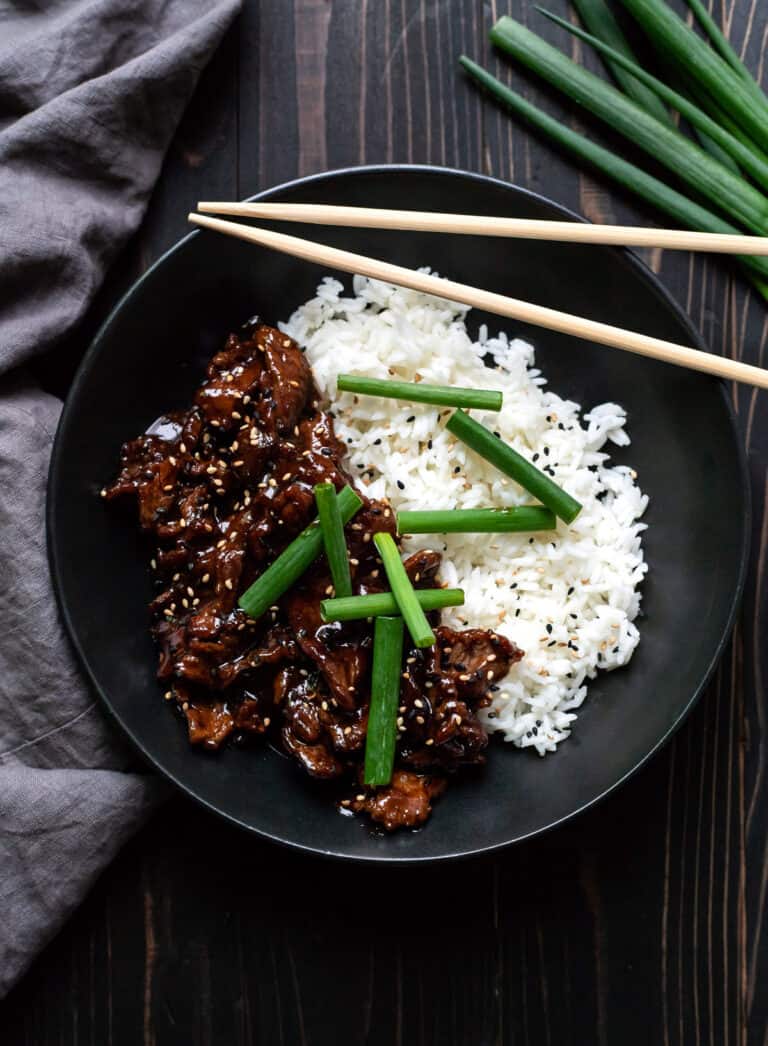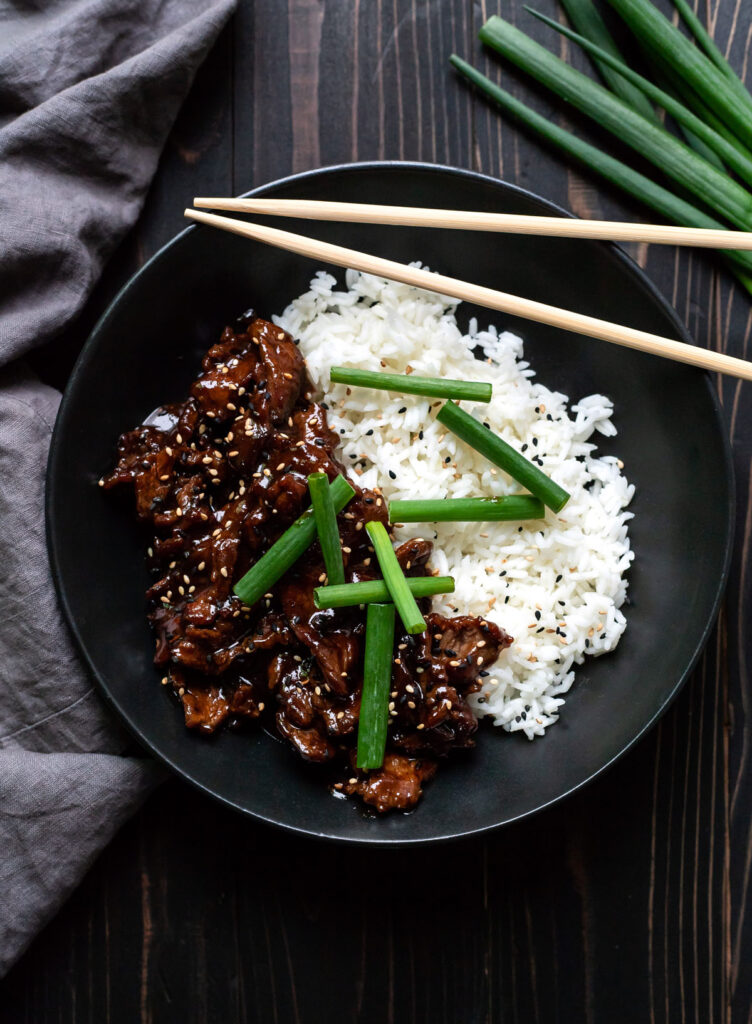 Ingredients in Mongolian Beef
The ingredients for mongolian beef are actually pretty simple. The majority of what you need is all to make the mongolian sauce.
flank steak - if you can't get flank steak you could sub skirt steak, flat iron steak or a petite sirloin steak
soy sauce - opt for the low sodium soy sauce
water
hoisin - a sweet and salty, thick sauce
rice wine vinegar
garlic powder - can use fresh if you would like
ginger powder - can also use fresh ginger
brown sugar
sriracha
corn starch
green onions
Don't forget to grab a container of sesame seeds, not only is it pretty but it's tasty too!
A few other favorites is this skinny orange chicken and baked cream cheese wontons.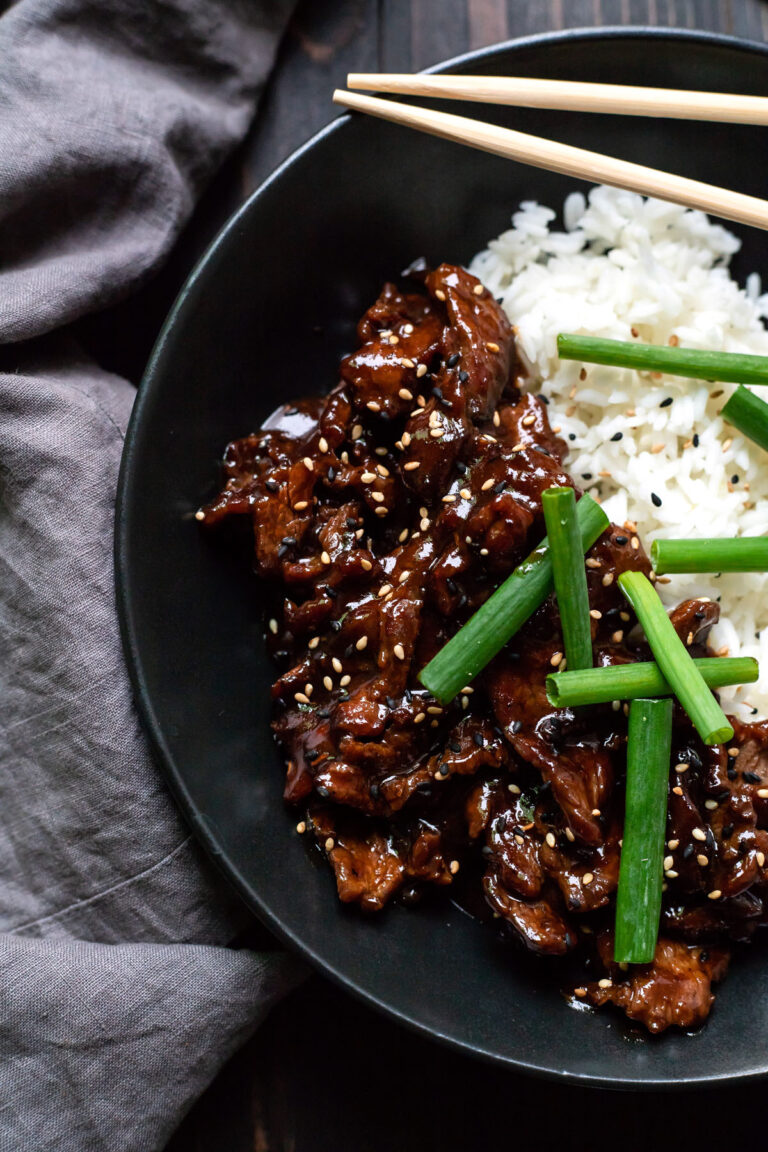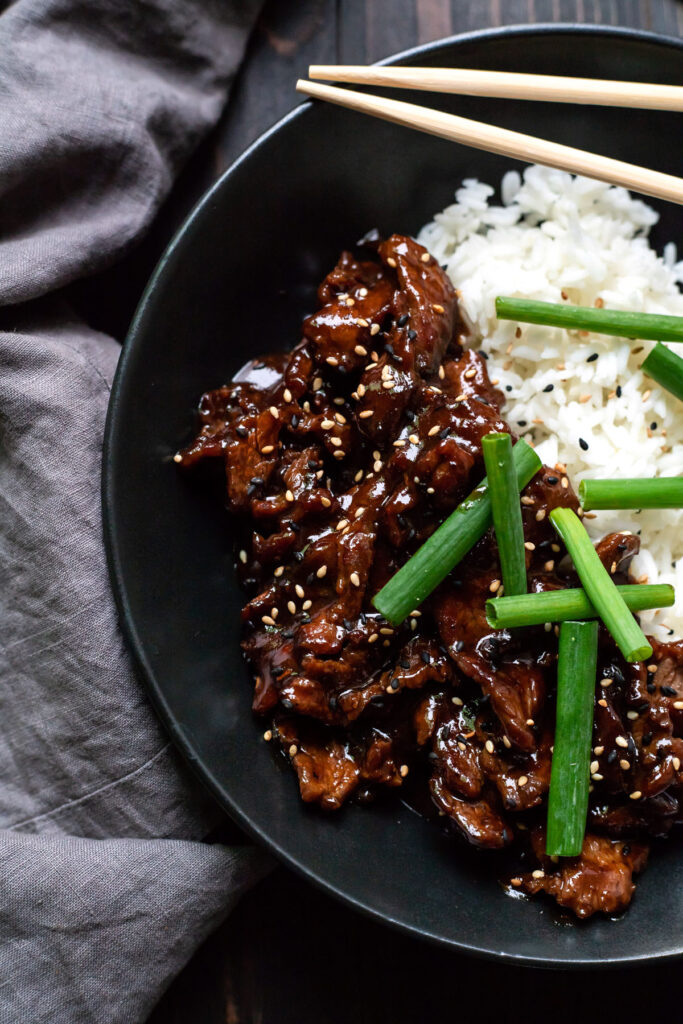 What To Serve With Mongolian Beef
So let's talk about sides for a second.
My top choice is aromatic jasmine rice. Fluffy, not mushy. If you salt the rice lightly while it cooks and after, it brings out all the natural flavors.
You could sub out rice for ramen noodles or a rice noodle.
Green onions are a must have for mongolian beef, that is the traditional way to serve it.
Also, you can sauté whatever vegetables you prefer, but broccoli, carrots, and sugar snap peas are all great options! You can pick just one or make a stir fry of all three.
Sugar snap peas only need a minute, so if making them add these last, you don't want them to be too soft.
You can sauté your vegetables with a flavorless high heat oil and a tiny bit of toasted sesame oil (tiny bit, it's a strong flavor).
And we always make a batch of these baked cream cheese wontons any time we make Asian takeout at home.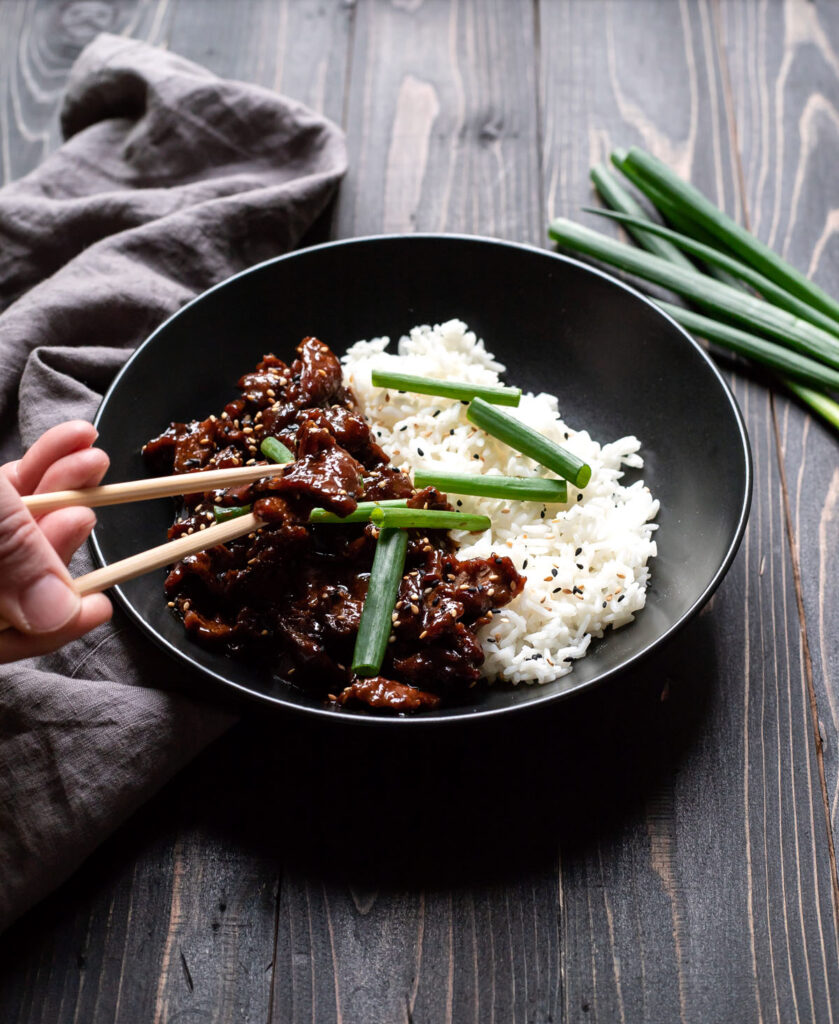 Mongolian Beef Helpful Tips
If you are serving this to kids, it's probably best to add the red pepper flakes to your individual serving instead of the entire dish. Just in case your kids don't like spicy stuff.
Flank steak is used in this dish (it's a very long cut of meat usually folded in half at the store), it's tender and sort of melts in your mouth when prepared correctly. See the FAQ section below for substitutions.
Cook this in a pan you can get really hot, I like to use a nonstick pan. You want the meat to cook quick, at a hot temperature.
Cooking the meat in batches is so important, it's tempting to throw it all in to the pan at once but you wont get the same results. Cooking it in batches allows the meat to sear quickly, giving you a tender middle and crisp edges.
FAQ
What can I make with Mongolian Beef?
This mongolian beef is good with steamed rice, noodles, broccoli and snow peas. Just to name a few ideas.
What is mongolian sauce made of?
Soy sauce, water, hoisin, rice wine vinegar, garlic powder, ginger powder, brown sugar, sriracha, corn starch and red pepper flakes.
What can I substitute for flank steak?
Petite sirloin will work really well, also flat iron steak and skirt steak could work as a substitute. Flat iron and skirt could be a little more chewier, it can just depend on the cut sometimes and how much fat is marbled through.
Is mongolian beef spicy?
It is a bit spicy, being made with red pepper flakes and sriracha gives you that spicy flavor. If you like it less spicy, just cut back on the amount.
Asian Inspired Recipes To Try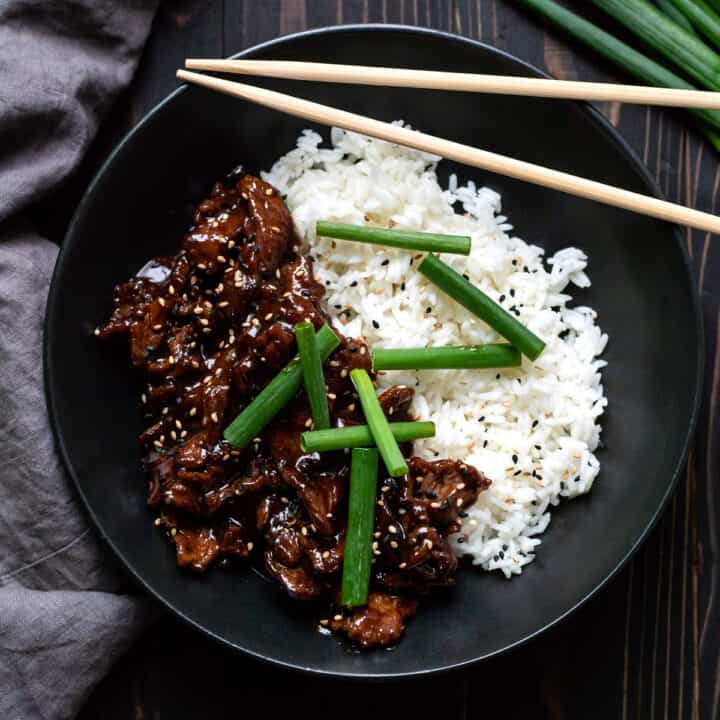 Mongolian Beef Recipe Better Than Takeout
This recipe for mongolian beef is going to hit all those takeout cravings. The mongolian sauce is both spicy and sweet. You can serve it with white rice and green onions, it's sure to be a hit with your family!
Ingredients
1 lb flank steak
¼ c soy sauce
½ c water
¼ c hoisin
2 tbsp rice wine vinegar
½ tsp garlic powder
1 tsp ginger powder
¼ c brown sugar
1 ½ tsp sriracha
3 tbsp corn starch, 1 tbsp for sauce, 2 tbsp for the meat
¼ tsp red pepper flakes
green onions, sliced
1 c jasmine rice
2 c water
Instructions
In a small pot bring 1 cup of jasmine rice and 2 cups of water to a boil. Stir once, cover with a lid and turn the heat to low. Cook for 20 minutes. Remove the lid once it's done.
Cut the flank steak thinly, against the grain. Toss the flank steak with 2 tablespoons of cornstarch. Heat a frying pan to med heat with 1 tablespoon oil in the bottom. Add the Mongolian beef in three batches, so it can get a little crispy around the edges (see notes). Set each cooked batch aside on a plate.
Whisk together the soy sauce, water, hoisin, rice wine vinegar, garlic powder, ginger powder, brown sugar, sriracha, red pepper flakes and remaining 1 tablespoon cornstarch.
Add the liquid to the empty fry pan over med/low heat, whisking until the sauce thickens. Add the meat back in, stirring together.
Spoon some rice and beef in to a bowl. Top with green onions.
Notes
It is important to cook the meat in batches, meaning do not put all the beef in the pan at once.  The edges of the meat should not be touching when you cook it.  This allows the meat to sear quickly, making the middle tender and the edges crisp.  If you put all the meat in the pan at once then you'll see a lot of moisture release, the pan will fill up with water being released from the meat.  It will not get crispy at that point and will make it more chewy than tender.  But if you cook it in batches, any moisture put out from the meat will evaporate since there is space between the pieces. 
Recommended Products
As an Amazon Associate and member of other affiliate programs, I earn from qualifying purchases.
Nutrition Information:
Yield:

4
Serving Size:

1
Amount Per Serving:
Calories:

396
Total Fat:

11g
Saturated Fat:

4g
Trans Fat:

0g
Unsaturated Fat:

5g
Cholesterol:

94mg
Sodium:

1282mg
Carbohydrates:

37g
Fiber:

1g
Sugar:

16g
Protein:

36g
This information comes from online calculators. Although moderncrumb.com attempts to provide accurate nutritional information, these figures are only estimates.
This recipe was originally published on September 13, 2017.