This mongolian beef is going to hit all those takeout cravings. A little spicy a bit sweet and served with white rice and green onions it's sure to be a hit!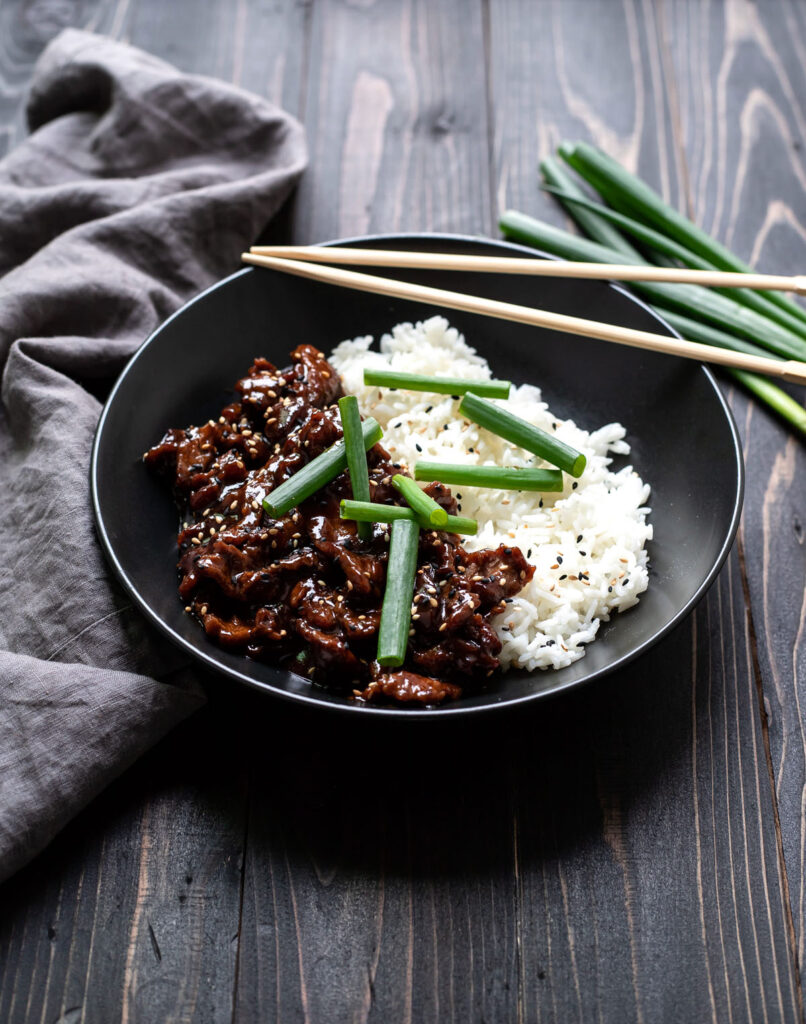 I absolutely love making asian style dinner at home! I know what's going in them and can control how much or how little I want of something. Mongolian Beef is a serious favorite at our house. I meal plan every Monday and every single Monday I ask my husband if he has any requests…and every single time he says "Mongolian Beef".
Going to PF Changs can add up, especially when there is four of us, I mean $$$$.  My husband says this is even better than the mongolian beef from PF Changs!  You'll find yourself in a vigorous game of rock-paper-scissors, over who get's the last serving.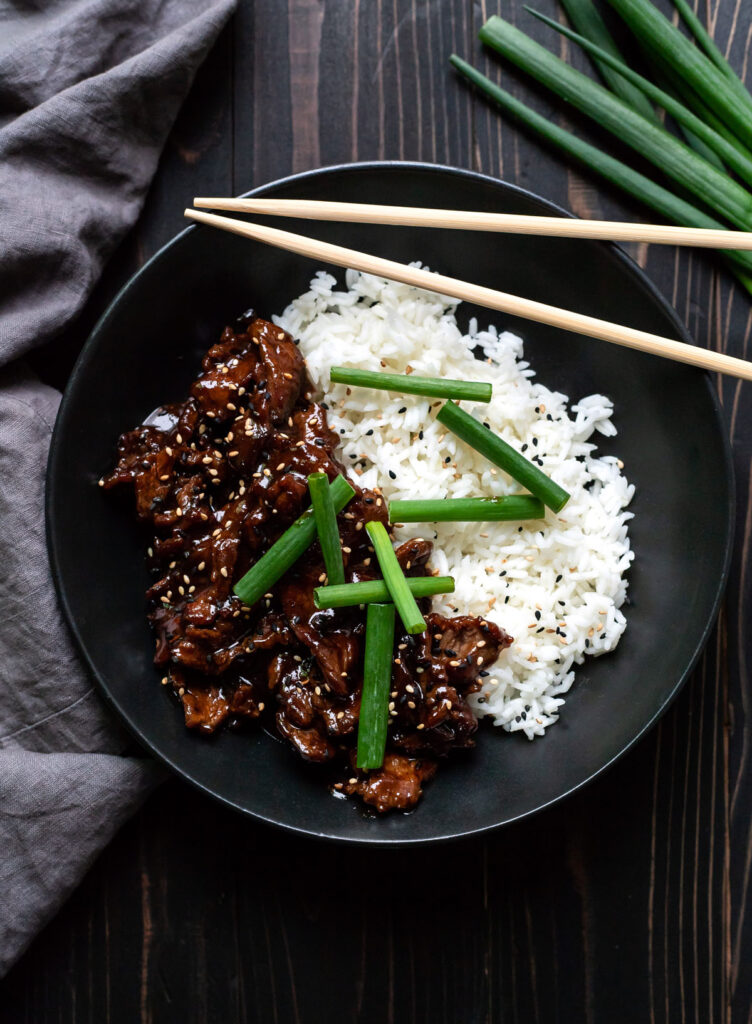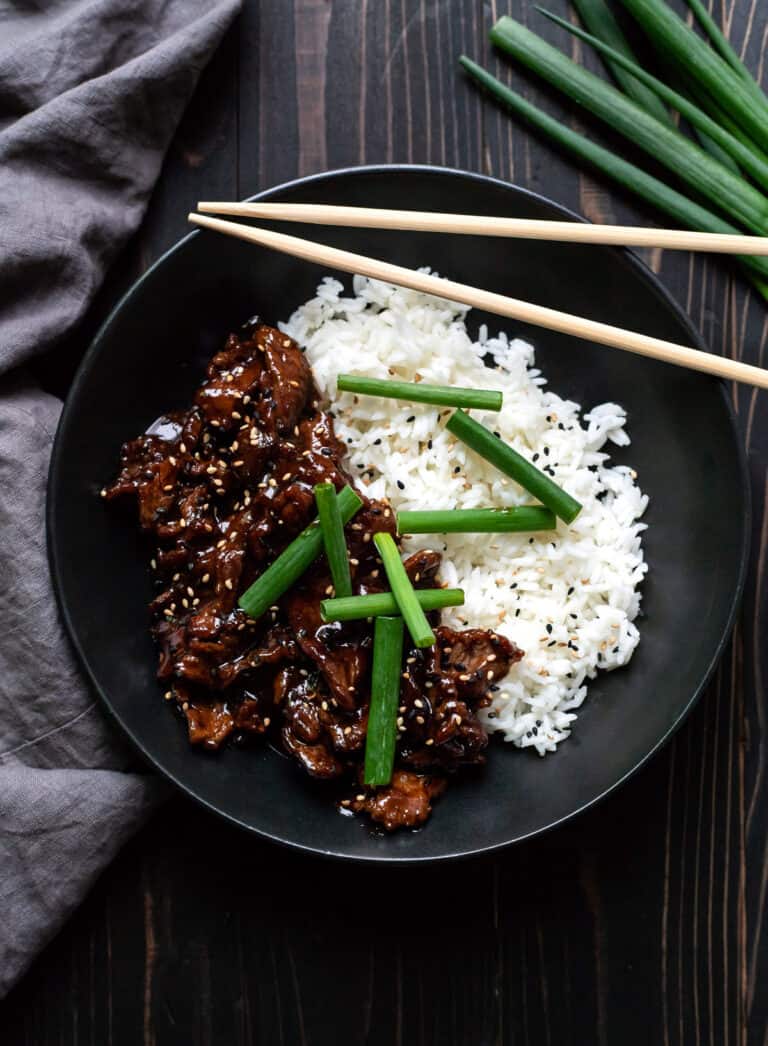 While we are talking about making asian food at home, one of my best friends is pregnant and she was raving about her Chinese food feast she recently had, it sounded so good I had to make up our own feast with my favorite Orange Chicken and Baked Cream Cheese Wontons.  There was also some edamame, don't you just love that stuff?  I usually make steamed edamame with the Mongolian Beef too.  Or, stir fry vegetables.
There is so much flavor in this Mongolian Beef your tastebuds are in for a treat come dinner time. Don't be surprised if you wind up dancing around in food bliss, doing the sprinkler, or maybe the jig if that sort of thing is your style.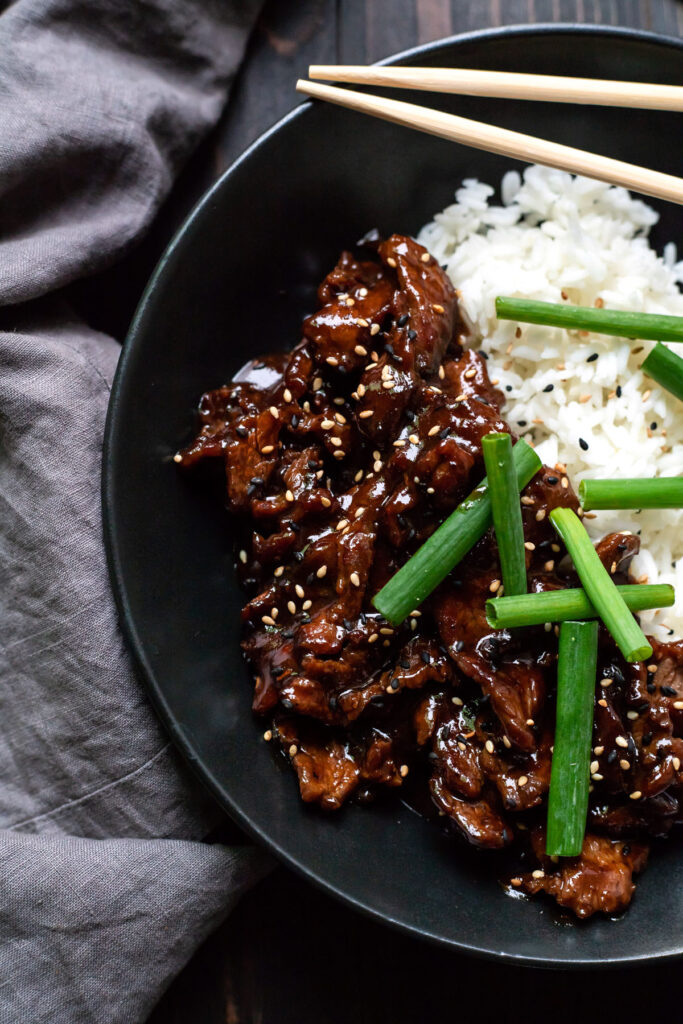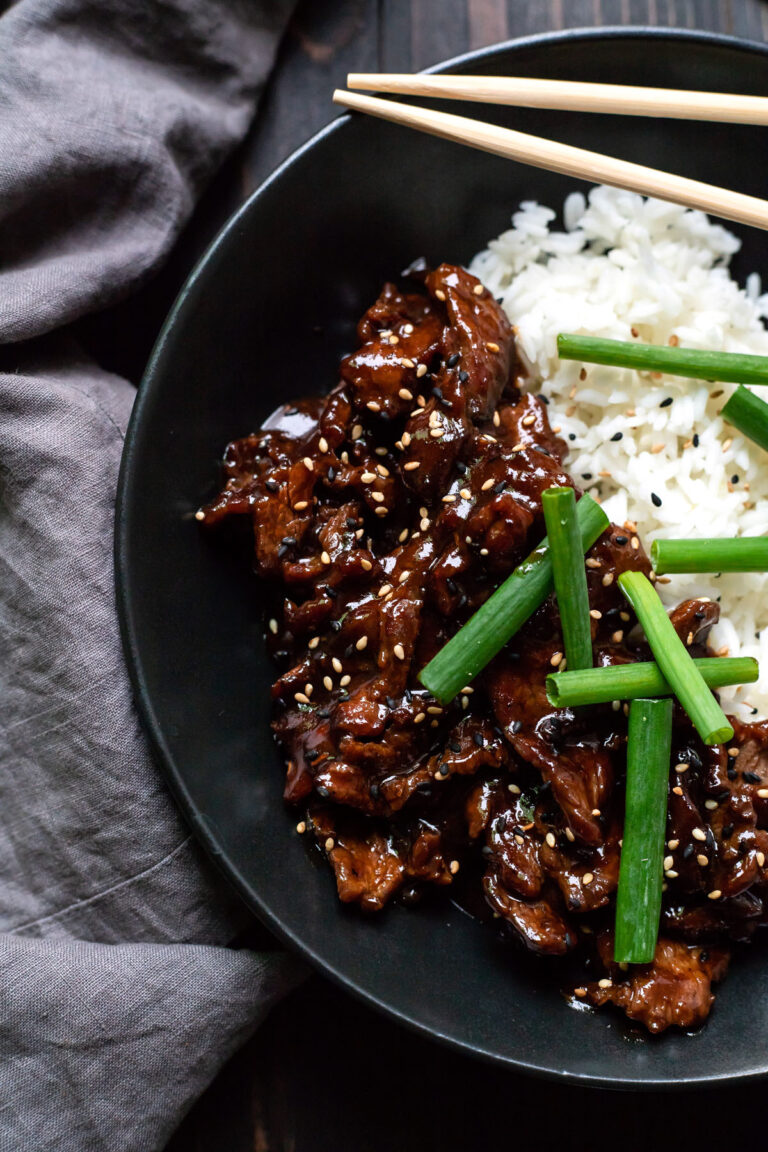 What To Serve With Mongolian Beef
So let's talk about sides for a second. My top choice is aromatic jasmine rice. Fluffy, but not mushy. I like to salt my rice while it cooks and after, it brings out all the natural flavors. Also, you can sauté whatever vegetables you prefer, but I really like this combo; broccoli, carrots, and sugar snap peas.
Sugar snap peas only need a minute, so add these last, you don't want them to be soft. I sauté mine with canola oil and a tiny bit of toasted sesame oil (tiny bit, it's a strong flavor). Traditionally Mongolian Beef is served with green onions, so that's how this recipe reflects. But if some sautéed veggies are up your lane then definitely go for it.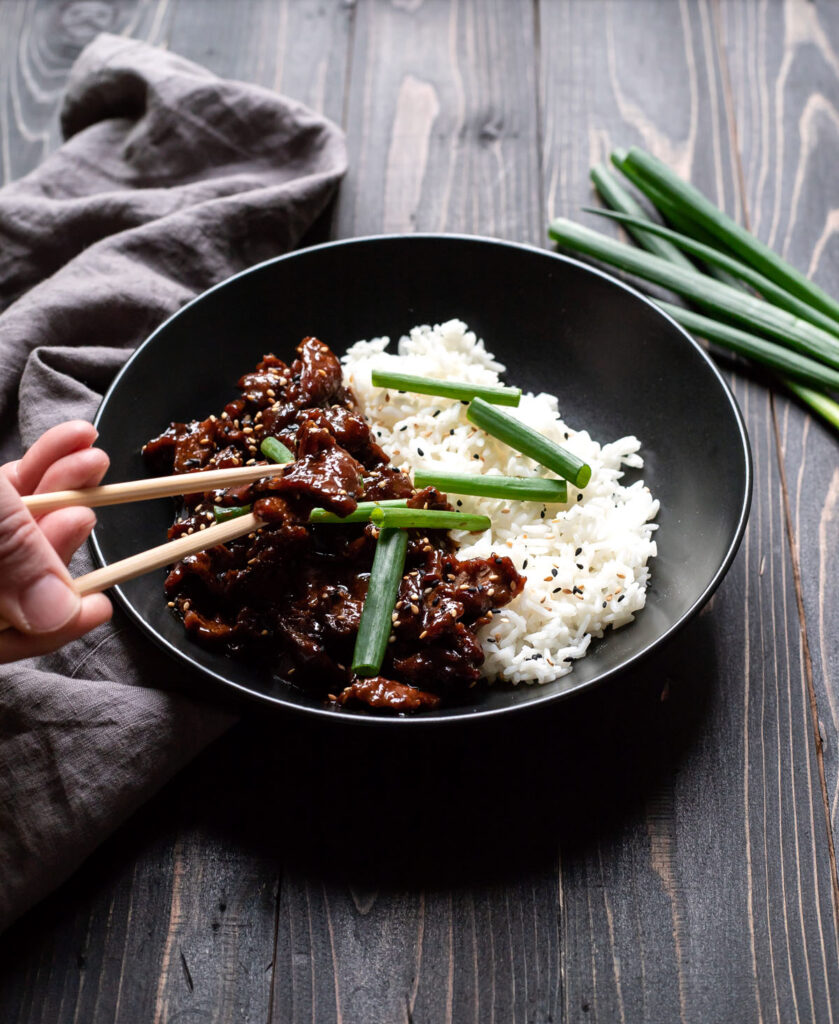 What is Mongolian Beef?
The Mongolian Beef sauce is sweet thanks to the brown sugar and spicy thanks to some sriracha and red pepper flakes. I will say, if you are serving this to kids, it's probably best to add the red pepper flakes to your individual serving instead of the entire dish, just in case your kids don't like spicy stuff. Don't forget to grab a container of sesame seeds, not only is it pretty but it's tasty too!
Flank steak is used in this dish (it's a very long cut of meat usually folded in half at the store), it's tender and sort of melts in your mouth when prepared correctly.  Be careful using something else, you could end up  with chewy, fatty or tough meat.  Bust out your skillet and let's get cooking.  I promise it's super easy!  Your family will love you forever and give you hugs and kisses when you feed them this.
More Asian Inspired Recipes To Try out
Make sure to follow the Modern Crumb Board on Pinterest for lots of yummy meal inspiration!  And subscribe to the newsletter, below, to get updates when new recipes post.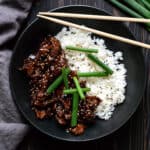 Print Recipe
Mongolian Beef Recipe Better Than Takeout
This mongolian beef is going to hit all those takeout cravings. A little spicy a bit sweet and serve it with white rice and green onions.
Ingredients
1

lb

flank steak

1/4

c

soy sauce

1/2

c

water

1/4

c

hoisin

2

tbsp

rice wine vinegar

1/2

tsp

garlic powder

1

tsp

ginger powder

1/4

c

brown sugar

1 1/2

tsp

sriracha

3

tbsp

corn starch

1 tbsp for sauce, 2 tbsp for the meat

1/4

tsp

red pepper flakes

green onions

sliced

1

c

jasmine rice

2

c

water
Instructions
Cut the flank steak thinly, against the grain, into bite size pieces

Toss the flank steak with 2 tablespoons of cornstarch

Whisk together all the remaining ingredients in a bowl to make the sauce

Heat a skillet to med/high heat with 1 tablespoon of high heat oil in it

Add the Mongolian beef in three batches, so it can get a little crispy around the edges

Set each batch aside on a plate after it's cooked

While cooking the mongolian beef, bring 1 cup of jasmine rice and 2 cups of water to a boil, cover, turn heat to low and simmer for 20 minutes. Remove lid once it's done until you are ready to serve

It doesn't take long to cook, roughly 3-4 minutes

Return pan to high heat after each batch is done

Add an extra splash of oil if it's looking dry

After all the meat is cooked return it to the pan, along with the sauce

Bring the sauce to a boil, stirring constantly and then down to low for 5 minutes, or until the sauce has thickened up and coats the beef

Spoon some rice and mongolian beef in to a bowl

Top with green onions and extra red pepper flakes for added heat