If you are looking to get your hands on a recipe for kale chips in the oven, you've come to the right place. Because these are the spiciest, crispiest, most delicious kale chips ever.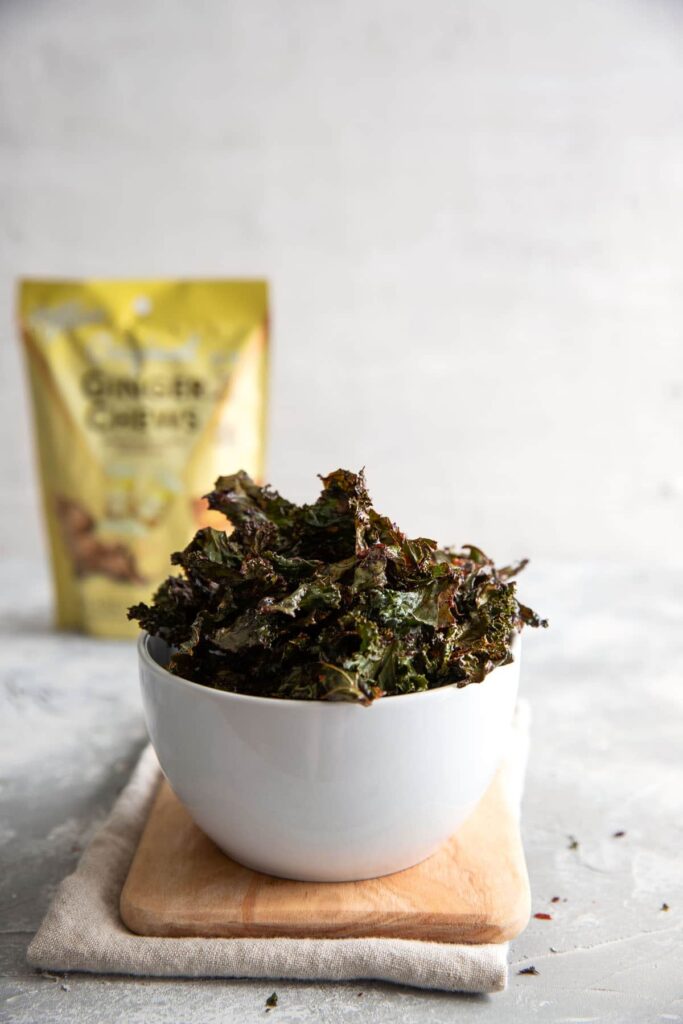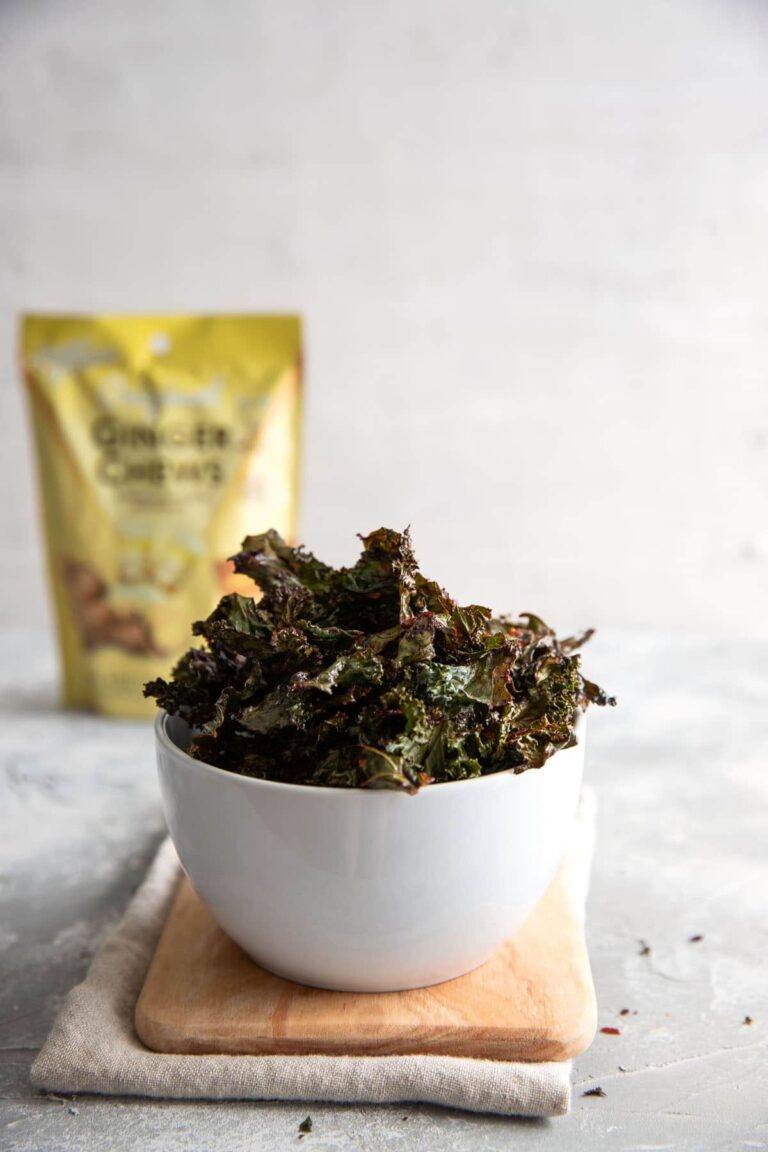 Spicy Oven Kale Chips
This post is sponsored by Prince of Peace Ginger, all opinions and reviews are my own.
Emphasis on the spicy.
These clear my sinuses, in a good way.
If you've ever wondered how to cook kale chips in the oven, I'll cover that today. Plus all my little tips for making sure they are crispy baby.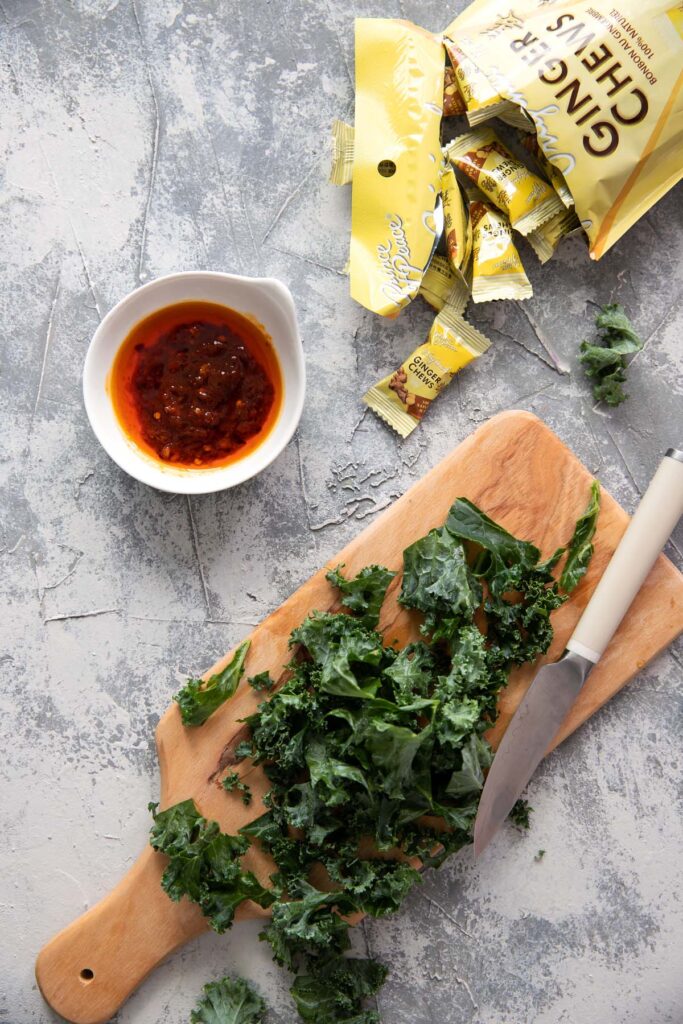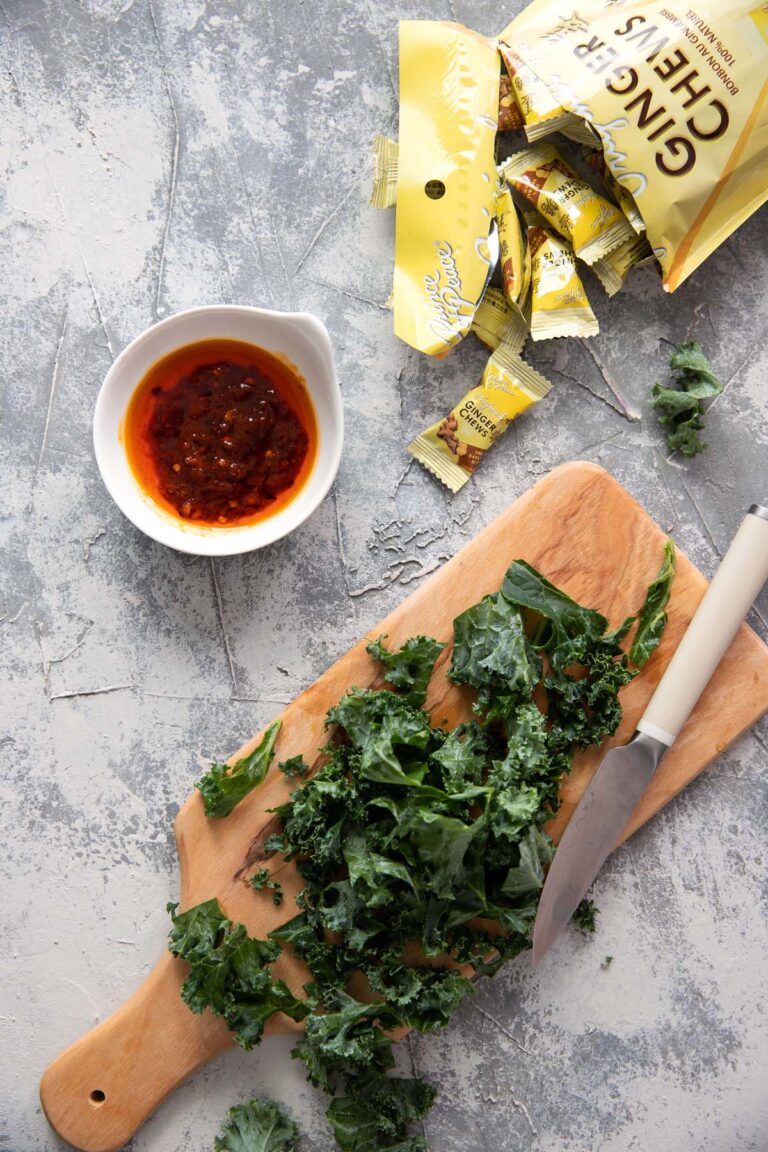 To get that spicy zingy ginger taste I use a Prince of Peace ginger chew for the sauce. Just one is all you need for this recipe, unless you double it than use two or even three if you love ginger! This even yummier than ginger powder because ginger chews are already sticky.
How To Make Kale Chips
There are so many ways to make kale chips! Kale chips in a dehydrator, kale chips in the oven, air fryer kale chips, microwave kale chips (ew?). I mean, it seems like the options are endless.
Personally, I prefer kale chips in the oven. Not that i've tried the other methods, come on microwave kale chips, what gives??? haha.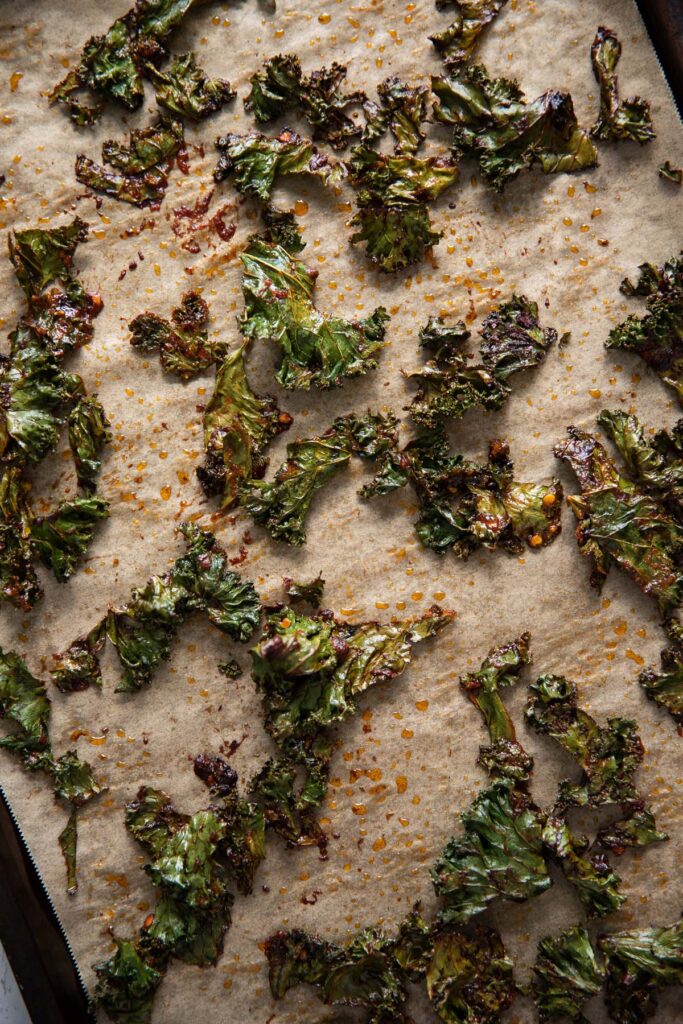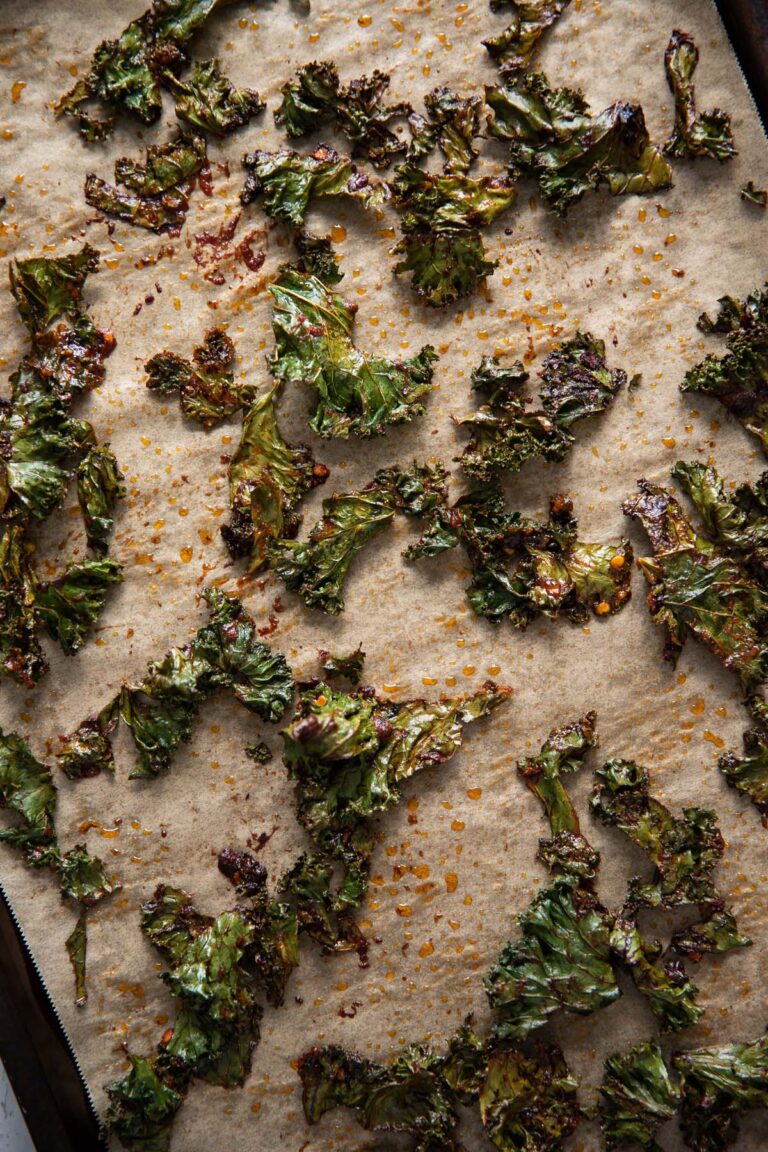 But why mess with a good thing? They always come out crispy!! And crispy kale chips are the only way to eat them.
I've found that baking them at 300 degrees for 20 minutes is the perfect combo.
Something to keep in mind, don't overlap them.
I know, I know, it takes forever to make them at that rate. But if you break that rule, they might be soggy. Womp, womp, womp. One sheet pan is the perfect snack size for two.
I should talk about how spicy these are. If you like spicy you will love these! I love spicy everything. And the spicier the better.
And if you've ever eat angry edamame you'll understand the inspiration behind these. Angry edamame is truly the backstory behind making these oven kale chips.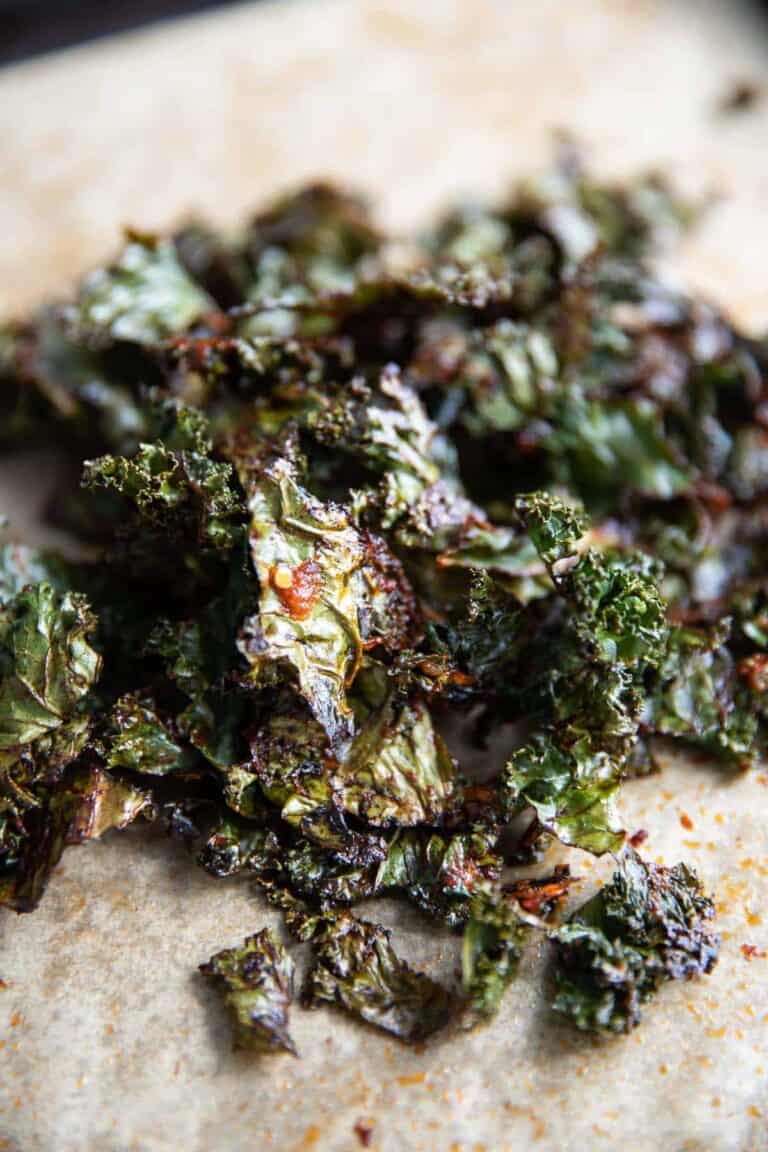 It's a lot easier to snack on kale chips than it is edamame through the day. Because kale chips stay crispy all day long!
And if you are looking to make these with something, like dinner, I suggest skinny orange chicken or this thai peanut chicken noodle salad since it's cool and refreshing.
Make sure to follow the Modern Crumb Board on Pinterest for lots of yummy meal inspiration! And subscribe to the newsletter, below, to get updates when new recipes post.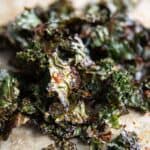 Print Recipe
Spicy Oven Kale Chips
If you need a recipe for kale chips in the oven, you've come to the right place. Because these are the spiciest and crispiest kale chips ever.
Ingredients
2

c

chopped kale

2

tbsp

butter

3

tbsp

sriracha

1/4

tsp

crushed red pepper

1/8

tsp

salt

1/8

tsp

chili powder

1

garlic clove

minced

1

tbsp

lemon juice

1

prince of peace ginger chew
Instructions
Preheat the oven to 300

Wash the kale and cut out the middle stalk part

Chop it up into small pieces and dry them with a few paper towels, or air dry ahead of time

Heat a sauce pan over medium/low heat

Add the butter, sriracha, crushed red pepper, salt, chili powder, garlic, lemon juice and ginger chew

Heat the sauce until it starts "separating" the oil will pull away from the rest of it

Turn the heat off

Toss the sauce together with the kale

Lay it flat, try not to overlap pieces, on a baking sheet lined with parchment paper

Bake for 15 minutes

Toss it

Bake for 5 more minutes

Cool and serve