A loaded up chicken taco salad perfect for a summer night dinner. Full of black beans, fresh corn, tomatoes, cheddar and cotija cheese, avocado and cilantro. Served on a bed of shredded romaine and cabbage and topped with an easy to make taco salad dressing.
Try serving this with a side of pico de gallo or corn salsa.
This recipe was first published on April 12, 2021.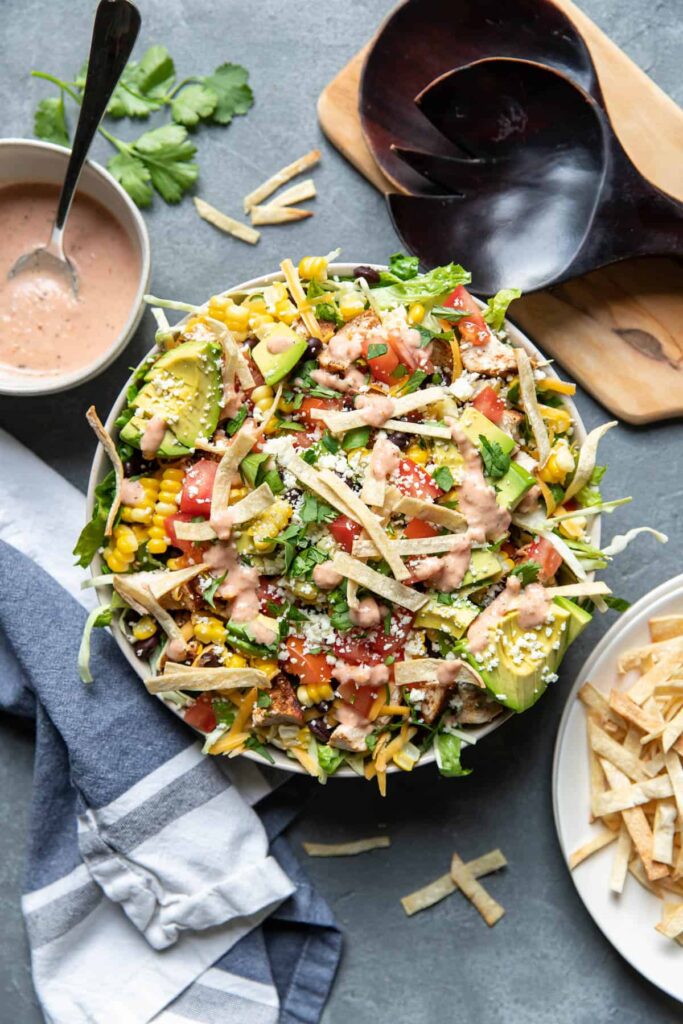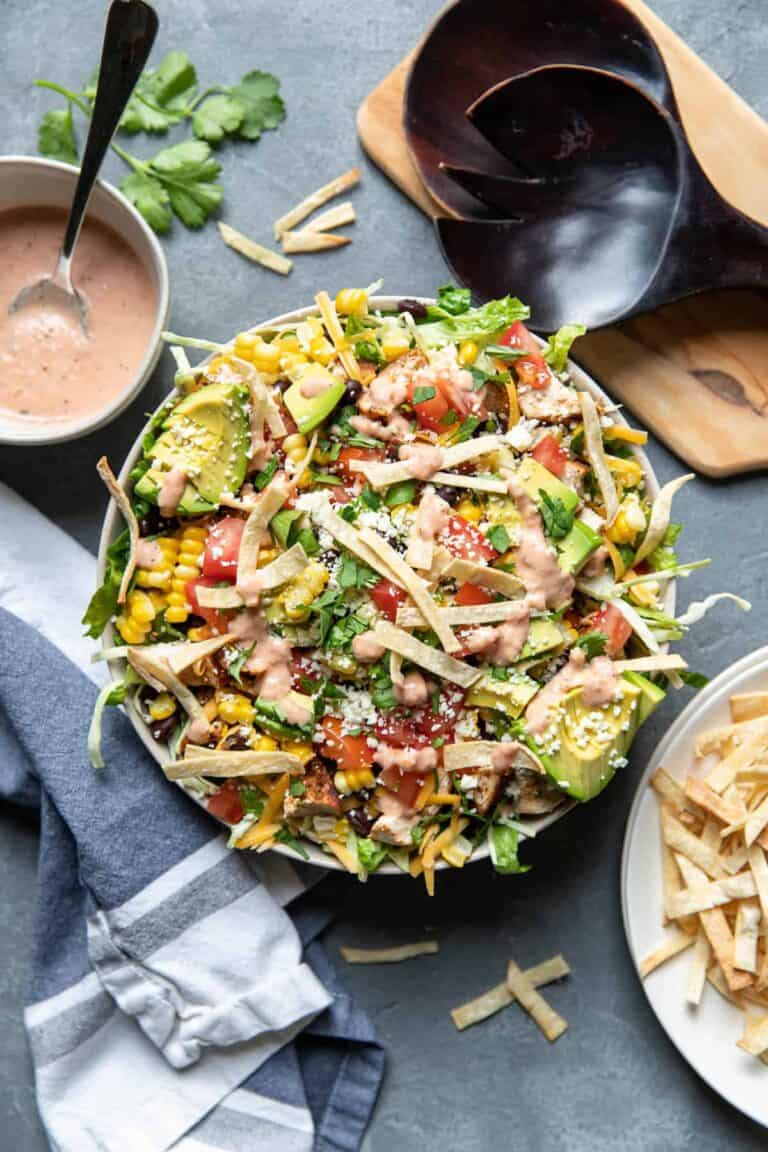 When you are looking for a healthy summer dinner salad to feed the family, this chicken taco salad is just the ticket!
There are so many yummy ingredients in this salad. Here's what's in it.
Juicy seasoned chicken, cheddar cheese, black beans, fresh corn, tomatoes, avocado, cotija cheese, cilantro and crispy tortilla strips. All piled up on a bed of romaine and cabbage.
And can I just pause and say how delicious cotija cheese is! It's like a Mexican parmesan, a bit salty and so good. I use it to make the elote corn in these baked chicken taquitos.
You will not be hungry after eating this! It is super filling and even kid approved. It's a great dinner to get lots of healthy vegetables in their diet and yours.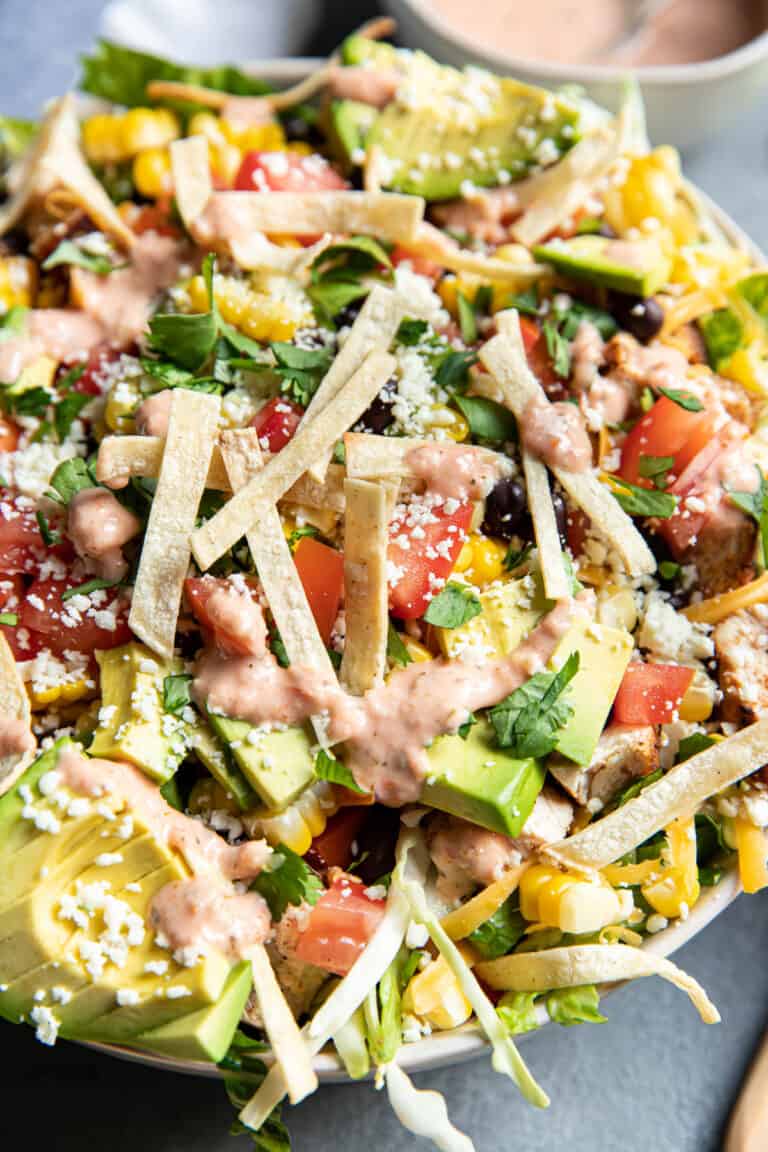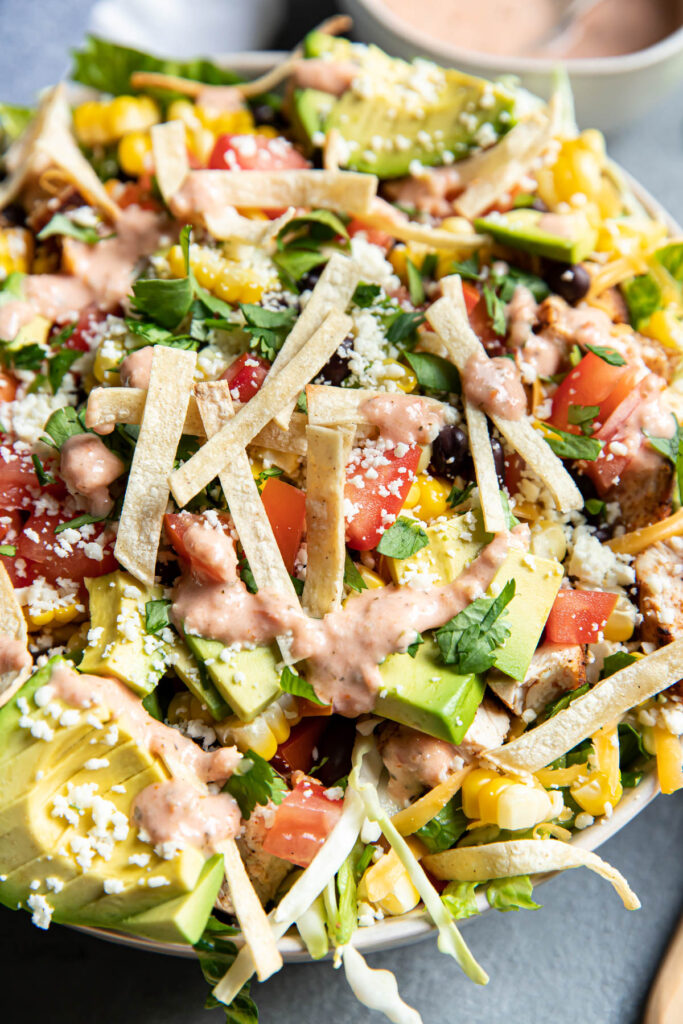 How To Make the Chicken Taco Salad Dressing
Okay, this taco salad dressing could not get any easier! There is no reason you can't muster up the energy to make it because it's two (count it, two) ingredients!!!
Ranch dressing and salsa.
Nothing more, nothing less, just good old ranch dressing and your favorite salsa. Well your favorite ranch too.
If you are looking for a recommendation, I love the 'simply dressed' Marzetti brand ranch - it's in the chilled section near the packaged salads. It's seriously the best jarred ranch at the grocery store.
Mix it with some fresh (store bought) salsa. This would be the type of salsa that's more of a pico de gallo or restaurant style, that's in a container. It's also kept in a chilled fridge section.
And that's not to say you cant use pace salsa from the jar, you can. It's whatever is your favorite, I'm just making a suggestion as to my favorite.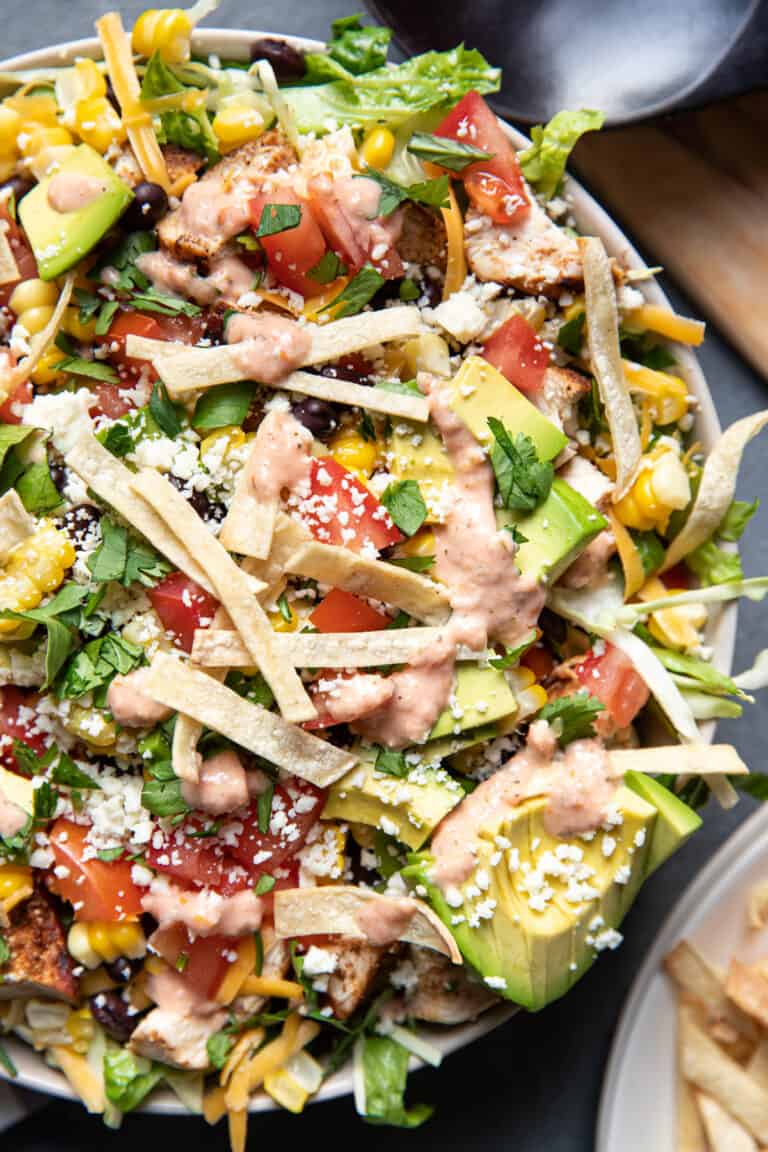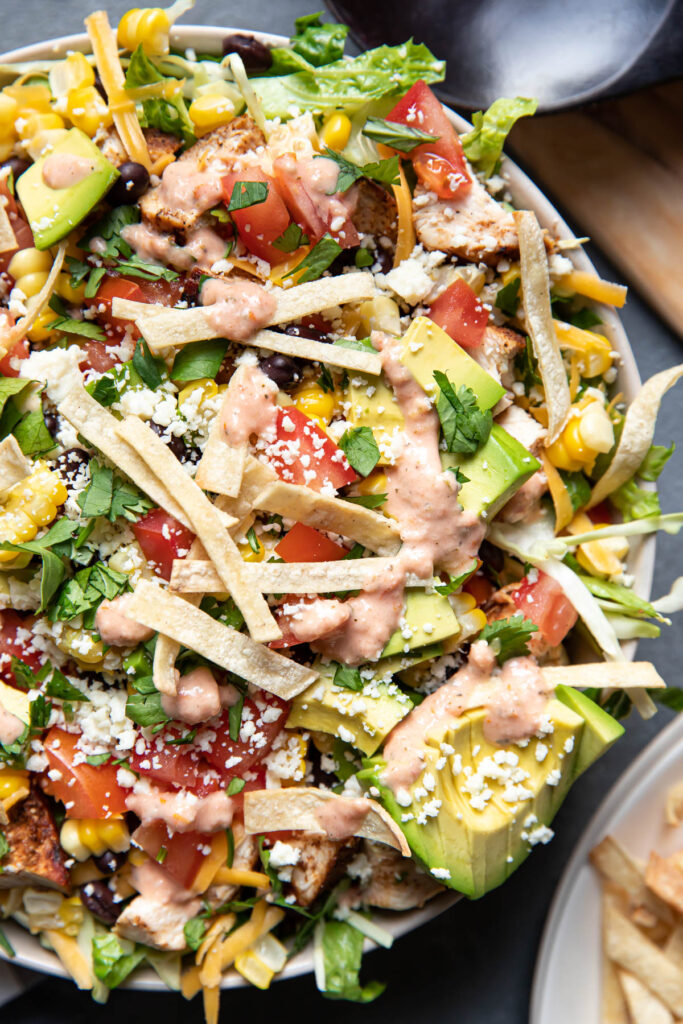 Cooking The Chicken
The method for cooking the chicken will be by utilizing our cast iron skillets! If you don't have one, I highly suggest in investing in one. A decent size skillet will be no more than $20 and you'll use it weekly.
First get your pan preheated. Cast iron skillets retain a lot of heat, so you don't need to go past medium. Actually, when cooking chicken (depending how thick it is) I like to set my stove top to a medium/low heat so it doesn't burn.
It takes about 15 minutes to cook chicken in a skillet. Drizzle in some olive oil and butter. Butter makes everything better.
And if you have a splash guard for your skillet, you'll want to put that on top - save everything else from getting splats on it.
Once the chicken is done cooking you will need to let it sit and rest, off the pan. This way all of the juice won't run out of the chicken by cutting in to it too soon.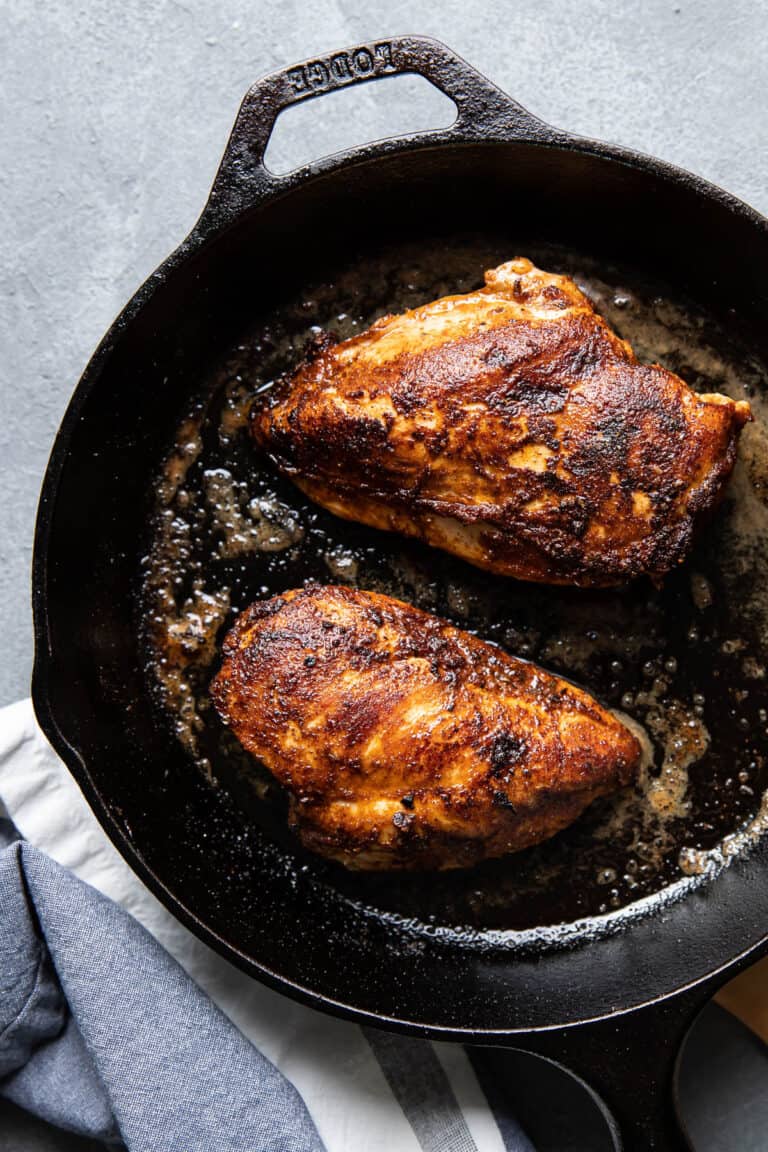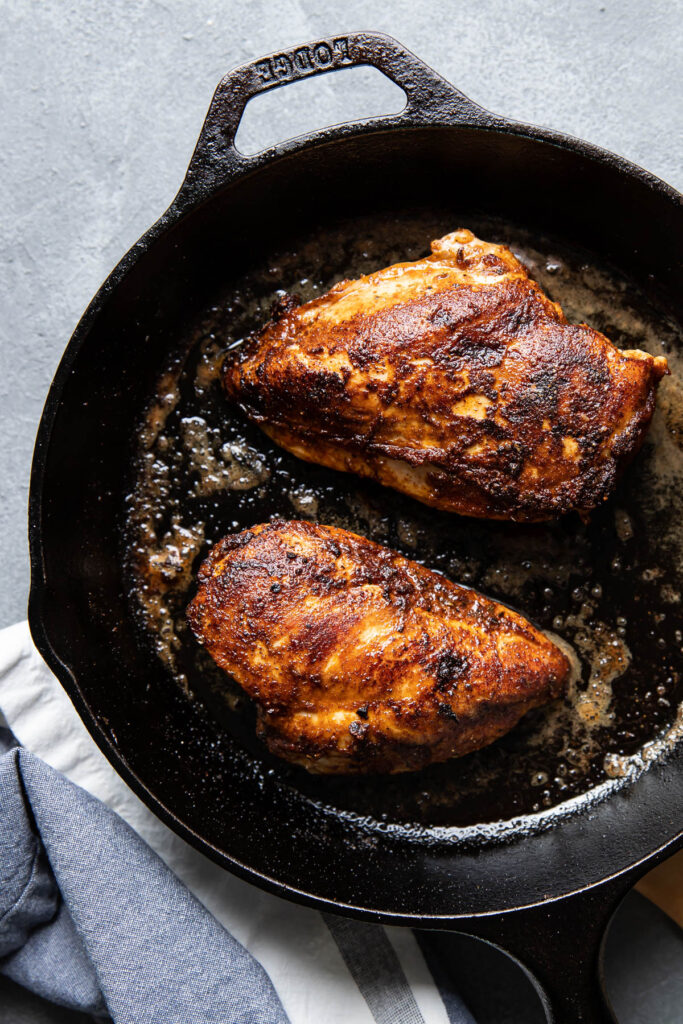 How To Layer a Chicken Taco Salad
You'll want to grab a really large bowl for this salad. So you can fill it to the brim.
Start with the shredded romaine and cabbage. Just toss the two together (after you thinly slice with a knife) and this is the base of your salad. I love using both romaine and cabbage because the cabbage gives it a nice crunch and adds more substance to the salad.
Next add the diced chicken. It's best to let the chicken cool down before cutting in to it - this way all the juices won't run out (that's how you get dry chicken). Let it sit on a plate with some foil over top while you chop up all the vegetables and make the taco salad dressing.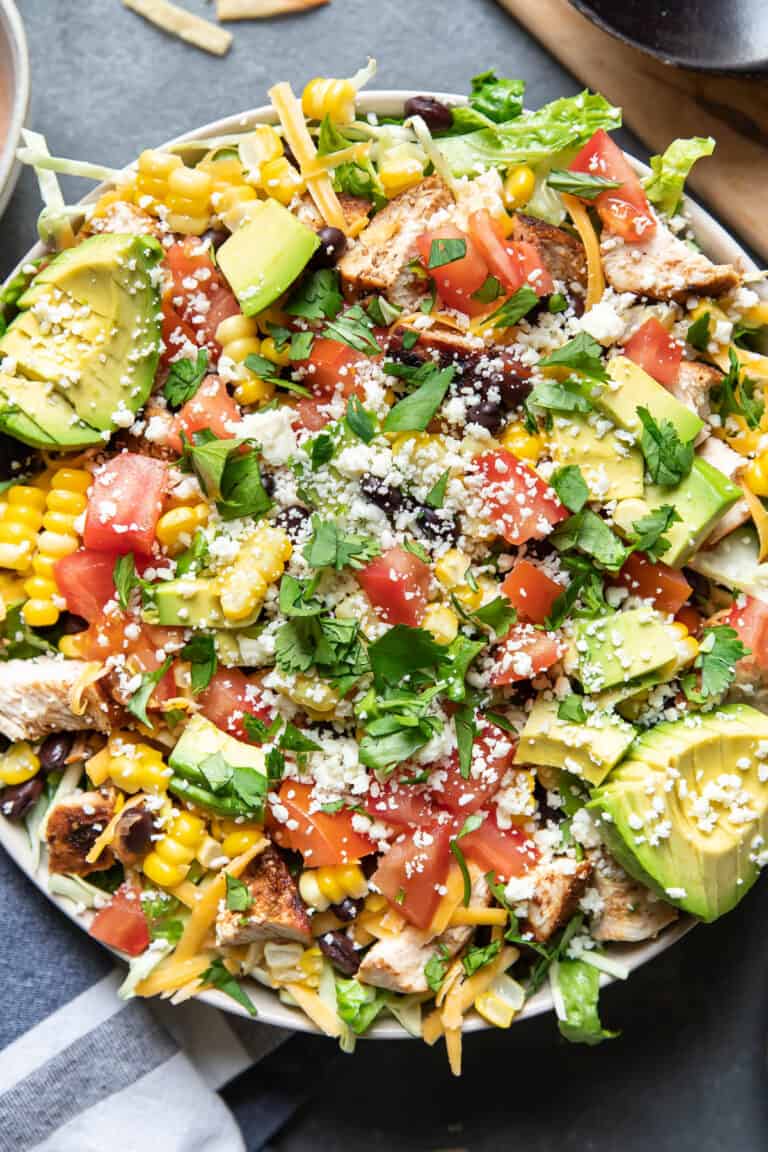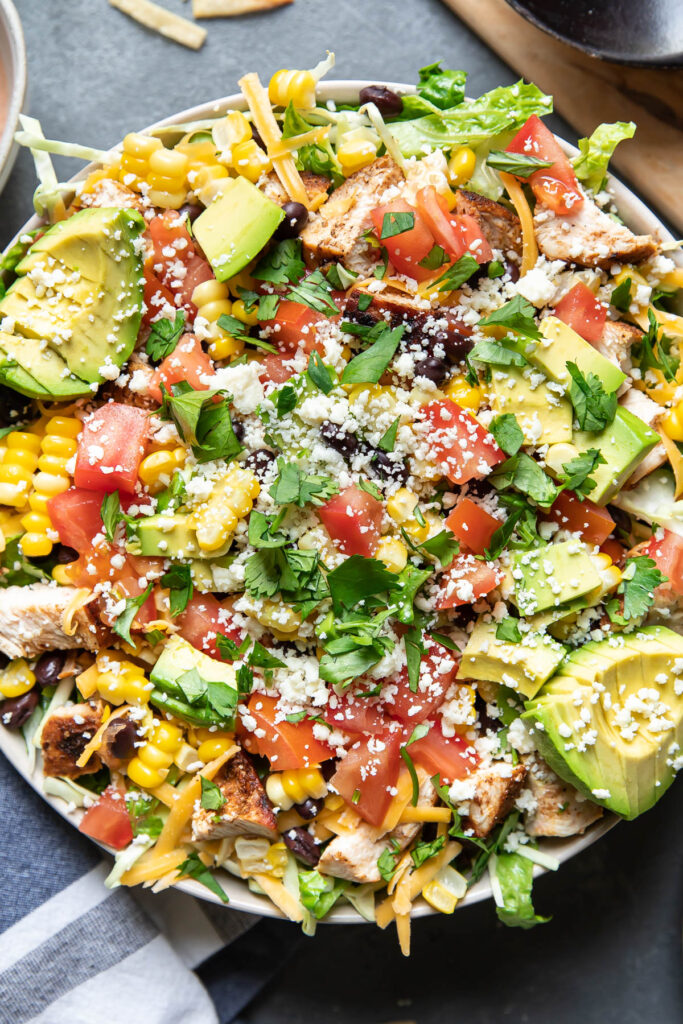 Now for all the goodies. Sprinkle on the cooked corn kernels (boil them in water for just a few minutes to soften), black beans, shredded cheddar cheese (or whatever you have on hand or like), diced tomatoes and diced avocado.
The last thing that goes on your chicken taco salad is the toppings. Sprinkle on some cotija cheese, cilantro and the crispy tortilla strips. I highly, highly, recommend not skipping the cotija cheese. It makes such a difference in the recipe and the taste just can't be beat.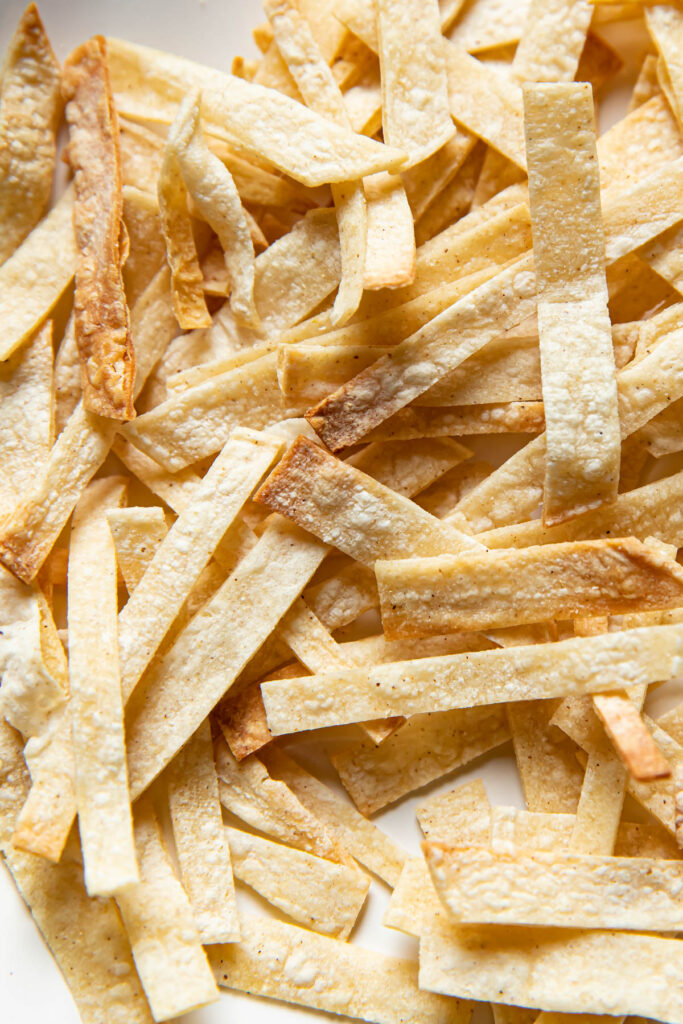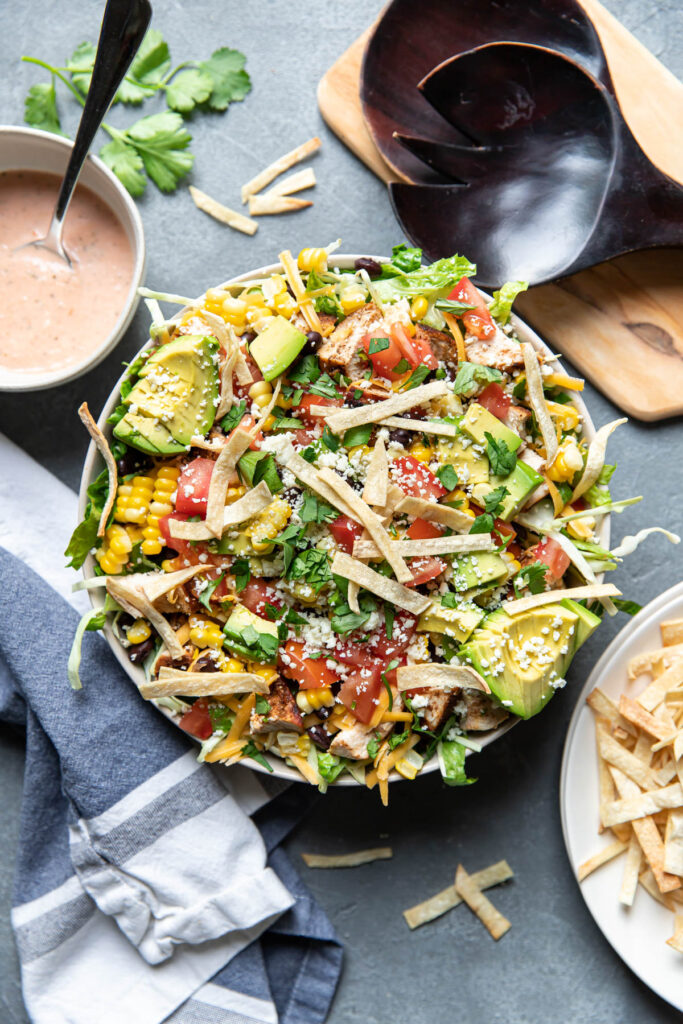 FAQ
What is cotija cheese?
Cotija cheese is a crumbly, slightly salty cheese. It is the Mexican food equivalent to parmesan cheese.
Can I substitute tortilla chips for the tortilla strips?
Yes! If you don't want to spend the time making the crispy tortilla strips just get out a bag of tortilla chips and crumble them on top of your taco salad. If you want to be fancy and are going for an impressive look, make the crispy tortilla strips.
Can I make this taco salad vegetarian?
You can. Leave out the chicken and add extra avocado. For more flavor trying seasoning the avocado and grilling it on a grill pan. I like to leave it in the avocado shell and face down let it cook on a lightly oiled grill pan. Then once it has some char marks, scoop it out with a spoon like you normally would.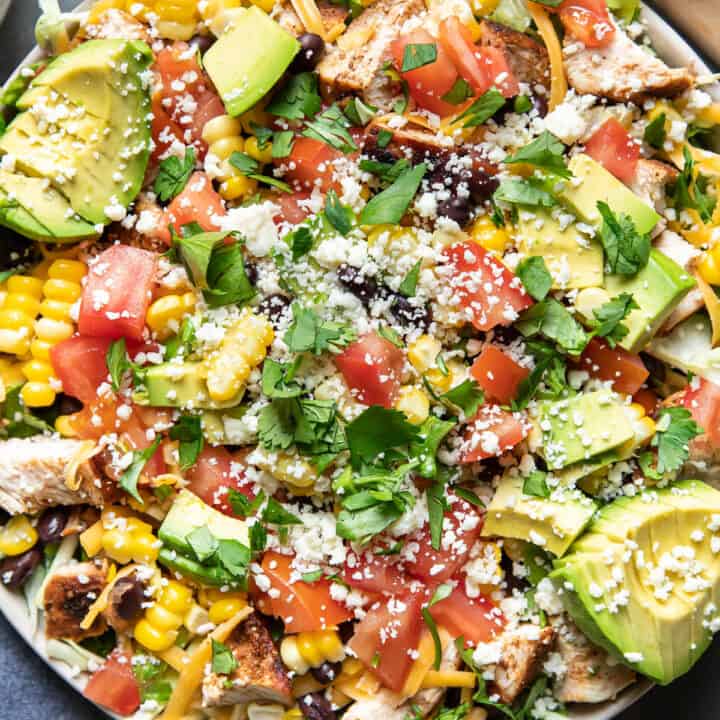 Summer Chicken Taco Salad
A loaded up chicken taco salad perfect for a summer night dinner. Full of black beans, fresh corn, tomatoes, cheddar and cotija cheese, avocado and cilantro. Served on a bed of shredded romaine and cabbage and topped with an easy to make taco salad dressing.
Ingredients
1 ½ lb chicken breast
1 tbsp oil
1 tbsp butter
4 corn tortillas, cut in half and cut into thin strips (can make as many as you want)
1 romaine head, shredded
¼ cabbage, shredded
½ c cheddar cheese, shredded
8 oz black beans, liquid drained
2 ears of corn, cooked and kernels cut off
2 tomatoes, diced
1 avocado, diced
cotija cheese
cilantro, chopped
Chicken seasoning
1 tsp salt
¼ tsp oregano
1 tsp cumin
½ tsp chili powder, onion, garlic powder
½ tsp paprika
Taco salad dressing
Instructions
Preheat oven to 375
Sprinkle the chicken with the chicken seasoning blend
Drizzle the 1 tbsp oil and 1 tbsp butter in a cast iron skillet over medium heat (if it's starting to get too warm decrease a bit)
Cook chicken until no longer pink, turning half way through (about 10-15 minutes)
Set the chicken aside, on a plate
For the dressing, combine salsa and ranch dressing together, if your salsa is chunky then use a mini food processor to blend
Cut the corn tortillas in half, then into thin strips, put them on a baking sheet lined with parchment or foil and lightly spray with cooking spray
Bake in the oven for 10 minutes, until crispy, keep tossing and taste to make sure they have crisped all the way through (see notes)
Chop up the chicken into bite sized pieces
Boil the corn cobs for just a few minutes then cut off the kernels
In a large bowl add the romaine and cabbage, chicken, cheddar cheese, black beans, corn, tomatoes, avocado, cotija cheese, tortilla strips and cilantro
Drizzle on the dressing
Serve
Notes
For the crispy tortilla strips - toss them as they cook in the oven so they don't burn.  Taste them before you pull them out, they should be crispy like a tortilla chip.  If they are still chewy then they haven't cooked long enough.  
You can use tortilla chips instead of making your own.
Recommended Products
As an Amazon Associate and member of other affiliate programs, I earn from qualifying purchases.
Nutrition Information:
Yield:

6
Serving Size:

1
Amount Per Serving:
Calories:

567
Total Fat:

27g
Saturated Fat:

7g
Trans Fat:

0g
Unsaturated Fat:

18g
Cholesterol:

117mg
Sodium:

1088mg
Carbohydrates:

37g
Fiber:

11g
Sugar:

8g
Protein:

46g
This information comes from online calculators. Although moderncrumb.com attempts to provide accurate nutritional information, these figures are only estimates.