This is the best and easiest homemade pico de gallo salsa recipe. You can make it as an appetizer or use it to top your favorite tacos. Made with fresh roma tomatoes, jalapeño, red onion, cilantro, lemon and lime juice.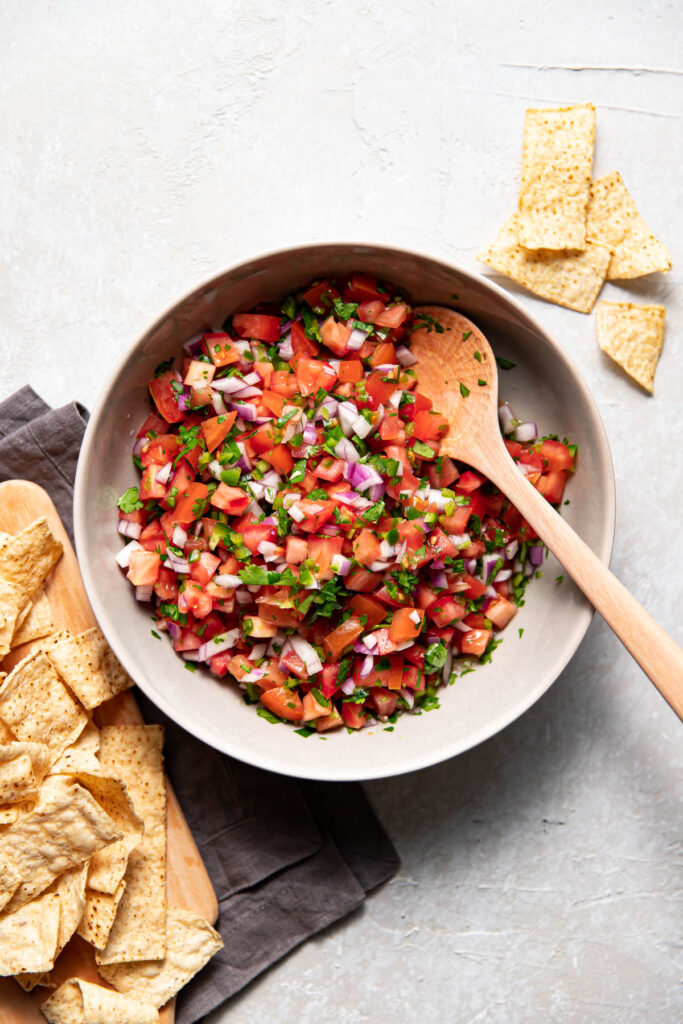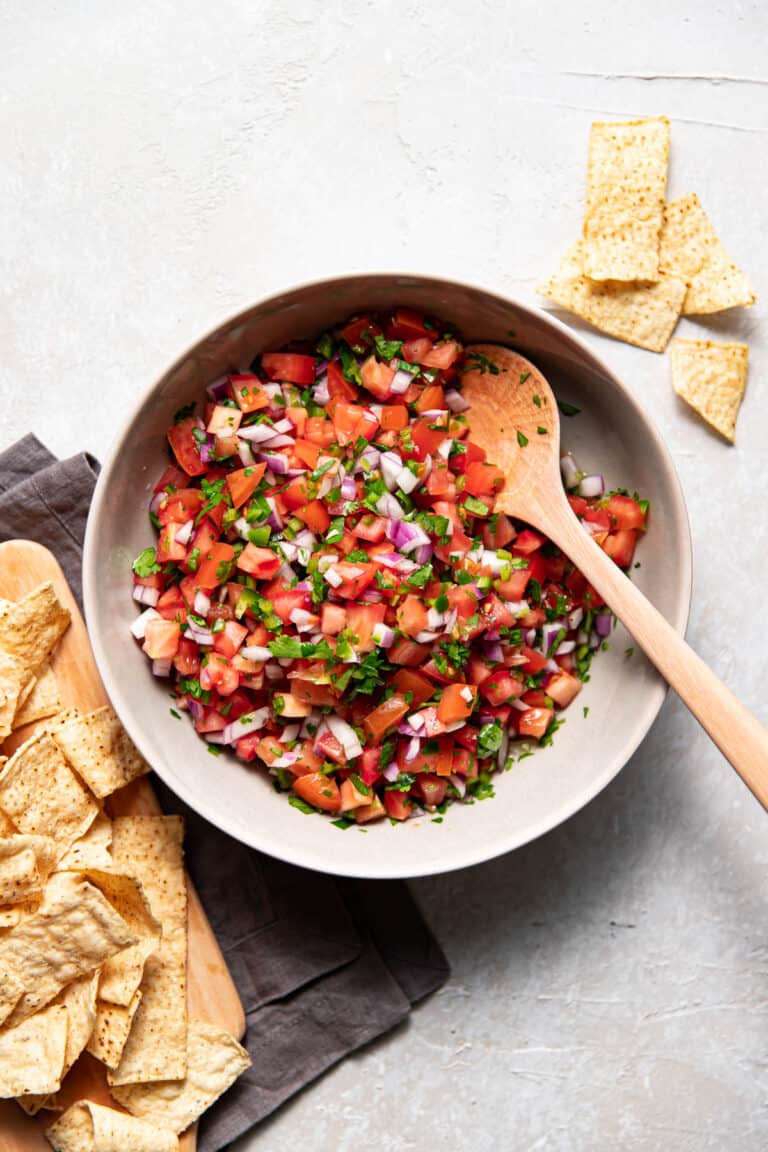 For a pool party with friends or a relaxed Sunday with my family my favorite go-to recipe is this homemade pico de gallo.
I've been making this same recipe for years! It's fool proof and you need a few ingredients.
Tomatoes, red onion, a jalapeno, cilantro, salt, lemon juice and lime juice.
With temps reaching in the high 110's here in Phoenix lately I've been making a lot of weekend pool snacks.
My daughter loves this pico de gallo, all the bold flavors are right up her alley.
You won't be disappointed in this recipe and your family and friends will be begging you for more as they scrape the bottom of the bowl with tortilla chips in total food bliss.
It's a crowd pleaser!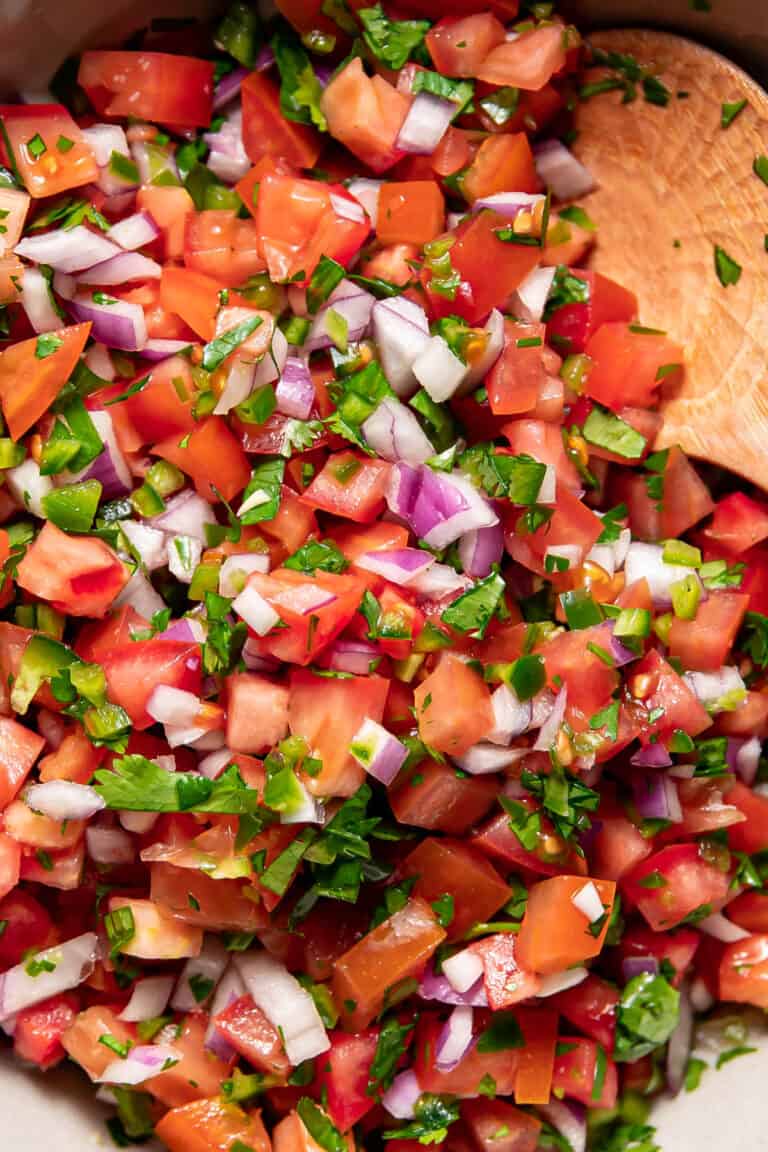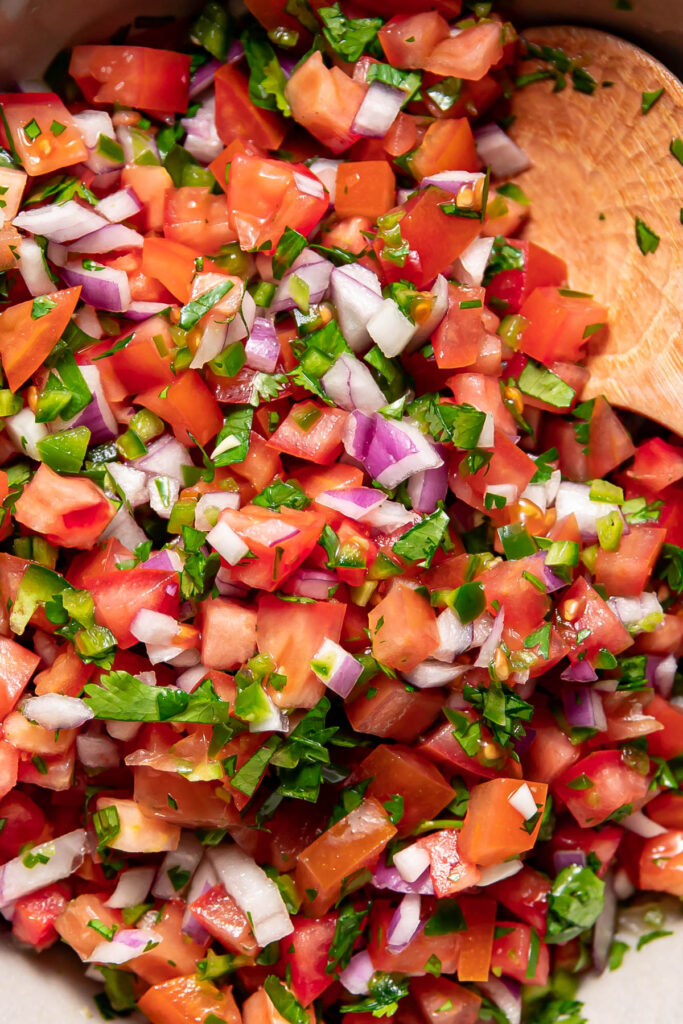 What's Pico De Gallo?
Pico de gallo is a type of salsa commonly used in southwest and Mexican cuisine cooking.
Pico de gallo is a chunky style salsa, so it's in a rough chopped state instead of all blended together.
Cool and refreshing, with pops of heat from the jalapeño, savory from the salt, and the perfect tartness from two types of citrus used.
The great thing about this pico de gallo is how versatile it is. So, it's the perfect healthy topping for these blackened cod fish tacos. Or to serve with a strawberry margarita.
After a couple days of sitting in your fridge you can pulse it up to make a smoother restaurant style salsa.
Ingredients for Pico De Gallo
For an easy pico de gallo recipe, the ingredients are pretty basic! You'll want to make sure it's seasoned just right though, that means it needs salt to boost the flavor.
Here are all the ingredients that are in this pico de gallo.
Roma Tomatoes - I always use these because they are one of the least juicy tomatoes, less liquid is better in pico de gallo
Jalapeños - adds a nice kick of spice
Lemon Juice - adding both lemon juice and lime juice does something special for the flavor of the pico de gallo
Lime Juice - added for taste
Cilantro - don't go stingy on the cilantro
Red Onion - this could be more preference, if you like red onion you could add more and if you don't you could add less
Salt - brings out all the flavor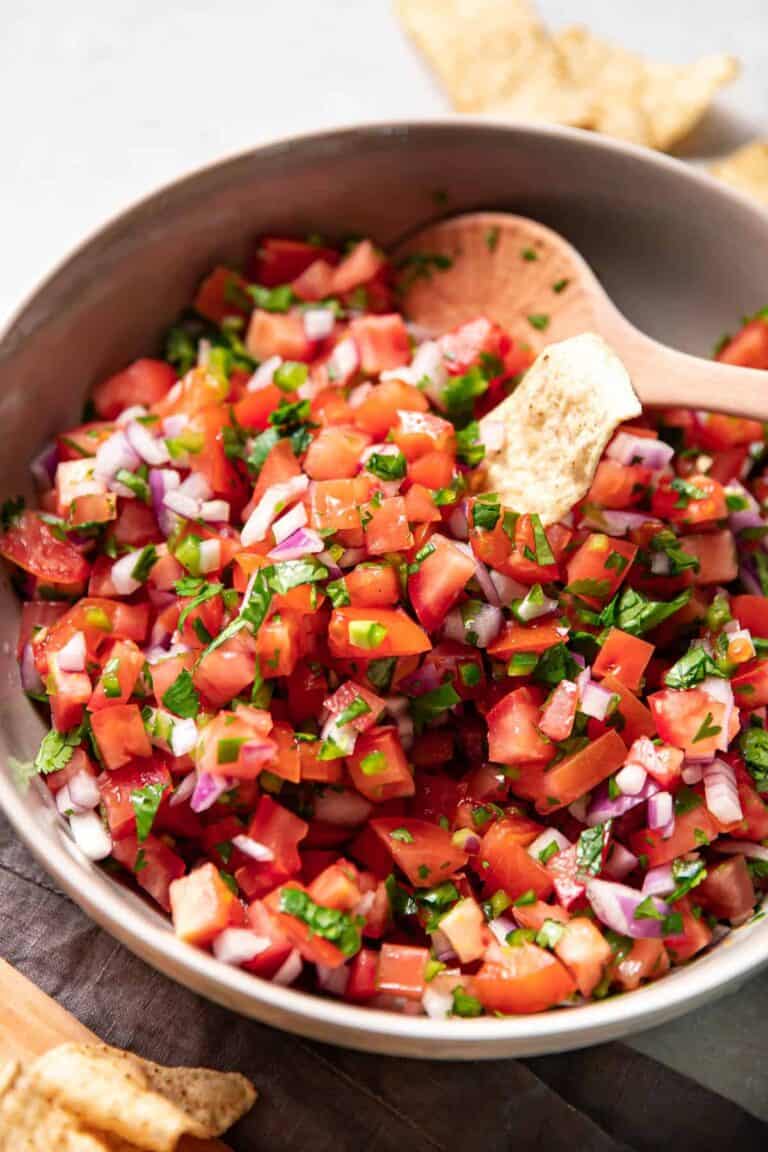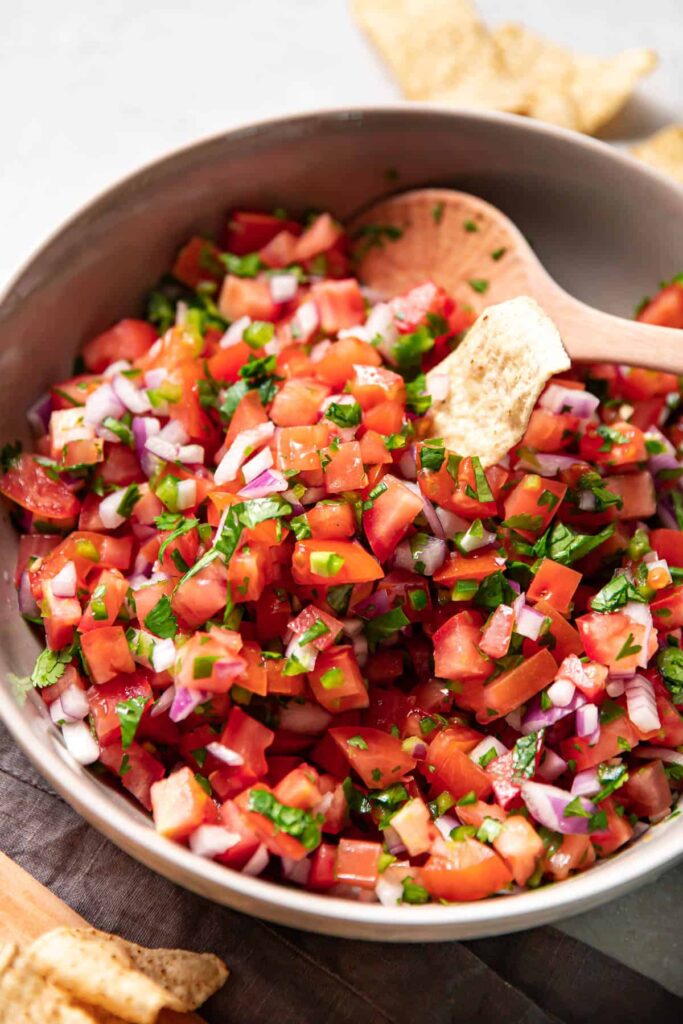 Pico De Gallo vs Salsa
One of the biggest differences between pico de gallo and salsa is it's appearance.
Pico de gallo is prepared by chopping everything up, and leaving it just like that. It also has less liquid in it. Whereas salsa is pulsed through a blender or food processor to have a thinner liquid consistency and is smoother in texture.
The ingredients of the two are usually the same.
More often pico de gallo is used as a filler, like on top of these white chicken enchiladas as one of the main components where salsa is more practically a dip with chips.
Although, I prefer pico de gallo for chips than salsa! What about you? Are you team pico de gallo or team salsa?
You could even serve it side by side with a bowl of chipotle corn salsa.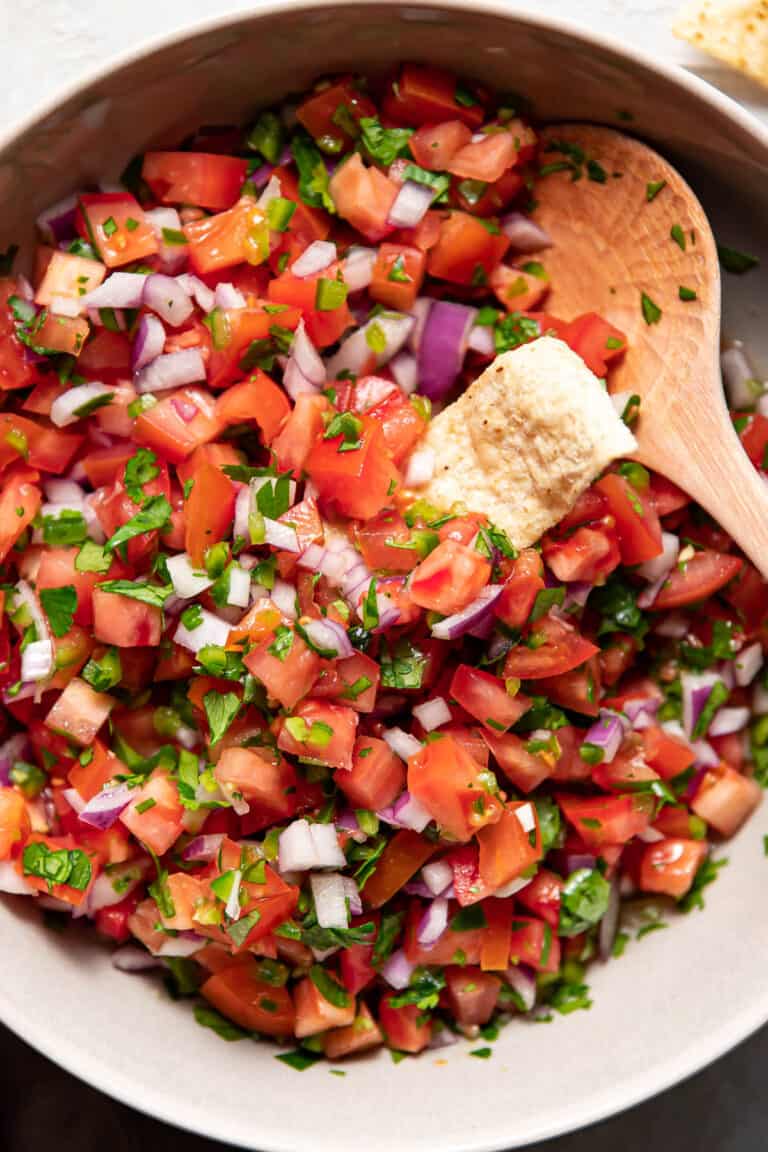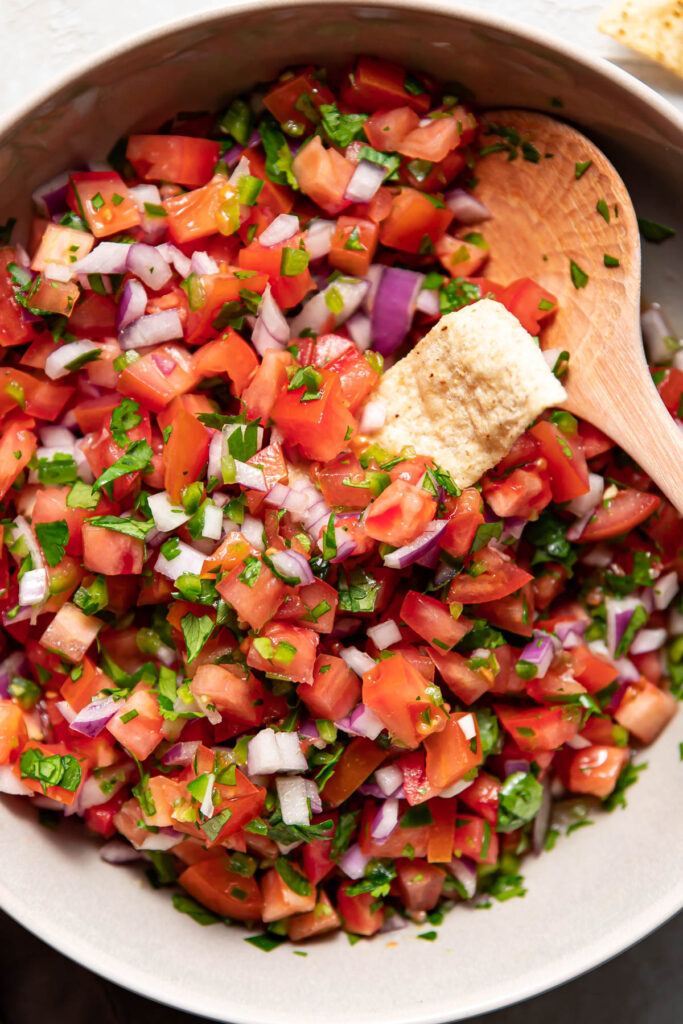 Tips When Making Pico De Gallo
Cut up the jalapeño last, that way the seeds aren't on your cutting board from the beginning and transferring to your hands throughout your prep.
Wrap cilantro in a paper towel in your fridge when you store it, it will stay fresher, longer.
You can easily double this recipe.
For a fun twist try adding cut up pieces of pineapple or mango!
FAQ
Is pico de gallo healthy?
Pico de gallo is a wonderful healthy side dish, loaded with fresh citrus and vegetables.
Is pico de gallo spicy?
Pico de gallo can be as spicy as you want. If you leave in the seeds and white middle part of the jalapeno, it will be really spicy. Leave them out and it will be mind.
What To Serve With Pico De Gallo
Try serving it at a party paired with these Frozen Strawberry Margaritas (plus there is a how to video)!
And if you are looking for something to pair it with for dinner then I suggest chicken street tacos, skillet chicken cream cheese enchiladas, crockpot mexican street corn enchiladas or a chipotle chicken bowl.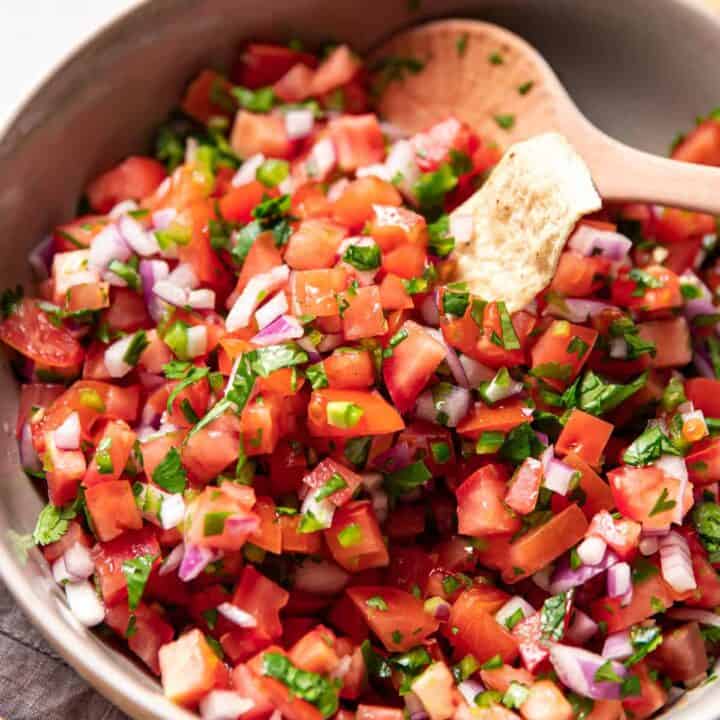 Homemade Pico De Gallo Salsa
This is the best and easiest homemade pico de gallo recipe. You can make it for an appetizer or use it to top your favorite tacos. Made with fresh roma tomatoes, jalapeño, red onion, cilantro, lemon and lime juice.
Ingredients
5 roma tomatoes, diced
1 jalapeño, diced
¼ lemon (not an entire half), juiced
½ lime, juiced
cilantro, handful, chopped
½ small red onion, diced
½ tsp salt
Instructions
Wash all the produce
Grab a large bowl
After dicing everything up, toss it in the bowl as you go
Drizzle on the lemon and lime juice
Add the salt, toss it around
Chill in the fridge for an hour, for best flavor or can be served right away
Taste it, add more salt if it needs it
Serve!
Recommended Products
As an Amazon Associate and member of other affiliate programs, I earn from qualifying purchases.
Nutrition Information:
Yield:

10
Serving Size:

1
Amount Per Serving:
Calories:

9
Total Fat:

0g
Saturated Fat:

0g
Trans Fat:

0g
Unsaturated Fat:

0g
Cholesterol:

0mg
Sodium:

121mg
Carbohydrates:

2g
Fiber:

1g
Sugar:

1g
Protein:

0g
This information comes from online calculators. Although moderncrumb.com attempts to provide accurate nutritional information, these figures are only estimates.
Make sure to follow Modern Crumb on Pinterest and Facebook for lots of yummy meal inspiration! And subscribe to the newsletter, below, to get updates when new recipes post.
This recipe was originally published on July 13, 2017.