These blackened cod fish tacos are bursting with flavor! Marinated cod fish, cooked just perfect so it's flavorful and delicate. Topped with my highly rated chipotle aioli fish taco sauce and fresh homemade pico de gallo.
This recipe was first published February 24, 2021.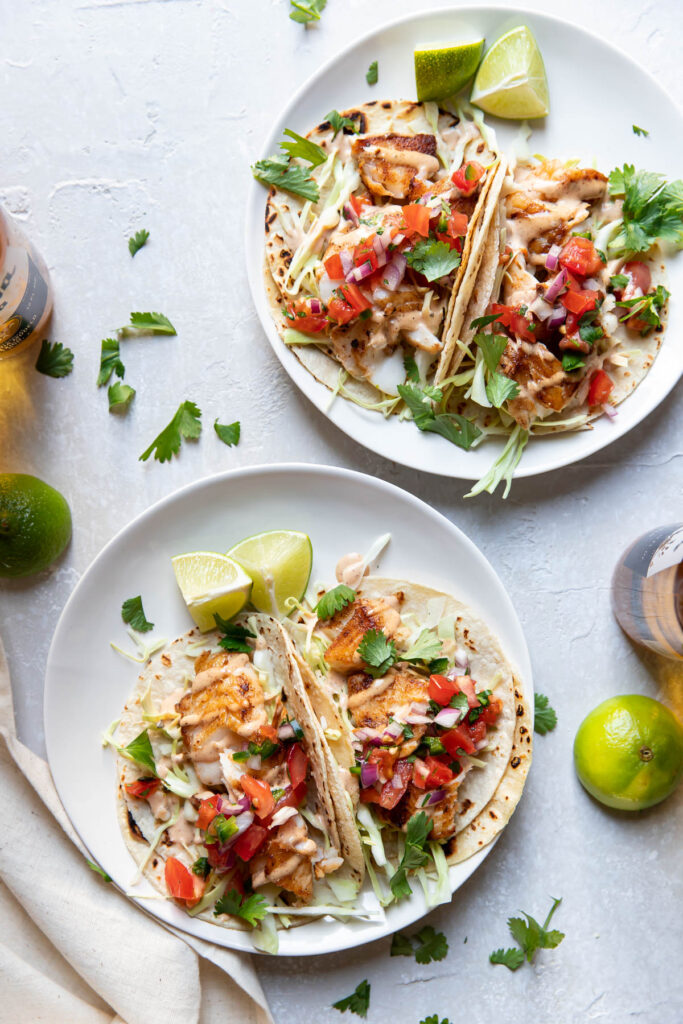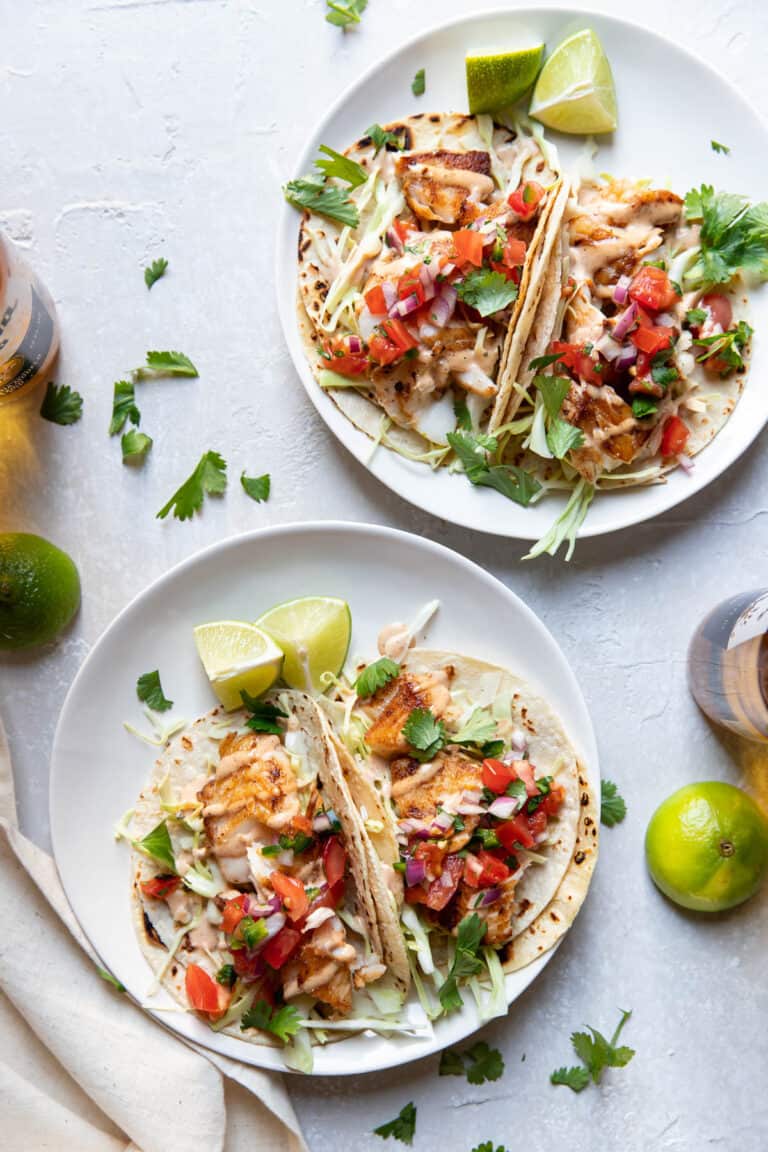 I love ordering fish tacos when I go out to eat, they always make them just right. Today, we're going to make the same type of restaurant quality fish tacos we all love!
For the perfect fish taco there's a few things it needs.
First is corn tortillas, that's a must have. Using corn tortillas instead of flour tortillas will make your tacos taste so much better! I like to char them in a hot skillet.
Next is properly marinated and cooked fish, so we'll be talking about cooking techniques so you'll feel confident making your own fish at home.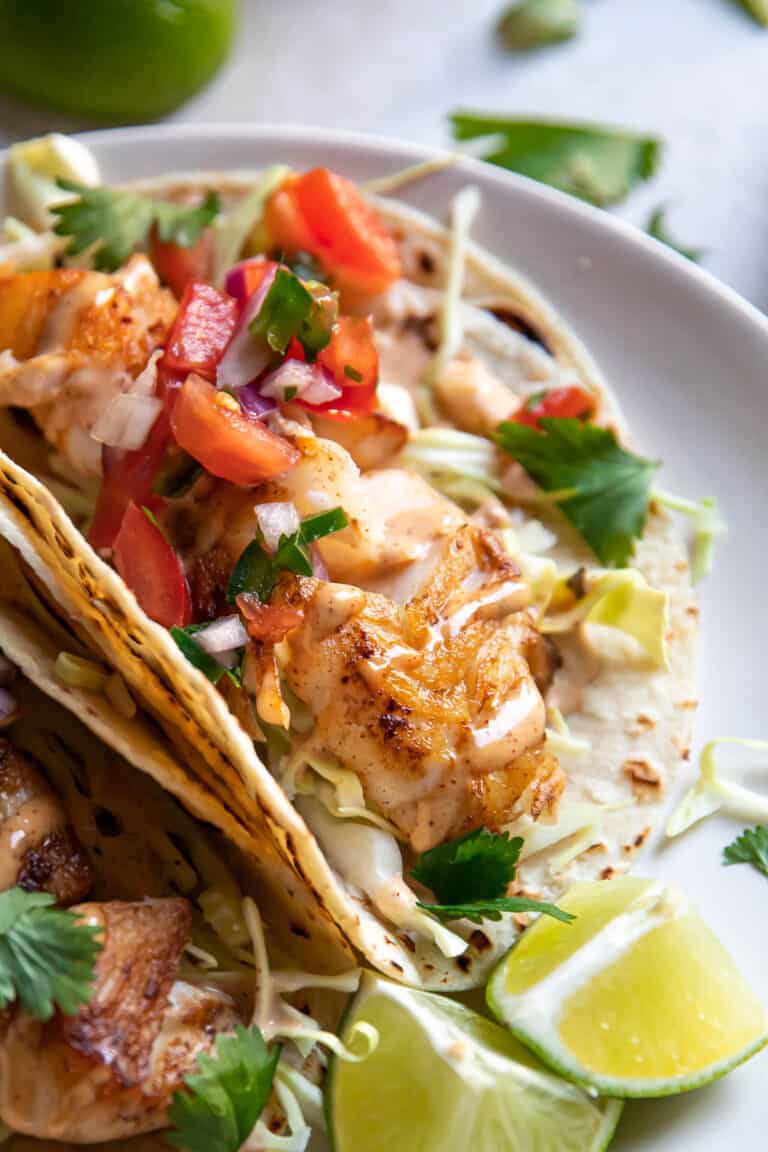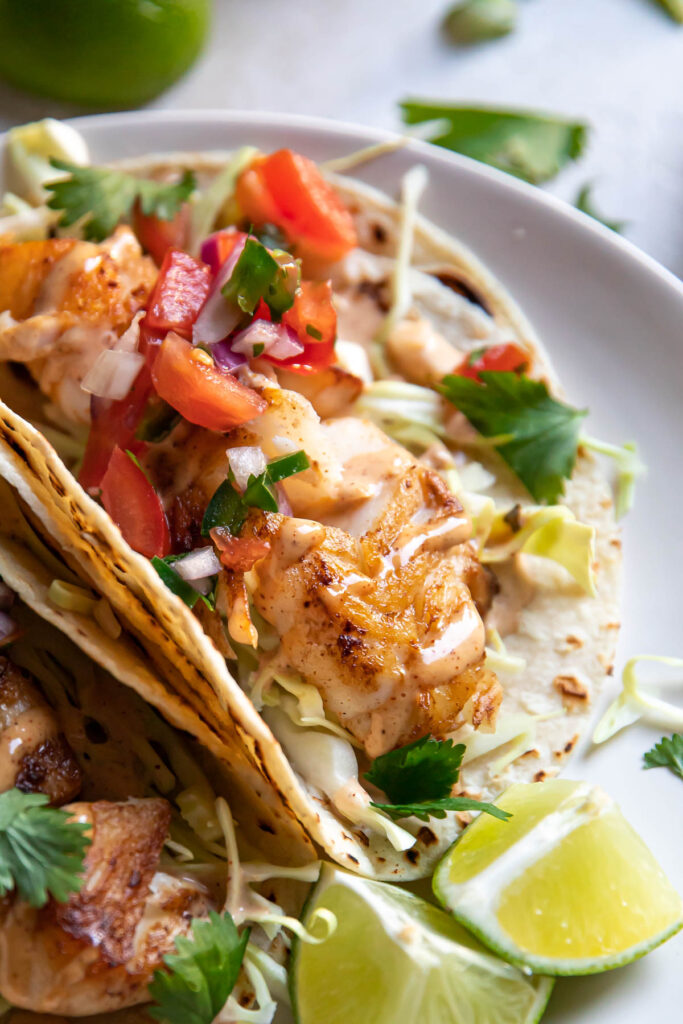 Last is the toppings. Start with some plain cabbage, nothing fancy there. If it's not your favorite, feel free to make your fish tacos without cabbage.
A bit of pico de gallo, which you can make yourself or buy store bought. The real show stopper is the chipotle aioli fish taco sauce, the same one used in this recipe for chicken street tacos.
Everyone raves about the taco sauce!!! And for good reason, it's so amazing!!!
End with squeezing on some fresh lime juice. Serve some lime wedges cut up on everyones plate.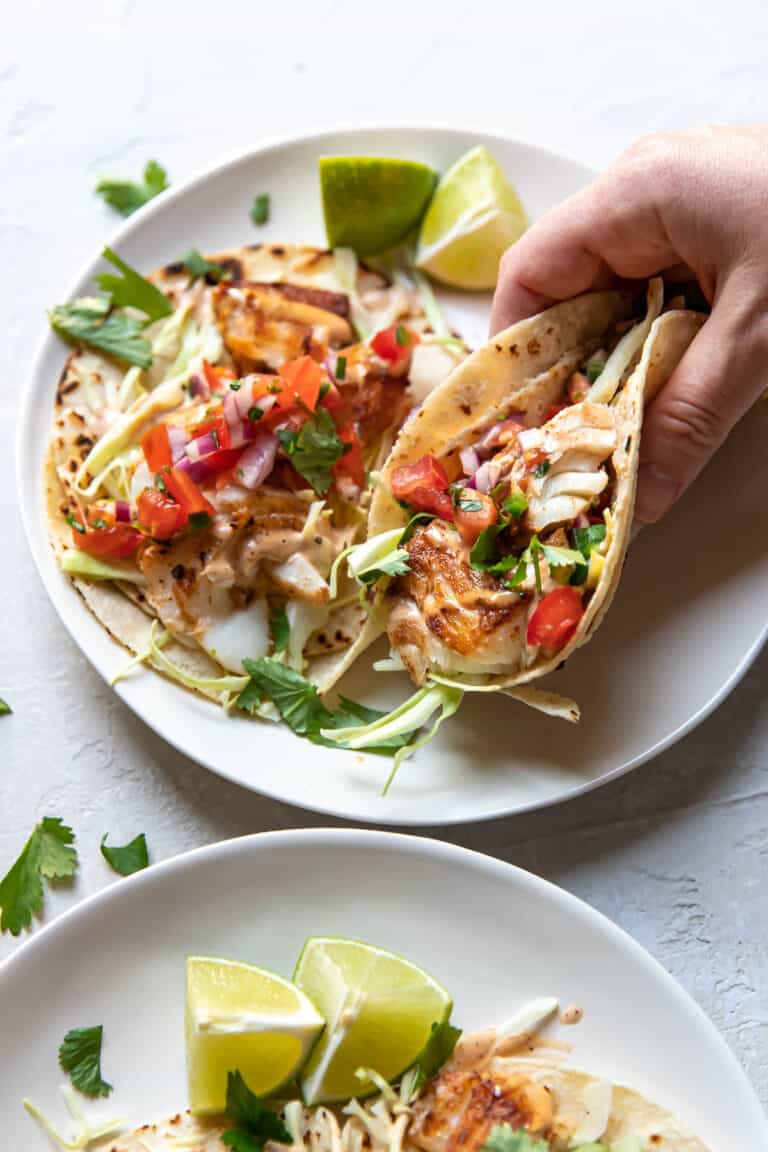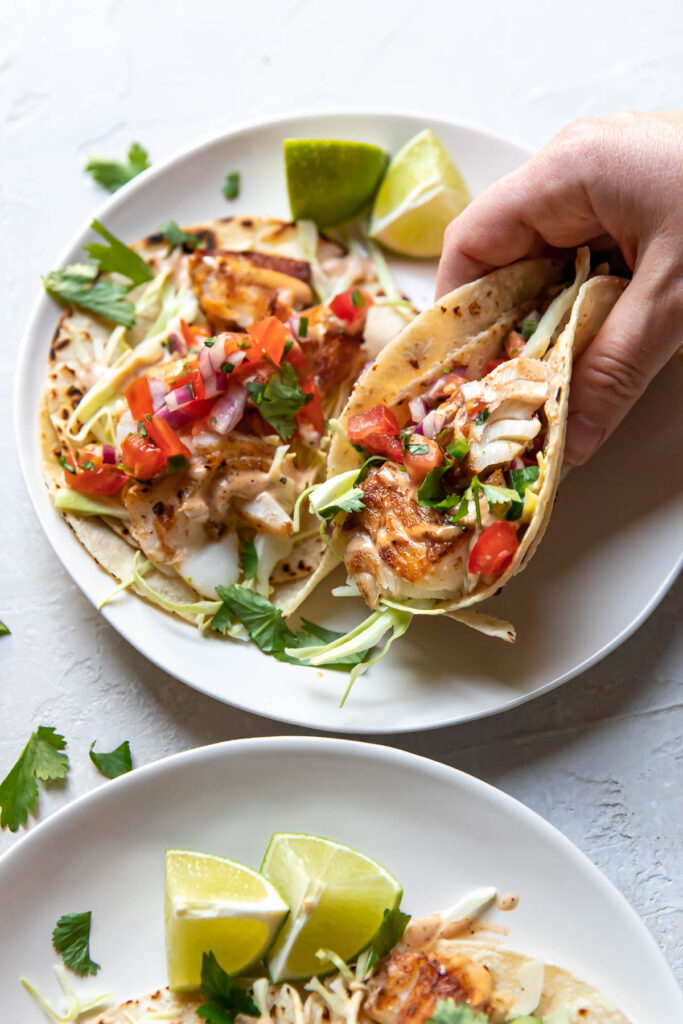 What Type of Fish to use For Fish Tacos?
For this recipe you'll need cod fish.
But really any white flesh fish will work. I think that cod fish has a nice texture and a neutral flavor.
Cod fish has just the perfect amount of flakiness so it holds together nicely when you marinate it. Stays together when you cook it but then peels apart for mouth watering bites.
Mahi mahi would be a good substitute.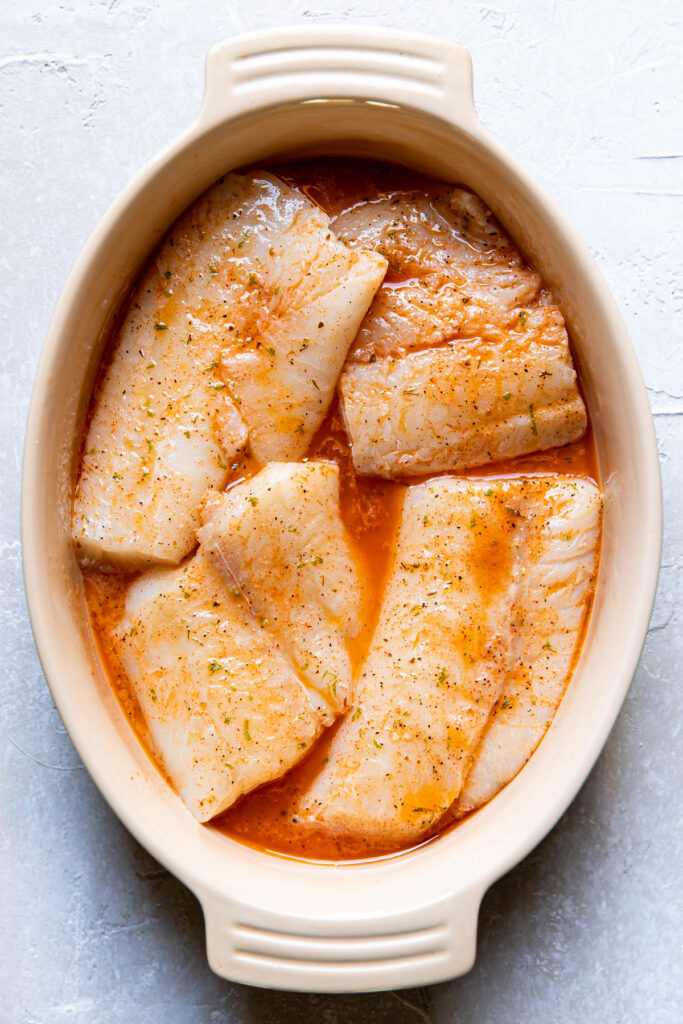 Marinade For Fish Tacos
The marinade for the fish is a basic citrus, oil and seasoning marinade. And you only need to marinate the fish for 30 minutes prior to cooking it. I like to prep other ingredient's while the fish sits and absorbs flavors.
Here's what you'll need.
sunflower oil - sunflower oil is healthy, neutral flavored oil, if you don't have sunflower oil on hand make sure to use something that is neutral flavored or else the aromas from the oil will sink in to the fish
lime juice and zest - using both the juice and the zest of a lime gives your fish a lot of flavor, the zest of any citrus fruit packs so much flavor in it
blackening seasoning - a special blend of seasoning in one container, it's perfect for fish and you can get it at most groceries stores
salt - for enhancing flavors
Half way through marinating, flip your fish over. A shallow baking dish works great for marinating. Keep it refrigerated during this process.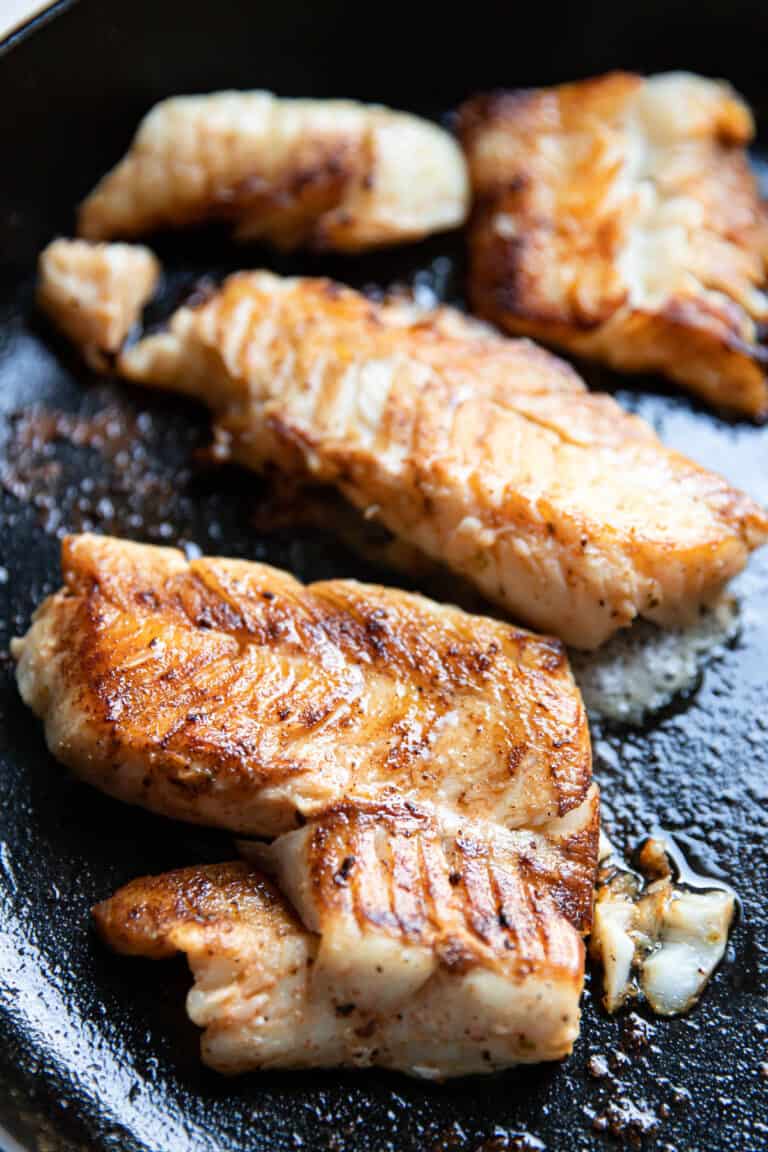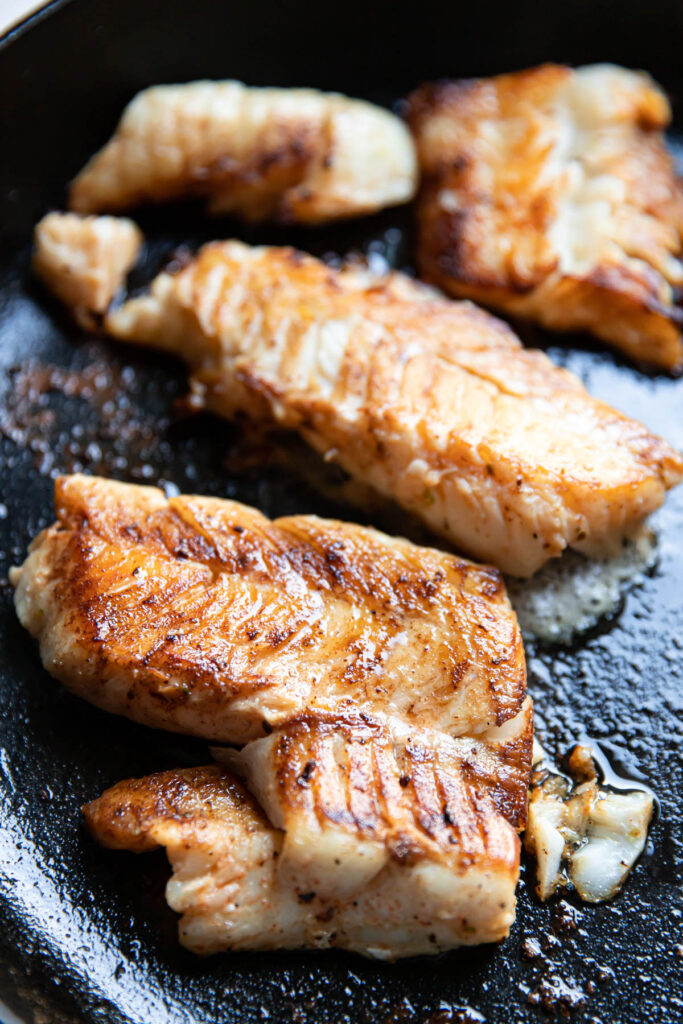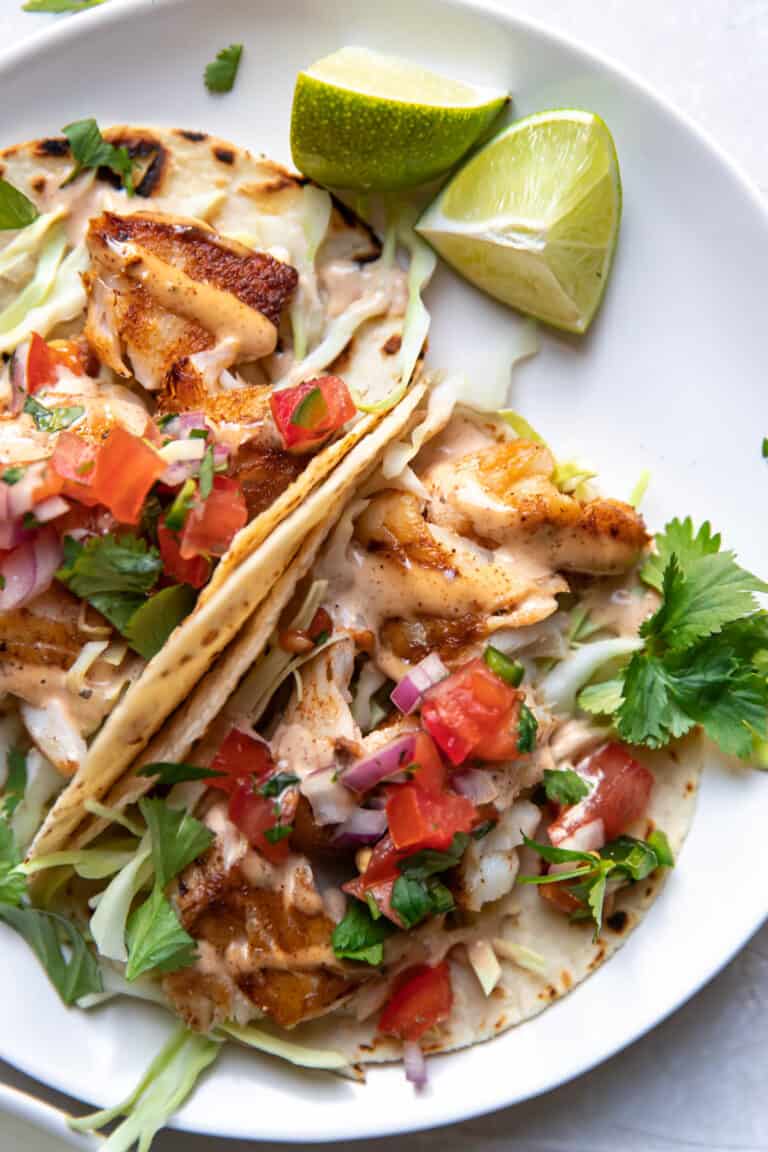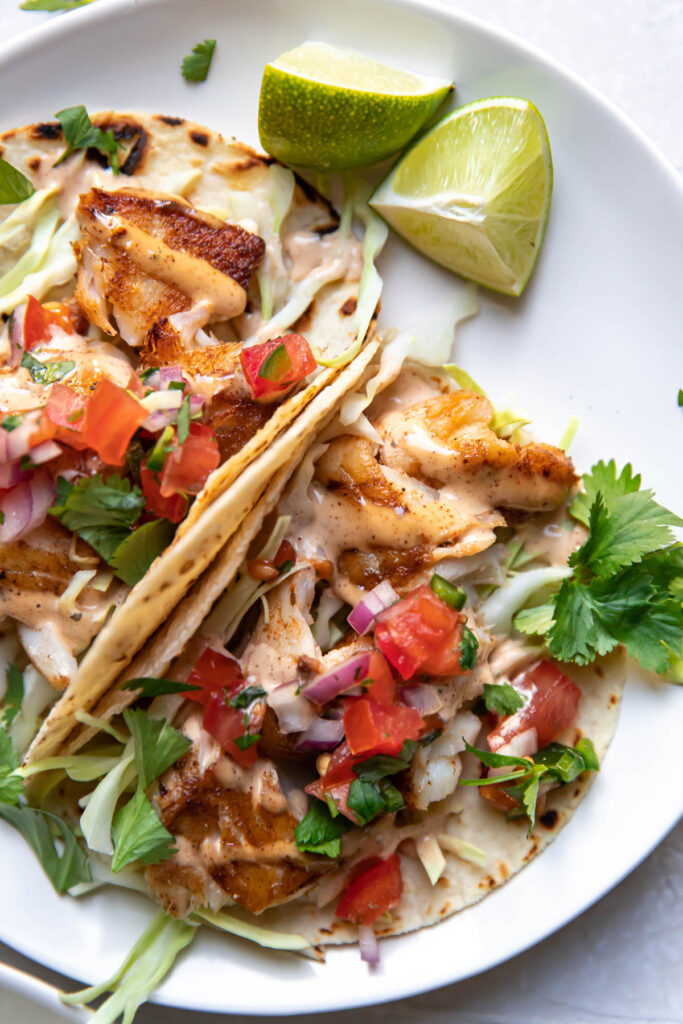 How To Cook Cod For Fish Tacos
Cooking the cod for your fish tacos will be the most important step. But hopefully my tips will help guide you in the right direct for success.
Let's talk about techniques for getting the best blackened fish tacos.
If you can (and I highly, highly suggest), use a heavy bottom skillet to cook the fish, at a high heat.
Fish have a lot of moisture in them, so if your pan is not hot enough all of the moisture will leak out. You will end up with a pool of water in your pan and fish that doesn't have any char on the outside.
Use equal parts oil and butter, a tablespoon of each, in the bottom of your hot pan, this will help the cod from not sticking and the butter will give it a yummy buttery taste.
Don't flip your fish until the first side is golden and has formed a little crust on it. That bit of charred crust gives your fish so much flavor.
Avoid overcooking. Once the cod fish has turned opaque, it's done.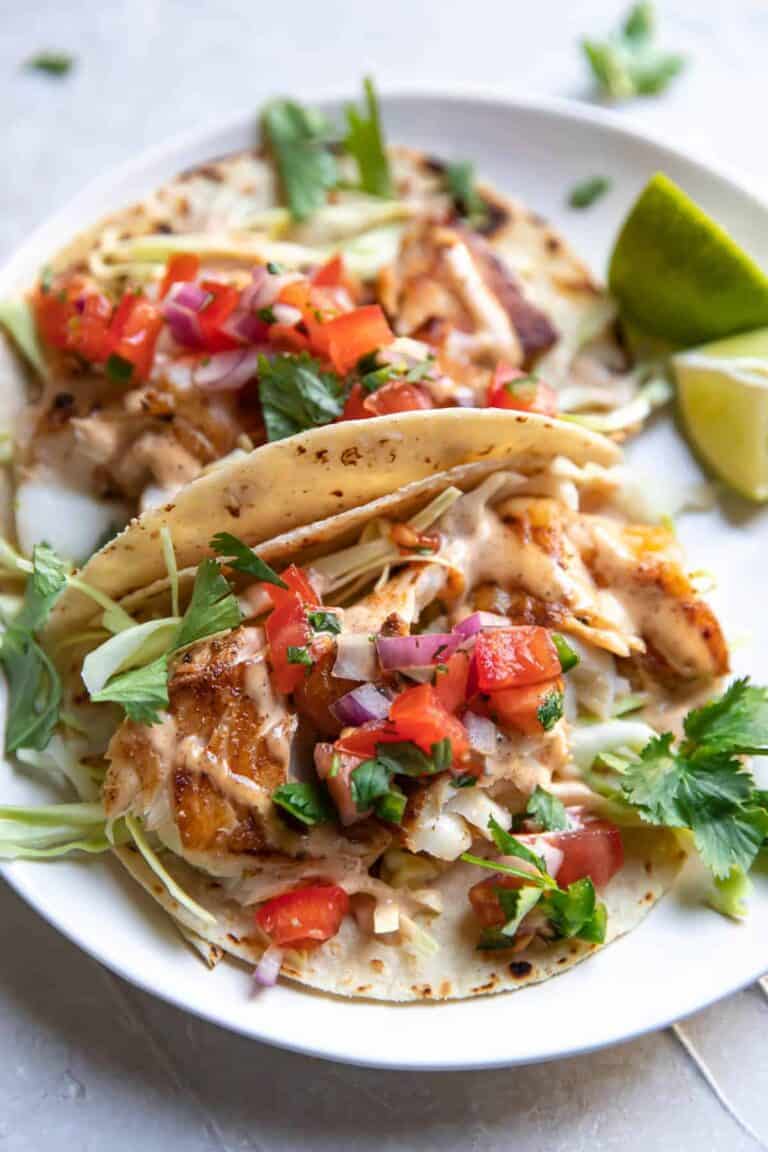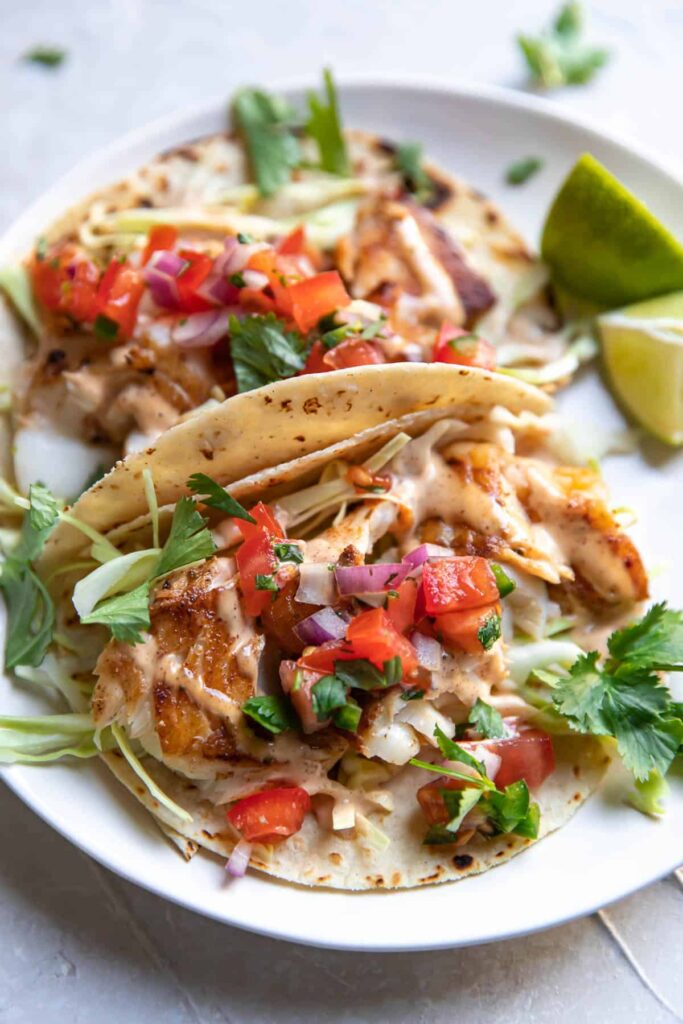 Fish Taco Sauce
The cherry on top is this aioli, fish taco sauce. Everyone rants and raves about this sauce, it's the same one used in this five star recipe for chicken street tacos.
It's so good! As strange as the ingredients sound, I promise it works.
Here's what you will need to make the aioli sauce for your cod fish tacos.
apple cider vinegar
chipotle powder (this is not chili powder)
cumin
salt
oregano
garlic powder
mayonaise
dijon mustard
lime juice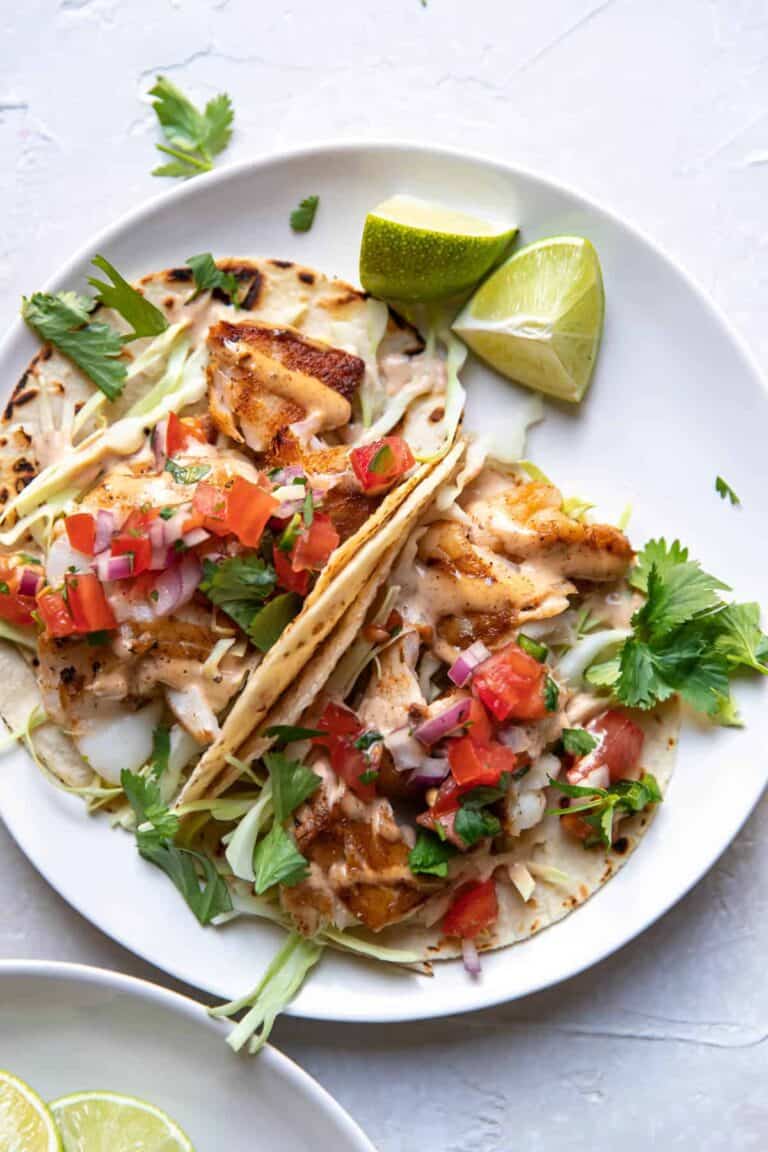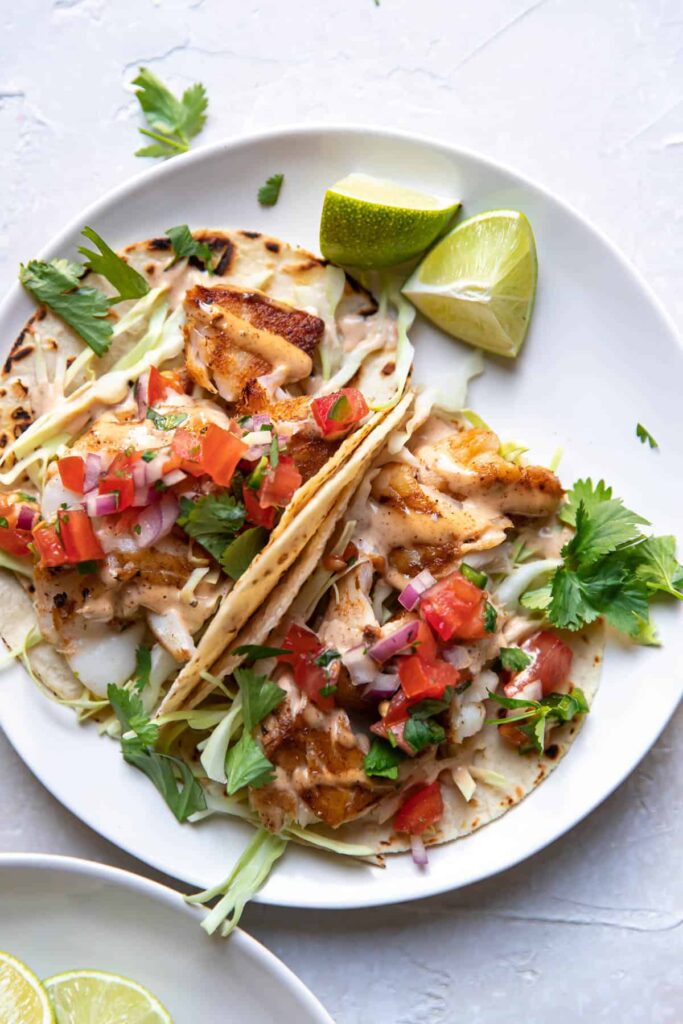 FAQ
What goes into fish tacos?
The best fish tacos have minimal add-ins so that the fish flavor can shine through, being the star of the dish! A simple cabbage slaw, some pico de gallo and an aioli sauce will really compliment the fish.
What kind of fish to use for fish tacos?
Cod and mahi mahi are a great option for fish tacos, they have a light flavor and a nice texture. They also hold up to pan cooking.
While cooking the fish, my pan filled up with liquid, what happened?
Your pan was not hot enough and you used the wrong size pan. You need to use a skillet and cook the fish on a high heat. Fish release moisture when they cook, if your pan is not hot enough you'll be left with a pool of water.
Can I marinate the fish all day?
I wouldn't, it only needs 30 minutes of marinating. The acid from the lime juice will start to break apart the fish after sitting too long.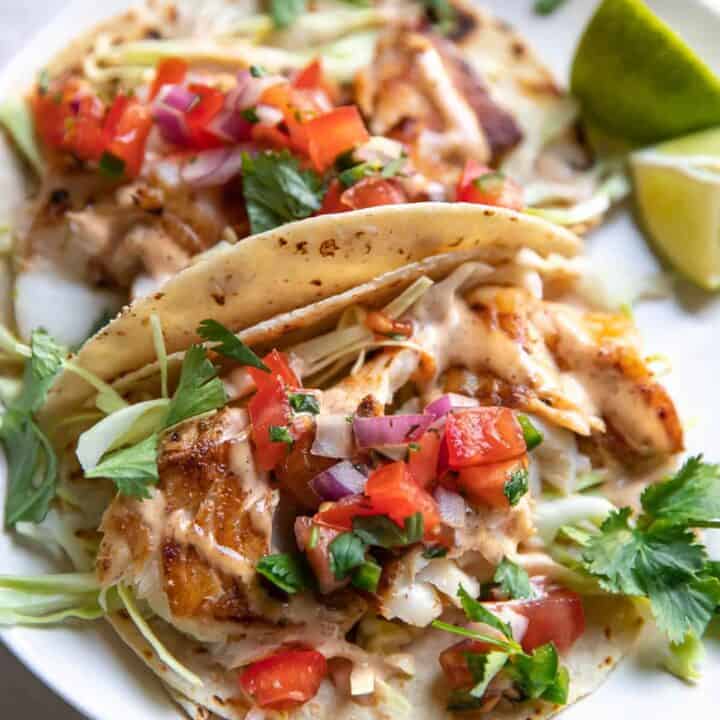 Blackened Cod Fish Tacos
These blackened cod fish tacos are bursting with flavor! Marinated cod fish, cooked just perfect so it's flavorful and delicate. Topped with my highly rated aioli sauce and fresh homemade pico de gallo.
Ingredients
1 lb cod fish
1 tbsp oil
1 tbsp butter
2 c cabbage, sliced thin
cilantro, chopped
pico de gallo, homemade (see notes for recipe) or store bought
16 corn tortillas
limes, optional, for squeezing on tacos
Fish Marinade:
2 tbsp sunflower oil, or any flavorless oil
1 lime, juiced and zested
1 tsp blackening seasoning
Big pinch of kosher salt
Aioli Sauce:
1 tbsp apple cider vinegar
¾ tsp chipotle powder, this is not chili powder
½ tsp cumin
½ tsp salt
⅛ tsp oregano
⅛ tsp garlic powder
½ c mayo
1 tbsp dijon mustard
1 tbsp lime juice
Instructions
Prepare the pico de gallo, if making your own
Prepare the aioli sauce by putting all ingredients in a bowl and whisking together, store in the fridge until ready to use
In a baking dish combine the marinade ingredients; sunflower oil, lime juice, lime zest, blackening seasoning and a pinch of kosher salt
Whisk this all together and add the fish to the dish, coating all the sides, cover with plastic wrap and marinate in the fridge for 30 minutes
Heat tortillas on a hot skillet until char marks appear, flip and cook an additional minute
Remove the tortilla from the skillet and store between a towel folded over it, with a damp paper towel in there as well (keeps them soft and helps create warm steam)
Turn skillet heat down a bit but keeping it hot, add the oil and butter
Add the fish to the hot pan, keeping the pieces away from each other so they are not touching
Do not touch them or move them around
Cook until the bottom is crispy, flip the cod and continue cooking until the fish is opaque and cooked through (total cook time is about 5-7 minutes)
Remove from the pan to a plate, cover with foil to keep warm
To plate the tacos, start with two tortillas stacked, add a handful of cabbage, the cod fish, drizzle on some aioli sauce, pico de Gallo and cilantro
Notes
Recommended Products
As an Amazon Associate and member of other affiliate programs, I earn from qualifying purchases.
Nutrition Information:
Yield:

8
Serving Size:

1
Amount Per Serving:
Calories:

378
Total Fat:

22g
Saturated Fat:

4g
Trans Fat:

0g
Unsaturated Fat:

17g
Cholesterol:

44mg
Sodium:

681mg
Carbohydrates:

29g
Fiber:

5g
Sugar:

2g
Protein:

18g
This information comes from online calculators. Although moderncrumb.com attempts to provide accurate nutritional information, these figures are only estimates.