Chicken street tacos totally loaded up! Juicy seasoned chicken breast, guacamole, pico de gallo and topped with a spicy and creamy homemade chipotle aioli.
This recipe was first published on August 14, 2017.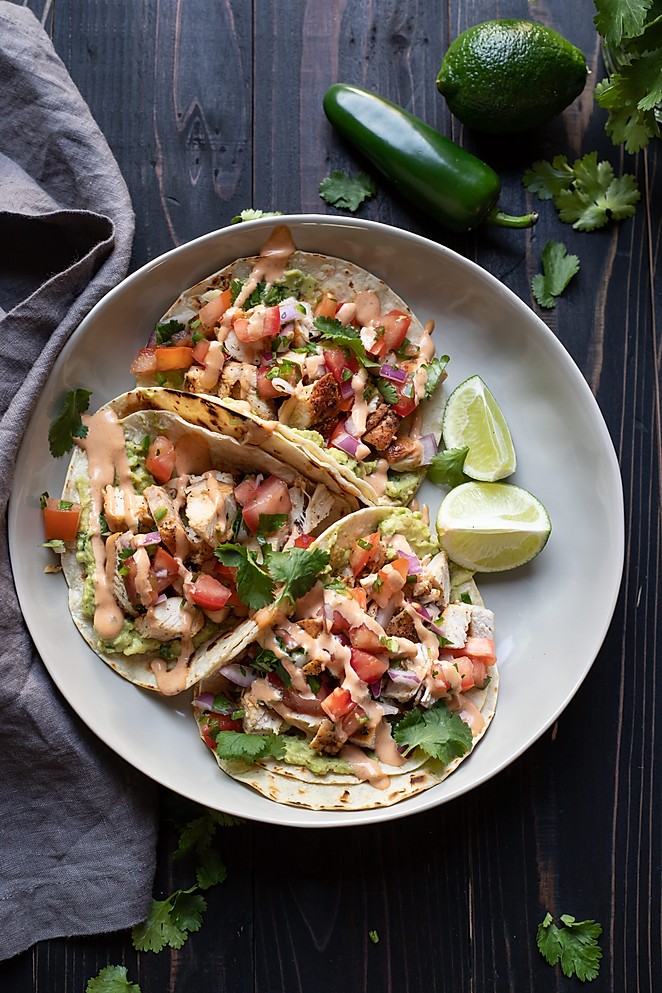 Chicken Street Tacos
Chicken street tacos are one those easy dinner meals that comes together so quick. It's healthy and kid friendly too because you can easily make a little quesadilla out of the same ingredients if your littlest kids don't care for tacos.
I cook southwest style food quite a bit. I love anything in the taco and salsa world, really.
But street tacos are kind of this newish trendy thing that you see everywhere now.
They are at restaurants, food trucks and hopefully now in your own kitchen!
What Is A Street Taco?
A street taco is a very minimalist taco. A corn tortilla, some meat, a little salsa and maybe some cabbage slaw or cilantro.
This type of taco uses a smaller tortilla, one that easily fits in your hand and you can eat on the go.
You'll often find that a street taco comes with two tortillas because the point is to load them up with the fillings, so you don't want it to break and get everywhere.
I like to use the first tortilla to eat and have the second one beneath it to catch any stray filling that falls out.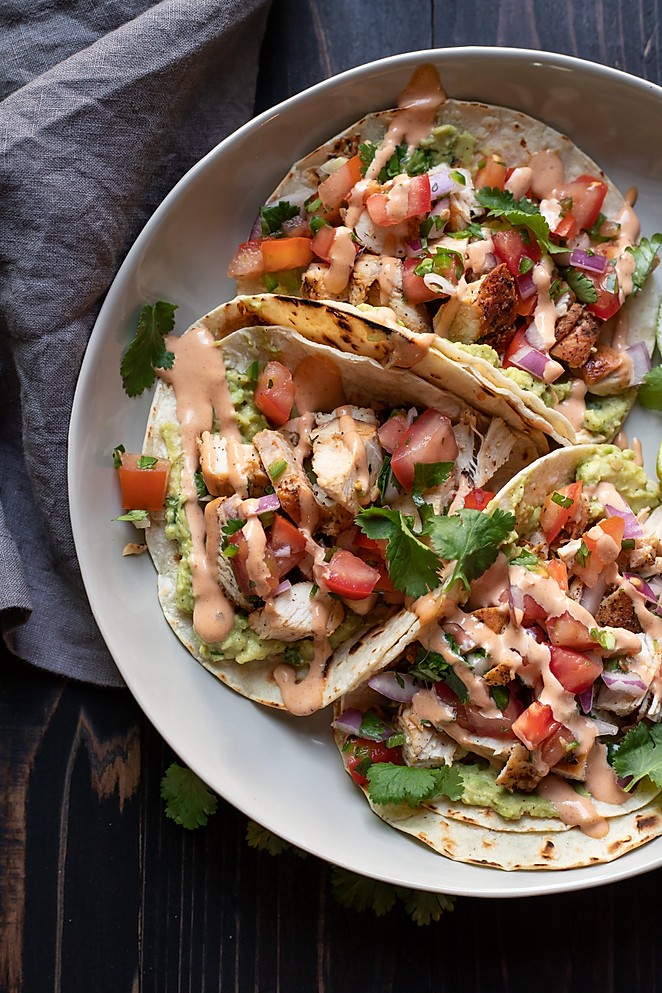 Are street tacos Healthy?
I like to think it's the world's healthiest taco.
The main ingredients are meat and vegetables.
Plus if you use a corn tortilla vs a flour tortilla helps too.
How Do You Make Chipotle Aioli?
Aioli on a taco is like whipped cream on top of hot chocolate.
It just makes the taco so much better! This chipotle aioli is zippy and creamy.
You only need a handful of ingredients, most of which you probably have on hand!
The only thing that may be missing from your cabinet is chipotle seasoning, but if you don't have that you should grab some because it's a very versatile spice in southwest cooking!
You'll mix everything up in a bowl, let it chill a bit, this helps the flavors come together.
If you have a squeeze bottle (the kind you see ketchup or bbq sauce in at a restaurant) you can toss it in there so it's easy to squeeze on the taco.
Does your family like tacos? What are some of your favorite toppings you just cant live without? Mine is definitely pico de gallo. In the summer it's alway in my fridge at all times for easy snacking.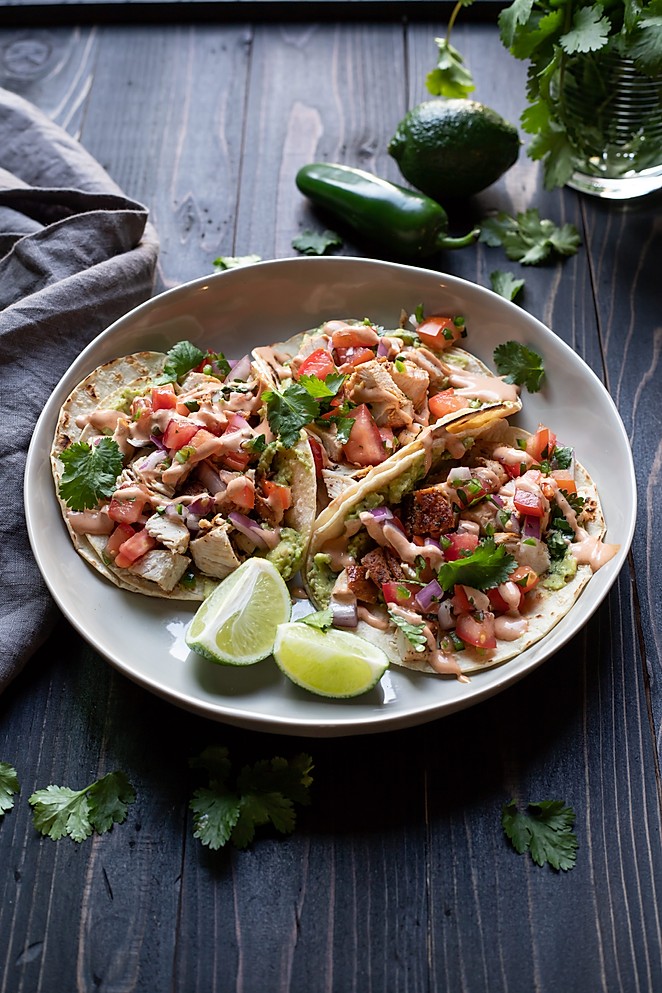 I try to keep certain items in my fridge at all times for the nights when I need something quick and easy to make.
Something what I like to do is keep chicken on hand (always), frozen, so I can throw it in the fridge to defrost for later in the week since it does take a few days. Or if you have an instant pot you can actually cook a frozen chicken in it.
These chicken street tacos take about 45 minutes to make.
I make this fresh pico de gallo about every other week, I use it in so many of my dishes, it's really versatile if you are cooking anything southwest.
The pico really brightens up food and gives it that extra boom pow kick of flavor. You can grab my Perfect Pico de Gallo recipe here.
more delicious southwest recipes!
Make sure to follow the Modern Crumb Board on Pinterest for lots of yummy meal inspiration!
And subscribe to the newsletter, below, to get updates when new recipes post.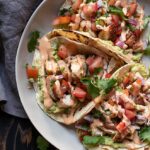 Print Recipe
Chicken Street Tacos with Guacamole and Chipotle Aioli
Chicken street tacos totally loaded up! Juicy seasoned chicken breast, guacamole, pico de gallo and topped with a spicy and creamy homemade chipotle aioli.
Ingredients
corn tortillas

2

chicken breasts

1

tbsp

avocado oil

cilantro

pico de Gallo

see notes below for recipe link

sour cream
chicken seasoning
1/2

tsp

cumin

1/2

tsp

oregano

1/2

tsp

chili powder

1/2

tsp

garlic powder

1/2

tsp

salt

pepper
chipotle aioli
1

tbsp

apple cider vinegar

3/4

tsp

chipotle powder

*this is not chili powder

1/2

tsp

cumin

1/2

tsp

salt

1/8

tsp

oregano

1/8

tsp

garlic powder

1/2

c

mayo

1

tbsp

dijon mustard

1

tbsp

lime juice
easy guacamole
2

avocados

1

tbsp

lime juice

1/4

tsp

cumin

1/4

tsp

chili powder

1/4

tsp

salt

1

tbsp

cilantro
Instructions
Preheat oven to 400

Season the chicken breasts with the "chicken seasoning"

Heat a skillet to medium heat with 1 tbsp avocado oil

Sear the chicken breasts in the skillet for 3 minutes on each side

Cover with foil and place the skillet in the oven for 25 minutes

Prep the guacamole , pico de Gallo and chipotle aioli

Remove chicken from the oven, let it rest 10 minutes before cutting

Heat a skillet over high heat, place a few corn tortillas on the skillet, once dark spots start to show, flip it and cook the same way

Transfer the tortillas to a hand towel, fold one side over the corn tortillas and let them steam for 5 minutes to re-soften

Put together the tacos

2 tortillas stacked > spread the guacamole > chicken > pico de Gallo > sour cream > chipotle aioli > cilantro