Tender slow cooked short ribs piled inside soft corn tortillas with jack cheese and topped with a mild salsa verde tomatillo salsa.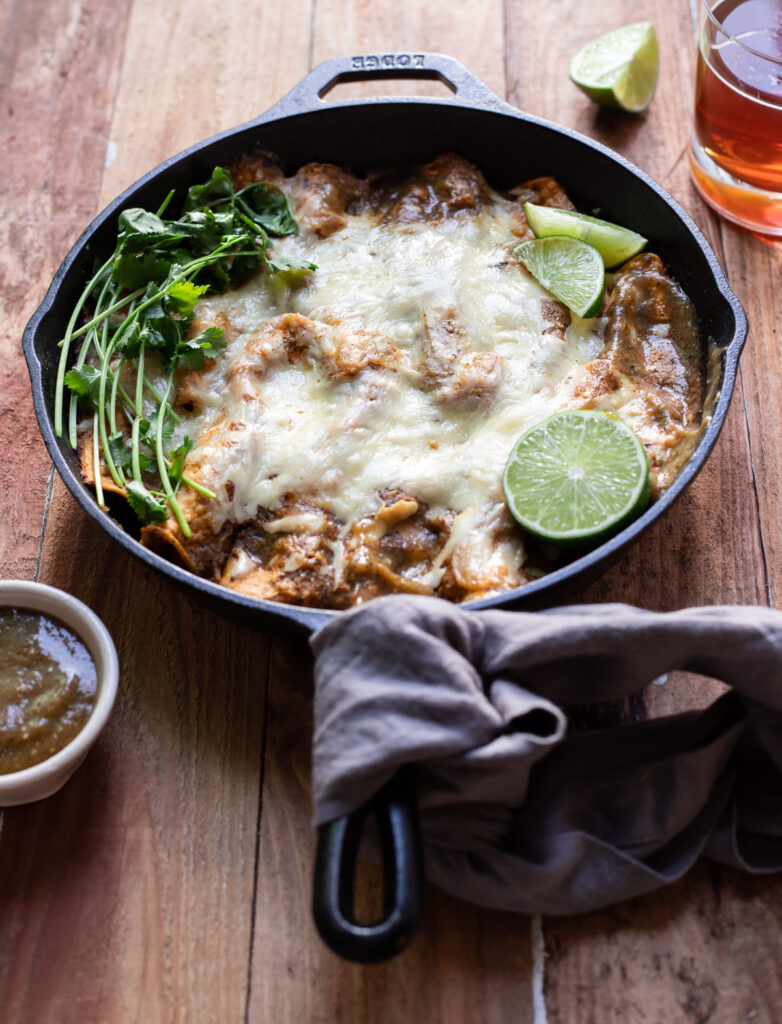 These short rib salsa verde enchiladas are so easy to make! You can buy store bought tomatillo salsa verde or you can make your own (recipe below).
I get asked all the time where inspiration comes from. 
Generally, just a random idea or after I've eaten out I want to remake it at home. 
Anytime I go out I always order something I wouldn't normally make or maybe have never made, just because it's fun and new.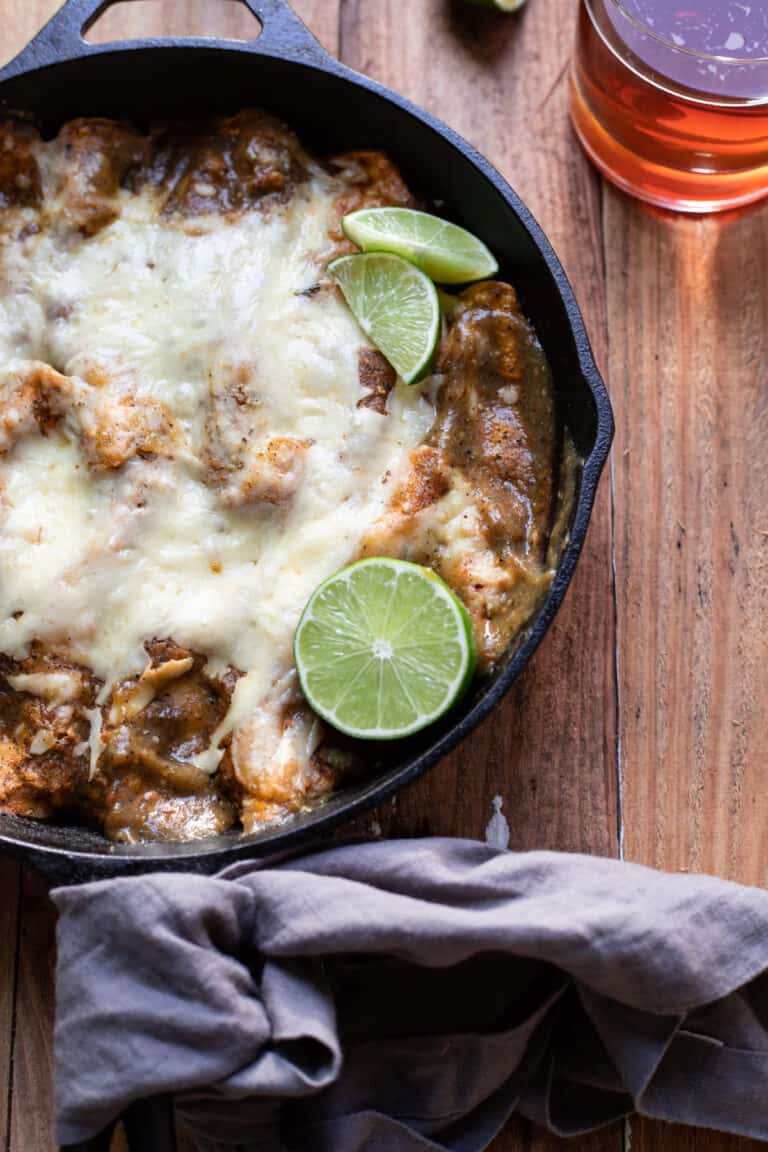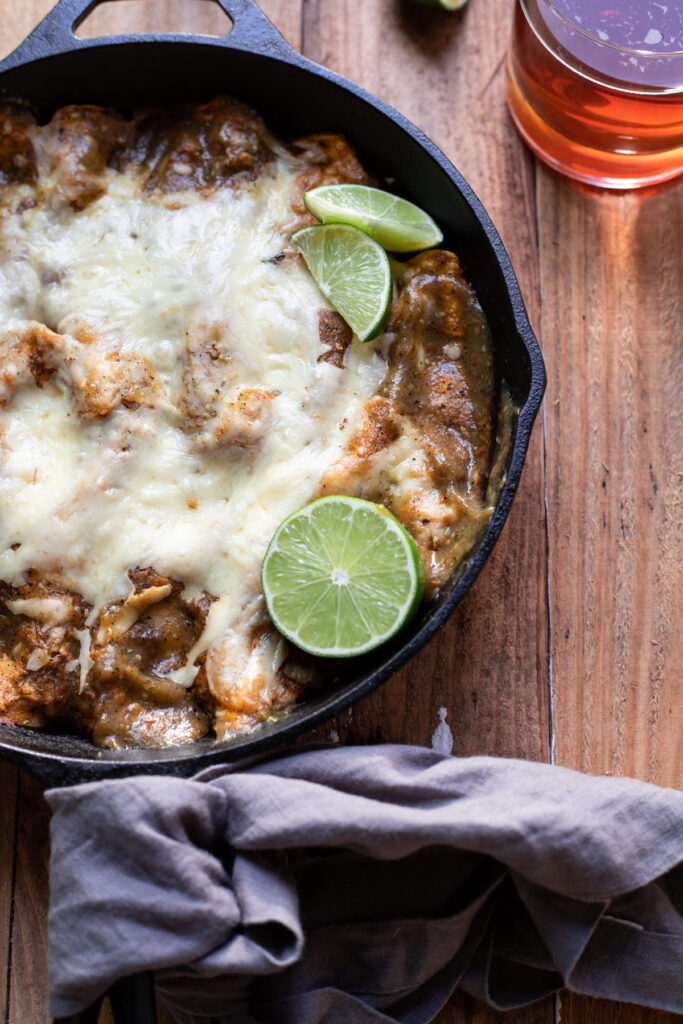 And while I wouldn't return to this particular restaurant I picked up the inspiration from, I now get to enjoy delicious short rib tacos at home! 
As for the tomatillo salsa, i've been making that for years and it was the perfect salsa since it's nice and mild and goes really well with beef and the jack cheese, which are both more on the mild side.
I forgot to mention the best part!  These are crockpot slow cooker short rib enchiladas.  Well, just the short rib part. 
But really that's the hardest part of this. 
The only thing left to do is shred the beef, roll the enchiladas top it with tomatillo salsa and cheese then bake! 
Granted you already have the salsa made.  My best suggestion is to make it ahead of time so it has time to develop more flavor.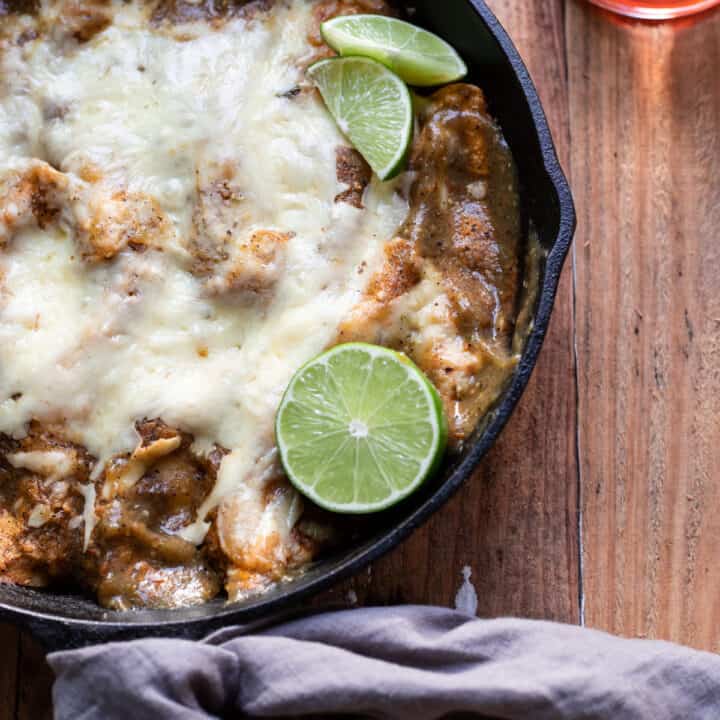 Short Rib Salsa Verde Enchiladas
Tender slow cooked short ribs piled inside soft corn tortillas with jack cheese and topped with a mild homemade tomatillo salsa.
Ingredients
2 ½ lb short ribs
½ lime, juiced
½ white onion, rough chop
corn tortillas
8 oz jack cheese, grated
optional: cilantro
short rib seasoning
salt + pepper
½ tsp cumin
½ tsp chili powder
½ tsp garlic powder
Tomatillo Salsa Verde
5 large tomatillos
1 large jalapeños
3 roma tomatoes
½ large white onion, skin removed
2 tbsp cilantro, packed
½ lime, juiced
¼ heaping tsp cumin
4 garlic cloves, skin removed
2 tsp salt + more to taste
pinch of fresh ground pepper
Instructions
To Make The Salsa
Turn oven onto broil, and bring your rack up to the top. Remove husks from the tomatillos. Clean and rinse your produce. Line a sheet pan with foil, put the tomatillos, jalapeños, tomatoes and onion on the pan. Put the pan in the oven checking on it every few minutes, once one side has charred use tongs and flip everything over, give it a couple more minutes on that side.
Remove the pan from the oven and let everything cool down. Remove the stem and seeds of the jalapeños and discard. Add all the vegetables to your blender (including the juice on the baking pan) with the juice of one lime, cilantro, garlic, cumin, salt and pepper. Pulse together until it reaches a smooth consistency, you can leave it as chunky or as smooth as you like. Refrigerate for a few hours. Serve in a bowl alongside tortilla chips.
Preparing The Enchiladas
Season the short ribs with the 'short rib seasoning'
Use a hot pan to sear all sides of the short ribs
Transfer the short ribs to a slow cooker, low heat
Add the lime juice and onion (you can toss in the squeezed lime also for more flavor)
Cook for 8 hours and shred once they are done
Preheat oven to 375
Cook the corn tortillas on a skillet over medium heat, cook until dark specks start to form then turn
Transfer the corn tortillas to a clean towel, fold the top over to lock in the steam
Grab a tortilla, some shredded short rib meat a bit of jack cheese and roll it up
Continue until they are all rolled, arranging them in a skillet (or casserole dish)
Top with the tomatillo salsa and the remaining jack cheese
Bake for 15 minutes
Serve with extra tomatillo salsa and fresh cilantro
Notes
If you make the salsa ahead of time it can thicken in the fridge, add a few tablespoons of water to thin it out if desired
Variation in color is normal, depending on how big the tomatillos and tomatoes are can affect the shade of your salsa verde
Nutrition Information:
Serving Size:

1 grams
Amount Per Serving:
Unsaturated Fat:

0g