This lemon poppyseed pound cake will be a family favorite! Soft and tender pound cake bursting with lemon and poppyseed flavors. The lemon glaze on top is sweet, tart and delicious!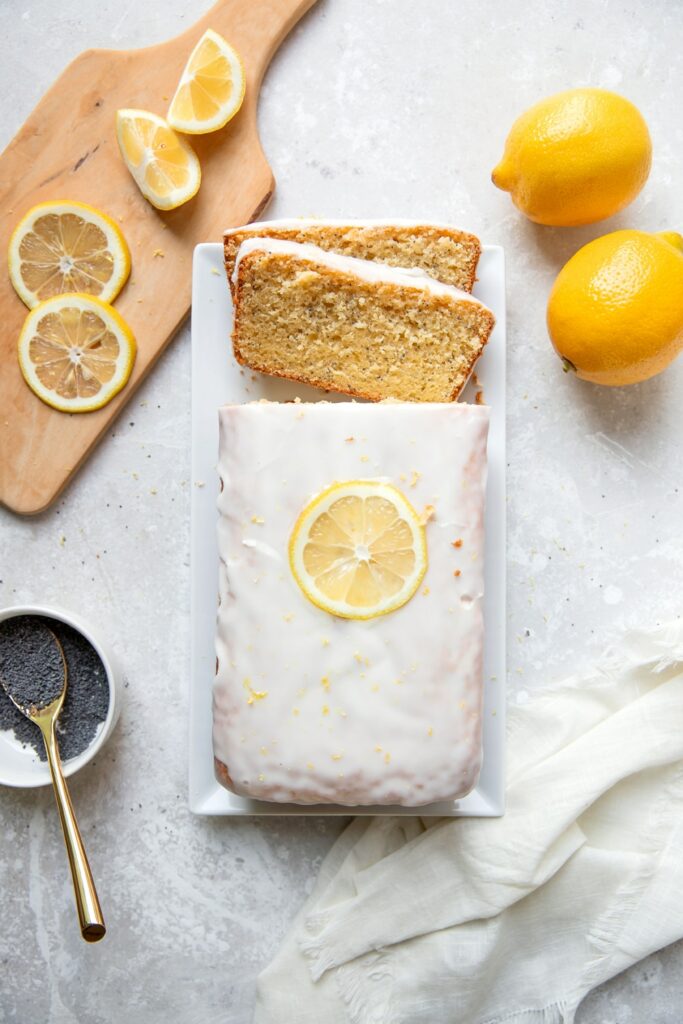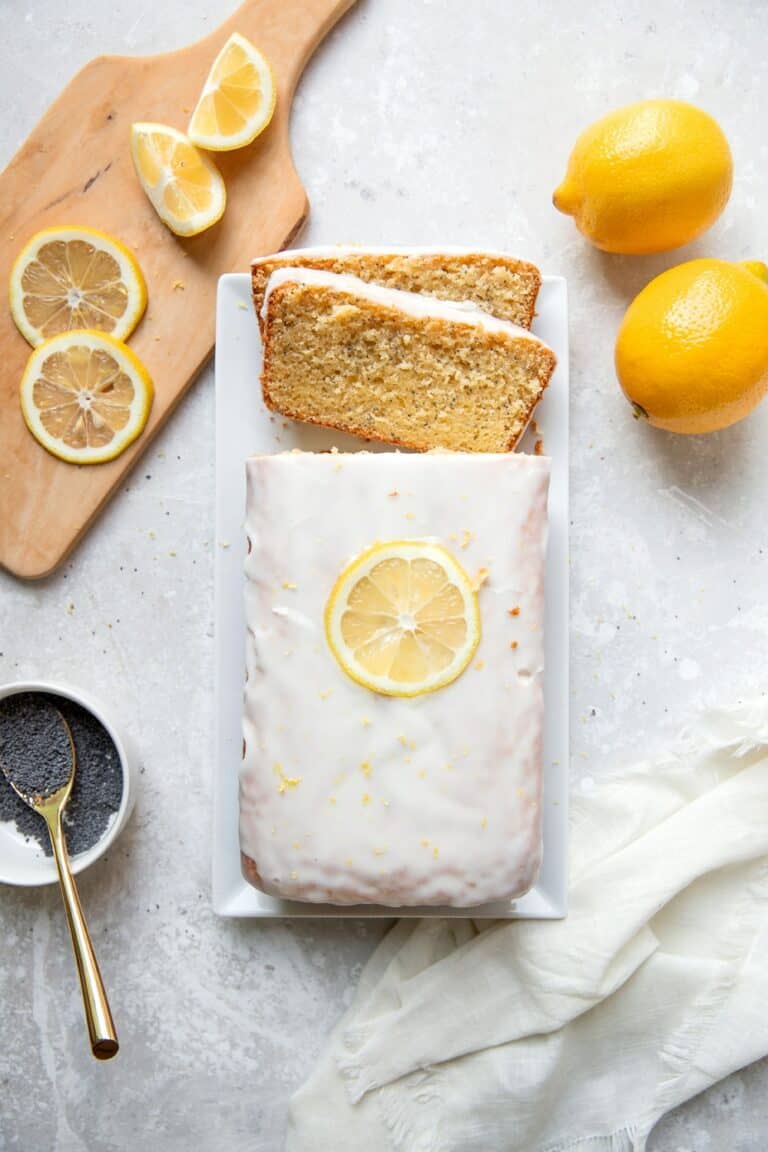 I totally adore this lemon poppyseed pound cake! Everyone who tries it agrees, it's the best pound cake recipe ever.
It's made with buttermilk and buttermilk has a way of making baked goods super moist and delicious.
It's always my preferred ingredient in baked goods, just like in these buttermilk biscuits and banana bread. Both recipes use buttermilk and both are so tender and delicious!
A lot of them lemon tart flavor in this pound cake comes from the glaze on top. It's made with powdered sugar and lemon juice to create a thick consistency glaze.
This lemon pound cake is buttery, lemony and the perfect bit of moisture but not a fall apart mess. It's really easy to make, just follow the instructions and you will be golden.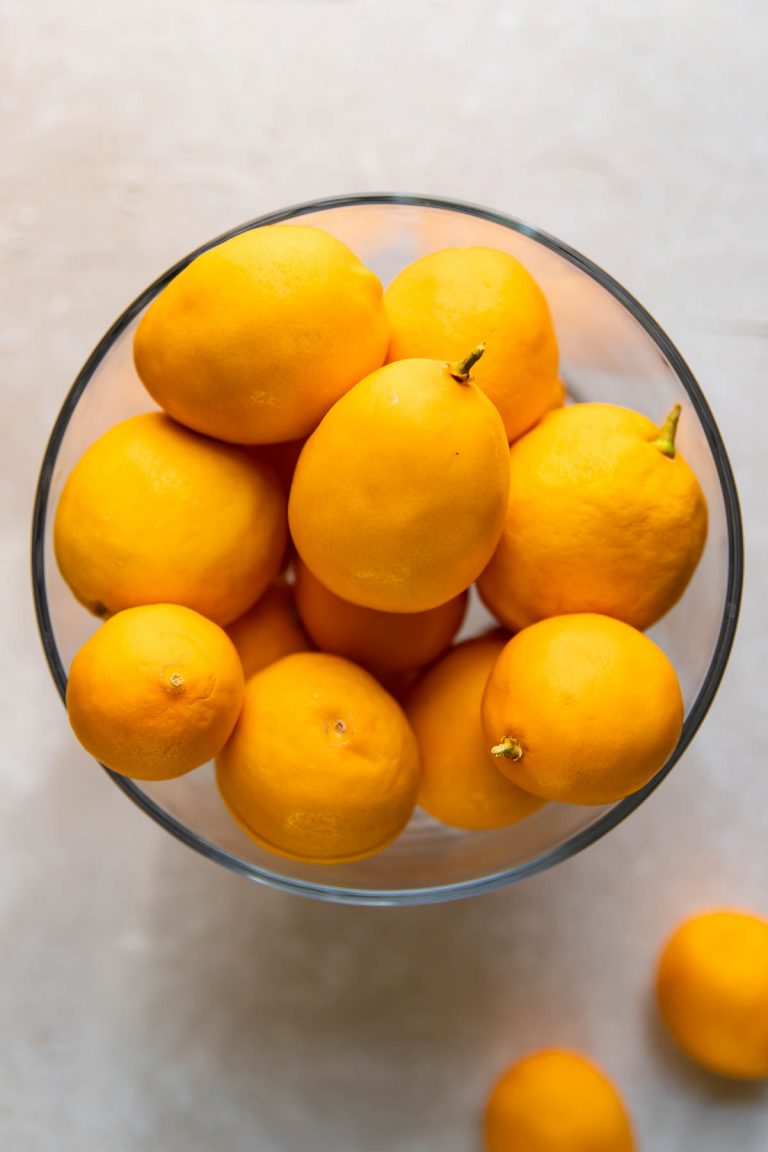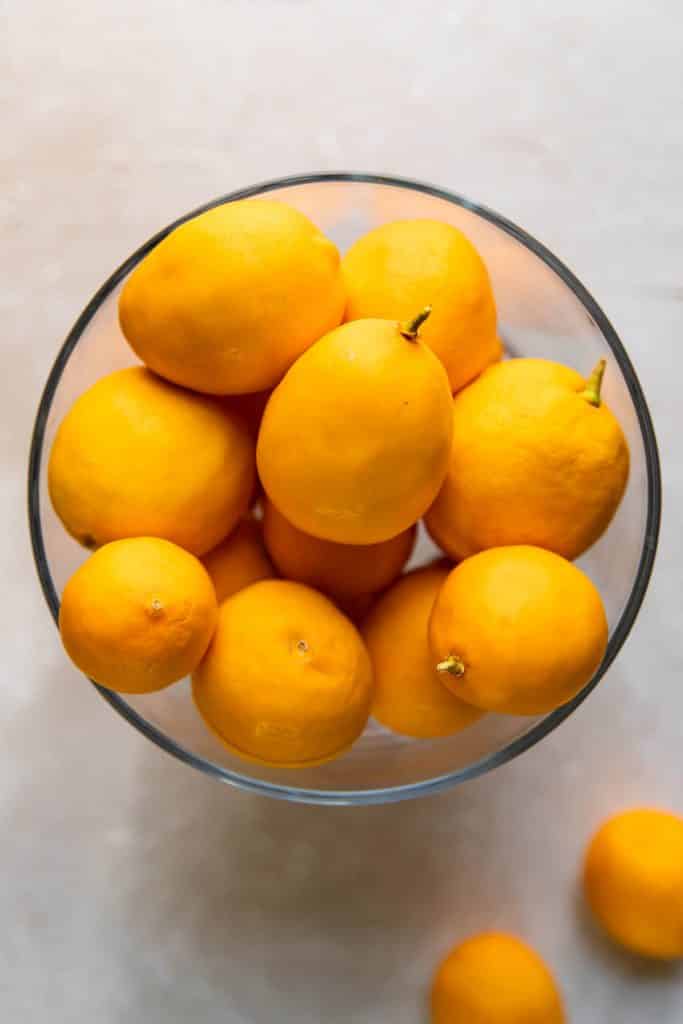 How To Get A Tender Lemon Poppyseed Pound Cake
To make a pound cake moist, in my experience, is to make your pound cake with buttermilk.
Buttermilk adds a really tender crumb to baked goods and I think the texture is soft and velvety. It really turns out amazing!
If you don't have buttermilk on hand you can use this easy buttermilk substitution. 1 cup of milk to 1 tbsp lemon juice. Since you are making a lemon pound cake, you should have lemons on hand anyway.
Another important tip on getting a tender pound cake is to not over mix your ingredients. Any of them. Stir them just enough to get it mixed.
If you go nuts with beating your batter to try and get it smooth then it will be dense. Not cool. Some lumps are fine, just leave it alone.
The same rule of thumb goes for pancakes and waffles, if you over mix them they won't be as light and fluffy.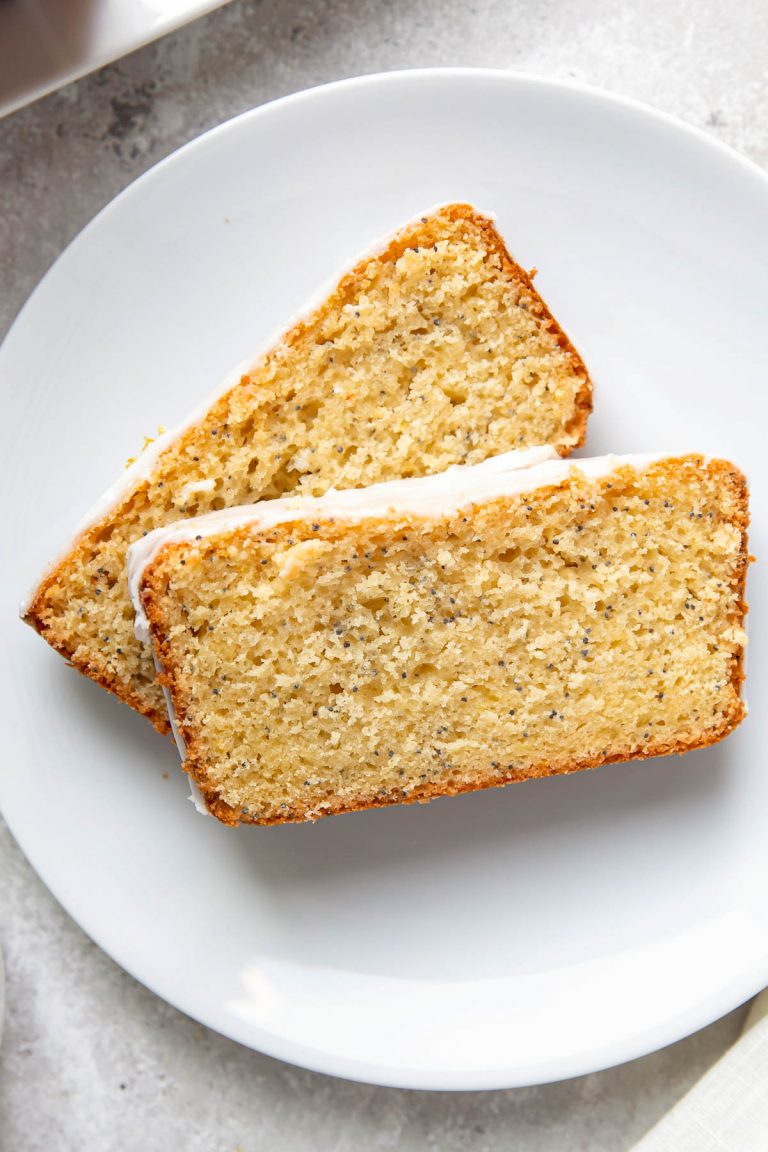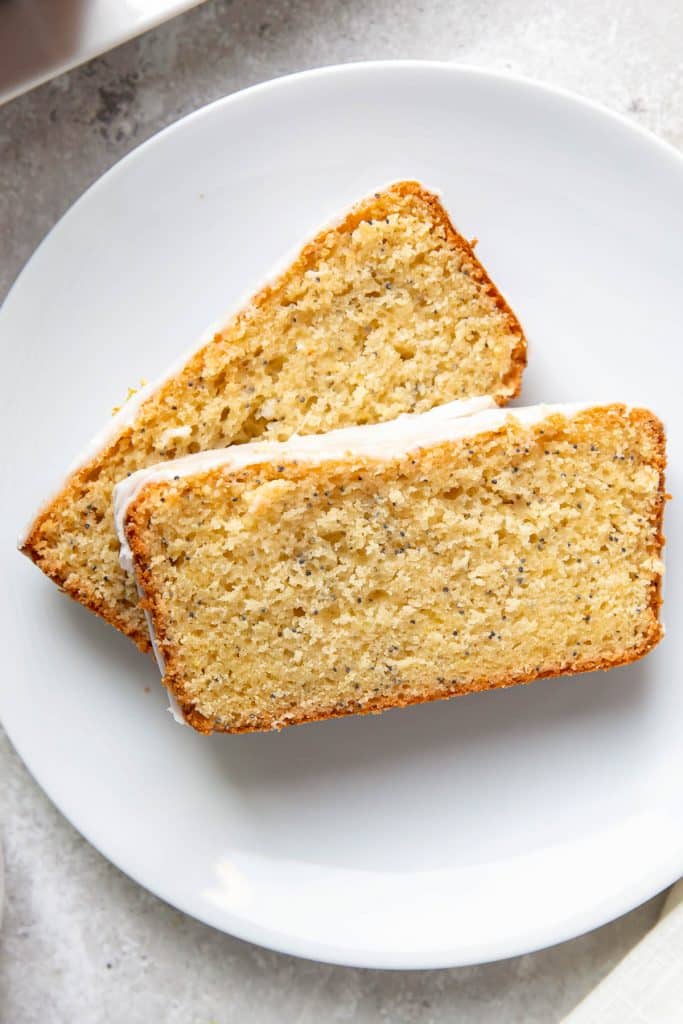 How To Make The Lemon Icing Glaze
Like I mentioned, the glaze on top is only two ingredients, powdered sugar and lemon juice.
How you get it nice and thick is simple. Add a splash of lemon juicy little by little to the powdered sugar, stirring it up.
If you don't add enough lemon juice then the icing just tastes like pure powdered sugar. I've tried it this way (by omitting the lemon juice) and the pound cake did not have that same wow factor as when I put a good amount of lemon juice in the glaze.
You'll want to add the lemon glaze on your pound cake after you remove it from the loaf pan. Otherwise it will get stuck in the pan after chilling and it's such a mess.
Or you can line your pan with parchment paper, it will be no problem getting the cake out if you do.
As it sets on top of the cake, it hardens, giving you that picture perfect glaze. The glaze actually tastes better the next day. The whole cake does, sitting gives the flavors time to come out.
The layer of glaze is pretty small, just enough that you have some icing but not more than you really need (I'm looking at you, 10 foot tall Starbucks iced lemon loaf cake).
Personally I think this recipe is way better than Starbucks lemon loaf cake.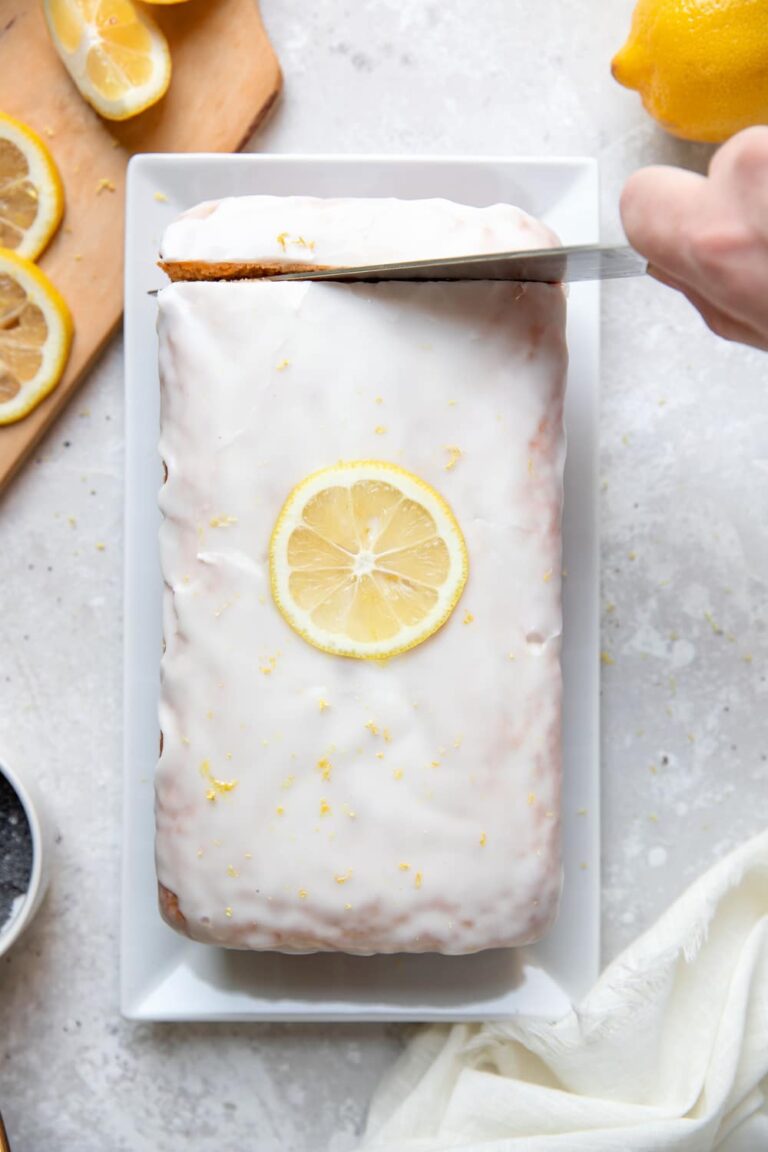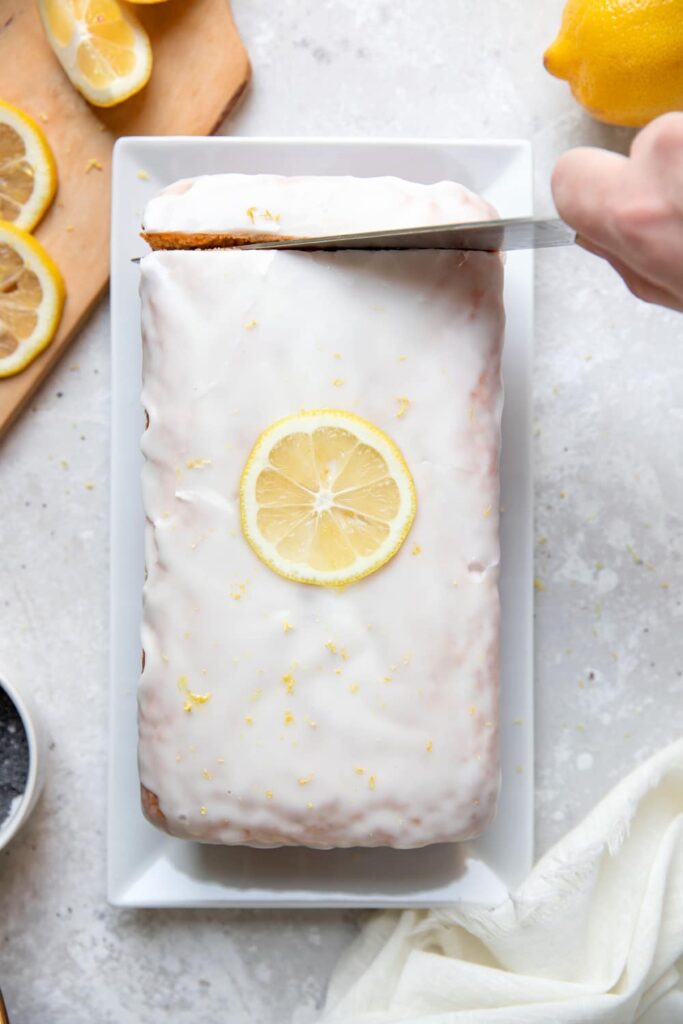 How To Make Lemon Poppyseed Pound Cake
Start by getting your batter together.
Remember a few key tips. Do not over mix your batter and don't skimp on the lemon juice or lemon zest. You need the full amounts required.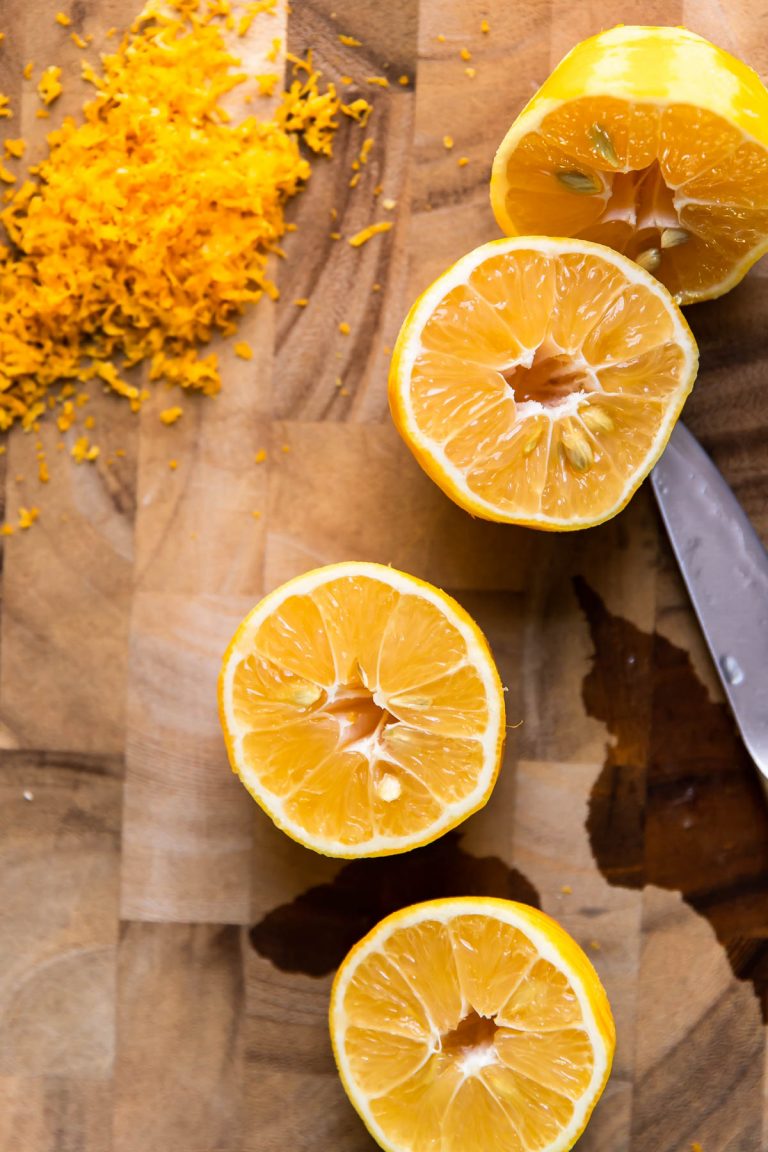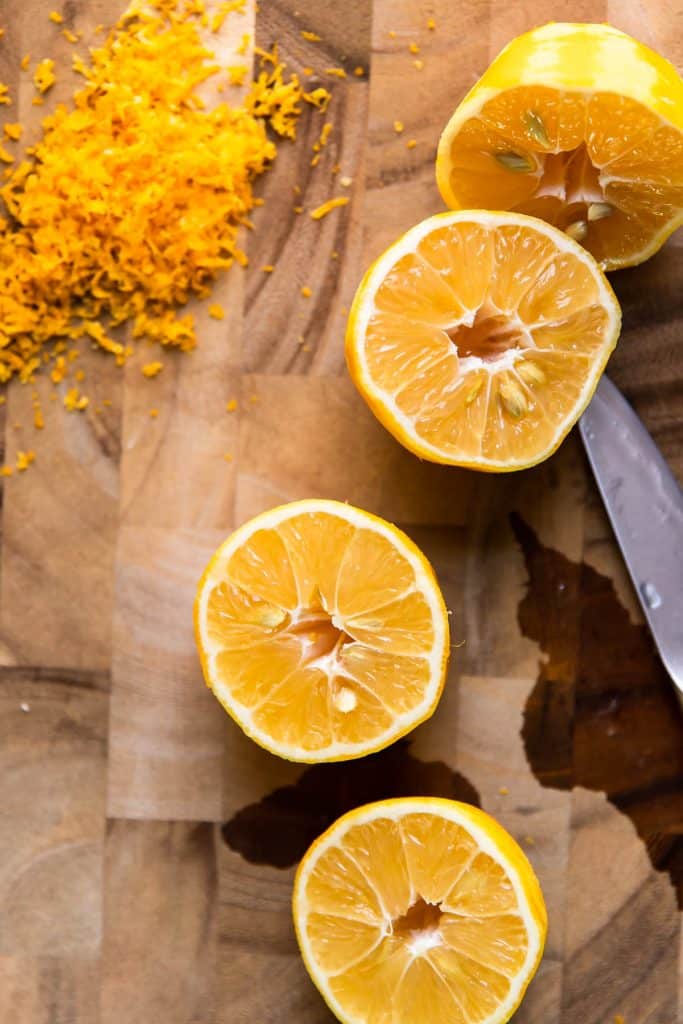 This is about 2 very juicy lemons but could be up to 4 lemons that may not be very juicy. It's always better to get a few extra just in case.
Sift all of your dry ingredients together.
Mix together your butter and sugar. Adding in your vanilla and eggs one at a time. After mixing in the eggs the batter may look curdled and that's okay, don't try to keep mixing. Just leave it and it will come together.
Mix together the remainder of your wet ingredients which is the buttermilk and lemon juice.
Alternate adding the dry ingredients and the buttermilk/lemon juice into your wet ingredients. You only need to do this a few times, don't spend all day adding a tiny bit at a time. Two additions of each is just fine.
Don't worry if the batter isn't smooth as silk, lumps are okay. Do not over mix your batter!
Line a baking pan with a sheet of parchment paper and pour in your batter. Bake it for a total of 1 hour at 325 degrees, rotating the pan half way through baking.
After it's out of the oven let it sit and then transfer to a wire rack to cool. Once the cake is cool to the touch you can spread on your glaze. If the pound cake is too warm then the glaze will just melt off of it, so make sure to let it cool down first.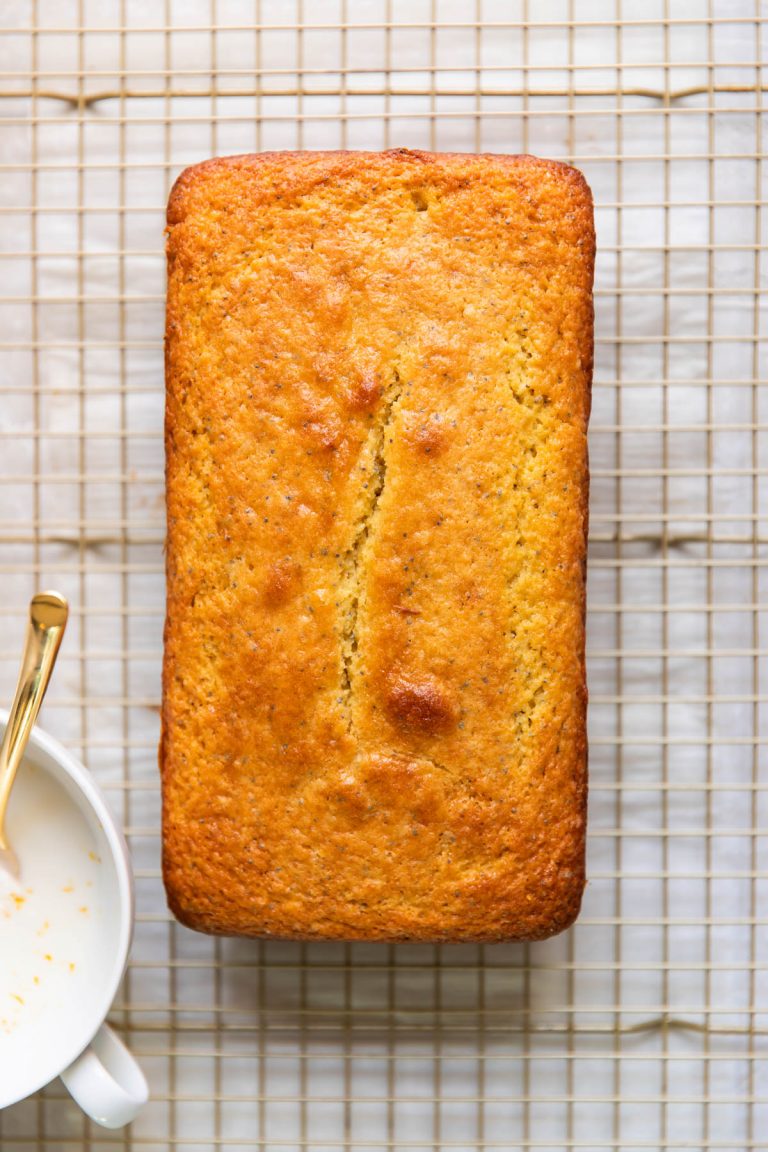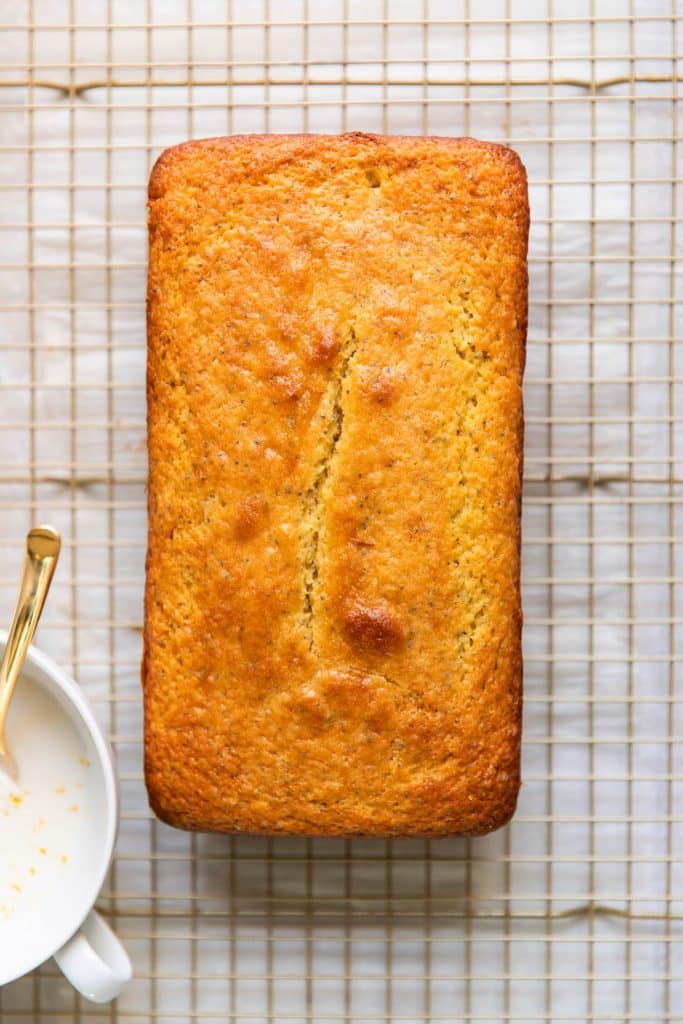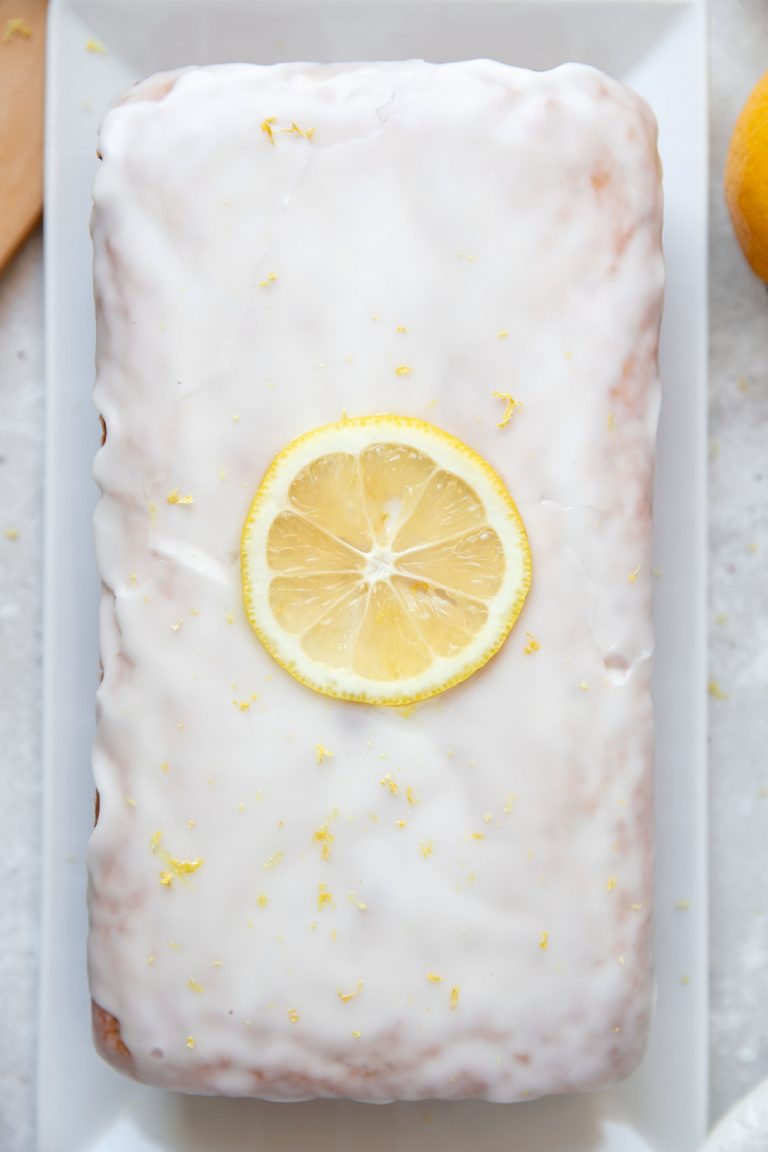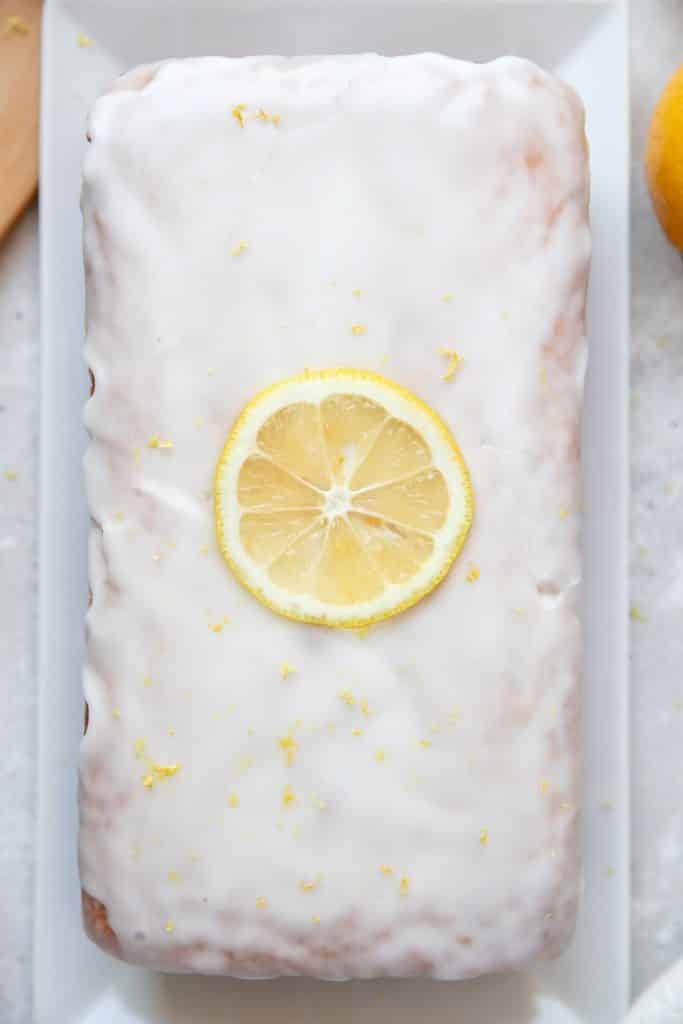 More Baked Goods Recipes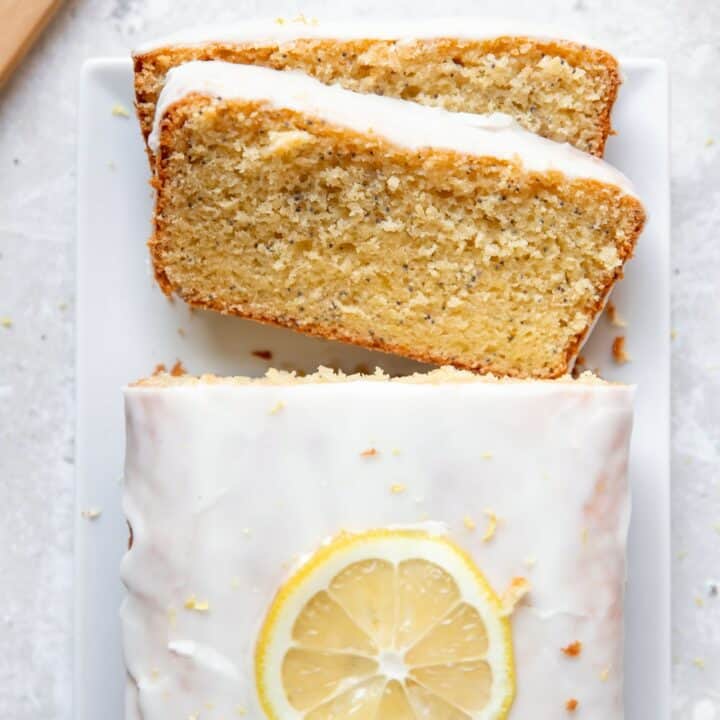 Lemon Poppyseed Pound Cake With Lemon Glaze
Total Time:
1 hour
15 minutes
This lemon poppyseed pound cake will be a family favorite! Soft and tender pound cake bursting with lemon and poppyseed flavors. The lemon glaze on top is sweet, tart and delicious!
Ingredients
½ c butter, room temp
1 c sugar
1 tsp vanilla extract
3 eggs, room temp
2 c flour
½ tsp baking soda
1 ½ tsp baking powder
¾ tsp salt
1 tbsp lemon zest
¼ c lemon juice
½ c buttermilk, room temp
2 ½ tsp poppyseeds
lemon glaze
1 c powdered sugar
lemon juice
Instructions
Preheat oven to 325
Grease a loaf pan with butter, sprinkle in some flour and cover all the sides, shaking it around - turn it upside down, pat it, to get out the excess flour
Beat on high the butter and sugar, for 5 minutes until it has become light and fluffy looking
Add the vanilla
Turn the mixer to low, add in one egg at a time, mixing well so it looks completely mixed in and not lumpy (you may have to up the speed a notch or two but don't go to high)
Add in the lemon zest and mix
In a separate bowl, sift together the flour, baking soda, baking powder, salt and poppyseeds
Combine the buttermilk and lemon juice
Alternately add the dry ingredients and the wet ingredients into your bowl, mixing on low
Use a spatula to get all of the batter out of the bowl in to your loaf pan
Bake for 30 minutes
Open the oven door and turn the loaf pan 180 degrees, now bake an additional 30 minutes (the lemon loaf will bake a total of 60 minutes)
Insert a toothpick to make sure it is done and comes out clean
Transfer to a wire rack, let it cool an hour
Dust a little flour on your hands and turn the pan over, it should slide out of the pan, set this on the wire rack and continue cooling another hour or two
To make the glaze combine sifted powdered sugar with a drizzle of lemon juice at a time, whisking vigorously. Once it comes together its ready, it should be thick not runny
Pour this over the loaf
Serve and enjoy!
Notes
Just a tip - I find it tastes even better after sitting overnight in the fridge
Nutrition Information:
Yield:

10
Serving Size:

1 grams
Amount Per Serving:
Unsaturated Fat:

0g
Make sure to follow Modern Crumb on Pinterest and Facebook for lots of yummy meal inspiration!  And subscribe to the newsletter, below, to get updates when new recipes post.