Soft and fluffy blueberry muffins loaded with fresh and plump blueberries, lemon zest and topped with a sugary buttery crumb topping.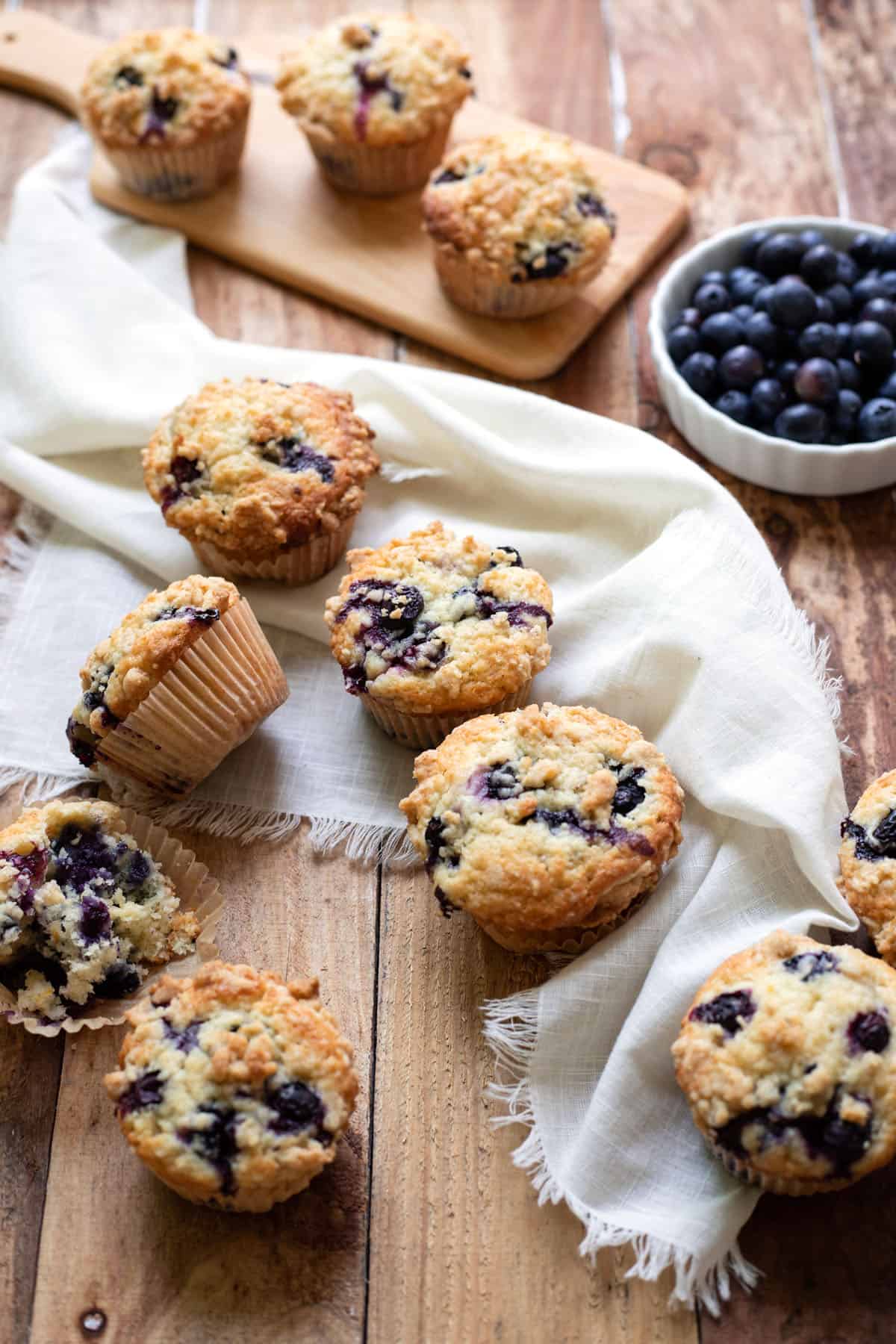 Not only is it berry season but Father's Day is this weekend. I don't know about the men in your lives but my husband thoroughly enjoys a good blueberry muffin.
Especially these blueberry crumb muffins.
Really he could live with or without the crumb, maybe it's a woman thing, we like that delicious crumbly topping!? I certainly do, do you?
If there were a choice, I would choose crumb topping every time.
Jump to: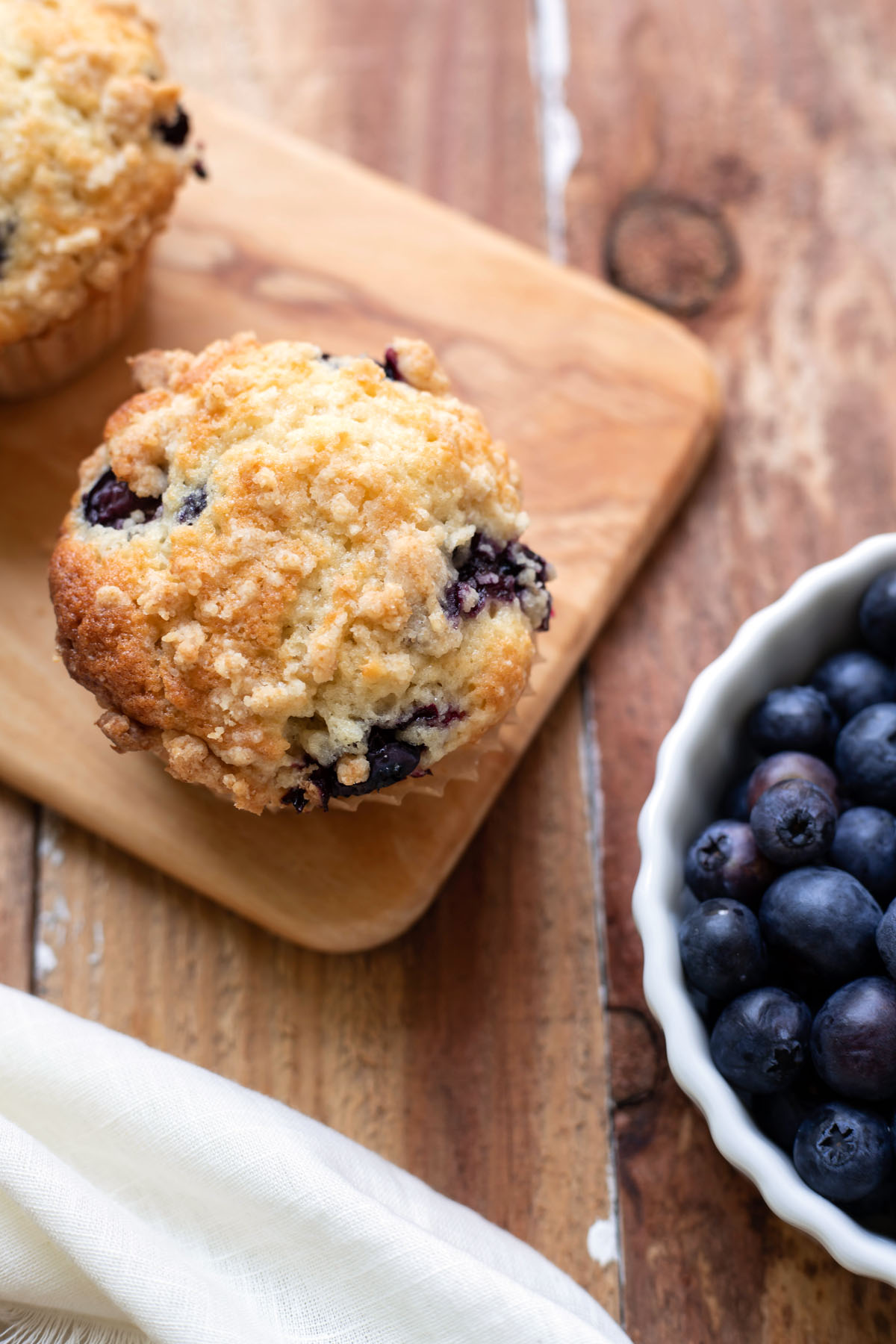 Blueberry muffins are such a fun and easy thing to make with kids too, you really cant screw these up.
Well, I shouldn't say you can't because I've definitely had my fair share of muffin mishaps.
Like when they stuck to my pan and I swear only a jack hammer could get those out.
Has that ever happened to you? I usually use liners now, I like the paper chef brand (not sponsored I just like them) because they don't stick, like ever.
Or you get a really good muffin pan.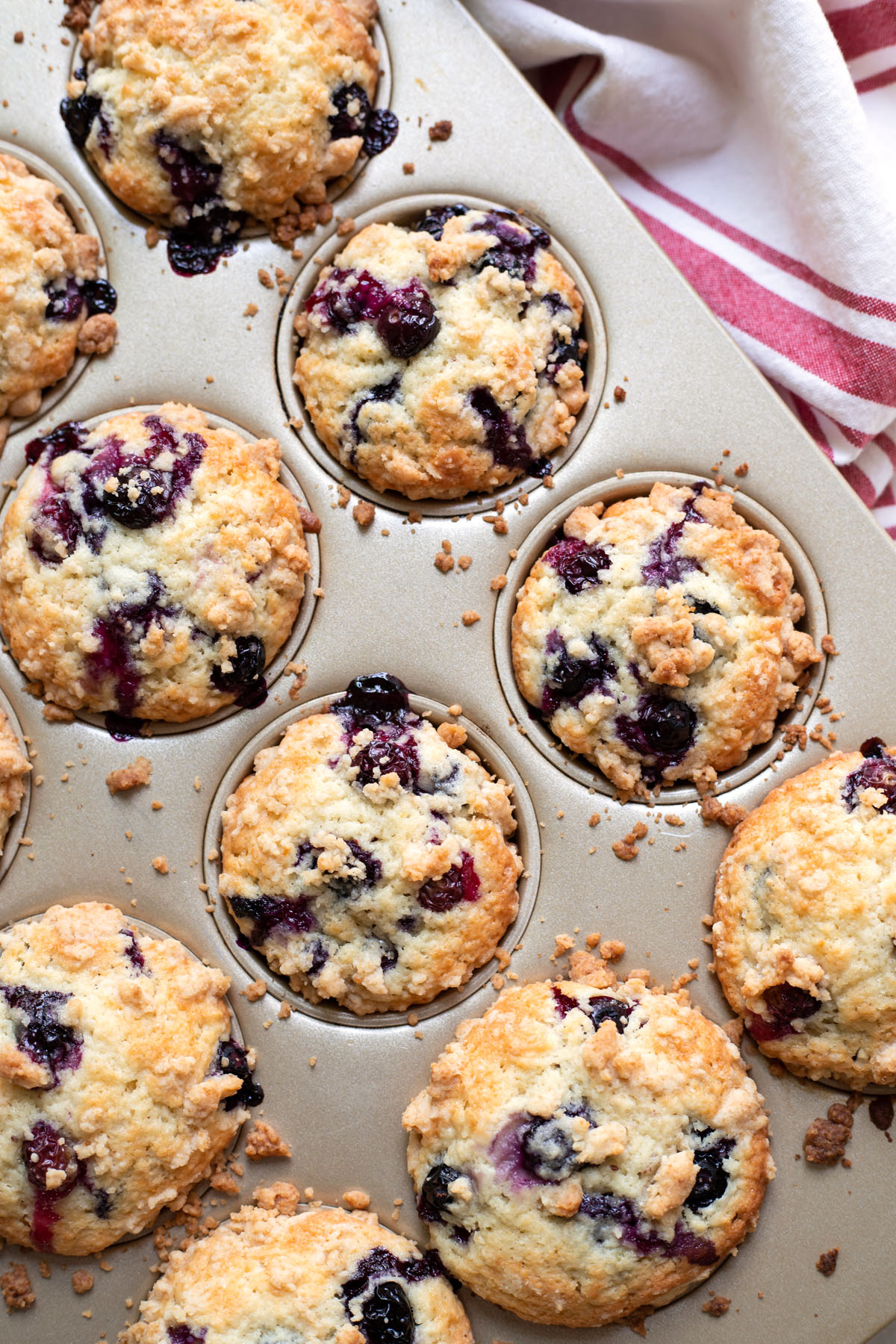 How To Get Big Muffin Tops
Start the oven off at a high temperature, 425 degrees seems to work best for me
Try to have the refrigerated ingredients at room temperature
Fill the muffin cup all the way to the very brim and even a little extra on top wouldn't hurt
Don't over mix the batter. We read it all the time, don't over mix (so obnoxious, right, we get it already), but seriously, just don't do it. A few simple stirs to incorporate it and we're good.
If you are baking with your kids thats a whole different story, my kids want to stir the batter for a solid 10 minutes (laughing as I type this, cute kids)    
Don't open the oven door to "peek", they are okay in there, turn on your oven light!
Use a toothpick to insert it in the center of the muffin to check for doneness, it will come out clean when cooked through
Right now you can get your hands on pounds upon pounds of delicious, fresh (and cheap) blueberries. I stockpiled so I could make a big old batch of these extra special, extra yummy, extra crumbly blueberry muffins.
One of my most favorite food memories as a little kid was going to our local grocery store and my mom would treat me to a giant blueberry muffin.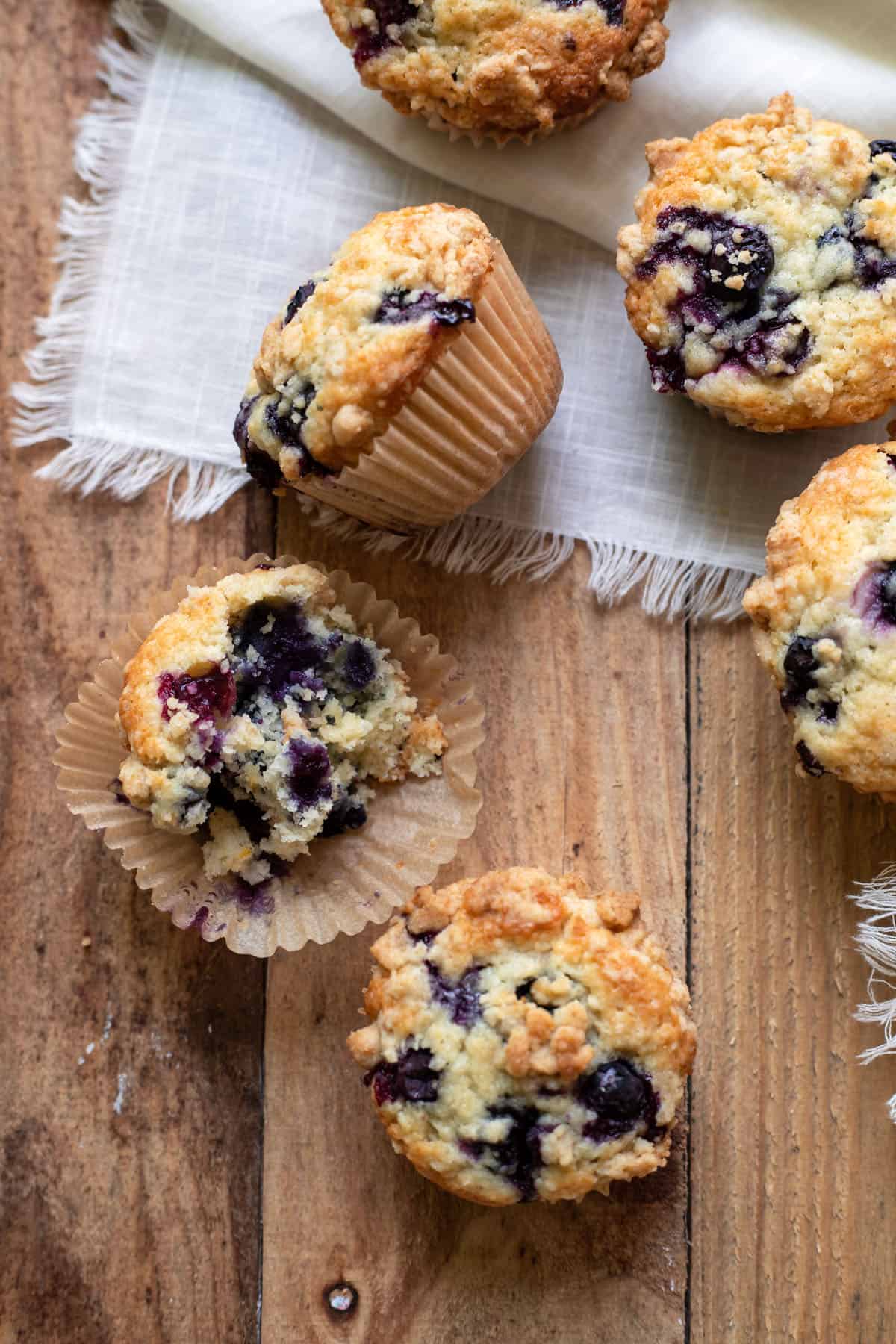 It was a small town in Alaska and back then they were pretty limited on bakeries (really, limited on all things).
I still remember them and the way they smelled. Slightly firm muffin top with crispy edges and a mile high, it must have been bigger than my head, or so it seamed.
Costco muffins had nothing on them.
In the years since I've learned a thing or two about muffins and in no way do I think I am the wisest muffin maker, or muffin guru, I've just made lots of muffins.
Many fails and successes have led me to this little list. So you can take, or leave, what I've found to be true about baking muffins.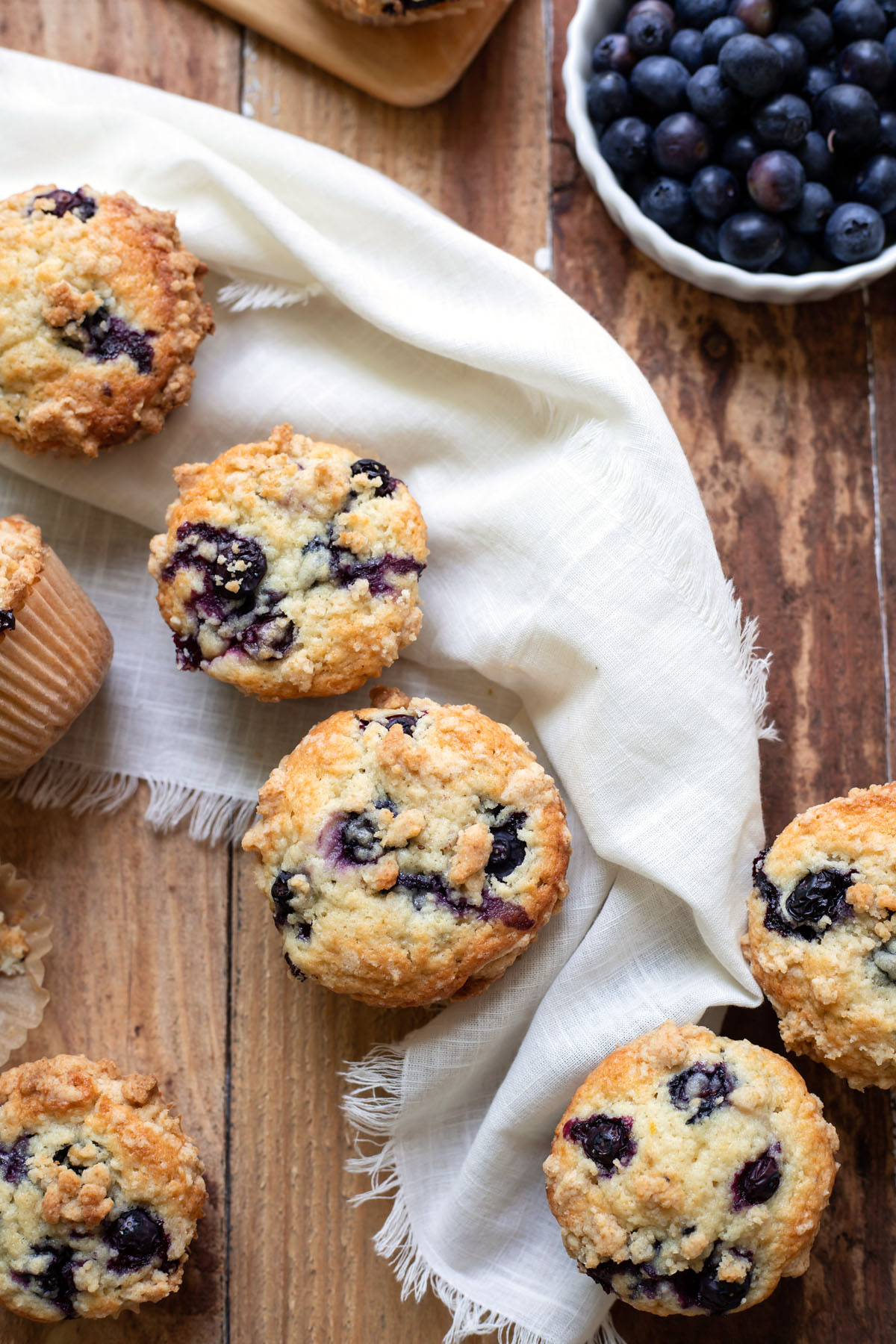 Blueberry Crumb Muffin Secret Ingredient
My secret ingredient?
I add lemon zest to the recipe, just to give it something a little extra and the zest transforms the flavor and gives it a fresh taste.
Once you zest the lemon (which makes these blueberry muffins to die for) your house will be filled with the scent of lemon. Plus the vanilla extract. Your house will smell like heaven, baking heaven folks.
Prepare to be transported to a happy (and hungry) state of mind. It's truly divine.
Whether you make these for Father's Day or just because it's a Wednesday, you will enjoy baking and of course, eating them!
Family Friendly Baked Goods Recipes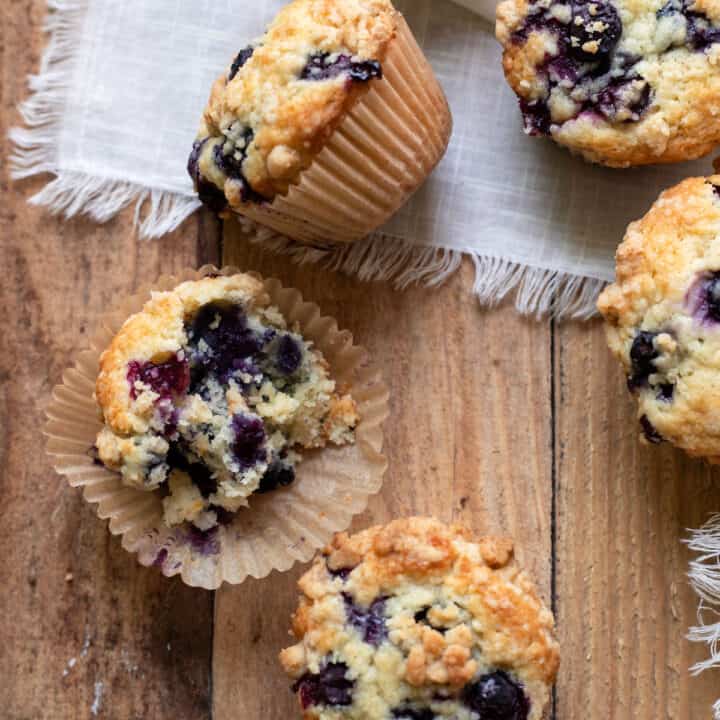 Blueberry Crumb Muffins With Lemon Zest
Soft and fluffy blueberry muffins loaded with fresh and plump blueberries and topped with a sugary buttery crumb topping.
Ingredients
muffins
½ c butter
1 c sugar
2 eggs
1 tsp vanilla extract
1 tsp lemon zest, packed
2 c flour
¾ tsp salt
½ tsp baking soda
1 tsp baking powder
½ c milk
12 oz blueberries, washed, drained and dry
crumb topping
¼ c butter, softened
1 tbsp white sugar
3 tbsp brown sugar
5 tbsp flour
pinch of cinnamon
Instructions
Preheat the oven to 425
In the bowl of a stand mixer, cream the butter and sugar for 3 minutes
Add the eggs, one at a time, make sure they are well mixed in after each one.
Mix in the vanilla
In a separate bowl combine the flour, salt, baking soda, baking powder and lemon zest.
To the wet ingredients alternate adding the dry ingredients and the milk, do not over mix.
Toss the cleaned blueberries with a tiny bit of flour, so they are slightly coated
Don't wait until the batter is completely combined, add the blueberries while it still looks messy. Fold in to the batter until just combined
To make the crumb topping, use a fork to mix together the softened butter, white sugar, brown sugar, flour and cinnamon
Line a 12 cup muffin tin with liners, evenly disperse the batter into each liner and top with the crumb.
Bake for 5 minutes at 425 and then turn the heat down to 375 and continue baking for 20 minutes.
Check by inserting a toothpick in the center.
If it comes out clean they are done.
Cool until they aren't too hot to handle and then transfer the blueberry muffins to a wire rack.
Notes
Tossing the blueberries in flour helps prevent the blueberries from sinking to the bottom of the muffin
Recommended Products
As an Amazon Associate and member of other affiliate programs, I earn from qualifying purchases.
Nutrition Information:
Yield:

12
Serving Size:

1
Amount Per Serving:
Calories:

271
Total Fat:

11g
Saturated Fat:

6g
Trans Fat:

0g
Unsaturated Fat:

4g
Cholesterol:

57mg
Sodium:

347mg
Carbohydrates:

39g
Fiber:

1g
Sugar:

19g
Protein:

4g
This information comes from online calculators. Although moderncrumb.com attempts to provide accurate nutritional information, these figures are only estimates.