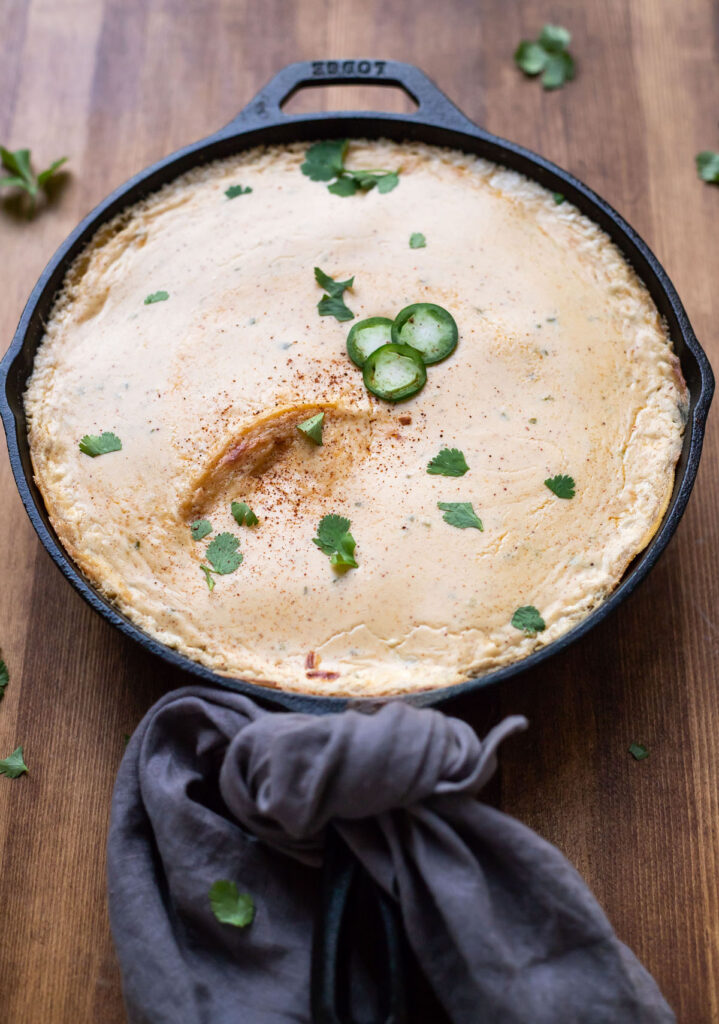 When you get that hankering for enchiladas, nothing can replace it!  Making enchiladas at home is so much yummier than buying them at a restaurant.  Chicken enchiladas with cream cheese sauce are one of my most favorite!
My least favorite thing about making enchiladas is having to fill and roll each one. To speed up the process I make skillet enchiladas, all of the amaaaazing taste but less time prepping.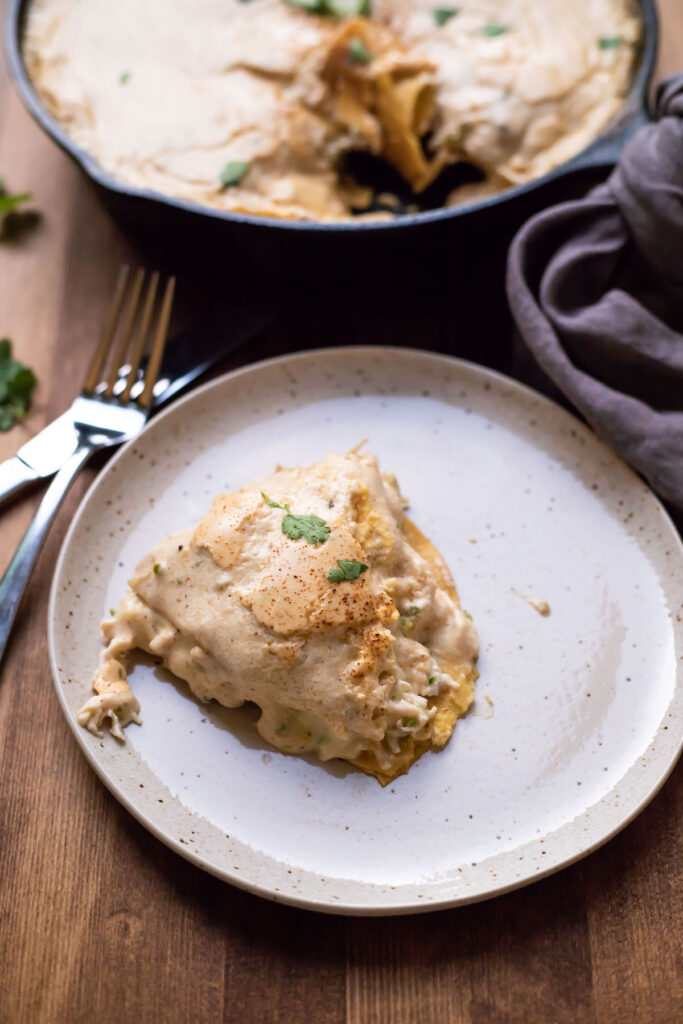 For skillet enchiladas you lay down the corn tortillas in the bottom of the pan, then pour in all of the filling followed by another layer of corn tortillas. Top it with a luscious jalapeño cream cheese sauce.
To speed up this enchilada business my go to way of cooking the chicken is to boil it. Because it really does make the chicken moist and then I don't have to fuss with baking it or pan cooking it. Just plop it in salted boiling water.
Oh yes, don't forget to salt the water, muy importante amigos.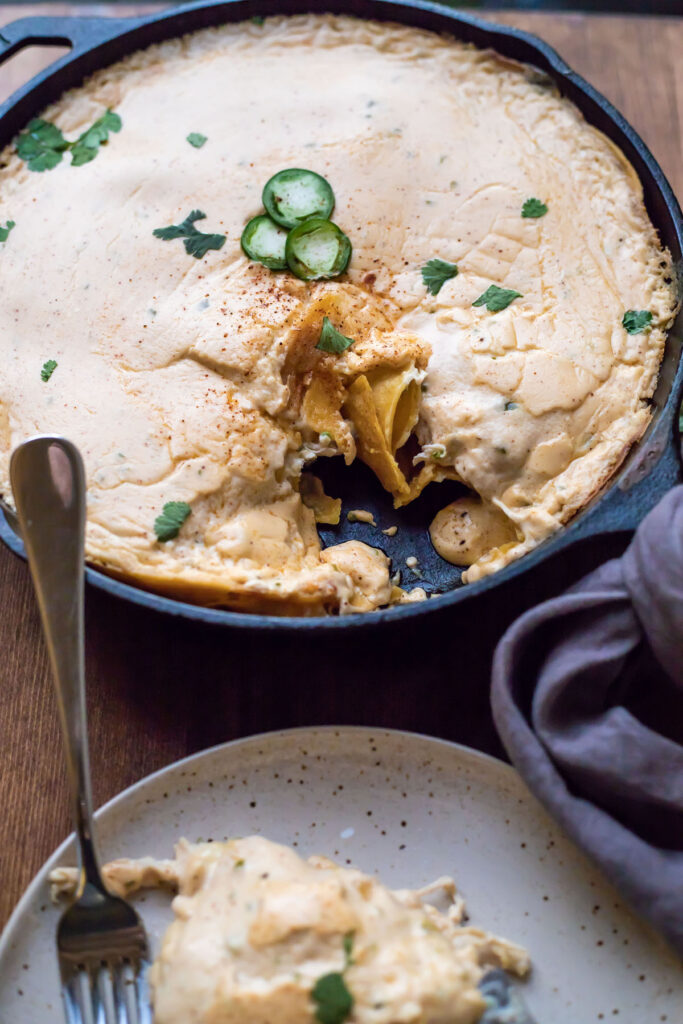 As for the jalapeños. There's a lot of misconception about where the heat from the jalapeño comes from. So I'm here to clear the air!
The hottest part of the jalapeño is the membrane. Not the seeds. Yes the seeds can be hot, but it's because they are attached to that super spicy membrane! Mind blown. Now you know. So if you want a hotter enchilada, leave more of the membrane (the white part).
When it comes to the creamy sauce you'll need to add a bit of salt, but don't over salt it. Let the mixture bubble a bit then turn the heat off so it starts to thicken and cool, then taste.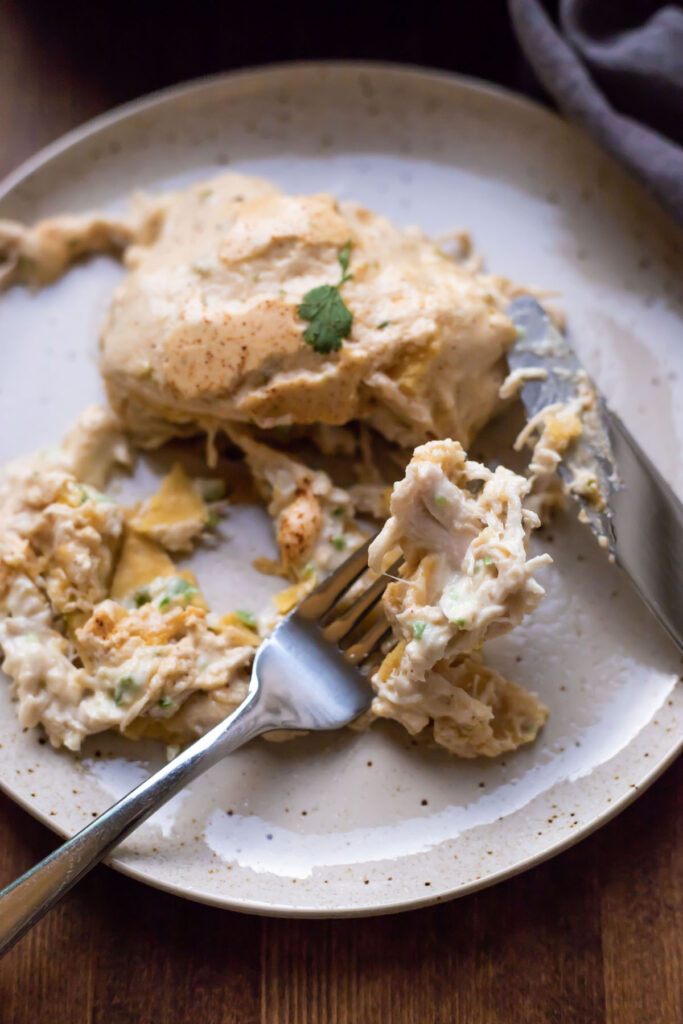 They bake and get all bubbly and delicious!
One of the best things about cooking anything in a skillet is that it stays warm long after you've sat down to dinner, the skillet continues to heat the food.
These jalapeño cream cheese enchiladas do not disappoint and bonus they make great leftovers!
Skillet Jalapeño Cream Cheese Chicken Enchiladas
Skillet enchiladas made with corn tortillas. Stuffed with shredded chicken breast and topped with jalapeno cream cheese sauce.
Ingredients
2

chicken breasts

boiled in salted water

3

tbsp

butter

2

tbsp

flour

1

c

chicken broth

1/2

c

half and half

1/4

c

sour cream

1

c

jack cheese

divided 1/2 c and 1/2 c

8

oz

cream cheese

divided 4 oz and 4 oz

1

tsp

chilli powder

1/2

tsp

salt

1/8

tsp

garlic powder

1/4

tsp

onion powder

2

jalapeños

diced (divided in half)
Instructions
Preheat oven to 350

Melt the butter

Add flour and whisk for 2 minutes

Add the broth and let it thicken, just for a minute

Add the half and half, 1/2 cup jack cheese, 4 oz cream cheese (half the block), 3/4 tsp chilli powder, garlic powder, 1/8 tsp onion powder, salt and diced jalapeños

Simmer until enchiladas are ready to assemble.

Shred chicken and mix with 4 oz cream cheese (the rest of the block), the rest of the diced jalapeños, 1/2 cup of jack cheese, 1/8 tsp onion powder, 1/4 tsp chilli powder and a pinch of salt and pepper

Arrange 7 corn tortillas in the bottom of a skillet

Spread the chicken mixture over the corn tortillas

Drizzle a little of the cheese sauce over the chicken, followed by 7 more corn tortillas

Pour the enchilada cheese sauce on top

Bake for 20 minutes, or until bubbly around the edges

Let it sit for 10 minutes and serve!