These cream cheese white chicken enchiladas are so delicious, your family will devour the entire pan of them! The white cream cheese sauce is made with roasted bell peppers, roasted jalapeños and a blend of cream cheese and pepper jack cheese.
These enchiladas go perfectly with homemade pico de gallo salsa or some chipotle copycat corn salsa.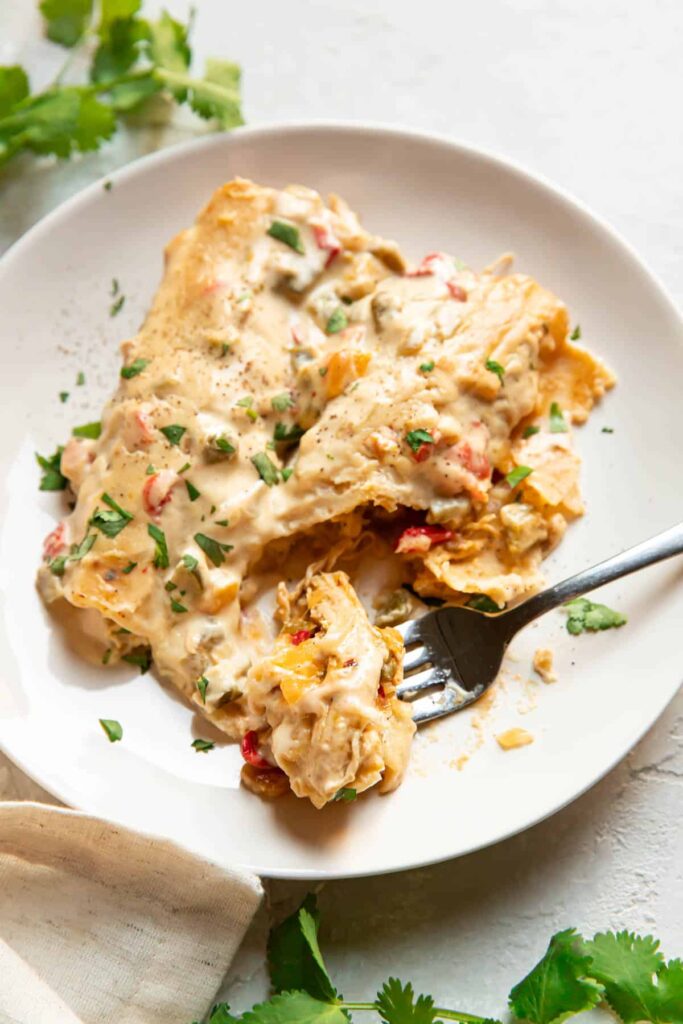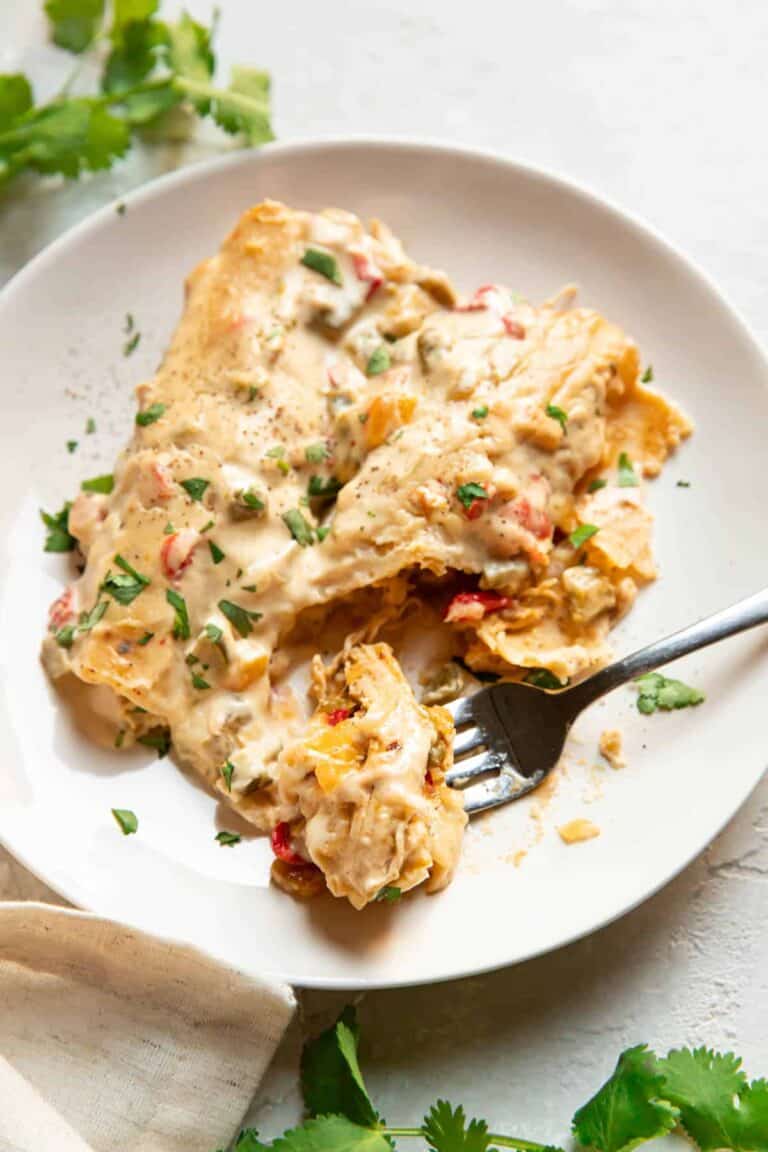 Nothing can replace a batch of homemade cream cheese white chicken enchiladas! Especially when you have them leftover the next day, that is, if there are any leftovers.
A white chicken enchilada is simply enchiladas in a white sauce, instead of a red sauce. The sauce for these is a cream cheese based sauce made with chicken broth, heavy cream, cream cheese and pepper jack cheese.
It is so delicious. Especially when you add in some of the roasted bell peppers and jalapeños.
I cannot confirm or deny that I dip chips into the jalapeño cream cheese sauce while preparing everything.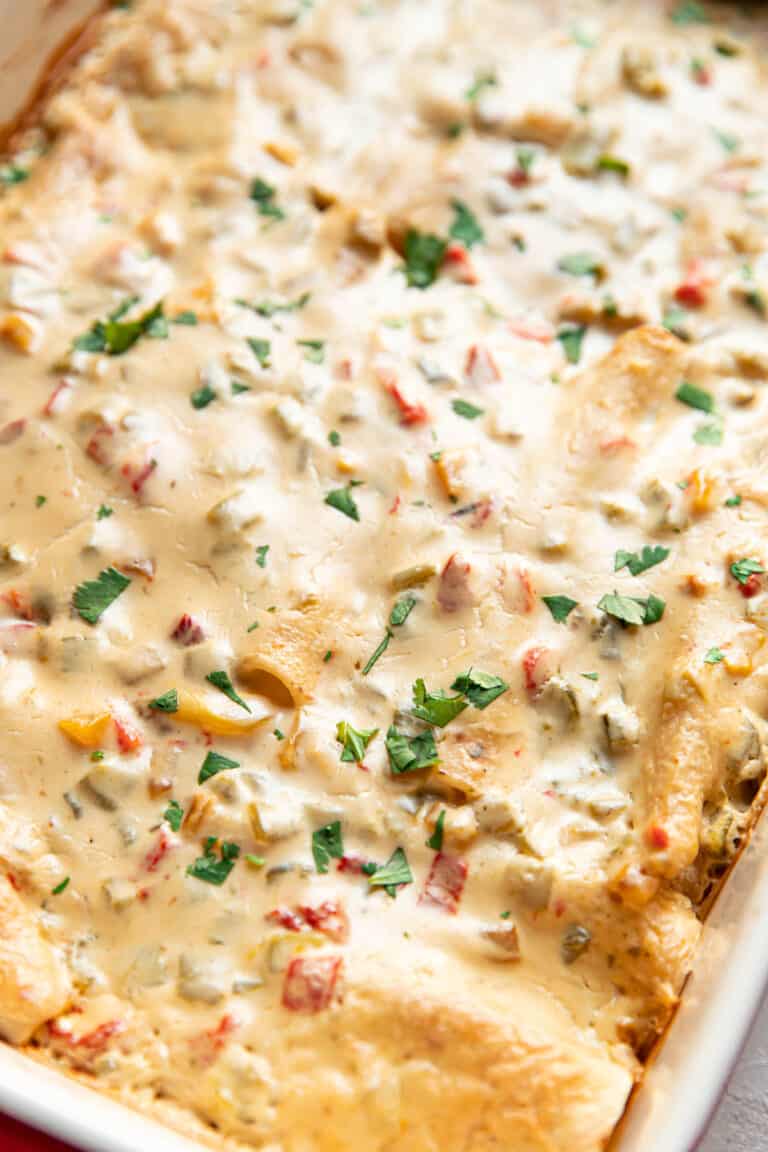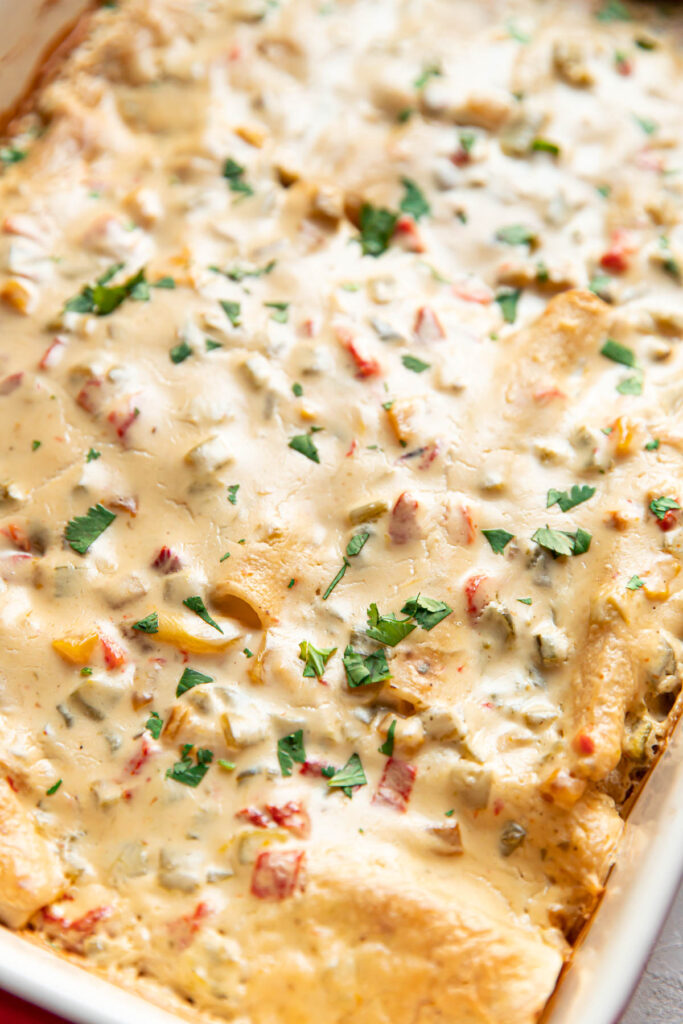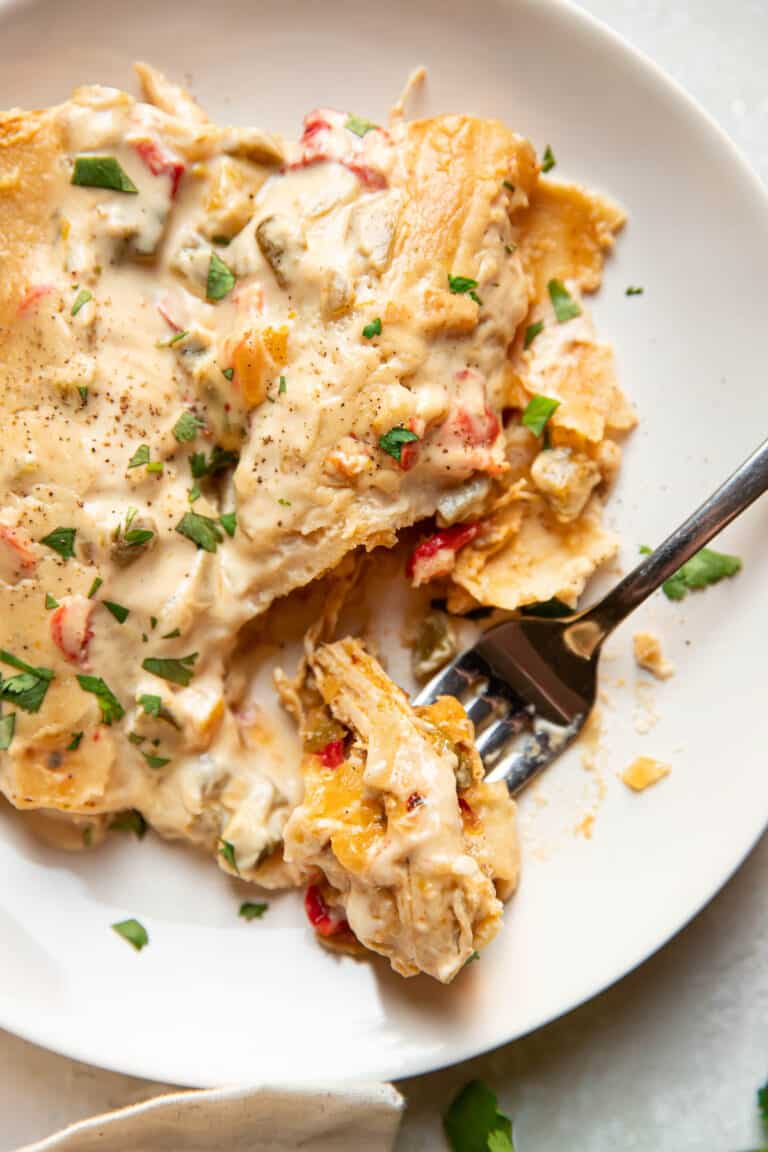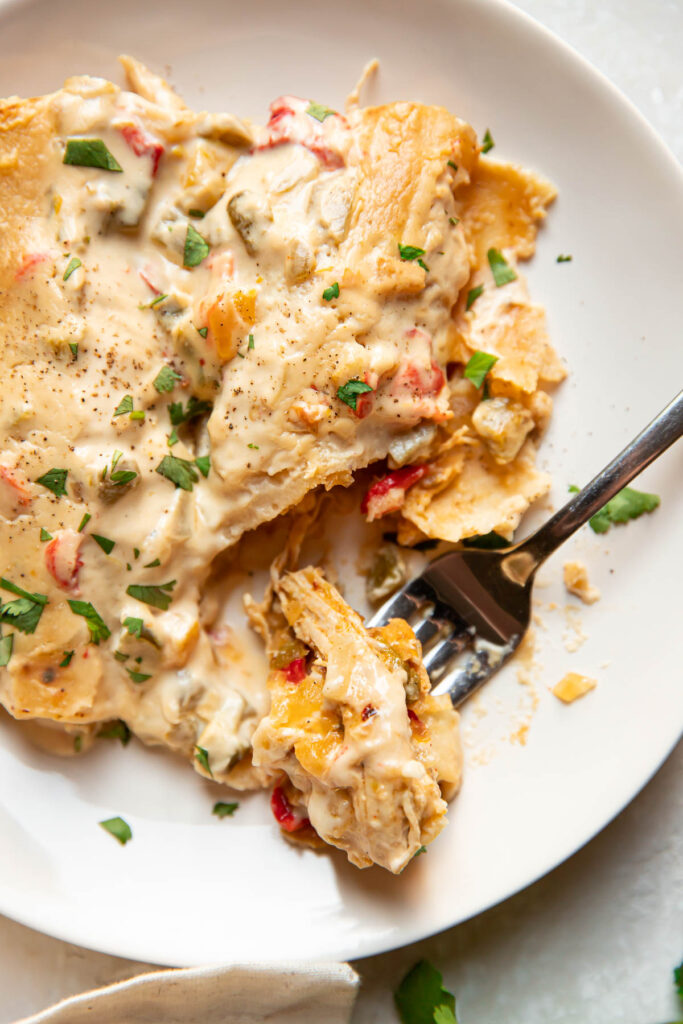 Ingredients Needed For White Chicken Enchiladas
It may seem like a lot of ingredients but think of it as so much flavor! Here's what you need to make these cream cheese chicken enchiladas, the full list and instructions are below in the recipe card.
corn tortillas - enchiladas should be made with corn tortillas, flour tortillas won't taste as authentic and can get gummy when you put the sauce on them
yellow bell pepper, red bell pepper and jalapeños - these will give your enchiladas so much flavor and some heat
diced green chiles - you'll need an 8 oz can or two 4 oz cans, one for the sauce and one for the filling
onion - a white or yellow onion will work
garlic - some minced garlic cloves, if you don't have any then garlic powder could be used as a substitute
cumin, paprika, salt and pepper - all needed for the chicken filling
butter - the base of the cream cheese sauce
flour - used for thickening the white sauce base
chicken broth - used for the white sauce, you can add extra if the sauce gets too thick at the end
heavy cream - makes the sauce rich and creamy
cream cheese - an entire block of cream cheese, 8 oz, is needed for this recipe
pepper jack cheese - pepper jack is so good in this recipe, giving it some extra heat, if you don't like pepper jack or want to keep your enchiladas more mild you could substitute just regular jack cheese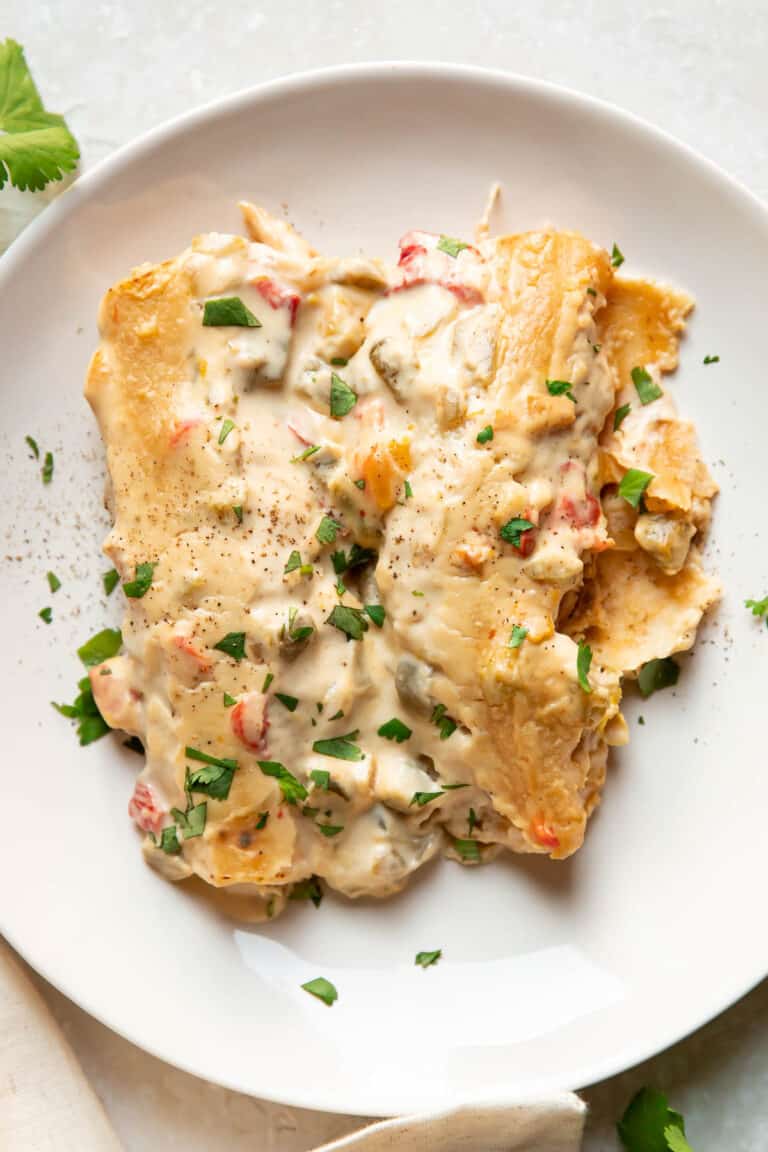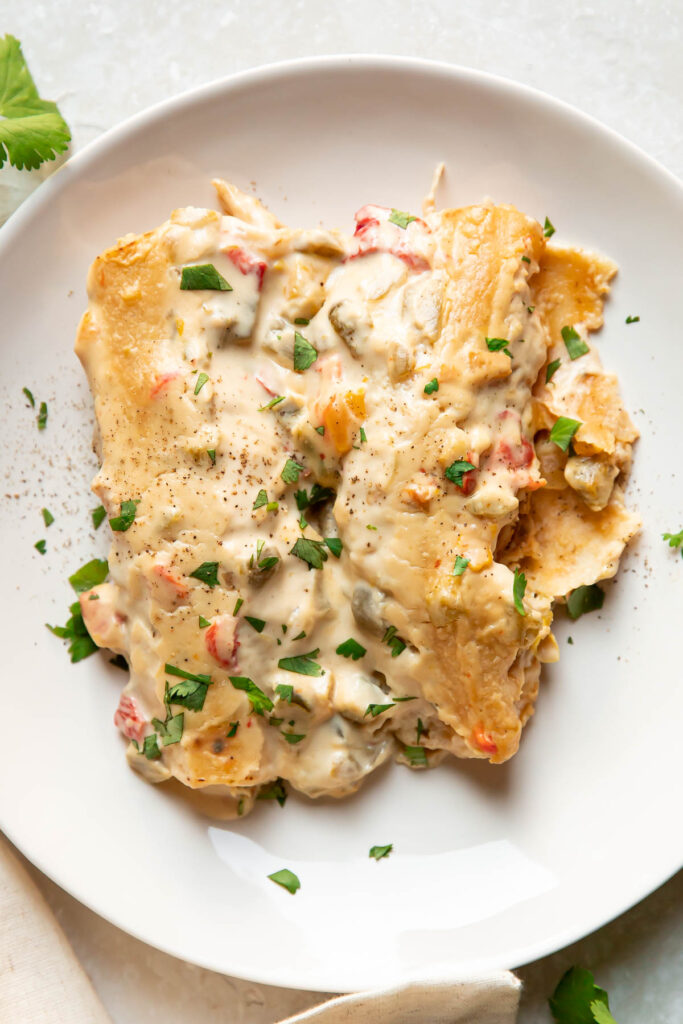 All About Peppers and Heat
I would rate these enchiladas on a mild to medium heat. They aren't very spicy. For reference, they are mild enough that my two grade school children eat them just fine without complaint.
My eldest does not like spicy food and these don't set off any heat alarms for him.
We'll be using bell peppers, jalapeños and some diced green chiles.
You can buy mild, medium or hot diced green chiles. I went for a medium heat with mine.
As for the jalapeños. There's a lot of misconception about where the heat from the jalapeño comes from. So let's clear the air!
The hottest part of the jalapeño is the membrane. Not the seeds.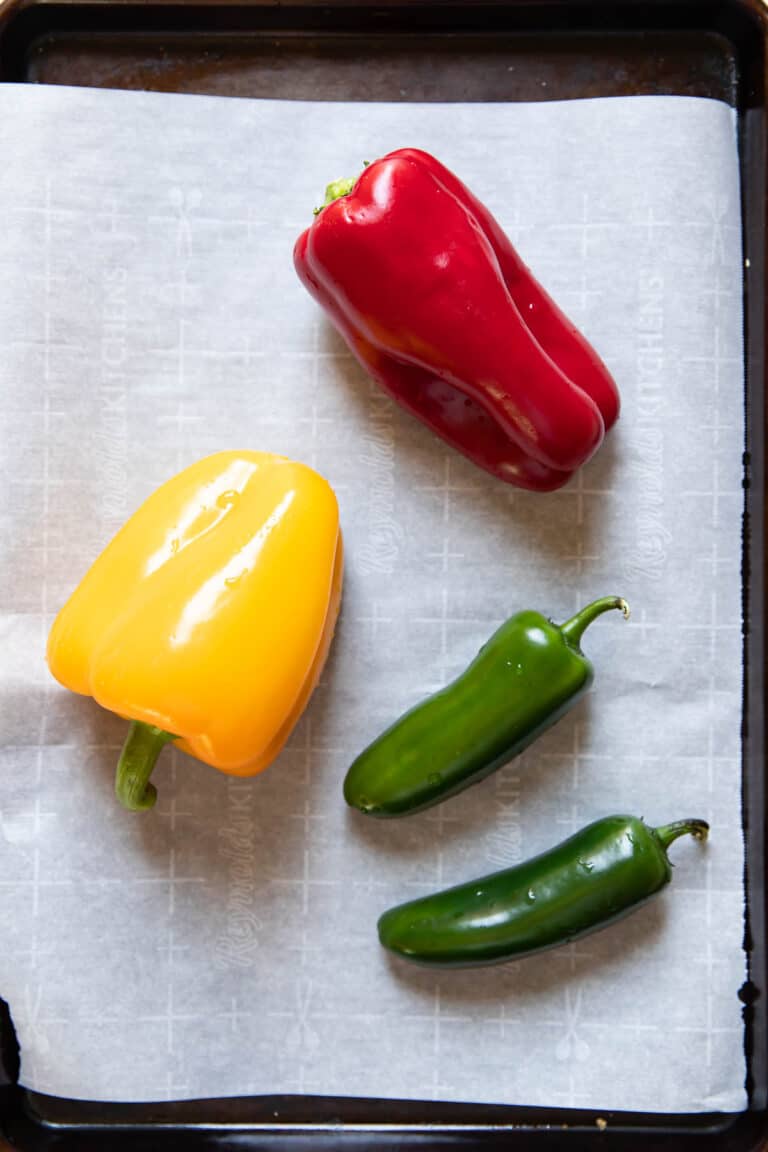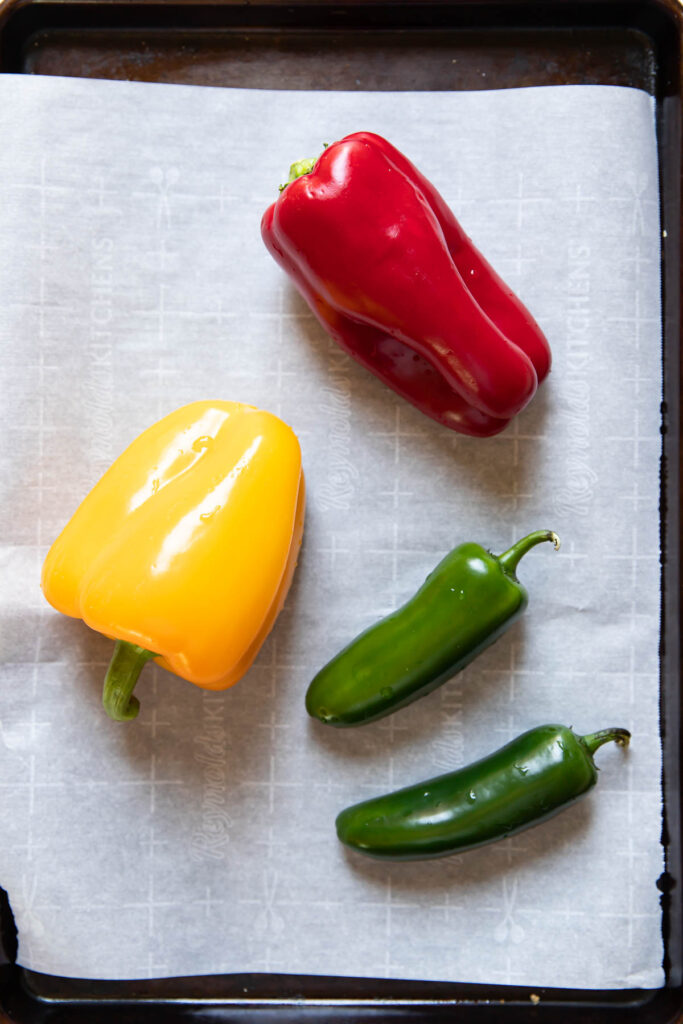 Yes the seeds can be hot, but it's because they are attached to that super spicy membrane! Mind blown? Now you know. So if you want a hotter enchilada, leave more of the membrane (the white part).
And did you know a red bell pepper starts out as a green bell pepper? Then turns to yellow, then orange. They all start the same it's just a matter of ripening time.
A red bell pepper would have ripened the longest and will also be the least bitter. You don't have to use a yellow and a red, you could use two red bell peppers but I love the way the colors look to have both.
I used a few different colors in this recipe for sheet pan sausage, peppers and onions.
Roasting The Peppers
Sure you could use the peppers exactly how they come, chop them up and add them to your enchiladas. But where's the fun in that?
Roasting peppers is so easy, it takes minimal effort.
Here's how to do it.
Get the oven really hot, the broil setting. Wash your peppers. Line a baking sheet with parchment paper, or foil and place the peppers (whole, do not cut them up) on it.
Broil them in the oven, once a side has turned black, flip it over and continue this until all around the pepper is charred.
Once they are out of the oven, let them sit for a few minutes and put them in a sealed ziploc bag to steam. They should steam for an hour but you could leave them in there until you are ready to use them.
After they have steamed take them out and peel off the skin, remove the seeds and stems and chop up. They are ready to use in your chicken enchiladas now!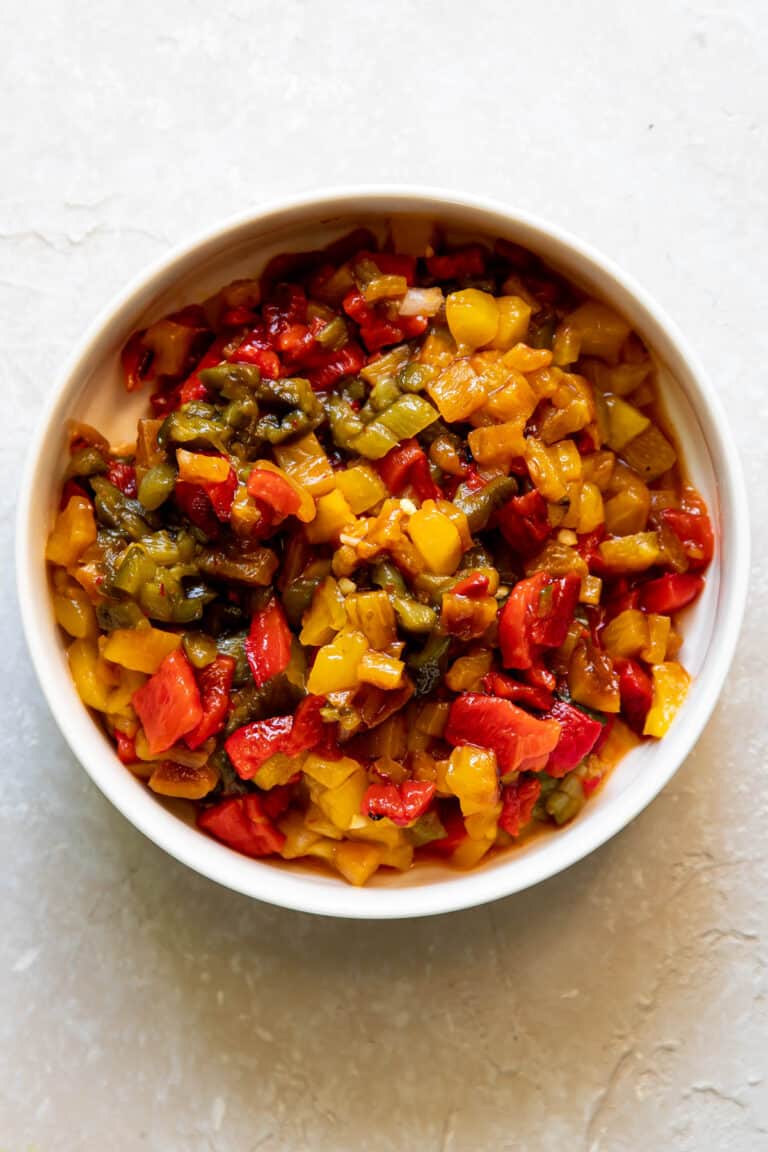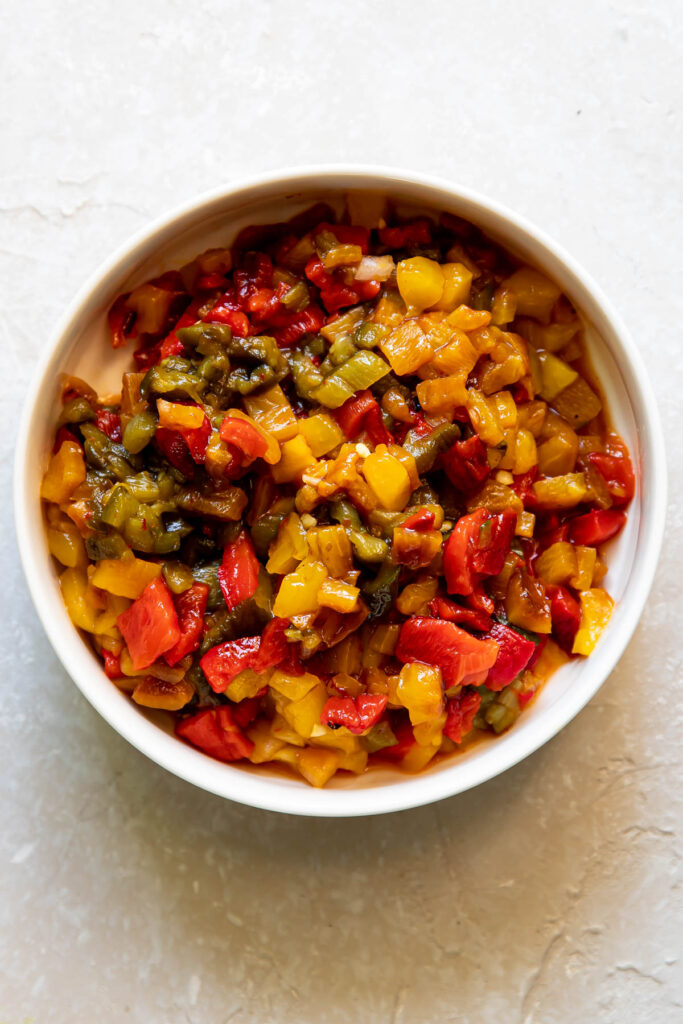 Making the Cream Cheese Sauce
To make the cream cheese white enchilada sauce you start by making a simple white sauce.
Melt butter in a pan, thicken it with flour. You need to let it cook for a few minutes after adding the flour, to get the flour taste out.
Then, add in chicken broth, it will thicken. Using a whisk is the best tool for this to avoid lumpy sauce. Add in the heavy cream.
Then add cubed up cream cheese. It may look lumpy at first but keep whisking on a low heat and it will slowly melt.
Add in your roasted peppers and the pepper jack cheese and mix until smooth and creamy.
Creamy, cheesy and a bit spicy, this sauce is delicious!!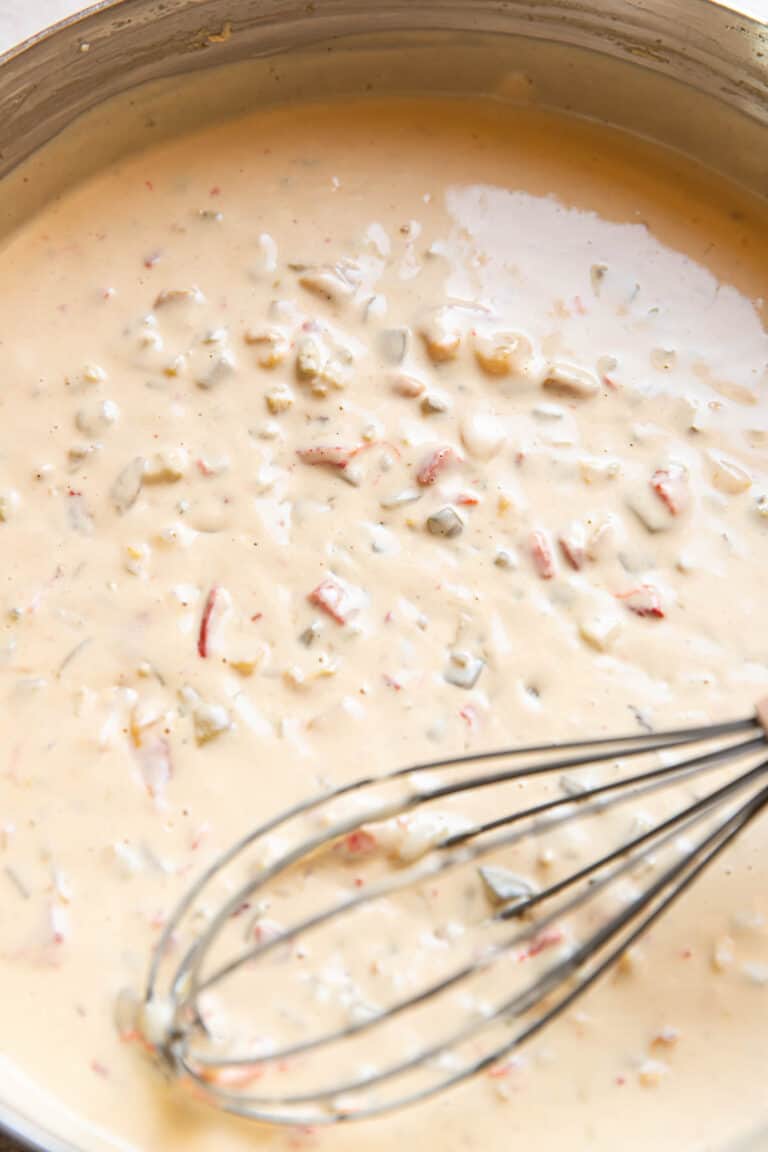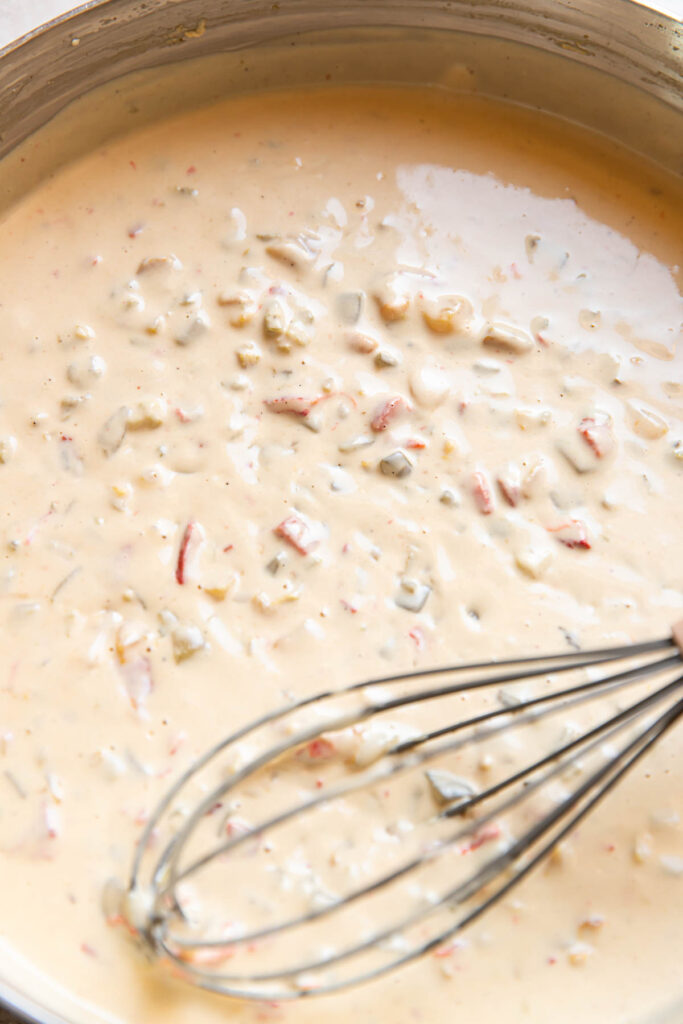 Heating Up Corn Tortillas
Corn tortillas straight out of the bag need to be, in a sense, woken up.
If you try to use them as is, they will crumble, crack and fall apart. Unless you are making skillet enchiladas, then you can just pile them up since they don't rolled up. I like these skillet mexican street corn enchiladas for that.
My favorite way to heat up corn tortillas is in a cast iron skillet, with a little bit of high heat oil (like sunflower oil). Here's what you do.
Turn your heat up to high, to get the skillet smoking and hot. Take just a little bit of sunflower oil with a basting brush and coat the skillet with a thin layer.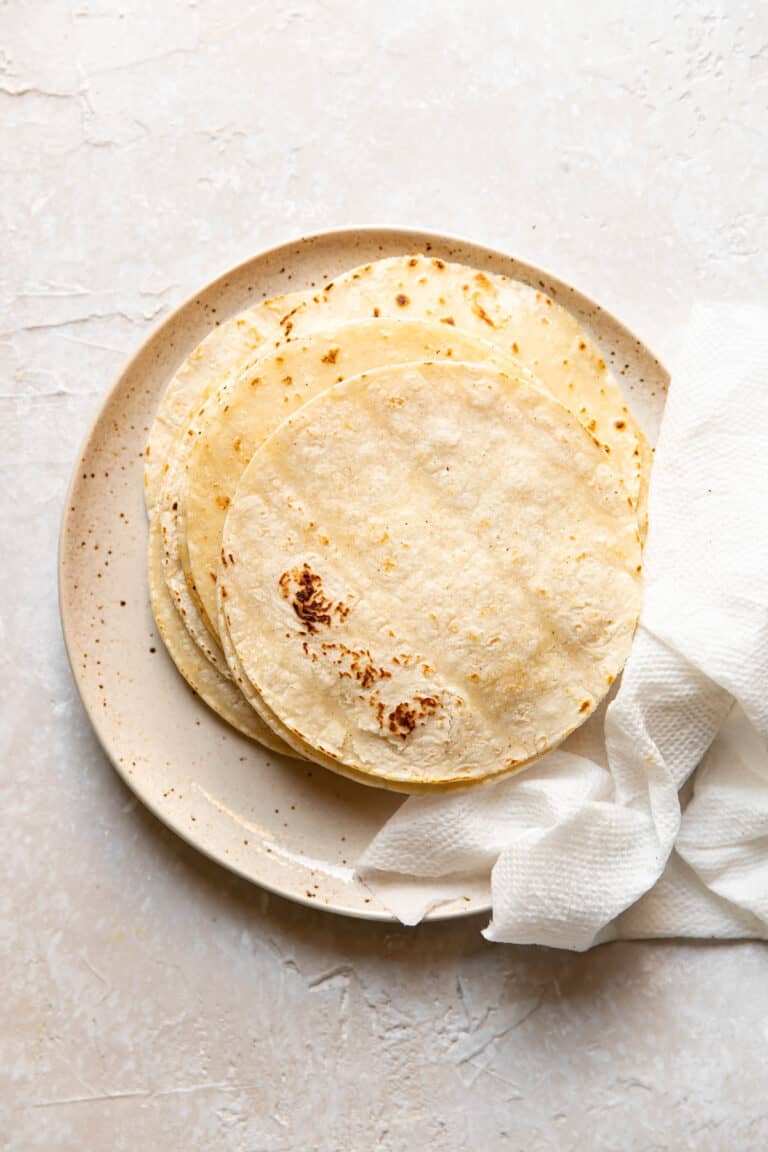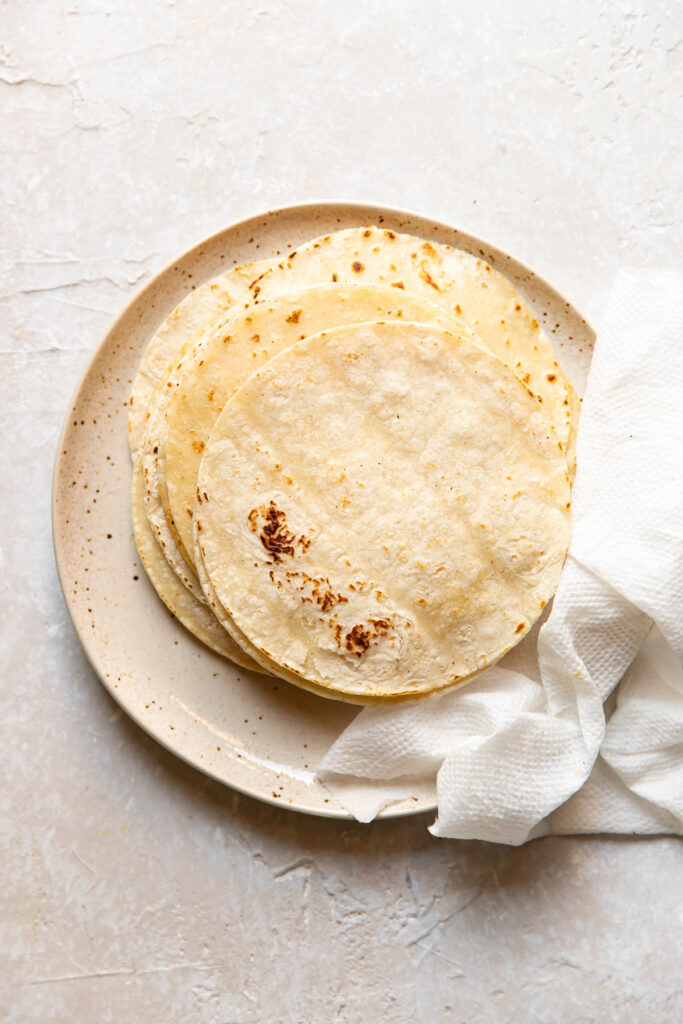 Add in a corn tortilla, one at a time (unless you have a really big skillet and can fit more). You'll start to see them shrink just ever so slightly, flip it and cook an additional 10 seconds or so.
To keep them soft, as you take them out of the skillet put the corn tortillas on a plate with a slightly wet paper towel on top of them. This lets the heat circulate and continues to steam them.
So when you roll your enchiladas, the tortilla will stay whole - no cracking.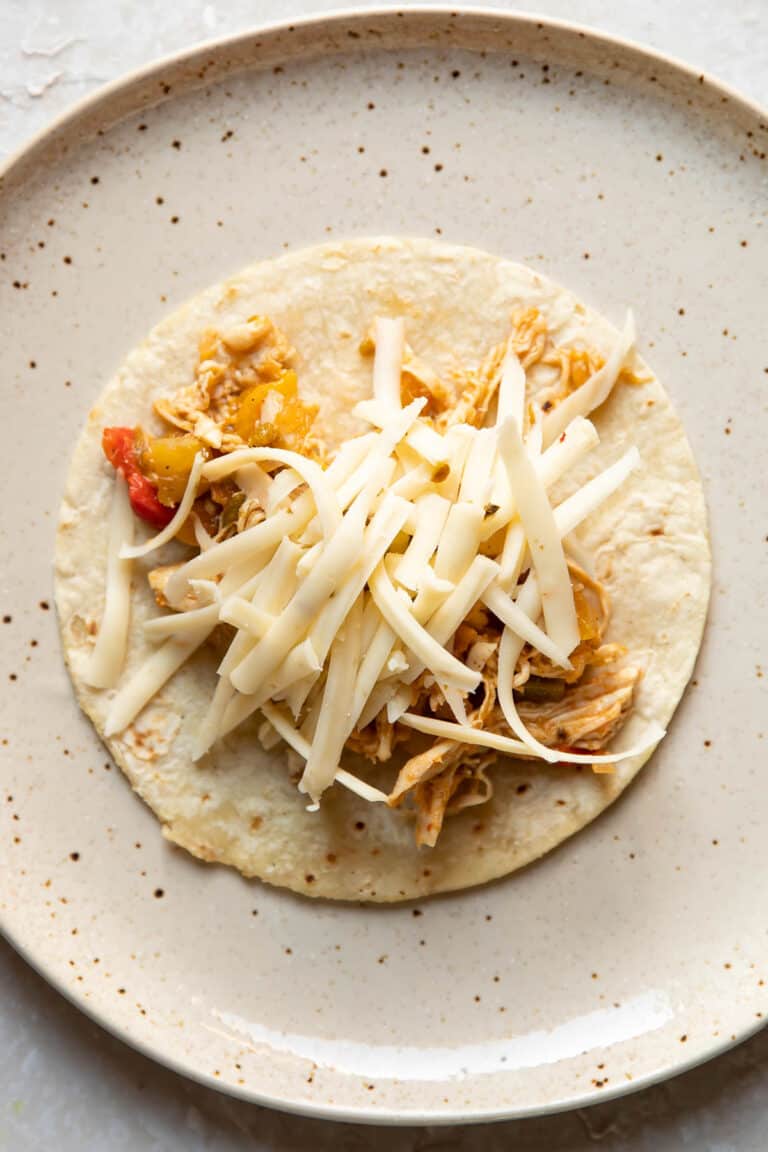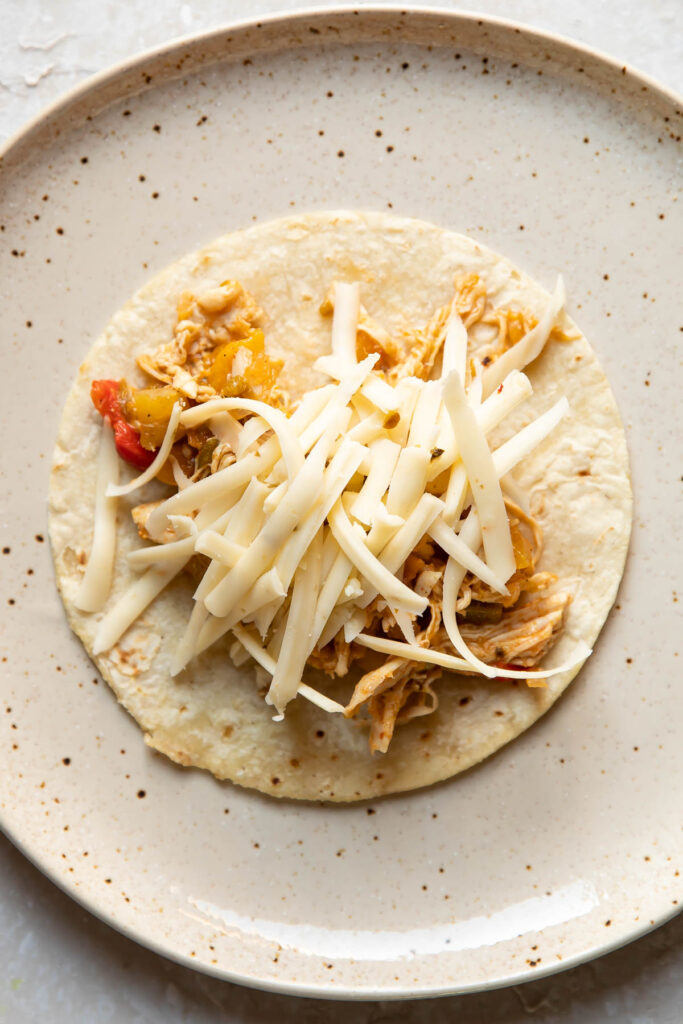 How To Put Together the Cream Cheese Chicken Enchiladas
I find that rolling up one enchilada at a time is the way to go. Spread a bit of the white cream cheese enchilada sauce in the bottom of your baking dish.
Start by laying out a tortilla and spoon on some of the chicken filling. Top with some of the pepper jack cheese and roll it tightly.
Line them up in your baking dish.
When you get to the end, if you have some extra space (that awkward last bit of space) I like to stuff however many I can in there, even if it means they overlap.
Take all of the enchilada sauce and pour it over, completely covering. Then they will bake until golden brown around the edges.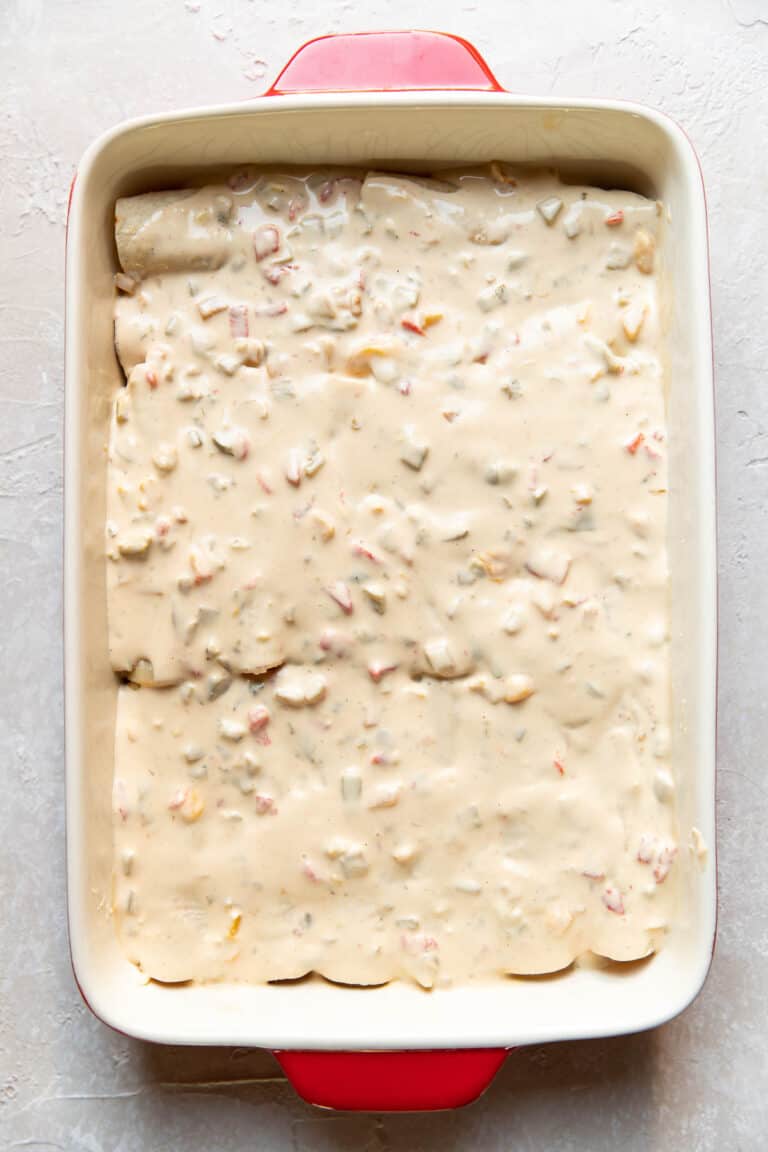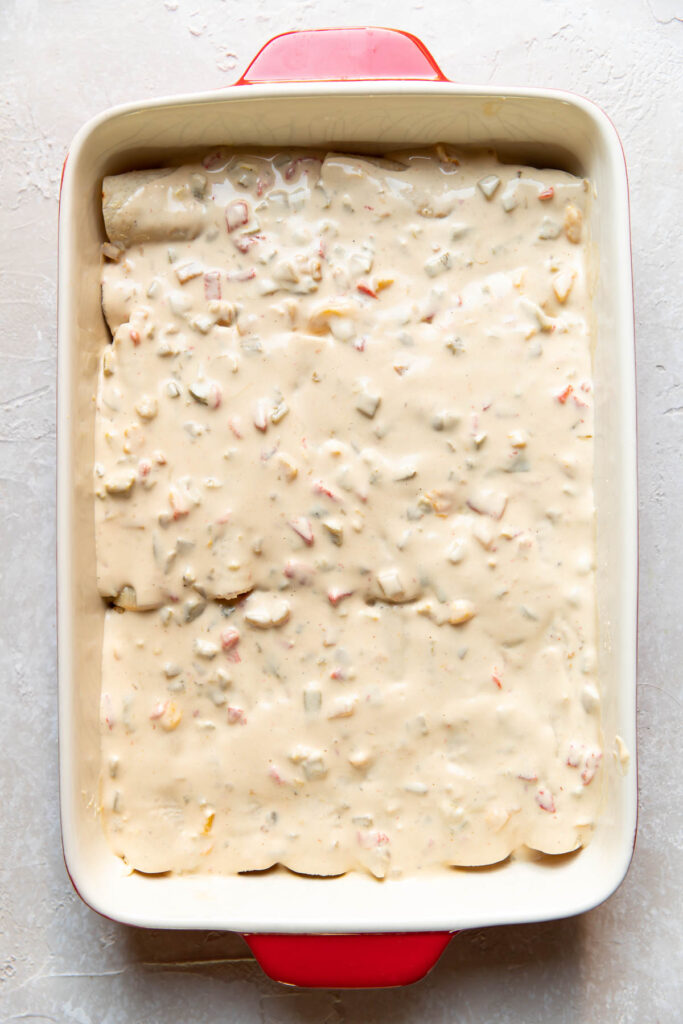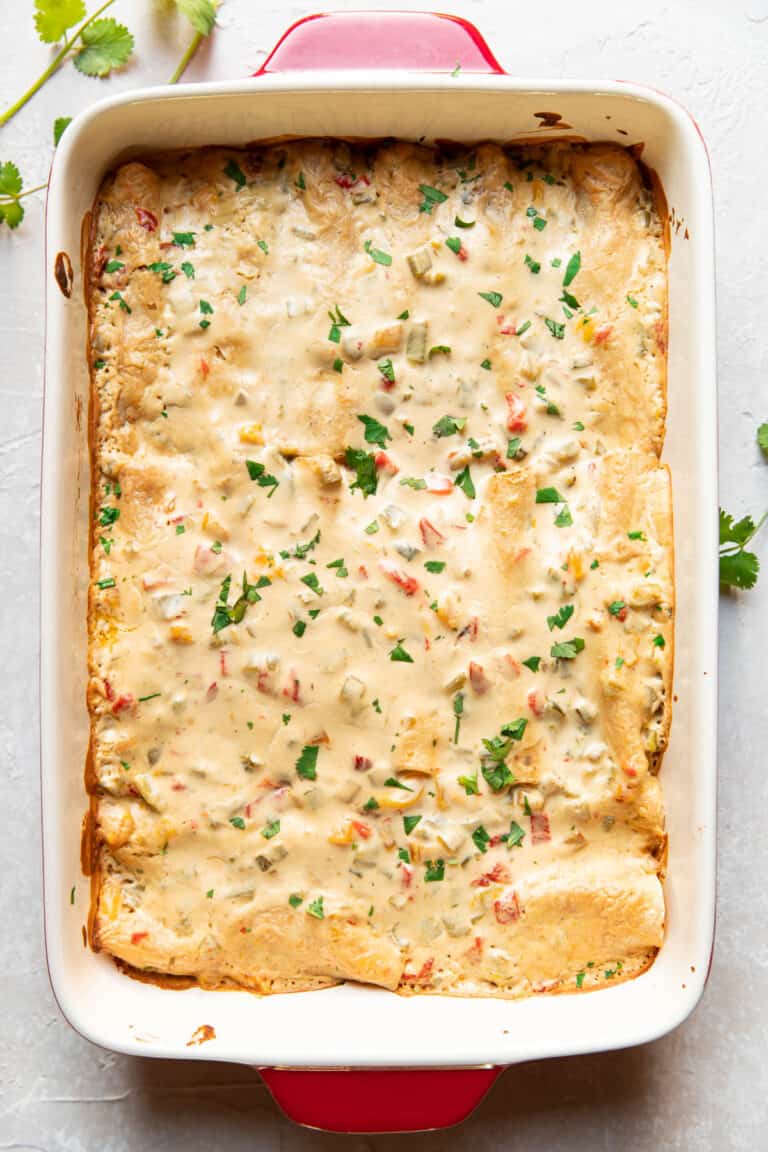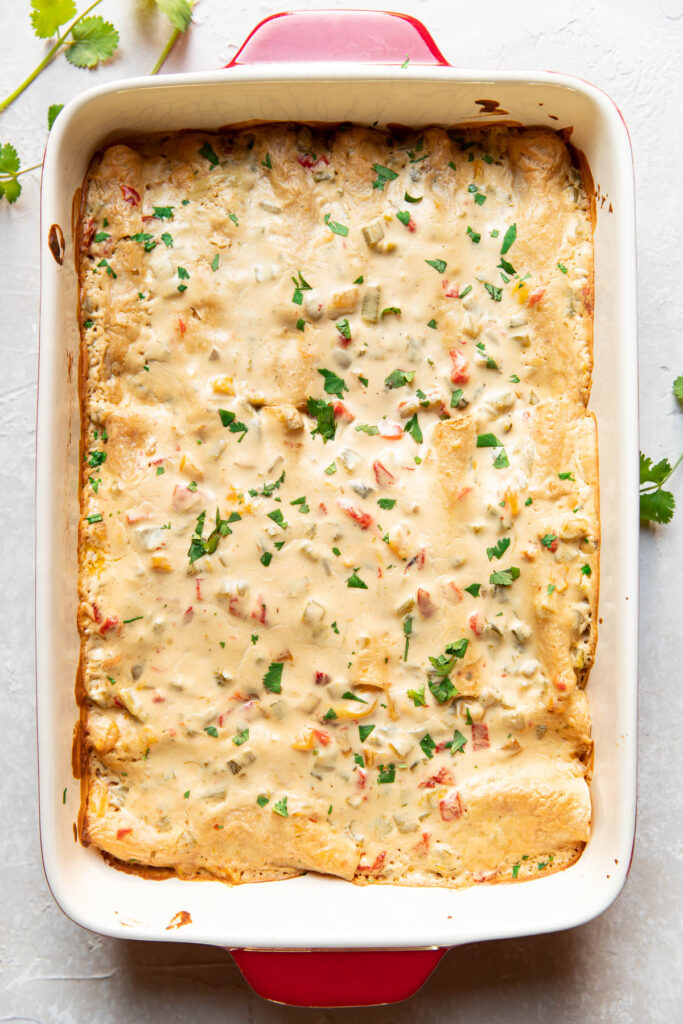 More Southwest Inspired Recipes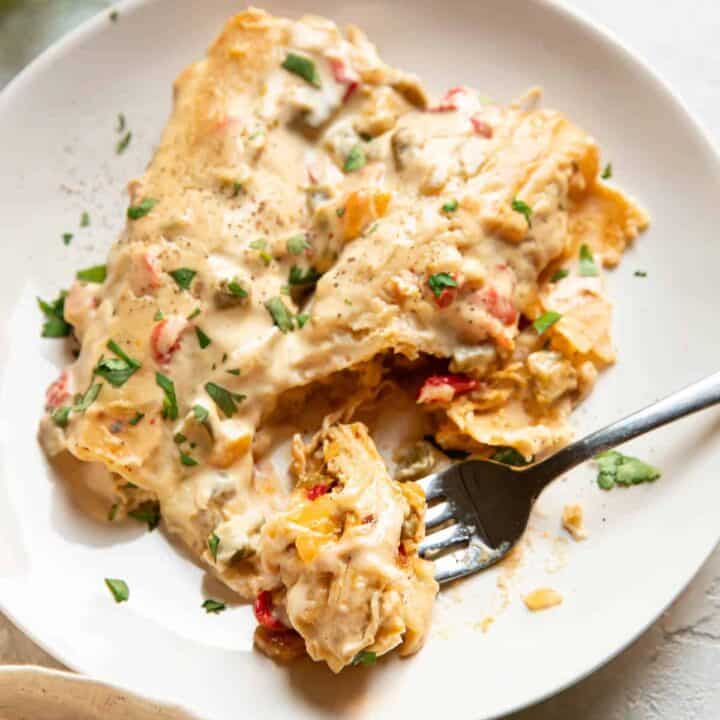 Cream Cheese White Chicken Enchiladas
Total Time:
1 hour
30 minutes
These cream cheese white chicken enchiladas are so delicious, your family will devour the entire pan of them! The white cream cheese sauce is made with roasted bell peppers, roasted jalapeños and a blend of cream cheese and pepper jack cheese.
Ingredients
1 ½ lb chicken breast, cooked and shredded *see notes
corn tortillas, 16 count, softened *see notes
1 yellow bell pepper
1 red bell pepper
2 jalapeños
4 oz can of diced green chiles
½ onion, diced
2 garlic cloves, minced
½ tsp cumin
½ tsp paprika
salt and pepper
½ c chicken broth
oil
2 c pepper jack cheese, used while rolling the enchiladas
optional:, cilantro, sour cream, any other toppings you like
Cream Cheese Enchilada Sauce
4 tbsp butter
2 tbsp flour
1 ¼ c chicken broth + more if needed
¼ c heavy cream
8 oz cream cheese, cubed
1 c pepper jack cheese, shredded
4 oz can of diced green chiles, heat level of your preference
Pinch of salt
Instructions
Preheat oven to broil
Add the bell peppers and jalapeños to a baking sheet lined with foil
Roast in the oven, turning the peppers as each side darkens
Remove from the oven and seal in a ziplock bag for at least 30 minutes then scrape off the peels, remove the seeds and stems and chop up the roasted peppers
Turn down the heat of the oven to 375 after sealing in the ziploc bag
To a saute pan add a drizzle of oil, chopped onions and minced garlic, cook for 5 minutes
Add in ⅓ of the chopped roasted peppers, 4 oz can diced green chiles, shredded chicken*, ½ cup chicken broth, cumin, paprika, and a pinch of salt and pepper
Stir everything together on low heat
Heat another saute pan, melting the butter and to this add the flour, whisking for 2 minutes
Add in 1 ¼ cups of chicken broth, slowly, followed by the heavy cream
Turn the heat to low and add in the cream cheese whisking until smooth, now add the pepper jack cheese, pinch of salt, 4 oz can of diced green chiles and the rest of the roasted peppers
Stir until the cream cheese sauce is smooth and combined
Spoon some of the enchilada sauce into the bottom of a 9x13 baking dish
Take a cooked corn tortilla, add a spoonful of chicken filling and a handful of grated pepper jack cheese, roll tightly and line them up side by side in your pan
Once you get to the end, if there is extra space you can just stuff the enchiladas in, overlapping is fine
Pour the enchilada cream cheese sauce over everything
Bake for 30 minutes, the edges should be bubbling and golden
Serve with some chopped up cilantro
Notes
For the shredded chicken you can use any method of cooking you want.  A few ideas is to bake the chicken in the oven and shred it (400 degrees for 20 minutes), cook it in your instant pot (add water to the base, put the chicken on the trivet and cook 16 minutes) or buy a rotisserie chicken and shred the meat.
To heat and soften the corn tortillas (to avoid cracking) see the section in the blog above about how to use a cast iron skillet.  Alternately, you can put the corn tortillas on a plate with a wet paper towel on top, and cook them in the microwave until steamy and hot.
Nutrition Information:
Yield:

8
Serving Size:

2
Amount Per Serving:
Calories:

684
Total Fat:

40g
Saturated Fat:

22g
Trans Fat:

0g
Unsaturated Fat:

15g
Cholesterol:

172mg
Sodium:

835mg
Carbohydrates:

35g
Fiber:

4g
Sugar:

5g
Protein:

46g
This information comes from online calculators. Although moderncrumb.com attempts to provide accurate nutritional information, these figures are only estimates.