This minestrone soup is the perfect cold weather winter dinner. A hearty tomato based soup made with both chicken and beef broth. It's loaded with vegetables, cannellini beans, pasta and a few secret ingredients that make it the best minestrone soup, ever!
This recipe was first published 12/4/20.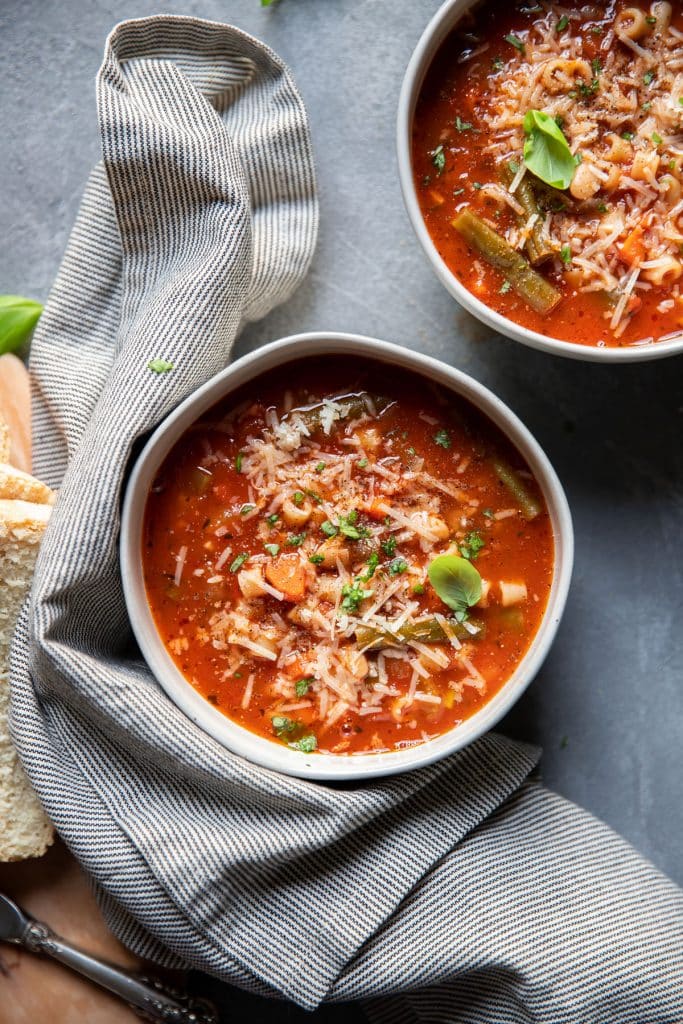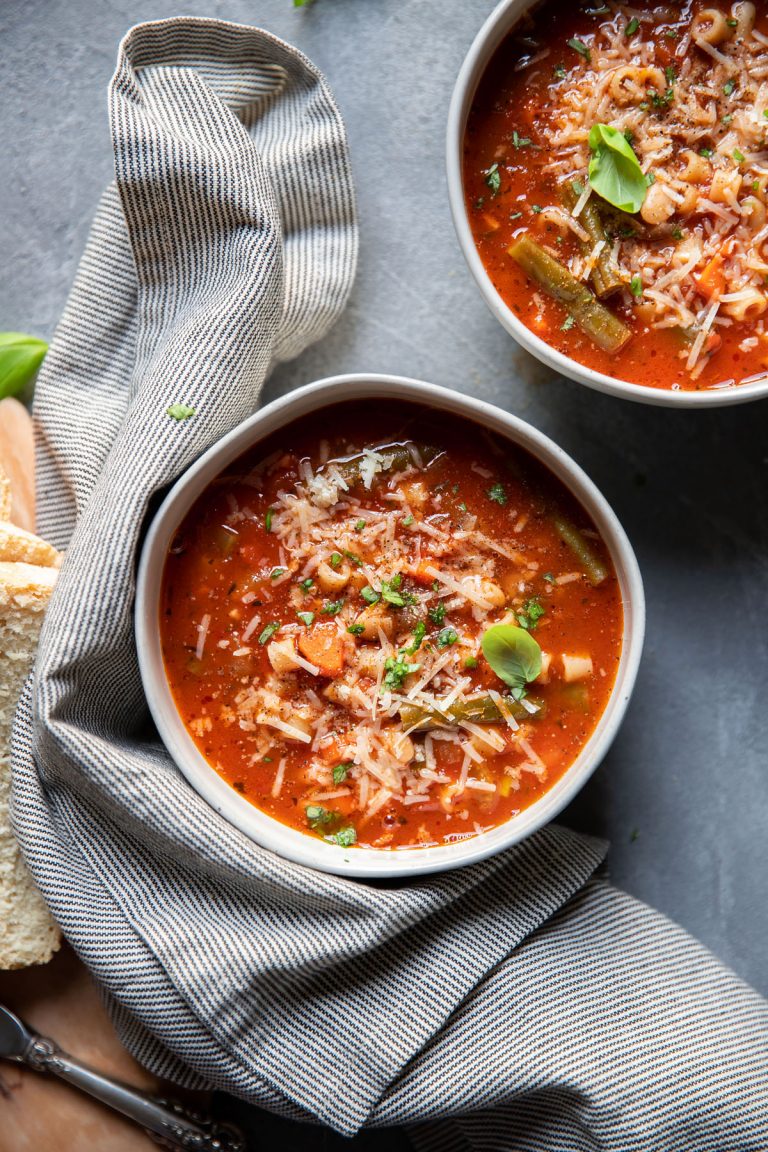 When it's just so cold outside and your teeth are chattering, you need something warm and cozy to feed your family for dinner. Minestrone soup always fits that bill.
It is packed full of vegetables! Onions, carrots, celery, green beans and garlic. If there's something your family may not like, feel free to leave it out.
When I was little I didn't like beans, so my mom always left the cannellini beans out of her minestrone soup. Of course as I got older I learned to like them.
We grew up in Alaska, so we needed lots of cozy soup to warm up. Like this lasagna tortellini soup and this broccoli cheddar soup. Actually one of my favorites was beef stroganoff and I tried to mimic my recipe off a childhood favorite, just like I did with this minestrone soup.
And how can I not mention this is a one pot dinner! We all love those one pot dinners, they are just so easy!
Jump to: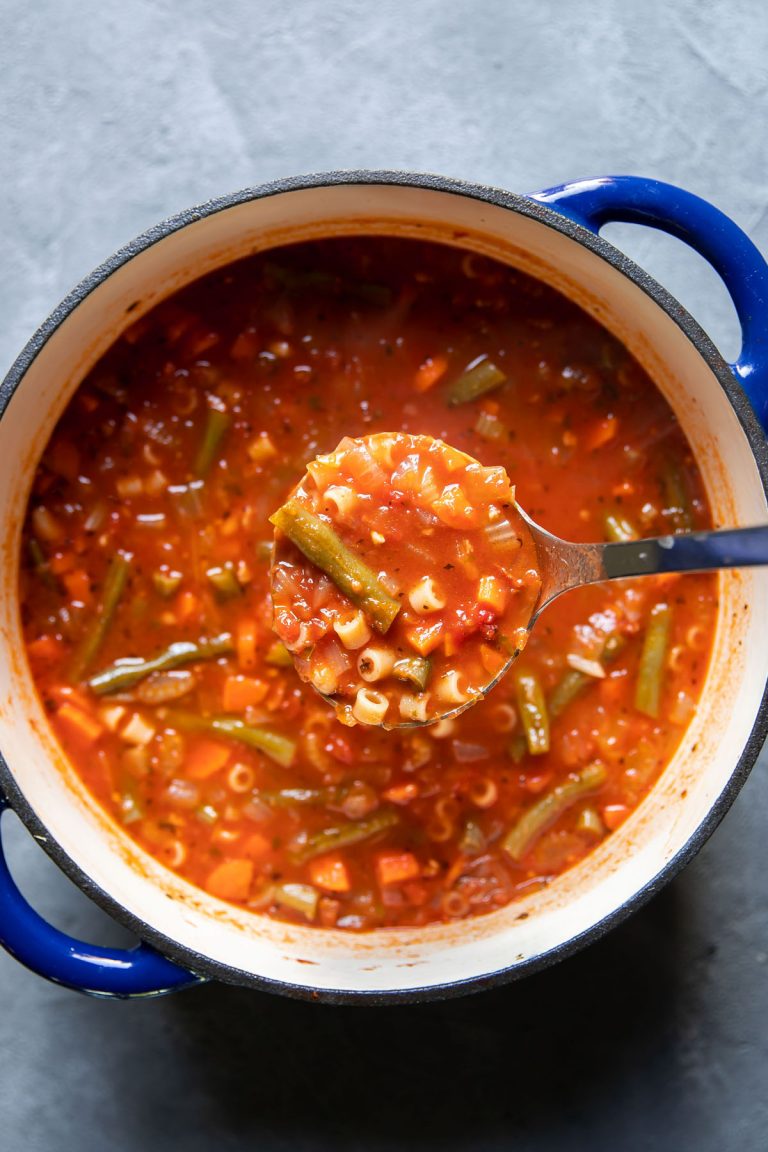 Minestrone Soup Secret Ingredient
I have two secret ingredients!
My first secret ingredient is bacon.
Okay, so I don't know if this is a big secret or not. But I make this pasta bolognese meat sauce the same way, by starting with a few pieces of bacon in the pan and then cooking the vegetables in some of the grease.
Can you say magical flavor? I've made this without and with bacon and hands down with bacon is way better.
You only need 3 pieces of bacon, tear them up a bit or rough chop and cook them in the soup pot. Let it get real crispy so you have lots of cooked on bits and pieces in the bottom of the pan.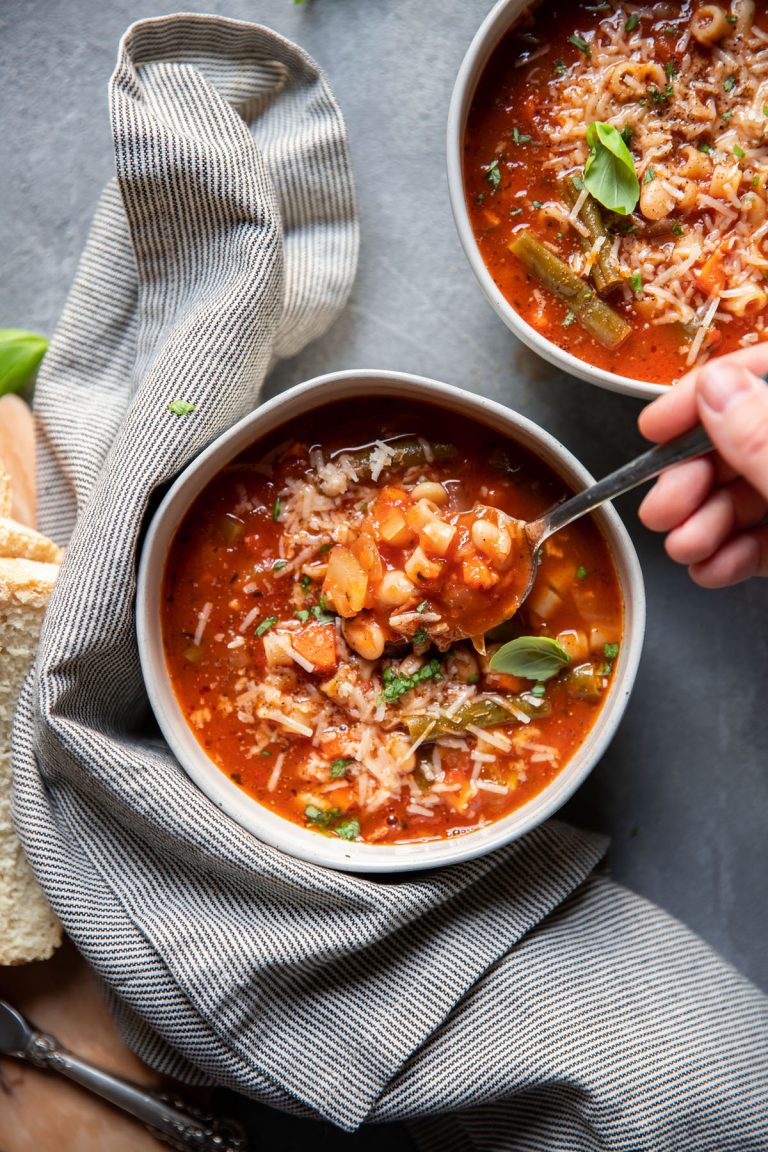 Never wipe out the bacon pieces at the bottom of the pan. However you do want to wipe out majority of the bacon grease. It's okay to leave just a tad in there for flavor.
My second secret ingredient is the rind of a block of parmigiano reggiano cheese!
Whenever I buy a block of this I always save the rind in my fridge for when I make soup. You just drop it in while it simmers and the flavor is so amazing.
If you can get your hands on a block of it I highly suggest doing this extra step. Even if you have to cut the rind off your block of cheese.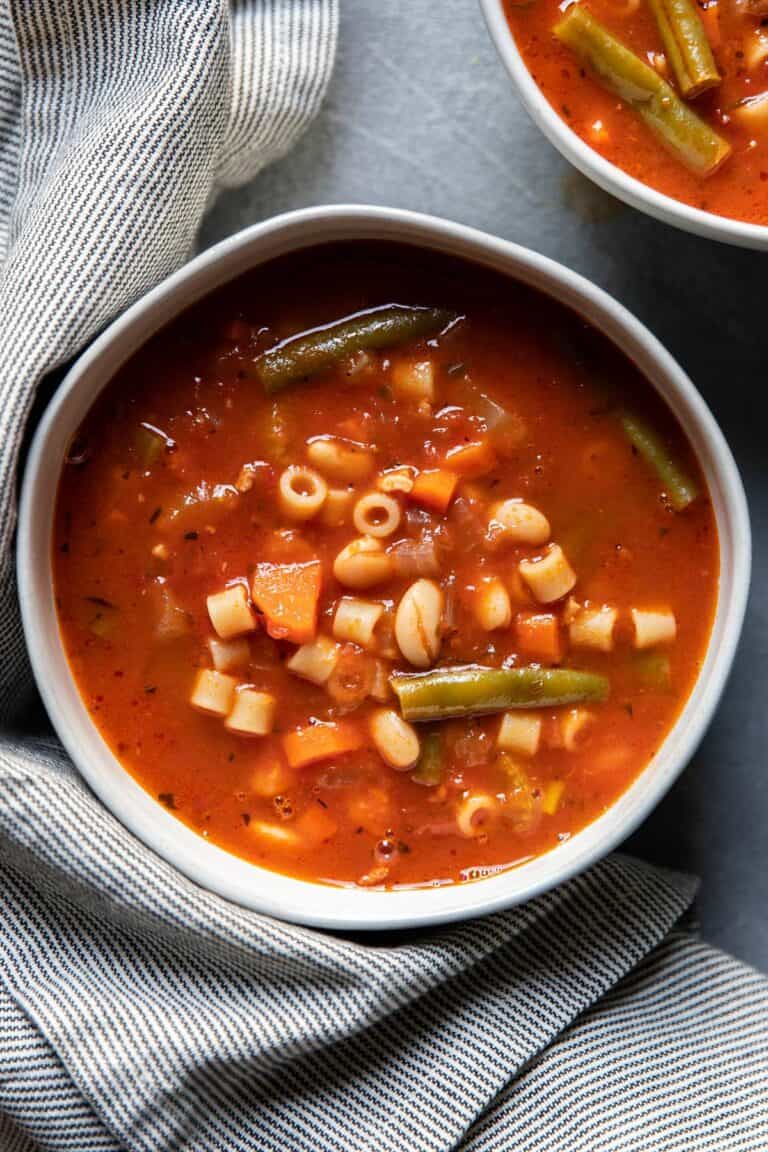 What's In Minestrone Soup?
Minestrone soup has quite a few ingredients, most of them being vegetables.
We already covered that it has bacon. That's what you start your cooking process with. After that you'll cook your vegetables in some olive oil.
Here's the vegetable list, onion, carrots, celery, garlic and green beans.
For heartiness you'll need cannellini beans and ditalini pasta. Ditalini pasta are tiny little pasta that are round with a hole in the middle, they look like a little tube.
For liquid you will crushed tomatoes, water and better than bouillon to make the broth (both chicken and beef).
The seasonings are basil, Italian seasoning and salt.
And for extra flavor a parmigiano regianno rind. This is the tough end of a block of parmesan cheese.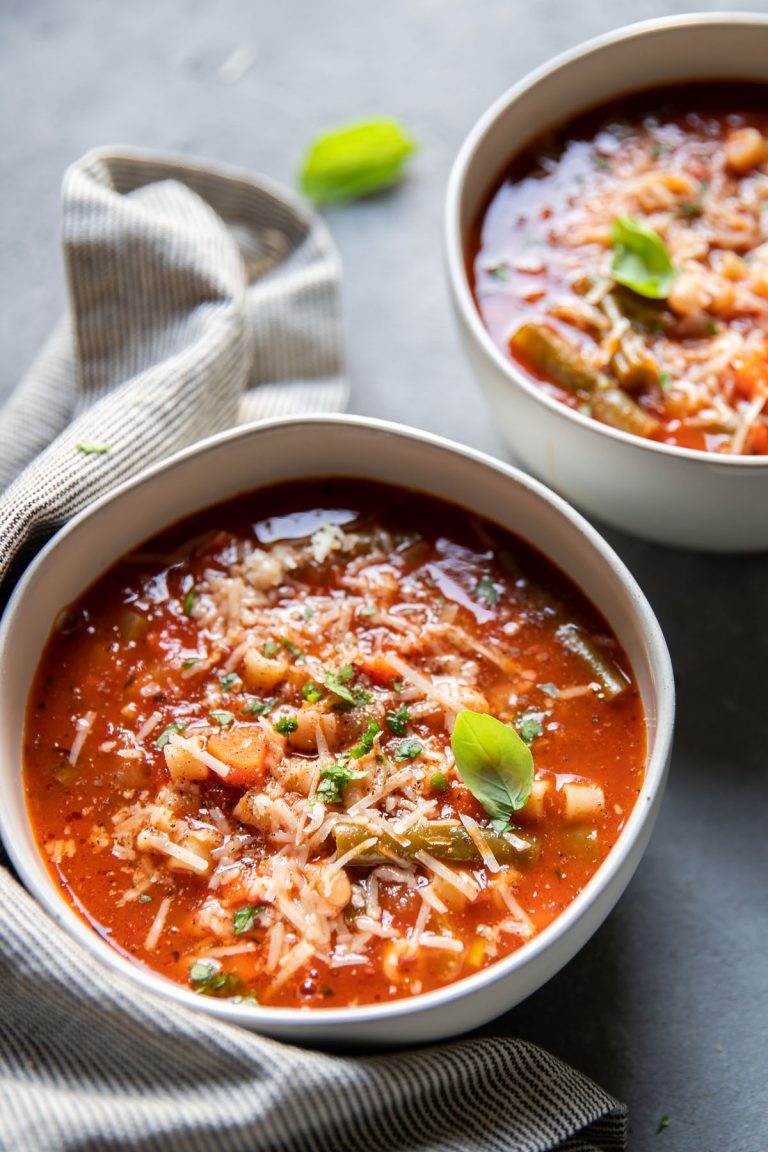 How To Make Minestrone Soup
Prepare all your vegeables, chop everything up. Cook the bacon and wipe out the grease, replace it with olive oil. Saute the onion, carrots, celery and garlic.
Add in the water, chicken and beef bouillon, crushed tomato, parmigiano rind, basil, salt, italian seasoning and green beans. Simmer.
Lastly add the cannellini beans and pasta until the pasta is cooked.
Wasn't that easy?
You can serve this minestrone soup with some fluffy cloverleaf dinner rolls.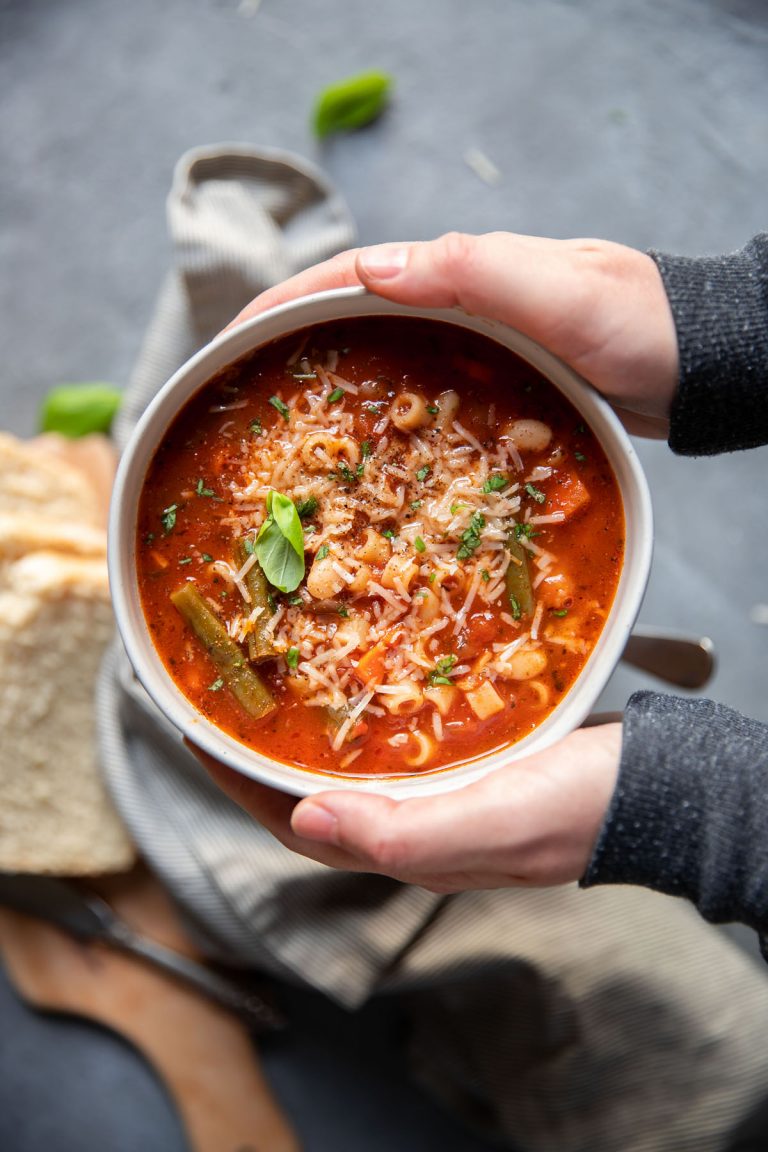 FAQ
Can I make this minestrone soup vegetarian? Leave out the bacon and substitute vegetable broth for the beef/chicken broth.
Does minestrone soup have meat? Traditionally no, but this recipe has bacon for building flavor.
Is this minestrone soup gluten free? You can use gluten free pasta.
Can you freeze minestrone soup? I don't like to freeze soups that have pasta in them, the pasta gets too mushy. I'd advise against it or freeze it without the pasta and cook it sepparately.
Why use chicken and beef broth? Using both just gives it better flavor.
Can I substitute the better than bouillon? I wouldn't, that's one reason why it has so much flavor. Traditional broth isn't as flavorful as the better than bouillon.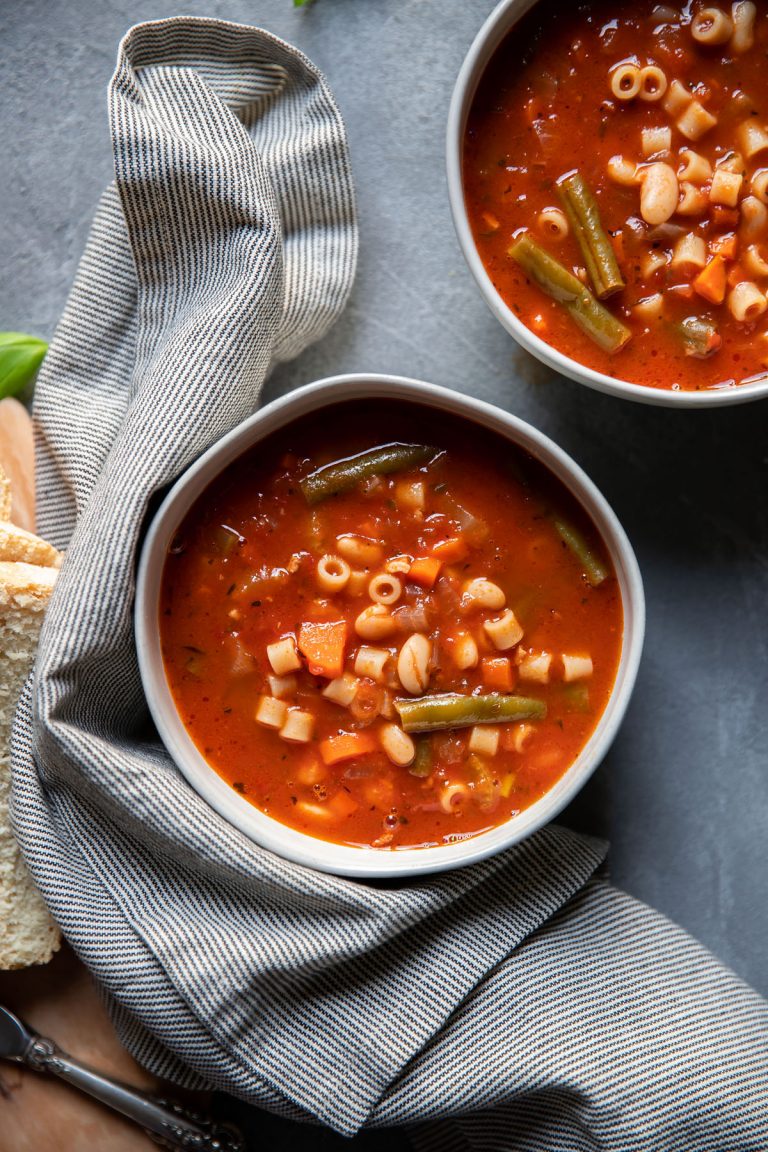 More Soup Recipes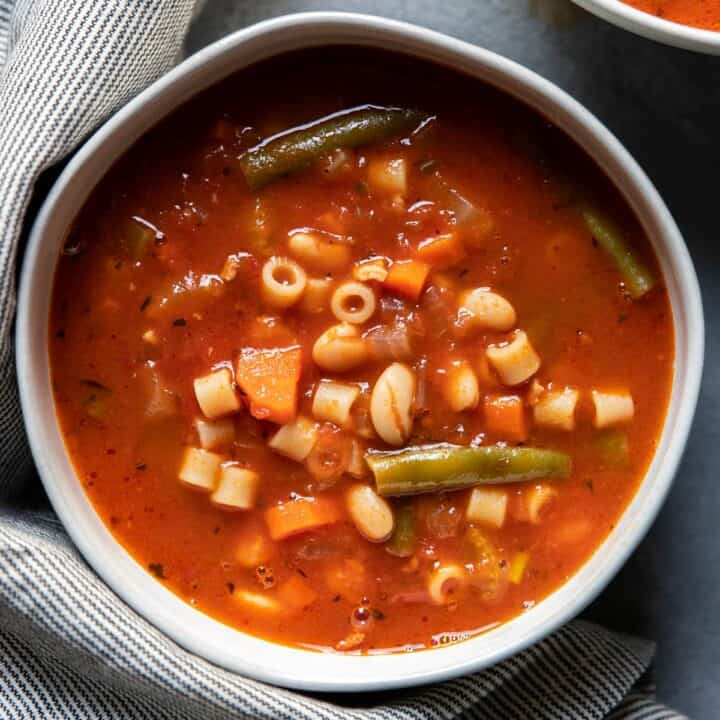 Minestrone Soup
This minestrone soup is the perfect cold weather winter dinner. A hearty tomato based soup made with both chicken and beef broth. It's loaded with vegetables, cannellini beans, pasta and a few secret ingredients that make it the best minestrone soup, ever!
Ingredients
1 tbsp olive oil
3 pieces bacon, chopped
1 onion, chopped
2 carrots, chopped
2 celery stalks, chopped
2 garlic cloves, minced
5 cups water
2 ½ tsp chicken better than bouillon
2 ½ tsp beef better than bouillon
28 oz crushed tomatoes
1 Parmigiano reggiano rind
Handful of fresh basil, chopped
1 tsp salt
1 ½ tsp Italian seasoning
½ lb green beans, ends trimmed and cut up
1 can beans
1 c ditallini pasta
Instructions
Cook the bacon in a soup pot until crispy
Transfer the bacon to a plate lined with a paper towel, wipe out excess grease but try to leave any bacon bits at the bottom of the pan
On med/low heat add the olive oil, onion, carrots, celery and garlic
Saute for 5 minutes, then cover with a lid and sweat it out for another 5 minutes
Add in 5 cups of water, chicken better than bouillon, beef better than bouillon, crushed tomatoes, parmigiano reggiano cheese rind, basil, salt, Italian seasoning and green beans
Use your hands to break apart the bacon pieces, add them in to the pot
Bring this to a boil, then turn the heat down to low, cover and simmer for 15 minutes
Add in the cannelloni beans and ditalini pasta
Once the pasta is cooked, it's ready to serve
Notes
optionally you can sprinkle some fresh parmesan cheese on top for serving
Recommended Products
As an Amazon Associate and member of other affiliate programs, I earn from qualifying purchases.
Nutrition Information:
Yield:

8
Serving Size:

1
Amount Per Serving:
Calories:

155
Total Fat:

5g
Saturated Fat:

1g
Trans Fat:

0g
Unsaturated Fat:

3g
Cholesterol:

7mg
Sodium:

811mg
Carbohydrates:

24g
Fiber:

5g
Sugar:

9g
Protein:

7g
This information comes from online calculators. Although moderncrumb.com attempts to provide accurate nutritional information, these figures are only estimates.