Fully loaded baked potato chowder.  Packed full of little red potatoes, bacon, onion, carrots and corn to make it extra hearty.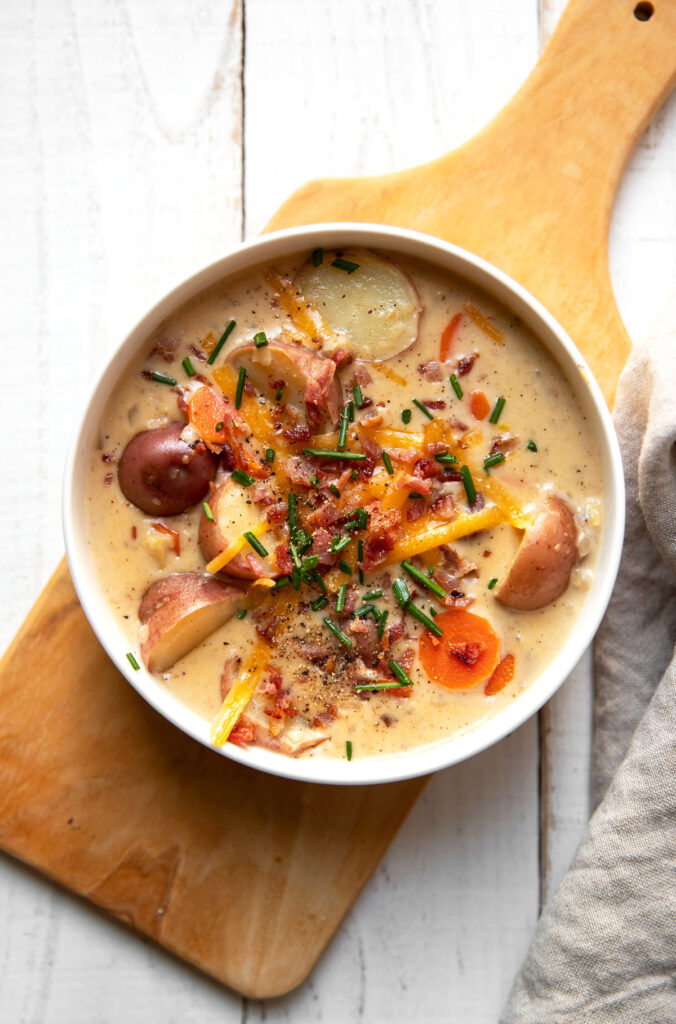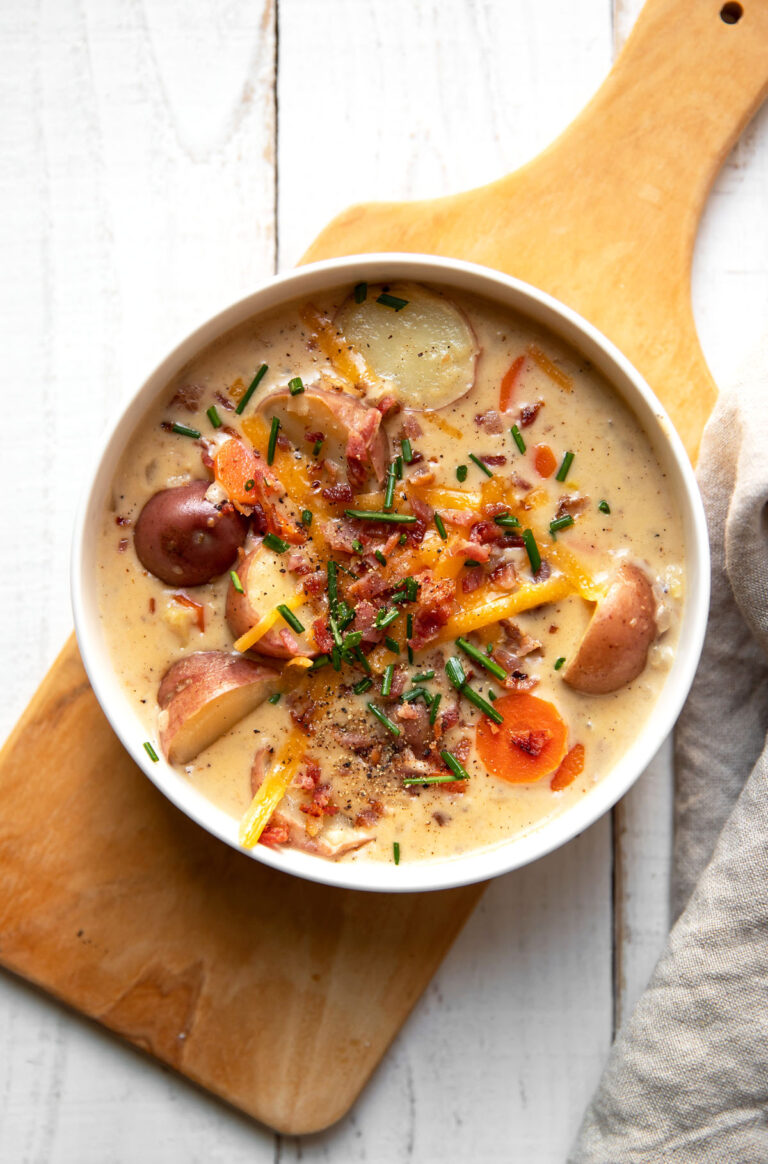 This is seriously the best potato soup i've ever had. Who could pass on a bowl of loaded baked potato chowder!? It has all those favorite baked potato ingredients mixed in to the chowder, like sharp cheddar cheese and sour cream. 
Plus veggies – to justify this isn't totally indulgent.
I really love potato based soups, do you?  I just like how it's all cozy and hearty.  Potatoes are delicious.  When I created this potato chowder I knew I wanted to make it extra creamy and taste like you were getting a big old bite of loaded up baked potato.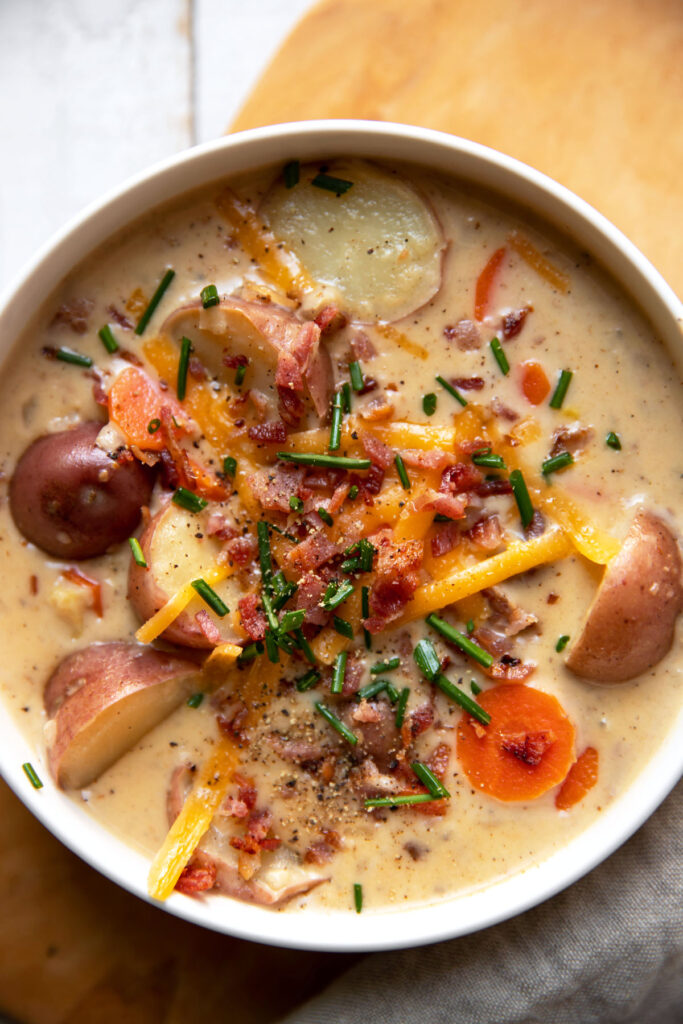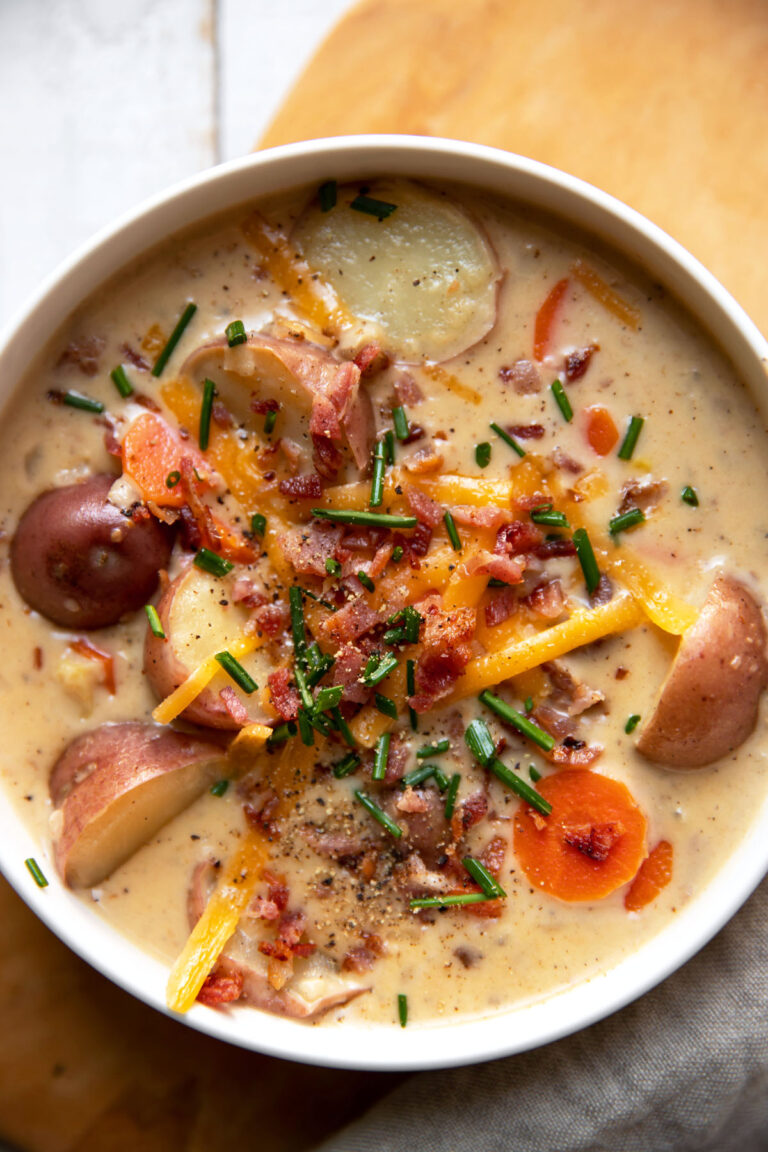 It's seriously spot on. And even better than a baked potato.
The actual chowder itself is a mixture of chicken broth and half and half, sharp cheddar cheese and a little swirl of sour cream. Which, I think just puts it over the top and makes it so special and delicious.
The trick to adding dairy to soup is making sure your liquid isn't boiling when you add it.  I actually turn the heat off, slowly stir in the half and half then sprinkle in the cheddar mix until combined and the same with the sour cream. 
Just low heat and continual stirring and you won't have any problems with curdling.
And this is a really easy baked potato chowder! It's all made in ONE PAN. Even the bacon. Why make more dishes for yourself?
Cut the bacon and half and cook it in the same pot you make the soup in, that way when you go to saute the onion they cook in the bacon bits and grease. 
Keep in mind you'll want to completely drain out the grease and wipe it with a paper towel.  
You're left with just a tad of bacon fat but the actual bacon bits will still be stuck on — don't wipe those away.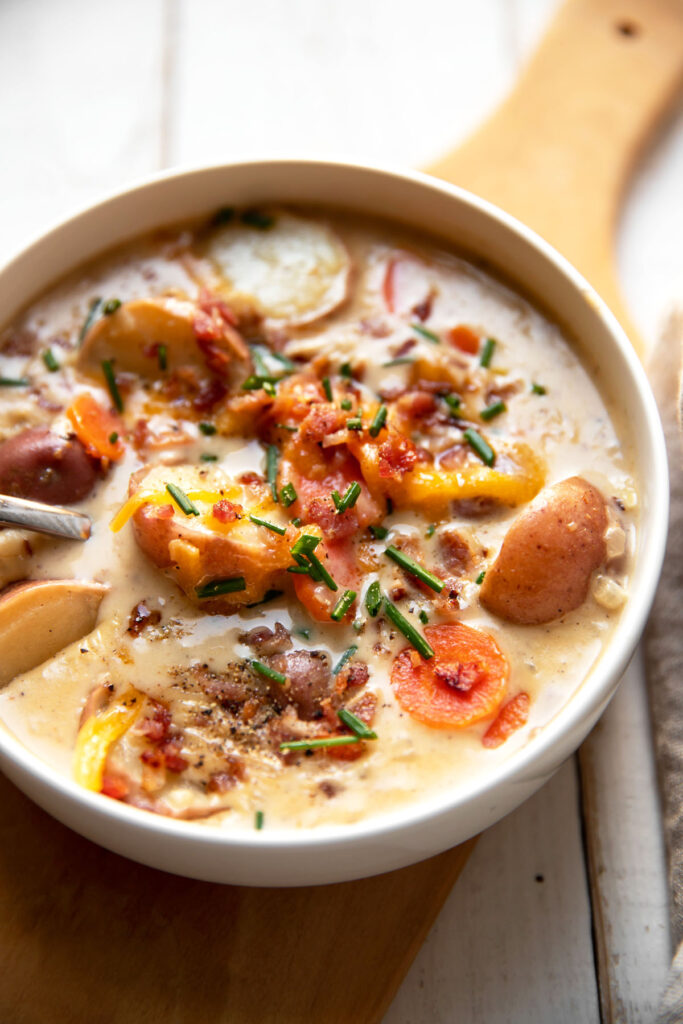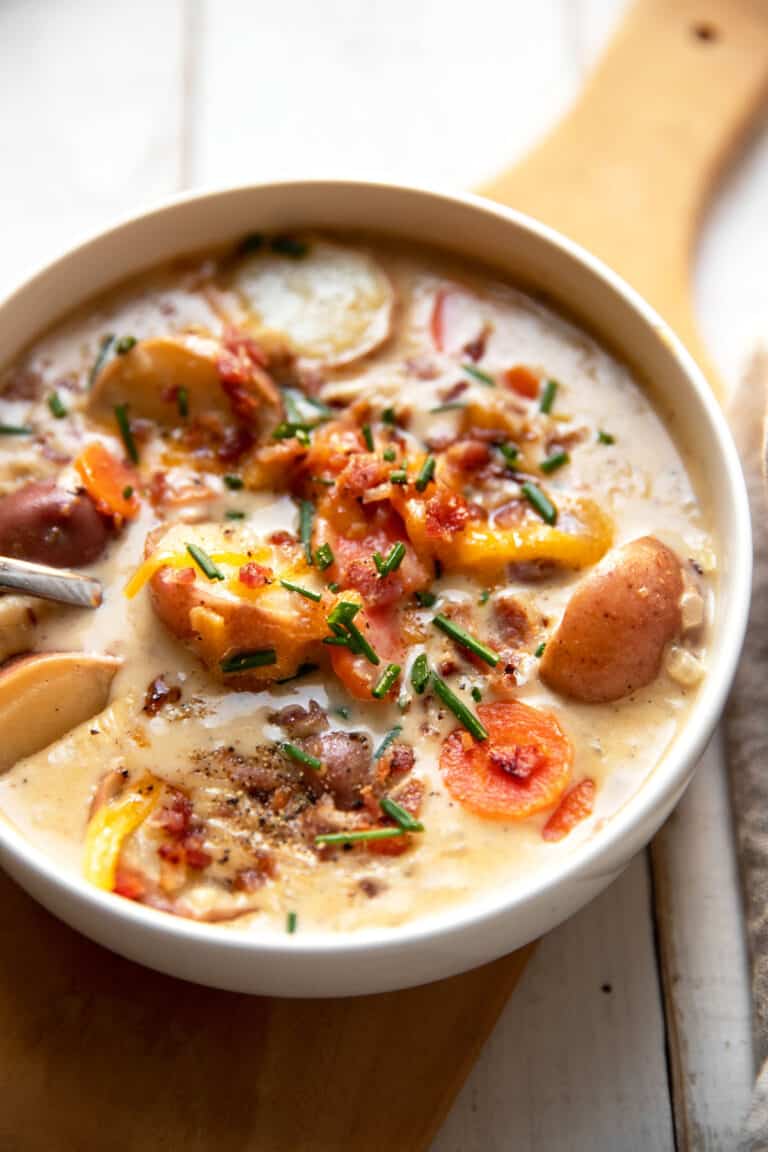 I get that corn and carrots aren't normally a topping for a baked potato but I think we have the right to do whatever we want, yes? Yes.
Truth be told, it needs extra veggies. To make up for the cheesy creamy goodness.
At least thats what I tell myself.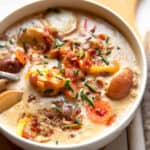 Print Recipe
Loaded Baked Potato Chowder
Fully loaded baked potato chowder. Packed full of little red potatoes, bacon, onion, carrots and corn to make it extra hearty.
Ingredients
1/2

lb

bacon

cut in half

1

tbsp

olive oil

1

small yellow onion

diced

2

garlic cloves

minced

2

tbsp

flour

2

c

chicken broth + extra

24

oz

petite red potatoes

halved

2

carrots

peeled and sliced

1/2

c

frozen corn

1/2

c

half and half

4

oz

sharp cheddar cheese

grated

1/4

c

sour cream

1/2

scant tsp salt

pepper

chives
Instructions
Heat a soup pot over medium heat

Cut the bacon in half and cook it in the soup pot, drain out on to a paper towel and wipe out the excess bacon fat, but leaving any stuck on bacon bits

Add the olive oil, onion and garlic to the pot, saute for 3-5 minutes

Mix in 2 tbsp flour, stirring for 1 minute

Pour in the chicken broth, let it come to a boil

Add the potatoes and bacon

Cover and simmer 15 minutes

Add in the carrots and corn, simmer another 10 minutes covered (add an extra splash of chicken broth if the liquid gets too low)

Turn the heat off

Add the half and half, sharp cheddar and sour cream, stirring well in between each addition

Serve and top with chives