Smooth and creamy broccoli cheddar soup made with big pieces of broccoli, shredded carrots and sharp cheddar cheese. Grab the bread for dipping and don't be shy on refills.
If you love this than you'll adore these recipes for creamy chicken gnocchi soup, homemade chicken noodle soup and creamy tomato basil soup.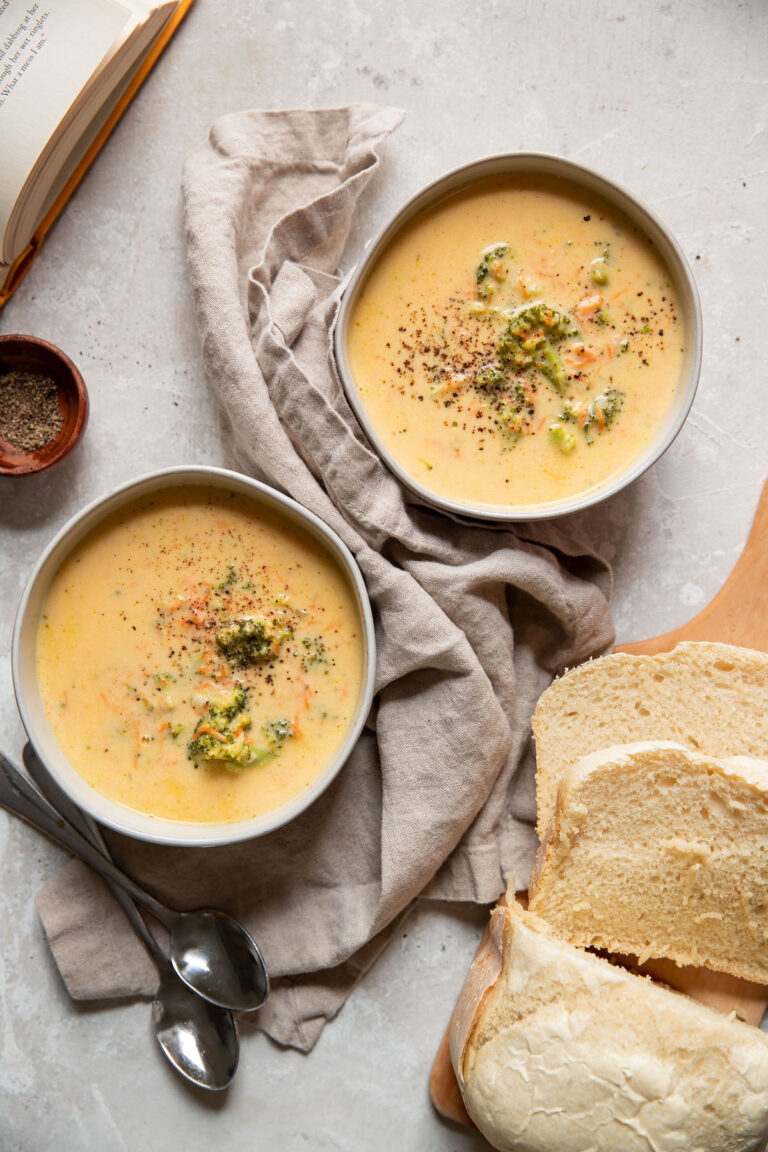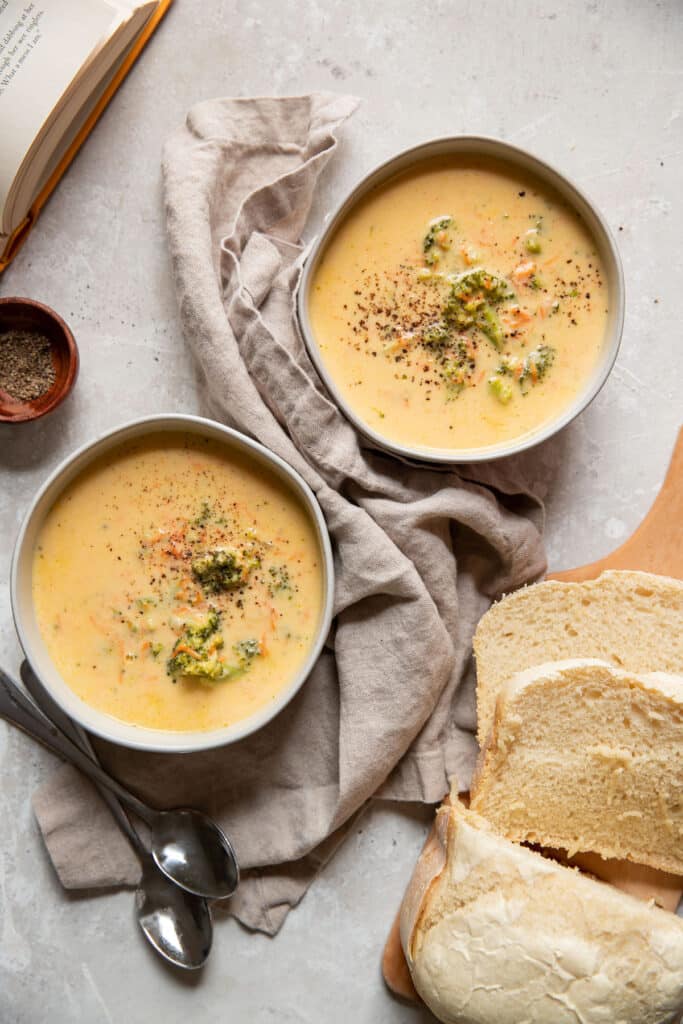 I love soup season.
I love sweater weather.
But I really, really love, broccoli cheddar soup. Hands down one of my all time favorite soups.
Maybe because I've convinced myself that it's partially sort of healthy. Broccoli is the main ingredient after all, right? Right. That's our story. Let's roll with it.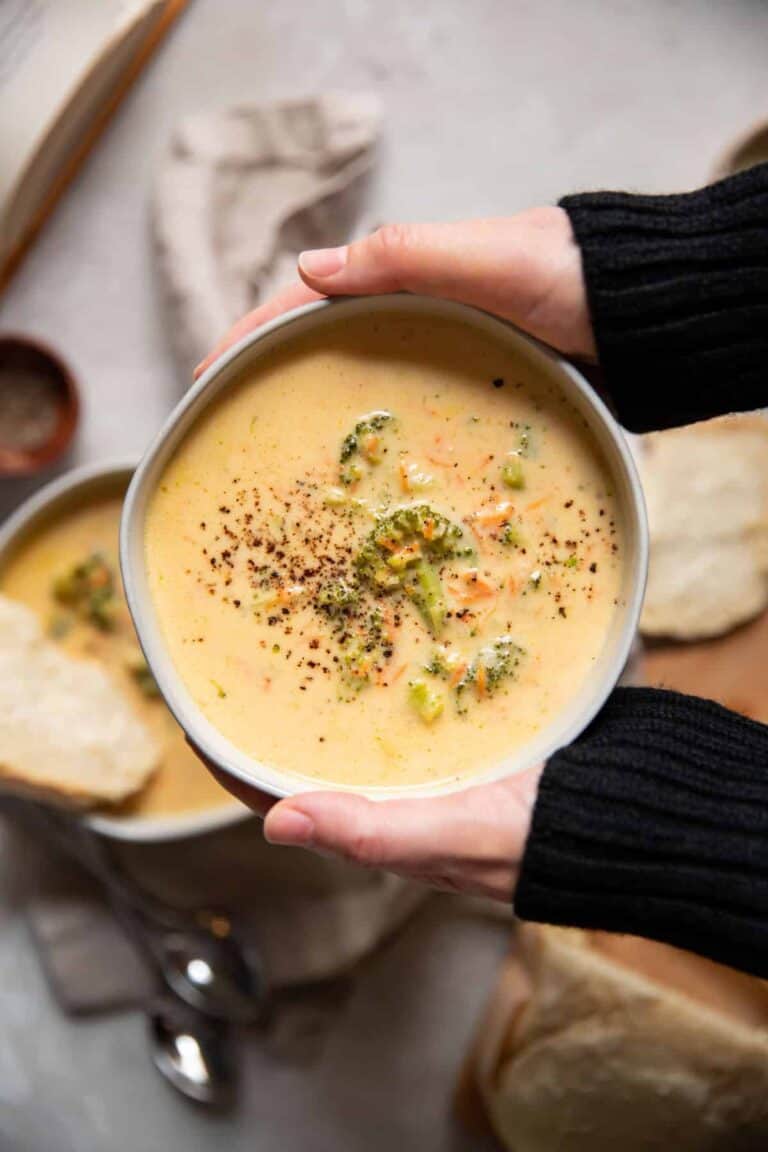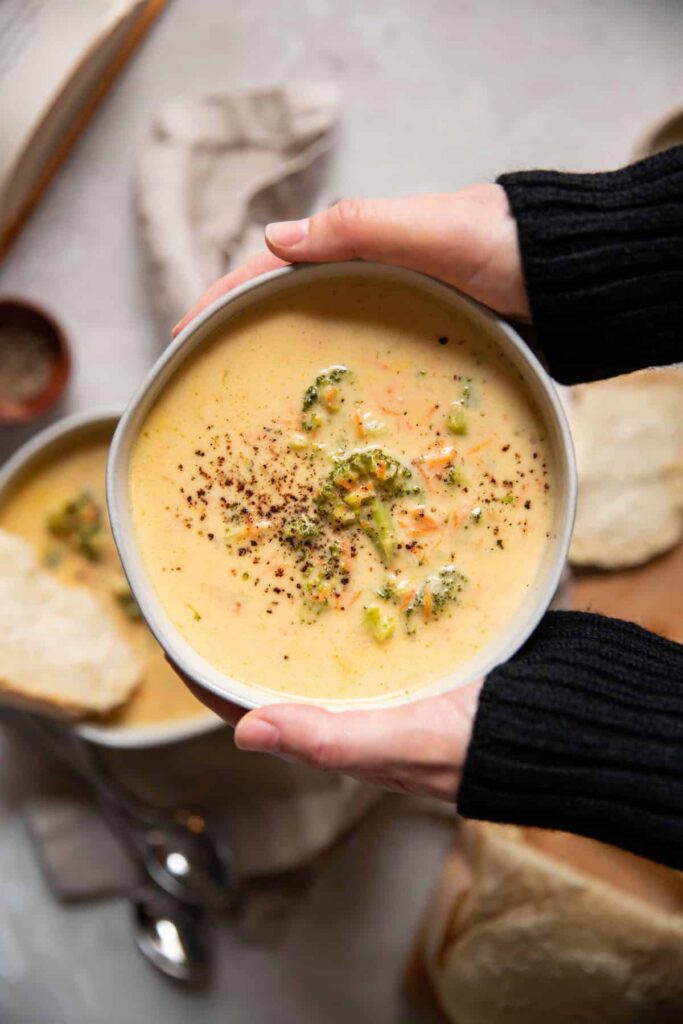 Or it could just be because this particular recipe is insanely delicious, super easy to make and always turns out the same. It's one of my oldest recipes so it's been tested time and time again.
It's made with extra sharp cheddar cheese. No processed cheese. Big chunks of broccoli, you won't find any little flecks of broccoli bit in this recipe. Shredded carrots, because it gives it so much flavor.
Broccoli cheddar soup should be hearty and packed full of broccoli. Panera's is decent-ish, but it's basically all cheese and there's barely any broccoli in it. Not cool.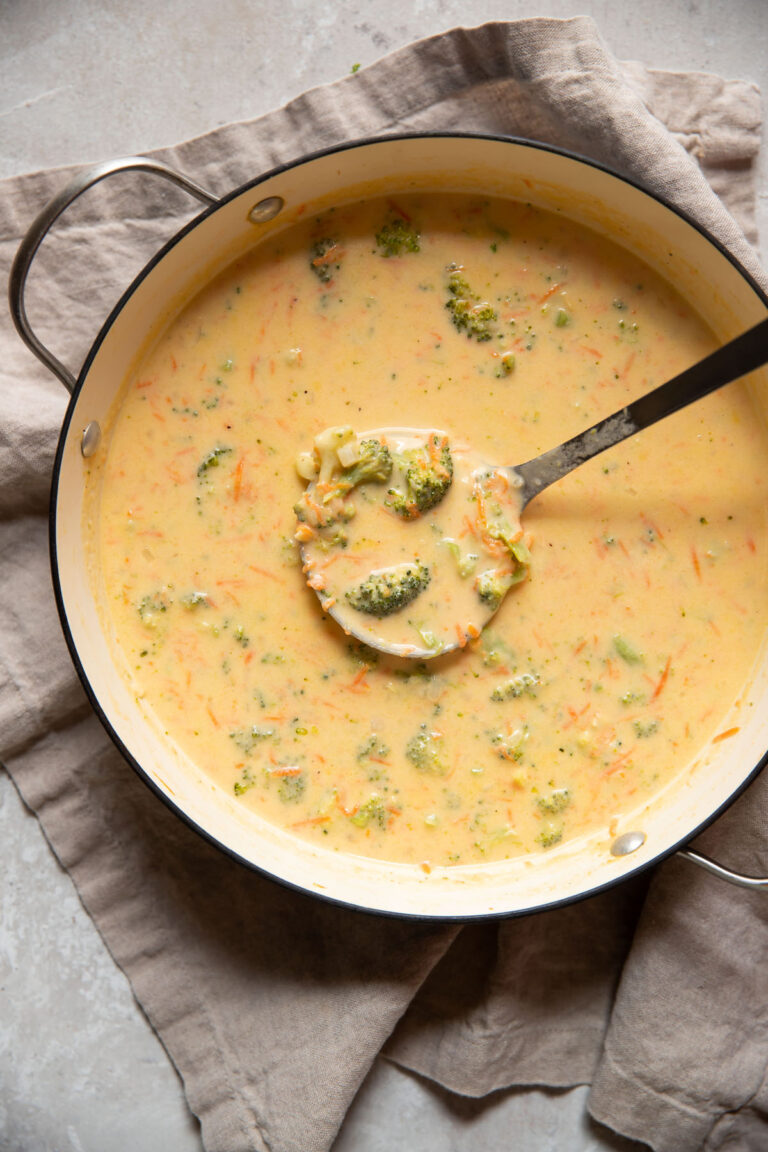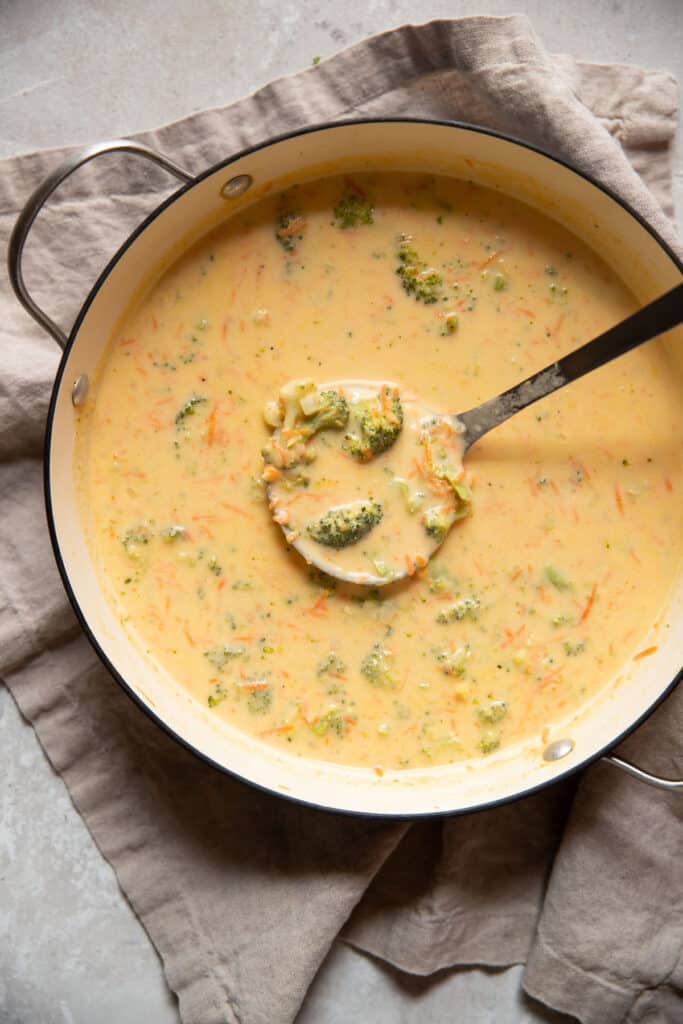 How To Thicken Broccoli Cheddar Soup
Using flour to make a roux is one way the soup will get thickened. The other is by using the cheddar cheese.
This recipe calls for thickening the soup twice, at two different times in the cooking process.
The first time is at the beginning, it calls for adding butter and flour, stirring to make a roux and adding broth. Everything get's brought to a strong boil.
The second time is when you add the cheddar cheese into the soup. Before putting it right it, sprinkle flour over the shredded cheese and then add it.
This makes the soup extra creamy and helps with the last bit of thickening.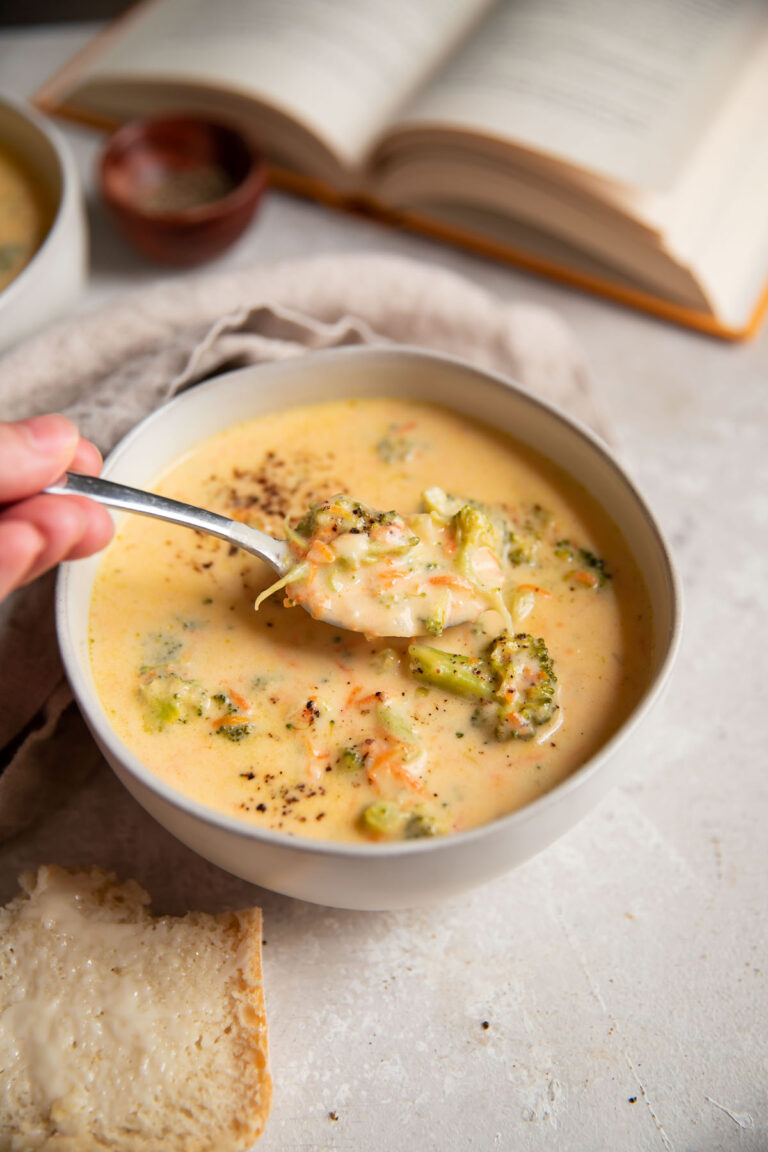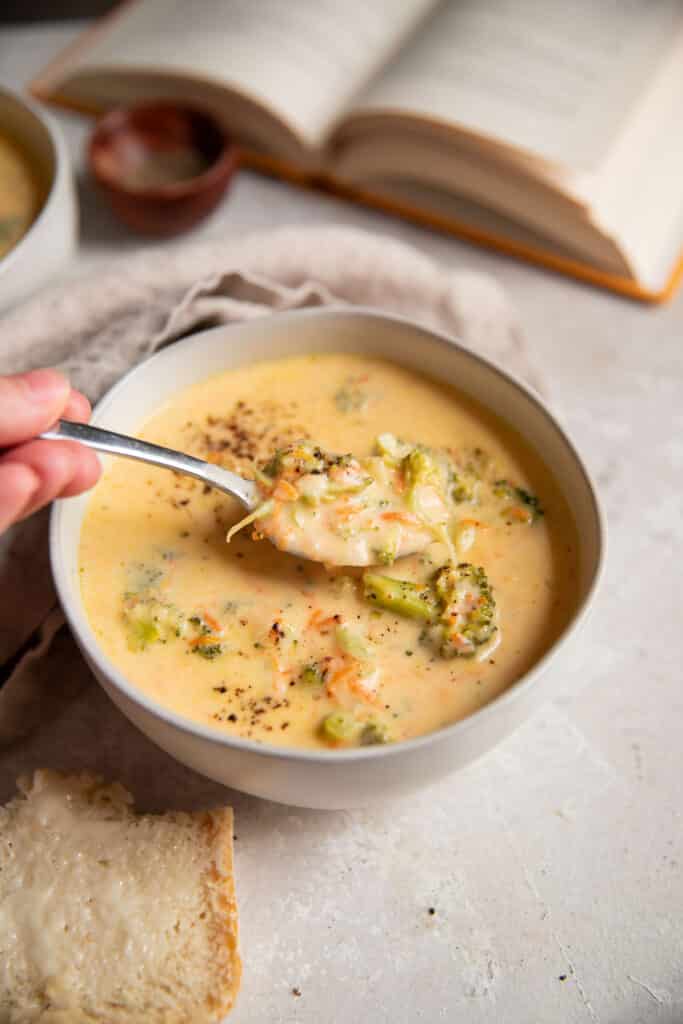 How To Make Broccoli Cheddar Soup
30 minutes is all you need to make this.
You'll start with sautéing onions and nutmeg together, in butter. This helps release all the nutmeg flavor by adding it in the beginning. Next it gets thickened with flour.
Then add the liquids, vegetables and a bay leaf (my secret ingredient).
It will need to simmer for 20 minutes. After that you can add your cheese and it's ready to serve.
And I can't stress enough to shred your own cheese for this recipe. Pre-packaged cheese will not melt the same because it's usually coated in something. So get a block of cheddar, and grate away.
Frequently Asked Questions
Here are the answers to some of your most frequently asked questions when it comes to broccoli cheddar soup.
My soup isn't thick, what did I do wrong?

Once you add the flour to the butter, then add the broth, you should let it boil, this helps it to thicken
As the soup starts to cool, it thickens quite a bit, let it rest a few minutes more

Is broccoli cheddar soup gluten free?

If you don't add flour as the thickener, you could try replacing flour with corn starch, however I have not tested this method of preparation

Can I make this in the crock pot?

Unfortunately I have not tried this method so I can't say whether or not it will be successful prepared this way

My cheese didn't blend well, what happened?

If you used pre-shredded packaged cheese, this is most likely your culprit. Pre-shredded cheese is usually coated in something and it doesn't melt smoothly.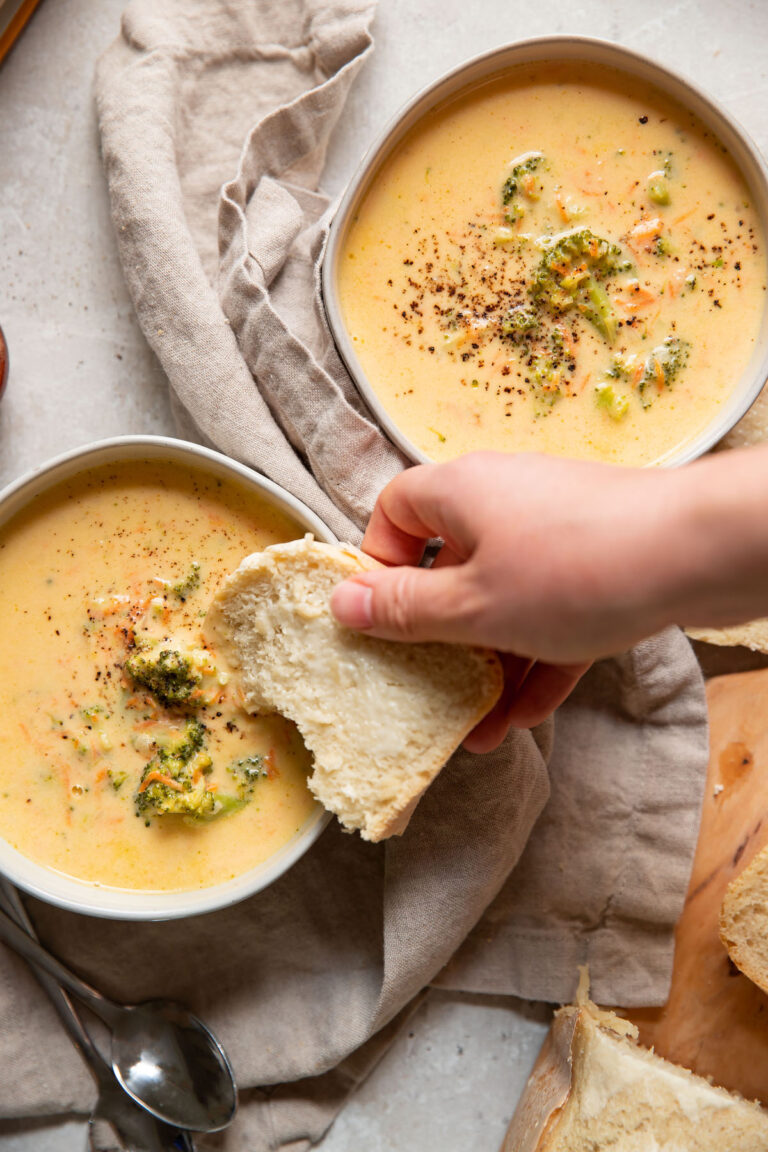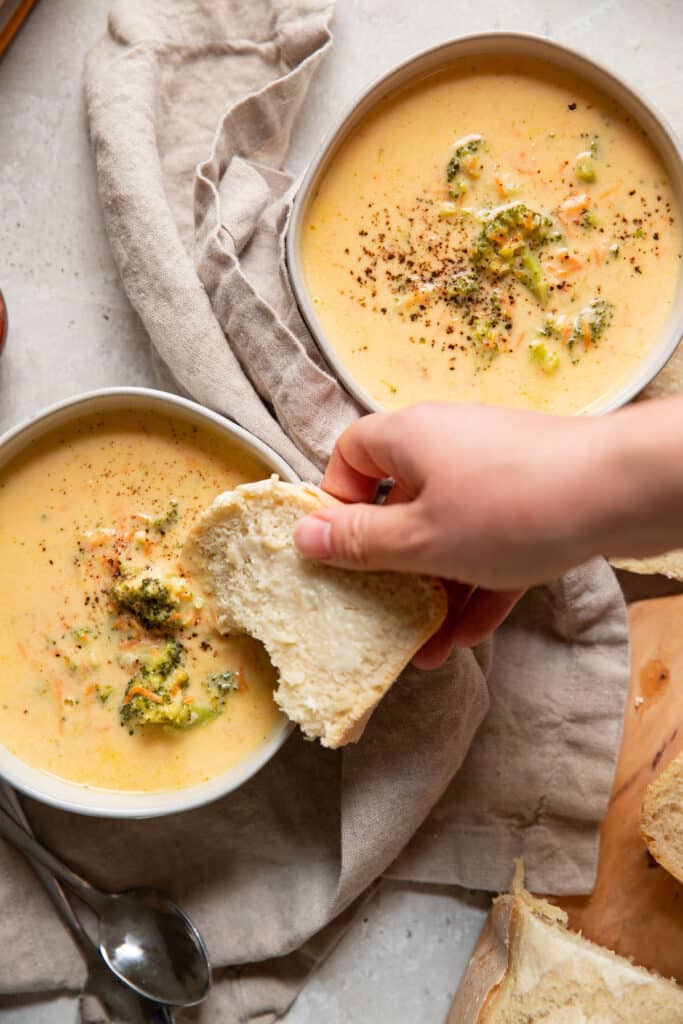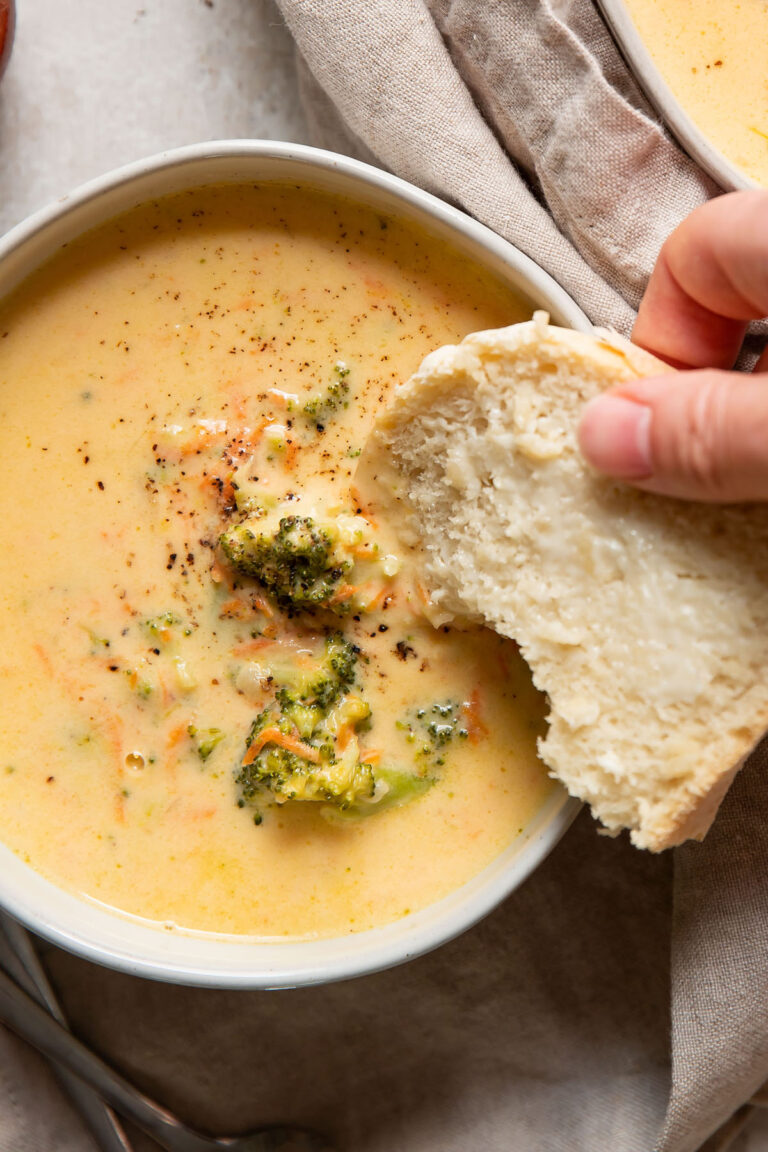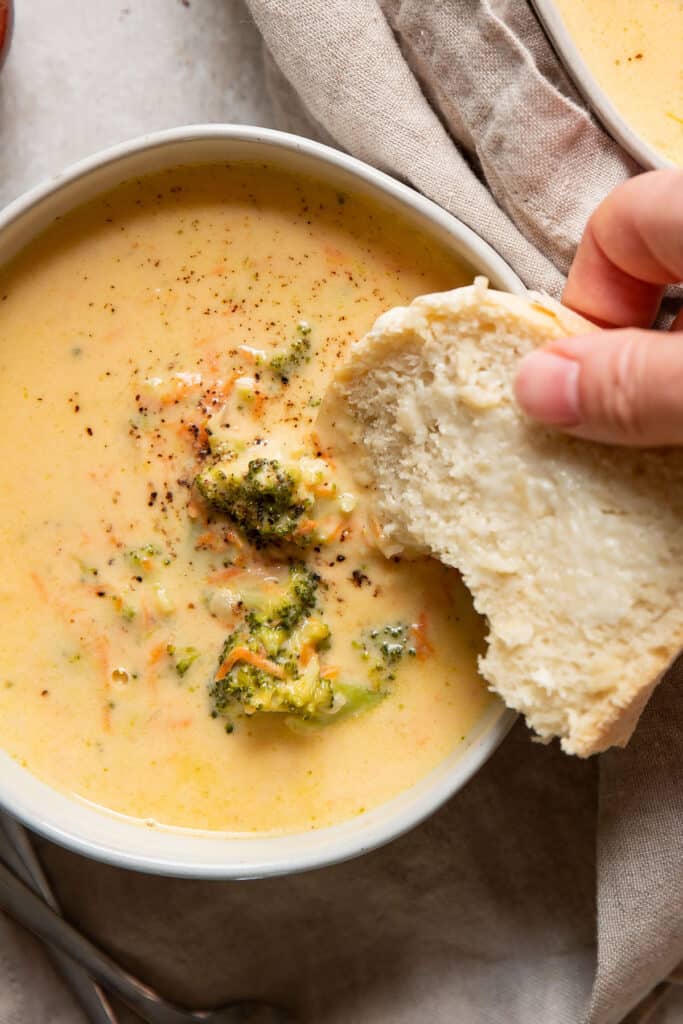 Soup Recipes To Try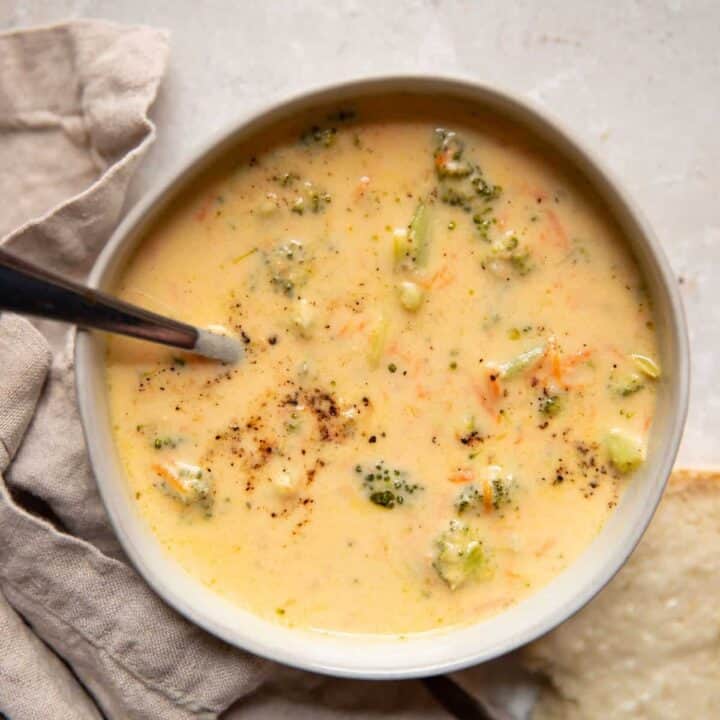 30 Minute Easy Broccoli Cheddar Soup
Smooth and creamy broccoli cheddar soup made with big pieces of broccoli, shredded carrots and sharp cheddar cheese. Grab the bread for dipping and don't be shy on refills.
Ingredients
3 tbsp butter
1/2 onion, diced
1/8 tsp nutmeg
3 tbsp flour
32 oz chicken broth
2 c half and half
2 large carrots, peeled and grated on the small grate side
2 broccoli heads, cut into small florets (about 4 cups)
1 bay leaf
8 oz extra sharp cheddar
1/2 c fresh parmigiano reggiano cheese
salt
pepper
Instructions
Heat a soup pot over medium/low heat and add the butter, diced onions and nutmeg
Sauce the onions until translucent, 3-5 minutes
Add the flour, whisk for 1 minute
Add the chicken broth, whisking constantly (pour in 1/2 cup at a time, so it blends smoothly)
Turn heat up to high, bring to a low boil
Add the half and half, stirring, boil an addition minute or two
Add the grated carrots, broccoli and the bay leaf
Turn heat down to low, cover and simmer 20 minutes or until the broccoli is cooked (a bit more than al dente, but not mushy)
Sprinkle a bit of extra flour on your grated cheeses, and toss it around to coat
Add the cheeses to the soup, stirring until melted
Once you take the soup off the heat it will thicken more, let it rest a bit
Add salt and pepper to taste
Serve
Notes
Tossing the shredded cheese with just a sprinkle of flour prior to mixing in to the soup gives the soup an overall very creamy consistency.
Nutrition Information:
Yield:

8
Serving Size:

1
Amount Per Serving:
Calories:

310
Total Fat:

22g
Saturated Fat:

13g
Trans Fat:

1g
Unsaturated Fat:

7g
Cholesterol:

68mg
Sodium:

935mg
Carbohydrates:

15g
Fiber:

4g
Sugar:

5g
Protein:

14g
This information comes from online calculators. Although moderncrumb.com attempts to provide accurate nutritional information, these figures are only estimates.
Make sure to follow the Modern Crumb Board on Pinterest for lots of yummy meal inspiration! And subscribe to the newsletter, below, to get updates when new recipes post.