Be transported to New Orleans for a night with this creole inspired chicken and andouille sausage gumbo. Made with bell peppers, celery and onion, which is termed the holy trinity in cajun cuisine. Served with rice.
This recipe was first published on November 30, 2017.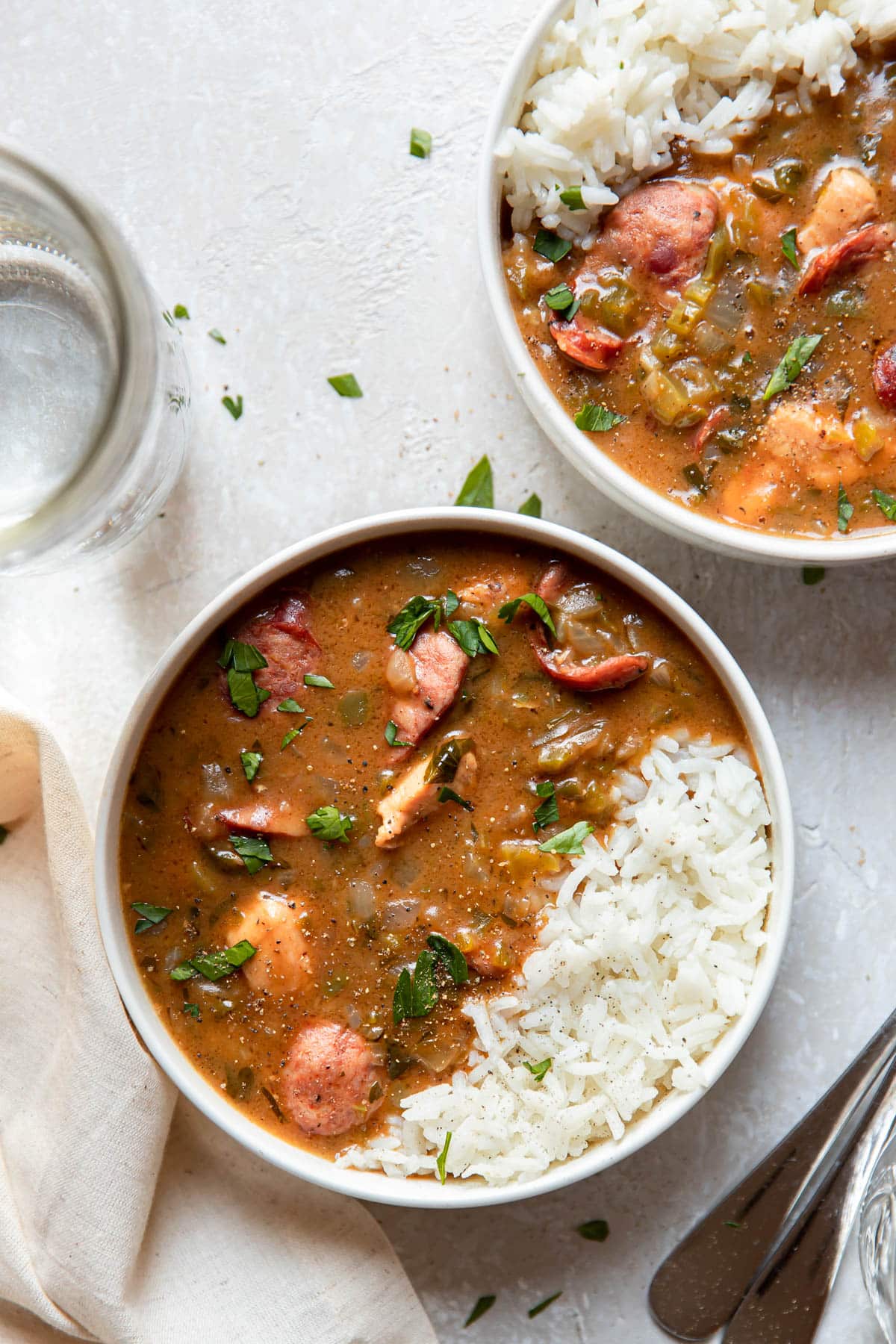 When I close my eyes when eating this gumbo I am transported straight to the French Quarter in New Orleans, Louisiana hearing that good music and smelling those sweet cajun and creole smells.
It's such a fun place to visit with amazing food.
Gumbo is something that we can all make at home! And while we'll never get it exactly like the pros in New Orleans, we can sure try with this chicken and andouille sausage gumbo.
For a taste of the south, I think it fits the bill.
And it's actually even better the next day! I love to eat gumbo leftovers for lunch the following days.
We went to Disneyland recently and I knew I had to get the Disneyland gumbo, I heard it was really good. And it was! But, I still think this recipe beats Disneyland's gumbo recipe.
Jump to: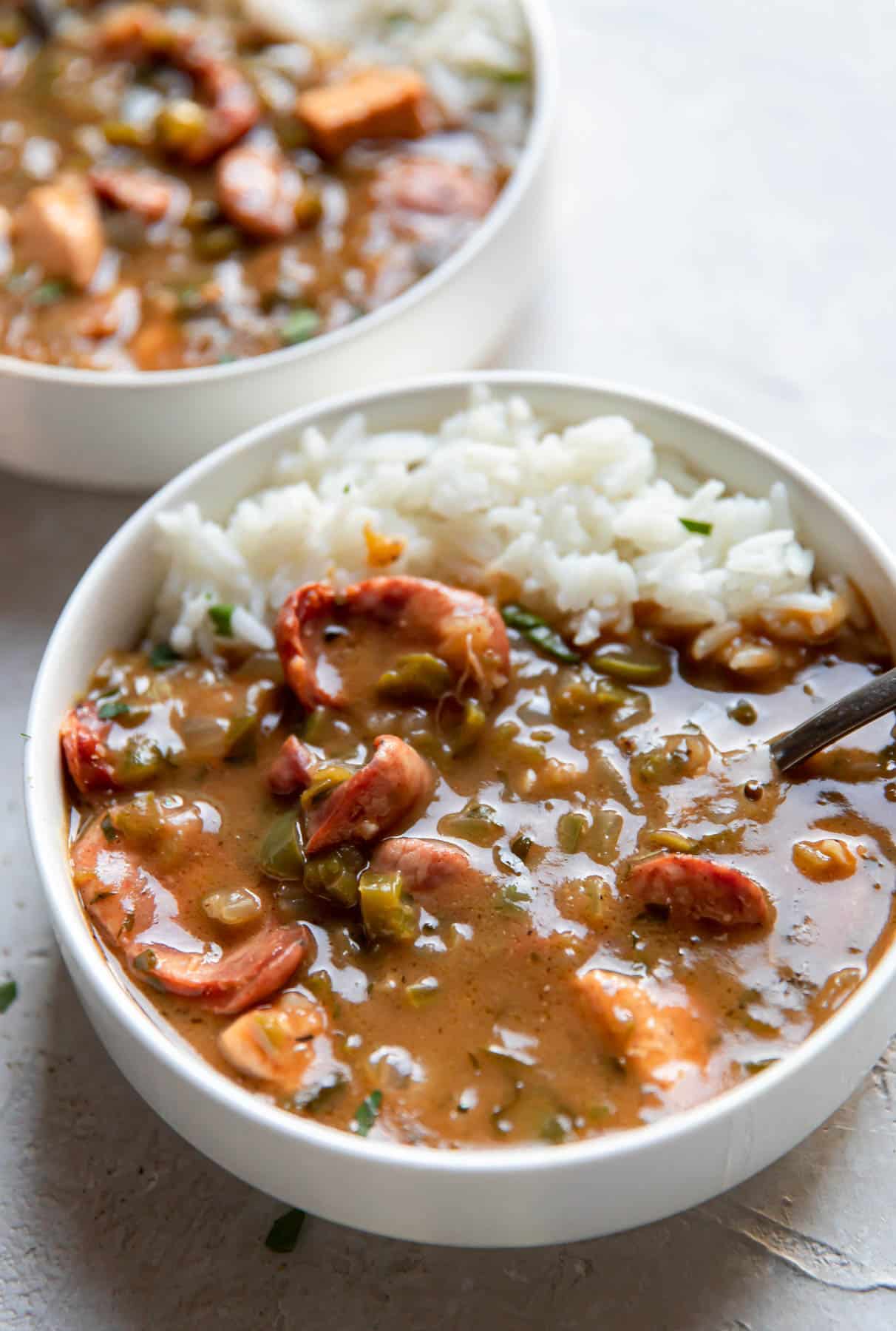 What Is Gumbo?
Any good gumbo will start out with a properly made roux (pronounced roo). A deep color is necessary. This roux is thickened with broth or stock. We'll be using chicken broth in this recipe.
It also has three main components referred to as the holy trinity. That is green bell peppers, celery and onion.
Gumbo is the official state dish of Louisiana.
There are so many variations to gumbo and what you put in it, this one has chicken and andouille sausage. And served with rice on the side.
But there are a lot of seafood gumbo recipes as well. Toss some seafood in, if that sounds good to you, a chicken, sausage and shrimp gumbo would be nice.
Gumbo vs. Jambalaya
While gumbo and jambalaya may look quite similar but they are different and made differently.
We just talked all about gumbo, what it is, what's inside of it, so now let's talk about jambalaya so you can see the differences.
Jambalaya is a rice based dish and won't be soupy like gumbo. It's going to have the consistency like a paella.
The rice is cooked in the dish with everything else. It's made with a lot of the same ingredient's as gumbo though, the holy trinity, meat, okra if you like.
So the biggest difference is that gumbo is a roux based soup with rice served on the side and jambalaya is rice based dish that has a dryer consistency.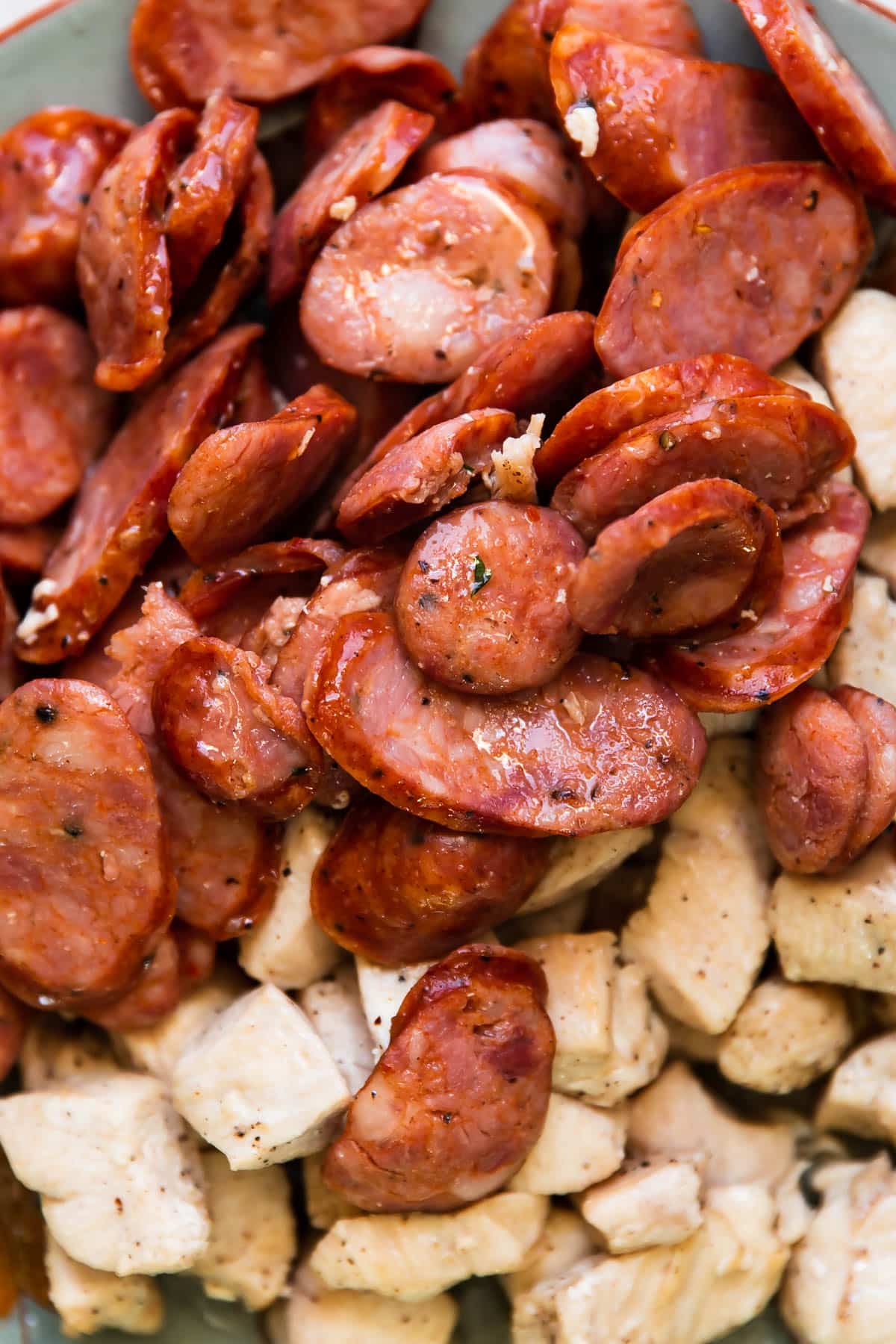 Ingredients
Here is a full rundown (with explanations) of what you'll need to prepare this chicken and sausage gumbo.
canola oil - this is used to cook the chicken, sausage and make your roux
chicken breast - can substitute chicken thighs if needed
andouille sausage
butter - used in the roux and for sautéing the vegetables
flour - needed to make the roux
onion - two small onions or one large onion works
green bell peppers - again, two small green bell peppers or one large pepper, if you have too much bell pepper it will overwhelm the gumbo
celery
fresh parsley - you will need fresh parsley, dried parsley won't work
worcestershire
chicken broth - you can use chicken broth or chicken stock, you can also use vegetable broth if you don't have any chicken
cajun seasoning - you may want to mix and match your cajun seasoning, some brands are very salty while others have no salt at all in them
salt/pepper
basmati rice - basmati holds up nicely in this dish, you could use jasmine but it's a bit sticky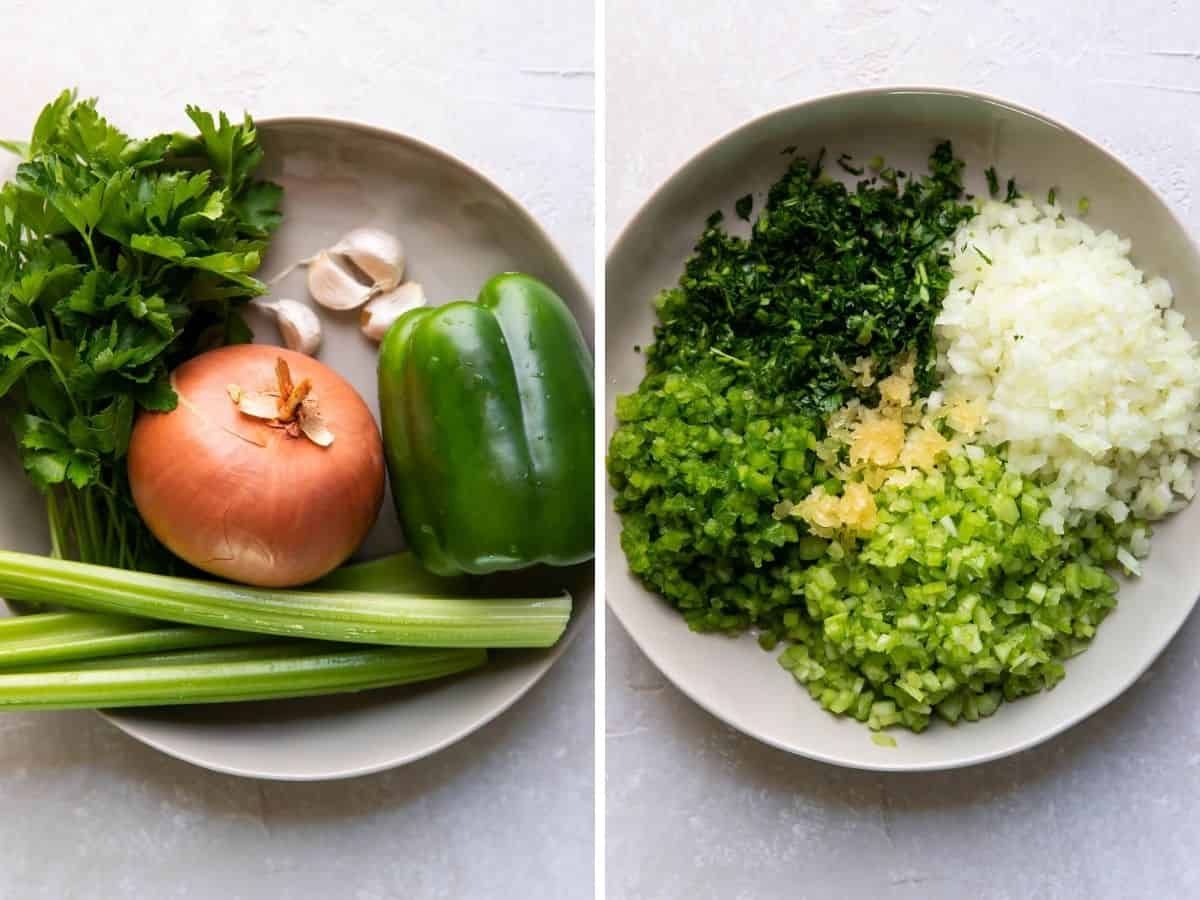 Gumbo Roux
The base to a really good gumbo is the roux!
A roux is the thickening agent used in soups. Pronounced "roo". It's made of flour and a fat, like butter or oil.
In this recipe we are using flour and oil for the gumbo roux.
For most recipes when you make a roux you only stir the flour and fat together for a minute or two. But for gumbo you stir your roux until it's developed a deep golden brown, this takes about 10 minutes!
First photo on the left - the flour gets added to the oil
Next photo - 1 minute after stirring the roux
Next photo - 5 minutes after stirring the roux
Photon on the far right - 10 minutes after stirring the roux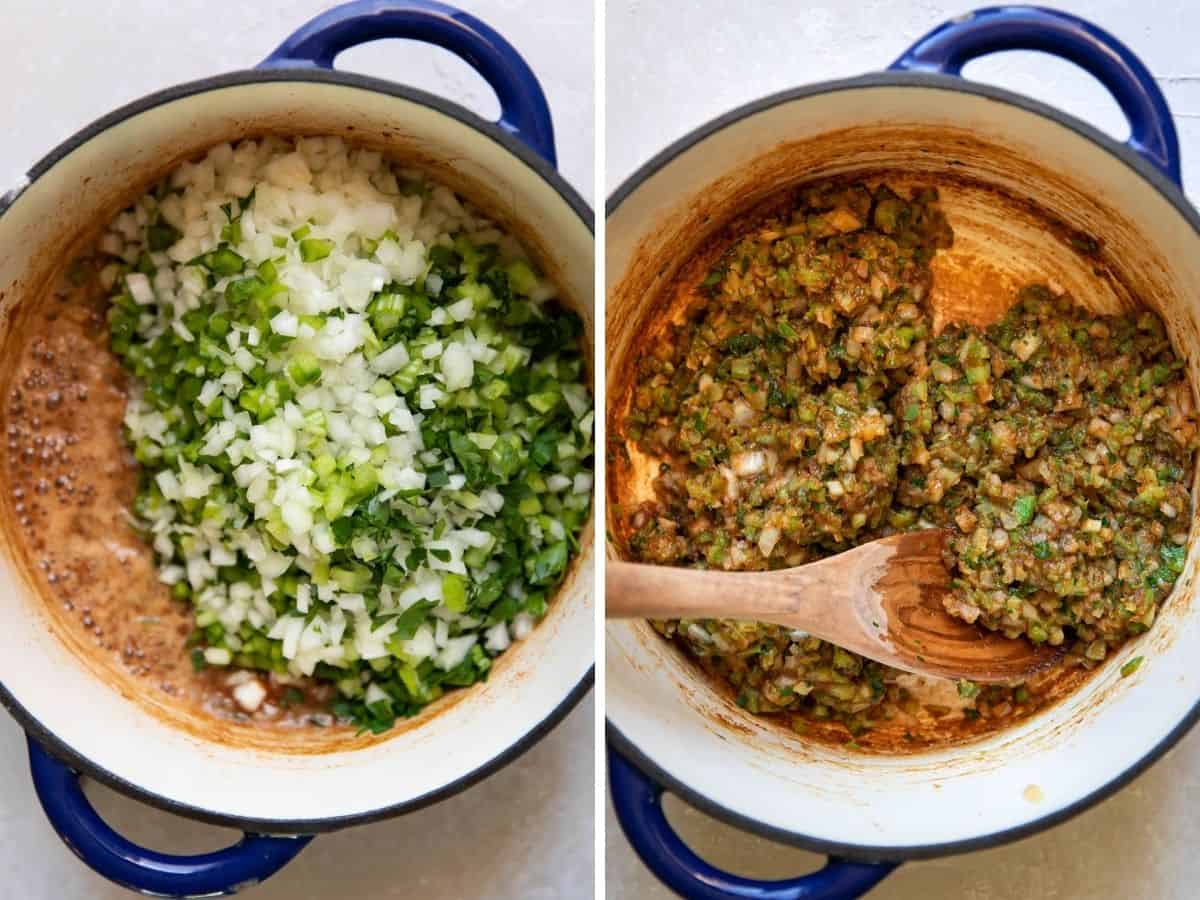 I know, 10 minutes of stirring sounds horrible but it goes by fast. You need that deep brown color to get the perfect gumbo.
Make sure to use a whisk. The first 5 minutes you may notice your roux is a bit thick and clumpy, this is normal. It will start to smooth out and become more liquid. If it doesn't, add another splash or two of oil.
The biggest color transformation happens between the 5-10 minute mark. So if at 5 minutes you are feeling it's not happening, don't fret, it will get there.
Keep your stovetop at a medium/low heat. But you also know your own stovetop, does it run cool or does it run hot? Adjust the temperature accordingly. You want it to lightly bubble as you whisk.
You'll need to babysit the roux, which means constant whisking.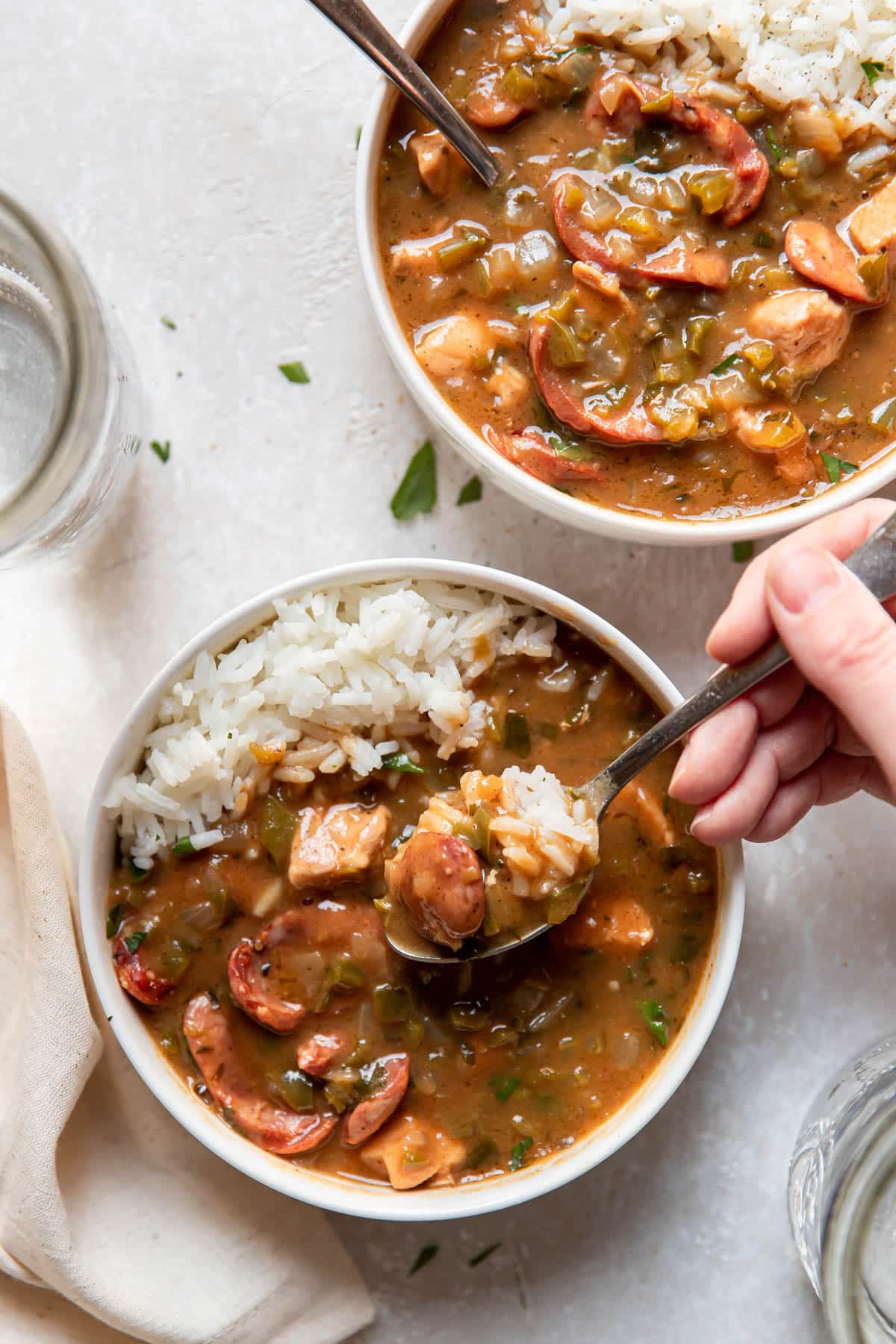 Making This Kid Friendly
To make this gumbo kid friendly you will want to give the kids an extra big scoop of rice and try to get as many pieces of chicken and sausage in their bowl.
Gumbo is an acquired taste so it may not be a kids favorite dinner. It doesn't mean they can't eat it.
Offer them some chopped up celery on the side for extra vegetables.
When I'm cooking this homemade chicken and sausage gumbo, the Disney movie The Princess and the Frog always comes to mind. The scene where Tiana is making gumbo. If you have kids you'll understand.
Well just like Mama Odie's gumbo, this one is also "the bees knees"!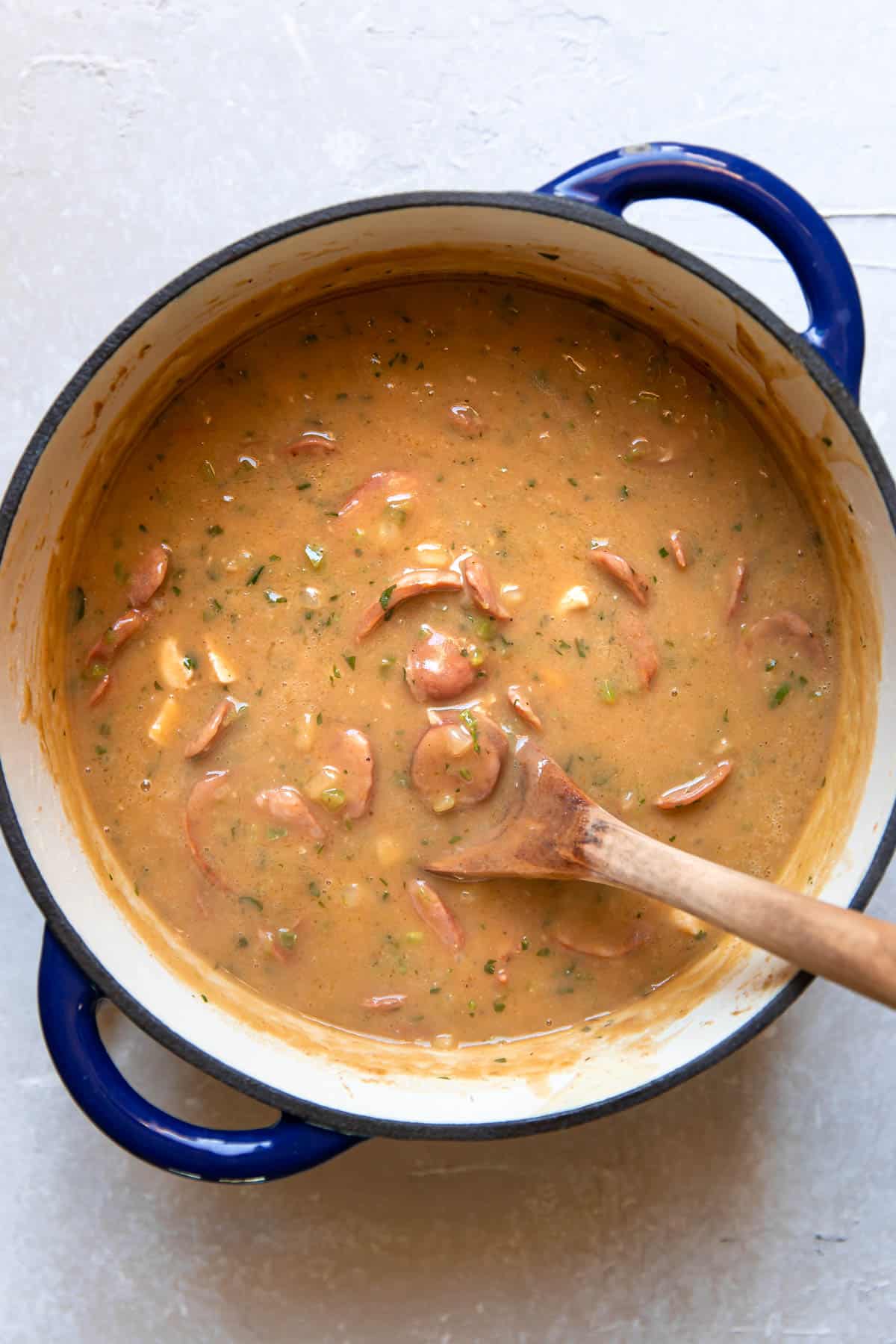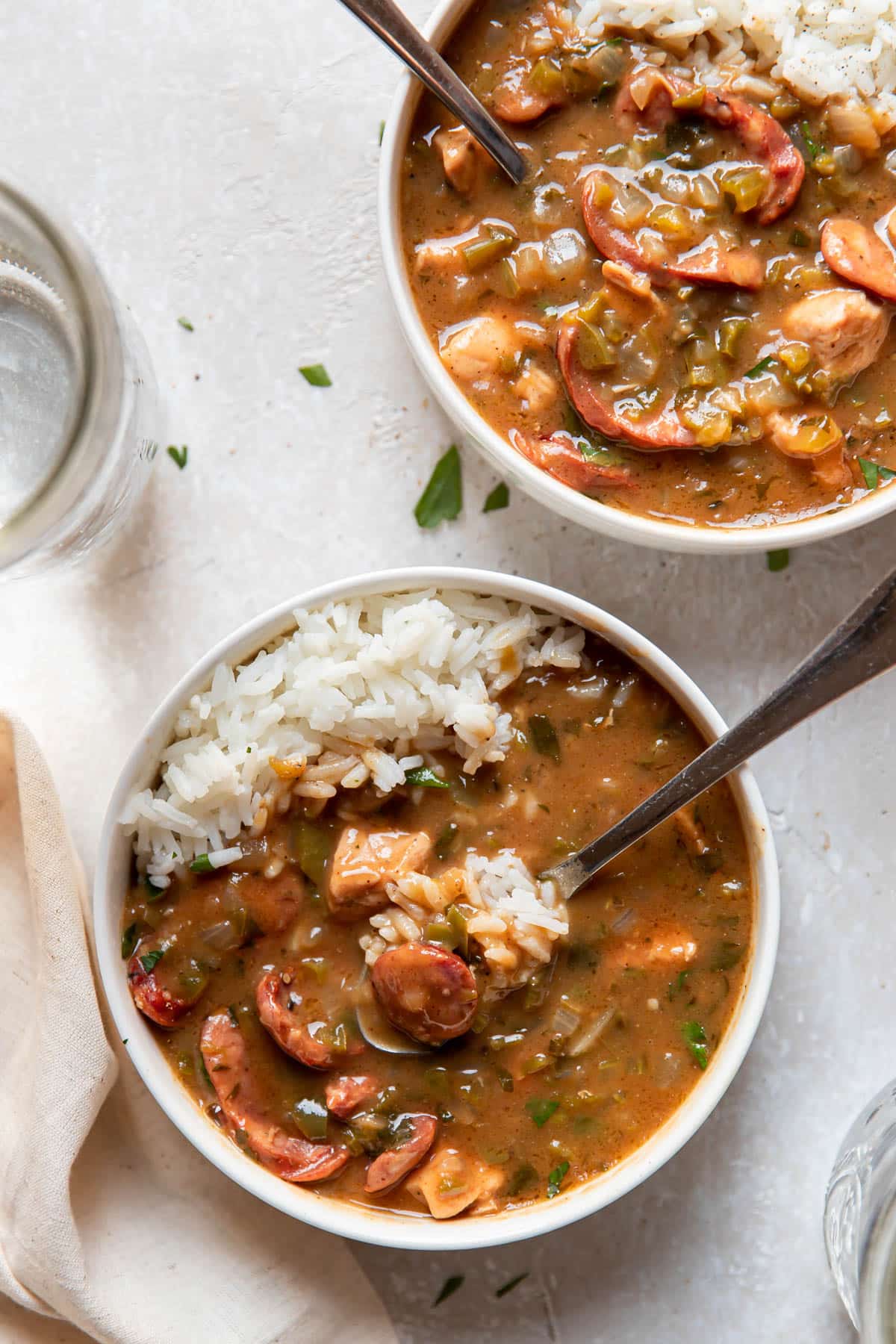 FAQ
How long does it take to make gumbo?
From start to finish it takes about 2 hours. Half of that time is spent with the gumbo simmering. But there is some extensive prep work to be done.
Will my gumbo thicken?
Yes, as gumbo cools it thickens. After refrigerating leftover gumbo, it will thicken quite a bit. To thin it out add a few splashes of water or chicken broth when you go to heat it up.
What if I burn my roux?
You'll want to start over, if you end up with a burnt roux the whole thing will taste off. Keep your temperature lower and you can always increase it. Medium/low temperature is key.
What to serve with chicken and sausage gumbo?
A crusty loaf of french bread is a good pairing, to sop up all the soup.
Can I add okra or other items to the gumbo?
Of course you can, you can add anything you want.
Can gumbo be frozen?
Yes, you can freeze gumbo. To reheat, put in your fridge to thaw a day and then cook it in a soup pot. You'll want to add some extra chicken broth, it will have thickened up.
Why is my gumbo bitter?
If you end up with a bitter tasting gumbo this is most likely from burning the roux.
My gumbo is salty, I accidentally added too much salt what do I do?
If you accidentally over salted you can try adding some extra chicken broth to dilute the saltiness. This could make your gumbo a thinner consistency though. When adding salt to any dish, remember a little at a time is the best route.
My roux is clumpy, it doesn't look like the pictures?
During the first 5 minutes your roux may look more clumpy and thick. This is normal. It will start to turn more liquid and smooth out the more you whisk and cook it. You can always add an extra splash of oil. If you had a lot of excess liquid from when you cooked your chicken you may start off with a thinner roux, this is okay too!
Just some photos of me in New Orleans years ago.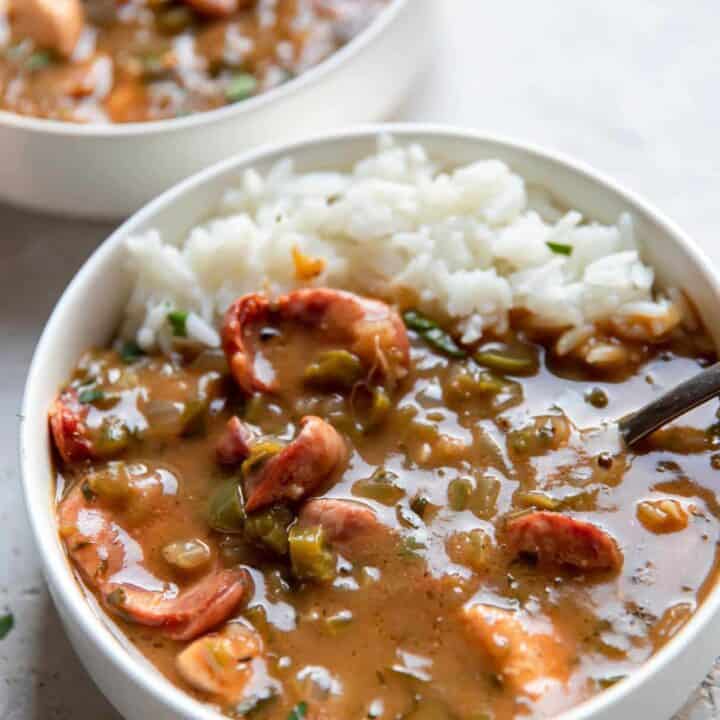 Chicken and Andouille Sausage Gumbo
Be transported to New Orleans for a night with this creole inspired chicken and andouille sausage gumbo. Made with bell peppers, celery and onion, which is termed the holy trinity in cajun cuisine. Served with rice.
Ingredients
½ c canola oil
2 chicken breasts, roughly 1.5 lbs, cut up into small cubes
1 pkg Aidell's andouille cajun sausage, sliced on an angle
5 tbsp butter, separated 2 tbs and 3 tbsp
1 c flour
1 c onion (about 1 medium sized onion), chopped
1 ½ c celery (3-4 stalks), chopped
1 c green bell peppers (1 bell pepper), chopped*
4 cloves garlic, minced
¼ c fresh parsley, chopped
2 splashes worcestershire
32 oz chicken broth
1 tsp cajun seasoning*
½ tsp salt + more, I usually do more, but its preference, if it tastes a little bland do another ½ tsp
pepper
2 c basmati rice
Instructions
In a large pot add canola oil and heat to medium/high
Season the cut up chicken chicken with salt and pepper and add to the hot oil, stirring, once cooked use a slotted spoon and set aside
Add the sausage just to get a little color on them (Aidell's is pre-cooked), remove and set aside
Leave any remaining juices in the pan
Turn heat down to low/medium
Add 2 tbsp of butter and the flour
This will cook for about 10 minutes, stirring constantly with a whisk, the goal is to get this roux a nice dark golden brown (see images)
After you've achieved the color add in the rest of the butter (3 tbsp) and all of the chopped vegetables and a few pinches of salt
Cook until tender * (see notes)
Add the chicken broth, worcestershire, cajun seasoning, salt, pepper, cooked chicken and andouille sausage
Simmer on the lowest heat, covered, for one hour
20 minutes before the gumbo is done cook up a batch of rice
In a pot, add 2 cups of rice and 4 cups of water, heat to a boil, stir, cover with a lid and bring the temperature to the lowest heat and simmer covered for 15-20 minutes or until rice is cooked
Make sure to remove the lid once the time is up, otherwise it will keep cooking and you'll have mushy rice
Taste the gumbo, does it need more salt? It should be savory so if it's a little bland add a couple pinches slowly until it tastes just right
To serve the gumbo, pour some into a bowl and top it with a scoop of rice
Notes
A note about cajun seasoning: they all taste different, some are very salty and some not salty at all. Try grabbing two different brands so you can use one of the other, mix together, your choice. I usually use 3 different brands.
Be mindful not to add an excess amount of green bell pepper, it can be bitter and overpowering if there is too much.  If you aren't sure if your bell pepper is too big, just one bell pepper should suffice.
Cooking the vegetables until tender is an important step.  Despite being a thick mixture you must cook down the vegetables before simmering your gumbo.  It helps to break down any bitterness from them, the pinches of salt helps with this.  Cook down for at least 5 minutes.
Recommended Products
As an Amazon Associate and member of other affiliate programs, I earn from qualifying purchases.
Nutrition Information:
Yield:

8
Serving Size:

1 grams
Amount Per Serving:
Calories:

499
Total Fat:

27g
Saturated Fat:

6g
Trans Fat:

0g
Unsaturated Fat:

18g
Cholesterol:

97mg
Sodium:

1051mg
Carbohydrates:

31g
Fiber:

2g
Sugar:

4g
Protein:

33g
This information comes from online calculators. Although moderncrumb.com attempts to provide accurate nutritional information, these figures are only estimates.