Enjoy a delicious dinner of orange chicken takeout at home! This skinny orange chicken is cooked by pan searing instead of frying and tossed with a sweet homemade orange sauce. Served with steamed rice and green onions.
This recipe was originally published August 29, 2018.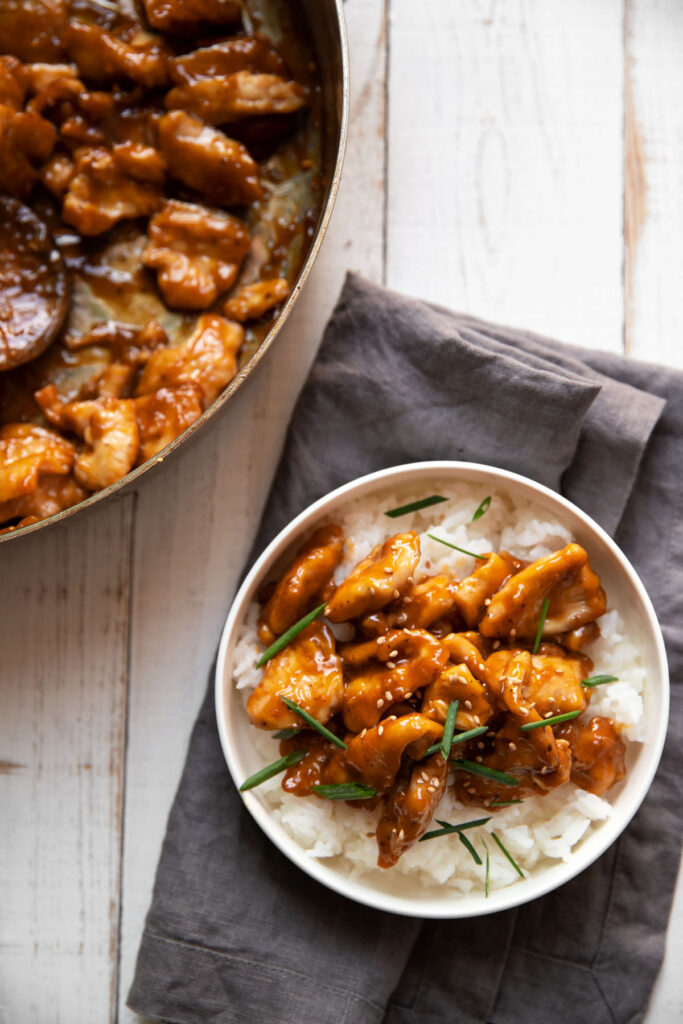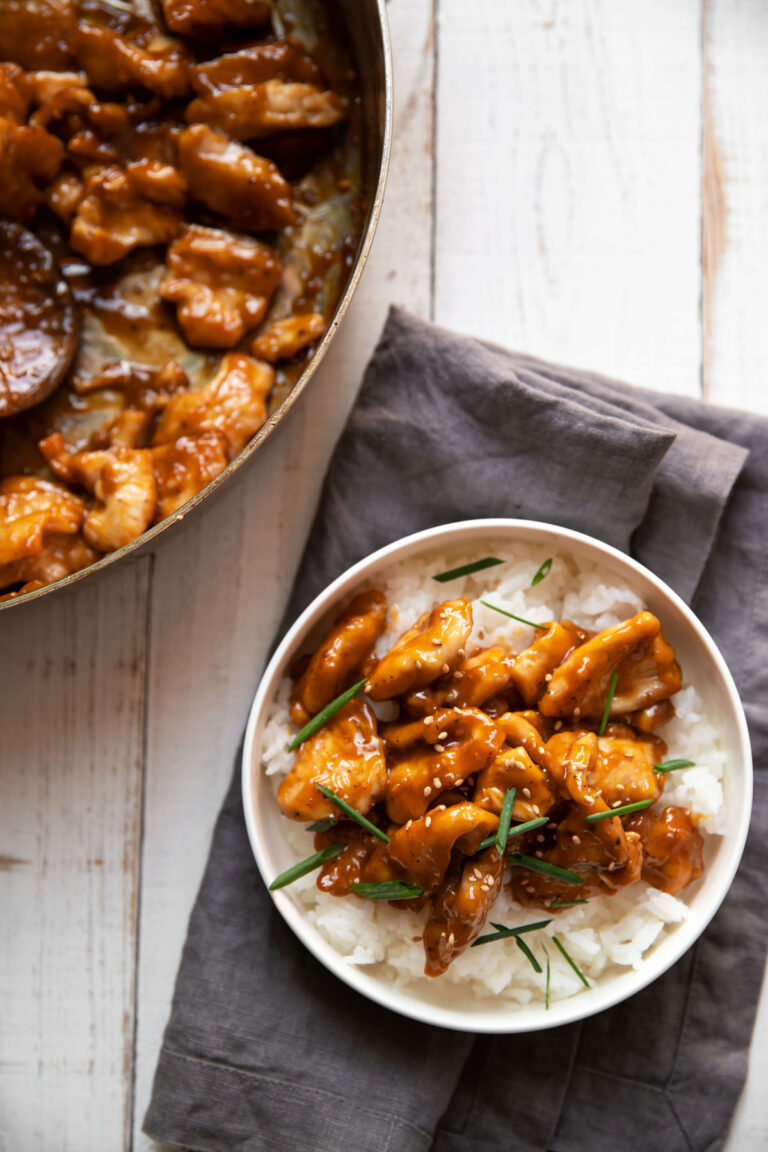 This skinny orange chicken features pan seared chicken breast with a thick and silky orange sauce.
Best part? It takes 30 minutes to make this skinny orange chicken and it's way easier on the waistline than what you'd get at takeout.
This is similar to my honey sesame chicken but I omitted a few things and added a few things.
Like fresh squeezed orange juice to give it that beautiful color and down right drool worthy orange chicken taste.
And obviously this is a lighter version, no deep frying.
I made this for my grandma when she was visiting recently and she adored it. She said it was the best orange chicken she had ever had and I kid you not my sweet grandma had three or four servings.
Bless her heart.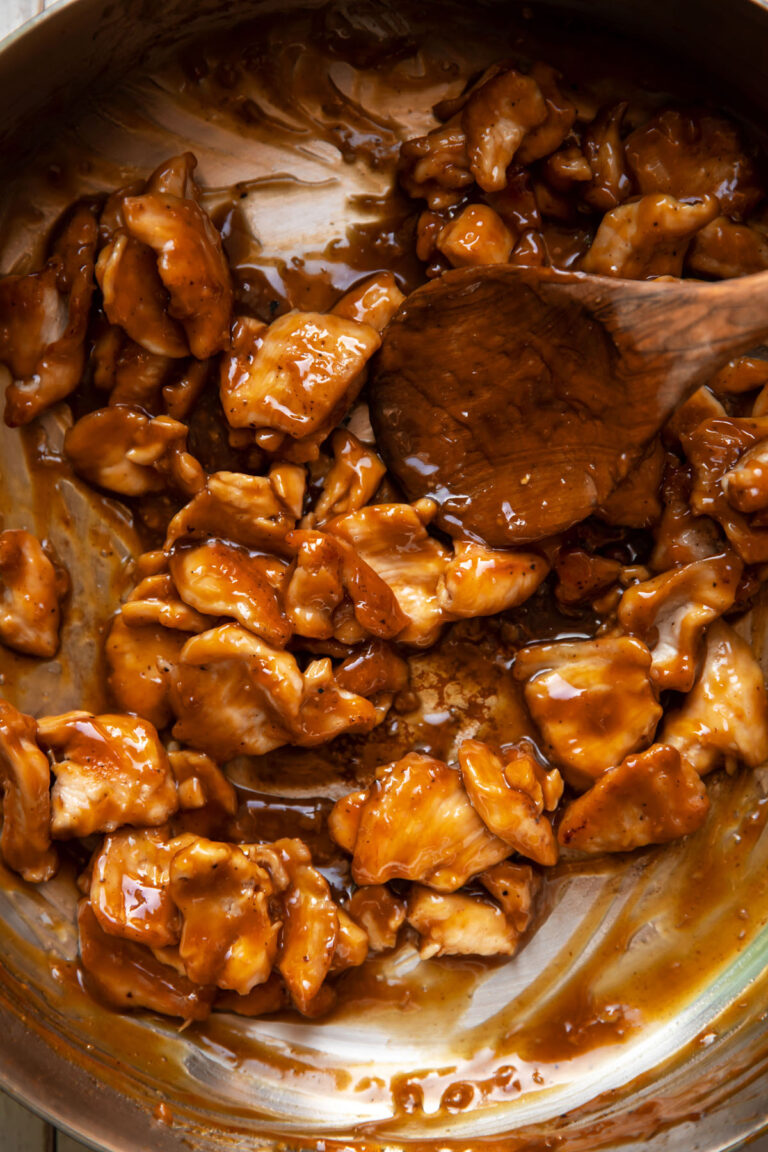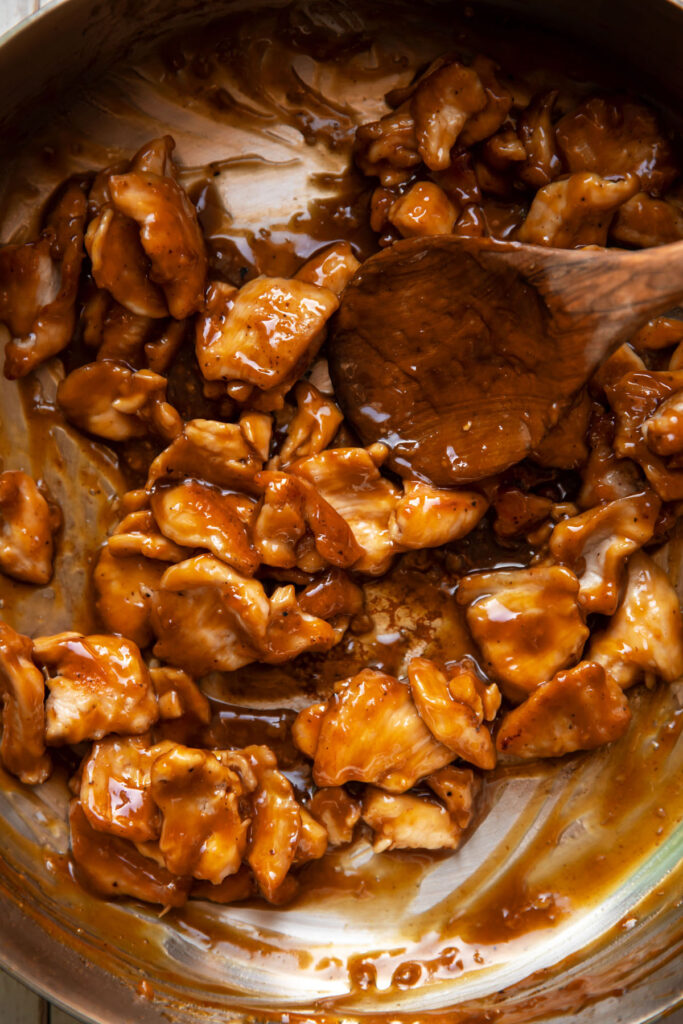 Pan Seared Chicken
You won't even miss the fried version when you taste the pan seared version.
Does frying food ever make you feel a little strange? As I get older, it definitely does. So this healthy version is a win.
This lighter orange chicken is still juicy with a bit of crisp on the outside and all that gorgeous sauce you just can't go wrong.
The secret (well I mean i don't know how secret it is) is dusting cornstarch on the chicken before searing it. It works.
It's important to cut your chicken thinly, against the grain. These thin pieces will cook quickly and get crisp. I use the same method for this skinny beef and broccoli recipe.
Try not to overcrowd the meat, the more space you have between the pieces the better crisping you will get.
If all the pieces are touching and squished in the pan, they won't get crispy but it will turn into a wet mess. So cooking in two batches is suggested. Just transfer the first batch to a plate, then cook the rest.
Just like Julia Child would say, "don't crowd the mushrooms!". But don't crowd the chicken.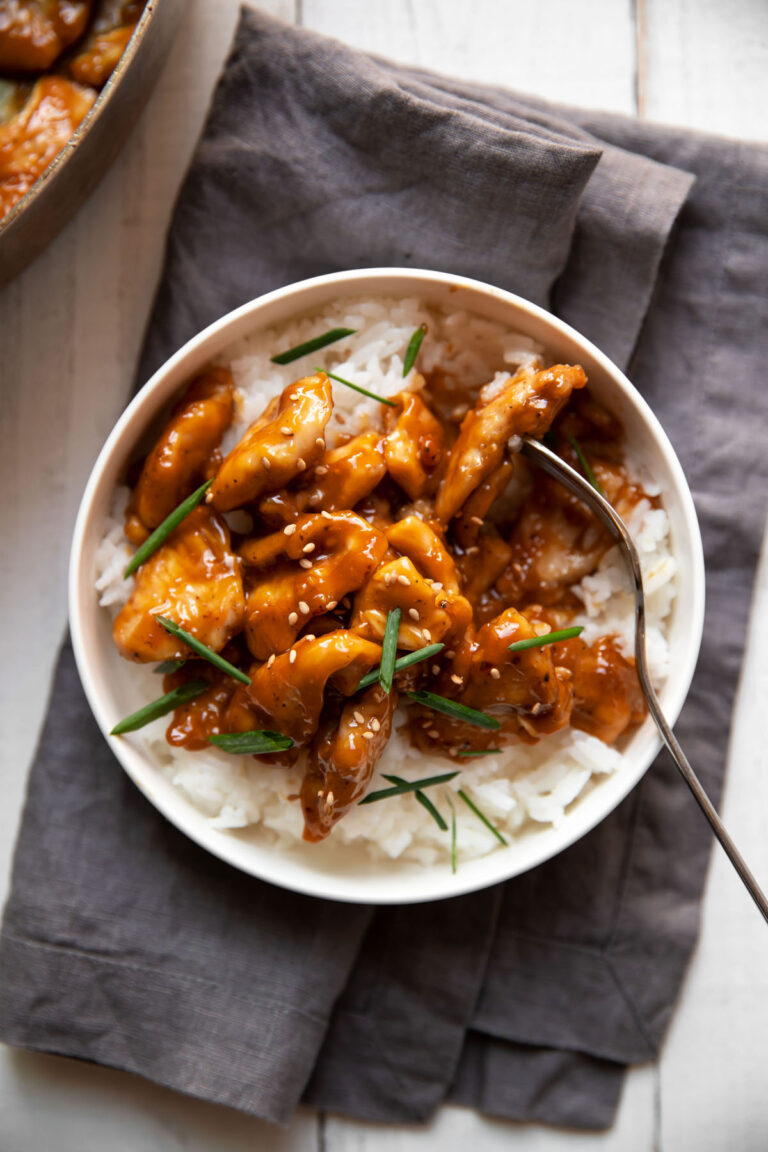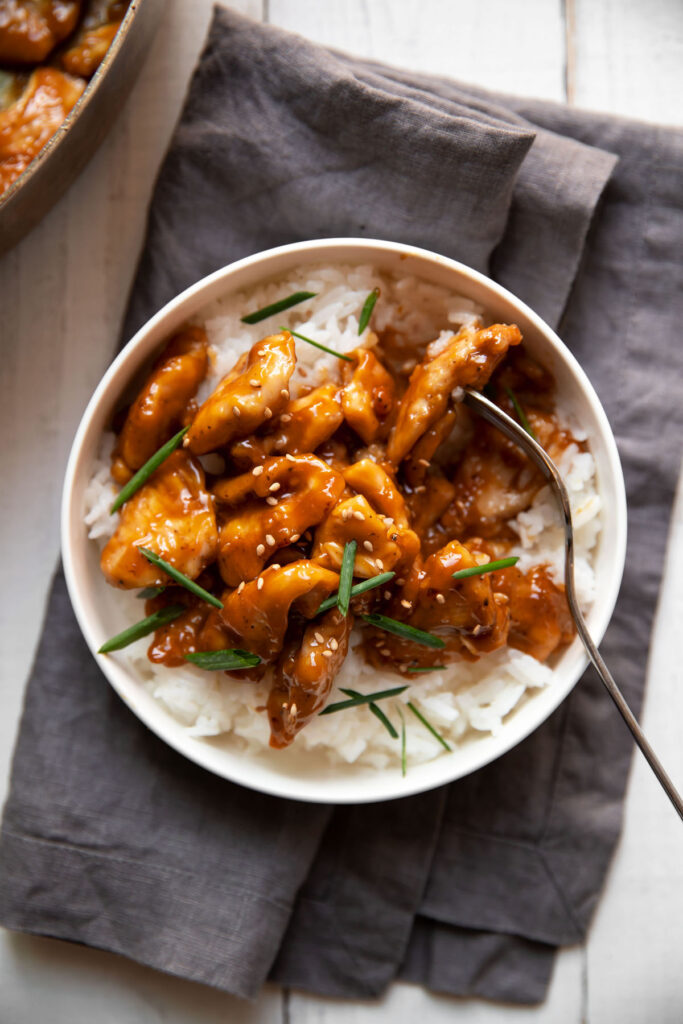 Orange Sauce
To make the orange sauce you'll need just a few ingredients.
soy sauce - low sodium soy sauce is preferred
rice wine vinegar
sugar
orange juice - orange juice from a container, if you want to use fresh squeezed orange you'll need about 4 oranges (and fresh squeezed orange juice will give your sauce a deeper color)
water
ginger powder
garlic cloves
The easiest way to make this is add everything one by one to a measuring cup or bowl then whisk it all together. You can make this ahead of everything else and let it sit while you make the chicken.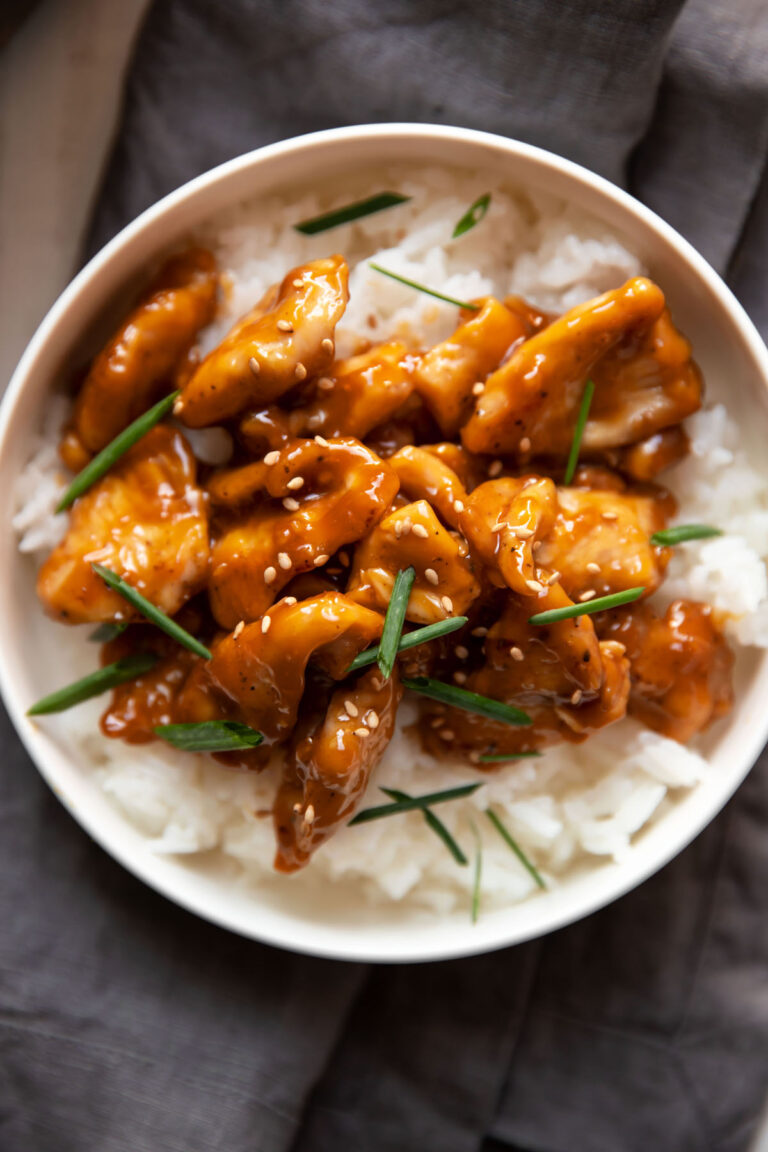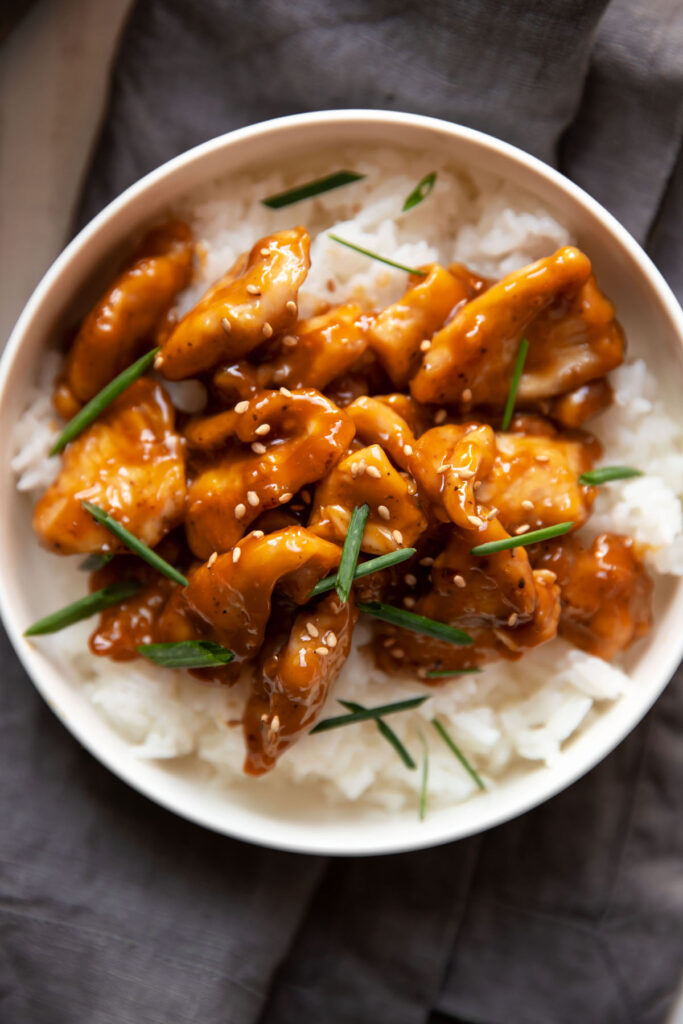 FAQ
Is there a substitute for the corn starch? Unfortunately no, flour will not work the same as cornstarch for getting the chicken crispy
My chicken didn't get crispy? This could be from not dusting the chicken with corn starch, or overcrowding the chicken in the pan
There is so much liquid in the pan after cooking the chicken? This happens when you put all the chicken in the pan at once, or overcrowding the chicken. The pieces need space around them to cook, if they are touching other pieces then they are heating up enough to get crispy and you'll have a lot of extra liquid in the pan
Can I make this gluten free? Sure, use a gluten free soy sauce alternative
What can I serve this with? Besides rice, you could serve it with asian style noodles, steamed broccoli or these baked cream cheese wontons
More Takeout Style Dinners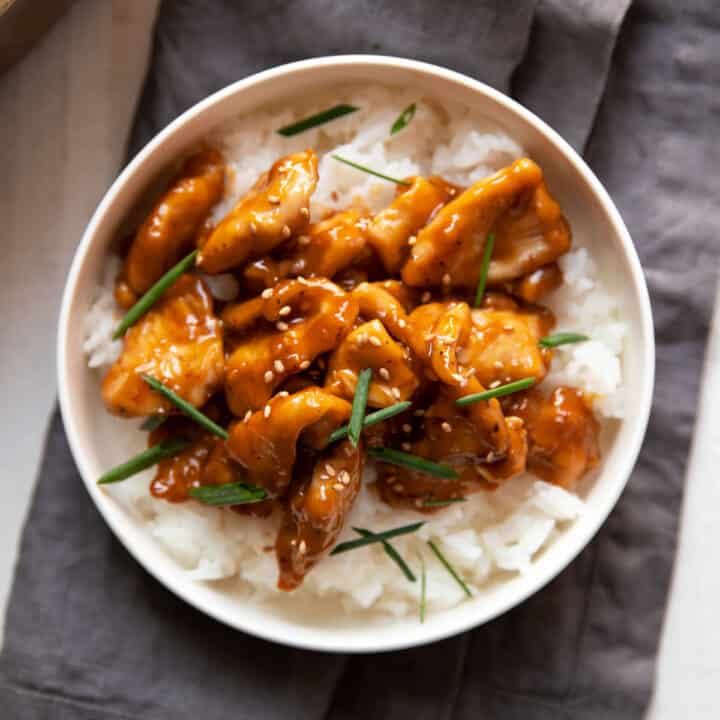 Skinny Orange Chicken
Enjoy a delicious dinner of orange chicken takeout at home! This skinny orange chicken is cooked by pan searing instead of frying and tossed with a sweet homemade orange sauce. Served with steamed rice and green onions.
Ingredients
1 lb chicken breast
½ tsp salt
¼ tsp pepper
1 tbsp corn starch
1 tbsp sunflower oil, or another high heat oil
1 c basmati rice
2 c water
optional: green onions
orange sauce
2 tbsp soy sauce
2 tbsp rice wine vinegar
2 tbsp sugar
1 c orange juice, or the juice of about 4 oranges
2 tbsp cornstarch
⅓ c water
¼ tsp ginger powder
2 garlic cloves
Instructions
Add 1 cup of basmati rice and 2 cups of water to a pot, bring to a boil, reduce heat, cover and simmer 15 minutes or until all water has disappeared. Turn the heat off and fluff with a fork.
Cut the chicken breasts in half lengthwise
Use your knife to cut against the grain, slicing on angle and thin (like you would with a mongolian beef type of dish)
Toss the chicken with salt, pepper and cornstarch
Heat a large saute pan over medium/high heat
Add in the sunflower oil
Add the chicken in two batches, trying not to crowd the pieces or overlap
Once the first side is getting golden and crisp, flip it
Repeat with the second batch and set the chicken aside on a plate lined with a paper towel
Turn heat off
Once it's cooled slightly, add a cup full of water, this will boil out any extra bits in the pan
Pour out the water and use a paper towel to dry it
Combine all of the orange sauce ingredients into a bowl, except the soy sauce, whisking
Turn the heat on to low
Add all of the ingredients in, letting it simmer, once thickened turn the heat off and whisk in the soy sauce*
Add the chicken to the pan, stirring
Serve with some steamed rice and green onions!
Notes
Careful when boiling a sauce that has soy sauce in it, if soy sauce boils too rapidly it can create a bitter taste - very gently boil your sauce
Nutrition Information:
Yield:

6
Serving Size:

1
Amount Per Serving:
Calories:

324
Total Fat:

8g
Saturated Fat:

1g
Trans Fat:

0g
Unsaturated Fat:

6g
Cholesterol:

64mg
Sodium:

573mg
Carbohydrates:

37g
Fiber:

2g
Sugar:

20g
Protein:

26g
This information comes from online calculators. Although moderncrumb.com attempts to provide accurate nutritional information, these figures are only estimates.
Make sure to follow Modern Crumb on Pinterest and Facebook for lots of yummy meal inspiration! And subscribe to the newsletter, below, to get updates when new recipes post.